Whether Halloween has passed or not, all these haunted house coloring pages are an exciting pastime activity to do with your children.
Apart from the haunted house's main character, these printable sheets feature plenty of other details.
So, your little one has an excellent opportunity to explore their creativity with all kinds of colors.
Encourage children to color in any way they want!
10 Brand New Haunted House Coloring Pages – Free to Print and Color
With an immense full moon, bats flying up in the sky, trees that almost look alive, and a house that unmistakably hosts a few ghosts, there is no denying that this haunted house coloring page has intricate details.
Your child will enjoy picking different shades for it.
It is true that dark colors would look amazing on these haunted house printable sheets, but who says that you cannot pain them in bright shades? There are no rules against that.
Choosing bright yellow, red, blue, pink, and purple might be even spookier. Just imagine how cute this haunted house would look on the inside, only to discover all sorts of spirits inside!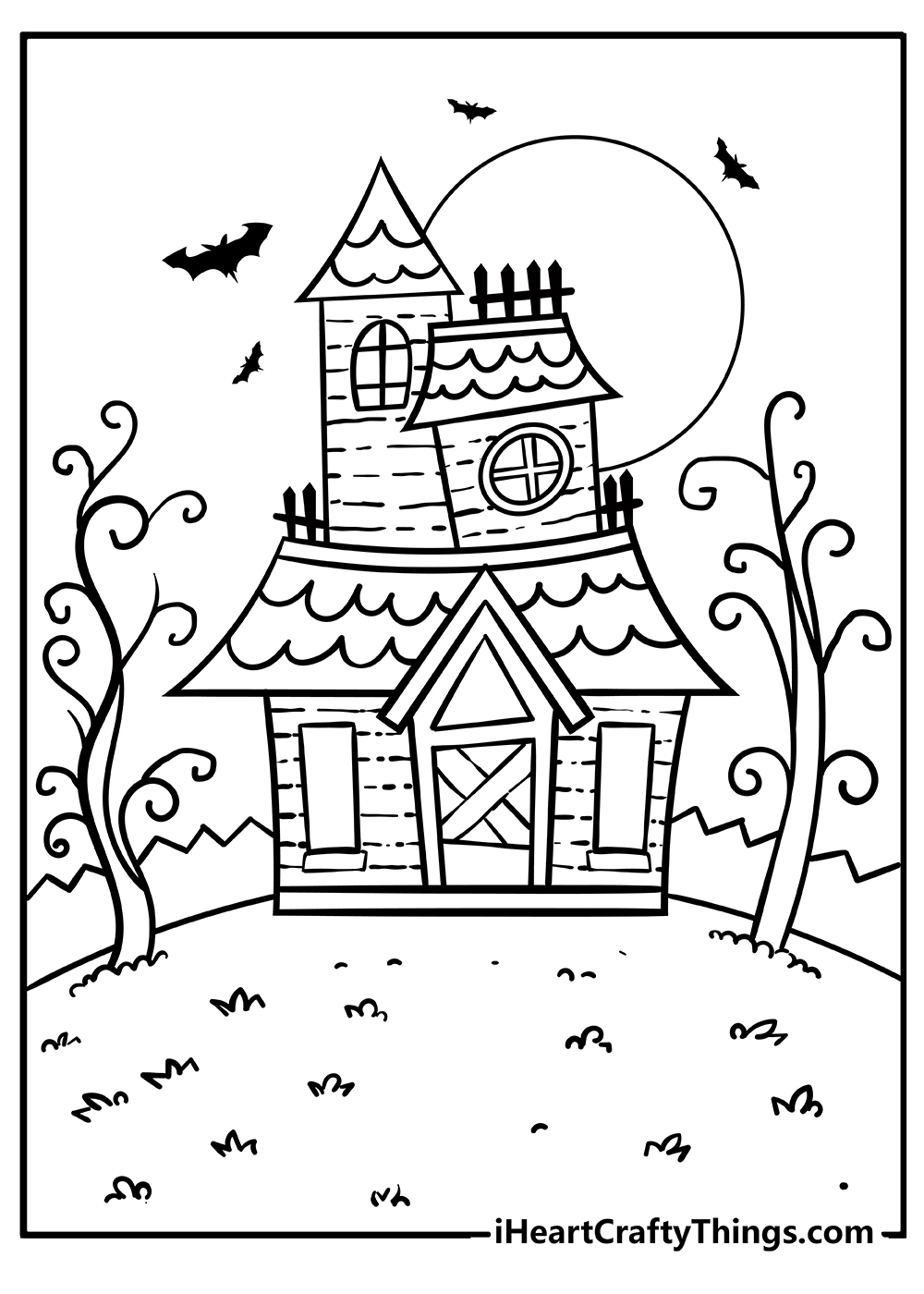 The second sheet of the haunted house coloring pages collection could be an excellent postcard for Halloween!
Simply look at all these details: a carved pumpkin by the house entrance, ghosts coming out of the house, and the never-missing bats flying so high that it seems they can touch the moon.
Combining these elements of different colors will make this printable sheet so awesome.
The pumpkin looks best in orange, and the new moon would be so beautiful in a shade of yellow and maybe with a bit of glitter.
As for the house, dark purple, grey and black will match the bright green for the grass.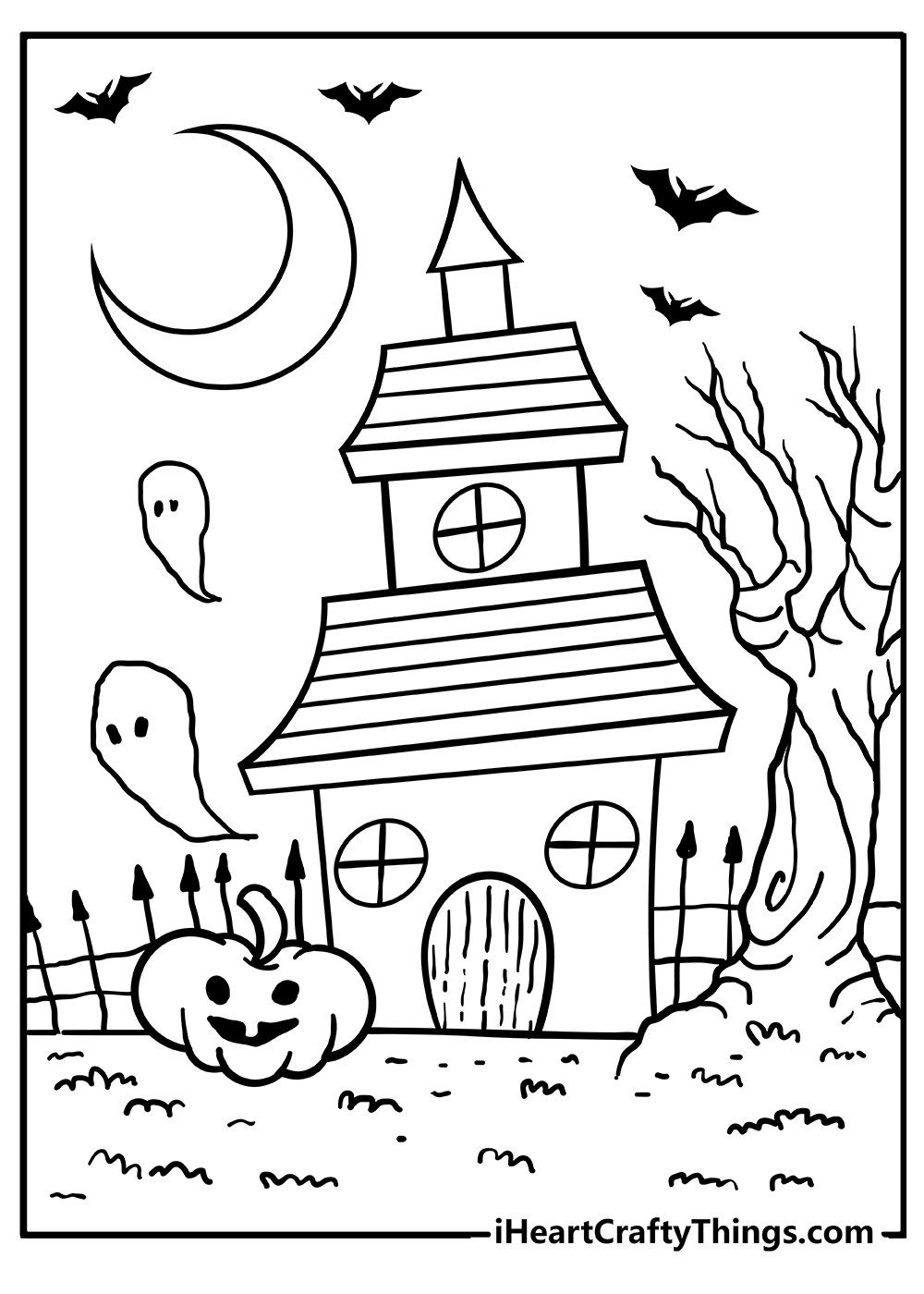 When you take a first look at this haunted house coloring page, it wouldn't be so creepy without those bats flying above the house.
But what appears to be common could hide many secrets and mysteries!
Imagine it is nighttime, and the full moon's bright light shines over the house and leafless tree, with the only sound coming from the wind and the bats. That indeed paints a spookier picture.
As for the coloring choice for these haunted house printable pages, you can do as you wish.
A suggestion would be to choose two or three pastel colors to alternate between all the lines and squares of the house.
The entire page will look unique with a black-colored tree and a grey sky.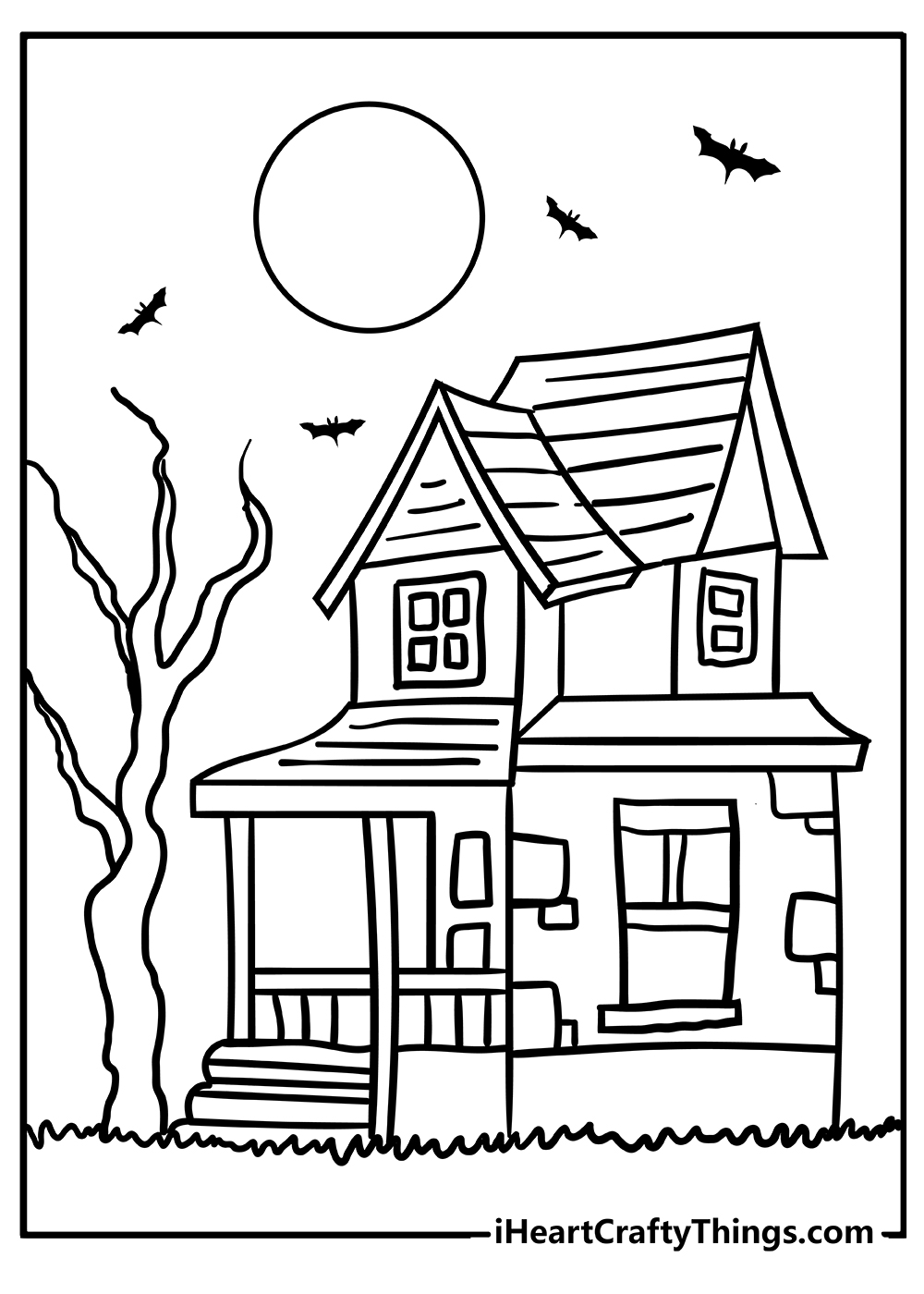 A curved path leads up a hill where a beautiful house is quite inviting.
Many would-bes are curious to uncover the mysteries inside this haunted house that looks like a castle with a tower emerging in the middle.
A one-of-a-kind coloring choice for this haunted house printable page would be to add some silver glitter to a few elements, like the ghost, moon, and even the pathway, on top of a shade of light grey.
Then, with the bright green for the grass and a multi-colored choice for the house would surely be a striking difference.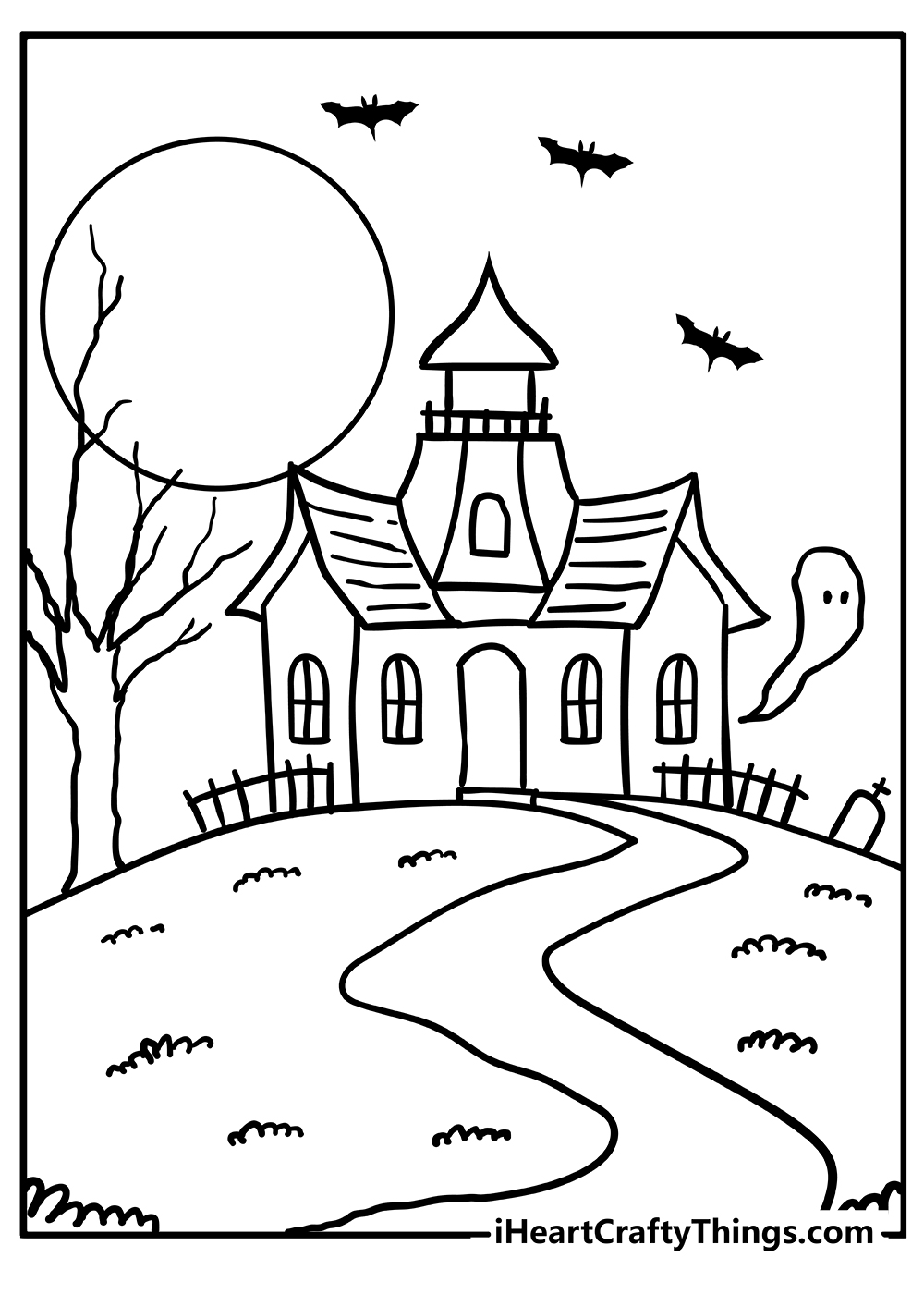 Halfway through these haunted house coloring pages, you get to this funny-looking house that appears to be slightly crooked on one side.
It seems to be made of brick to combine a shade of orange with red to color the façade of the house.
The pathway leading to our crooked and eerie house is made of stones which you could color in purple. It would look excellent in contrast with the grass' characteristic green tone.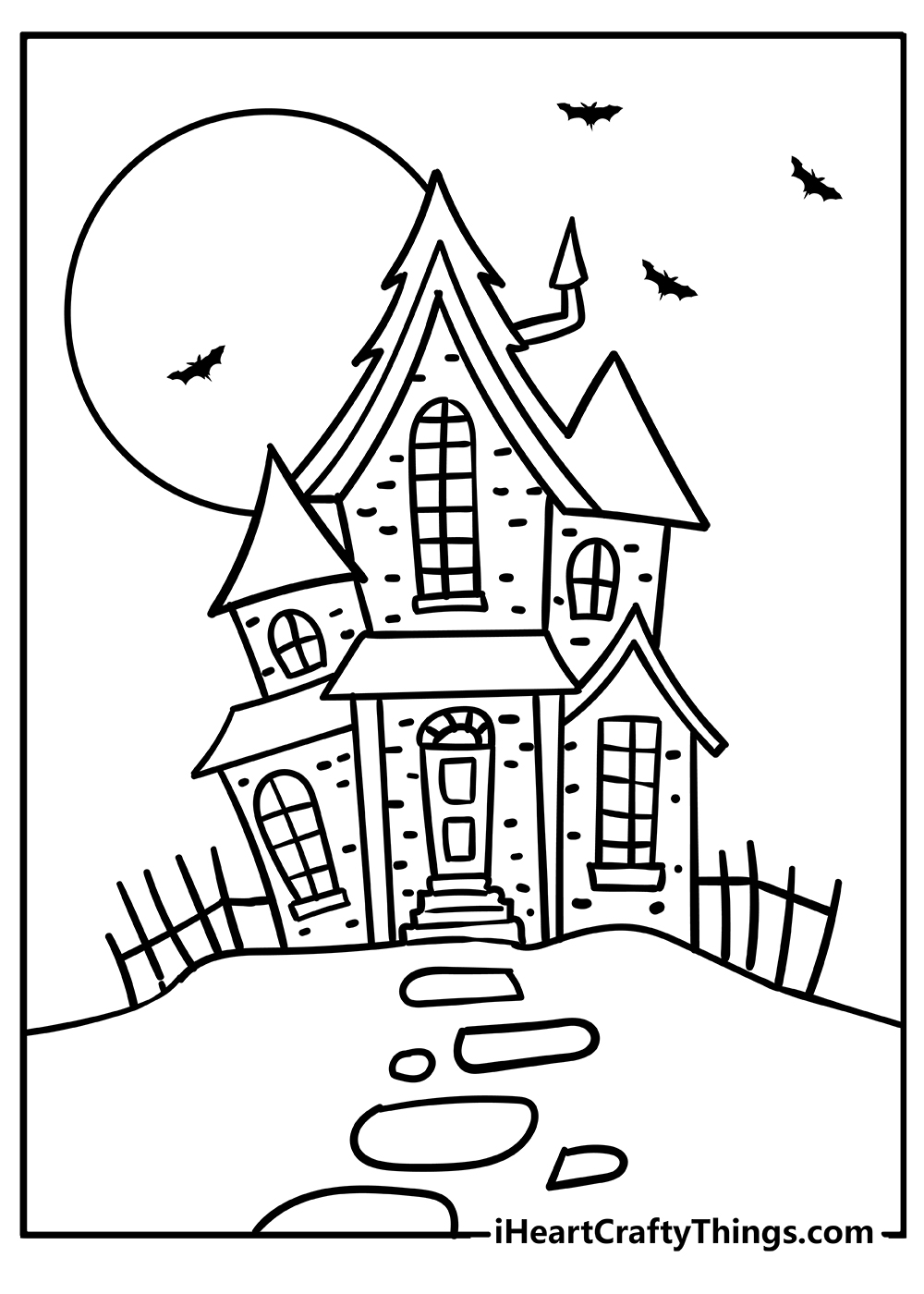 This house may look straight, but it is understandable to ask yourself how this is possible with the towers being bent sideways.
But with haunted houses surrounded in mystery, anything is possible! The same goes with choosing the shades you want for these haunted house coloring pages.
The drawing on this printable sheet is quite symmetrical, with an enormous moon shining from behind the house, which you could color in silver.
It is up to you to pick a dark or light shade for the house. Always encourage your child to explore their creativity.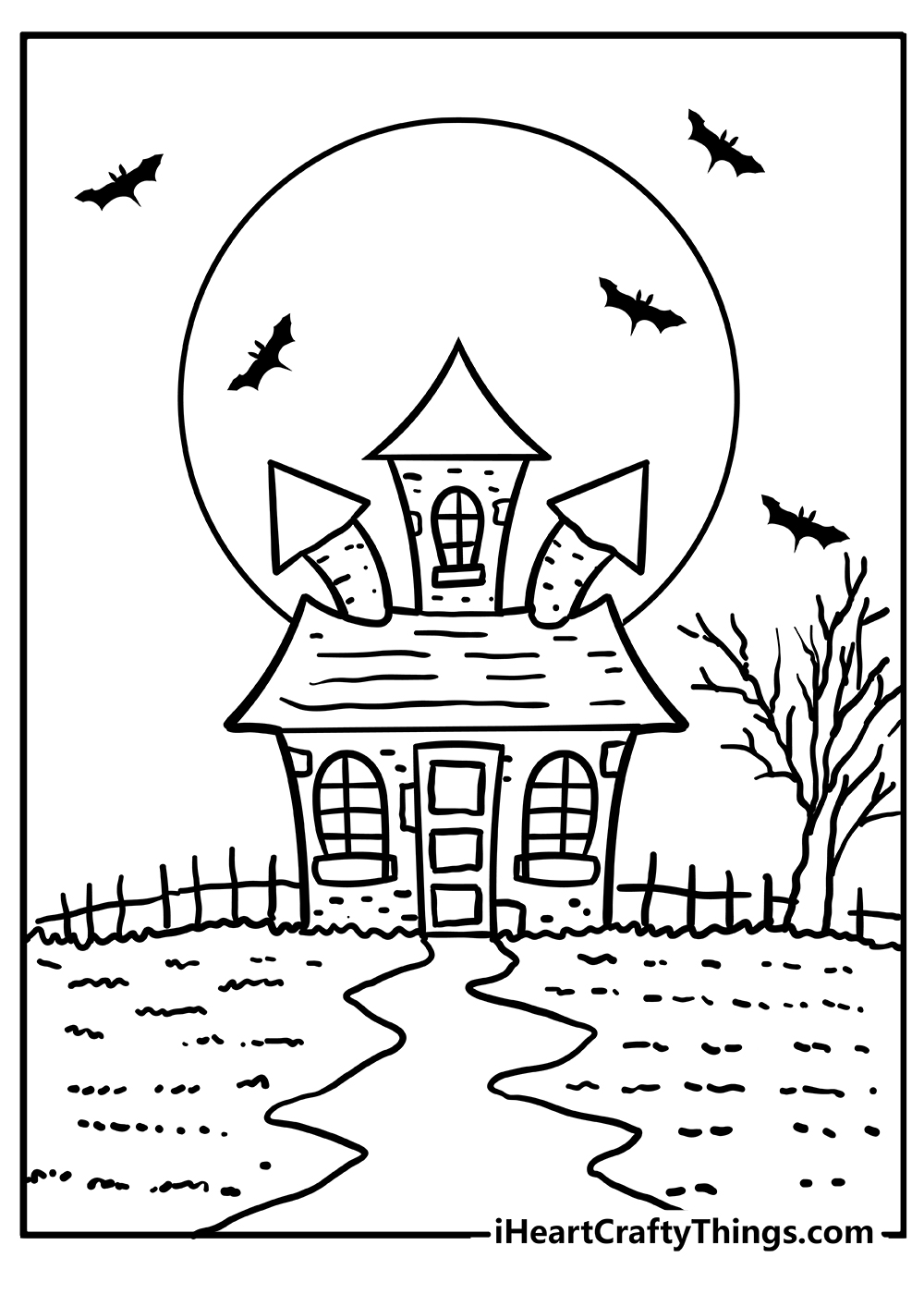 If the moon was enormous on the previous coloring page, this one on this haunted house printable sheet exceeds all expectations, especially when compared to this slightly small house.  
The leafless trees add an extra level of spookiness, with their branches spreading onwards towards the flying bats.
Even though the house is relatively tiny, it hides a few ghosts and spirits. You could choose a shade of blue silver for the exterior and red for the roof.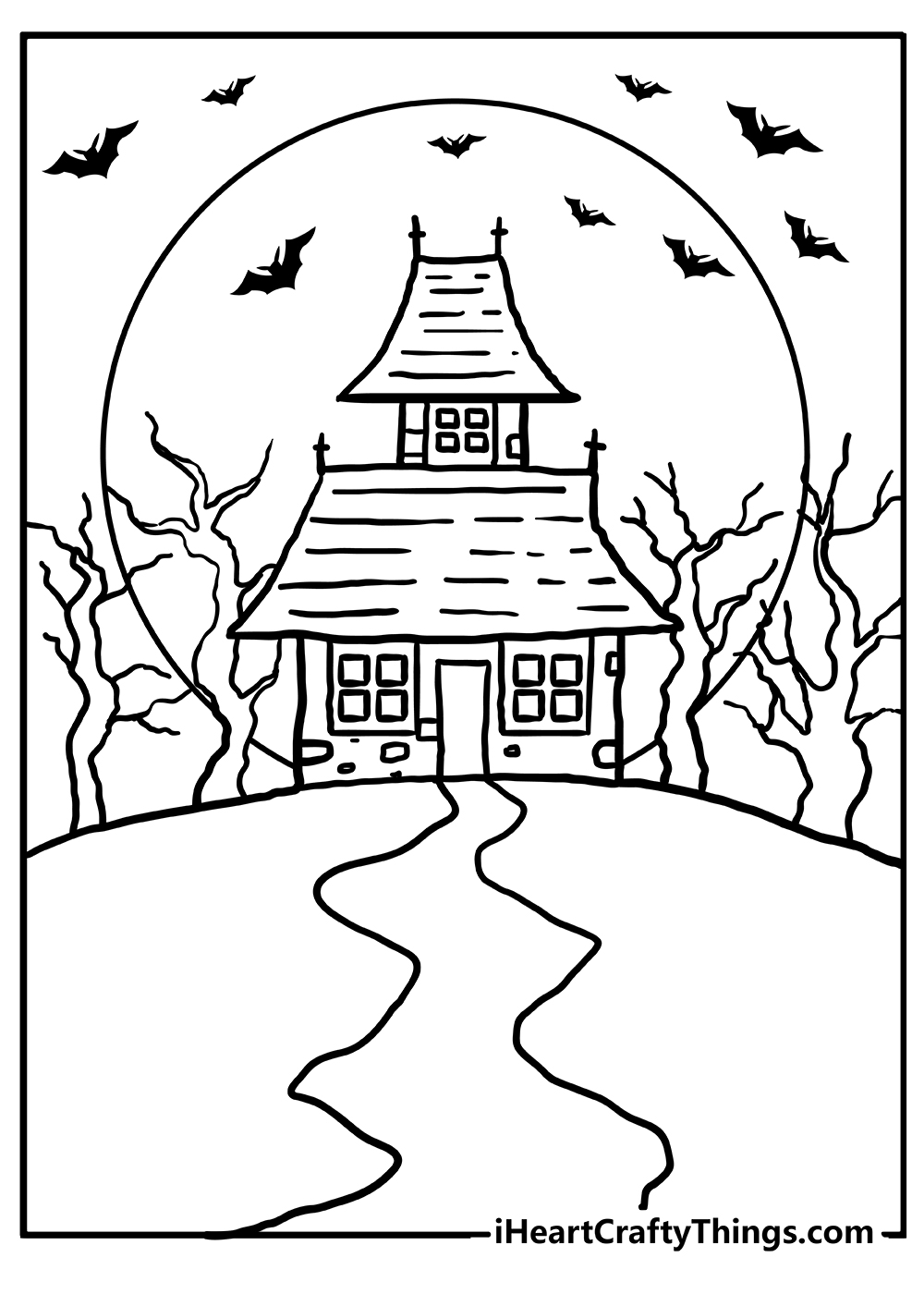 Now, this is a strange shape for a house. It looks like an elongated diamond with the roof almost appearing to have spikes.
You could think it is Lurch's house, the famous butler from the widely known cartoon, The Addams Family. He would certainly fit perfectly in this haunted house.
The color palette on these haunted house coloring pages usually comprises dark shades and colors like mauve, purple, grey, brown, black, and silver-white.
It is your choice if you want to stick with these traditional colors or not.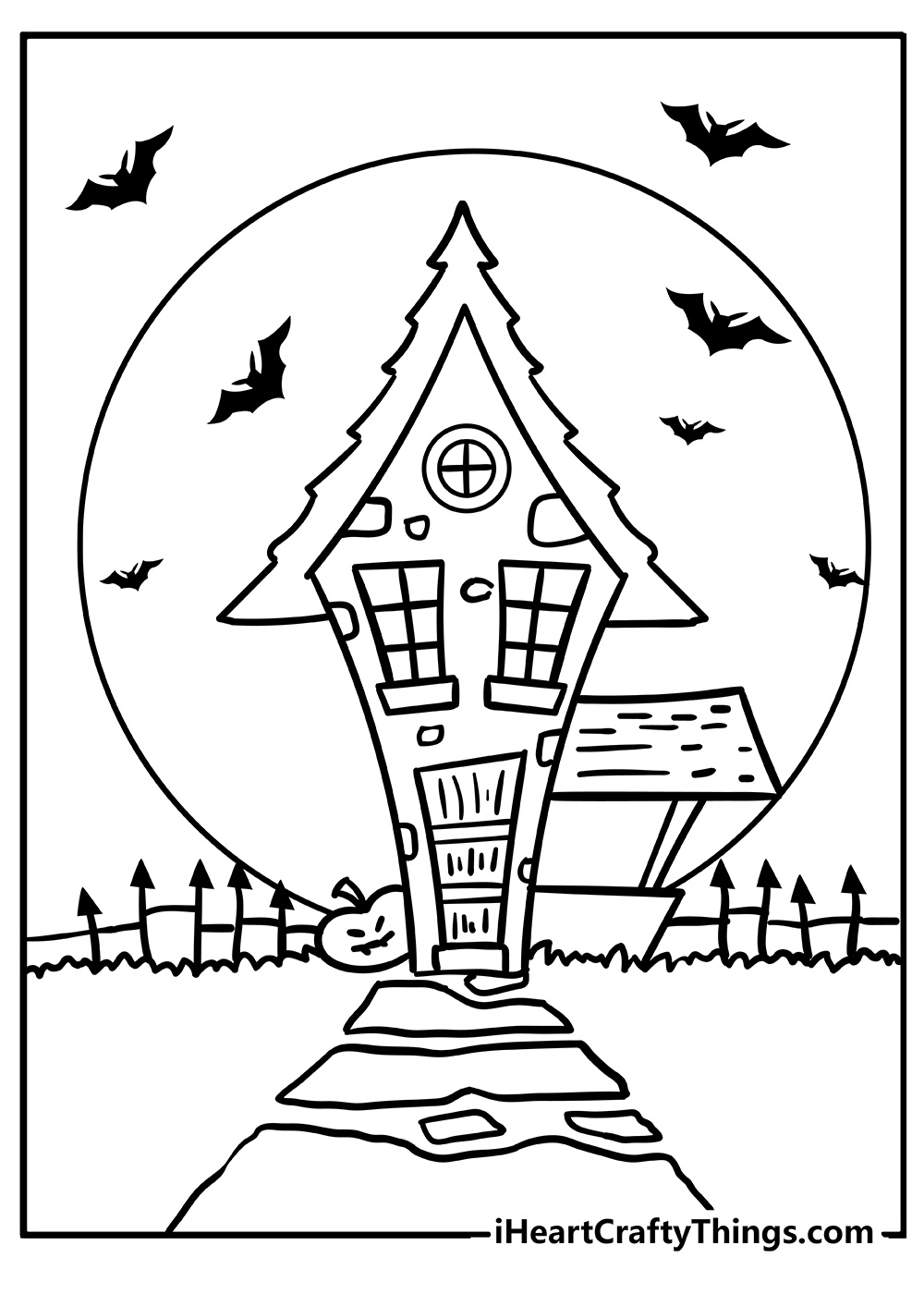 You could also sneak a peek inside this haunted house, given its large windows. If you are brave enough, try getting a bit closer to discover the mysteries this house keeps hidden.
Who knows what you will uncover?
There is no doubt that ghosts are lurking around on these haunted house colouring pages. But once you go inside, maybe you will come across other mythical creatures, like vampires.
Perhaps one of those bats always flying around can take the shape of these undead blood-feeding creatures.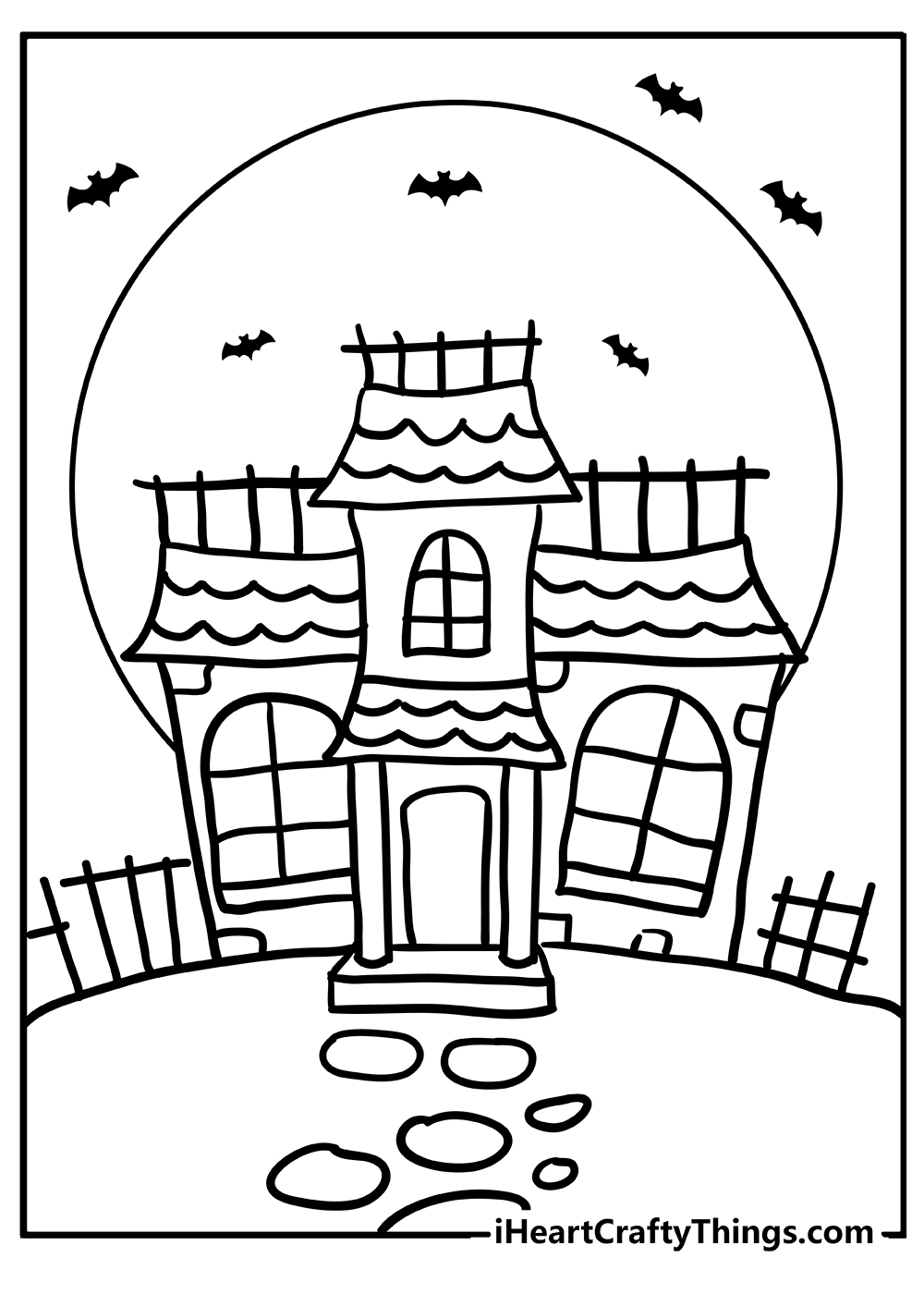 This last coloring sheet of our haunted house coloring pages collection doesn't seem scary.
But given the omnipresent bats you can witness up in the sky, flying towards the big full moon, one cannot know for sure this house isn't haunted.
The spikes are present on the house's roof, and the fence doesn't give a friendly impression.
By now, chances are your little one has become an expert coloring these haunted house printable pages.
Whether with traditional shades or unique combinations of brighter hues and glitter, there is no denying that all these pages will make a fantastic portfolio you could use to display on Halloween.