It's a lot of fun to explore a great big city. Cities can come in all manner of shapes, sizes ad styles, but there are always plenty of things to see no matter which one you're exploring.
Cities are a common feature in many different artworks, and this collection of free city coloring pages for kids will let you add your own style to this artistic tradition!
There will be some incredible cityscapes for you to have fun getting creative with throughout this collection.
Cities are known for their variety that means no two are the same, so that really lets you get nice and creative with it!
Every one of these coloring pages are free for you to print and enjoy as much as you like. That means you can really explore some variations and try out different approaches to the same images.
You can also share the fun by sharing all of these pages with your city-slicker friends and family!
You're ready to embark on this artistic journey with these printables! When you have chosen and colored your favorites from this collection of city coloring pages, you can share your artworks on our Facebook and Pinterest pages!
10 Brand New City Coloring Pages – Free to Print and Color
This first free city coloring page for kids that we have for you features a wonderful night-time scene for you to color!
The stars are huge above this magnificent city, and that would allow for some beautiful bright colors.
If we were coloring this one, we would use darker colors for the buildings and sky and then contrast these with bright yellows for the windows and the stars.
Are you thinking of taking a similar approach or will you go for a different set of colors?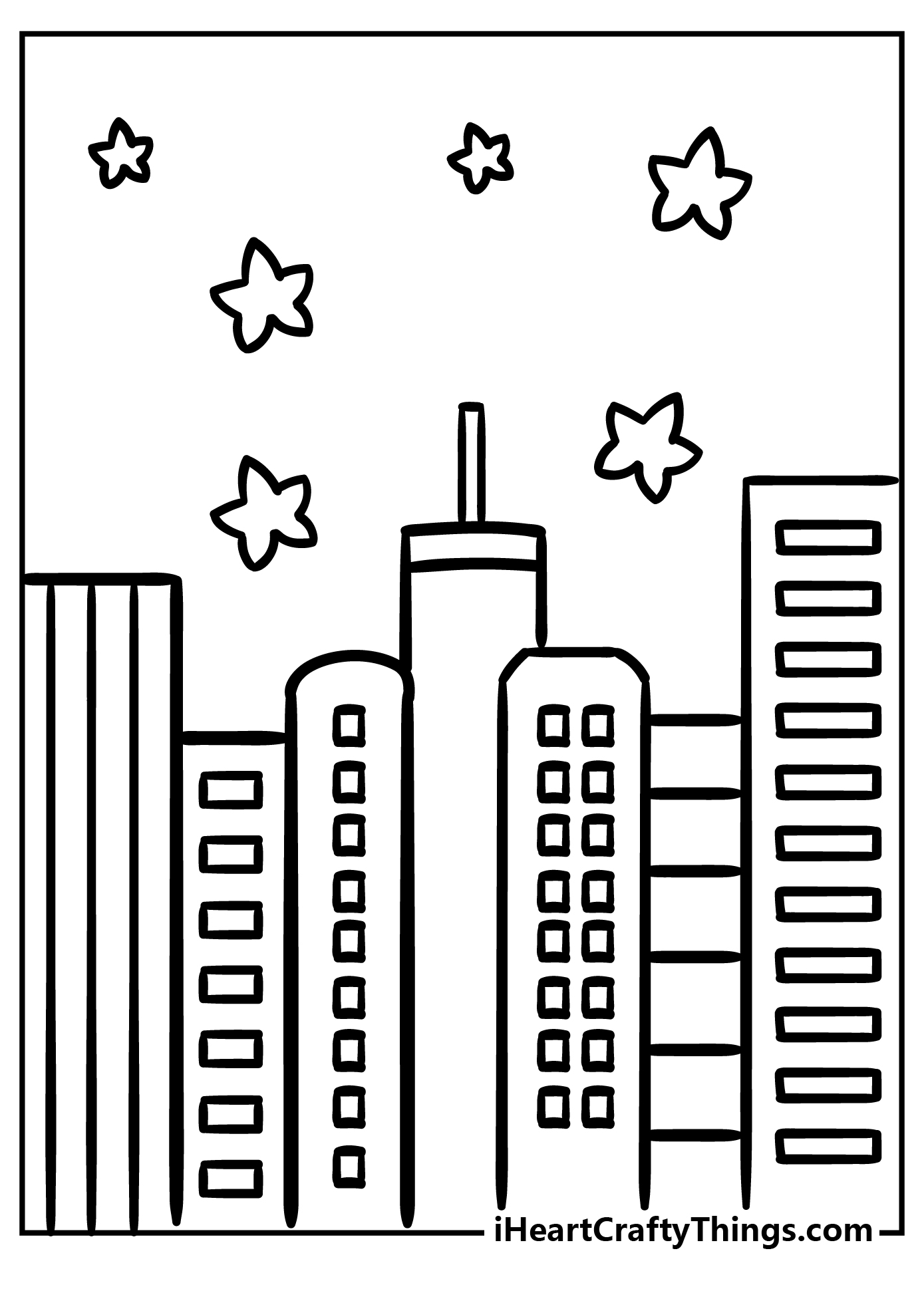 There's an interesting perspective shot in the next city scene we have for you to color.
The road stretches to the horizon until we can't see it anymore, and the buildings tower over us on each side. It's a dramatic composition that you can really work your creative magic on!
What kinds of colors do you think would suit this interesting city representation? It will be interesting to see how you tackle this one!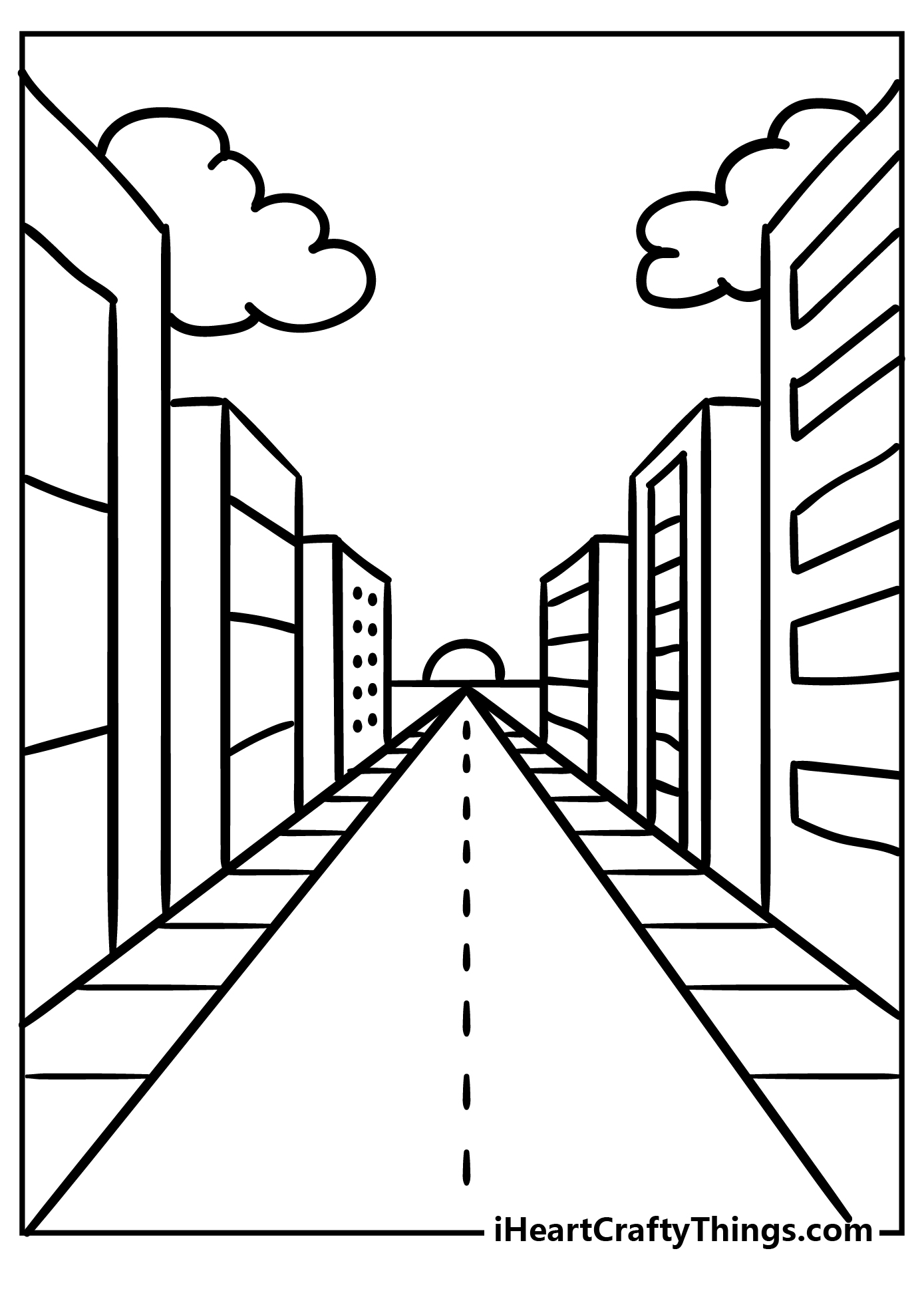 It's a beautiful day in this third city coloring sheet that we have for you.
There are big puffy clouds floating peacefully above the skyline, and that immediately makes us think of a brilliant blue sky between the clouds.
You could also make the sky a light grey for a moodier image instead, but anything you go for will look great!
Remember that you could print out a few copies if you can't decide on which approach to go for.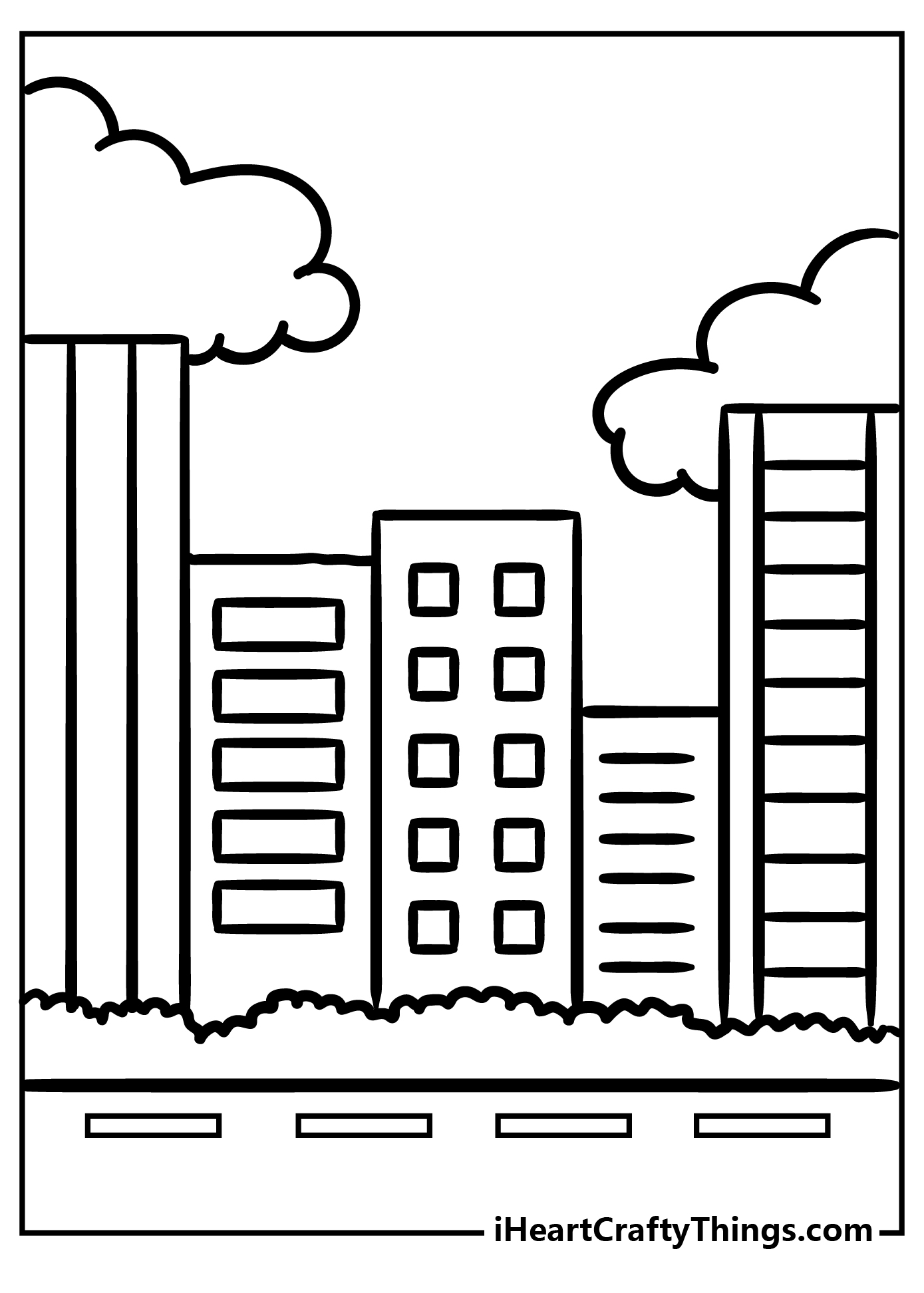 This next picture is really stunning! The sky above the city is wavy with some dots incorporated, and it reminds us a bit of the famous Starry Night painting by Vincent Van Gogh.
If you think so too, you could create a bit of a tribute to the painting by using similar colors and styles for the colors.
It would also look great if you used some reds, yellows and oranges to make it look like dawn or dusk. What ideas do you have for this one?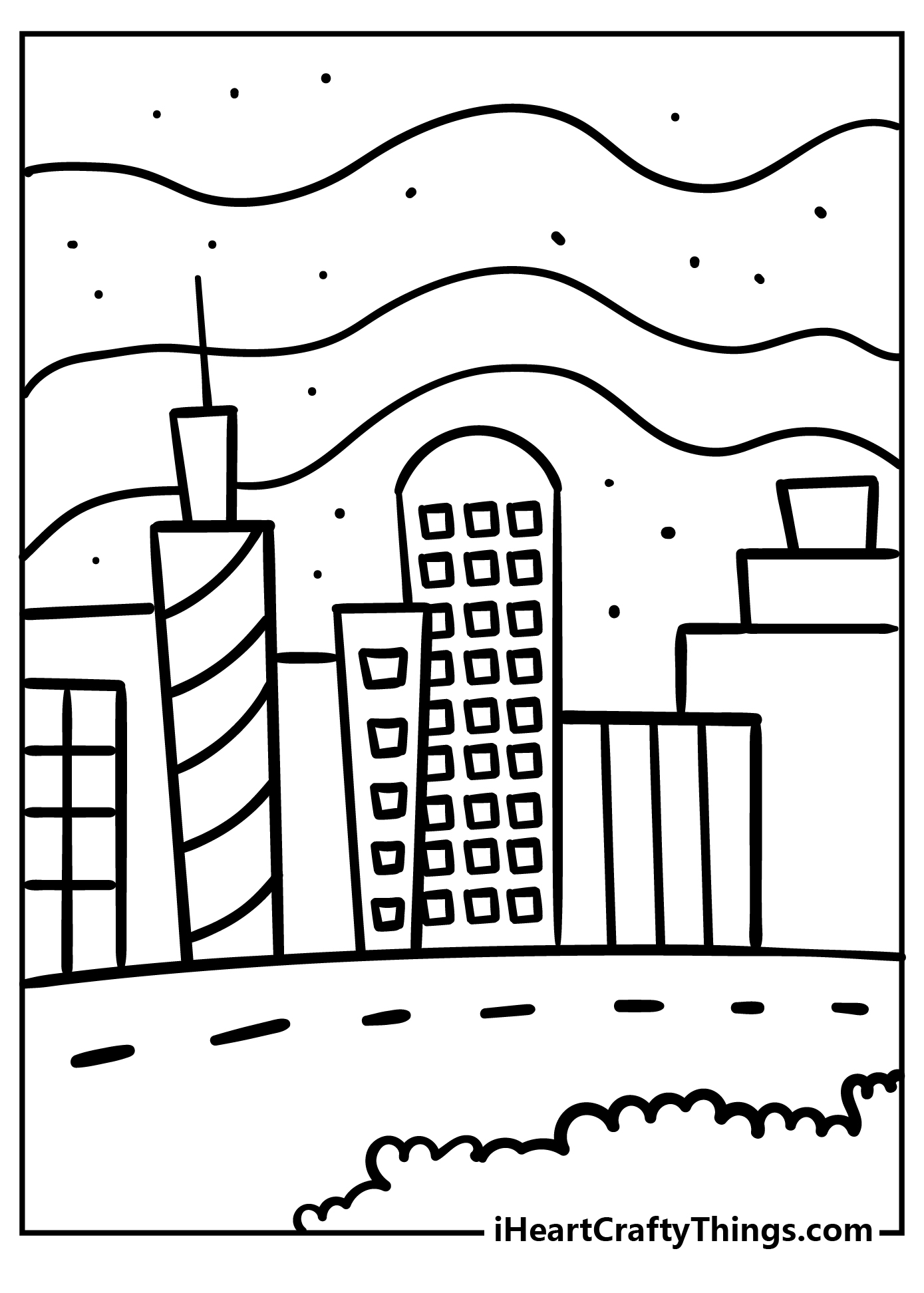 The sun is shining and it's time for coloring fun in this fifth city coloring printable!
The sun is taking up a bit portion of the sky, and there's a car zooming along near the bottom of the picture, and that lets you add some more bright colors you love!
There are so many great little details to color in this one, and we think this will be one of the most vibrant scenes in this collection once you've worked your magic on it!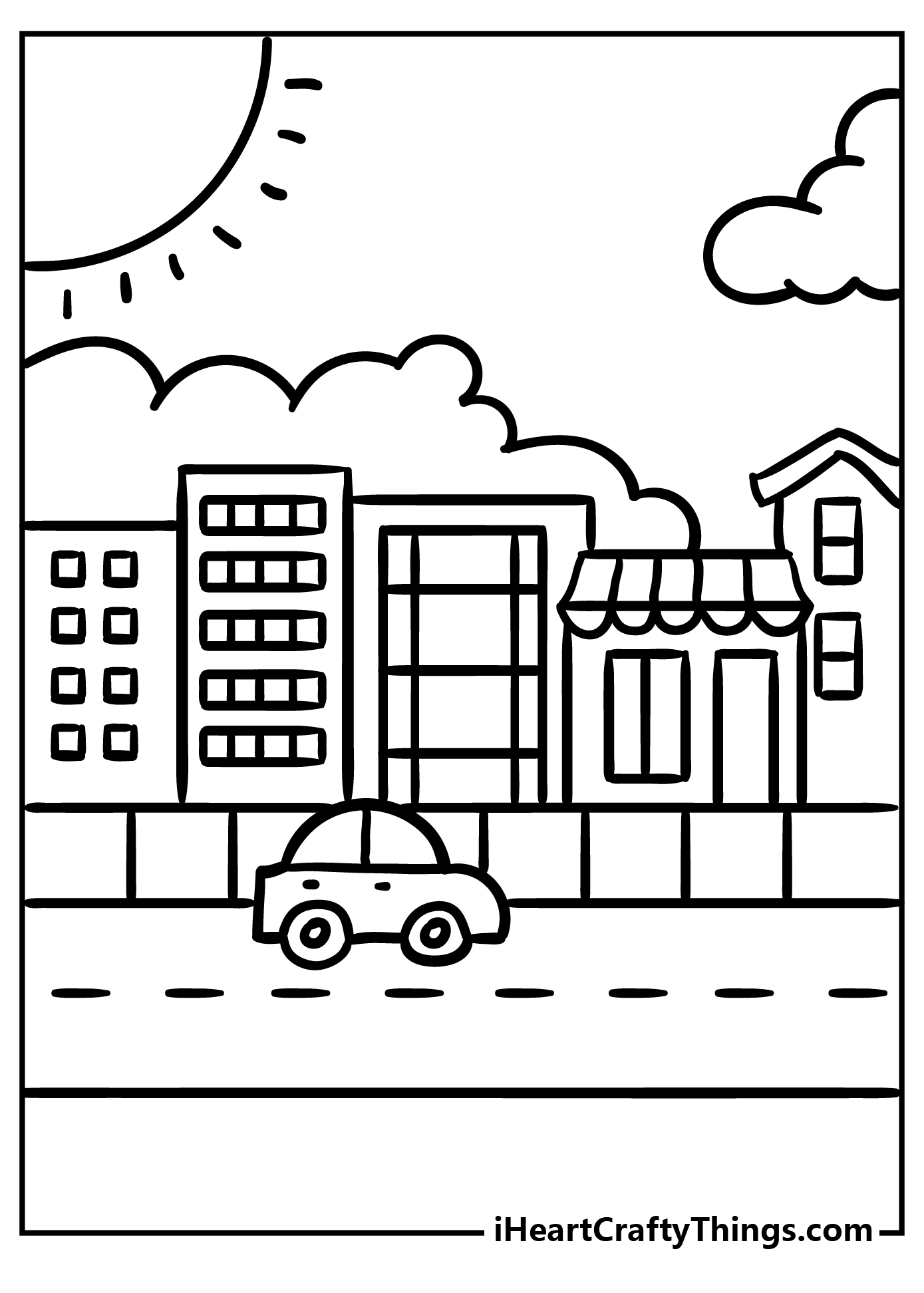 Here's a nice simple scene for you to color in! This one may be a bit simpler, but it still has plenty of room for some fun color details that you can experiment with.
There are lots of small windows and other little details. We would recommend using some art mediums such as colored pens and pencils, as these will allow you to color in the small details with ease.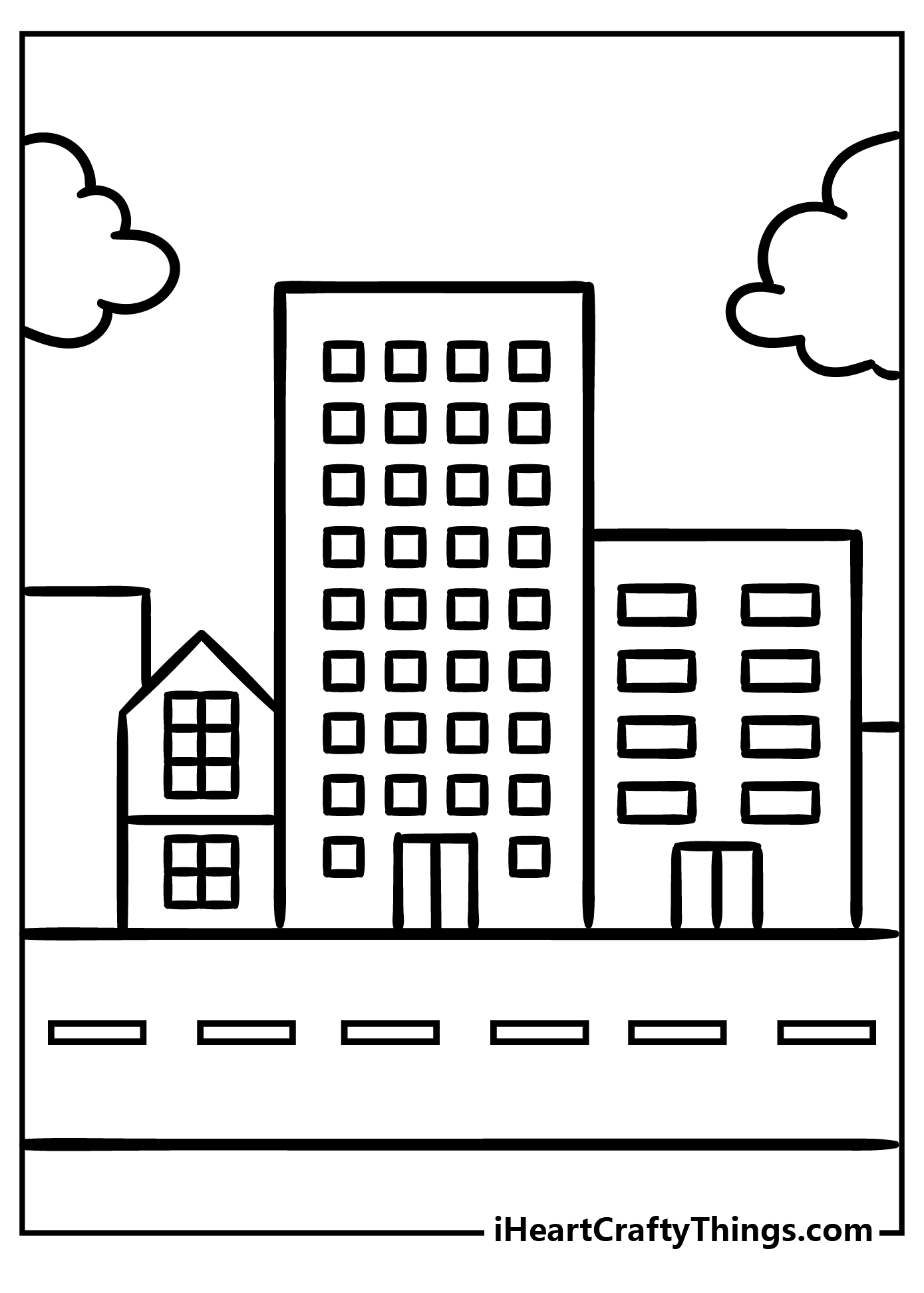 We have another interesting scene for you in this city coloring page! The sun seems to be either rising or setting, and that gives you the opportunity to use some stunning colors in the sky.
The road has been drawn with some simple lines, and while this would allow for some interesting color variation, you could also draw some fun additional details such as some cars.
What approach to colors will you take for this image?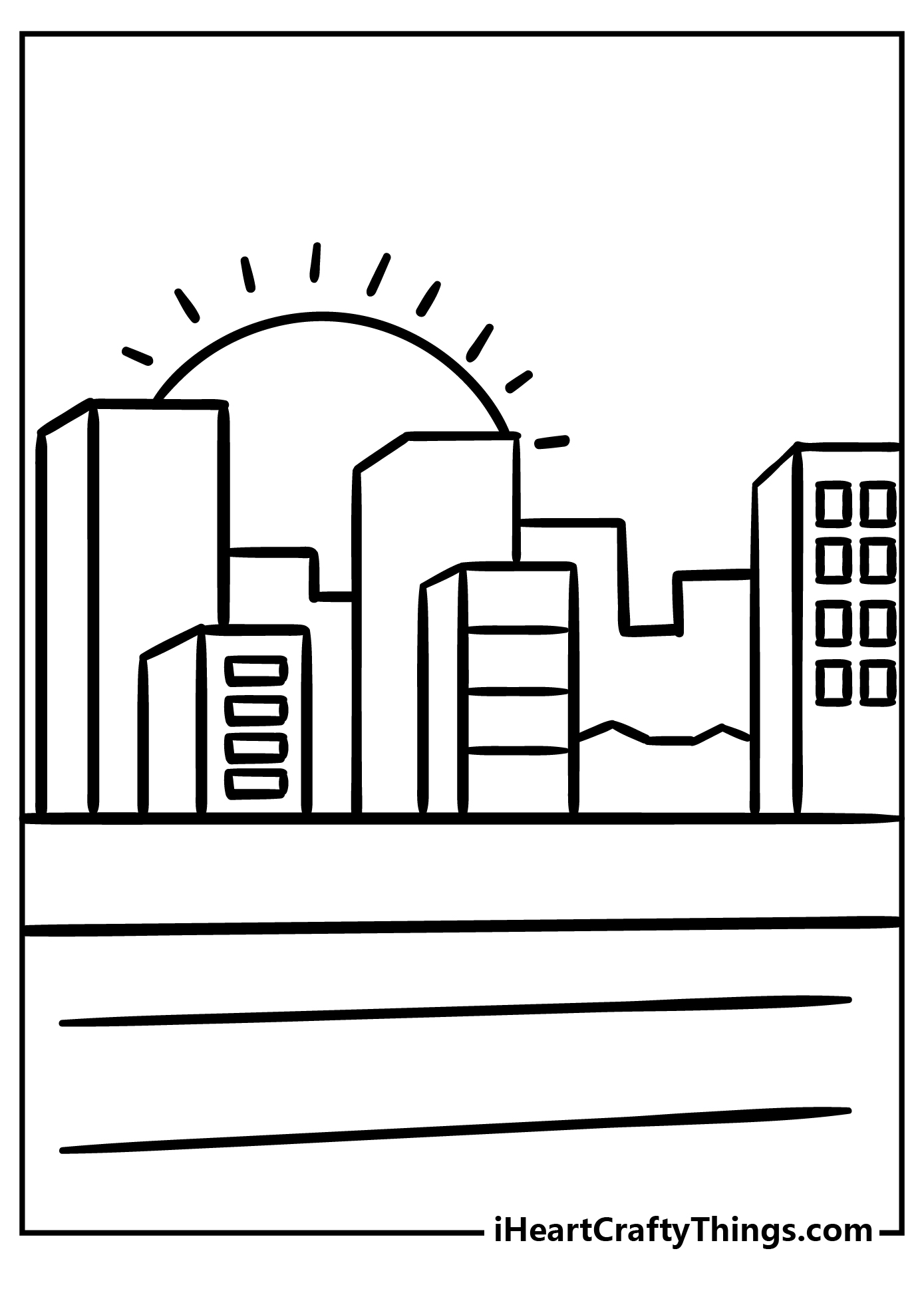 It's time for another trip to the city as we move to the last few pages of this collection.
It's another beautiful day in this next picture, and it's another one where we feel a beautifully blue, bright sky would look amazing.
If you want an explosion of color on the page, you could try to color each window a new color to make for an image that pops off of the page!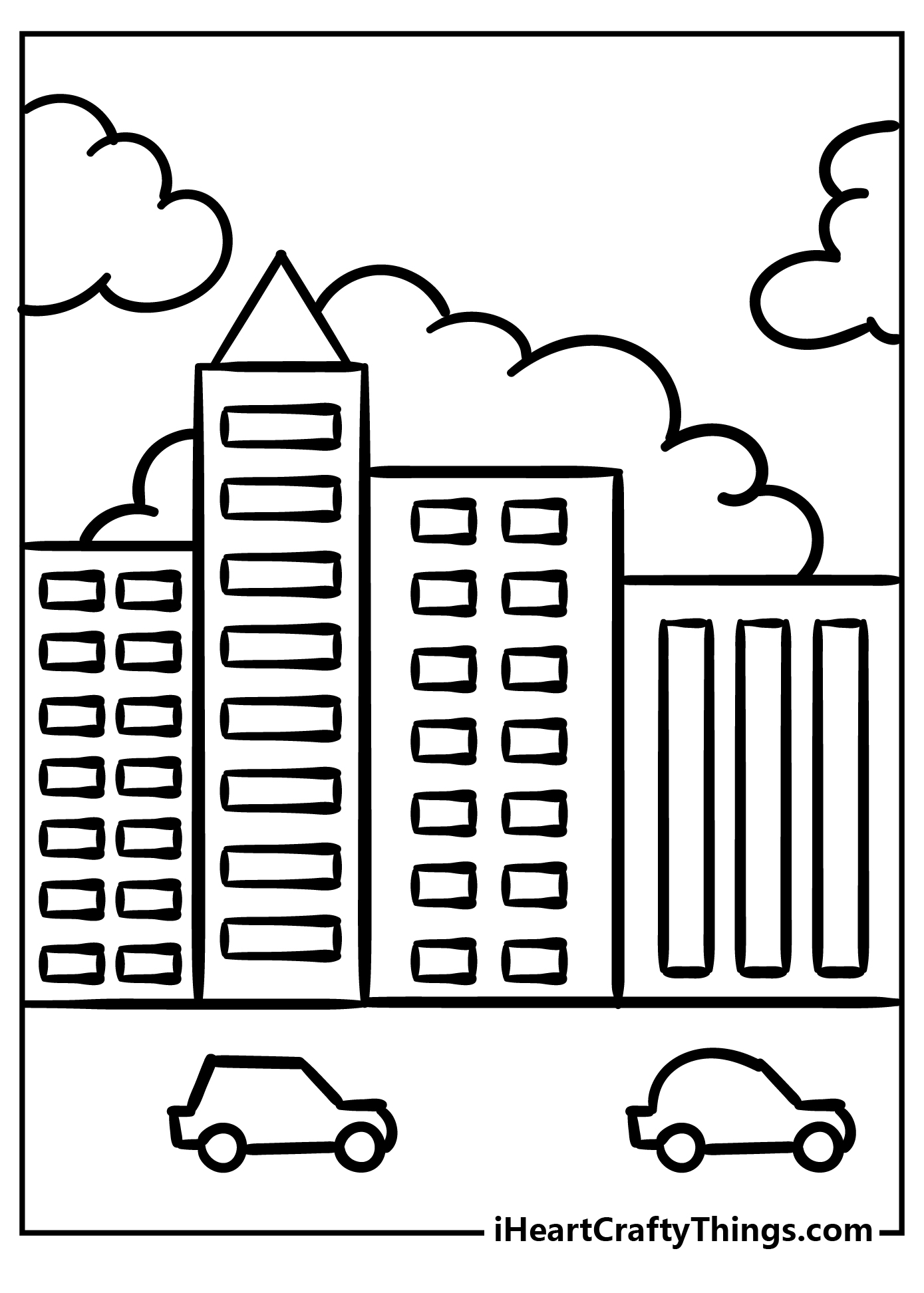 There's something thrilling about seeing a majestic city looming in the distance, and that is the impression we get from this scene being portrayed.
If we were to color this page in, we would use milder colors for the buildings of the city, as that would give the impression that it is just entering our field of view.
What kinds of colors would you use to finish off this beautiful city view? We can't wait to see what you choose!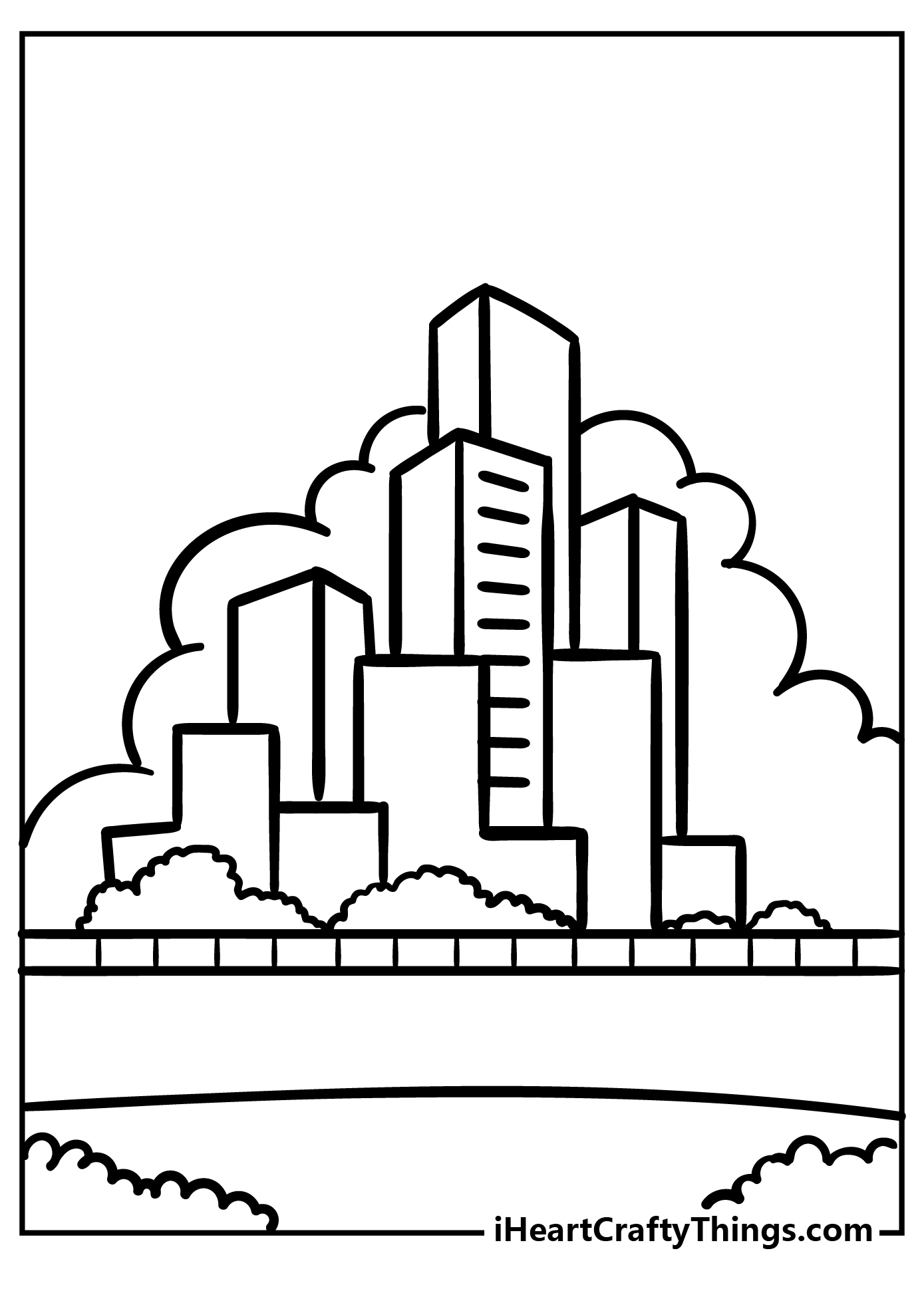 Our last city scene of the collection features one final composition for you to work your color magic on! We're at a bit of a distance from this city, much as we were with the previous coloring sheet.
We can make out a bit more detail in this image though, and you can even see some cars driving near the bottom, and this once again will allow you to incorporate some smaller additions of bright colors.
We know this one will look amazing when you're done with it!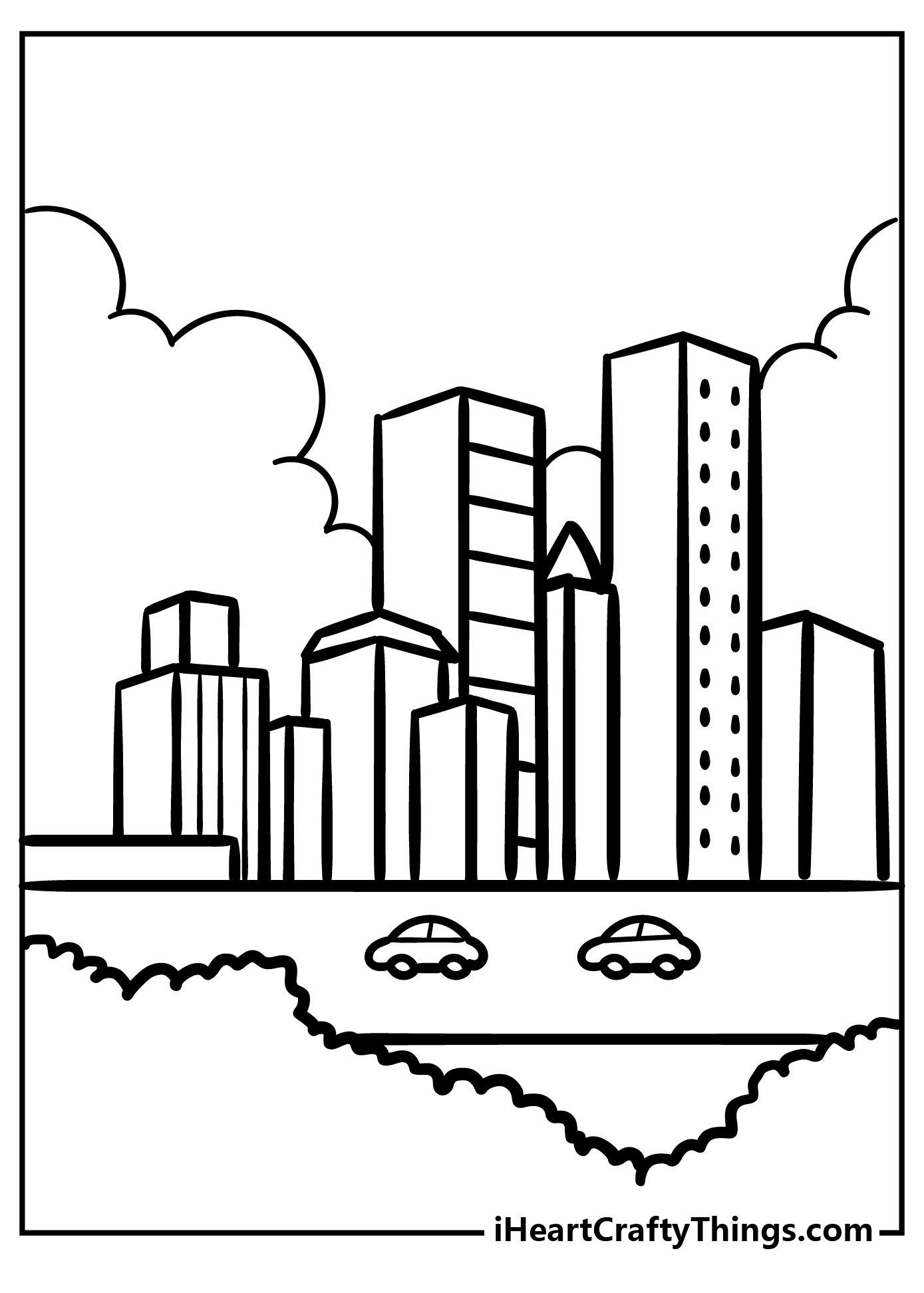 City Coloring Pages – Which will you choose?
We hope that you had a great time exploring some concrete jungles with this collection of free city coloring pages for kids!
Every one of these wonderful images is free for you to print and enjoy as much as you like, and you can also share them with others to spread the fun.
You'll definitely want to check out our website if you enjoyed this collection, as we have many other free coloring page collections for you to try out there. We will be uploading new ones soon, so keep checking in!
Then, when you're ready to show off your coloring skills you can share your favorite finished coloring pages on our Facebook and Pinterest pages. We can't wait to see how they turned out!