On this page, you will find 10 all new WWE coloring pages that are completely free to print and download.
There are tons of exciting events that millions of people tune in to watch every year. There are few fields that have the excitement of WWE wrestling, though!
WWE is full of many performers that have huge amounts of flair and character, and it can be very entertaining just watching them interact.
We will be celebrating this federation in this collection of free WWE coloring pages for kids.
We will be featuring some of the biggest names in wrestling for you to color in this collection. With so many wrestlers and characters, you will be able to use all your favorite colors during this set!
With these WWE coloring sheets, you can pick out your favorites or color in every single one!
They're all free to print and enjoy as much as you like, and it would also be fun to share them with your fellow wrestling enthusiasts to enjoy as well.
Get ready to take on this awesome collection of free WWE coloring printables!
When you have colored in your favorite images, you can show off your coloring skills by sharing them on our Facebook and Pinterest pages. We hope you have an awesome time working on these pictures!
10 Brand New WWE Coloring Pages – Free to Print and Color
We will begin this collection of free WWE coloring pages with a very familiar face! This awesome picture portrays Dwayne "The Rock" Johnson.
He is well known not only for being a great wrestler, but he has also since become one of the biggest movie stars in the world.
This is a really cool pose that he is in, and he looks like he is ready to take on anyone! What colors will you use to suit the intensity of this picture?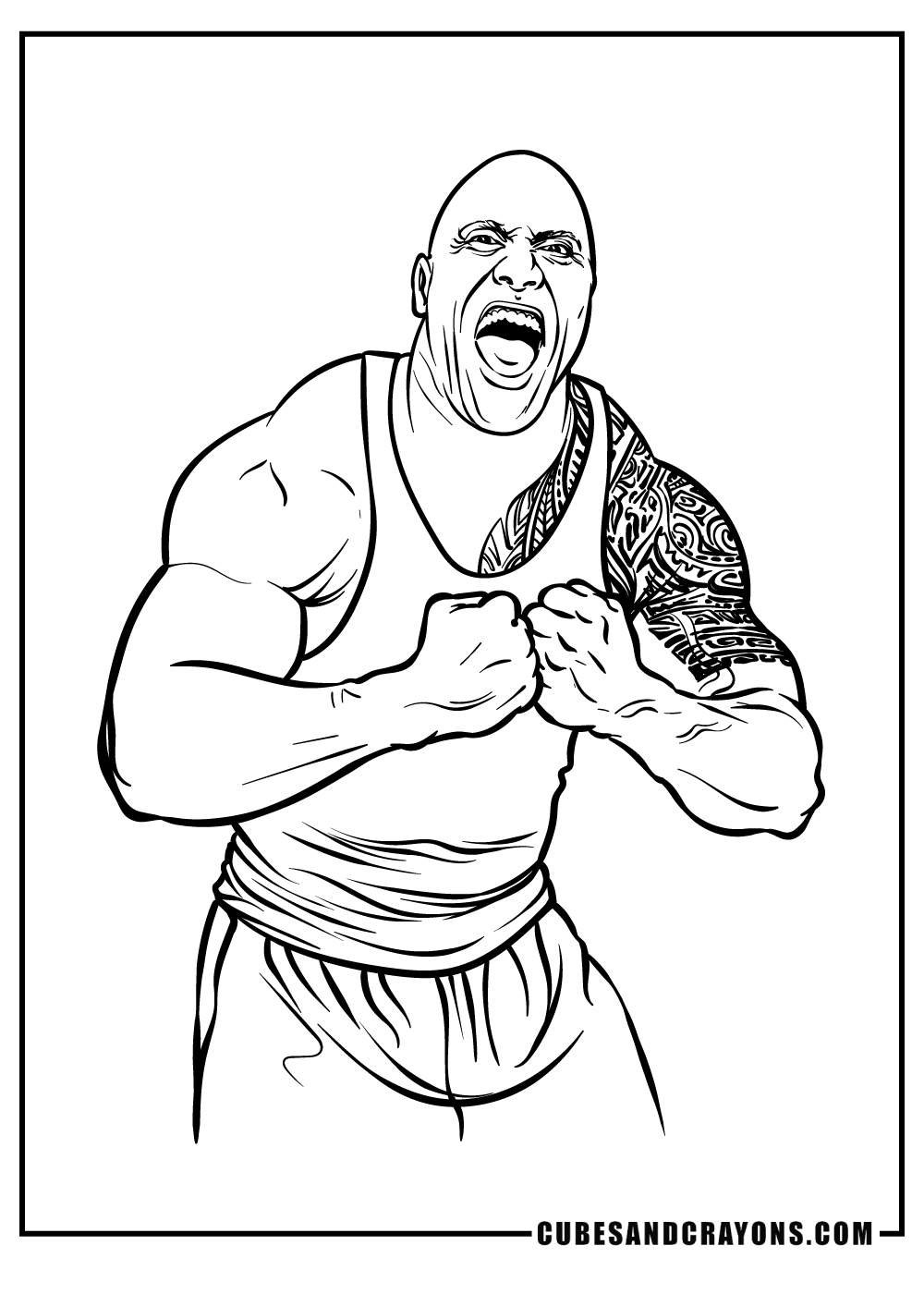 Many wrestling stars will take on an extravagant persona or character, and few are as memorable as The Undertaker! This is who will be the focus of this third WWE coloring sheet.
This wrestler is known not only for being one the greats but also for his horror-themed persona.
For this picture, we think some darker colors for the background would help to suit the mood of this wrestler's persona!
What colors do you think would do The Undertaker justice?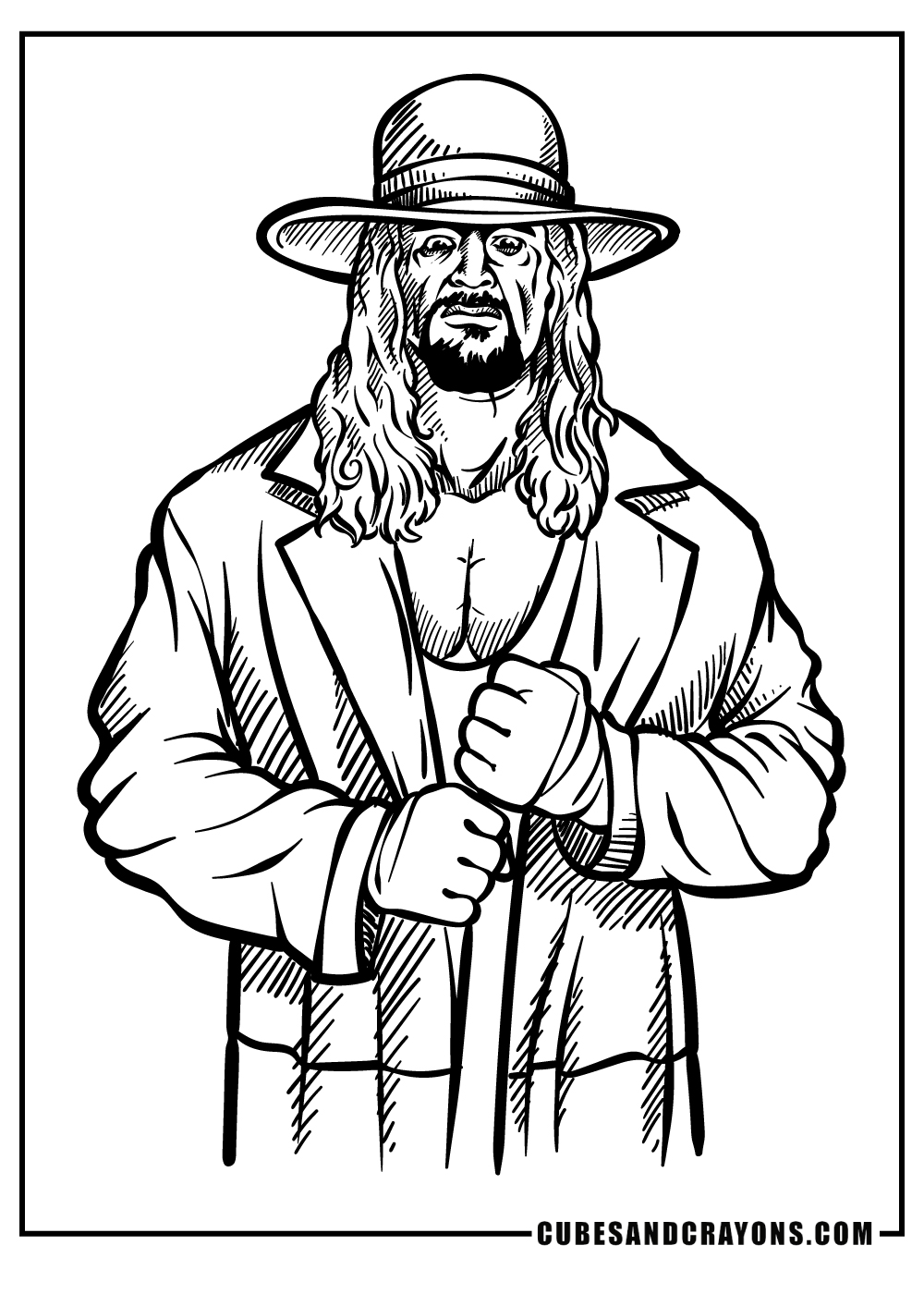 John Cena is up next in this third WWE coloring printable!
John Cena is one of the most recognizable wrestlers in the world, and he is another one that has gone on to star in many movies and become a huge star.
There are some great details for his clothing and accessories that will allow you work in all sorts of cool colors as you color this one!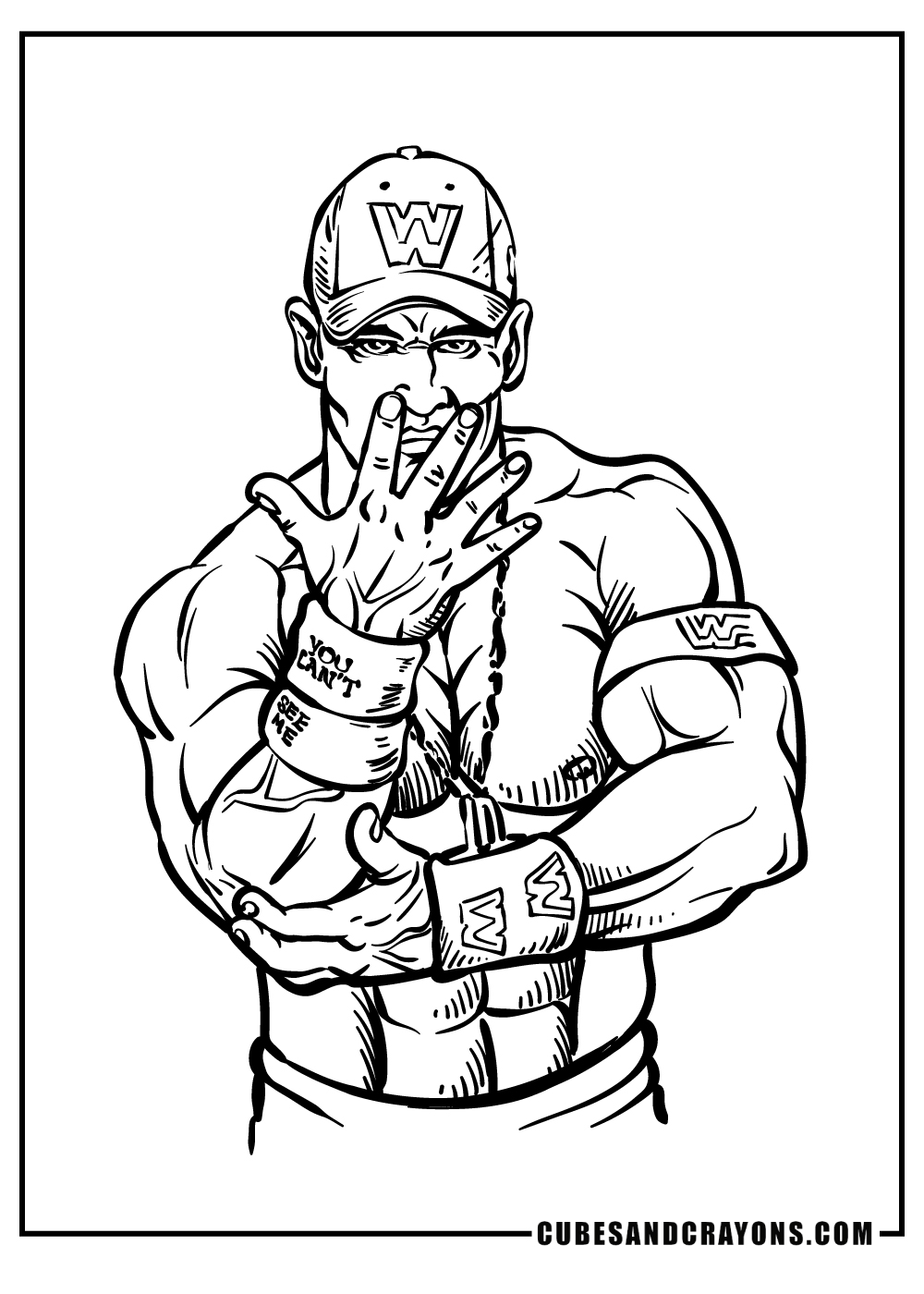 Triple H is up next in this awesome WWE coloring page. He really looks like he means business here!
When you're coloring this picture, you could also add some elements to the background to add to the scene.
These could include some solid colors and shapes, or you could draw a background showing what kind of setting he is in. What will you do to finish off this image?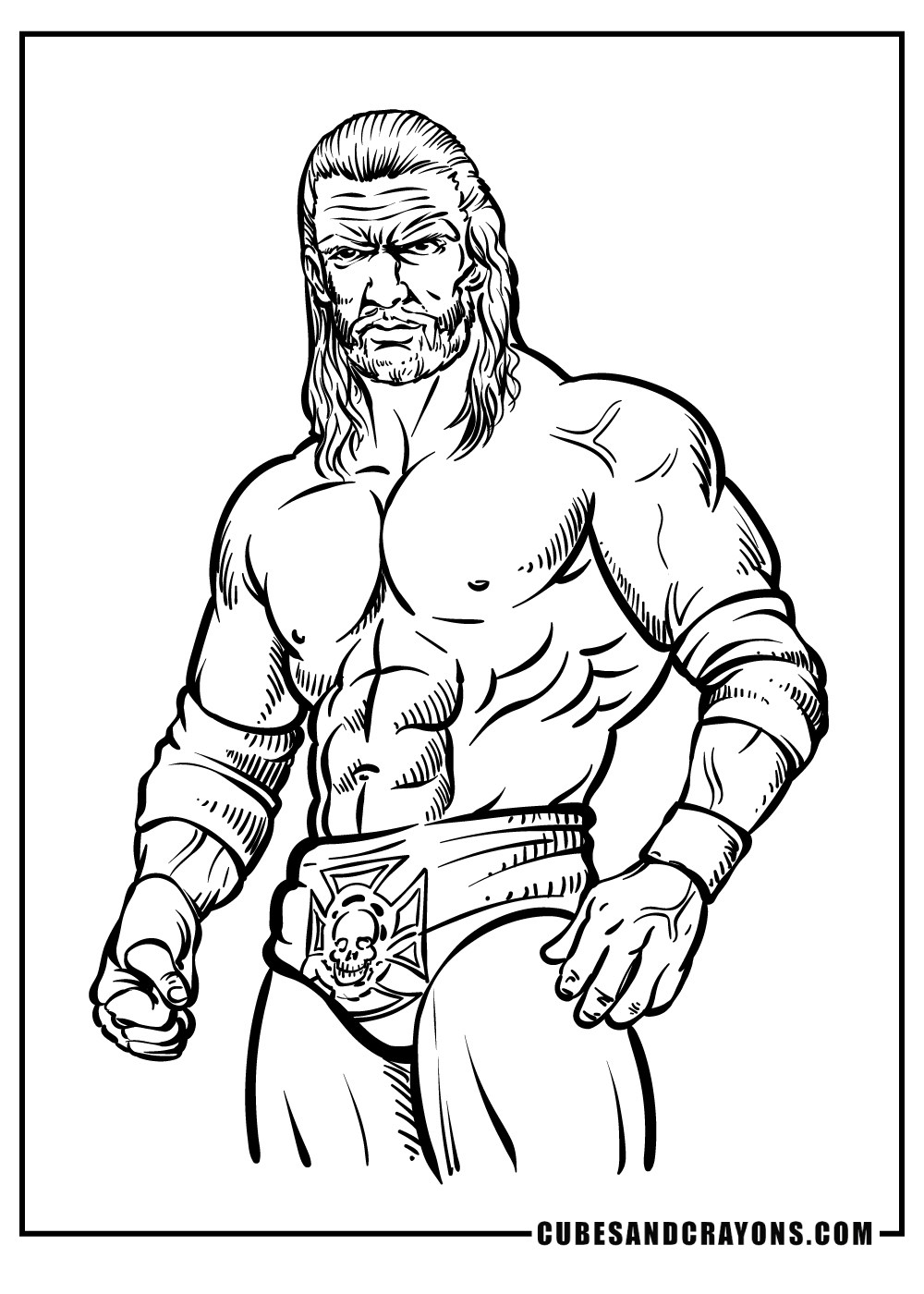 We have another wrestling great for you to color in this next WWE coloring sheet! This one features Randy Orton, and he is known as one of the greats.
He is also well known for the intricate tattoos he has on his arms, and you could work in some awesome colors for these tattoos.
This is another one where it could look really cool to add some kind of background setting to really finish it off!
If you were to do that, would you draw him in the wrestling ring or perhaps another kind of setting?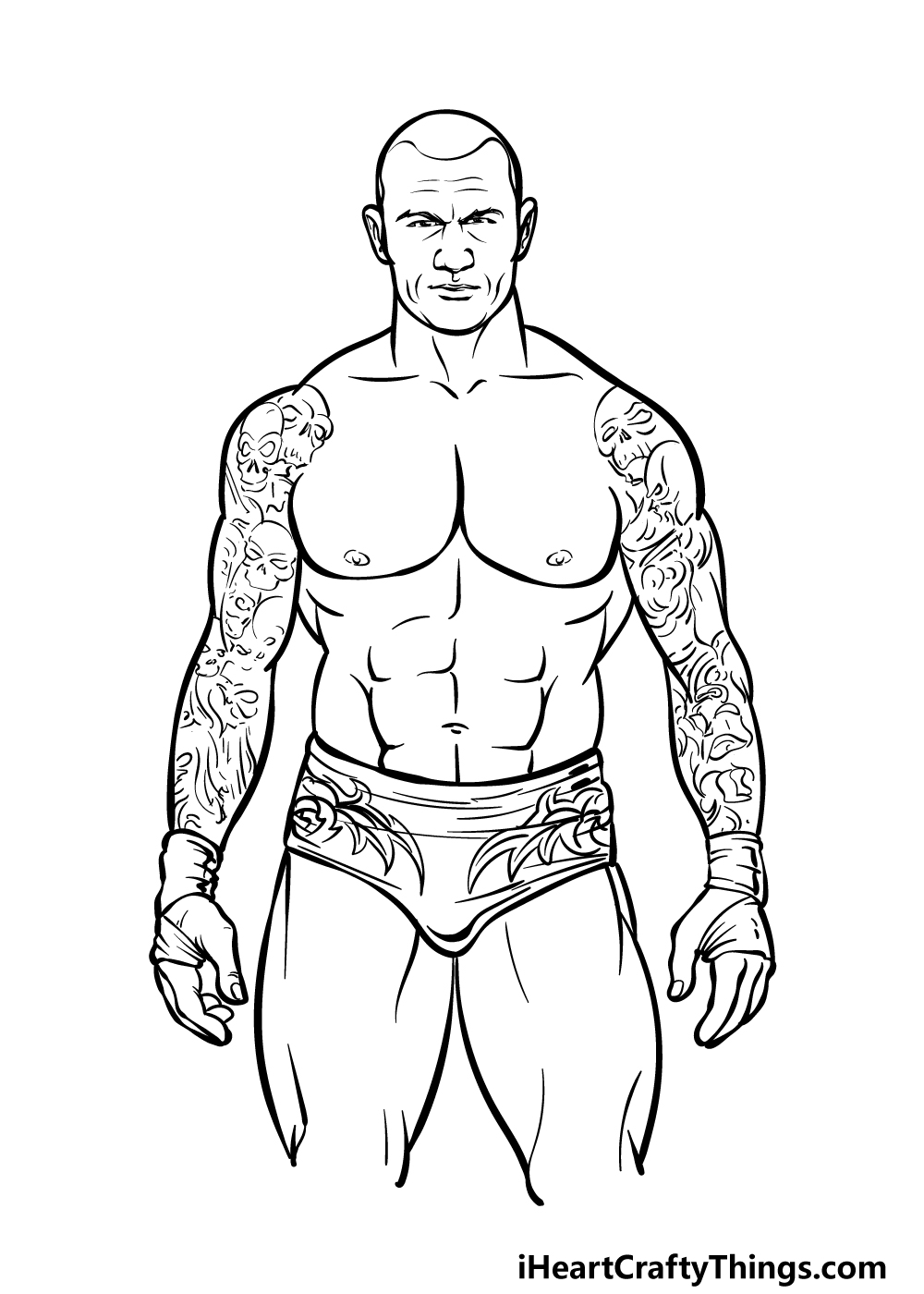 The sixth free WWE printable features another wrestler who has turned into a movie star!
Dave Bautista is one of the most formidable wrestlers, and these days he is known for playing Drax in the Guardians Of The Galaxy films among many others.
He is another wrestler who has some awesome arm tattoos, and they are on full display in this printable.
That again allows you to work in some cool colors! What colors will you use to color this wrestling legend?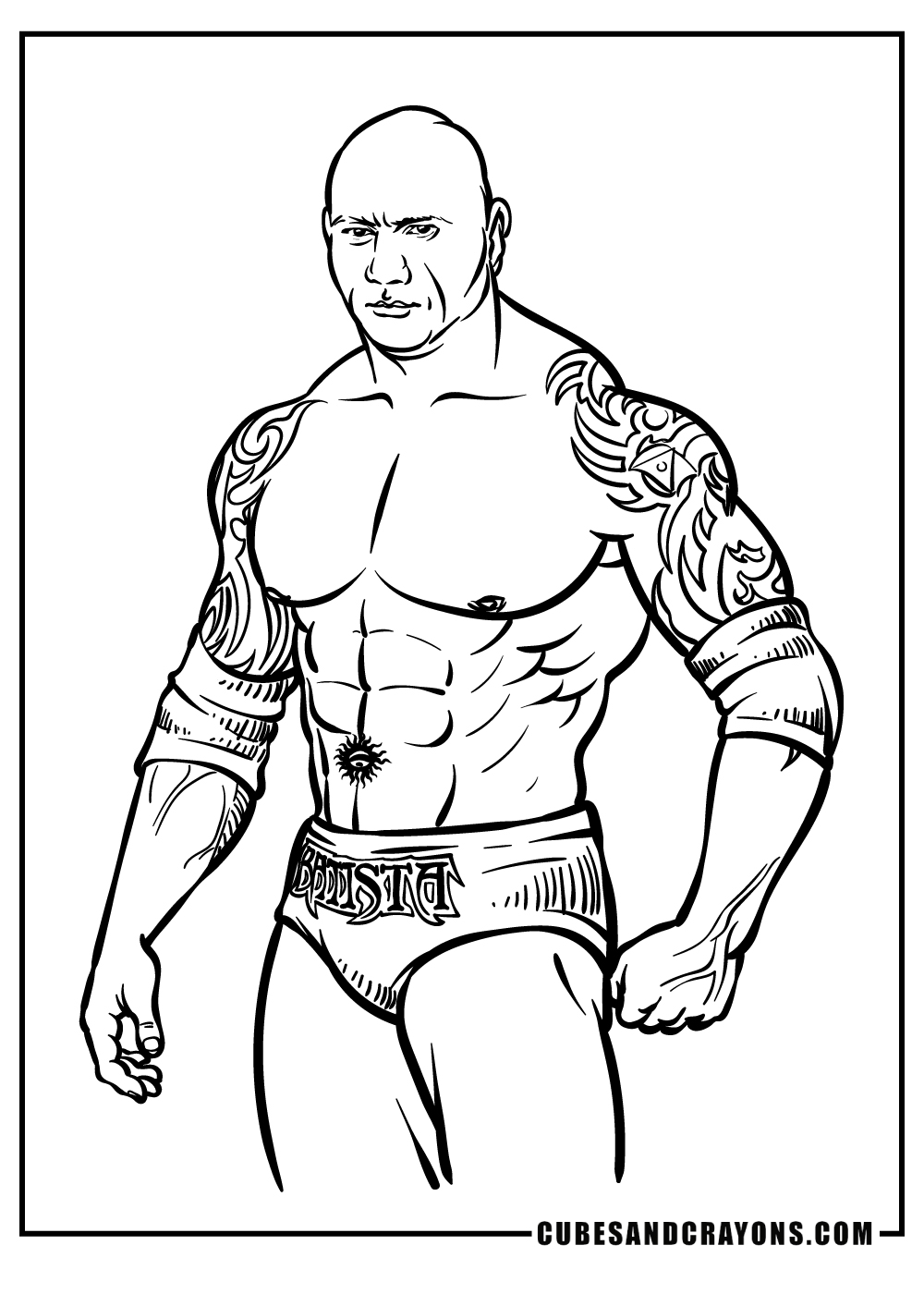 Stone Cold Steve Austin is here to take the stage in this seventh WWE coloring page. This is a really cool image of this wrestling legend, and he is wearing an awesome vest with his name on it.
This vest has some details that you could work a lot of color variation into!
When coloring smaller details, we would recommend using art tools that allow for precision such as colored pens, markers and thin-tipped brushes.
What cool art mediums will you use to color this picture?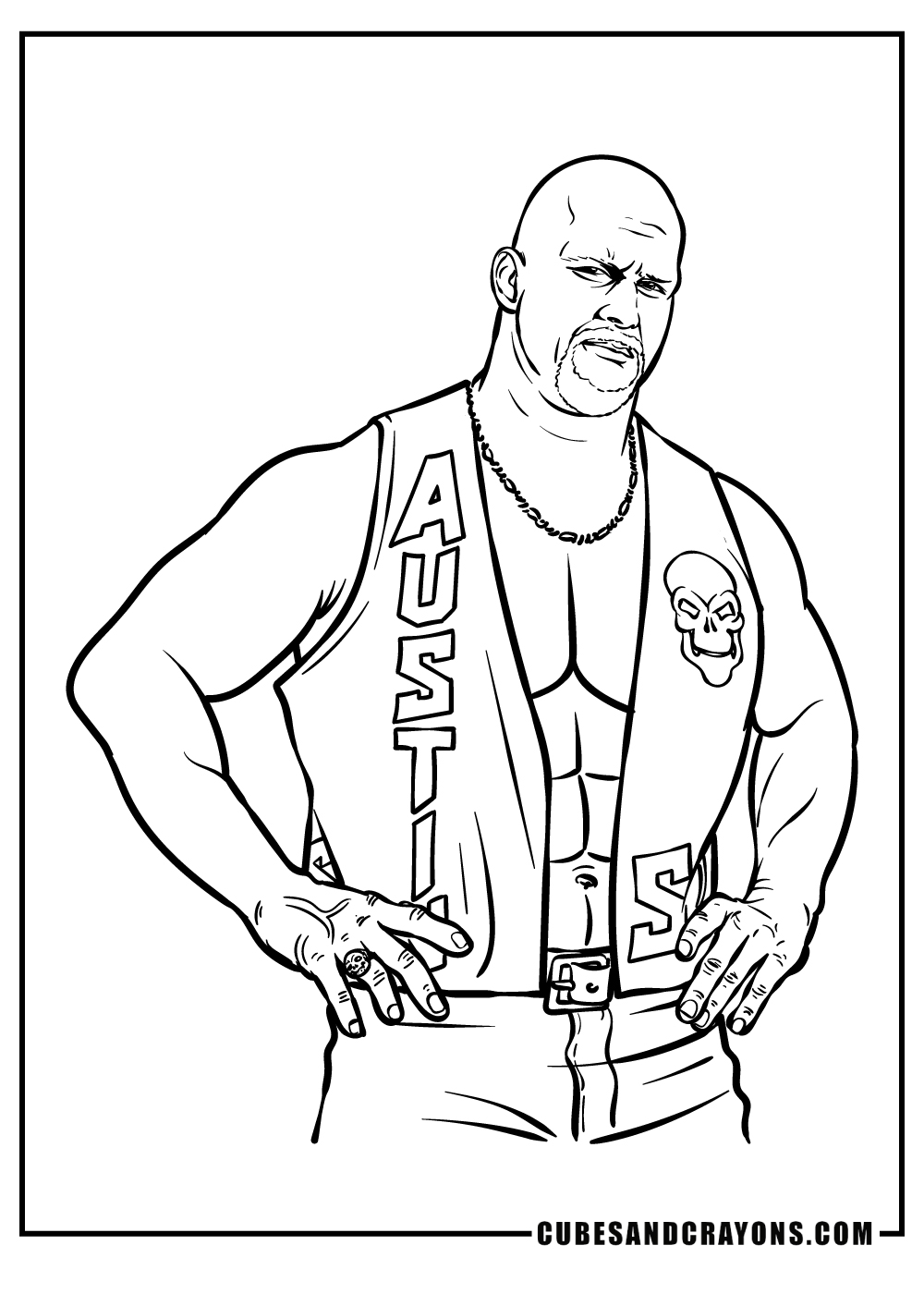 There is an intense portrayal of another wrestling great with this WWE coloring sheet featuring Brock Lesnar.
He is looking really tough and intense in this picture, and he is another wrestler that has some cool tattoos to color in.
This is another one where we would use some bright, intense colors to fit the ferocious expression on his face!
What color scheme will you go for?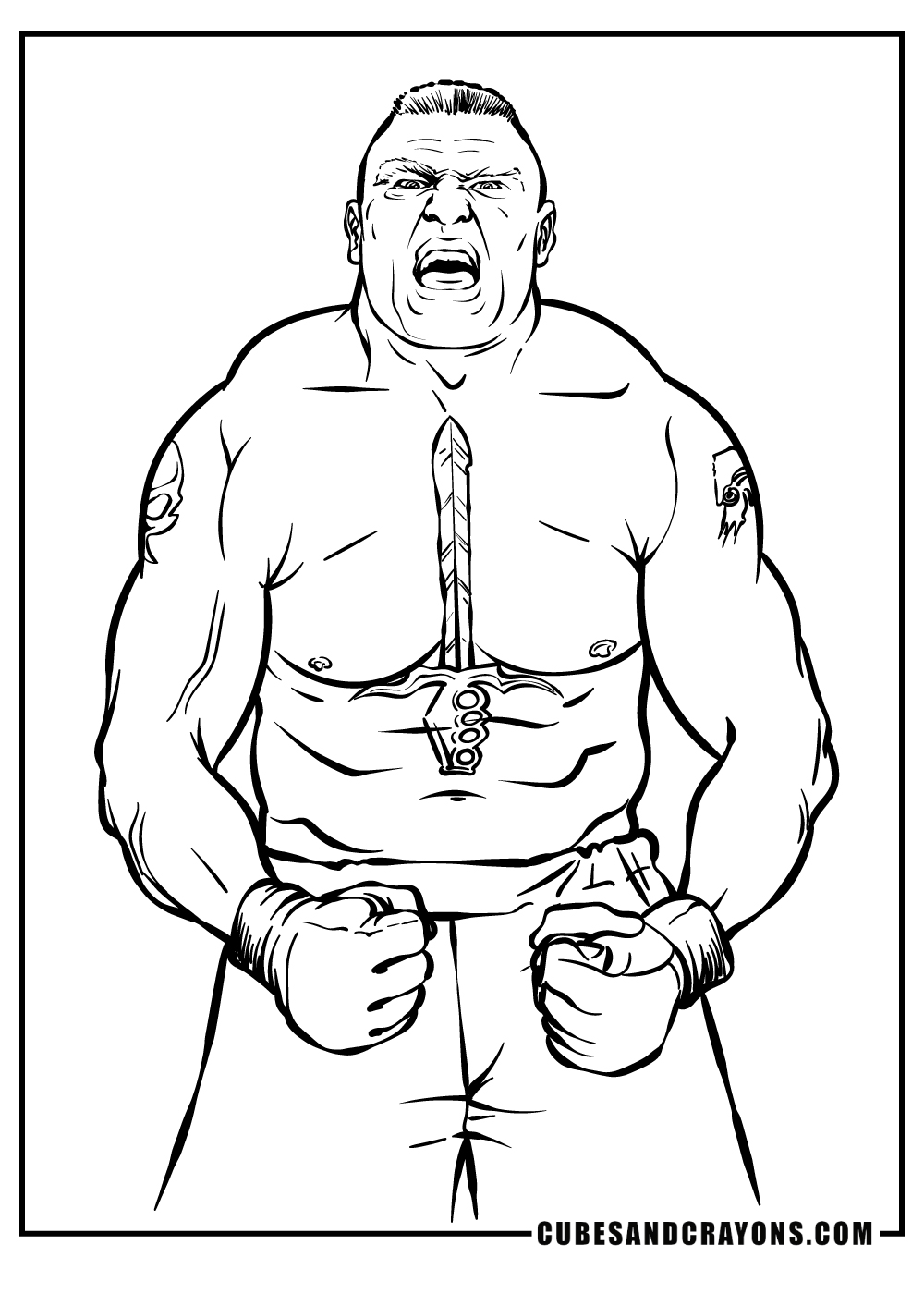 We have a classic wrestling star for you to color in this WWE coloring page. The late, great Ultimate Warrior is up next in this one.
He is one of the most unique-looking wrestlers in this collection, so this one should be a lot of fun to color.
He has got some intricate facepaint in this image, so you will definitely want some of those mediums that allow for precision for that part of the drawing!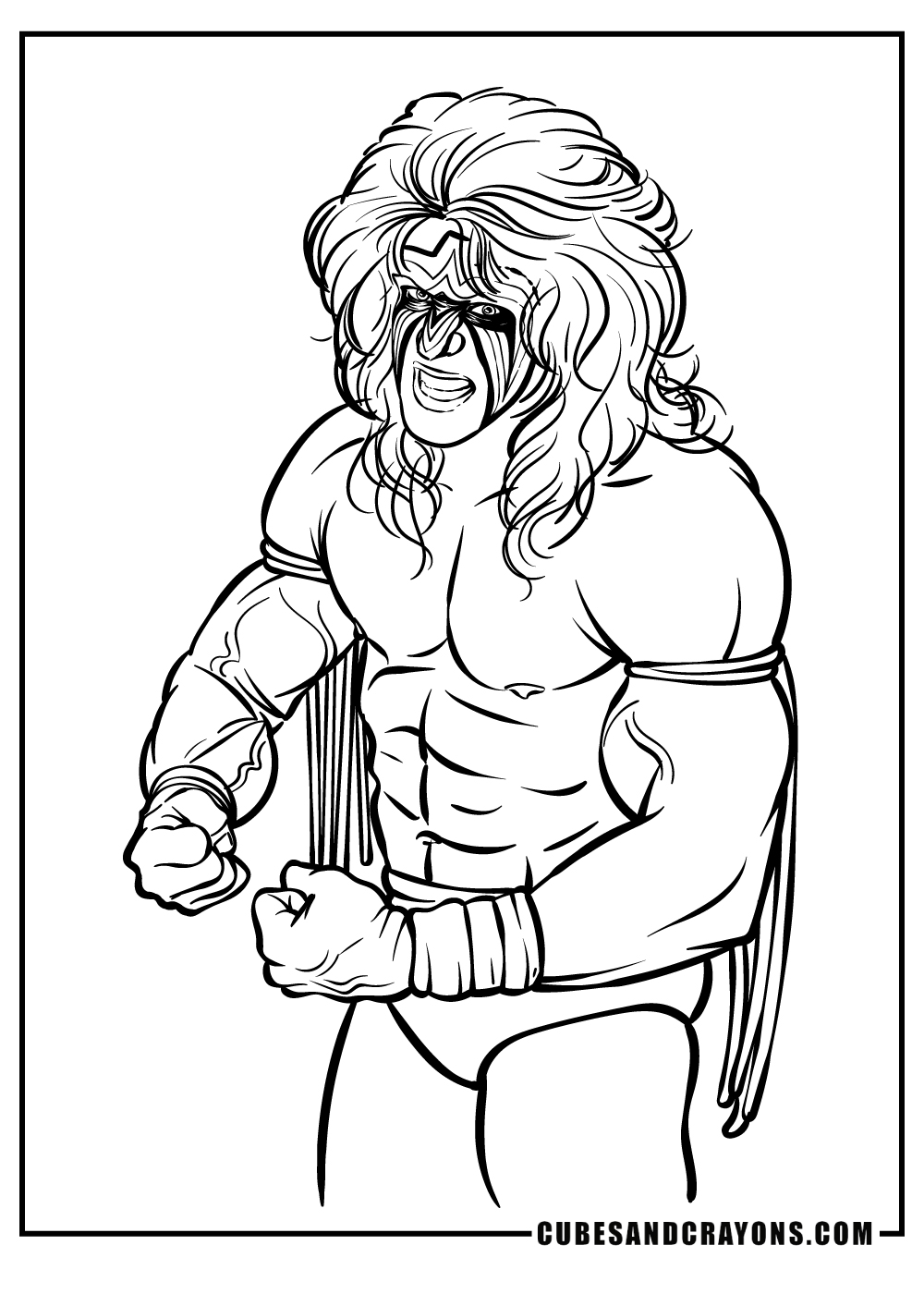 This final WWE coloring printable features one of the most legendary wrestlers of all time: Hulk Hogan.
This is a really awesome pose that he is pulling in this printable, and he has a lot of clothing elements for you to color as well!
This seems a fitting end to this fantastic wrestling collection, so how will you close off this set of coloring pages?
You could maybe try out some unique colors or art tools that you haven't used for any other pages to set this one apart!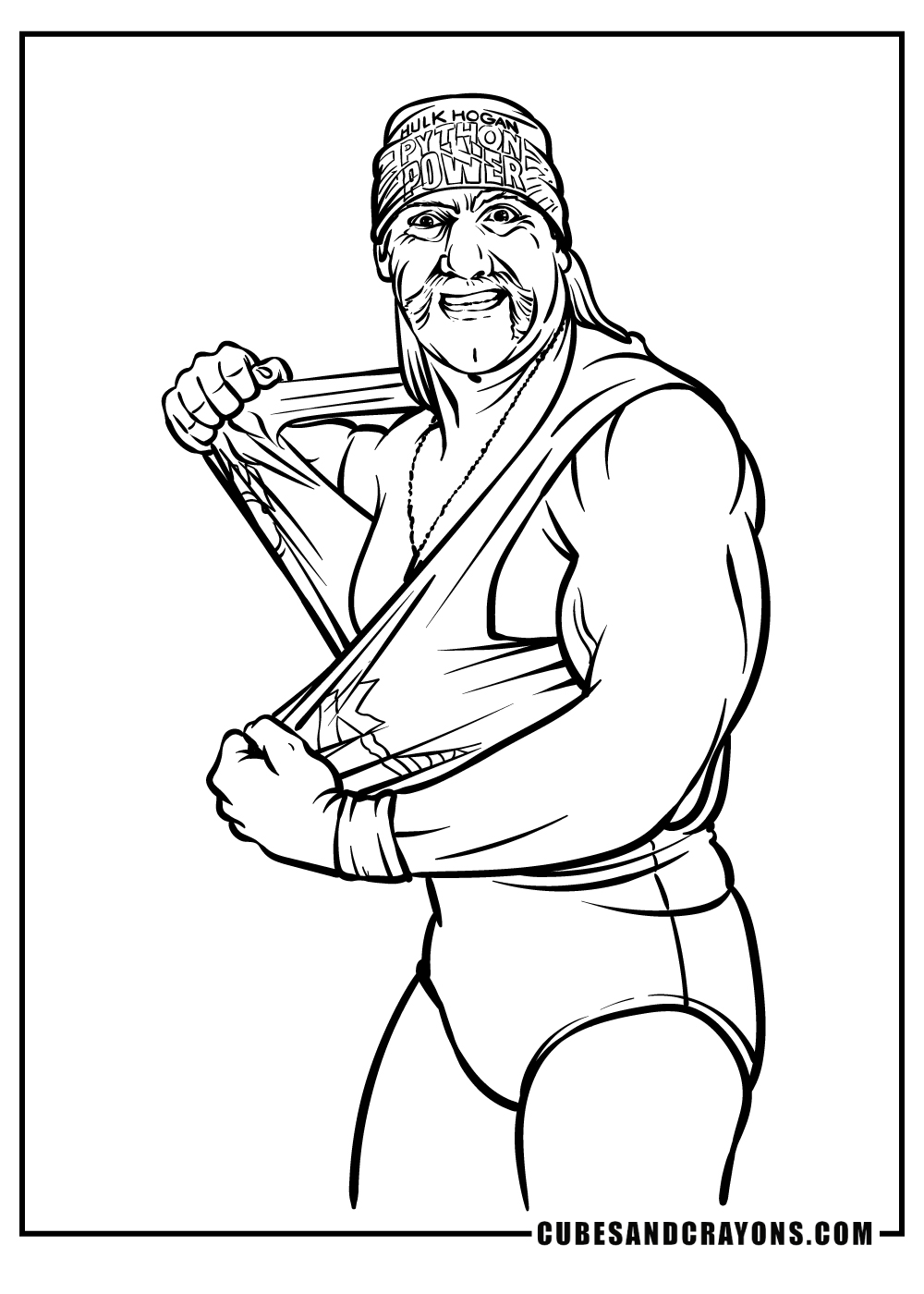 WWE Coloring Pages – Which will you choose?
That will finish off this collection of free WWE coloring pages for kids! We hope you had a great time celebrating these wrestling legends with your best coloring moves and tricks.
Remember to share all of these pages with your wrestling-obsessed friends and family!
If you had fun with these WWE coloring sheets, you will find many more coloring collections to try on our website. They're all free to print and color, and we plan to bring out many more over time!
We would love to see how you colored these wrestling legends! When you have finished coloring all of your favorites, we hope you will share them on our Facebook and Pinterest pages.
It's always great to see the unique ways that you color in these coloring printables!