One of the best parts of Spring time is seeing all of the beautiful flowers start to bloom in the garden and display all of the brilliant colors of nature.
When it comes to colors, there are an infinite amount represented in the flowers of nature and pretty much any color you think of probably would show up somewhere!
That provides a great opportunity for coloring as you can use all of your favorite colors and still probably be representing a realistic flower color!
These free garden coloring pages for kids are the perfect way to spend hours and hours having fun with your brightest colors. This would also be a good chance to break out your favorite crafts and stickers to really bring these garden printables to life.
Once you've completed your favorite garden coloring sheets be sure to share your creations on our Facebook page. We'd love to see all the bright and colorful gardens on display!
REMEMBER: You can get the COMPLETE set of these coloring pages >> HERE
10 Brand New Garden Coloring Pages – Free to Print and Color
I expect we'll see a lot of bright and beautiful colors in this first free garden coloring page for kids. We have a closeup on a dense garden of flowers with butterflies flying above it.
This is definitely a coloring sheet that invites you to break out your most vibrant crayons, pens and paints to create a sea of bright colors.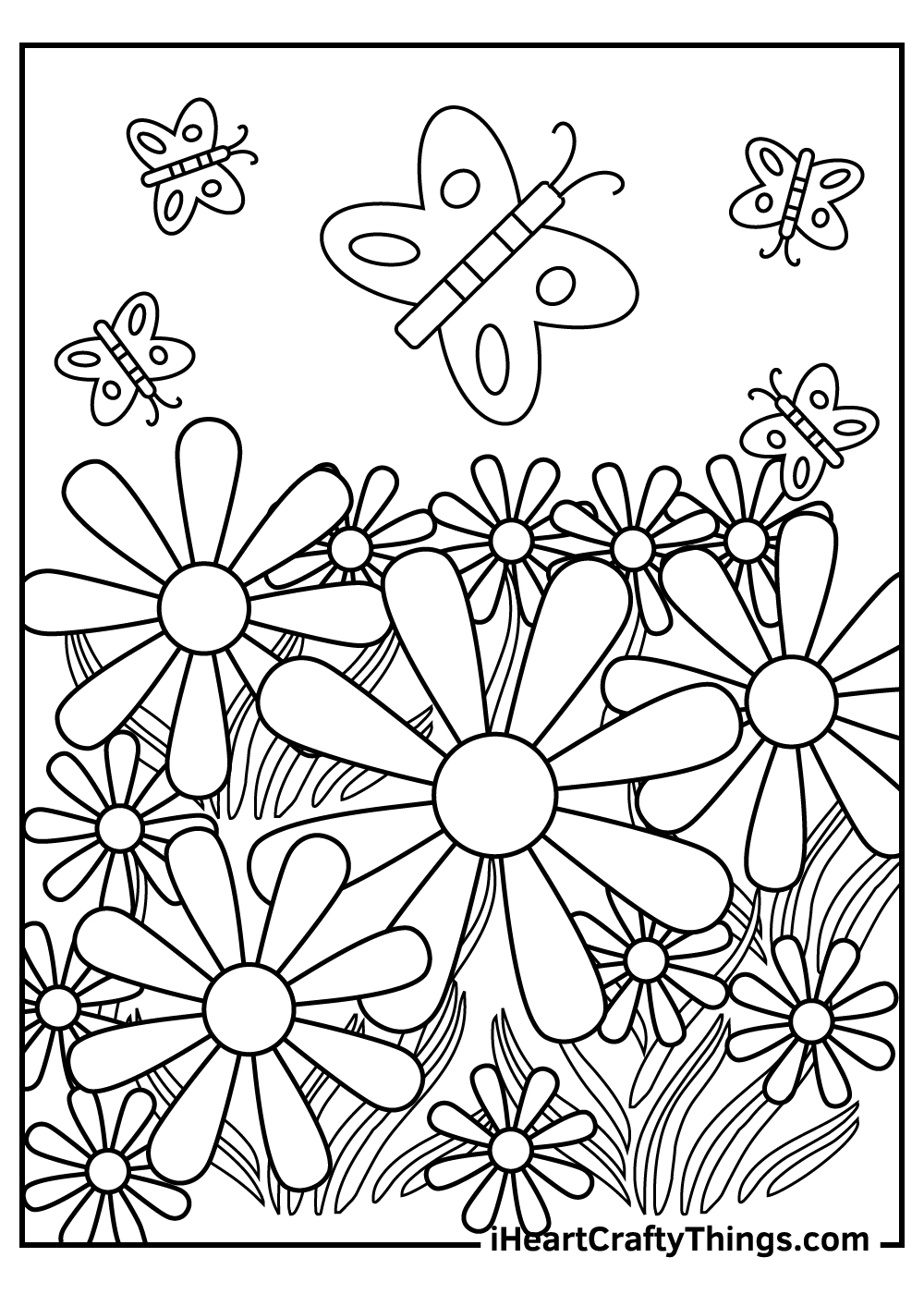 The next image in this series of garden coloring printables shows some beautiful tulips under a bright and prominent sun.
Tulips come in many different colors variations from yellows to reds and purples and more. Maybe you could come up with even more variations with this coloring page and finish it off with a bright yellow sun.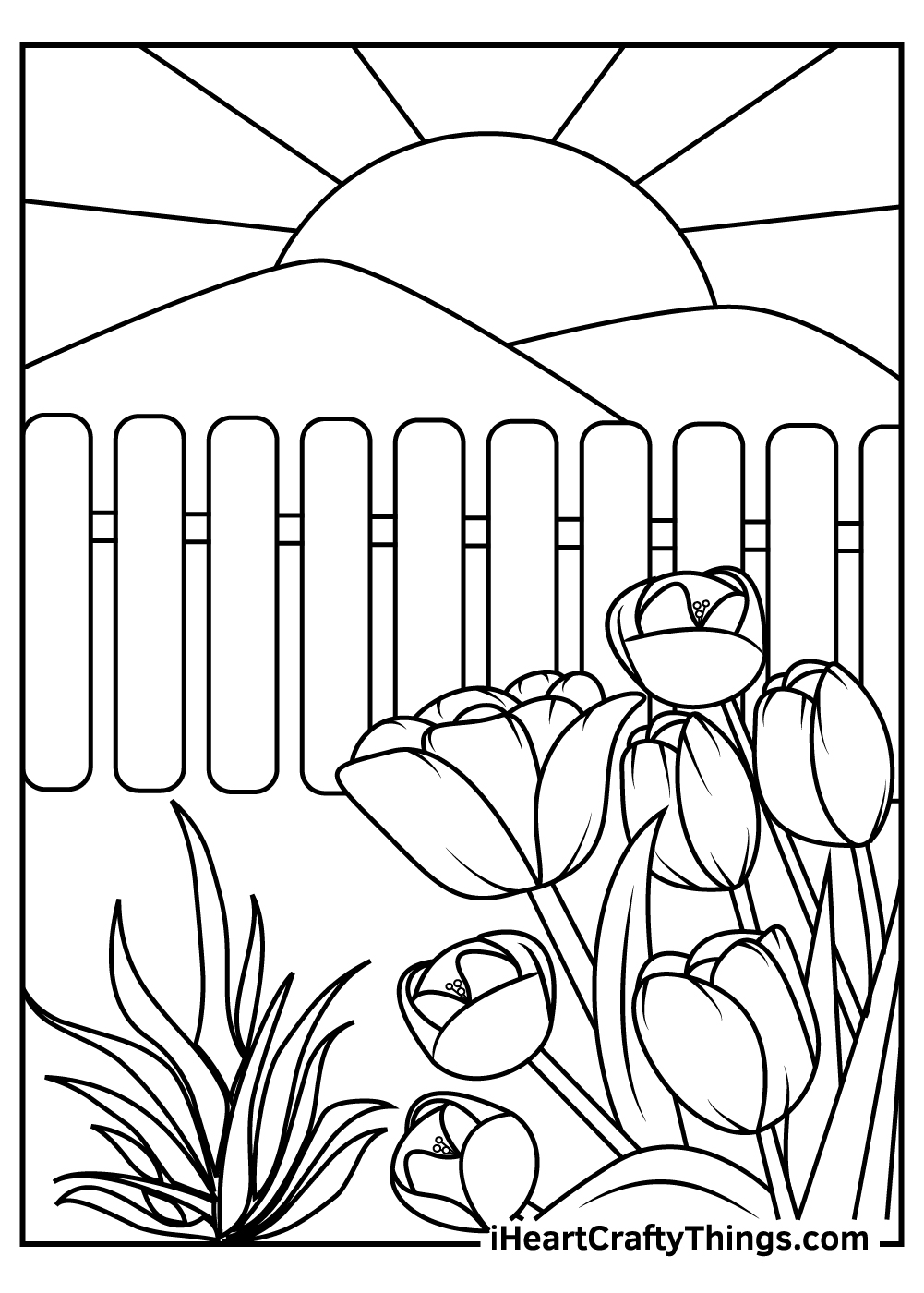 The bees are buzzing in this third garden coloring page! It's a beautiful bright day in the garden and it's full of life and activity all around.
There's room to use a rich green for the leaves of the bush and the stems of the flowers to contrast the bright colors you can use for the flowers and the bees.
We can't wait to see how you color this busy garden coloring sheet!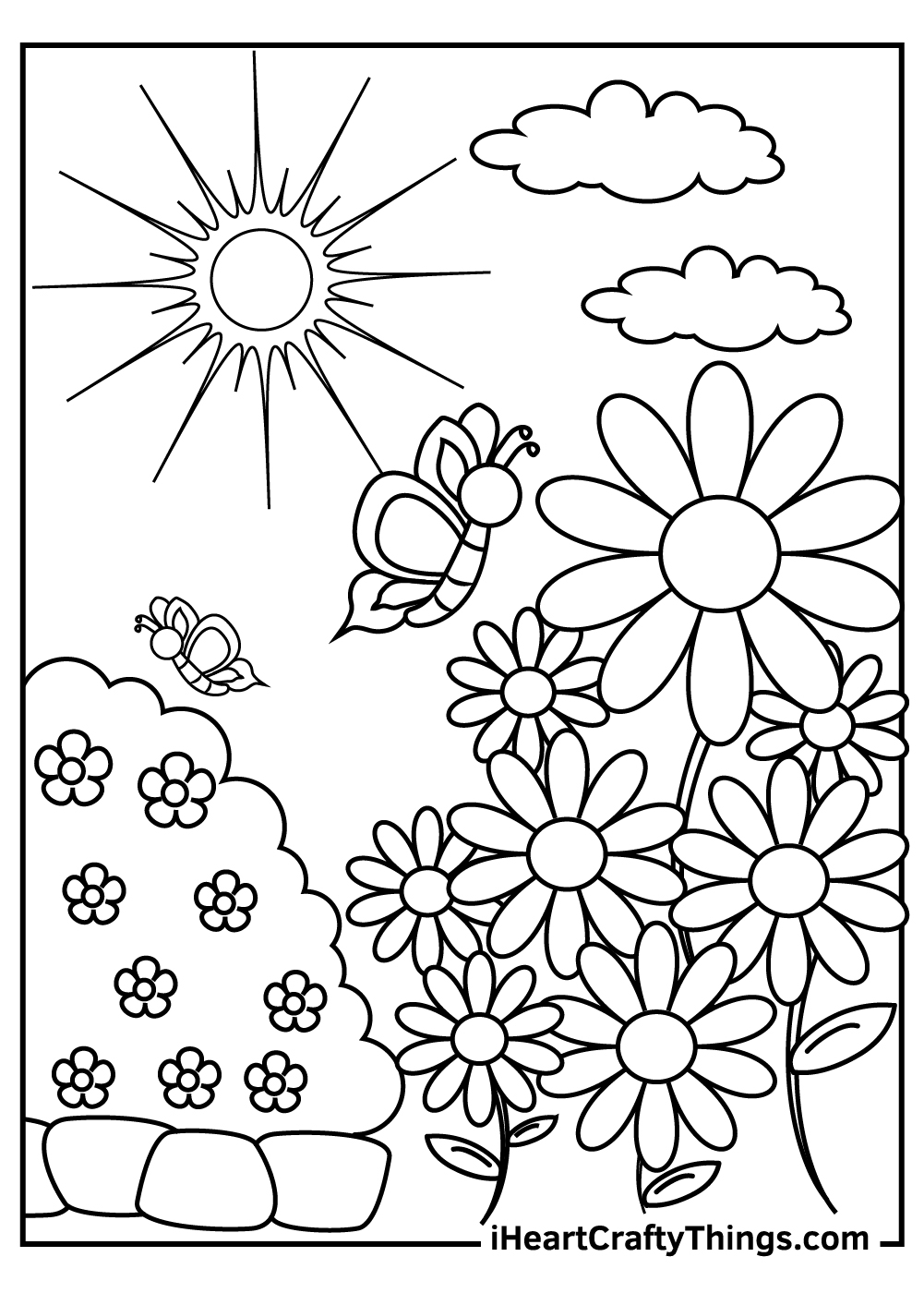 We have a lot of variety in this next free garden printable. The sun is looking happily down on a garden with different kinds of life thriving in it.
A bee and a mushroom show there are more than just flowers in this garden, and they also allow us to have some color variation to go with the vibrant petals of the flowers.
REMEMBER: You can get the COMPLETE set of these coloring pages >> HERE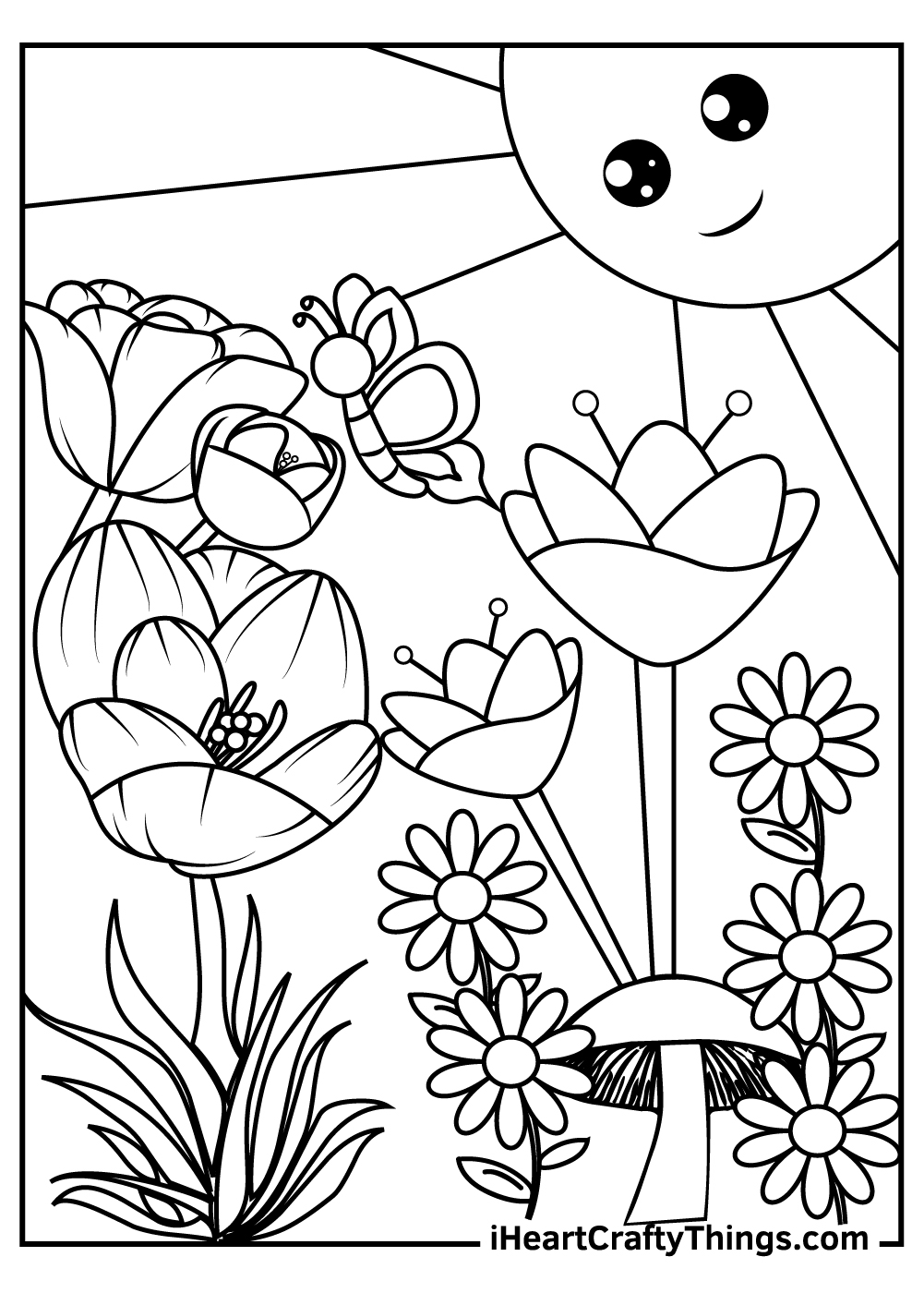 It's a bee extravaganza in this garden coloring page! A busy beehive sits above a flourishing garden and the bees from the hive are buzzing around, hard at work in the garden.
For the bees and the hive you could use the brightest yellow you have to make them stand out beautifully from the background.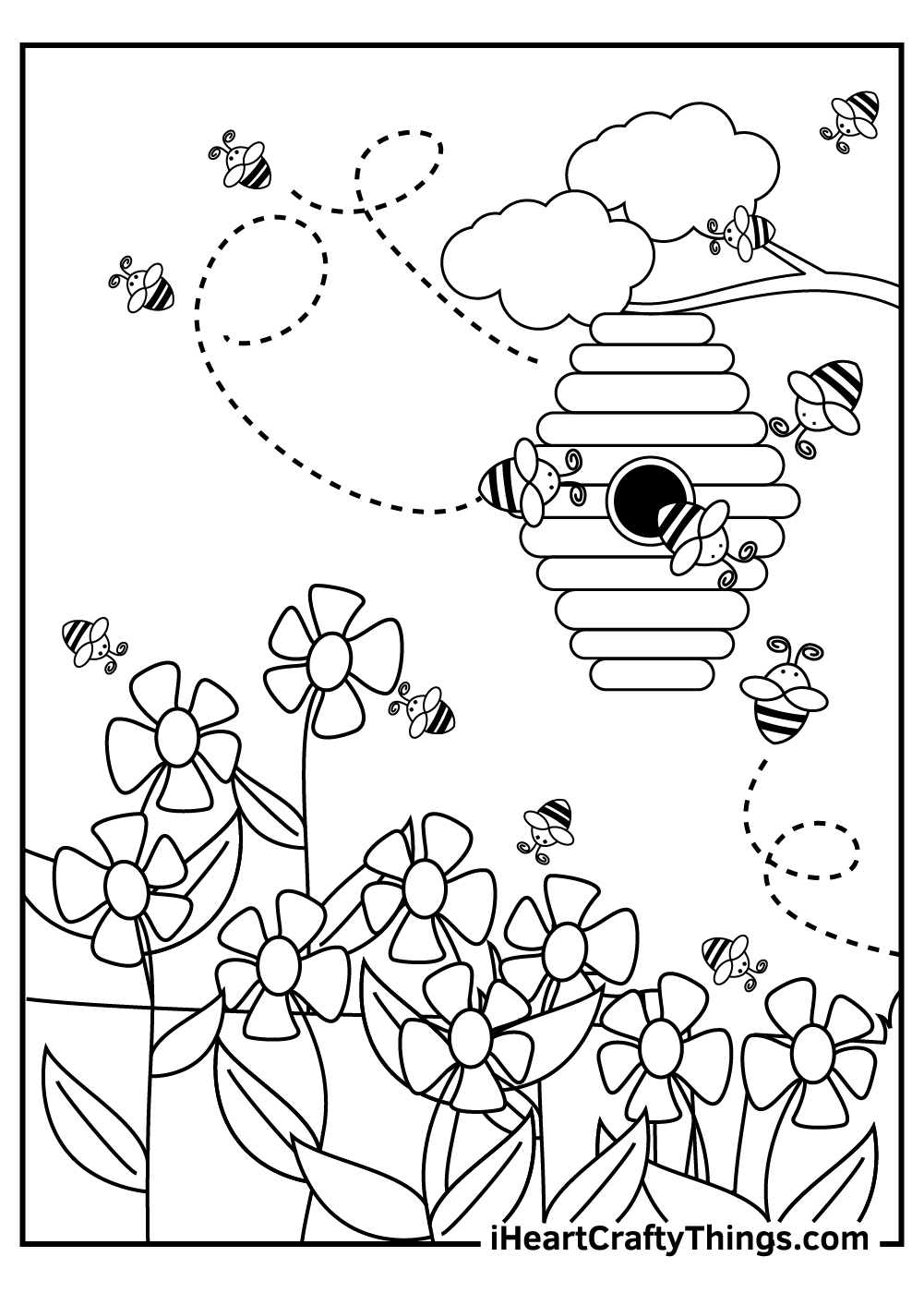 The sun is shining and the bees are buzzing again in this garden coloring sheet. We've had a few happy and busy gardens in these coloring pages, so I'm sure you've been using your favorite bright colors to finish them!
How will you color in this printable? You could try color each flower a different color for a stunning variety.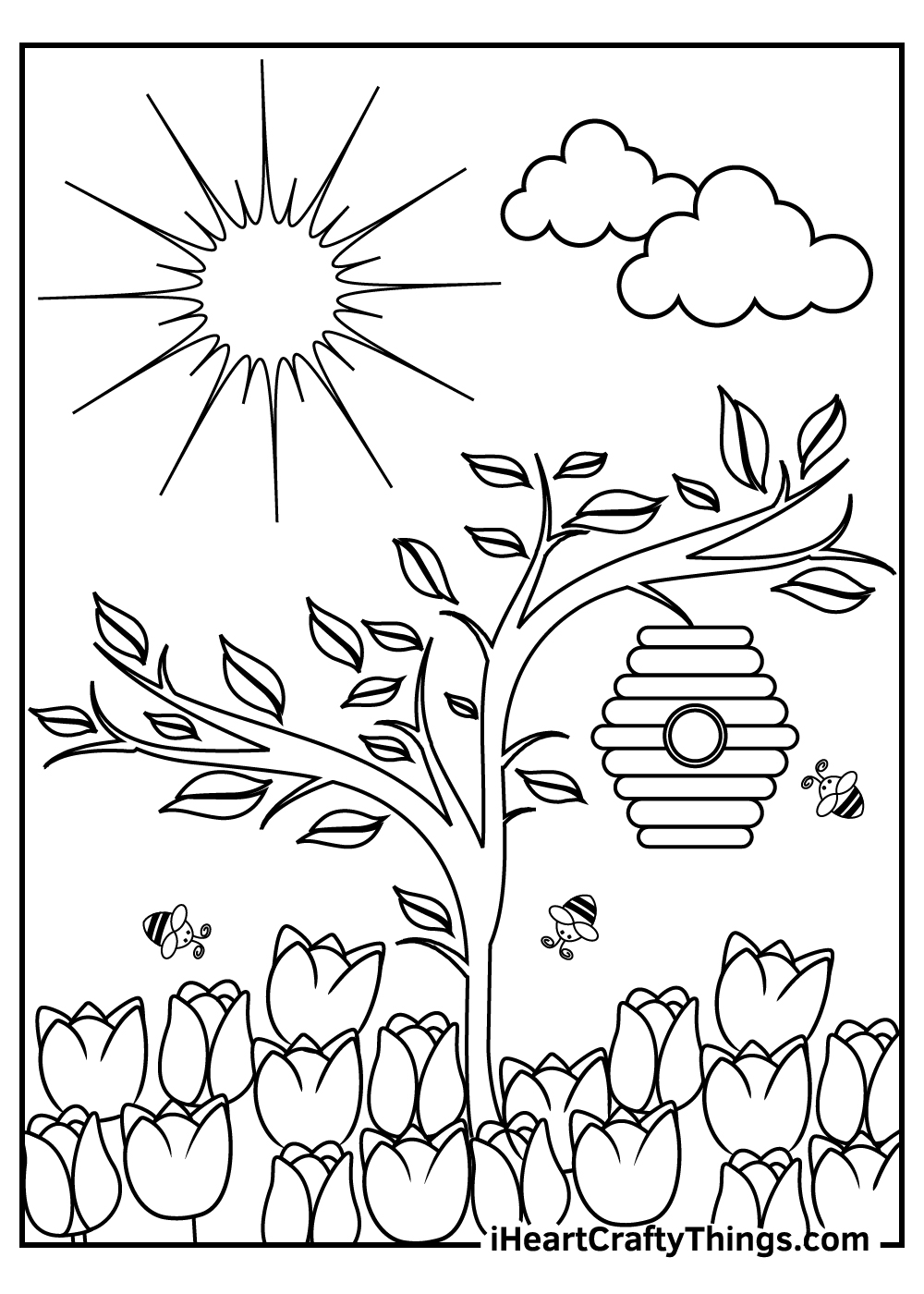 Everyone is looking happy in this cheerful garden coloring page. The bees and the flowers are smiling, obviously enjoying the bright Summer day. There are even some cute snails enjoying the happy day outside as well!
Maybe you could use shades of brown and darker yellows for the snails and the wooden fence to create a slightly darker contrast with the colors of the flowers, bees and sky.
REMEMBER: You can get the COMPLETE set of these coloring pages >> HERE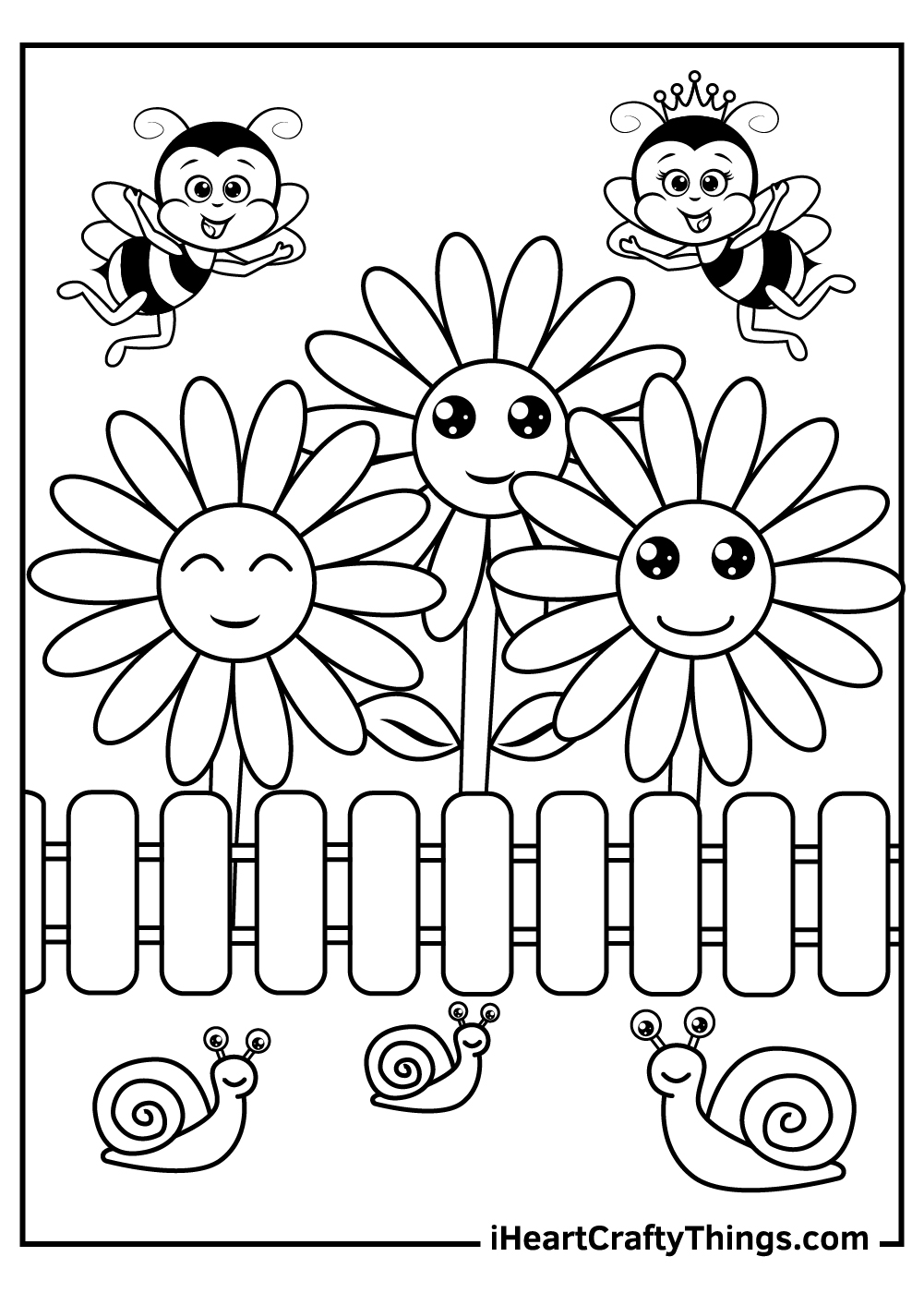 The flowers in this coloring sheet look like they're ready for water, and luckily there's a watering can standing by! There's also a good amount of grass depicted in this garden coloring page, so that would make for a good contrast of a deeper green with the bright colors of the flowers.
What colors will you choose for this garden printable?
REMEMBER: You can get the COMPLETE set of these coloring pages >> HERE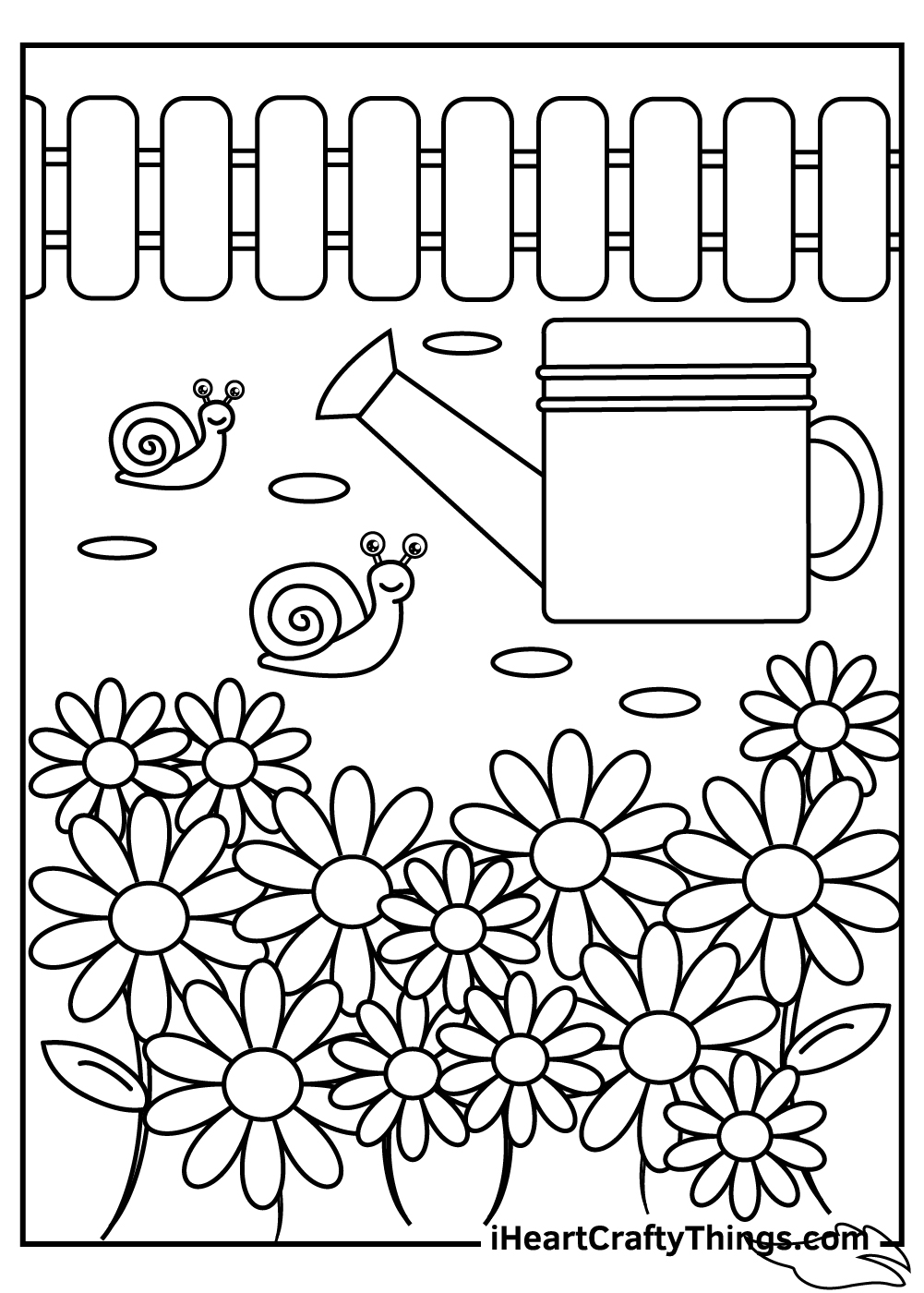 It looks like the sun is setting in this next garden coloring sheet, so this might be a good chance to use some darker, richer colors for this image.
We've had a lot of bright and breezy colors in the previous garden printables, so you could try to use a darker orange for the sun to suggest sunset while using darker shades of your favorite colors for the flowers.
I bet it will look stunning no matter what colors you choose!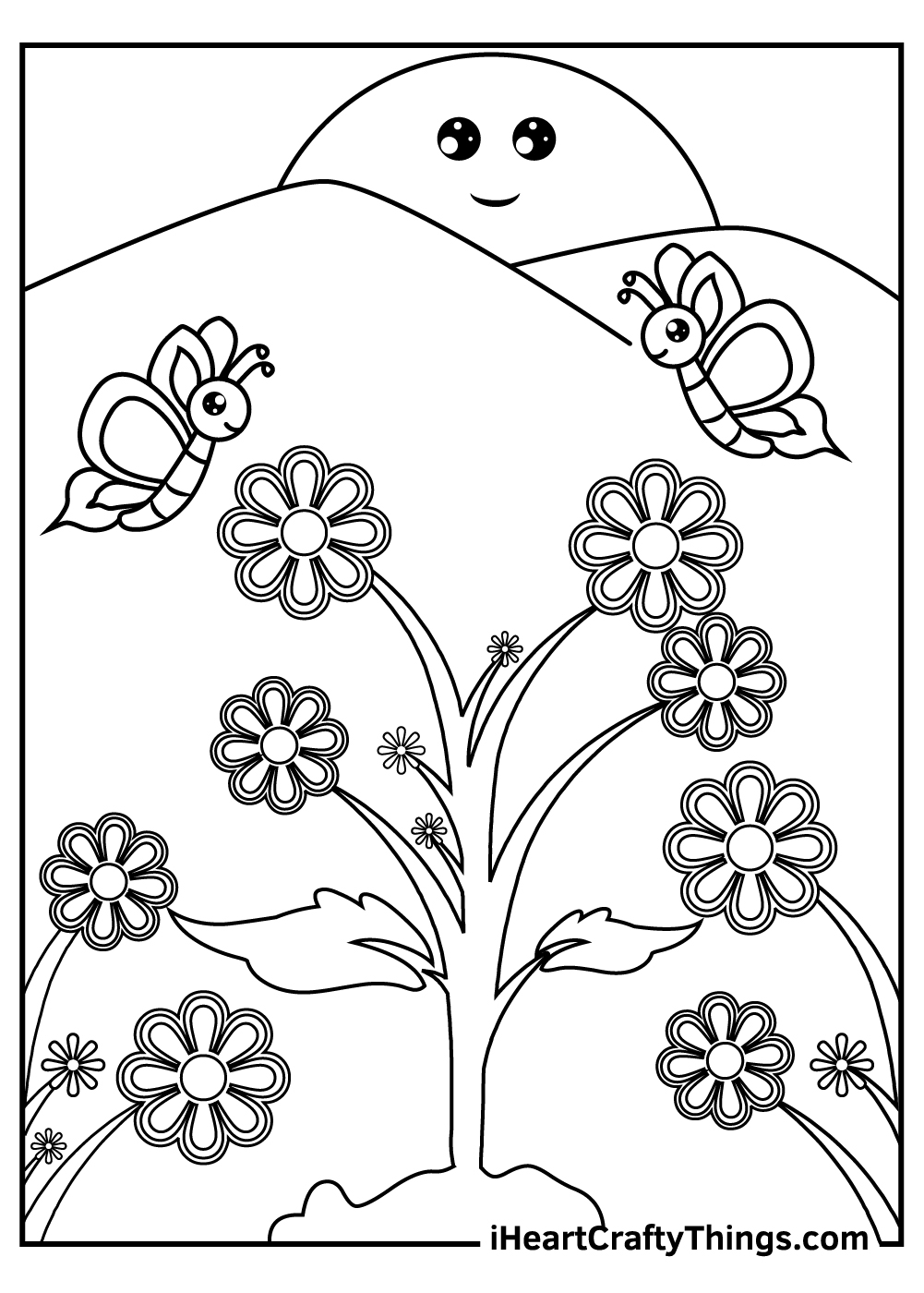 We have a more drawn out view for the final garden coloring sheet in this garden coloring page collection. There's a beautiful rainbow in front of a smiling sun for even more color to this garden printable!
The more drawn back angle of this coloring page leaves more room for some variations of different greens than we had in the previous images, so this one will have some nice color contrast opportunities for you to play with!
We can't wait to see how you decide to color in this final free garden coloring sheet!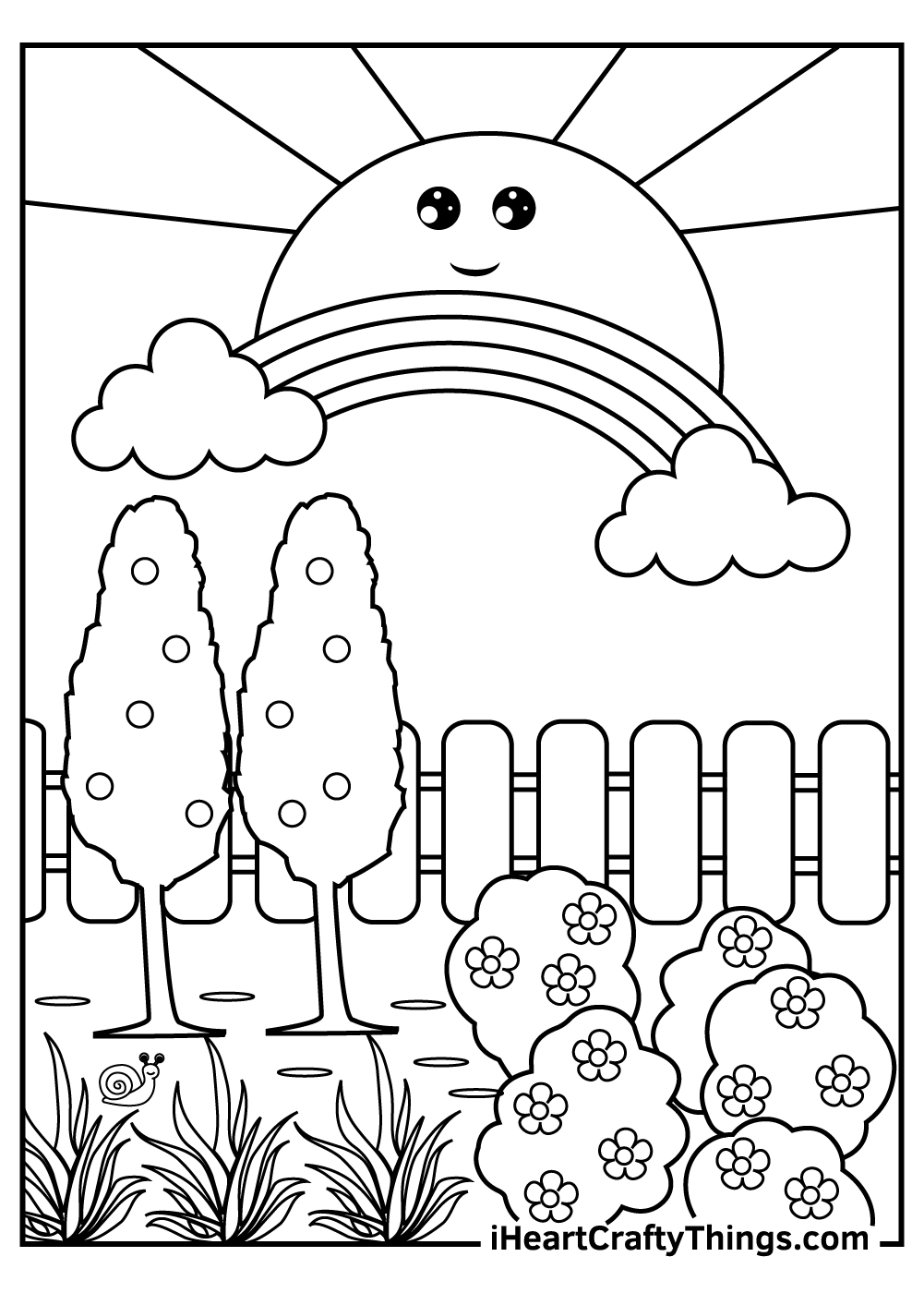 Garden Coloring Pages – Which will you choose?
We Hope you had a wonderful time having some colorful fun with these garden coloring pages! This will surely be one of the most colorful of all our coloring page collections.
All of our printables are completely free to print and enjoy, so you could try and print out a few copies of your favorite images so that you can experiment with different mediums like acrylics and watercolors for some distinct variations.
Be sure to like and share our Facebook page to never miss out on any future coloring printables and goodies! Also, once you've finished these garden coloring pages we'd love it if you would share your favorites for us to see on our Facebook page for us to enjoy.
We're always thrilled to see your colorful creativity!
REMEMBER: You can get the COMPLETE set of these coloring pages >> HERE