The Baby Shark song managed to take over the internet when it debuted in 2016. Young fans were enamored with the bright colors, fun characters and catchy music.
The dance associated with the song became immensely popular, and it has since become the most-viewed video on YouTube. Because of this, demand for a collection of free Baby Shark coloring pages for kids is strong.
We are here to provide young fans with plenty of fun and inventive Baby Shark printables that will allow them to show their love for the song! You can work with your little ones to have tons of colorful fun.
15 Brand New Baby Shark Coloring Pages – Free to Print and Color
For the first page in our collection, we have Baby Shark under the ocean having some fun! The characters in Baby Shark are many different colors, so you have many options for coloring this shark.
Your little one could use some colors from the songs, or they could use entirely unique color choices.
There are so many ways you could color the page, and it's important for kids to feel free to express their creativity.
What colors would be best for this first page featuring Baby Shark?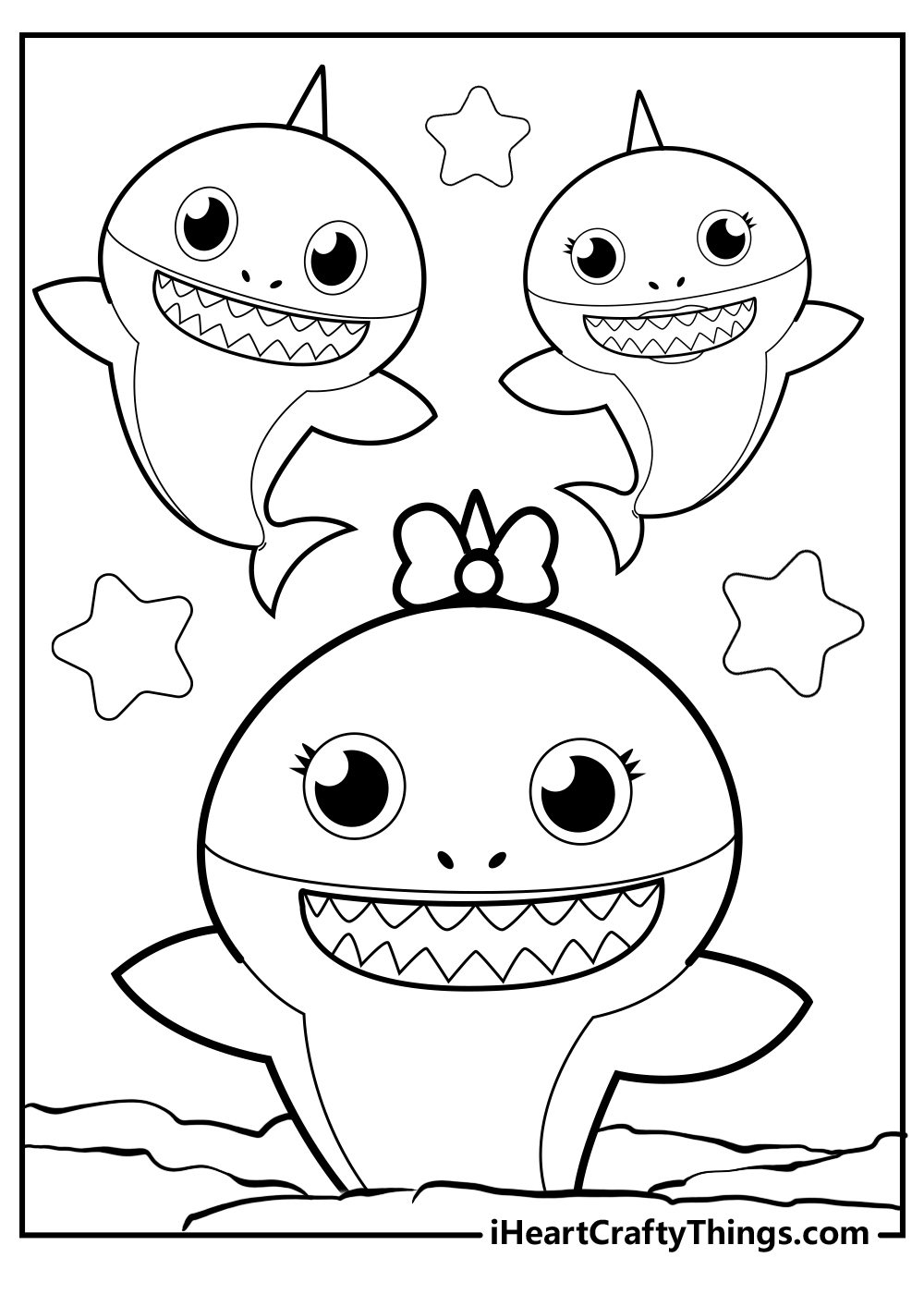 This next Baby Shark coloring sheet shows a shark with its pointy teeth on full display! Behind the shark, the background is separated into several sections.
This separation in the background gives off the feeling of different ocean depths. Using different shades of blue would be perfect for this kind of background and would help to make the shark stand out.
If a child wants to have more fun with a coloring page, this can be done by drawing more details.
These could be background details or maybe even additional characters.
What are some extra details that you think would suit this cute picture of Baby Shark?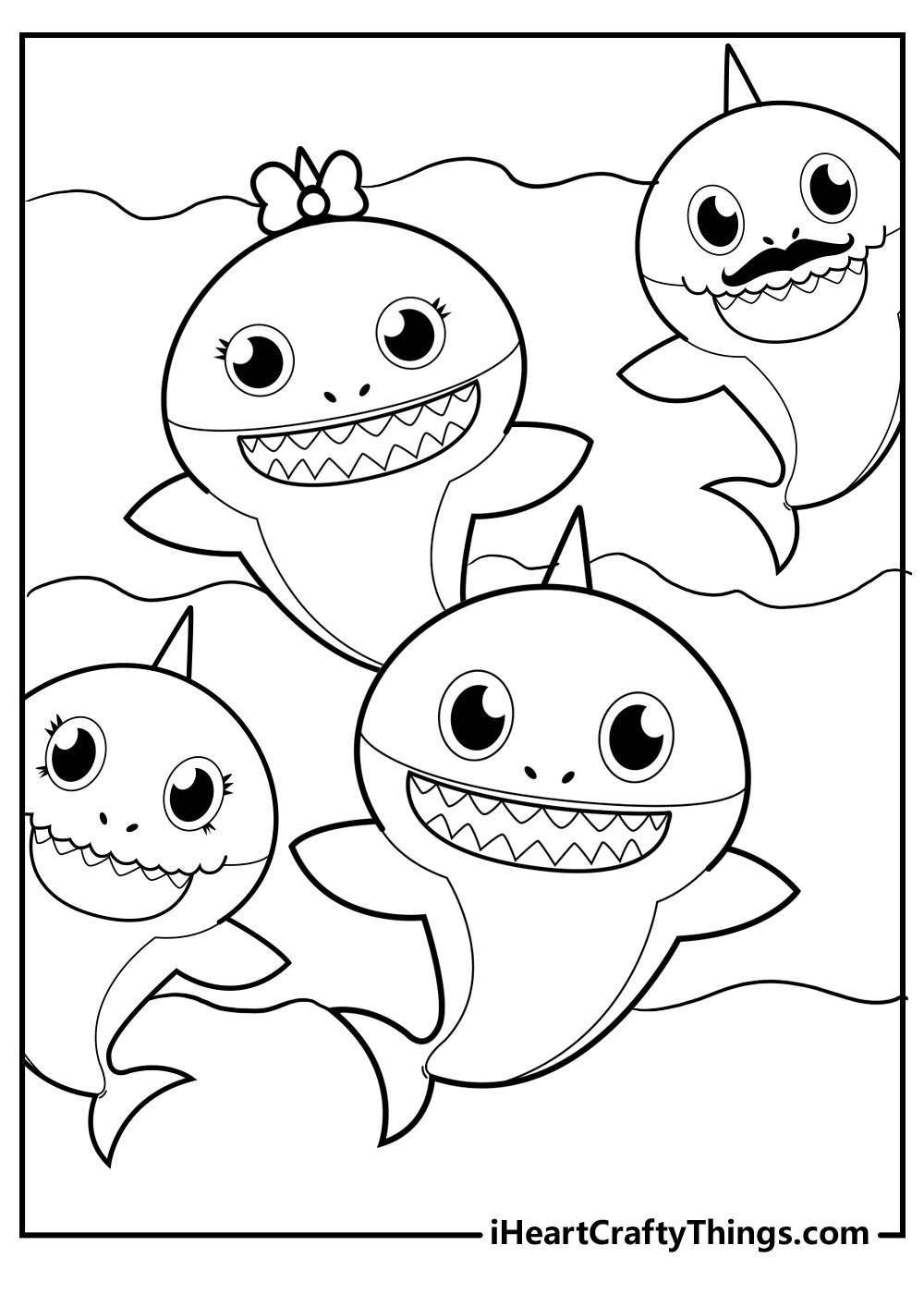 A great thing about these characters for kids coloring them is that most of the characters only have small distinguishing features.
This means that kids can get creative with the colors they use and can create their own characters.
If you look carefully at this page, you will see some lipstick details. This suggests that this is the
Mommy Shark character.
Kids can portray her with her pink color scheme, but they can also use other colors if they prefer. The fewer restrictions the better as this allows kids to learn about being creative and having fun.
It will be great to see how this one turns out when it's done!
Next up, we have a little shark with a bow on its head. It makes for a really cute picture, and it suggests that this is a girl shark.
Kids could show this by using some softer pinks and similar colors to bring it to life. As we have said before, kids shouldn't feel limited by that.
Some kids may not want to use pinks, in which case they can use any colors that come to mind for them.
You can achieve some amazing and unique results by doing this, so kids should be encouraged to go for it and see what happens!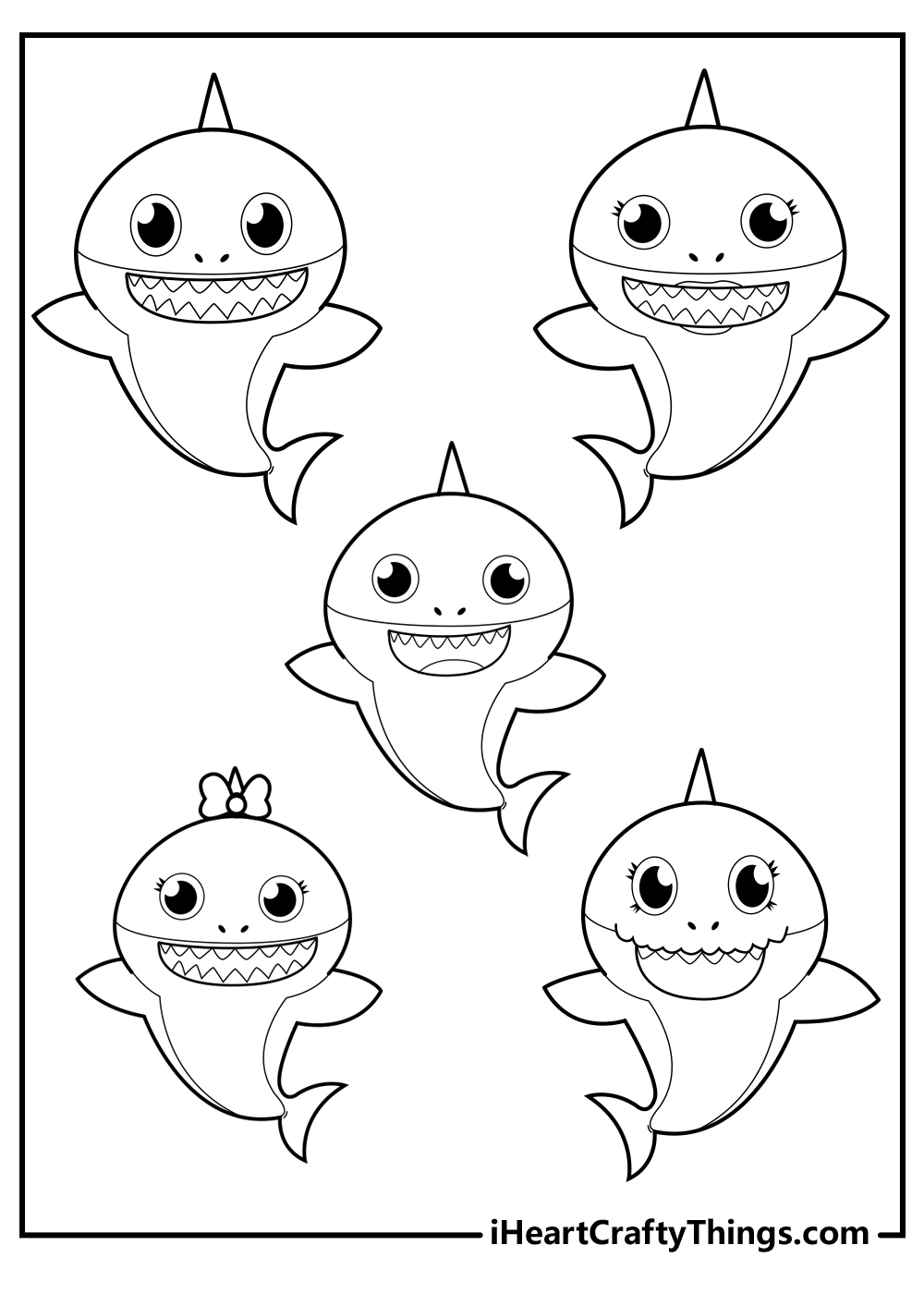 If you look carefully at this next character, you will see that there is a different pattern for the mouth. This pattern is usually used for one of the grandparent characters in the songs.
There are a few details that kids could use to portray either the grandpa or grandma shark. If they want this to be the grandma, then they could draw a pair of glasses on the face.
Grandpa Shark has a large mustache, so that could be added if he is a favorite character! Which character do you think this could be?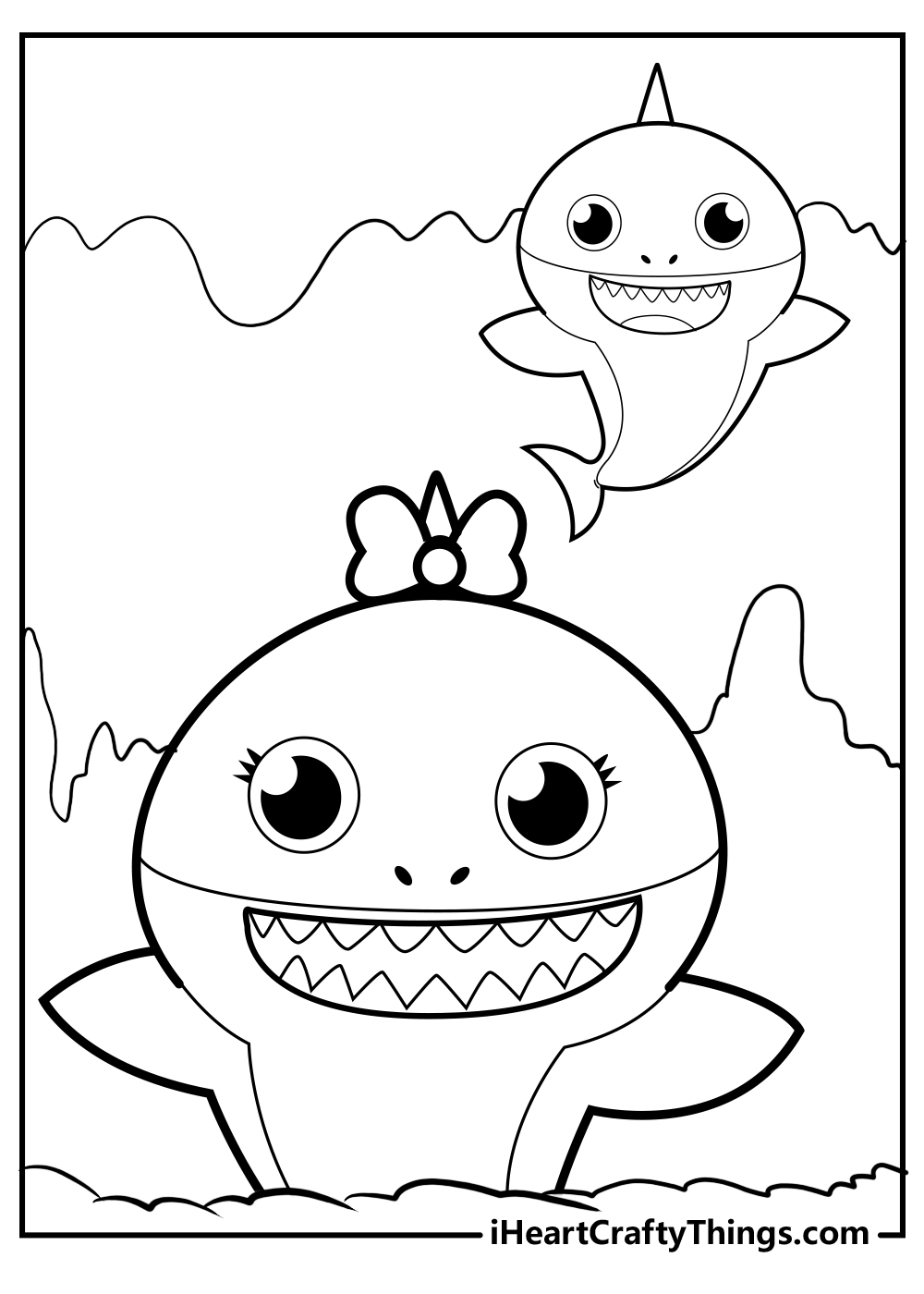 As mentioned in the previous Baby Shark coloring sheet, Grandpa Shark has a large mustache as his defining feature. That means that this next page has to be the grandpa of the shark family.
If kids want to fully commit to portraying this character, then they can use a green and white color scheme to represent him. It's a simple and fun color scheme that would be easy to do.
Kids can also use unique colors if they want to make their own unique character!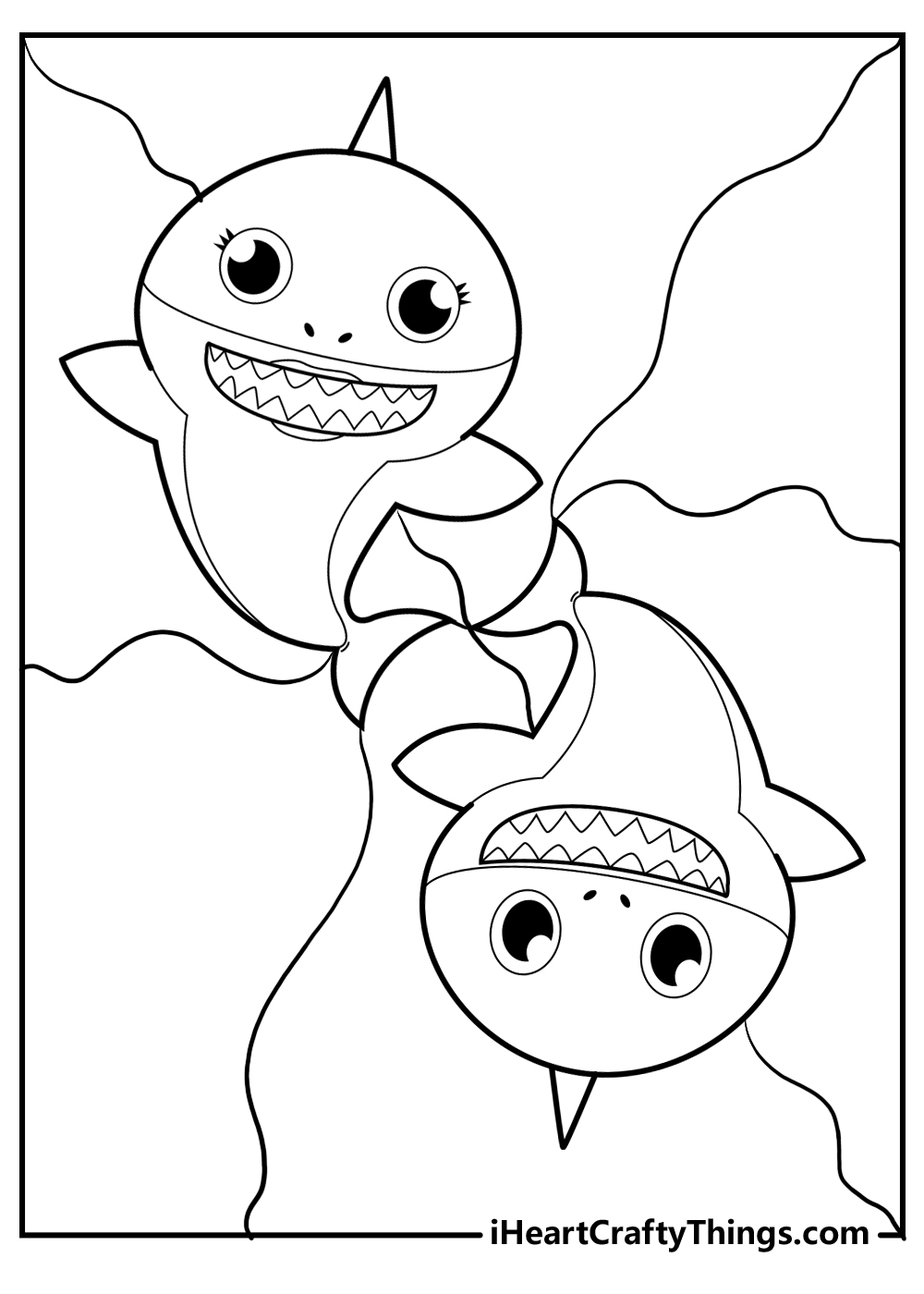 What's better than coloring a single Baby Shark? Coloring two of course, and that is what we are presenting on this next page!
This page presents a challenge for young artists, as there are twice the details to consider. It's important to remind kids that coloring is not a race, so they can take their time coloring.
When you have two characters on a page, you can either use the same colors for both or make them distinct. Any approach looks great, so you should have fun being creative here!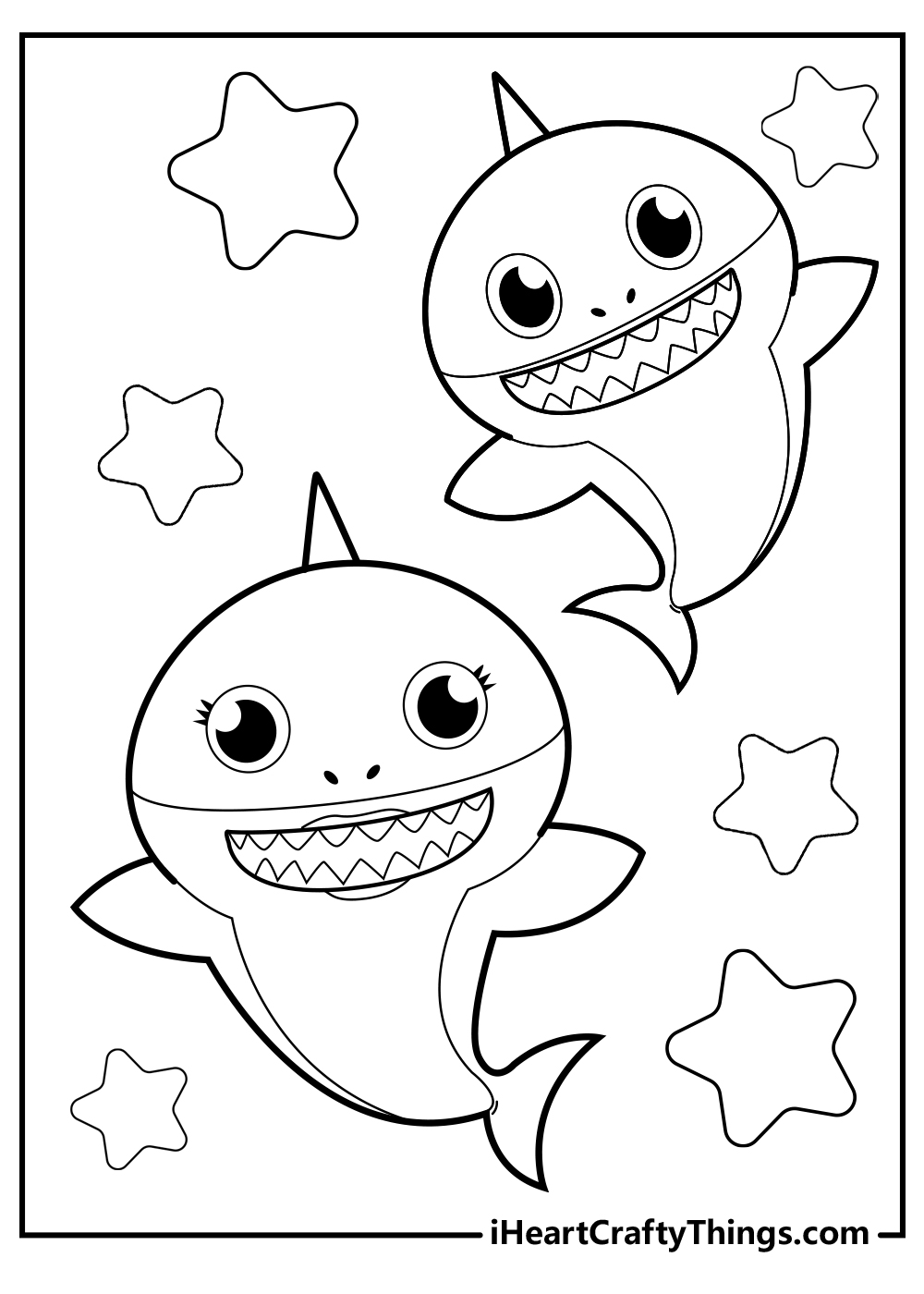 Coloring two Baby Shark characters was fun previously, but now we're really raising the stakes. Doubling them, to be exact!
Here we have 4 characters for kids to color, and there are so many ways to go about it. Kids can represent their favorite Baby Shark characters when working on this page.
Once complete, this should be one of the most colorful pages in the collection. It will look amazing with all of the colors added, and we would be thrilled to see how it turns out once it's done.
Remember that finished pages can be shared on our Facebook and Pinterest pages!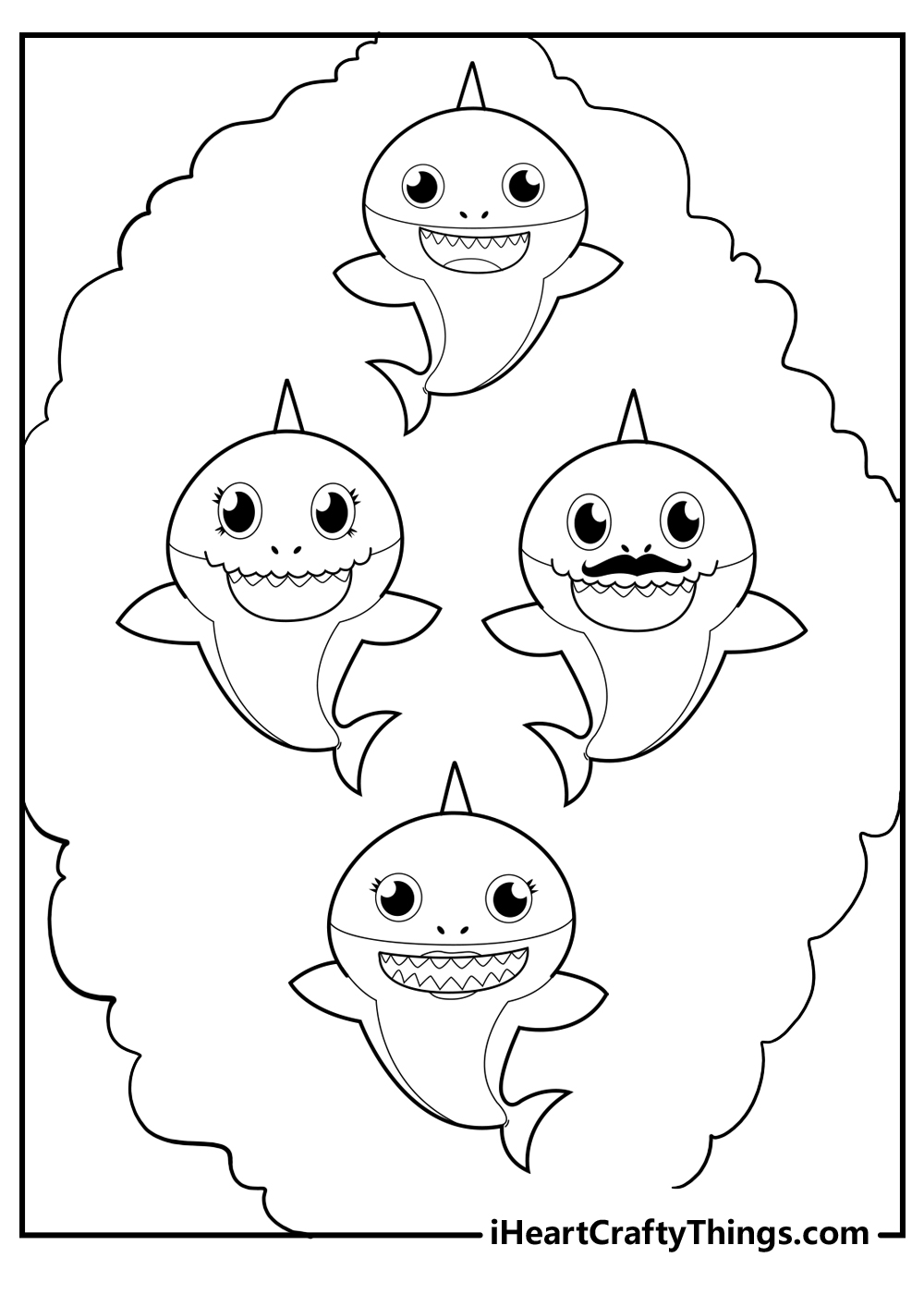 To make this next page even more fun, we added some stars surrounding the stars of the page! Adding shapes like this can be a simple touch, but it makes a difference.
This is because it gives kids even more to color. Not only this, but details like these can also leave room for kids to have some fun with arts and crafts.
Some glitter glue or regular glitter would be perfect for this page, but you may want to help younger kids with crafts like these, as they can get messy!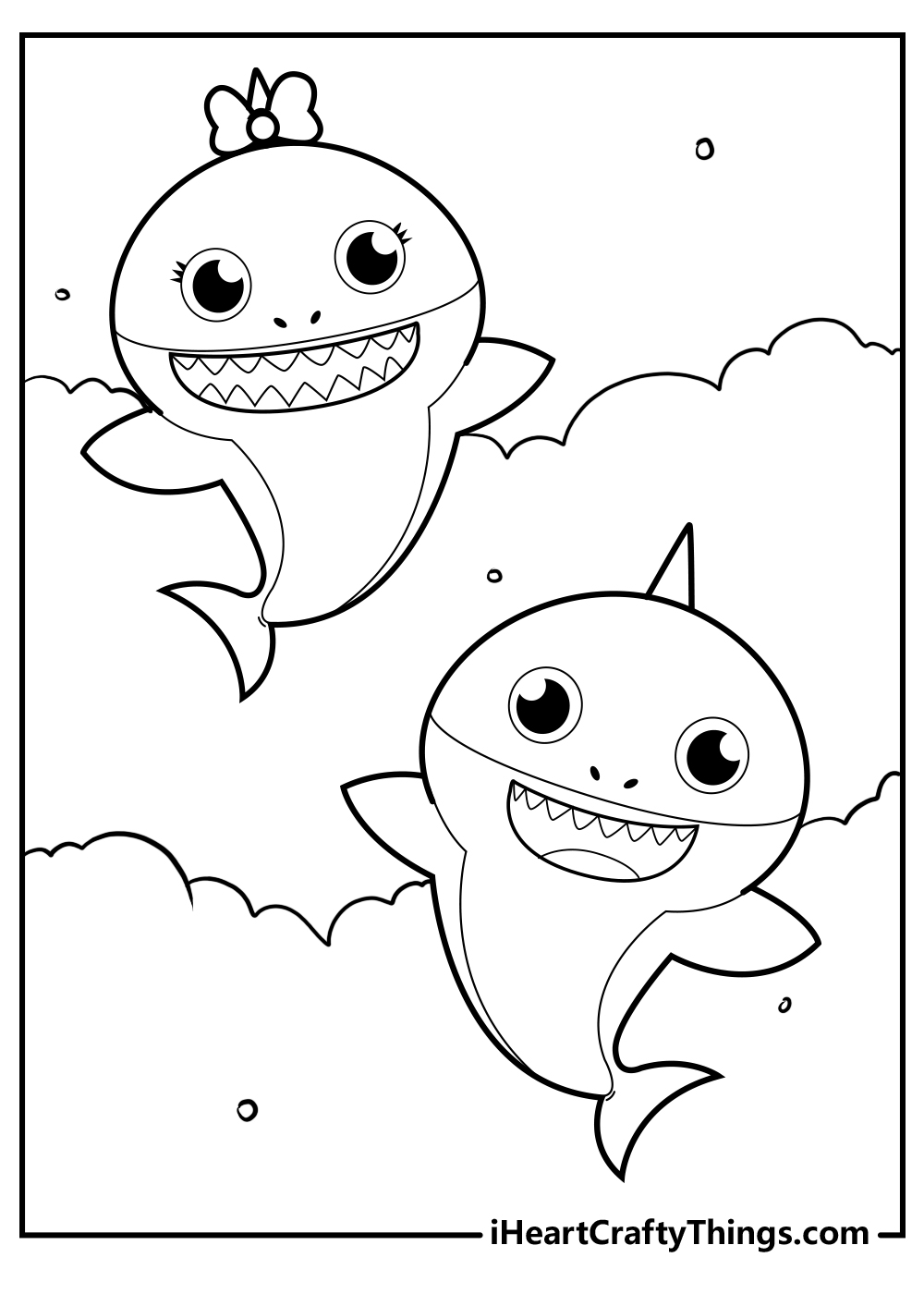 This next Baby Shark printable is one of the most visually complex we have seen so far in this collection.
The background is segmented and rather interesting, and it would be perfect for some amazing colors.
This is one that would be great for kids to experiment with, as they could fit so many colors into the picture. Using different coloring tools can also be a good way for kids to learn different ways to color.
This is another picture that would be interesting to see once it's done, as I'm sure it will look amazing!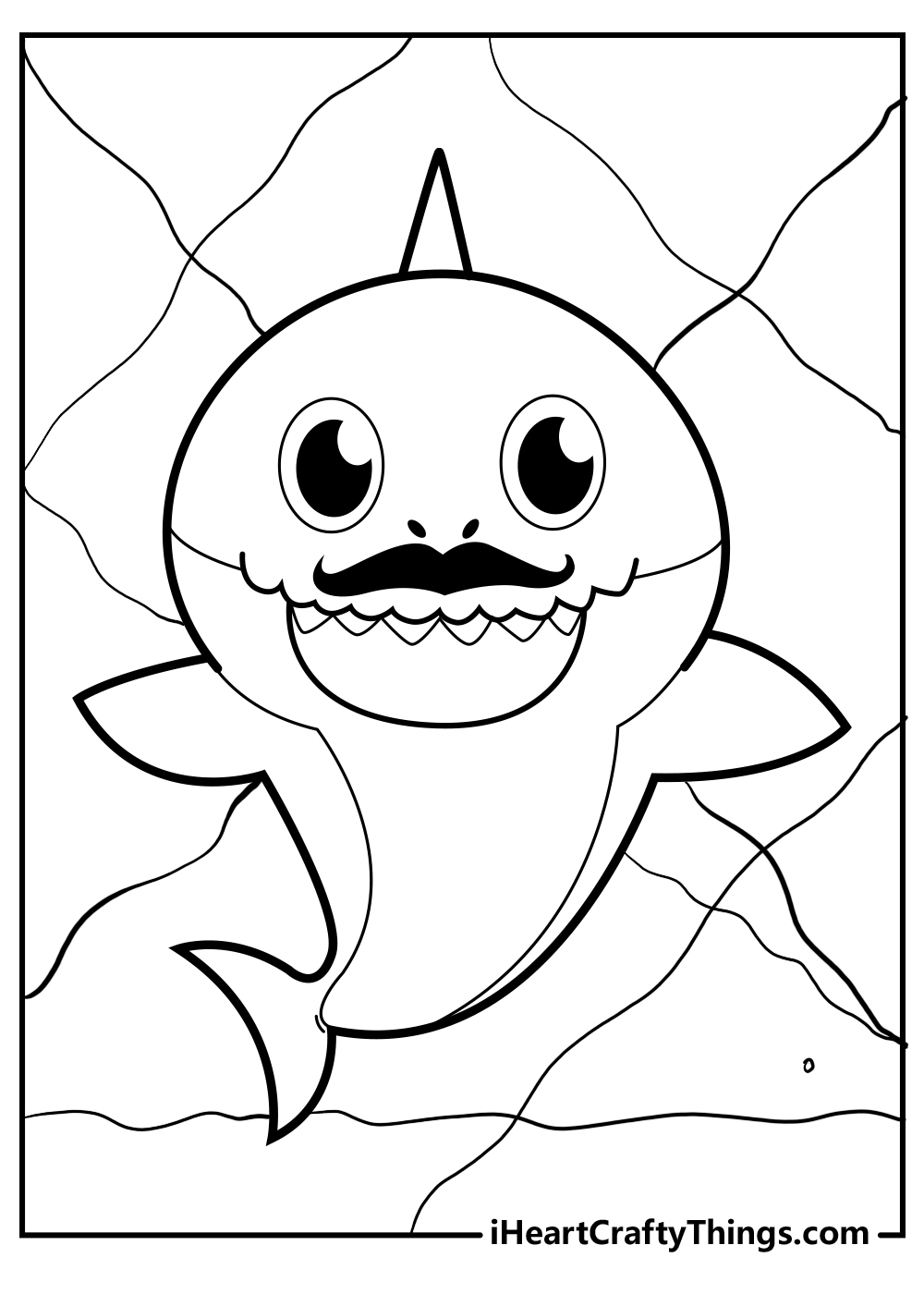 The next page we have portrays what could be seen as a photo bomb! The shark closest to us looks like it was posing while the smaller one jumped into the shot at the last minute.
It's a situation kids with siblings will be well familiar with, so they can have some fun bringing this scene to life. If a child wants to add more details to a drawing, that's even better.
What sort of background would suit this fun and charming scene?
We have another family reunion for this next fun Baby Shark picture. There are five characters on this page, so kids have a lot to work with.
The picture may bring a favorite moment from the videos to mind, so kids could also write a line from the song they love to show off what their favorite moments are.
Drawing the words in a large font also creates more details to color, so it can be a fun way to extend their creativity even more once it's colored!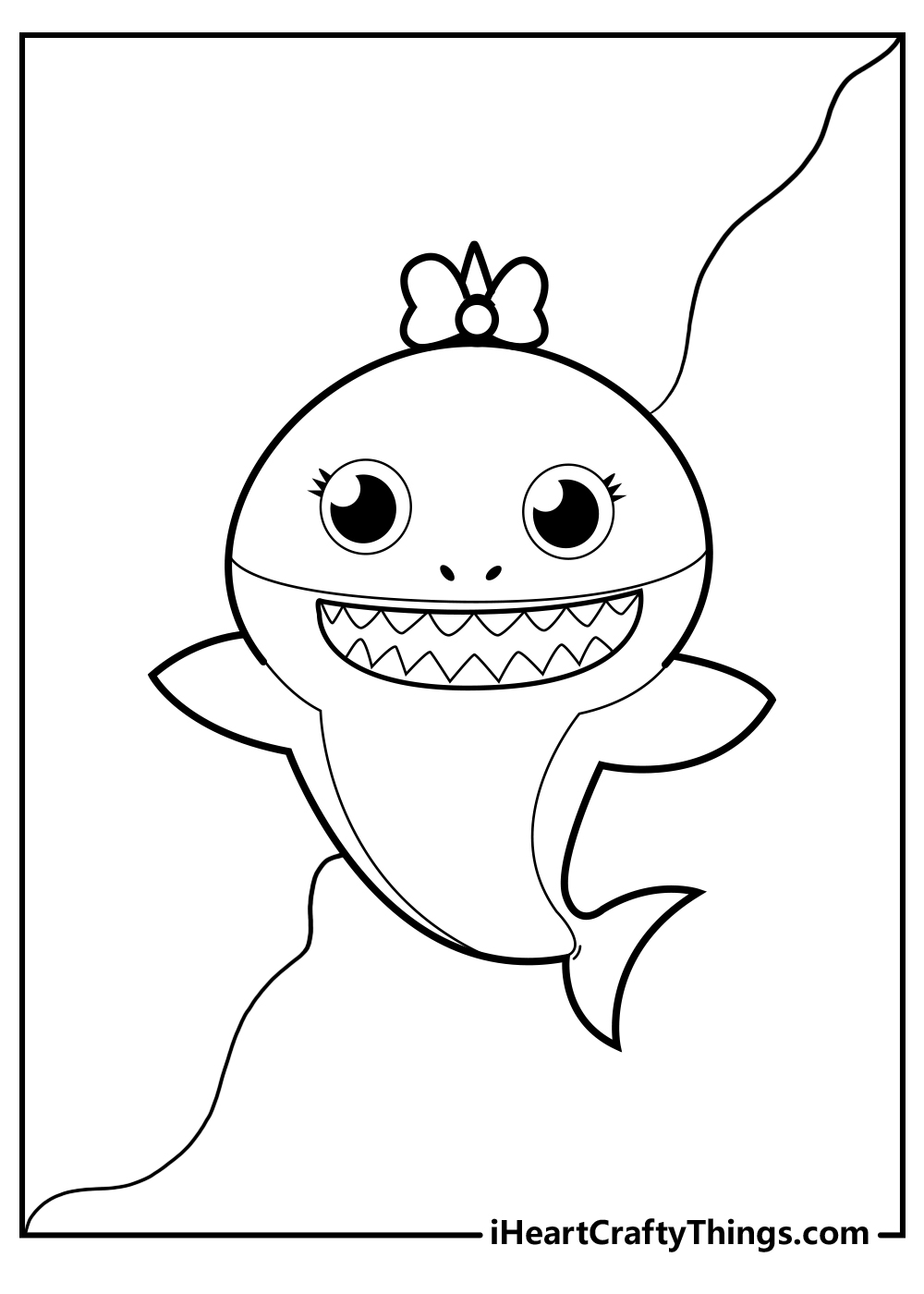 There are some minor background details on this next page, and it opens up some opportunities. Once the three sharks have been colored in, color can be added to these elements.
As always, kids can also draw even more background details as well. If they want some more characters for the image, then these could be added as well!
The additional characters don't even need to be Baby Shark related if kids want to create a bit of a cross-over with other characters.
Which characters would like to hang out with the Baby Shark gang?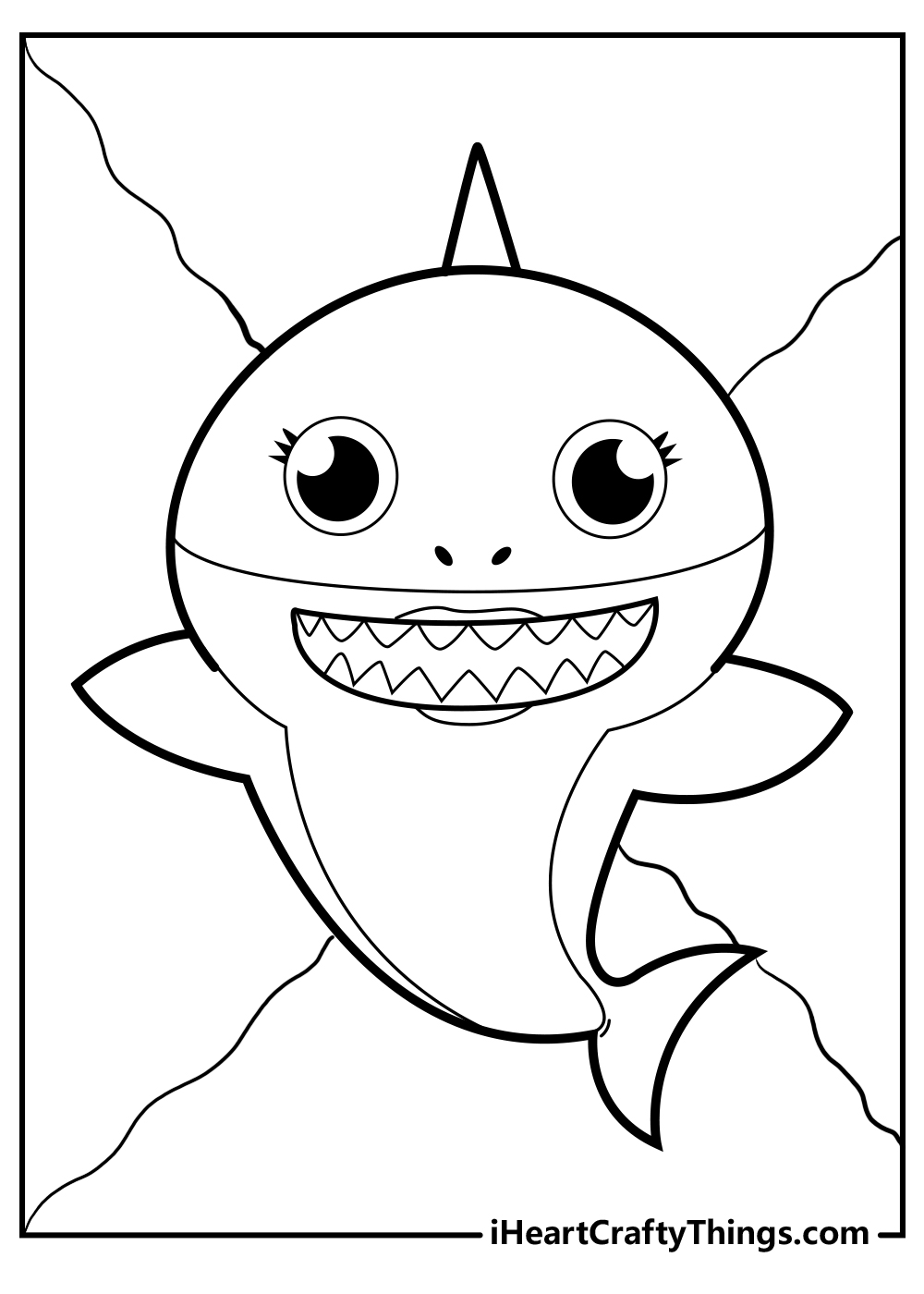 This next page looks a bit like a Baby Shark family photo! Perhaps they could be on vacation or visiting some cool place.
Where do you think the Baby Shark crew would visit if they were to go on vacation? A fun idea for kids to try would be to think of their favorite place to visit.
Then, they could convert this place to an underwater version for the sharks to visit. I would draw them at an underwater theme park, but which places come to mind for you?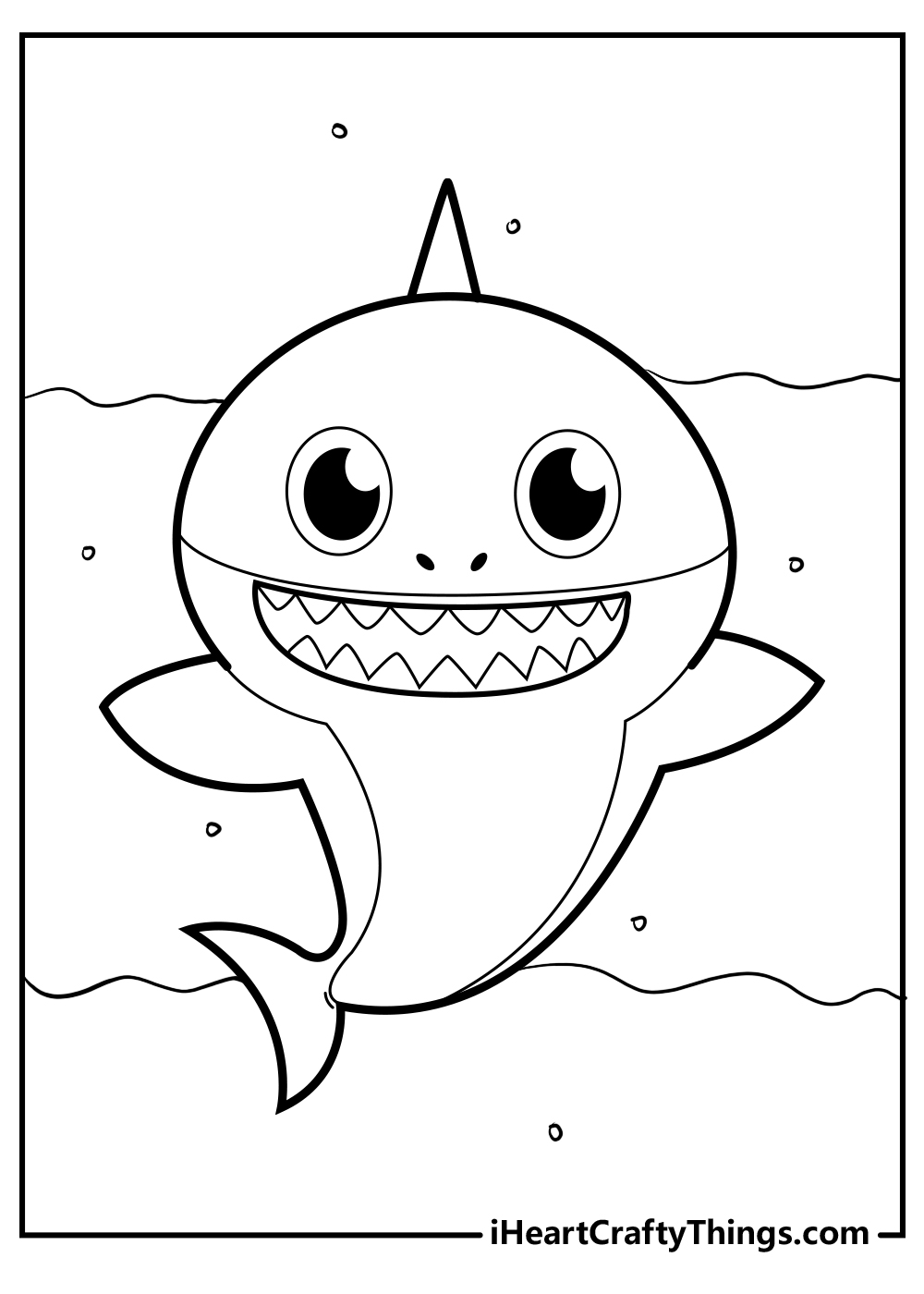 This final page in our collection of free Baby Shark coloring printables shows the Baby Shark crew surrounded by some more stars.
Earlier, we mentioned using glitter and crafts for the stars, but there are many more crafts that could be used. Stickers, beads and other crafts could also bring these star details forward.
Using crafts also adds novelty to the process, and this can sometimes help reluctant kids to want to try out creative endeavors. What are some crafts that would finish off this final page in good style?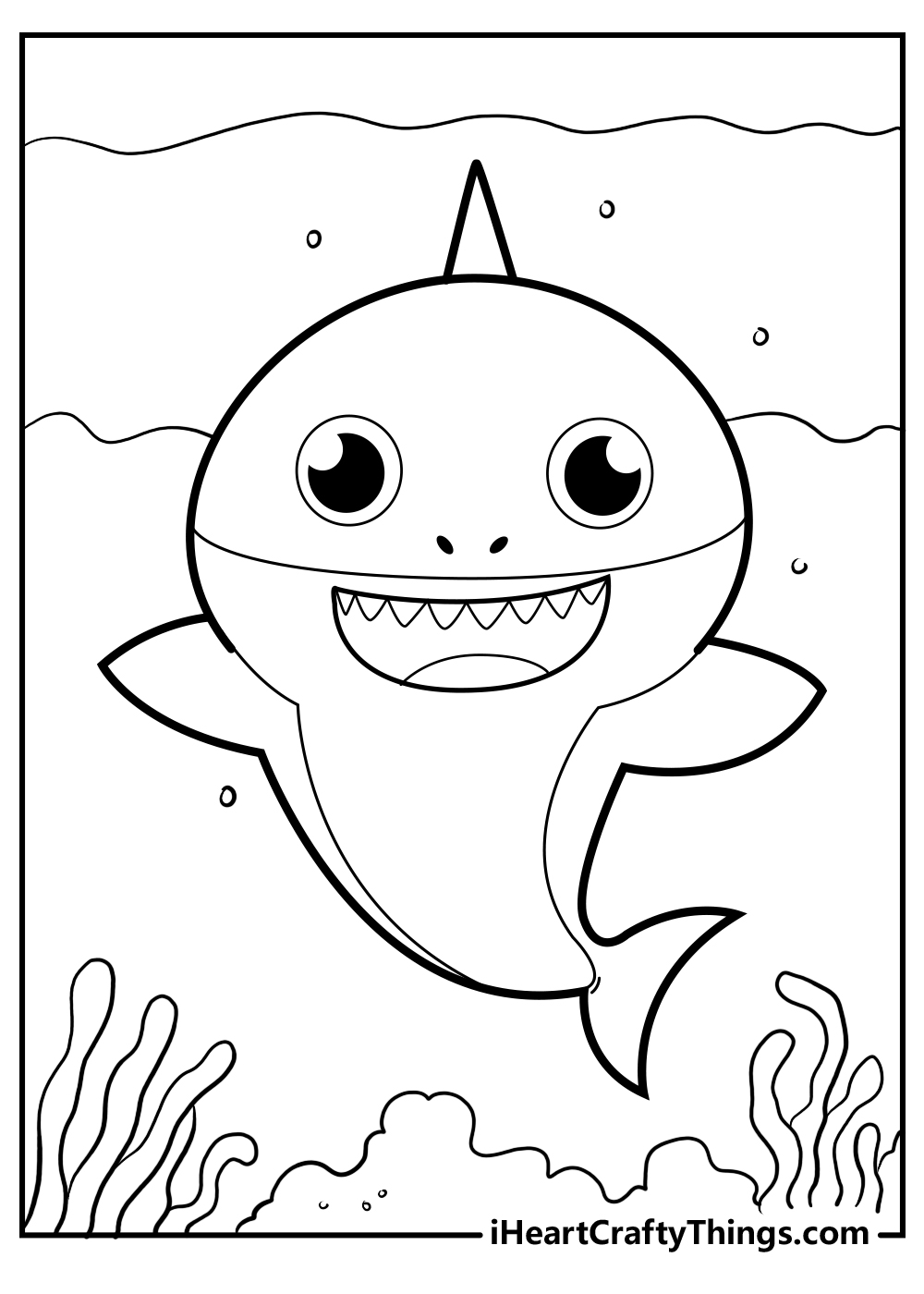 Baby Shark Coloring Pages – Which will you choose?
Our goal with this collection of free Baby Shark coloring pages for kids was to create the ultimate collection for any Baby Shark fan to enjoy.
We hope that this goal was achieved for you and your little ones to enjoy! While the pictures are simple, there are many ways for kids to get creative with them.
Different colors can be used, but there are also additional details that can be used to make the colors pop.
There are so many ways to have fun with it all, so we look forward to seeing the creativity on display!
When you have finished your favorite pages in the collection, you can share them on our Facebook and Pinterest pages. This is the best way to show off your budding artist's amazing work!