My husband bought me flowers for Valentine's Day and my daughter has been mesmerized by them. Some of the petals fell off one of the roses and my daughter stashed them in a little heart box next to her bed. After she saw them start to wither she asked me sadly why the flowers wouldn't last forever. Oh how I wished they would last forever for my little girl! But since they won't, we decided to make this Yarn Pom Flowers Craft together that she can set on her nightstand. We used some fabulous new products from
Creatify
to make our flowers and I'm excited to share them with you today.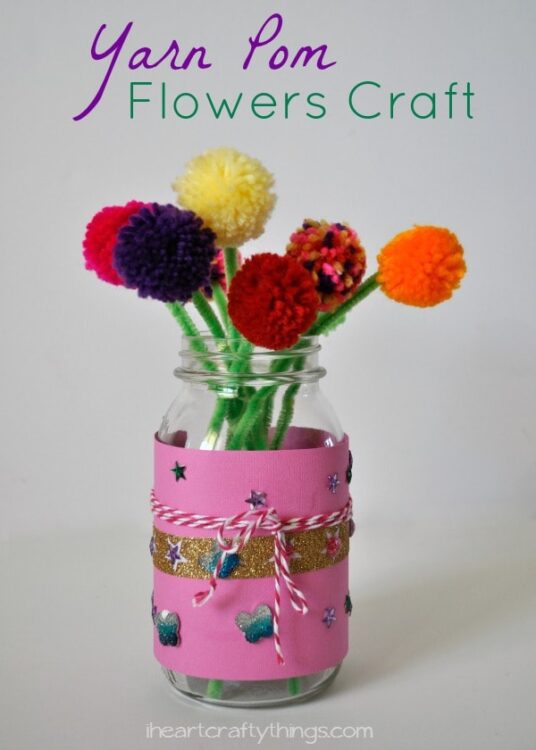 (I received free Creatify products from Horizon Group USA in exchange for my fair and honest review. All opinions expressed are 100% my own.)
When I first learned about the Creatify line and read some of the names of their products…Bling & Things, Glitz & Glam, Junk Drawer…I thought "Whoa…You had me at Bling!" These fun containers full of crafty supplies live up to their fabulous names. They are awesome! The new products can be found at Target starting in March 2015. Here's a little sneak peek of some of the products to make you drool a little: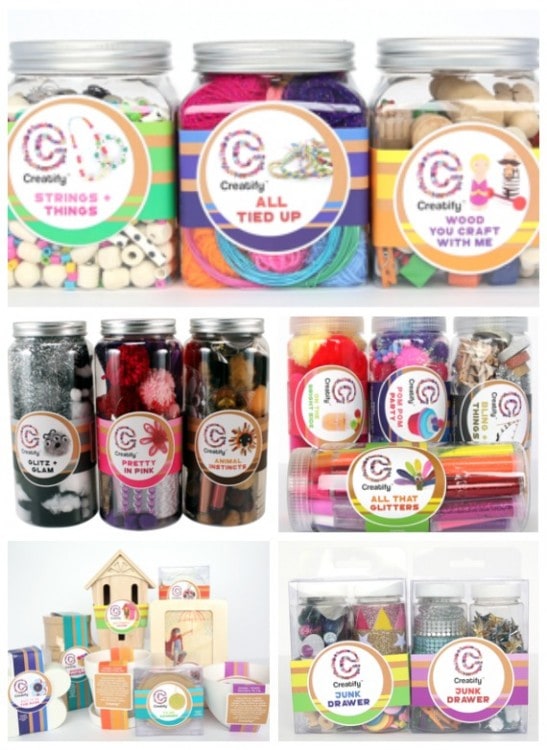 Creatify's mission statement in itself is truly inspiring:
"Every child has a natural superpower, their imagination. Creatify helps children to unlock their gift and discover their abilities to create through crating. Professional crafters hand-selected and developed each item to inspire this exploration of creativity. Go ahead and give your little superheroes a mission. Creatify!"
Here are some things I love about the products:
I love how each container has such a variety of different materials. Sometimes I don't want to buy a big package of one type of crafting item and these products are a great solution.
The craft items are trendy, cute and appealing for all ages. Whether you are a preschooler or an adult, you will adore all of the products and feel inspired to create with them.
Each container has enough supplies to last for several different projects.
The containers! No need to invest in additional storage containers to hold all your craft supplies because they already come contained in lovely containers.


HOW TO MAKE A YARN POM FLOWERS KID CRAFT
Supplies you will need:
Creatify On the Bright Side
Creatify Junk Drawer #2
Creatify Bling & Things
Green pipecleaners
Tacky Glue
pink cardstock paper
mason jar
scissors
Directions:
1. Start by spreading the yarn apart on one of your yarn poms, as close to the center as you can get. Add a generous dab of tacky glue onto the pom.
2. Press your green pipecleaner into the yarn pom and press the yarn around the pipecleaner and glue to make it secure.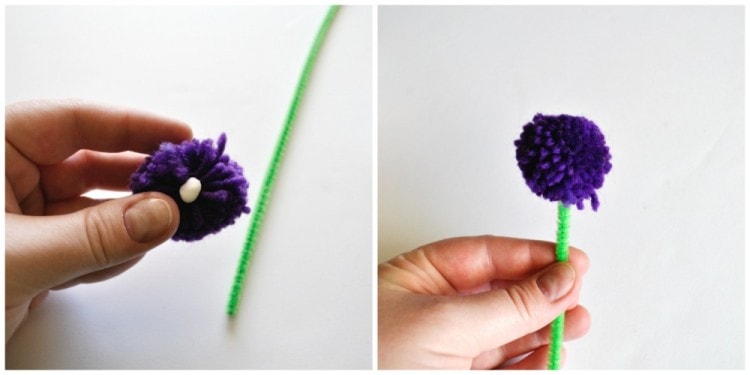 3. Trim the end of the green pipecleaner to fit into your mason jar at the length you want. Continue making yarn pom flowers to fill your mason jar. We made 8.
4. Cut a pink strip of cardstock paper in half lengthwise. This is where your child uses their creativity and imagination. Pull out some glitter tape and gems and let your child design their vase cover however they choose.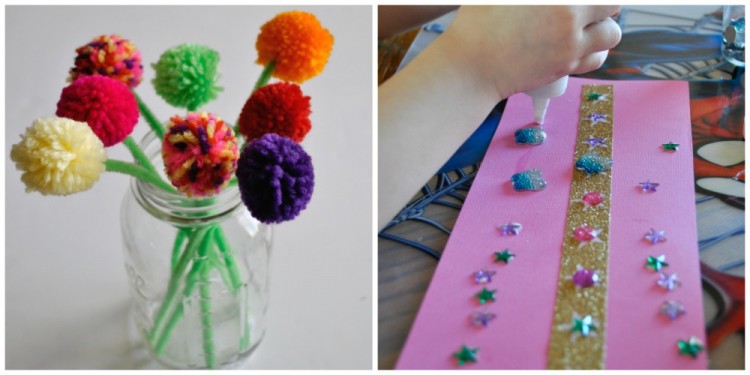 "Look Mommy, I made a pattern… purple, green, purple, green, purples green."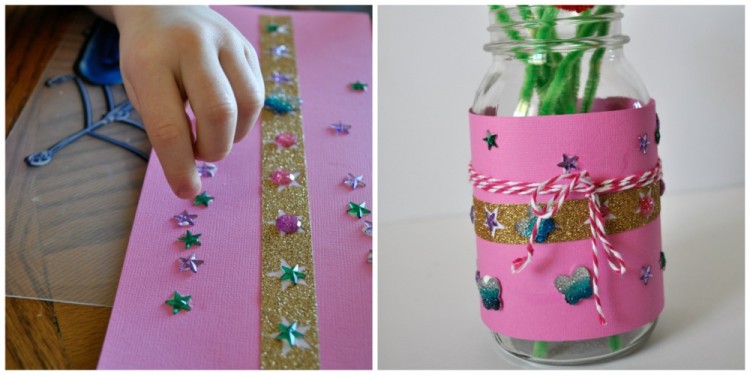 5. When your vase cover has finished drying, use some pink twine from the Bling & Things container to wrap the cover around your mason jar and then secure it closed by tying a bow.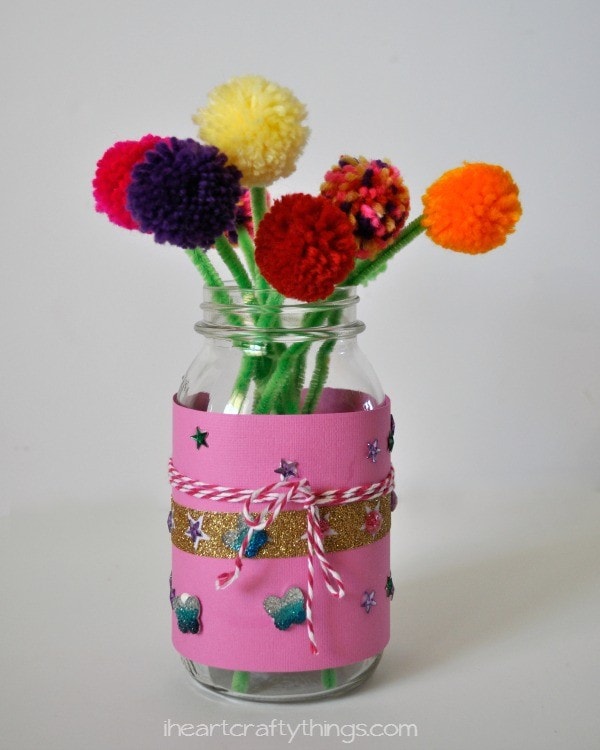 Learn more about Horizon Group USA by following them on Facebook or visiting their website!
You might also enjoy these crafts from I Heart Crafty Things: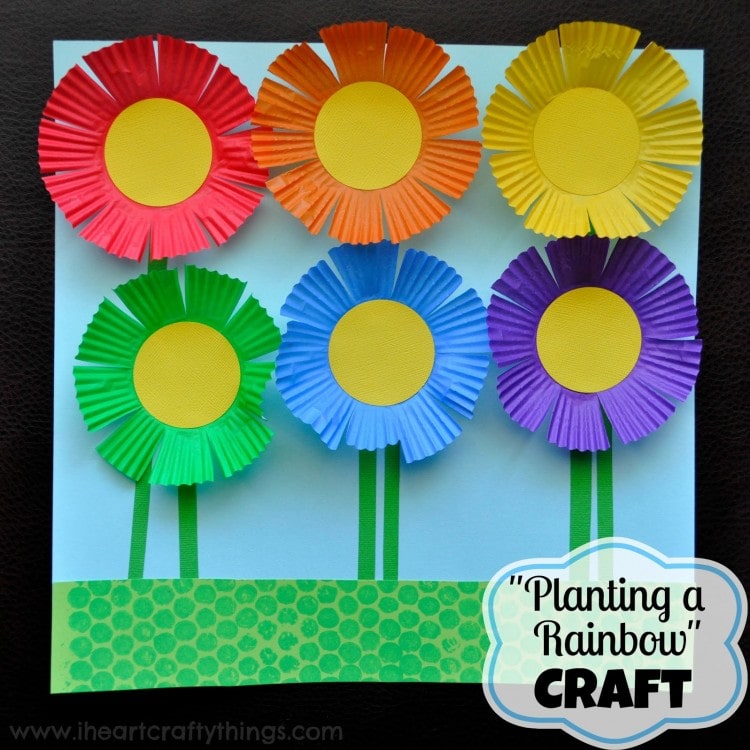 Follow I Heart Crafty Things on Facebook, Pinterest, 
Google+, Twitter, and Instagram for more crafty fun!