When it comes to ships, the Titanic is arguably the most famous one to ever exist. Unfortunately for everyone involved, it's famous for tragic reasons.
The ship sank on its maiden voyage in 1912, and since then it has become the stuff of legends.
It is a source of intrigue for maritime enthusiasts and film fans thanks to the mega-successful film in 1997.
Anyone intrigued by this famous ship will definitely find a lot to love in this collection of free Titanic coloring pages for kids.
We have 15 highly detailed coloring pages featuring the ship and its passengers for you to enjoy.
So prepare for a journey that will take you to the deck of the famous Titanic cruise ship!
15 Brand New Titanic Coloring Pages – Free to Print and Color
The first Titanic coloring sheet in the collection shows the ship before its tragic sinking. While it would become a source of tragedy, it was first a source of excitement.
It was the biggest passenger ship at the time, and people were lining up to be the first passengers. This page shows some kids walking around the dock, excited about the maiden voyage.
The focus is on the kids, but we also get a good look at the ship in the background. What colors will you use for this first page?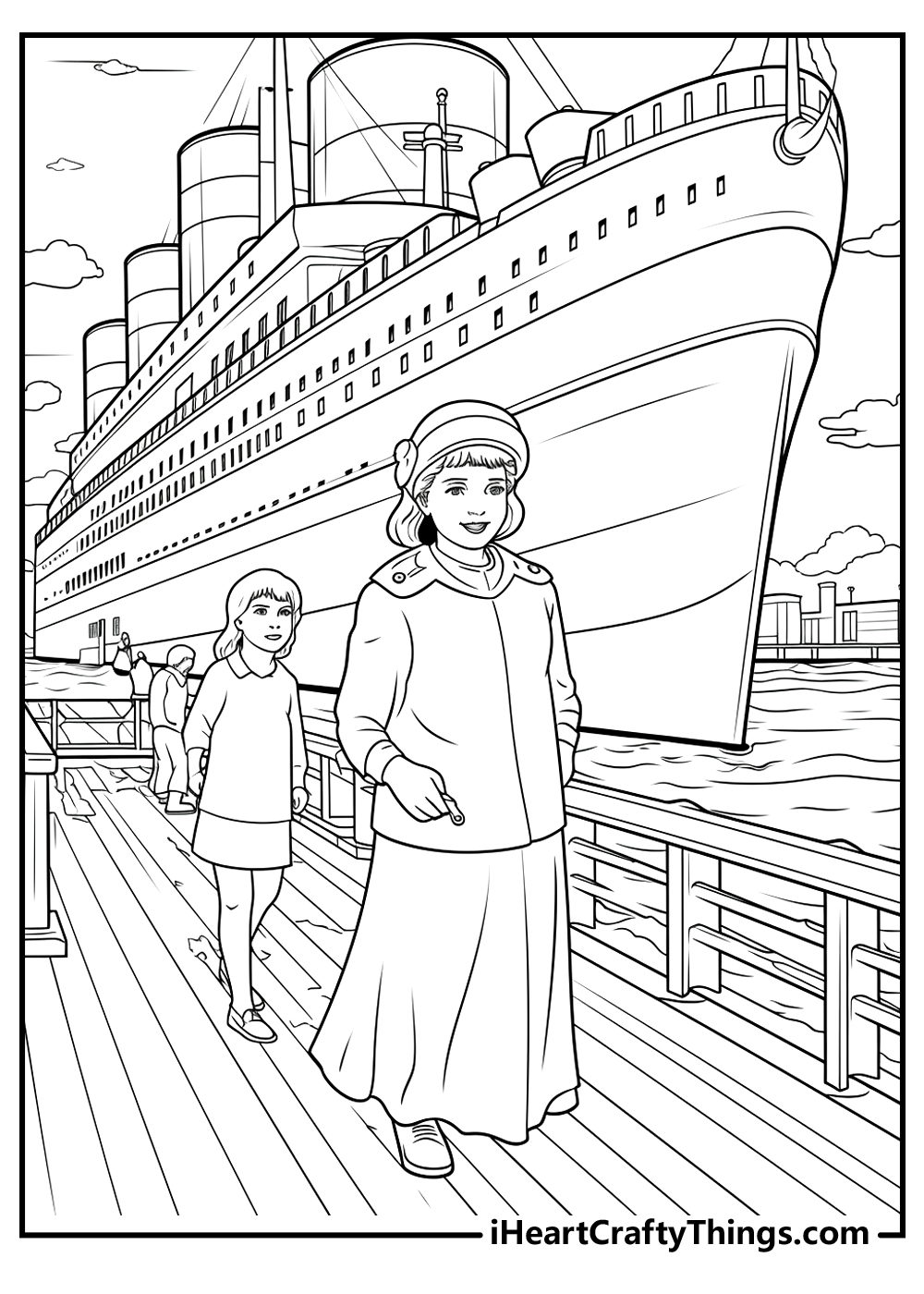 While the Titanic housed different classes, many passengers were some of the richest and most powerful people in the world.
This fancy lady is an example of this, as she is dressed in very smart clothing.
There are so many great details on her outfit that you can color, and you have many choices for how to do so. Once you have colored her outfit, there are plenty of background details to color as well.
This includes sailors busy at work to ensure a smooth voyage. This should be a page that keeps you busy for a long time, so have fun with it!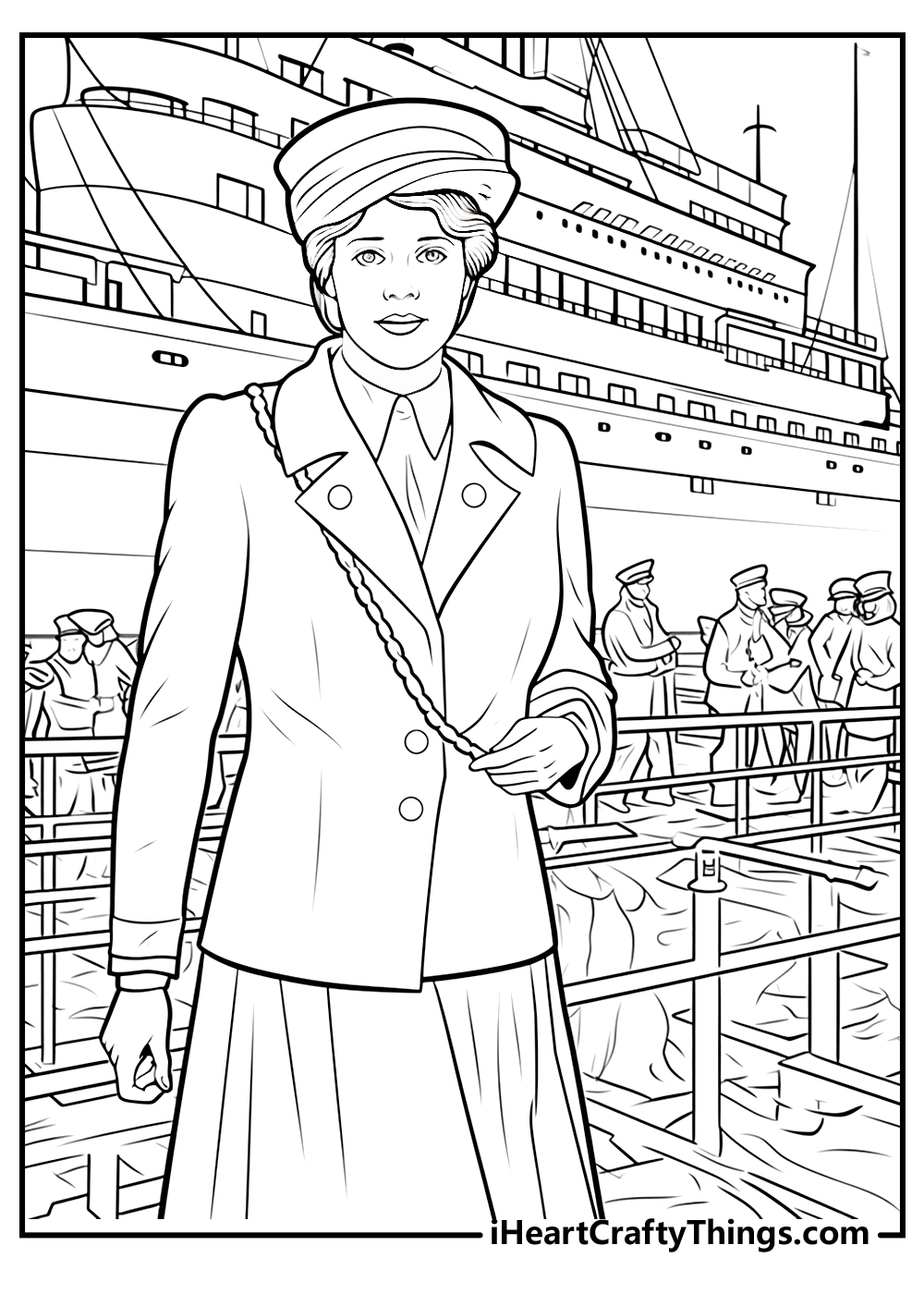 In 1997, the film Titanic was released, and it became one of the most successful movies of all time. The film took an interesting approach, as it focused on the ship but also a classic love story.
This next page represents these two characters from the film, Rose and Jack. Anyone who has seen the film knows that things do not end too well for them.
This coloring page does show a better moment for them, as they share a loving embrace. How will you color this romantic scene from the famous film?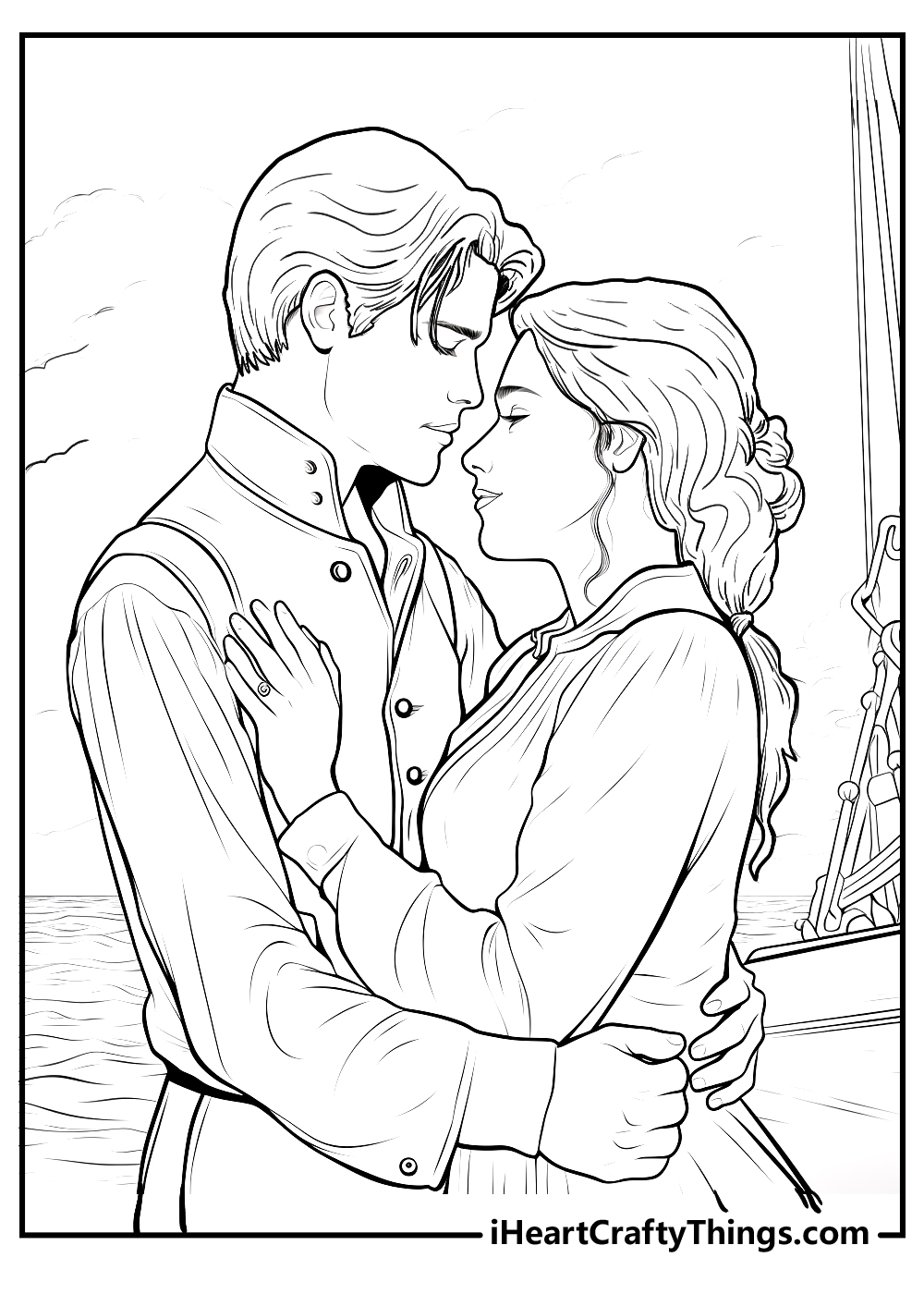 Next up, we have a fancy man standing on the deck of the Titanic. He could be an esteemed passenger, or he could be someone involved in the construction or operation of the ship.
No matter what role he plays in this story, he is definitely an interesting looking character! When coloring a page like this, you could go about it in a few ways.
One way would be to color him normally with your favorite colors. Or, you could also color the page to look like an old photograph by using light browns and grays.
Which approach do you think you will use for this page as you finish it off with your coloring skills?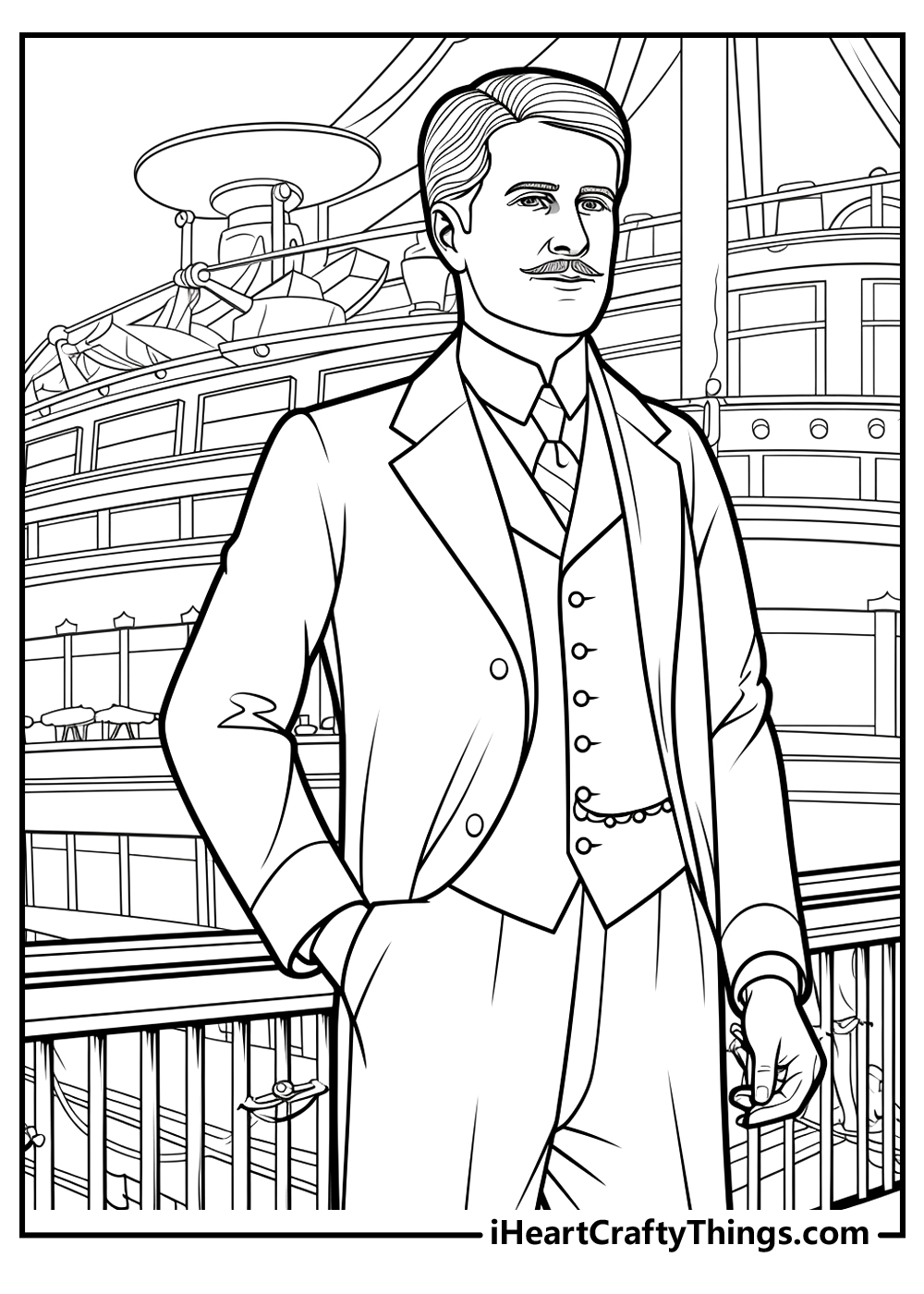 The next Titanic coloring printable that we have for you shows a very different side of things. Many passengers aboard the ship were rich and affluent people, but many were a lot less fortunate.
This page shows the cramped conditions of third class, and it presents a very different feeling than some of the previous pages.
It also allows you to use different colors and approaches to coloring than you have before.
One thing is for sure, there are so many amazing details for you to color here, so you can really have fun with it!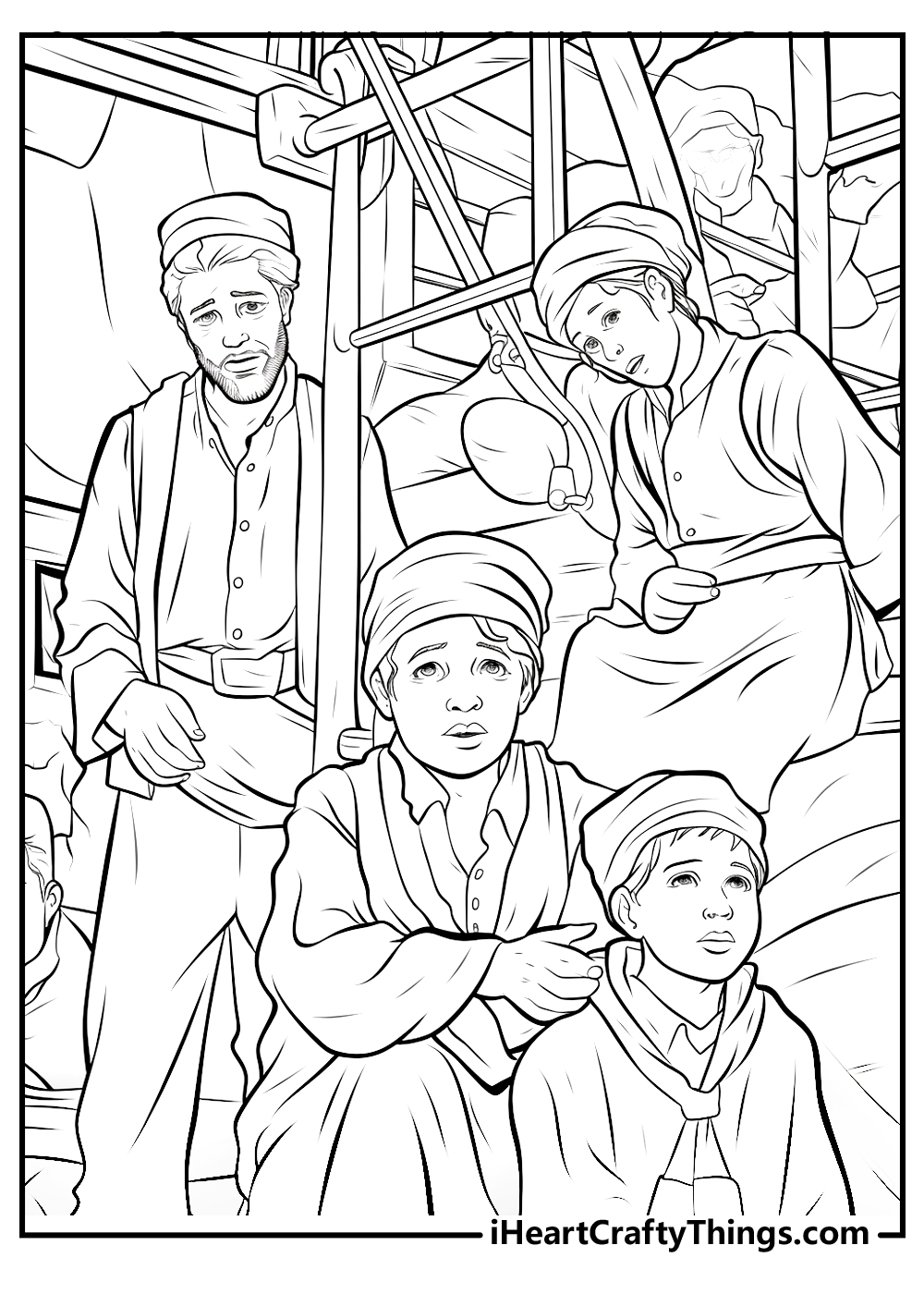 The two men on this next page look as if they are involved with the operation of Titanic. It also looks as if they are performing some kind of check up to make sure it's smooth sailing.
With so many small details on this page, you should consider which art tools and mediums you choose for this page.
Colored pens or pencils would be a good start, as they would allow you to color all the small details.
Plus, they would look great as well!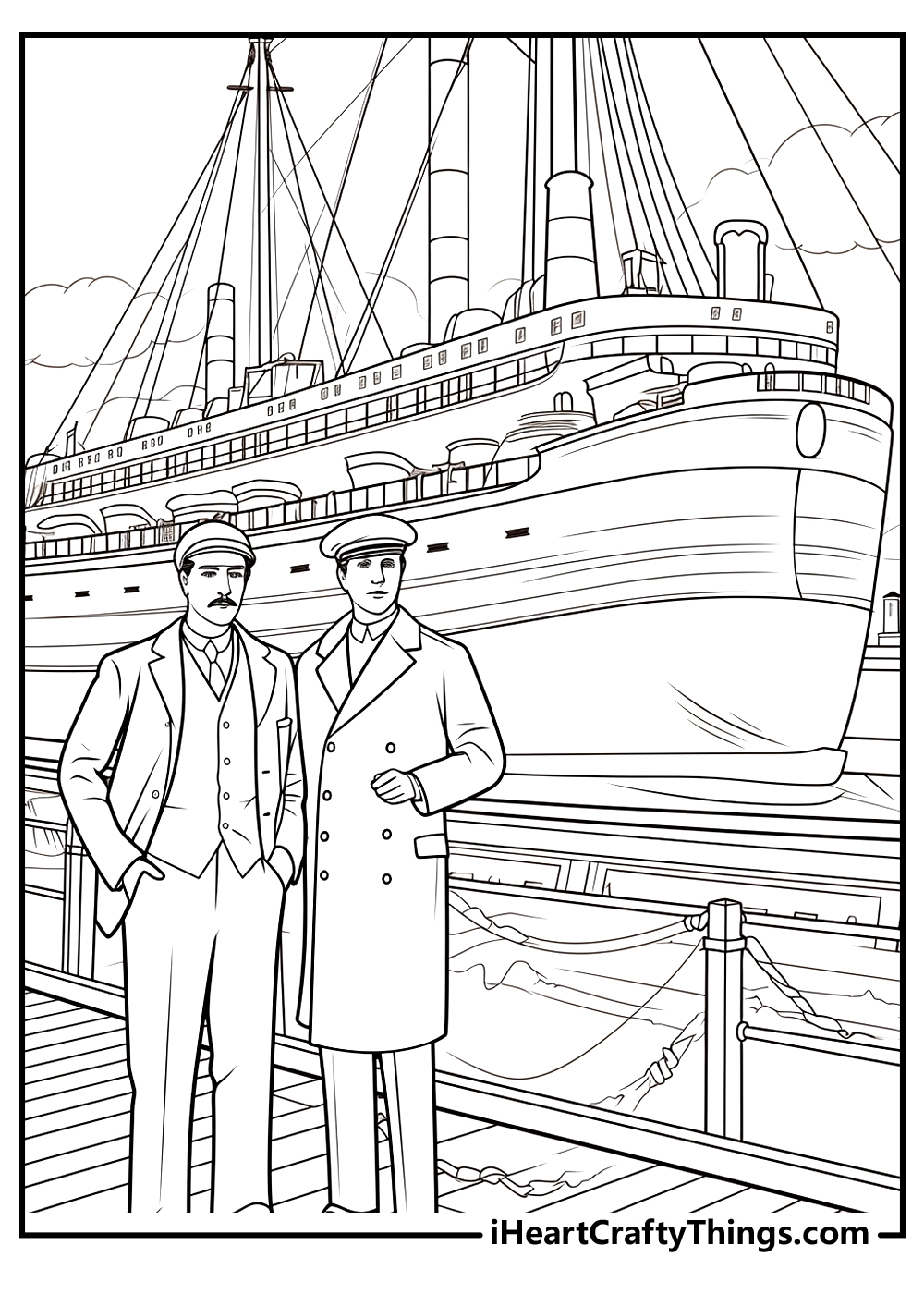 Looking at this page showing off the Titanic, it's hard to imagine where it would end up.
This portrayal captures the elegance and grandeur of the ship, and we get a great look at all of the details.
You could spend a long time on this page having some coloring fun, so take your time with it and enjoy the challenge! Some people rush their coloring and make it frustrating.
It should be a fun experience, and you should take all the time you need. Taking breaks can also help to make detailed pages less difficult to color!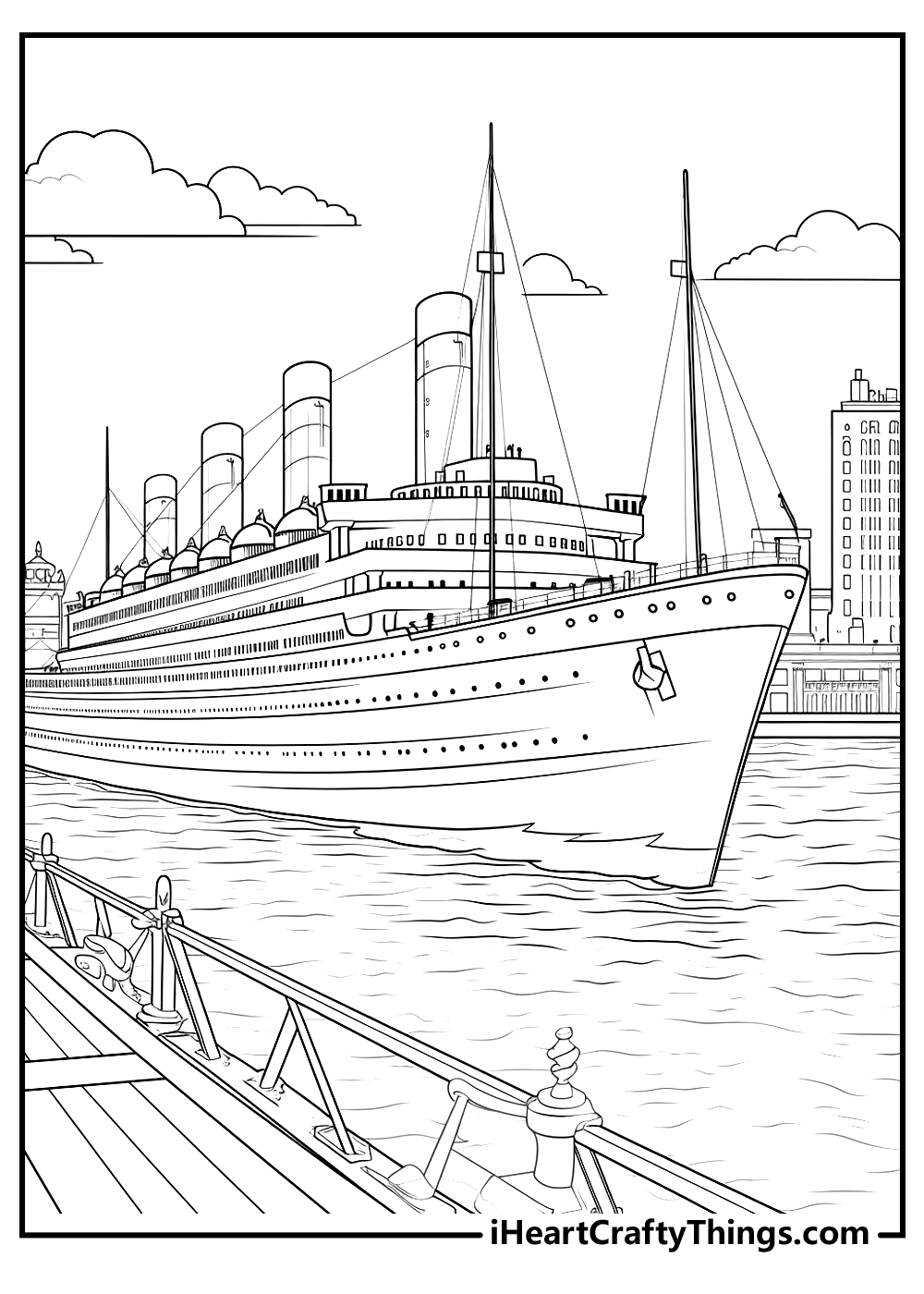 Titanic had some talented musicians aboard that would play to entertain guests on the voyage.
There is also a famous scene in the film where musicians play in order to maintain calm during the sinking.
Luckily, this page shows them playing in less strenuous circumstances. The end of the Titanic was horrific, but there were probably many enjoyable moments during the cruise.
This page captures one of those peaceful moments, and now you can have fun adding color to it. What mediums make you feel comforted and relaxed as you use them?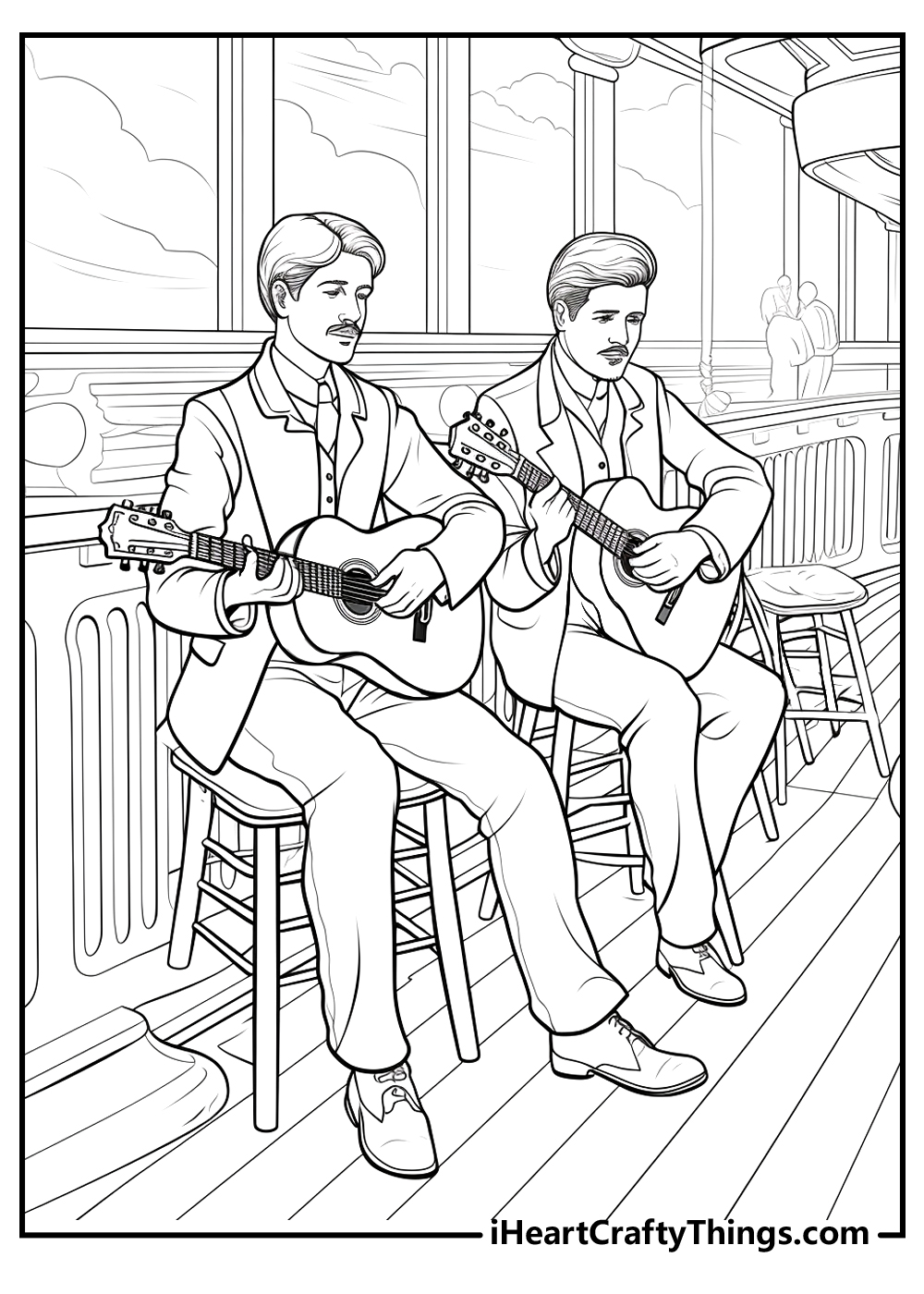 Love is blooming on this next Titanic coloring sheet, and it's such a charming scene! It also captures the elegance of the ship, and both characters are dressed in beautiful clothing.
Seeing these characters, it's nice to imagine that they would make it through the impending sinking together! For such a romantic scene, I would use some warm, bright colors for this one.
It's another picture that could be made to look like an old photo to great effect as well. How do you think you will go about coloring this page?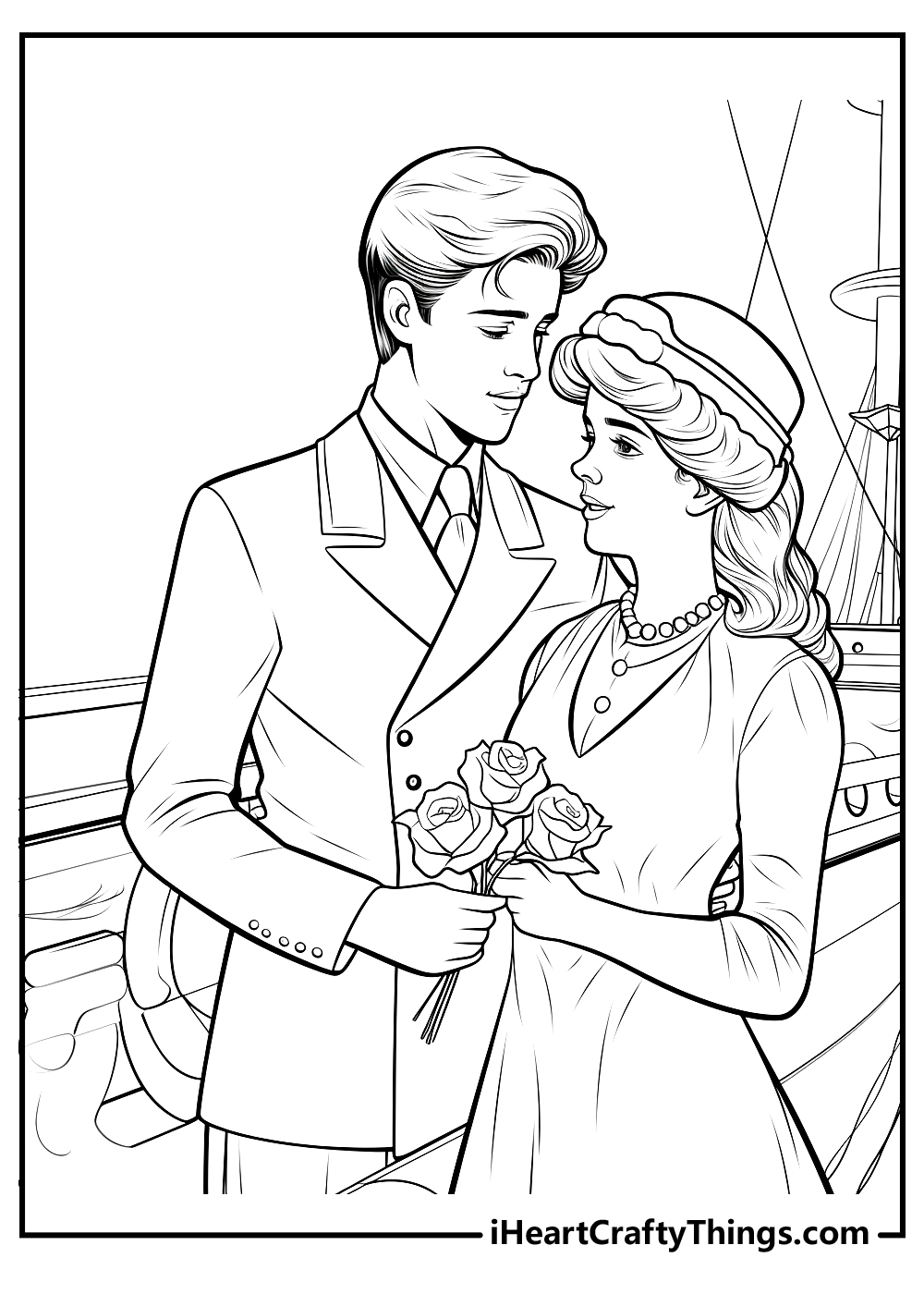 This next picture is one of the most beautifully detailed pages so far, and that's saying something! It's another page that captures the elegance and style of that time period.
For this page, I thought of lighter colors and mediums that would create a classic, classy feeling for the page. Watercolor paints came to mind first, but they may be a bit challenging here.
Unless you have a small brush and a very steady hand, then it probably won't work for such a detailed image. Colored pencils are also nice and subtle and much easier for a picture like this.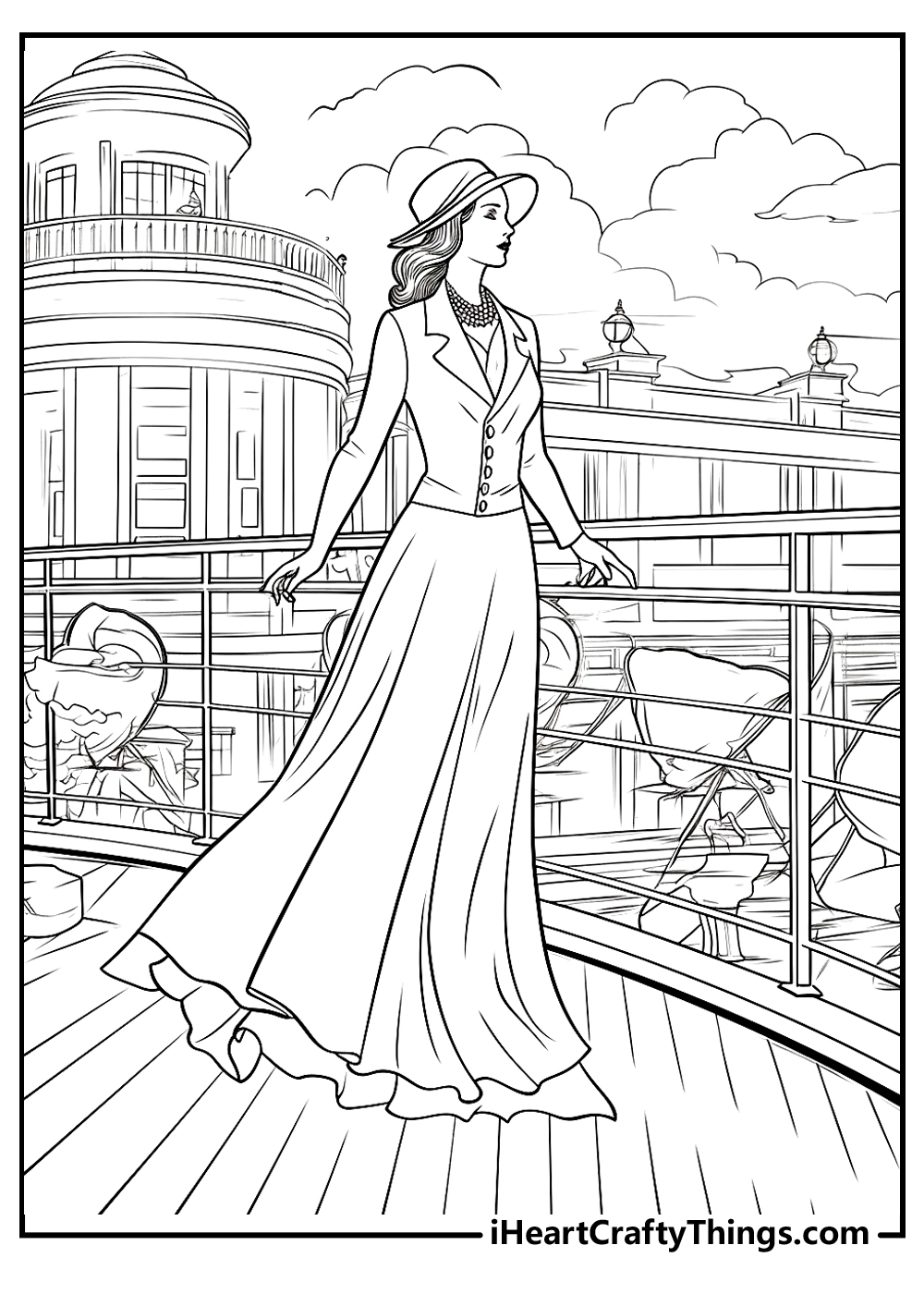 It's a beautiful day for sailing on this next page. The Titanic is making her way through some fairly choppy waters, but everything seems to be going smoothly.
It shows off how things were going pretty well before the fateful day of the sinking. You get to decide what the weather will be like for this page.
The skies could be bright and blue, or you could make it more gray and overcast. What kind of weather do you think you'll use for this day of sailing?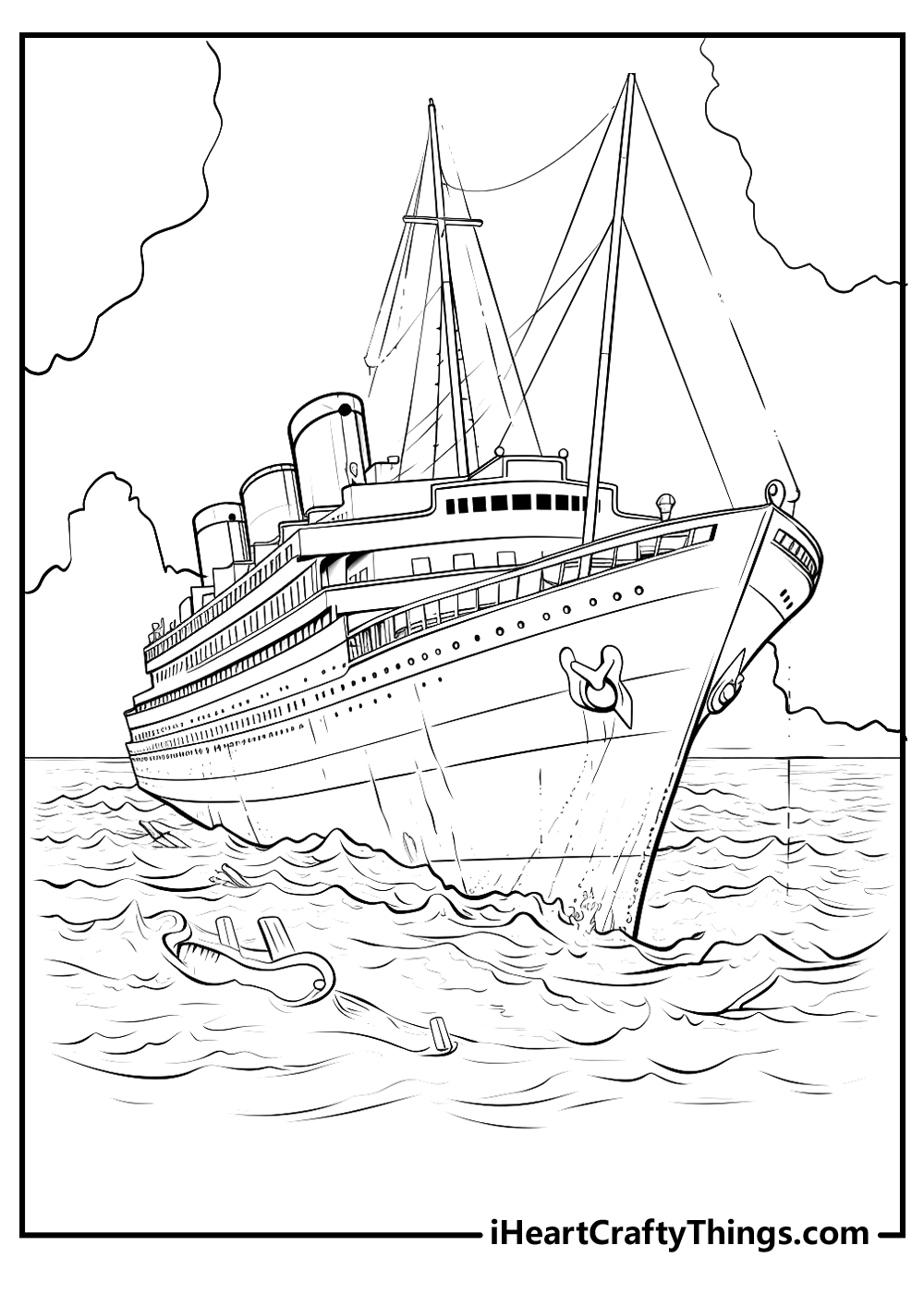 One of the most iconic scenes from the Titanic film has Jack and Rose standing at the bow of the ship with their arms extended while Jack proclaims: "I'm the king of the world!"
This next page calls this scene to mind and recreates this incredible moment perfectly. When coloring this page, you could make it look like the scene from the film.
That means that you would use some orange for the background to make it look like sunset. Will you recreate the scene or do something else?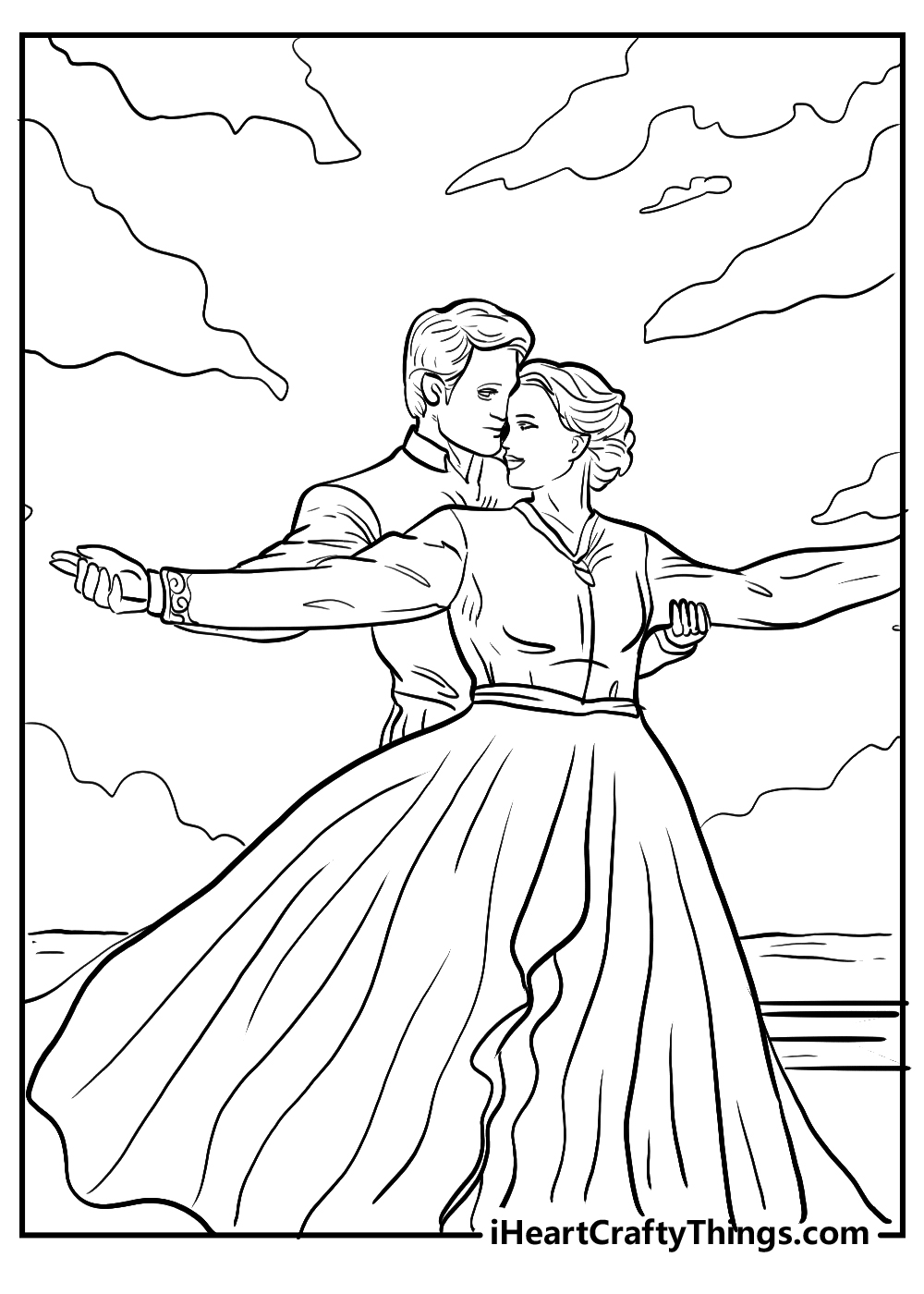 This next couple is enjoying a lovely time on deck of the Titanic. When coloring this page, you could make them look like Jack and Rose.
That would mean giving the woman red hair while making the man's blonde. Doing so would be a great way to show your love for the film!
Of course, you could also choose to make these two unique characters by using different colors instead. Will you make them look like Jack and Rose or will you rather make new characters?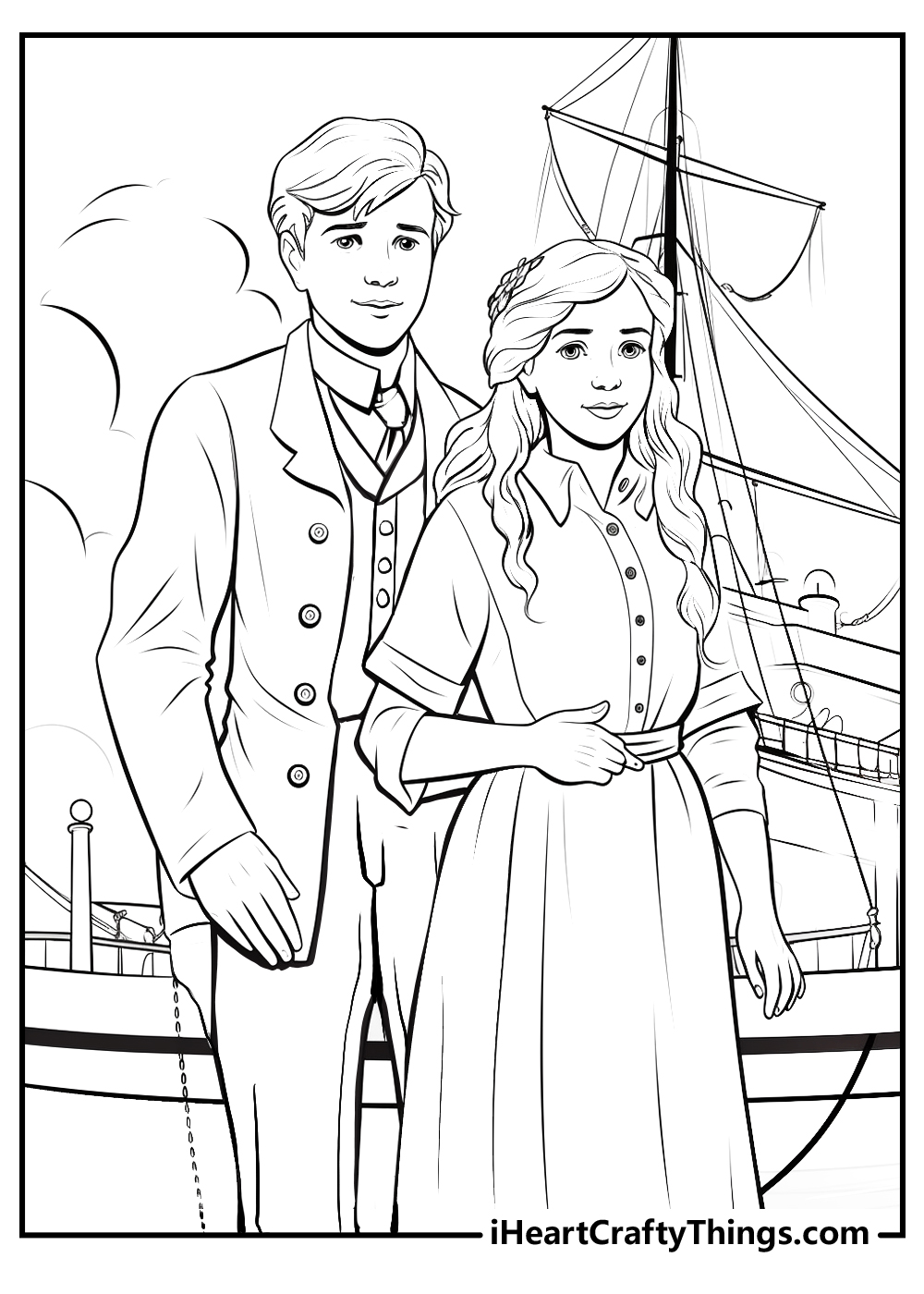 The details on this next page are really quite something! We see the ship in the background as two ladies share a conversation in the foreground.
If you want to make the colors as accurate to real life as possible, then you can easily look up pictures of the real Titanic online to use as a reference point.
Looking at scenes of the film would also be a great way to make it accurate. This is because the filmmakers took great pains to make the ship as accurate to real life as possible!
That means it's a great reference to use.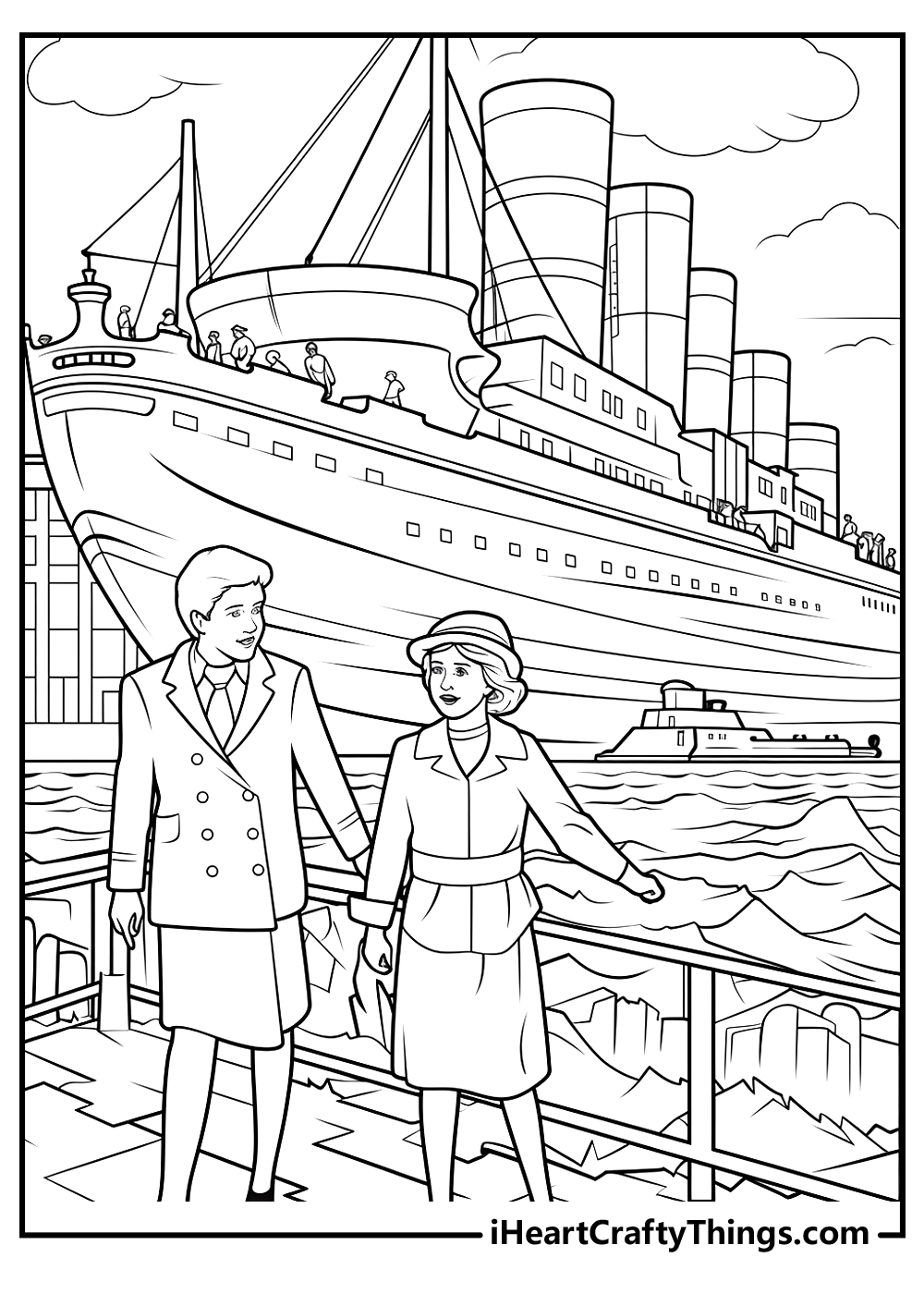 It seems as if the final page in this collection of Titanic coloring pages shows the ship in its final moments before colliding with the iceberg that would be its undoing.
There are several ways that you could make this accurate to real life. For instance, the Titanic struck the iceberg in the evening, meaning that you should make the sky above dark.
You could use some dots of yellow or white to add some stars in the sky. I would also keep the colors a bit dark and muted to further make it seem like a night scene.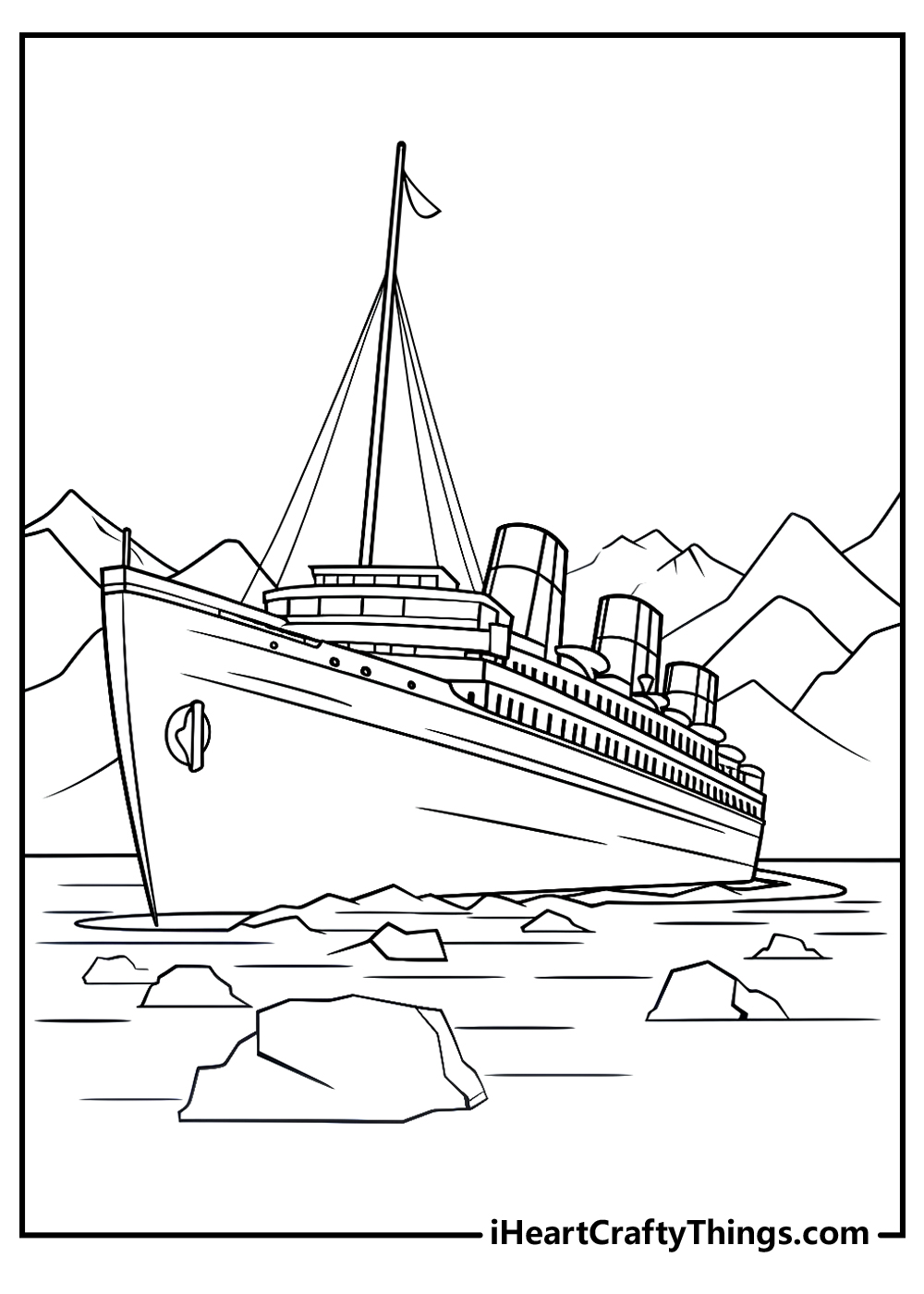 Titanic Coloring Pages – Which will you choose?
This collection of Titanic coloring printables was created to celebrate multiple aspects of this famous ship. That includes when it was sailing peacefully as well as some of the people onboard.
It also pays tribute to some of the most famous moments from the Titanic film, as that has become a big part of the ship's history.
Hopefully, you enjoyed taking this colorful voyage to remember this amazing vessel and its tragic end.
You can print and enjoy these pages as many times as you like, and it can be shared with others as well.
Please also feel free to share some of your finished pages on our Facebook and Pinterest pages!