Fancy occasions are always fun to attend, and part of the fun is getting to dress up in your fanciest clothes.
There are so many amazing dresses and gowns to wear, and it can be fun to imagine what your own perfect one may look like!
This collection of free dress coloring pages for kids will allow you to let your inner fashion designer out so that you can create some amazing designs.
By the time you have finished your favorite pages from the collection, you'll have a real fashion show!
So let's get ready to create some beautiful fashion as we begin the first page.
20 Brand New Dress Coloring Pages – Free to Print and Color
The first dress coloring page that we have for you is a simple yet highly elegant gown!
Even though the design is quite simple, that actually allows you to get extra creative when bringing some colorful flair to the dress.
You could also add some patterns or extra details and accessories to personalize it even more!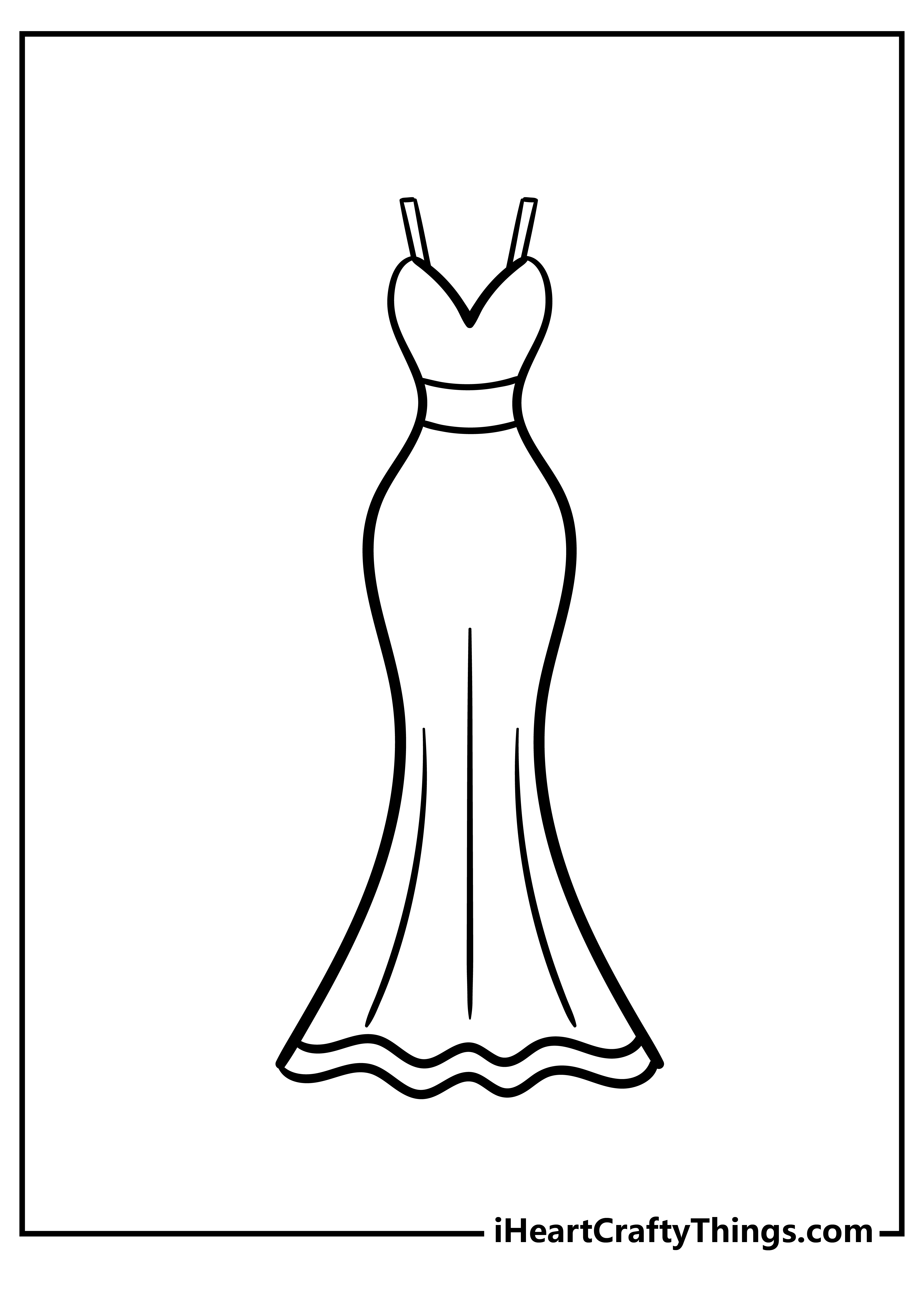 This dress coloring page is perfect for anyone who loves fashion and glamor. The dress is an elegant one-shoulder gown with a flared skirt. It has a bow tied at the waist and a fancy ruffled neckline.
Let's use our prettiest crayons and markers to color this dress. I think some pastel shades would look lovely.
We can make it pink, purple, blue or any color we like. We can also add some glitter or stickers to make this dress coloring page even more fabulous.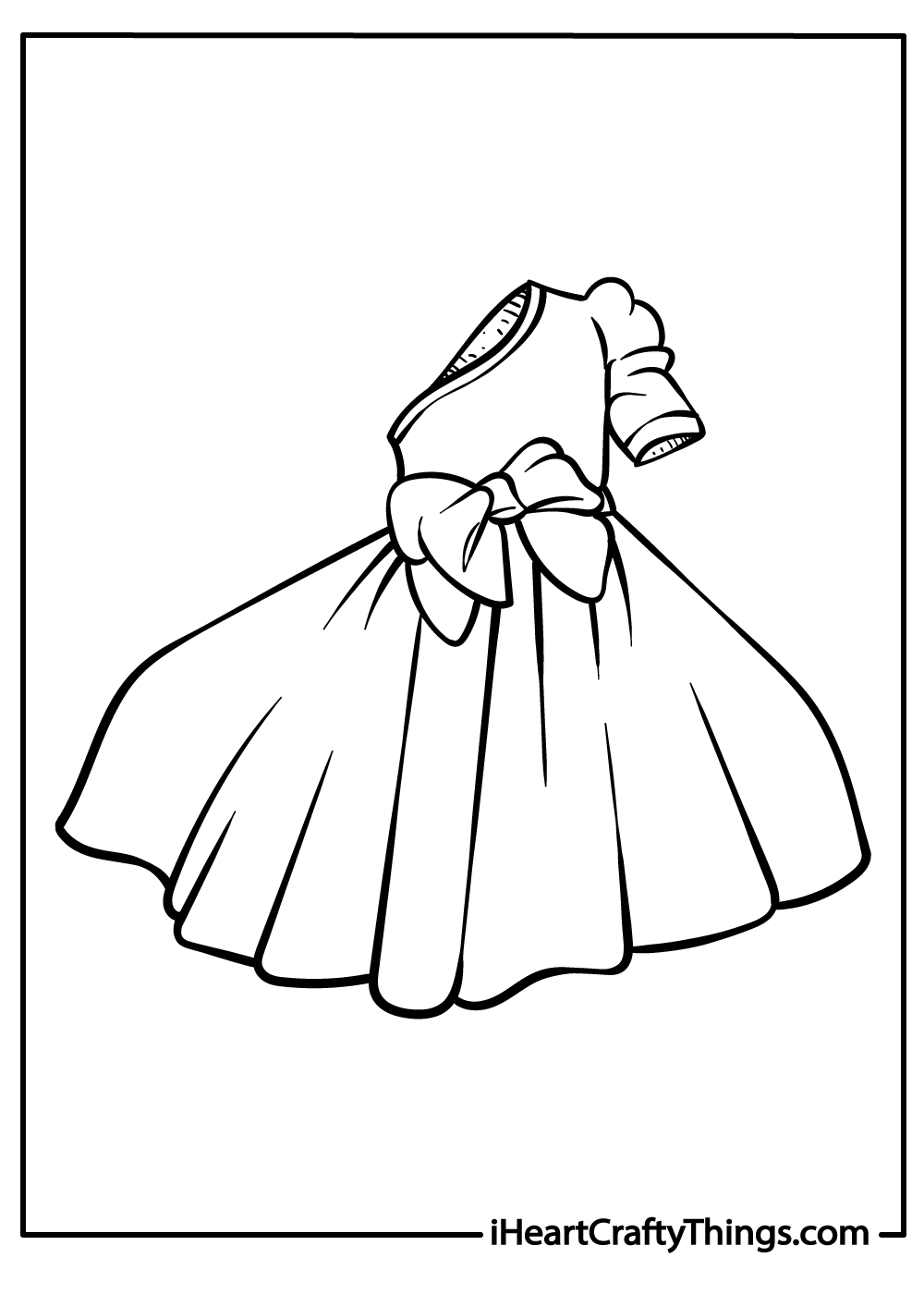 This next dress is another beautifully simple design.
When you look at it, there are some lovely details to appreciate, and these details will be even better when there are some colors added to them.
Can you think of a color scheme or maybe a type of pattern that you think would suit this pretty dress?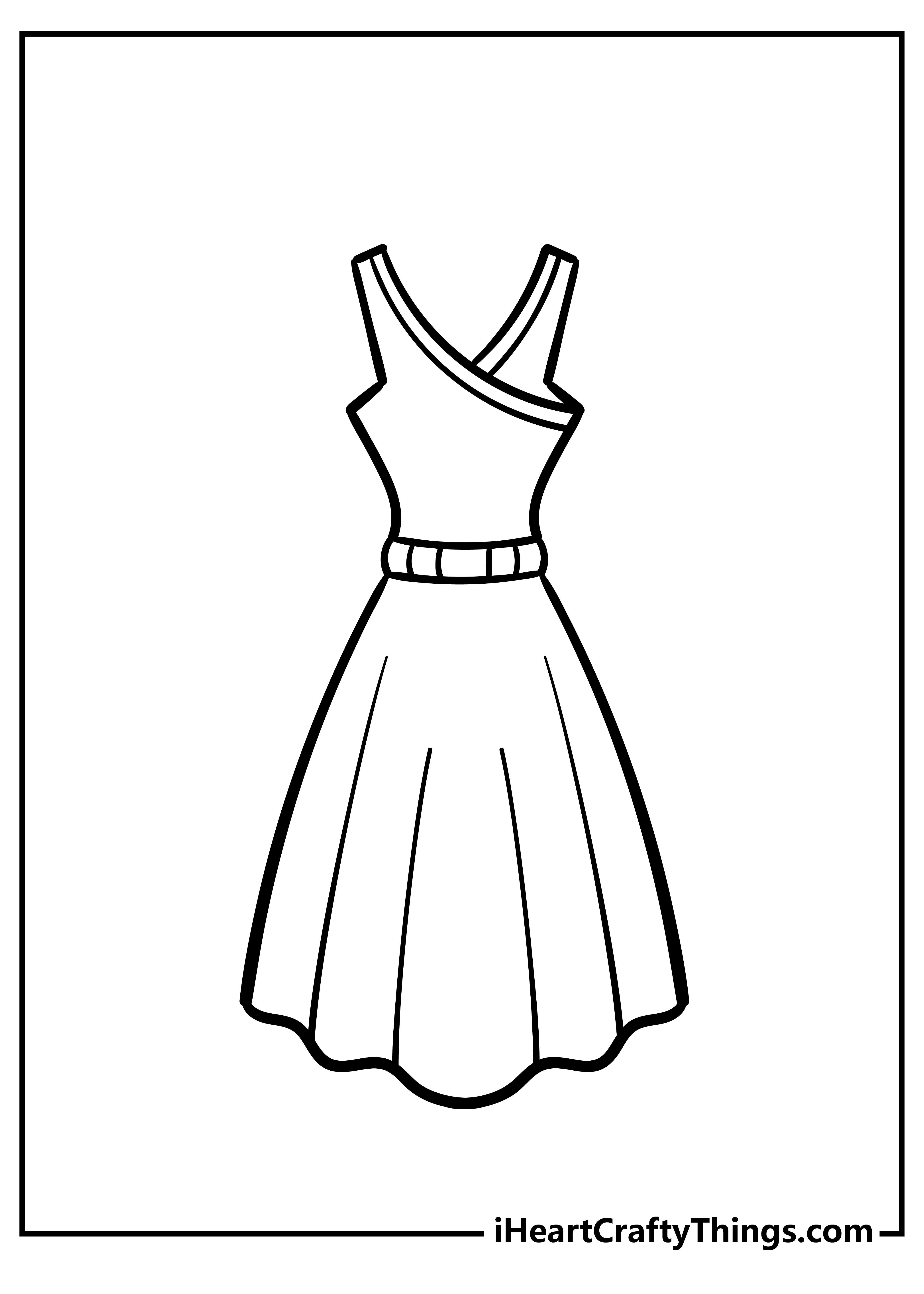 Next, we have a dress that looks like it's ready for a grand ball or a party!
The way this one flows out makes it look fit for a princess, so we would probably go with some elegant pinks and purples for this one.
That is just one way to color it, though, and you should absolutely go for whatever colors feel right to you!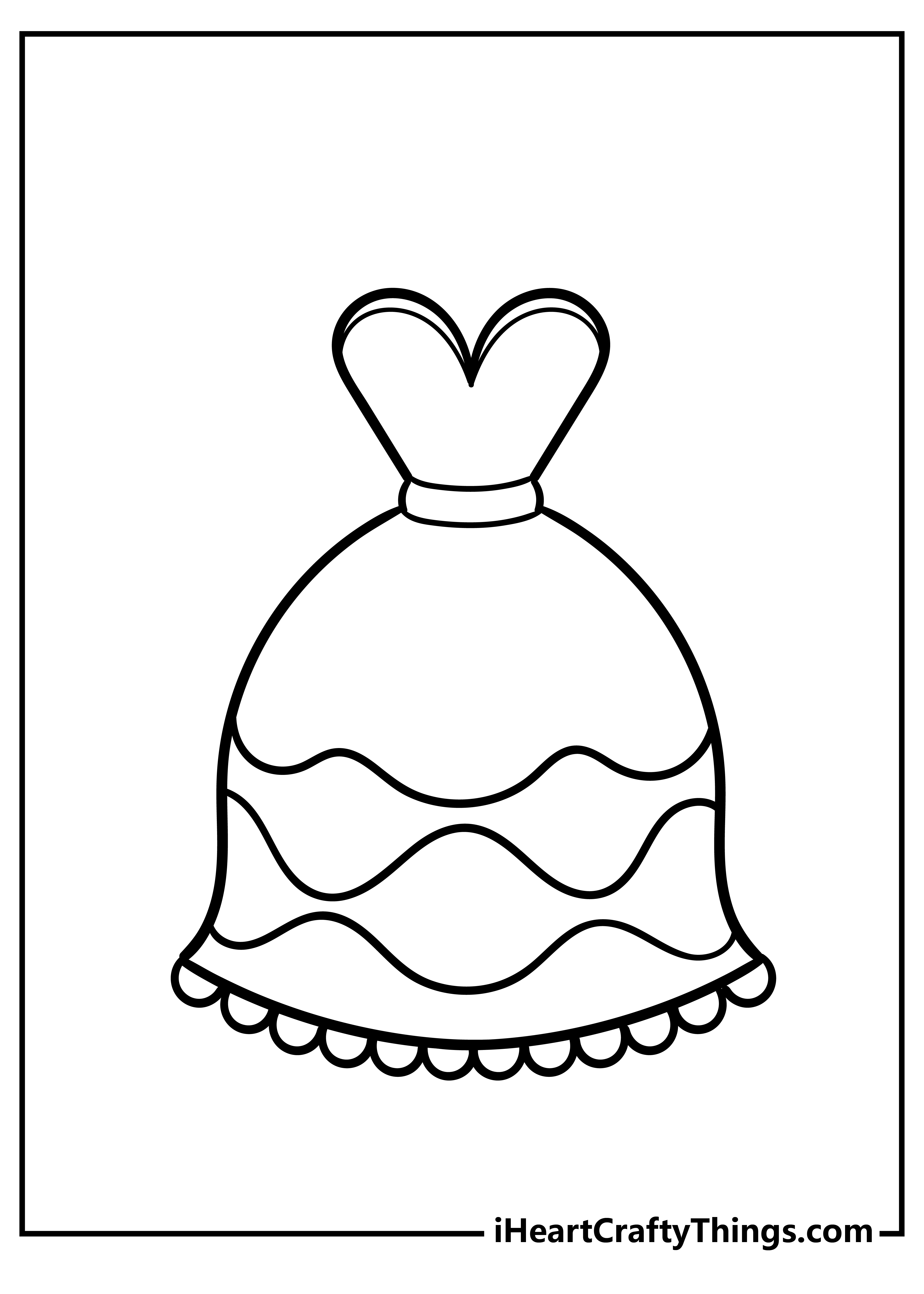 Next up in our collection of dress coloring pages, we have a chic and trendy dress that is perfect for a day out with friends.
The dress has a round neckline with ruffle patterns on the shoulders. The bodice of the dress has horizontal stripes, while the skirt has a grid pattern and a scalloped hem.
What color will you choose for this stylish dress? You can try pairing vibrant pinks and oranges with sophisticated blacks and grays. Or go for a retro 60's vibe with retro greens, blues and yellows.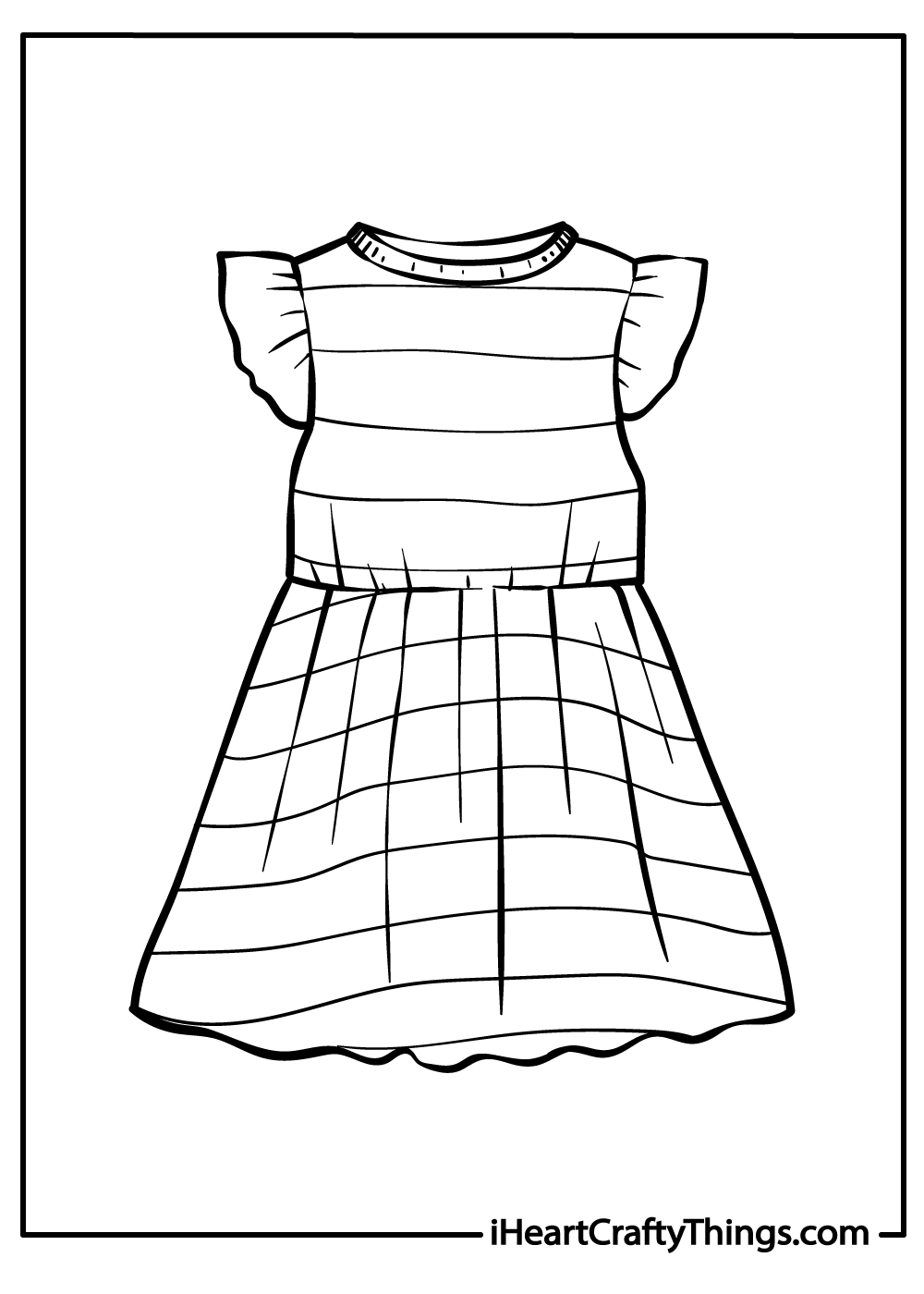 There is a floral pattern to the design featured on this dress coloring page that is simple yet so pretty.
The flowers also give you the opportunity to work in some beautiful colors that will really pop. We would use some bright colored pens for the flower details, but what you use is entirely up to you.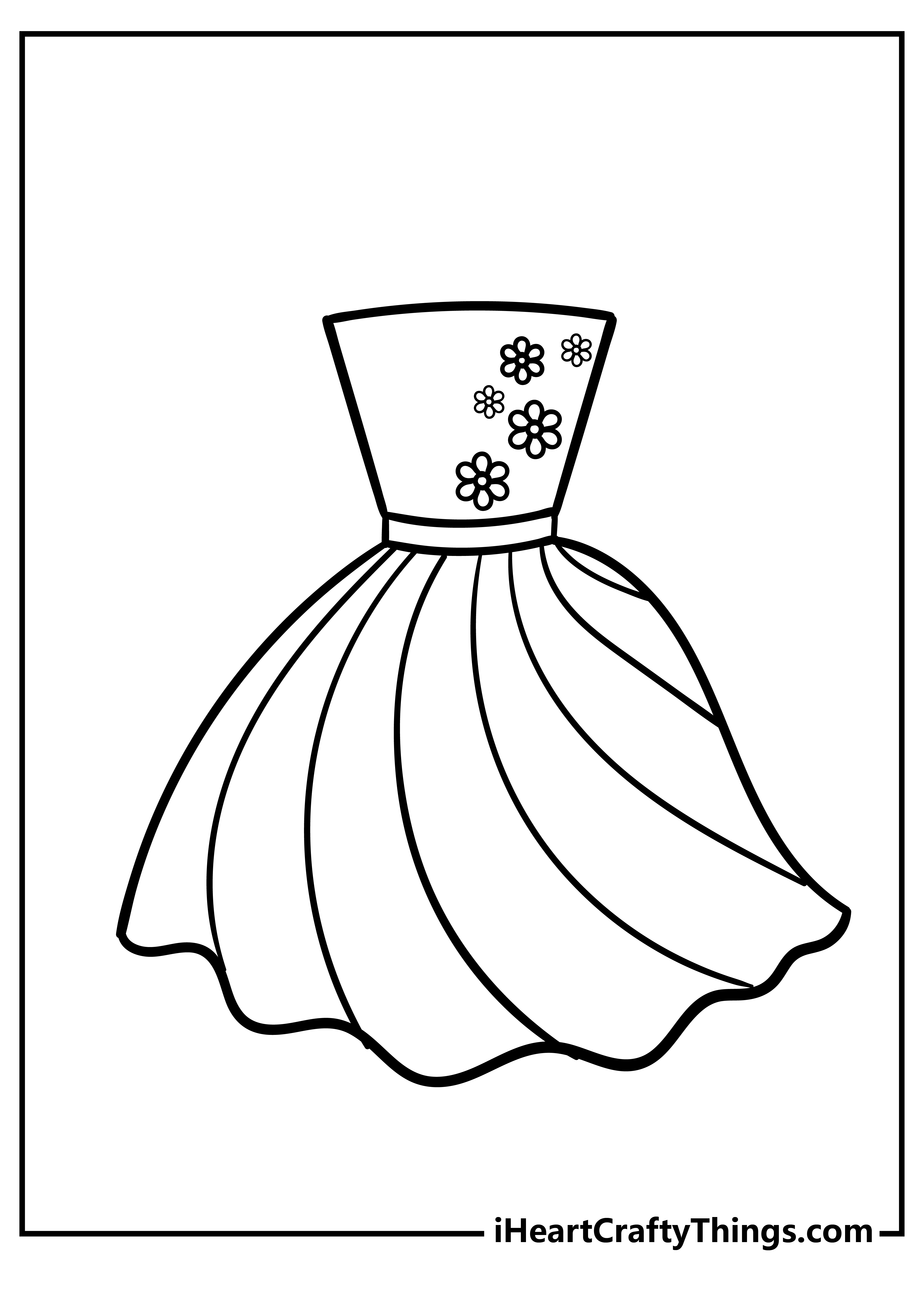 The dots on this next dress suggest that it has a glittery texture. When coloring something that has that kind of look, you can also incorporate some crafts to make it look even better.
If you have some glitter or glitter pens, you could use a light application to make this picture actually sparkle on the page!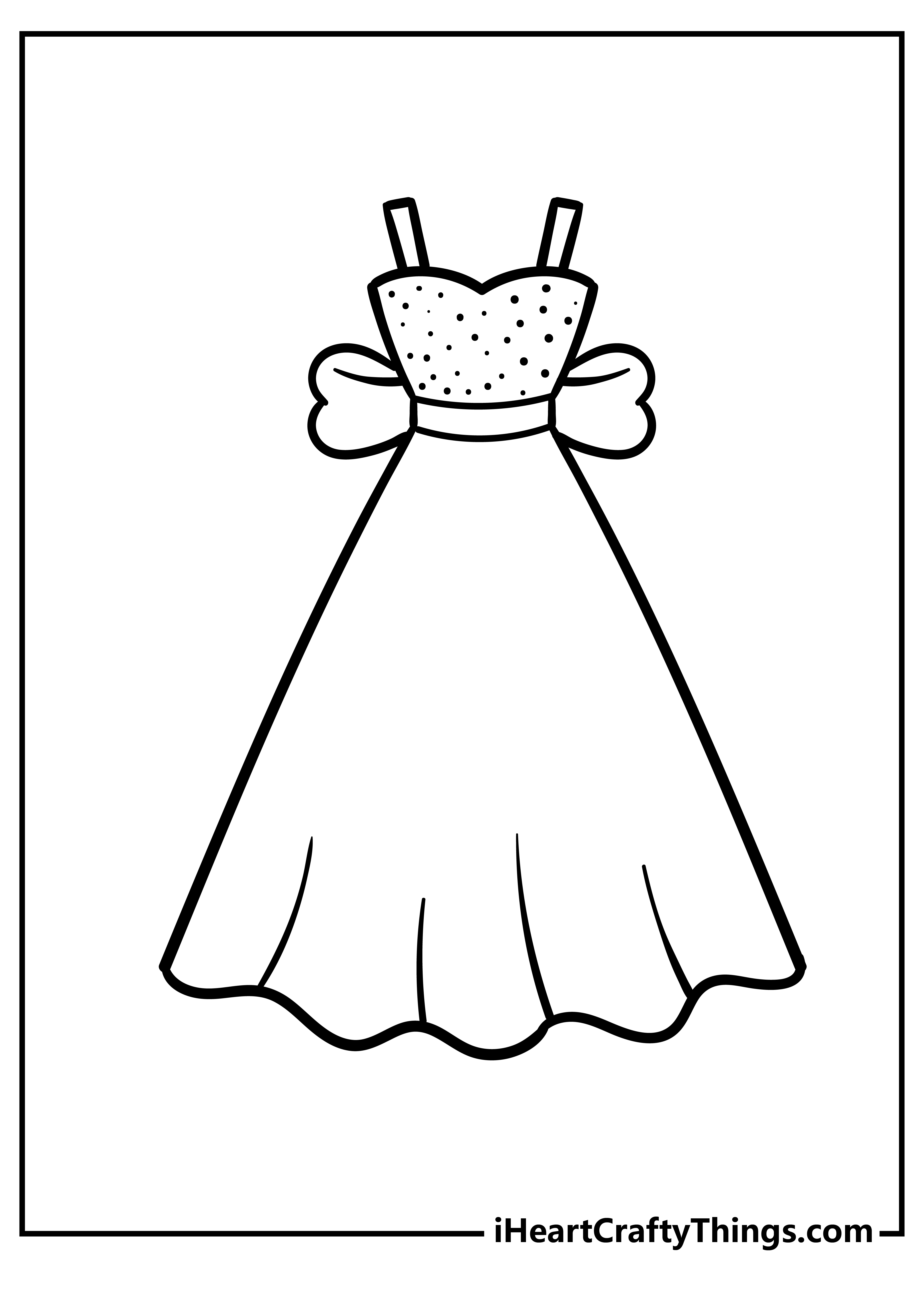 This dress coloring page has a fun and festive dress that is perfect for a starry night. The dress is sleeveless with a round neckline.
The fitted bodice and full, flared skirt shine bright with constellation-inspired style. It is decorated with large stars all over, giving it a sparkling and magical look.
The possibilities for coloring this dress are endless. You can choose to give each star its own vibrant shade or create fun patterns by coloring neighboring stars different hues.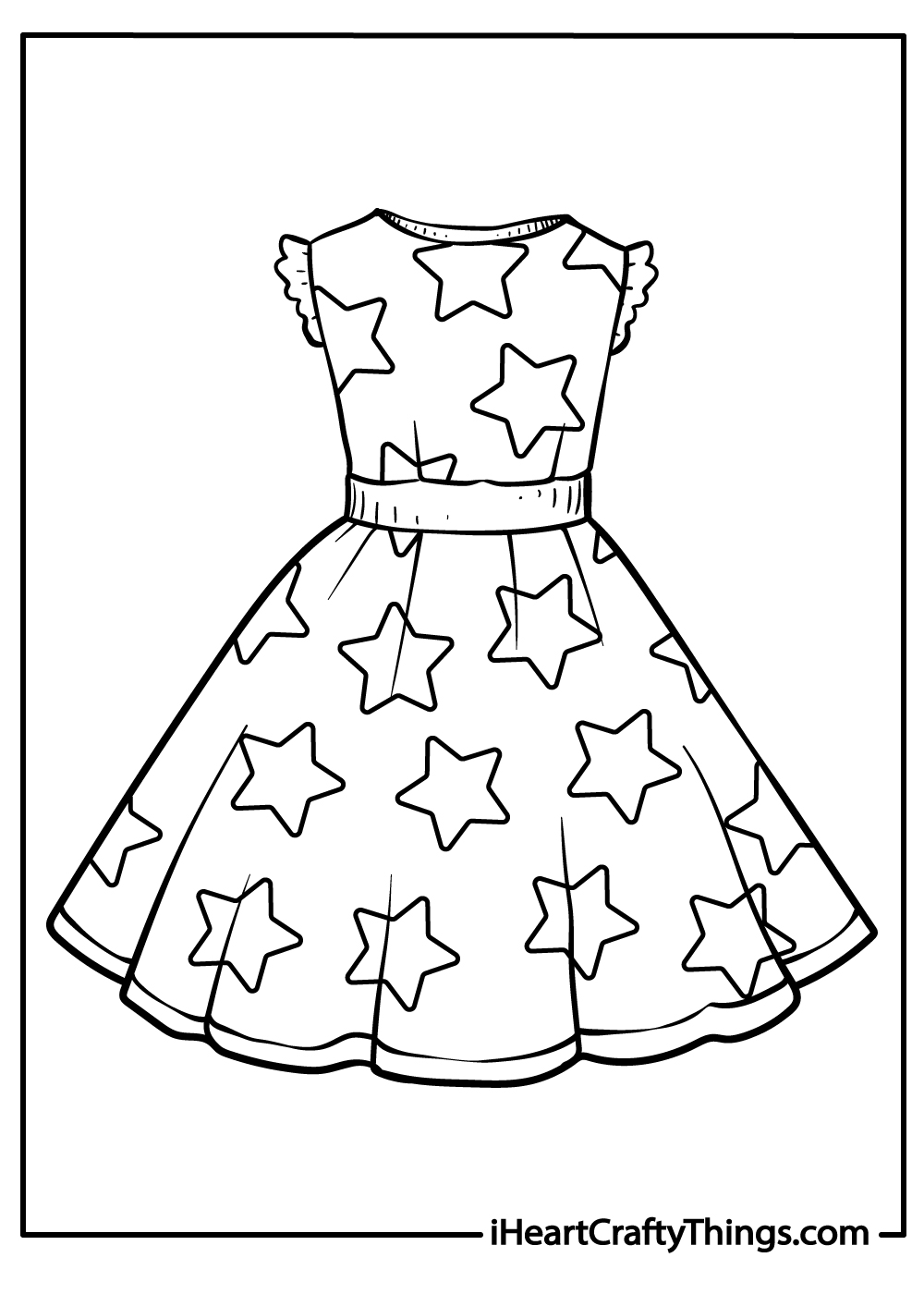 We have another dress that's fit for royalty featured on this next page in our collection of free dress coloring pages for kids!
This one has many layers to it, and they will look absolutely stunning with some colors added.
Do you think you will go for alternating colors for the layers, keep them more uniform or maybe use a different color for each one?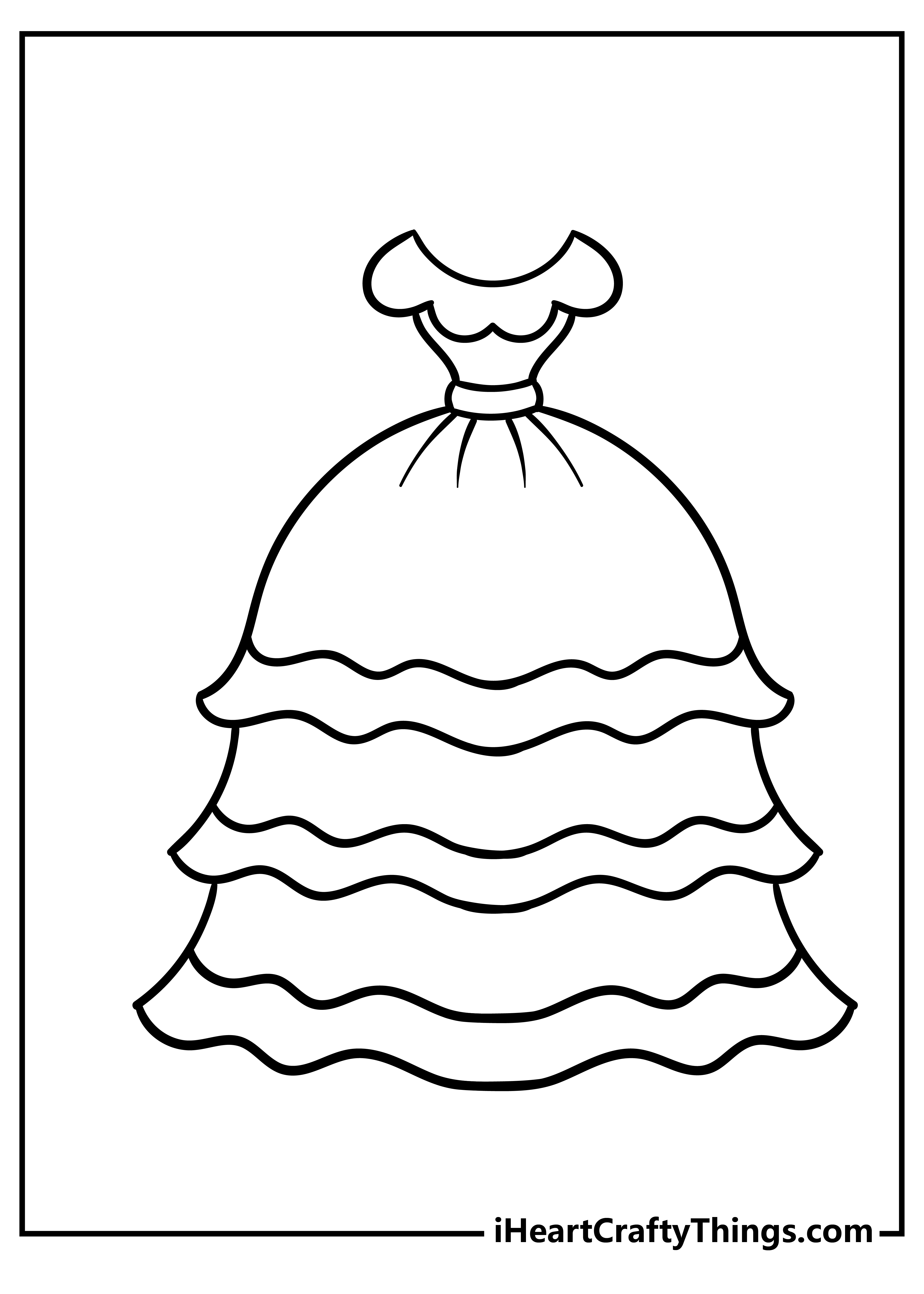 This next dress is simply stunning. It's simple at first glance, but there are some really elegant details to admire when you look closer.
When coloring, don't be afraid to use more than one art tool or medium on an image, as mixing mediums can often create a truly stunning effect!
Maybe you could try out a new art medium you've never used before for this one. What cool mediums would you like to use?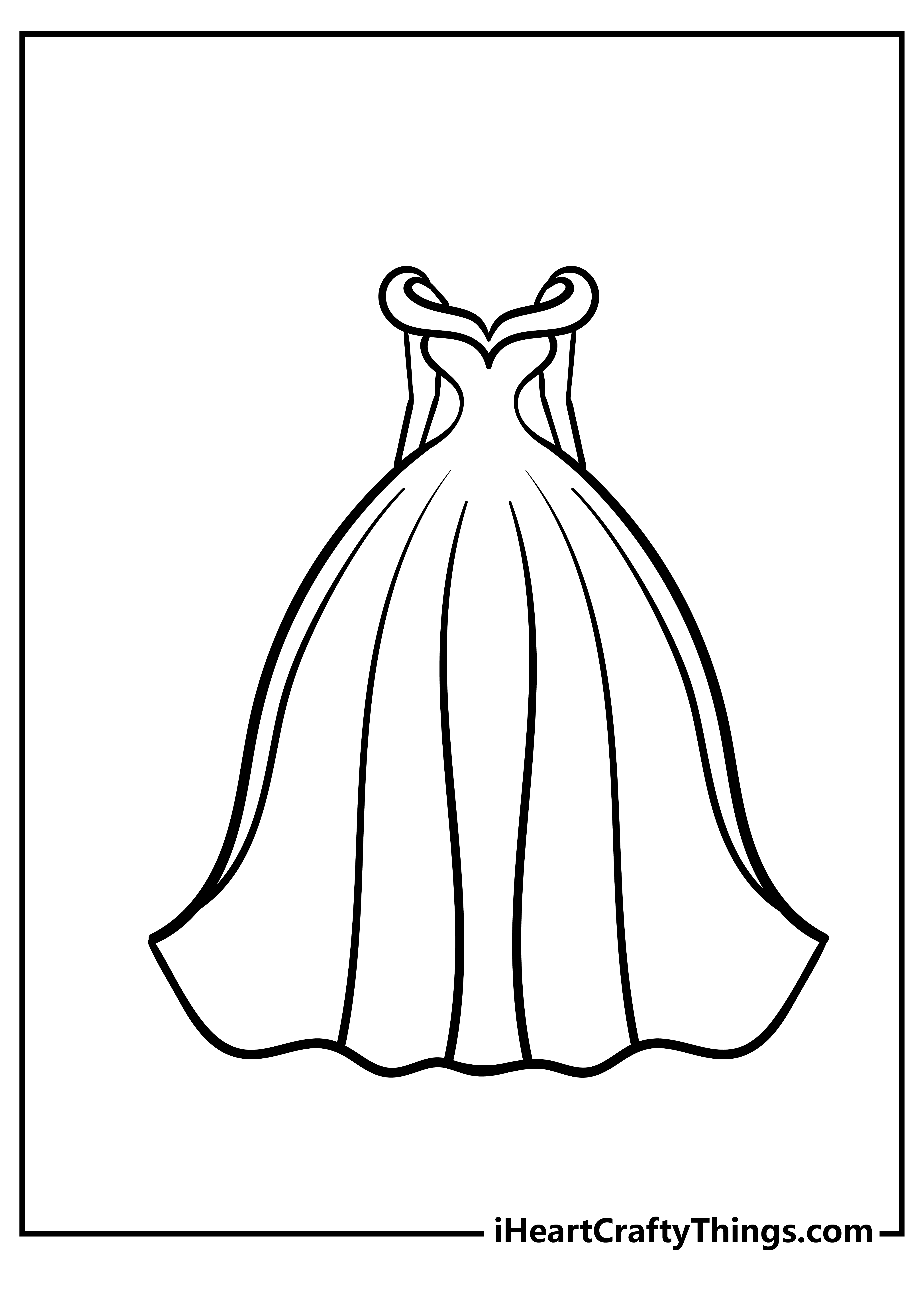 It's a floral overload on this next dress! There are so many flowers featured on this one, and it may seem intimidating to color all of these small details.
It's never a race when it comes to coloring, however, and sometimes it can be nice to slow down and take your time with some coloring fun.
Colored pens or pencils would also help provide some much needed precision for these small details.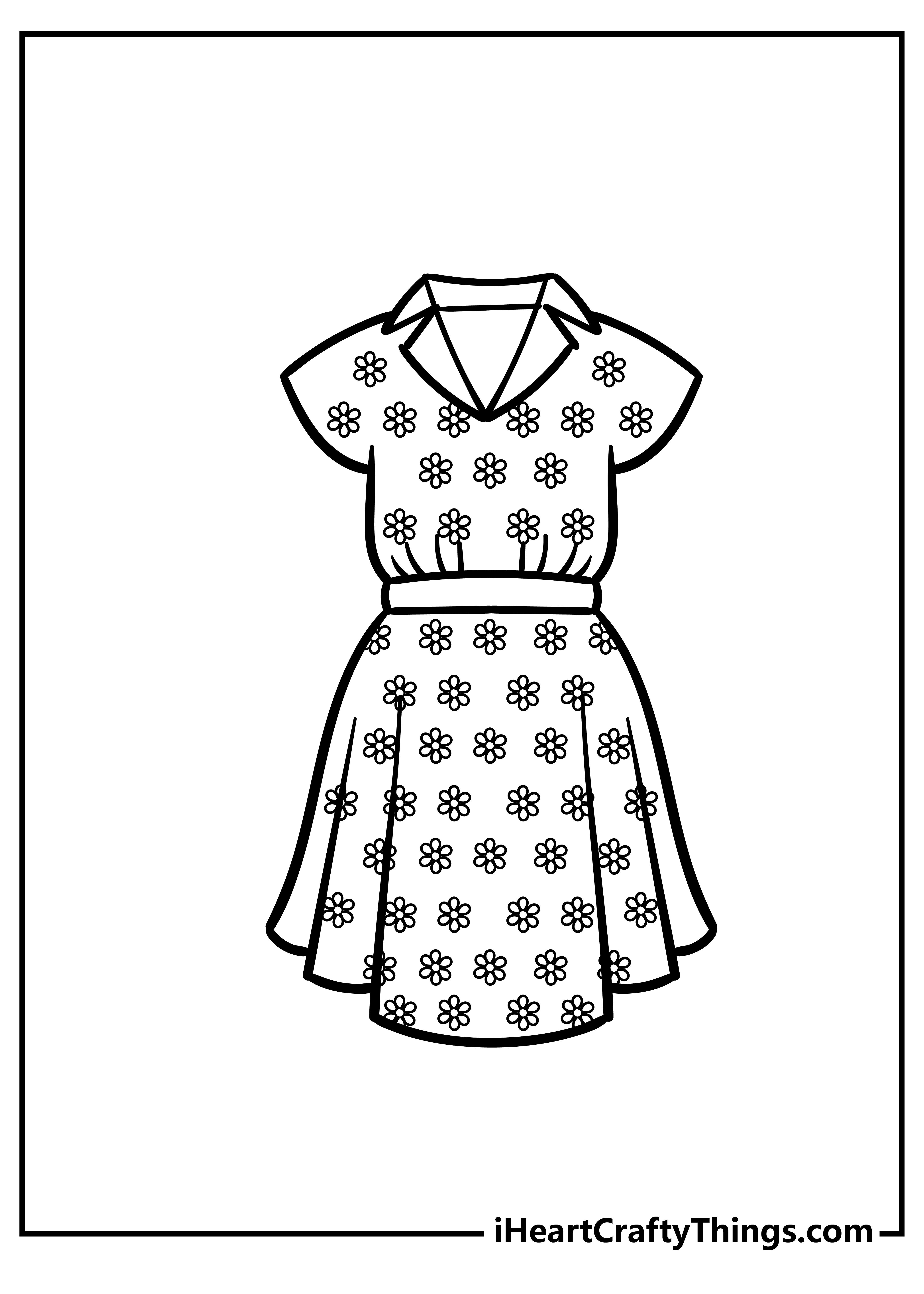 This cheery design starts with a sunny yellow dress decorated with big, bold polka dots just waiting to be filled in.
The round neckline, short puff sleeves and darling bow tie waist add an extra dose of cute.
Grab your brightest markers and get creative with the dots – try different color combinations like pink and orange or blue and purple dots.
You can make each one a unique pattern. You have a great sense of style, so we know you will make this dress look wonderful.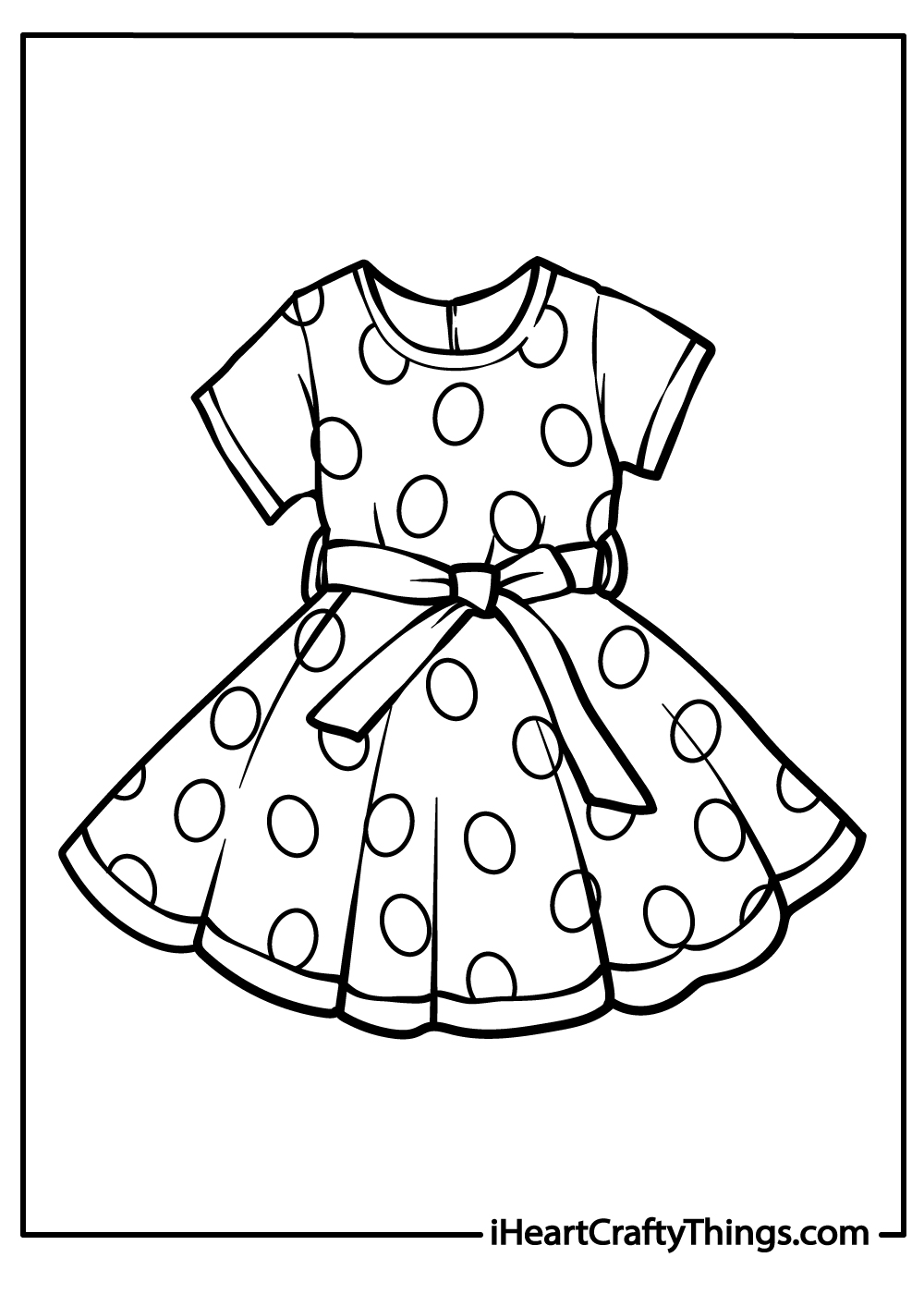 This is another beautifully elegant dress that we have for you. What kind of occasion do you think this one would be best suited to?
You could show off what you think the occasion could be by drawing some background details, objects or accessories that would provide some clues as to what it could be.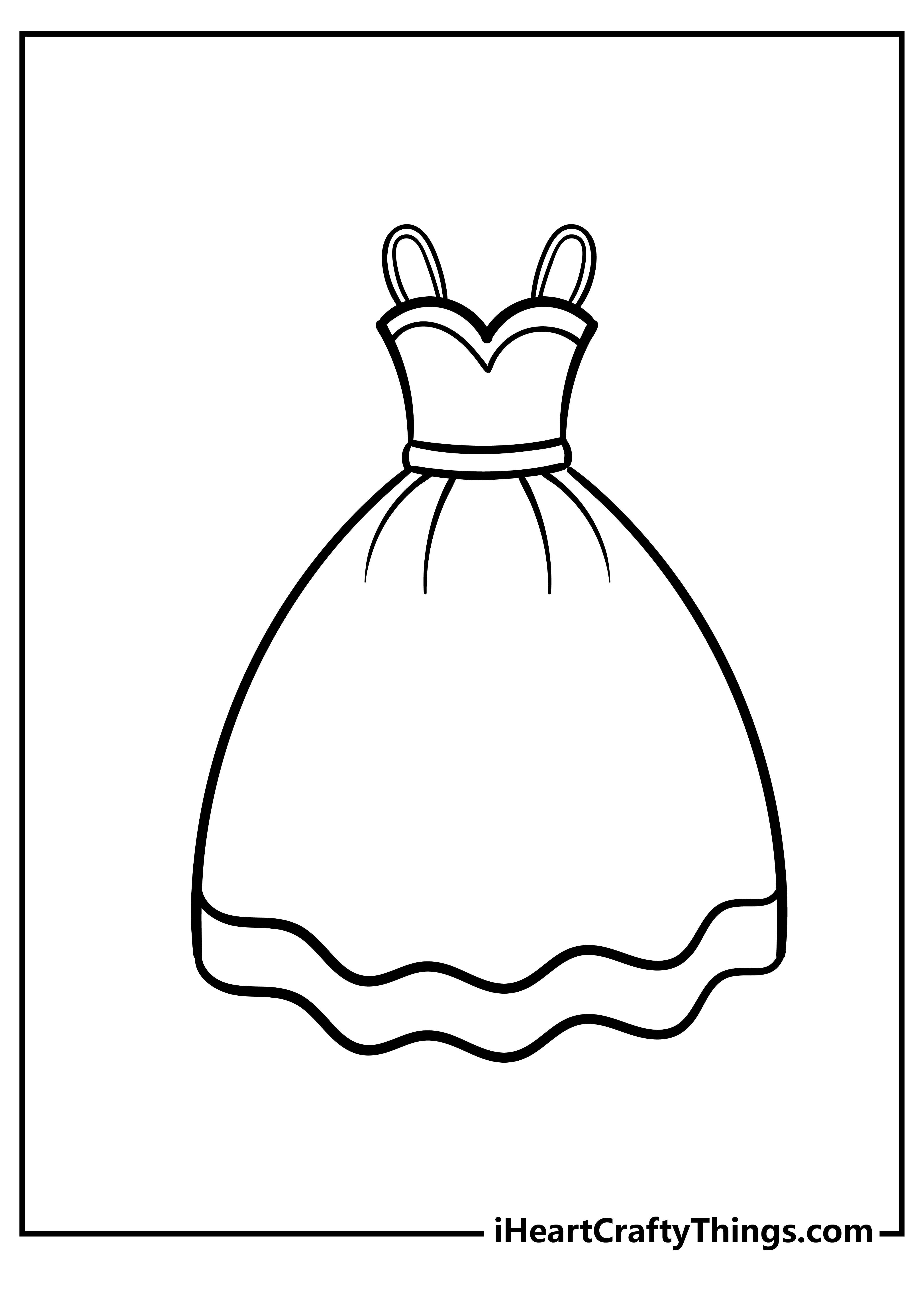 Our tenth dress coloring printable is another design that features some pretty flowers.
It makes for a really stunning design, and the possibilities are practically endless for how you could color these details.
Did any colors or art mediums come to mind when you first saw this one? We will be interested to see what you choose!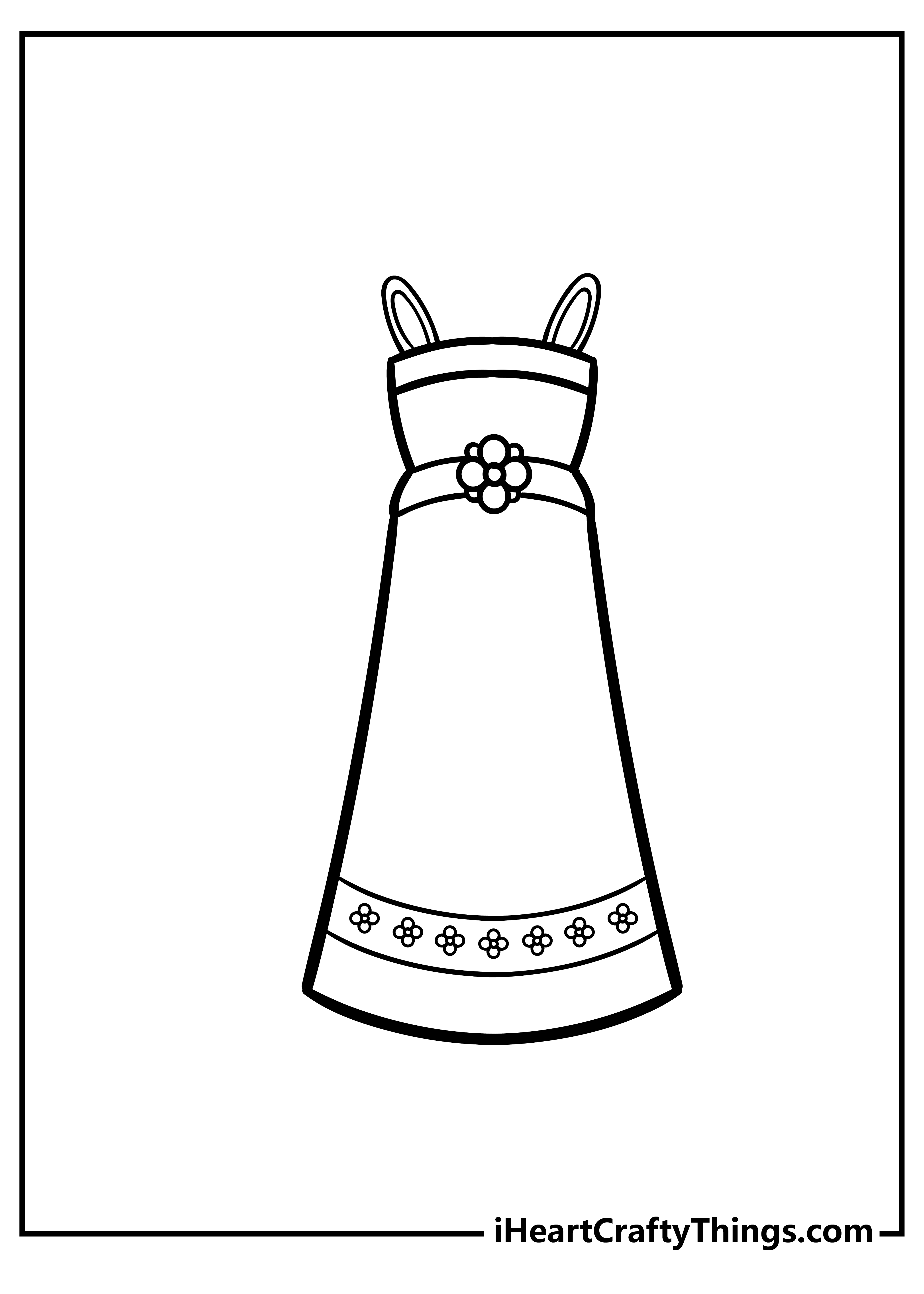 This next dress would surely have to be for a fancy party, it's too pretty for any other explanation!
There is a lovely layered effect going on here, and you can really think about how the colors of the various layers could interact with one another in order to create a unified look here.
We know this one will look amazing when it's done!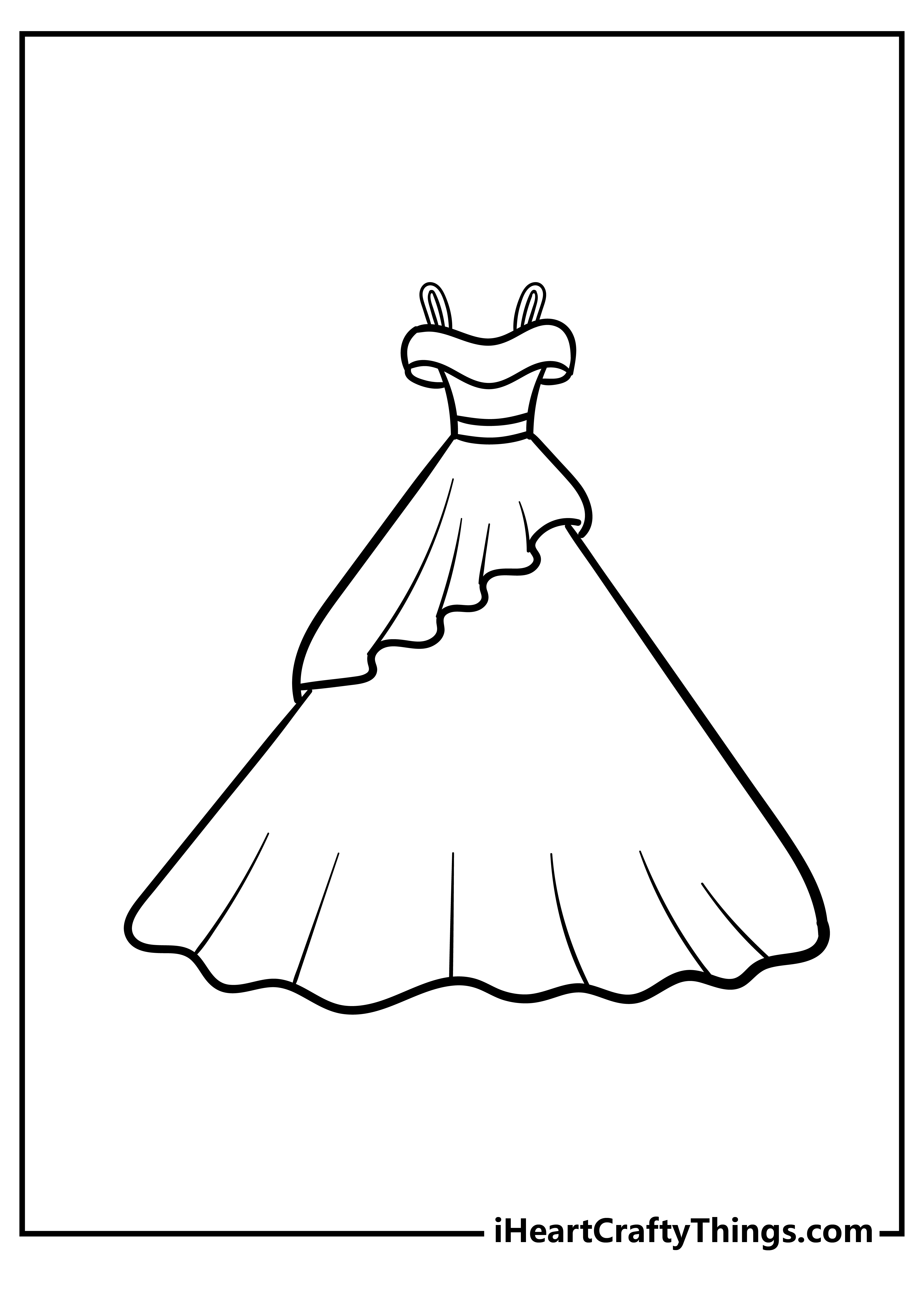 This dress looks perfect for a sunny day. It has a round collar and buttons down the front. has a lovely flower pattern on the top and a layered skirt.
The sleeves are three-quarter length and have a frilly edge.
Another thing you'll notice is that the dress appears to be made of a soft fabric that sways with the wind. You can bring the dress to life by coloring the flowers red, orange, pink or purple.
You can also add some lace or embroidery to make the dress more elegant.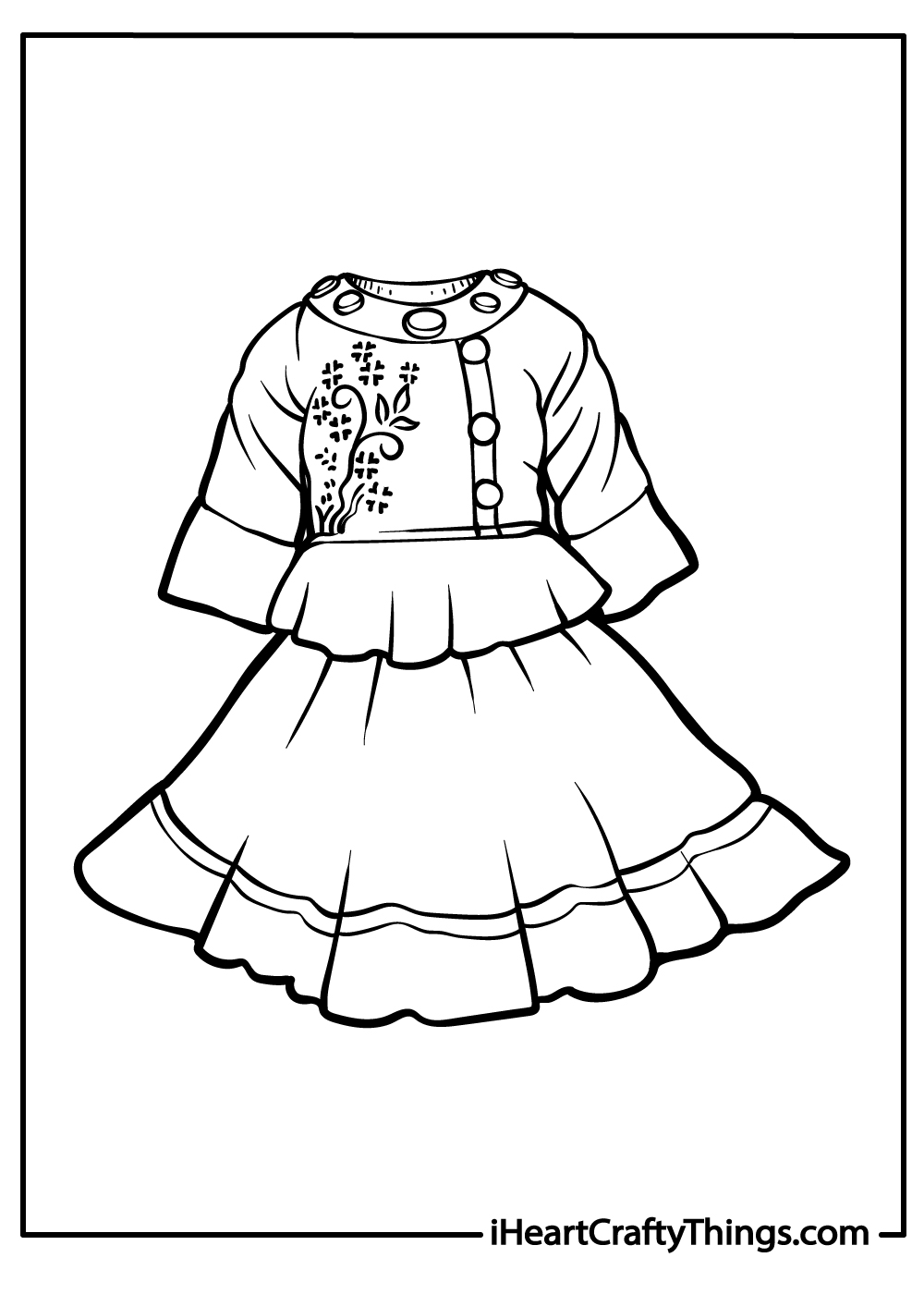 We have another beautifully elegant and understated design for this next dress.
It has a band around the waist, and this allows for some really pretty color details that will really help to bring this look together nicely.
Will you add any extra details, elements or accessories to this one or keep it more or less as is?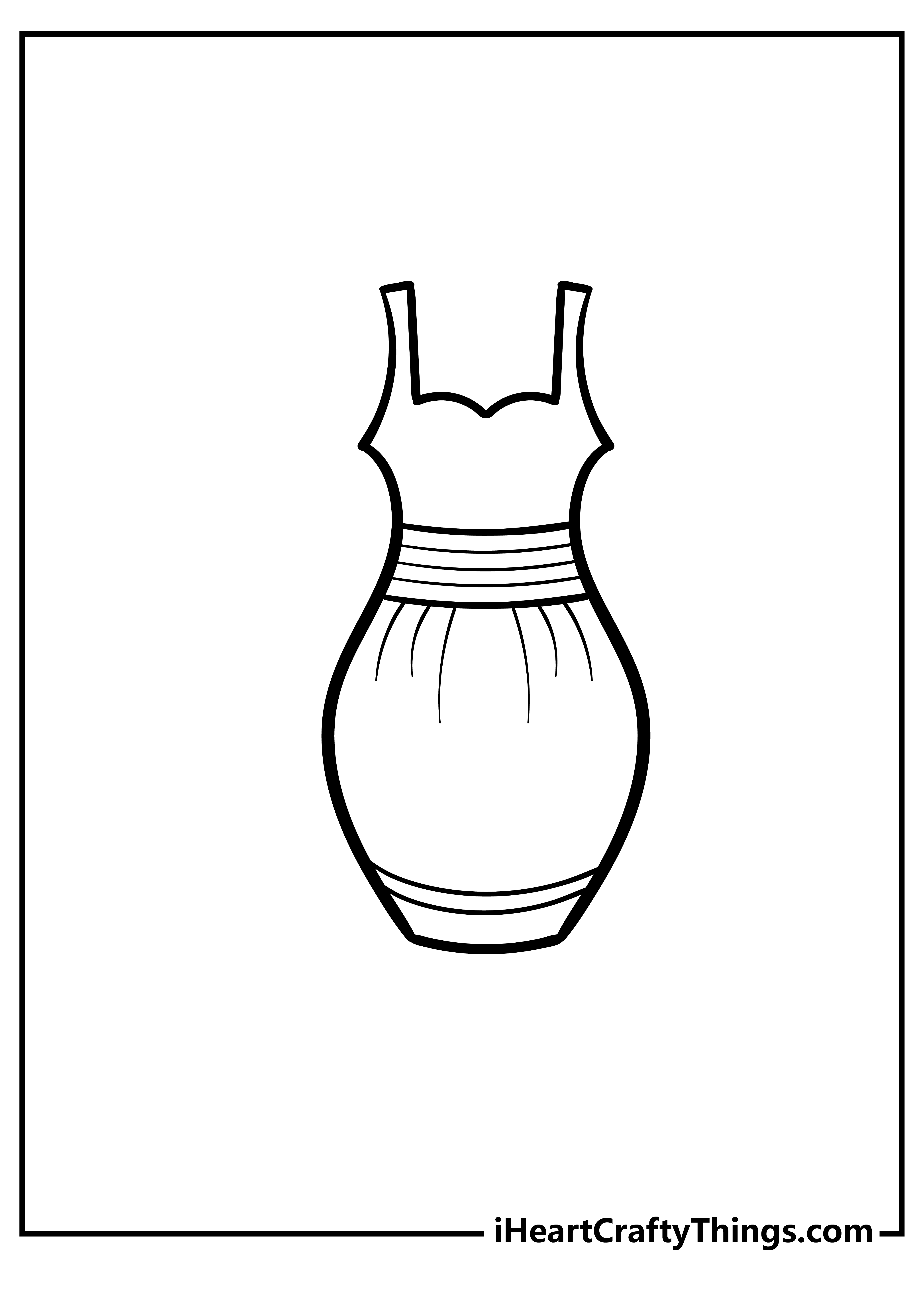 We love the super trendy, pretty design of this next dress. This highly fashionable item looks like it would be perfect for a fun party, and it would be sure to make everyone who sees it take notice!
We would use some bright, neon colors for this one to give it a punk, modern look, but you could also go for a more classic approach.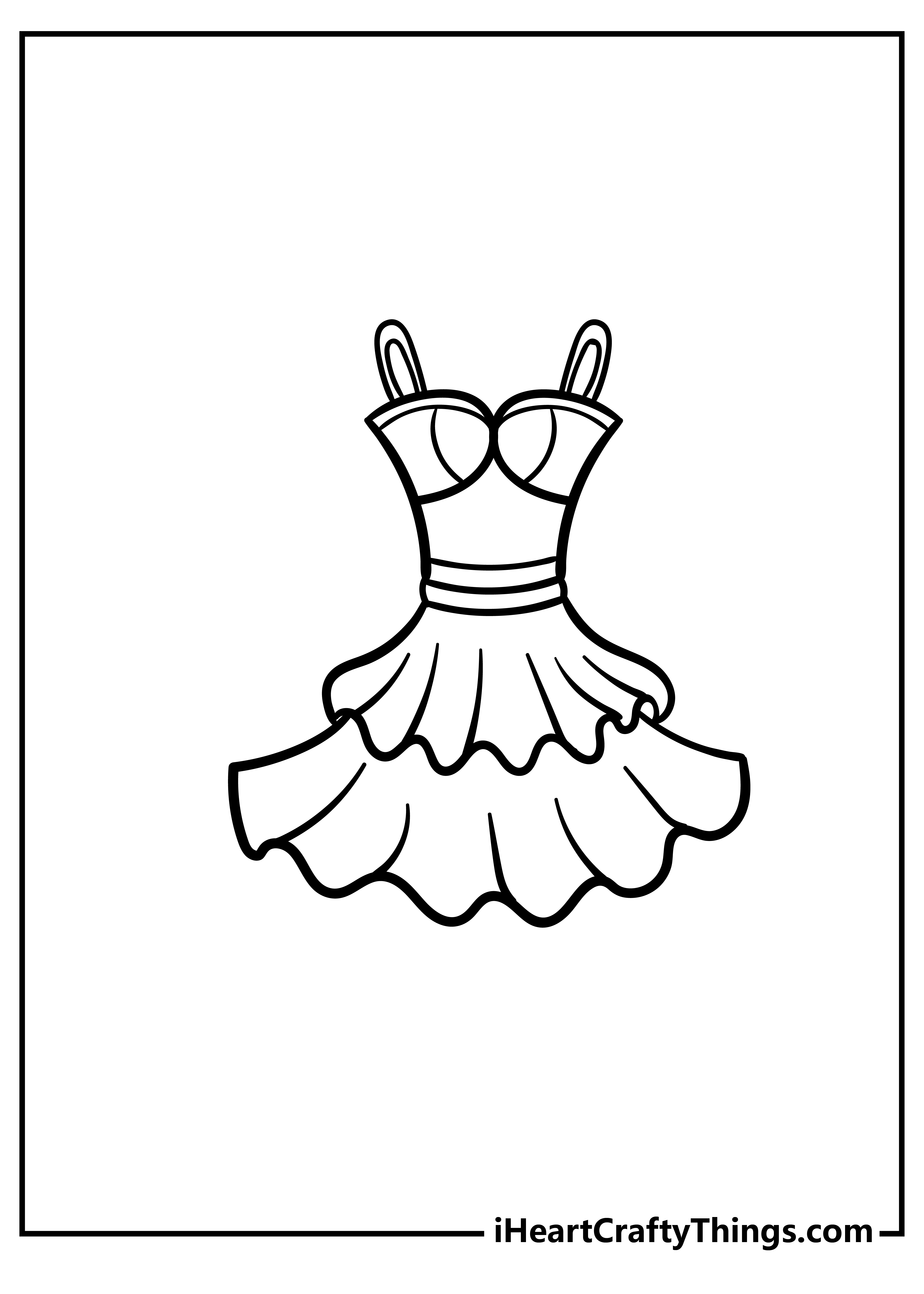 Next, there is another dress that has a glittery dotted design on the top half. This is another one where we think using some actual glitter would help to take this one to the next level.
Do you have some glitter to use, or will you use a different technique for it?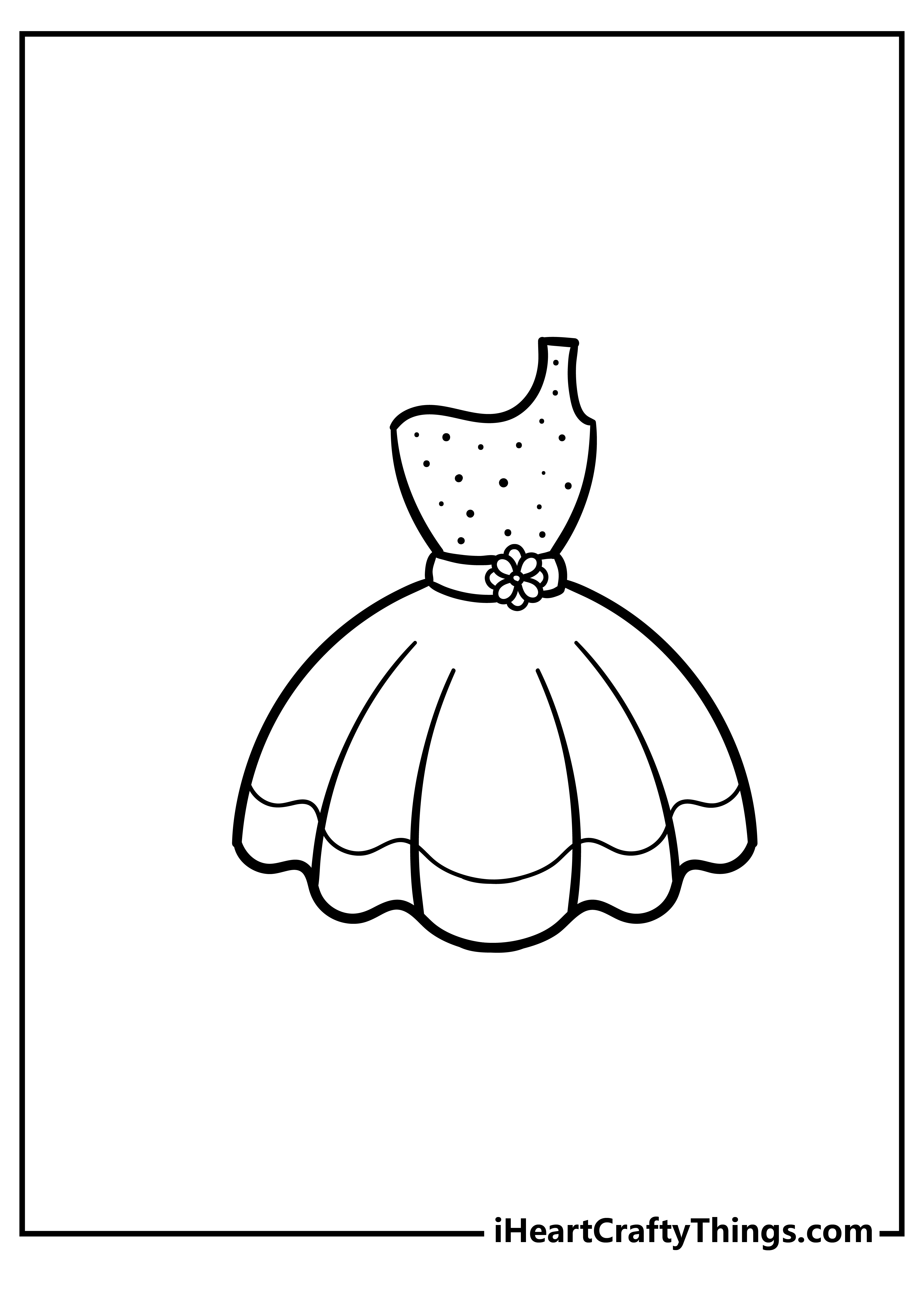 This is the final dress coloring sheet we have for you, and we're ending on a super pretty note!
It has a more vintage look to it, and it also incorporates some dainty floral elements that will really give some added dimension to the design.
This is your chance to really show off what you can do, and we can't wait to see how you color this final page!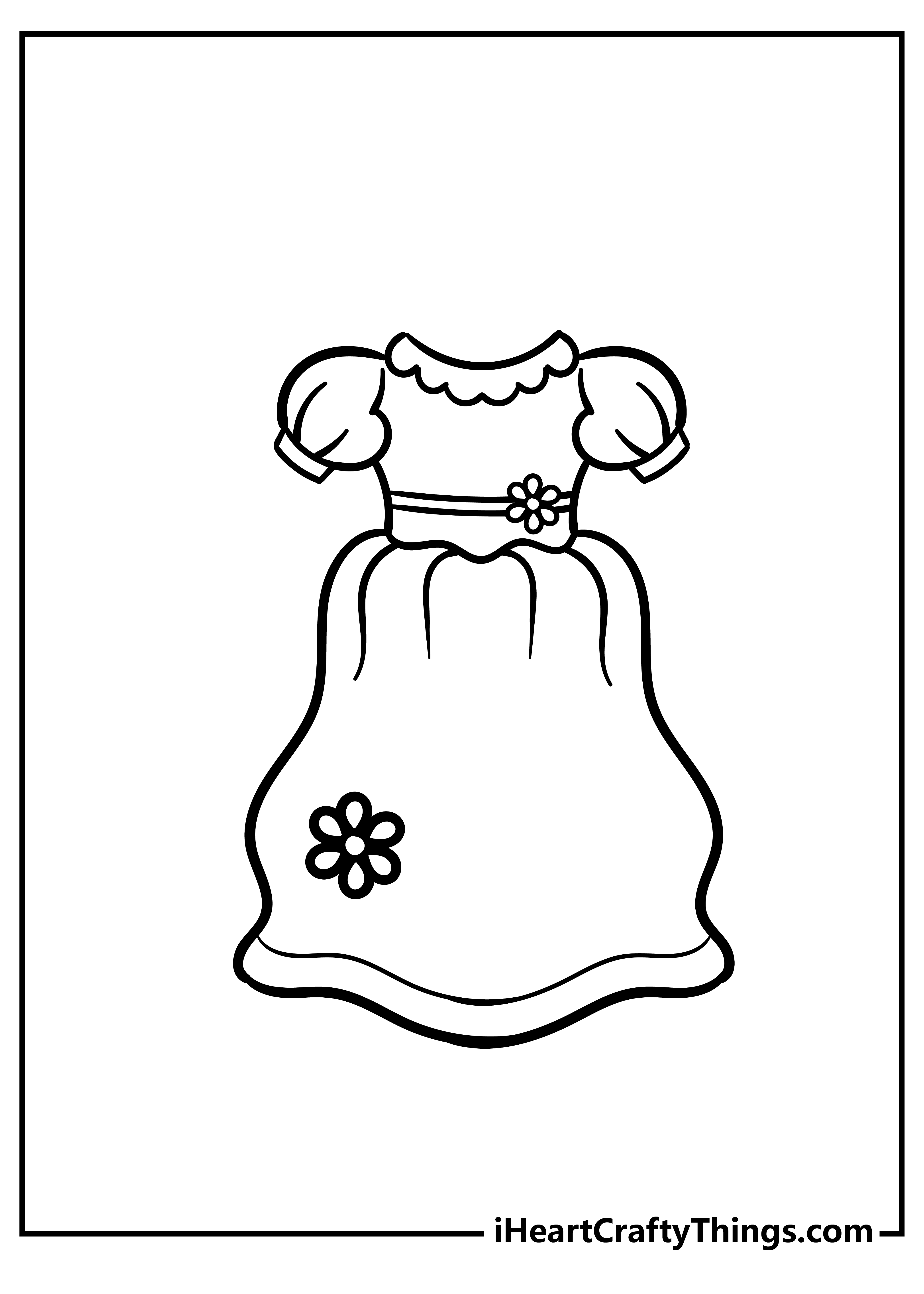 Dress Coloring Pages – Which will you choose?
We hope you enjoyed this super fancy collection of free dress coloring pages for kids!
We tried to use a wide variety of styles and approaches to these dresses so that you would be able to use all of your favorite colors and techniques.
There are plenty more coloring page collections on our website that you can enjoy for free when you finish this one as well!
Please also go ahead and share some of your finished pages on our Facebook and Pinterest pages.