On this page, you will find 15 all new Fashion coloring pages that are completely free to print and download.
Fashion is all about expression through style and color, and it's fun to imagine what event each glamorous gown would be best suited for. Fashion is always changing day by day and is open to a lot of interpretations and tastes.
In fashion there is an unlimited choice for colors and styles, so there are no wrong answers when it comes to this collection of free fashion coloring pages for kids!
This is your chance to be a fashion designer and decide what you think the styles should be. You can go bright and bold for some and keep it more muted and restrained for others, so we can't wait to see what you decide to go for!
Once you've colored your favorite fashion coloring sheets, please share them on our Facebook page for us to see. We look forward to seeing what a great budding fashion designer you can be!
REMEMBER: You can get the COMPLETE set of these coloring pages >> HERE
15 Brand New Fashion Coloring Pages – Free to Print and Color
Our first free fashion coloring page shows a pretty outfit with a top and slacks. This is a simple and yet elegant outfit, so maybe some more muted colors would work for this fashion coloring sheet.
What colors will you choose for the outfit and the background?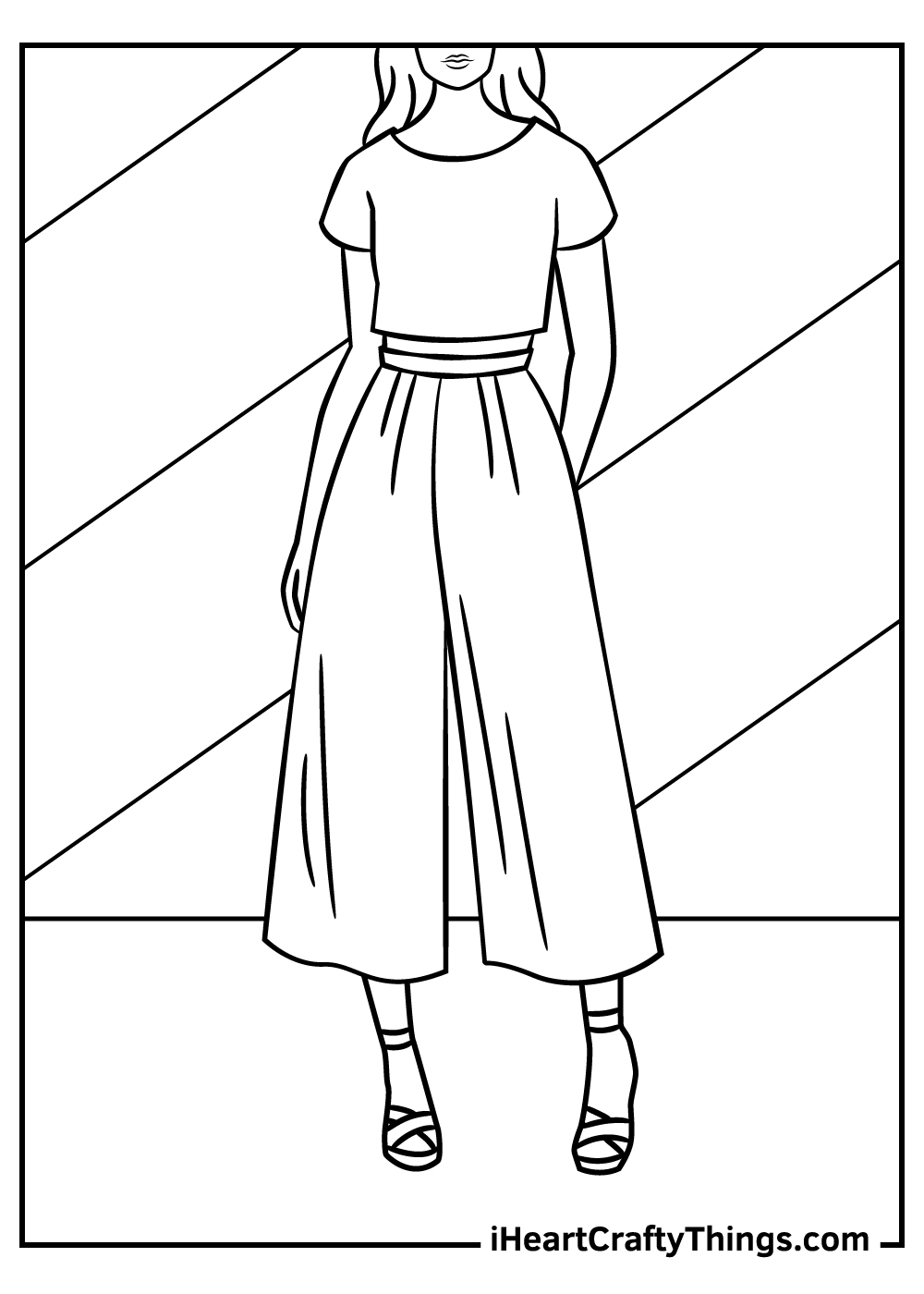 Strut your stylish stuff with this fashion coloring page! It features a fashionable woman flaunting her signature summer look.
Her breezy strapless dress billows in the wind, just begging for a burst of color. The tiered skirt sways with each step she takes in stylish heels.
She clutches her favorite handbag, standing tall with grace and confidence.
You can color her dress with vibrant red, coral, or pink. Metallic gold, or silver on her shoes and bag.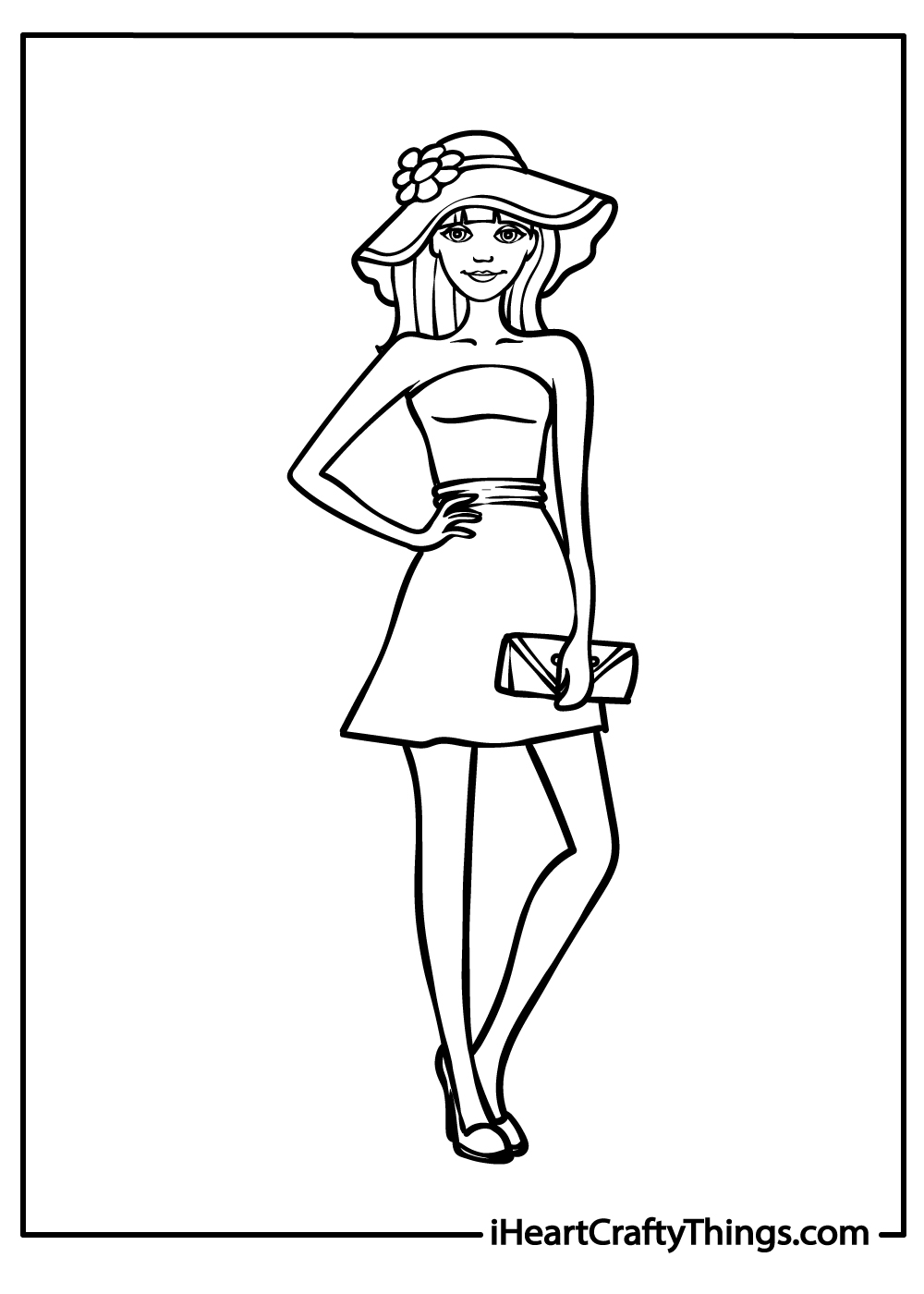 The model in this fashion coloring sheet is looking glamorous and sparkling on the runway!
If you have glitter or glitter pens maybe you could use them once you've used some vibrant colors on her dress to give it an extra sparkling, shiny look.
We can't wait to see how you color in this fancy dress!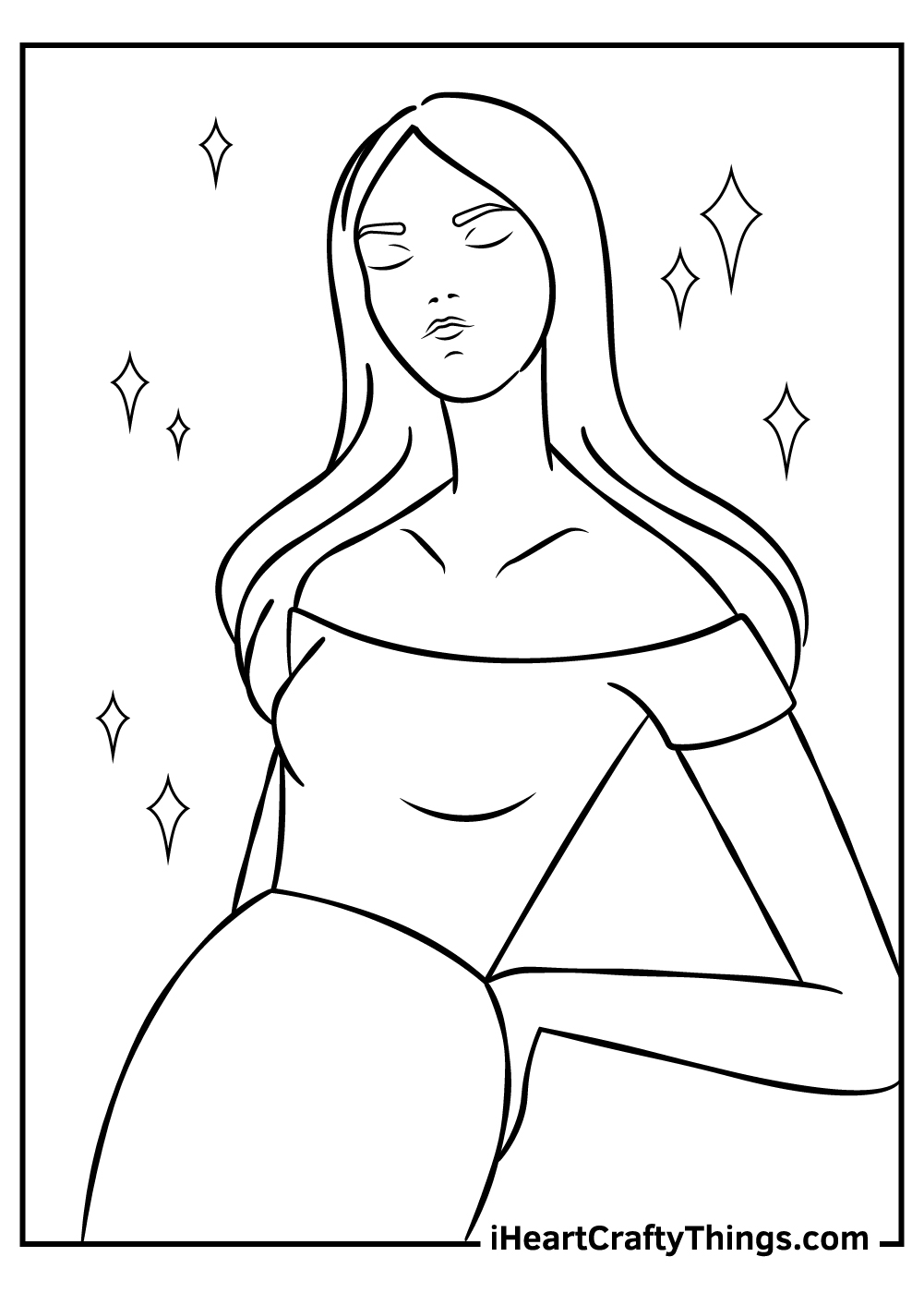 There's a Summer feeling to this next fashion coloring page. She's wearing a beautiful wide hat with a sleeveless dress, so maybe this would be an outfit worn to an elegant Summer party.
For this coloring printable maybe you could use some yellows and blues for the outfit and the background to have this model ready for Summer fun!
REMEMBER: You can get the COMPLETE set of these coloring pages >> HERE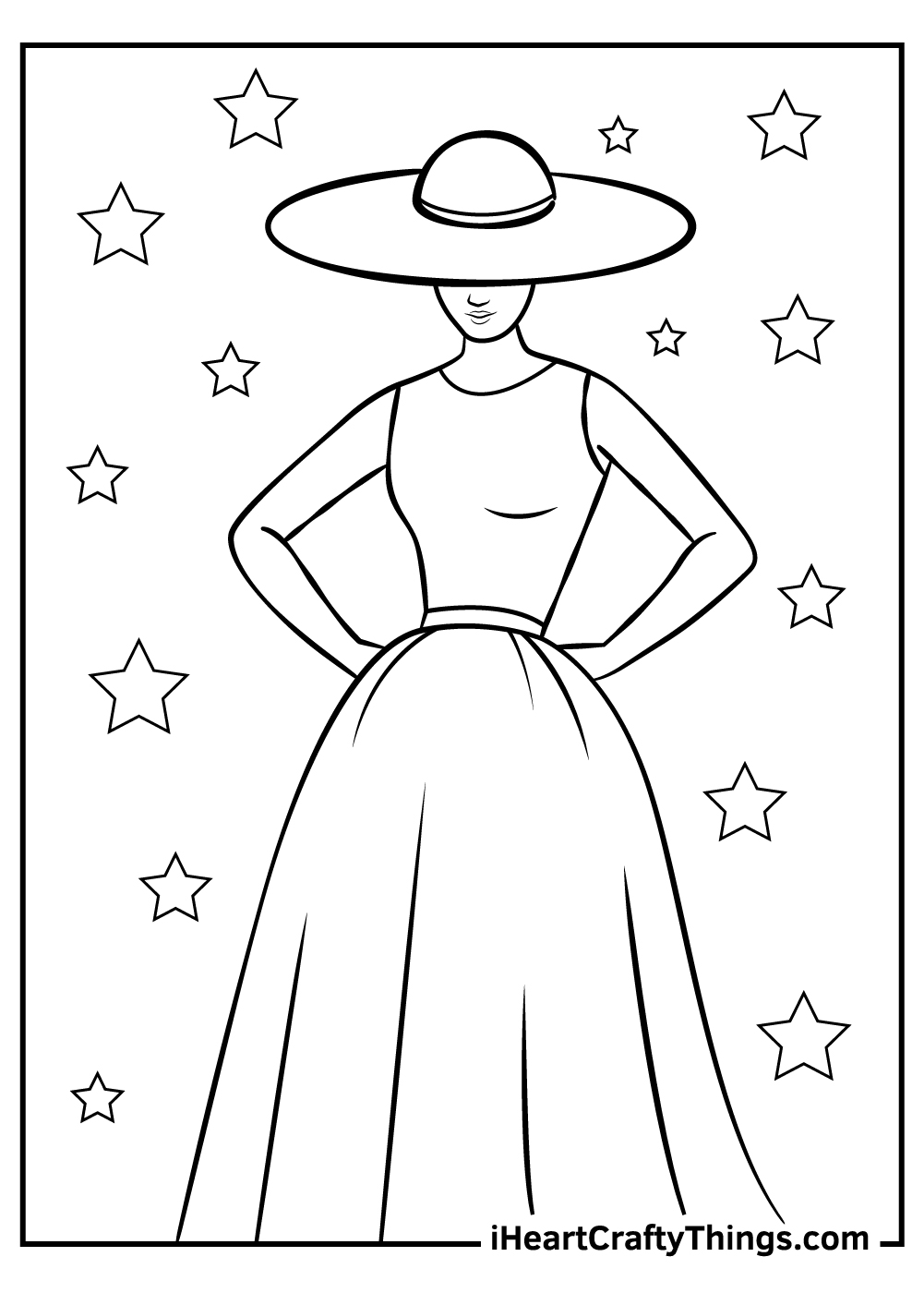 Strut your stuff with this chic model ready for a color makeover! She's dressed to impress in a strapless mini dress cinched at the waist.
The skirt flares out as she poses confidently in sky-high heels. Her long locks wave elegantly down her back.
Will you use daring neons like lime green, hot pink, or electric blue? Or go for bold monochromes like all black, white, or red? You can give her glittering accessories, fun patterns, or stylish shades.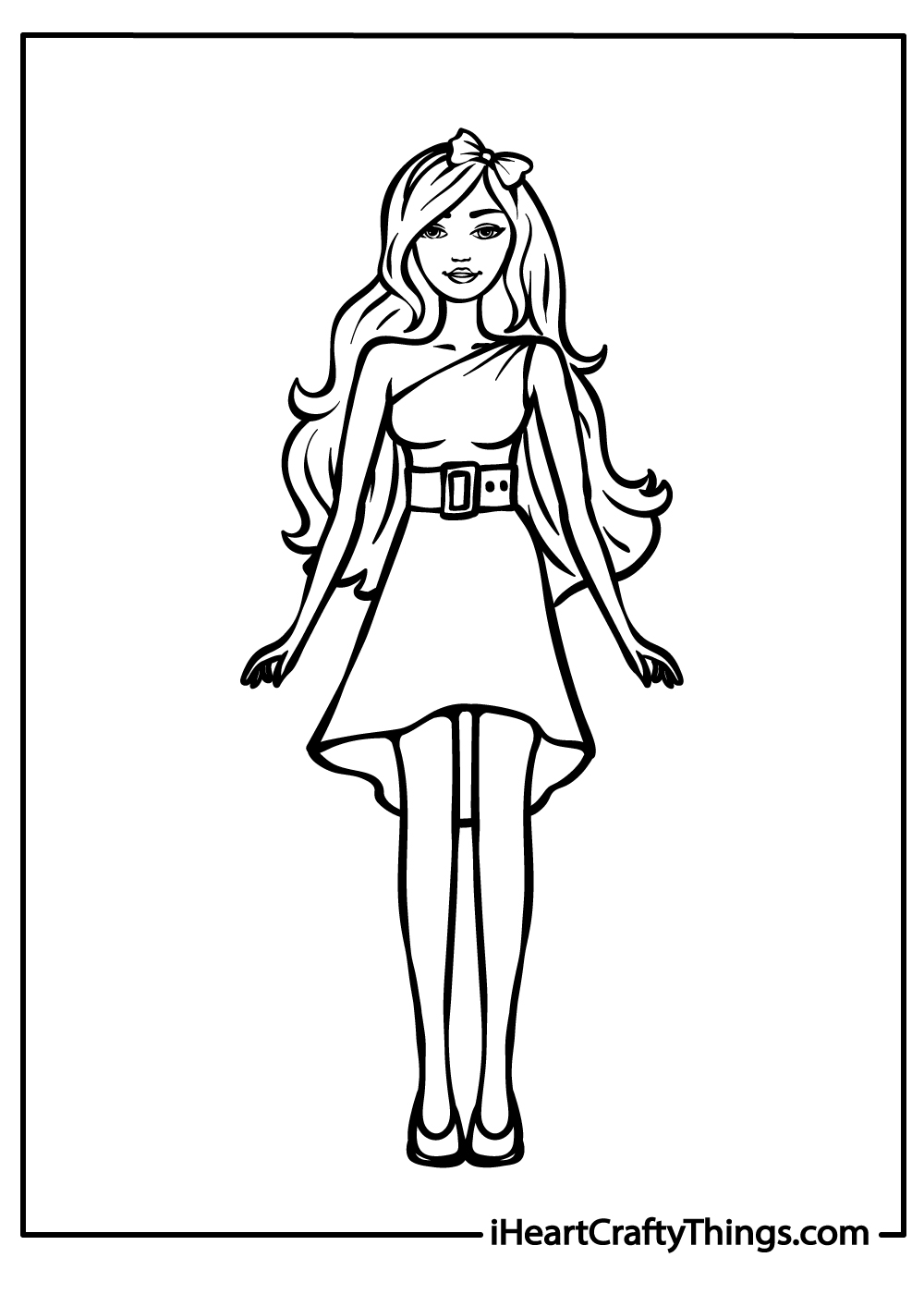 The outfit in this fashion coloring sheet is looking really fancy with another pretty hat.
This outfit compliments the one in the previous coloring sheet nicely, so maybe you could pick colors that go well with the ones you chose for the previous page to have a matching pair!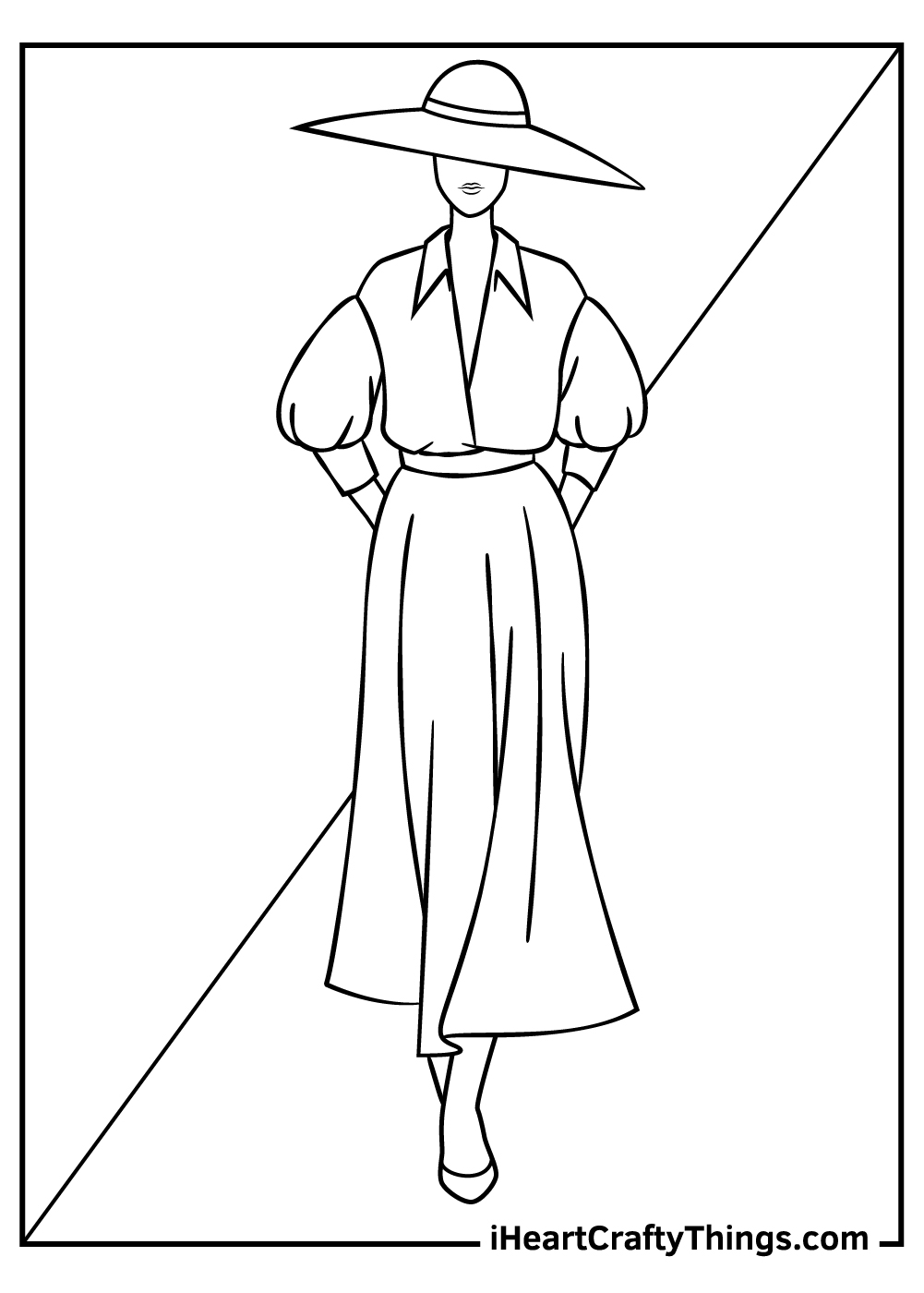 It's Summertime again in this free fashion printable! This model looks like she's having a great time in this lighter outfit. This definitely seems like an outfit you could wear to a fancy beach party!
How will you make this page stand out? I would think some bright and tropical colors would really suit this look, but what will you decide on for this fashion coloring sheet?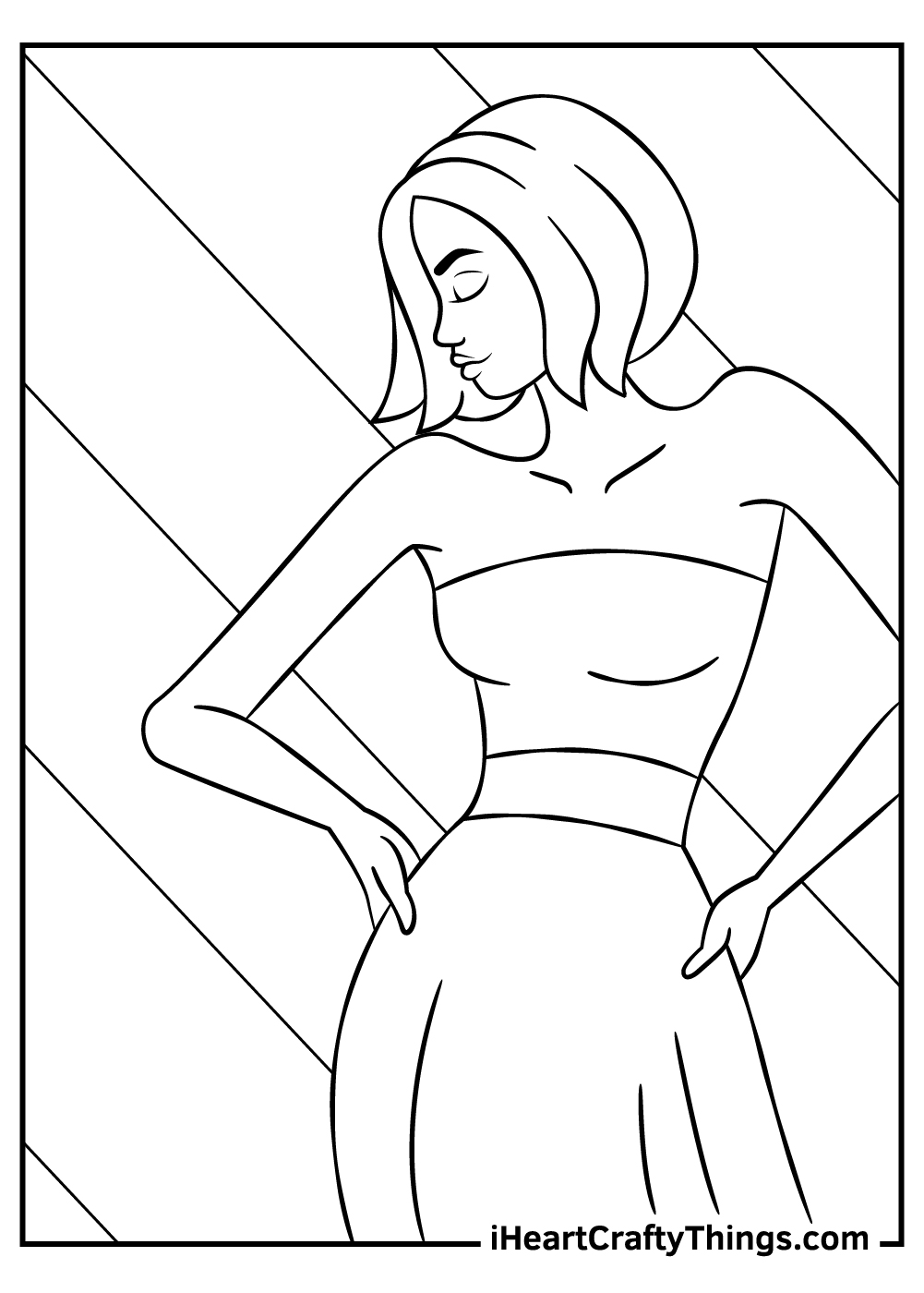 For this fashion coloring page we have a bit of a throwback to 90's fashion! This was an era which had distinct styles and vivid colors that really stood out.
For this coloring sheet, I would think of bright neon pinks and yellows, but it's really an outfit that you could use a wide variety of colors and vivid styles on.
Once you've finished with this coloring printable, we'd love to see your flair for vivid colors so please share it on our Facebook page!
REMEMBER: You can get the COMPLETE set of these coloring pages >> HERE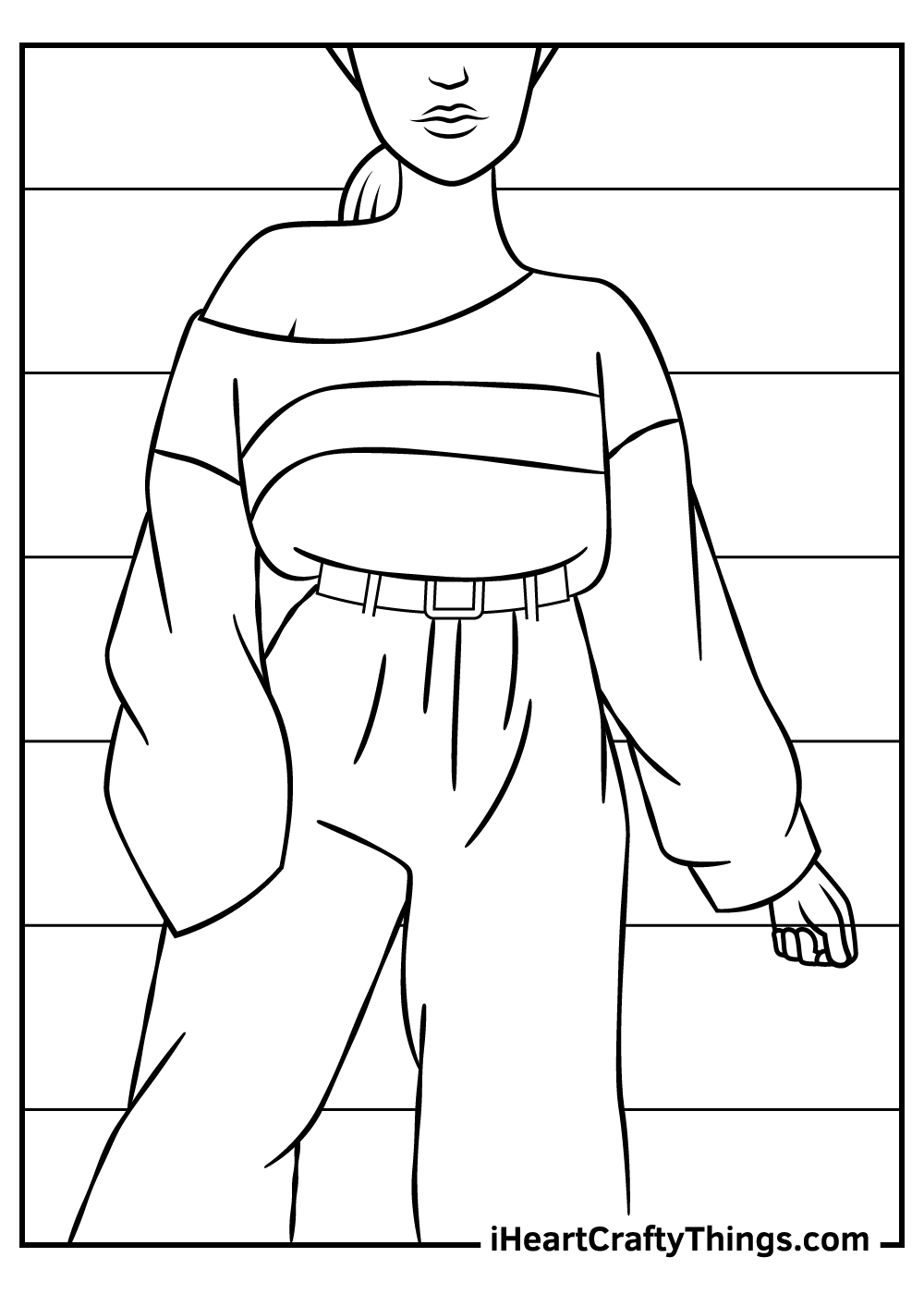 Check out this fashion coloring page featuring a woman in a striped swing dress that's quintessentially retro chic.
The cinched waist and flared skirt sashay with her confident stride. One hand perched on her hip.
Her ponytail tops off the retro look, bouncing as she struts in stylish heels. The black and white stripes beg for a splash of color.
You can use bright red, electric blue, or pink for her dress.
Maybe you could add some accessories, like a necklace, earrings, or sunglasses, to complete the outfit.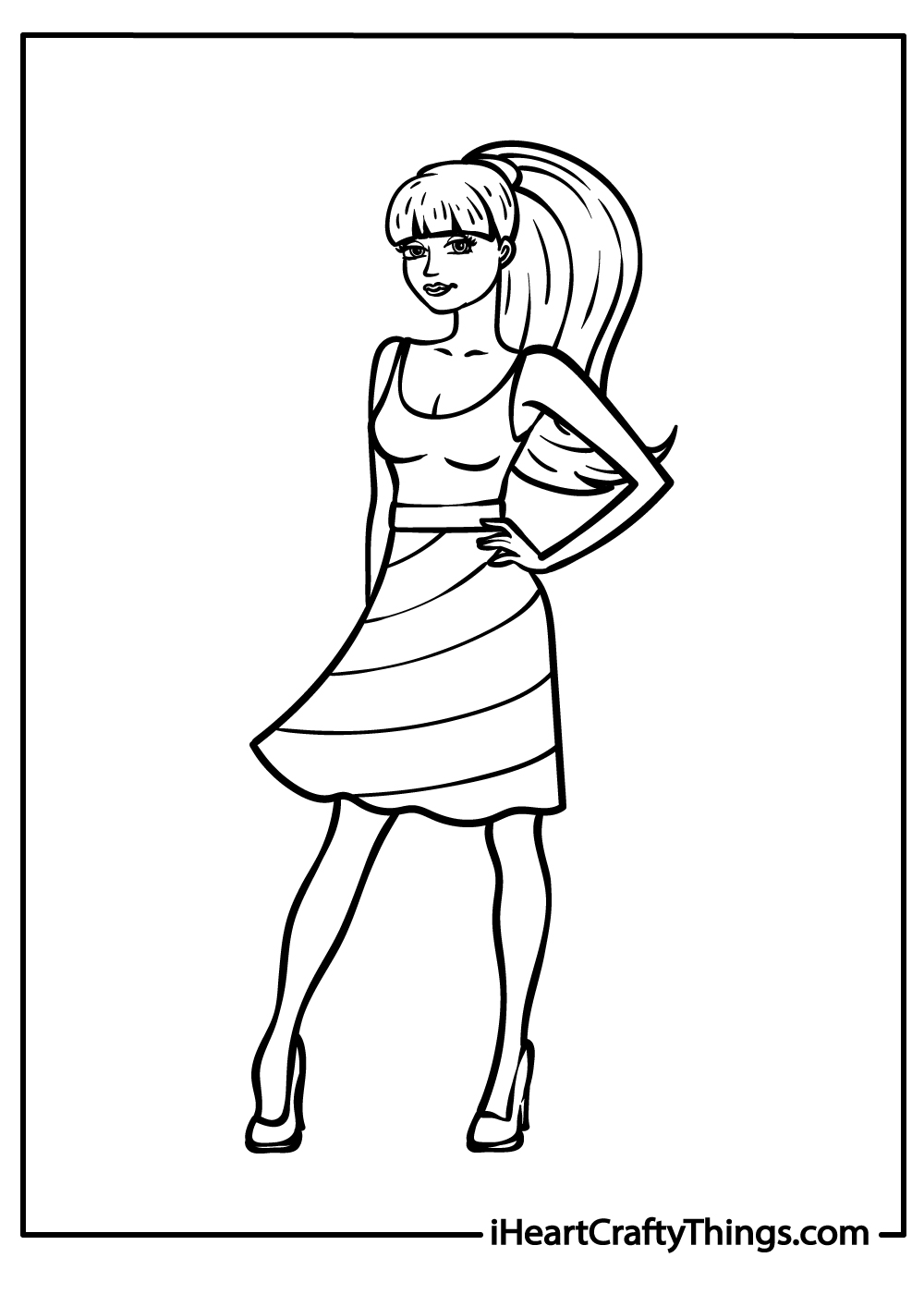 An elegant, more vintage look is the focus of this next fashion coloring page. I could definitely imagine this look being worn at the fanciest of balls and parties back in the day!
How would you represent this older style?
You could go with more muted colors or maybe create a bit of a contrast with more vivid bright shades to shake it up a bit. I bet it will look amazing either way!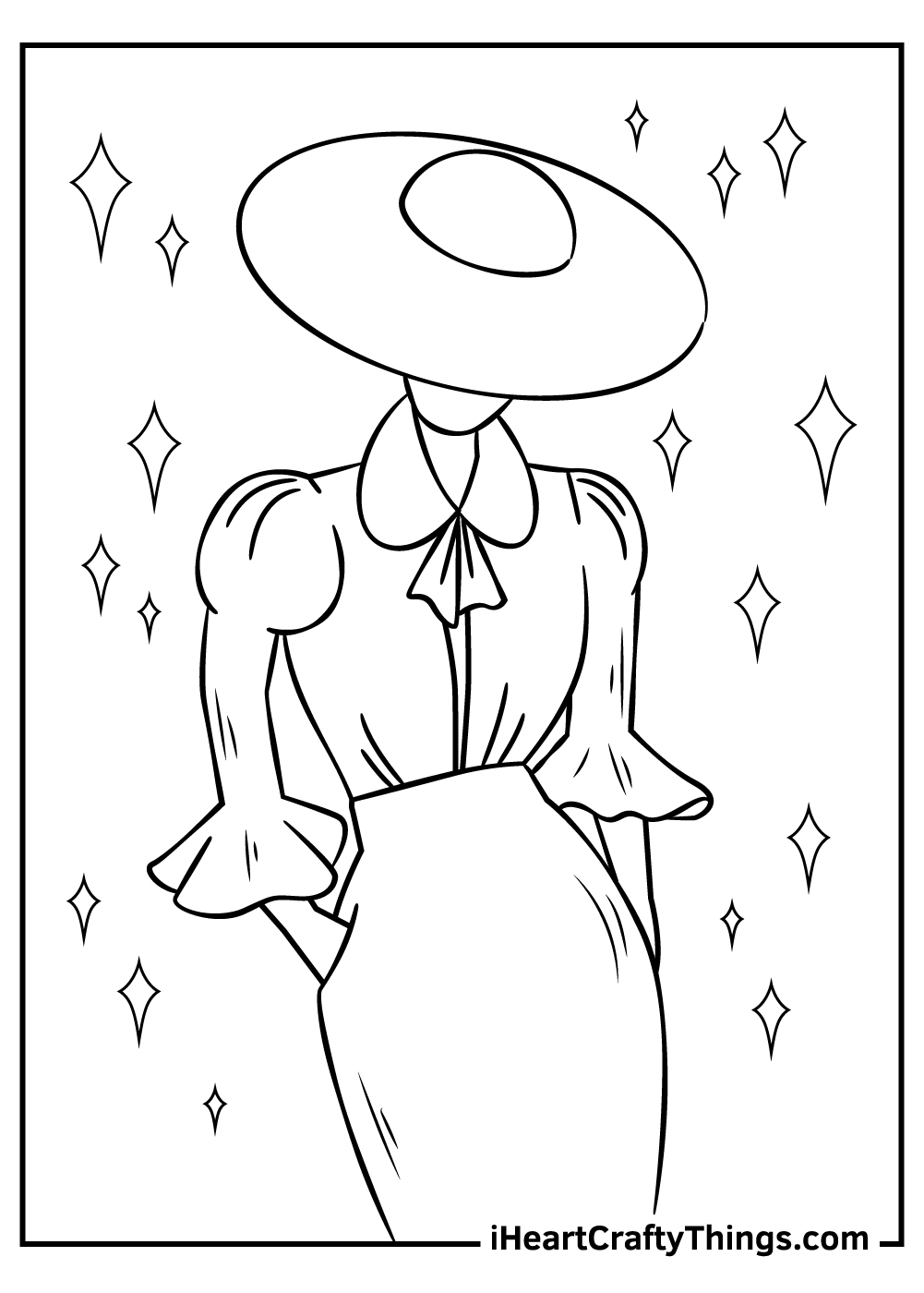 This next fashion coloring page is perfect for anyone who loves casual and comfortable outfits. The girl in this picture is wearing a simple t-shirt, shorts, and sneakers.
She also has a big bag that can fit all her essentials. She has curly hair and glasses, and she looks very happy and confident.
What colors will you use to make this outfit pop? You can choose any colors you like, or you can try to match the colors of the clothes you have in your closet.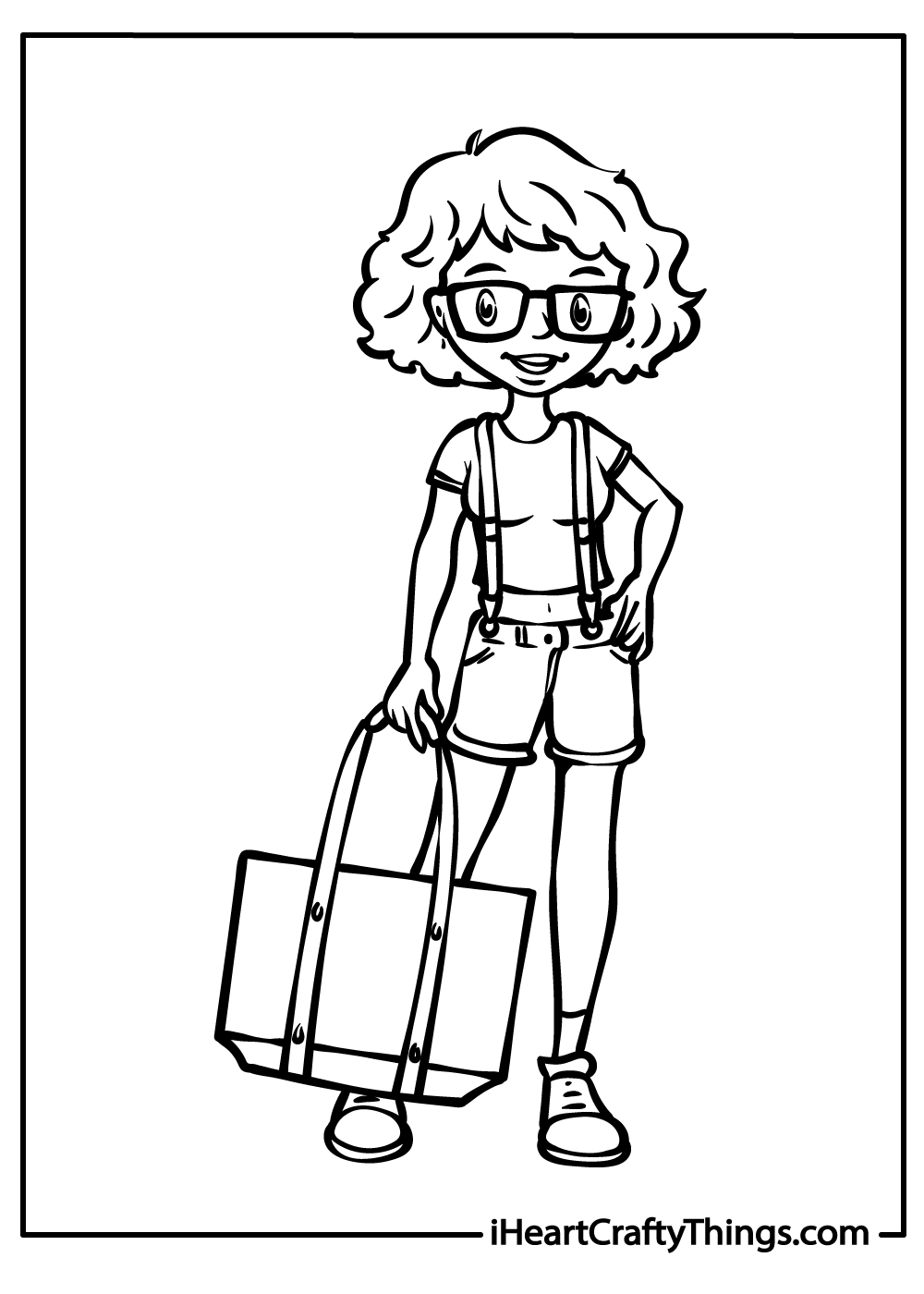 It feels like Summer or Spring again in this fashion coloring printable. The circles in the background make me think that this could be worn at another pool party or at the beach.
If I were to color this page in my thought would be to have blues and yellows with bright pinks for the circles behind her.
Would you go with something similar or something totally different for this fashion coloring page?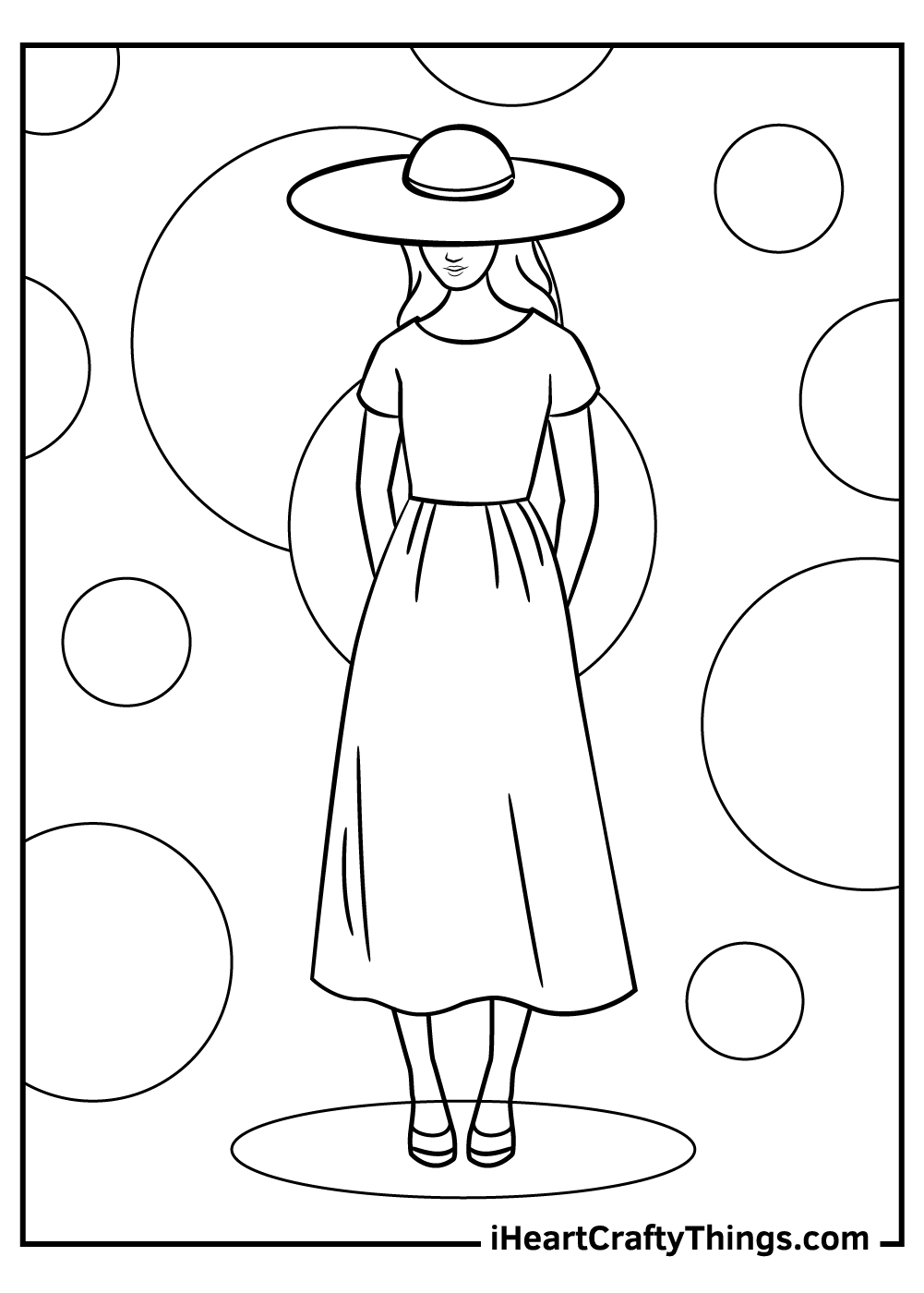 There's a sense of attitude and fun to the outfit in this fashion printable. The simple design of the dress with the bold shapes in the background make me think that this coloring page would work well with some vibrant, bold colors.
For this one, I'd suggest your brightest yellows, pinks, greens and reds for the background and the stripes on the dress.
It's up to you how you tackle this fashion coloring sheet though, so we'll be interested to see what colors you felt work best for this page!
REMEMBER: You can get the COMPLETE set of these coloring pages >> HERE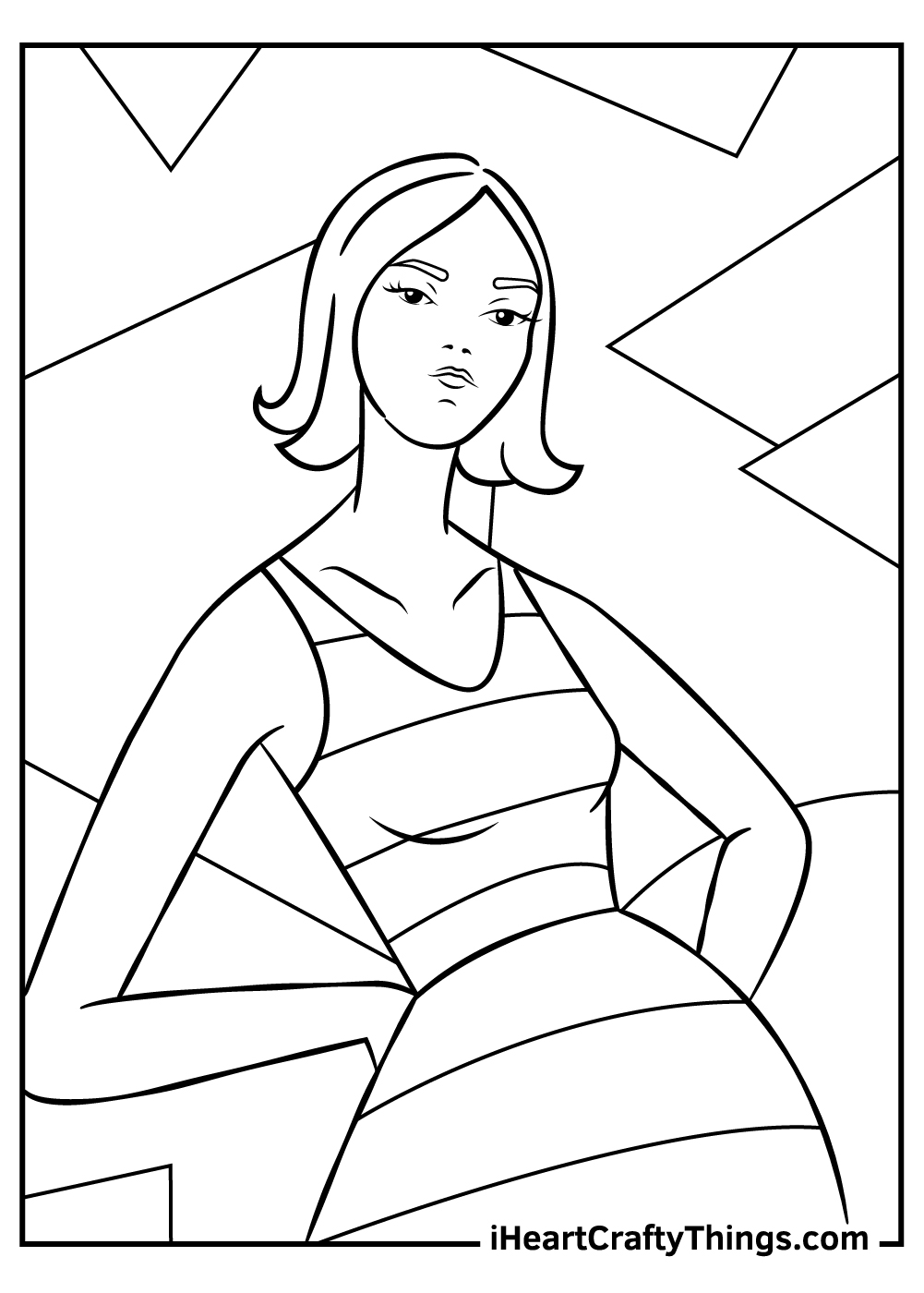 For the final fashion coloring page we have another look I would say seems best suited as a Summer outfit.
If you keep the colors more muted with blues and purples, you could contrast it with brighter reds and greens for the background or have it the other way around.
Or if you prefer, you could give this coloring sheet a more unified look by using similar variations for the outfit and the background.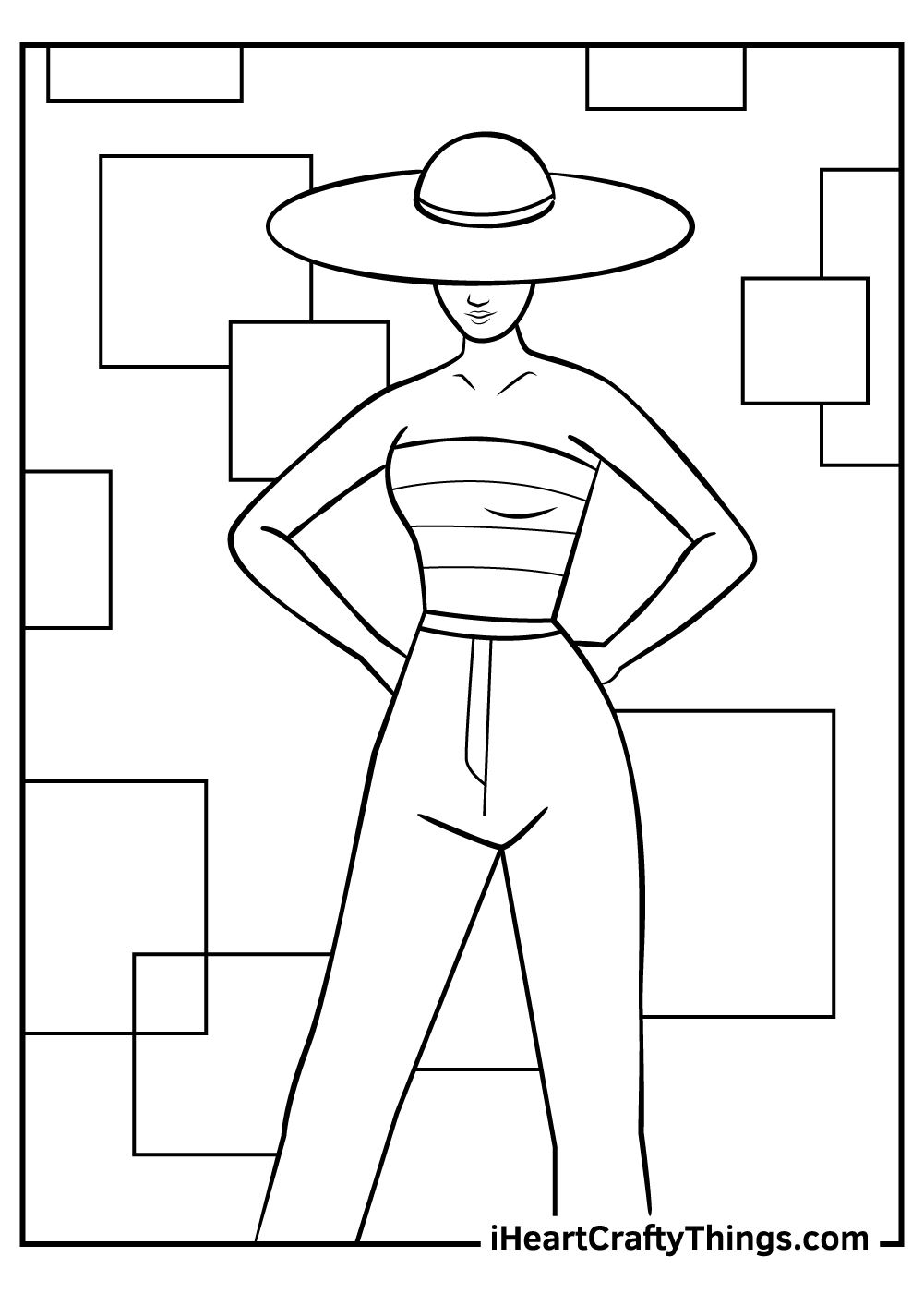 This fashion coloring page is a great way to show off your summer style and have some fun.
The woman in this picture is ready for a day out in the sun, wearing a short and sweet dress with buttons and a flared skirt.
She has a pair of sunglasses on her head, just in case it gets too bright. She also has a tote bag in her hand, where she can store her essentials and some snacks.
I would use yellow, or pink for her dress. Brown for her hair, and purple for her bag.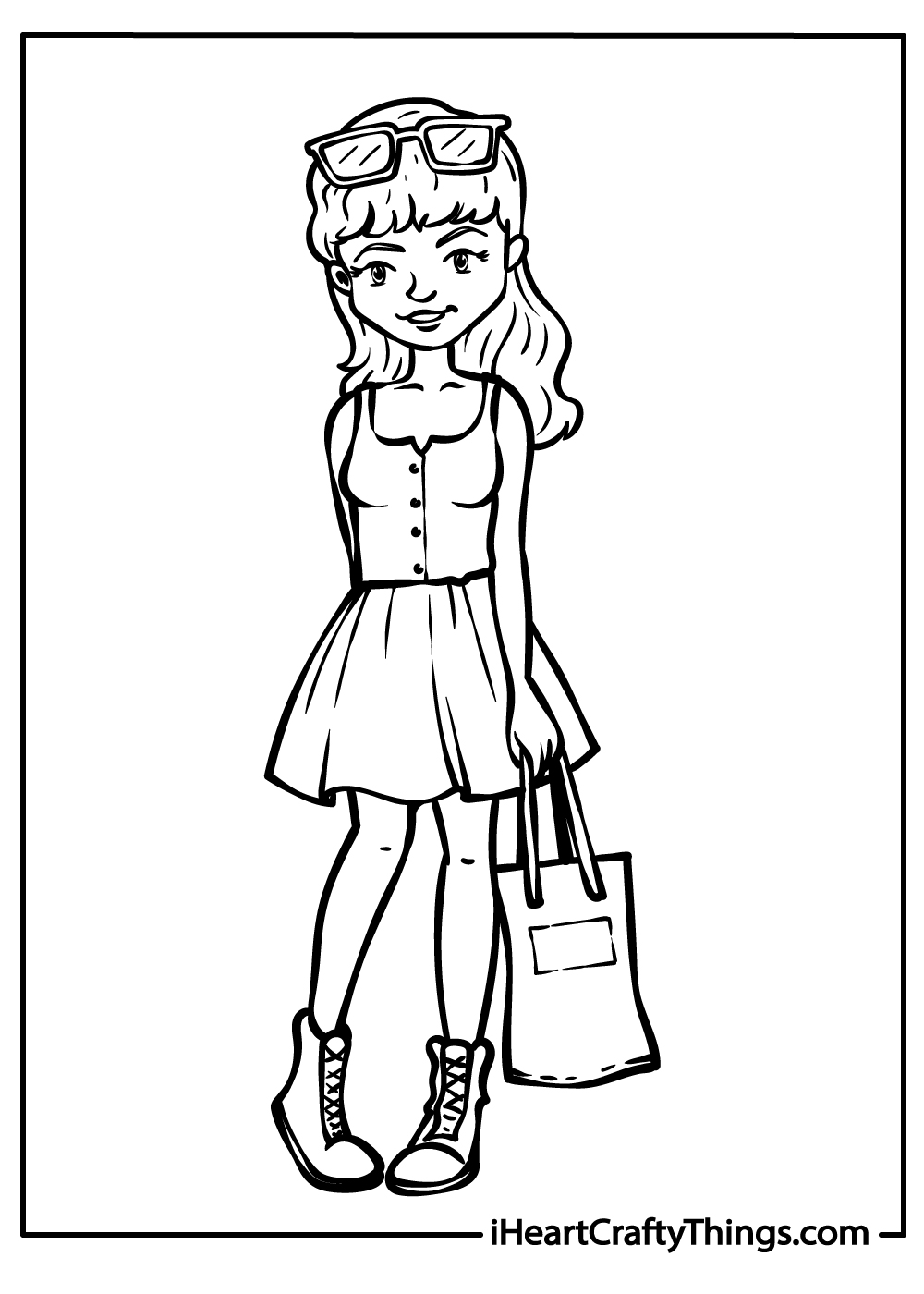 Fashion Coloring Pages – Which will you choose?
We hope you had a great time unleashing your inner style guru with these glamorous fashion coloring pages! You can print out multiple copies of your favorite pages, and like all of our coloring pages and printables it's completely free to do so!
Fashion is all about creativity so you could use various craft supplies and stick colorful beads and stickers to bring out even more fashionable style for these coloring sheets.
Be sure to like and share our Facebook page, we have new coloring sheets and printables coming out all the time so it's the best way to make sure you don't miss out!
Lastly, we always love to see how creative you can be with these free coloring pages, so once you've finished coloring in these fashion coloring sheets please share them on our Facebook page so we can see your flair for fashionable colors and style!
REMEMBER: You can get the COMPLETE set of these coloring pages >> HERE