On our planet, a huge portion of the various oceans and deep depths we have available have gone unexplored.
Visiting the deepest portions of the ocean can be a perilous task, and that's where submarines come in.
These incredible submersibles allow us to explore the deepest reaches of the ocean. They are also the focus of this collection of free submarine coloring pages for kids!
We have a large variety of cool scenes and designs involving this vehicle for you to color, so you should get to use all of your favorite colors and art mediums during this collection.
There are some really cool angles and settings that are just begging for you to work your creative magic on them!
Every one of these submarine coloring sheets are totally free for you to print, color and enjoy as much as you like. Remember to share the collection with others so that no one misses out on the coloring fun!
Get ready to dive into this amazing collection of free submarine coloring printables! When you have finished your favorite images, be sure to share your finished pages on our Facebook and Pinterest pages.
10 Brand New Submarine Coloring Pages – Free to Print and Color
Our first free submarine coloring page for kids features a submarine on a really deep dive. This one seems to be exploring a cave system, and this allows for some interesting color combinations
For example, you could use deep, dark blues for the deep water and then counter it with some rich browns for the rock of the cave.
These are just our suggestions, but there are loads of ways to color this picture! What will you use to color in this awesome first submarine printable?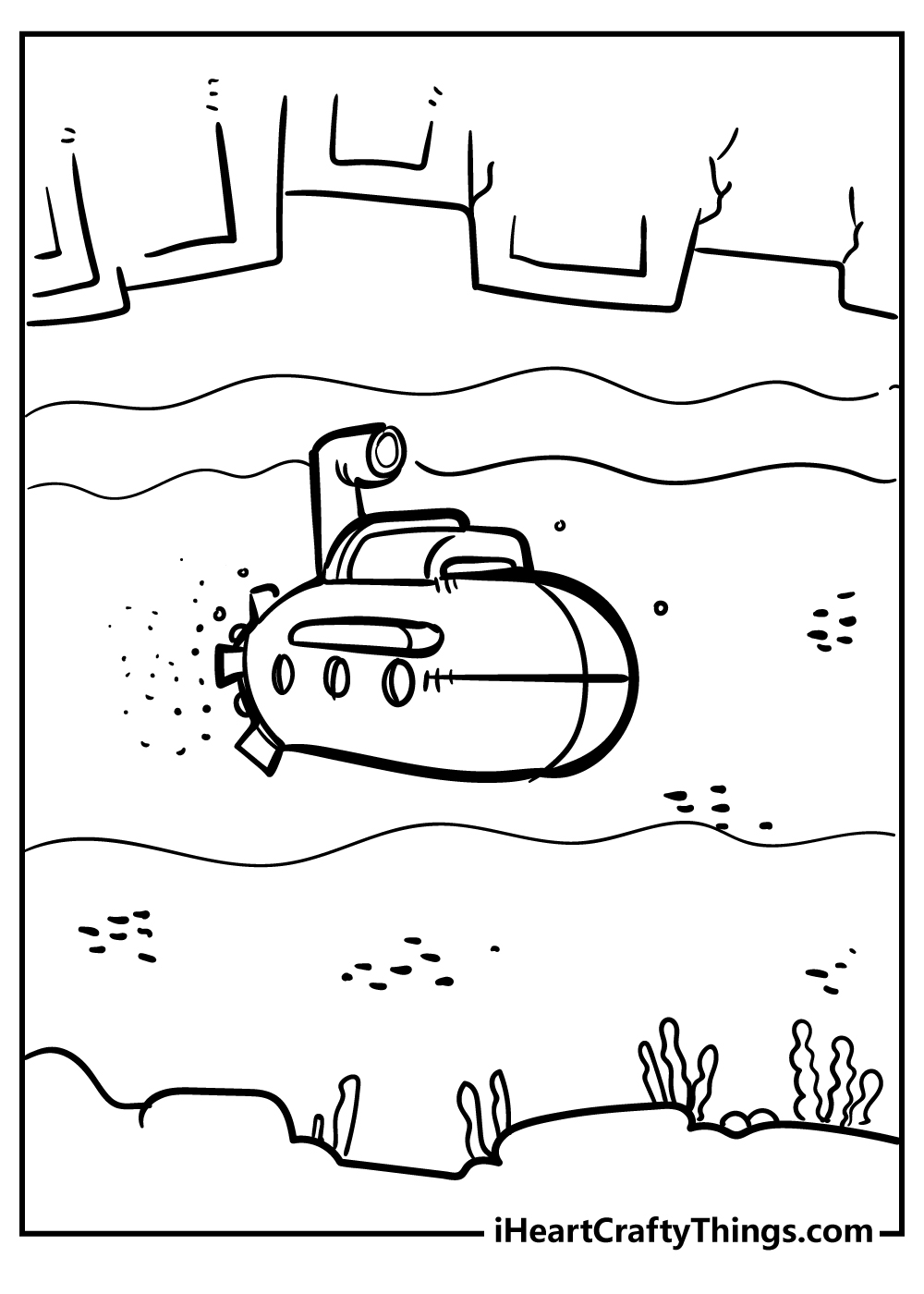 The submarine in this second submarine coloring sheet is on the move! There is an interesting composition to this image, and we love how the water behind it is separated into sections.
If you wanted a more realistic look, you could use various blues and greens for the sections of the water behind it.
You could also make this a more stylistic portrayal by adding some lovely bright colors for an image that pops.
If you can't decide, why not print out two copies and make two variations of the same image?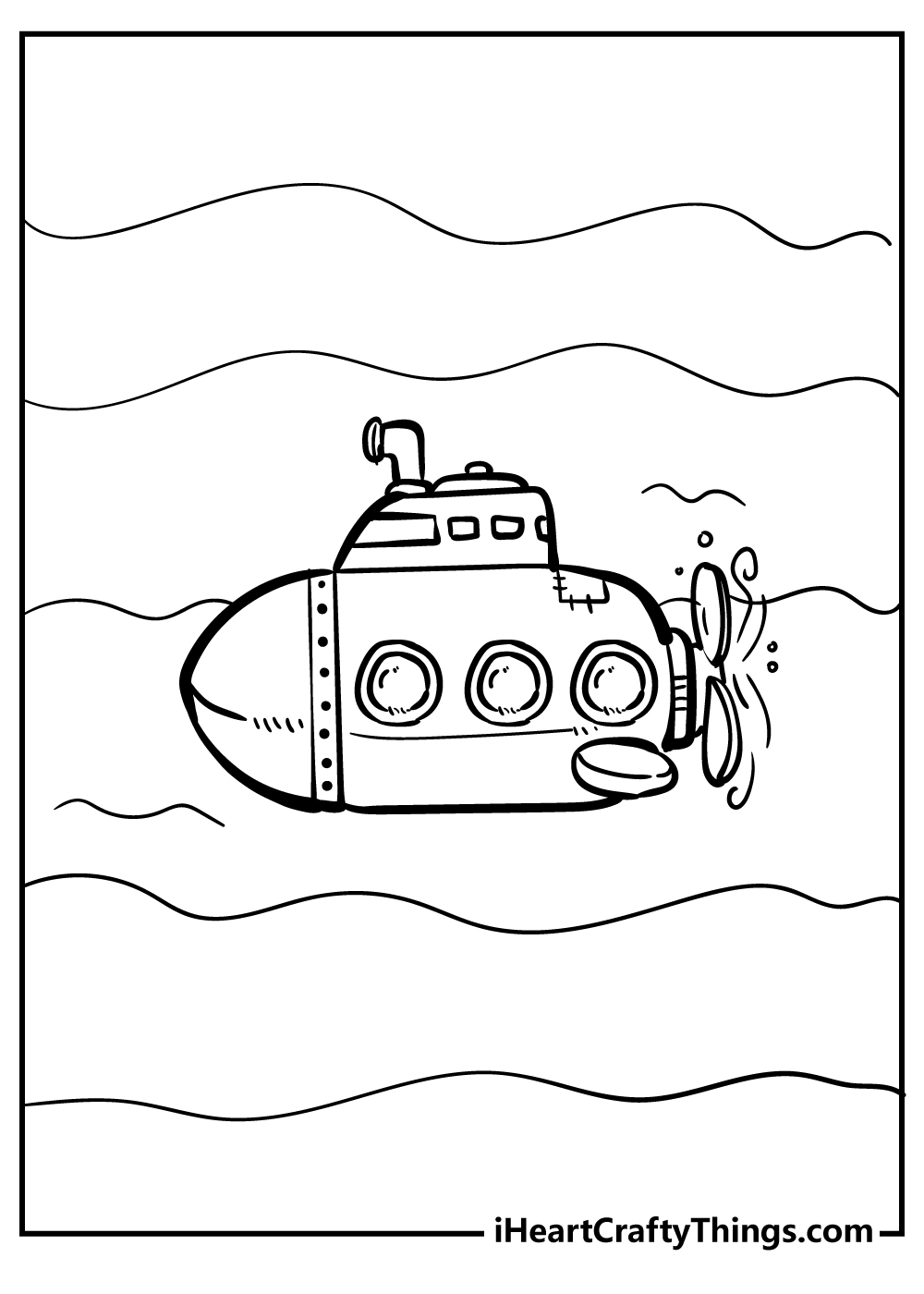 We have another cool view of this submersible in this third free submarine coloring printable. This one is being viewed from above, and it creates a unique perspective.
This submarine is also a bit more detailed than the previous few, and that allows you to take a different approach to set it apart from the rest of the submarines in this collection.
When you saw this interesting image, what colors came to mind? When you have colored it, we hope to see how it turned out!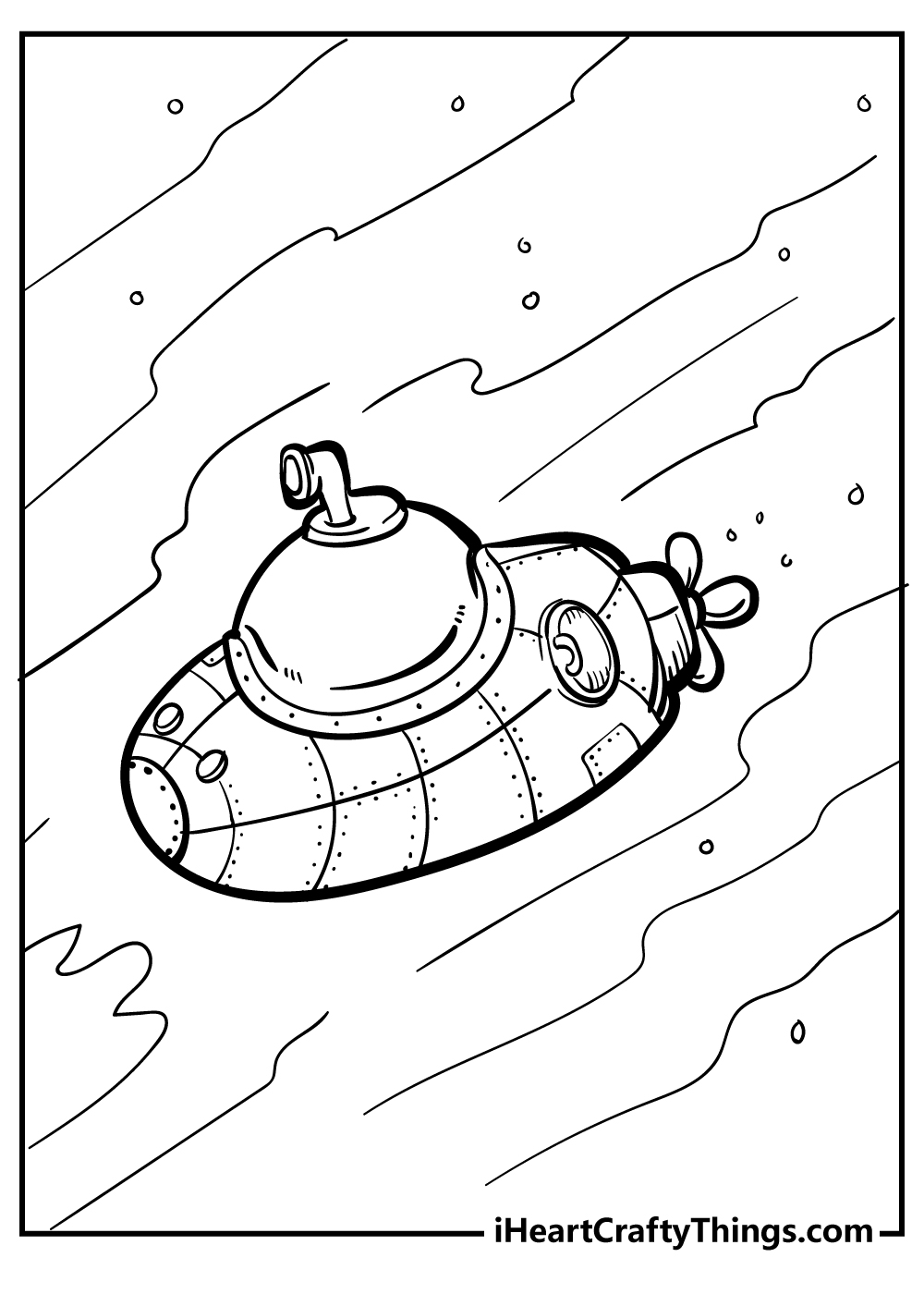 There's a quirky, creative feel to the submarine in this next submarine coloring page! It is drawn in a fun, cartoony style, and we think it would be fun to use some colors to match this style.
We think some bright, vibrant colors would be great for this fun drawing.
When you have chosen the colors for the submarine itself, you can then decide on the colors for the background!
You could also draw some extra objects, sea creatures and other details into the background for some extra detail.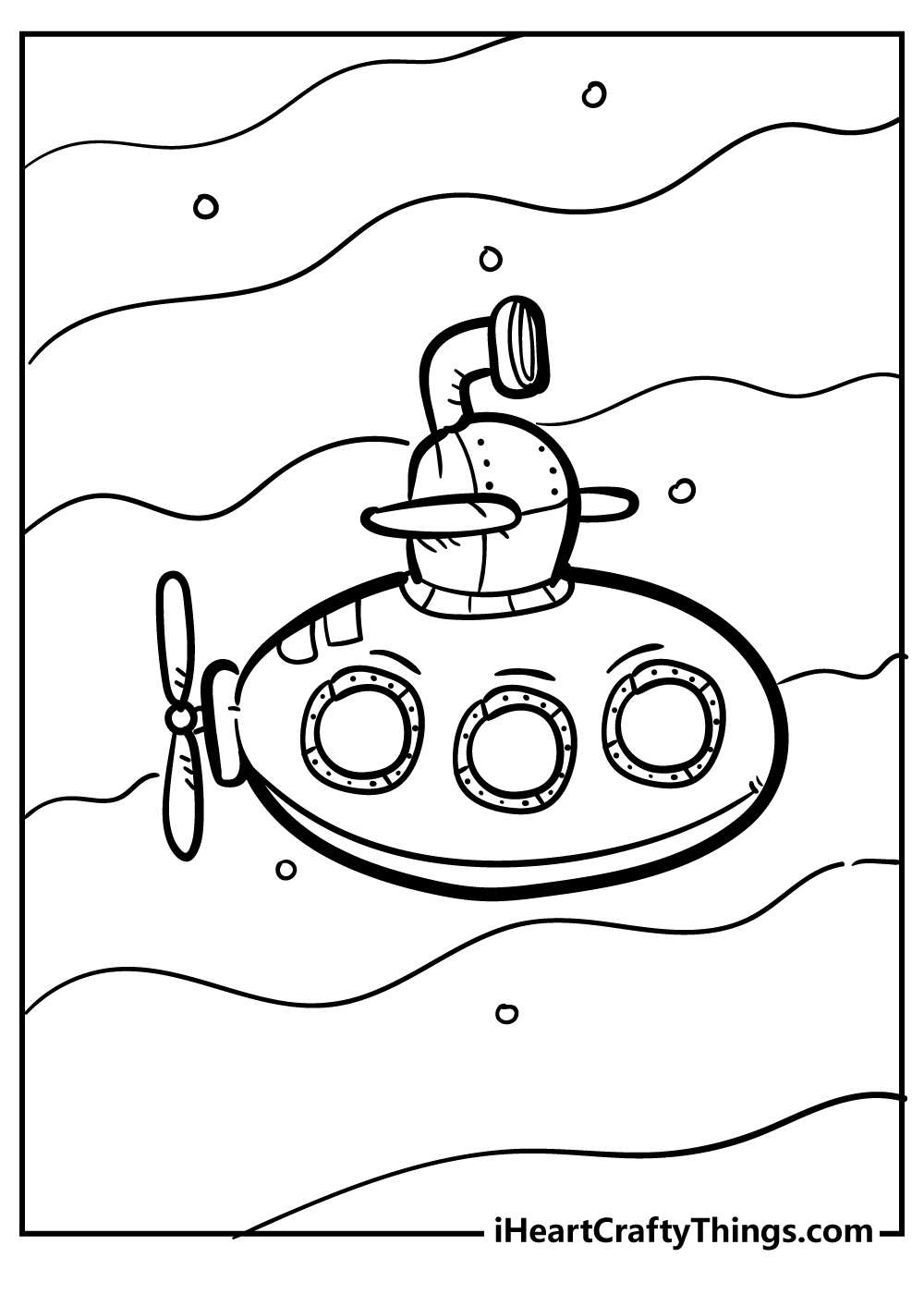 The design in our next submarine coloring sheet is so cool and creative! This one has a rounded design to most of it, and it gives it a really interesting look.
It's also really detailed, so you can have fun incorporating your favorite colors into the design.
How will you color in this awesome submarine design?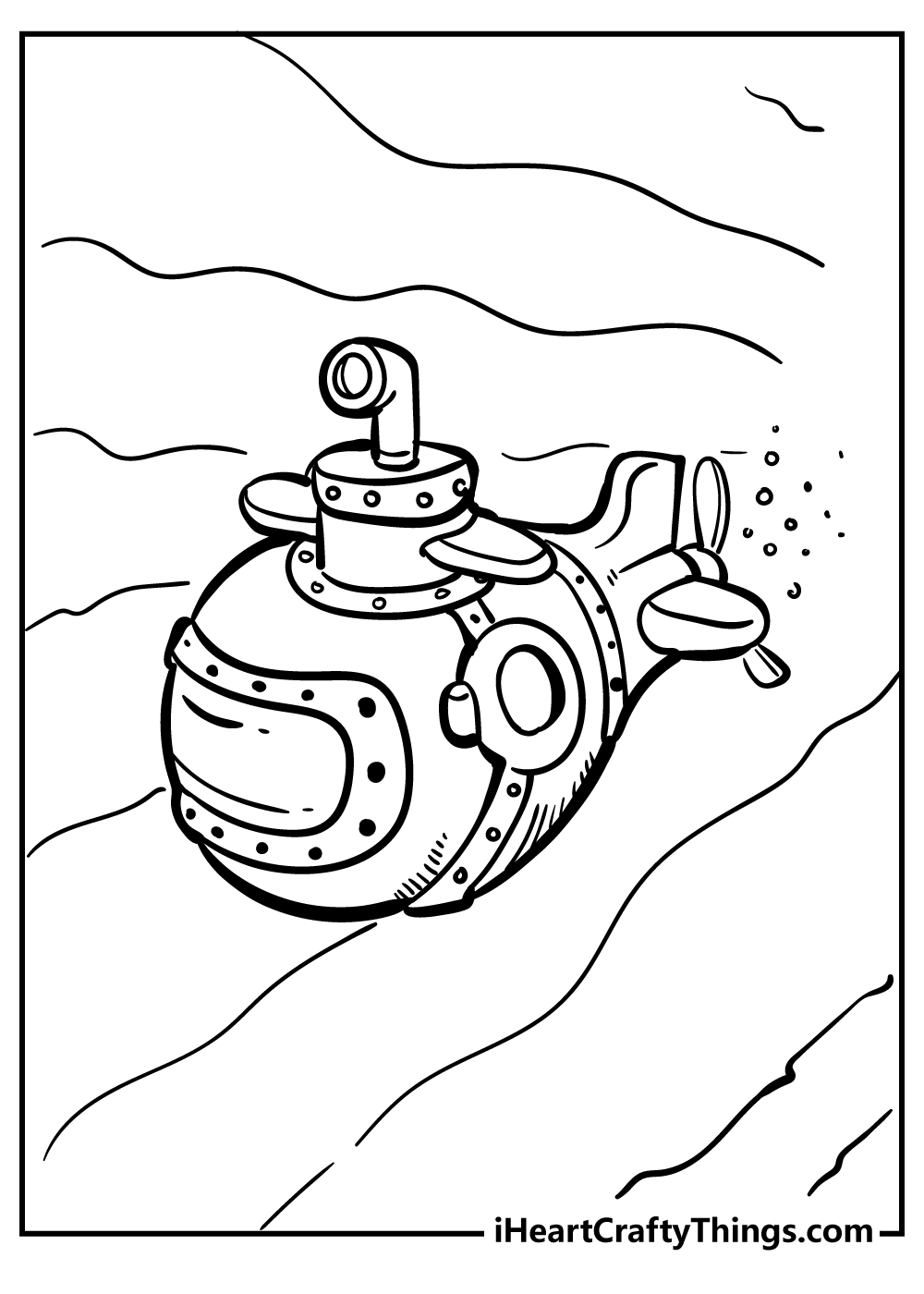 We love the design for this next submarine printable! These submarines probably wouldn't be practical in real life, but it's fun to imagine what it would be like to pilot one.
There are some rounded blank windows on the side, and that leaves some opportunity for some extra detail.
We think it would be fun to draw some faces looking out of the windows. The only question would be whose faces would be looking out?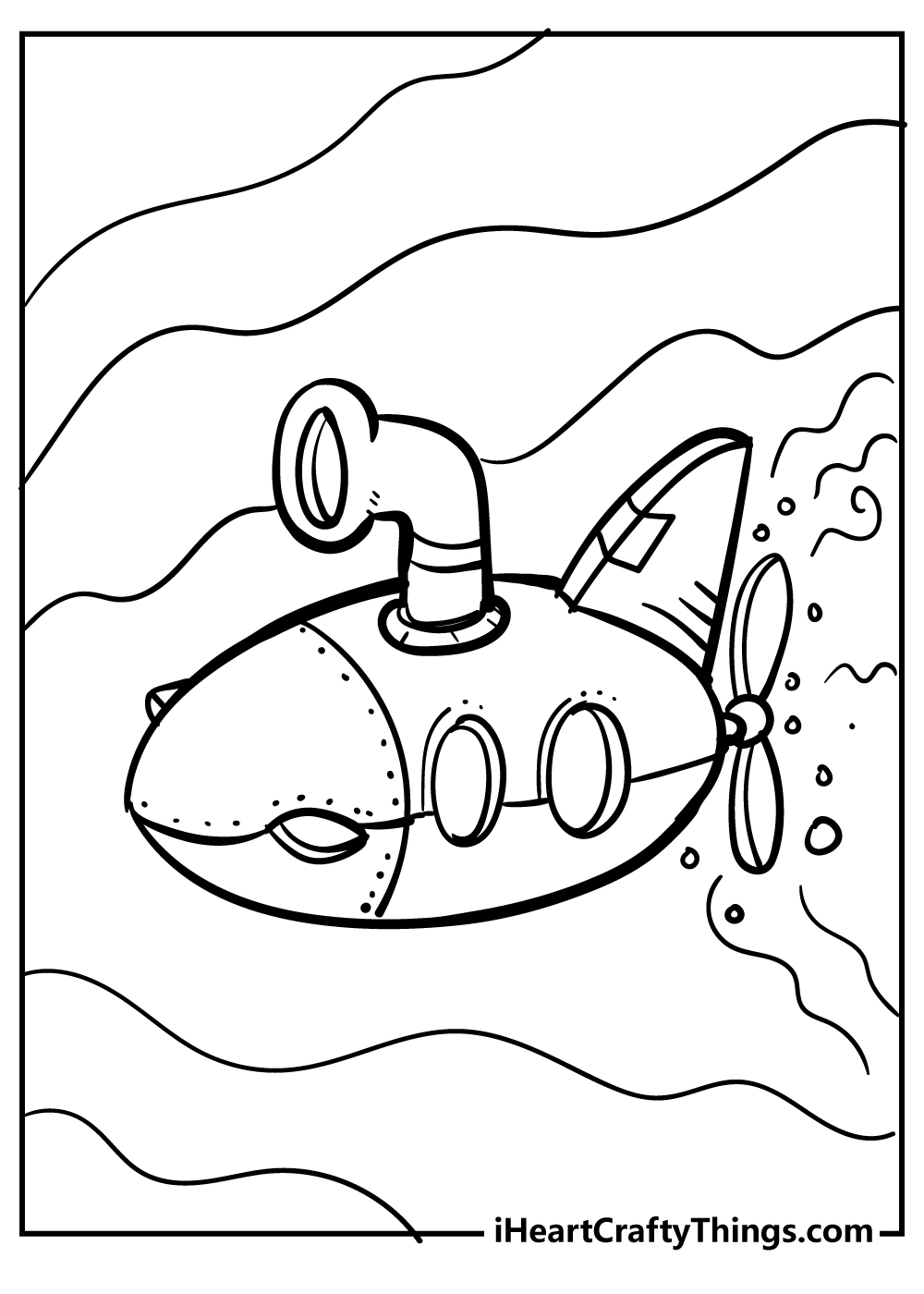 There's another submarine traveling at great speed on display in this submarine coloring page.
The big curved periscope above the submarine is a nice touch for this design!
We think that it would look cool to have this be a deep water excursion by using some darker blues and other colors for the water.
If you go for that idea, what colors will you use for the submarine itself?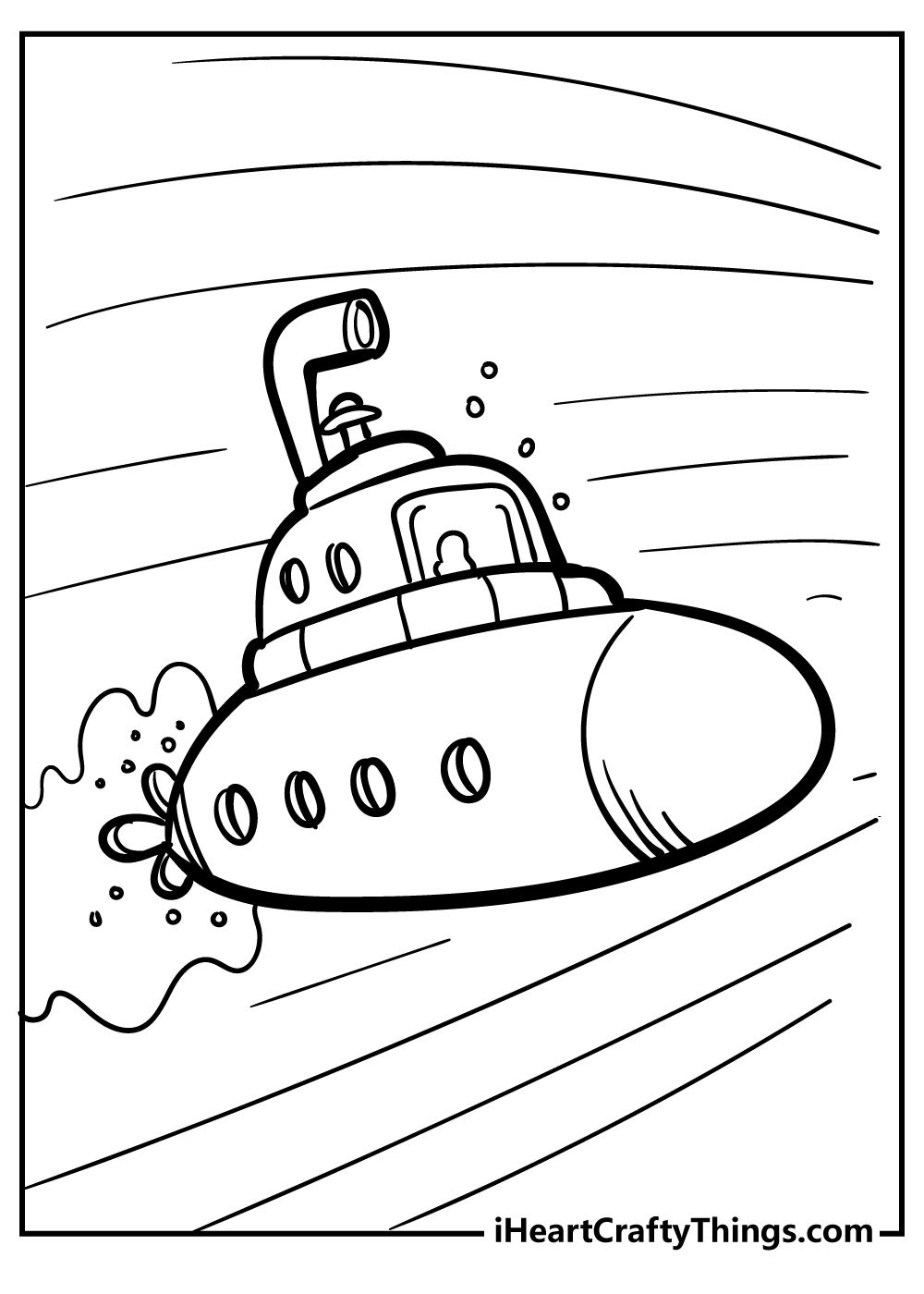 The submarine in this submarine printable shows another side view for you to color. This one also has three circular windows that are left mostly blank.
This once again allows you to draw some extra details, and it would be a fun image to add some faces looking out of.
You can also add details around the submarine, and there are plenty of sea creatures and other deepwater elements that you could choose if you decided to go that route!
What colors, extra details and art mediums would you use for this fun submarine printable?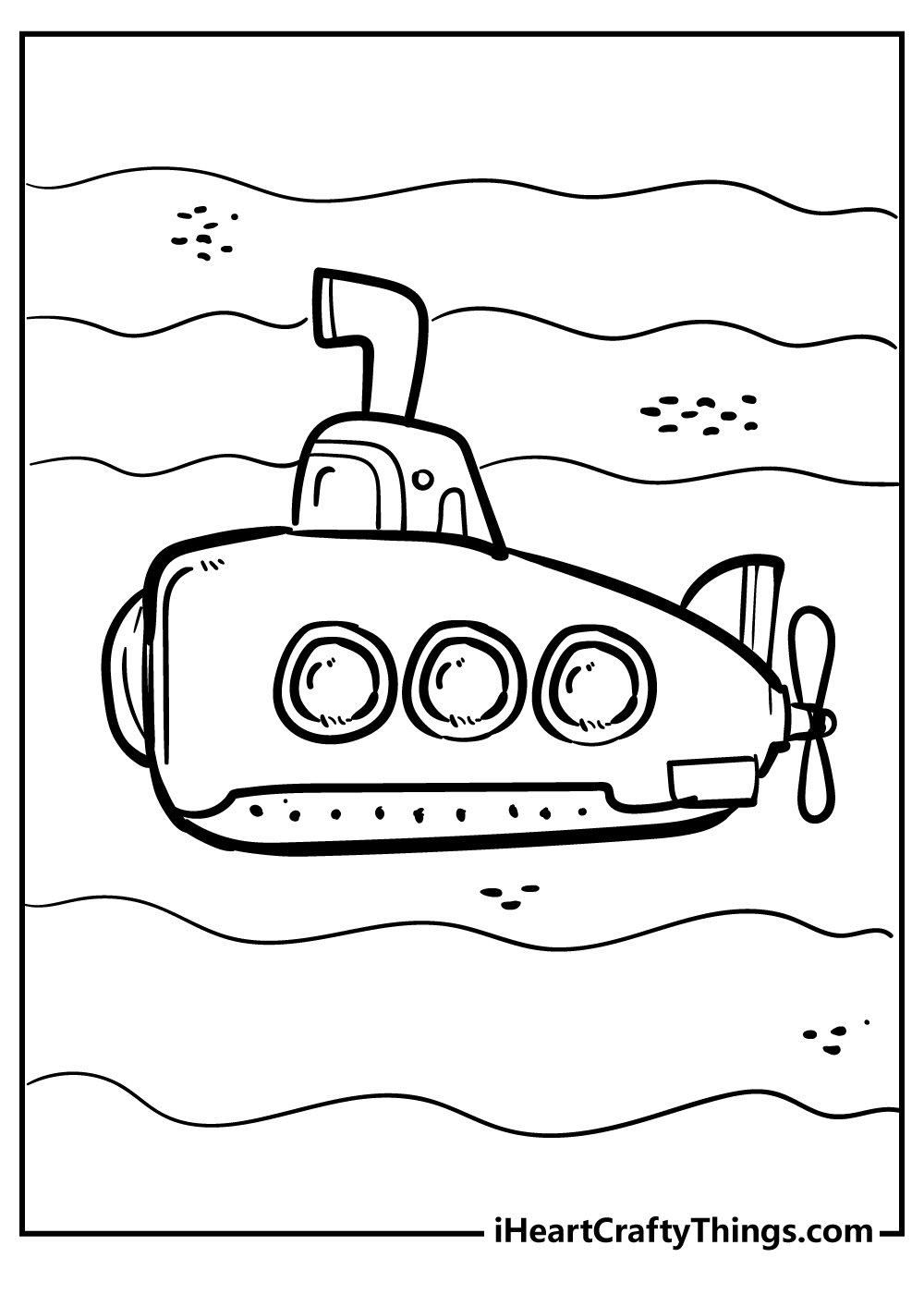 You're nearing the end of this collection of free submarine coloring pages, but we have a few more fun images for you to color.
We have another cool submarine seen at a side view in this second to last image. When coloring this one, maybe you could try out an art medium or technique that you haven't used so far!
Using paints such as acrylic and watercolors can be great fun, and mixing mediums can also be a fun way to get some interesting color dimension.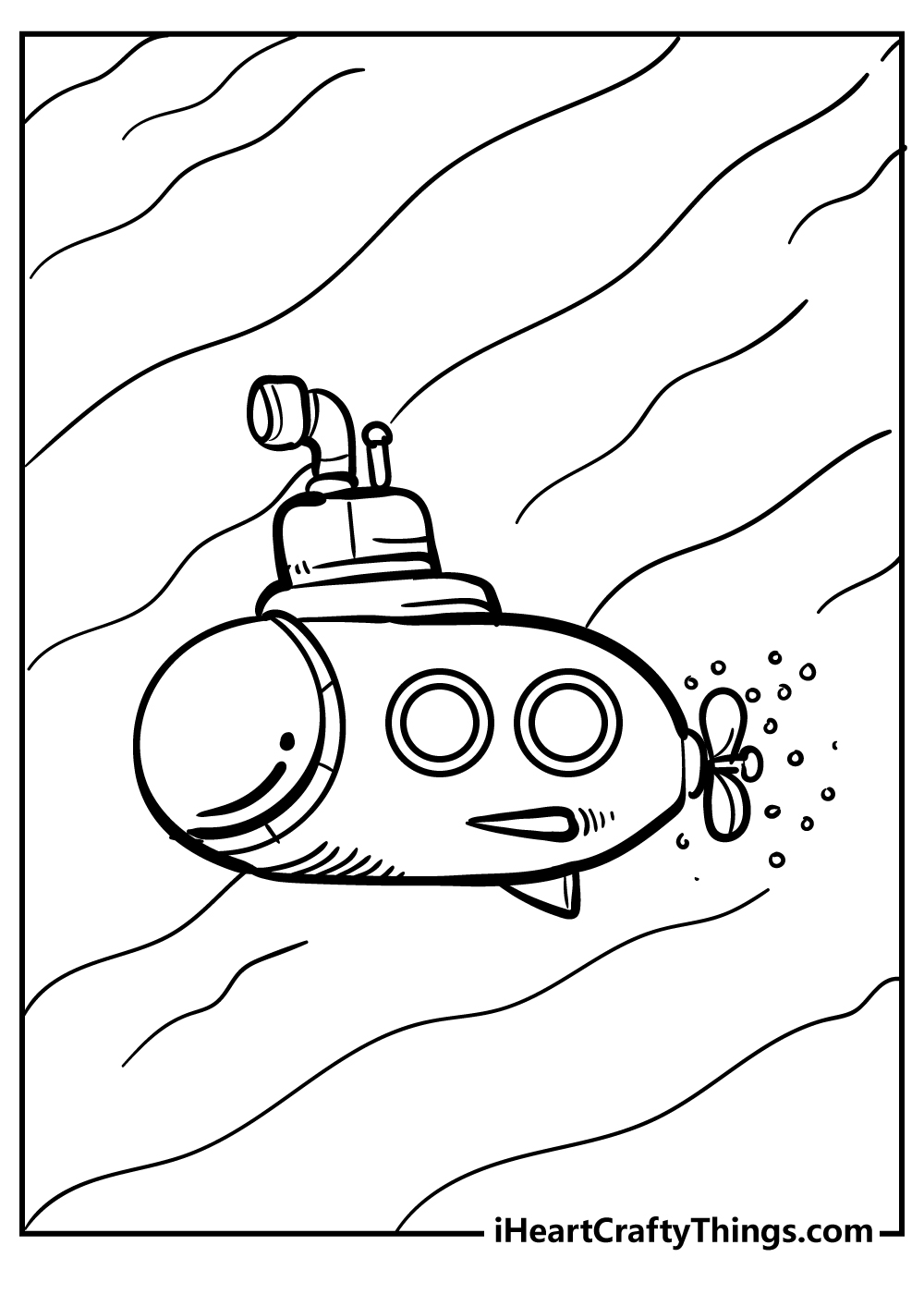 This final submarine coloring sheet shows a submarine that's going along the ocean floor. This would be another image that would look great with some extra details!
Maybe you could draw something fun like a giant squid or a creative sea monster for this submarine to encounter.
What kinds of incredible sights do you think this submarine could be encountering on the ocean depths?
Submarine Coloring Pages – Which will you choose?
We hope you enjoyed working through the pages in this collection of free submarine coloring pages for kids!
There are some really interesting designs and scenes in these pages, and they allow for a great deal of creativity.
Remember to share these pages with friends and family so you can compare your artworks!
When you're finished coloring your favorite printables from this collection, be sure to check out our website for more coloring page collections to enjoy.
We frequently upload new collections of coloring fun for you to enjoy, so you'll definitely want to check in often to never miss out!
It's always wonderful to see how you went about coloring our printables, and we would love to see some of these completed submarine coloring sheets!
When you're ready to show off your artwork, you can share them on our Facebook and Pinterest pages for us to see. We will look forward to checking them out!