Snoopy is not your average spotted beagle. He is a popular character in many movies and TV specials for children.
Snoopy is also a book lover, a book writer, and a fine art connoisseur. Snoopy has become one of the most iconic and loved comic characters by all children.
Our Snoopy coloring pages will help your little one have a fun time playing with colors and learning more about this adorable character!
10 Brand New Snoopy Coloring Pages – Free to Print and Color
Who doesn't love the black-and-white beagle Snoopy? We believe all kids love this adorable dog that makes us laugh.
Our first coloring page captures Snoopy looking very curious. What does your child think that Snoopy is curious about? Maybe he is curious to find out how your little one will color him.
Snoopy is a black-and-white dog. But, you can invite your little one to get creative with colors and use whatever shades they like most. Snoopy will look lovely in blue, green, pink, and purple as well.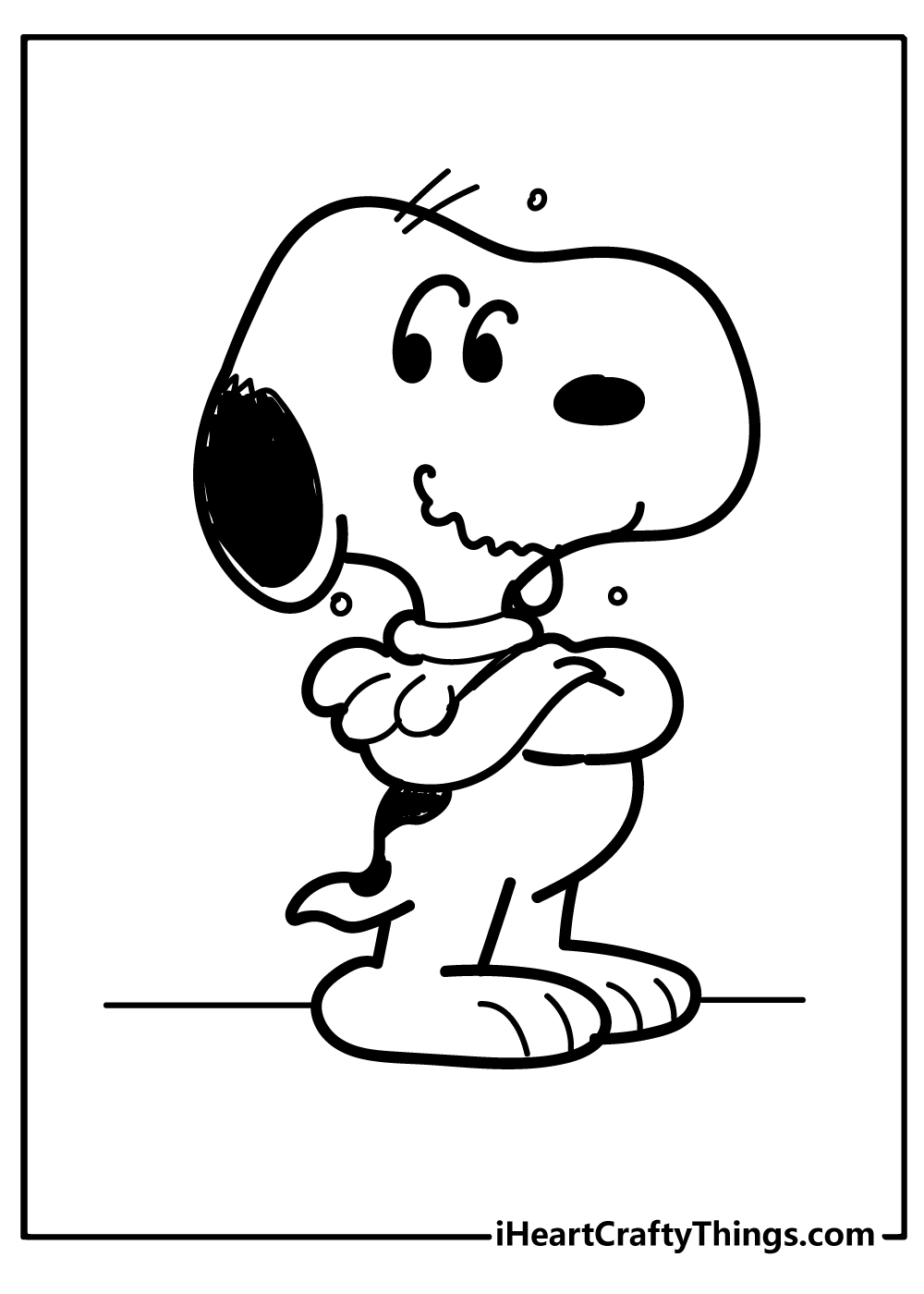 Did you know that Snoopy's birthday is believed to be on August 10, 1968? It would take him over 50 years old now. That's a lot in dog years, right? Yet, he still looks far from being this old.
Like he is captured in our next Snoopy-inspired coloring page, Snoopy looks adorable and as young as forever.
This page features Snoopy standing on two feet, looking left. What do you think he is looking at? Ask your little one to use their imagination and give you an answer to this.
Your child can allow their creativity to run wild while coloring this page. They can use whatever colors they like most and draw a few things on the white background for a more personal touch.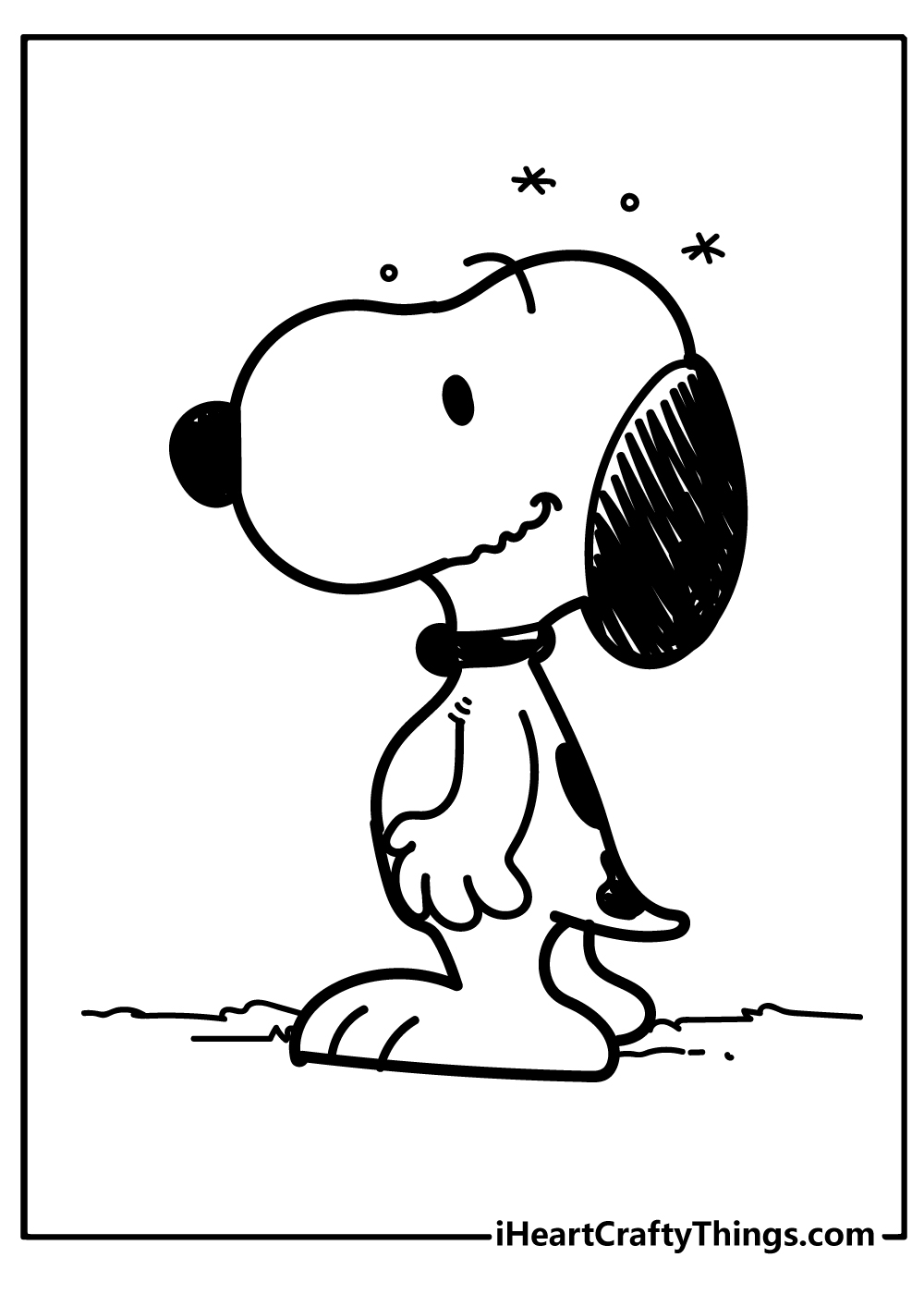 We all love hugging cute dogs! In this Snoopy coloring sheet, it seems that Snoopy is also waiting for a big hug.
Snoopy is well-known for taking hugs seriously. He says, "Nothing says "I love you" like a great big hug." Do you agree with him?
Download and print this coloring page for your little ones and invite them to be creative with crayons.
They can color Snoopy's tongue red. Or, they can color Snoopy's fur using their favorite color. Imagination has no limits!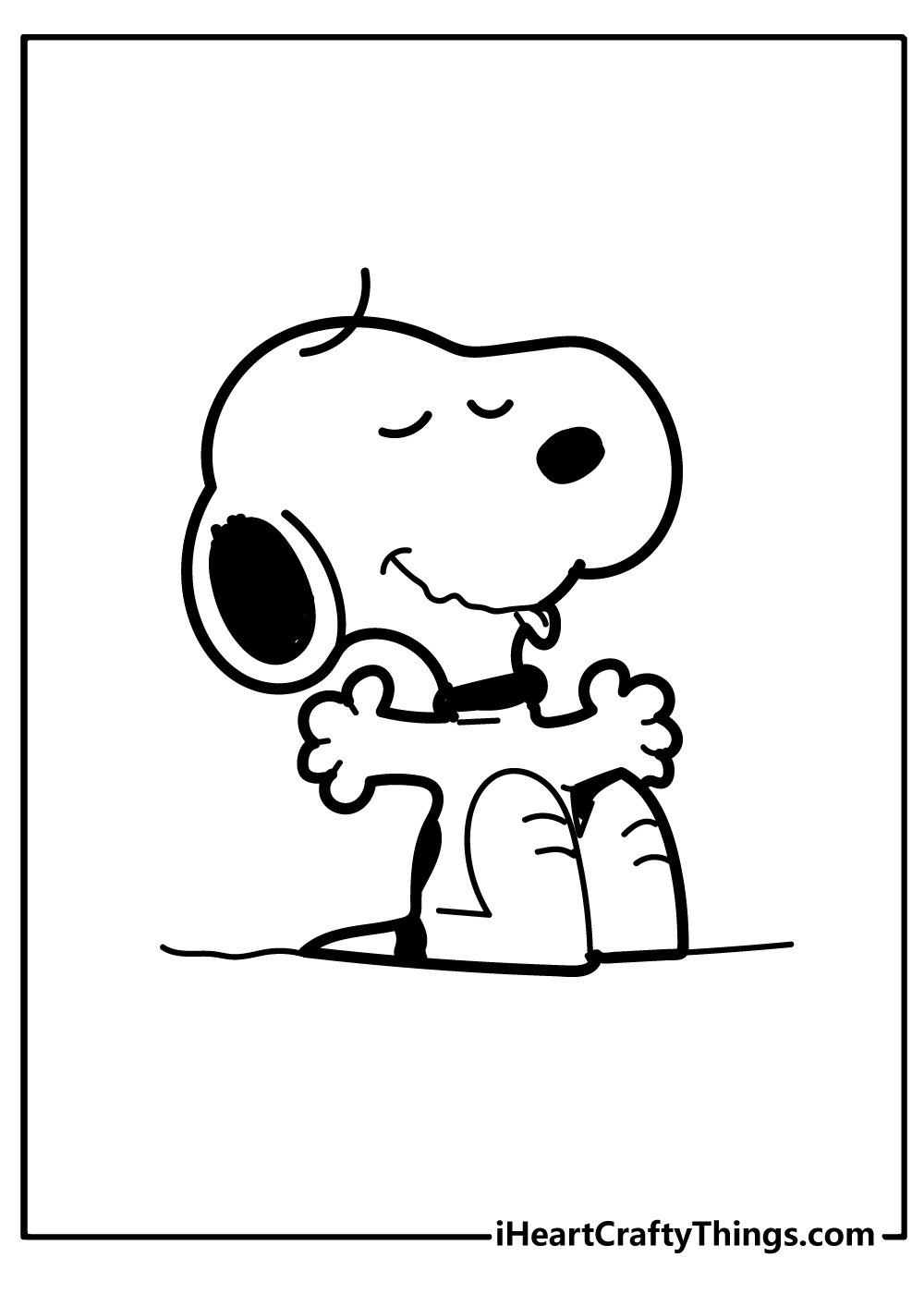 Our next Snoopy coloring page perfectly captures the unconditional love dogs have. This page features Snoopy offering his heart and love.
Who do you think he is showing his love to? Maybe he is making this gesture to express affection to his friends and family. Here's a fun fact: Snoopy has seven siblings.
This Snoopy-inspired coloring sheet includes so many design details that your little one can have fun coloring. For example, they can color the heart Snoopy is holding using red.
They can also color Snoopy's fur in various colorful shades. Your little one can also draw another character next to Snoopy. Invite them to have fun with this coloring page.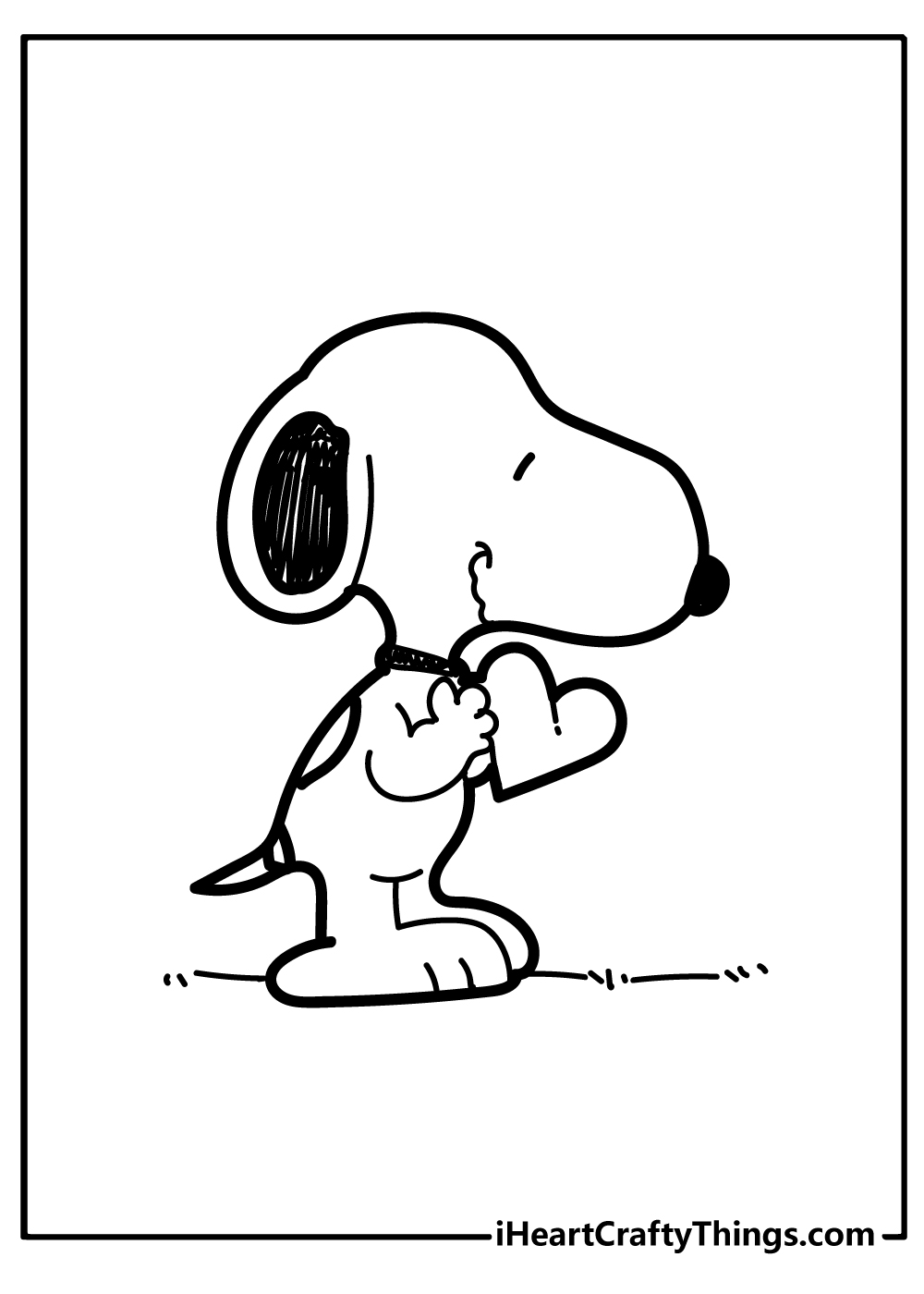 Did you know that Snoopy has a little bird friend? Snoopy's little yellow friend is called Woodstock. This coloring sheet features Snoopy and Woodstock shaking hands and having fun together.
Can your little one imagine the deal Snoopy and Woodstock made? Maybe they agreed on playing together. What do you think?
The design details on this page give plenty of room for having colors and experimenting with colors.
Snoopy's color scheme is black and white, and Woodstock's color is yellow, but your little one can get creative and reinterpret their colors however they like.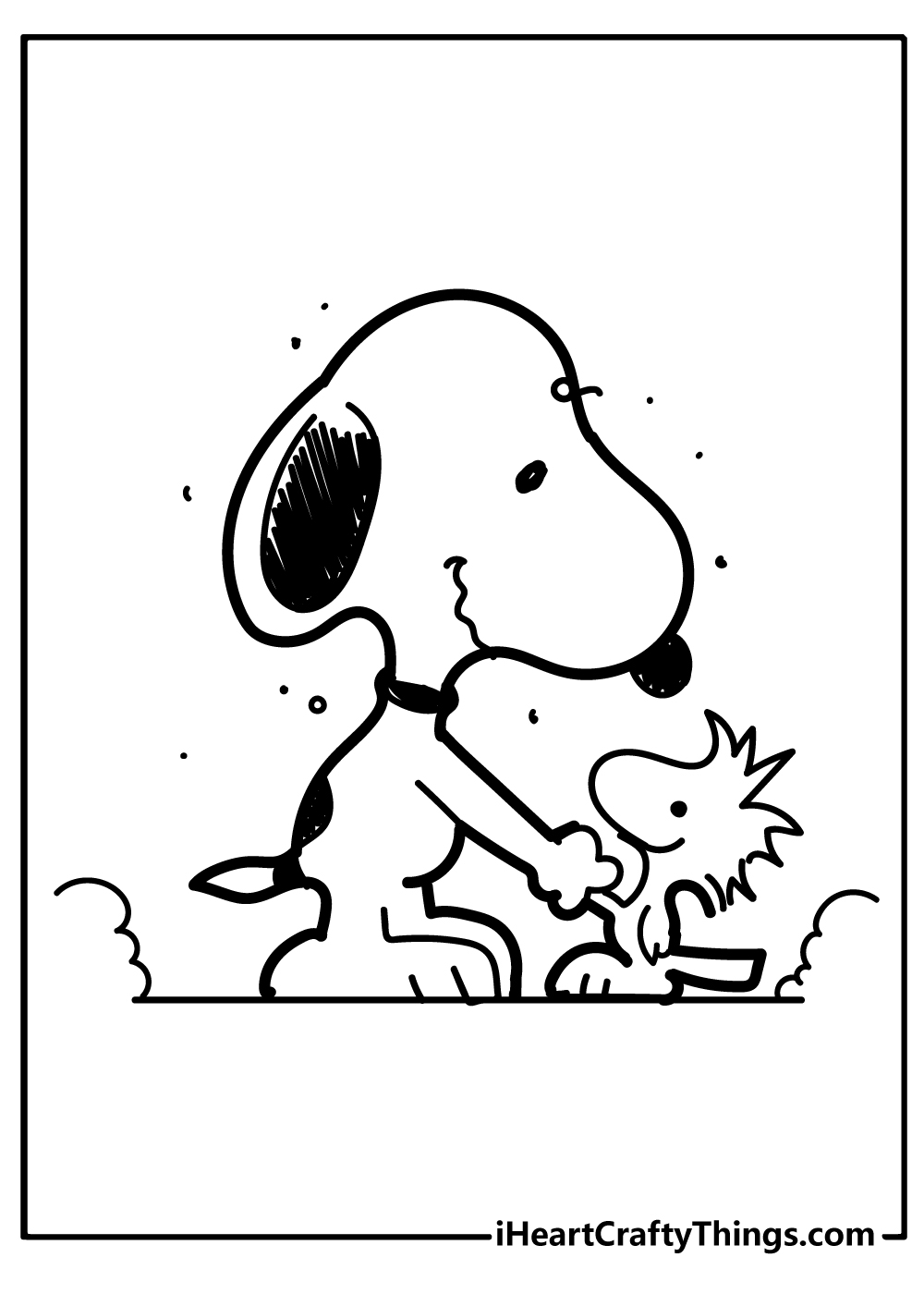 Snoopy loves dancing! He is often featured in dance positions. Snoopy even has a specific dance called "Happy dance." Does your child want to dance together with Snoopy?
You can print this Snoopy sheet for your little one and ask them to color it while imagining what it would be like to dance next to Snoopy.
It is a great fun way for your little ones to exercise their coloring and creativity skills.
As a bonus, you can learn more about Snoopy's happy dance and teach your little one how to do it when they feel low.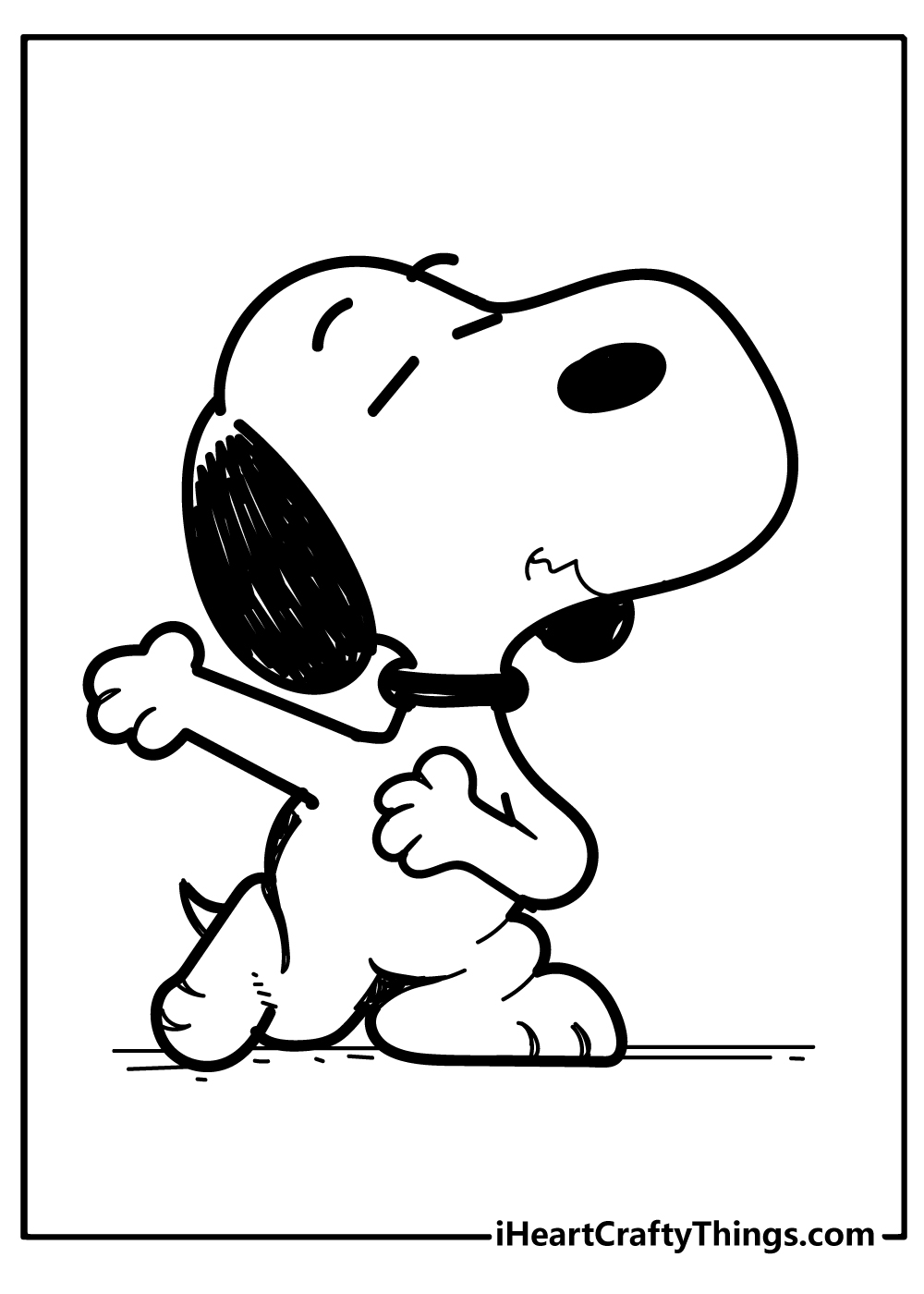 Snoopy's and Woodstock's friendship is powerful. They spend a lot of time playing together, exploring, and discovering new things.
This coloring page captures them in one of their adventures together. What do you think they are planning to do next?
Print this coloring sheet for your little one and invite them to color it while imagining what Woodstock and Snoopy are talking about.
Maybe they plan to dance together, build a snowman, or take a walk. Invite your child to use their imagination and practice their coloring skills.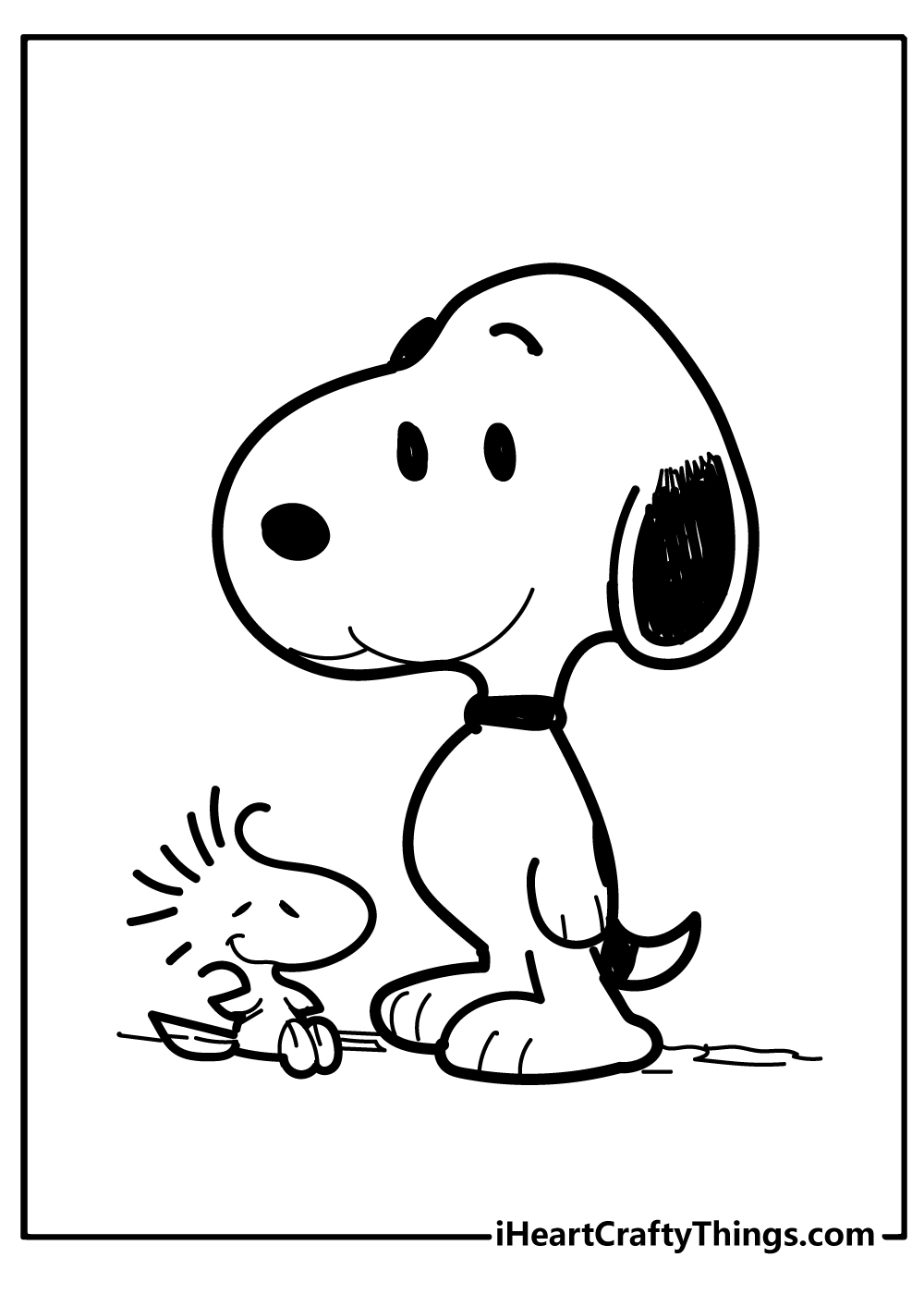 We already mentioned that Snoopy is a big hugger. And, we also discussed his friendship with Woodstock.
This coloring sheet perfectly captures both things: Snoopy gives Woodstock a big hug to express his love.
This coloring page offers plenty of room for having fun. Your little one can get creative and experiment with colors while coloring Snoopy and his little bird friend.
Your child can color Snoopy using whatever color they like most. They can color Woodstock yellow or reinterpret his look. A purple dog and a green bird, why not? There's no limit to imagination.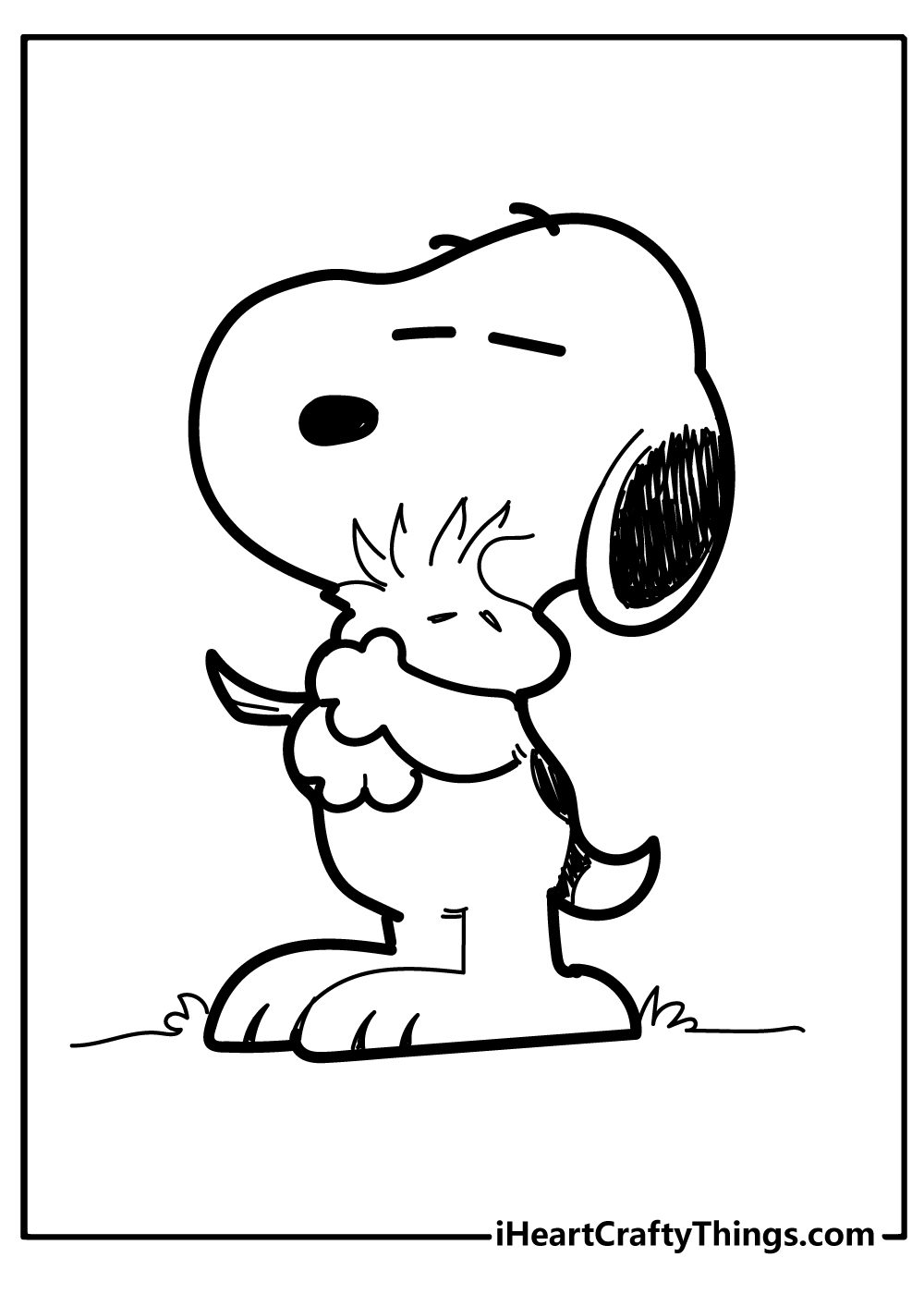 Snoopy said that "Happiness is smelling the flowers." Do you agree with him?
Our next coloring page captures Snoopy holding and smelling an adorable bouquet. He looks really amazed by the flowers' fragrance. What does your little one imagine that these flowers smell like?
Download and print this Snoopy-inspired coloring sheet and encourage your little one to experiment with colors and create a story for this page.
You can ask them to imagine who Snoopy is planning to offer this bouquet to. Does Snoopy have his flower garden, or did he buy them?
Or, maybe they can guess where Snoopy took these flowers from. You can use this page as a great creativity exercise for your little one.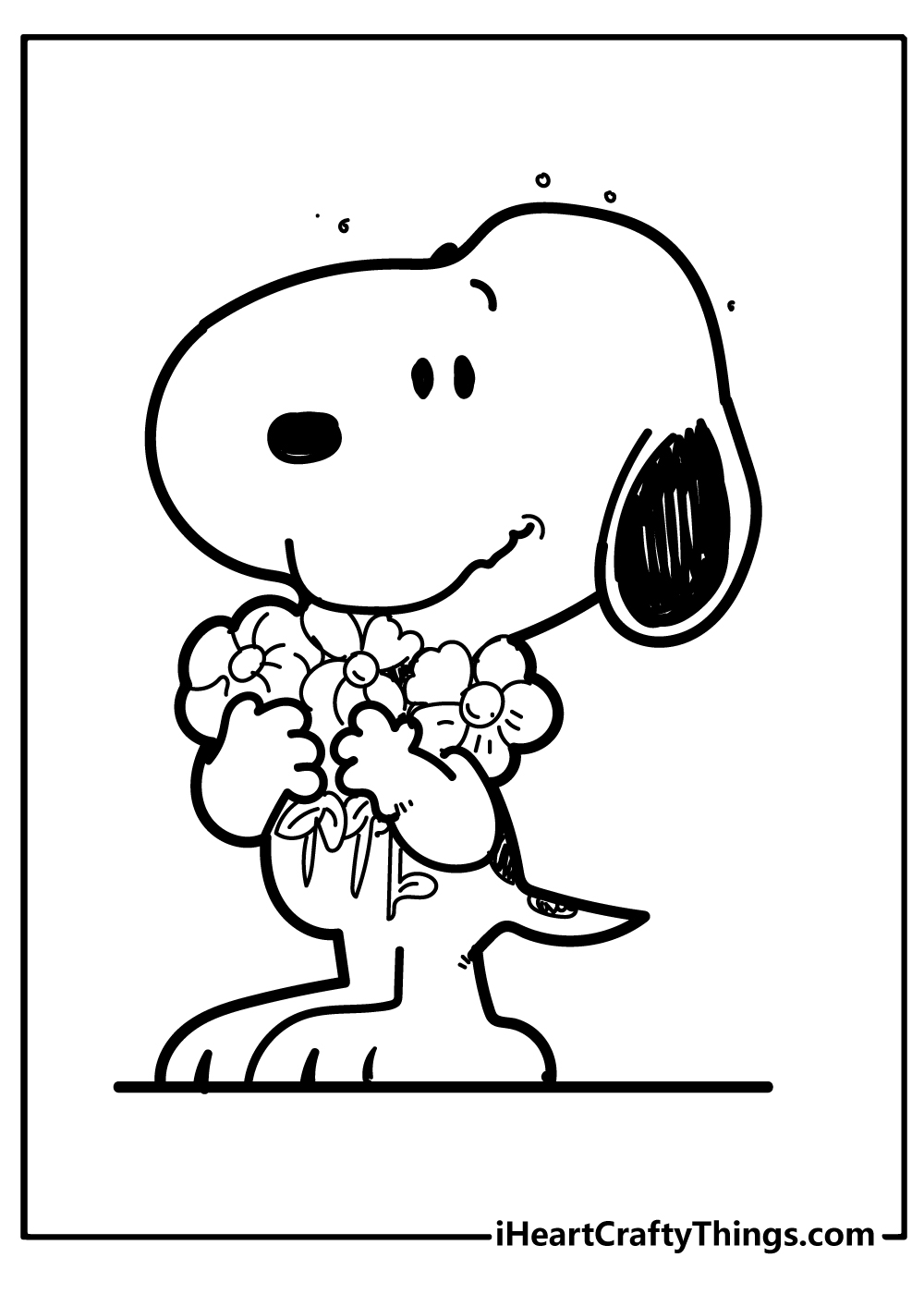 Our last Snoopy coloring page captures Snoopy holding a big heart in his arms to express his love.
Snoopy seems like he is having a great time offering affection to his loved ones. Use this coloring page as an opportunity to ask your little one what love is for them.
This Snoopy coloring sheet has plenty of design details your child can color.
They can color the heart Snoopy is holding, Snoopy's fur, and imagine where Snoopy is and draw on the white background. Encourage your children to color while talking with them about feelings of love.
We constantly update our coloring page collections, so revisit us for more enjoyable printable coloring sheets!