On this page, you will find 20 all new Power Rangers coloring pages that are completely free to print and download.
What started as a live-action superhero series, Power Rangers has grown immensely popular around the world and has evolved into an entertainment and merchandising franchise.
The TV series' popularity gave rise to many games, movies, toys, and merchandise.
Power Rangers features costumed heroes that have superhuman strength. These special powers allow them to fight off evil forces and ultimately save the world.
If your kids love Power Rangers or if you simply want to introduce them to these superheroes while developing their creativity, then we got you covered.
Here are 20 new Power Ranger coloring pages for kids that you can download for free.
20 Brand New Power Rangers Coloring Pages – Free to Print and Color
Shown here on the first Power Ranger coloring page are Red and Blue Ranger.
Red Ranger, the one on the left, is the leader of the Power Ranger's team. In most stories or franchises, Red Rangers were given the most powerful weapons. Red, alongside Blue, is one of the two colors that appear in every Power Ranger season.
Green Ranger is the one positioned on the right. Green Ranger is usually regarded as the funny one on the team but can be assigned to be the second-in-command. Green is also one of the few to be given special gears, next to Red and Blue Rangers.
The costume of the two rangers here is filled with many small details. Give this Power Ranger coloring page for kids to keep them occupied and focused.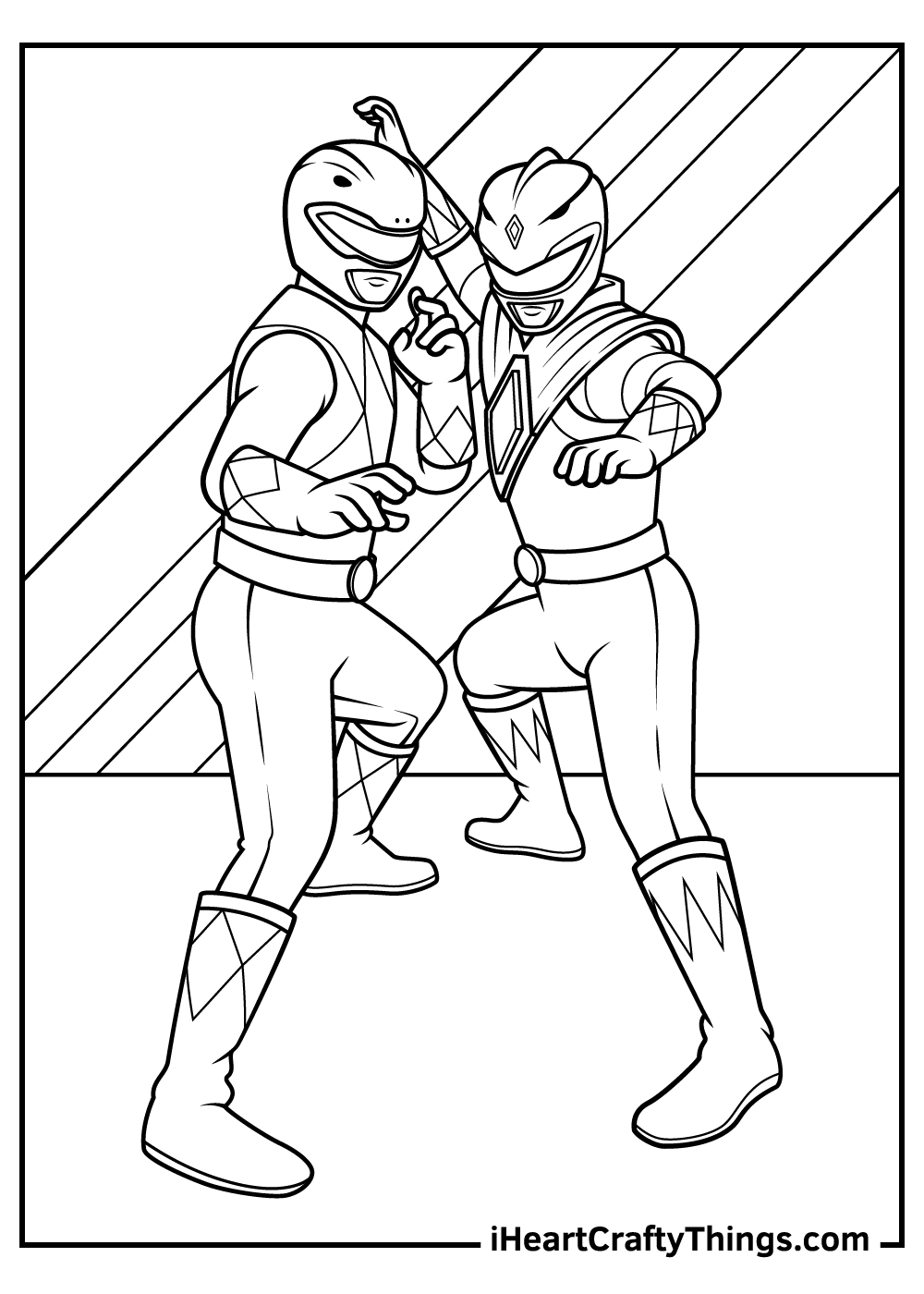 This Power Rangers coloring page shows this ranger pulling a cool move. It makes you think that they must be facing down one of the Power Rangers' many enemies!
If you have a favorite Power Rangers foe, then you could add a clue on this page that indicates who it might be.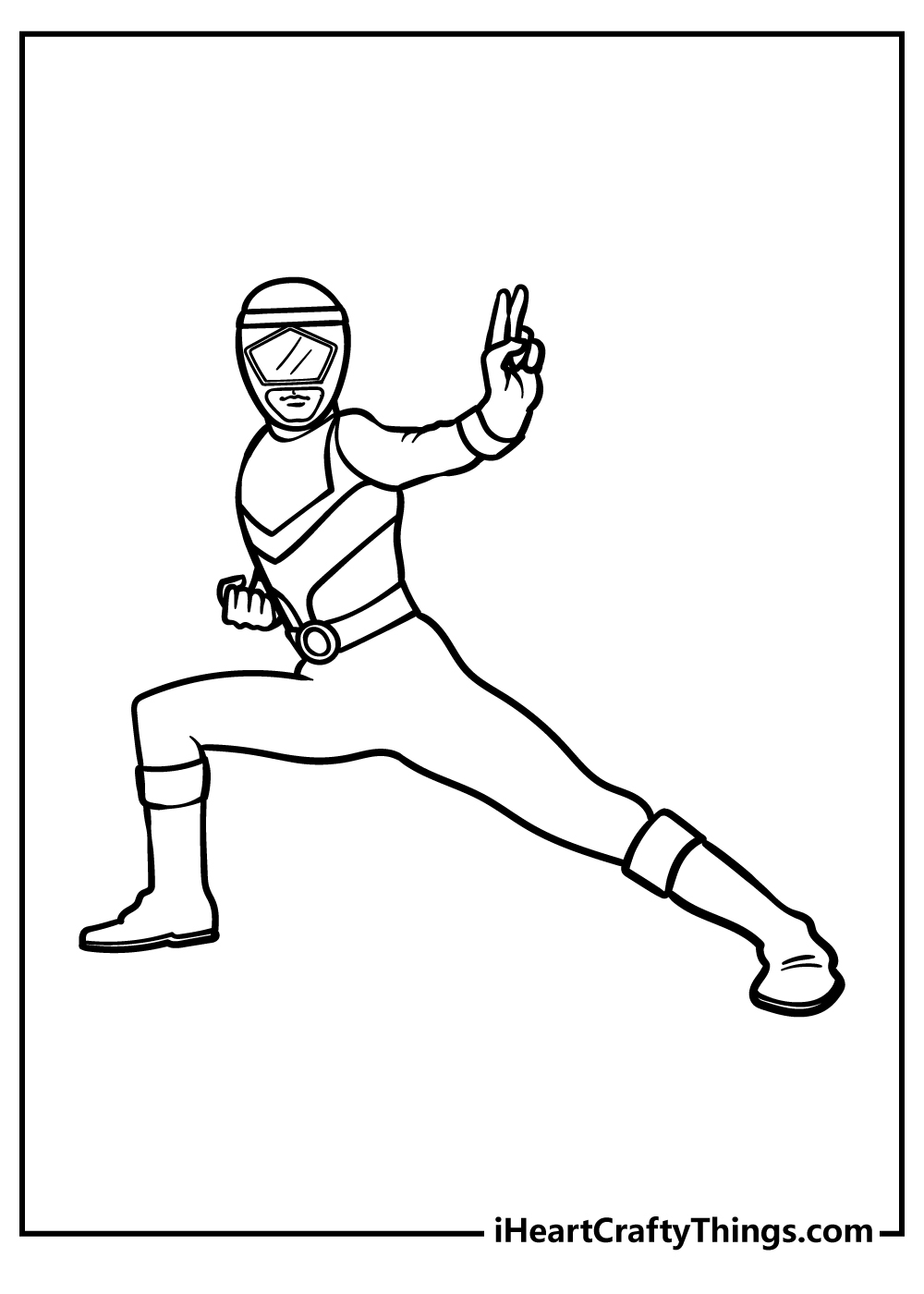 Blue Ranger, as seen on this next free printable, is usually the second-in-command of the team.
Blue Ranger is usually the serious one and is often regarded as the smart one in the group. It's also the other ranger to appear in every season next to Red.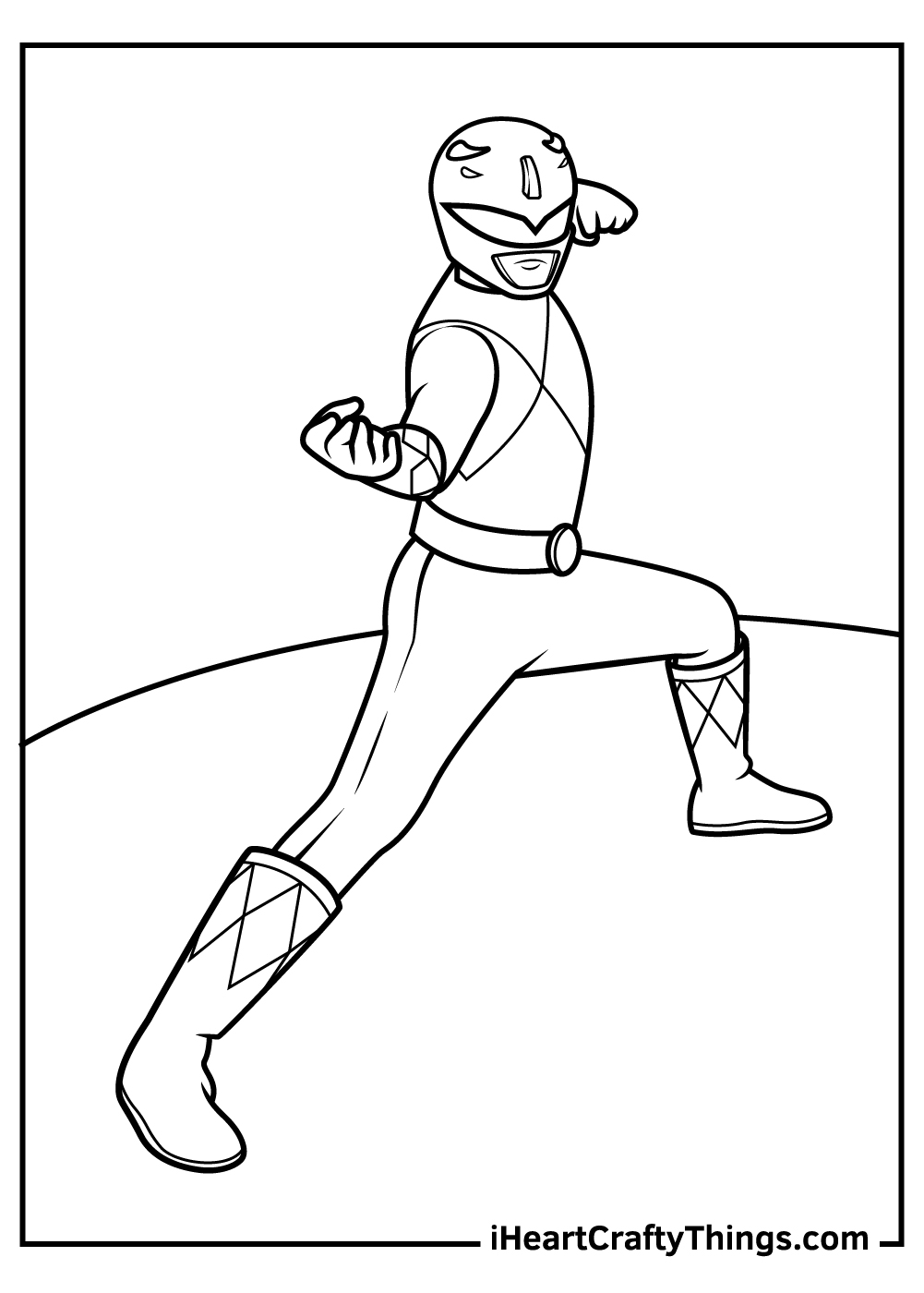 Print this free Power Ranger printable if you're looking for some girl power action!
Featured in one of our Power Ranger coloring pages are these two female superheroes.
Pink Ranger on the left, is usually the voice of reason for the team. And almost always, her costumes have a skirt. Pink Ranger always gets the most candid weapons in the team.
Yellow Ranger, standing on the right, is the team's morale booster and remains always level-headed in times of crisis. Yellow Ranger is a pretty strong-willed individual.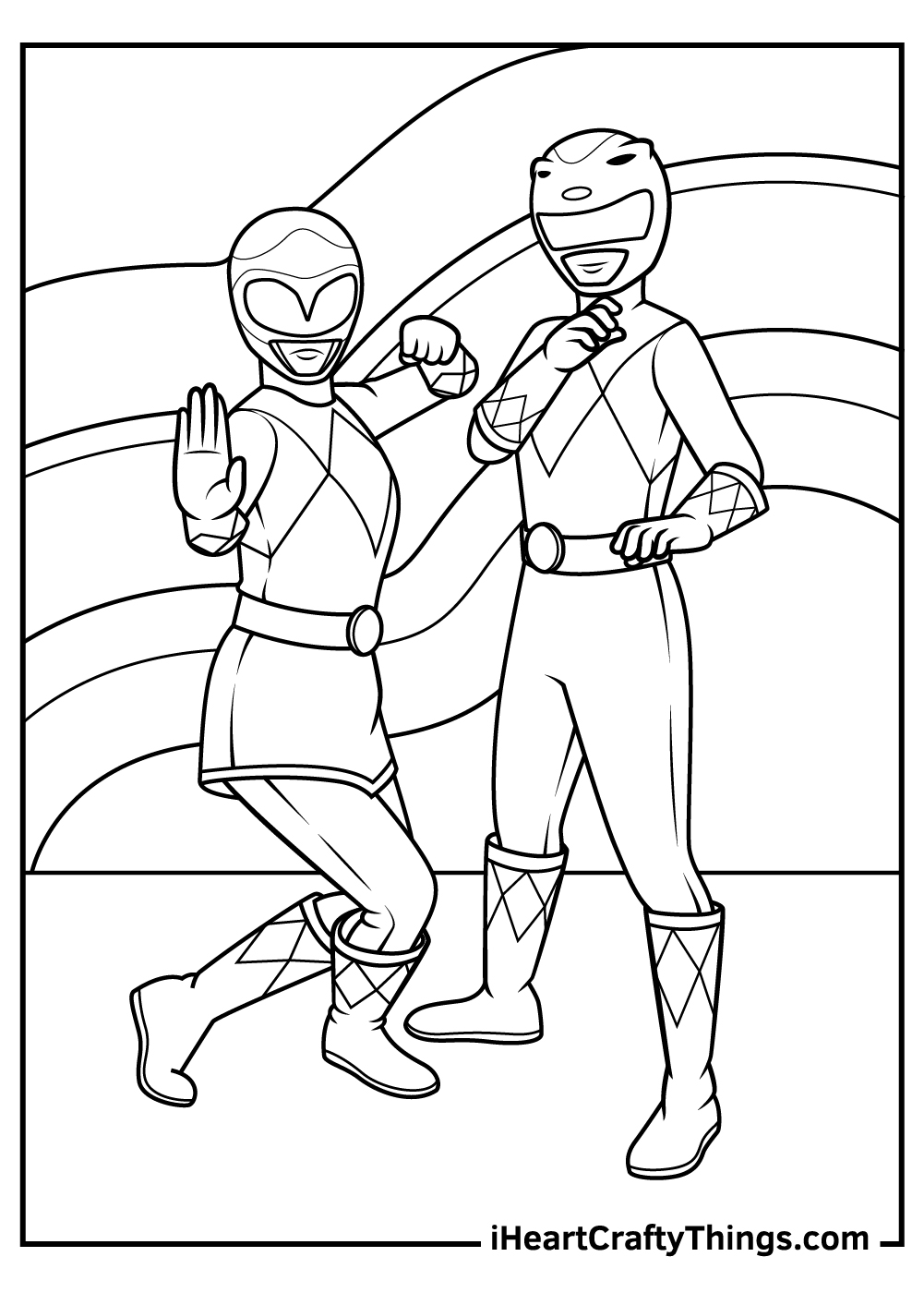 I love the detailing on this Power Rangers' armor. You may recognize this character from the series, in which case you could make sure the colors are accurate.
Don't be shy about using your own unique color choices if you want to make them look unique, though! Which colors will you use for this Power Ranger on this page?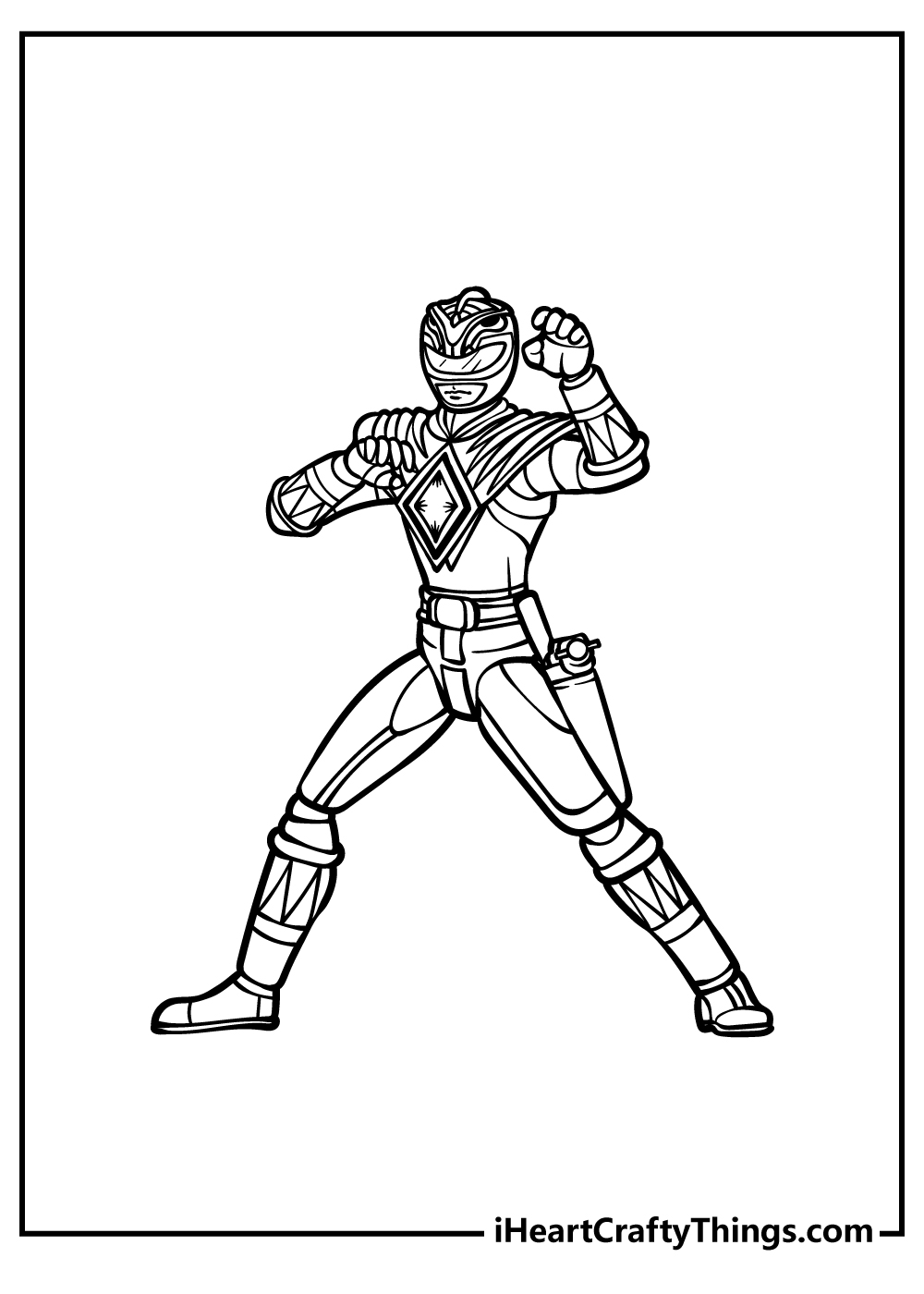 This Power Ranger printable features the Black Ranger.
Black Ranger is an enthusiastically upbeat person and regarded as the prankster of the group. He is fun-loving and fearless and serious about saving the world.
Download this Power Ranger coloring page for kids who are also serious about changing the world, one color at a time.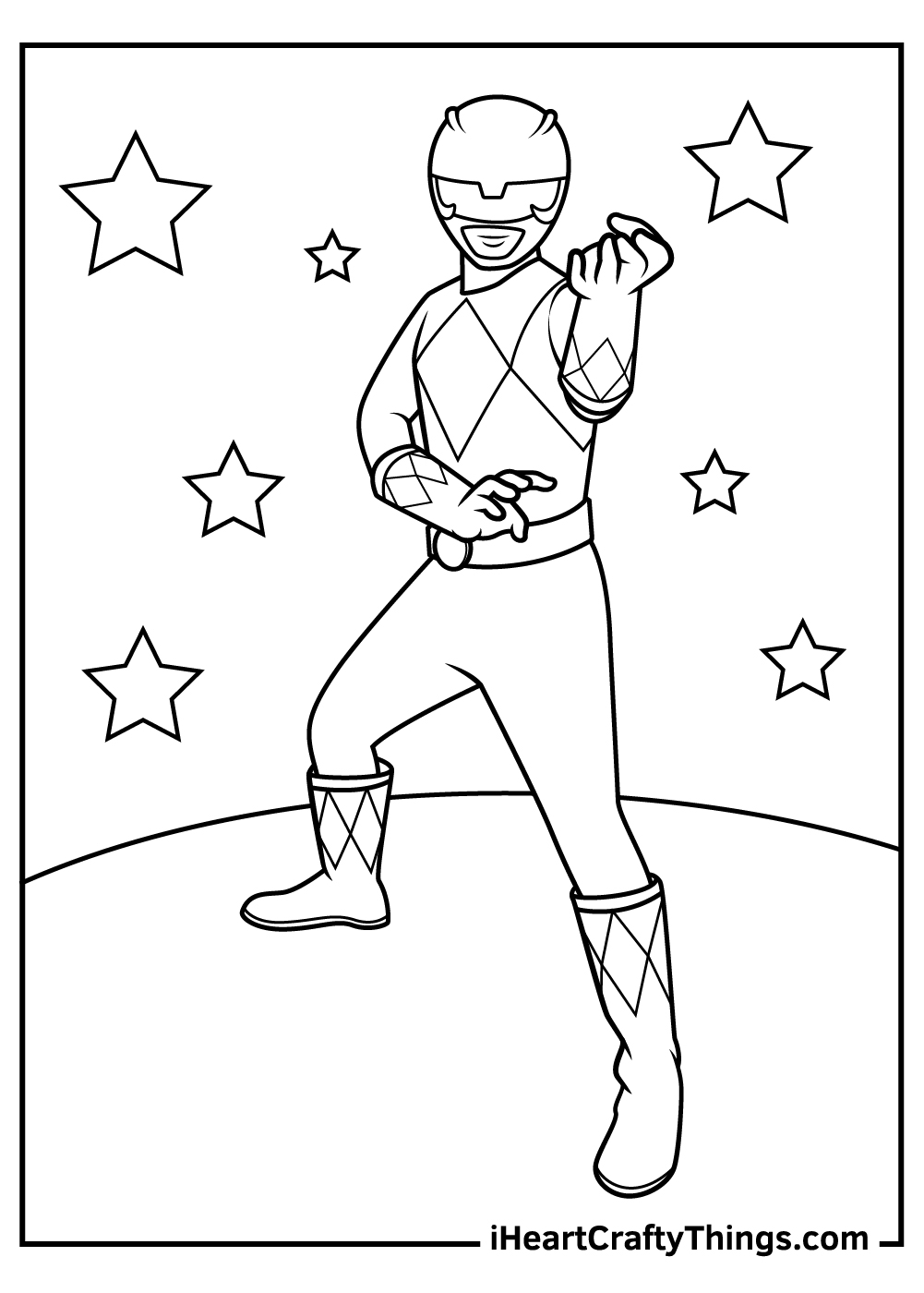 White Rangers, who are typically Special Rangers and not part of the core five, have swords as their main weapon.
The power of White Rangers is said to be made from the light of goodness and can never be corrupter by evil.
The costumes of White Rangers are white with gold accents. If your kid loves this special character, download, and print this for free. Once he's done coloring, you can pin this up on his wall as a poster.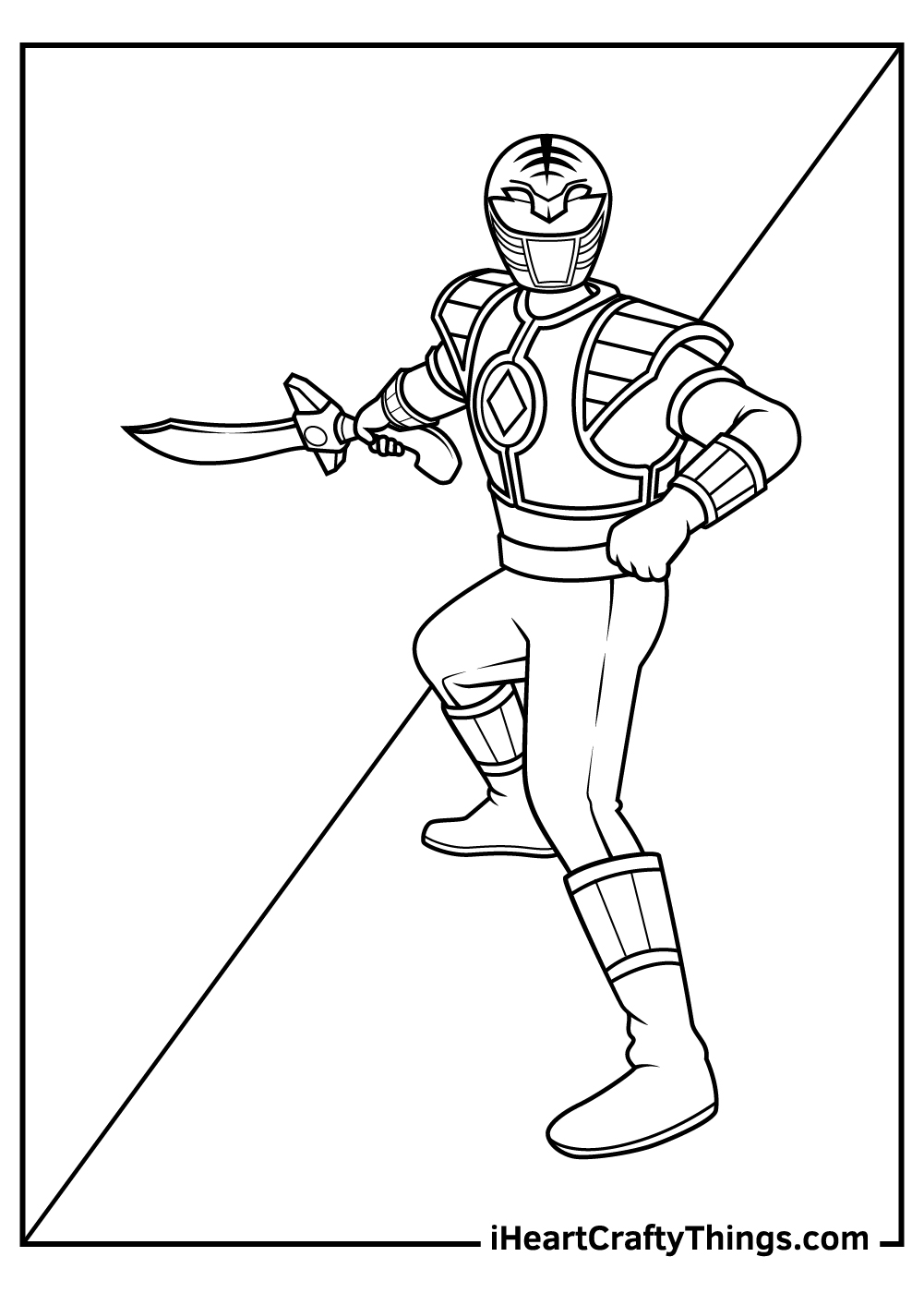 This next page has quite a dramatic pose for you to color in. There are also some great details on the armor this Power Ranger is wearing.
When coloring these smaller details, you may want to use some colored pens or pencils to carefully portray these color details. It's up to you to decide what you will choose, so have fun with it!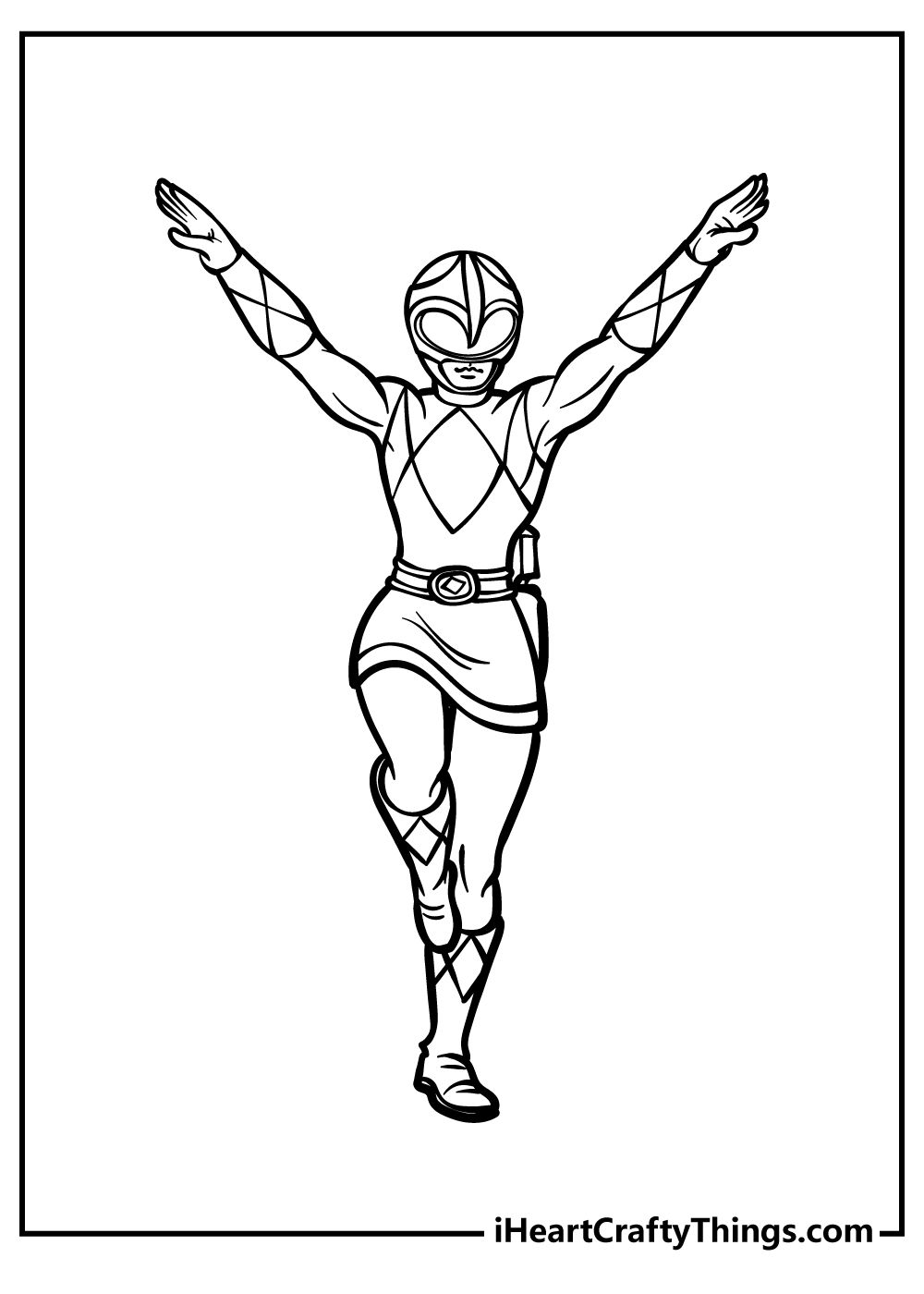 Yellow Ranger is beautiful, smart, and can be very deadly in battles. Because of this combination,
Yellow Ranger is a common favorite, especially among little girls.
Her usual weapons are small hand weapons such as daggers or hammers.
Here she is in this free Power Ranger coloring page for kids showing her fighting pose with what seems like rainbow lines behind her.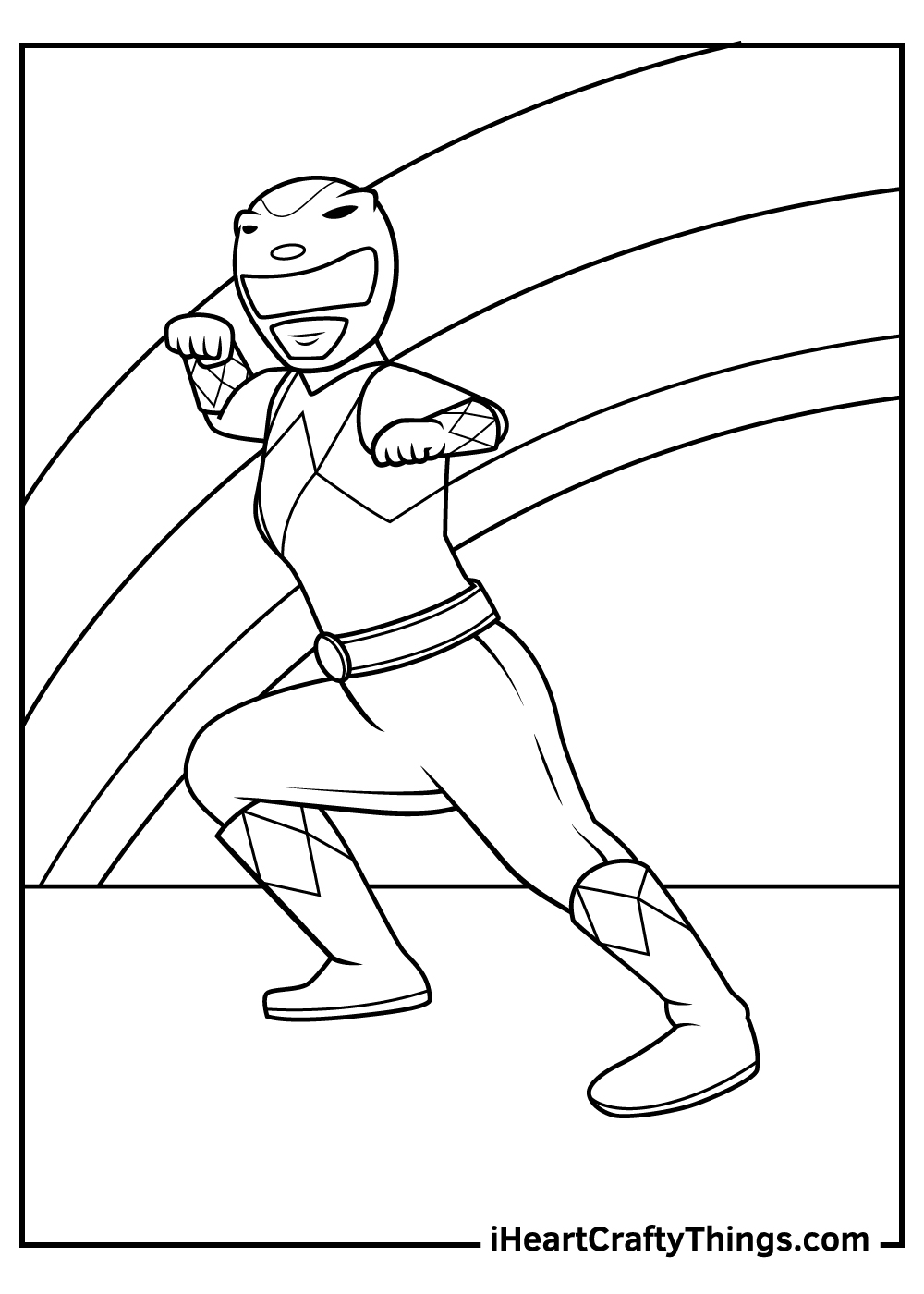 The mask that this Power Ranger is wearing looks rather fierce! It offers some interesting details for you to color as well.
You could also draw some elements in the background that would relate to the theme of this character, as that would give you even more elements to enjoy coloring!
What kind of background would you add?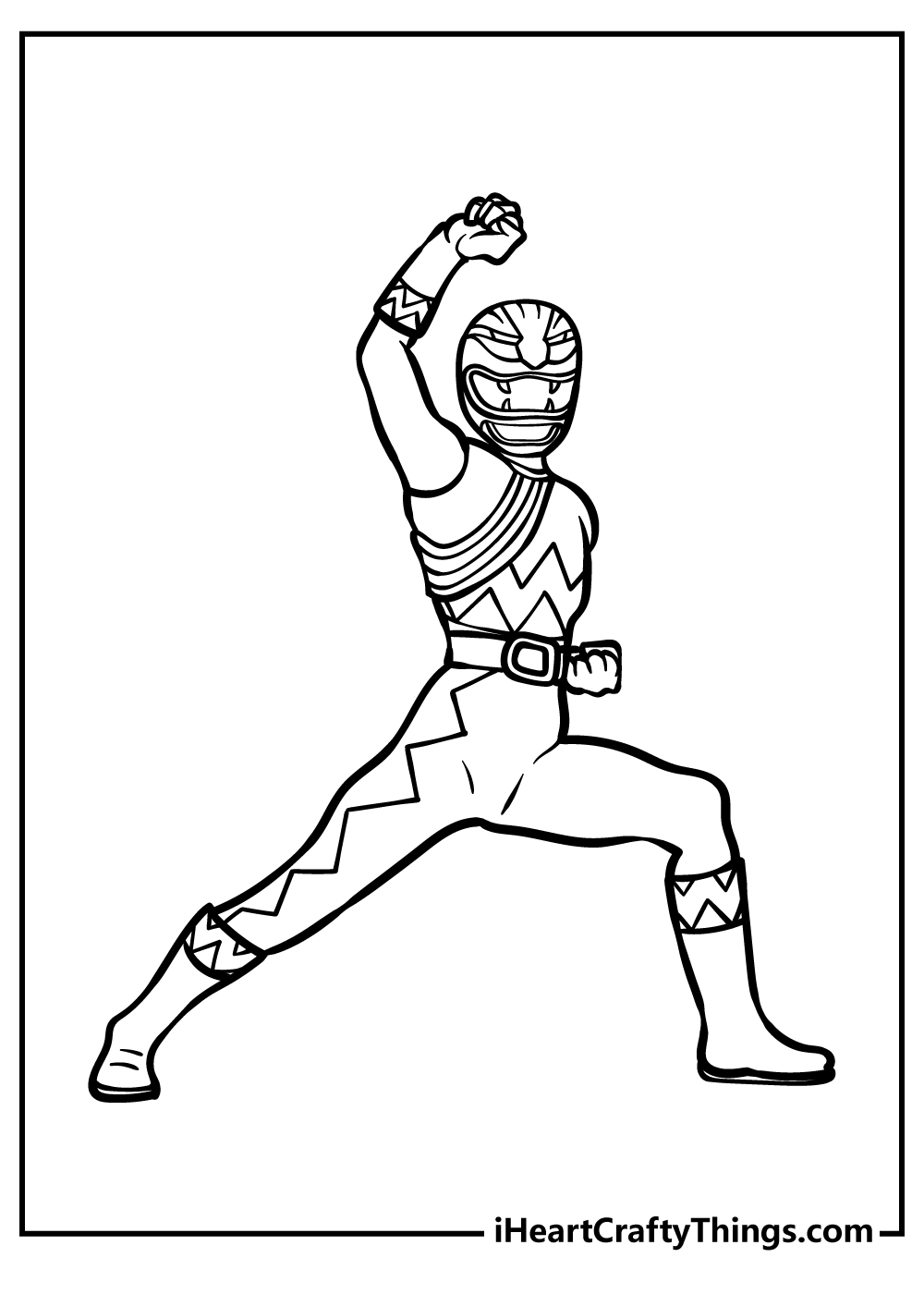 Blue Ranger takes the spotlight on this free printable. He shows off this fighting stance in this image.
A favorite from fans, he is often seen as the brainiest of the rangers. With his wits and fighting capabilities, he is sure to give a hard time to invaders.
Kids who love Blue Ranger will surely enjoy this Power Ranger coloring page!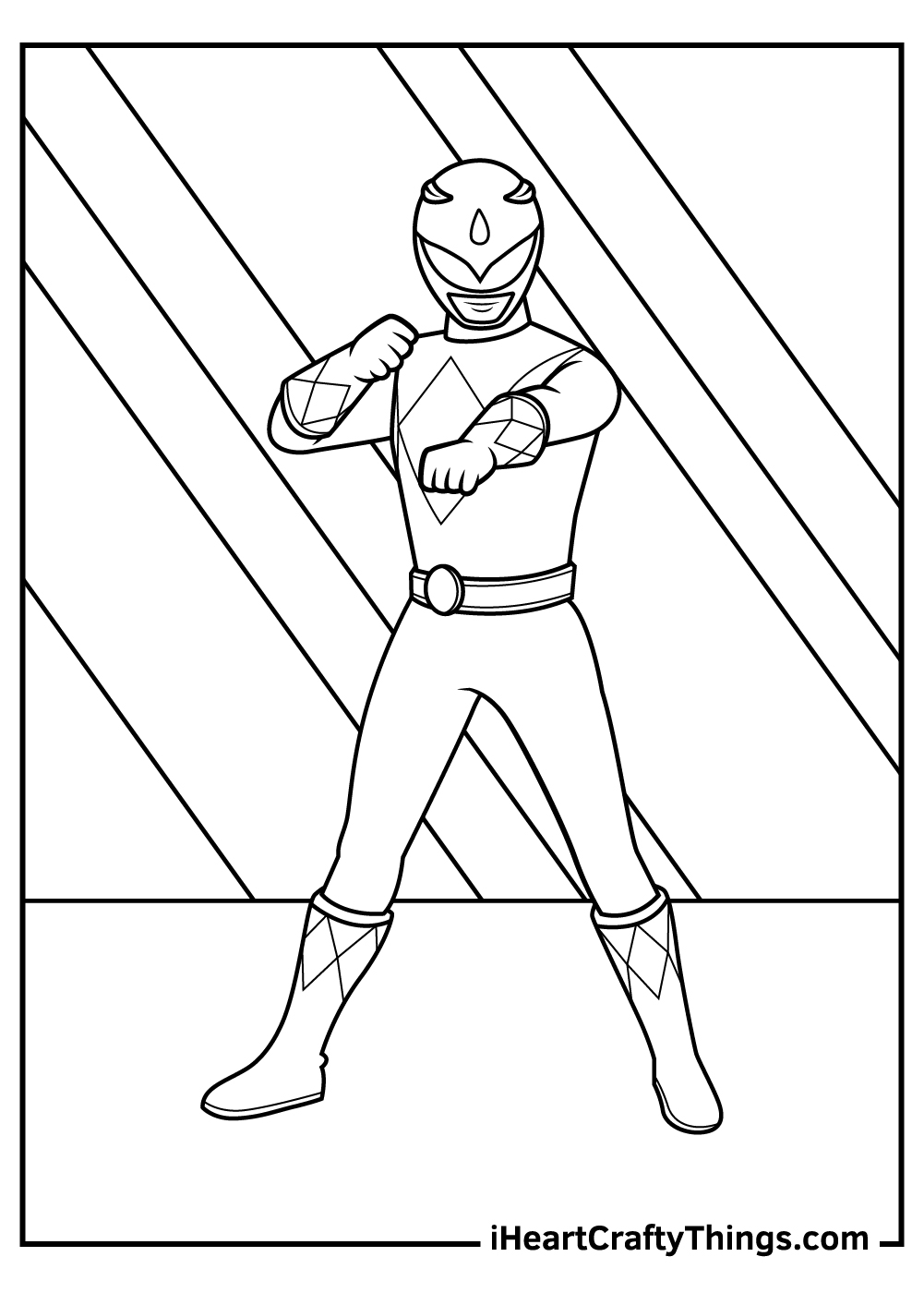 The Power Rangers will use all sorts of weapons and techniques to save the day. This next Power Rangers coloring sheet shows a ranger using some very cool weapons while striking a pose.
Does this remind you of any particular battles from the series? If so, you could replicate the moment with your colors and details.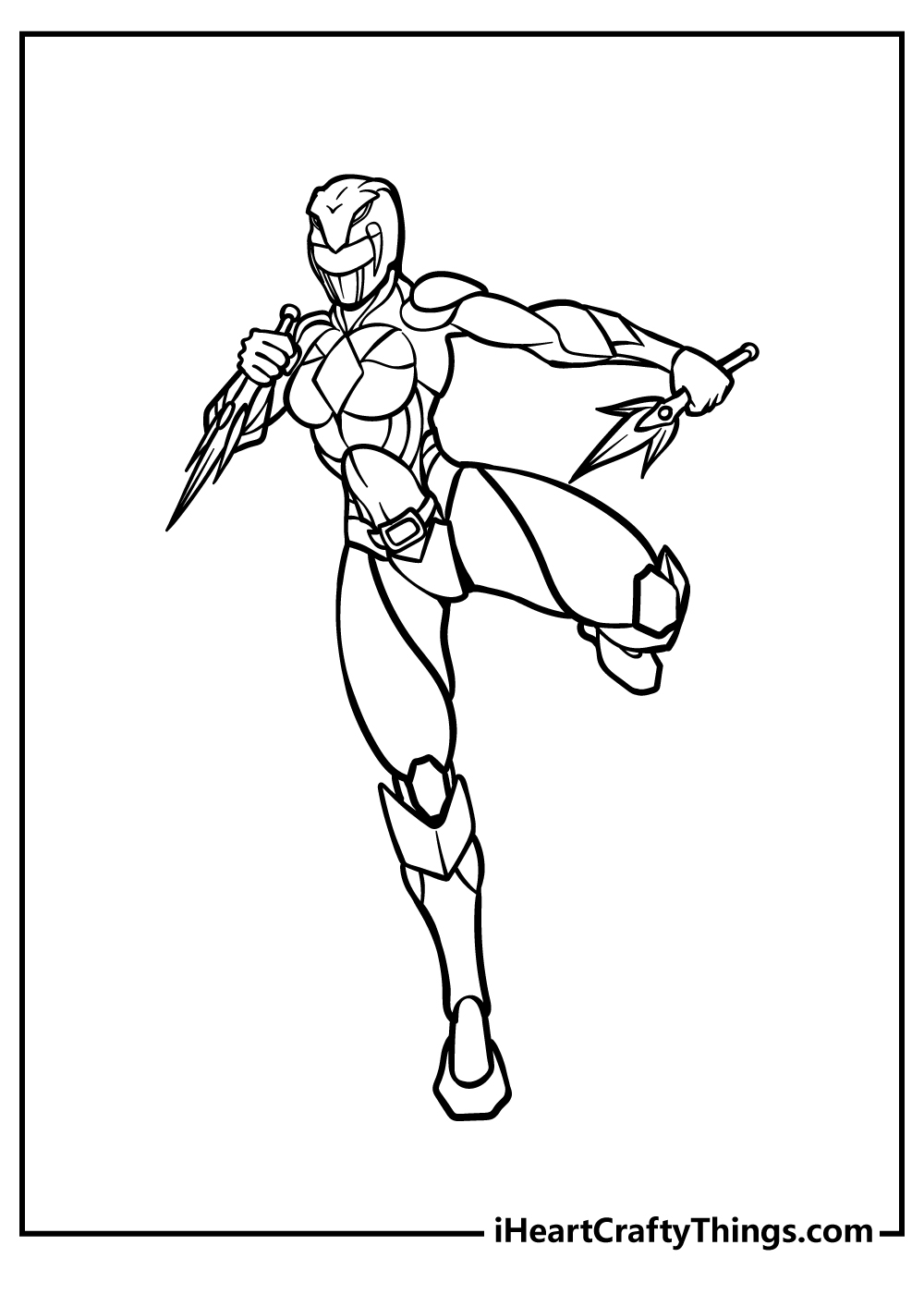 Another favorite among young girls, Pink Ranger is another female heroine that takes saving the Earth on a personal level. She loves taking care of the planet and will do anything to protect it.
Kids can practice color combinations in our Power Ranger coloring pages, most especially on this one as stars are scattered on Pink Ranger's background.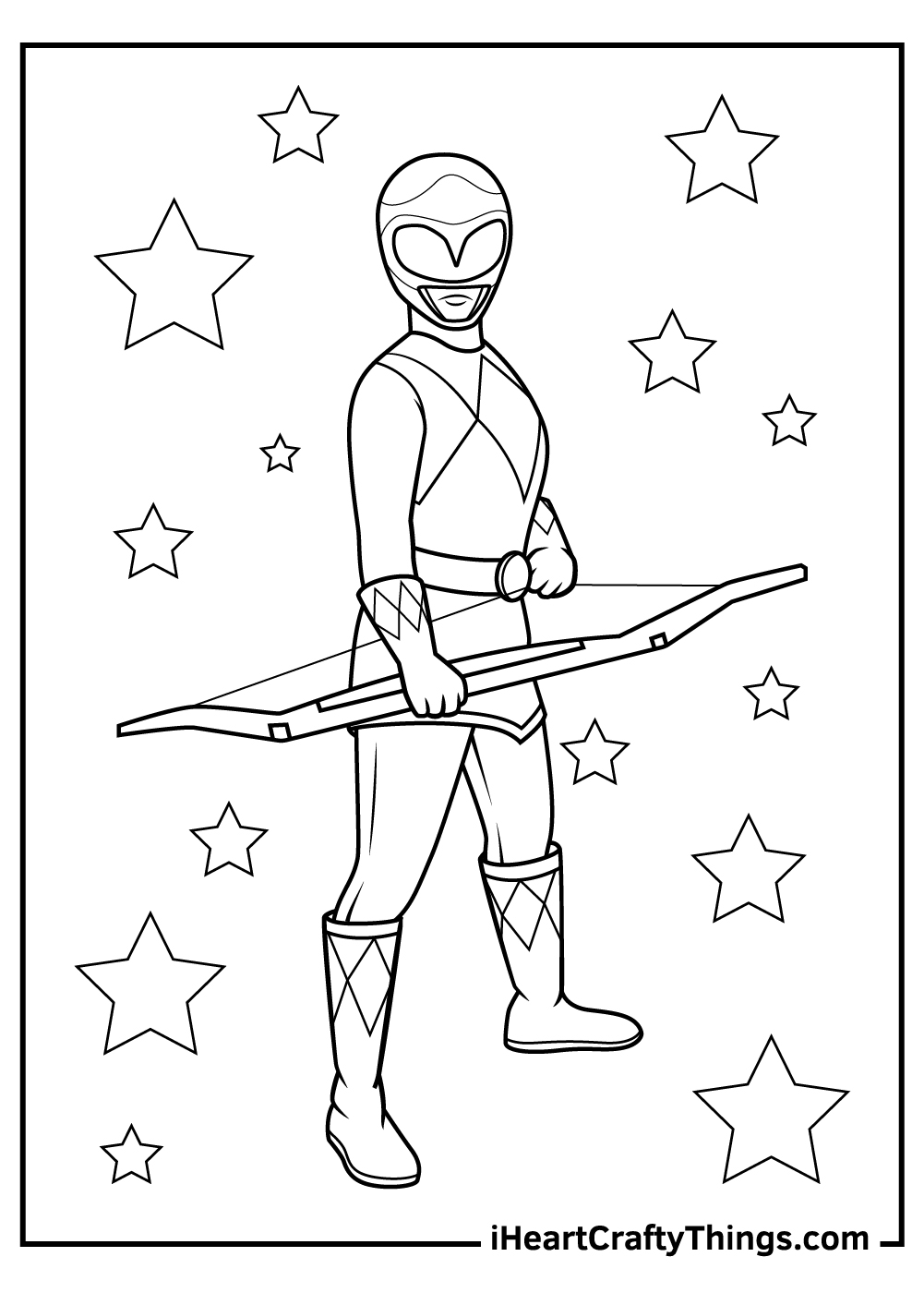 Saving the day can be just as much about defense as it is about attack. This Power Ranger is busy guarding, waiting for the best time to strike.
If you want to make a team-up, you could draw another Power Ranger to fight alongside this one, perhaps using images from the collection as inspiration!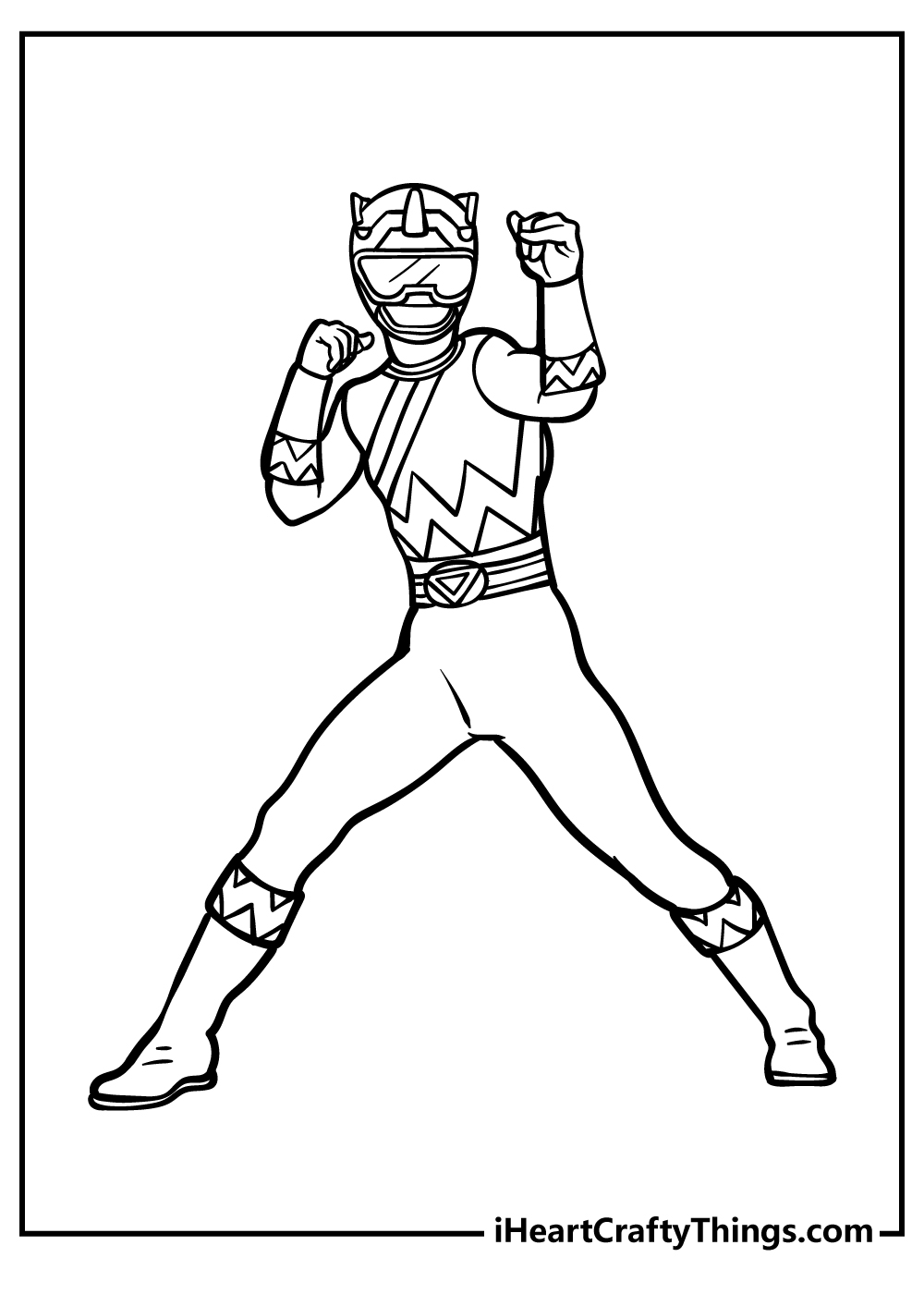 The full Power Rangers team poses on this free printable.
One of the key moments in Power Rangers is their memorable fighting poses. And kids and adults love them!
This coloring page will be a little challenging but will be very fun to do for kids! This page will bring out their creativity. Time to take all the vivid colors out to bring this to life!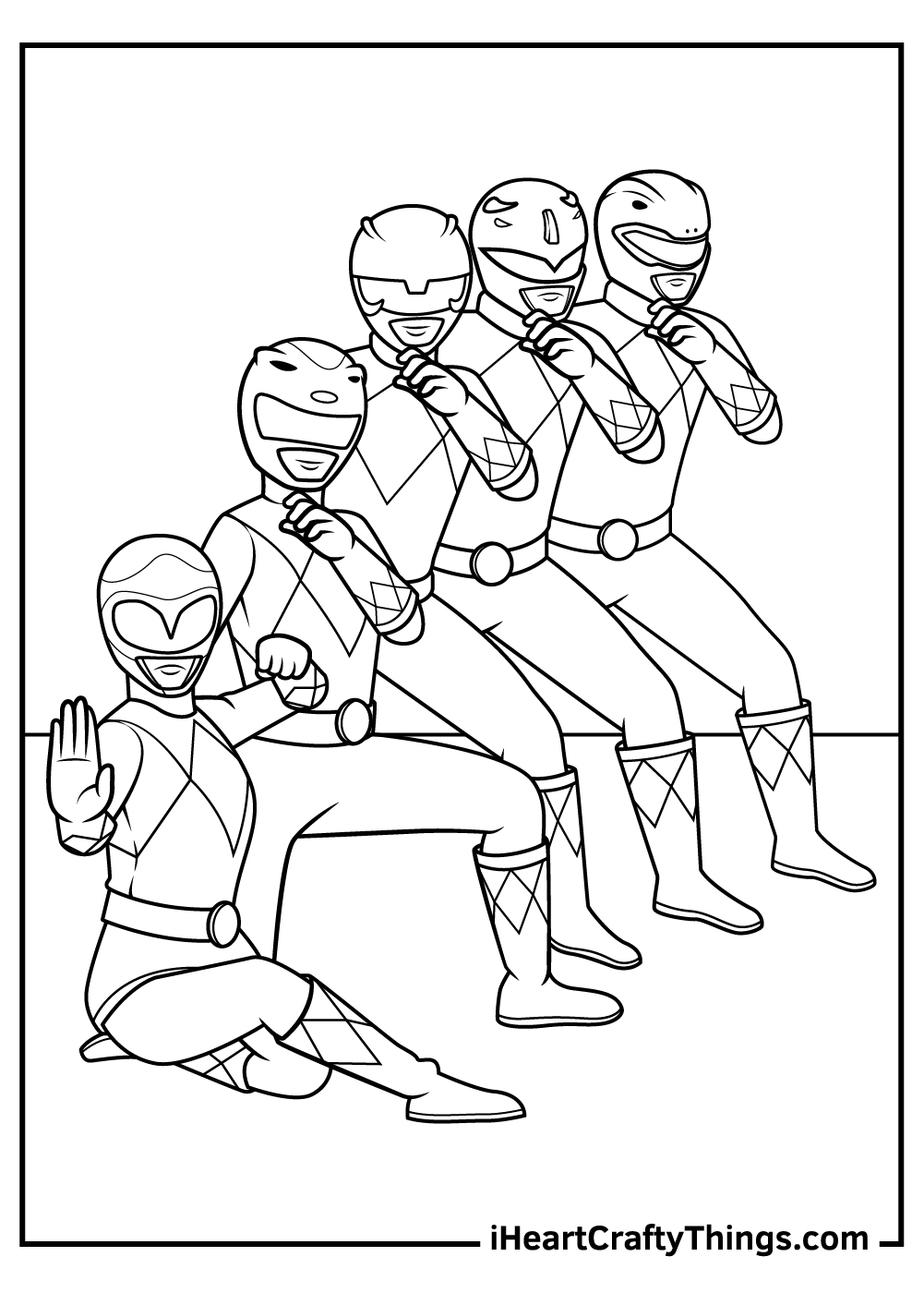 This pose is definitely very cool, as it looks like this ranger is going in for the strike. The weapon they are wielding is very detailed, and it is perfect for some intricate color details.
Which art tools and mediums do you think would be the best one to use on this cool and intricate weapon?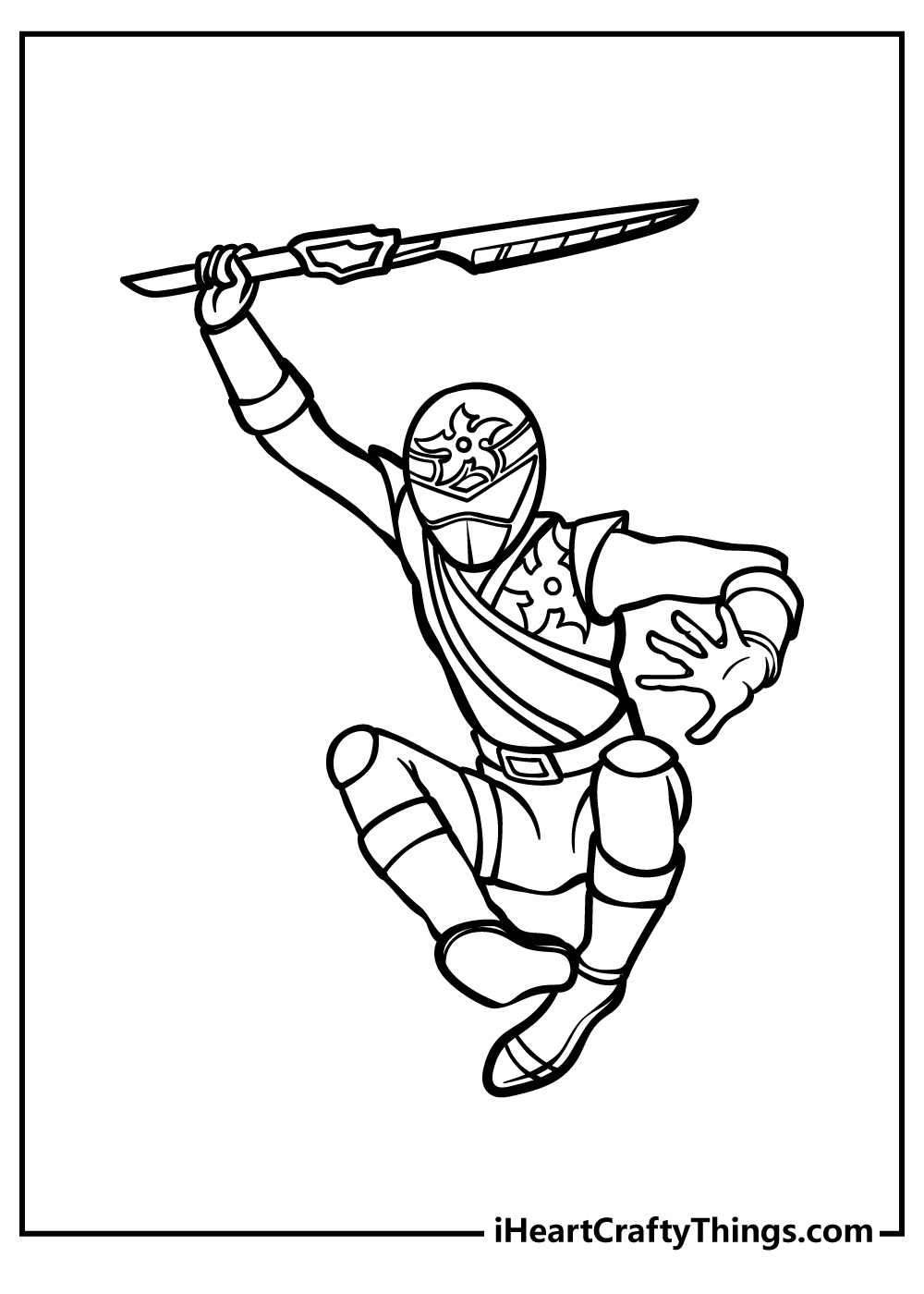 The last page of our Power Ranger coloring pages is another challenging yet engaging one to do.
Power Ranger is posing in a fighting stance with waves surrounding him. What colors do you think would work on this? Will different colors or would sticking to a single color with different hues work?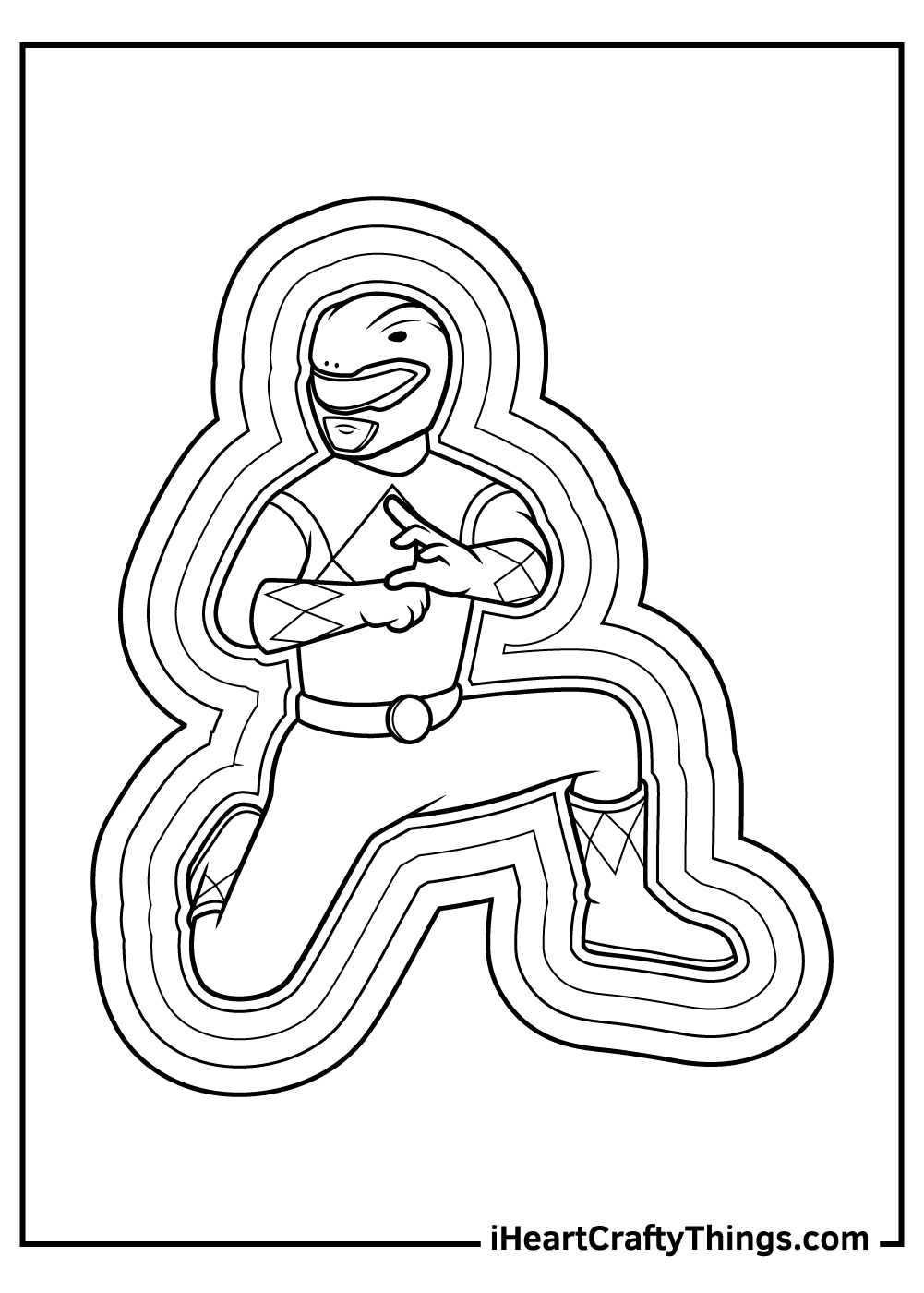 The Power Rangers use all sorts of fancy moves, and this one seems inspired by traditional martial arts. If you want to challenge yourself, you could draw a background setting for this page.
It could be based on a setting from the series, or you could imagine a brand new setting for this Power Ranger to be in, it's up to you!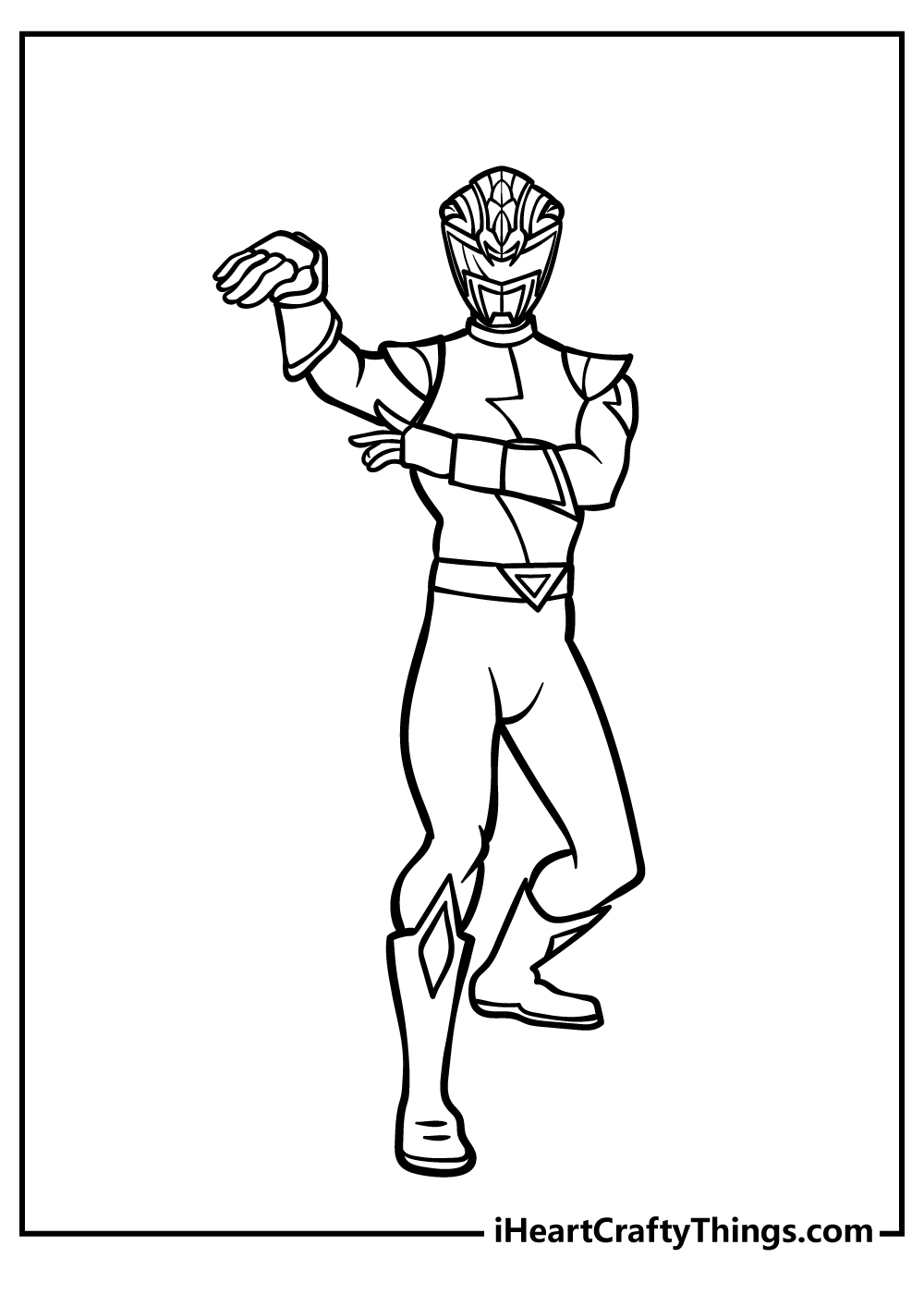 This is surely one of the coolest Power Rangers printables we have seen so far! She is armed with a bow and arrow, which adds a new dimension to the image.
Her armor is also highly detailed, and so this should be one of the most impressive pages in the whole collection once you have worked your creative magic on it.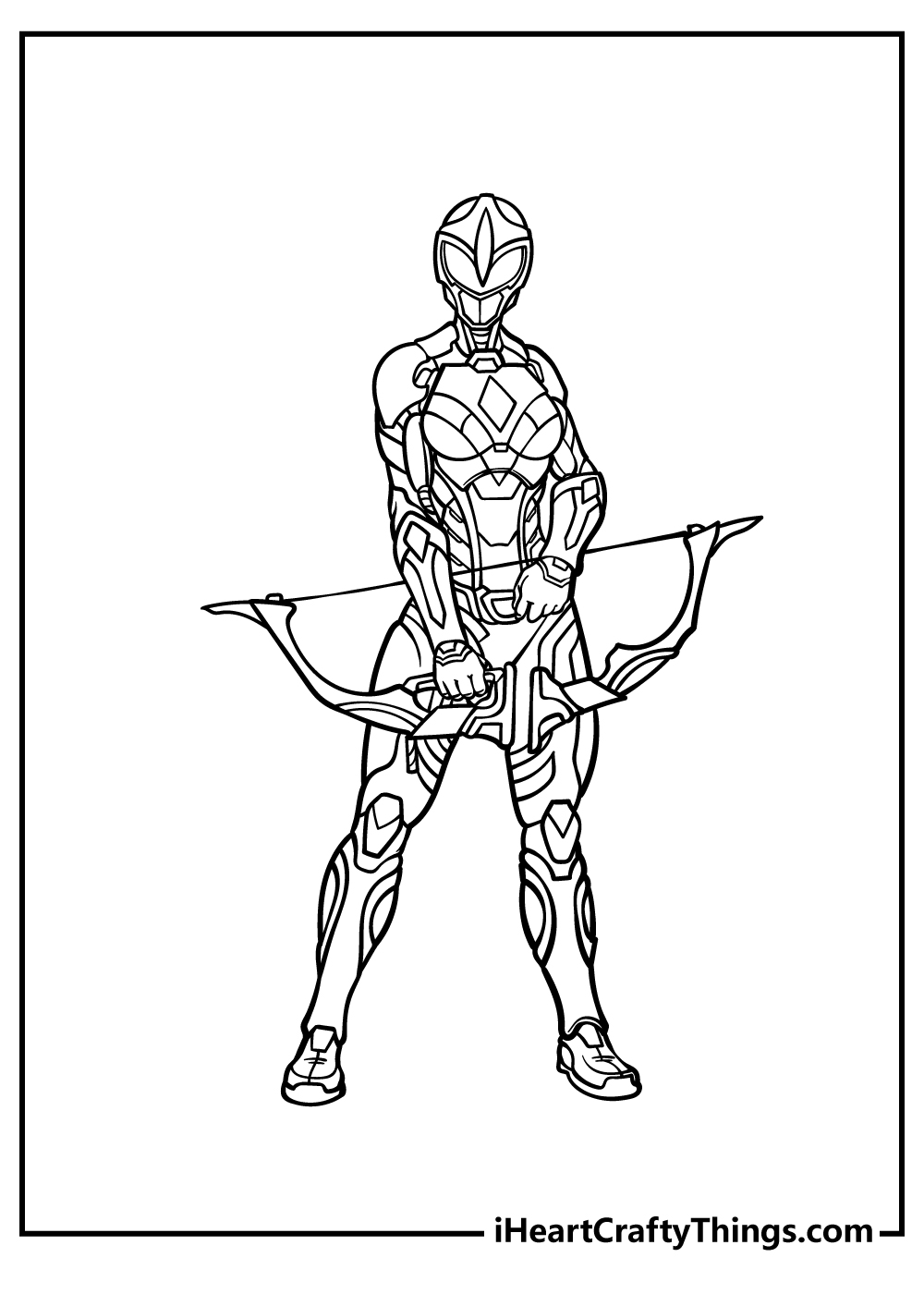 The detailing on the armor of this next Power Ranger is really something to behold. There are so many sections to it that it could seem intimidating to color at first.
Take your time with it and have fun, and you may be amazed at how incredible it looks once you have completed it!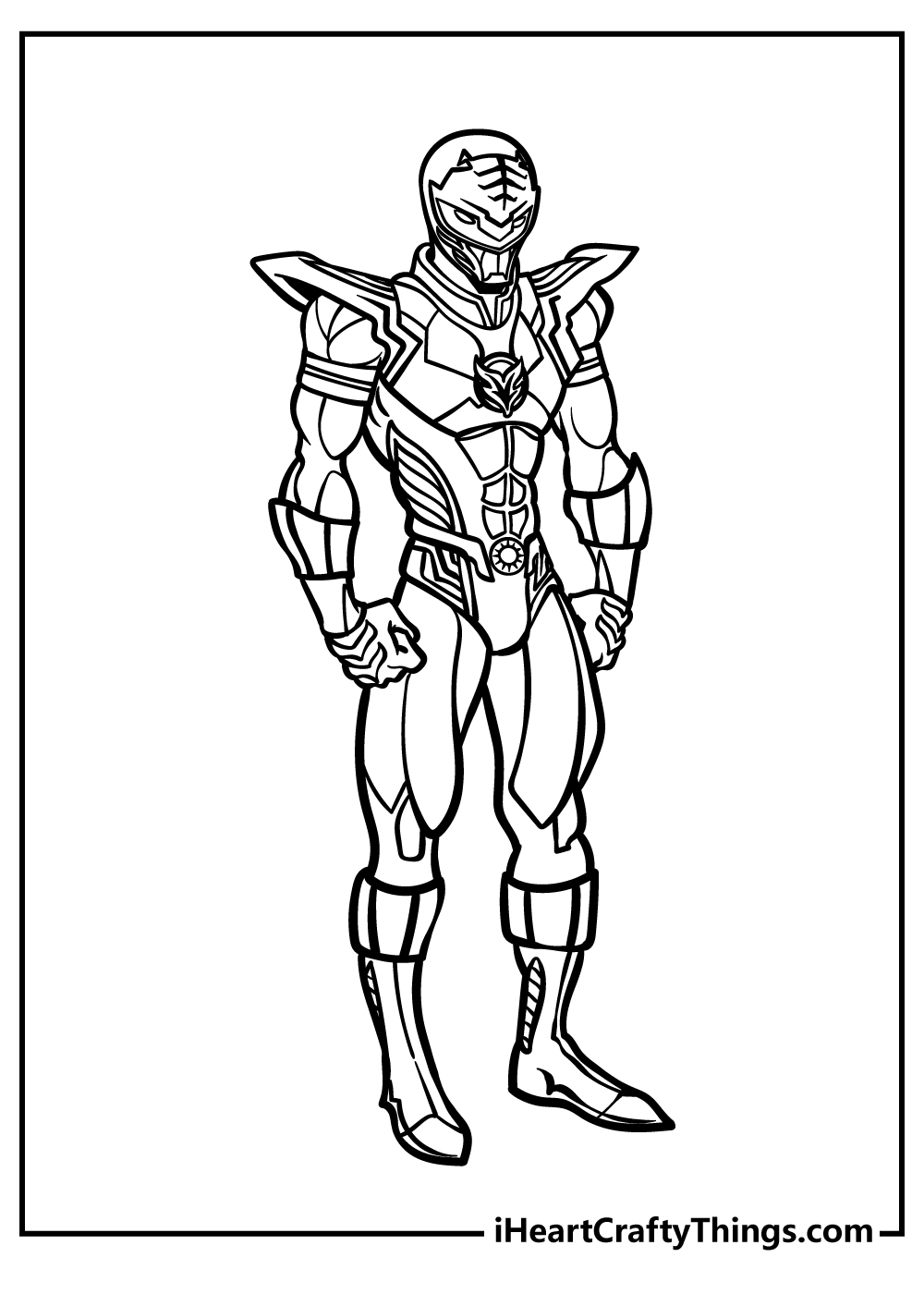 Power Rangers Coloring Pages – Challenging but Fun Free Printables
The Power Rangers has been around for years and their popularity grew over time.
With the colorful costumes and interesting personalities of each ranger, kids are easily drawn to them.
It can be a bit challenging to color these with the small details but with a little guidance, kids will get to experience the fun of coloring these Power Ranger coloring pages.
These free Power Ranger printables are both fun and educational. The creativity of kids, as well as their motor skills, will be enhanced on this set and it will surely bring a smile to their faces.
Download and print these for free and if you like this set, share them away with your friends and family.