When it comes to some of the most popular toys in the world, it would be hard to beat the various Nerf guns on offer.
These colorful, awesome toys shoot foam projectiles to simulate actual fighting with no one getting hurt!
Their cool designs along with the action they provide have made them incredibly popular worldwide.
As mentioned, they are also known for their cool, colorful designs!
When playing with Nerf guns, one can often wonder what it would be like to design one's own gun, and in this collection of 10 images you will get to do just that.
Every single page of this collection is free for you to print out, color and enjoy! This is true whether you color every single page or choose a selection of your favorites.
That means that you can have fun experimenting with colors and art mediums to achieve your perfect design.
You're ready to grab all your art gear and begin this collection of free Nerf gun coloring pages for kids now! When you have colored your favorite pages, you can share your finished pages on our Facebook and Pinterest pages to show off your designs.
10 Brand New Nerf Gun Coloring Pages – Free to Print and Color
For this first free Nerf gun coloring page for kids, we are featuring an awesome handgun!
We mentioned how these guns can come in many different color schemes, so you have many options for the guns in this collection of pages.
If you own a similar Nerf gun pistol in real life or have your eye on one you would like to own, then you could color this one to look like the real thing.
Will you make this one look like a real Nerf gun or will you create your own unique design?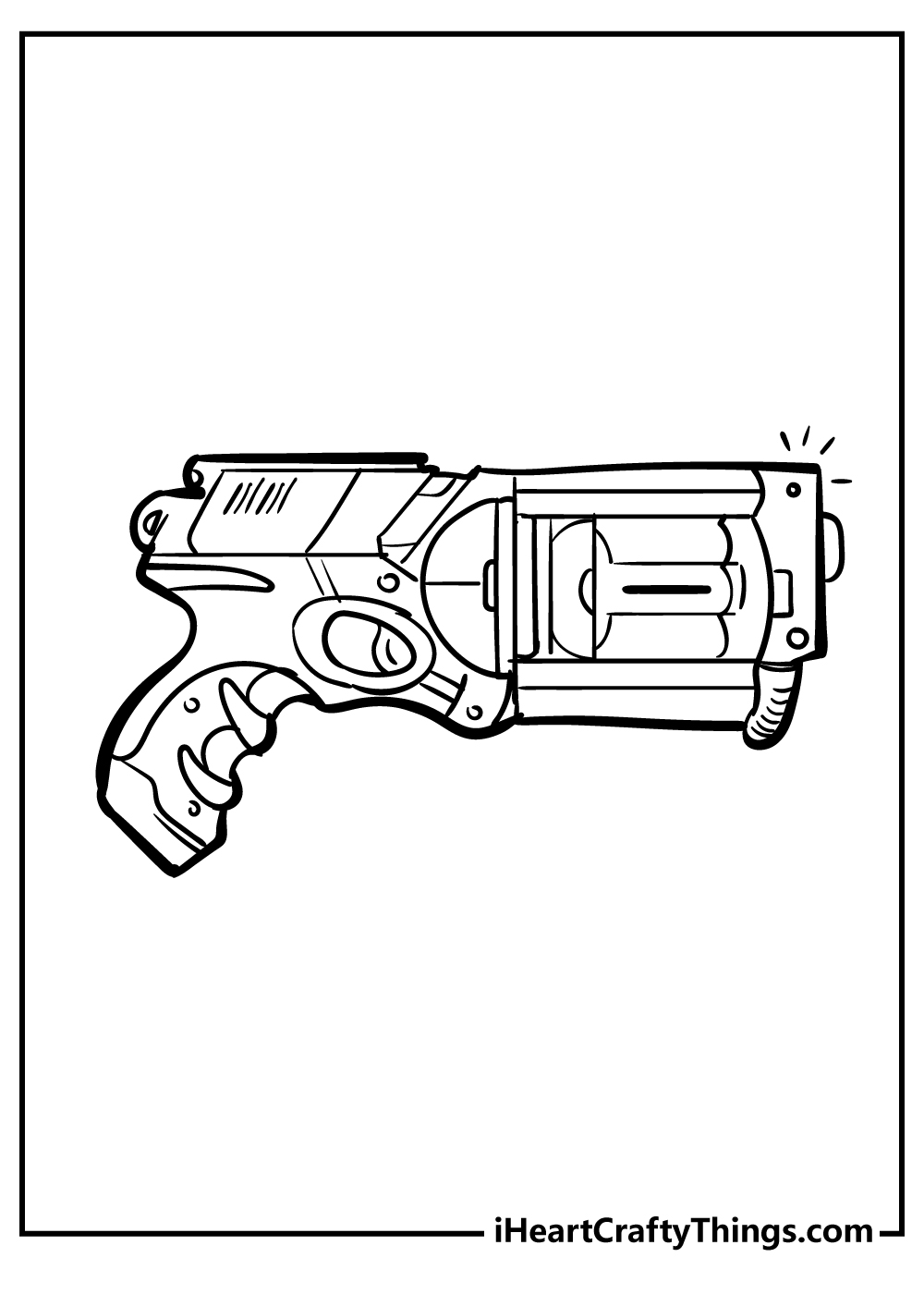 There is another incredible Nerf gun pistol for you to color in this next image! This is another incredible design that we have for you, and it will be interesting to see how you color it in.
Many of these Nerf guns have some small, intricate details, and for these kinds of details you may want to try and use some art mediums that allow for precision.
Examples would include colored pens and pencils, but what else can you think of to use?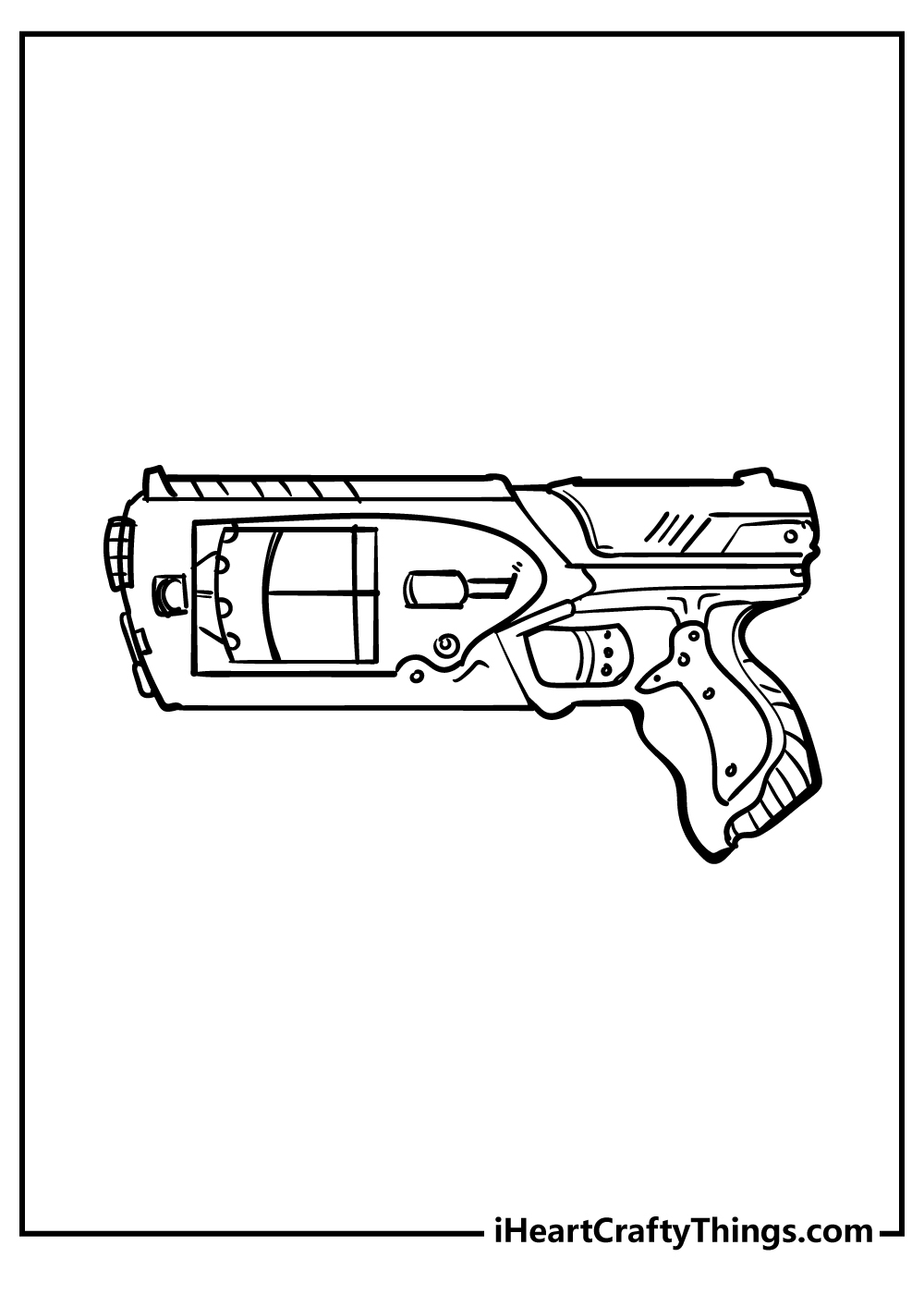 We have a really cool Nerf gun design featured on this next page. This one seems to be styled more after an assault rifle, and it looks like it would be rather fun to wield!
Remember when you're working on these pages that you could also add a background to finish off each picture nicely.
Some examples would include using solid colors or shapes, but you could also draw some background settings instead. Can you think of any other background ideas for these pages?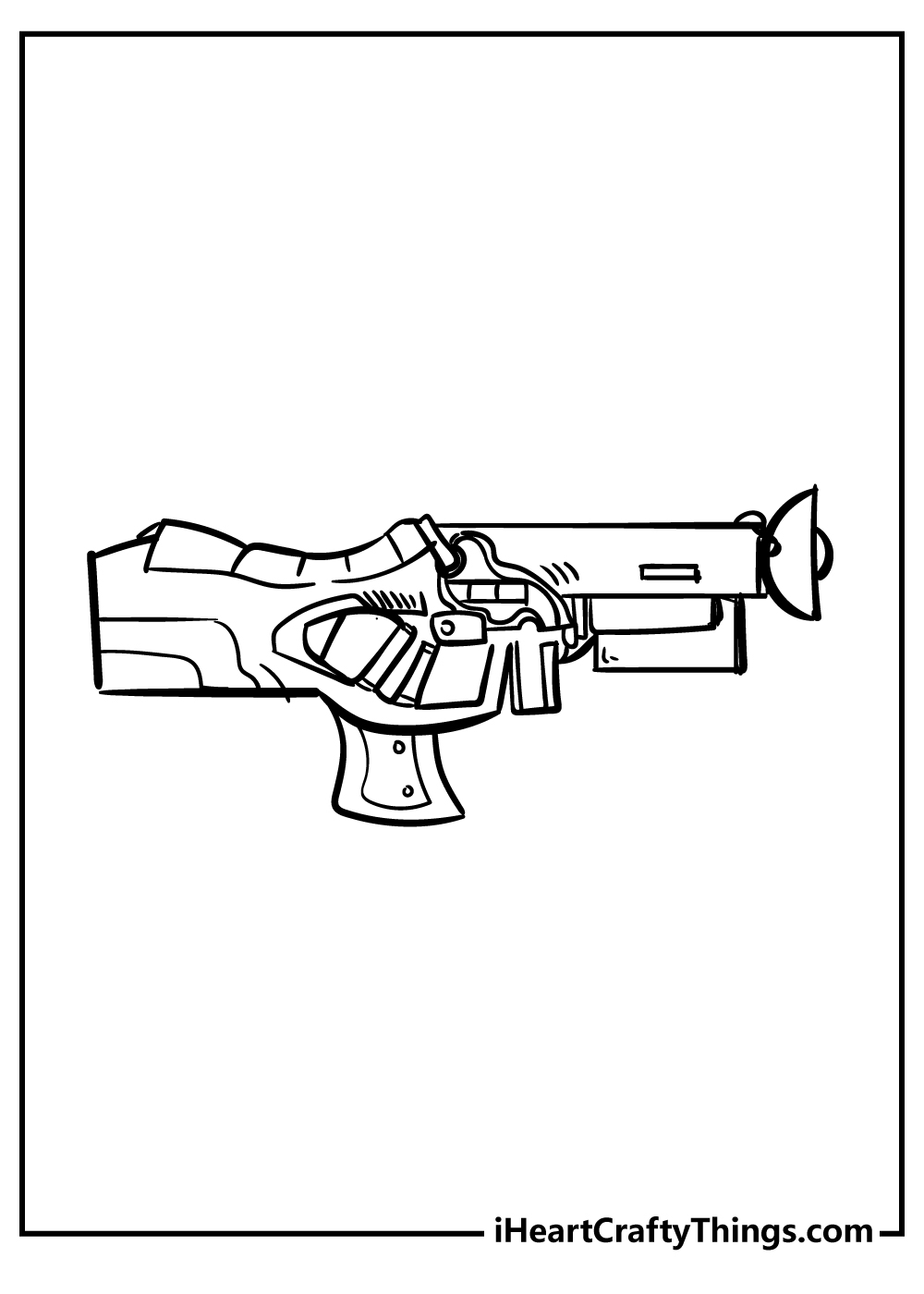 On this next Nerf gun coloring sheet, we have a gun that looks like it could be a futuristic ray gun or maybe be the weapon of an alien!
For this reason, if we were coloring this one, we would use some bright, neon colors to give it that futuristic look.
If going for this approach, we would use some colored markers or acrylic paints, as these mediums are great for bright, striking colors.
We will look forward to seeing what you choose for your own one!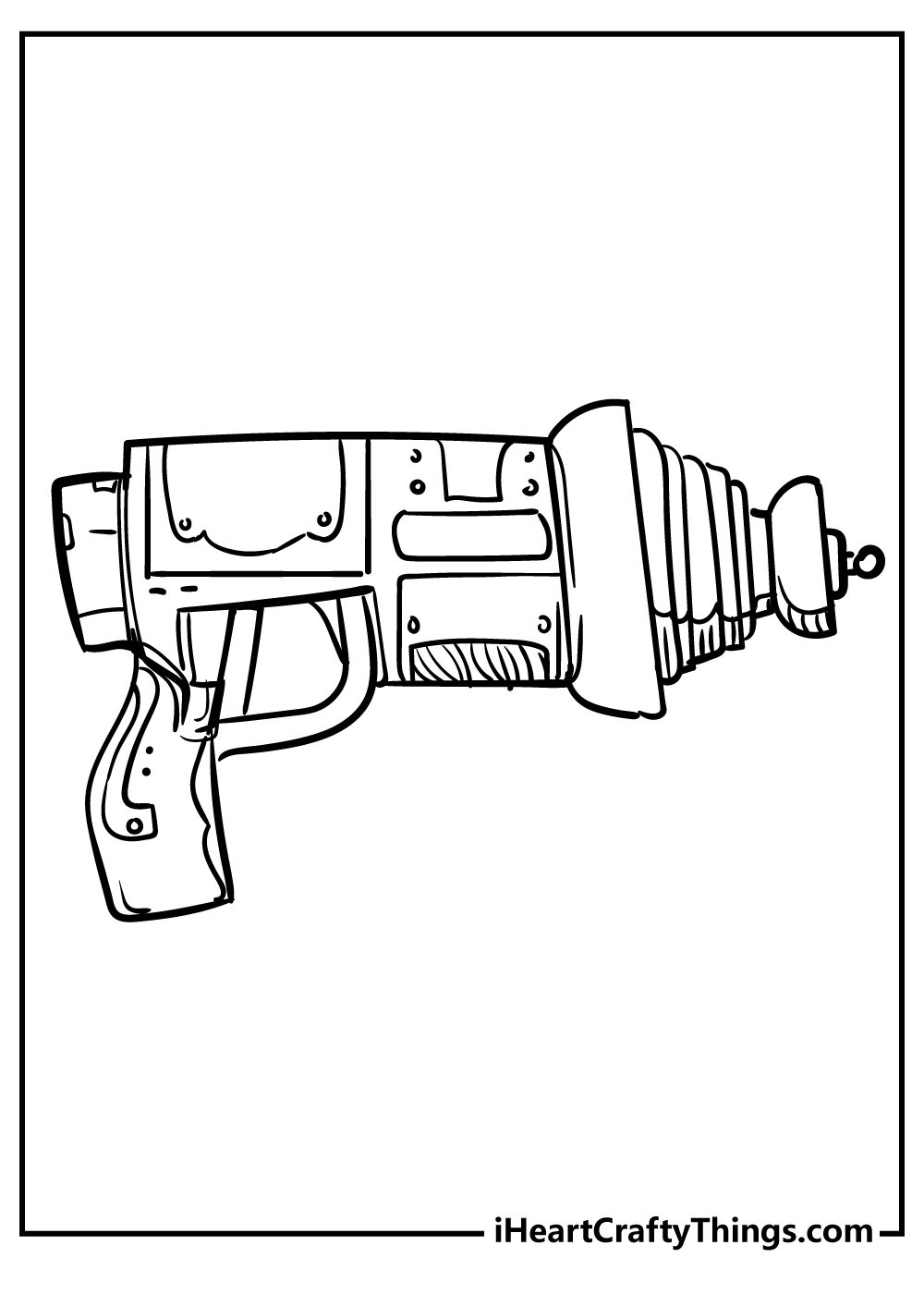 There's another assault rifle-inspired gun featured on this next page. This one even has a canister attached to the under-barrel, and it makes it look really cool!
There are some great small details on this one, and if you add some intricate color details then it will really help the picture to pop with color.
We know this one will look amazing once you're done with it!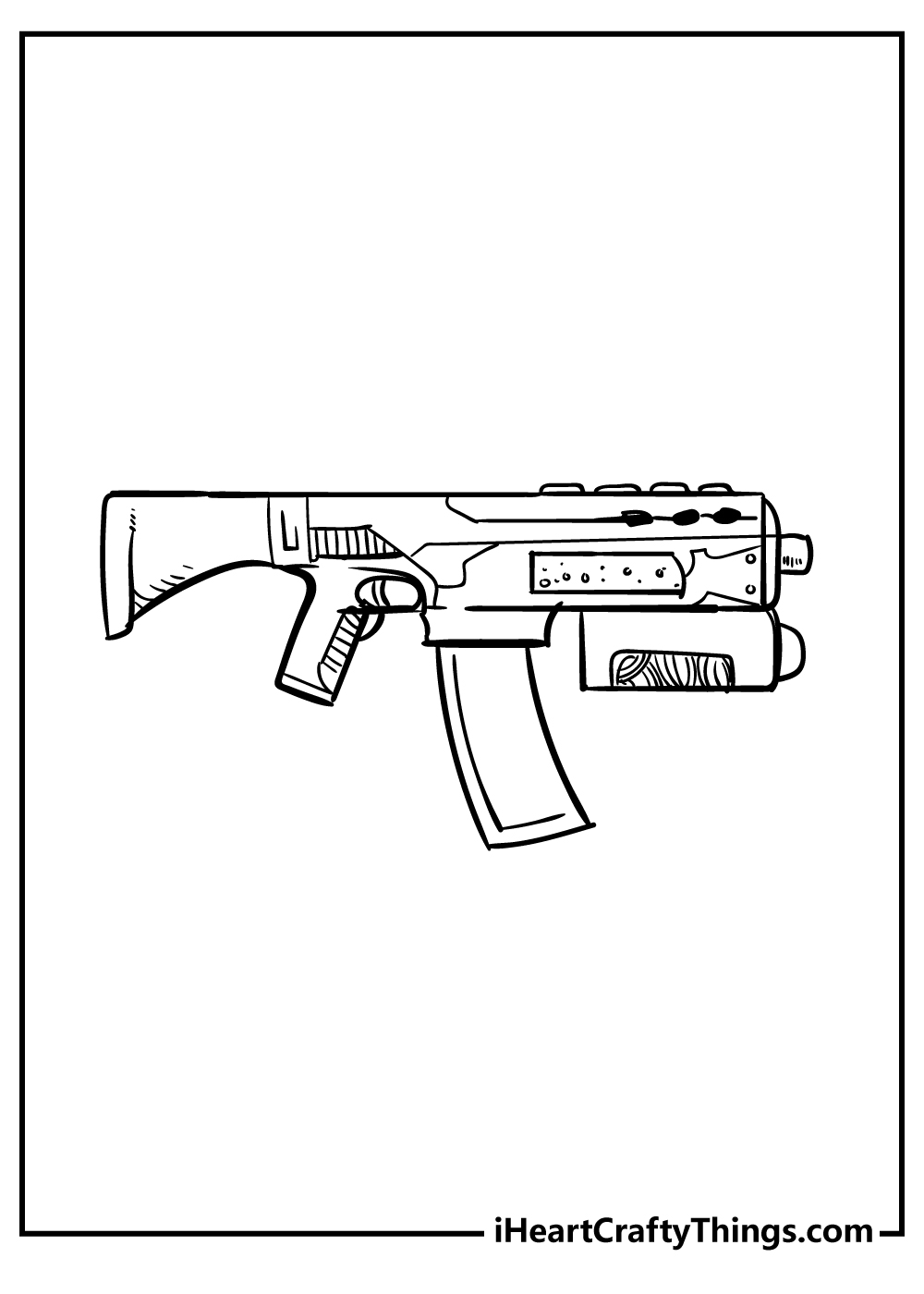 Here's another awesome Nerf gun design for you to color! This one seems to have been inspired by a Wild West revolver, and it makes it stand out a bit from the rest.
When coloring this one, we think it would look cool to use some browns and greys to give it a more realistic appearance that further leans into the revolver inspiration.
That's just one of many approaches you could take, so how will you color this one?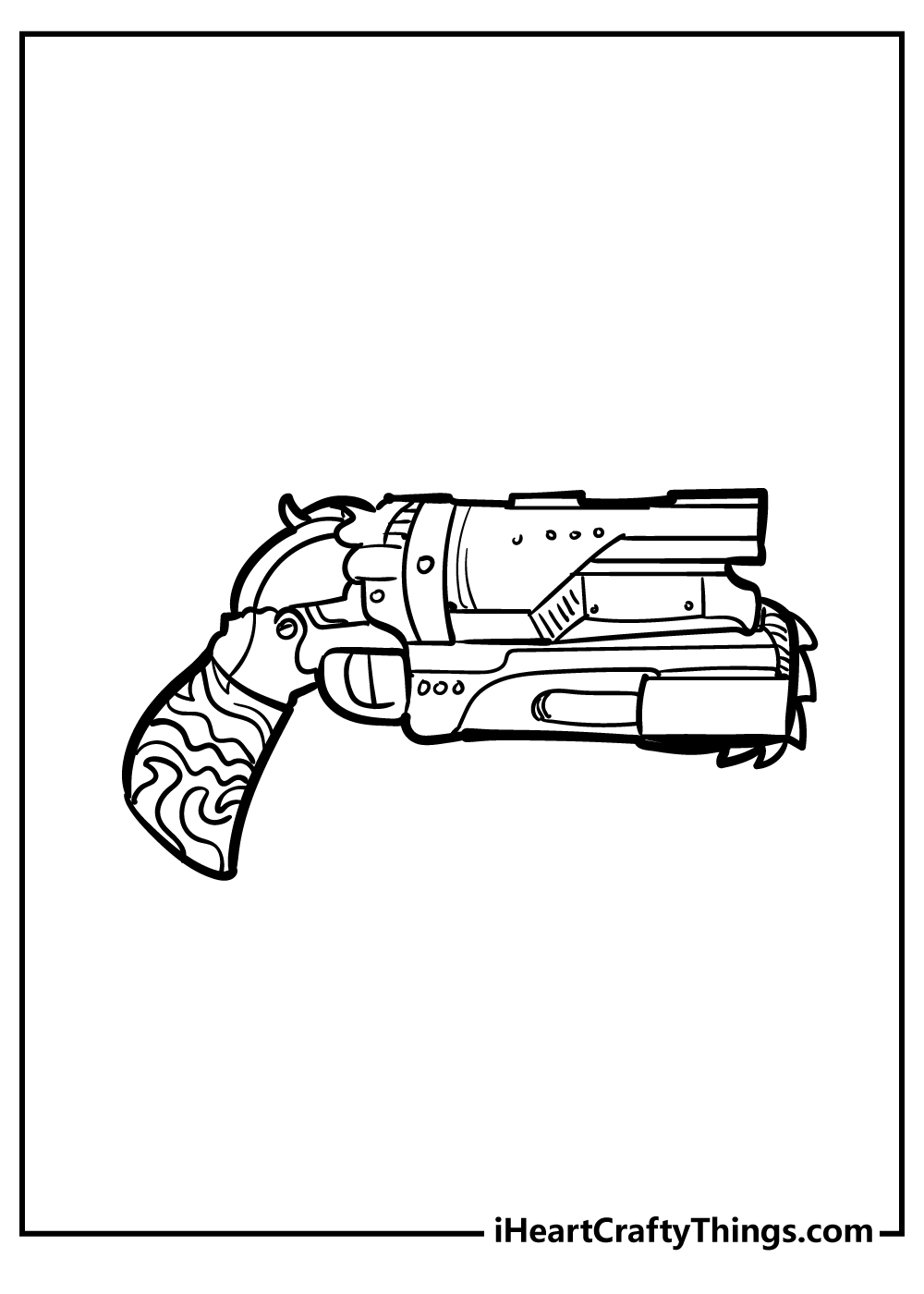 Another futuristic weapon is featured on this Nerf gun coloring printable! This one also looks like it could come from the future or the arsenal of an alien.
For that reason, we would take a similar approach to this one that we did for the previous one like this and use some bright, striking colors.
Do you agree with this approach or did some other colors come to mind for you?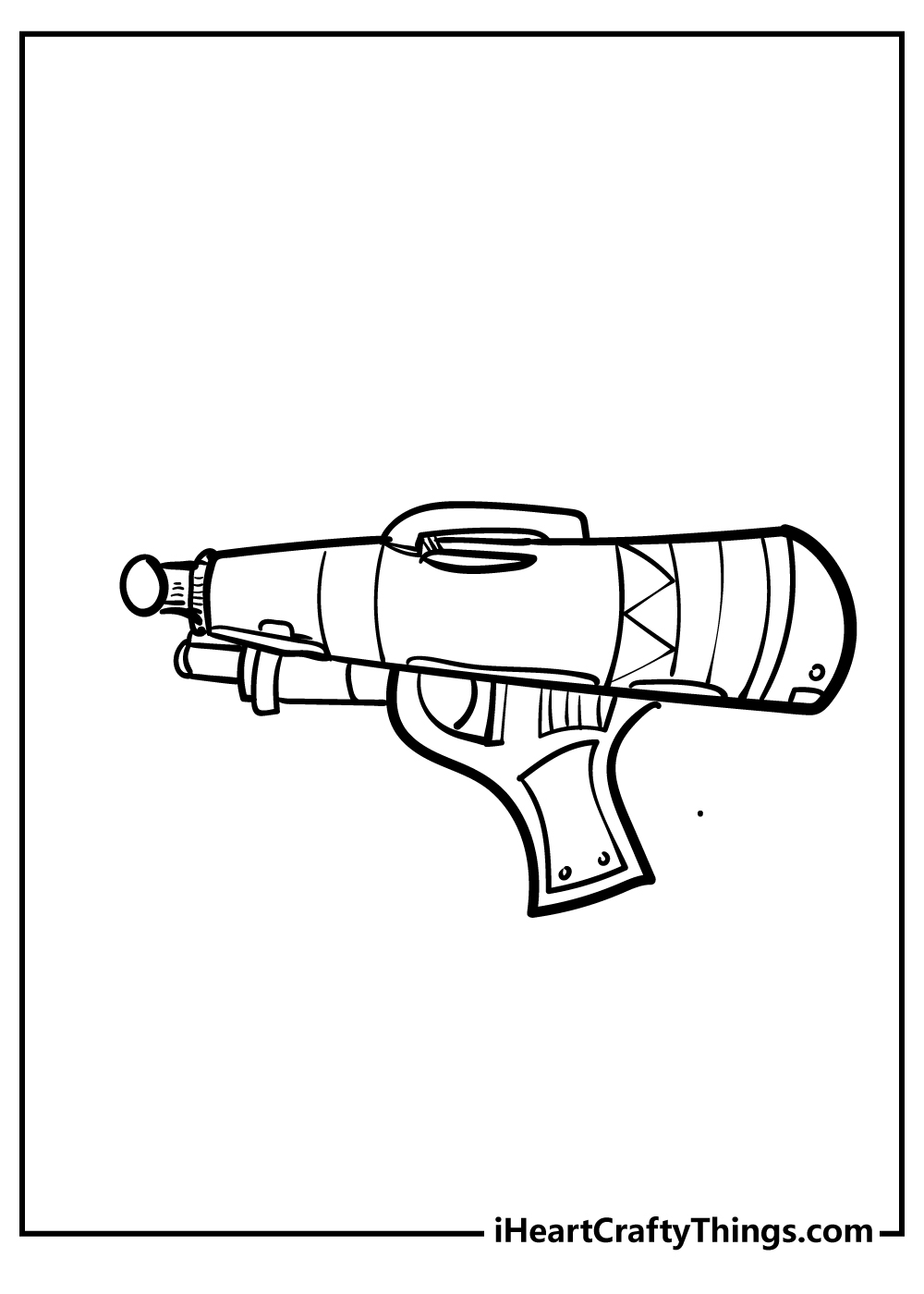 There's another handgun for you to color as you take on this next page! This is another great design with loads of small details to enjoy.
We also think that this one would look great with some background details.
Nerf guns are great to run around the yard with, so maybe you could draw a yard background with some fun details.
Imaginations run wild when playing with Nerf guns as well, so you could also go for an imaginative background that shows what playing with these guns makes you feel like!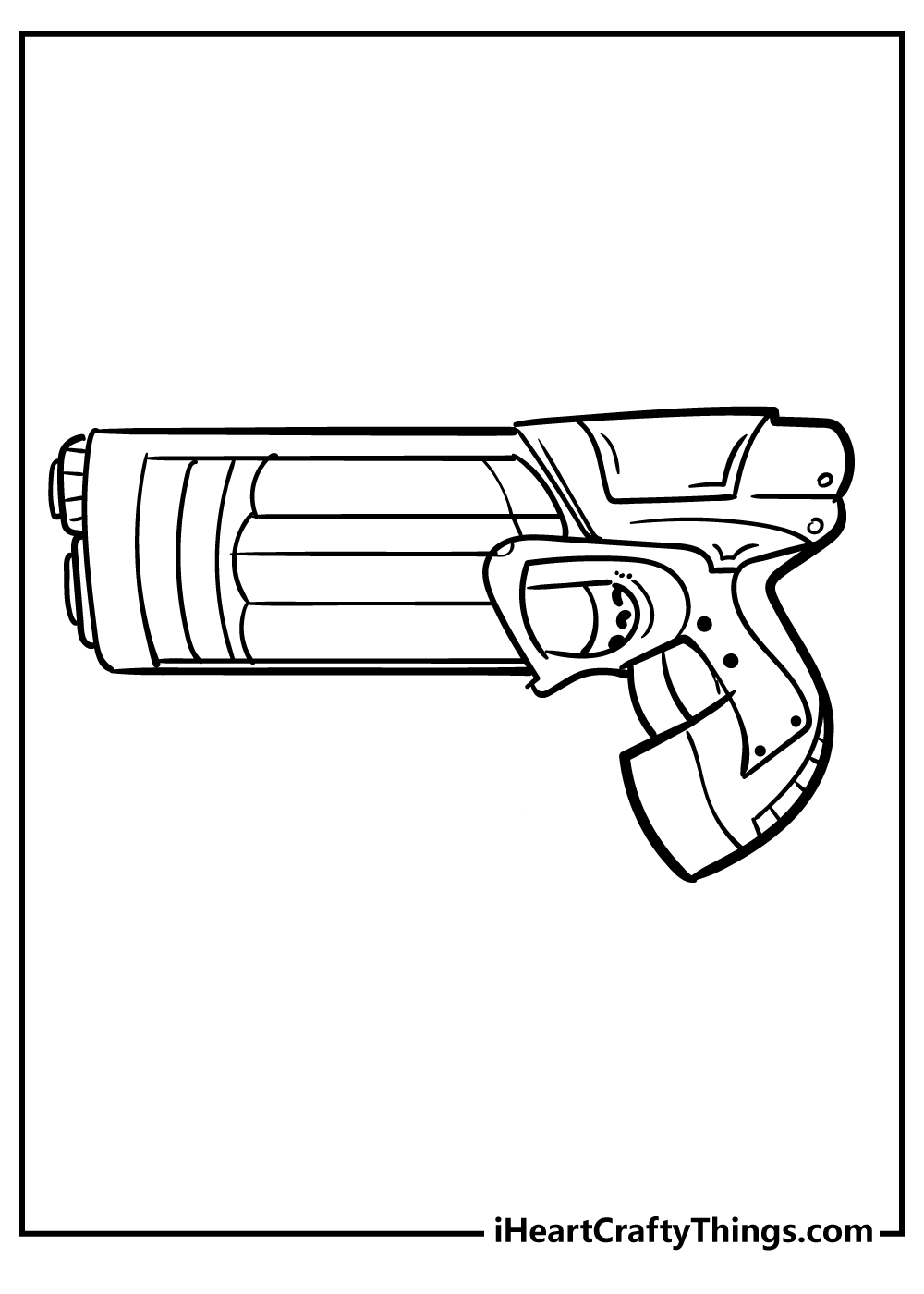 We love the details on this next Nerf gun. This is one that would be wielded with one hand, and it looks like it would be so much fun to play with.
How do you think you will color this one? If you find yourself running out of ideas, maybe you could look up some photos of real Nerf guns online and use their colors as inspiration.
There are no wrong answers when it comes to color choices, however, so you can really let your imagination run wild! Then, you'll be ready for the final page of the set.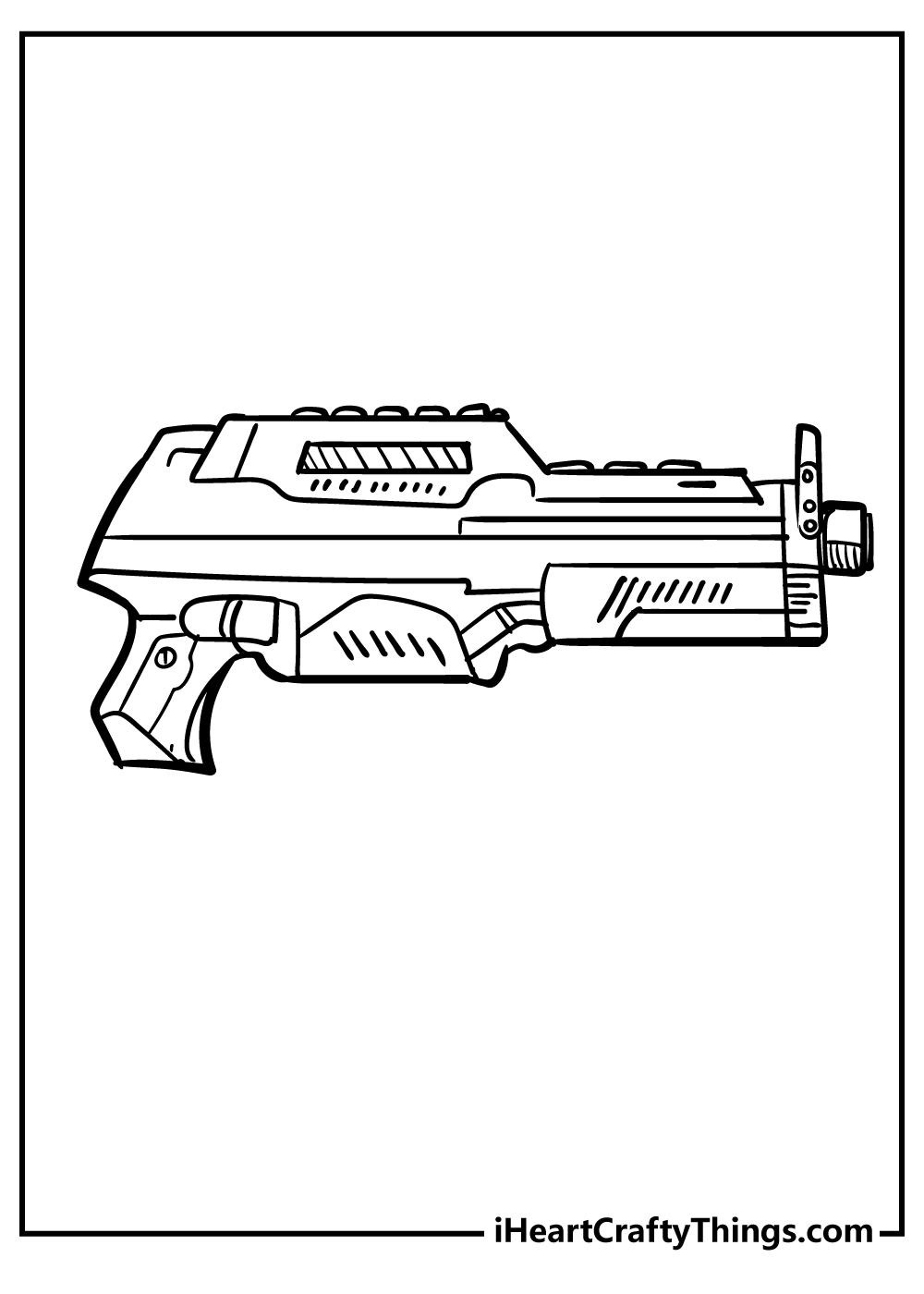 You have arrived at the final page of this collection of Nerf gun coloring pages! This last one is one of the coolest in the collection, and it has a container with lots of pellets fastened beneath it.
This means that you wouldn't soon run out of ammo when using this one.
All that remains is to bring some amazing color to this image, so how will you finish it off to close off this collection?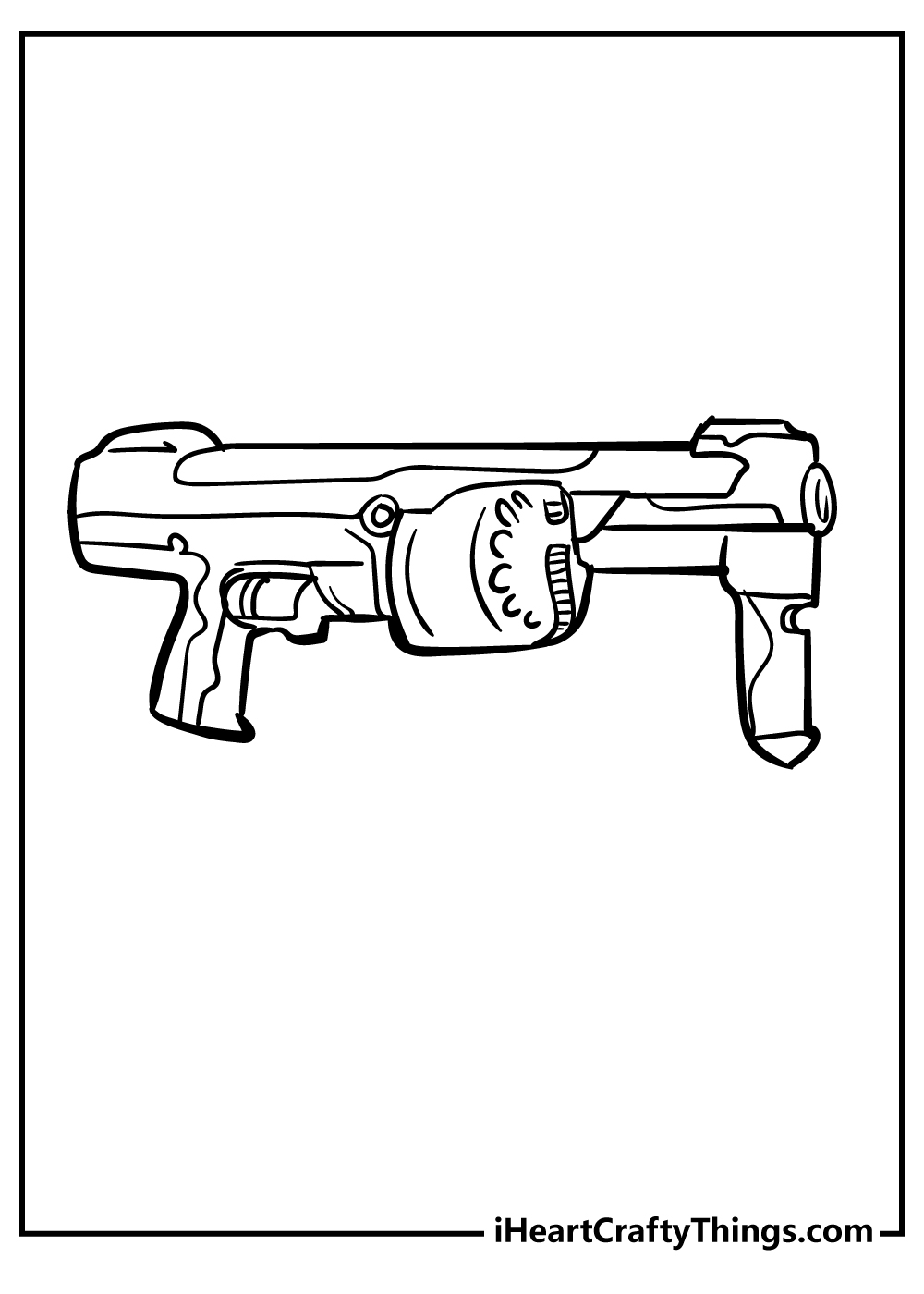 Nerf Gun Coloring Pages – Which will you choose?
These guns are some of the funnest toys you can hope to own, and we hope you had lots of fun designing your own variations in this collection of free Nerf gun coloring pages for kids!
There were so many cool designs in this set, and we know they will look even better once you have finished adding your creative touches.
Then, be sure to check out our website for more awesome coloring pages to enjoy. More are on the way, so make sure to keep checking in!
Lastly, remember to share some of your finished Nerf gun coloring sheets on our Facebook and Pinterest pages for us to see!