We experience many different emotions in our day-to-day lives. Some are unpleasant responses to bad things that happen, but others are much better to get to experience.
Everyone loves to experience happiness, and it's great to have good things happen that bring this wonderful emotion about!
This collection of 10 free happy coloring pages for kids is all about celebrating happiness and good feelings.
The pages in this collection are all centered around people who are feeling this happy feeling! There are tons of fun pictures that will allow you to use all sorts of fun colors and art mediums on.
We know you will do an incredible job bringing some color to these scenes!
These happy pages are all free for you to print and enjoy as much as you please! This lets you have plenty of fun getting creative as you try out different colors and mediums on the same images.
You can also share the collection with others for extra fun!
With such a selection, you're sure to find lots of coloring fun within these pages.
When you have chosen and colored your favorite pictures, please share your artworks on our Facebook and Pinterest pages for us to enjoy!
10 Brand New Happy Coloring Pages – Free to Print and Color
For our first free happy coloring page for kids, we have a person that is looking very joyful indeed! There is a big smile on this person's face, and they are surrounded by little hearts.
When working on this page, you could also add some extra details of your own!
These could include drawing more of this person's body, but you could also add a lovely background to show what is making them so happy.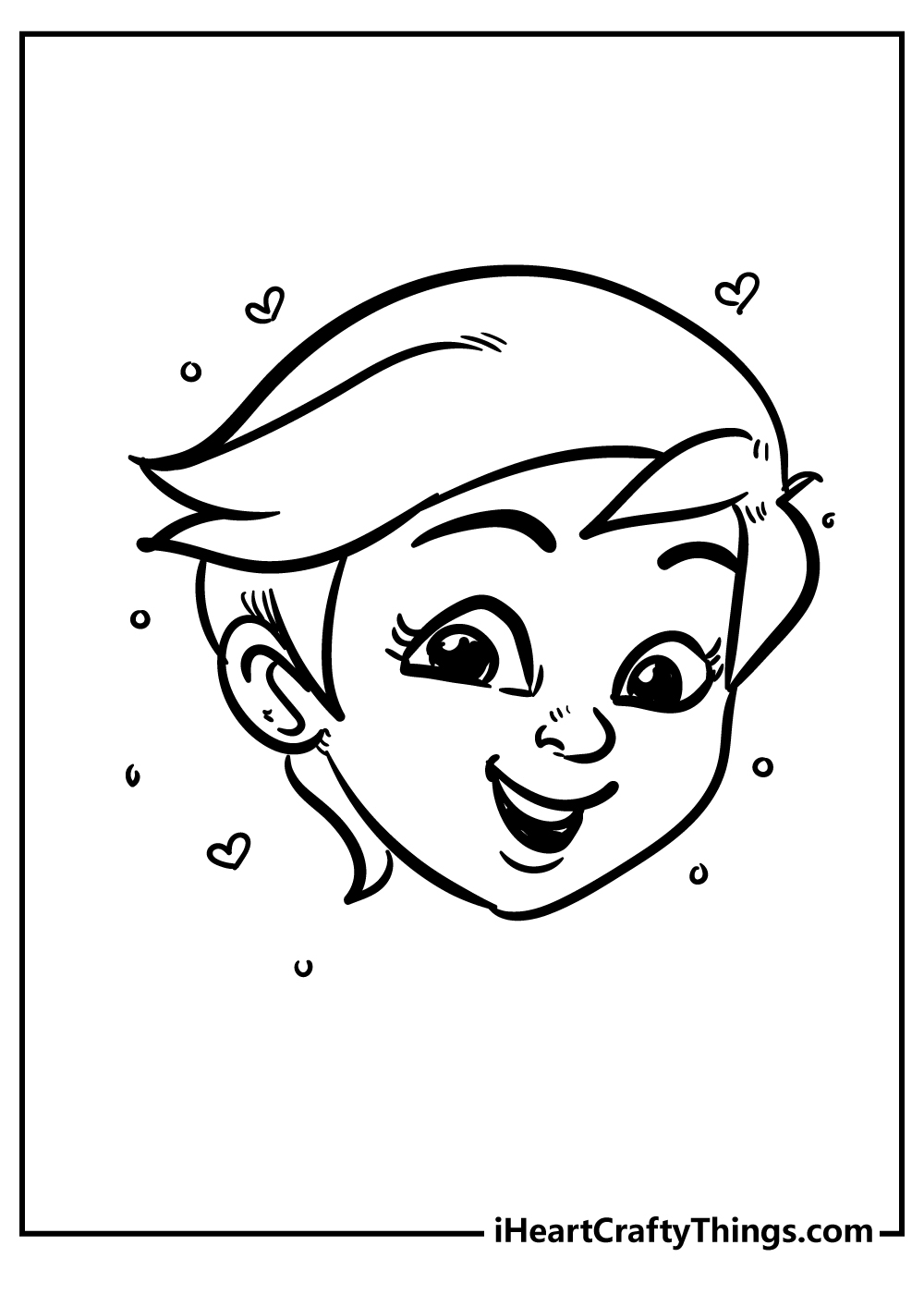 The kid in this next page is also looking very joyful! He's looking over to the side, and that makes one think that he may be seeing something out of frame that is really appealing to him.
Maybe you could draw a thought bubble above his head and draw what he's seeing into it.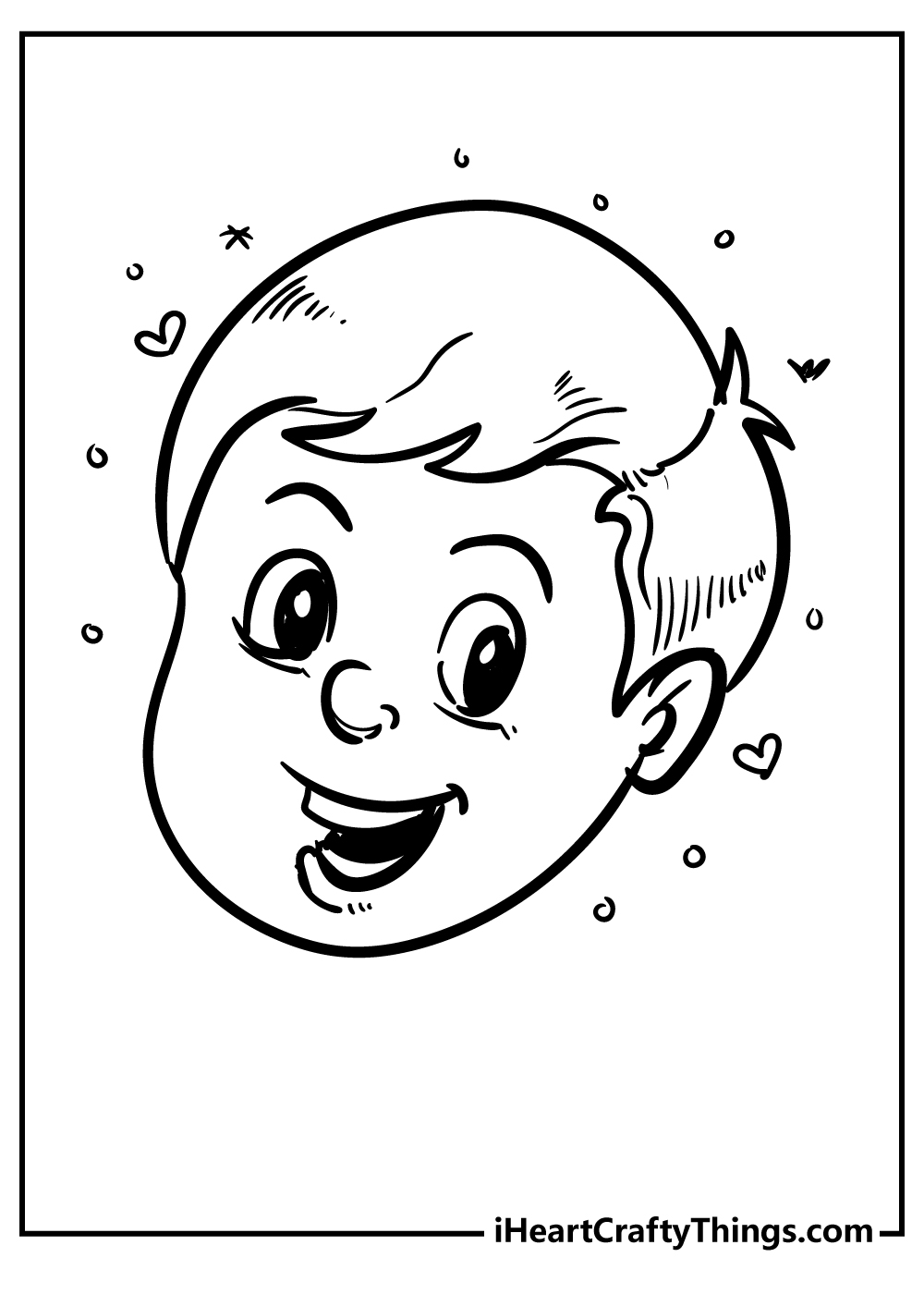 Here's another person who's feeling that happy feeling!
We can see a bit more of her than the previous two people, so you could add some fun details by drawing some small pictures or patterns onto her clothing.
Another idea would be to draw her into some kind of setting. Perhaps you could depict a location that brings you happiness whenever you visit it!
What kinds of places make you happy to be in?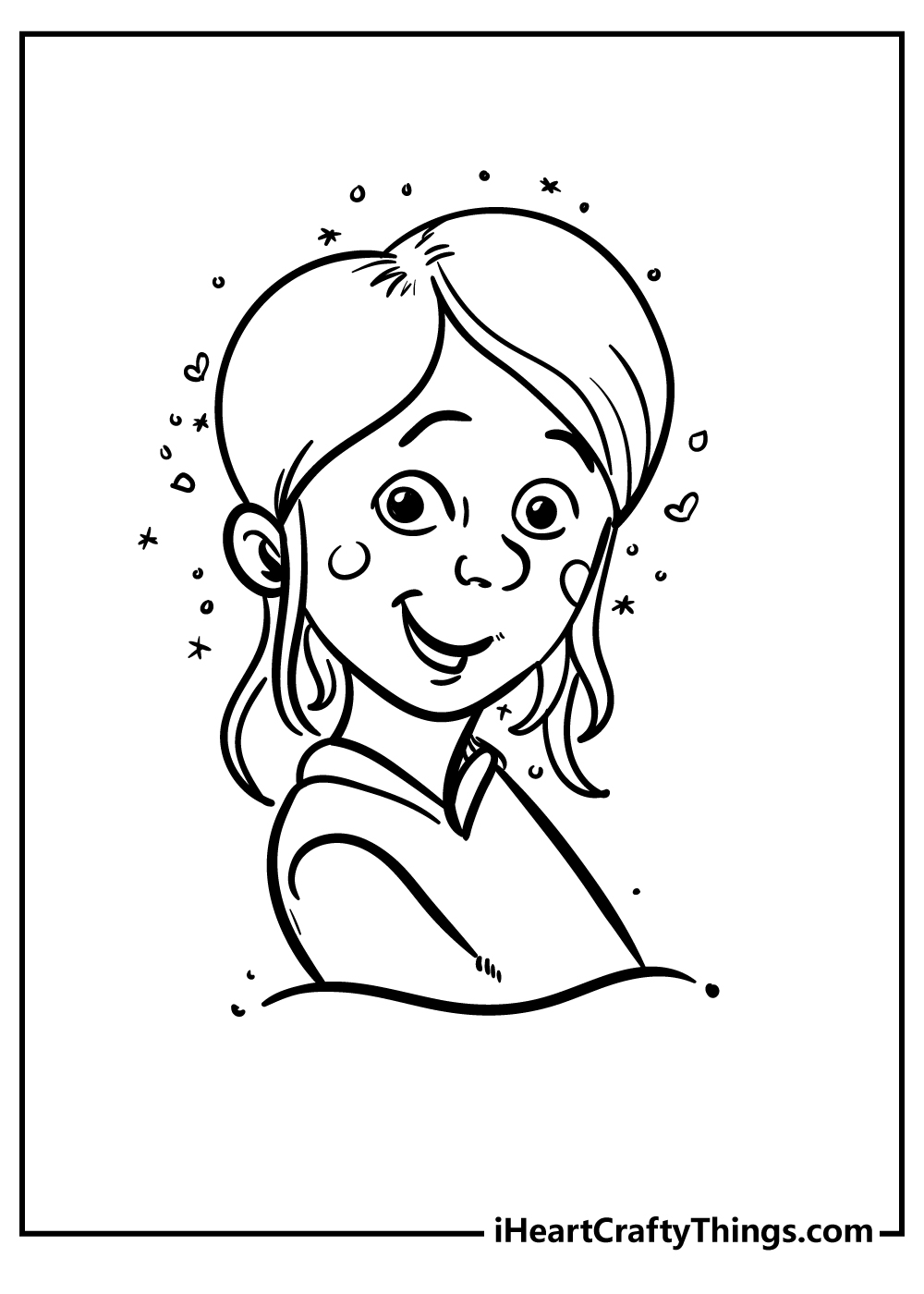 We really love the style that the man in this happy coloring sheet is drawn in! This guy is drawn in a bit of a caricature style, and it makes for a really fun image.
For an extra fun set of details, maybe you could draw some outlandish clothing. Some examples would be a big colorful bow tie or maybe a cool hat.
What kinds of fun extra details like these can you think of to add to this one? We would be interested to see what kinds of ideas you have!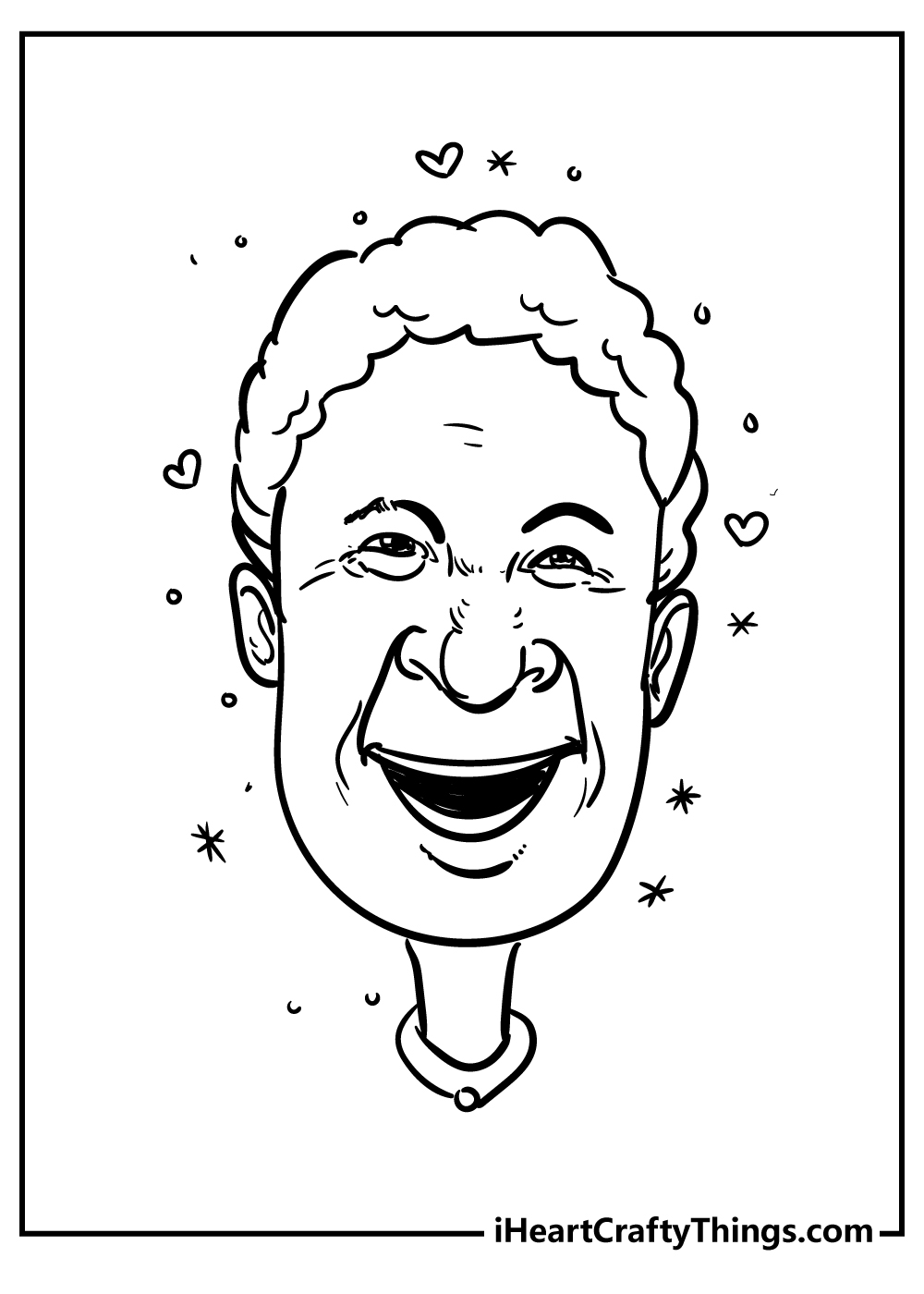 There's something a bit different for you to color in this one. This picture seems to be inspired by the joys of Spring and the happiness that this season brings!
There is a sun at the center, and there are little flower details coming off of this center as well.
For extra details on this one, maybe you could draw some extra little pictures of things that make you happy on warm Spring or summer days!
Alternatively, you could also add some great bright colors to really bring this picture to life.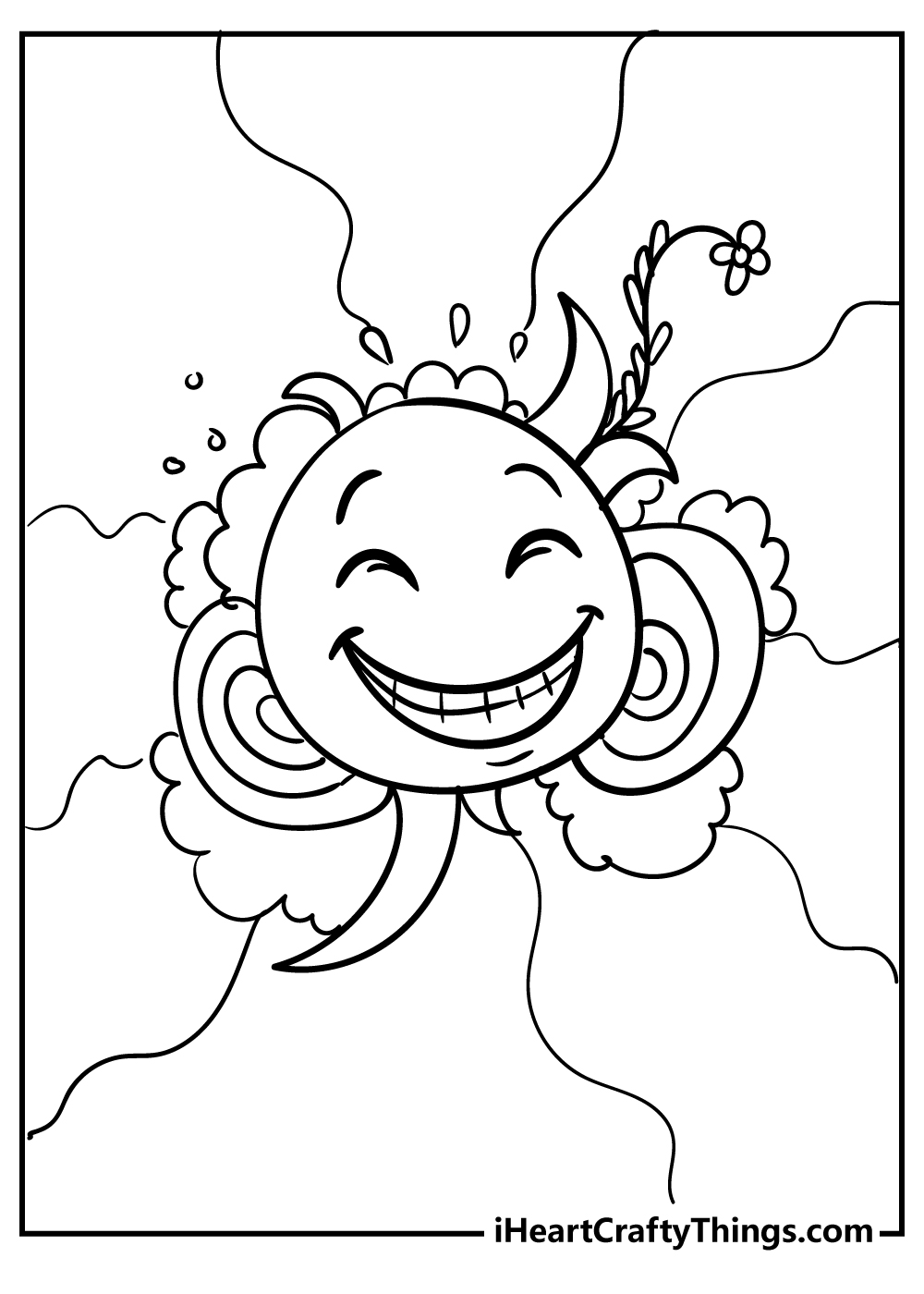 The little girl on this next page is looking very calm and content! For this one, if we were coloring it we would use some cooler, soft colors to fit the calm vibe the image gives off.
Some colors we might use would include some light pinks or blues, but these are just a few suggestions!
What colors came to mind when you first saw this happy little girl?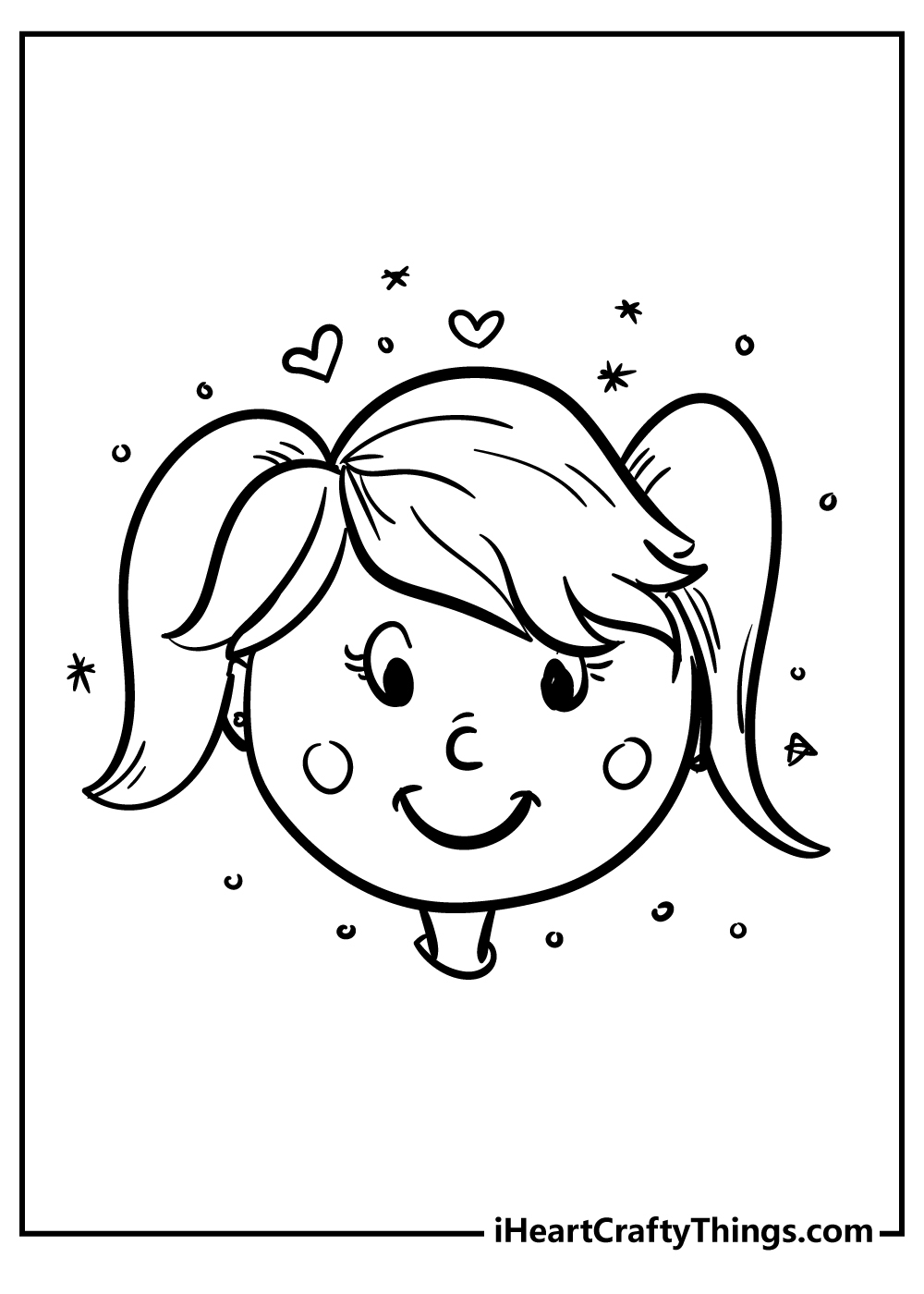 What a cool hat the boy in this next happy coloring printable is wearing! This hat has a propeller on top of it, and it's easy to see why he would be so happy to be wearing this hat.
The hat isn't just cool, it also presents plenty of fun coloring opportunities!
It's separated into sections, so one way to create a colorful explosion would be to color each section in a different color.
What color scheme do you think would suit this hat?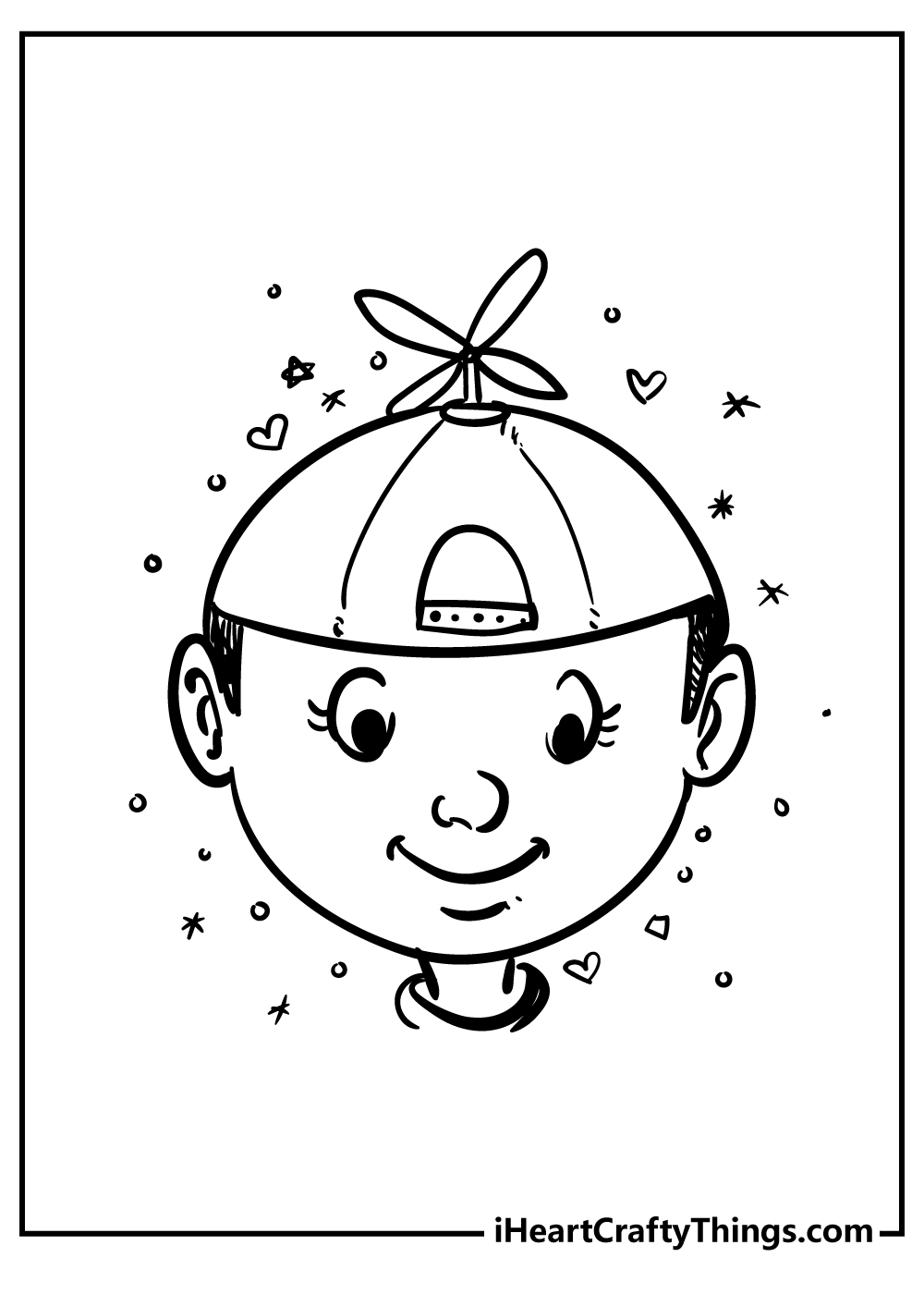 The joy this man is feeling is infectious! He has a great big smile upon his face, and it makes you wonder what has inspired such joy in him.
There is a lot of open space left beneath him, so this would be another one where you could add some clothing details beneath him.
You could also design another fun setting for him to be in. What kind of happy place do you imagine he may be in?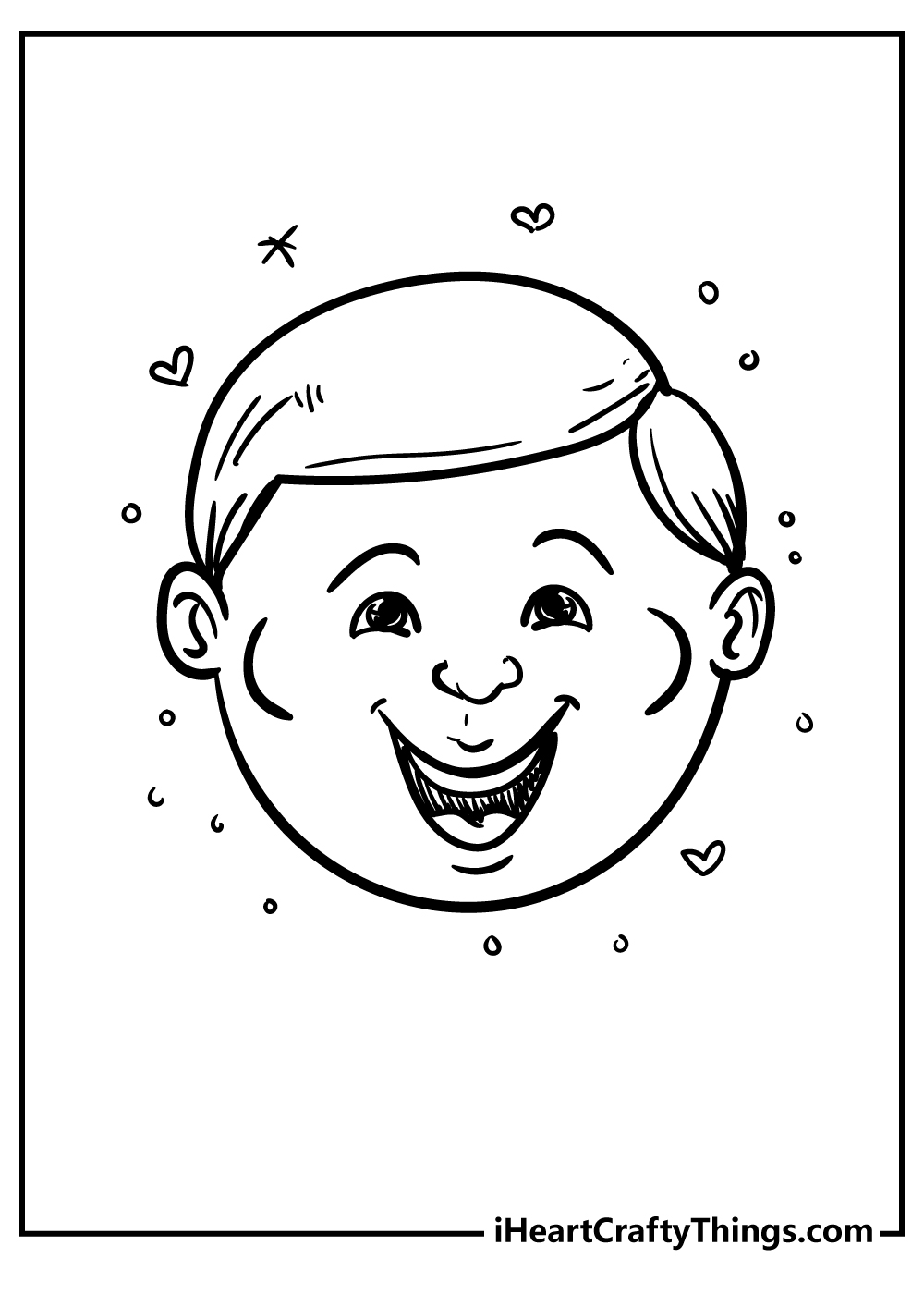 This next girl is having a lovely day outside! She has a basket of flowers that she has been picking, and she is giving a friendly wave to someone.
We think this image would look stunning if you drew lots of flowers surrounding her! This would also be a great excuse to use every single beautiful color that you love in this image.
That would make for a composition that would really catch the eye!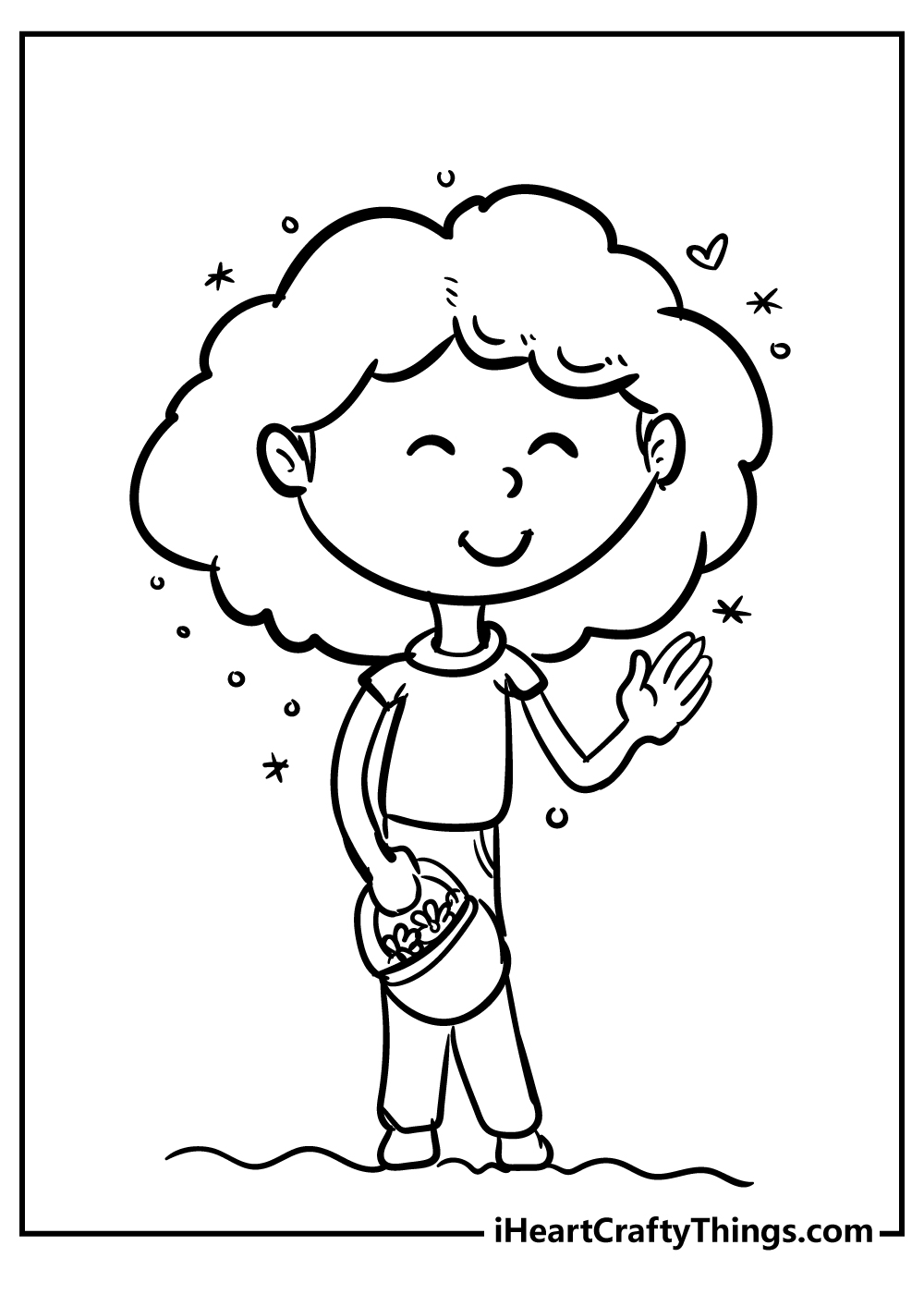 We have one final free happy coloring page for you to enjoy, and it stars a trendy-looking girl looking very joyful!
She has a cool hairstyle, and there is plenty of open space around her for you to add some extra details.
This is another one where you could draw more of her body or a cool background setting.
Maybe you could surround her with drawings of objects and things that make you happy in real life to show they're making her happy as well!
How will you complete this final page?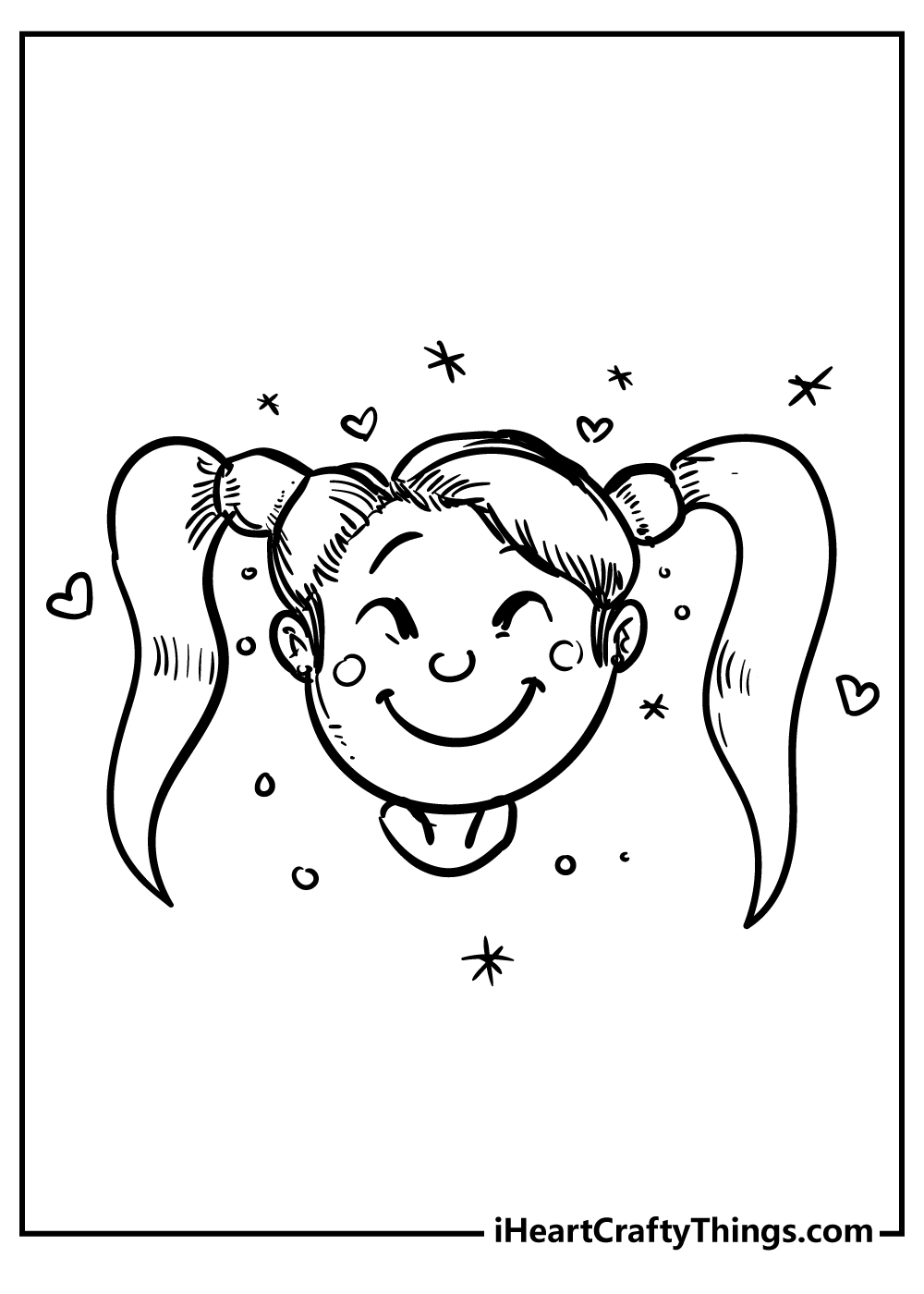 Happy Coloring Pages – Which will you choose?
There were lots of smiles in this collection of free happy coloring pages for kids, and we hope that working on it brought one to your face!
This collection had many scenes that are just perfect for bringing some amazing bright colors to the mix, and we know you will have made them look great!
When you're ready for more drawing fun, our website is the place to be! We have many more free coloring page collections for you to enjoy there.
If that weren't enough, we will also be bringing out many new ones soon.
It would be great to share in the happy feeling you portrayed in these pages! You can share the joy by sharing some finished pages on our Facebook and Pinterest pages!