When it comes to styles and fashion, there are so many different ones to choose from!
It can feel overwhelming, but it also means that there is a huge amount of choice available when developing one's own style.
You can also simply enjoy the styles and fashions that are on display, and it can be fun to add your own personality and touches to these styles!
That's what you'll be able to do in these coloring pages.
Our collection that we have prepared is full of trendy girls for you to color! They are decked out in all kinds of great styles that will give you lots of opportunities to use your favorite colors.
Style is all about experimenting to find what works, so you can print out these pages as many times as you like in order to try out all the different approaches to color that you like.
You can also share them with others so that they can develop their own styles too!
Get ready to unleash your inner fashion designer with these free girly coloring pages for kids!
When you have completed your favorites from this collection, remember to share your artworks on our Facebook and Pinterest pages for us to see.
10 Brand New Girly Coloring Pages – Free to Print and Color
Let's kick off this collection with a really cool picture! The girl in this first coloring page is looking very cool and trendy.
There are many different elements to admire with her outfit and accessories, but the focal point is arguably the cool sunglasses she is wearing.
We think that this first page would look great with some bright, vibrant colors.
What colors will you use for her glasses? We would go for some bright pinks and purples for the lenses, but it will be interesting to see what you choose for your own interpretation.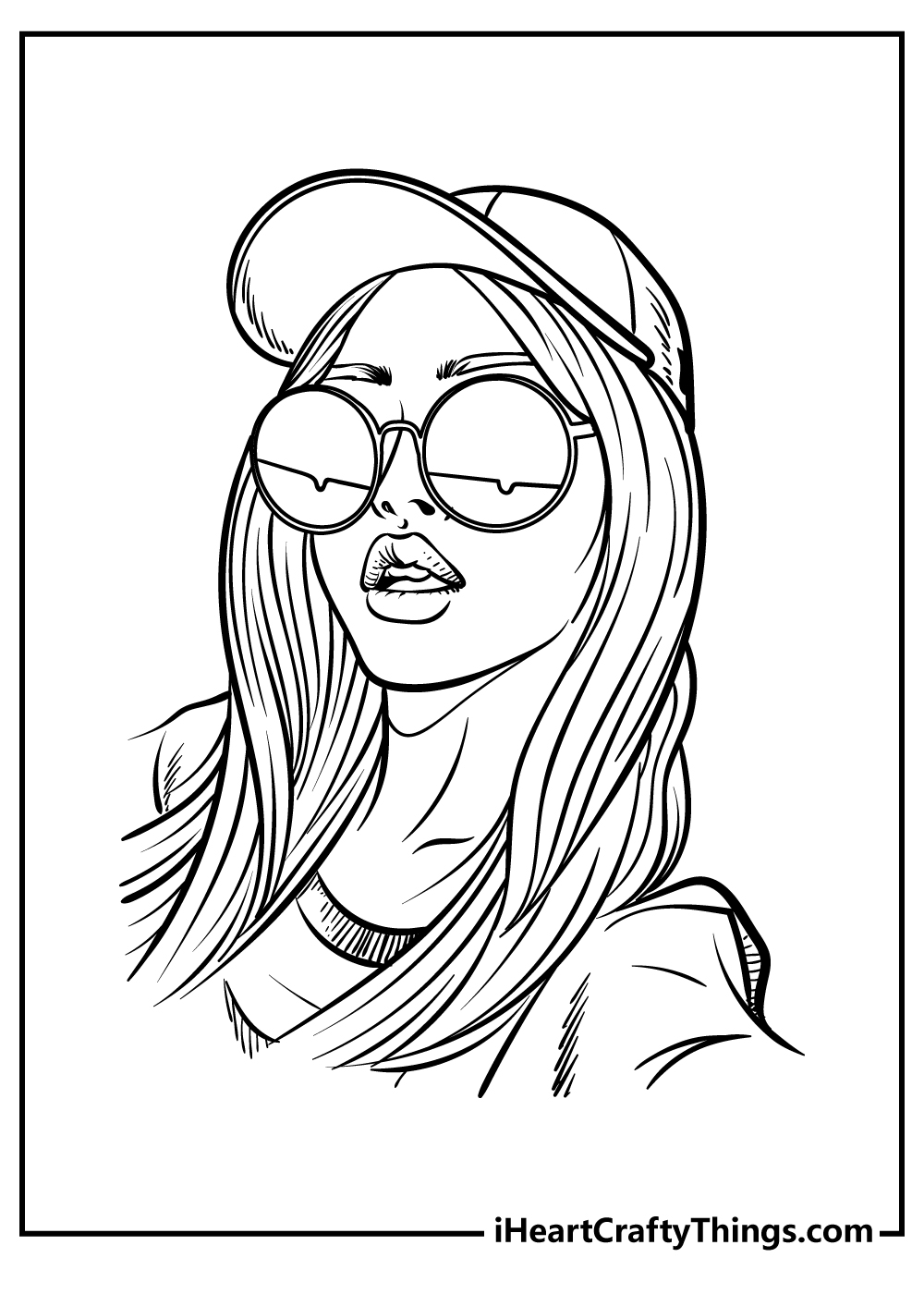 This next free girly coloring page for kids that we have for you to enjoy features a more pared-back but still very stylish girl to color.
Her outfit isn't as extravagant as the previous one, but she still gives off some great attitude in this one!
There are also some great details in her hair, and we think it would look so cool to give her some funky colored highlights in her hair.
How will you color this second page?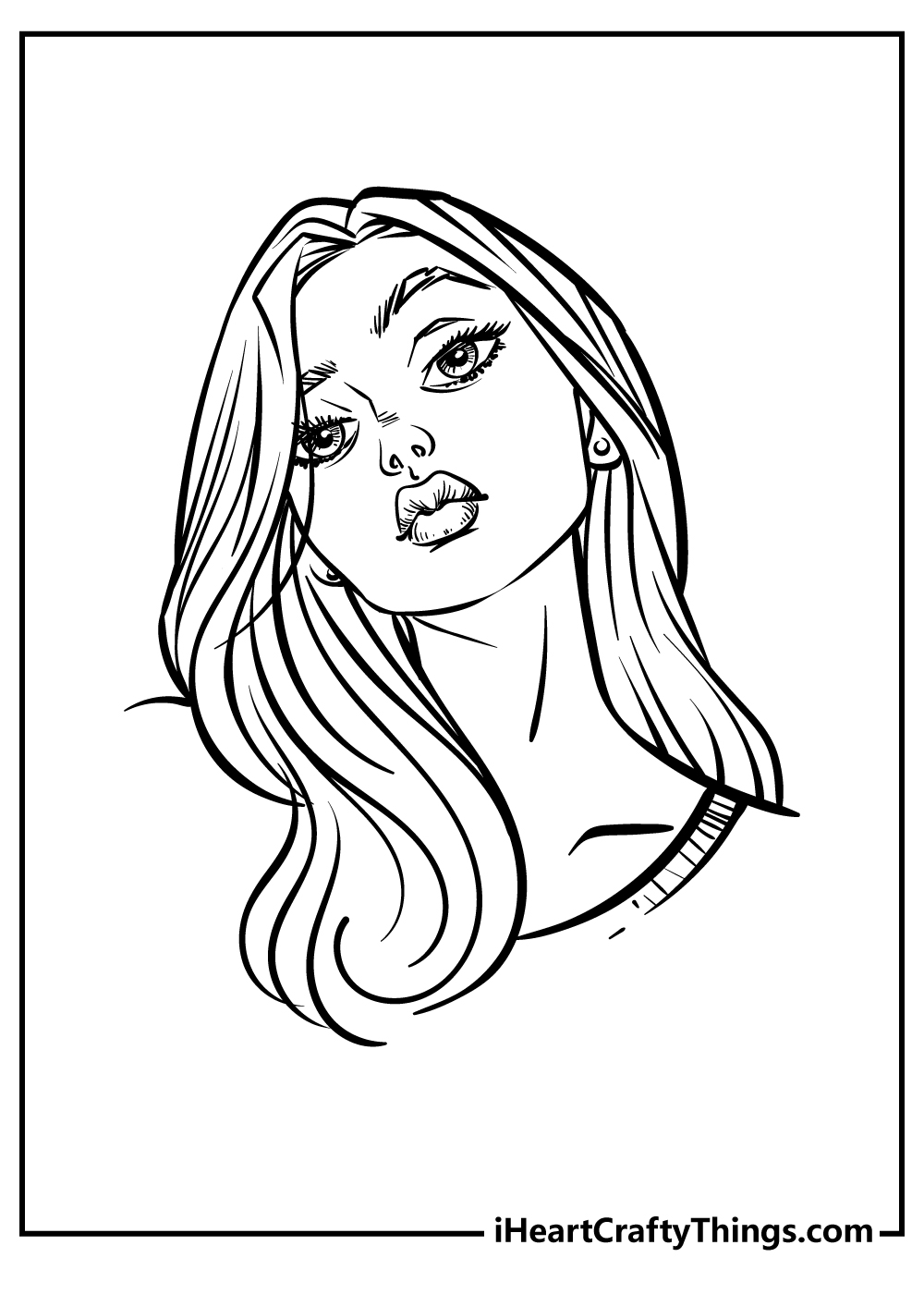 There are some great small details to color in this next picture! This is another more pared-back image, but we love the details in her pigtail that she is sporting.
We think this is another one where some highlights in her hair would look really great!
You could also add some extras to the background, and some ideas would be to draw a background or add some bright colors and shapes. It's up to you, so let your creativity run wild!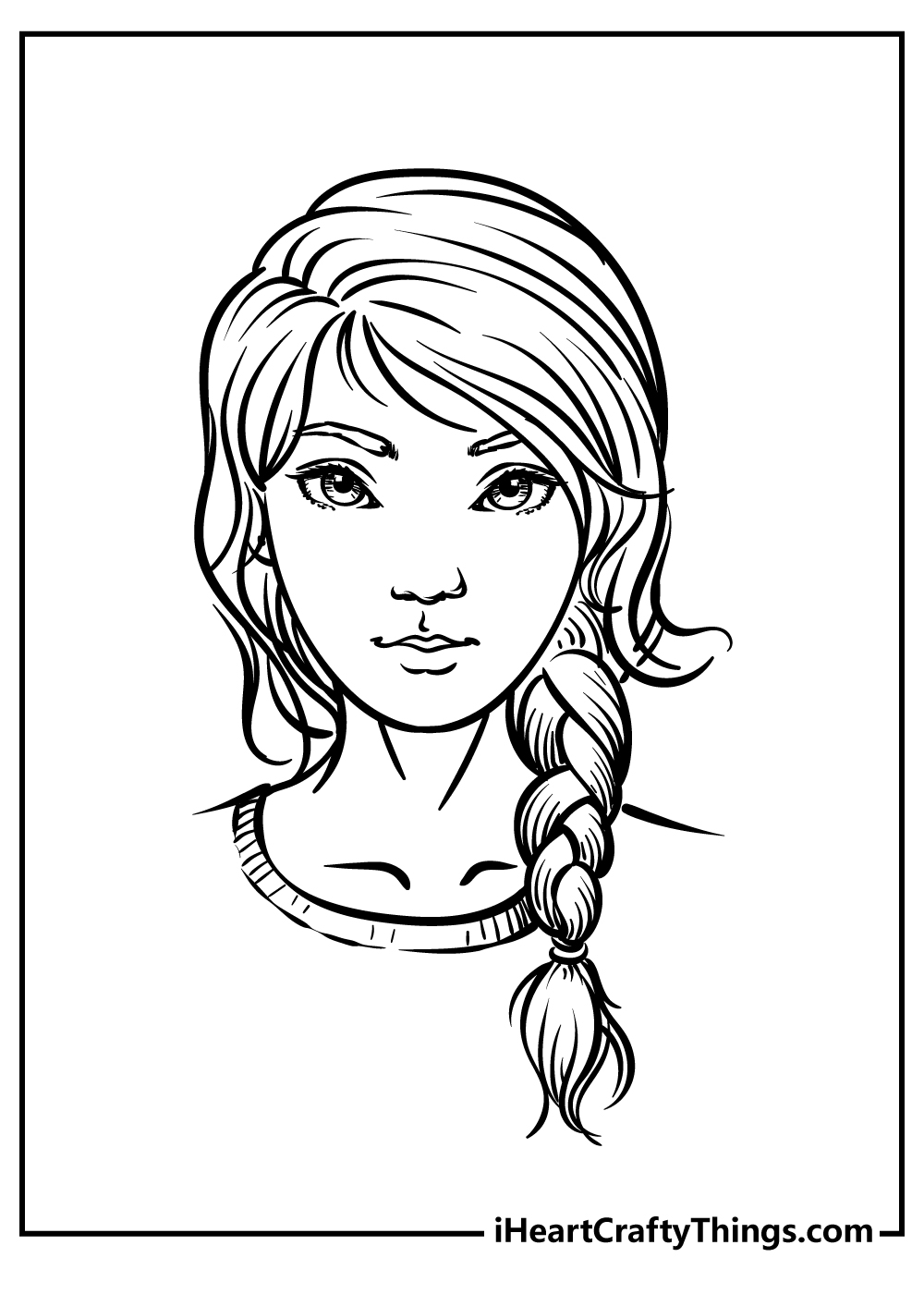 Here's another great girly coloring sheet for you to enjoy! We think that the girl in this image looks a bit shy and contemplative, so for that reason we would use lighter, milder colors for her.
These could include some light pinks and blues, but these are just a few suggestions. What kinds of colors came to mind for you when you first saw this one?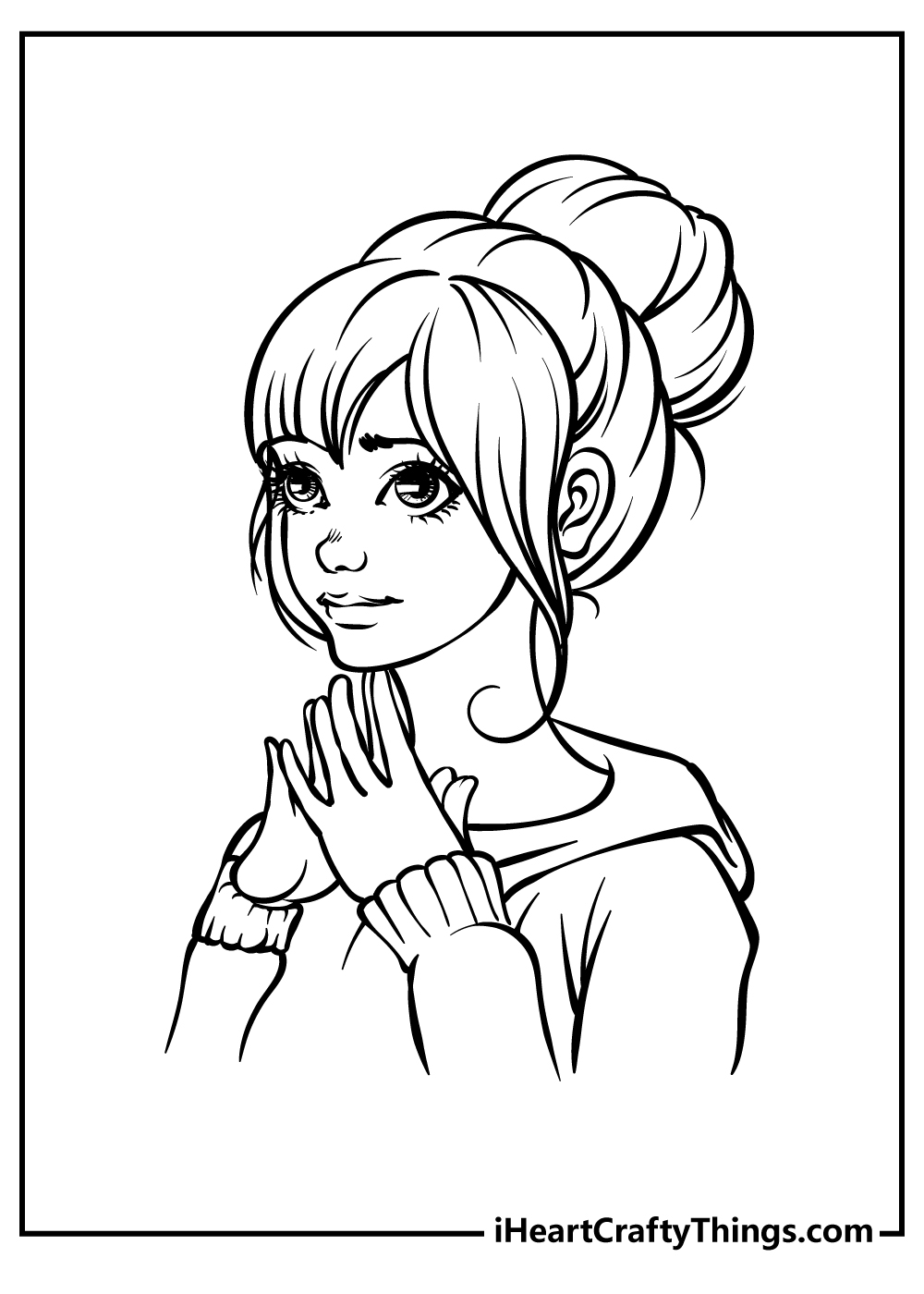 This next stylish girl is looking rather intense and serious! There's an intense feeling to this one, and that's why if we were coloring this one we would use equally intense colors.
Some rich reds and blues came to mind for us, but it's always up to you! You could go for the colors we were aiming for, or you could go for an entirely unique set of colors instead.
Let's see how you finish this one off!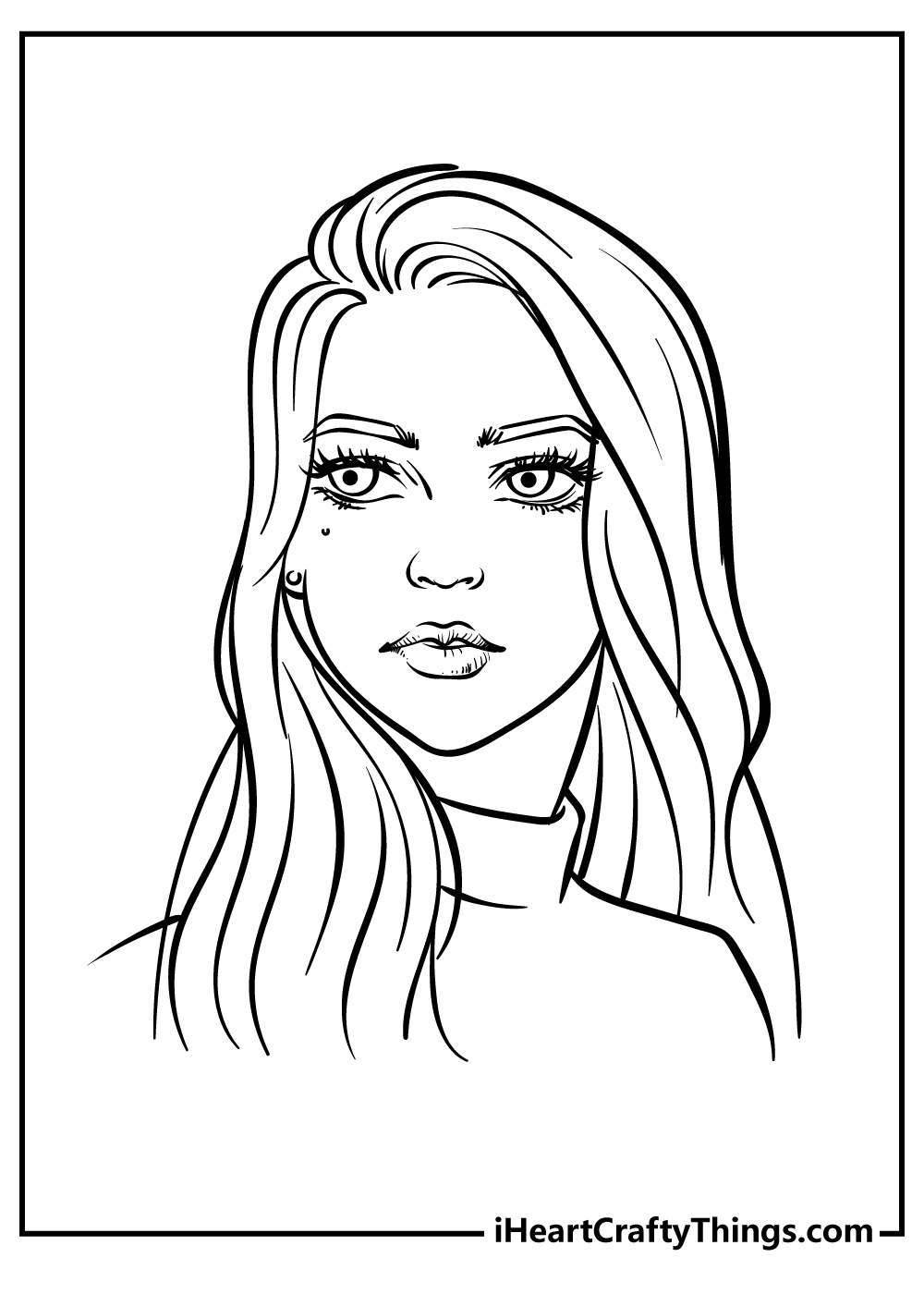 In this sixth girly coloring printable, we have another girl that looks rather serious. The bottom portion of the image has been left blank, and that opens some opportunities!
You could draw some more elements of her outfit or give her some cool accessories that you think may suit her.
What kinds of cool accessories do you think this girl would like?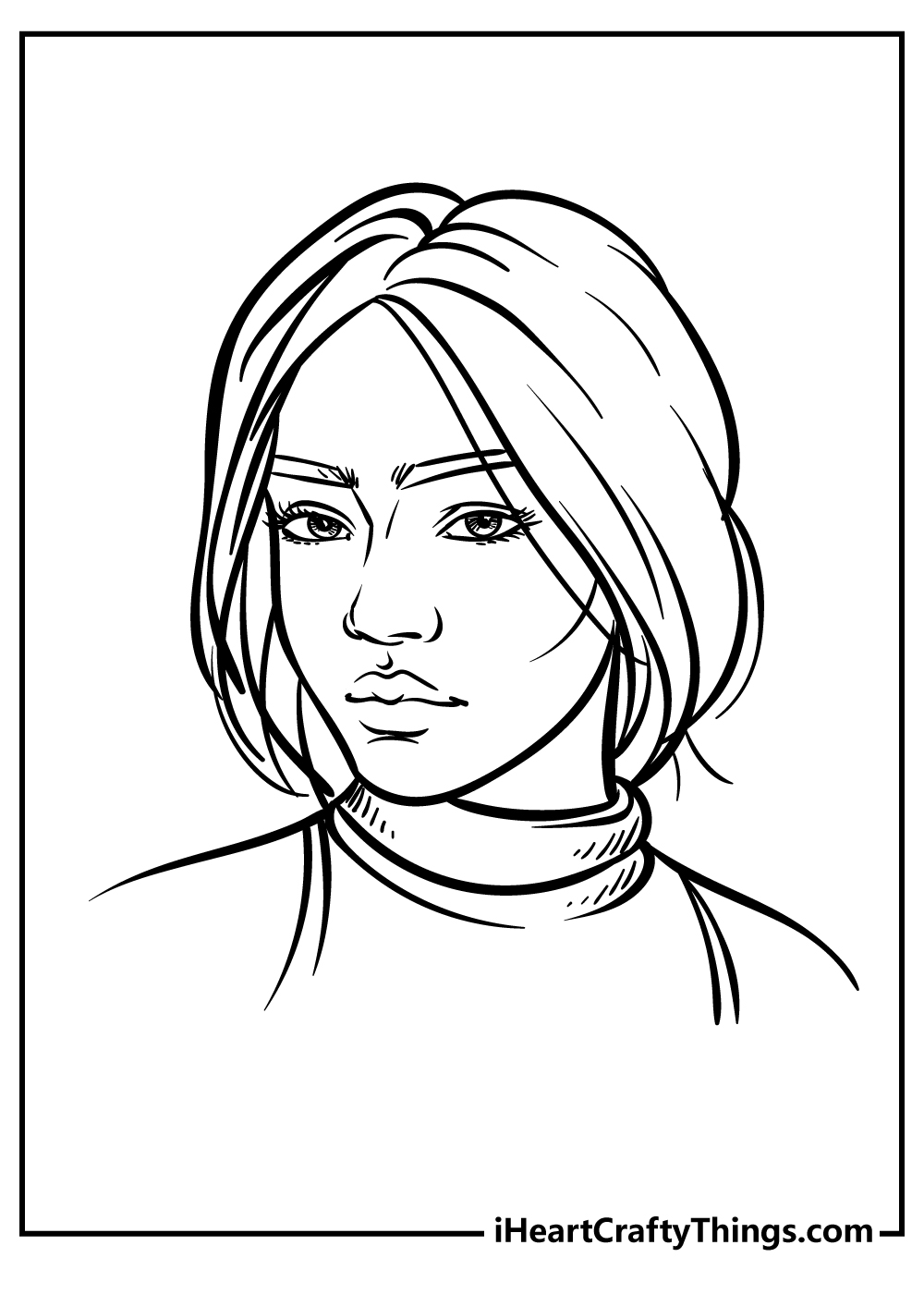 There's a bit of a stylistic approach taken in this next page! The way this girl has large, expressive eyes makes us think a bit of Disney princesses.
If you agree, you could color this one to suit that look. Another way to go about this would be to draw her clothes and other accessories to look like they could belong to a Disney princess.
Will you go with the princess angle or will you give her a funky, more modern look? We look forward to seeing what you choose for this one!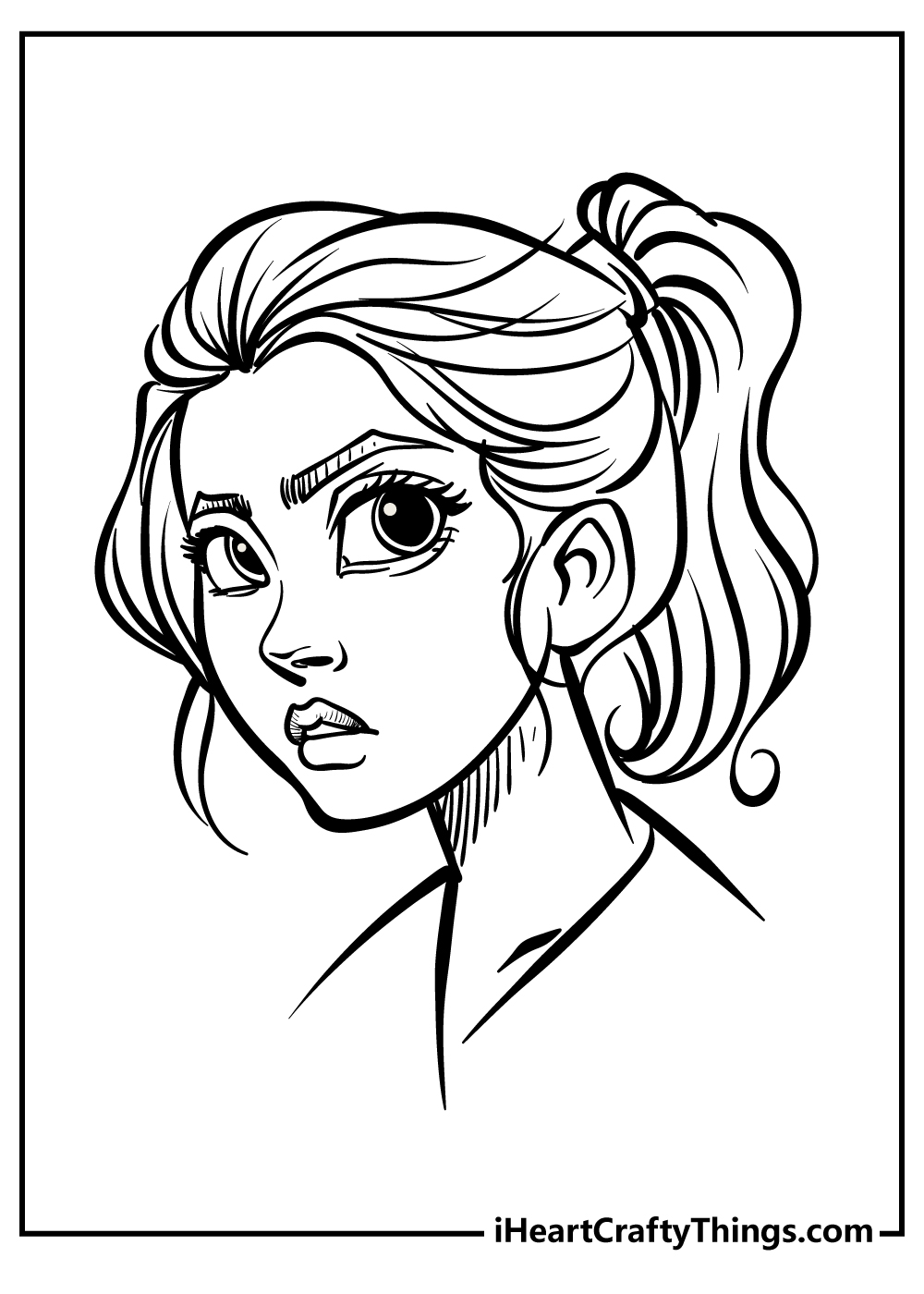 We seem to have a girl that's feeling a bit shy in this girly coloring page! She is pulling up her sweater over her face, and this seems to indicate that she is in an uncomfortable situation.
What do you think may be making her react like this?
There are also loads of great details in this one, and there are some great smaller touches in her hair and outfit that will allow you to really get in there with some great colors.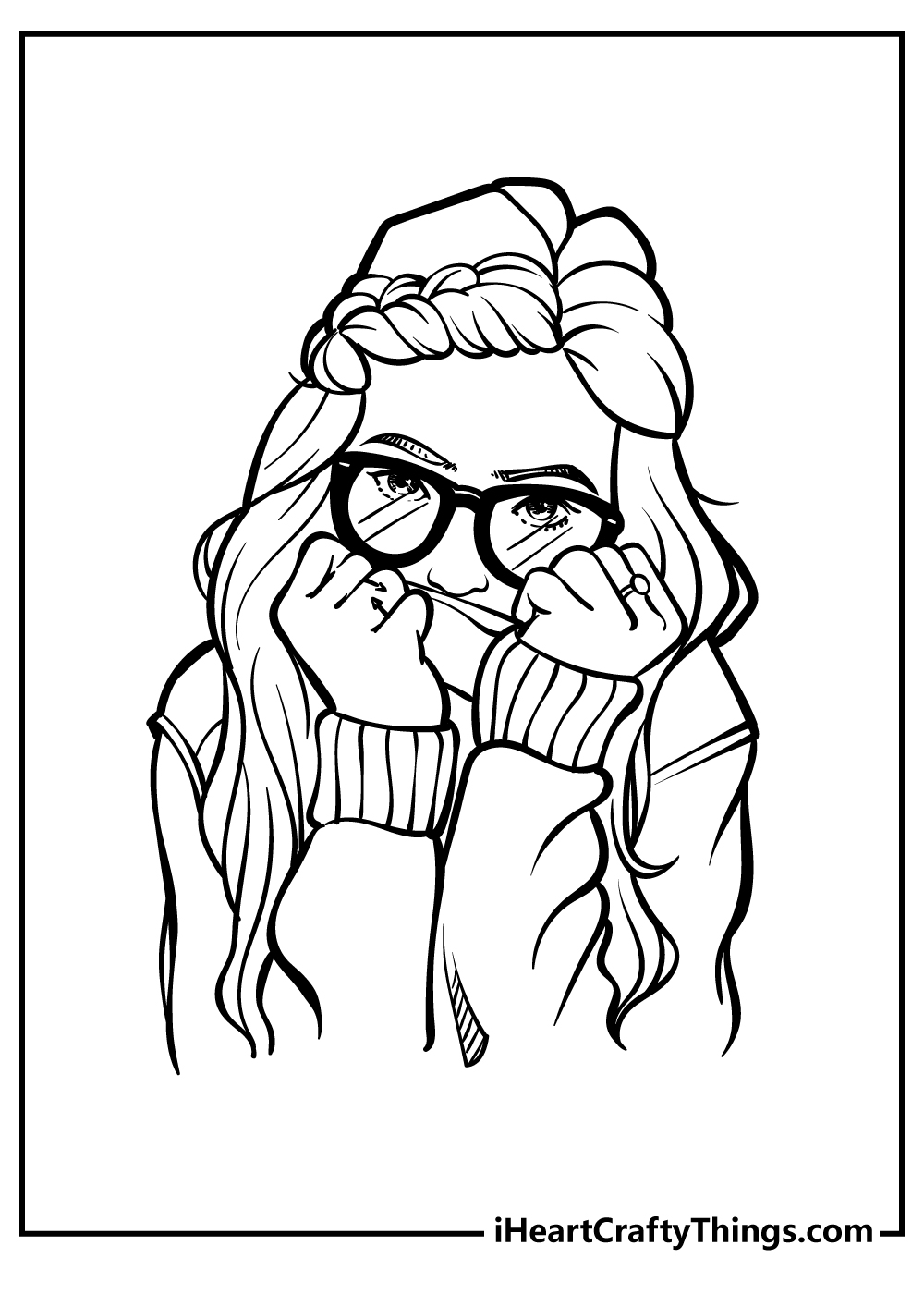 This next girl is looking a lot more confident than the previous one! She is looking very happy and content, and once again we think that you could highlight this with the colors that you use.
For this one, we immediately thought of bright, vibrant colors to suit the mood that she is giving off in this one.
You could also change up the art tools and mediums that you use for this one, and that could be a great way to achieve some unique colors!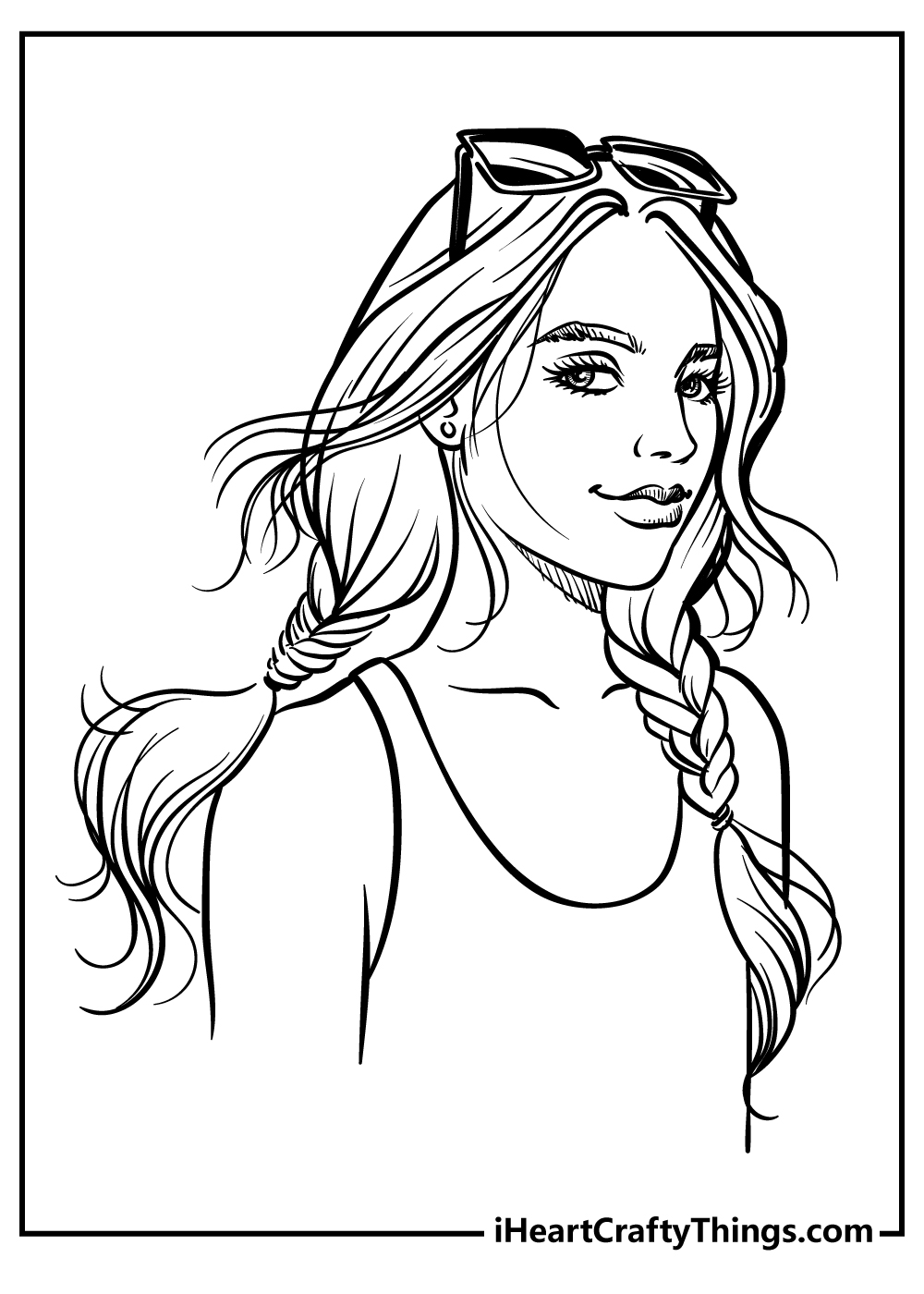 Here we have the final coloring page in this collection! This girl is wearing a scarf in her hair, and it is rather intricately patterned.
You know what that means; you can work some amazing colors into this accessory!
We would recommend using mediums such as colored pens and thin-tipped brushes to give you some precision for the smaller details of this scarf, but what will you use?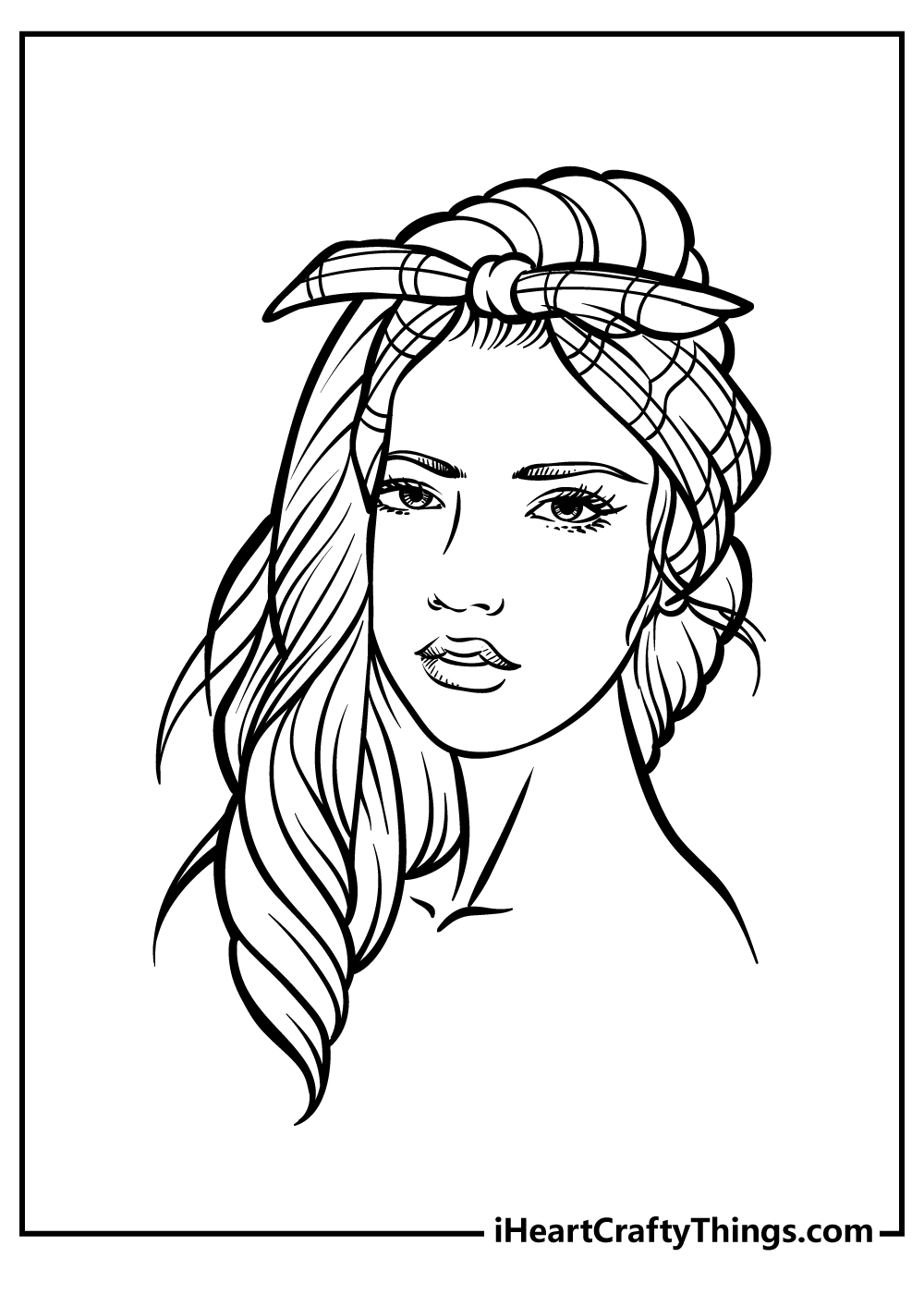 Girly Coloring Pages – Which will you choose?
You have completed this awesome collection of free girly coloring pages for kids, and we hope you had a great time!
There were so many funky styles and details to color in this collection, and we're sure it was great to get to really show off your creativity and flair for style as you worked on them.
Don't forget to print these out as many times as you like so that you can experiment! You can also spread the fun by sharing your favorites with others.
Also, you can check out our website for many more free coloring pages, drawing guides and other fun surprises to enjoy! We upload new content regularly, so be sure to check in often.
Lastly, please do share some of your finished girly coloring pages on our Facebook and Pinterest pages for us to see.