Around the world, there is an incredible and diverse amount of different cultures to learn about and appreciate.
Each one has its own styles, customs and advances to appreciate, and it can be a thrilling task to learn more about them.
The Native Americans were well known for their complex societies as well as their innovations in medicine and ingenuity.
They are also well known for their rich and vibrant culture, and we will be celebrating that in this collection of free Native American coloring pages for kids!
Throughout these pages, you will find a wide variety of different images and scenarios that represent these incredible people.
You will get to explore all of your favorite colors as you work through this set!
Whether you choose a few favorite pages or complete the whole collection, every page is free for you to print and enjoy. It's also great to share the collection for others to enjoy as well!
We hope that you really enjoy this fantastic collection of free Native American coloring pages for kids that we have prepared for you!
When you have finished some of the pages, please remember to share them on our Facebook and Pinterest pages for us to see!
10 Brand New Native American Coloring Pages – Free to Print and Color
Our first page features a proud Native American man for you to color in. This man has a really noble look about him, and it looks as if he could be a warrior.
There are plenty of awesome details in his outfit and hair for you to color in, so you have a lot of choice with how you could incorporate some color.
What approach will you take with this image? Will you keep the colors bright and vibrant or make it a bit more muted? We can't wait to see what you end up going for!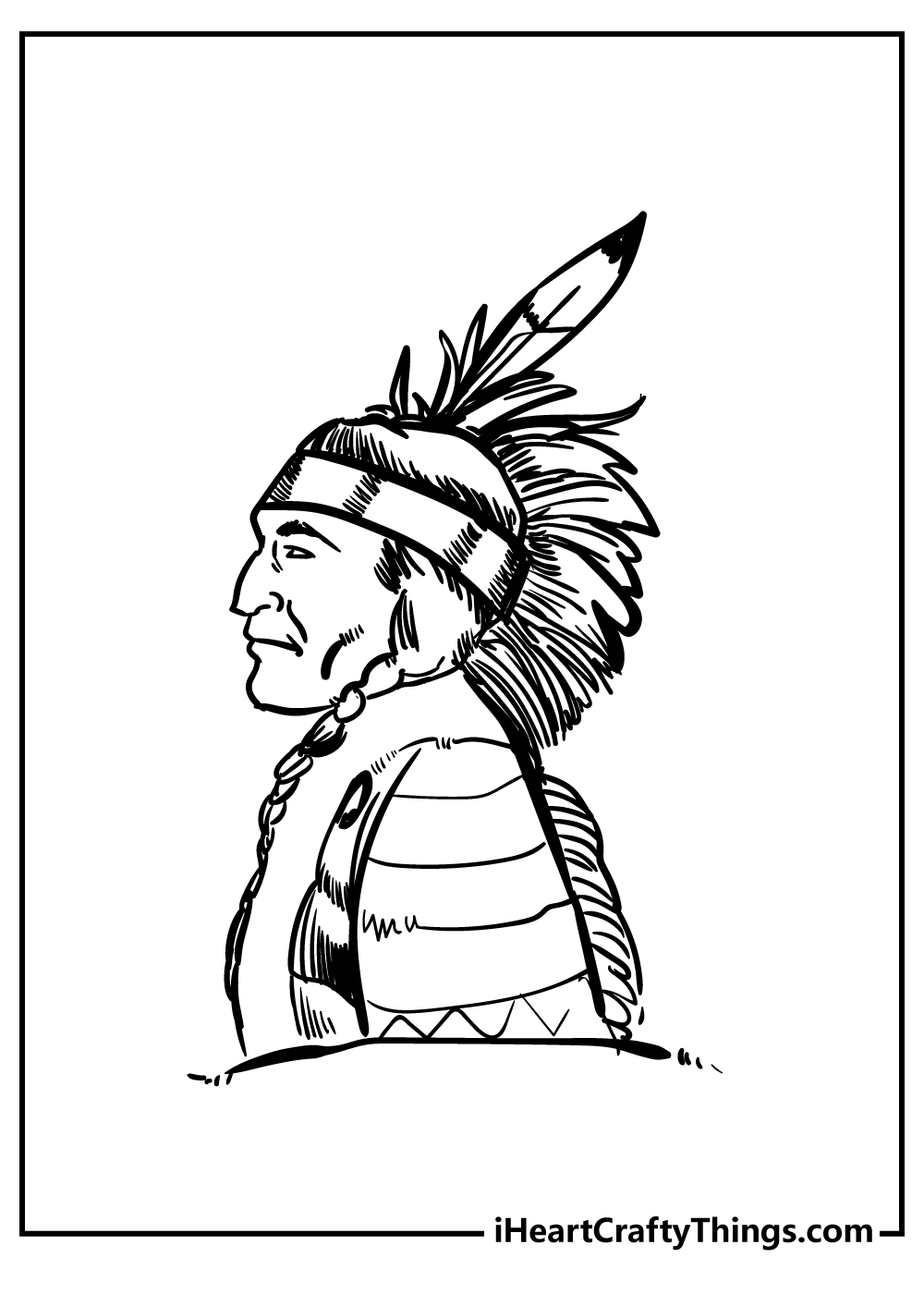 Headdresses are an iconic aspect of Native American dress, and we have one for you to color in this second free Native American coloring page for kids!
These headdresses would have many beautiful feathers sticking out of the top, and this gives you a lot of opportunities for different amazing colors.
The portion that sits on the head also has some great small details, so you can incorporate lots of different colors there as well.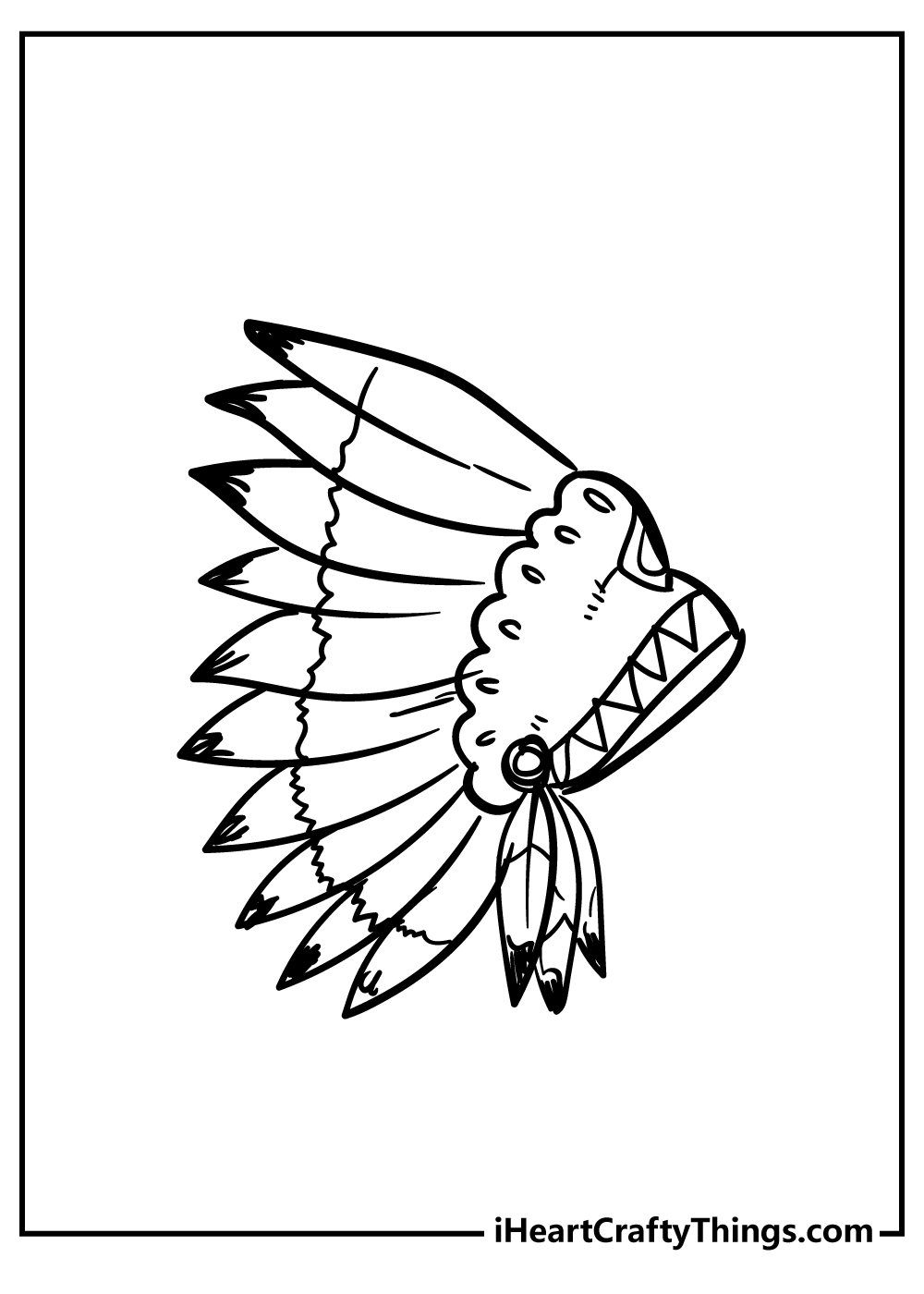 The man featured on this third page also has a noble look to him. This time the man is facing us head-on as opposed to the profile shot from the first page.
There are still some amazing details incorporated, such as the feathers in his hair and the necklace he is wearing.
When coloring smaller details such as these, you can use mediums such as colored pens, pencils and thin-tipped brushes to make it easier to work in these small spaces.
What colors and mediums will you choose for this one?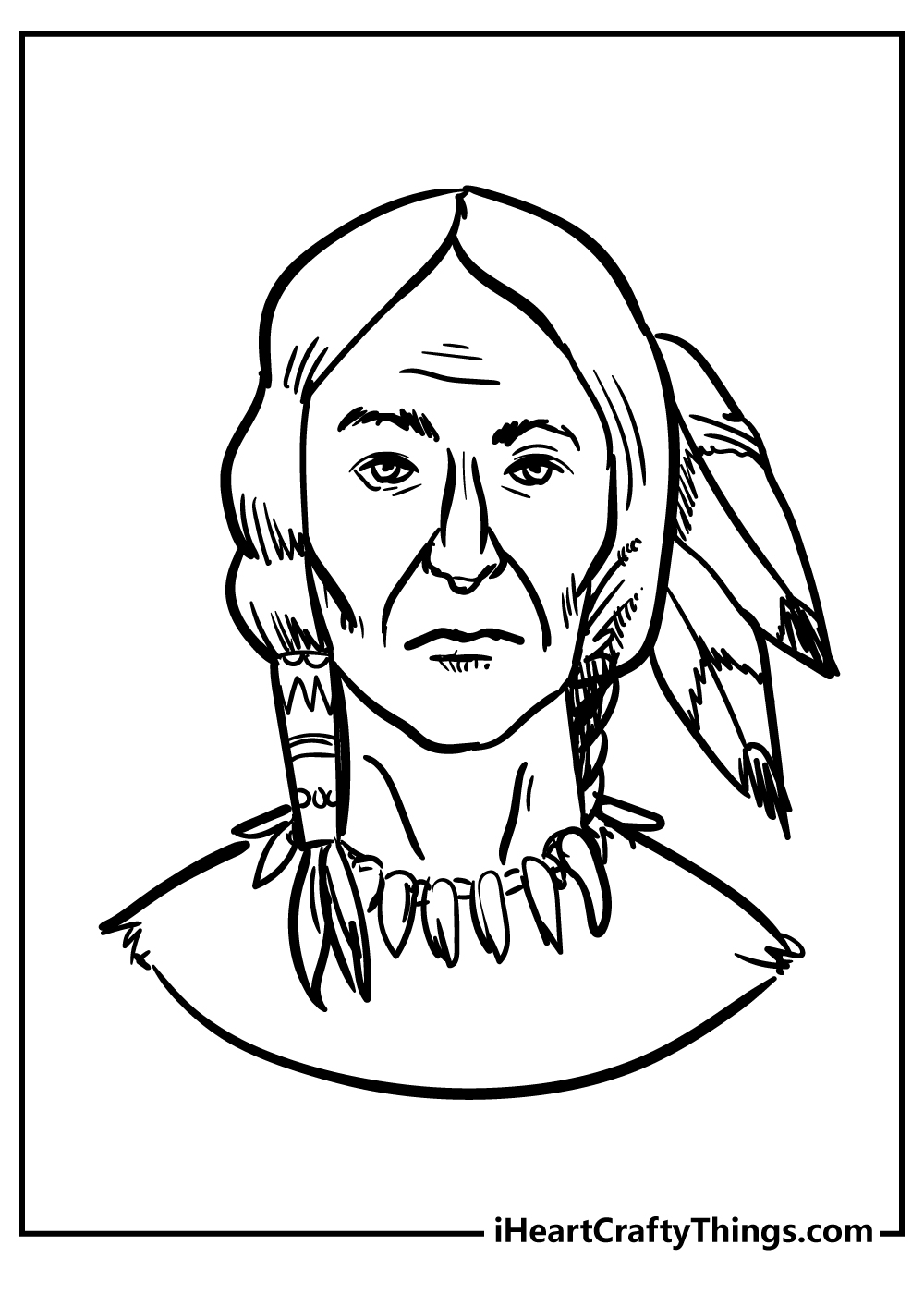 Our fourth Native American coloring sheet shows a young kid kitted out in traditional dress. While he is too young to be a warrior, it looks like that is where his aspirations lie!
Once again, his outfit has so many small details to admire and color, so this should be an amazingly colorful image once you're done with it!
The background has also been left blank, so you could draw a great background setting for him if you want to make this even more personalized.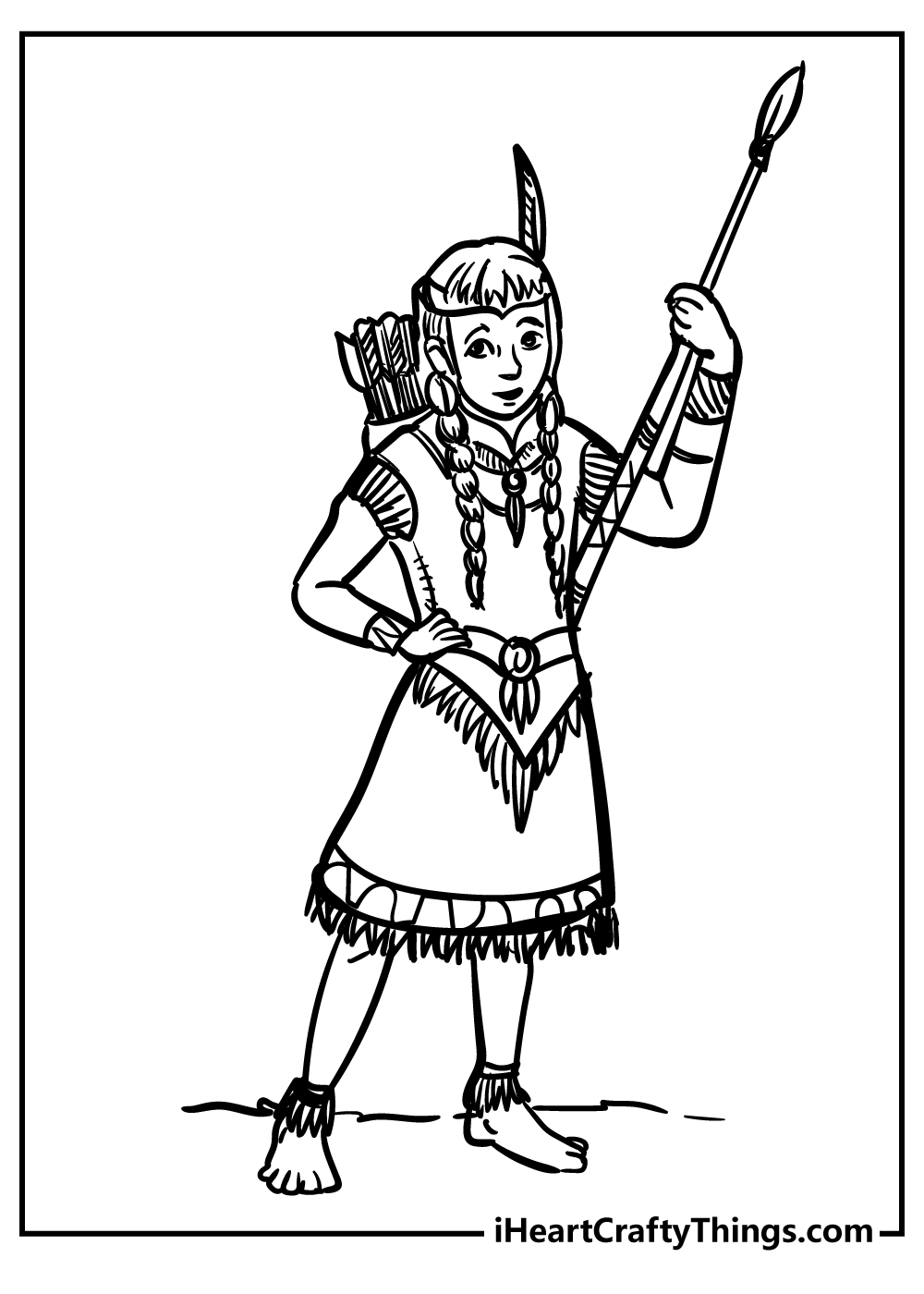 It's time to hunt in this next image! Hunting was a huge aspect of Native American culture, and they believed in honoring the animals that they hunted.
This is another kid who is dressed in traditional gear, and his bow and arrow are at the ready.
He is sneaking through the bushes, so that allows for some beautiful green shades for a natural-looking scene.
This one will be great to see once it's done!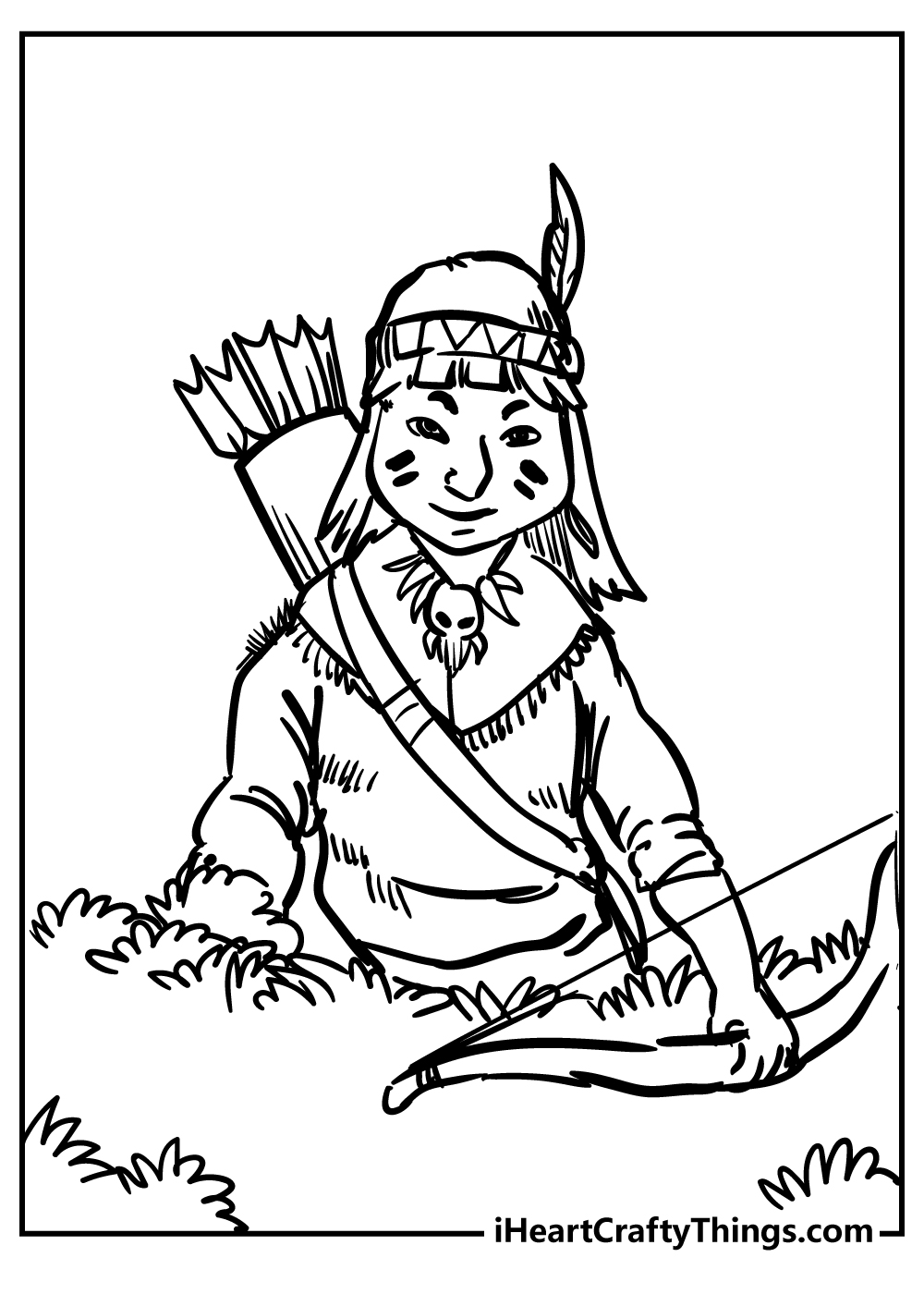 We're featuring another headdress on this page. This one is also being worn by a kid, but this time we have another head-on view.
For the feathers of the headdress, we would again recommend mediums that allow for precision such as colored pens and pencils to allow you to color those small details.
Will you use mediums such as these or maybe go for something else?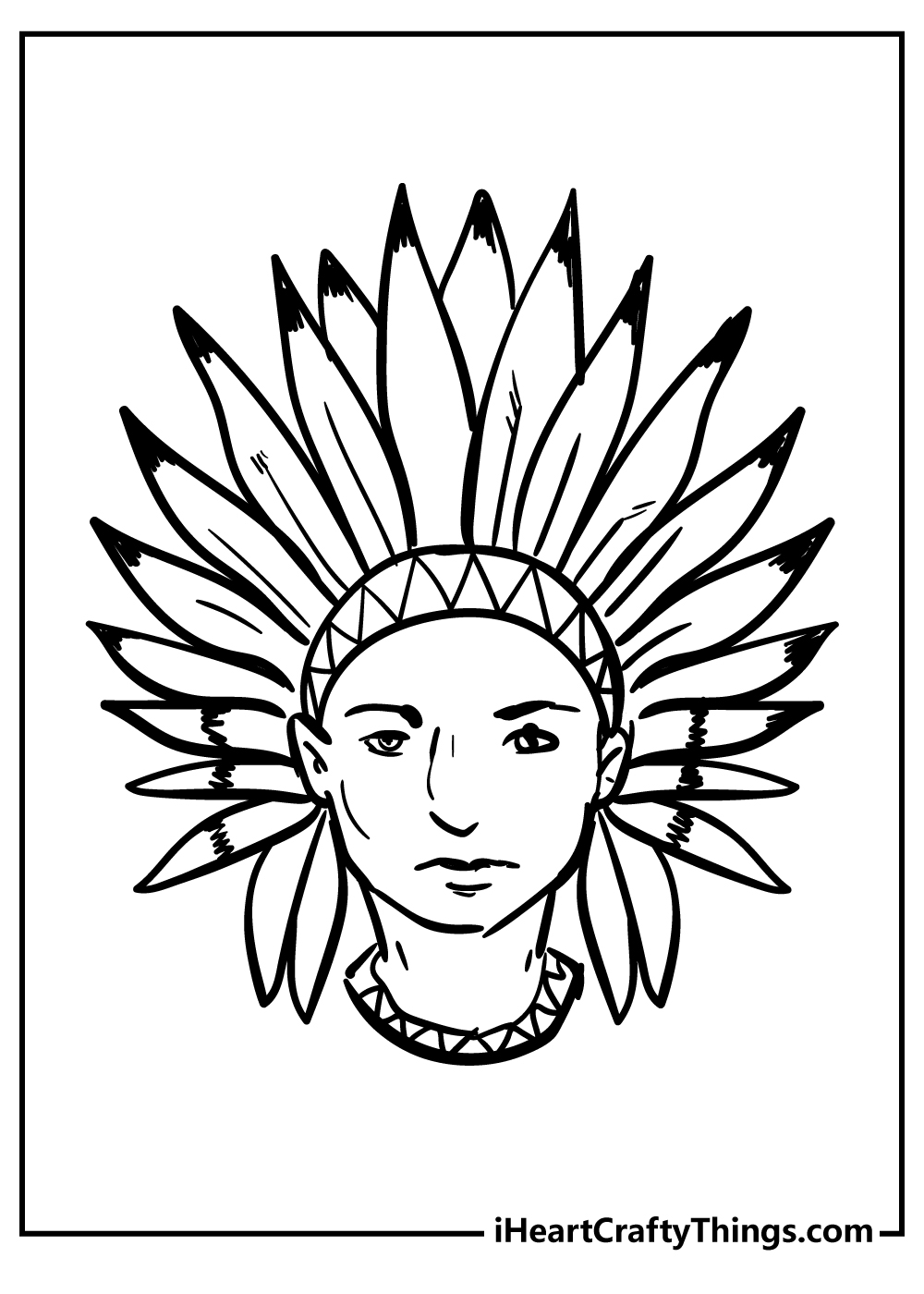 The man in this Native American coloring printable. He is also wearing a traditional headdress, and he has a very serious expression on his face.
This is another highly detailed image that really allows you to have fun using lots of different colors.
We would use lighter, milder colors for this one to highlight the serious feeling given off, but this is merely one way you could choose to color this in!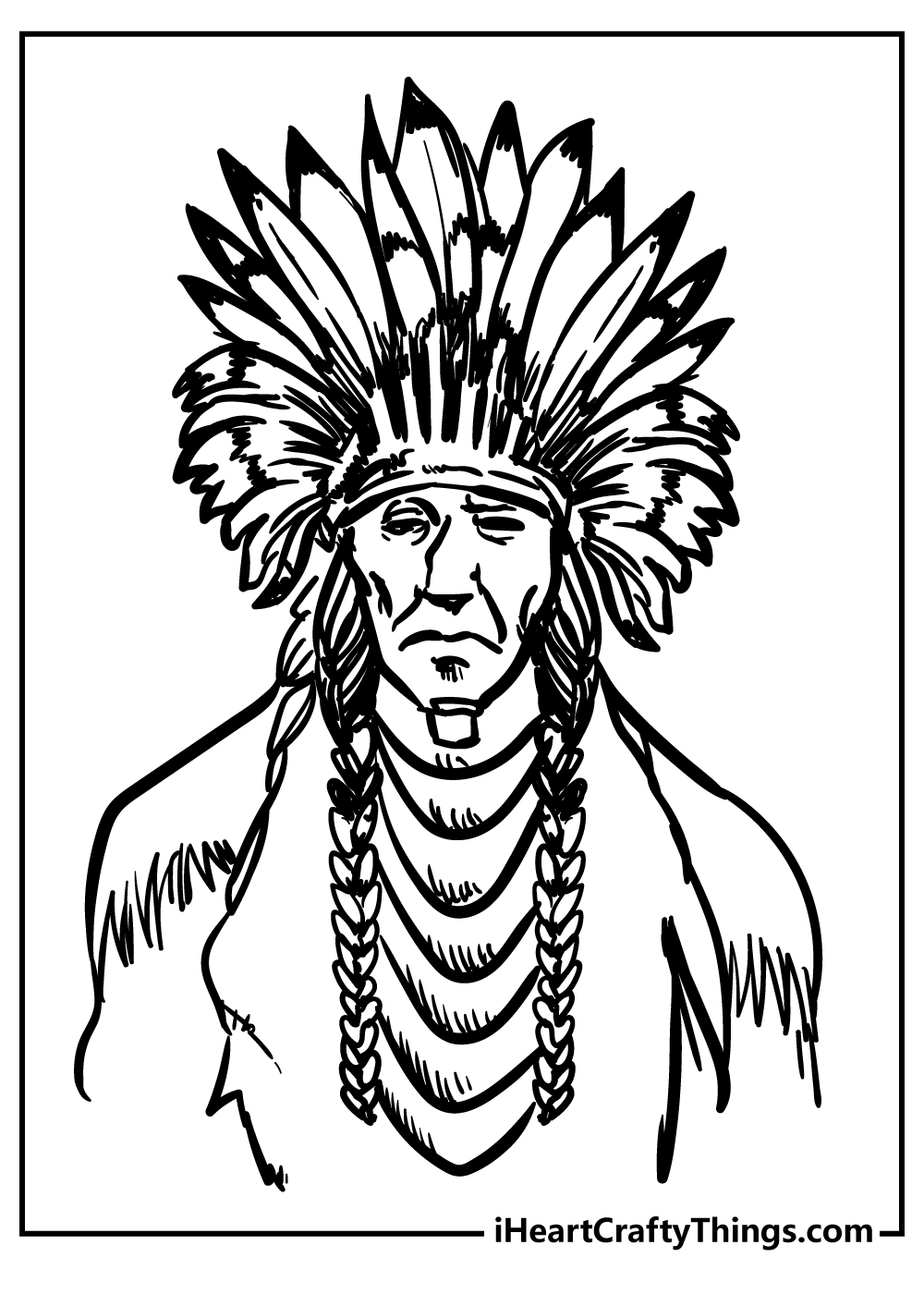 There's another hunter wielding a bow and arrow in this scene that we have for you to color. We get a good view of the outfit that this hunter is wearing, and there are some great details to color.
Native Americans would often make their clothing out of animal leather and other materials, so you could use some great shades of brown for these elements of his outfit.
What other colors will you use for the other details?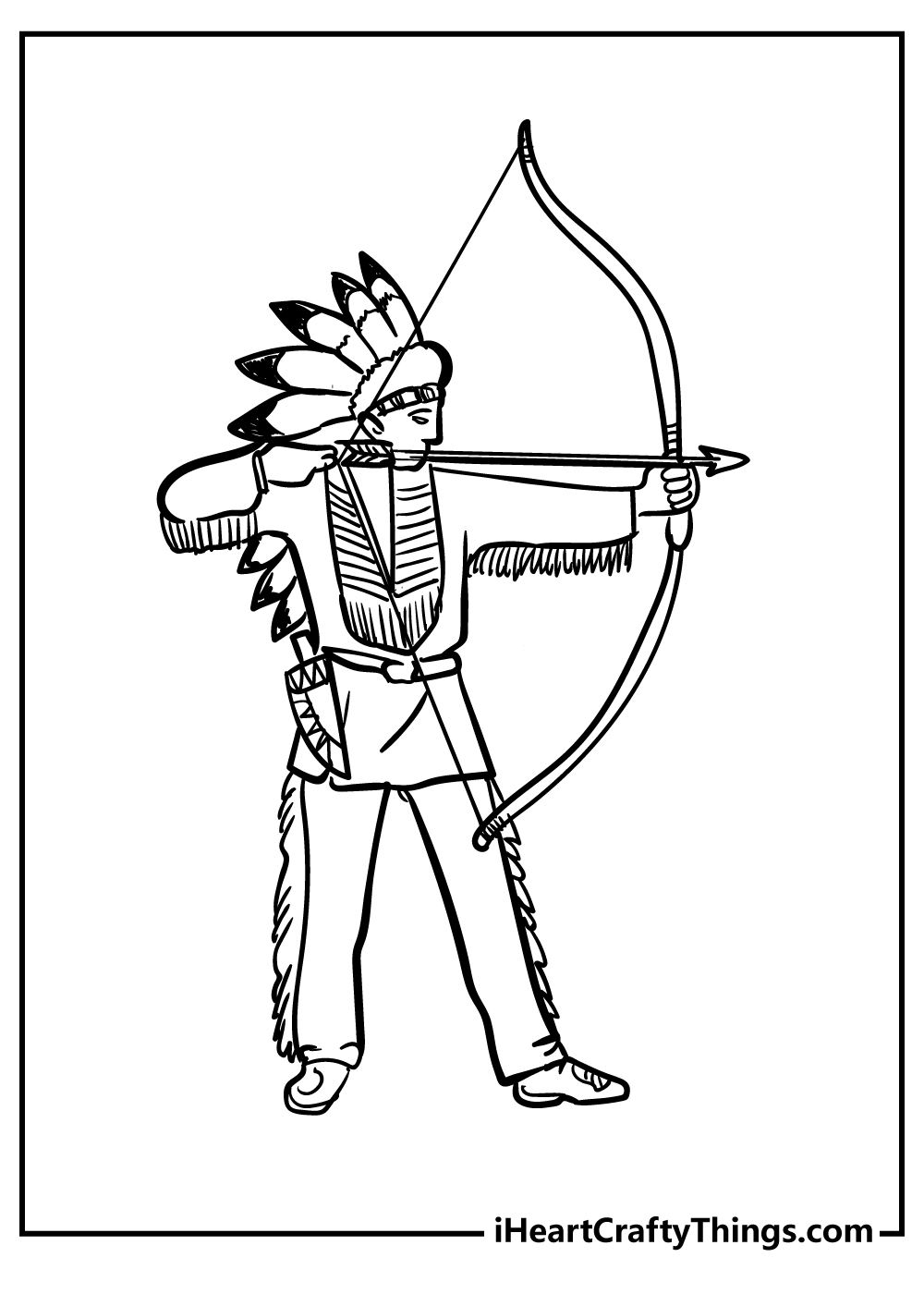 We get another great view of the clothing and tools associated with Native American culture in this next image.
This man also looks like he's probably a warrior, as he has an axe along with a spear on him. The background has been left blank, so what kind of setting can you imagine he may be in?
You could show us what you think by drawing a cool background setting for him!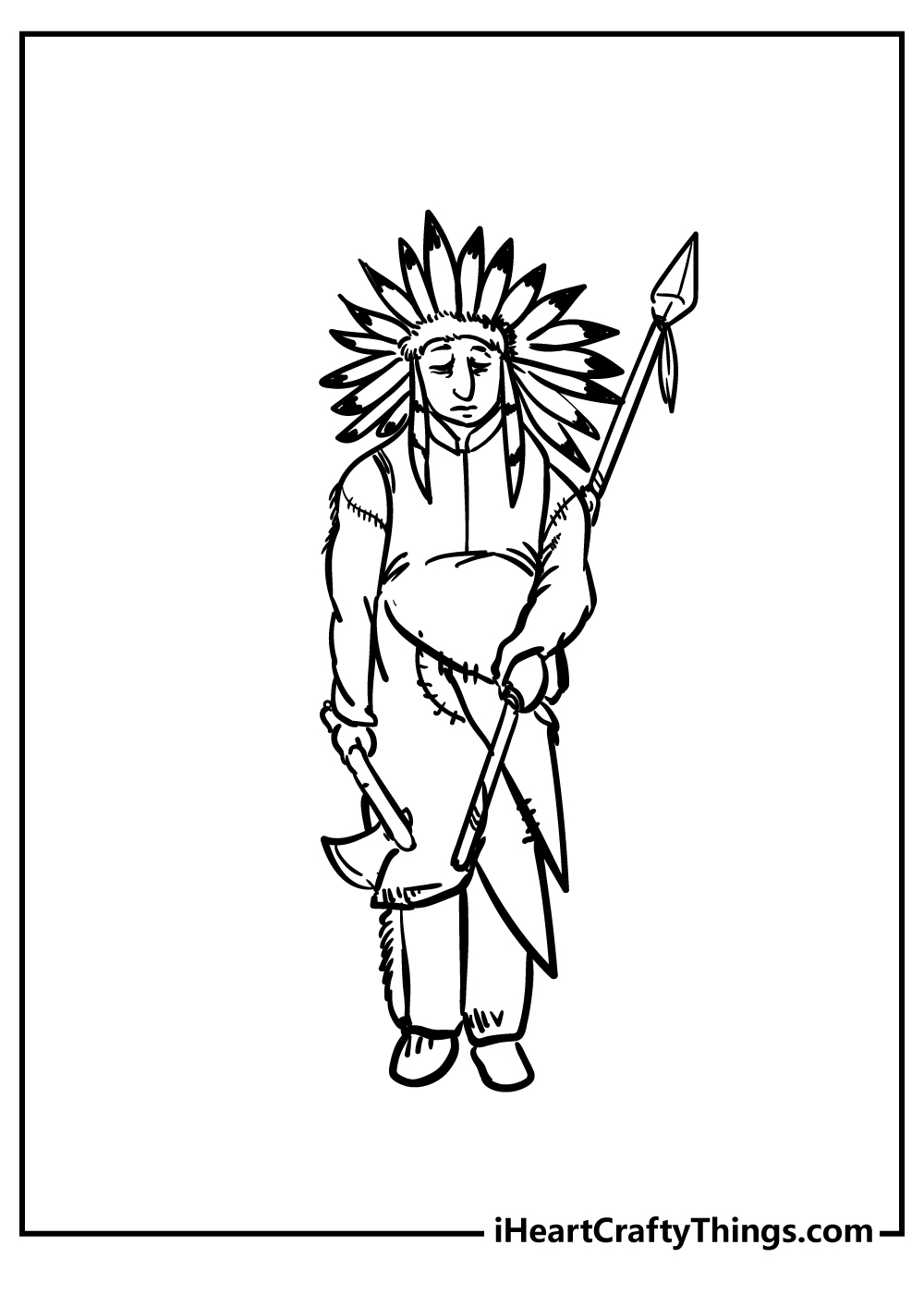 The boy in this final Native American coloring sheet is looking like he's having a great time!
He looks like he could be participating in a traditional dance, and this was another prominent aspect of Native American culture.
We think that for this one some bright colors would be great, as they will help to highlight the joyful atmosphere of a celebration.
If you go for this approach, you could use some art mediums that would compliment brighter colors such as colored pens and acrylic paints.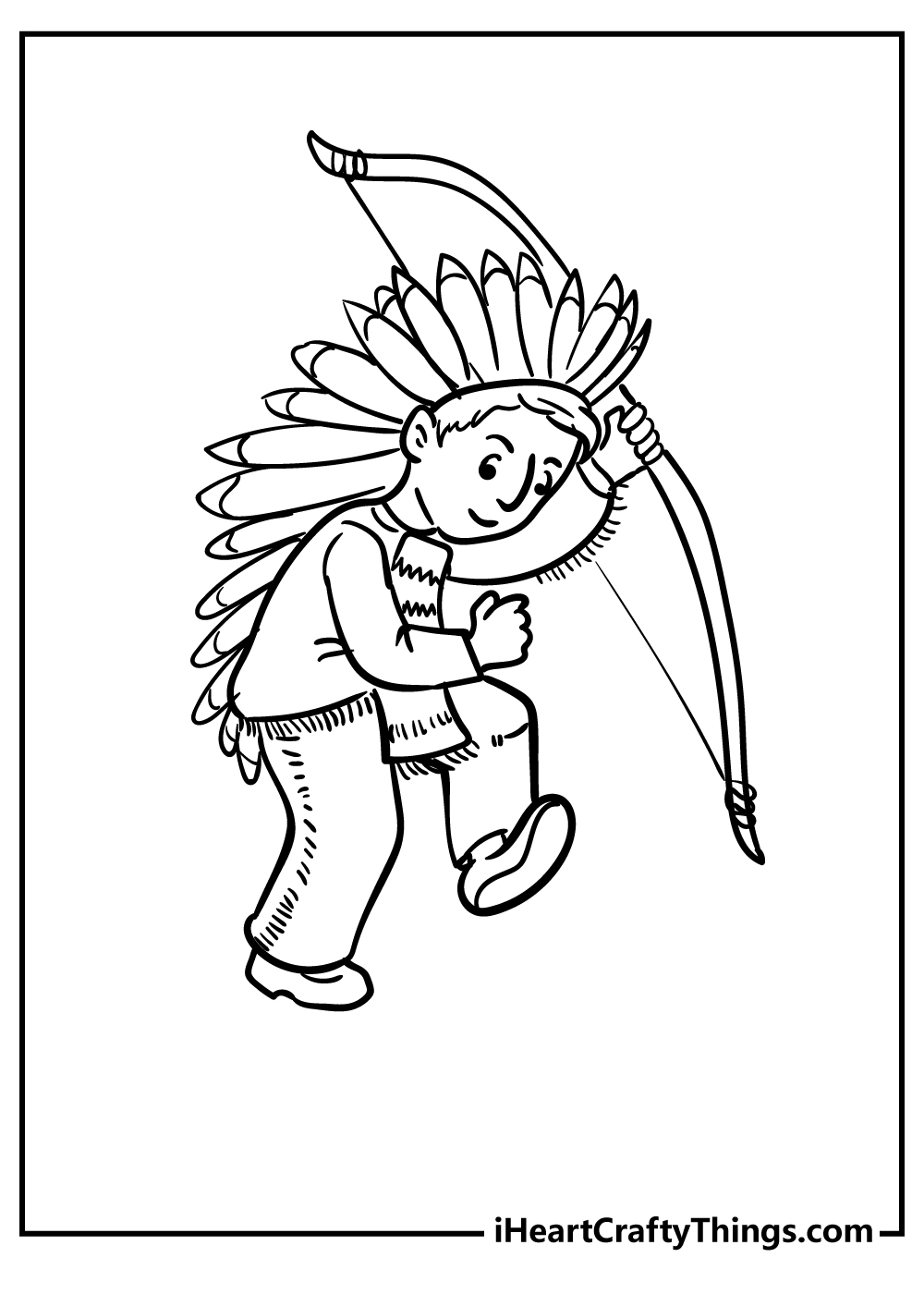 Native American Coloring Pages – Which will you choose?
That was quite a journey of color and culture that we went on in this collection of free Native American coloring pages for kids.
We tried to create a varied set of scenes depicting this vibrant culture for you to enjoy, as that allows for you to use all of your favorite colors and art mediums!
Now that you have completed this collection, you could keep the fun times going by visiting our website for some more coloring page collections and other goodies to enjoy.
We upload new items for you to enjoy regularly, so keep checking in to never miss out!
We would also love to see how you finished off some of these Native American coloring pages, so please share some of your favorite finished pieces on our Facebook and Pinterest pages.