In the world of music, there are many artists who have achieved legendary status to become icons in their own right.
Of all of these artists, few would become as legendary or influential as Michael Jackson.
Nicknamed the King of Pop, Michael Jackson would go on to be one of the most successful music artists to ever live, and his influence endures to this day.
He is also the focus of this awesome collection of free Michael Jackson coloring pages for kids.
In this collection of 15 pages, you will get to color a range of images spanning his incredible career.
Every single page in this collection is free for you to print and enjoy as you please! You can also share the set with fellow Michael Jackson fans to enjoy as well.
So now, get ready to celebrate this music legend as you dig into this collection!
Remember to share some of your finished pages on our Facebook and Pinterest pages so we can see how they turned out!
15 Brand New Michael Jackson Coloring Pages – Free to Print and Color
Our first free Michael Jackson coloring page for kids that we have for you features a great close-up of this pop legend.
It presents a great likeness for the artist, and he has a rather intense expression on his face.
When coloring this picture, do you think you will go with some more realistic colors or maybe go for a more stylistic approach?
It will be great to see how you choose to color this first page!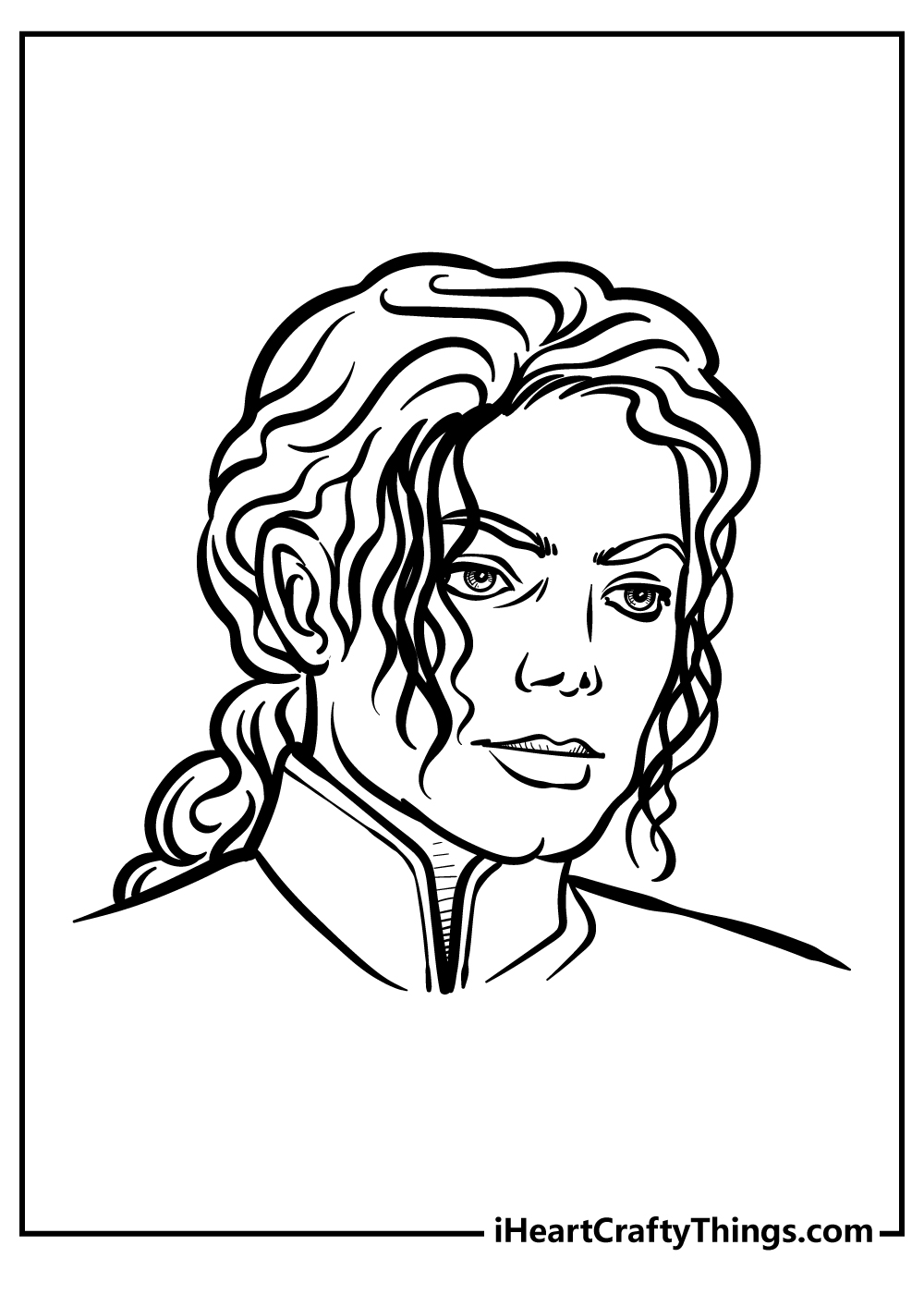 Bring the King of Pop to life with color in this high-energy portrayal of Michael Jackson dancing in his signature outfit!
His dazzling suit, aviator sunglasses, and fedora make the perfect canvas for your most vibrant markers or crayons.
Capture the spirit of Michael's show stopping dance moves and make this music icon shine in your own creative style!
This coloring page is a great way to celebrate Michael's ability to electrify crowds with his dancing.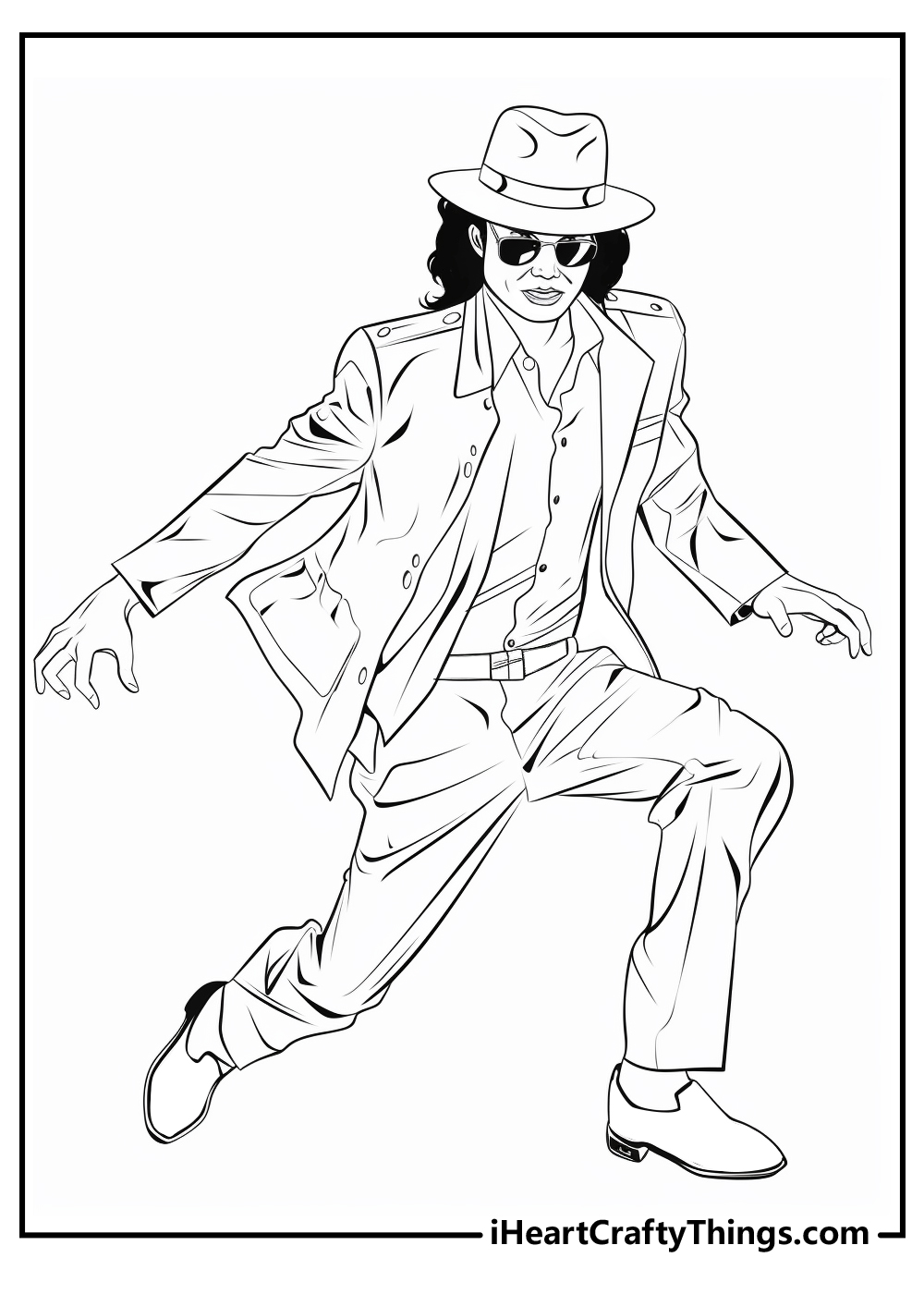 Michael Jackson was famous not only for his incredible music, but also his intense dance moves.
He popularized many famous dance moves, and in this second page he can be seen performing one of these moves!
There are tons of great details for you to color in this page, and you could really portray the fun mood given off by this picture with the colors you use.
We would use some bright, vibrant colors for this one, but some darker colors could look great as well!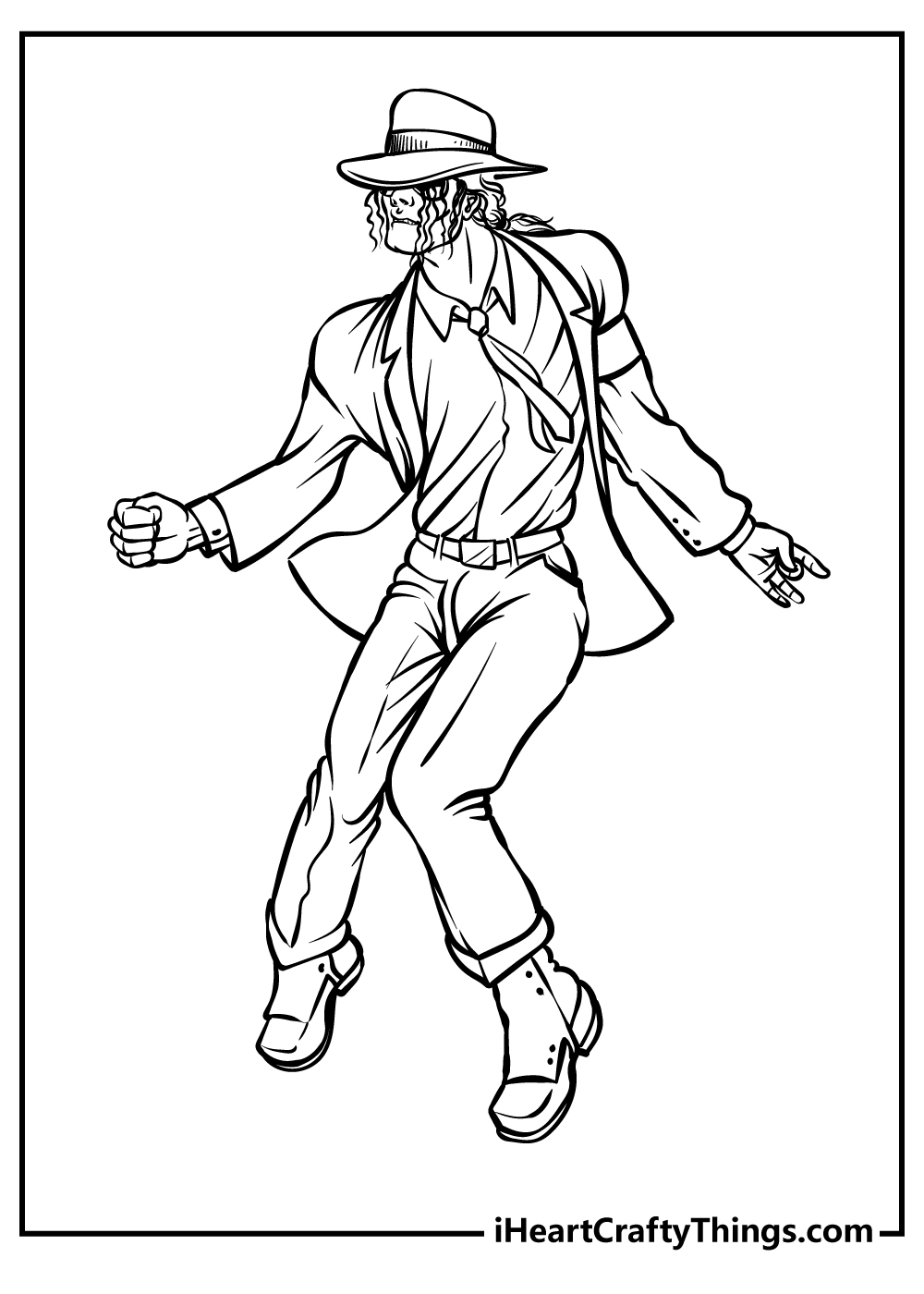 Recreate Michael Jackson's legendary look as you color this image of the music legend leaping dynamically across the page.
His suit jacket flows behind him as his hair whips around his expressive face. Use bold reds, blacks, and golds to color Michael's outfit just like in his most famous music videos and performances.
Your coloring skills will bring this portrait of the King of Pop to life! Michael was known for his slick suits and dance skills, so make sure to use your most fun colors.
This next picture that we have for you to color showcases a lot of attitude! Michael Jackson is performing in this one, and he really seems to be feeling the moment.
When coloring this one, you'll see that there are tons of great small details to his outfit. You could color his outfit to match how it looked in real life, but you could also design a brand new look for him!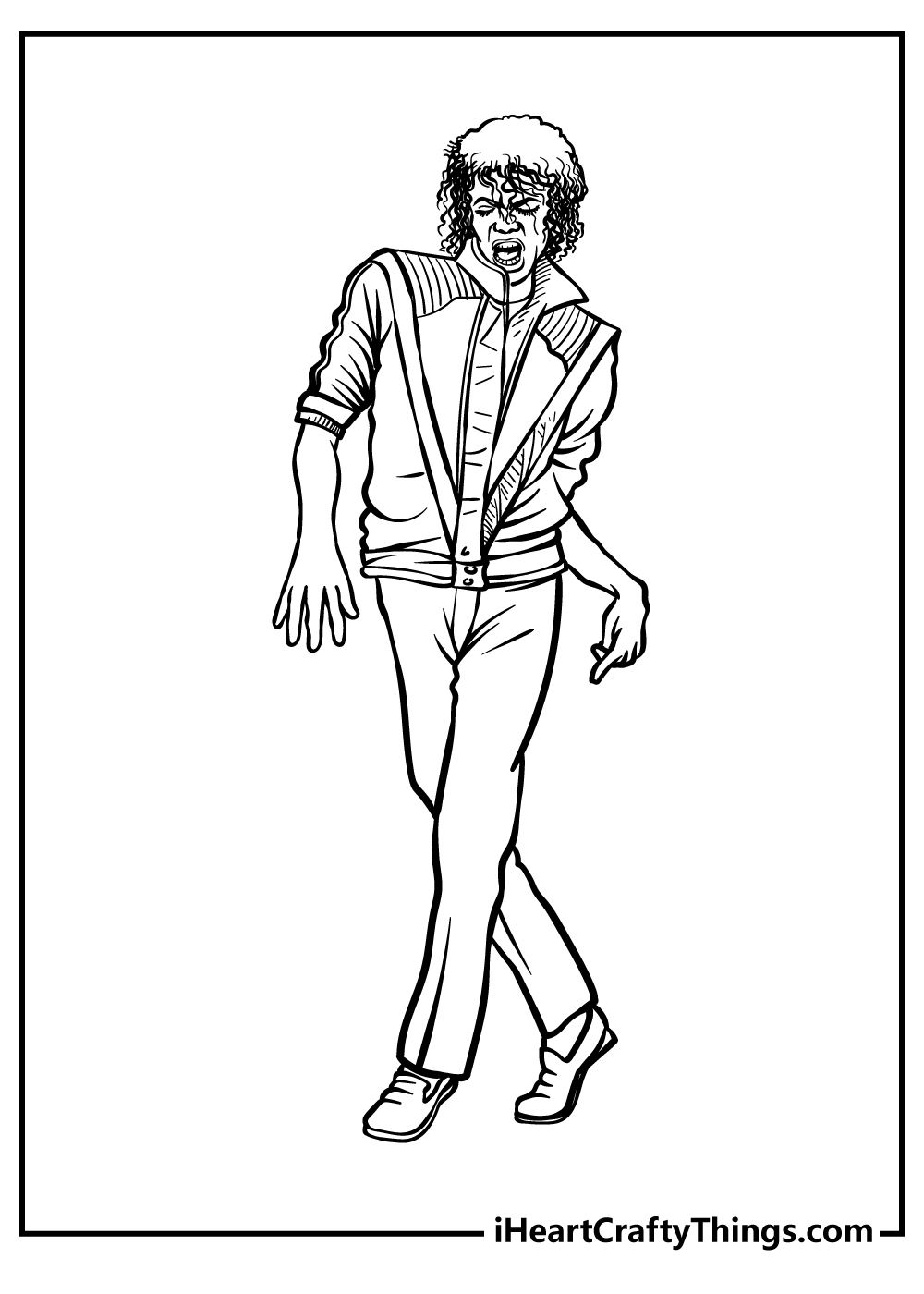 There's a lot of emotion being portrayed in this next Michael Jackson coloring sheet.
He is giving another performance in this picture, and judging by his facial expression he must be giving a rather powerful performance. What song do you think he could be singing in this image?
Maybe you could show what you think by writing in some of the words to one of your favorite Michael Jackson songs around him! Which song would you choose if you do that?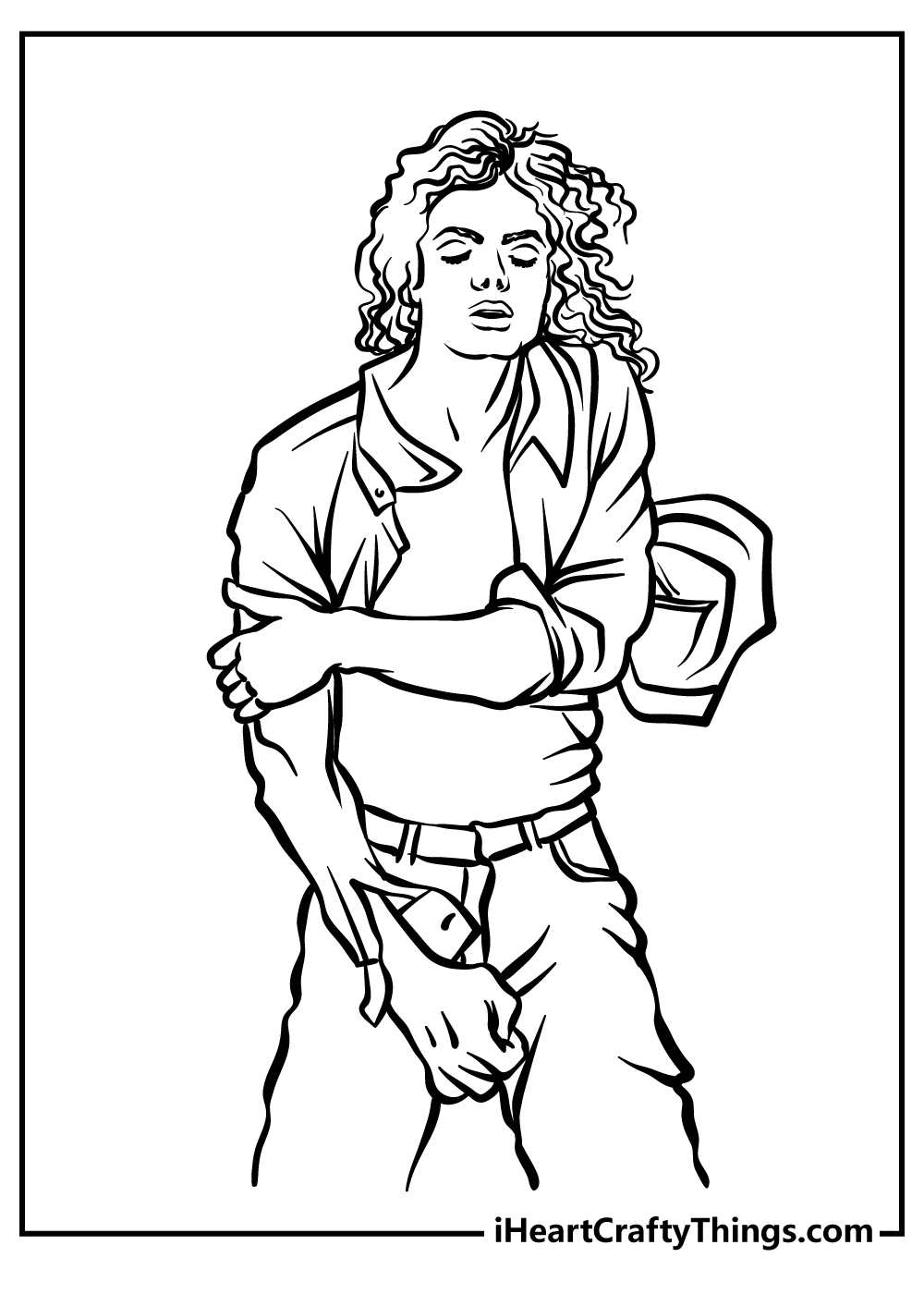 Michael Jackson revolutionized dance with his signature backward moonwalk, and now you can color him mid-glide across the page!
Use smooth strokes and cool shades of blue to color in his suit and add definition to his gravity-defying pose.
Leave white space to represent the light glinting off his iconic hat and shoes as Michael pulls off this illusion.
The moonwalk wowed audiences worldwide with its innovative and magical moonwalking motion.
Your creative coloring will capture the magic and innovation that made Michael Jackson's dancing so unforgettable and groundbreaking.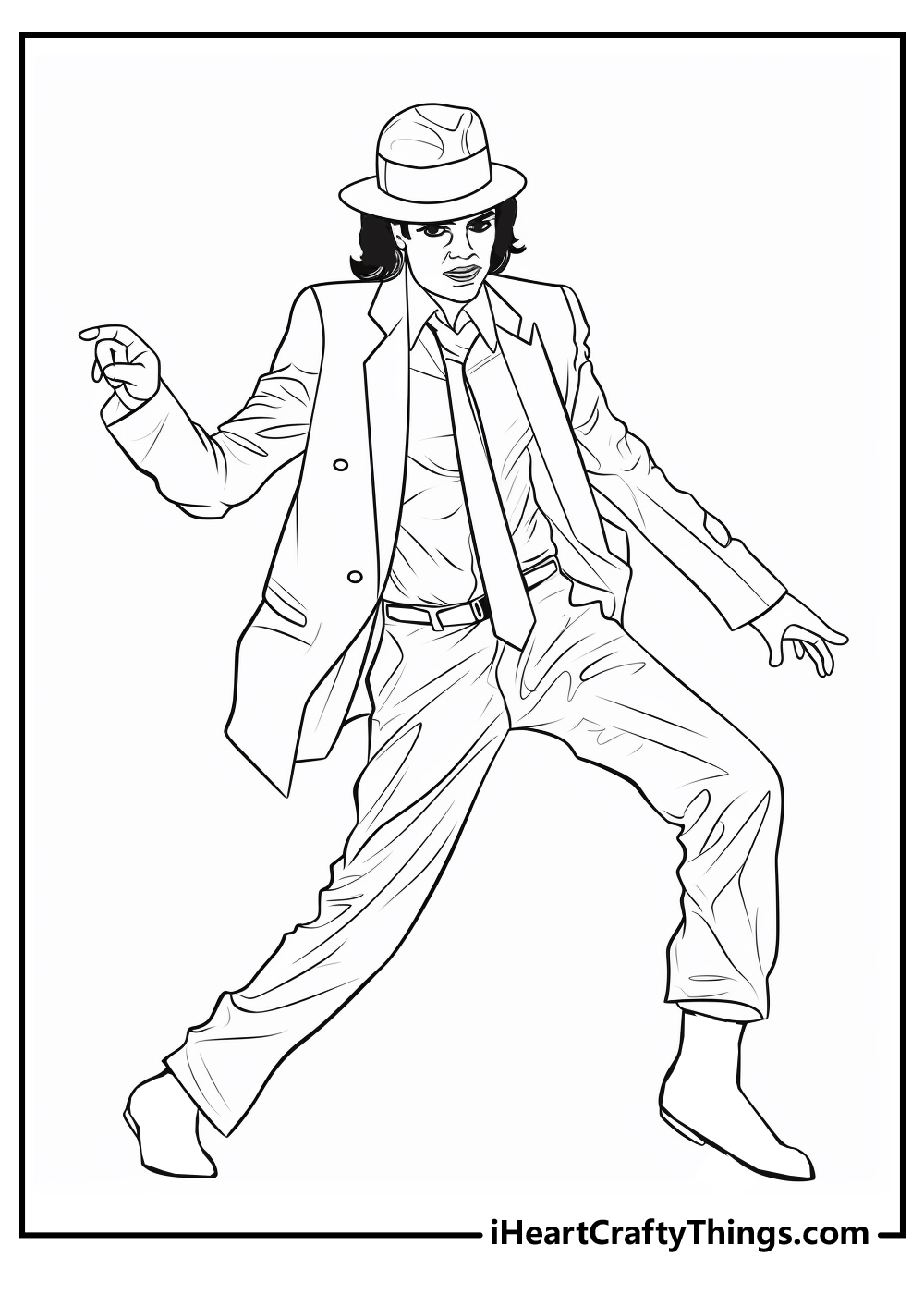 Michael Jackson was often seen wearing cool hats like the one he's wearing in this next page.
These hats could come in all manner of colors and styles, and you get to decide what this one will look like! What sort of colors and styles came to mind for you when you saw this particular outfit?
The background has been left blank, so you could draw a background setting or maybe add some beautiful patterns and colors. What will you choose to finish this wonderful image off?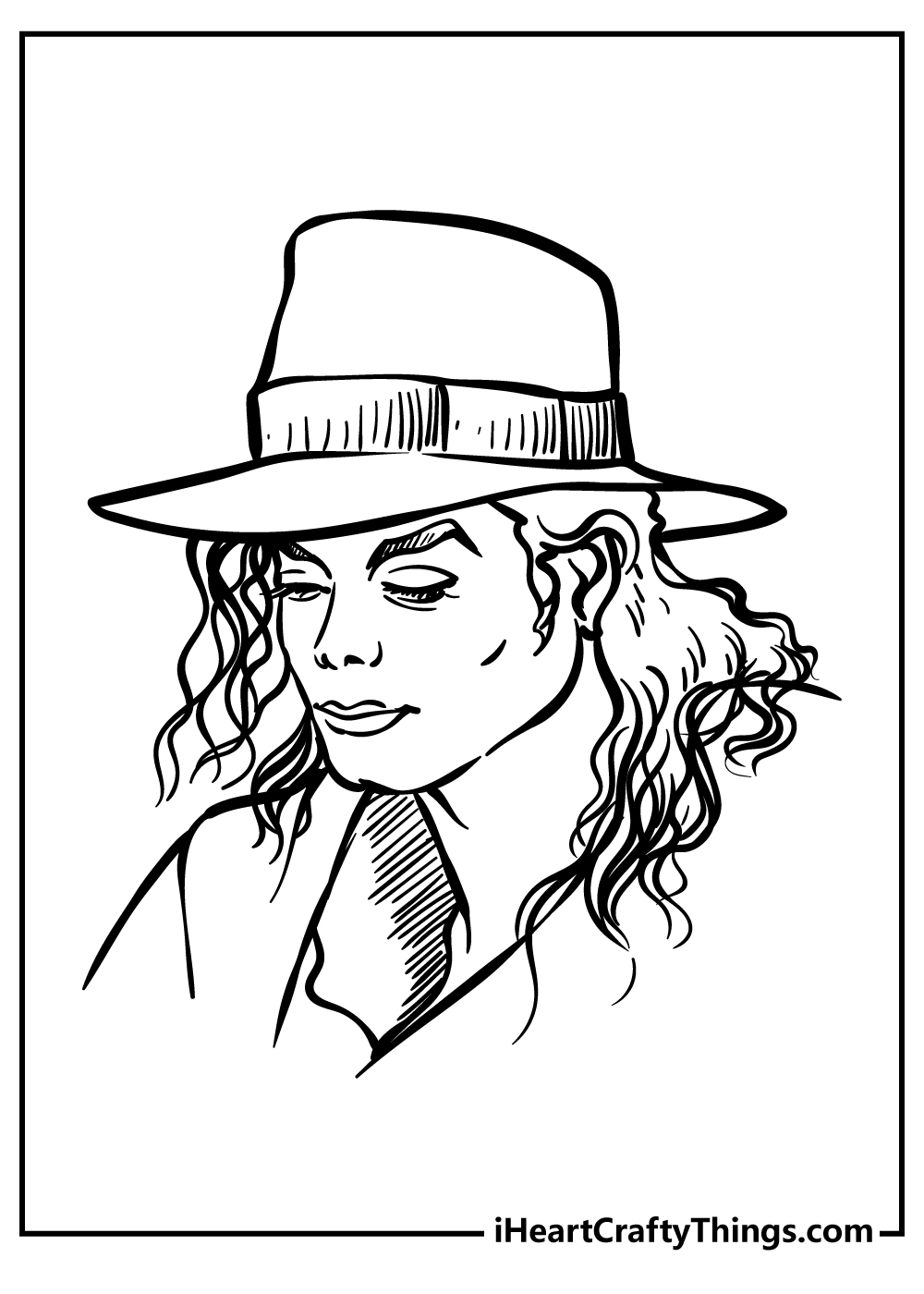 We've mentioned before that Michael Jackson was famous for his dance moves, and he is performing another of his signature moves in this page.
This is a really cool image of the King of Pop, and now all that remains is to add some color to it!
Do you recognize the performance this image is based on? If you do, you could color it to look as it did in that performance.
As always, you could also go for some unique color choices of your own! Will you go for the classic look or create a brand new look for him here?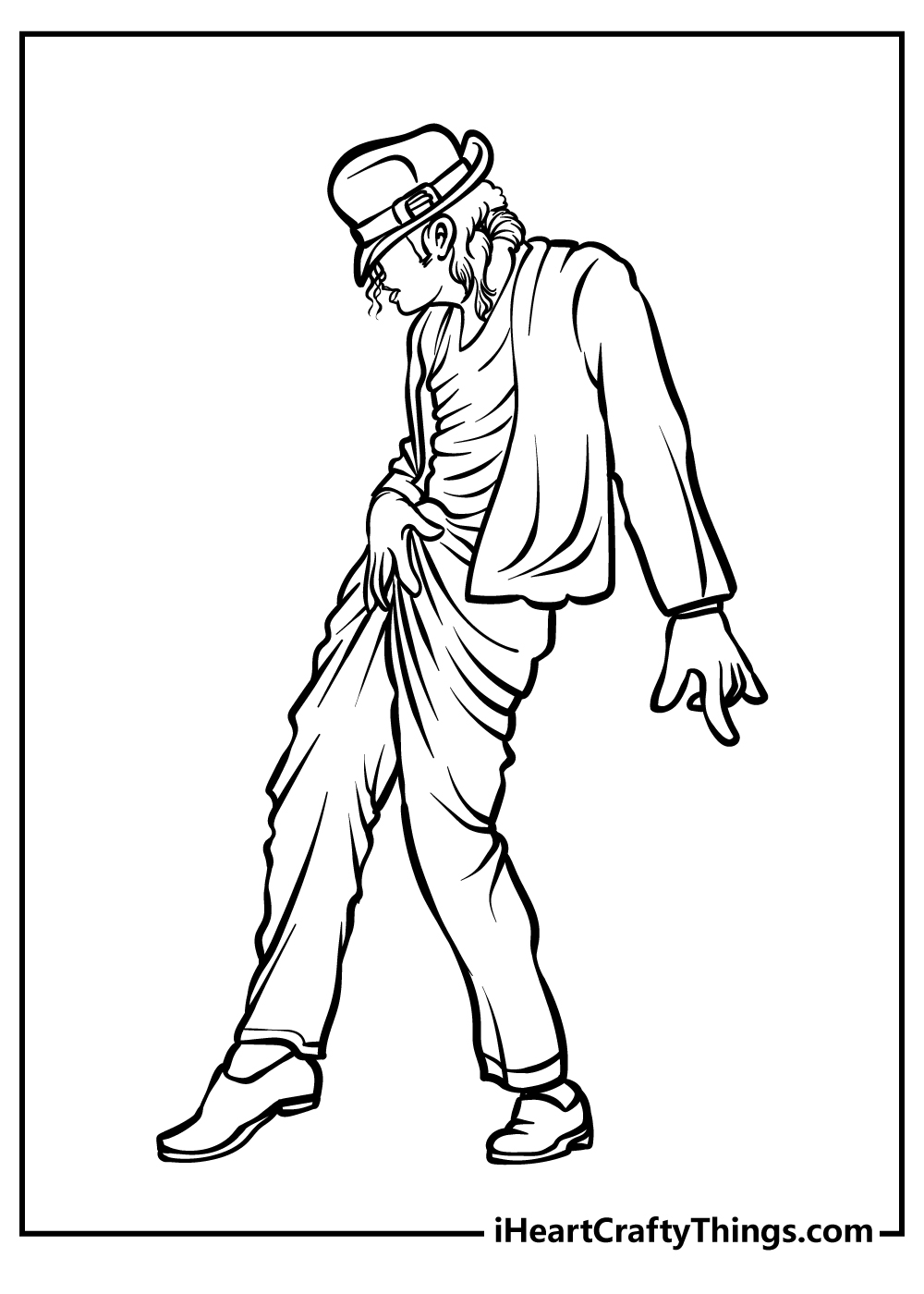 Dance along with the King of Pop in this coloring page by bringing Michael Jackson's outfit to life in vivid color!
Use bright reds, golds, blacks and silvers to capture the shimmer and shine of his signature suit and hat.
Choose colors that express the joy and energy Michael brought to every performance. You'll love watching your colors bring this music icon to life on the page!
Michael's dance moves, including spins and kicks, inspired generations.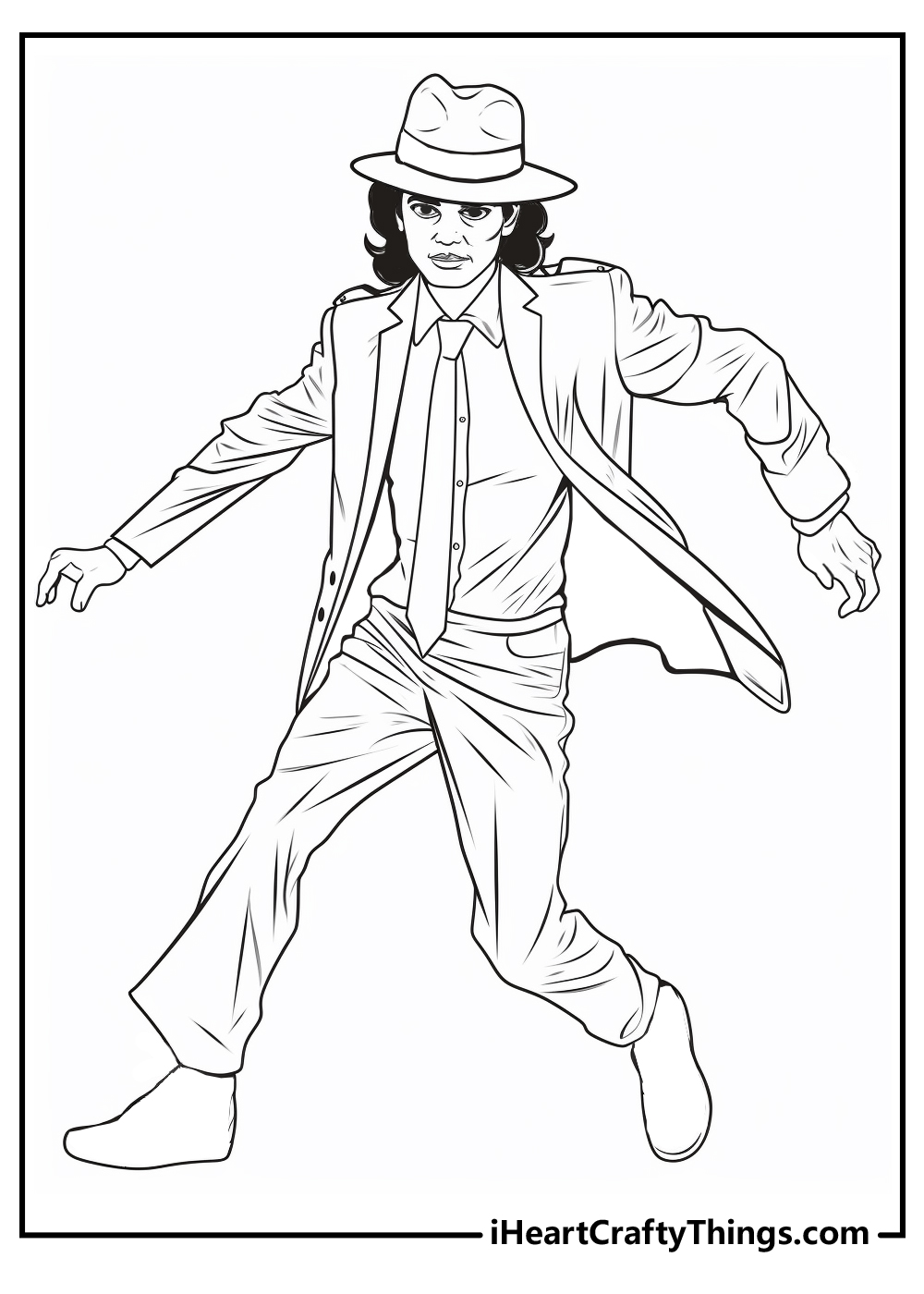 Here's another cool Michael Jackson coloring printable for you to enjoy! This is another one that features some of his famous moves.
It also showcases his famous sense of style, and you get to take on the role of stylist as you color it in!
If you struggle to choose between colors and styles, remember that you can print out as many copies as you like in order to experiment.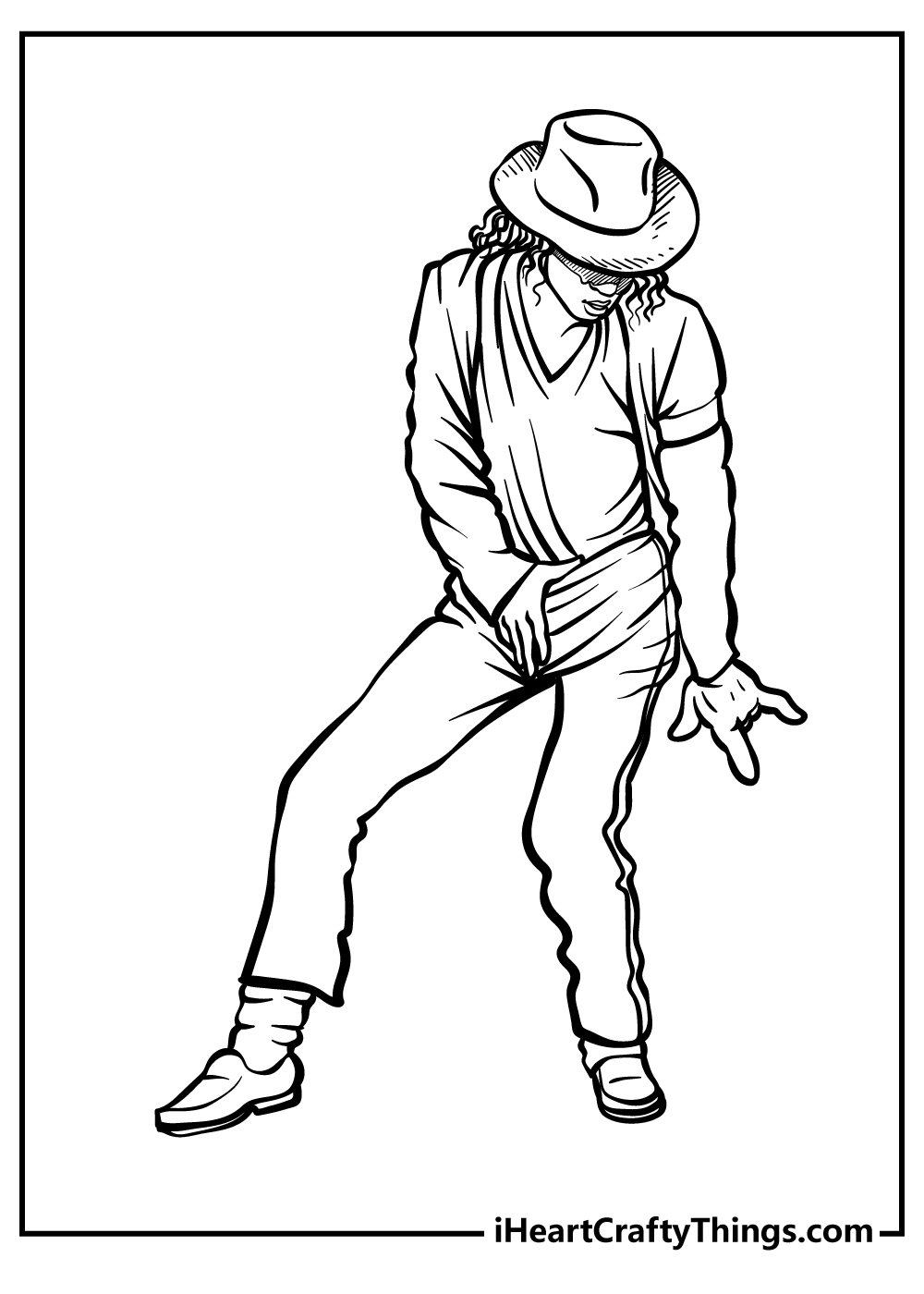 There's another close-up of Michael Jackson for you to color in this next page! This is a lovely picture of him, and he's looking rather happy in this one.
You can also see some details of his outfit, but there is some space left beneath him on the page. You could fill it in by extending the details down to show more of his outfit.
You could also add some more background details, so there are lots of ways you can put your own spin on this one!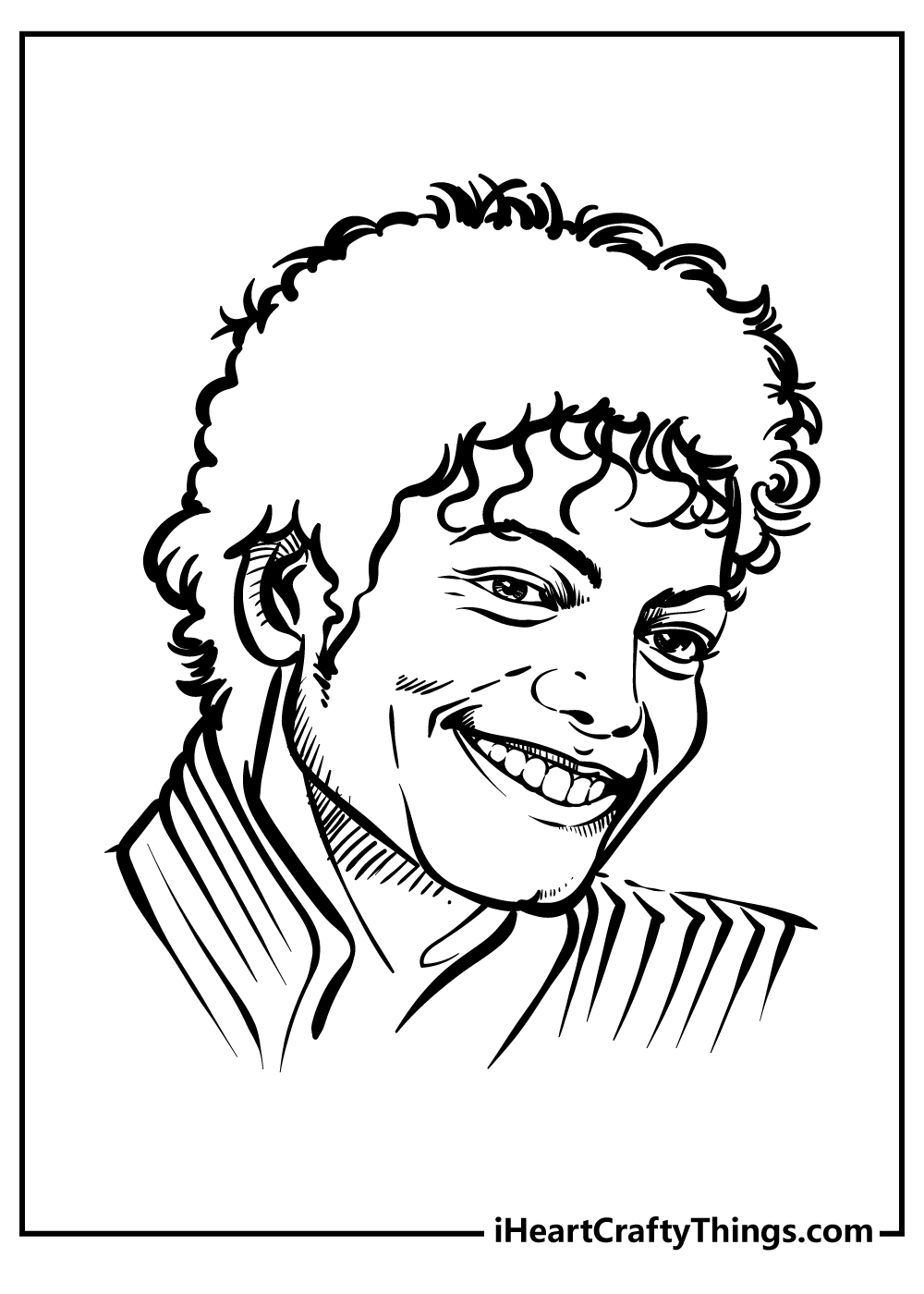 Another classic pose is featured in this next coloring sheet! He looks to be mid-performance again in this one, and he is also decked out in one of his classic fashion styles.
There is a lot of empty space in the background again, so don't forget to add some more details and background elements that you may like for this picture!
Then, there will just be one more page in the collection, so when you're ready we shall move on to that last page.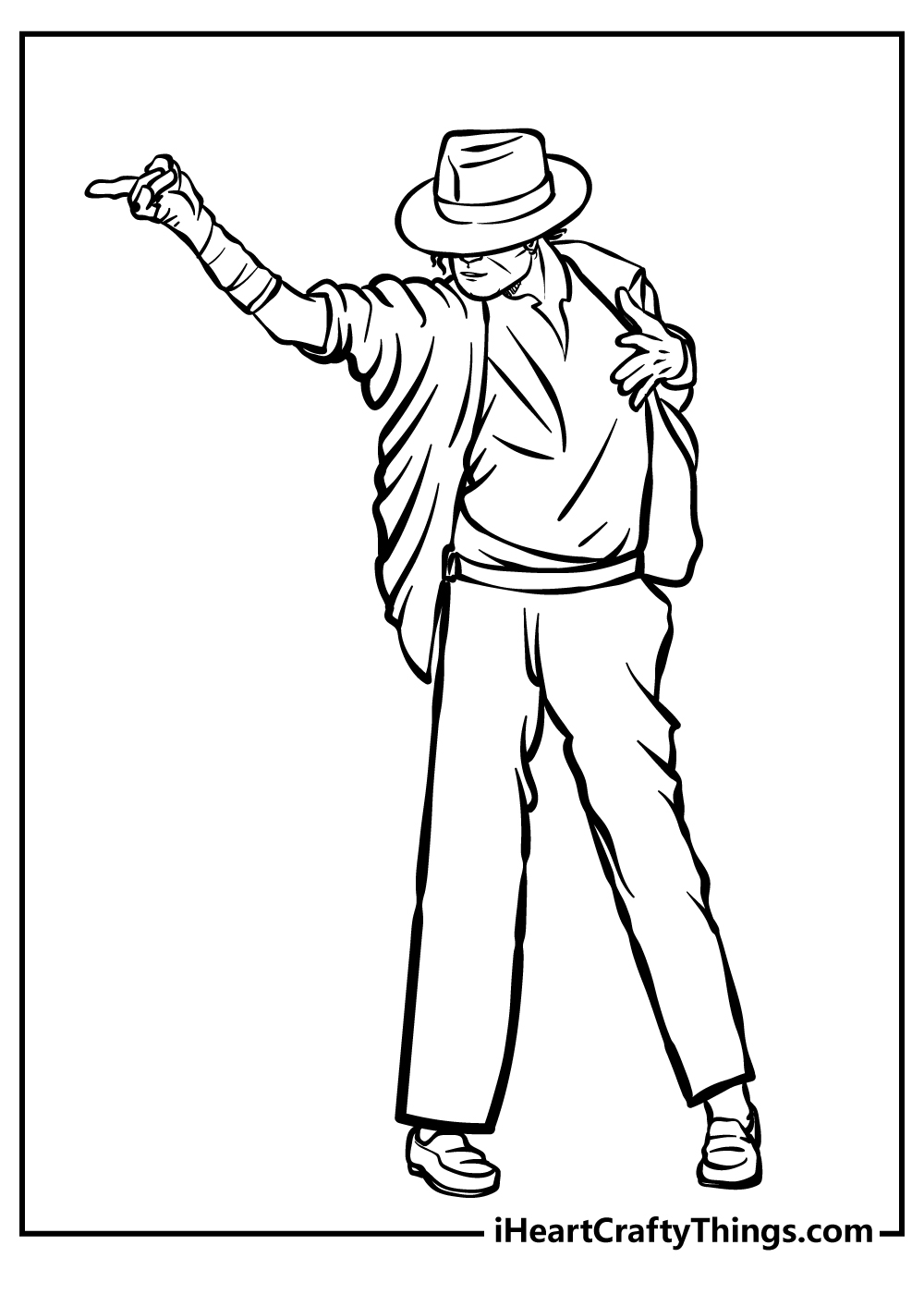 Michael Jackson's music lives on, and you can keep his memory alive by coloring this high-energy tribute to the King of Pop!
Capture Michael mid-spin, his pose full of the kinetic energy that electrified audiences around the world.
Make the white sequined glove pop with bright colors and use bold shades for his suit and hat.
Michael broke records with smash hits like "Thriller", "Beat It", and "Billie Jean", and your coloring will celebrate his enduring musical legacy as the greatest entertainer of all time.
Beyond dancing, Michael Jackson's music defined generations and changed pop history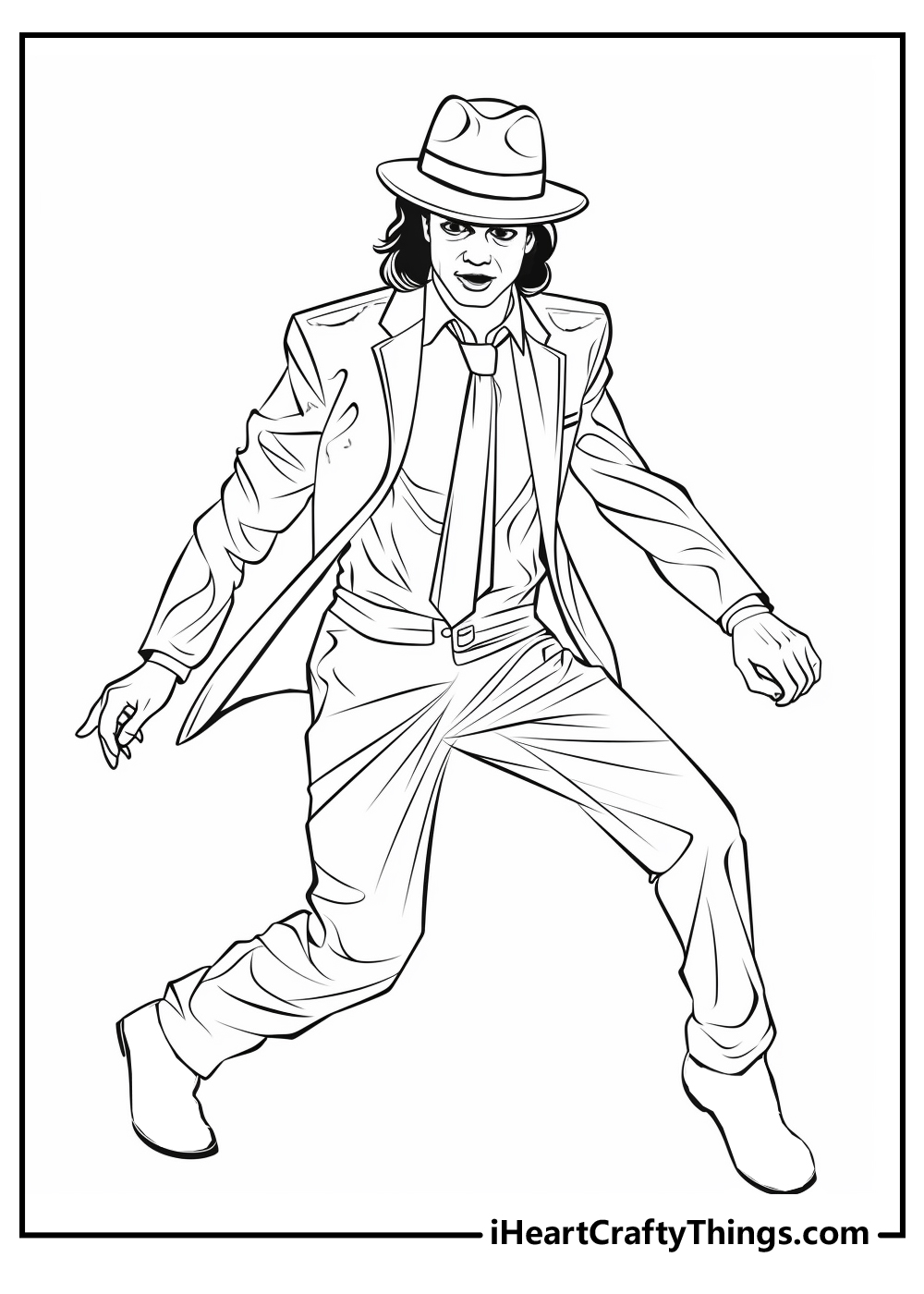 There's one more classic dance move on display in this final Michael Jackson coloring page!
Another great Michael Jackson look is also being shown off in this one, and there are so many great details to color.
When coloring an image that has some small details as this one does, you can use art mediums such as colored pens and pencils to have more control over the smaller color applications.
We can't wait to see what colors, art tools and techniques you use to finish off this final portrayal of the King of Pop!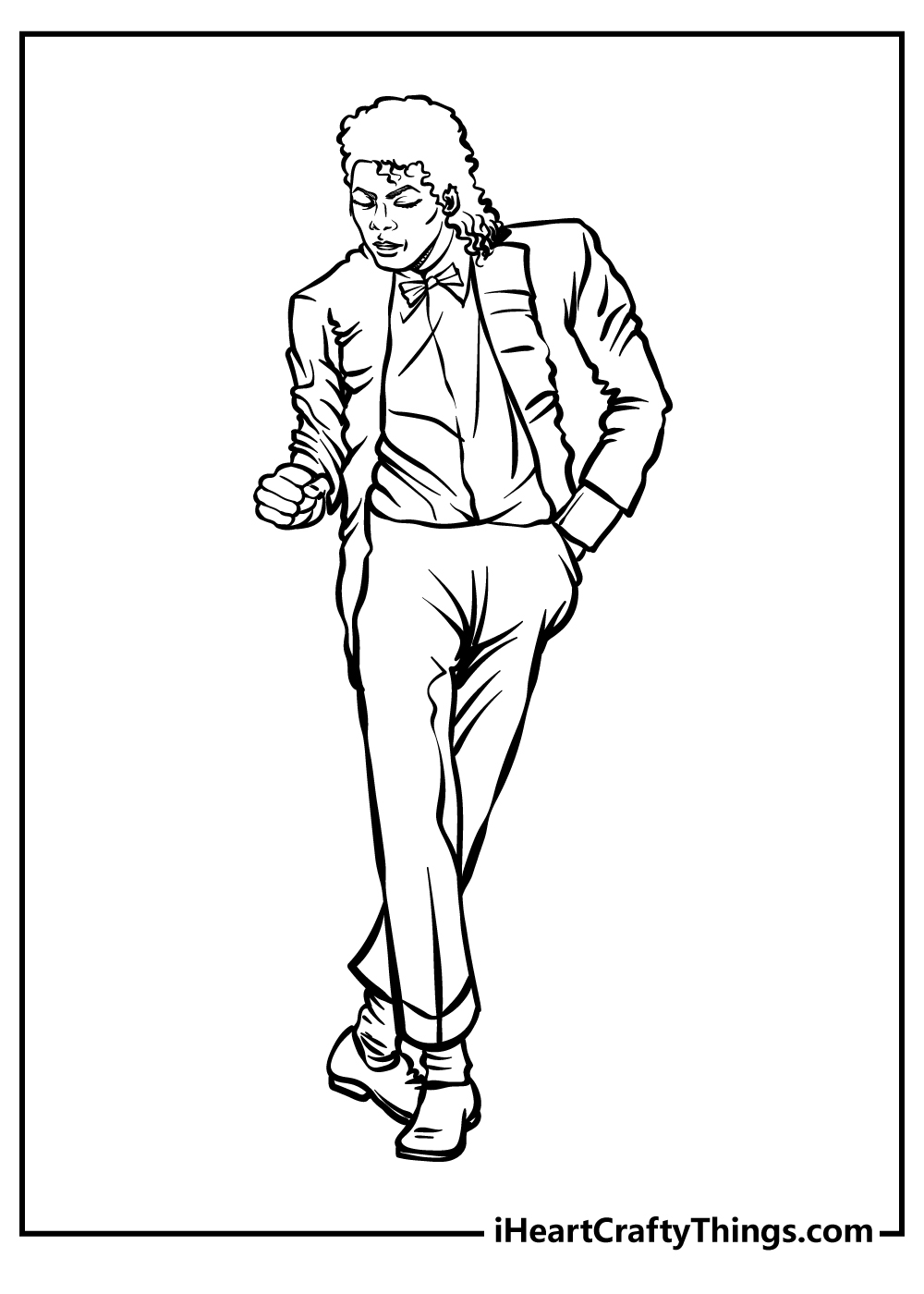 Michael Jackson Coloring Pages – Which will you choose?
We hope that you had an incredible time honoring this music legend during this collection of free Michael Jackson coloring pages for kids!
There were so many great poses and compositions for you to get creative with, and it will be great to see how you went about finishing them off.
If you're ready for even more fun, you can check out our huge selection of free coloring pages that we have for you on our website! Check in often to never miss out on our new uploads.
Lastly, remember to share some of your finished Michael Jackson coloring printables on our Facebook and Pinterest pages for us to see.