Mexico is a country that is known for its vibrant culture. This is shown by bright colors, high-energy music, incredible food and many other aspects!
There is a lot of art created around this wonderful country, and you will get to create some of your own in this collection of free Mexican coloring pages for kids.
Throughout this collection, you will be able to use all of your favorite colors, art mediums and techniques to create some stunning images.
This set of pages serves as a celebration of Mexican culture and style! You can also print out the pages we have for you as many times as you like so that you can experiment as much as you like.
It would also be fun to share this collection for others to enjoy as well!
We hope you're ready for some intense coloring fun as you embark on this collection.
When you have completed your favorite pages from this set, please share some of the finished pages on our Facebook and Pinterest pages for us to see!
14 Brand New Mexican Coloring Pages – Free to Print and Color
We have a really fun and creative image for you to color in this first page of our collection of free Mexican coloring pages for kids!
We mentioned that music is a big part of Mexican culture, and that is represented here. There are many great Mexican guitarists, and it is a common instrument featured in music from this country.
This image has a guitar player that has the shape of Mexico for his head, and it serves as an interesting image that represents the country!
What colors will you use as you color this unique representation of Mexico?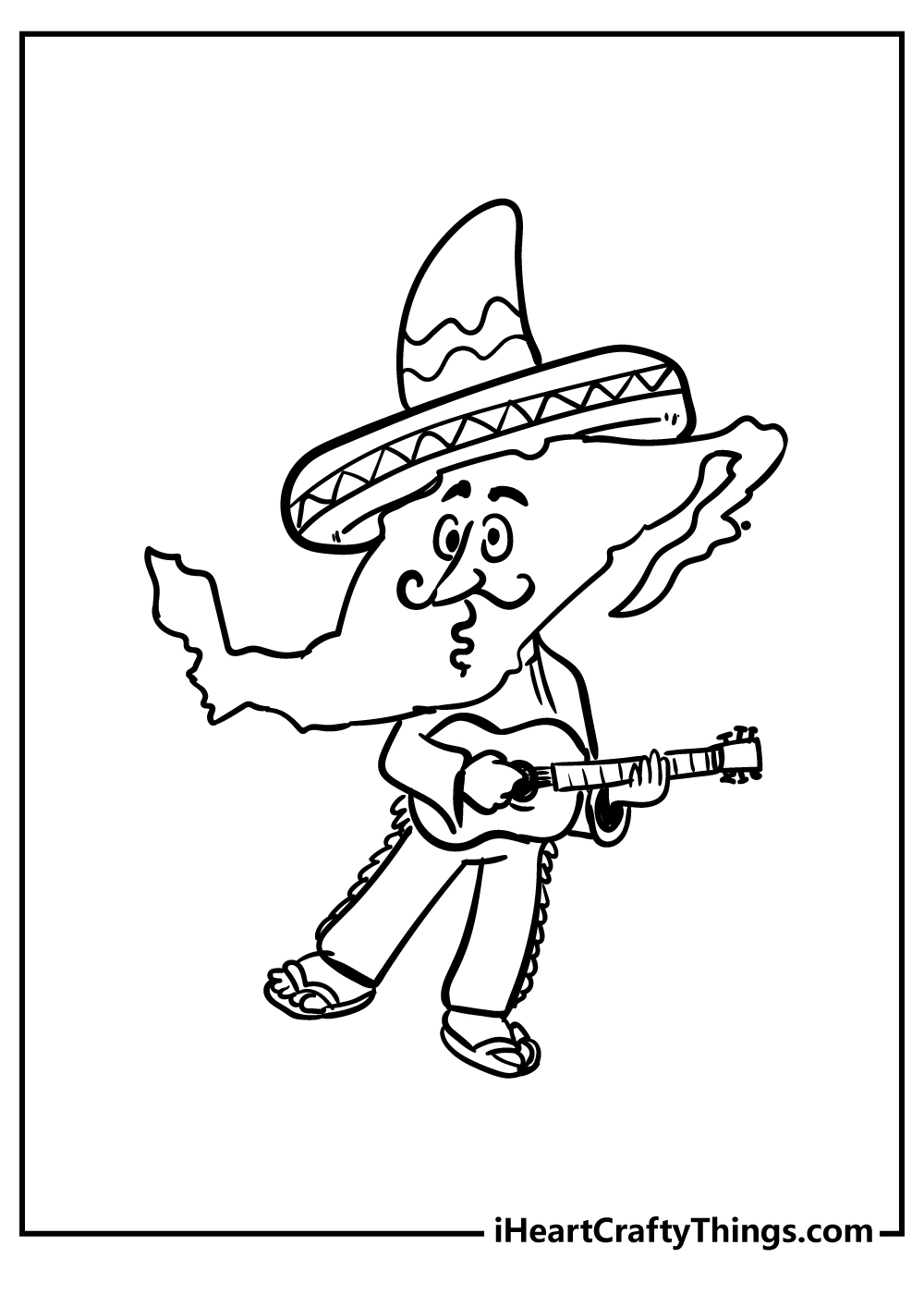 This Mexican coloring page is absolutely packed with details for you to color! From the sombrero to the traditional clothing, you can fit a lot of color in when you fill in this page.
We would recommend going as bright and colorful as you can with this one, but it's up to you to decide!
This next picture we have for you is very cool! This man looks like some kind of Mexican lawman, and he looks like he walked right out of the frame of a classic Western film.
We think that it would look really cool to create a background for this image.
You could create a town setting for this picture that would finish off the feel of a scene from a Western film for one idea. What other settings can you think of for this picture?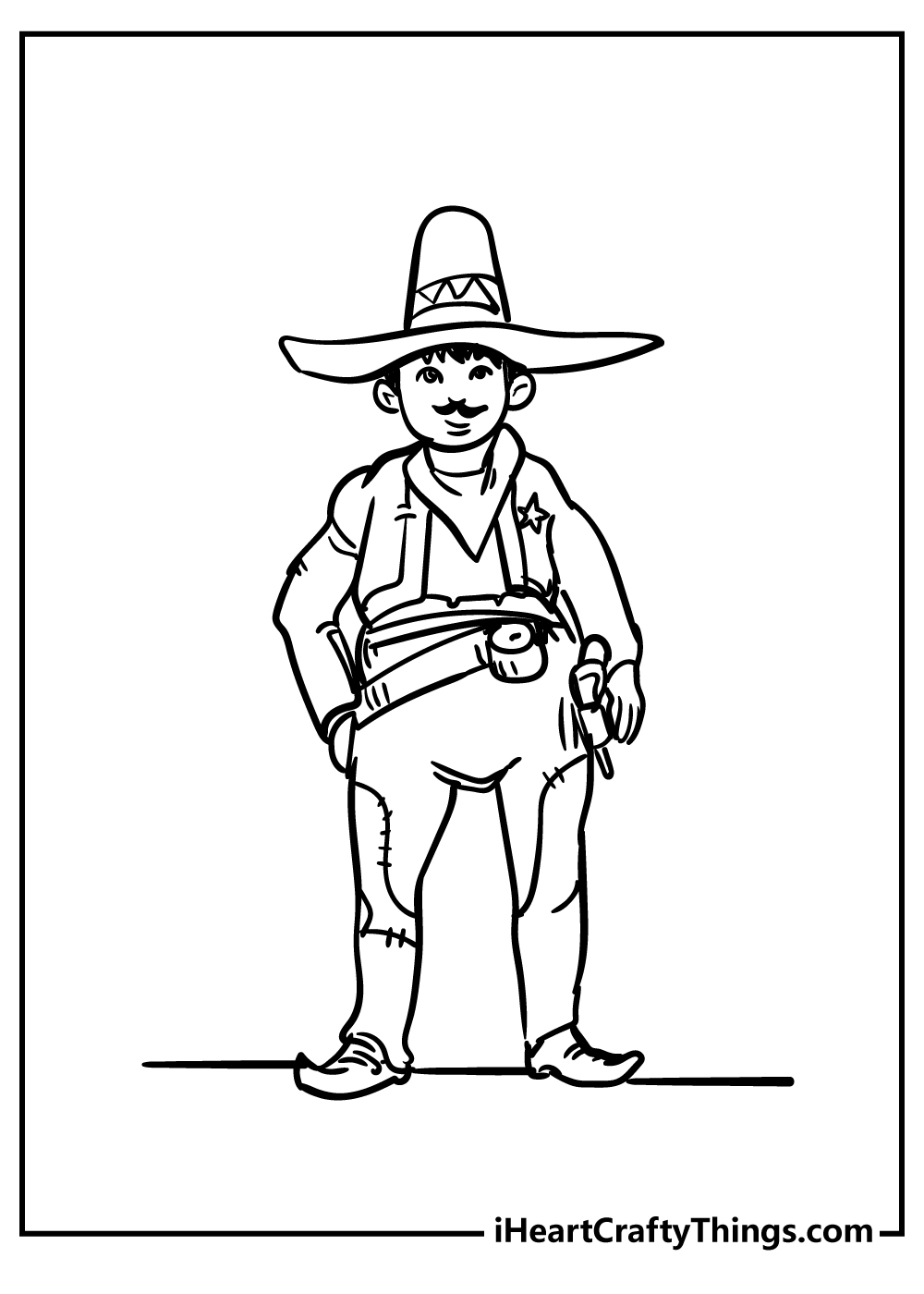 Our next Mexican coloring sheet features another iconic Mexican instrument! These shakers are famous, and they really help to provide texture and rhythm to music from the region.
They are also known for the vibrant colors and patterns that they are usually decorated with.
There is some empty space left on these shakers, so you could add your own patterns and details to make them even more personalized!
How would you decorate these beautiful shakers?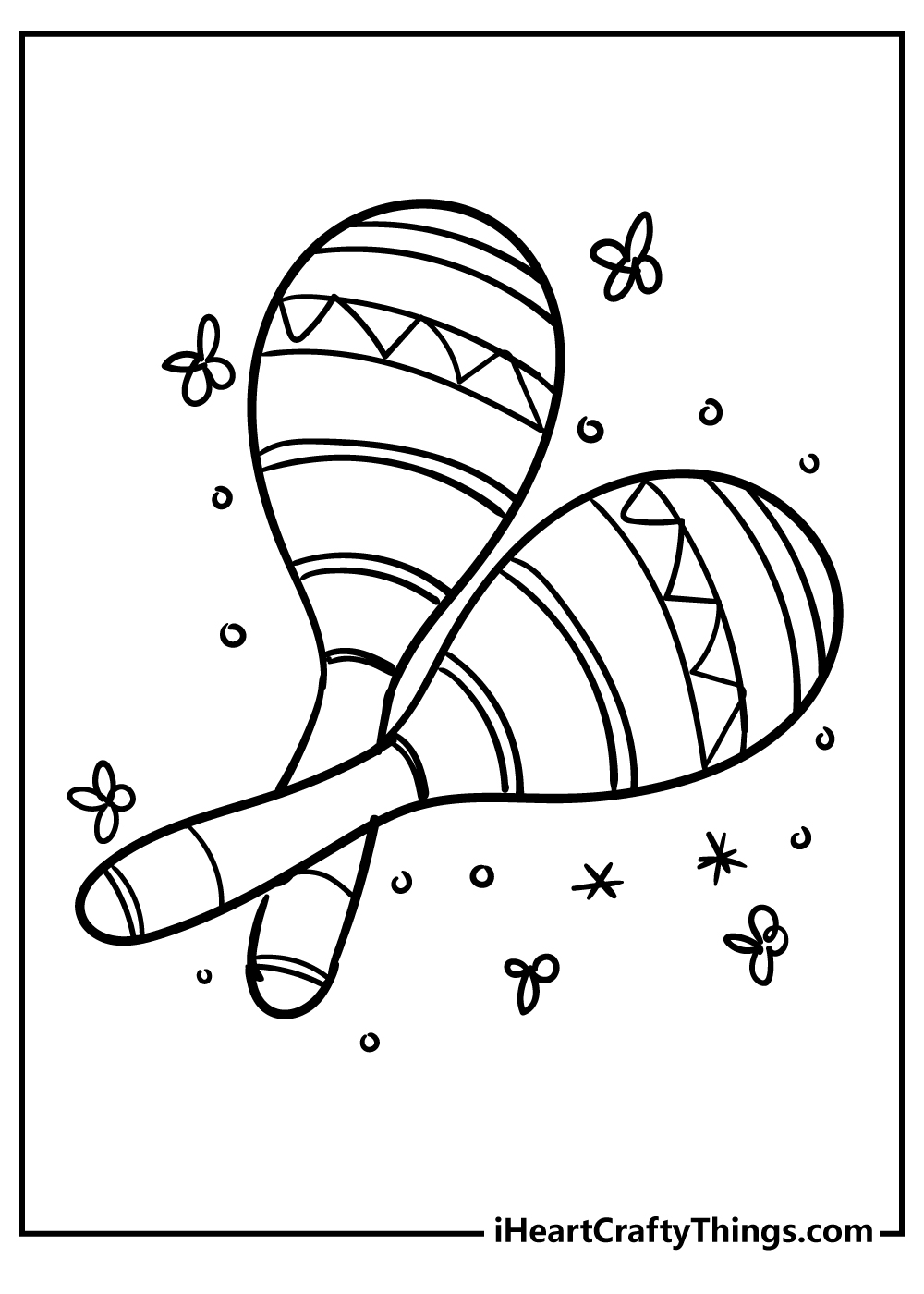 Once you have colored the character on this page, you could fill in the background in a few ways as well. You could fill it with colors, shapes or even draw some background details of your own.
There are a few ways to go about it, so how will you fill in the background of this particular page?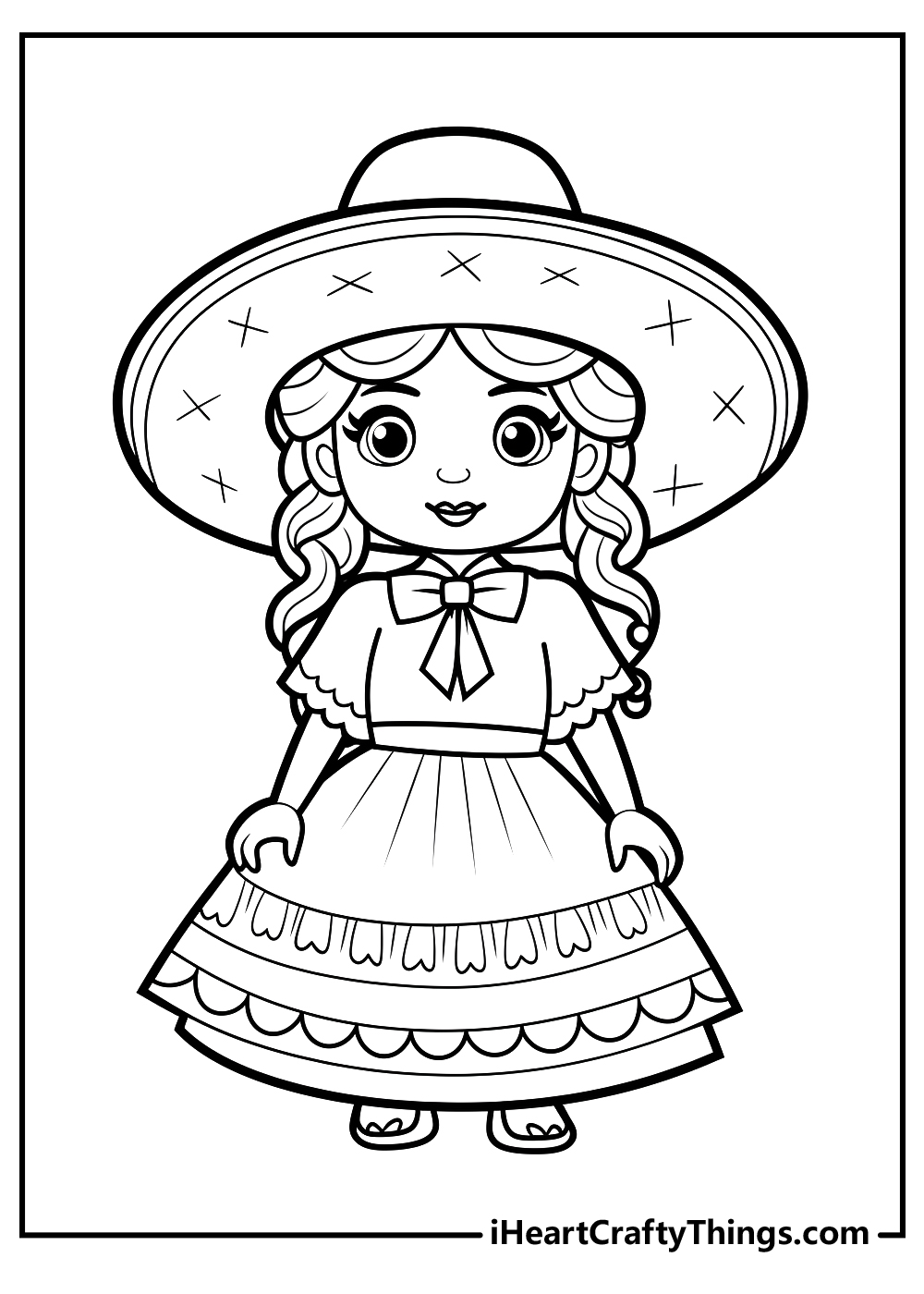 There's a wonderful happy feeling to this next scene, as this man is happily brandishing some shakers. There is a party feel to this image, and it makes one think of a celebration.
There are also loads of details that you could use some lovely bright colors on.
Details such as the shakers as well as the poncho that he is wearing have some small pattern details that will be perfect for some bright colors.
We will be interested to see how you color this one in!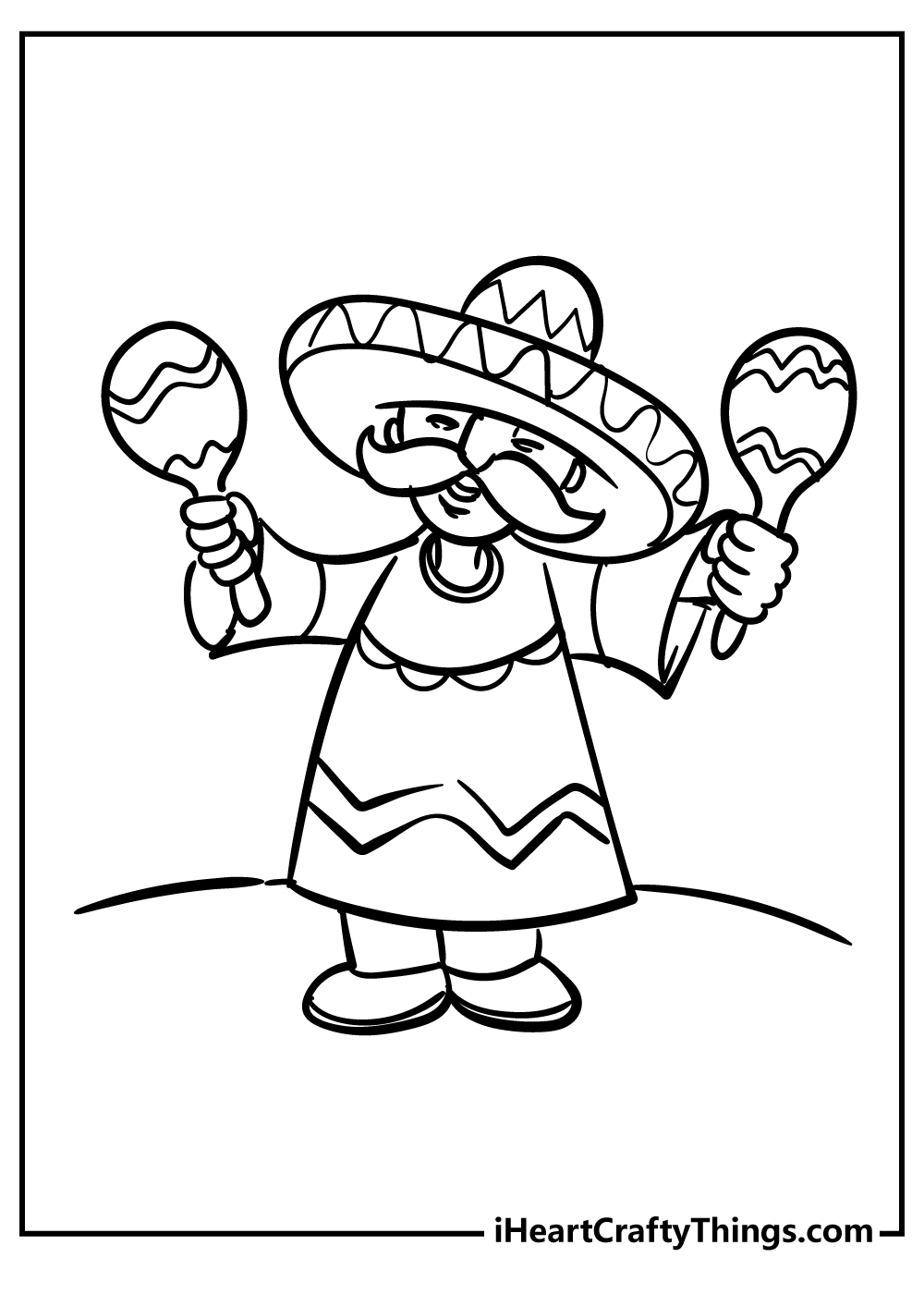 We've mentioned a few things that are common in Mexican culture, and we also touched on how food and cuisine is very important.
There are many foods originating from Mexico that are popular around the world, and few are as popular as the taco!
This simple yet delicious dish comes in many shapes, sizes and variations, and a delicious-looking one is here for you to color.
You could use some great colors for the taco itself, but the word taco is also written above the food in some bold font.
If we were coloring this picture, we would try to use a different color for every letter of the word. Will you use an approach like this, or will you go for a different idea?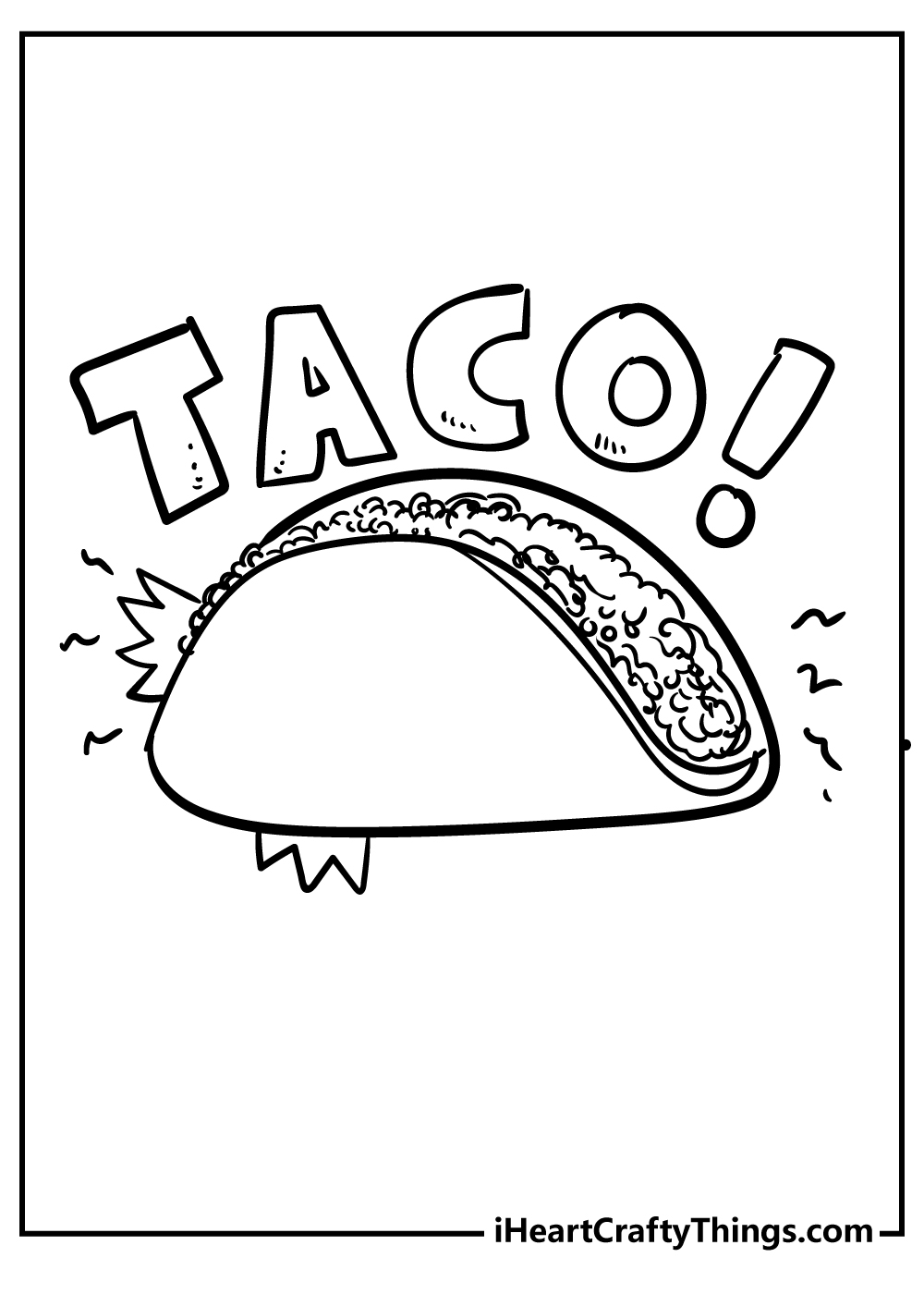 This next character is looking pretty happy as they are dressed in their traditional Mexican clothing! You could make this Mexican printable even more fun with some additional characters.
By drawing some additional friends for this character, you would also have an excuse to work many more colors into the design as well, making it even better!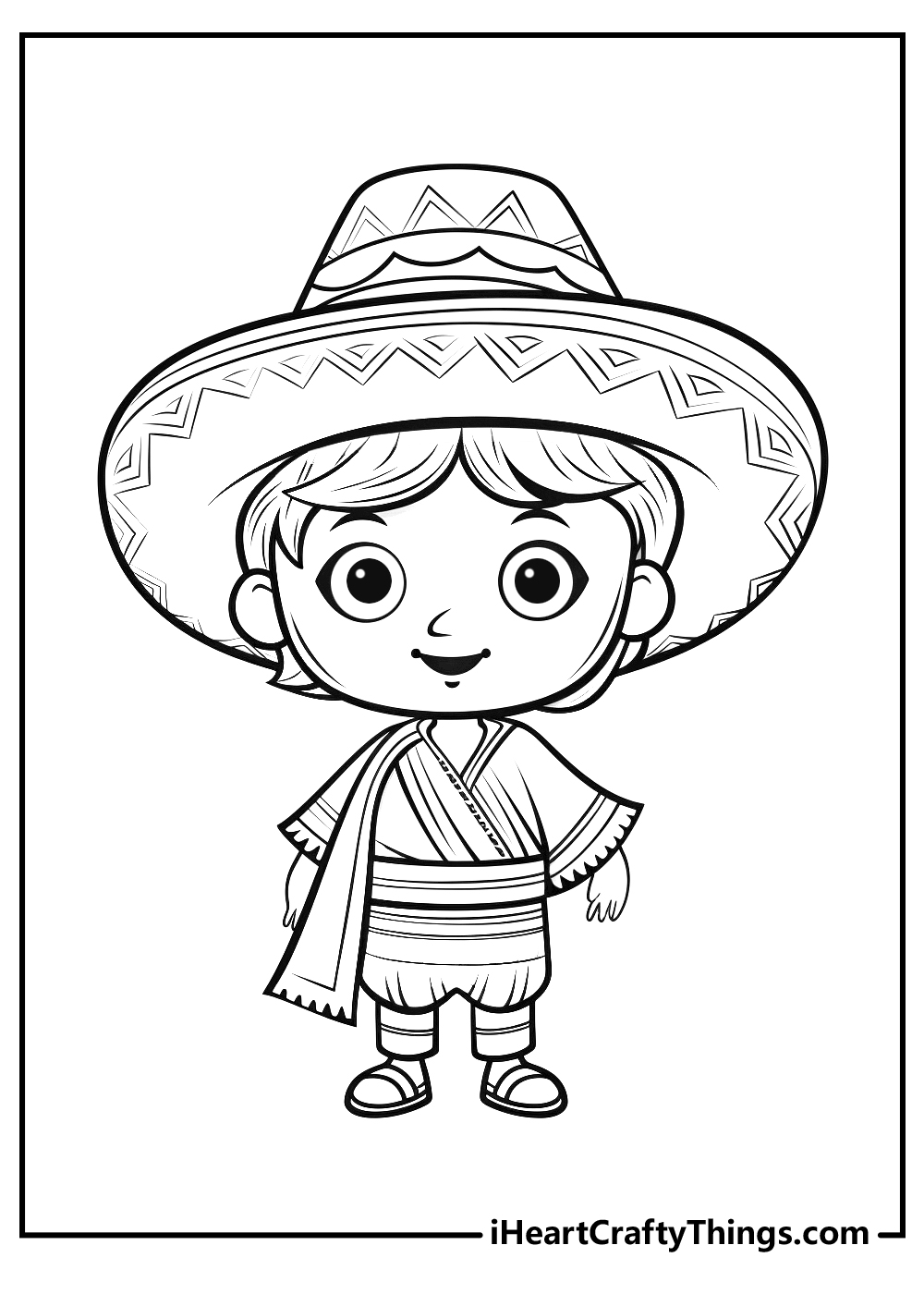 There are some more beautiful shakers for you to color in this Mexican coloring printable! They are arranged together to form a great composition, and these ones are wonderfully detailed.
With smaller details such as these, you'll want to go for some mediums that allow for precision.
Some examples would include some colored pens and pencils, as these allow you to really have control over the details.
Will you use these mediums or will you choose some others?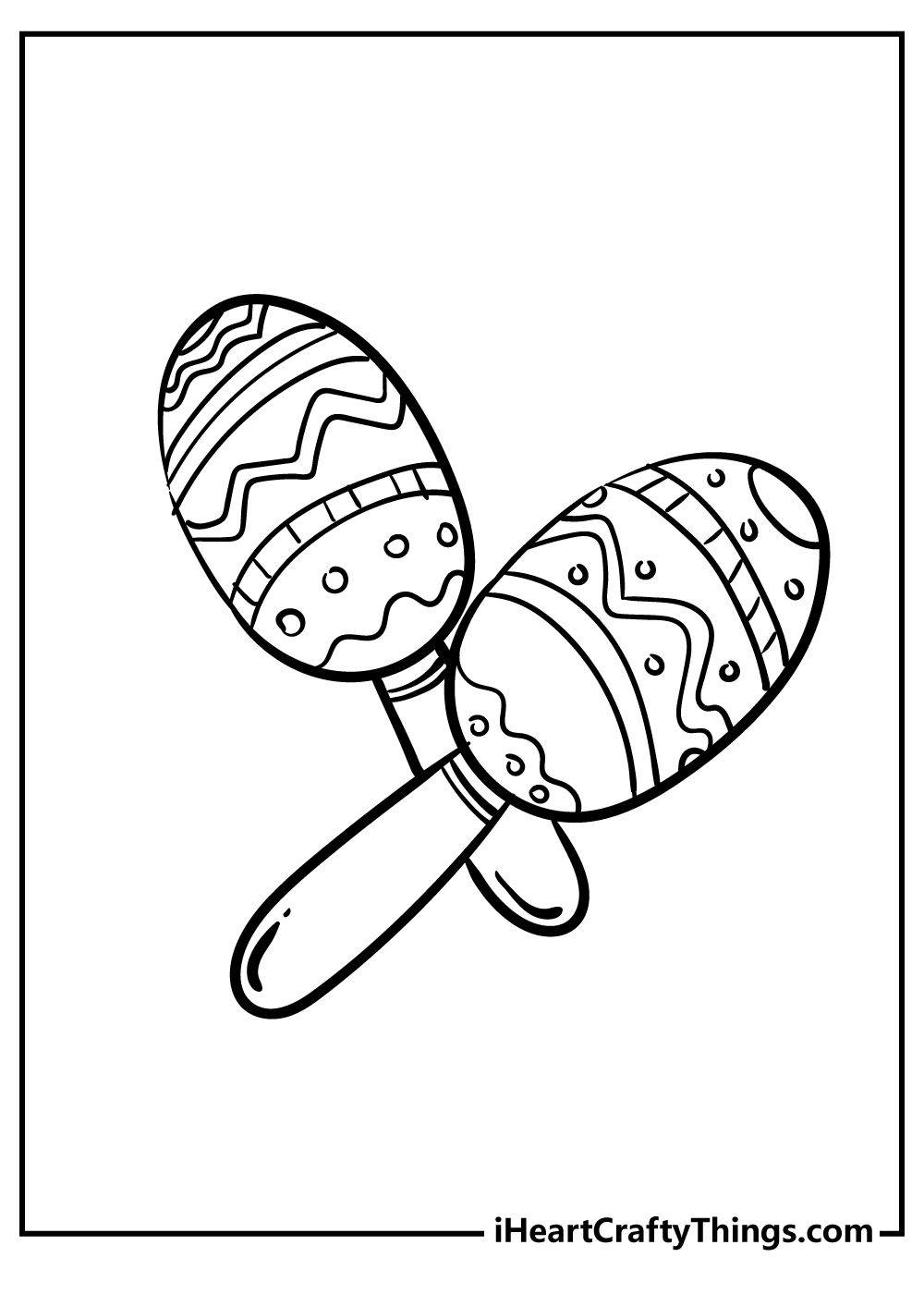 Next, we have a character in a pretty traditional Mexican dress and hat for you to color. There are plenty of details for you to color here, and we would probably go for some softer pinks and cream colors.
That is what we would do, but you may have some other ideas! Will you go with similar colors or something unique?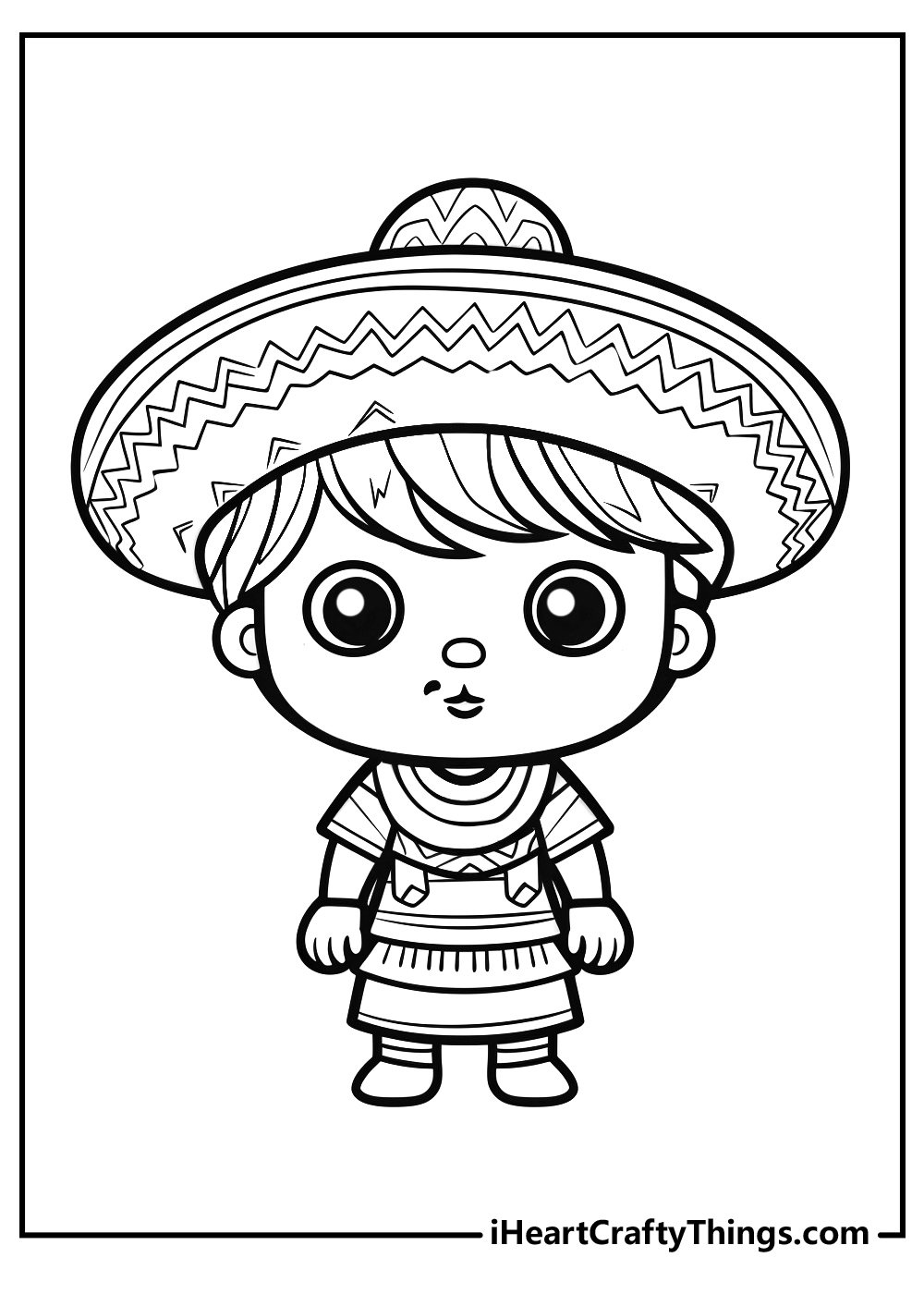 Here's another music-themed picture for you to enjoy! This man is dressed in traditional Mexican attire as he plays his guitar.
There is a lot of emotion on his face, which makes you think that he must be playing a song that has a lot of heart and soul. Do you have a favorite Mexican song?
If you do have one, maybe you could write some lyrics from the song in a speech bubble above his head! What other creative ideas do you have to finish this one off?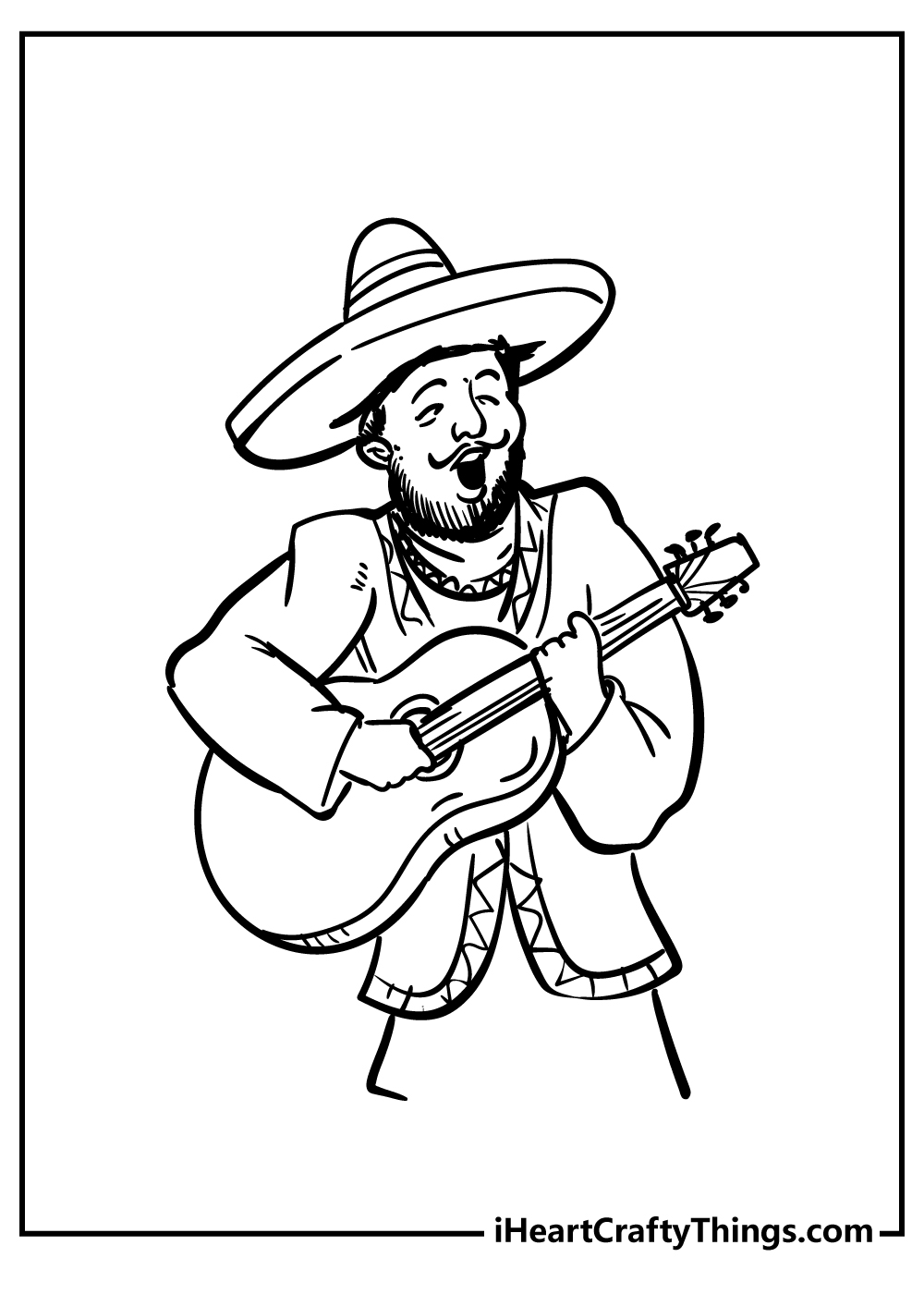 This next page features an arrangement of Mexican clothing and instruments for you to color in! There is a sombrero sitting on top of a poncho, and some shakers are thrown in for good measure.
All of these objects would look amazing with some bright colors!
This is another one where you may want to get out mediums such as colored pens, pencils and thin-tipped paintbrushes to really get in there with the details.
Choosing the mediums is one thing, but there's also fun to be had with the colors that you pick!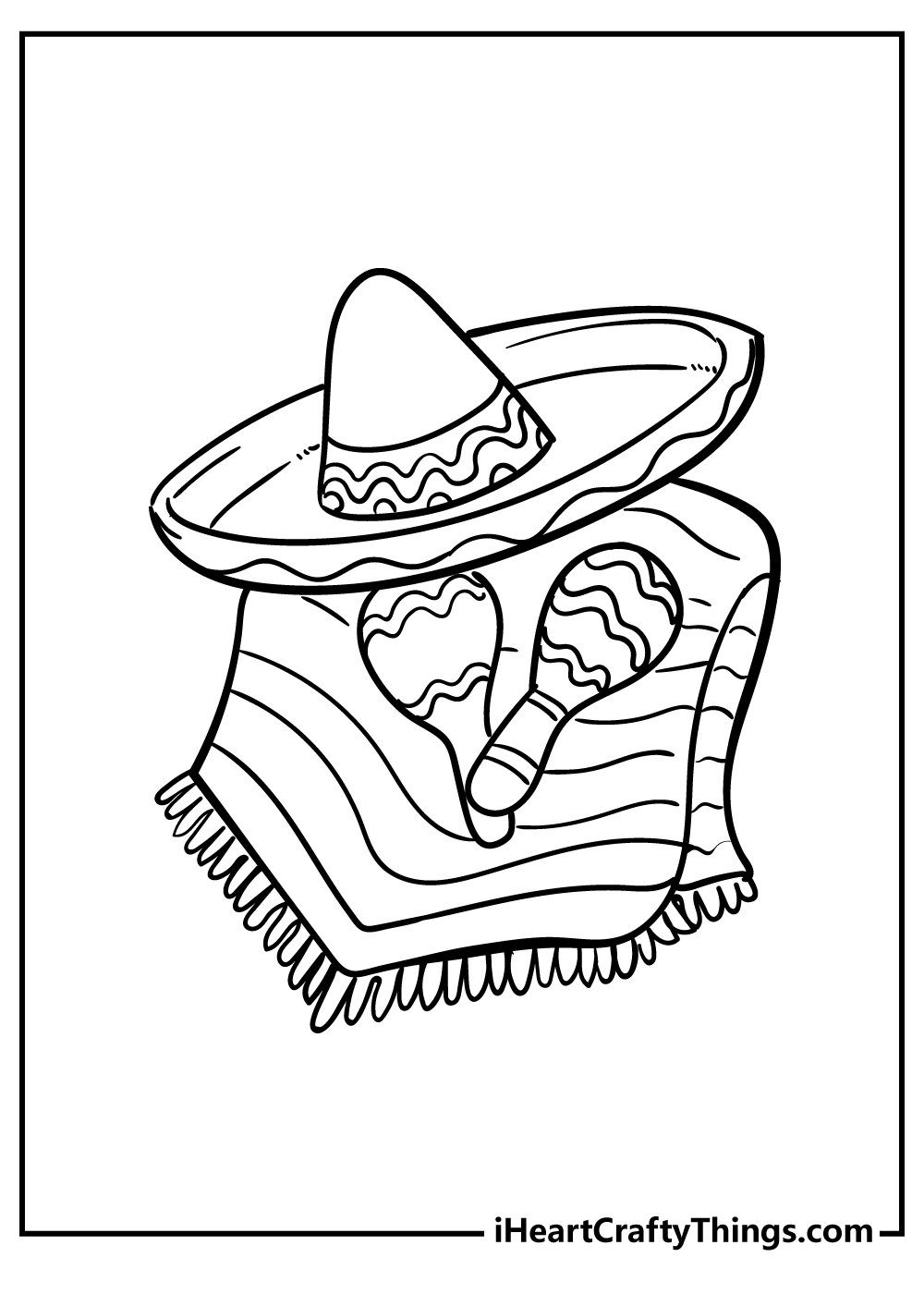 This Mexican coloring sheet for kids has so many small details for you to color. You could spend a lot of time on this one, so don't feel any need to rush it!
If you have too many ideas, remember to print out multiple copies to try them all out. Do you have some colors in mind already?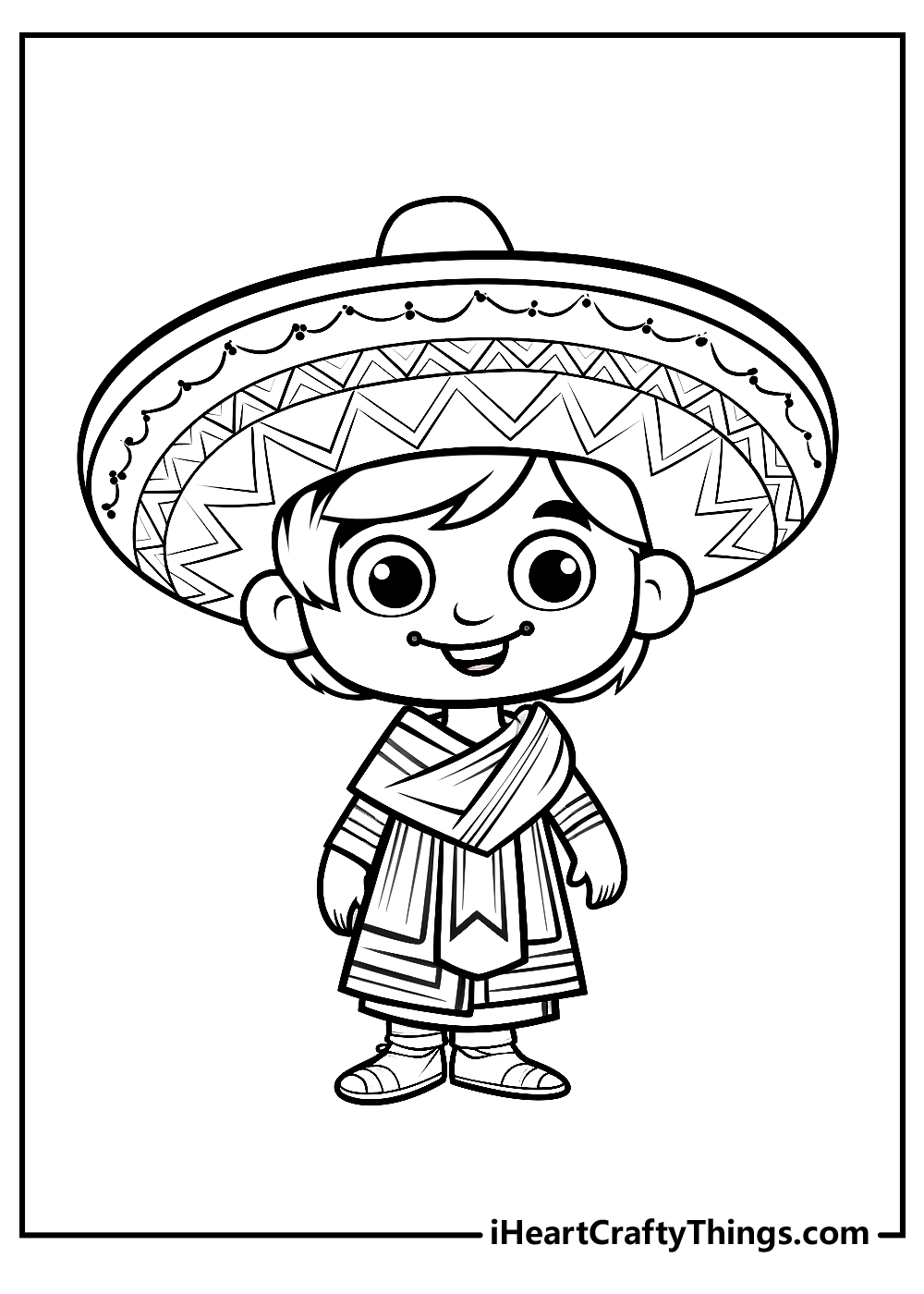 Our final Mexican coloring printable that we have for you has a real party atmosphere going on! There is another sombrero with some shakers arranged in front of some banners.
For this one, we would try to use as many different colors for the details and the triangular banners as humanly possible.
That would help to create an image that really pops off the page as an explosion of color!
Are you thinking of using a similar approach with your colors, or did something else come to mind when you saw this one?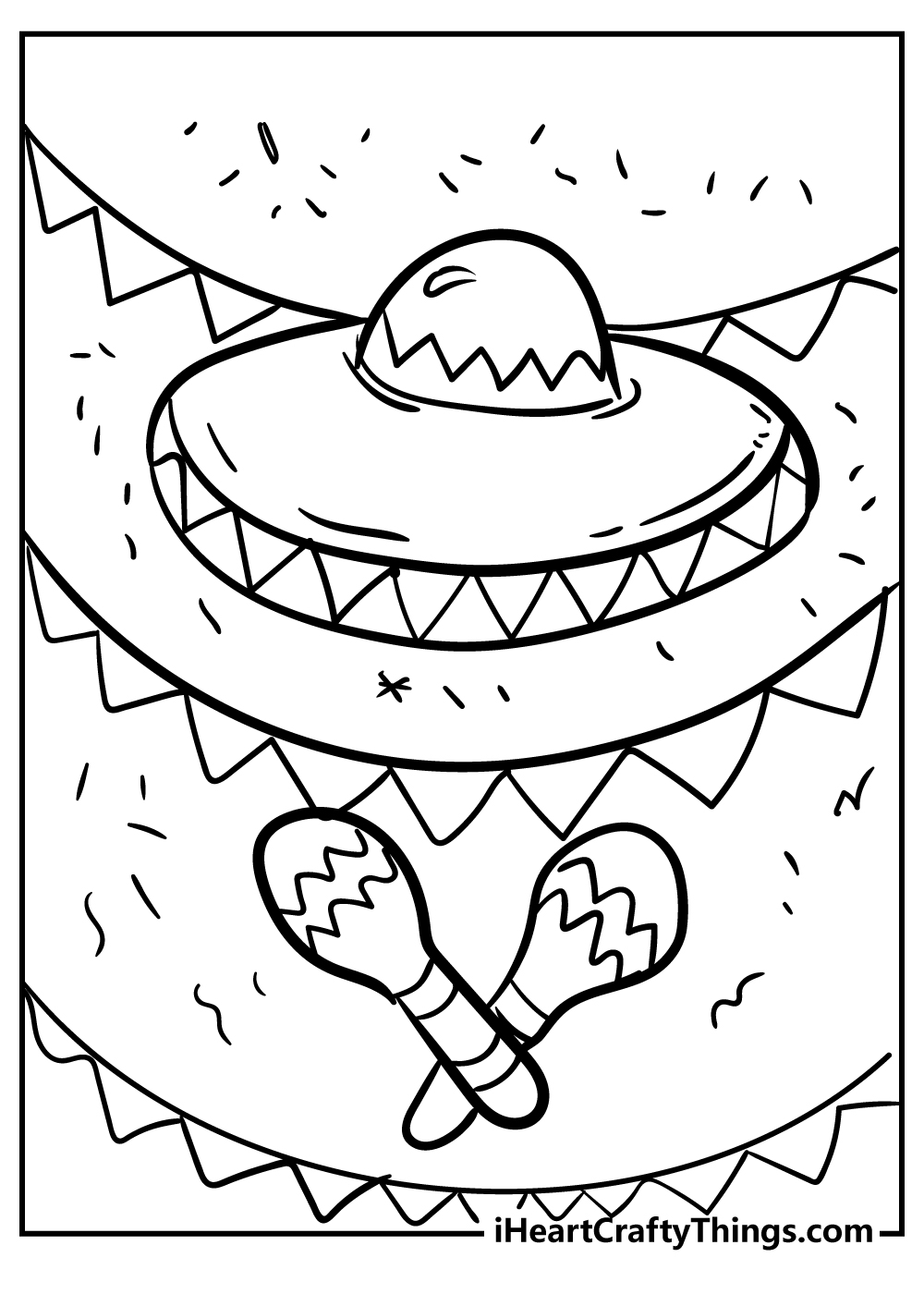 Mexican Coloring Pages – Which will you choose?
We hope that you had an amazing time celebrating this great country with this collection of free Mexican coloring pages for kids!
These pages contained many iconic and famous elements of Mexican culture, and they provided so many great opportunities for some bright, vibrant colors.
The fun doesn't have to end here, either! You can find many more coloring page collections to enjoy on our website.
These collections feature all kinds of different subjects and styles to enjoy, so you're sure to find a few you love.
We always love to see how your pages turn out, so please share some of your finished Mexican coloring pages on our Facebook and Pinterest pages for us to see!
It will be amazing to see how they turned out!