On this page, you will find 25 all new Eevee Pokemon coloring pages that are completely free to print and download.
Pokemon come in all shapes, sizes and of course colors! Some Pokemon are big and intimidating, some are small and incredibly cute and some are just kind of weird!
Eevee, a fox-like Pokemon definitely falls into the cute category and is one of the most adorable Pokemon out there.
Eevee is colored with simple browns and yellows, but Eevee can also evolve into several different types with the use of special stones, so that gives us some more colors to work with!
Maybe some different mediums like pens and paints would help bring these foxy Pokemon to life.
These cute, free Eevee Pokemon coloring pages are great for hours of Pokemon themed fun!
Be sure to show us the creations you come up with once you finish your favorite Eevee coloring pages for us to see on our Facebook page!
We always love to see your creativity and look forward to some adorable and colorful Eevees.
25 Brand New Eevee Pokemon Coloring Pages – Free to Print and Color
In this first Eevee coloring page printable, Eevee is the main focus looking as cute as ever over a text featuring his name!
When Eevees evolve, they can turn red, green, blue, white, yellow and more, so maybe you could represent these possibilities in the letters of the name, and pick your favorite one for the background.
I think this coloring sheet would make a great poster for your wall when it's done!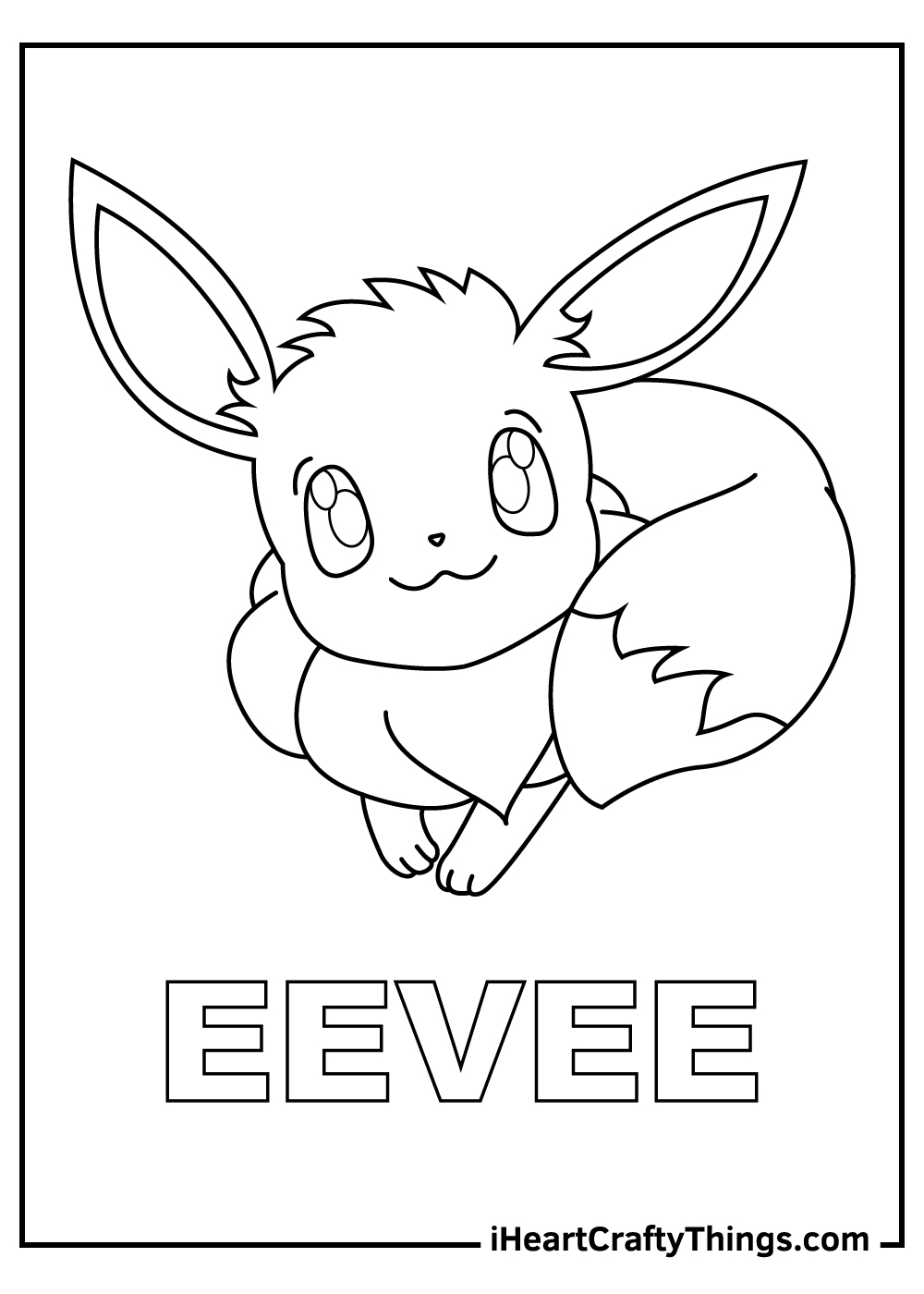 How cute does Eevee look on this Eevee coloring page? The answer would be: "Extremely cute!"
This page really captures Eevee's adorable look, and makes him look like a sweet puppy. There are many ways you can color Eevee as well as the background.
How will you color this adorable depiction of Eevee to make it even better?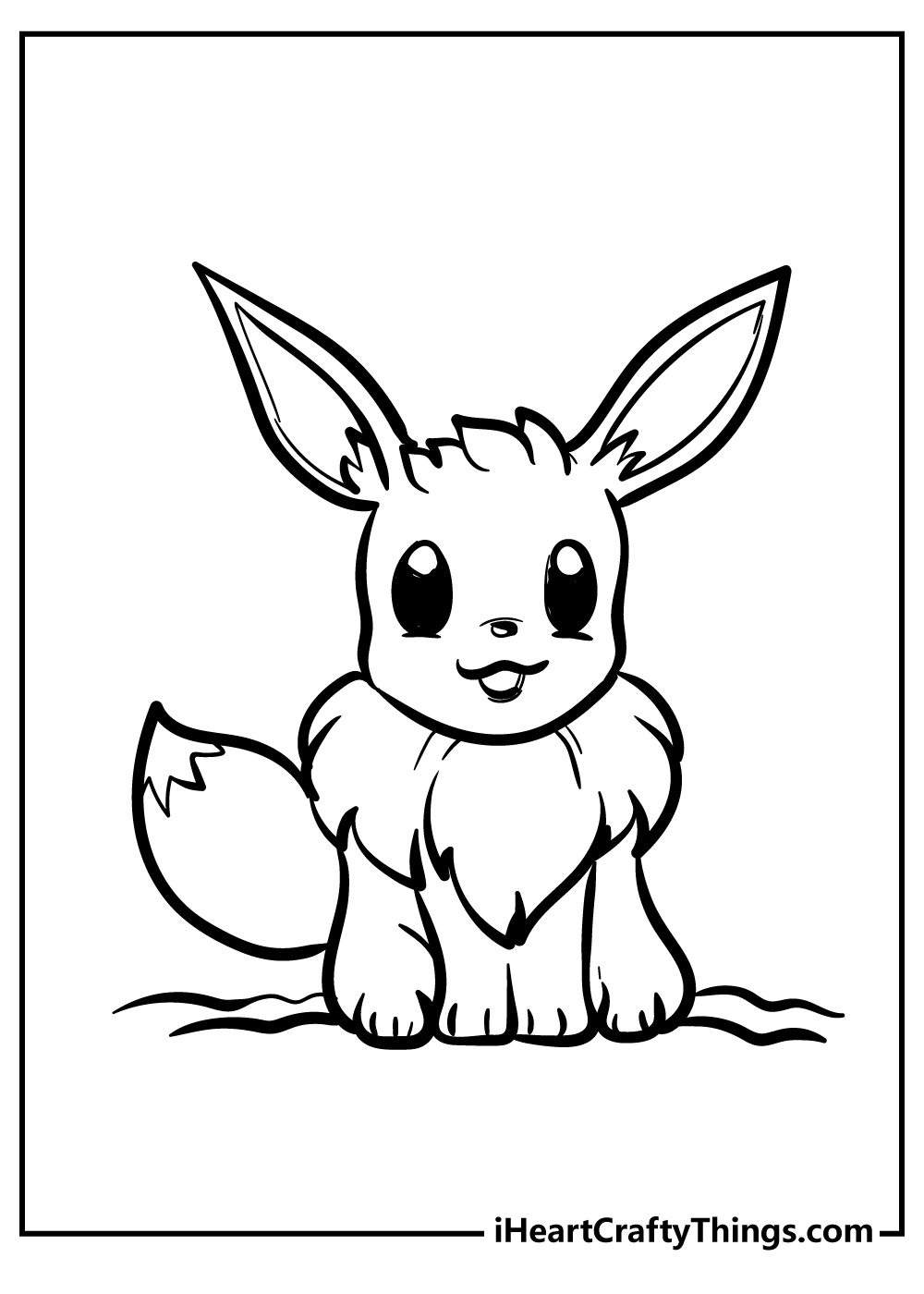 Get ready for foxy fun with this delightful Eevee Pokémon coloring page. This adorable Pokémon is dressed up in a fox costume, complete with perky ears, a fluffy tail and a fashionable scarf.
Eevee's sweet smile and excited stance capture a sense of joy and wonder as he gazes up at the shimmering night sky.
He looks very cheerful and excited as he sees stars and sparkles in the sky. Maybe he is about to evolve into one of his many forms.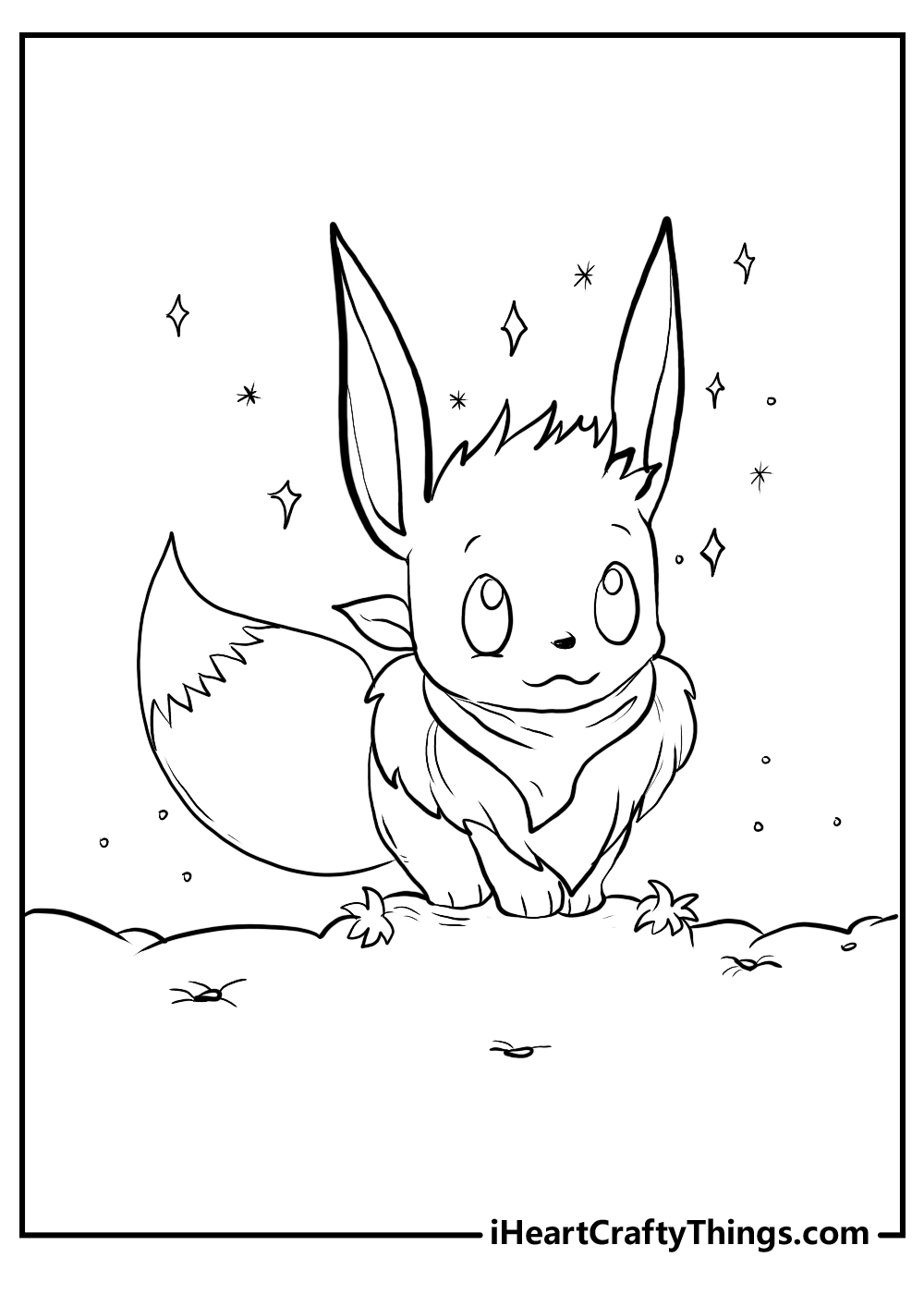 Eevee looks a bit surprised in this next coloring page printable. Maybe it just found out it has to battle against another much bigger Pokemon!
You could use browns and yellows to color in Eevee realistically and maybe use a vibrant color for the background to make Eevee stand out a bit.
Will you keep Eevee in his normal brown color scheme or will you try out some other characters to help him stand out a bit.
I'm sure we'll see some unique Eevees when you share your finished pages to our Facebook page!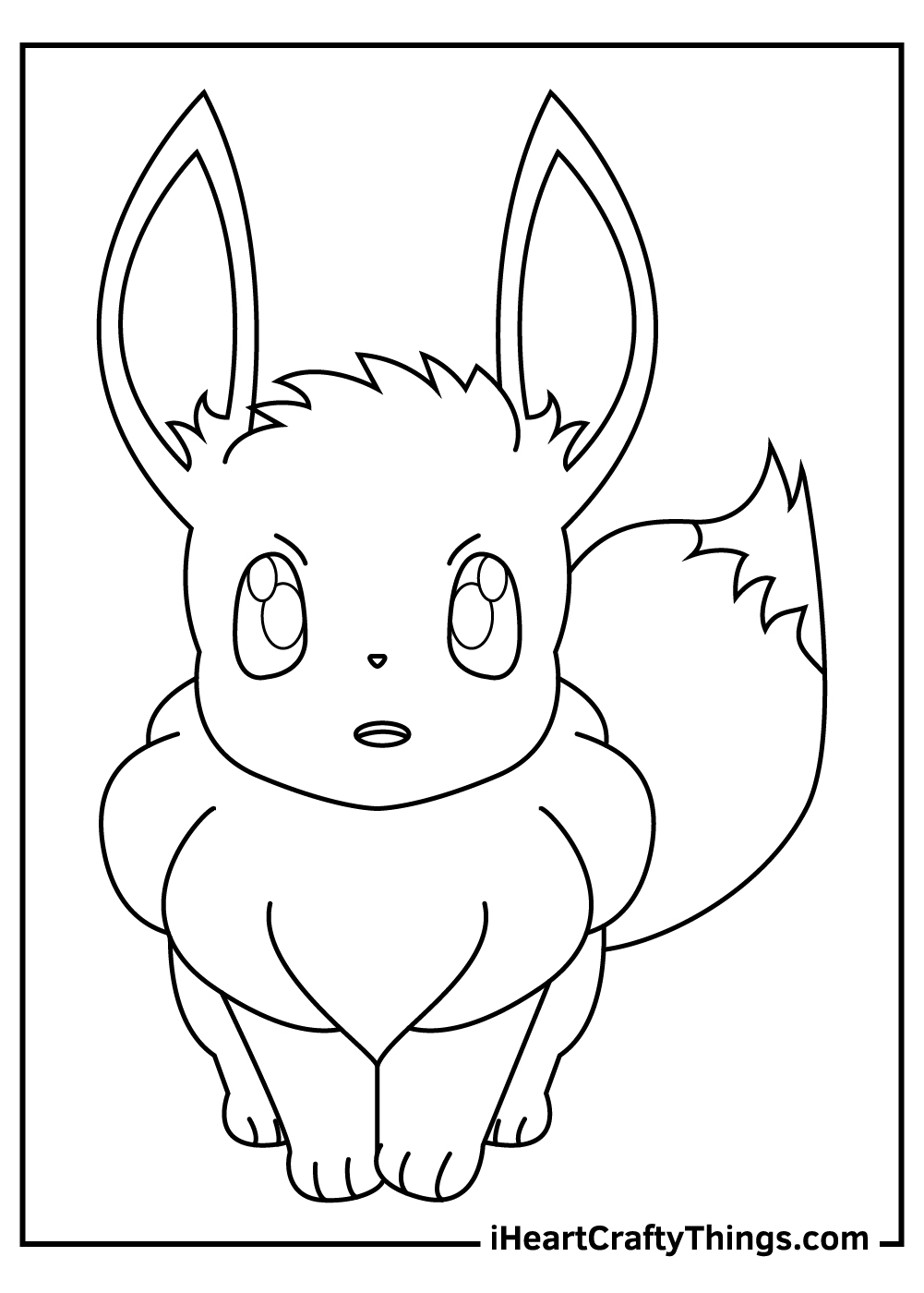 We have another cute depiction of Eevee for you to have fun coloring. He seems to be enjoying a relaxing time sitting around, and it makes you wonder where he could be hanging out.
You could draw a background if you wanted to suggest where Eevee could be having this relaxing day, and it would give you more to color!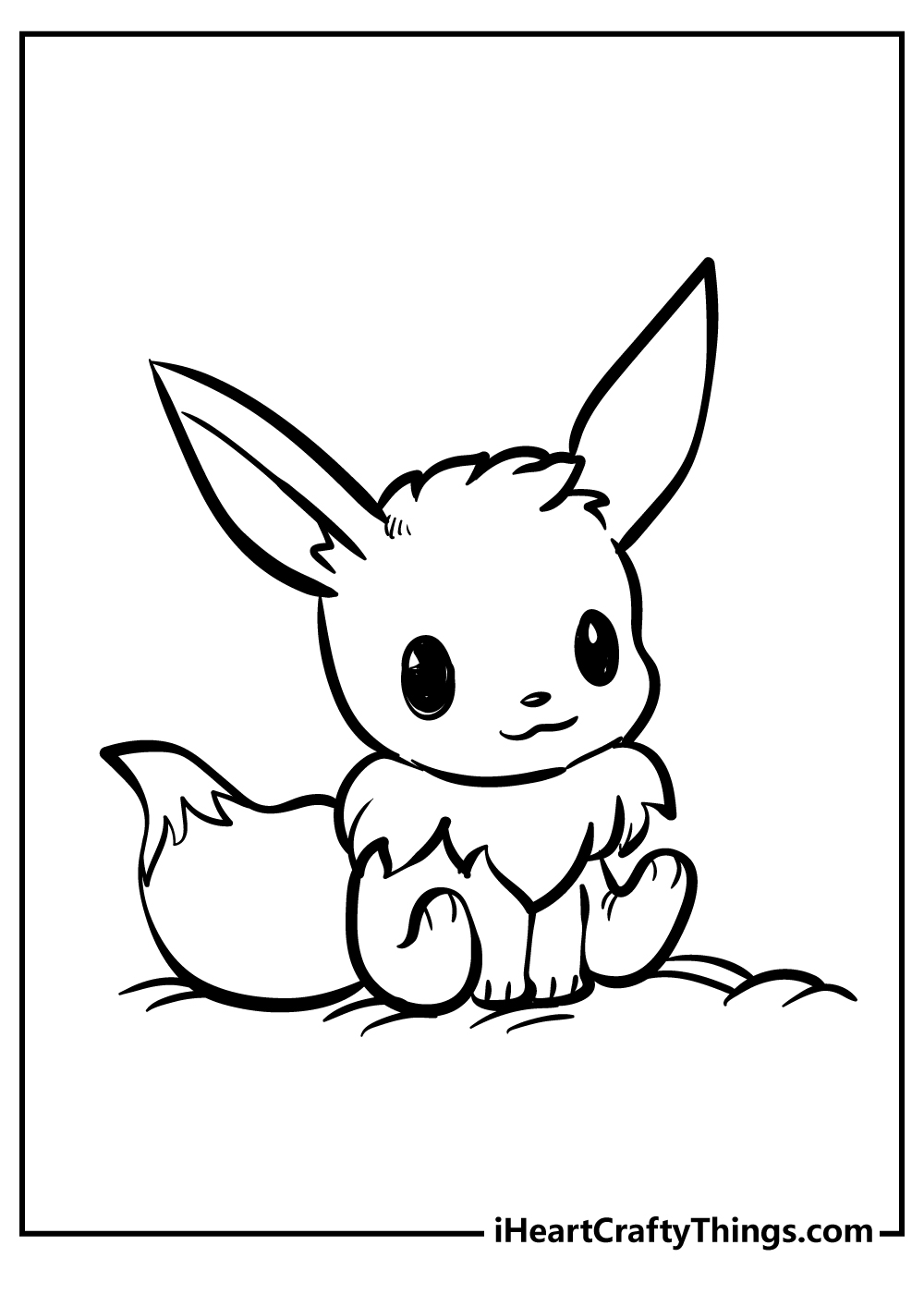 It's nap time in this Pokemon coloring page, as Eevee is looking very content on a sleeping moon. Eevee must be dreaming in this one, don't you think?
This is a coloring sheet that I think would benefit from rich blues and dark purples for the background with bright yellows for the moon.
This will be a stunning image once you finish it!
Get ready for some bunny business with this adorable Eevee Pokémon coloring page.
This playful Pokémon is dressed up in a sweet bunny costume, complete with fuzzy pink ears, a cotton ball tail and a sparkly bow tie.
Eevee's infectious smile and perked up ears capture his curiosity and excitement as he explores the natural world around him.
He looks very happy and curious as he explores nature. Why? Maybe he is looking for some carrots or other Pokemon friends. You can color this Eevee in any way you like.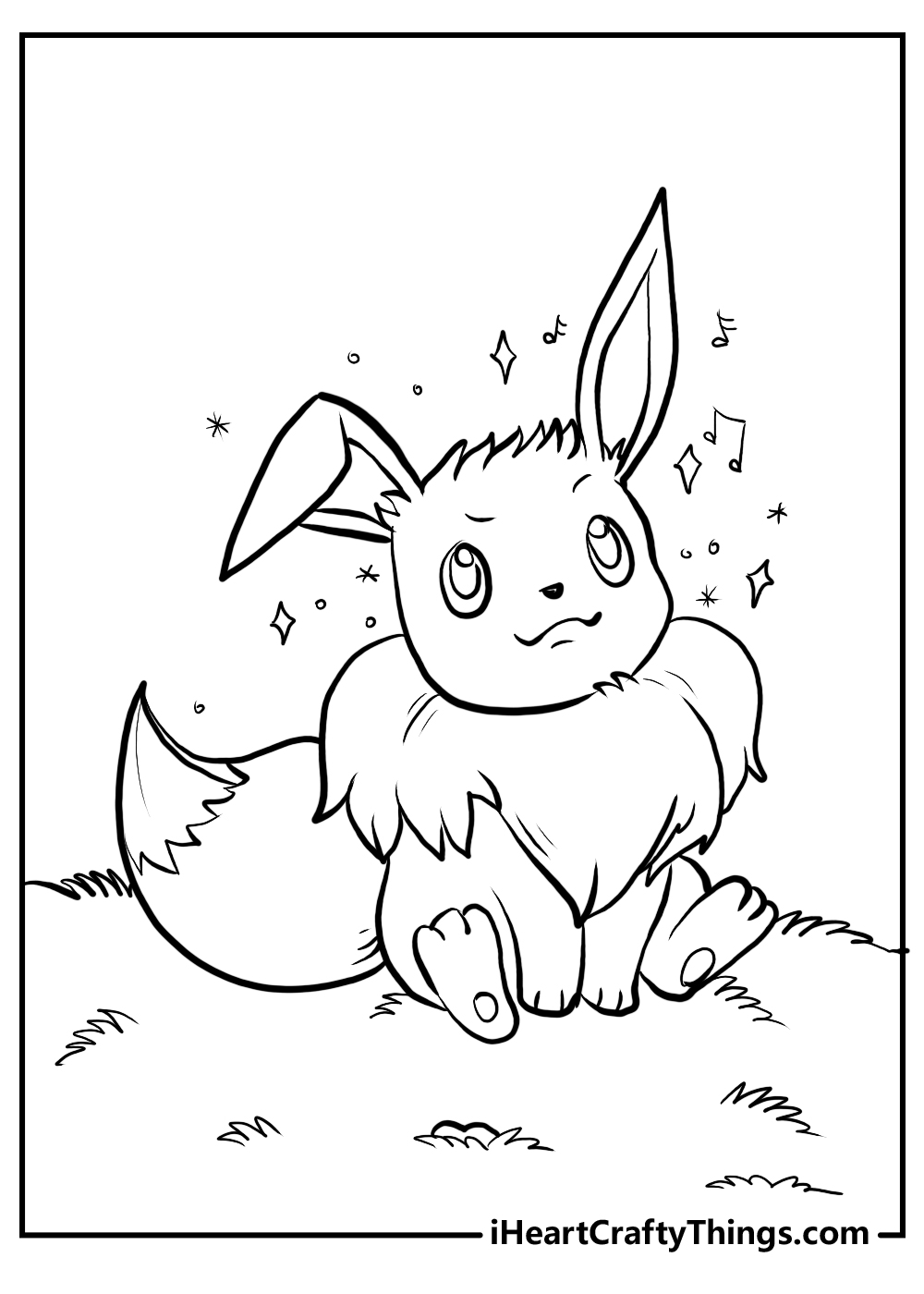 Eevee seems to be on the lookout on this page. His big ears would mean that he would be able to hear anything around him, so sneaking up on Eevee would certainly be a tall order!
What do you think Eevee could be listening out for here? You could draw your ideas into the background to finish off this page and build a story.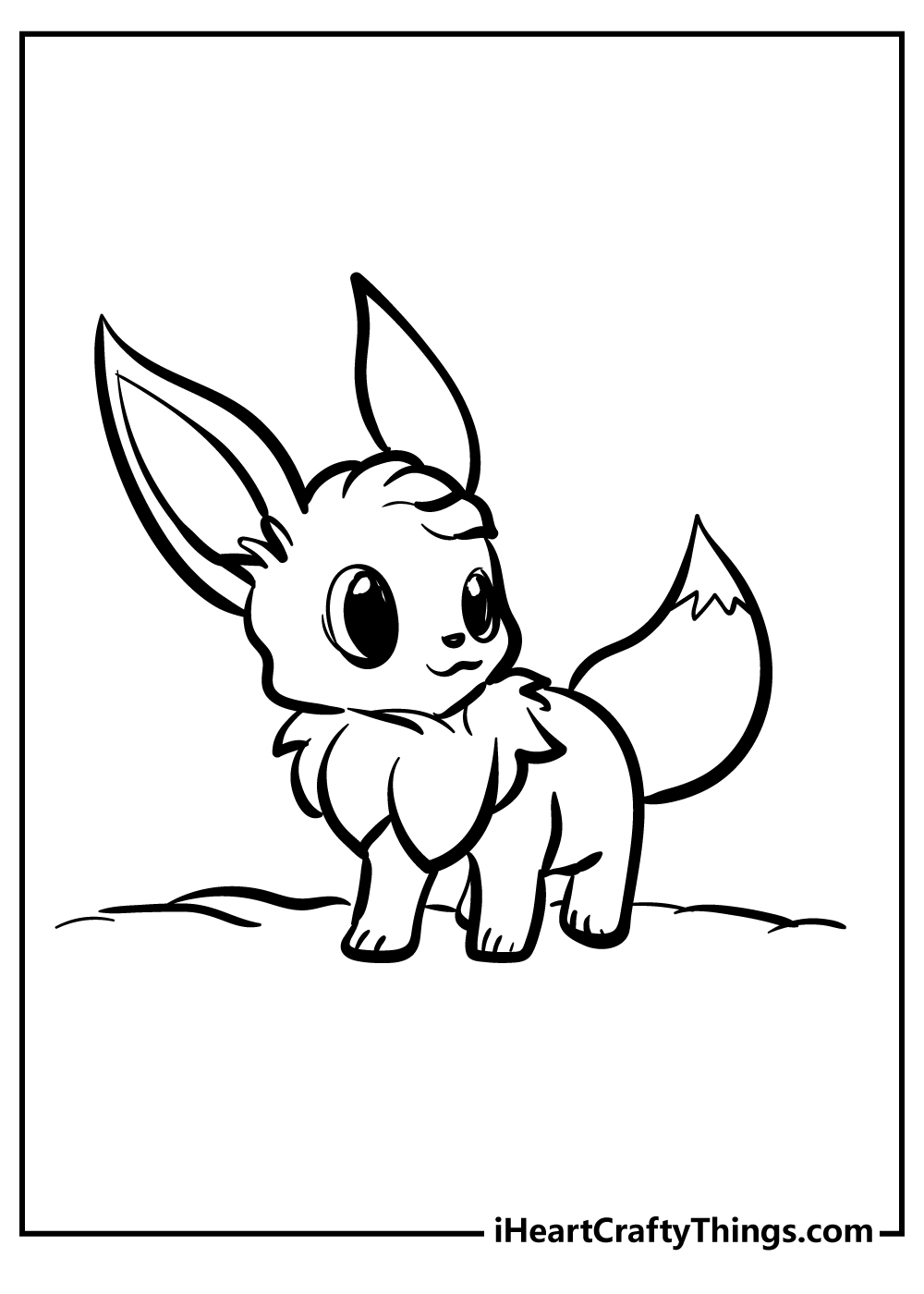 It's hard being as cute as Eevee, as even if you're trying to look bigger and intimidating you'll still just be seen as adorable!
That's the case in this coloring sheet as Eevee stands on two legs looking confident.
Maybe you could color Eevee in with one of the colors of it's future evolutions to show that he's already imagining being in this new form.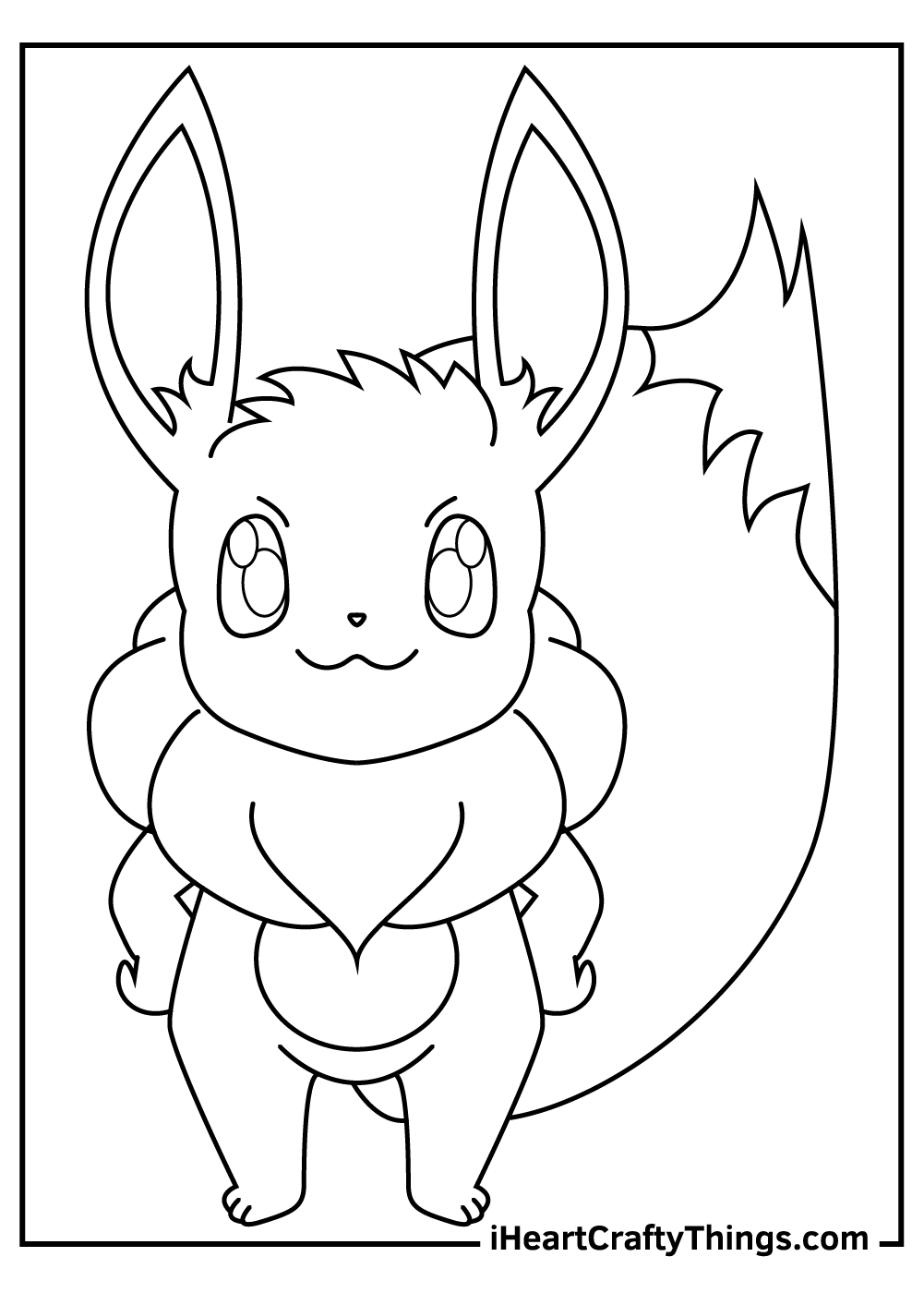 In this Pokemon coloring page, Eevee is looking surprised again, so I wonder what's making him react like this?
If you're feeling extra creative you could try to draw in some details to the background; maybe some people cheering for Eevee in a battle arena?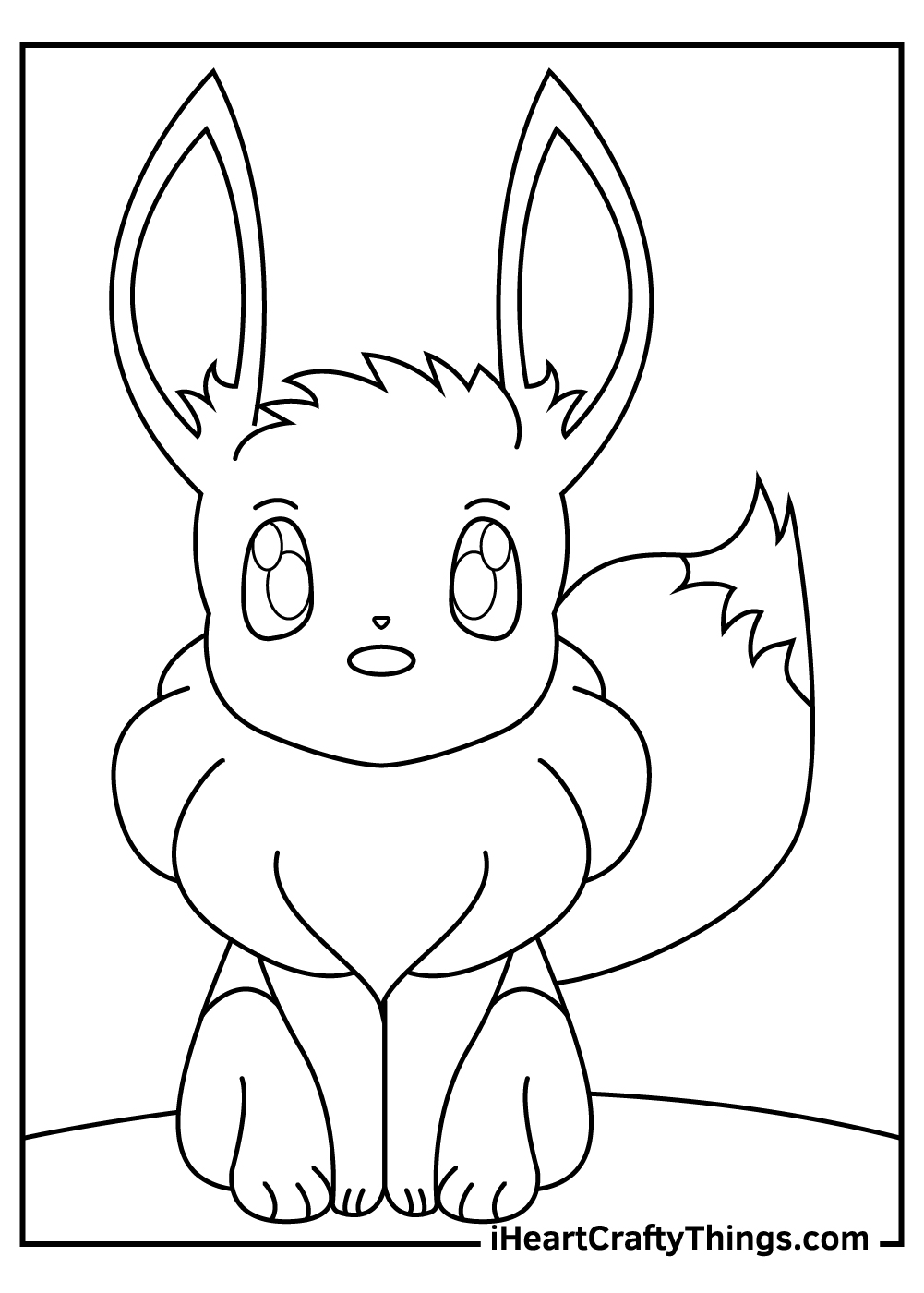 Get set for springtime fun with this cheerful Eevee coloring page! This adorable Pokémon is having the time of his life playing dress-up in a cozy bunny costume.
Eevee's perky stance captures his excitement as he nibbles on grass atop a hill overlooking a starry sky.
He looks very excited and curious as he sees stars all over the sky. Maybe he is wishing for something or waiting for his friends to join him.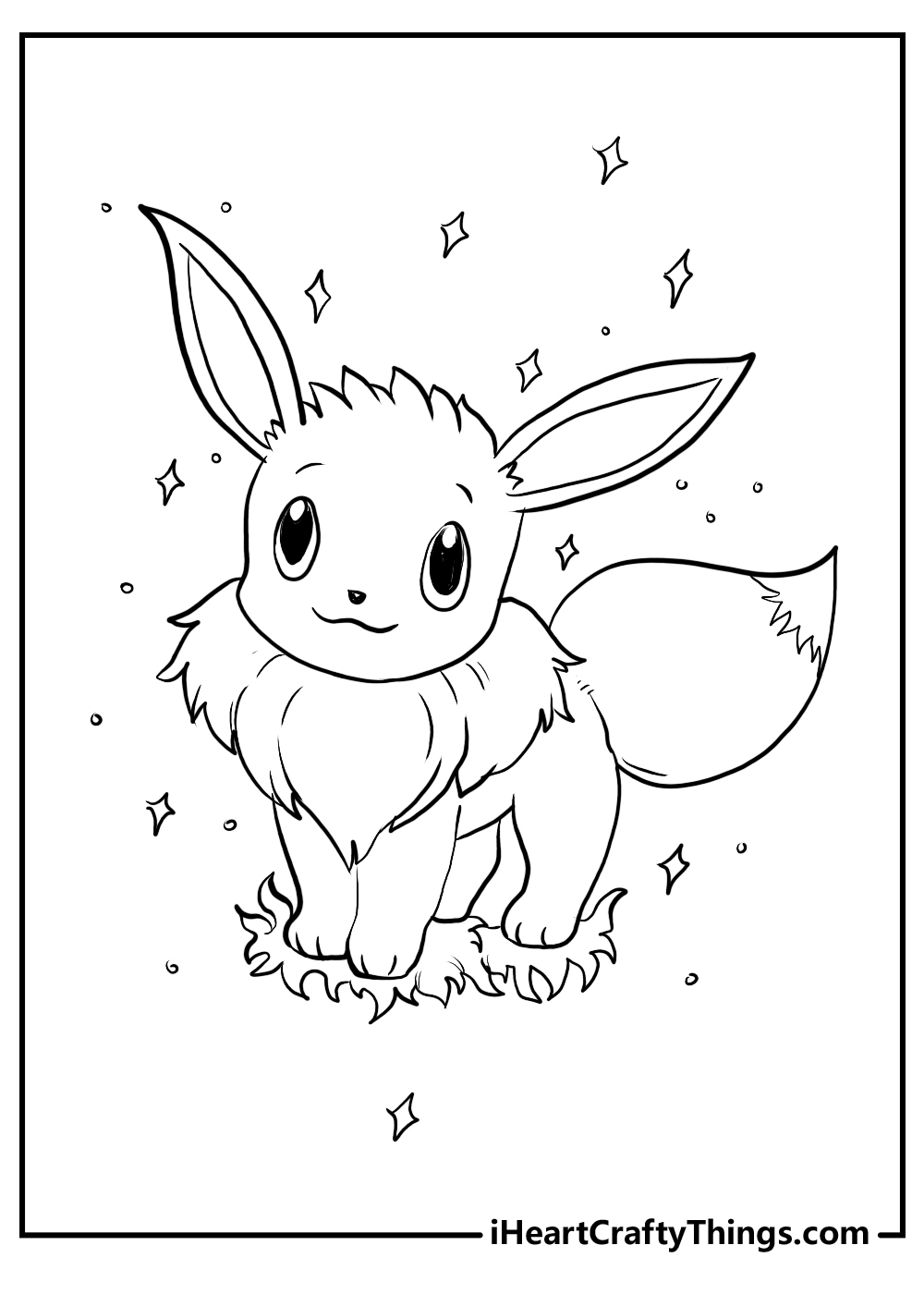 For this next page, we have a close-up on Eevee's head for a bit of a different look. What's great about this is that you could draw all sorts of details and other things around the head.
Whether it's text, some patterns or other Pokemon heads, there are so many ways that you can get creative with it!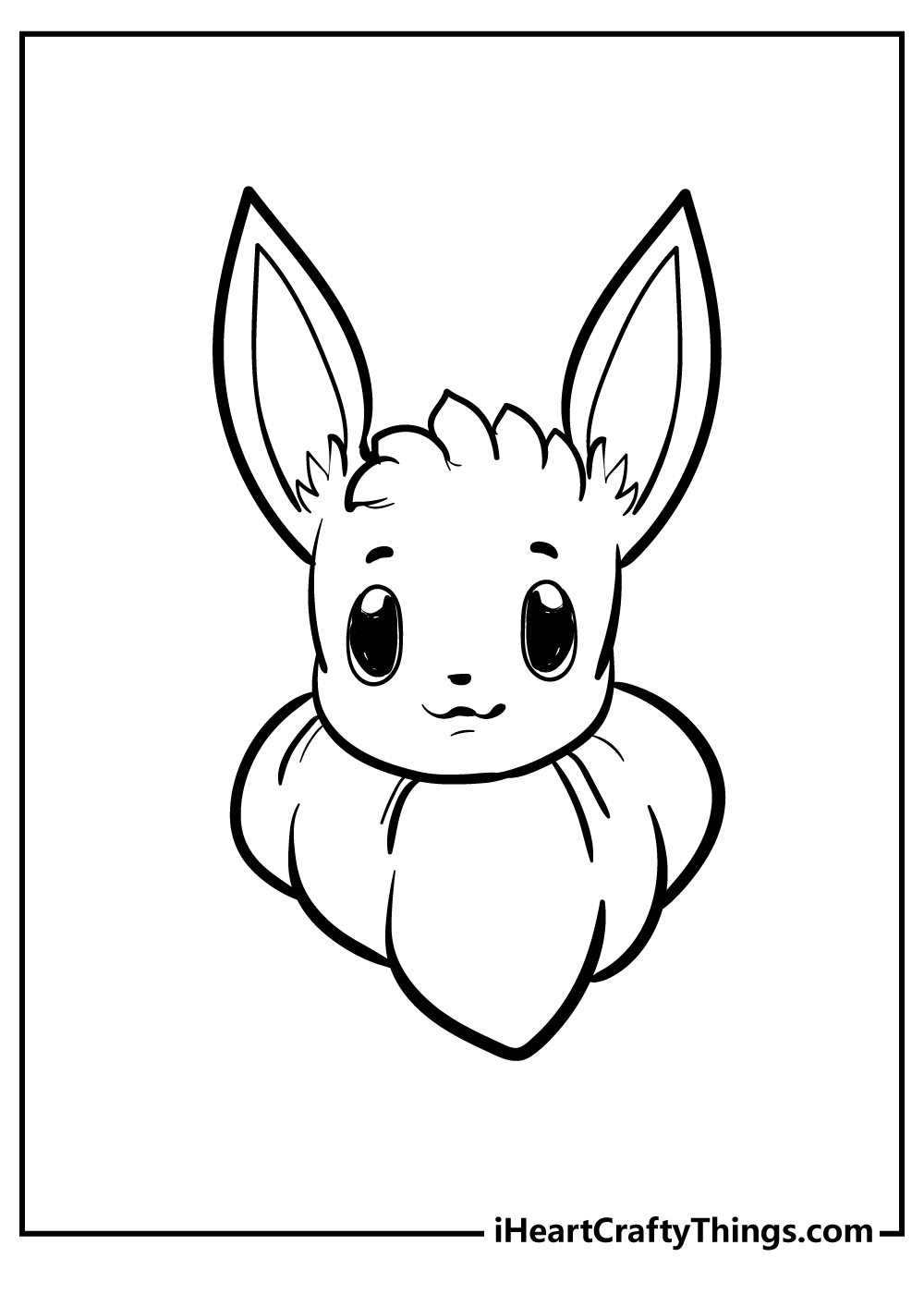 I hope you have some treats to spare, because that's what Eevee seems to be wanting in this cute coloring page printable!
He's sitting like a puppy begging for a treat, and who would be able to resist that face?
Maybe you could use a pencil to draw in a tasty treat in front of Eevee for this coloring sheet to be complete!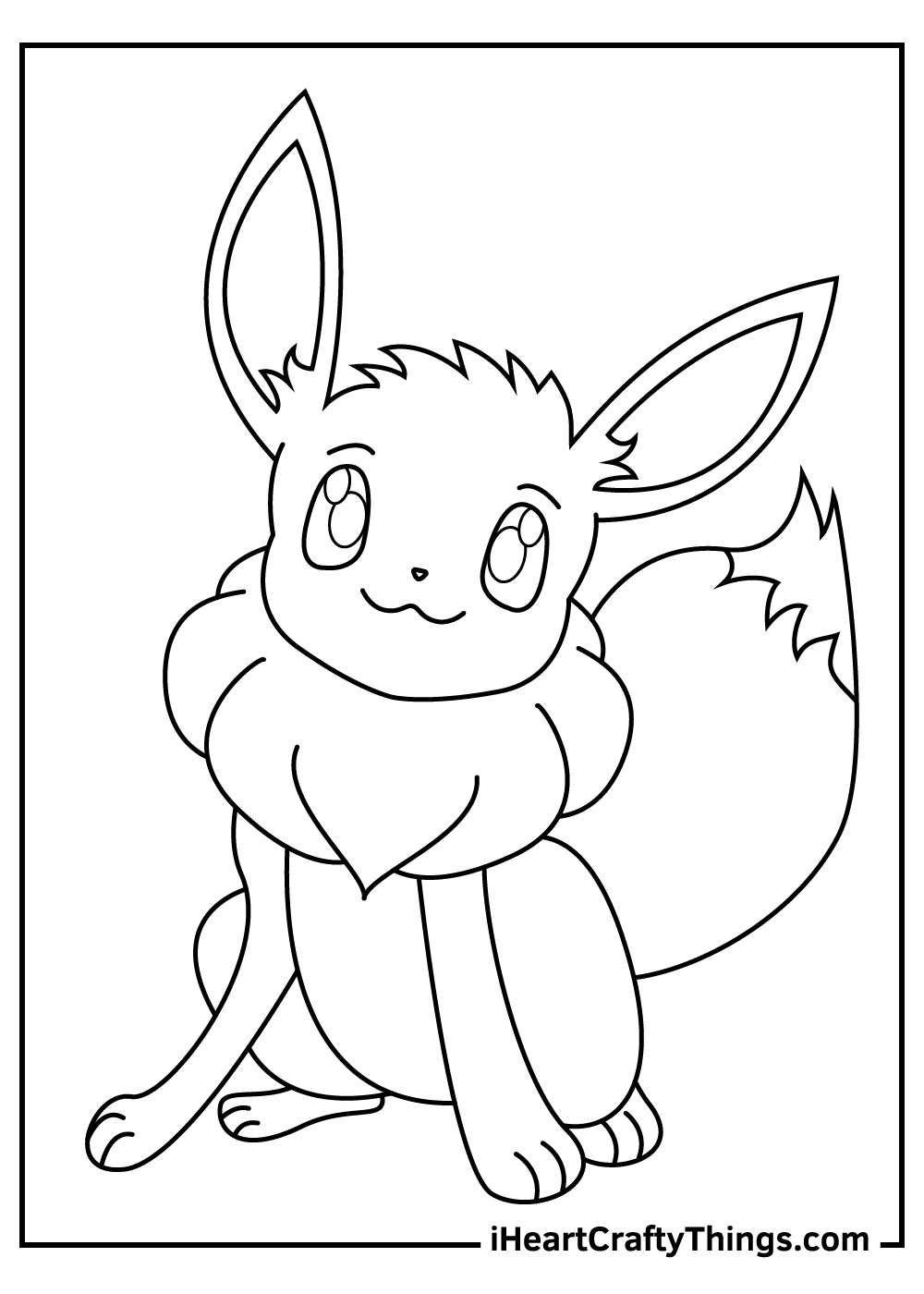 Eevee is looking fierce in this next printable coloring sheet! As fierce as an Eevee can look, that is.
Maybe someone is threatening his trainer and he's making sure they back off! I think for this coloring page a bright red for the background would suggest that Eevee means business.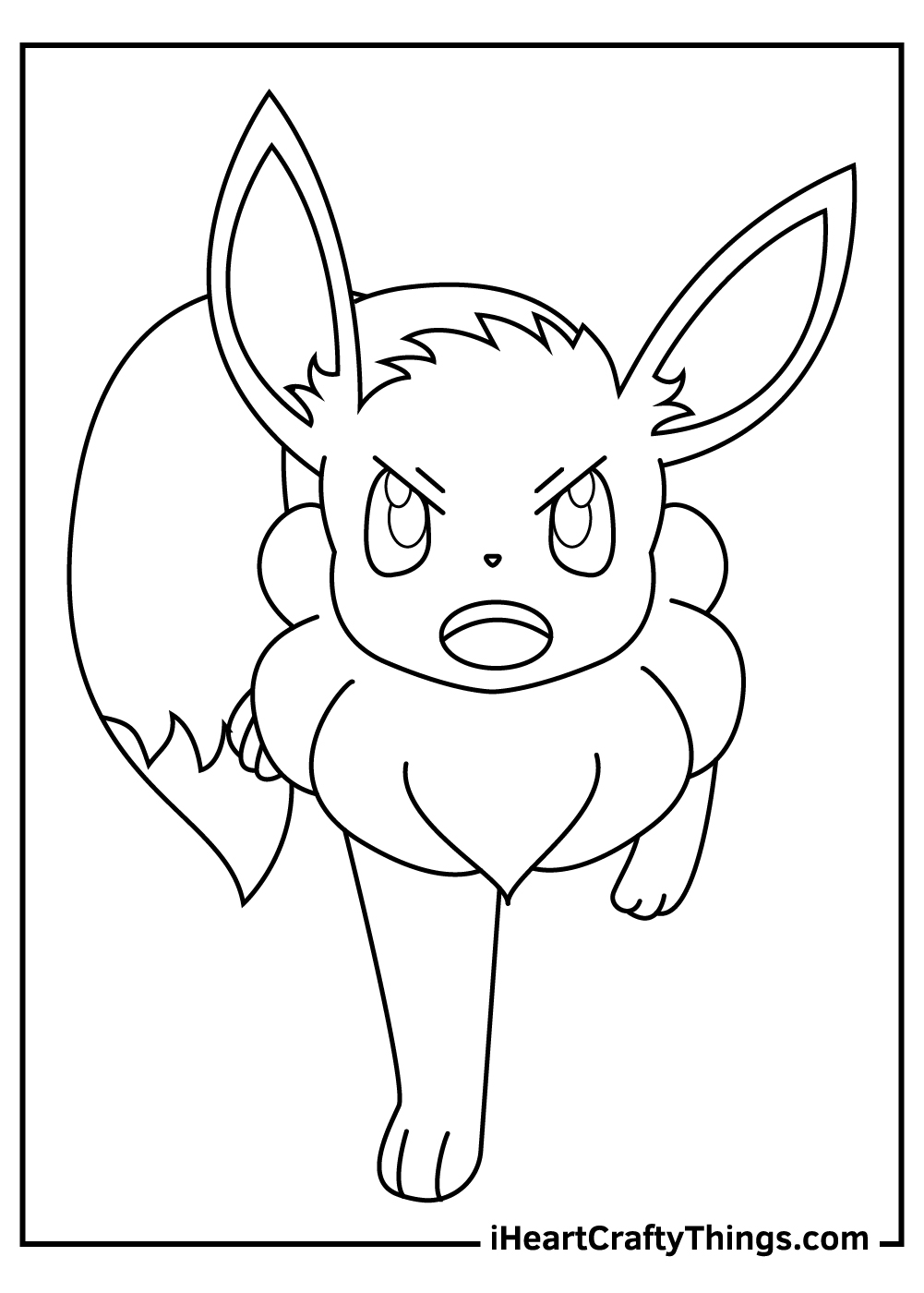 This Eevee coloring printable shows him presenting something, and it makes you wonder what it could be! Once again, you could show what you think by drawing it.
Maybe he is presenting a show, or unveiling a new piece of cool Pokemon tech. You can really use your imagination on this one!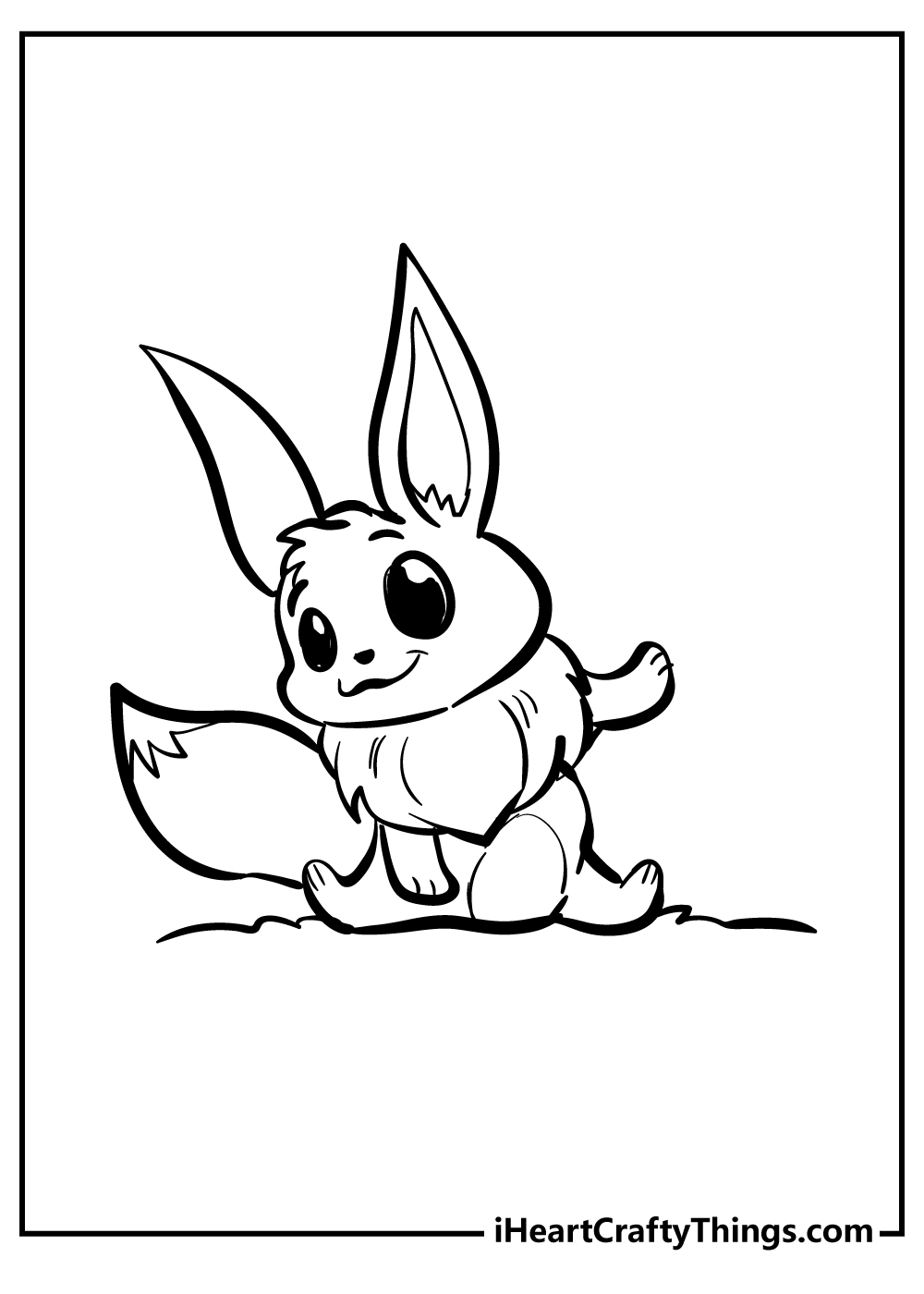 There's an uncertainty to this next printable Pokemon coloring sheet as Eevee shrugs in confusion. Maybe there's a challenging obstacle ahead that has him stumped!
For this coloring sheet, I think a lighter blue or green would look great for the background to compliment Eevee's uncertainty.
What color scheme are you thinking for this one?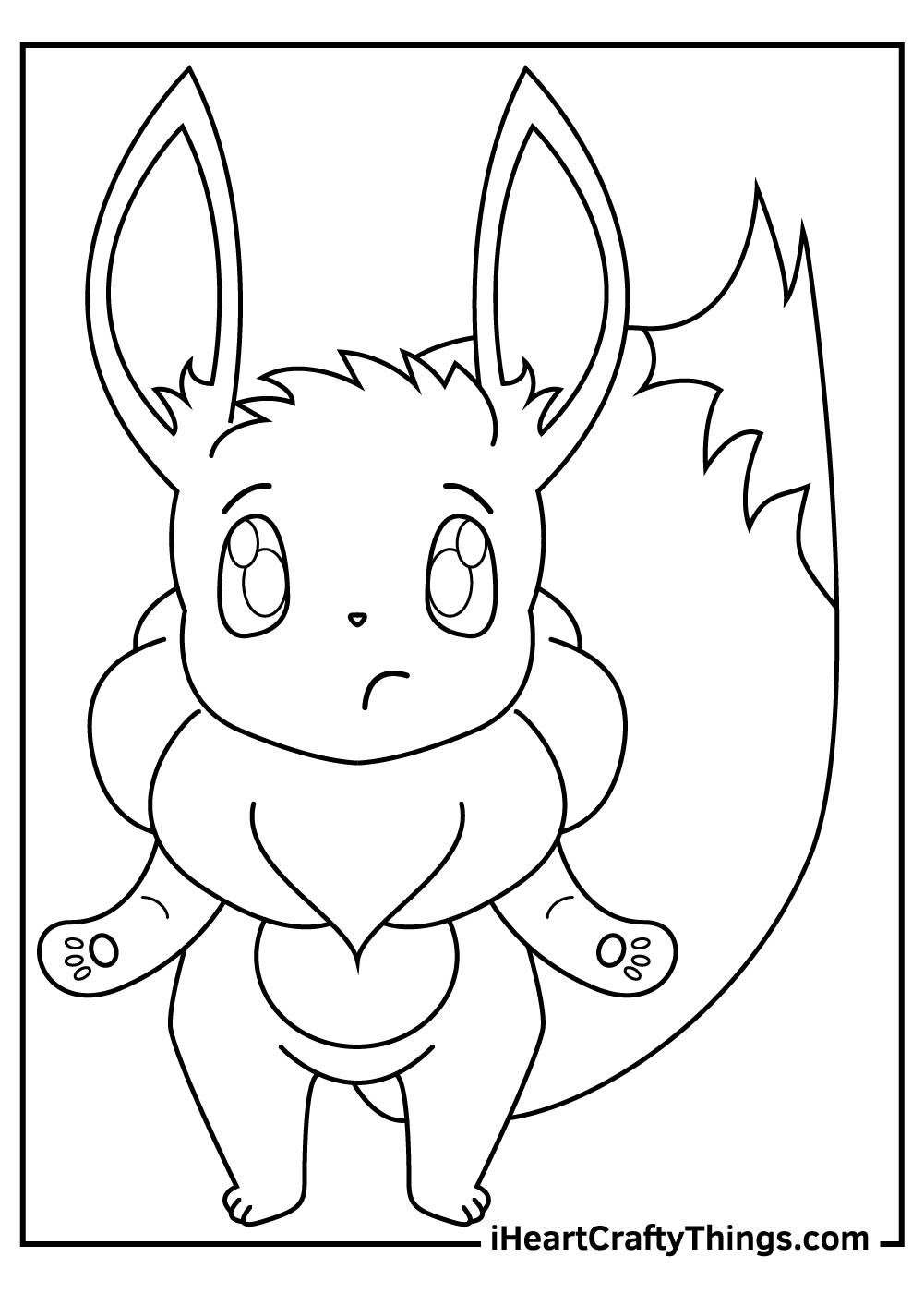 This Eevee coloring page is so cute and fun. Eevee is having a blast as he plays with his bunny costume.
He is standing on a grassy field with some flowers and bushes behind him. He looks very excited and curious as he sees stars all over the sky.
Maybe he is wishing for something or waiting for his friends to join him.
You can color this Eevee in any way you like. You can also add some more details to the background, like a rainbow or some flowers.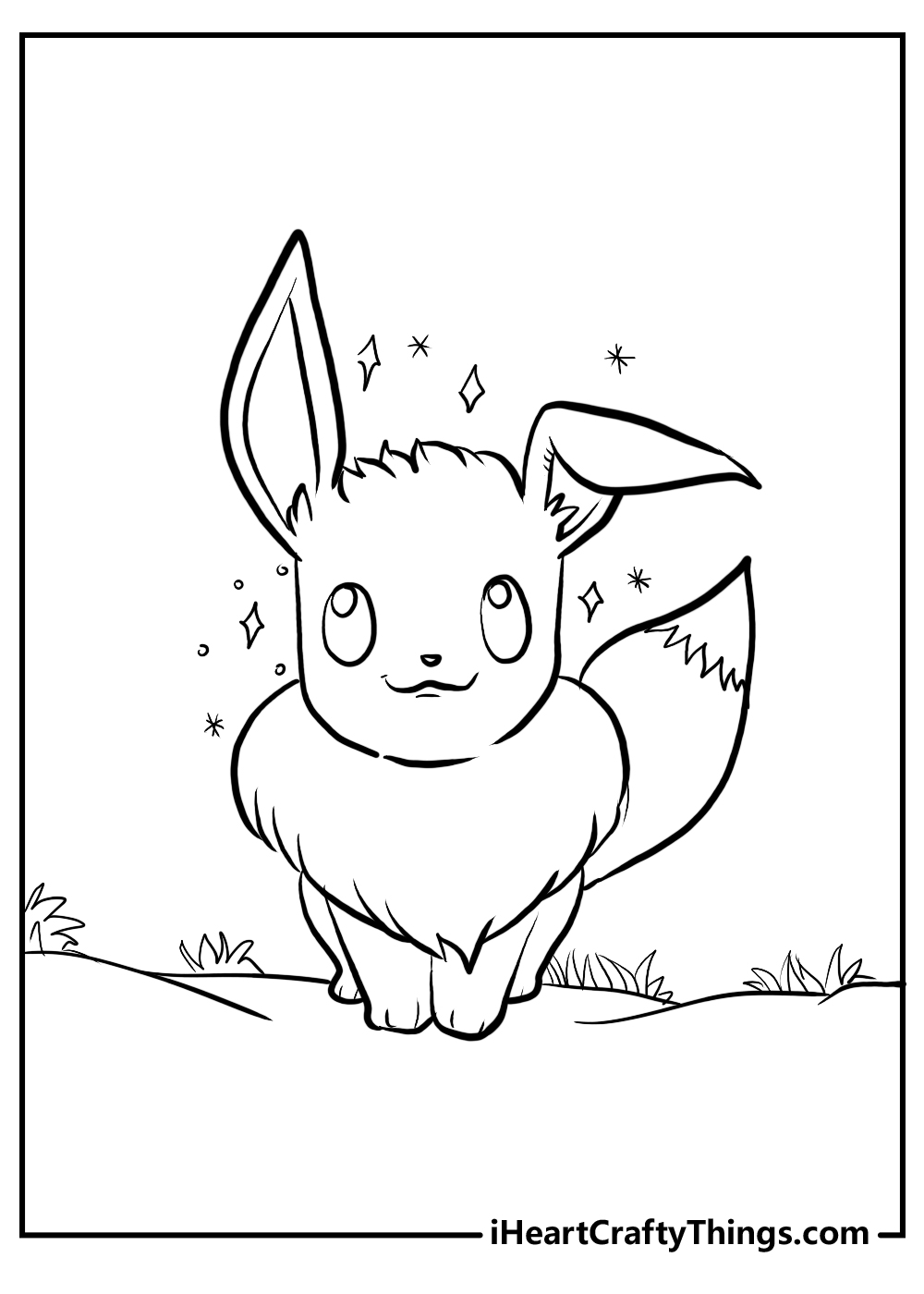 Eevee always reminds me of a cute little fox, and that is certainly reinforced here. He has a simple brown and beige color scheme most of the time, but you could use other colors if you wanted.
Perhaps your color choices could reflect the various evolutions that Eevee can exhibit, such as red or blue.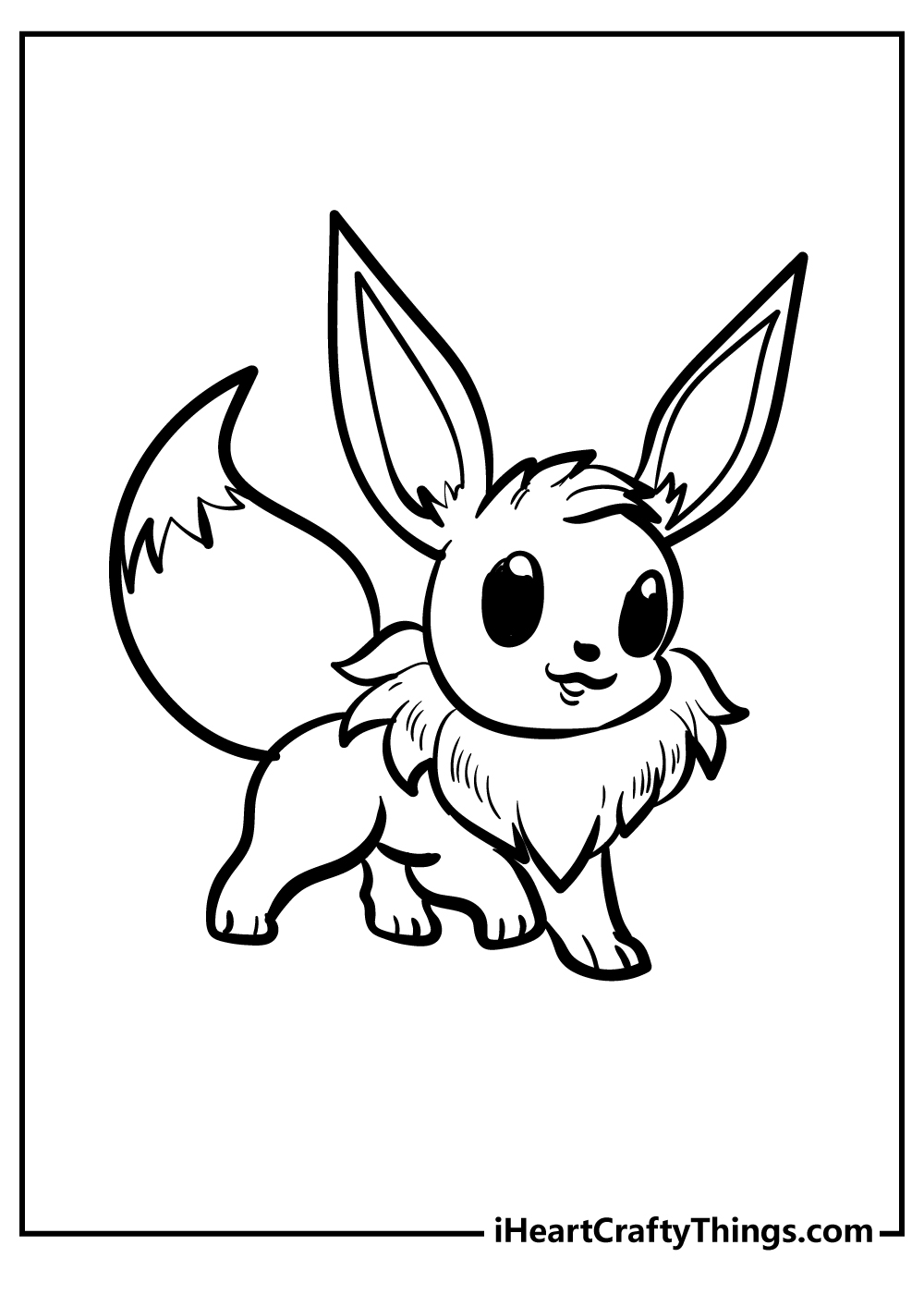 We're feeling the love in this next Eevee coloring page.
Eevee is holding a heart and looking very friendly, so I think some lovely warm reds and some pinks for the hearts, background and text would make this a very loving image.
Once you're finished with it, you could use it as a card for a loved one to show them that you care about them. I'm sure they'd love it!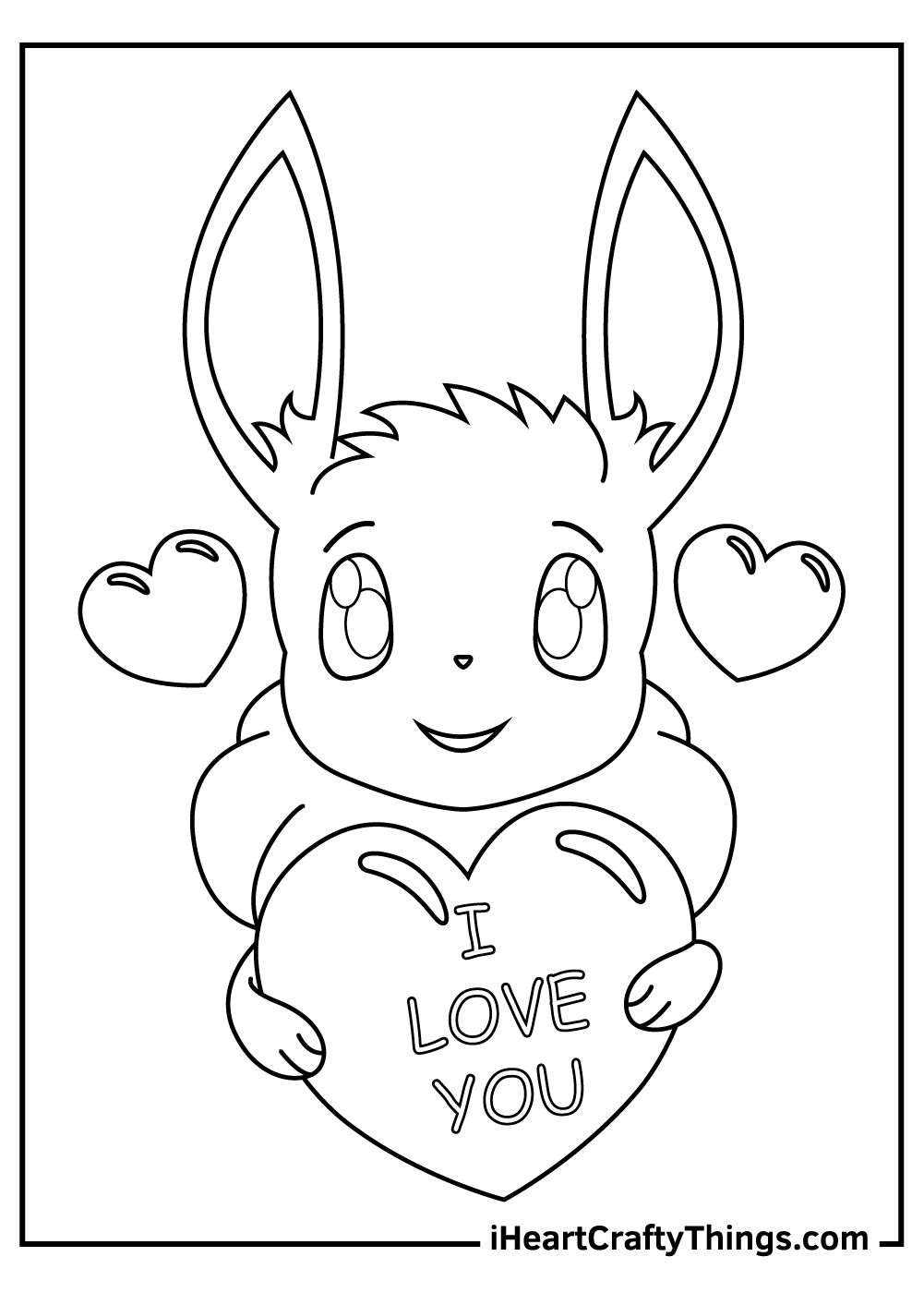 It's time to lay down and take it easy after a long day of adventuring with Eevee on his colorful adventures in this final Pokemon coloring printable.
Eevee is laying down and looking very happy indeed! What colors make you feel most at ease?
For me it's deep blues and greens, so that's what I'd use for the background of this cozy image, but what colors that you find calming will you use for this coloring page?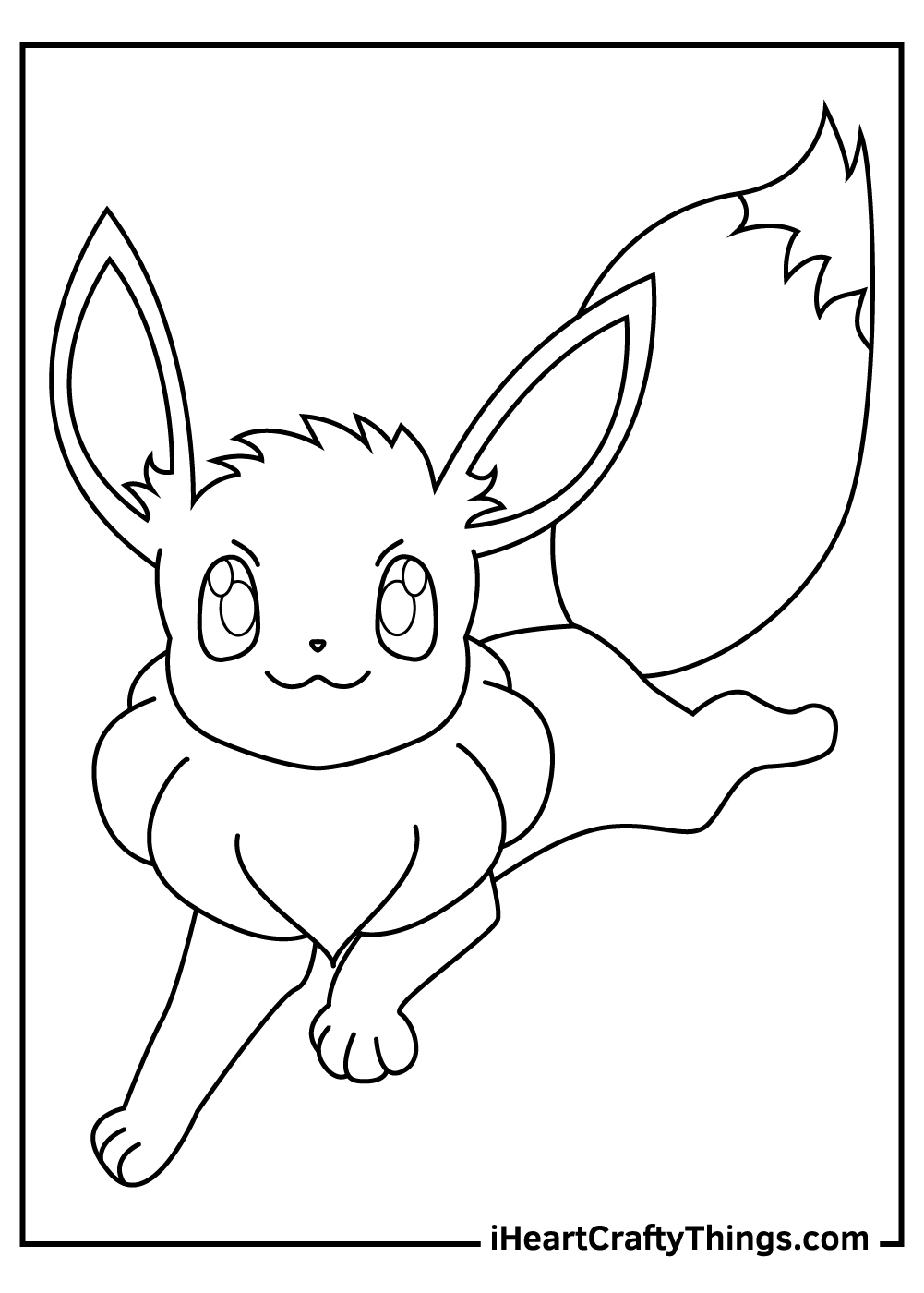 It looks like Eevee is going for a stroll on this next page. This would be a perfect page to add some background details to.
I would draw him taking a walk in nature and include details like grass and flowers. That's one idea, but what are some other settings you could use?
This Eevee coloring page is very sweet and lovely. Eevee's content smile and relaxed pose capture a sense of comfort and tranquility as he gazes up at the shimmering night sky.
He looks very calm and gentle as he sees stars shining in the sky. What do you think makes him relaxed? Maybe he is enjoying the night breeze or admiring the beauty of nature.
I would color this amazing Eevee Pokémon with bright brown, lemon, oranges, or vibrant blue.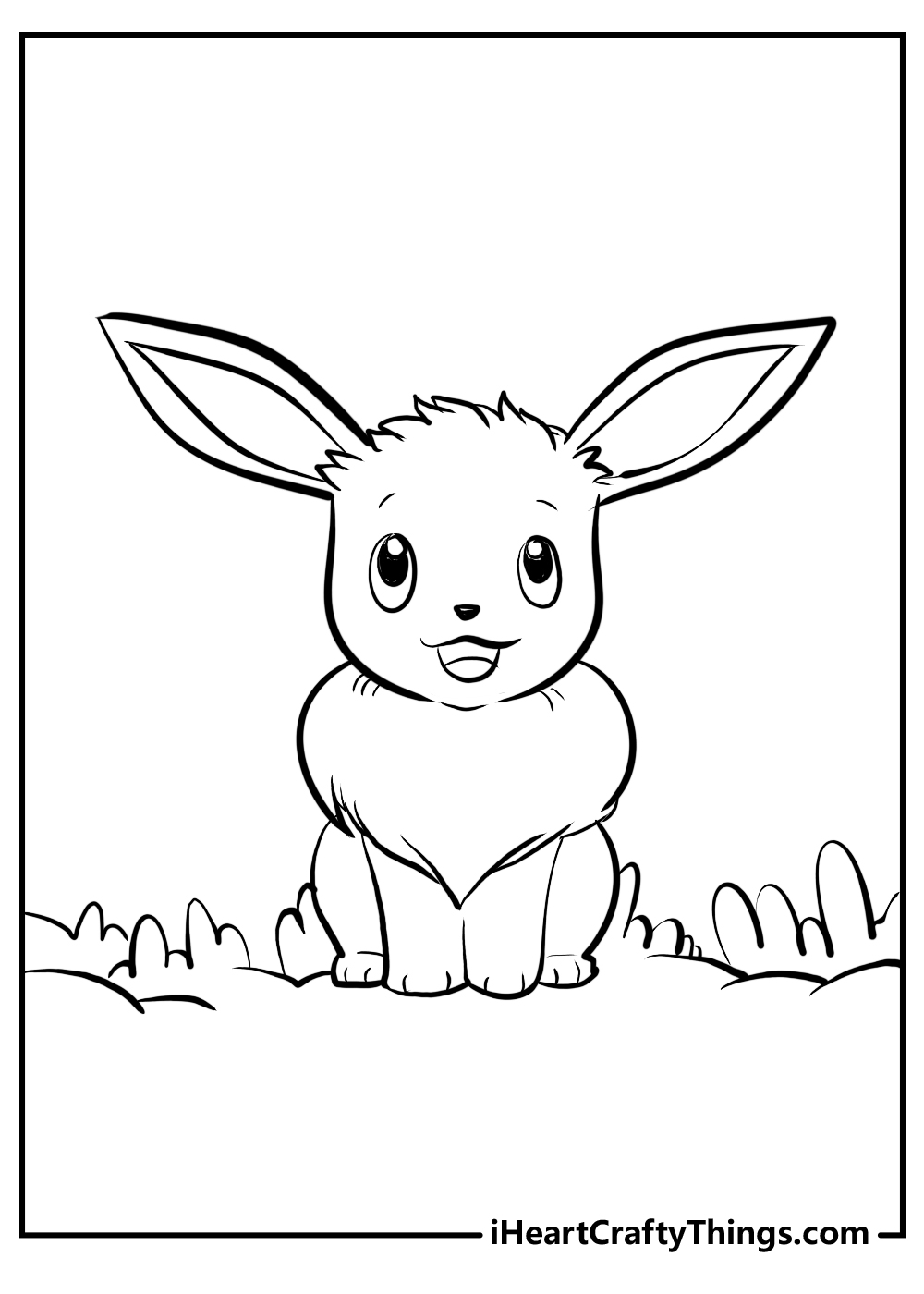 The way that Eevee is posed here makes it look like he is ready for a treat. With a face like that, who could say no to him?
If you want to reward Eevee for being so cute, then you could draw a hand holding a treat for him to enjoy over his head. What kind of treat do you reckon Eevee would like to feast on here?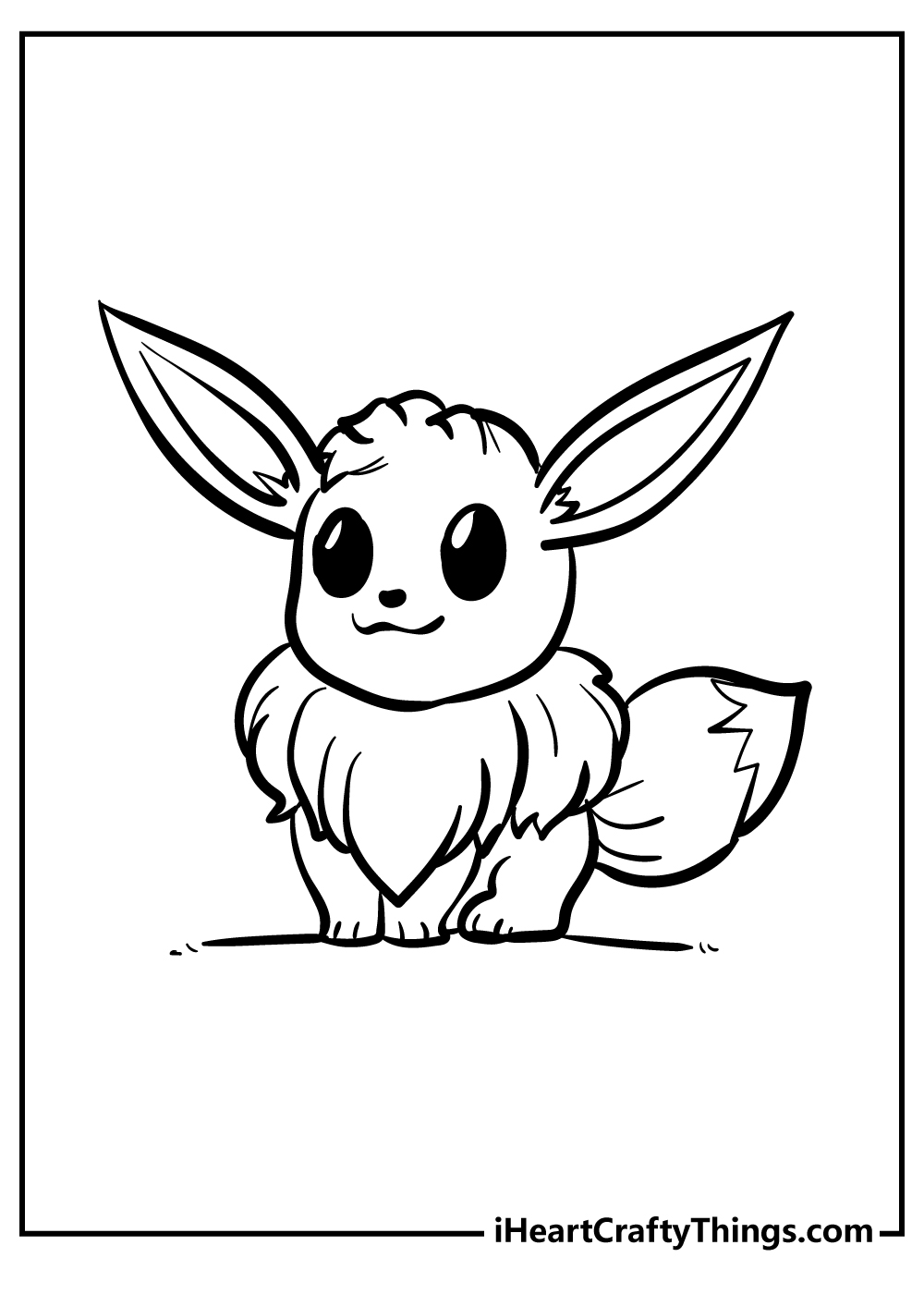 Sometimes Pokemon will have accessories such as glasses, hats or other clothing. In addition to coloring this page, you could also draw some of these accessories for him to wear and interact with.
A little hat would be so cute, but there are many other things you could add as well! Which ones can you think of?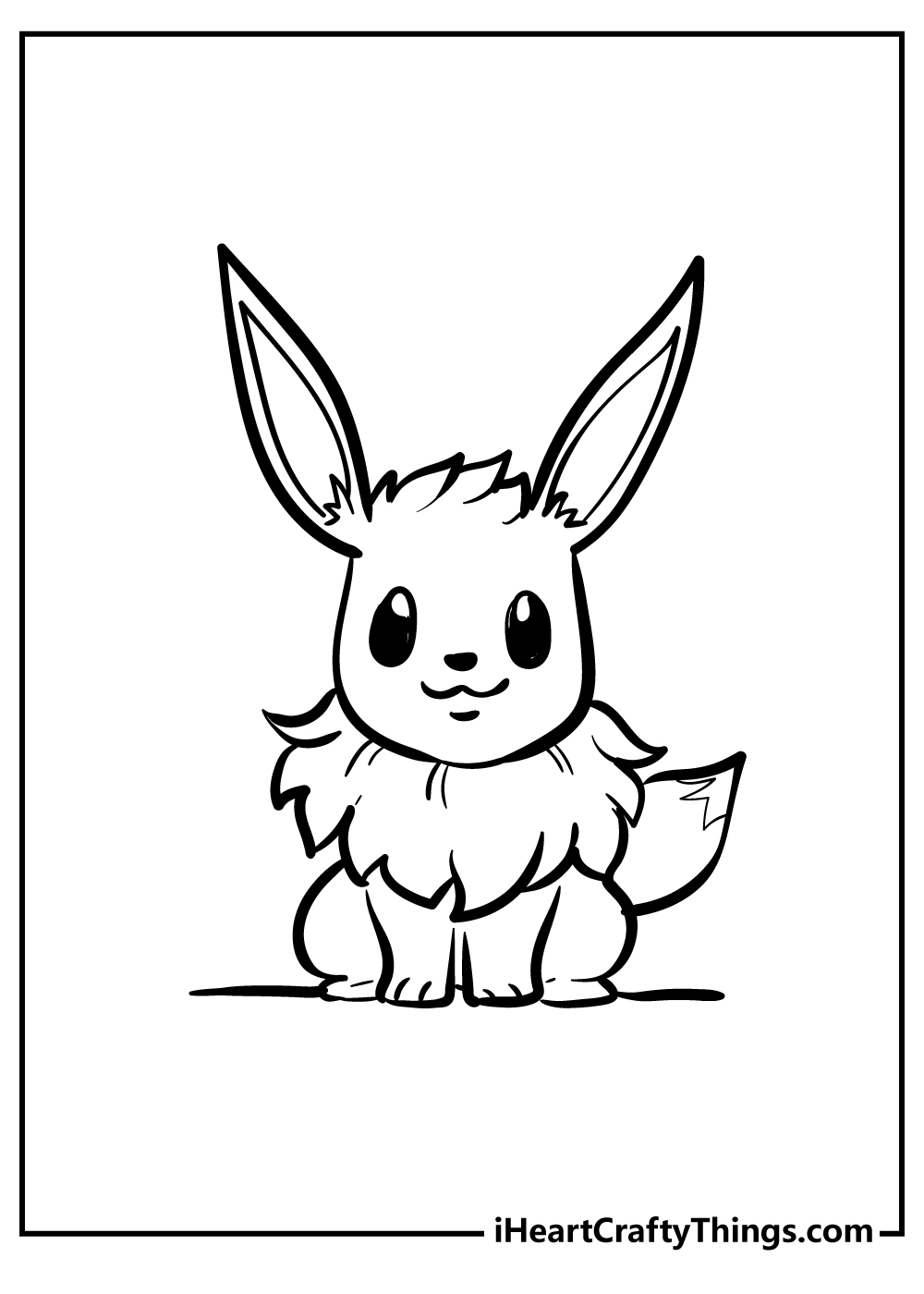 This Eevee coloring page is another absolutely adorable one. The only thing that would make it better would be your amazing coloring skills.
You can choose to portray Eevee with his normal colors, or you could use your own interpretation instead. Will you go for the classic colors or something else entirely?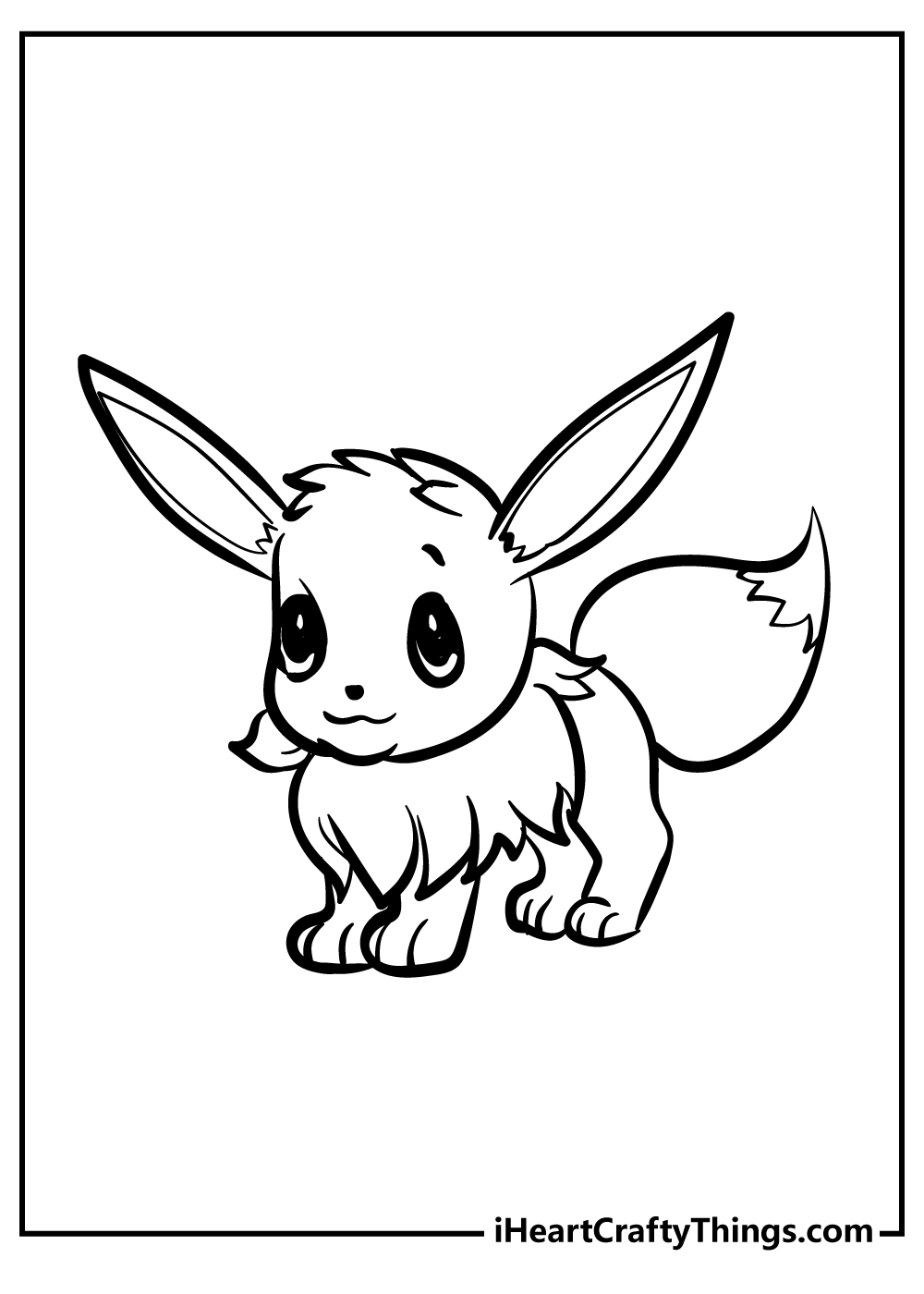 Eevee Pokemon Coloring Pages – Which will you choose?
We hope you had a fun coloring adventure with Eevee in these Pokemon coloring pages!
Our coloring pages and goodies are always completely free to print out and get creative with, so maybe you can try different paints and mediums along with glitter and other crafts to bring Eevee to life.
Don't forget that we have a ton of coloring pages and other printables available for free all the time, so be sure to like and share this page today to never miss out.
Once you've finished your Eevee coloring pages we'd love it if you would share your favorites on our
Facebook page for us to see. We always love seeing your creativity at work!