On this page, you will find 15 all new Lego Ninjago coloring pages that are completely free to print and download.
The Lego Ninjago series is one of the coolest lines Lego has ever produced! Not only do all the characters and moves look so awesome, but there's a really enjoyable storyline behind it all as well.
The characters in Lego Ninjago are characterized by bright colors depending on which elemental group they belong to.
Whether it's bright reds, greens or yellows, you can represent your favorite Ninjago clans by creating your own ninjas in these free Lego Ninjago coloring pages for kids!
You can print out multiple copies of these free printables so you can try out creating different characters with color!
These coloring pages provide an opportunity for hours of coloring fun, and once you've finished creating some vibrant ninjas, be sure to share your creations on our Facebook page so we can see what a coloring ninja you are!
15 Brand New Lego Ninjago Coloring Pages – Free to Print and Color
The picture in this first Lego Ninjago coloring page shows a ninja that's possibly scheming or planning his next move. He looks like he's concentrating hard!
There are many different colors for the various characters and clans in Lego Ninjago, so why don't you pick your favorite one and use it for this concentrating ninja?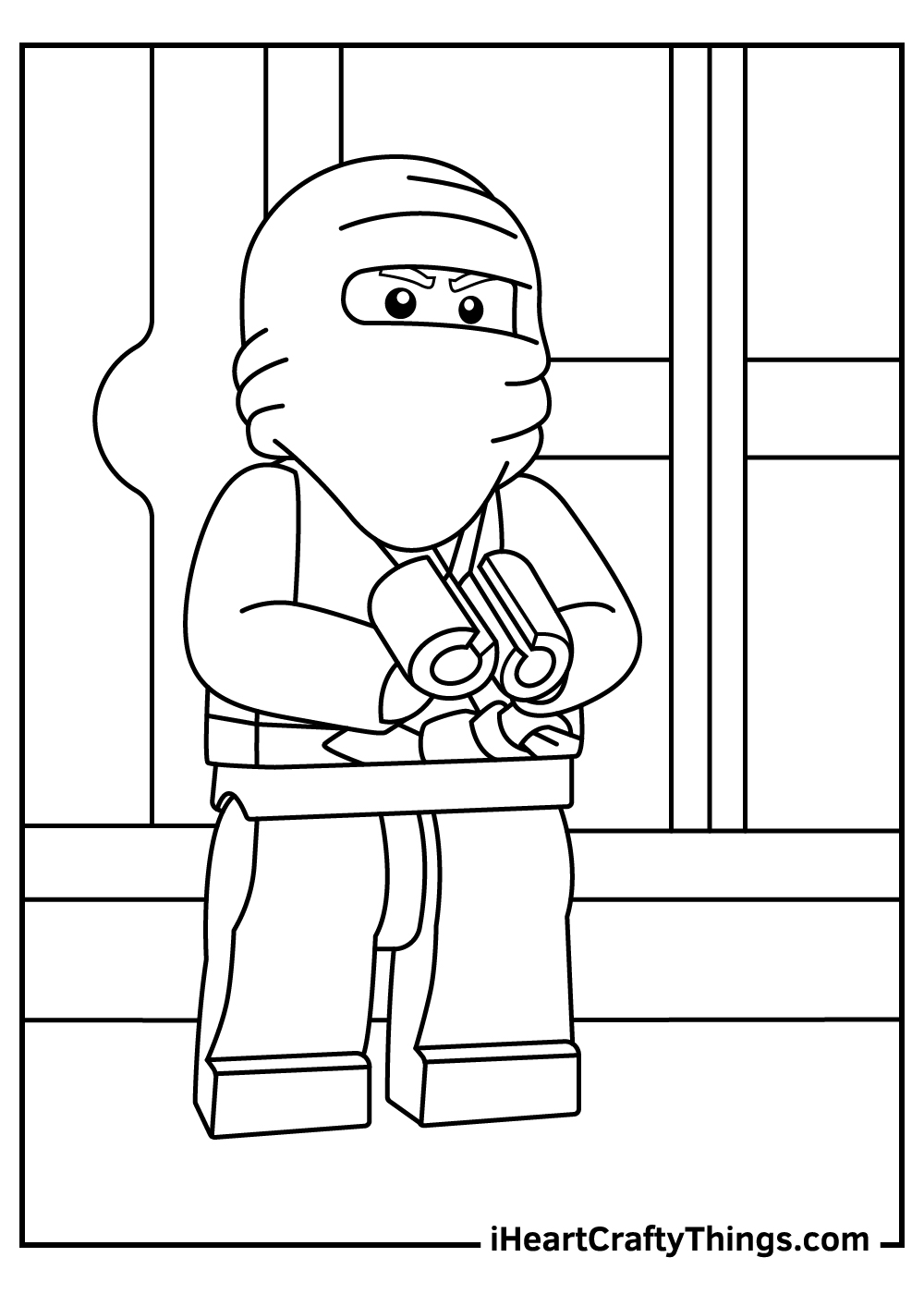 This Lego Ninjago coloring page features a ninja in his karate outfit with a black belt. He looks furious and is ready to use his Spinjitzu skills and his elemental power.
The background is simple, making it a great canvas to add fun stickers or accessories. You can use different colors and styles to make your ninja look awesome.
How about some shades of green, brown, and black for a stealthy and earthy look?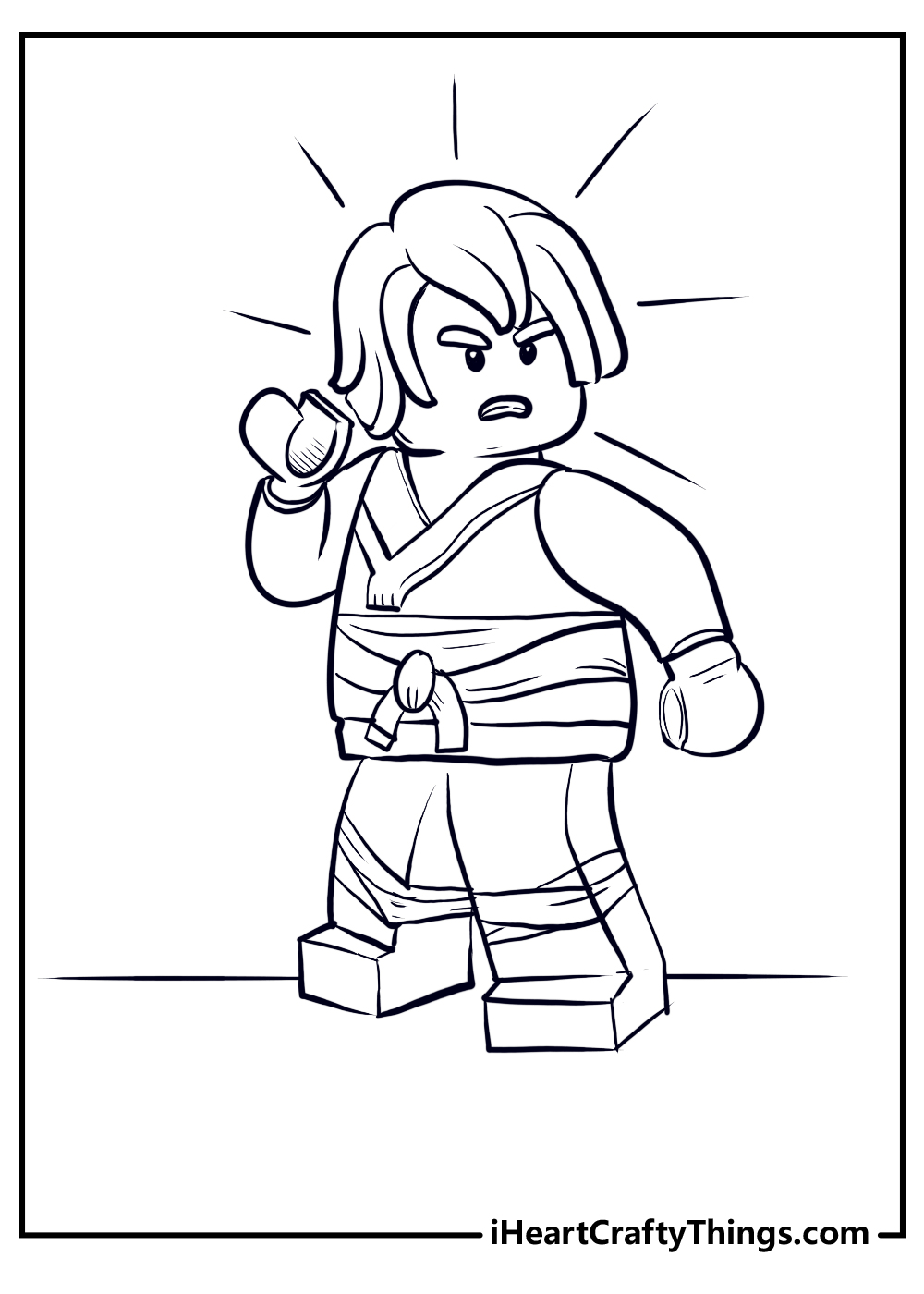 The ninja in this Lego Ninjago coloring sheet means business as he's waving around a nun-chuck. I wonder who he's facing down?
Giving this sheet a background that contrasts the color of this ninja could make for a really cool image.
What colors will you choose for this ninja character, and what will you choose for the background?
Whatever you choose will look great, and we can't wait to see what you choose!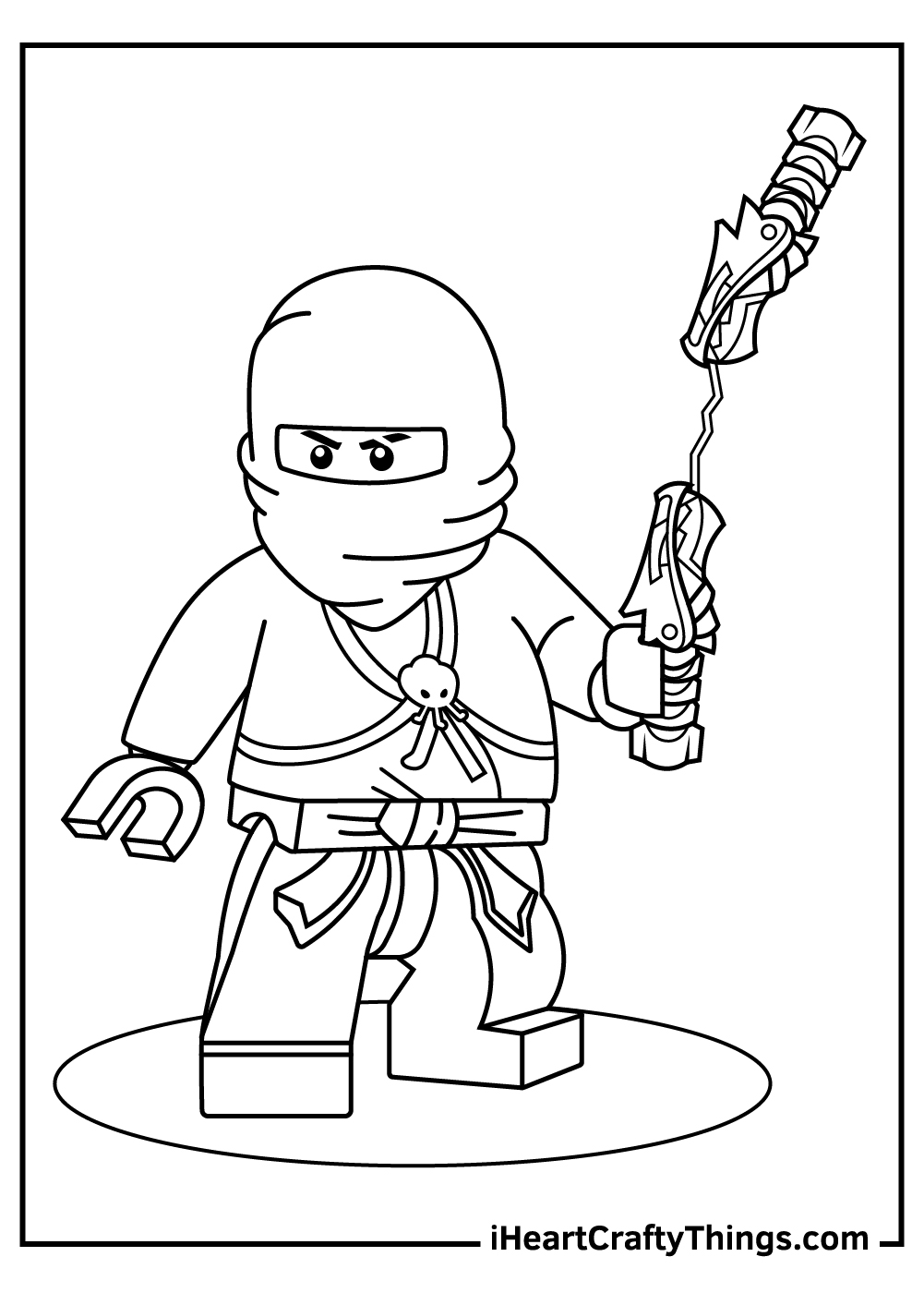 This next Lego Ninjago coloring page shows a ninja with a fearsome looking weapon on his back. I wouldn't want to mess with this guy!
Behind him is one of the settings for the show, so you could either color it to match the colors in the show or get creative and make something new with other shades. We can't wait to see what You decide on!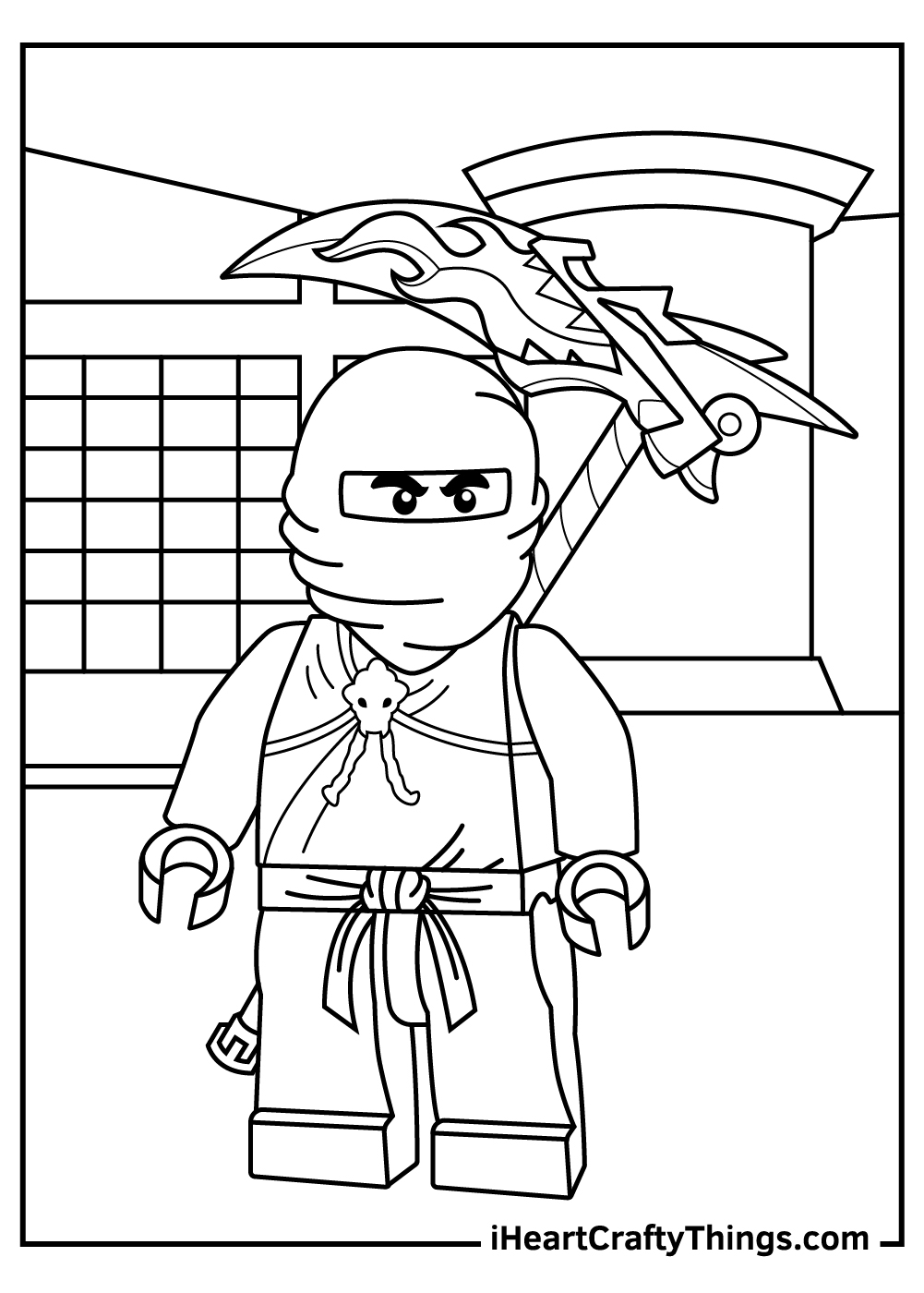 Get ready for an epic Ninjago adventure. This ninja is suited up and ready for action. He's wearing a traditional black outfit with a red sash and gold shoulder armor, and holding a gleaming sword in his right hand.
His headband has the Chinese symbol for "ninja" on it in white. He looks fearless, doesn't he? I would Color this cool ninja using shades of gray, black, red, and gold.
You can also use metallic markers or crayons for an extra sleek ninja look.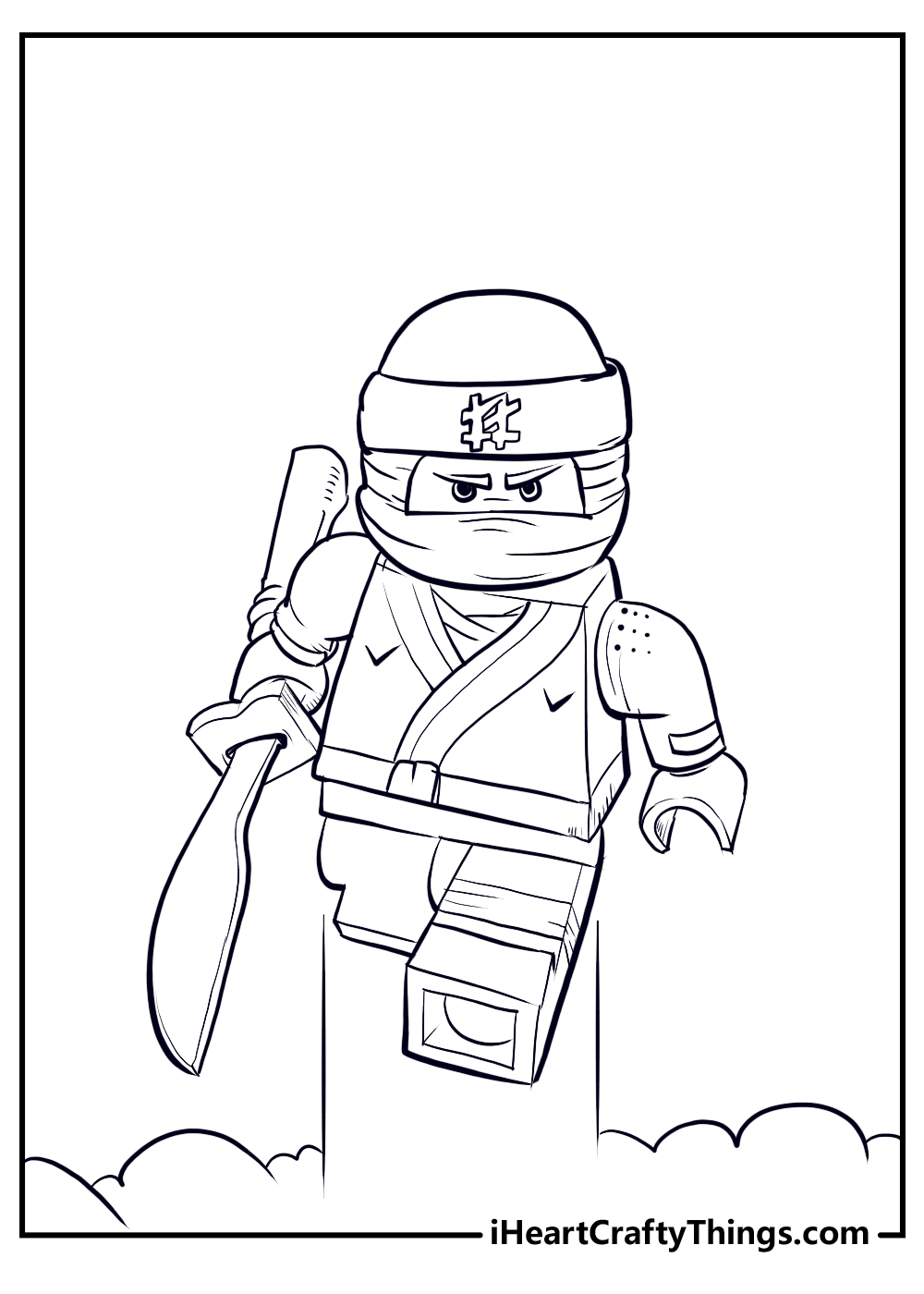 Another serious looking character is featured in this Lego Ninjago coloring page. What color will you choose for him?
If you can't decide, maybe you could print a few copies and do some variations to represent your favorite clans from the show and the Lego sets.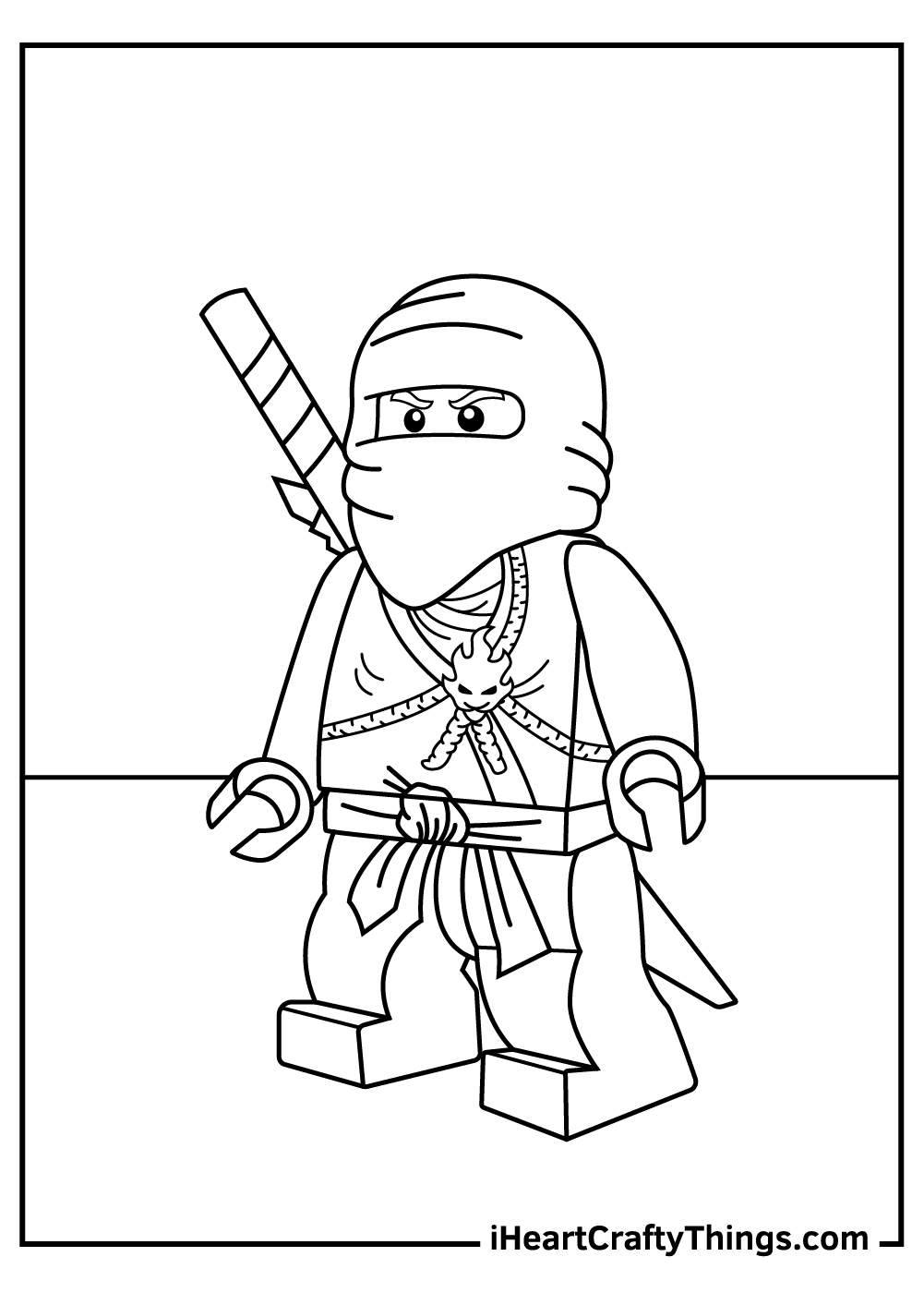 Master Wu is a very recognizable Lego Ninjago character, and he's the star of this next coloring printable.
As the old ninja mentor, Master Wu typically wears white with hints of red, but if you want you could try some other colors and show him trying out a different style for a change!
He's a calm and wise character, so maybe you could use some cooler colors for the background to visually represent this aspect of his character.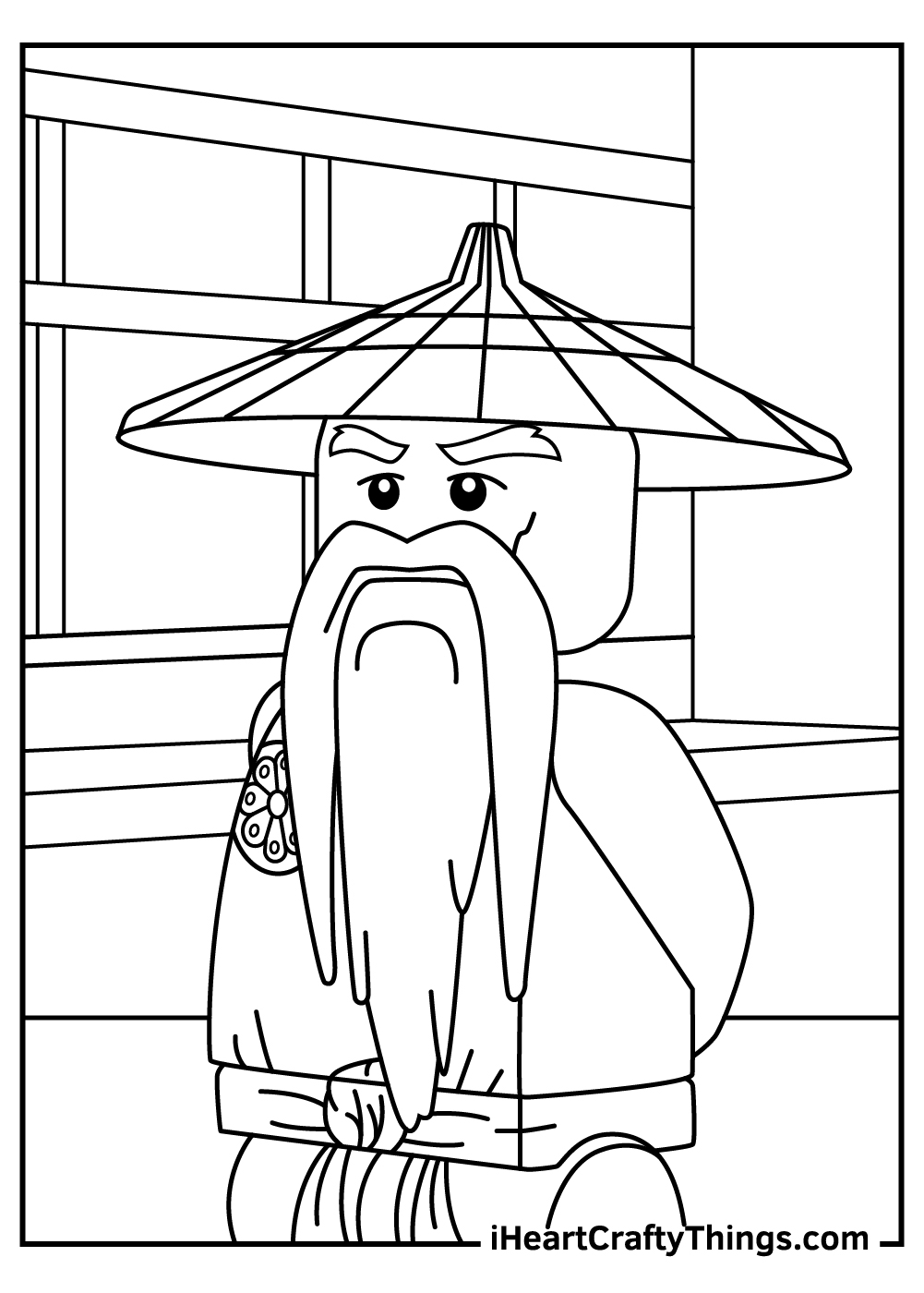 This ninja has so much detail compared to the other Lego Ninjago coloring pages. He has swords strapped to his back and a small knife in his belt.
He is wearing a white headband and a white mask covering his mouth and nose. His eyes also look fiery.
We suggest coloring his fierce black outfit with metallic gold accents to show off his mastery. Give his mask and headband a bright pop.
In the background, draw an exciting scene fit for an elemental ninja battle. Add raging fires, crashing waves, jagged rocks and whipping winds.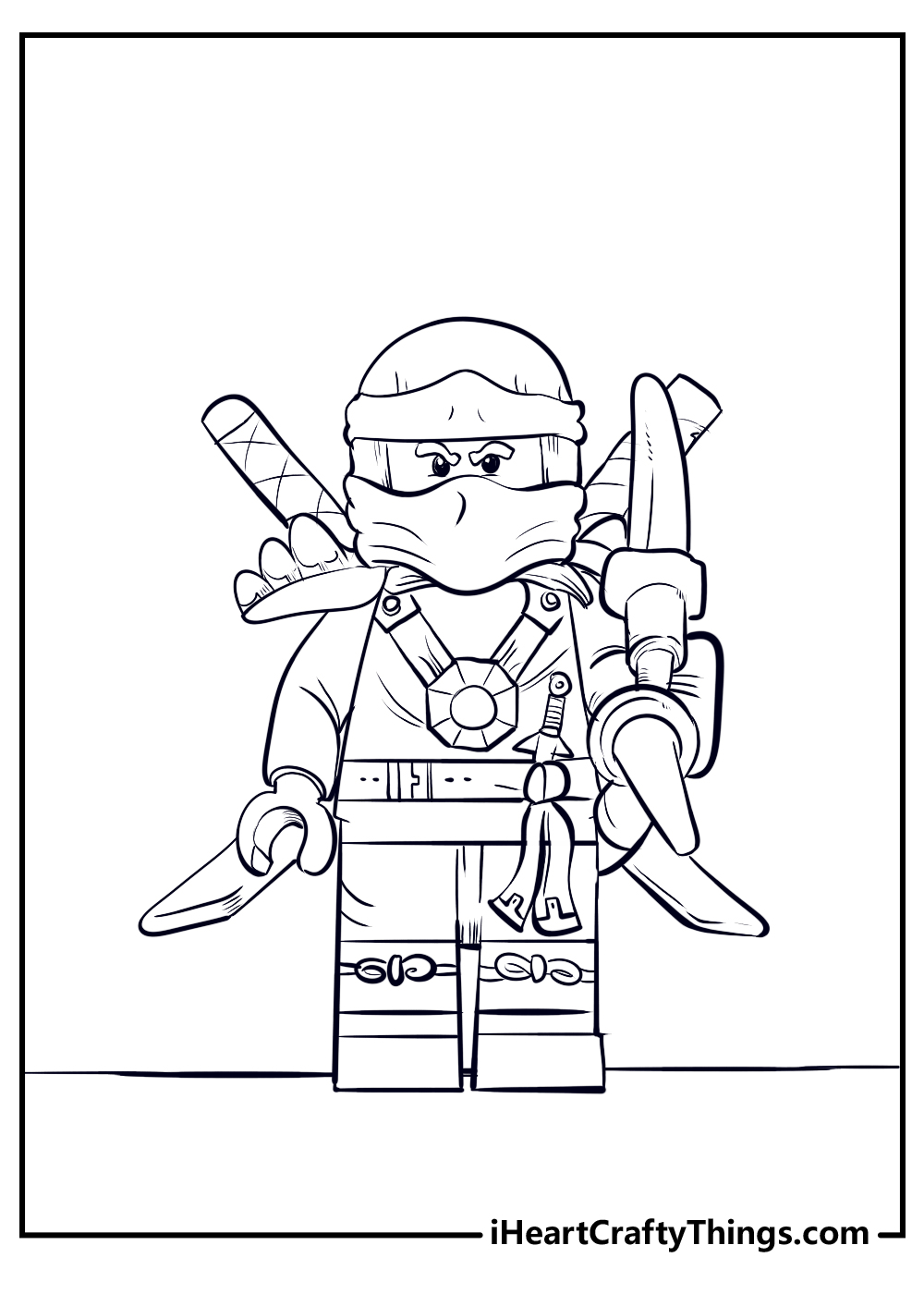 Oh my, this character in this coloring sheet is looking quite angry! I wonder what happened to make him feel like this?
Once you've picked what color for whichever clan you'd like him to be a part of, maybe you could represent his emotions in the background with powerful reds and yellows.
That would certainly make for a striking image!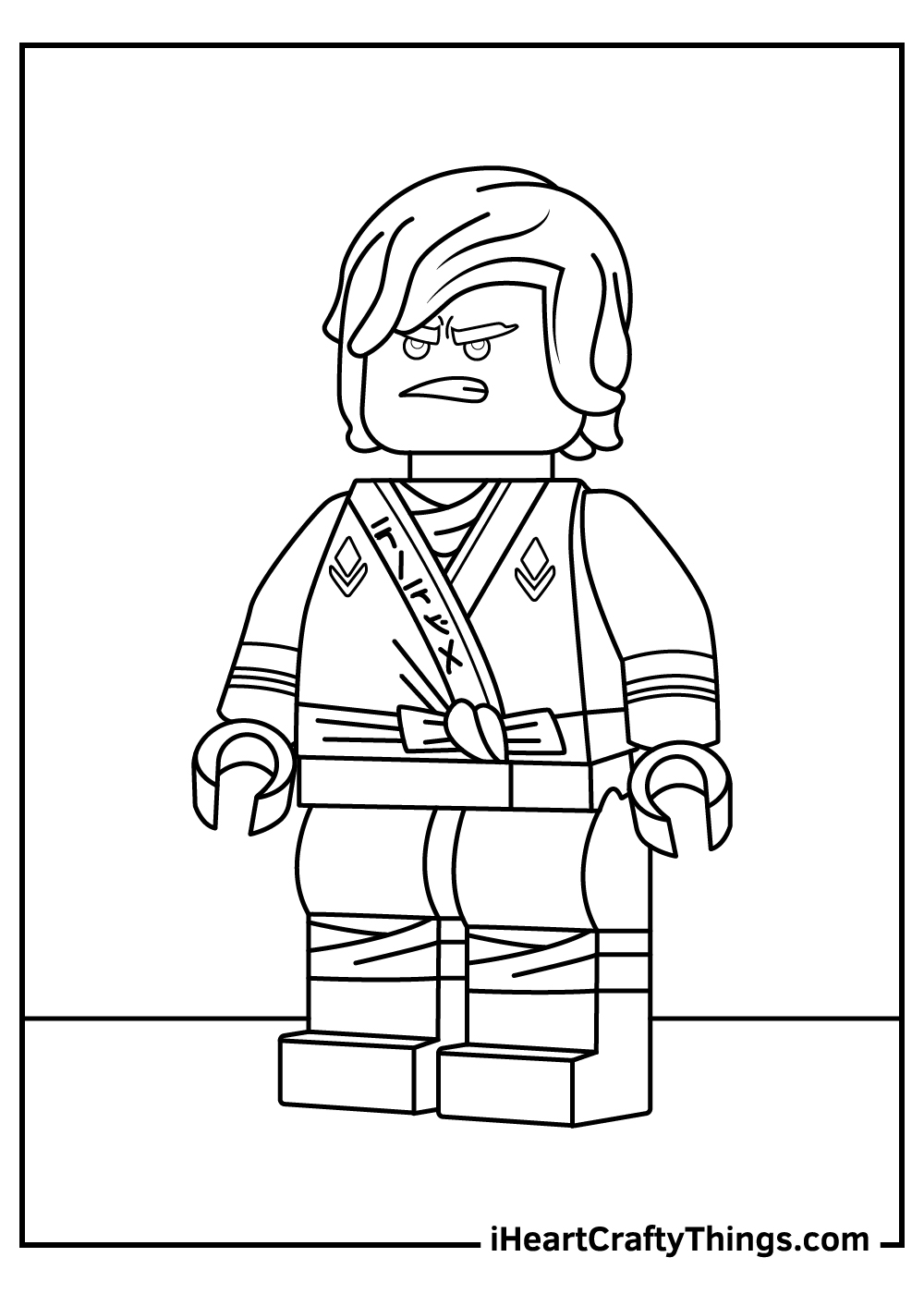 This next Lego Ninjago coloring sheet features Zane, who would later go on to be a master of ice.
He would mainly feature whites and blues for his outfit and look, so you could go for that in this printable, but you could also make him a unique character with some other colors.
Maybe you could create your own ninja clan with a unique color scheme! He's looking calm in this coloring page, so some cooler blues and greens would look great for the background.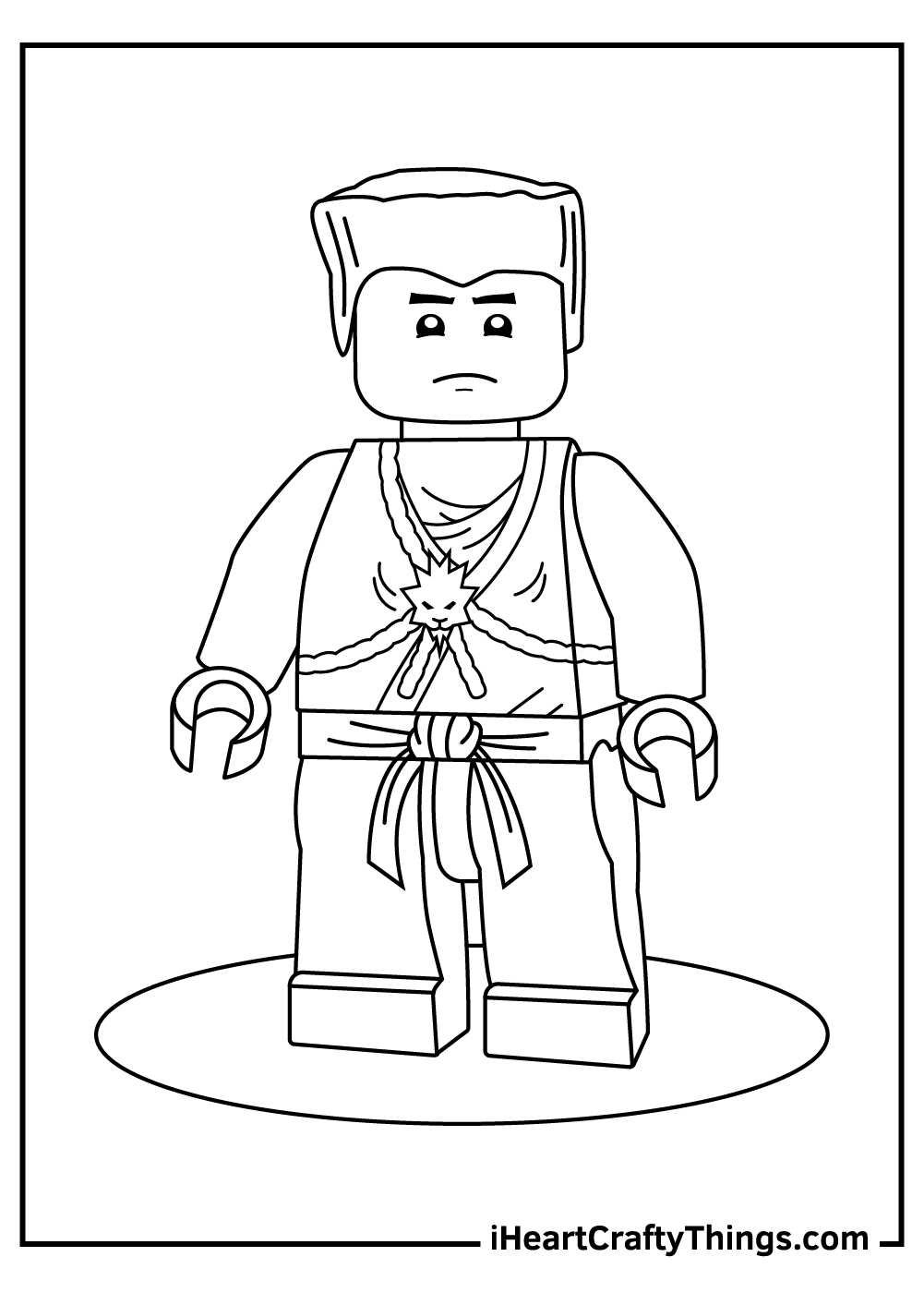 Just look at the huge battle hammer this ninja is holding. It looks like the hammer Cole uses for balancing himself out after being hit out of his own Spinjitzu tornado.
He also has a large sword strapped to his back and ready to be drawn anytime. Cole's hammer has a lot of detail in it and you can use different colors and style to make it look awesome.
In the background, you can draw training equipment, trees, buildings or anything you think would be at a secret ninja hideout.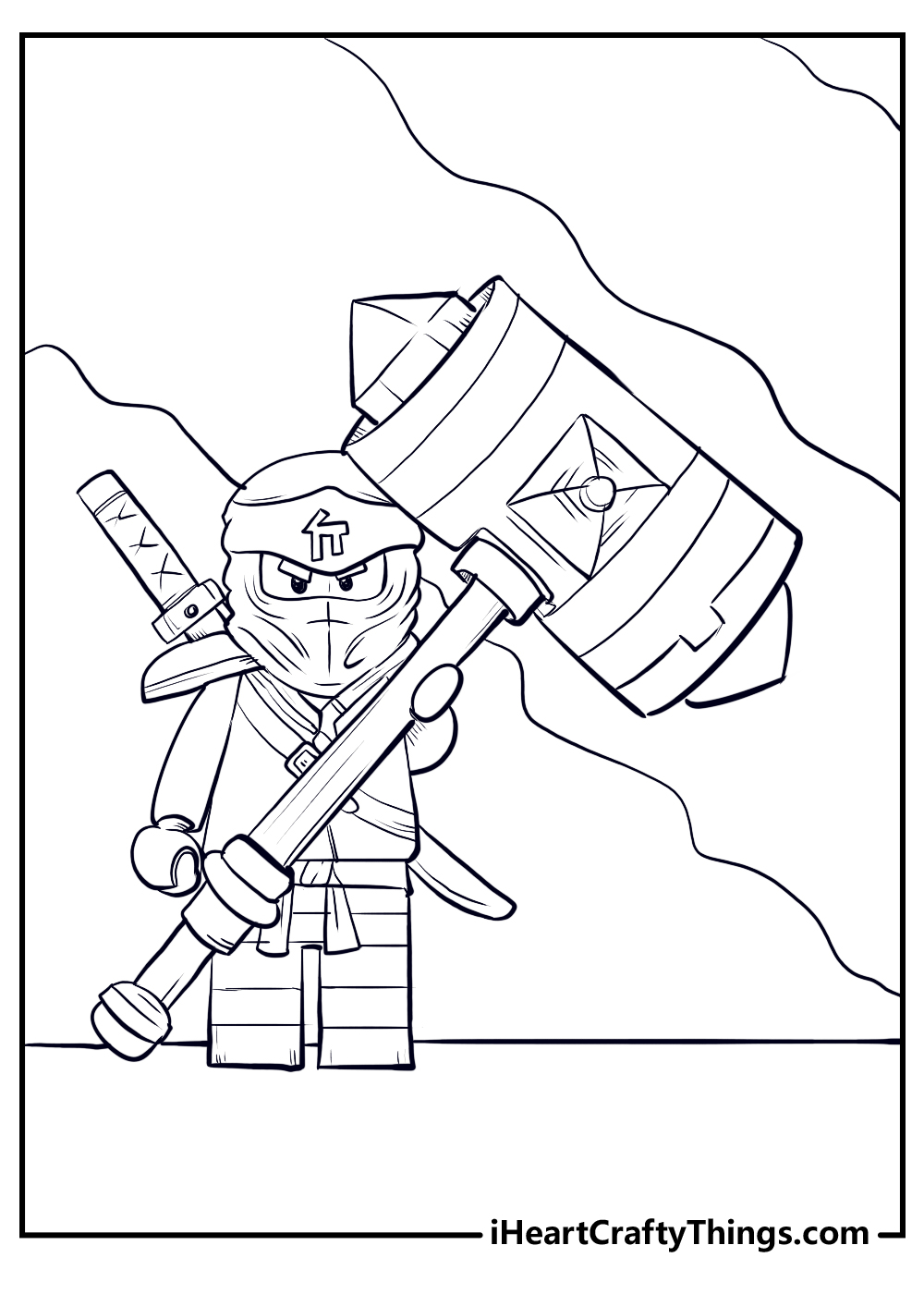 This Lego Ninjago character also means business as he's wielding two staffs! I bet he would be tough to beat in a ninja battle.
This coloring page has quite an intensity to it, so that would be best represented with bold colors in the background, wouldn't you think?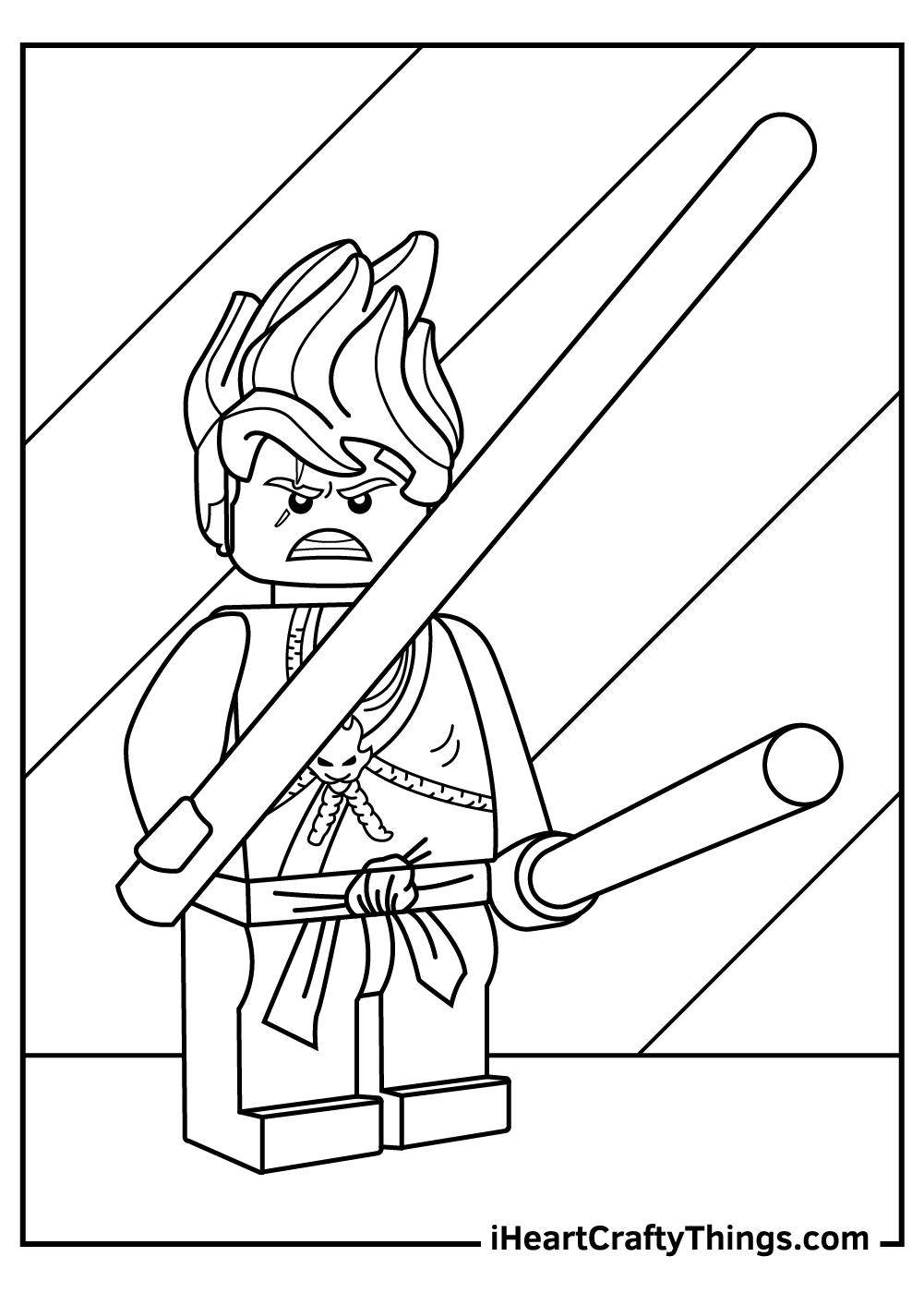 In this next Lego Ninjago coloring sheet printable, we have a character looking quite smug. He looks like he knows something we don't! Does he remind you of a character from Lego Ninjago?
Why not color him to look like a specific character, and maybe use some green variations for the background to represent the mysterious and mischievous look he gives off.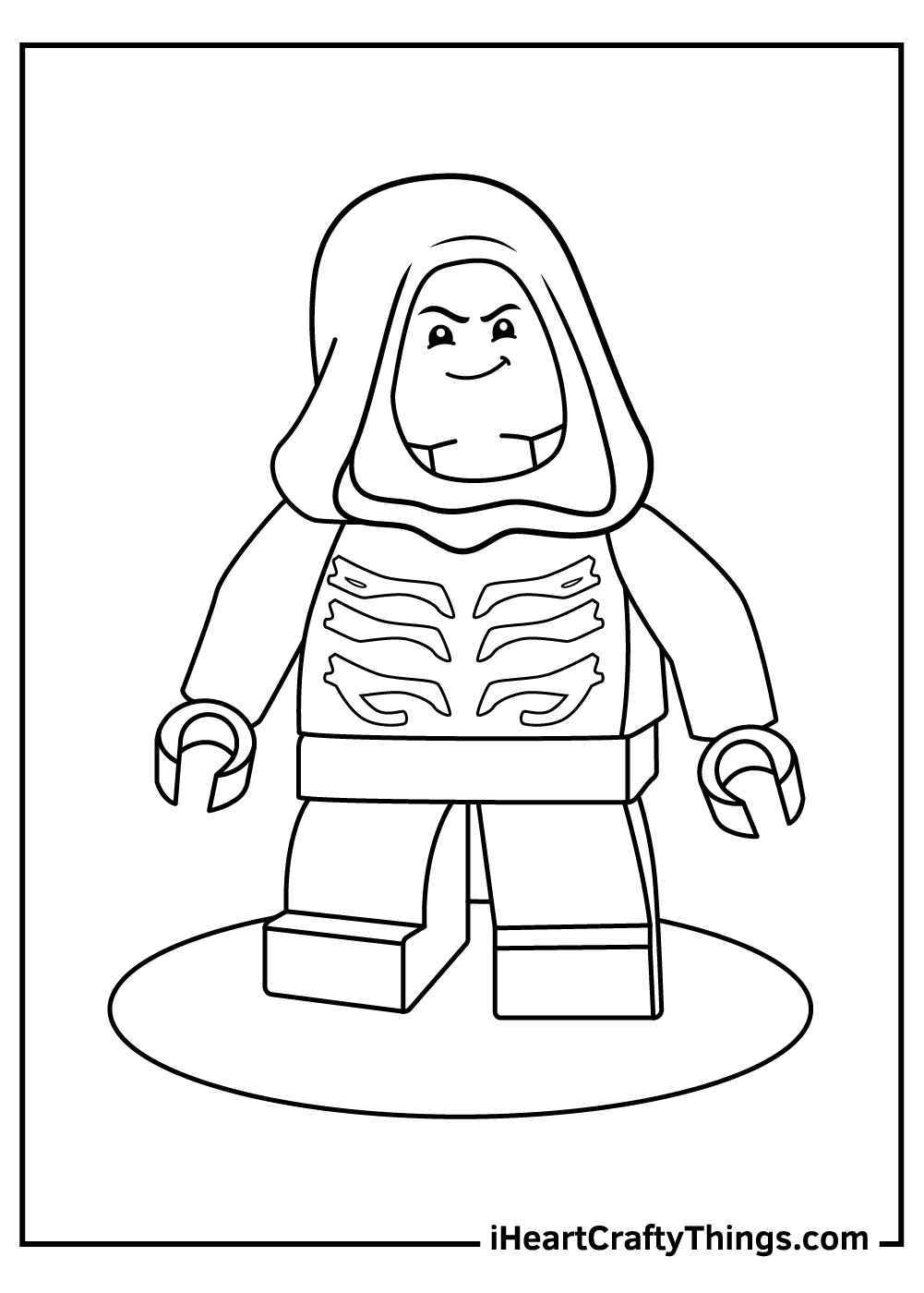 The final Lego Ninjago coloring page shows a female ninja looking like a star as she's surrounded by stars herself!
She has quite an intricate design on her outfit, so that gives a good chance to use lots of different colors on her.
Maybe you could represent the different colored clans all in one outfit, and then incorporate them into the stars around her.
If you finish it off with a bright colored background that would make this coloring page look really bold and striking!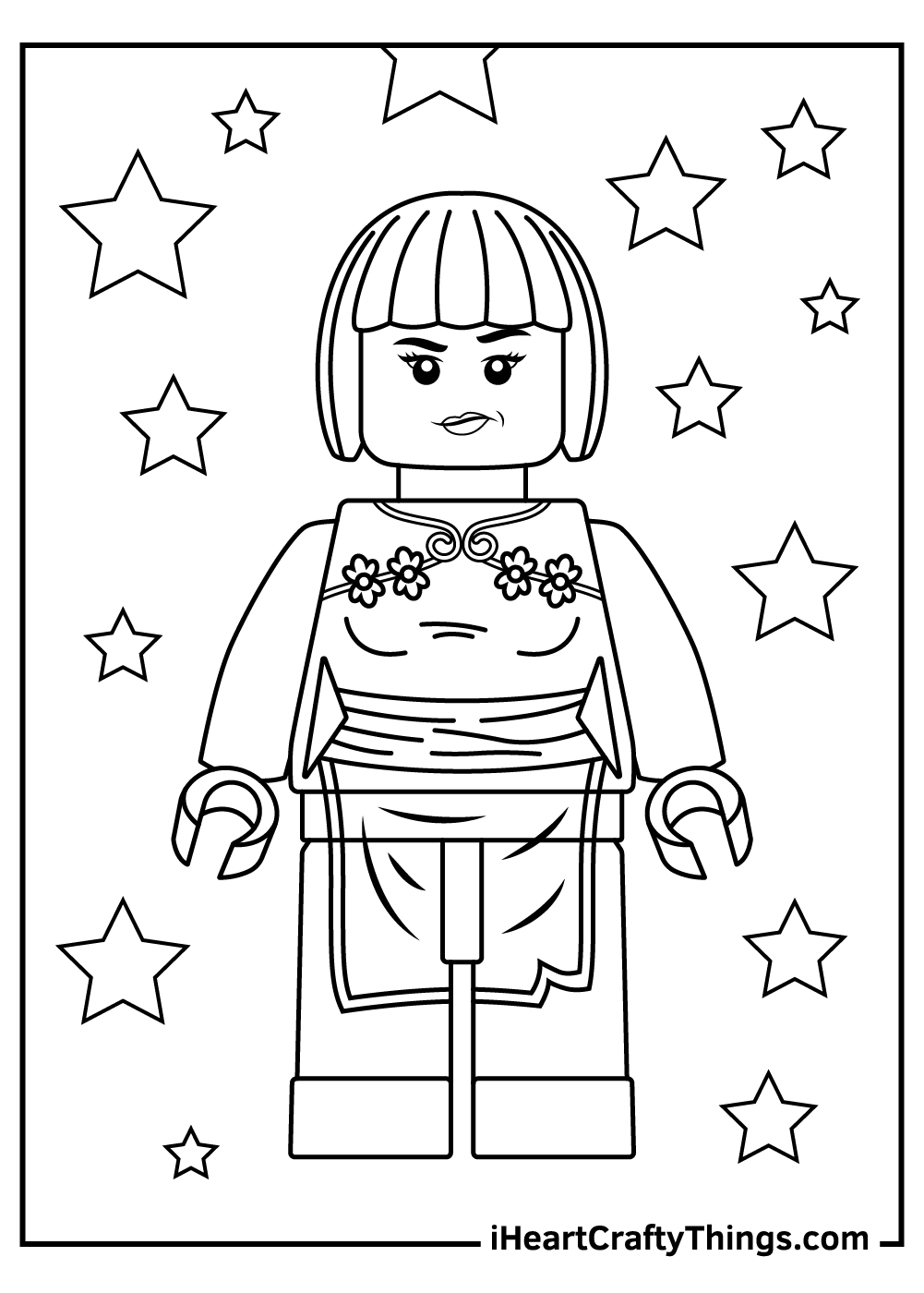 This NinjaGo shows one of the ninja in a karate outfit with a black belt. He's holding a very large weapon that looks like the Sword of Ice. He is ready to use his Spinjitzu skills and elemental power.
You should definitely get creative coloring his outfit – try shades of green, brown and black. Or go bright with red, yellow and white for a more fiery look.
It'd also be great to add ninja details like wrist wraps, shoulder pads, or tabi boots.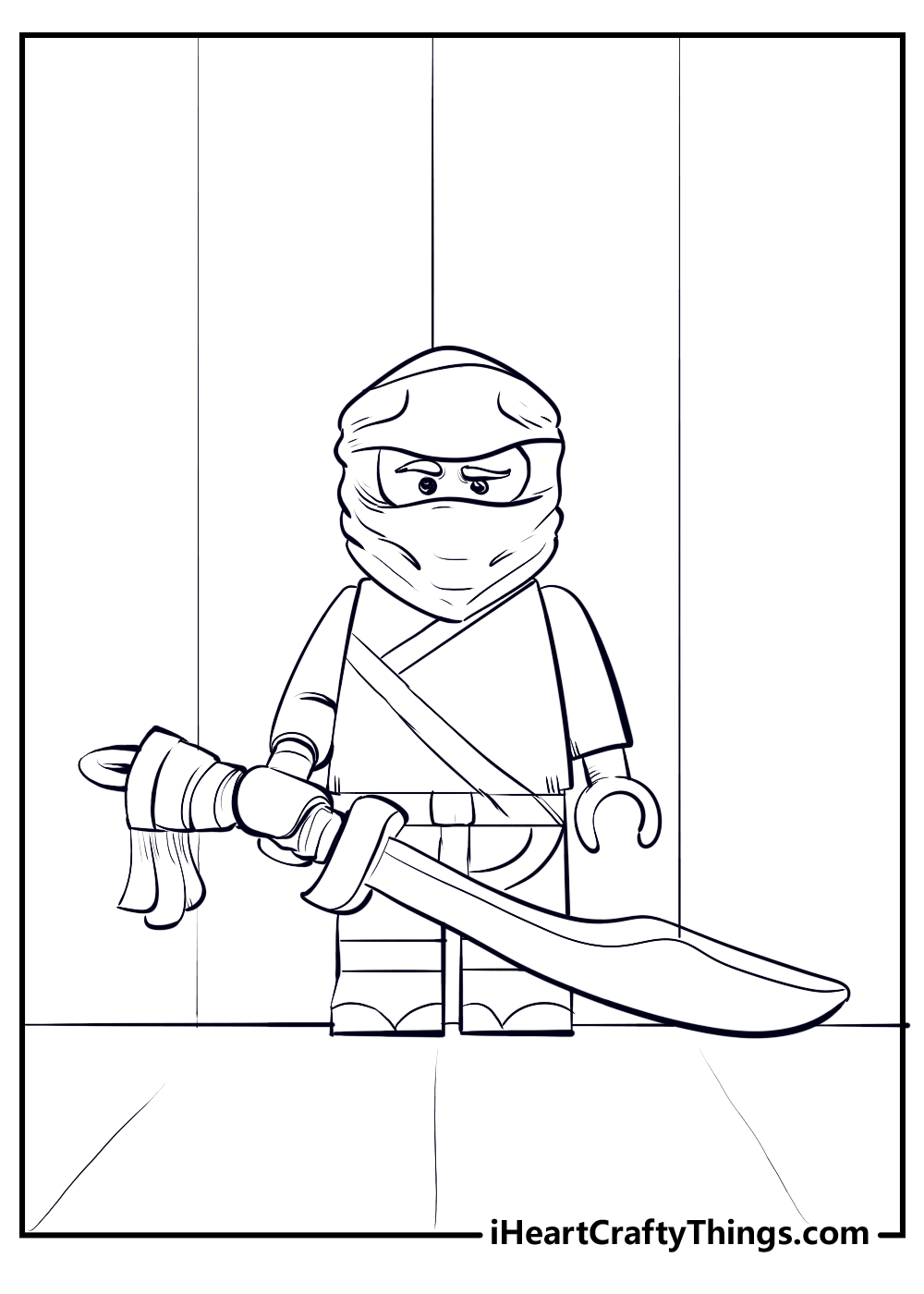 Lego Ninjago Coloring Pages – Which will you choose?
We hope that you had a great time with this series of free Lego Ninjago coloring page printables!
Remember that our art and goodies are totally free for you to print out and enjoy, so feel free to print out multiple copies of your favorite coloring pages to represent all of the colors of the different clans and characters from Lego Ninjago!
Please feel free to like and share our Facebook page with all of your friends so that no one misses out on all of our free awesome coloring pages and other goodies. Also, be sure to share some of your completed Lego Ninjago coloring pages so we can see all of your creative and colorful ninja creations!