The Avengers are the biggest superhero team in the world, and they have starred in countless comics, movies, TV shows, video games and more.
Their portrayals come in many different forms, and there are even Lego Avengers to enjoy.
This iteration of these heroes are what we will focus on in this collection of free Lego Avengers coloring pages for kids!
Throughout this collection, we have tried to represent a wide selection of these heroes, and there will be many chances for some bright colors and fun creativity!
If you have a favorite Avenger, chances are they are included here for you. You can also spread the fun by sharing these pages with your hero-loving friends and family to enjoy as well!
These pages featuring these heroes are all totally free for you to enjoy as many times as you like.
You can even print out multiple copies so that you can try out different approaches to the same images!
You can pick your favorite Avengers to color, or you could have a complete set by coloring every single one of these pages.
You're now ready to embark on this coloring adventure! Remember to also share your favorite finished pages on our Facebook and Pinterest pages for us to admire.
15 Brand New Lego Avengers Coloring Pages – Free to Print and Color
Tony Stark is up in this first free Lego Avengers coloring page for kids that we have in this collection! His outfit here is based on a thrilling time travel sequence in the Avengers Endgame movie.
You could look up a picture of that scene if you want to have him looking movie-accurate, but you could also create a unique color scheme to create a unique variation if you prefer.
Do you think you will draw some background details or maybe add some text to take this image even further?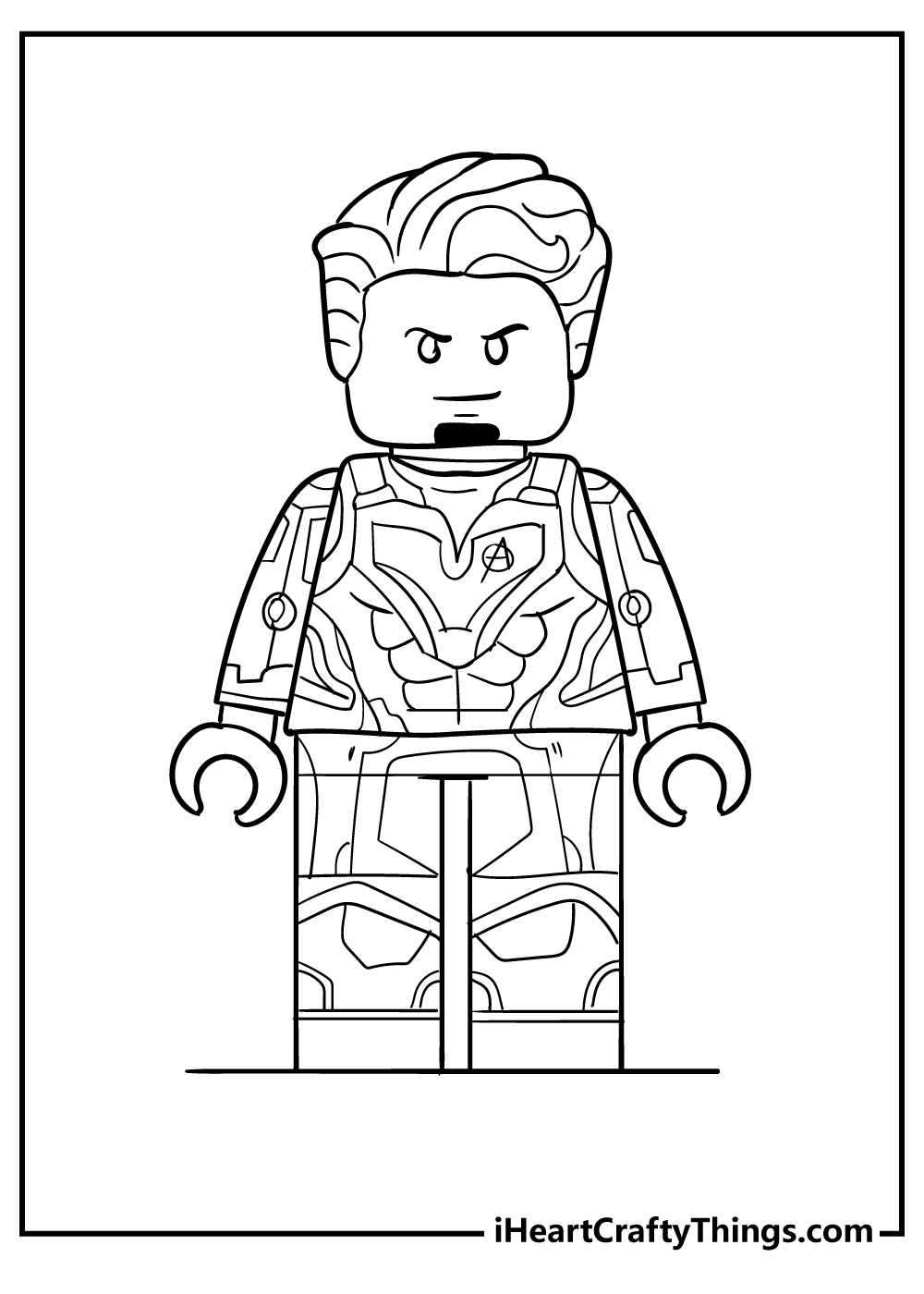 The mighty Avengers unite as a team in this powerful scene! Natasha Romanov stands poised as Black Widow, ready to fire her high-tech wrist blasters.
Tony Stark looks focused as he suits up in his invincible Iron Man armor with repulsors powered up.
Hulk stands tall with his big strong green fists, ready to smash anything that gets in his way. And Captain America projects confidence, holding his trusty vibranium shield.
Color these awesome stationary Lego superheroes in their signature suits and imagine the excitement when this epic team springs into action!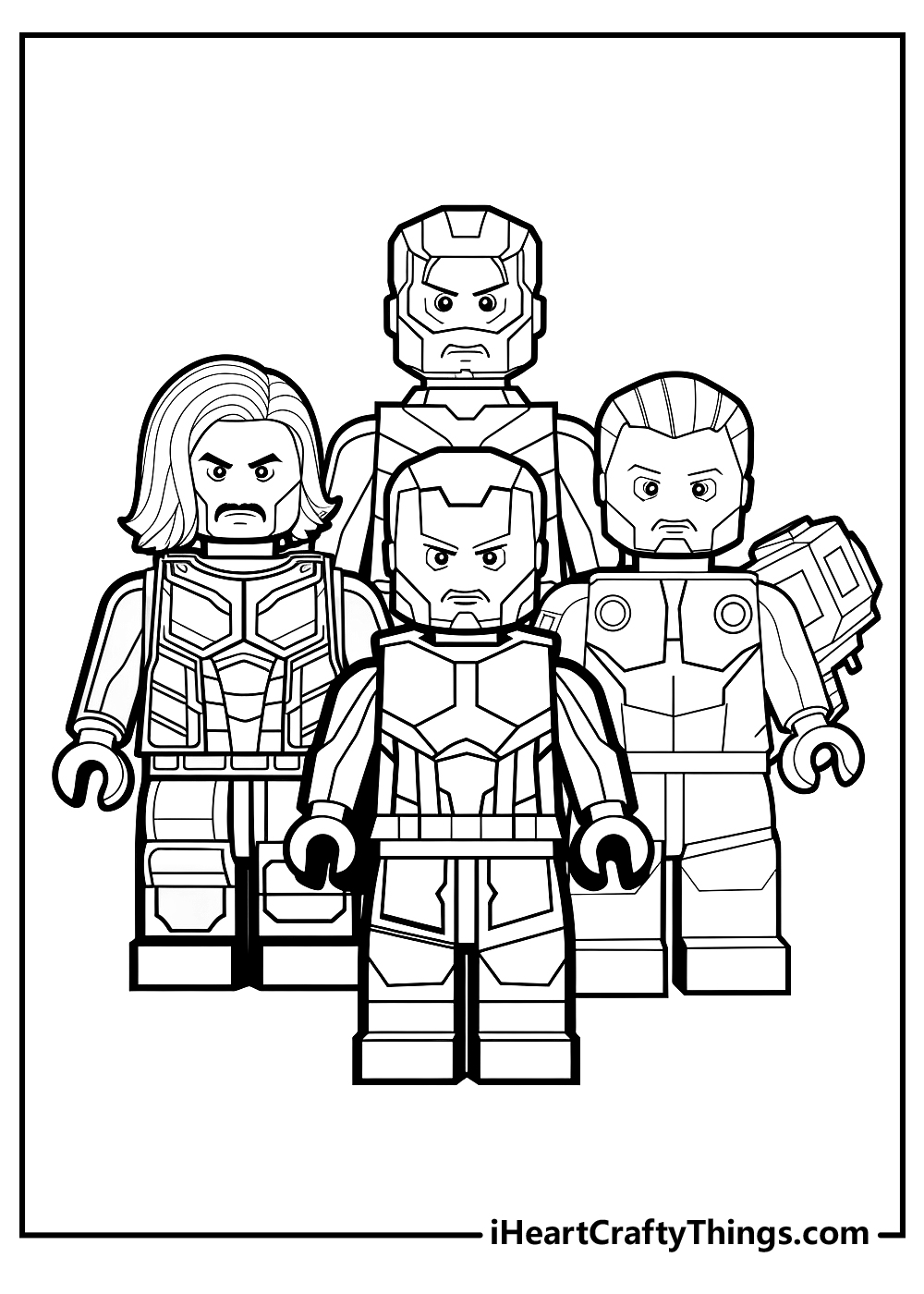 Spider-Man is one of the most popular heroes ever created, and he's stepping up in this next image.
His classic outfit is colored with rich blues and reds, and you could use these colors to keep him looking accurate.
He has also had many variations to his suit appearance throughout his comic history, and you could represent one of those if you prefer!
What iteration of Spider-Man will you choose for this image?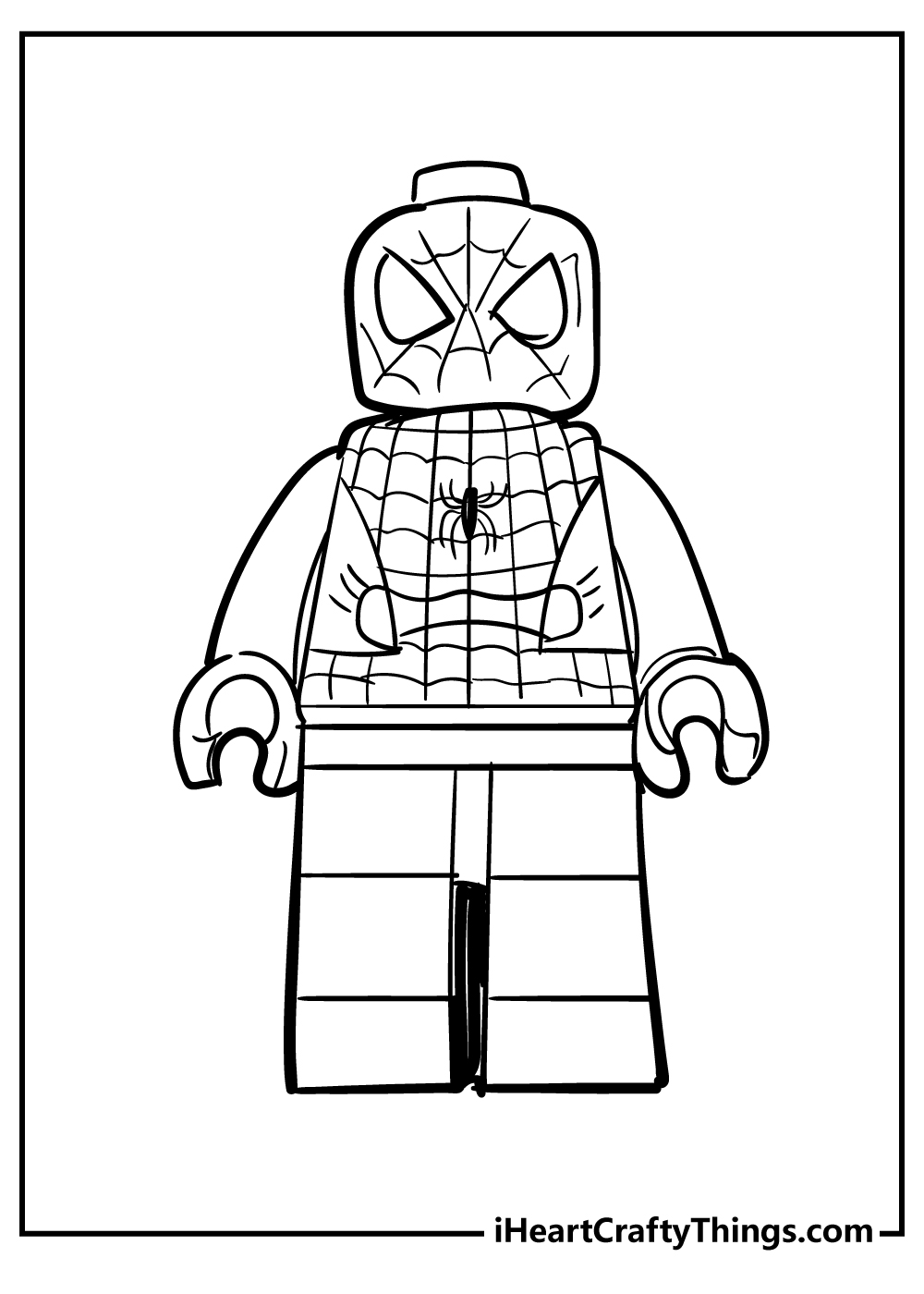 In this third page we have for you, Natasha Romanov is ready for some coloring fun. Also known as Black Widow, this super-spy is recognizable with her signature head of red hair.
She is also suited up for the same scene of the movie that Tony Stark was earlier, so it will have the same colors if you're going for movie accuracy.
Otherwise, you can get some lovely bright reds for her hair to create a really striking portrayal!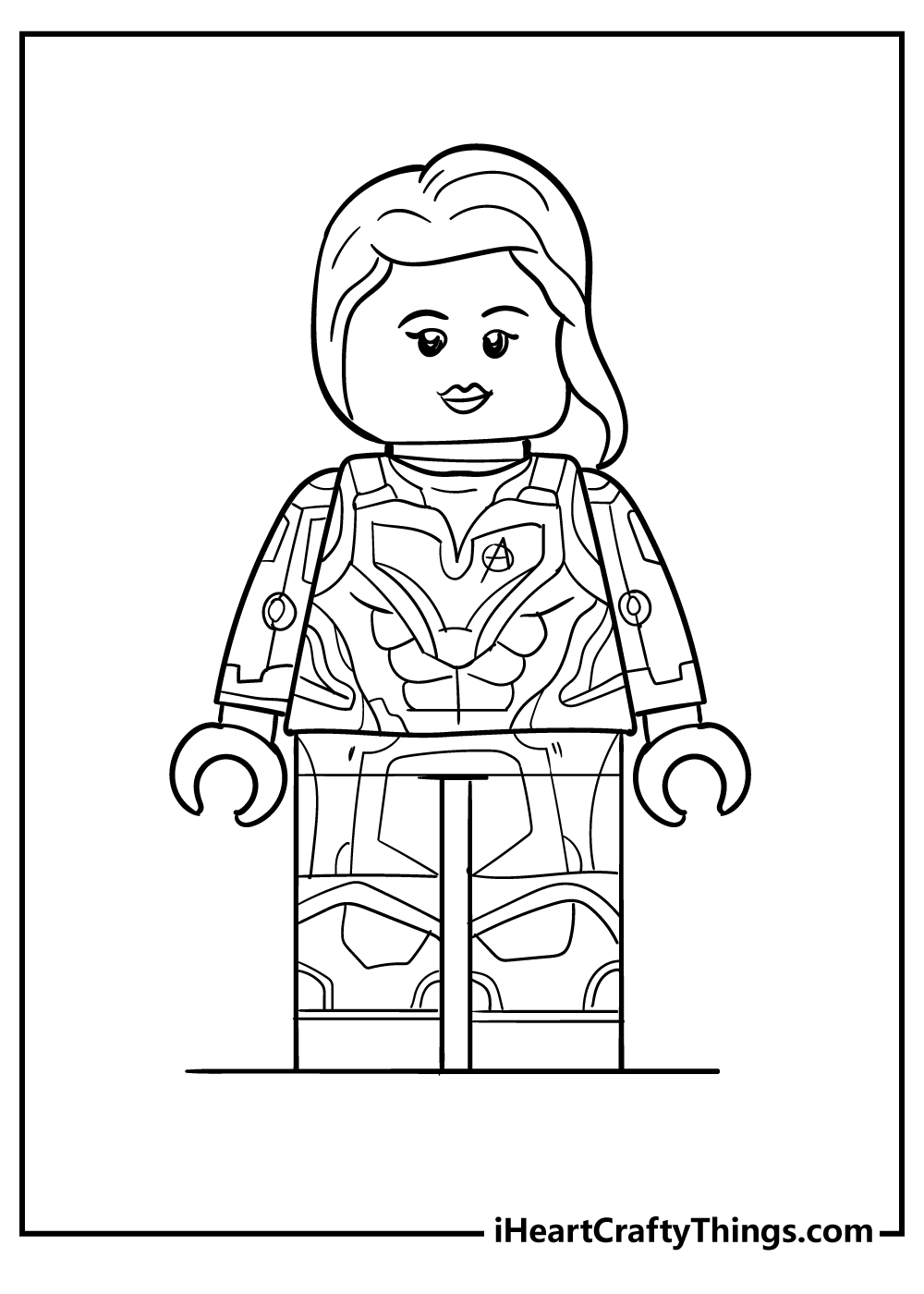 The fourth free Lego Avengers coloring sheet we have for you features Captain America himself. This patriotic hero is usually decked out in the colors of the flag: red, white and blue.
These also look great on an image, as they are colors that really leap off of the page. You could also draw some extra details for Cap!
The obvious choice would be to add his iconic shield at his side or on his back, but what else can you think of?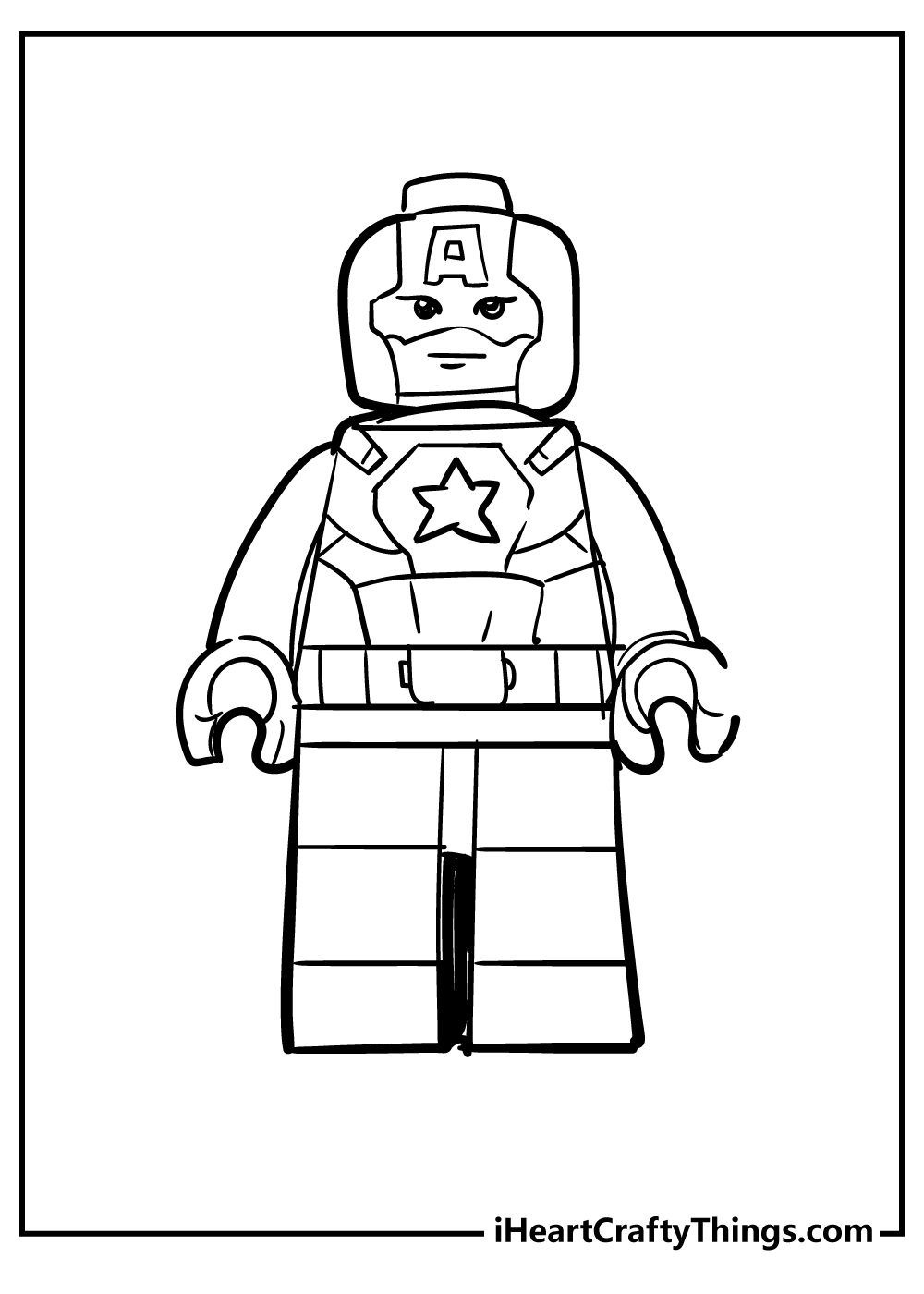 Earth's mightiest heroes assemble in this dramatic page! The imposing Asgardian god Thor grasps his mystical hammer Mjolnir, which controls lightning.
High-tech hero Iron Man hovers with hands ready to blast energy beams.
Super spy Black Widow stands ready, wrist gauntlets armed and poised. And First Avenger Captain America poses confidently with his red, white and blue shield.
Use your boldest colors on this still Lego Marvel lineup and bring these waiting heroes to life!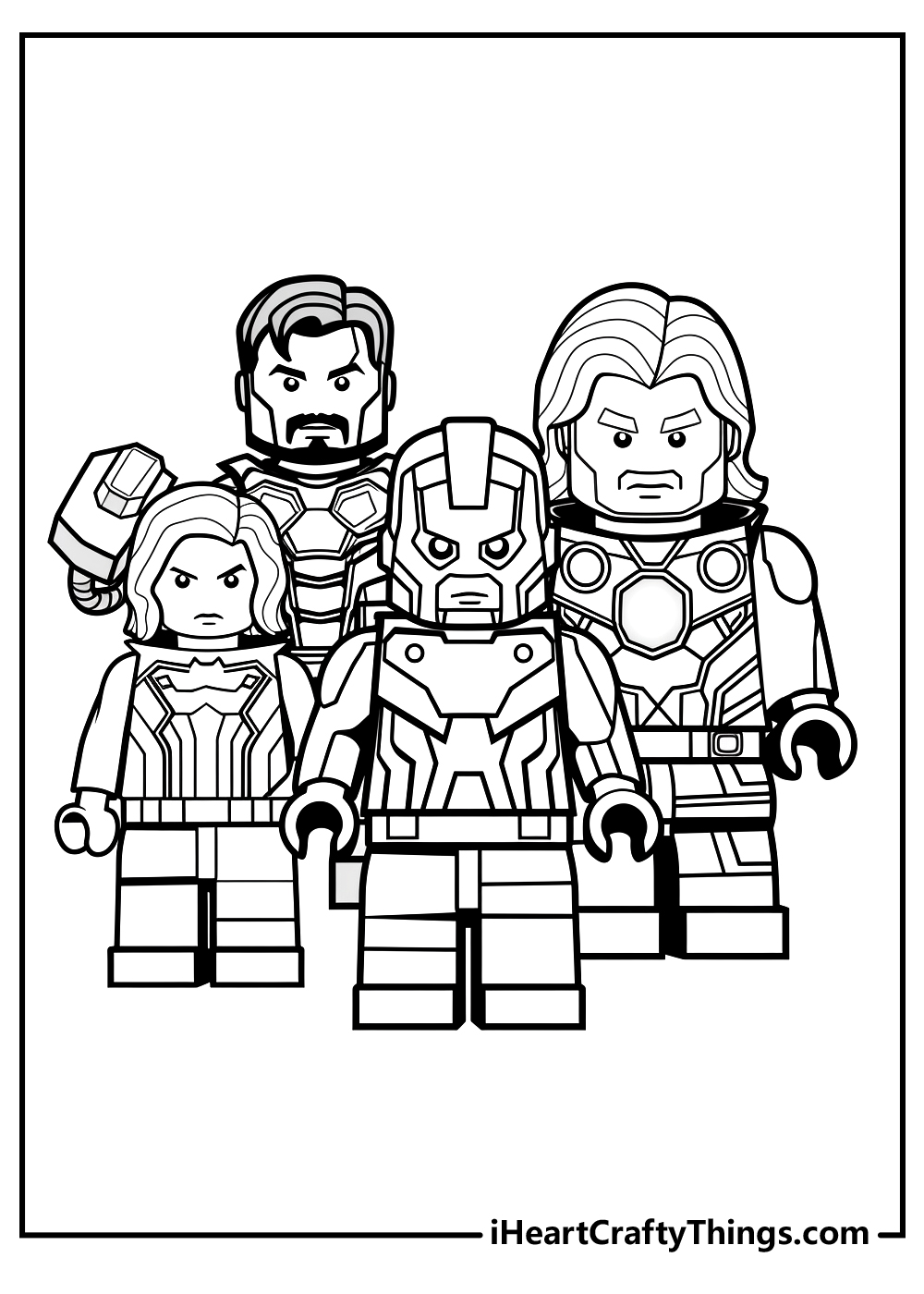 You colored Tony Stark in the first page, and now we have his alter ego Iron man for you to color!
Iron Man is one of the most visually stunning heroes, as he really stands out with his red and gold color scheme.
We would recommend using some bright art mediums like acrylic paints and colored pens when coloring him, but there are plenty of mediums you could go for instead!
How will you color this awesome hero?
We have focused on heroes so far in this collection, but now we have a villain for you to color!
The mighty Thanos is a powerful foe for the Avengers to take on, and it took all of their powers and smarts to eventually stop him.
He also has a really distinctive look, as he is colored with purple skin and gold armor. What colors and art tools will you use to bring this portrayal of the mad titan to life?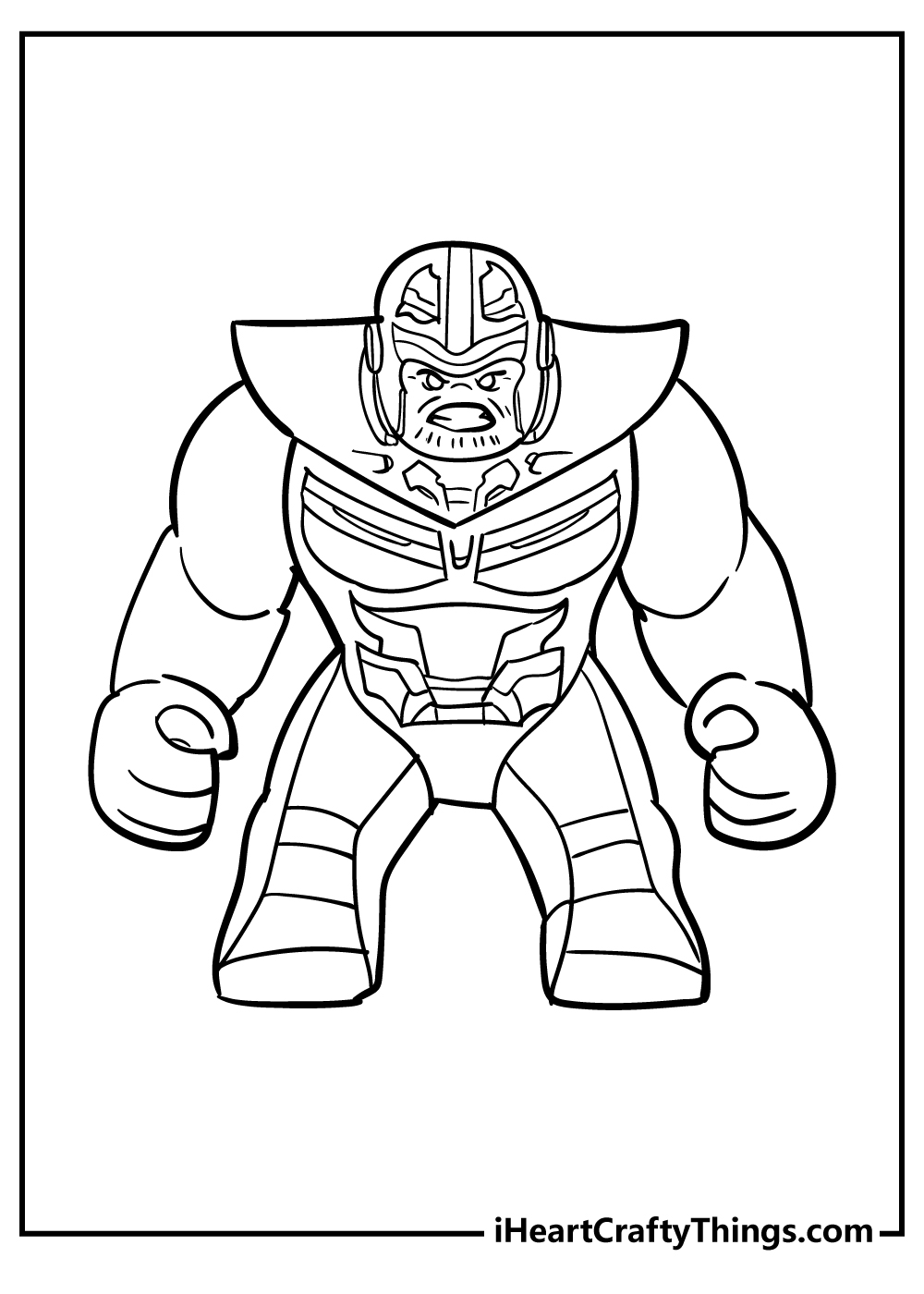 The Armored Avenger Iron Man hovers in a powerful pose in this solo portrait. Genius inventor Tony Stark built his own incredible high-tech super suit to become the hero Iron Man.
Color in his classic stationary superhero design with red and gold armor plates powered by the arc reactor in his chest. Make his eyes glow bright yellow through his stoic gold face plate.
Add some icy blues for a wintery backdrop and make this Iron Man scene shine.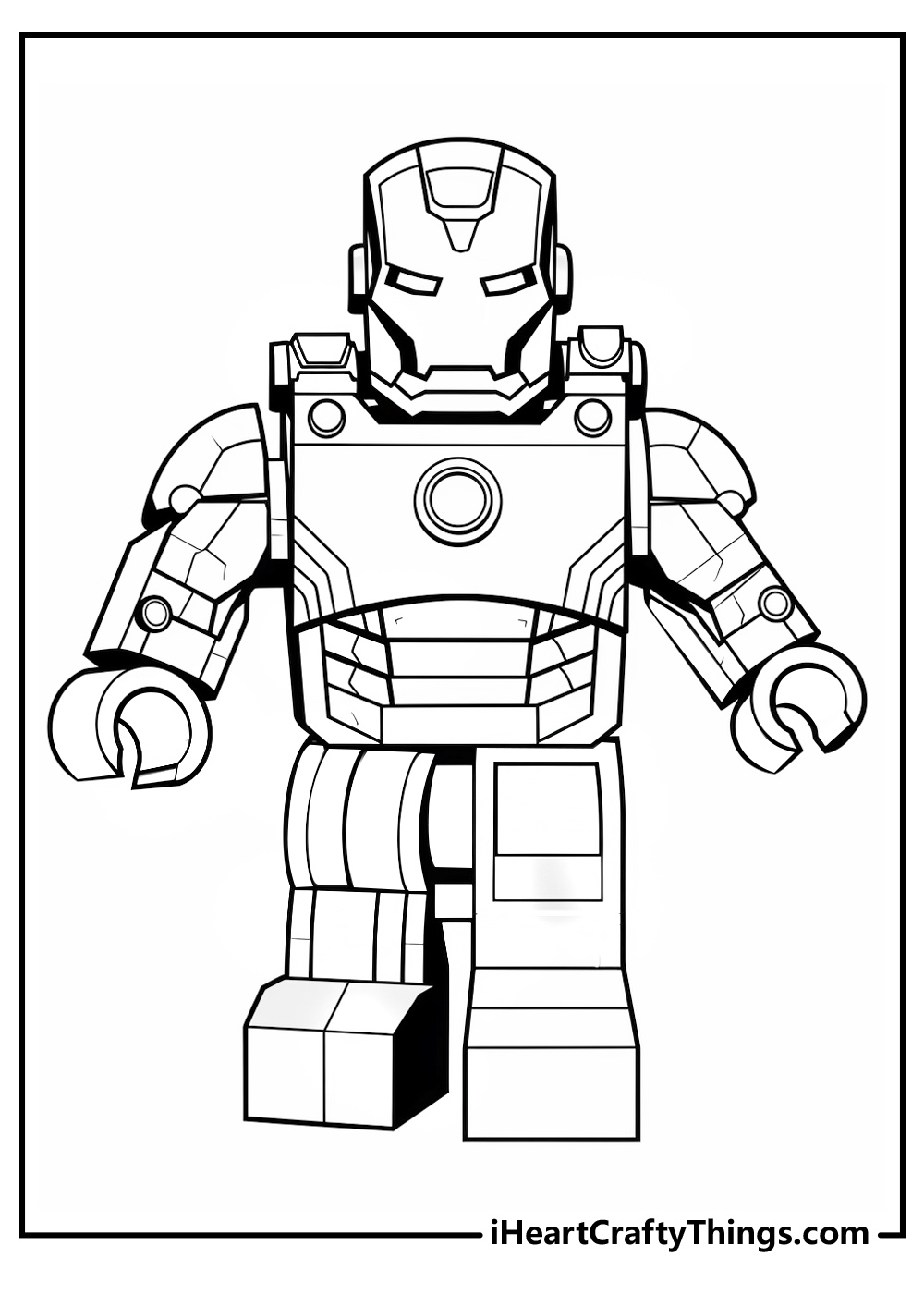 The Hulk is one of the most famous heroes ever made, and he is the star of this Lego Avengers coloring printable.
He is also a really visually distinct character, as he is usually seen colored in a bright green with some purple pants.
These colors go really well together and we think they will look great when portrayed in any art mediums you choose.
We would suggest again using bright mediums for Hulk, but what do you think you will go for?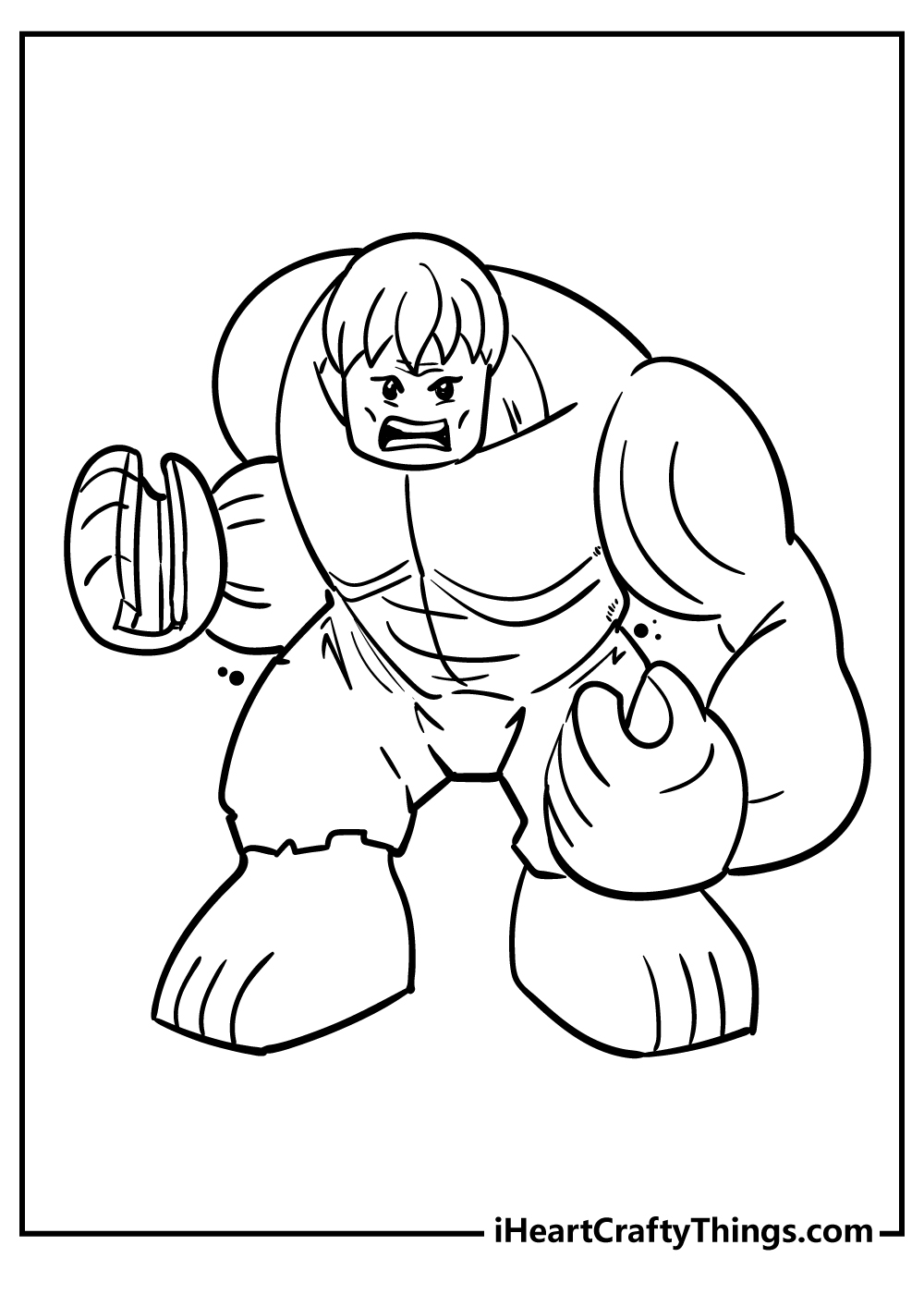 Clint Barton, also known as Hawkeye, is the marksman of the group that is often seen with his signature bow and arrow.
He is up next in this picture, and he is also ready for the time travel scene that some of the other characters have been suited up for.
This is another picture where you could draw some extra details. Drawing his bow on his back or in his hand would be a great way to show that he is Hawkeye, so maybe you could add that!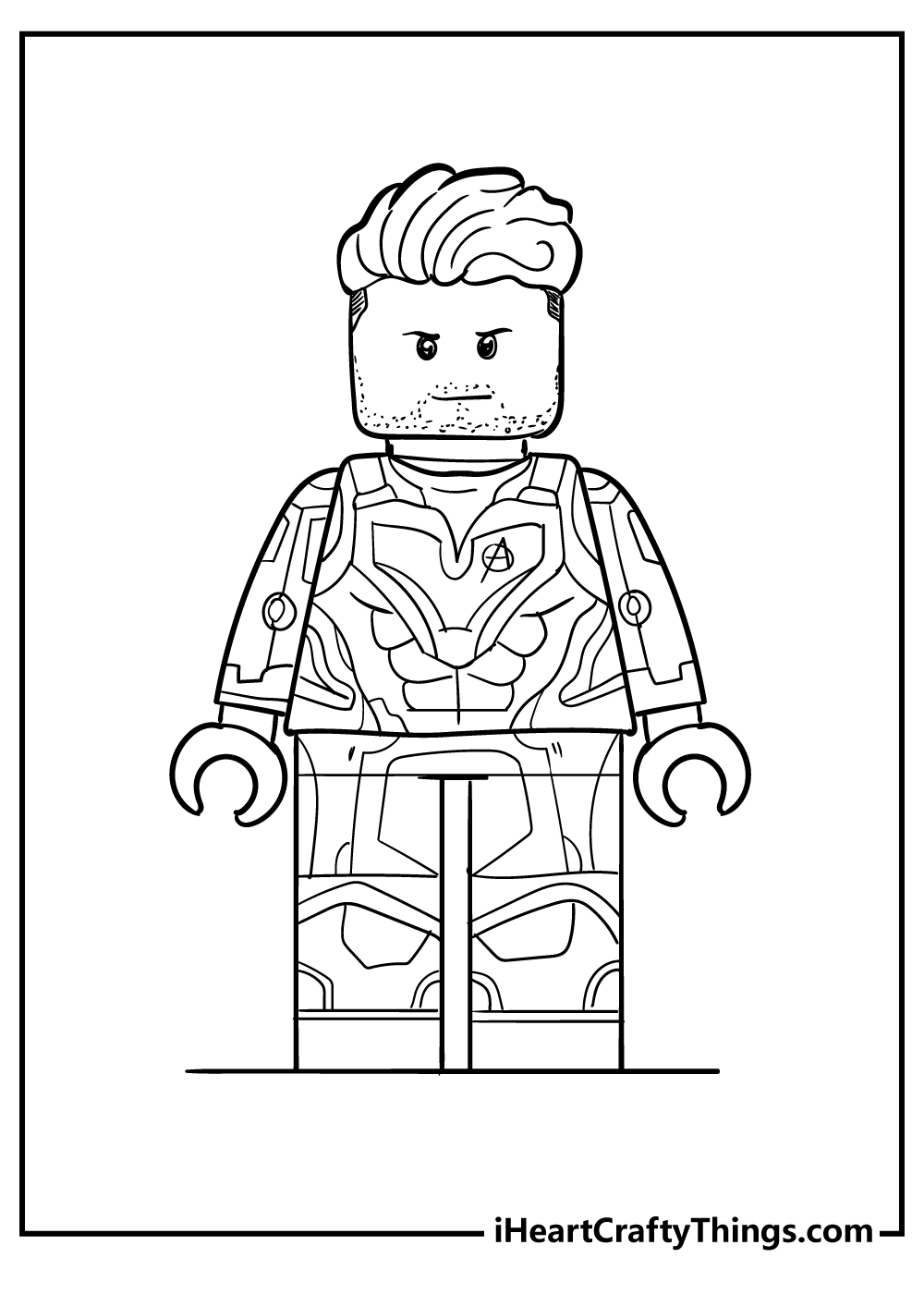 The mighty god of thunder Thor brings the lightning in this epic coloring page! Color his long flowing bright red cape as it flaps dramatically behind him.
Give Thor his signature winged silver helmet with wings and his silver armor covering his muscular arms and legs. Finish his look with bright blue pants and armor plates over his powerful frame.
Then use zigzagging and branching yellow and white lines to color sizzling lightning effects all around his mystical hammer Mjolnir as Thor summons a thunderstorm!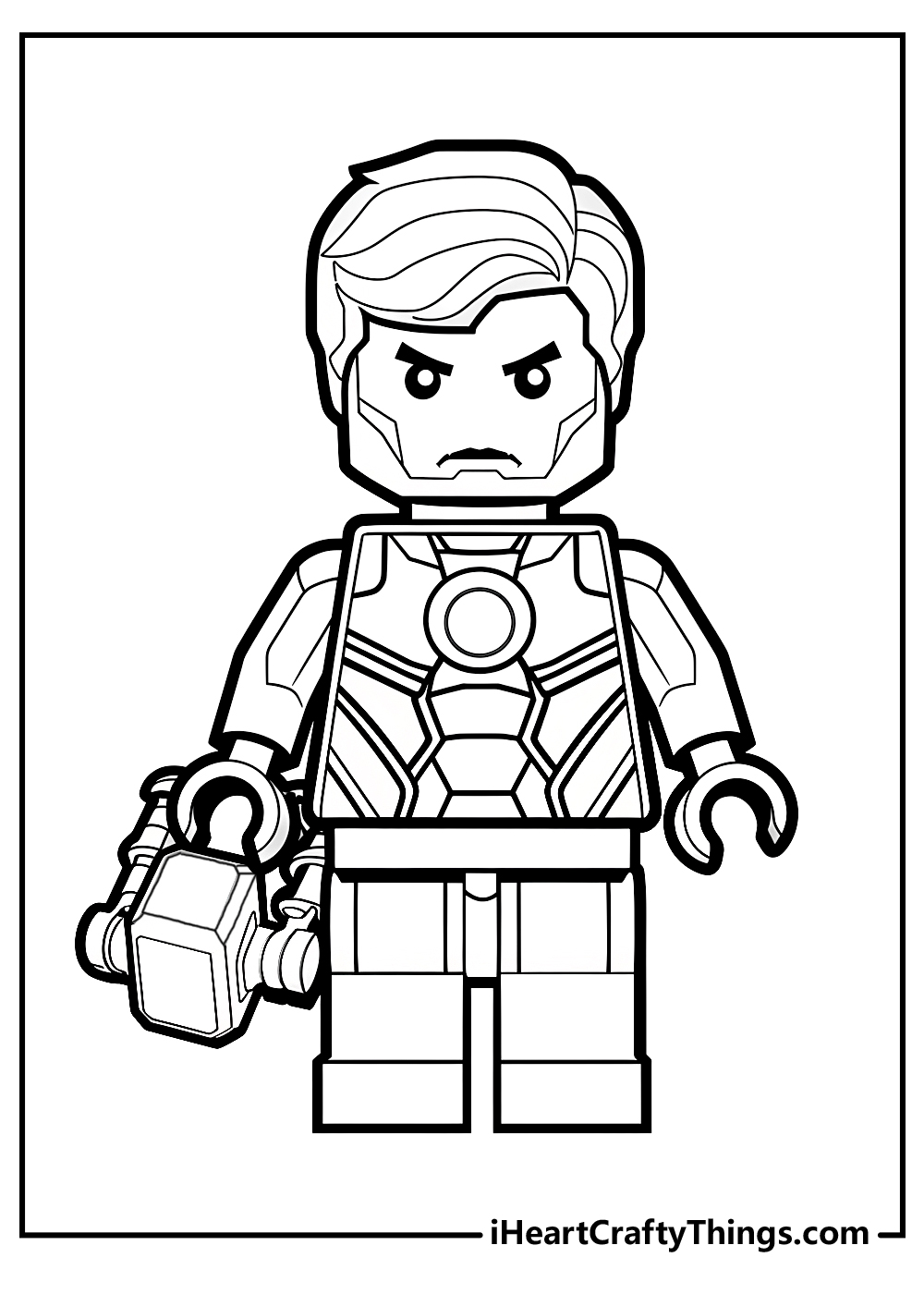 Ant-Man is one of the newer additions to the Avengers team, but he has some pretty cool powers!
Once again, we have him suited up for time travel in this image, and he is also wearing his iconic helmet.
This hero has the ability to shrink himself, so one idea would be to draw some background details to show that he is small at the moment.
Will you go for that kind of scene or maybe take another approach?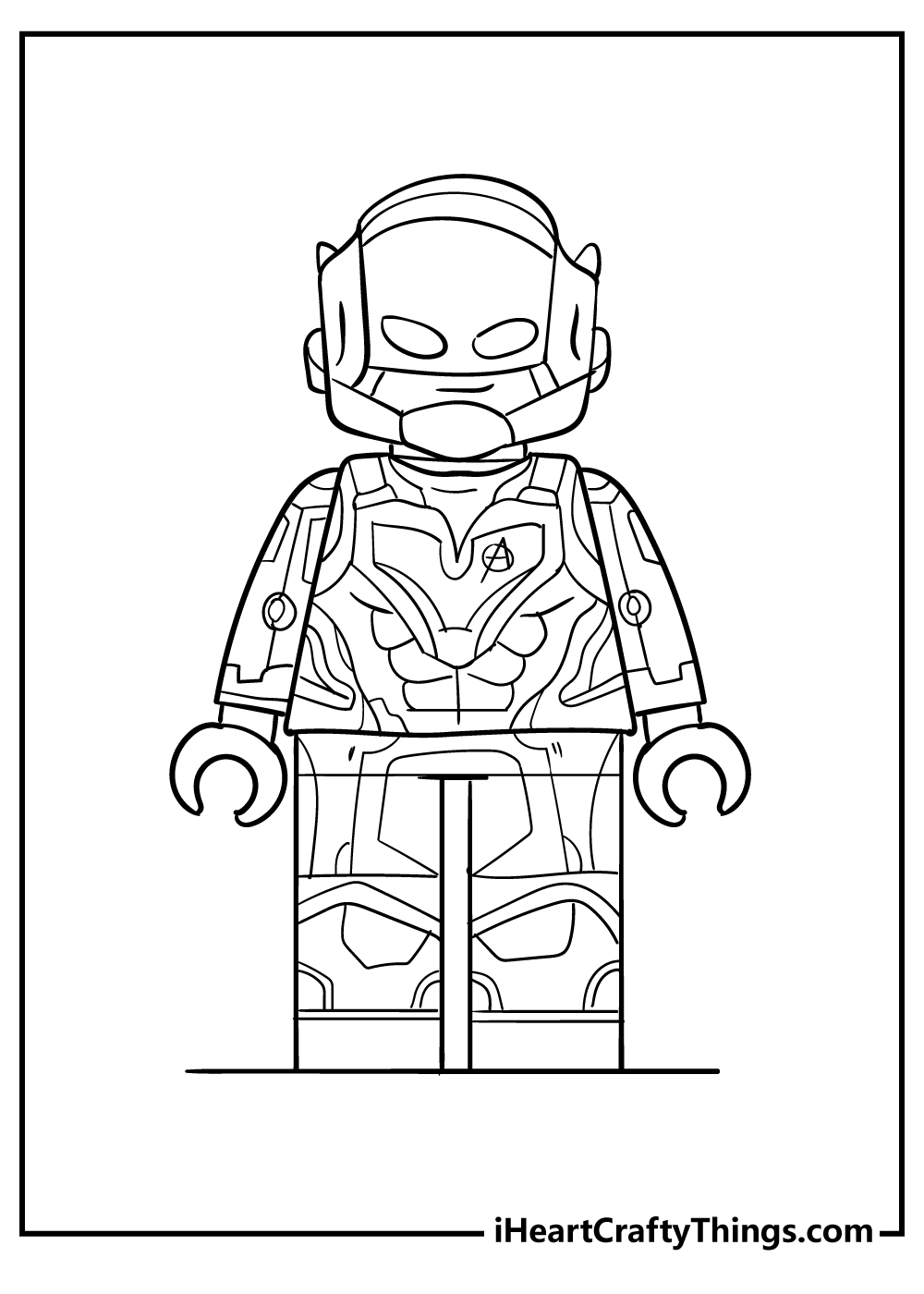 Genius inventor Tony Stark suits up as the high-tech hero Iron Man in this portrait. Color in his famous red and gold armor that gives him power.
Make the arc reactor glow bright on his chest. Add some white teeth showing through his raised faceplate in a slight grin.
Use your imagination to make this still scene of Iron Man an epic coloring page! Consider metallic golds or silvers for his armor or complementing blues and purples for a cosmic background.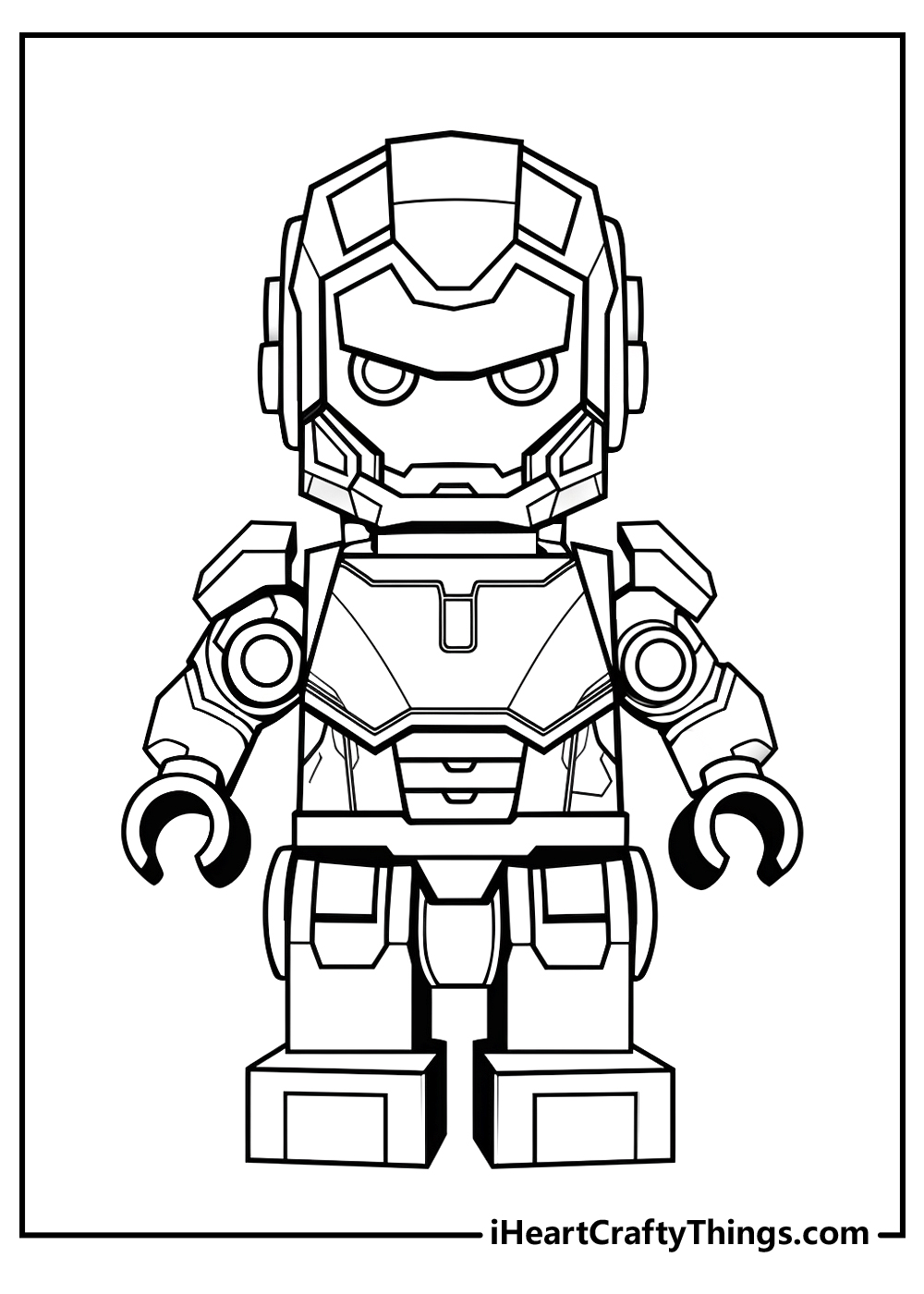 We have one final action-packed Lego Avengers coloring page for you in this collection! Iron Man is back for one more page, and he is zooming through the air.
As we mentioned earlier, he is a great character to color in thanks to his bright and vibrant color scheme.
The background is left blank here, so you could draw an awesome action scene going on behind him!
What battle do you think he is taking part in here?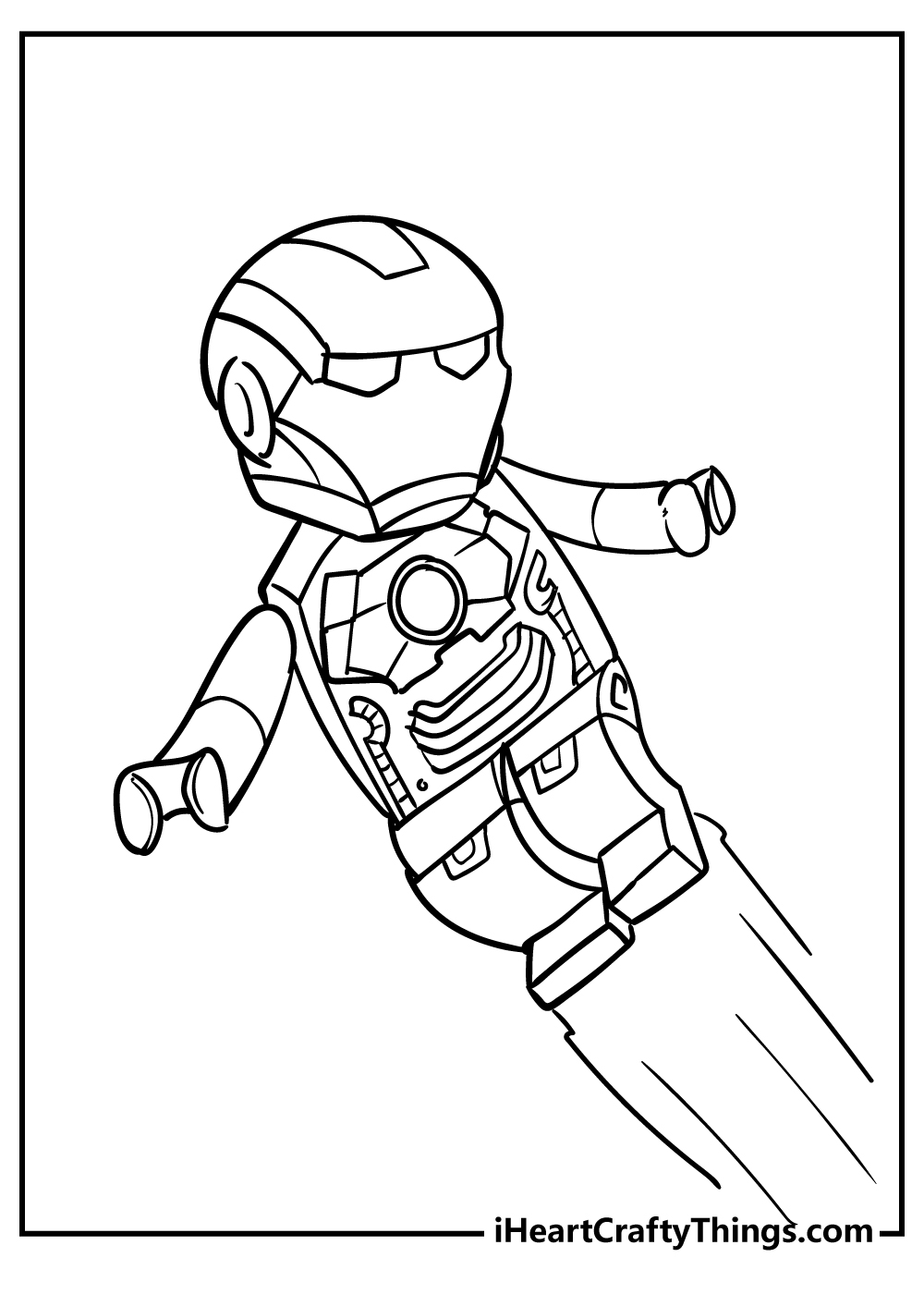 Lego Avengers Coloring Pages – Which will you choose?
That concludes this collection of free Lego Avengers coloring pages for kids! We hope you had a great coloring adventure as you worked on this awesome selection of images.
There were many heroes to color here, and there is sure to be plenty of color variety on display once you're done.
For more coloring fun, our website is the place to be! We have dozens of free coloring page collections to enjoy, and more are on the way soon.
Make sure that you check in often to never miss out!
We would love to see how you colored these heroes, so please share some of your finished coloring pages on our Facebook and Pinterest pages for us to see and enjoy!