Elmer's has compensated me for creating this adorable "Out of this World" Kids Father's Day Card. All opinions expressed are mine alone.
Can you believe Father's Day is less than a month away? If you're on the hunt for a cute and simple Father's Day Card the kids can make all on their own or with little help, I have just the thing.
This "Out of this World" Kids Father's Day Card is adorable and will have Dad or Grandpa grinning from ear to ear!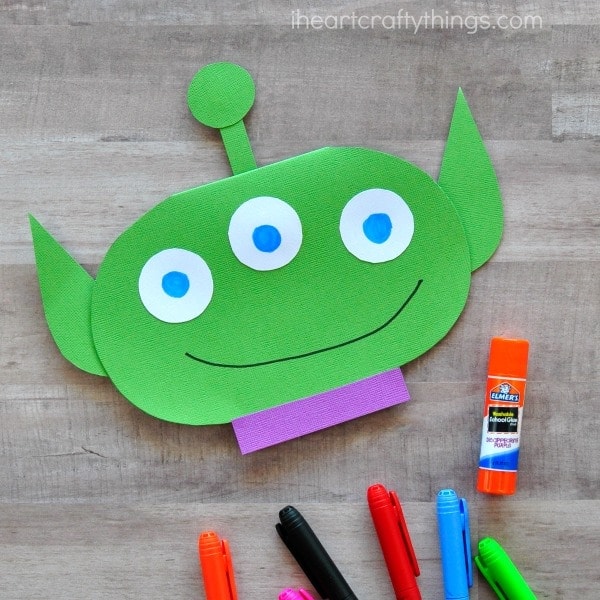 The best part is you probably already have everything you need on hand to make this cute Father's Day craft. Especially if you are like me and keep colored cardstock and Elmer's School Glue Sticks on supply in your craft closet. Those are two essentials we can't live without at my house. You can watch a short video of me making this craft on my Facebook page.
How to Make an Out of this World Kids Father's Day Card

Supplies to Make this Kids Father's Day Card
green, white and purple cardstock
Elmer's School Glue Stick
markers
scissors
pencil
Instructions for Making this Out of this World Father's Day Card
1. Begin by downloading the alien Kids Father's Day Template. Print page 2 and 4 on white cardstock and print page 3 on green cardstock. Cut out the template pieces.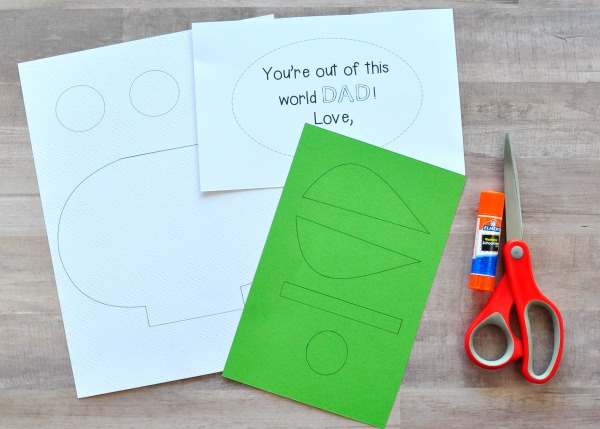 2. Fold another piece of green cardstock in half. Position the top of the alien head pattern at the top of the page fold and use a pencil to trace the pattern onto the cardstock. Cut the alien head out making sure to leave the top of the head at the fold uncut so you are left with a card that opens and closes.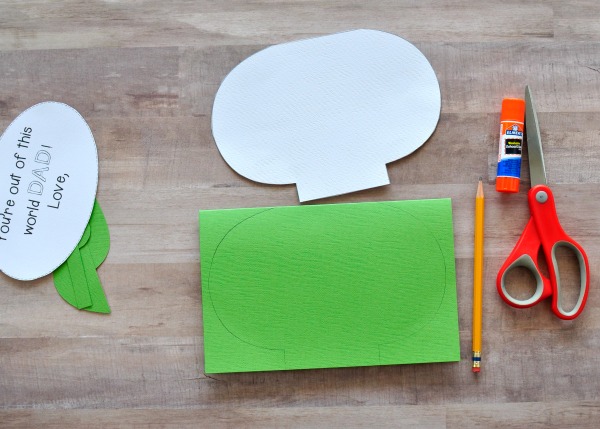 3. Grab the rest of your alien pieces. Use your Elmer's Glue Stick to glue the white circle eyes onto the front of your card. Then glue on the ears and the antennae.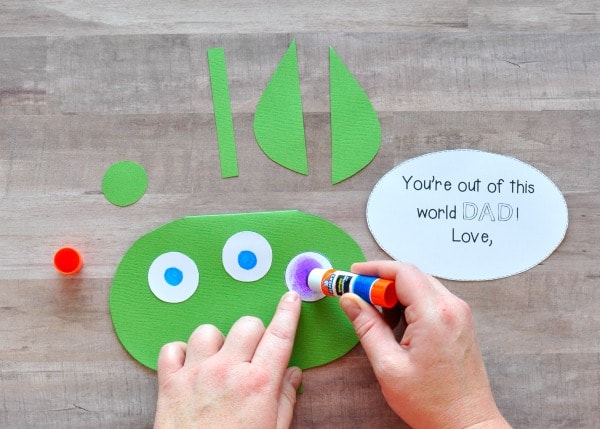 These disappearing purple School Glue Sticks from Elmer's are perfect for kids because it helps them to see exactly where they've added glue, making sure they got it in all the right places. The purple disappears as it dries leaving the glue clear.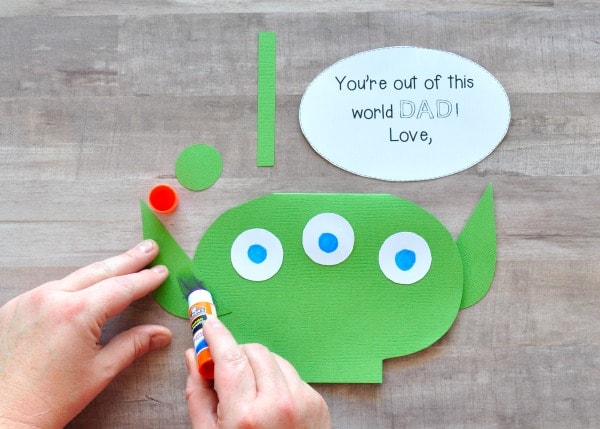 5. Open up your Kids Father's Day Card and glue down the "You're out of this world Dad!" message on the inside of the card. We've also included a message for Grandpa in our template so you can make him feel extra special on Father's Day with a homemade card too.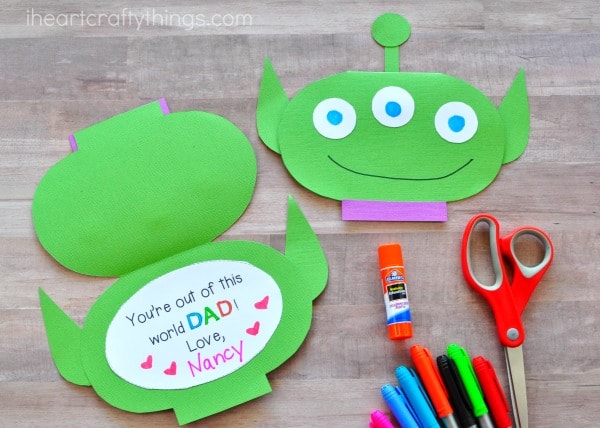 6. Get out your markers to finish decorating your Kids Father's Day Card. Draw eyeballs inside the eyes on the front of the alien and a mouth. Then sign your name on the inside of the card and add details like hearts or color in the DAD on the inside of the card.
You can personalize the card even further by writing a personal message on the top inside flap of the card with a pencil or pen.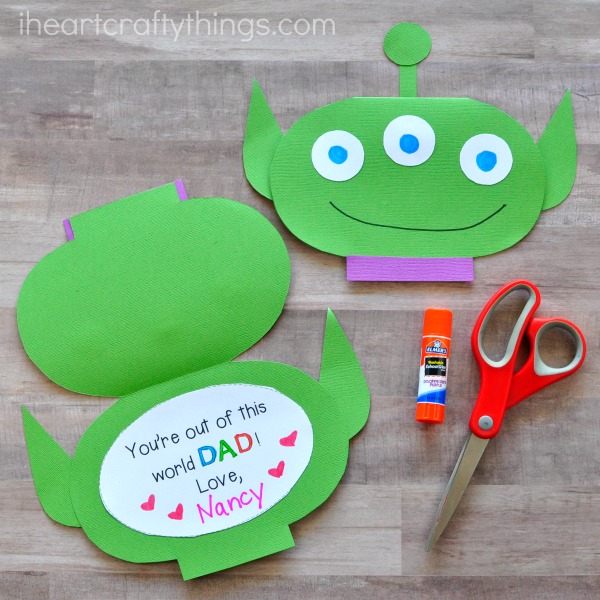 More Fun Crafts made with Elmer's Glue:
–Black Glue and Watercolor Butterfly Craft
–Bright and Colorful Kids Sun Craft
–Paper Bag Peacock Puppet Craft
–Elmer's Glue Stick Wreath Teacher Appreciation Gift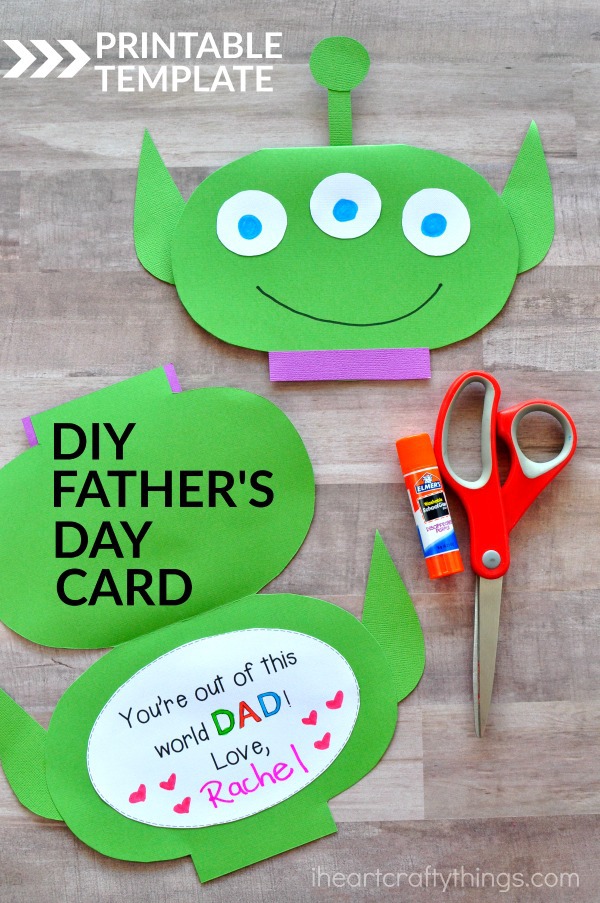 For more fun kids craft ideas, visit Elmer's and sign up for their newsletter. Make sure to follow them on Facebook too!