On this page, you will find 40 all new Heart coloring pages that are completely free to print and download.
The image of a heart is one of the most well-known and recognizable symbols around.
We all know that the image is meant to symbolize love and affection and people use this symbol in all kinds of ways to show that they care.
They make heart-shaped gifts, draw hearts on things or even make food in the shape of a heart.
A heart is a universal symbol to show that you care, and this image is a great subject to pair with adorable creatures, flowers, and more to create the cutest coloring pages.
Our readers can't wait for free coloring pages with heart-shaped designs and images of all different shapes and sizes.
So without further ado, here are 40 all new and original heart coloring pages that you can print and color for free. Enjoy!
Heart Coloring Pages – 40 Printable Sheets
Hearts are usually used to represent love and affection, but they can also be used to show the opposite!
This heart coloring sheet shows that sometimes it doesn't work out, as this heart has been broken. Just because it is showing off a sadder side of love doesn't mean it has to be colored with sad colors!
There are so many different ways that you could choose to color this picture, and you can display all sorts of moods and feelings just with the colors you pick. How will you color this broken heart?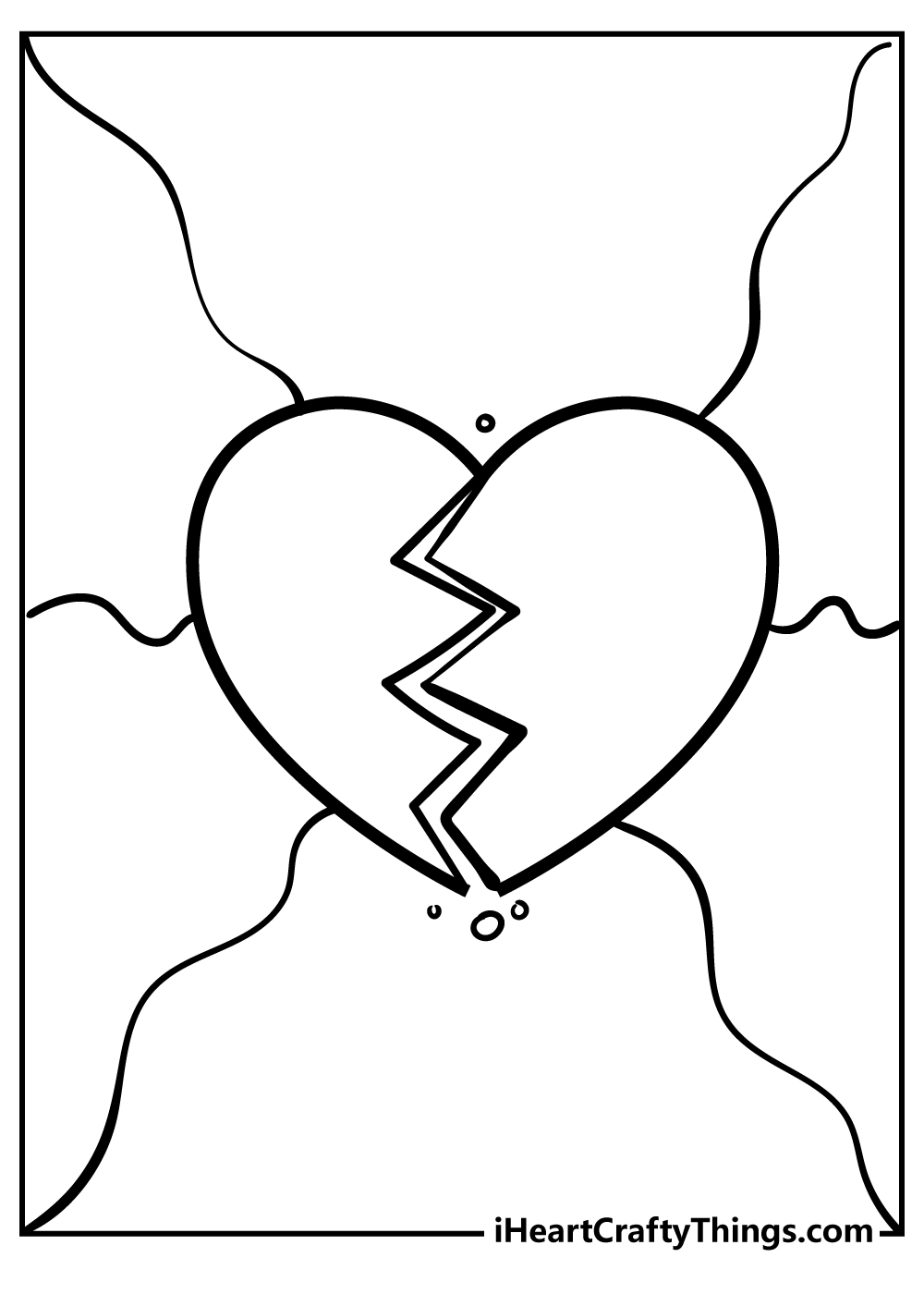 Sometimes love can feel like all the puzzle pieces have fallen into place, and that is brilliantly represented in this creative image!
We have two pieces of a puzzle that form a whole here, and it is such a cool visual.
When coloring both of these halves, you could make them similar or complementary colors, but you could also make them opposites to show that opposites attract.
These are just two of many approaches you could go for!
Whatever kind of approach you take, we know that it will make this wonderfully creative portrayal of love look even better than it already does!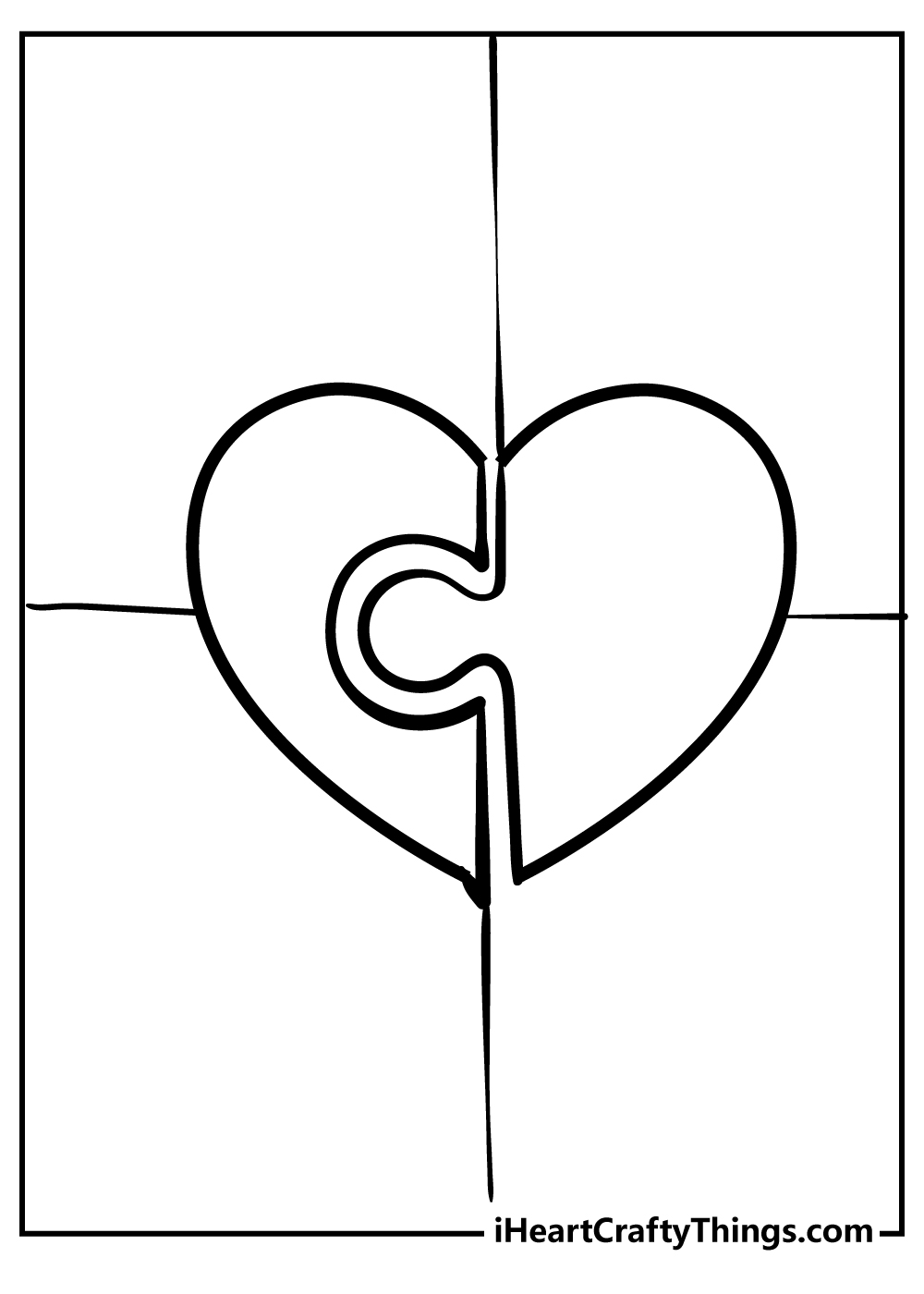 The little guy in this heart coloring page is all heart – literally! He has a heart-shaped head and wears a sweater, pants, and tennis shoes.
He smiles as he listens to music from his headphones. This guy must really love music.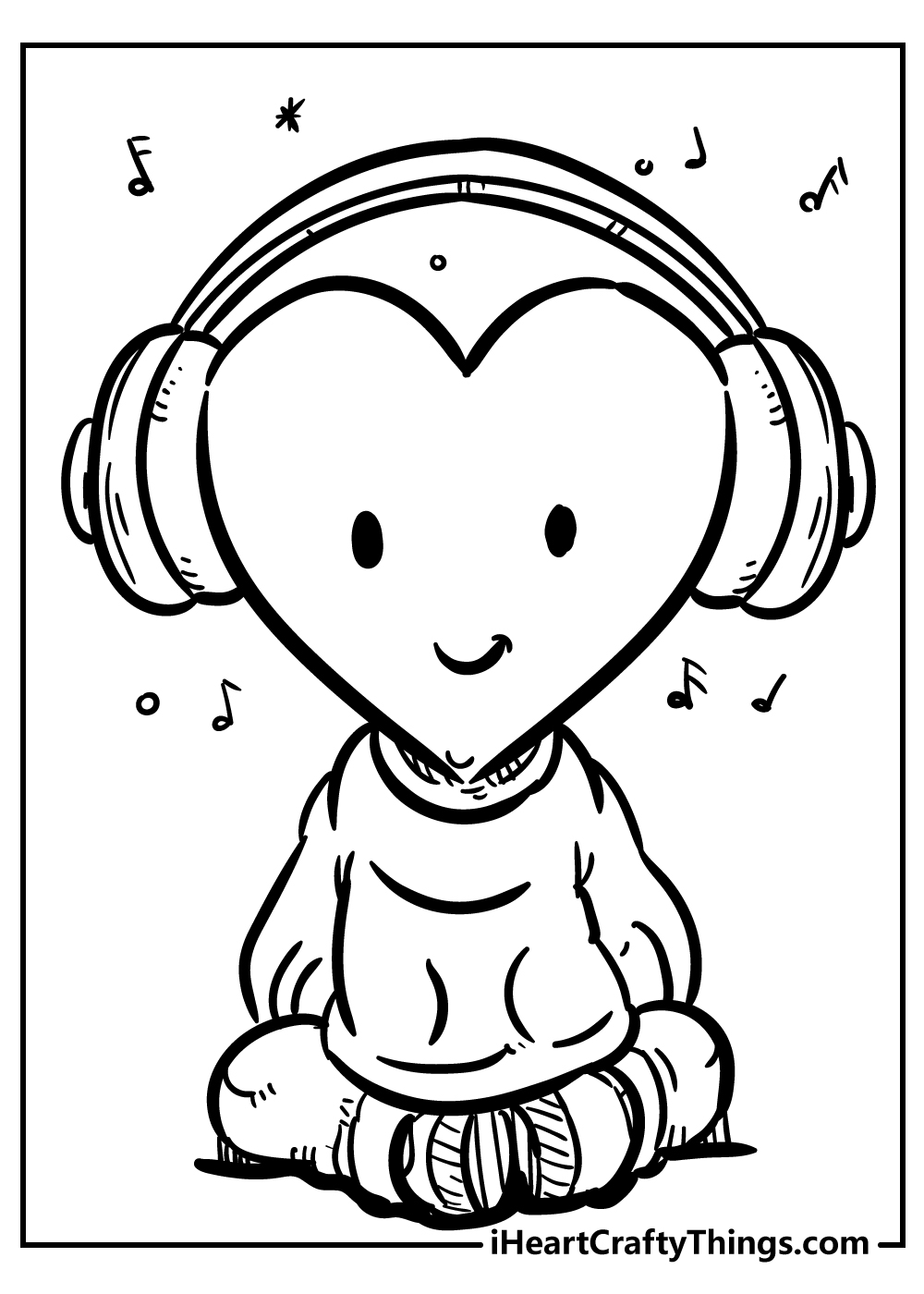 Most of us had a beloved stuffed animal during our childhood or maybe even have one right now. This heart coloring page reminds us of our first stuffed best friend.
A cute and care-worn stuffed bear with patches all over his body holds a big heart shape in his paws.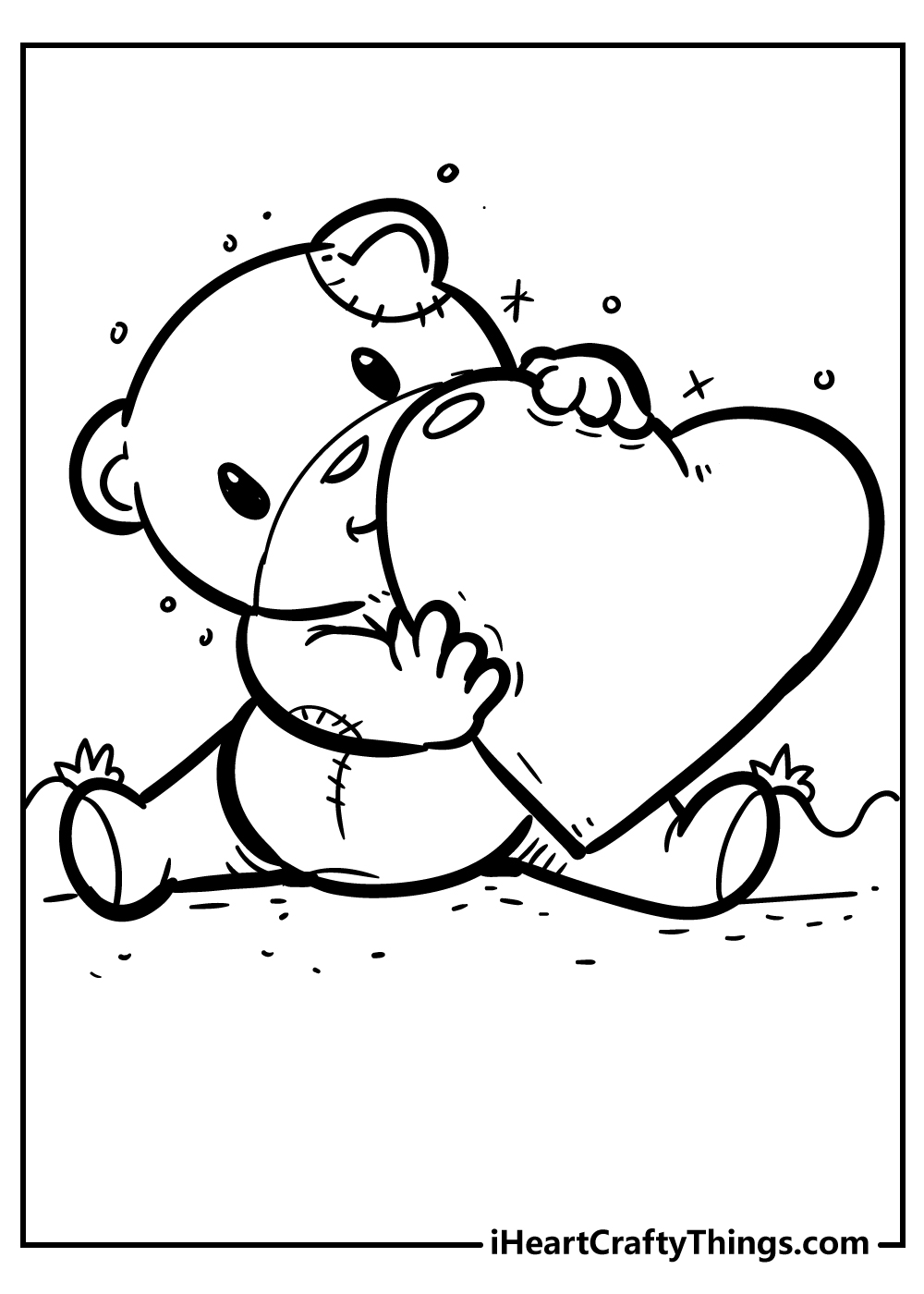 The details on this next heart are really something to behold. It is a really intricate design that gives you all sorts of ways that you could use colors to create an expressive image.
Some of the segments of the pattern are really small, so you could use some colored pens or other mediums that allow for precision.
There is quite a large space at the center of the heart, and you could add some fun ideas to that area as well!
For example, maybe you could write the name of someone you love and give this page to them as a present.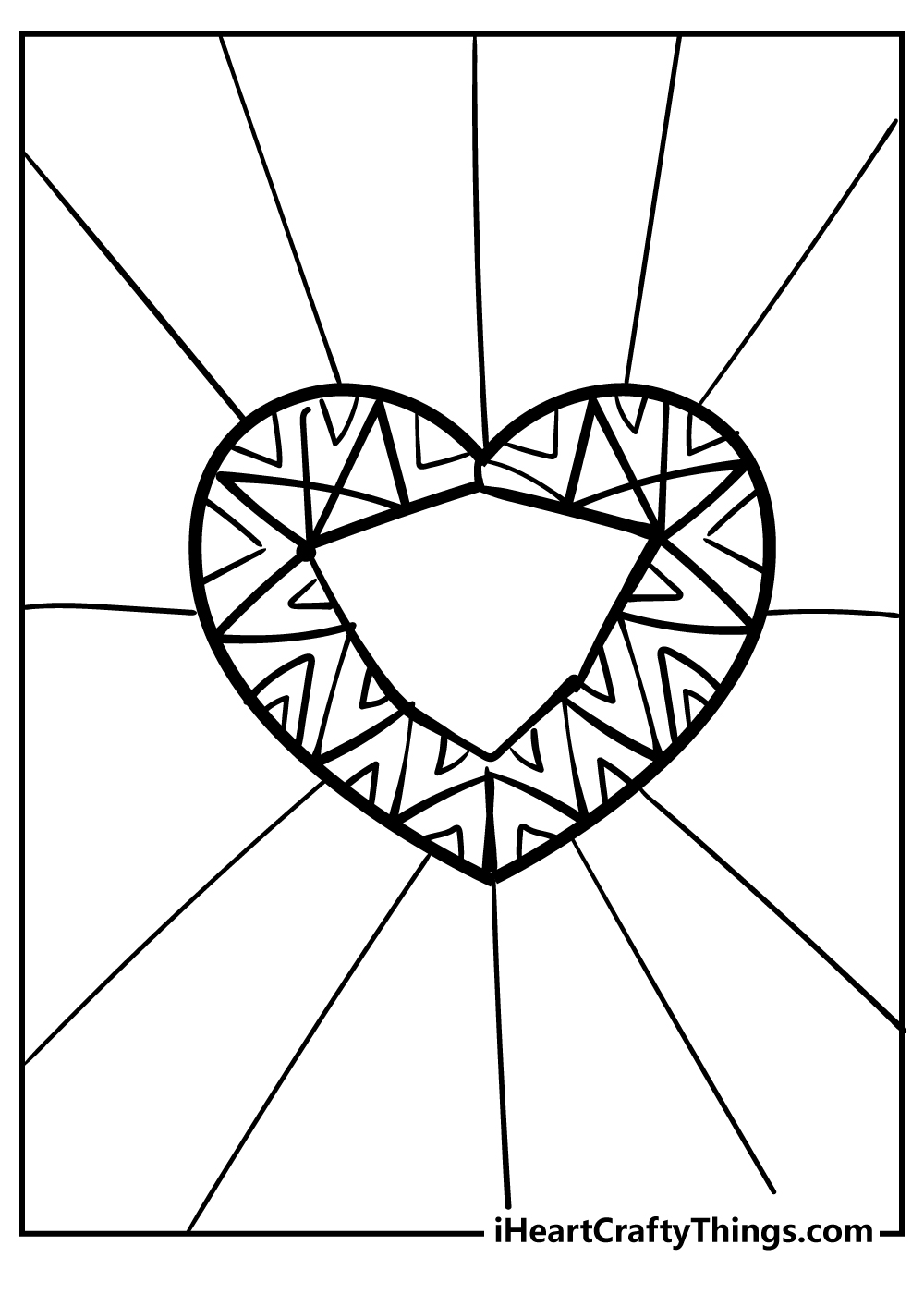 The next page in our collection of free heart coloring pages for kids features another really interesting design.
The way the lines are arranged here makes it look a bit like rippling water, and it makes for a really calming design.
Because of this, we would probably go for some nice shades of blue for all of the smaller details to create a cool and calm design.
That's what we're thinking for this one, but what other ideas do you have for this one?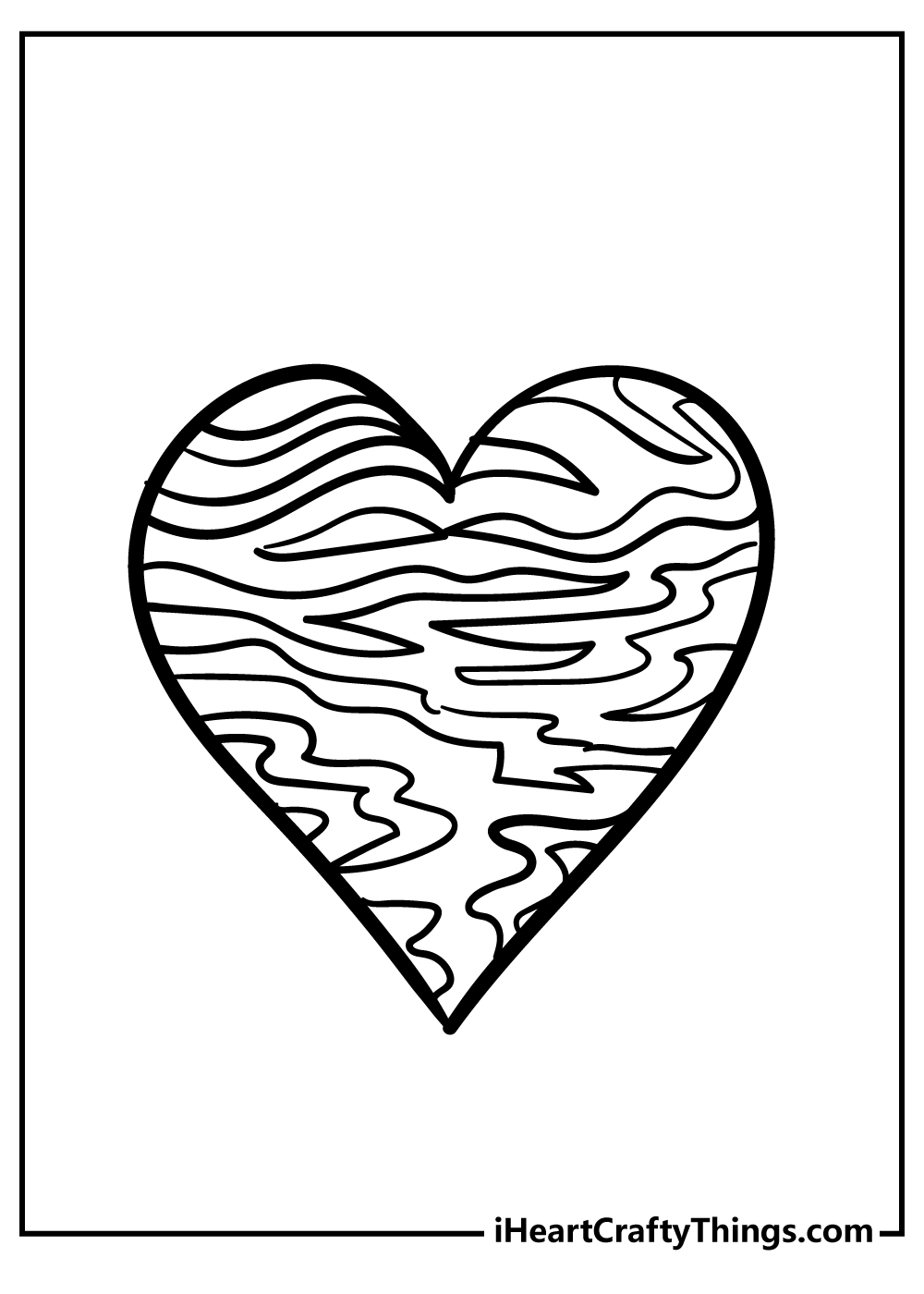 Sometimes our hearts tell us confusing things. The little girl in this printable sheet seems confused or worried about something.
She sits outside as it starts to rain and looks at the small heart shape in her hands. We wonder what she could be thinking about.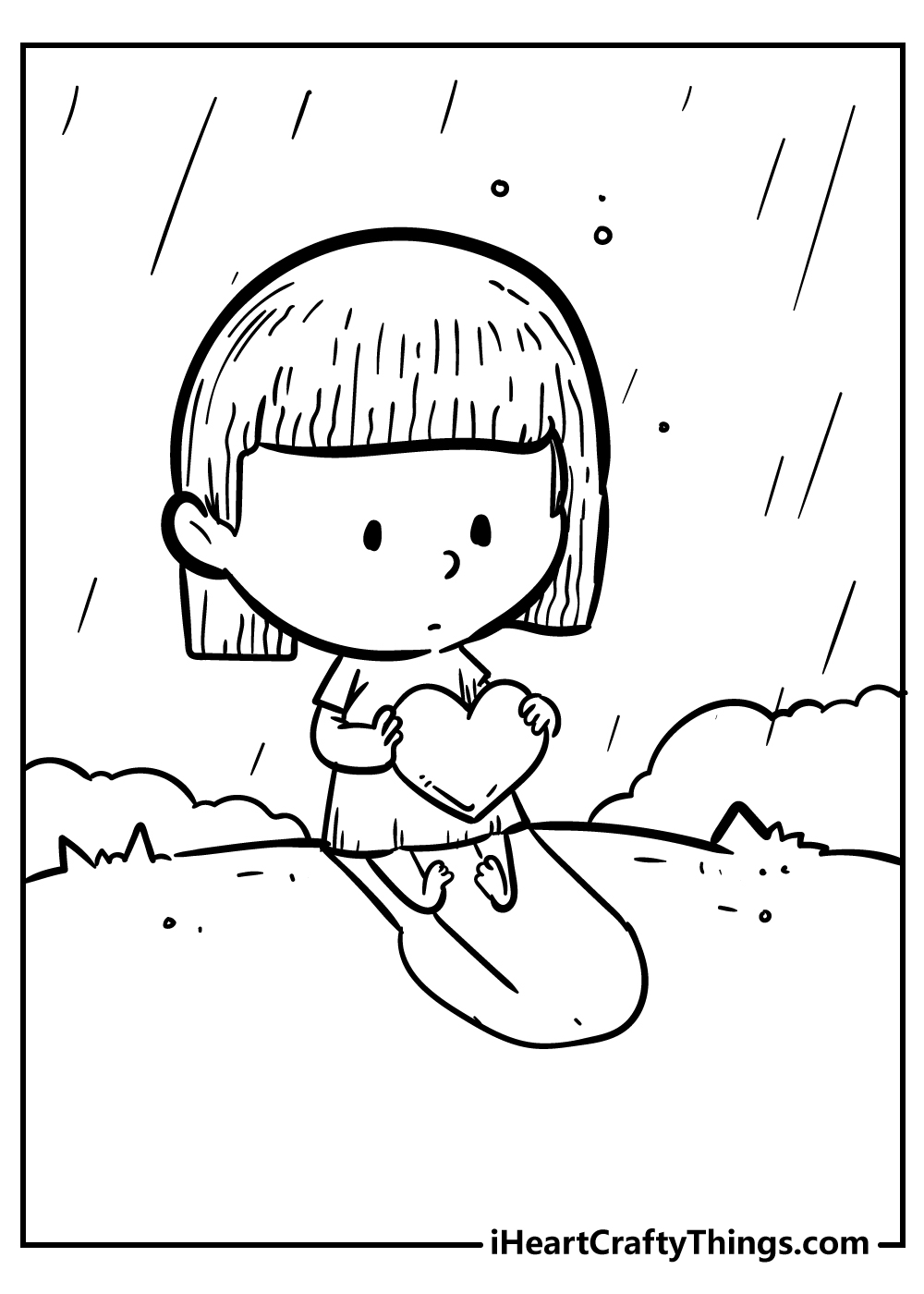 You can design these heart coloring pages with all kinds of colors and patterns. This heart is filled with vertical stripes that you can color any way you want.
There are also stripes running across the background.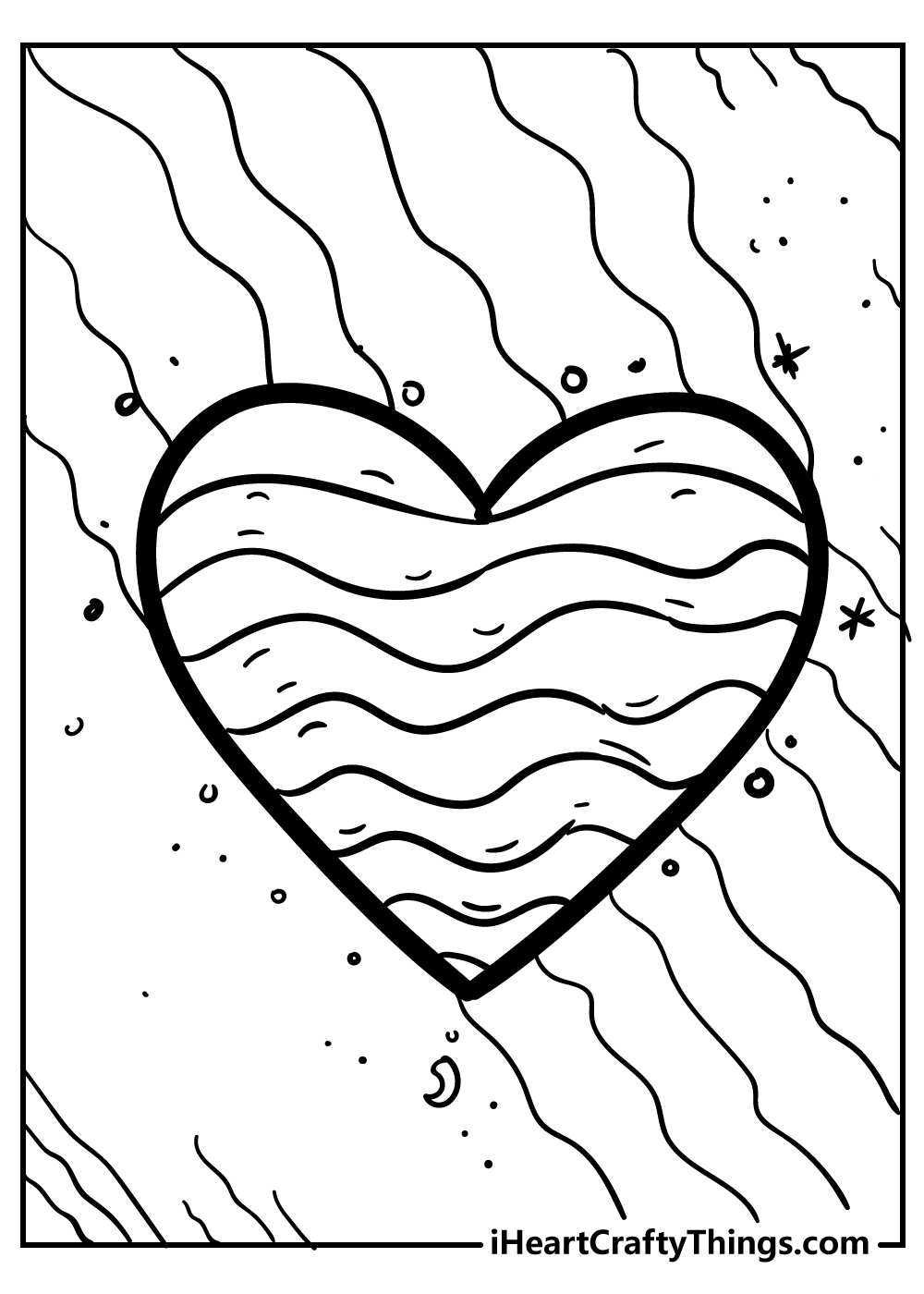 We have another fun and creative image for you to have a great time with! This time, the heart has been designed to look like a ball of yarn with some needles poking into it.
As an extra fun touch, the needles have some small hearts at the ends that are poking out.
You could use some intricate colors to fill in the spaces of the yarn, but there are some crafts you could use!
If you have some real yarn, you could stick some over the heart shape to make a 3D image. What other fun crafts could you use?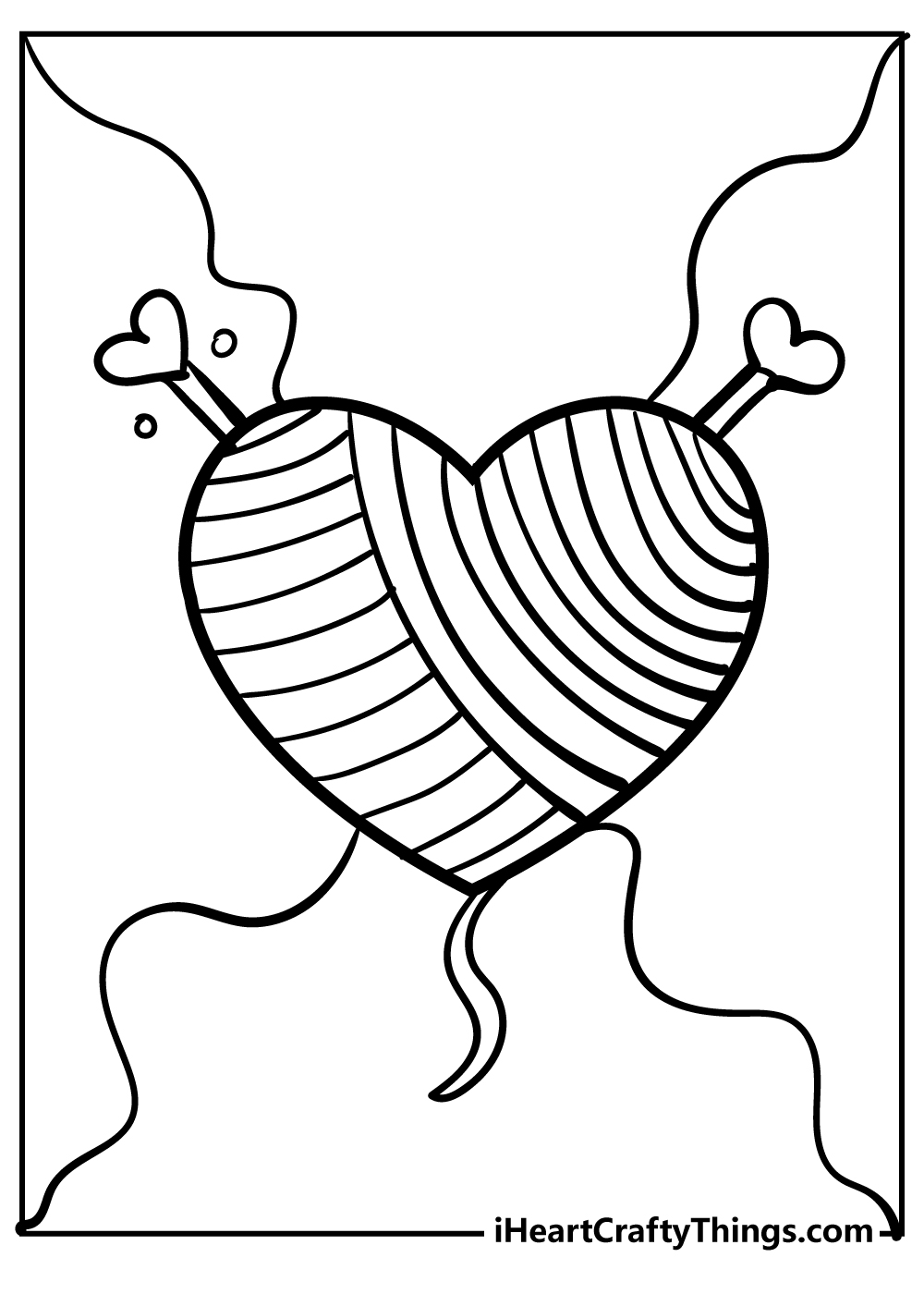 Now, here's a picture that has many possibilities. It's another design that has a really intricate pattern, and the way it is drawn makes it look a bit like a maze.
If you agree with that, you could add to them by creating a starting point and a finishing point, and that way you could add some extra fun little touches.
Even if you just stick to coloring the spaces, it will make a stunning heart that will really catch the eye with all of its color details! How will you go about finishing off this page?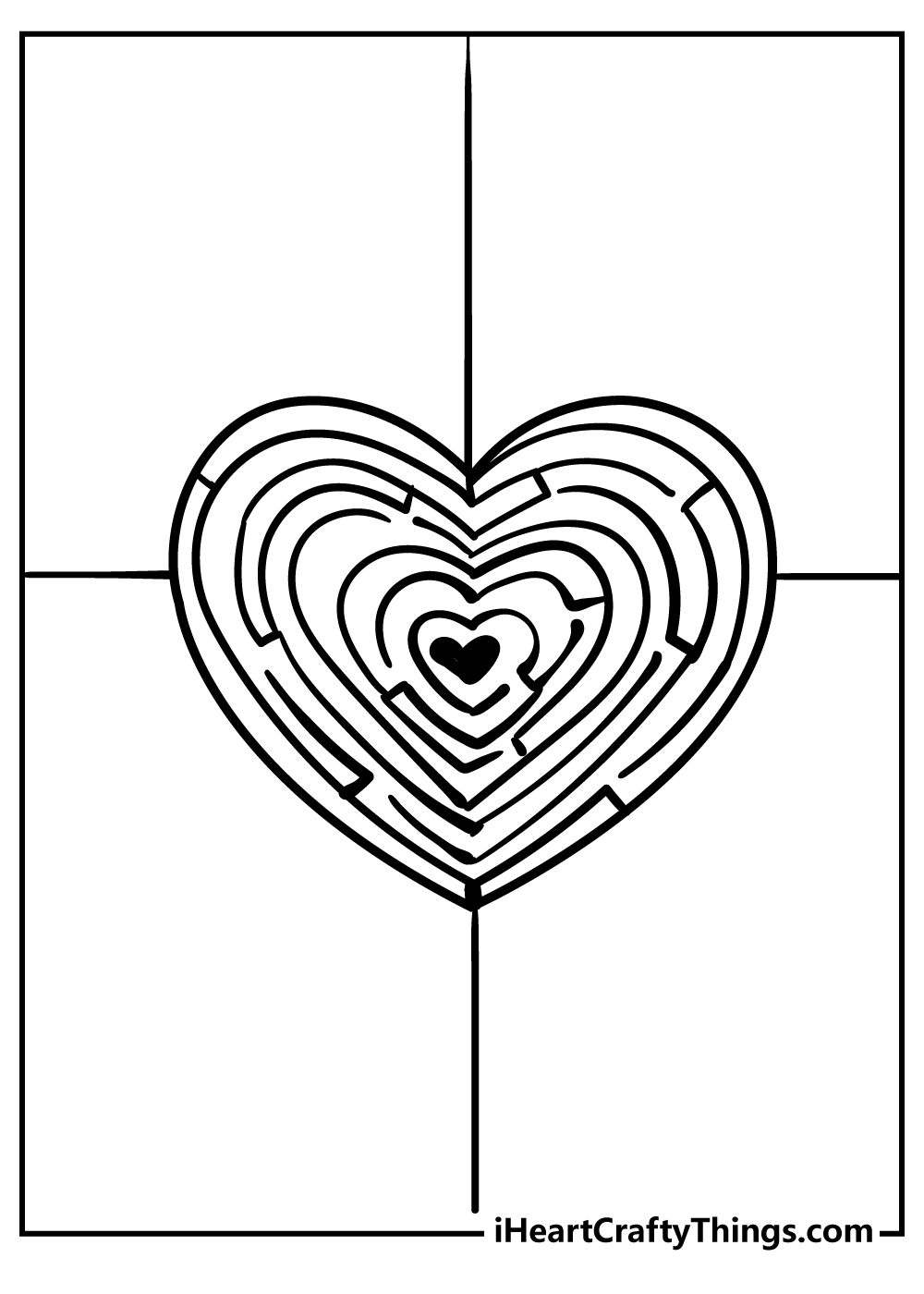 Lots of people like to make heart-shaped food and treats to give to someone they love.
This free printable shows a hand holding a big heart-shaped lollipop. This looks like an extra special treat.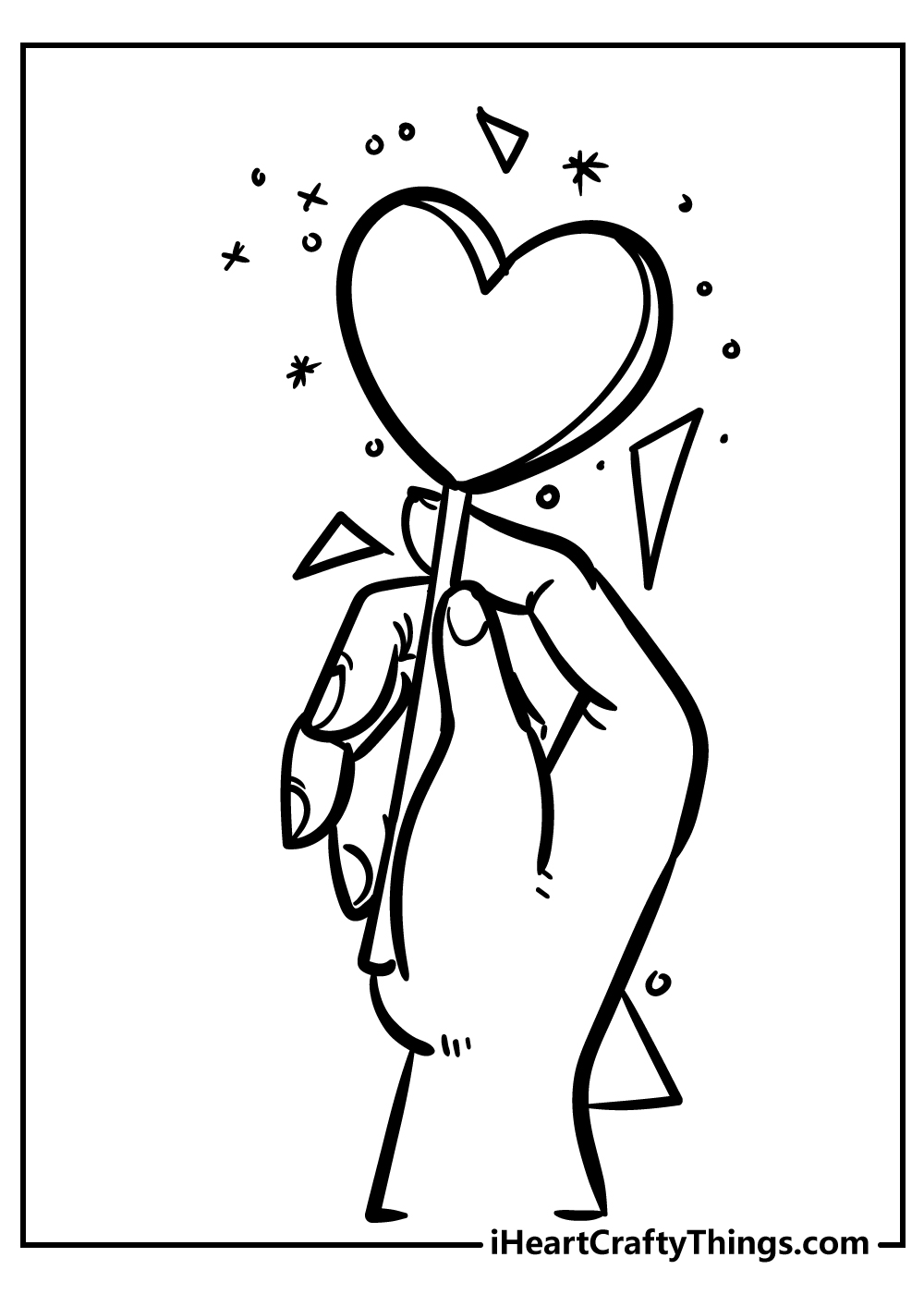 The patterns in this heart coloring page make for a unique design.
The background looks like stained glass and there is a big heart in the middle filled with smaller hearts and a swirling pattern. How will you bring to life this image?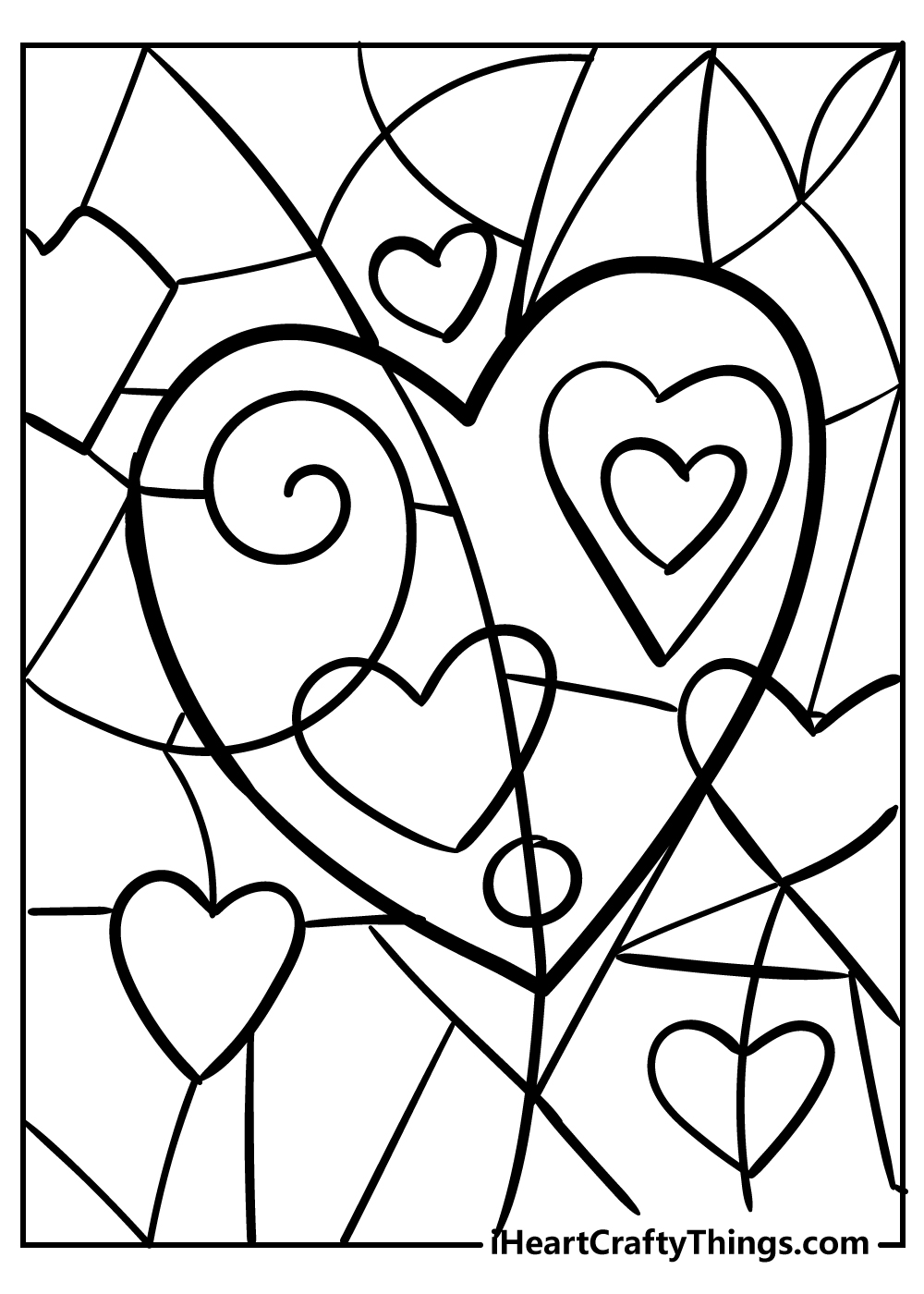 This coloring sheet could not be any cuter. Two bears sit on a bench that is held up by two heart-shaped balloons.
The balloons float high and lift the bears into the air. The bears must care a lot about each other. They are snuggled together and smiling.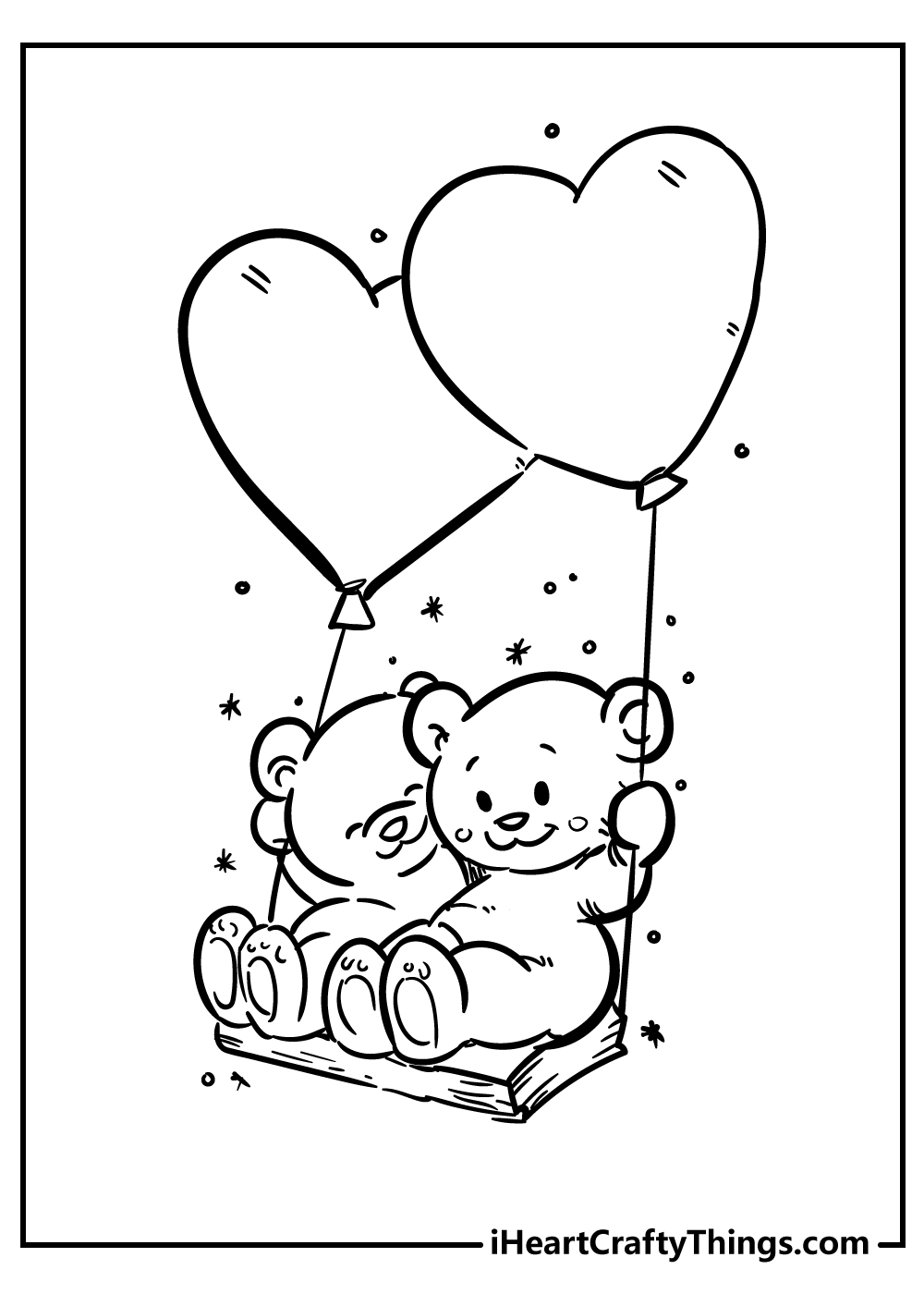 The next heart coloring printable we have featured for you features a design that really draws the eye.
The heart is made up of lots of layers, and it creates an effect that looks a bit like an optical illusion. There are plenty of layers to color in, and you could fill in the spaces in a number of ways.
Sticking to one or two color choices would be one way of doing it, but you could also use lots of different color choices to create a vibrant and happy picture.
Whatever you go for, we know it will look incredible!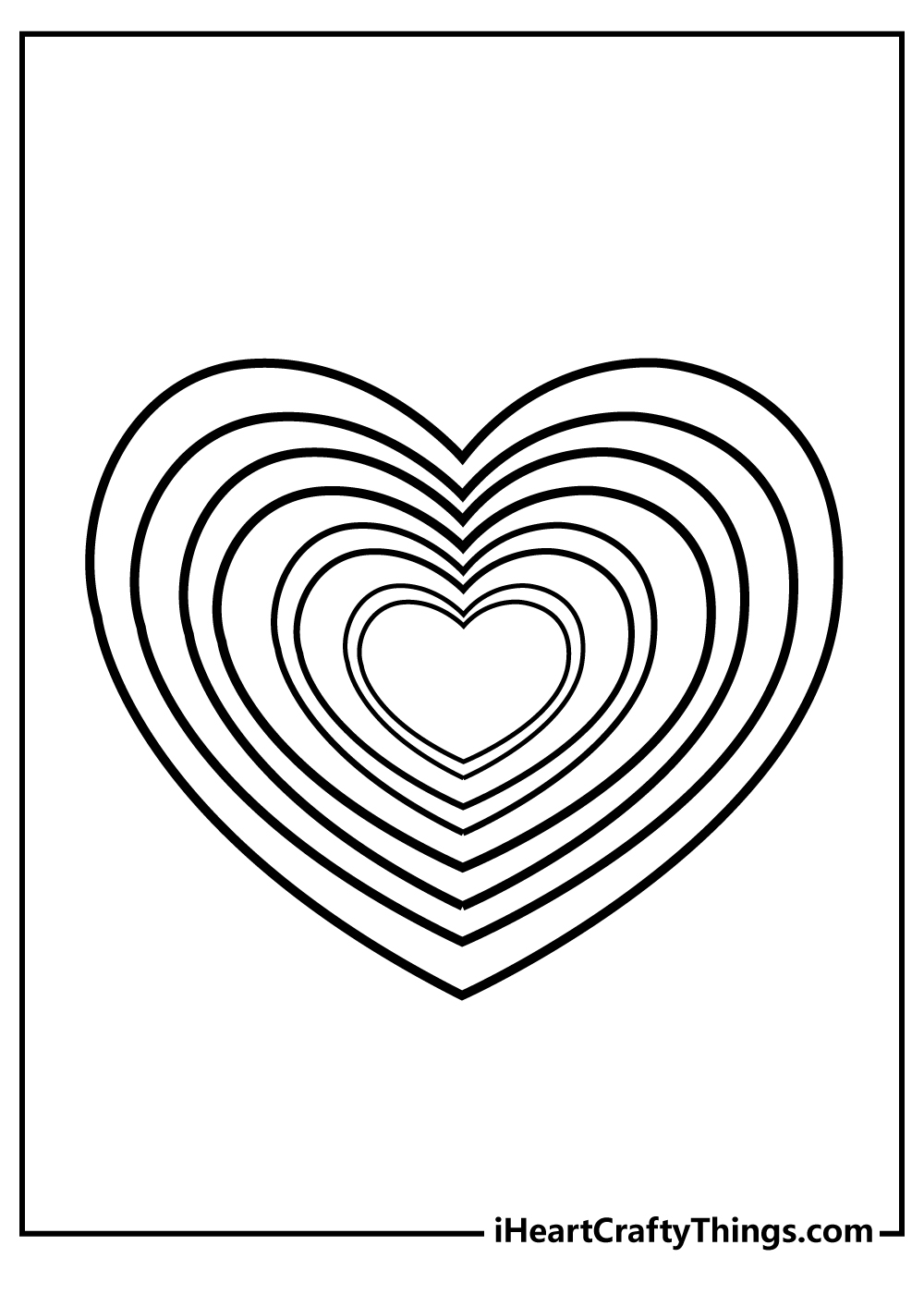 We have something really interesting for the next page. This shows a heart shape that is made up of lots of twisty and curvy shapes, and it makes it look like it has been shattered on the ground.
It's such a unique picture that you could read a lot of meaning from, but we're here to add some color to this twisty design!
The way it has broken makes it look like it could be made out of glass, and for that reason we would maybe use some watercolors for a softer look.
If you do wish to use watercolors, then, you would be best off using thin-tipped brushes for more precision.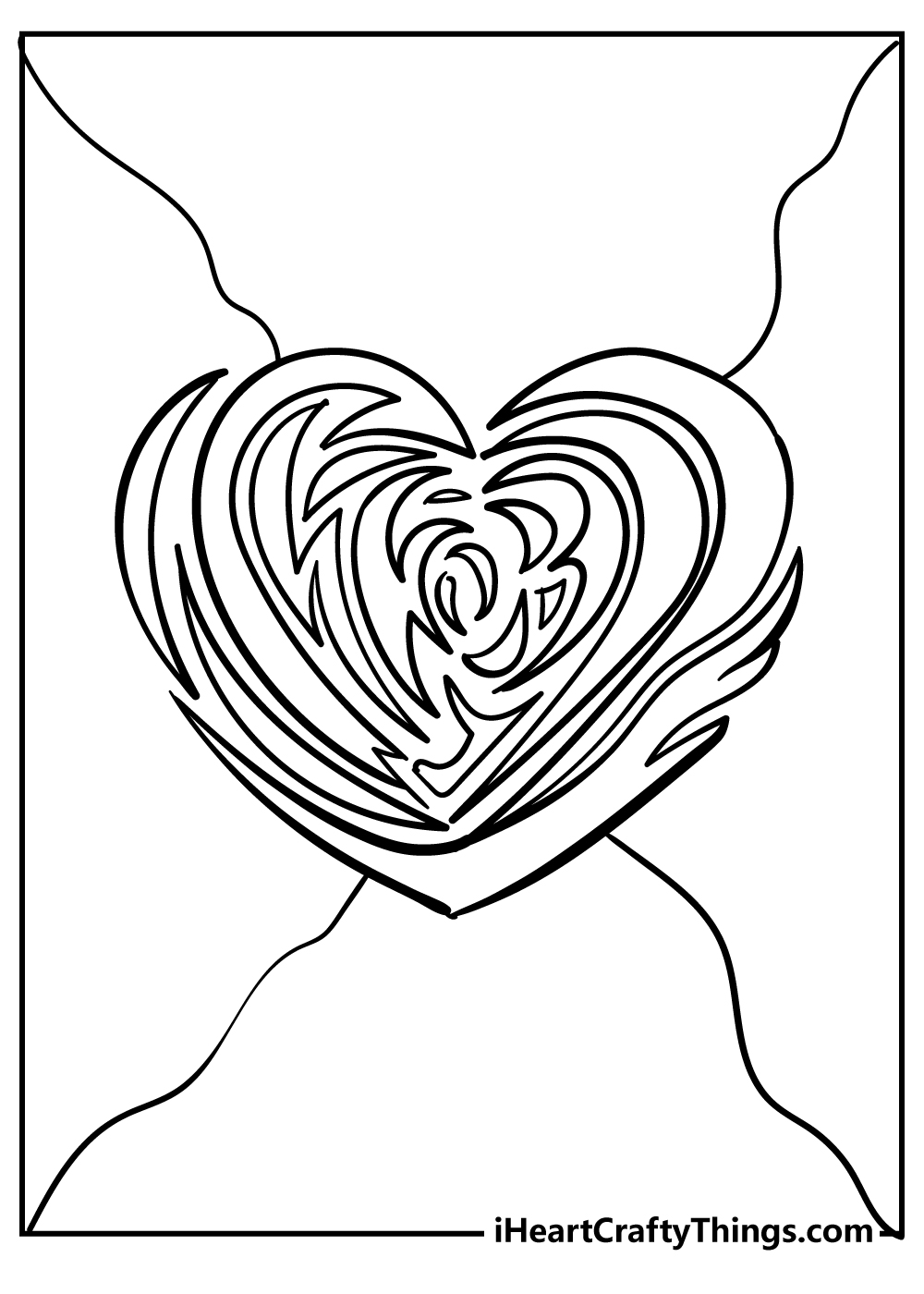 Kittens will play with almost anything, and the kitten in this free printable has found a heart-shaped toy. She sits back and hugs the heart shape with her paws.
It looks like this is a favorite toy of hers.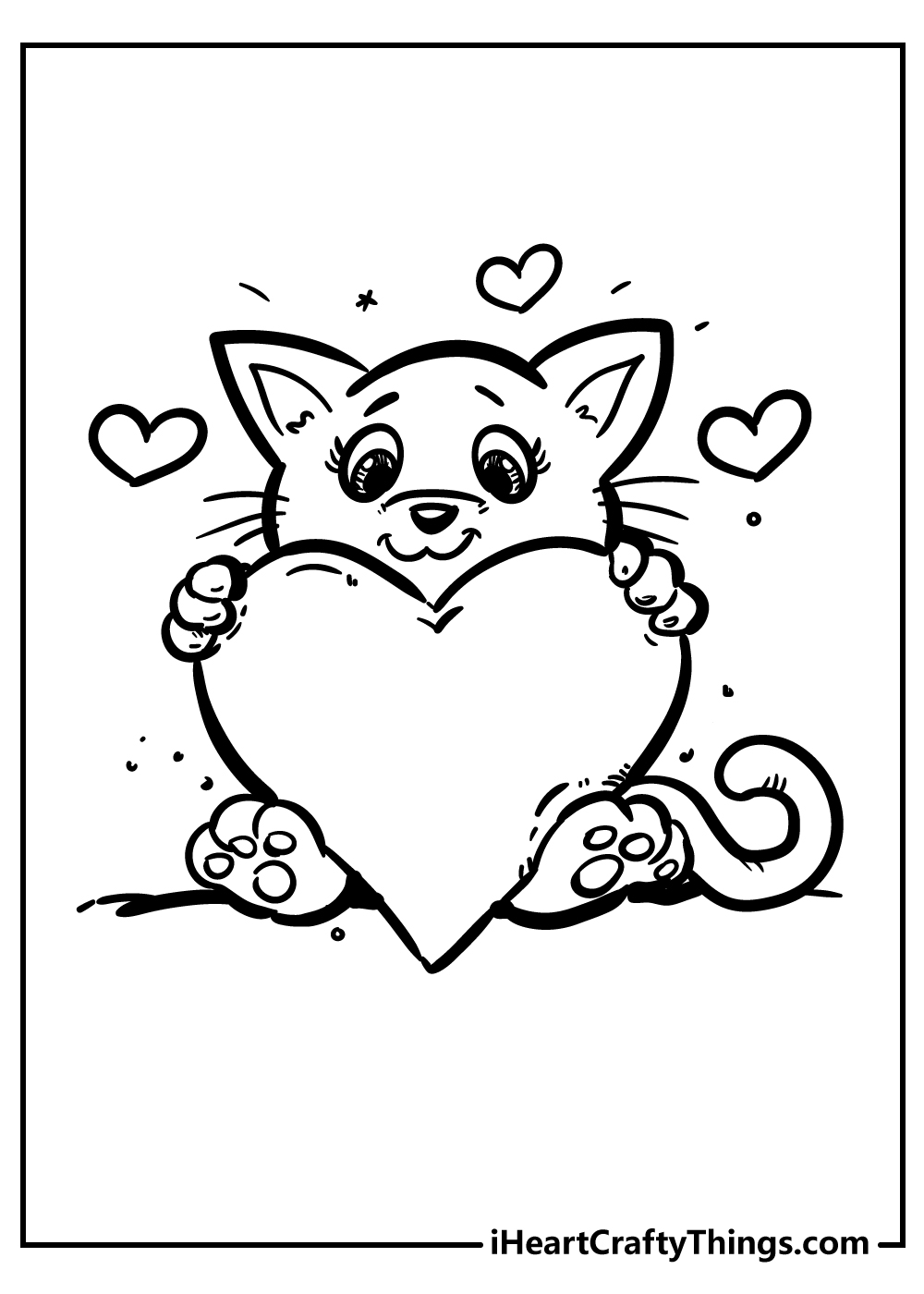 This little baby jumps for joy into a big swarm of hearts.
He has an adorable curl of hair on his forehead and he looks like he loves hearts more than anyone.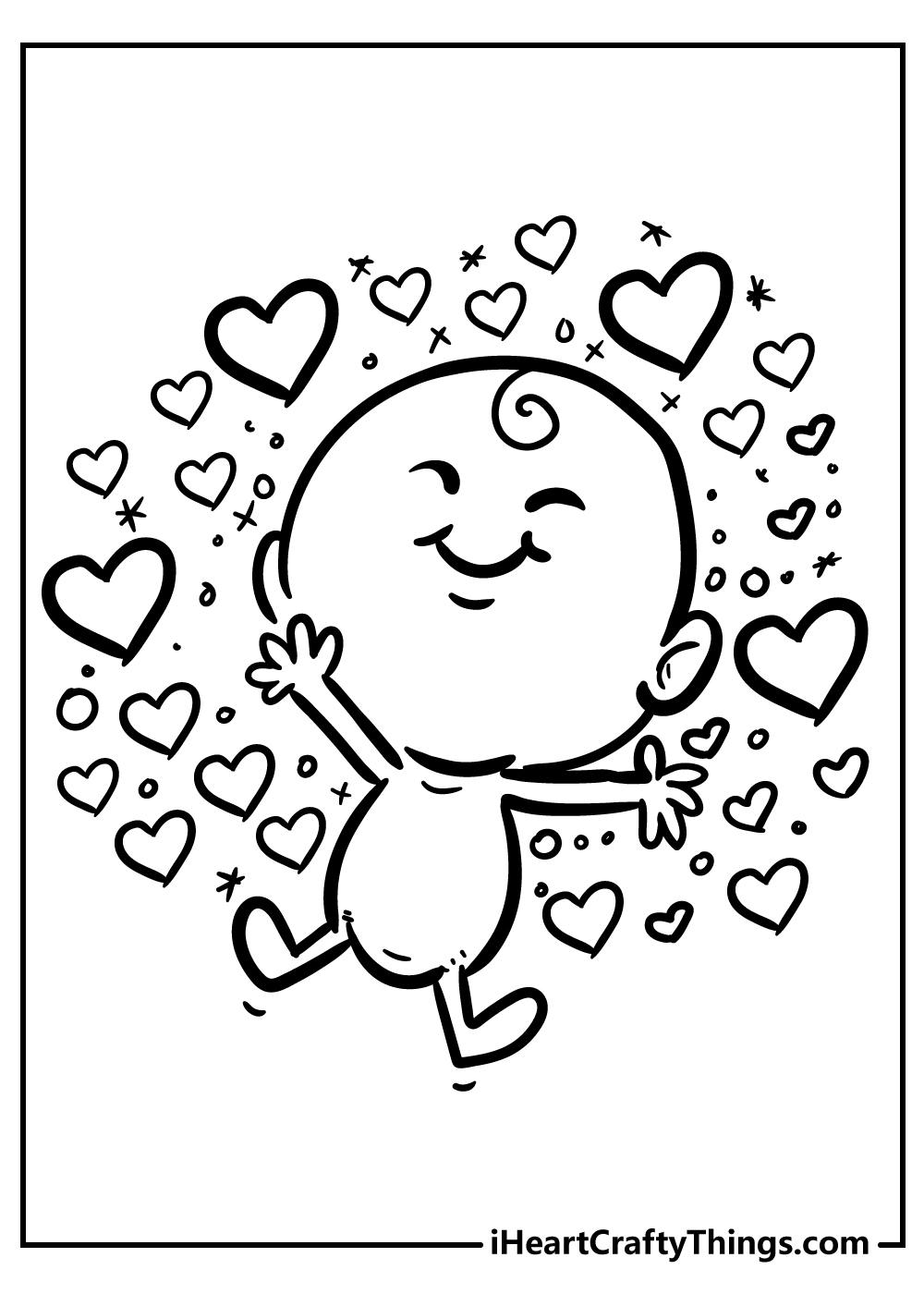 Our coloring page designers love to make these heart-shaped patterns in unique ways. This coloring page shows one big heart made up of a bunch of smaller ones.
Don't forget that all of these heart coloring pages are free for you to print, color, and enjoy.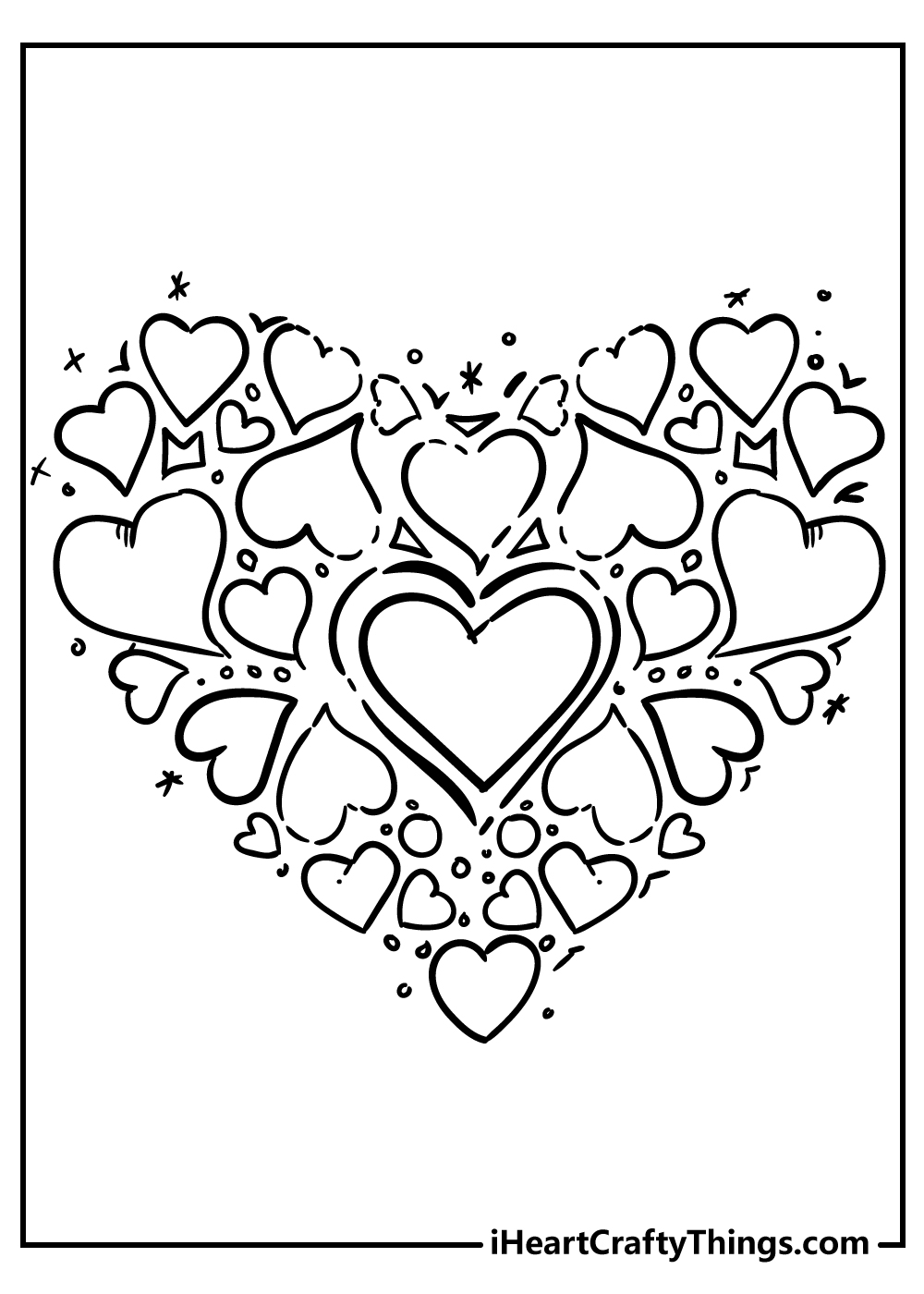 This heart shape is filled with paths and patterns that remind us of a maze.
We wonder if you can follow the paths to find your way to the center of the heart. A heart-shaped maze would make for a very interesting adventure.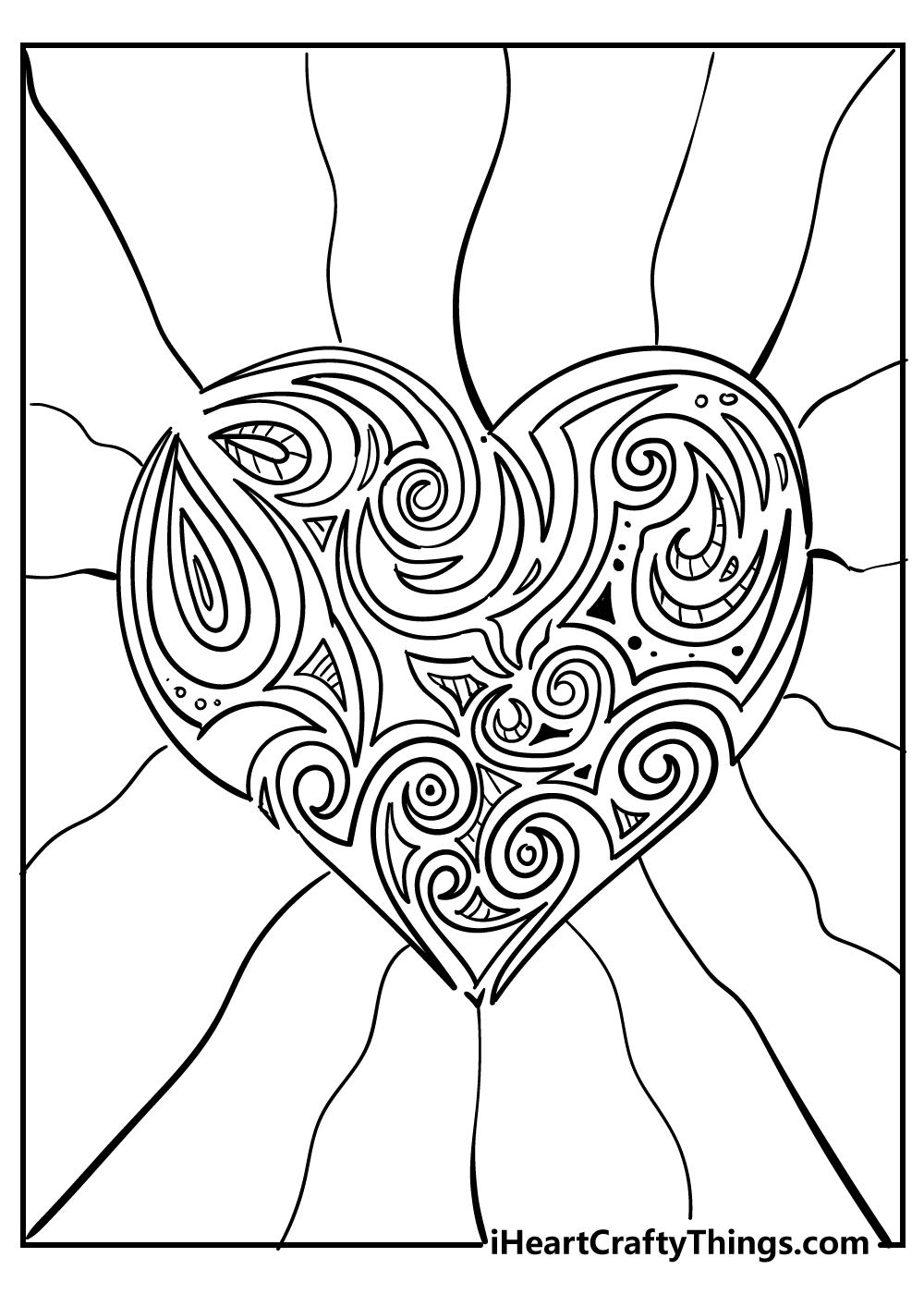 Another heart has been shattered into many beautiful pieces for this next beautiful page!
This again means that you have a bit of a coloring challenge before you, as there are some incredibly small spaces for you to fill in.
No coloring challenge is insurmountable if you have the right tools at hand, however, and you can easily do a fantastic job on this incredible picture!
What kinds of colors and art mediums do you think you will go for as you finish this one off?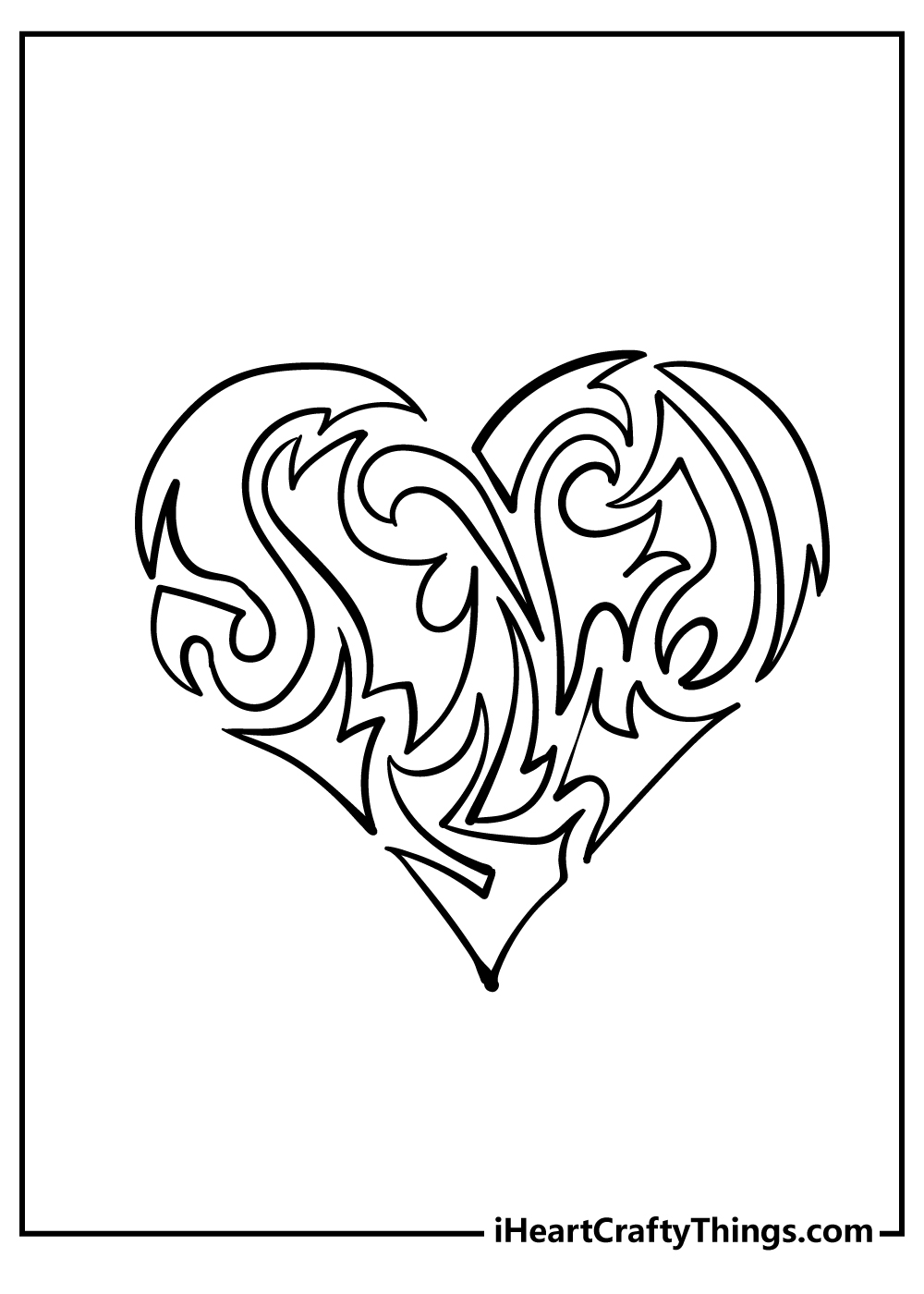 The theme for this heart coloring page is fire, and that's an appropriate one when dealing with love! Because of this, we would go for some bright and fiery colors for this one.
That means getting out all of your favorite vibrant reds, yellows and oranges. It may be fun to mix various mediums to really make it look like this one is sizzling with color.
Once this one is done, we also think this one would be perfect to give to someone you care about as a gift!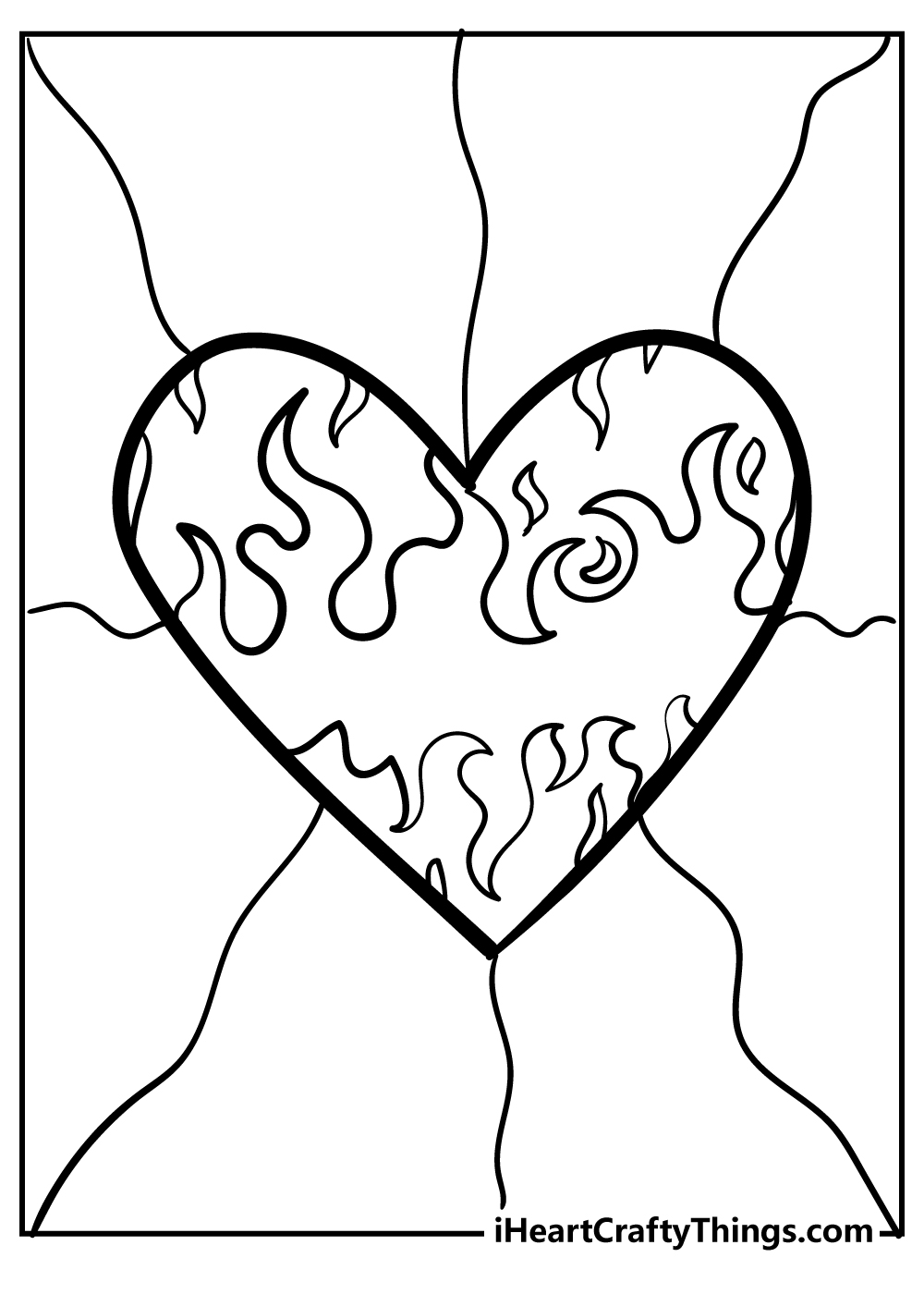 These overlapping hearts have multiple patterns, including verticle stripes, wavy lines and one that even looks like a spider's web.
Hearts definitely don't have to be plain and red. They can be any color or pattern you can imagine.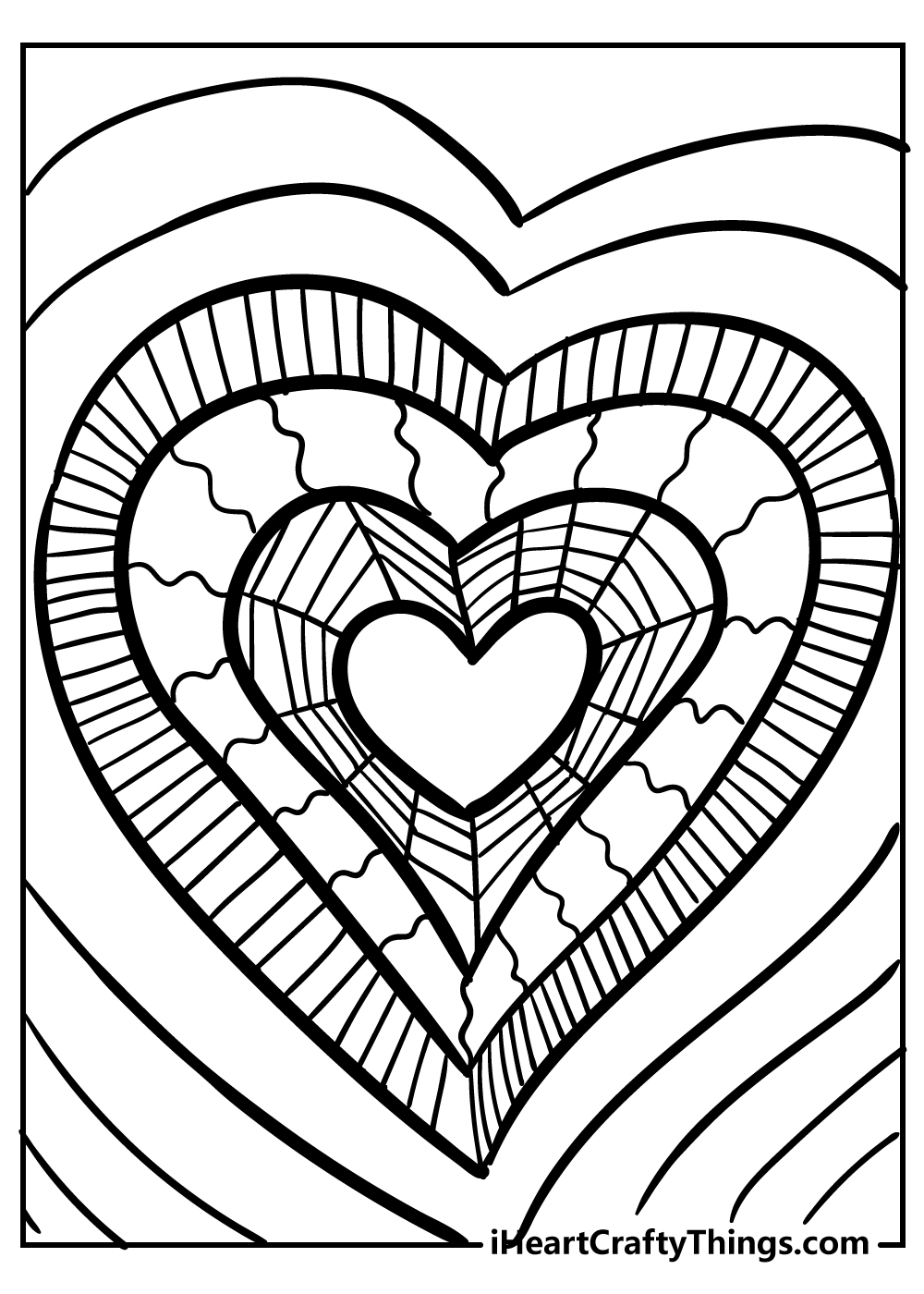 There are so many hearts in this heart coloring page for kids. You can find heart shapes all over the place, from playing cards, to Valentine's day candy, to video games.
This symbol has really taken over and has many different meanings.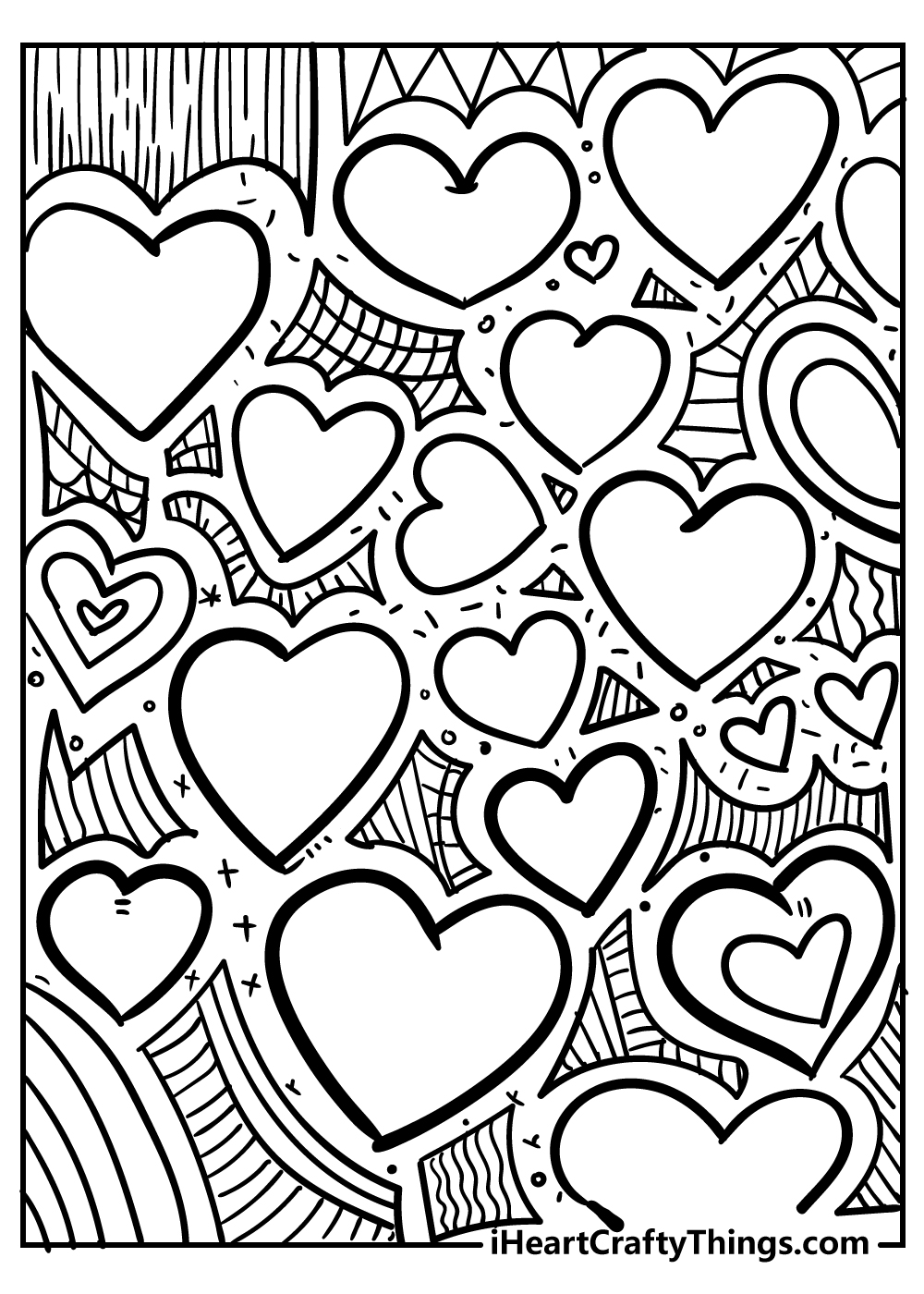 Use your imagination to color in the intricate designs of this heart coloring page. There are circles, triangles, stripes, and much more to make this heart unique.
Grab your brightest colors to make your masterpiece.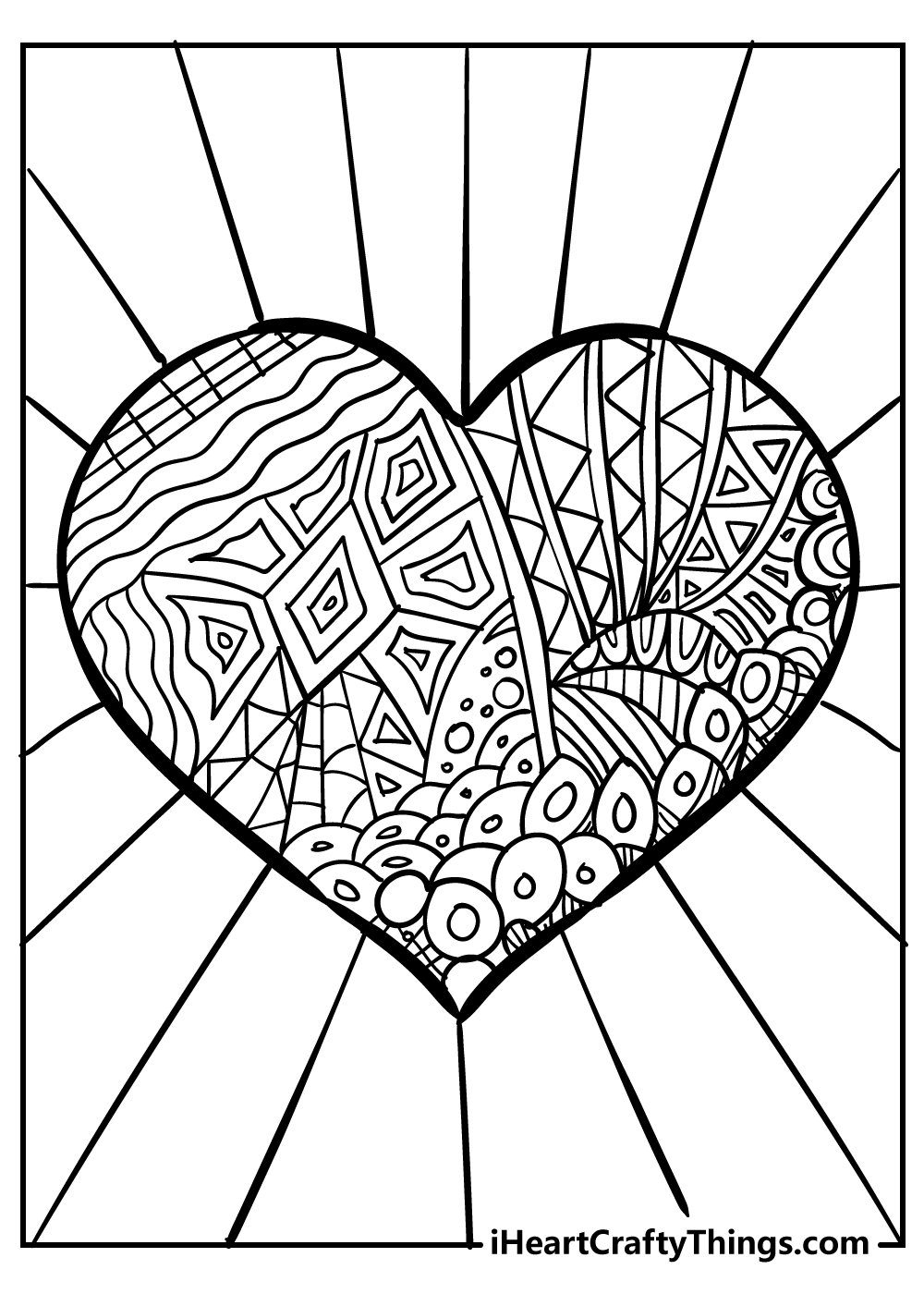 Today we associate the symbol of a heart with romantic love. Appropriately this coloring sheet shows a heart with the word "Love" spelled out in the middle.
Did you know that this image of a heart was first used as a symbol for romantic love many centuries ago?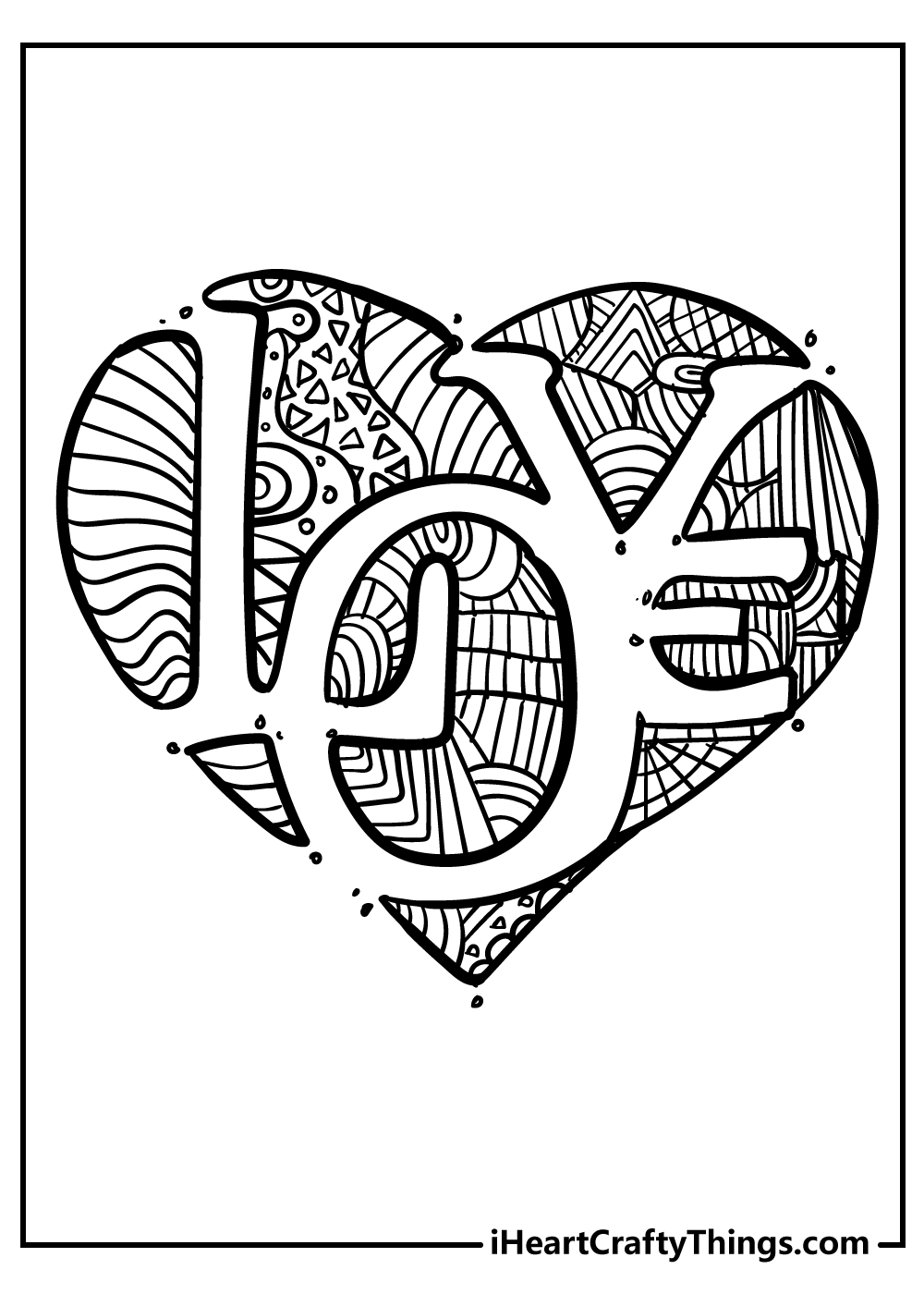 We love the creativity our coloring page designers put into these printable sheets.
In this coloring sheet, tree branches shoot up and the leaves of the tree are made up of hearts, creating one big heart-shaped tree.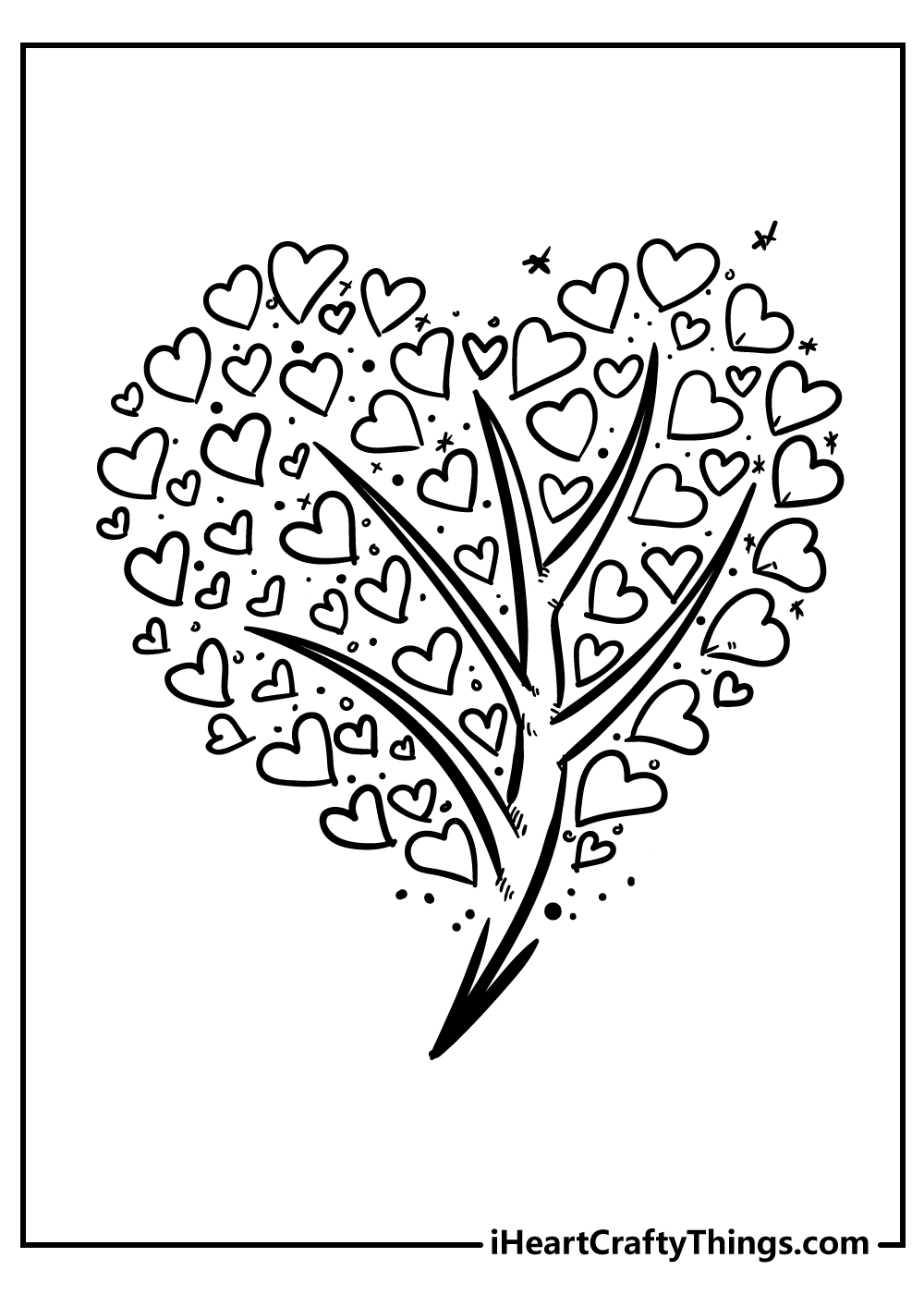 It looks like a whole world has been squeezed into this heart. There are paths, rainbow patterns, circles, and beautiful flowers.
The heart reminds us a little bit of medieval times. The symbol of a heart has been used for a very long time.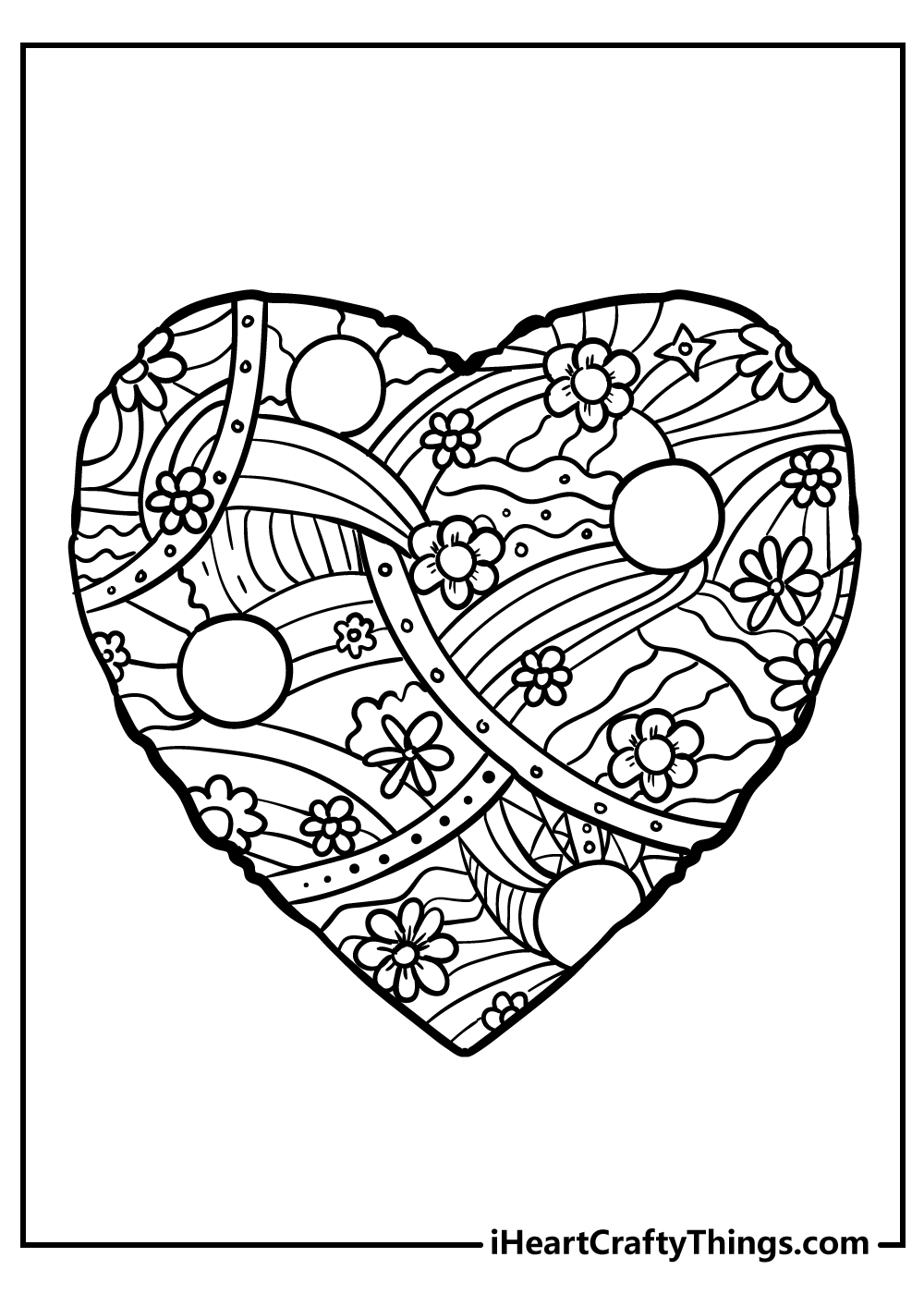 Hearts and flowers go hand in hand. In fact, the expression "hearts-and-flowers" is used together to mean expressions of sentimentality or endearment.
This printable sheet combines all of these elements. It is a heart made up of a tree, leaves, flowers, and vines with the word "love" in the middle.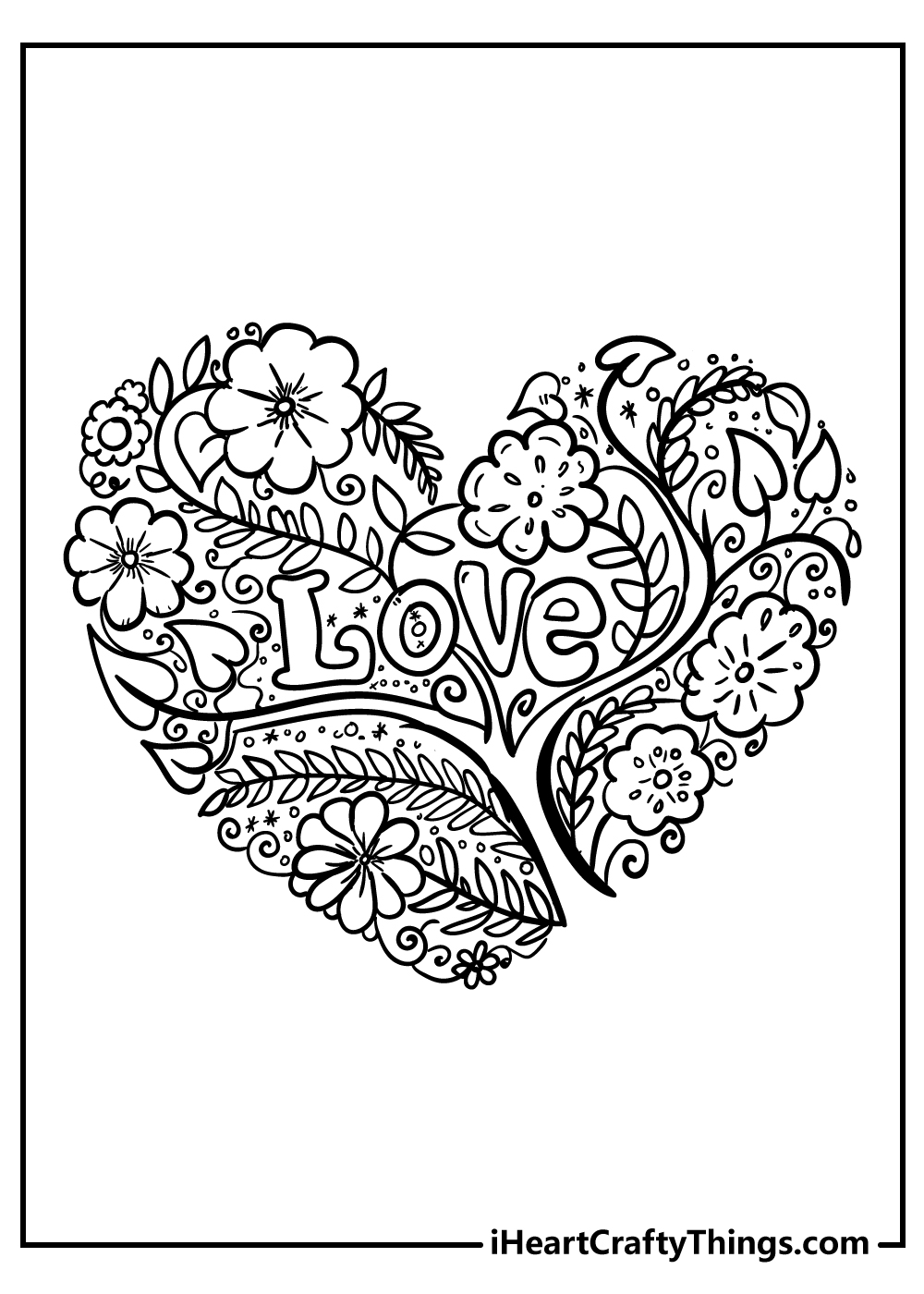 There is definitely a pattern of using the word "love" in these heart coloring pages. Here the whole word has been squeezed together to make up the image of a heart.
There is even a little heart shape in the center of the letter "O."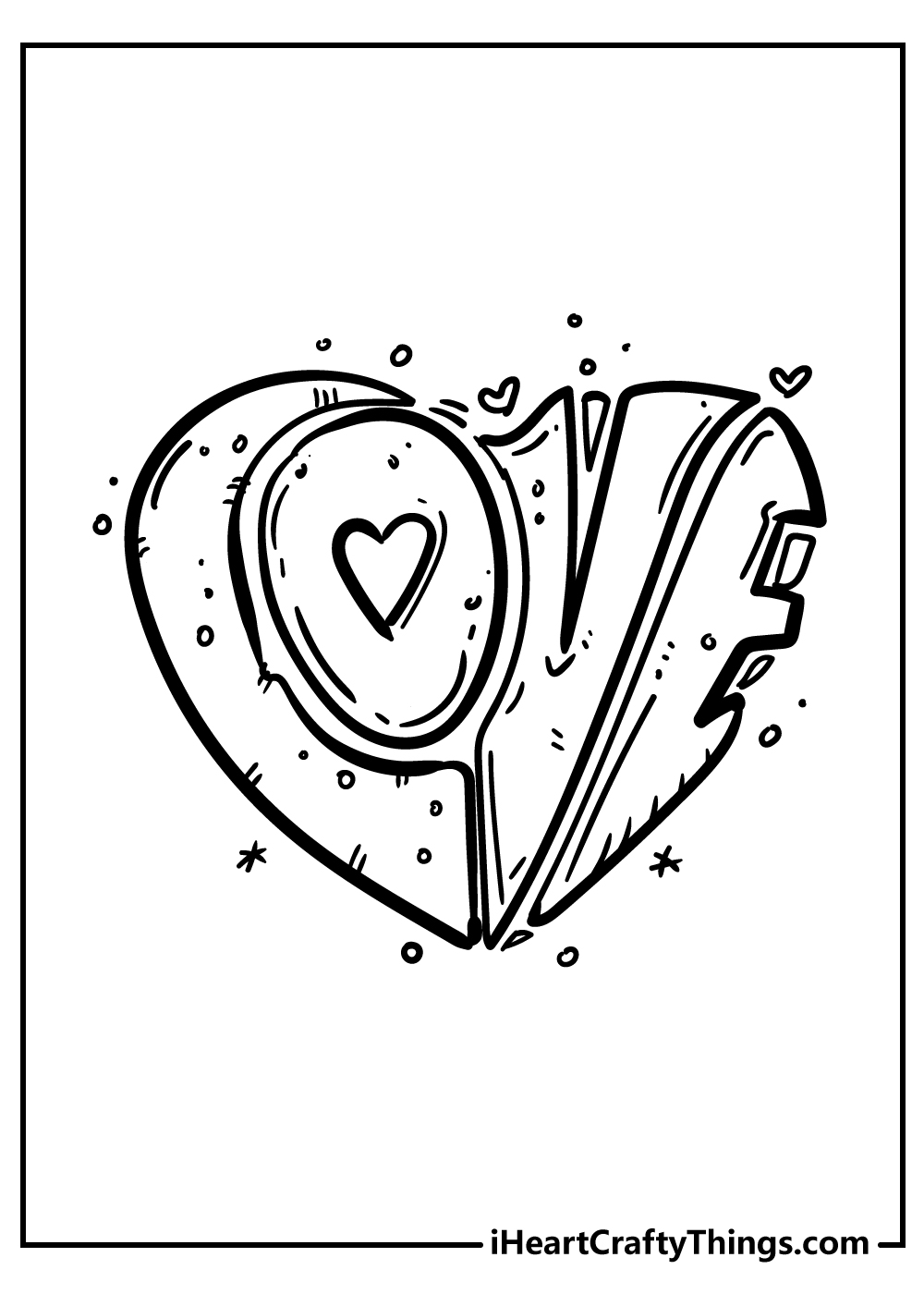 We are used to the idea of a volcano erupting and lava flowing out of the top. However, our coloring page designers have created something a little different.
A big heart bursts out of this erupting volcano. We'd personally prefer that to the lava.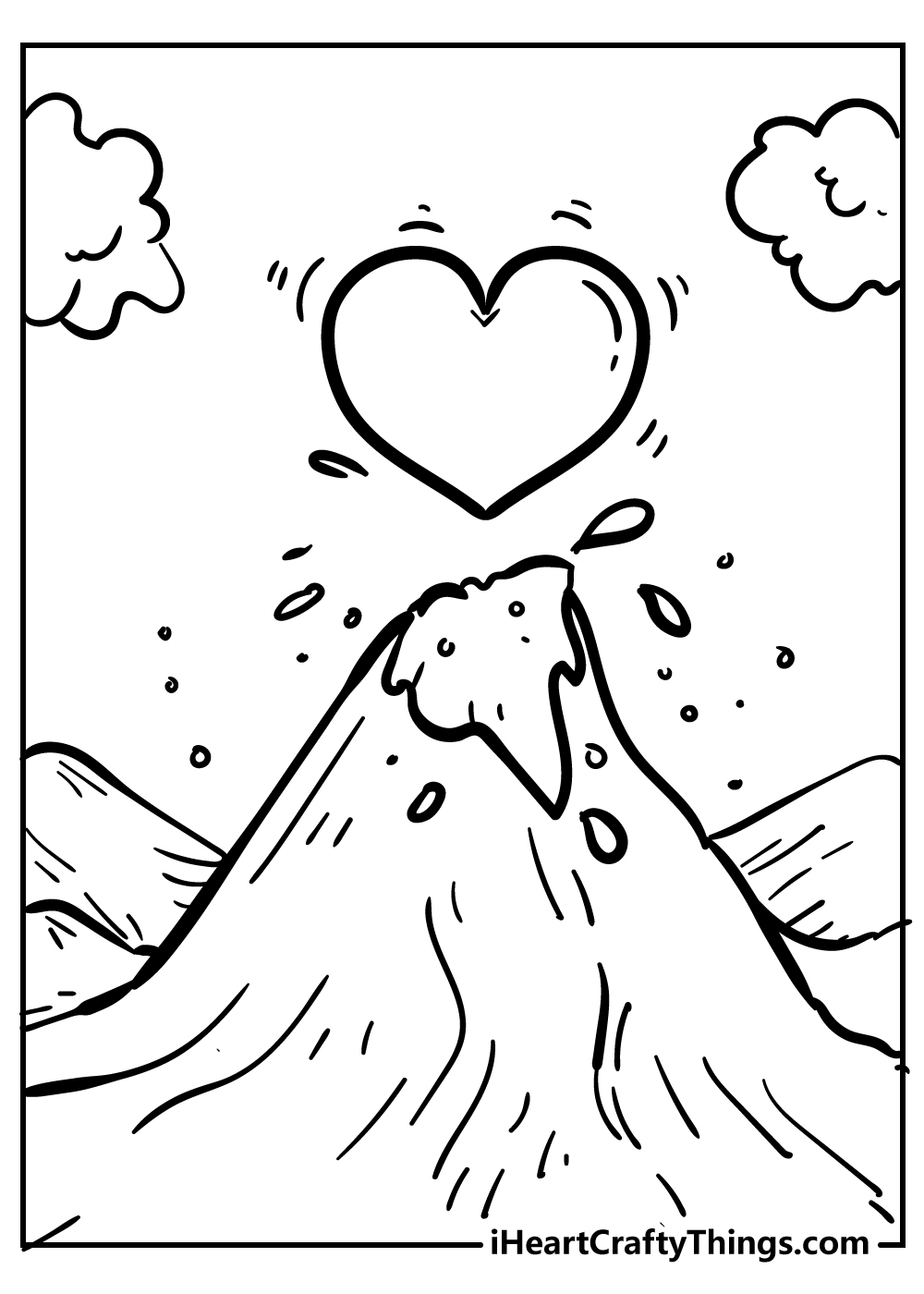 The heart has been used as a symbol on coats of arms and armor for a long time. These hearts can stand for love, loyalty, or something else depending on what they are pictured with.
This heart coloring page reminds us of a coat of arms. It shows a heart with a sword and flowers behind it.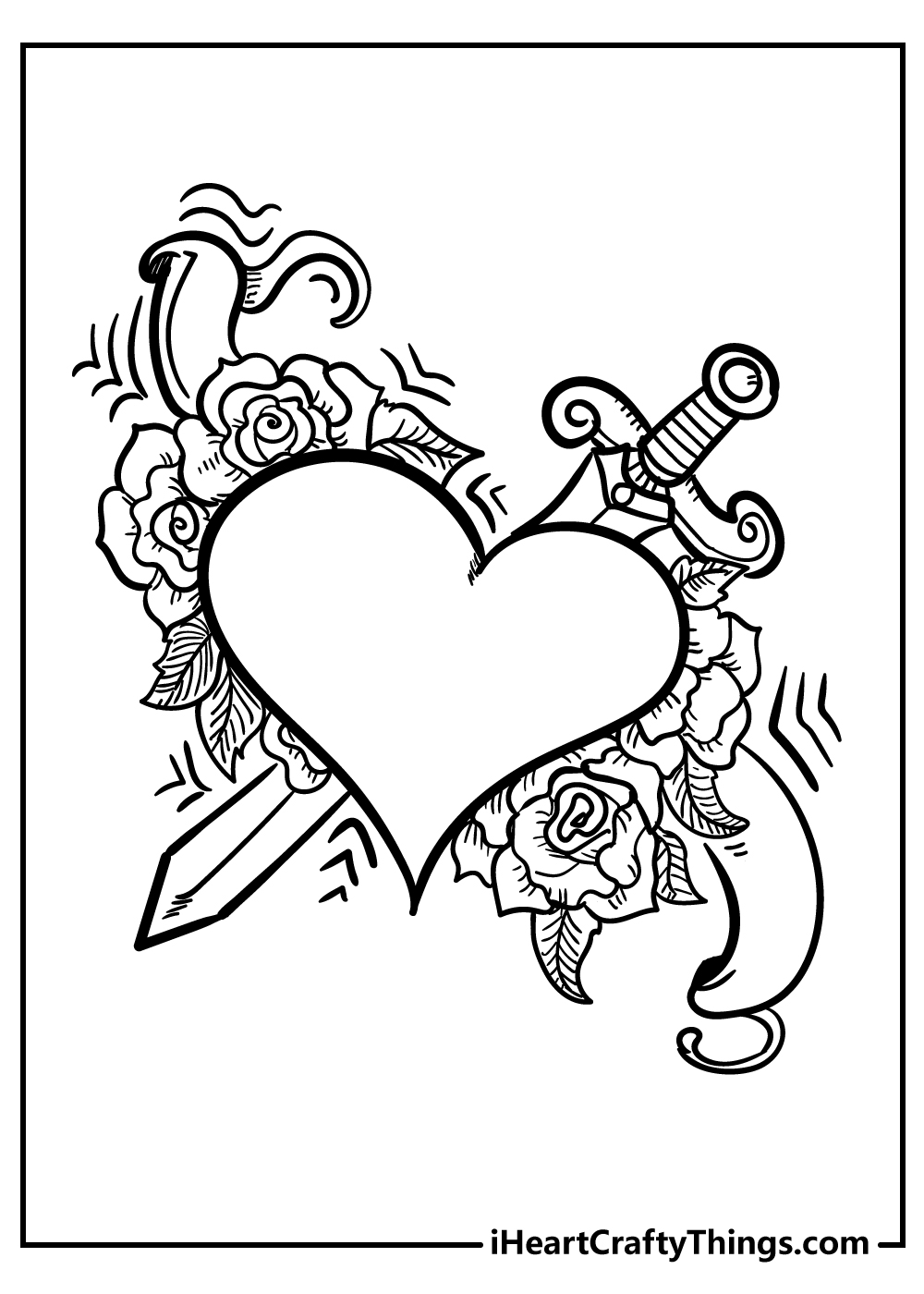 This is an especially intricate heart. Don't forget to post your finished heart coloring pages onto our Facebook page for a chance to be the best upload and win a special prize.
Winners are chosen at the end of every month!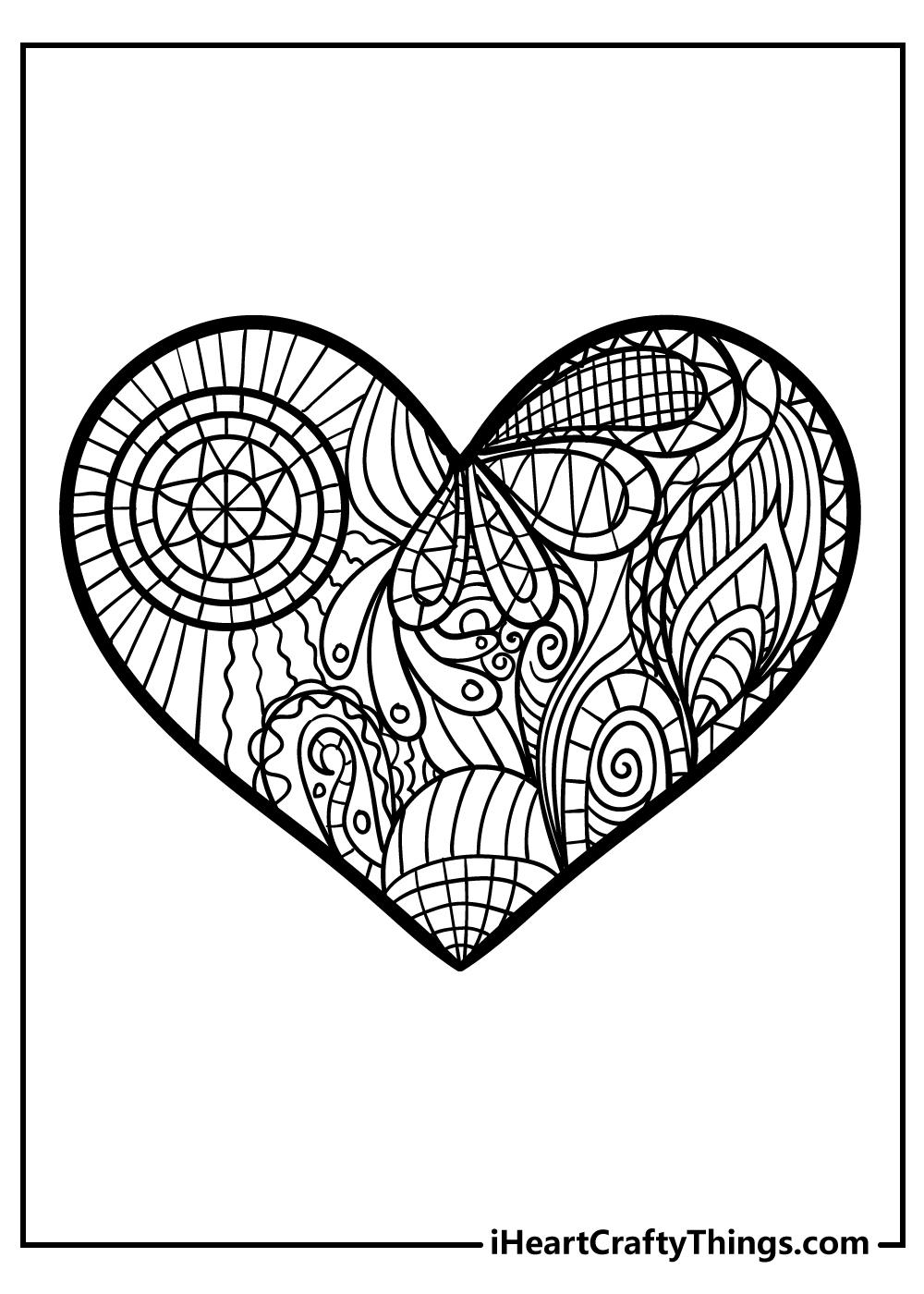 This heart has a cute smiling face in the middle and wings growing out to the sides. A heart with wings can sometimes be a symbol of freedom and a free spirit.
It looks like this heart is about to fly high into the sky!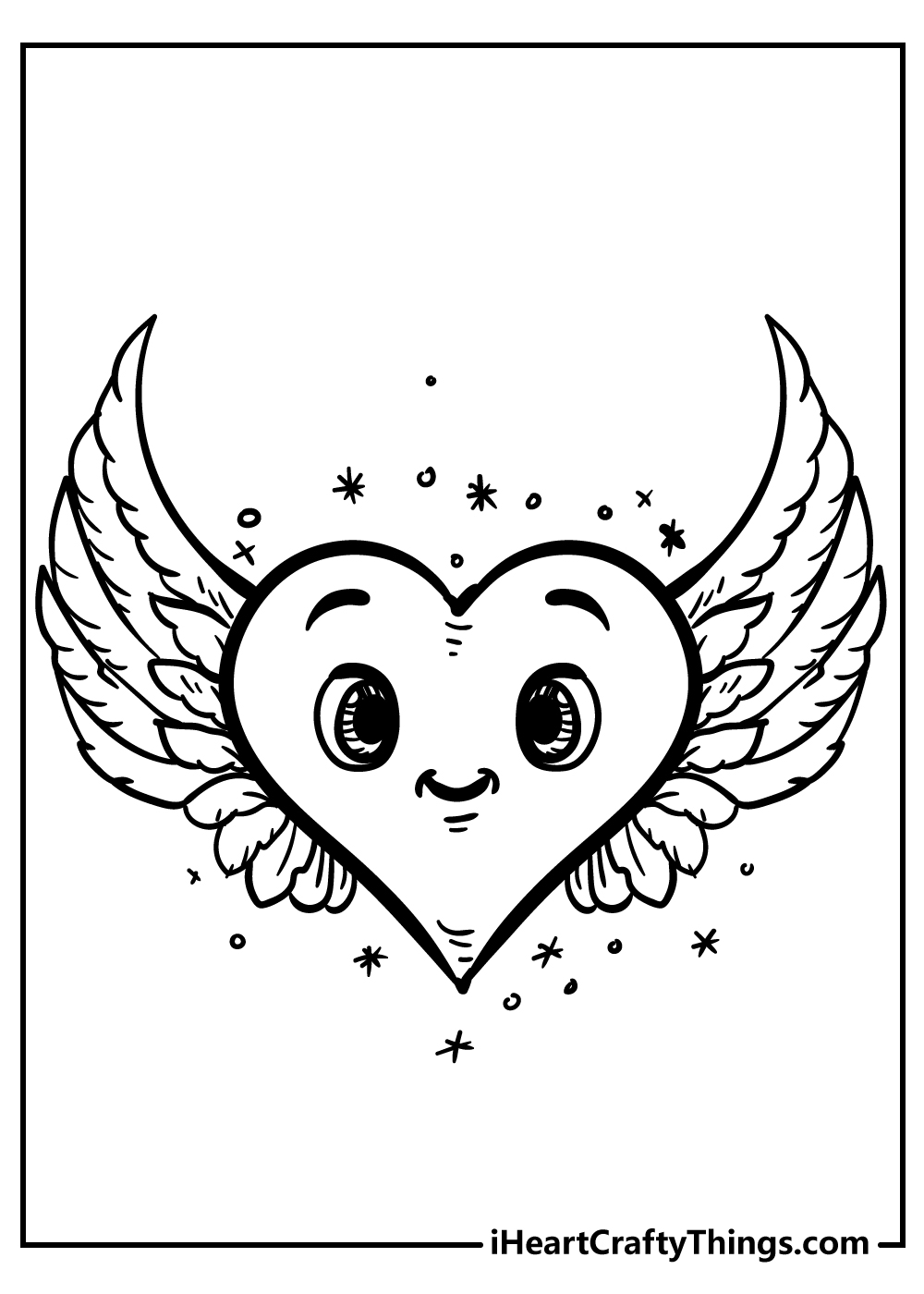 Sometimes a broken heart is used to symbolize sadness or loss. This heart looks like it has been hurt.
It is wrapped in a bunch of bandages, but hopefully, it is on its way to healing and getting back to normal.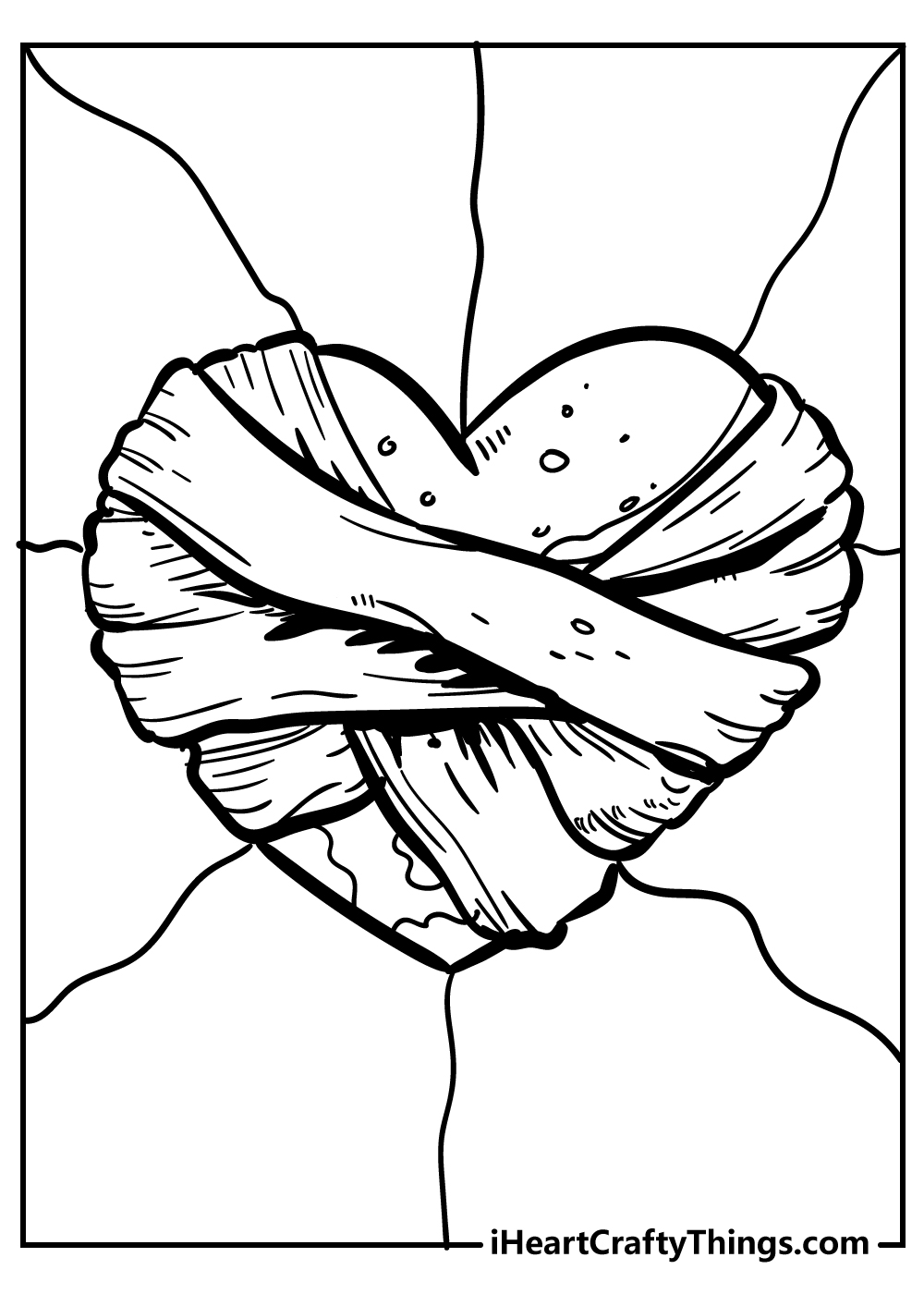 This heart coloring page is so creative. A hand pops out of a sleeve and snaps its fingers, making the image of a heart appear above.
Sometimes people put their hands together to form the image of a heart in the space between.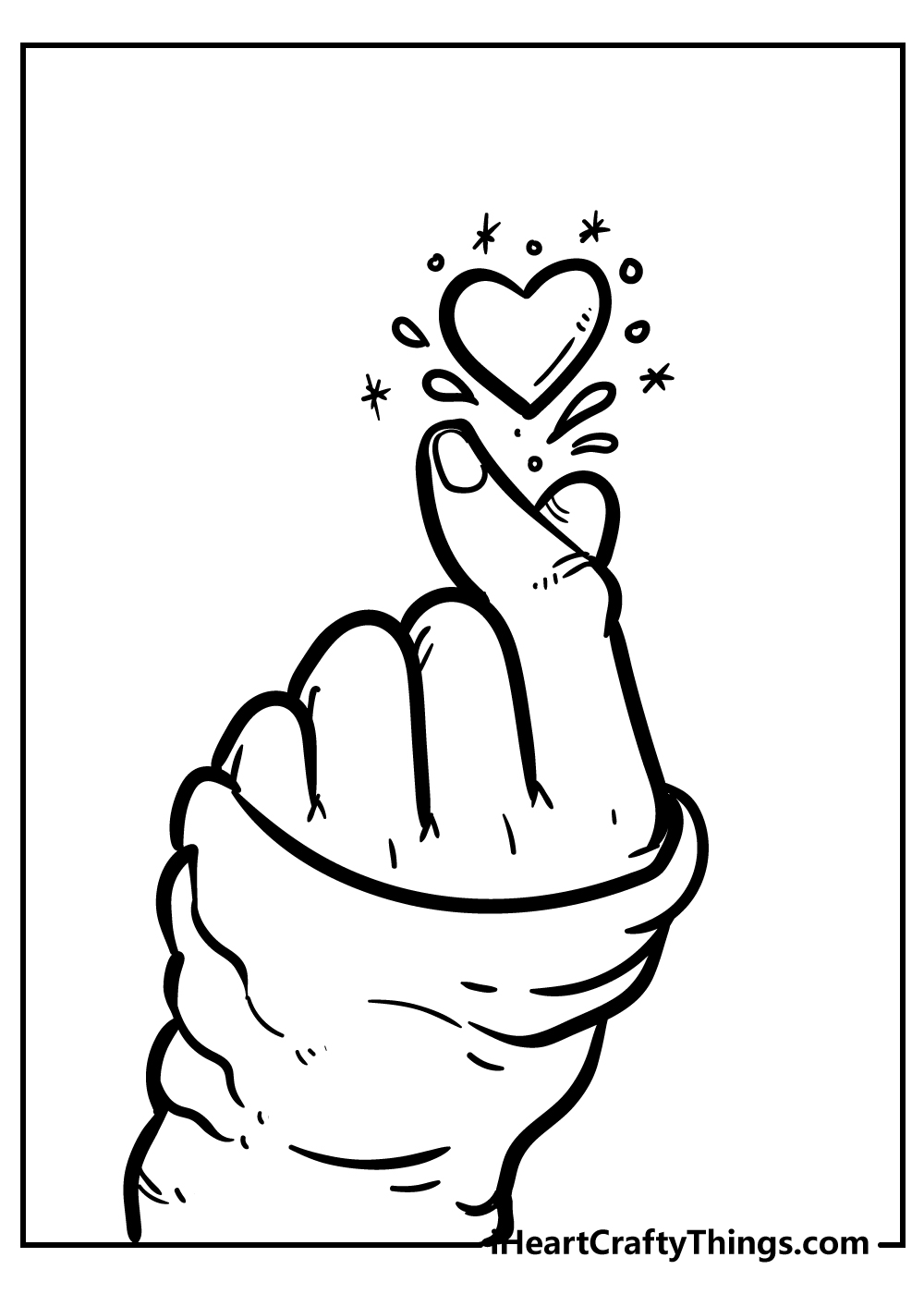 Hearts don't have to mean just one thing. These hearts are showing all kinds of emotions. Some are smiling, while others look upset, and a few are winking or giving kissy faces.
These hearts remind us a lot of emojis with their various funny expressions. Which one is your favorite?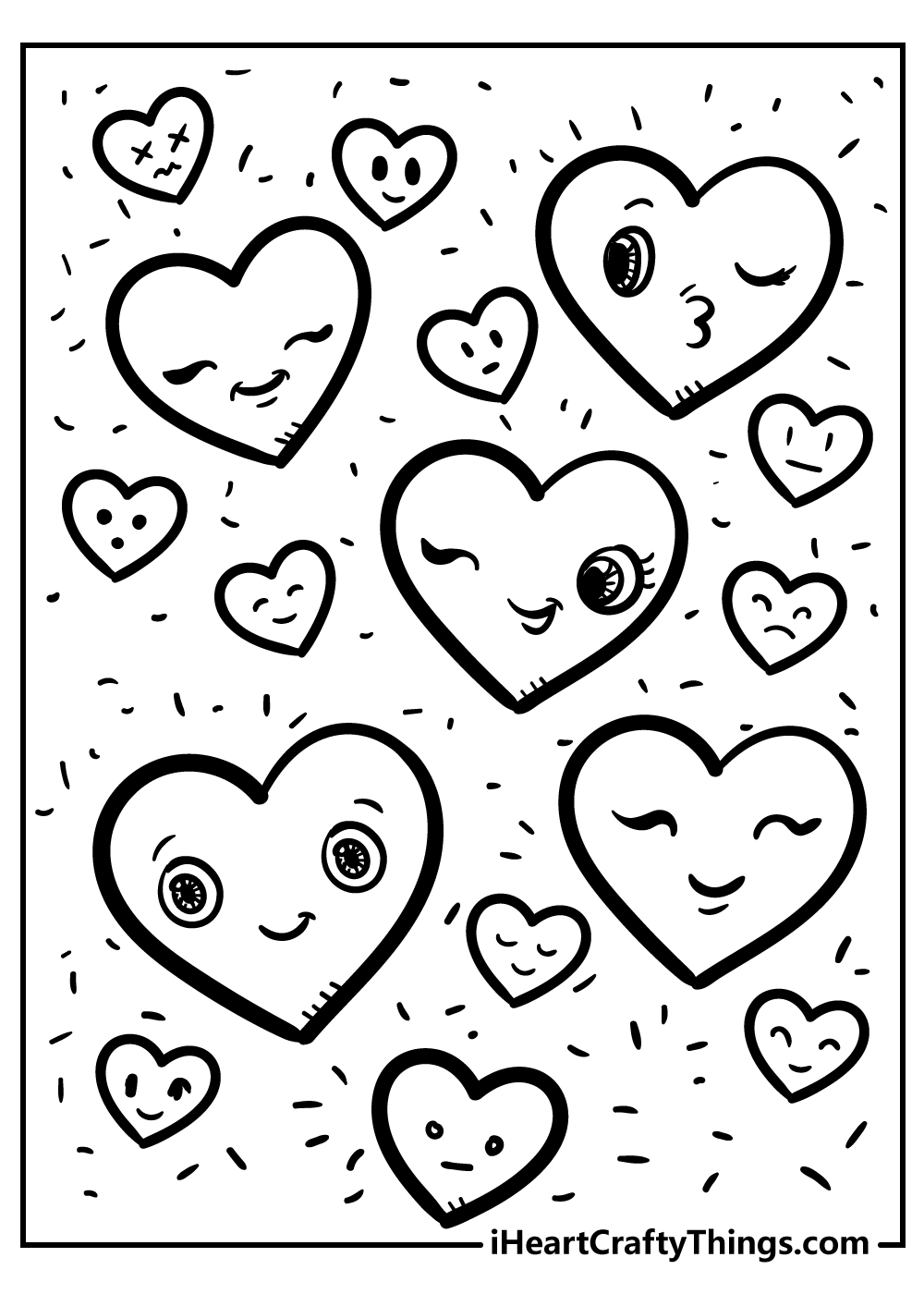 The little boy in this coloring page has a big heart – literally! It almost looks like it is too big for him to carry, but he is doing a good job.
Little hearts are floating overhead. Who do you think he is taking the heart to?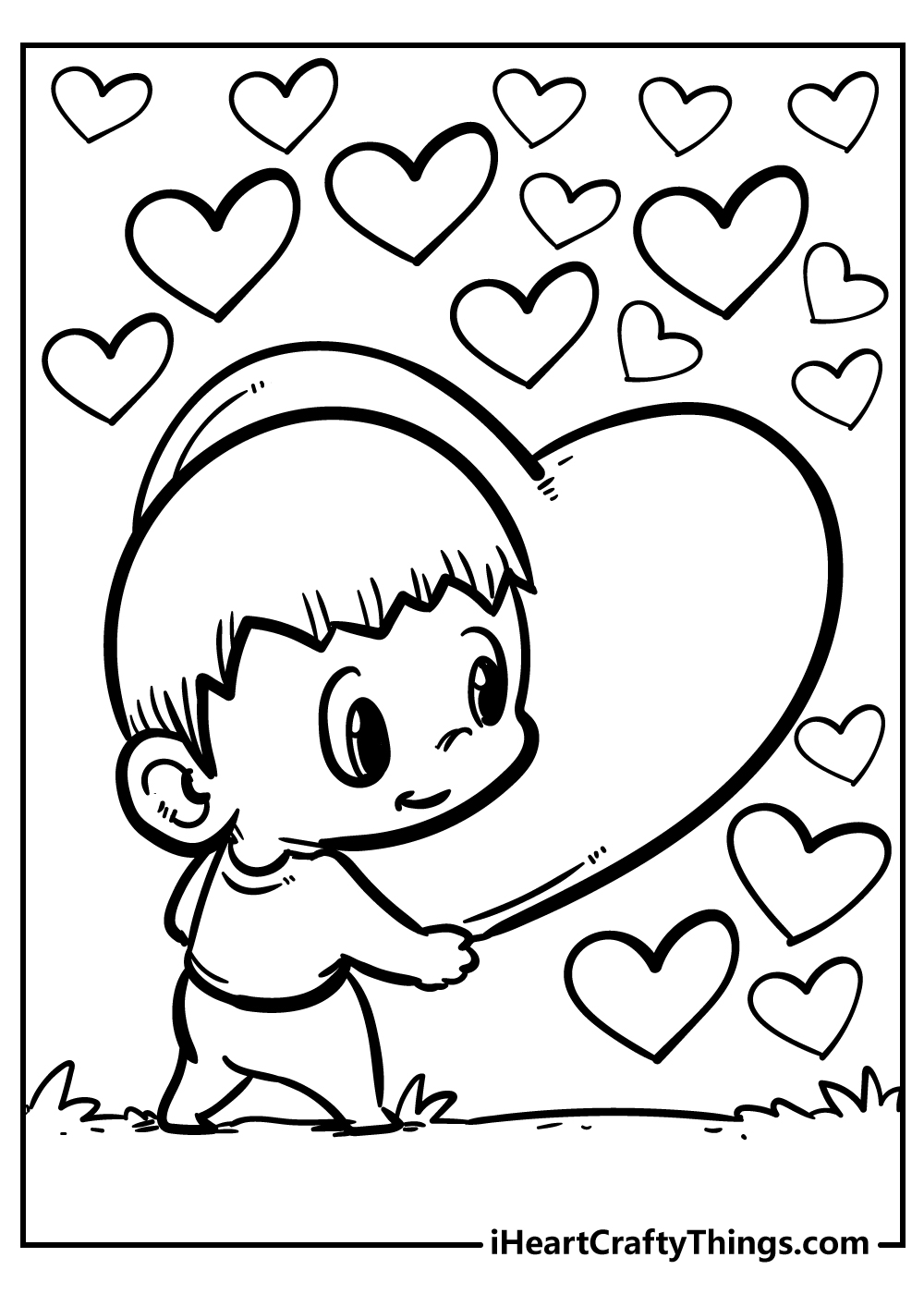 The heart in this coloring sheet appears to hold a picture inside. There are beautiful roses growing in the center.
Roses and hearts are both used to symbolize love, so they are the perfect objects to pair together in this printable.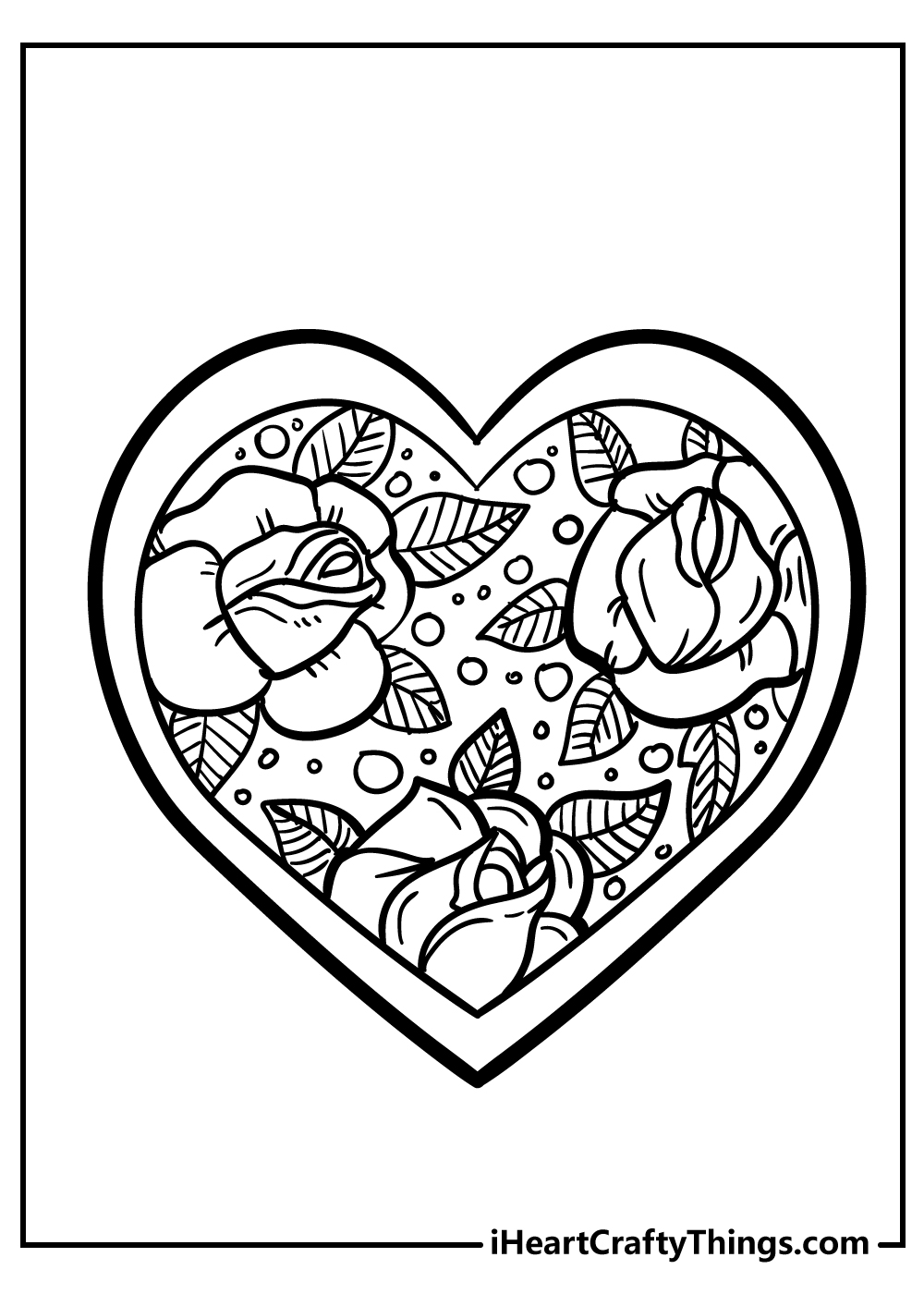 The image of a heart can be a great subject for stickers, games, toys, and more. This coloring sheet reminds us of a heart-themed puzzle.
There are many different patterns on square, and the heart in the center fits on almost every square.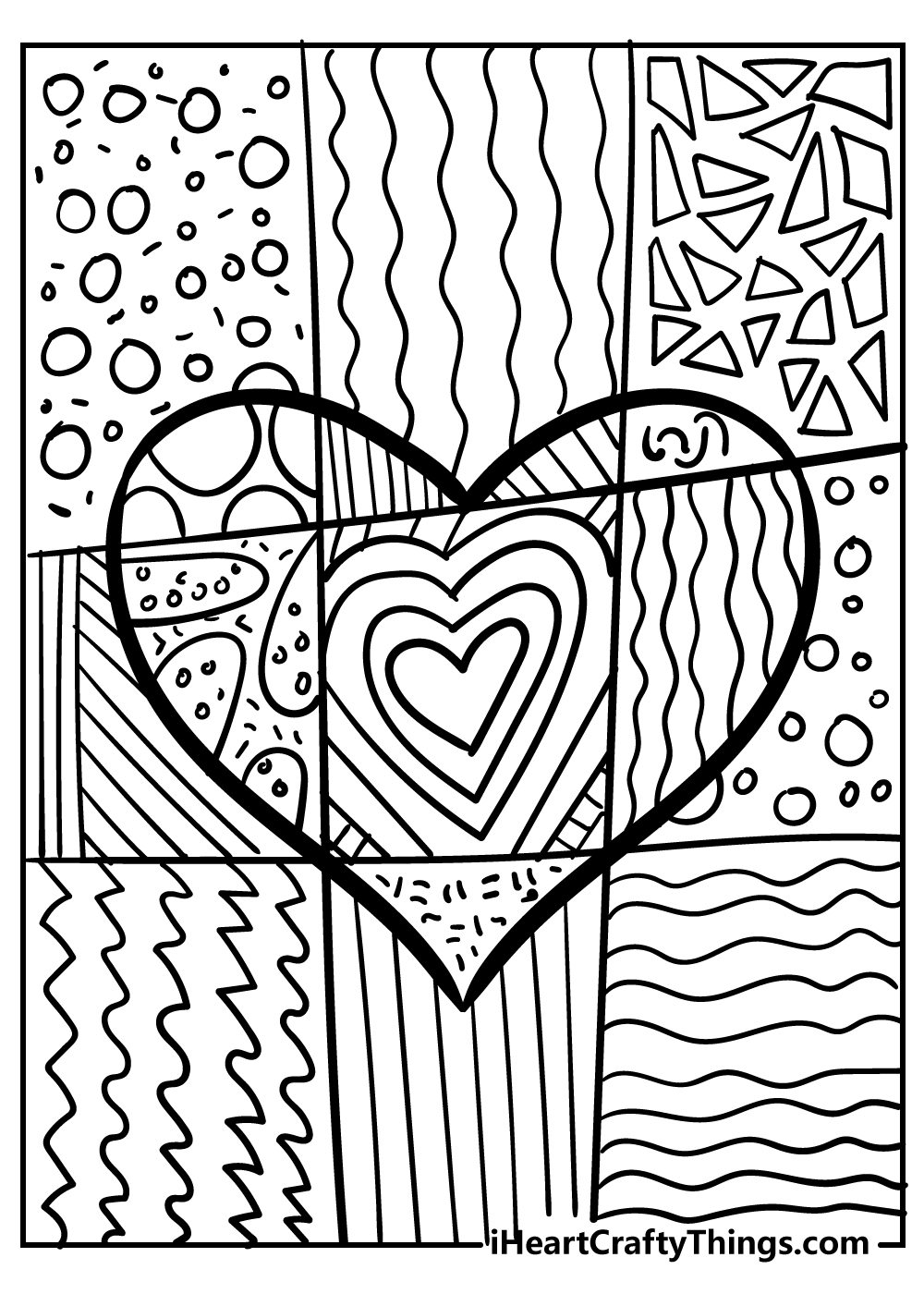 This heart has a striped, zig-zag design running through the center. In the background, there is another striped pattern.
Different hearts might have different meanings depending on what color they are. What colors will this heart be?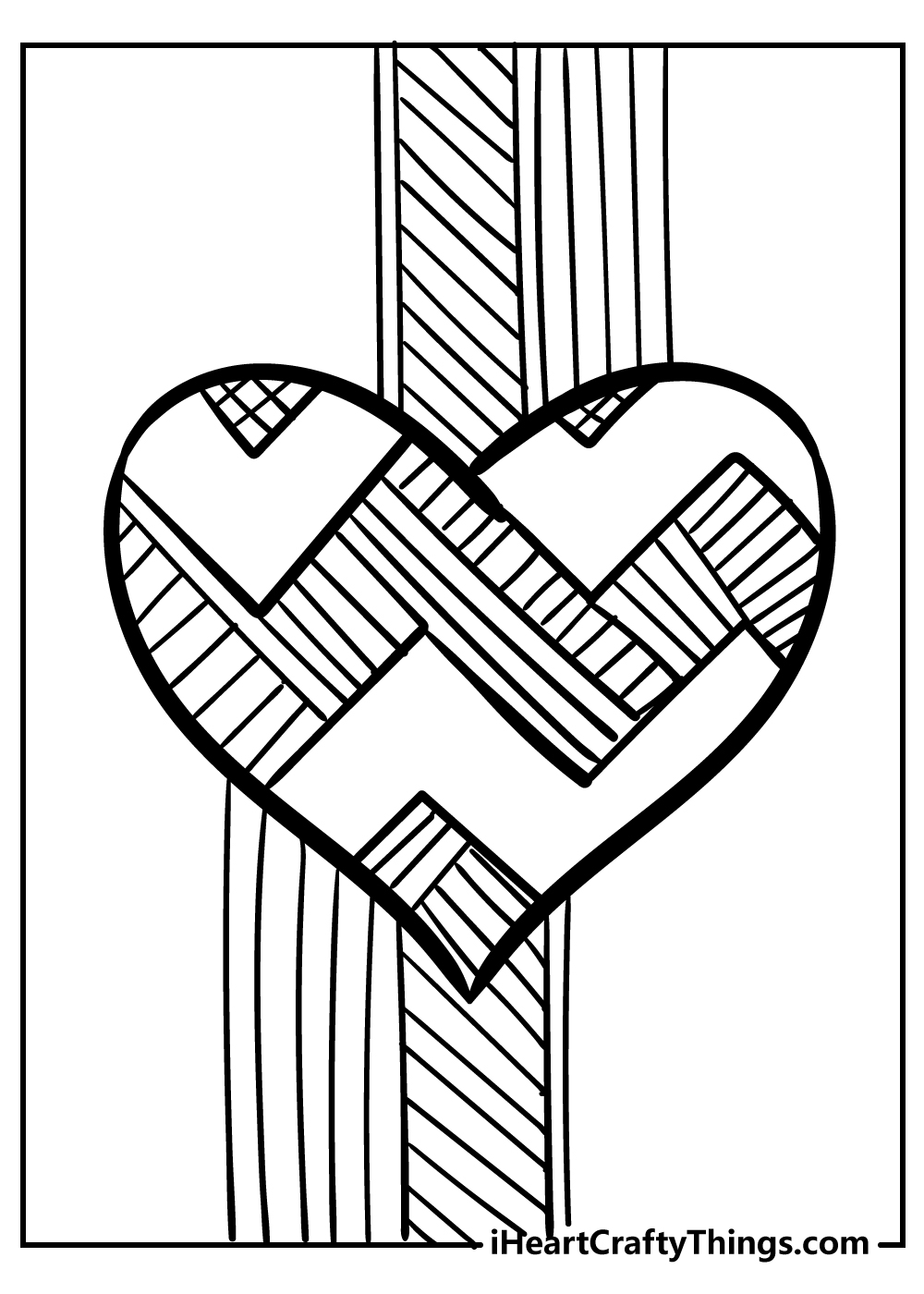 Remember to check back with us every week to see which new pages have been uploaded featuring your favorite images, animals, and characters.
We are constantly updating our catalog of coloring pages and printable sheets for you to enjoy.
We hope you have enjoyed these heart coloring pages. Once you have completed your masterpiece, don't forget to post a photo of your picture onto our Facebook page.
We can't wait to see what you'll come up with next!