Balloons are so much fun, in any shape or color they come, and they're perfect for every occasion. The mere sight of a colorful balloon can awaken feelings of joy and excitement in children of all ages.
We're sure children will be just as thrilled about our wonderful balloons coloring pages collection. This is a great way for them to have fun and put their creativity to the test.
Download and print these balloons coloring pages for free and let your child's imagination run wild.
15 Brand New Balloons Coloring Pages – Free to Print and Color
For our first balloons coloring page, we have three heart-shaped balloons floating gently in the air. Each balloon has a different pattern.
The one on the left has five oblique stripes, the one in the middle has a dot pattern and the one on the right has some flowers on it.
These pretty patterns give you the opportunity to choose a variety of color schemes and practice your creative skills.
There's no right or wrong when it comes to coloring, so you can choose any colors you like.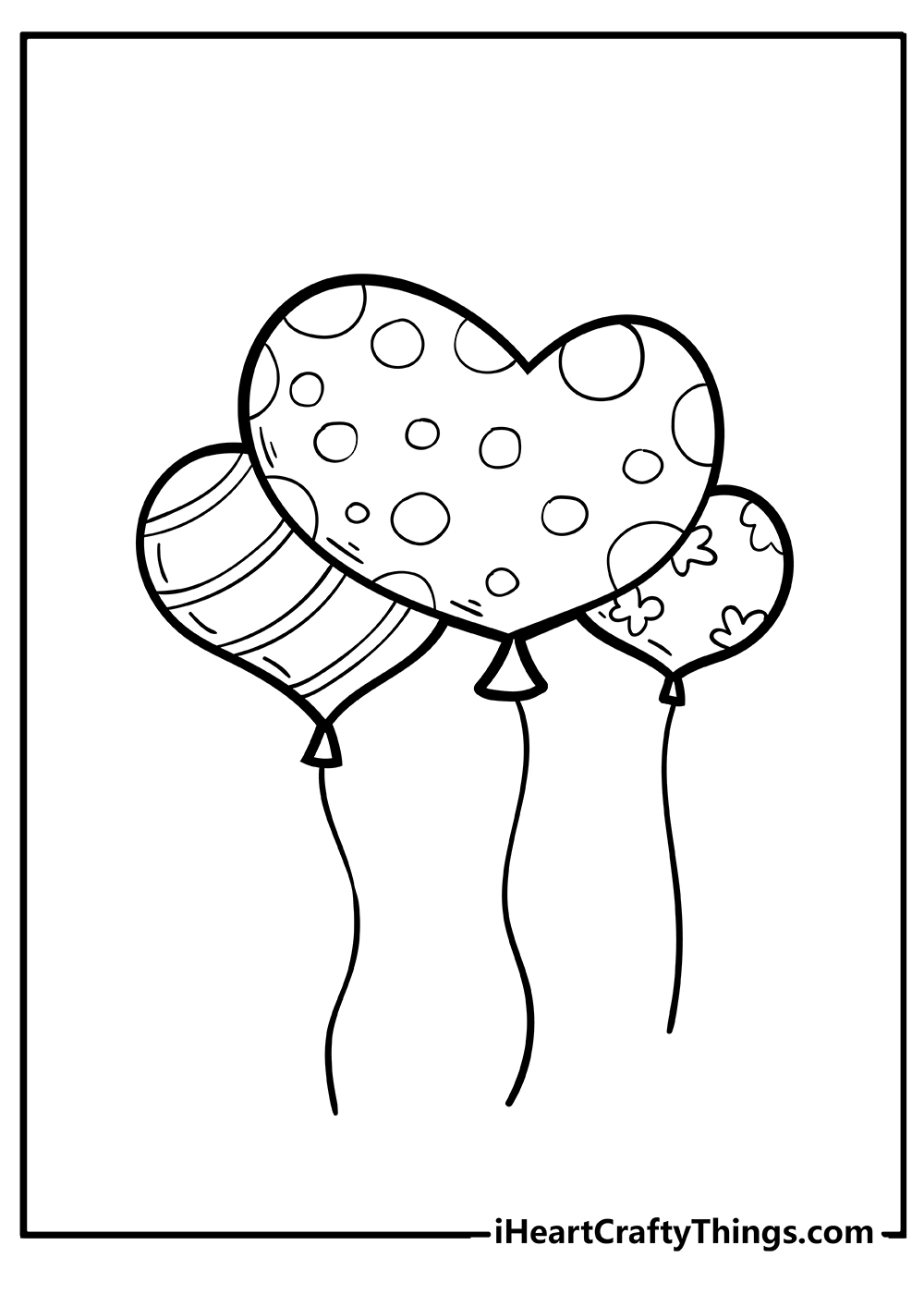 Float away to a world of fun with this balloon coloring page. Here, there are seven big, round balloons with curly strings, all bundled together like a pretty bouquet.
You can color each balloon a different bright, happy color. Try using neon oranges, sunny yellows, sky blues, and grassy greens – any color that makes you smile.
Add polka dots, stripes, or swirls if you want. However you color them, this cheerful balloon bouquet will lift your spirits.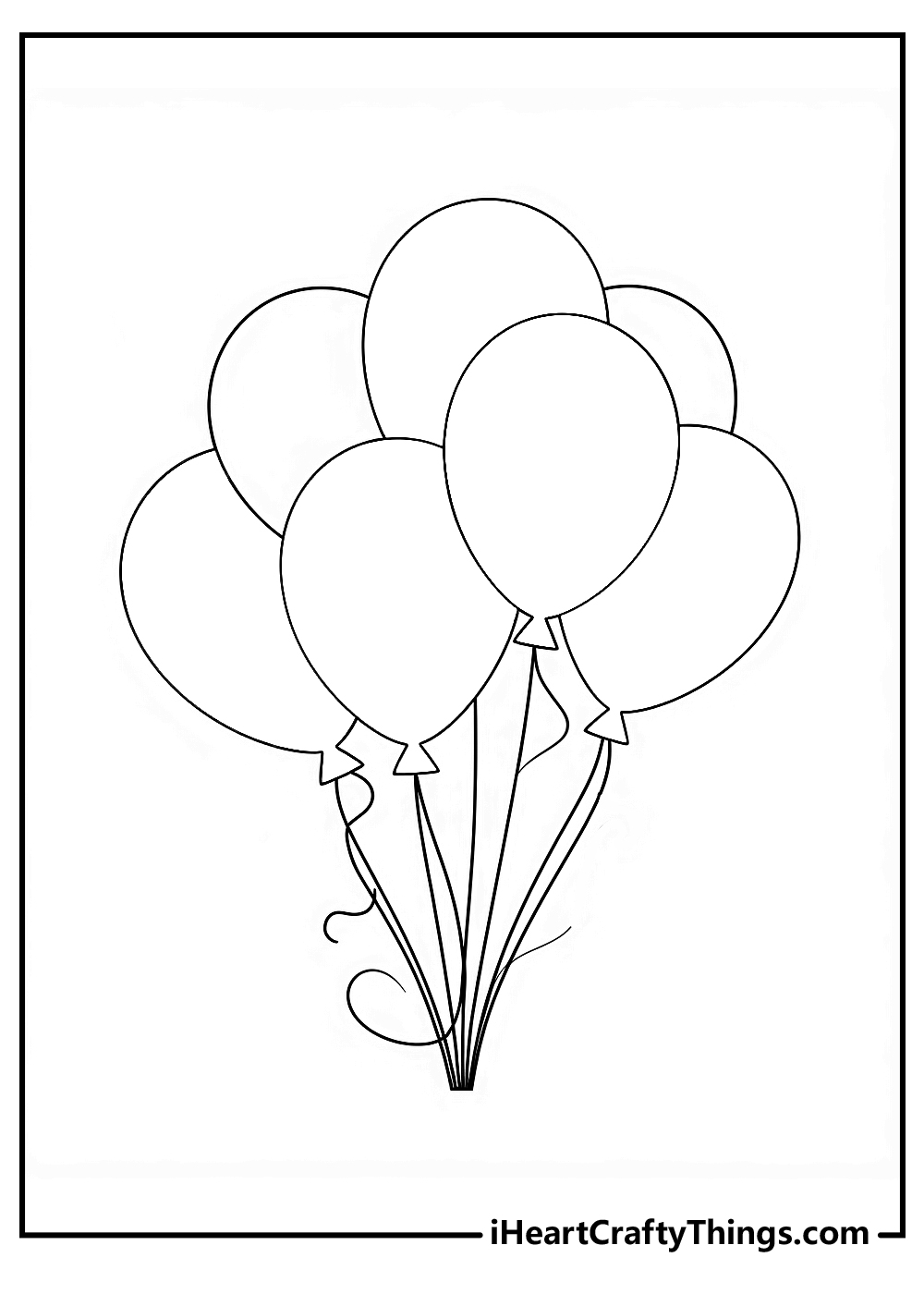 Children have a fascination with balloons because they're colorful, shiny, light and they can float in the air with ease. This makes them quite a magical and exciting toy to play with.
The second balloon printable features a single balloon in a classic oval shape, with a big stripe across it.
It looks like it served as a decoration at a party and a strong wind carried it away. Grab your crayons and color it before it reaches the clouds!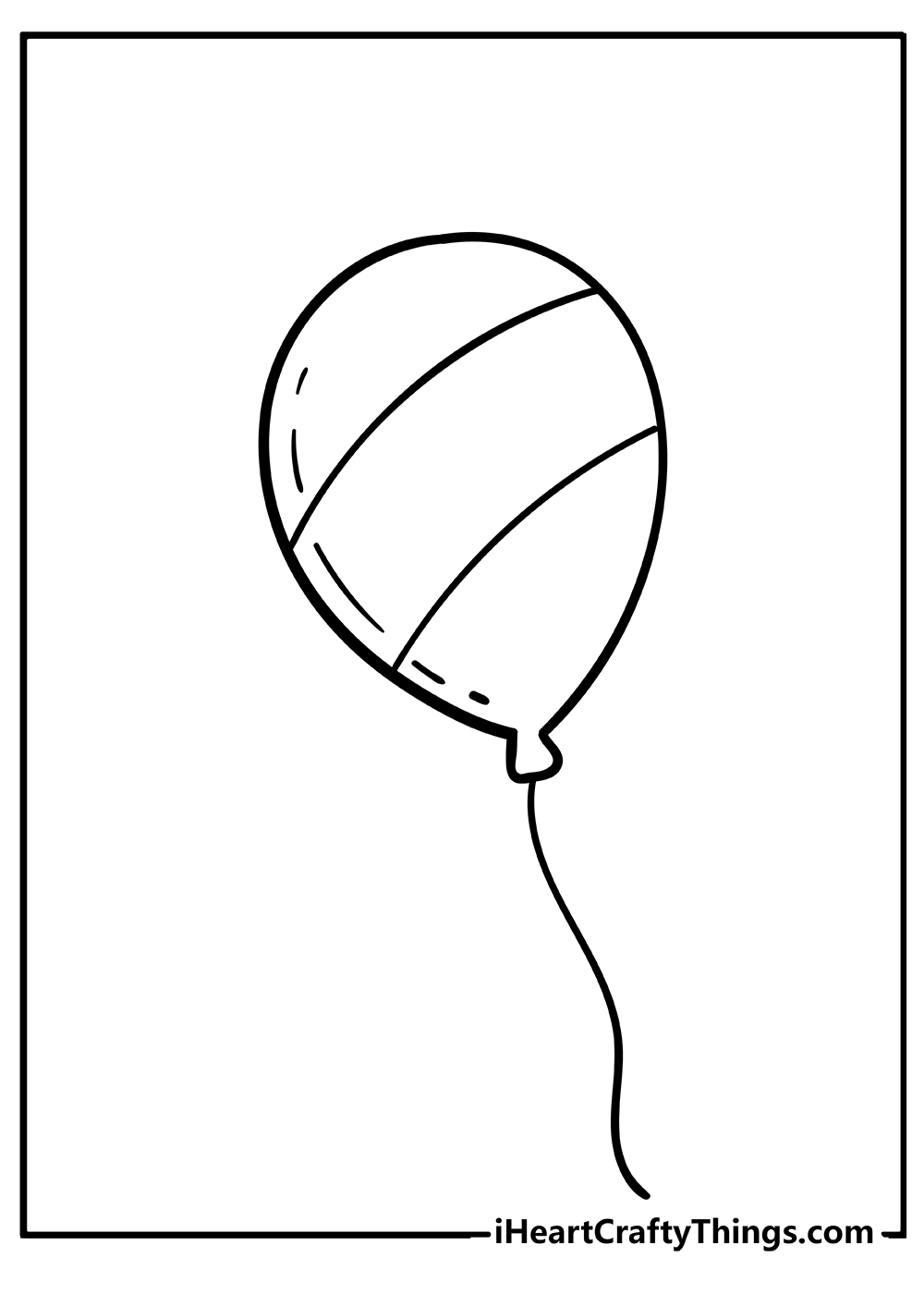 Do you know what's better than playing with a shiny balloon? Playing with more balloons. When it comes to these inflatable decorations, you can never have enough.
On our third balloon coloring sheet, we have five cute balloons that are patiently waiting for you to color them.
You can choose a different color for each of them, or you can use one single shade. We recommend red for a vibrant and lively look.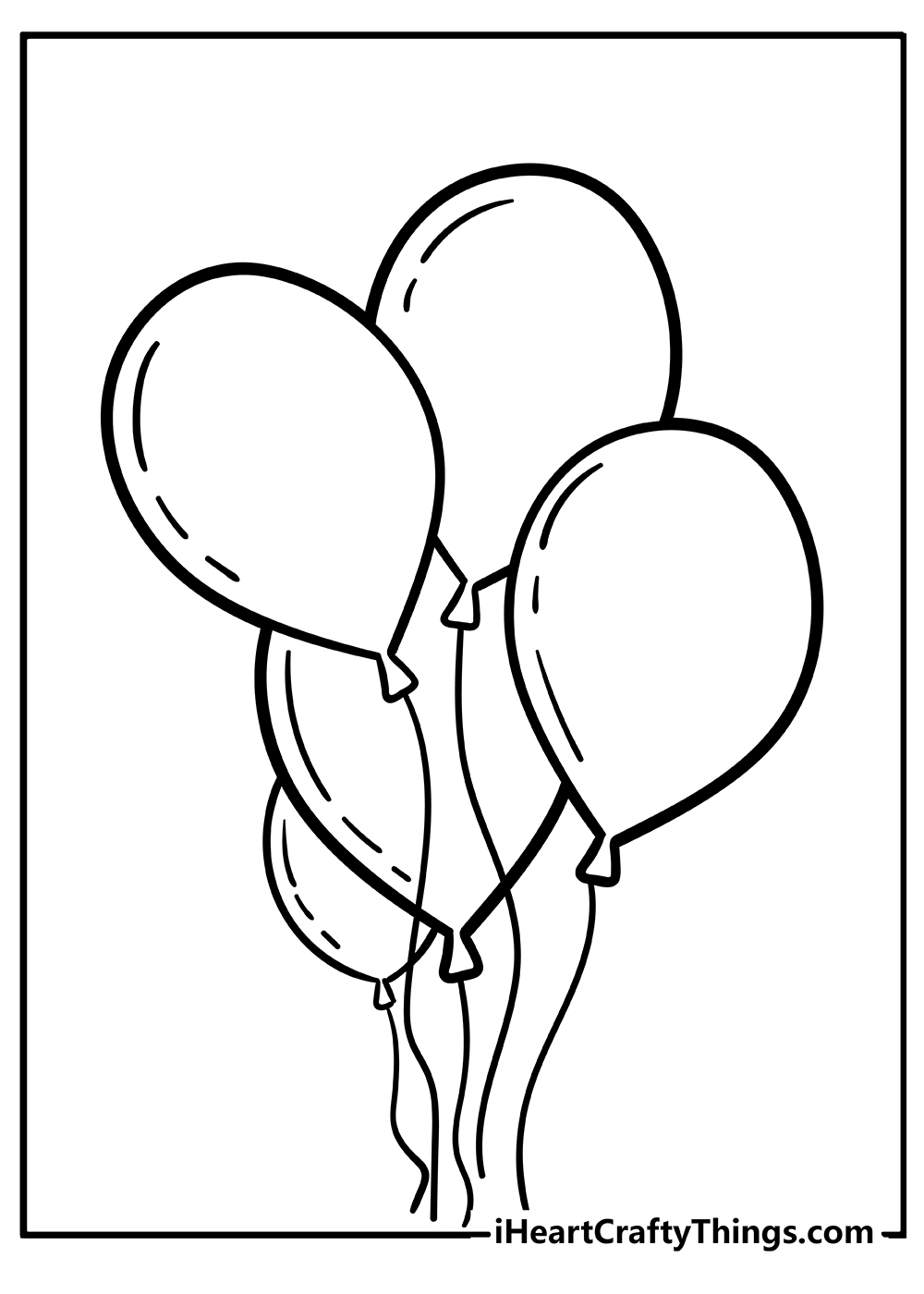 What a lovely balloon coloring page. This page features a bunch of heart-shaped balloons tied together with strings.
They are floating in the air with clouds below them. Can you imagine how romantic and magical this scene is?
You can make it even more so by coloring the balloons with your favorite colors. How about using some red and pink colors to show your love?
Don't forget to share your finished balloons coloring pages with us on our social media pages.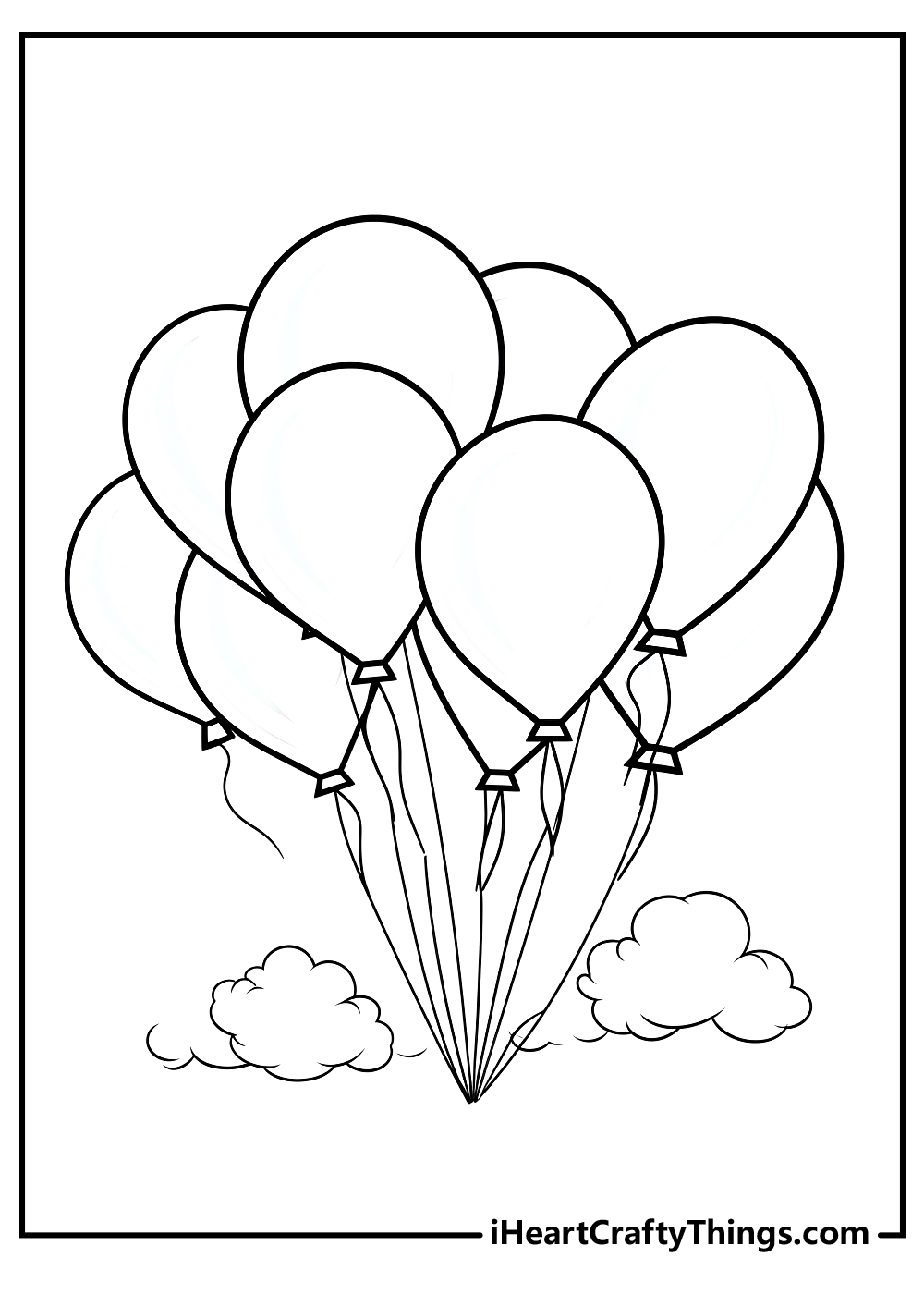 There's no denying that balloon clusters are great as a party decoration. You can build balloon arches with them or hang them all over the place to create a festive ambiance.
Here's a balloon cluster that can instantly get you in the party mood. We have six balloons with different shapes, sizes, and patterns that would look great at any celebration.
The stripes, circles, dots, hearts, and spiral patterns make for a very fun coloring experience.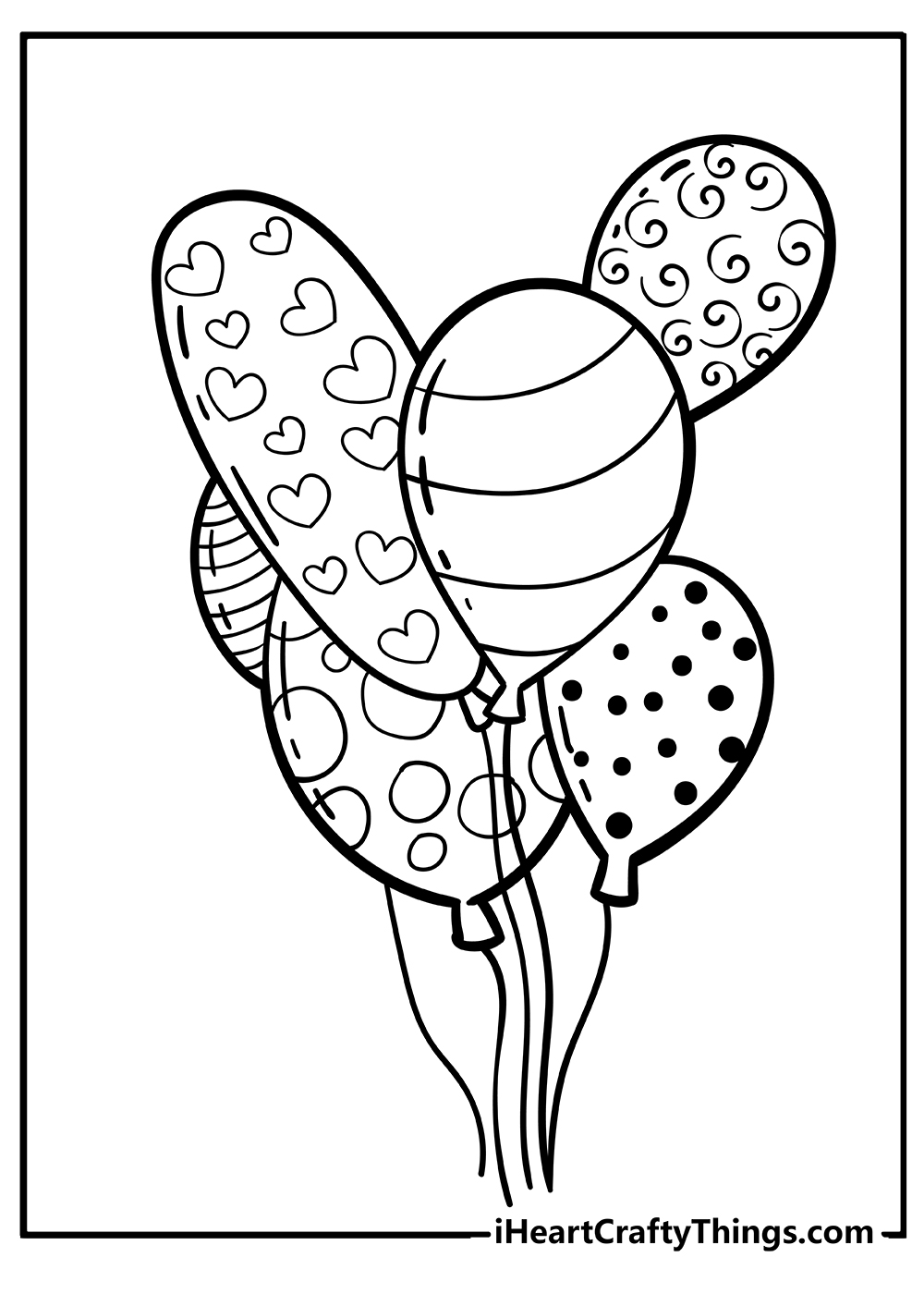 Children could never grow tired of playing with classic oval-shaped balloons. But it's just as true that heart-shaped balloons are something special, as you can see in this coloring printable.
Here we have eight heart-shaped balloons, some plain and some with patterns on them. The balloon in the middle is a lot bigger than the rest, but all of them are equally wonderful.
You can color them in traditional red, but you can also experiment with other shades, especially for the patterns. Don't be afraid to use your imagination.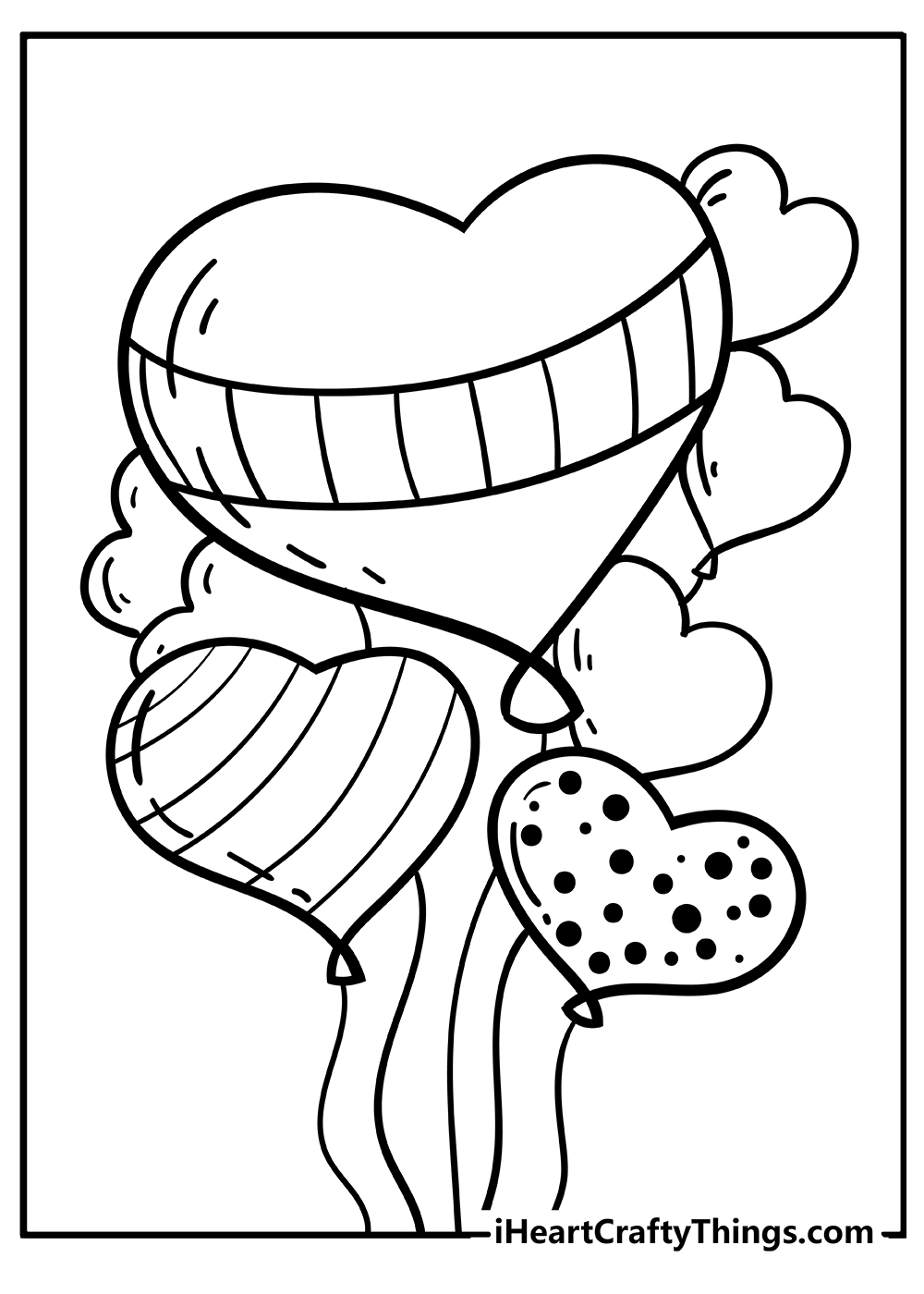 If you prefer balloons with interesting patterns, you'll surely love this balloon coloring printable.
The balloon featured on this page has a cute pattern with dots and stars that you can color in your favorite shades.
We're wondering where this balloon is headed. By the looks of it, we'd guess it's flying high in the sky.
You can even draw some clouds behind it to make it look like it's reaching for the moon and the stars.
Up, up, and away. This coloring page has bright balloons floating high in a beautiful and cloudy sky. Give each big, oval balloon its own fun color combination.
This balloon coloring page is radiating so much joy and excitement. You can make it even more lively by coloring the balloons with bright colors.
Make one with red and white stripes like a peppermint candy, another like a rainbow with all the colors of the rainbow, and others with yellow polka dots.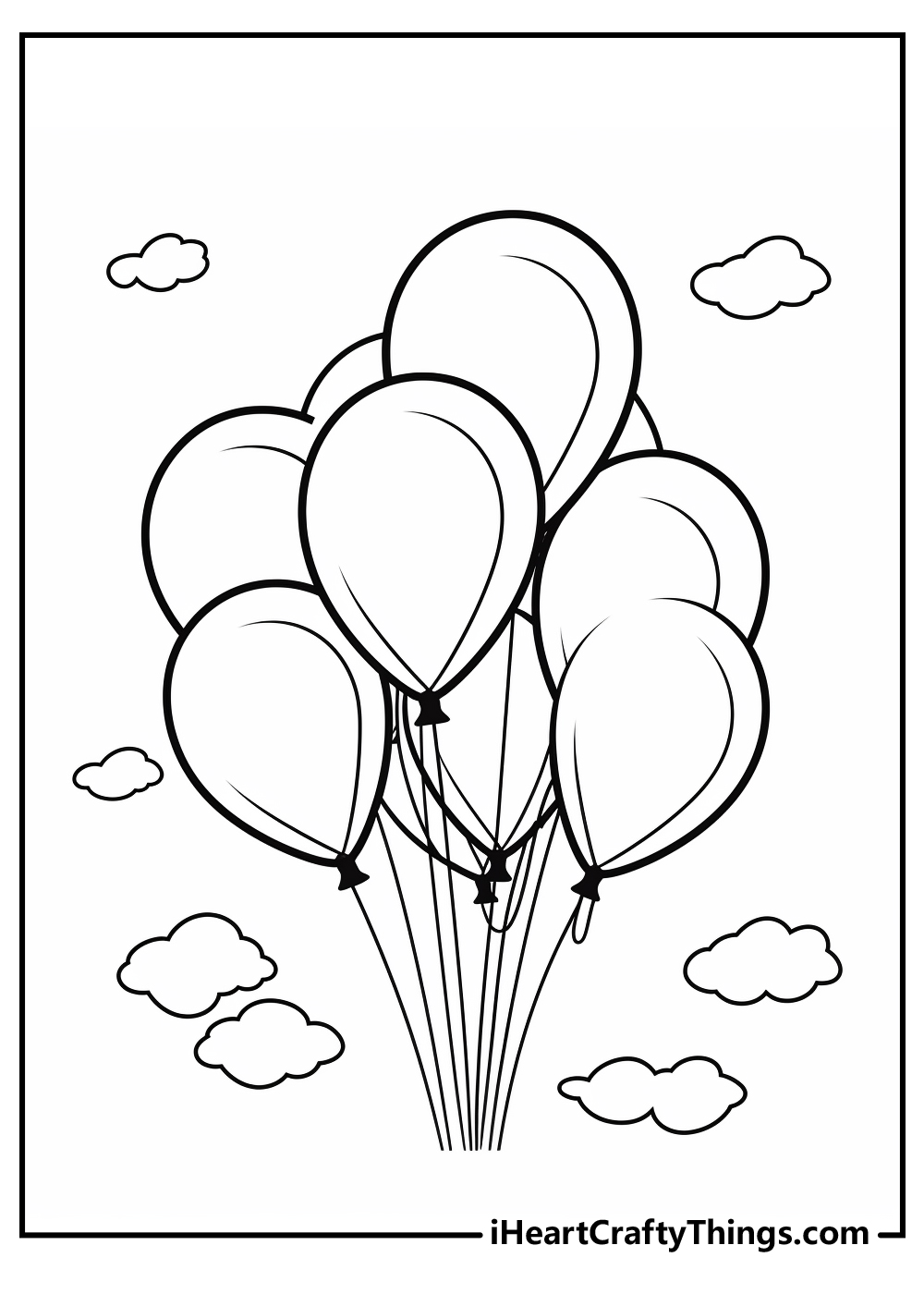 Looking for some quick and easy gift ideas? Then you're in luck. Balloons can also make great gifts for any occasion.
All you have to do is choose a few pretty balloons, attach a cute bow to them, and you're done.
The balloons in this coloring printable look like they can be an amazing birthday present for children and adults alike.
The balloons on the side have stripes on them, while the one in the middle has a stars and dots pattern.
What shades would you use to bring this adorable coloring page to life?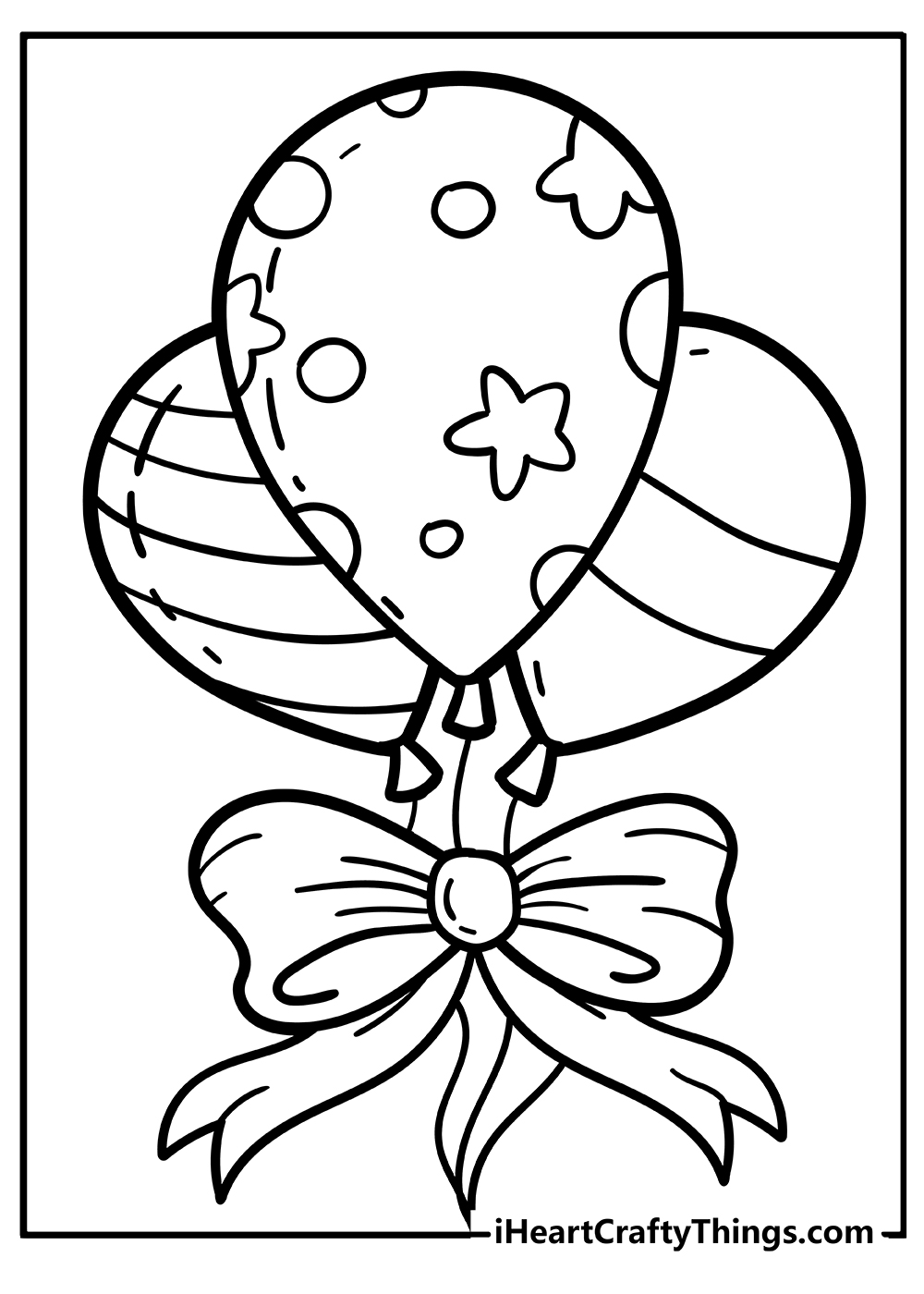 Can you count the number of balloons here? They are nine in total floating over the trees. Color each balloon with a different pattern to show its unique personality.
You can give one zigzag stripes in orange and green, make another one purple and yellow, try rainbow stripes or swirls and bursts – anything that looks fun.
The colorful balloons and peaceful night sky will create a joyful scene.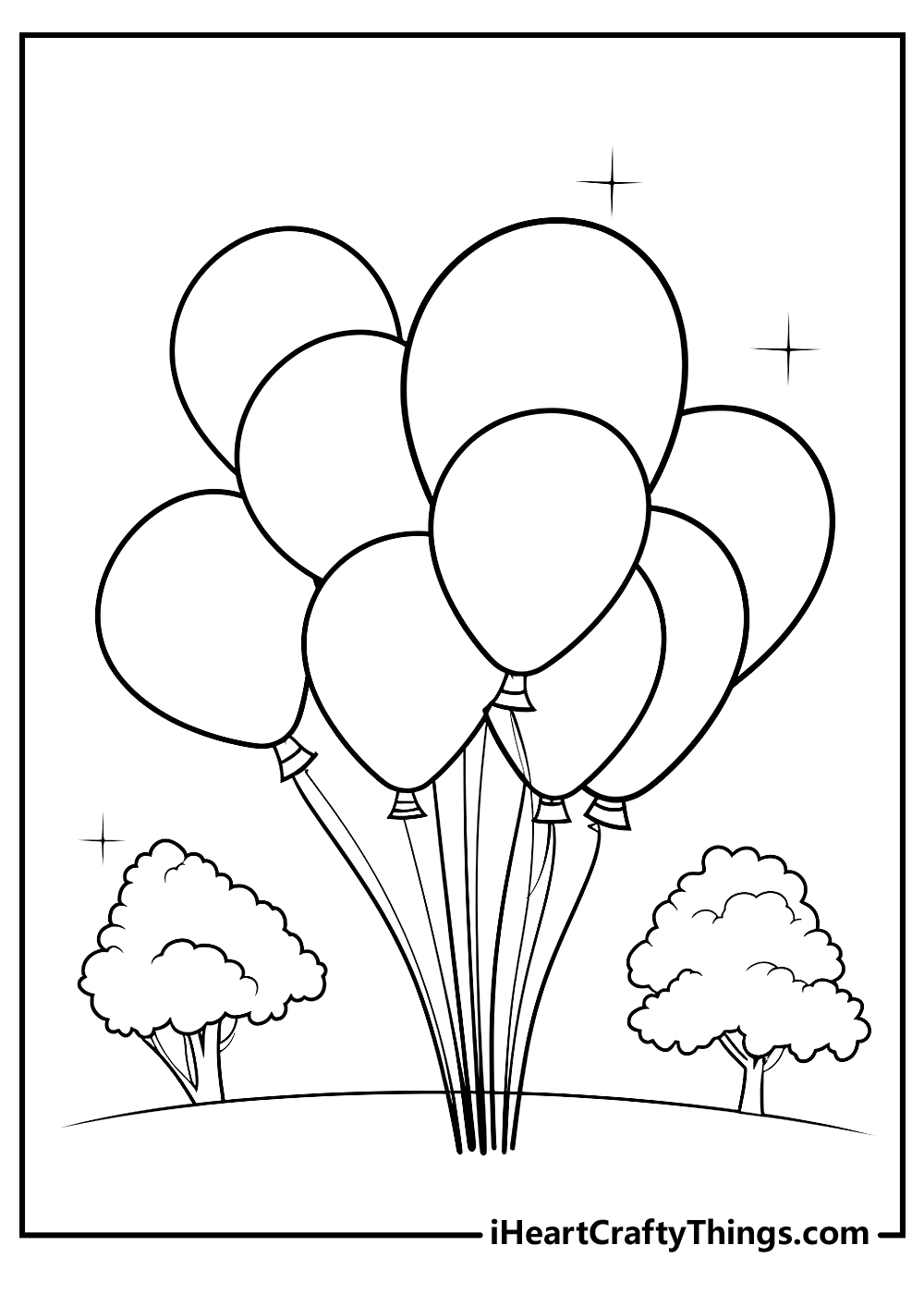 It's not a party if you don't have a few cute balloons flying around the place. Children simply love these decorations, but we know that adults also have a soft spot for them.
And what's not to love? They're pretty, whimsical, and fun to play with.
That's exactly what we can see in this coloring printable: three balloons that would look great in any party setting.
The one at the bottom is oval, with a stripe pattern, the one in the middle is star-shaped and the one at the top is heart-shaped.
They're going to look absolutely amazing once you color them.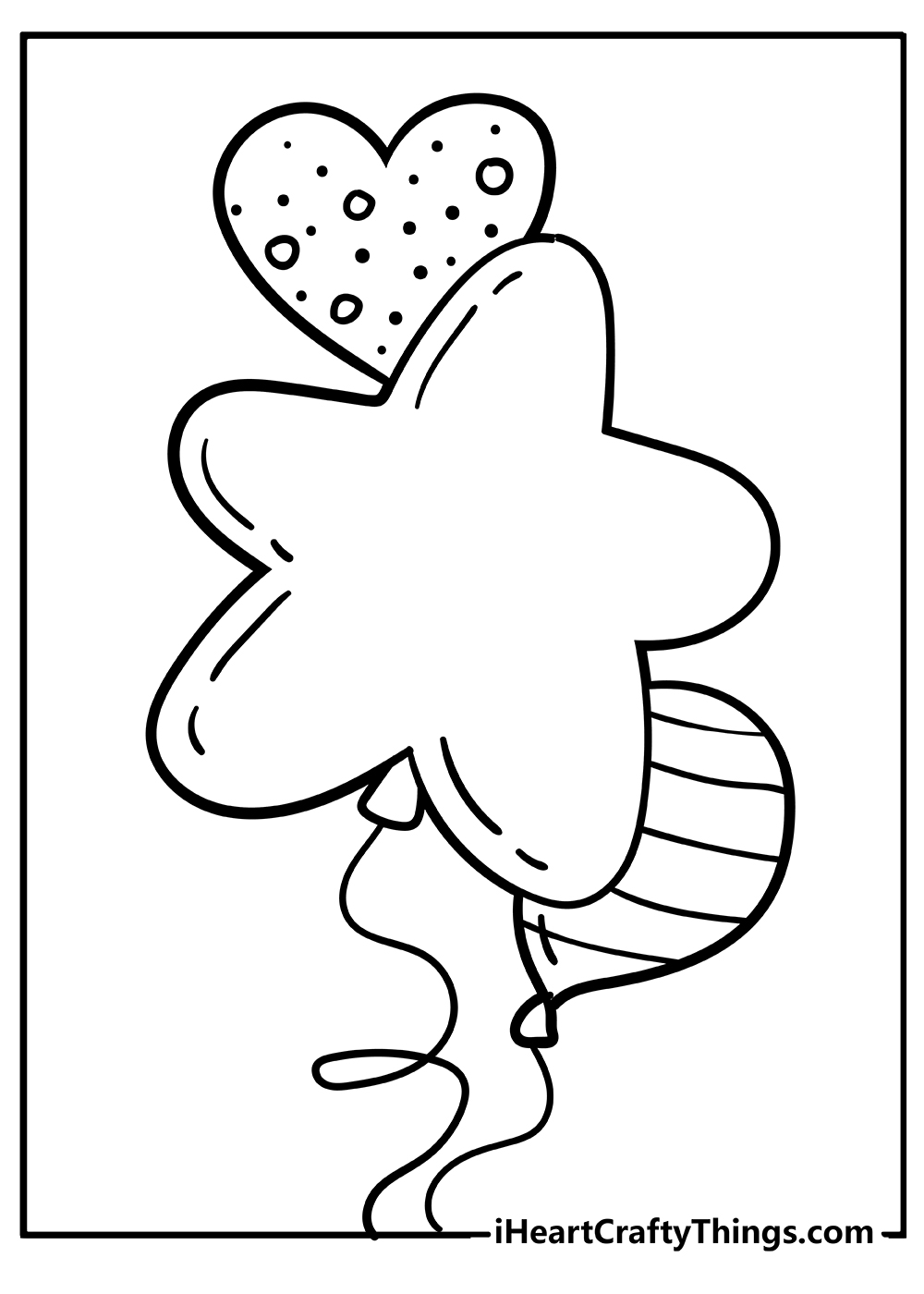 Did you know that balloons can be turned into amazing toys by twisting them into all sorts of interesting shapes?
This is a fun activity that parents and children can do together. We're sure that everyone will have a great time.
Here we have a lovely dog-shaped balloon to serve as an inspiration. Obviously, there are many other shapes you can create with balloons, but this one is a favorite for children of all ages.
Until you learn to make one yourself you can color this cute balloon in your favorite color.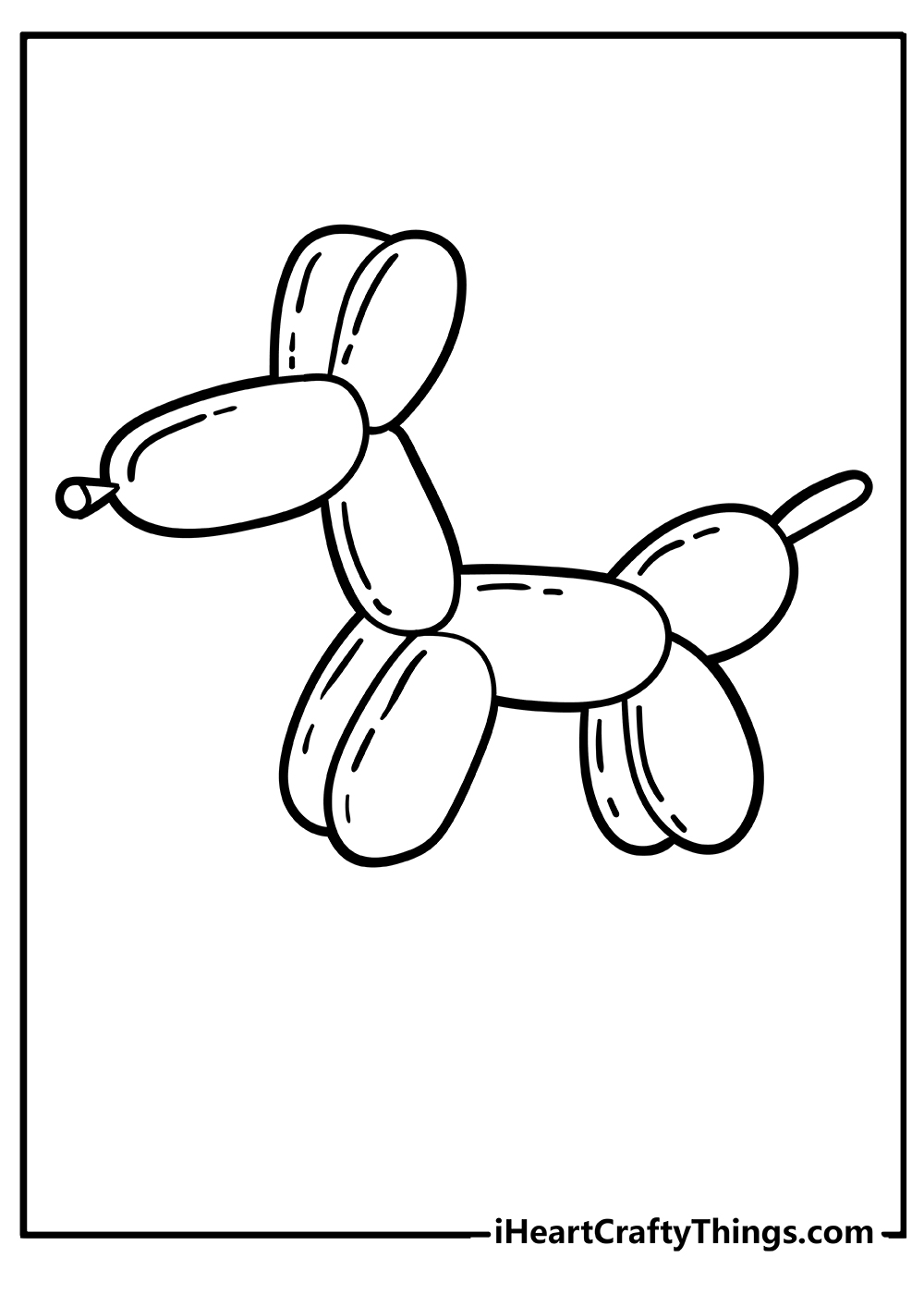 Get ready for lift-off with this magical balloon coloring page! See the bunch of balloons dancing through the sky? They're tied to a swirly weight with ribbons streaming behind them.
Let's pretend each balloon is filled with a different happy thought or memory. Every color represents something special that lifts your spirits.
Color the first balloon sunshine yellow for your favorite summer day.
Make another balloon cotton candy pink for the sweet treat you love. And choose grassy green for a balloon filled with your happiest picnic memory.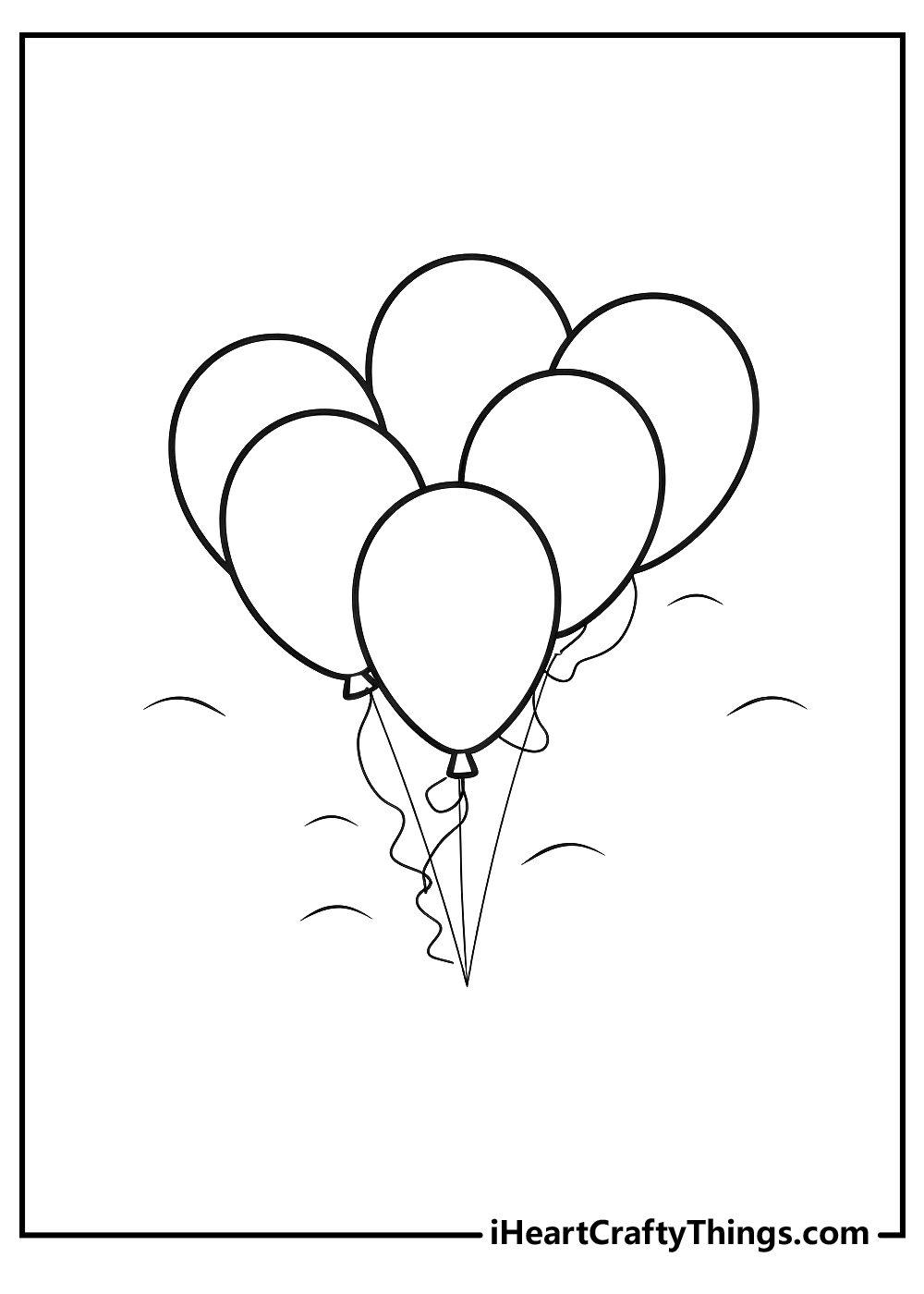 There's something whimsical and festive about balloons that can instantly brighten your day.
That's probably why they are used for all sorts of occasions, from birthday parties to baby showers or anniversaries.
This coloring page features a big cluster of balloons that we assume is going to serve as a wonderful decoration at a party.
There are so many different ways to color these balloons. No matter what shades you choose, they're definitely going to look amazing.