There are few things as relaxing as spending some time in a beautiful garden. You can admire so many colorful, fragrant flowers, and there are tons of little insects and other wildlife to see as well.
This collection of free garden coloring pages for kids aims to capture that serene feeling of being in a beautiful garden.
There are 15 free pages to enjoy that capture all aspects of the wonders you can enjoy when out in nature, and you will have many chances to get creative with it!
We can't wait for you to see what we have in store, so let's begin.
15 Brand New Garden Coloring Pages – Free to Print and Color
This first garden coloring page that we are featuring has a truly wonderful scene! Not only is it a great scene, but there are also so many amazing details that you can color in.
From the pretty flowers to the bees and the rays of the sun, you have so many options for how you can create an absolutely stunning garden scene!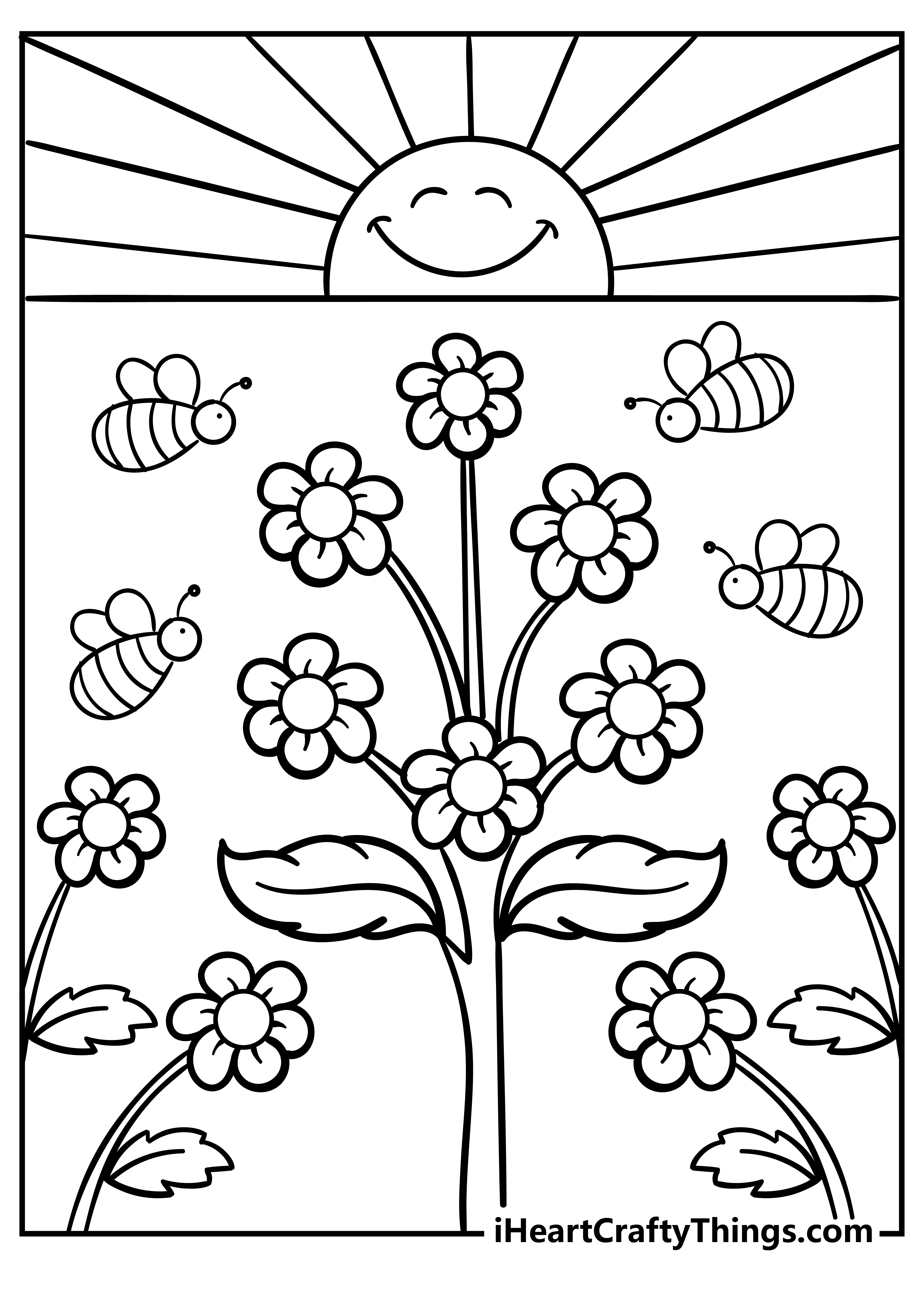 Get ready to relax with some colors for this next garden scene we have for you. This one presents a lovely garden setting complete with trees, flowers, a fence and even a rainbow.
You can use all of your favorite colors in order to create a truly stunning image for this one!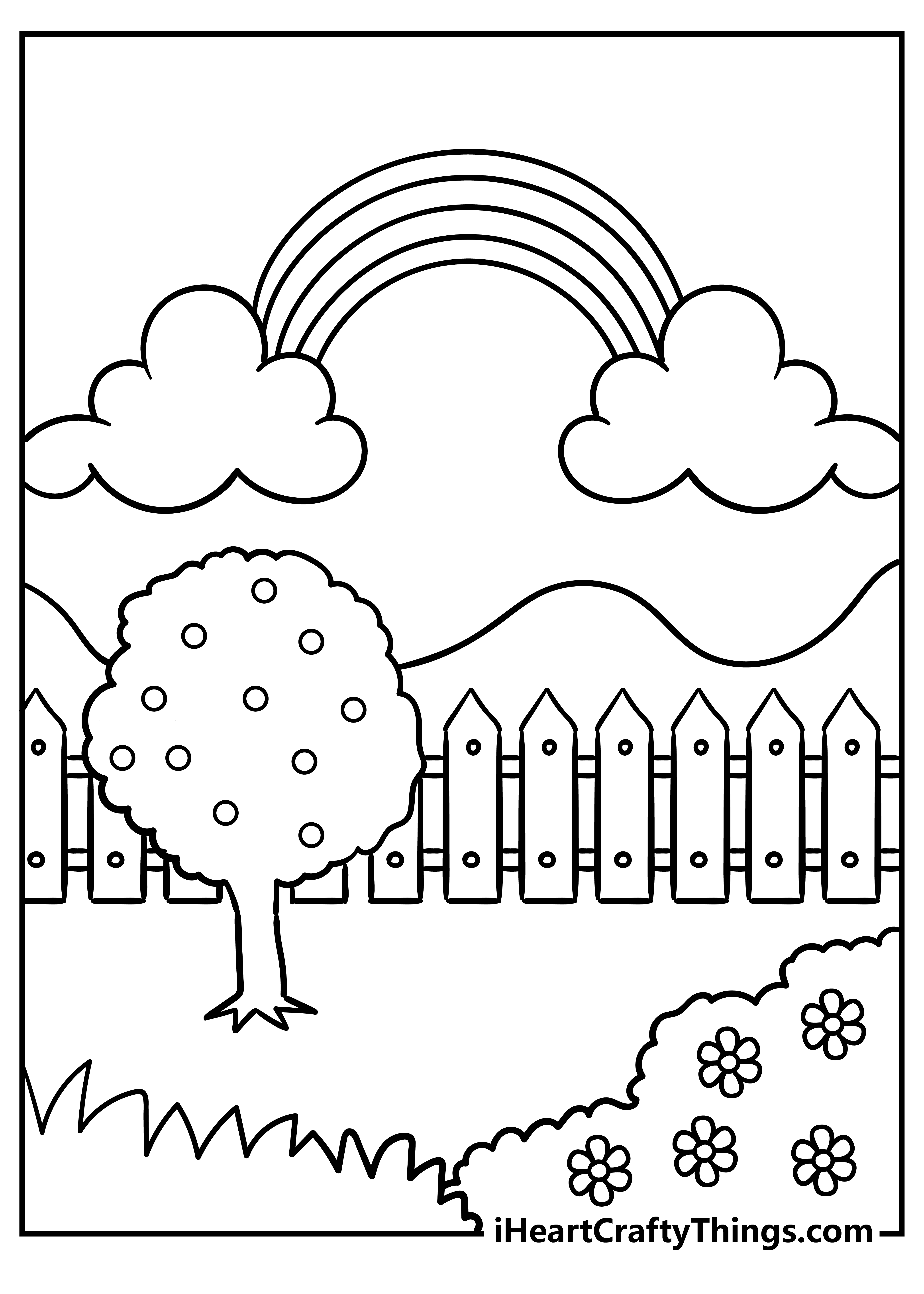 The sun is shining and the flowers are blooming in this next garden.
For the sun and the flowers, we would use some bright colors done with some vibrant art mediums in order to really make them pop off of the page.
What colors and techniques are coming to mind for you when you look at this particular scene?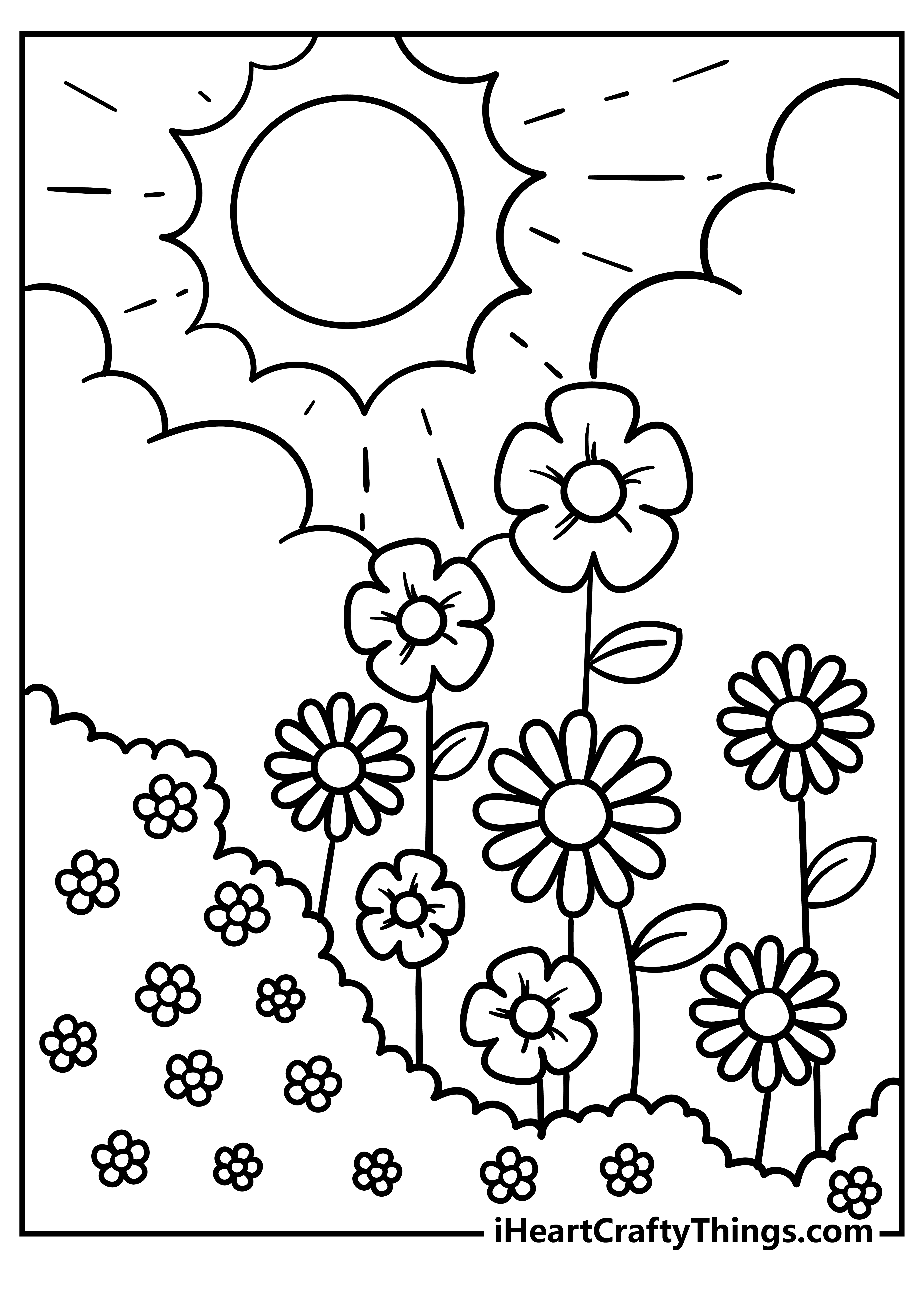 Next, we have a garden coloring page that has some beautiful flowers surrounded by some buzzing bees! When coloring these garden scenes, you can do more than just color them.
You could also add some details of your own, and some ideas would be to add even more flowers or insects that can make the scene even more vibrant.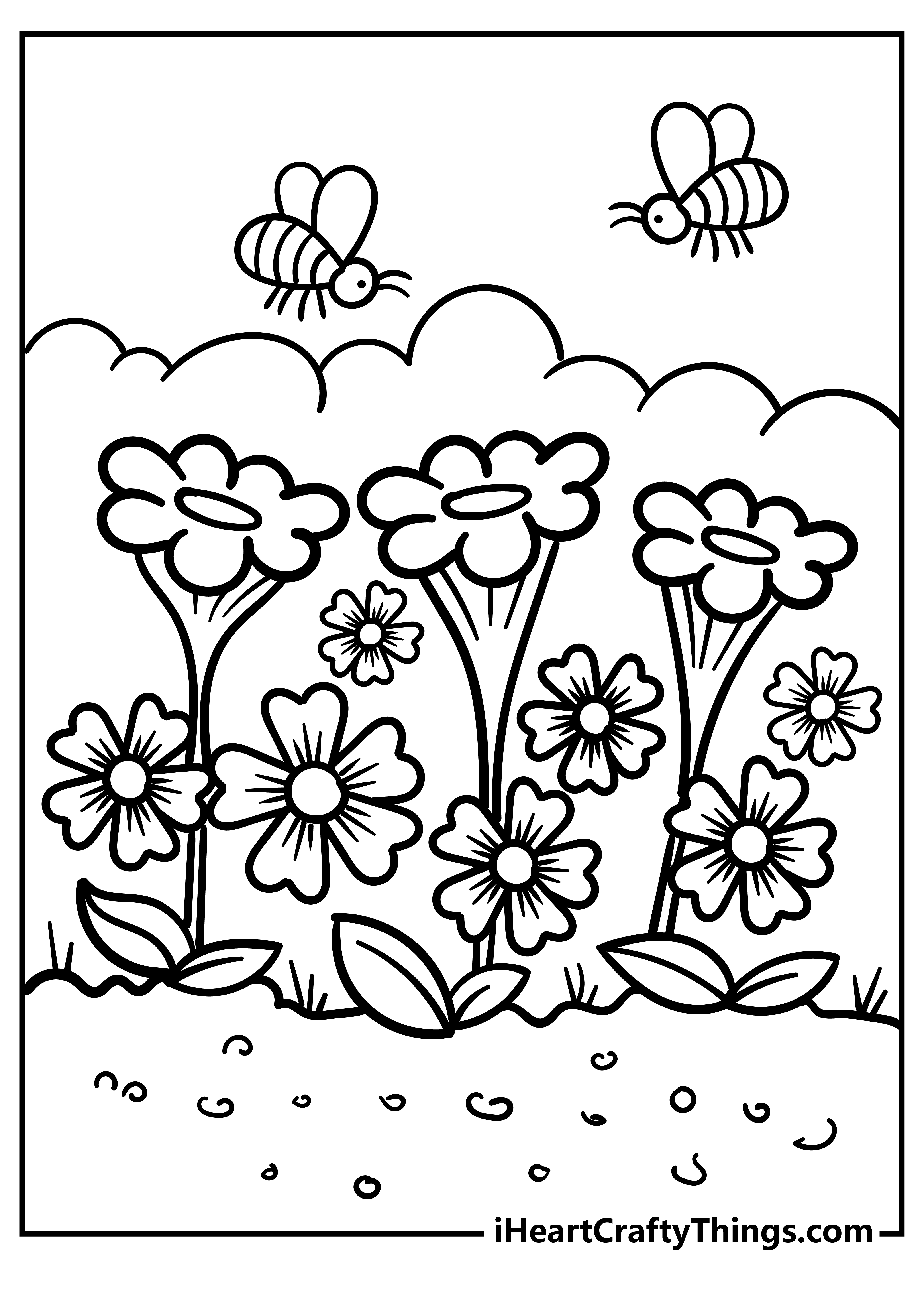 There is a stunning trio of roses for you to color on this next page. The details on these roses are truly spectacular, and they present a bit of a coloring challenge for you.
While it may take a bit of time and concentration, it will be worth it when you have some absolutely beautiful flowers to show off.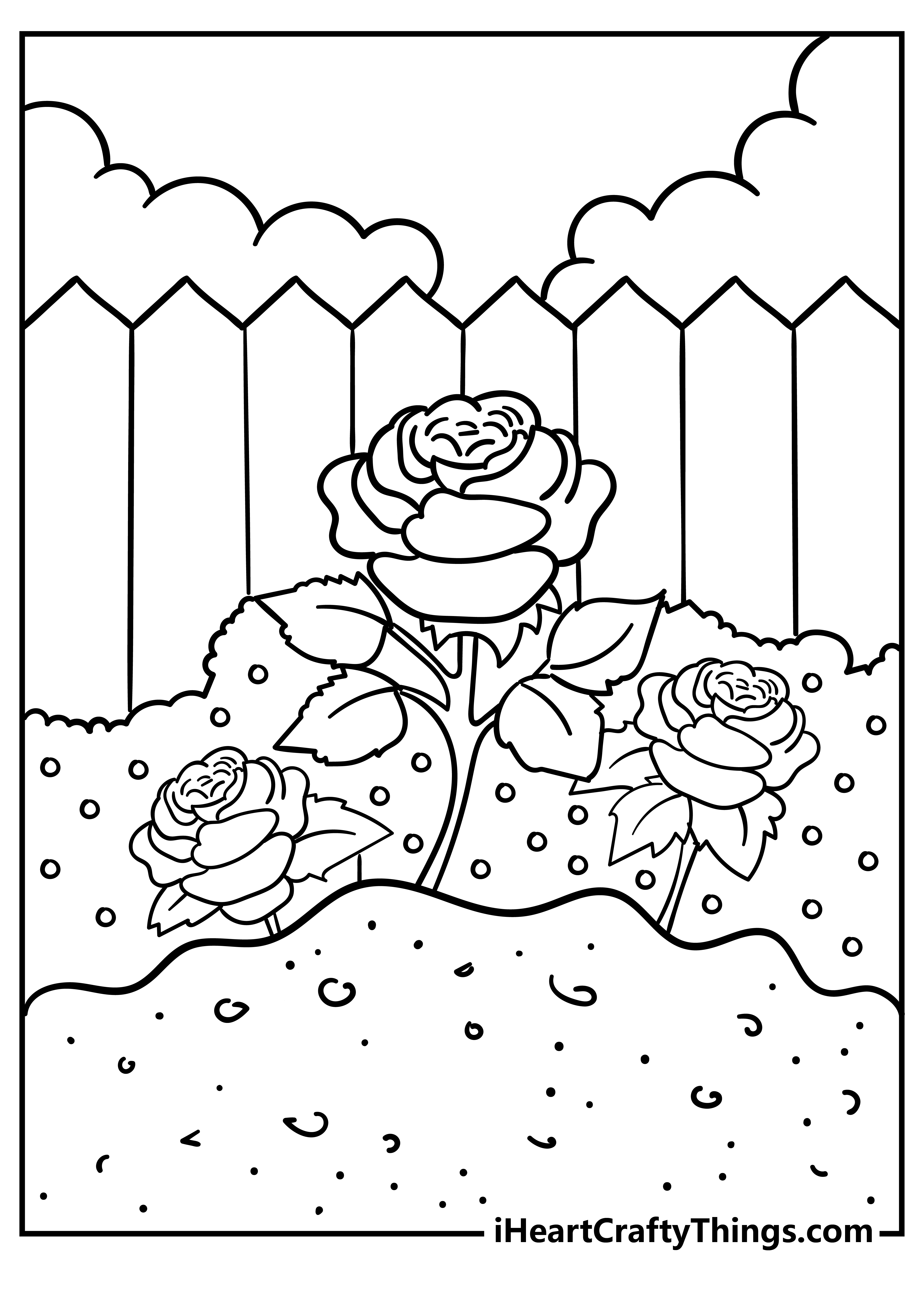 You can almost feel the gentle breeze blowing across this next scene. These flowers look like they could be tulips, and if that is the case then you have so many options for the colors that you use.
You could go for some more muted, realistic colors, but you can also use any other bright and beautiful colors that you love. What will you choose for these pretty flowers?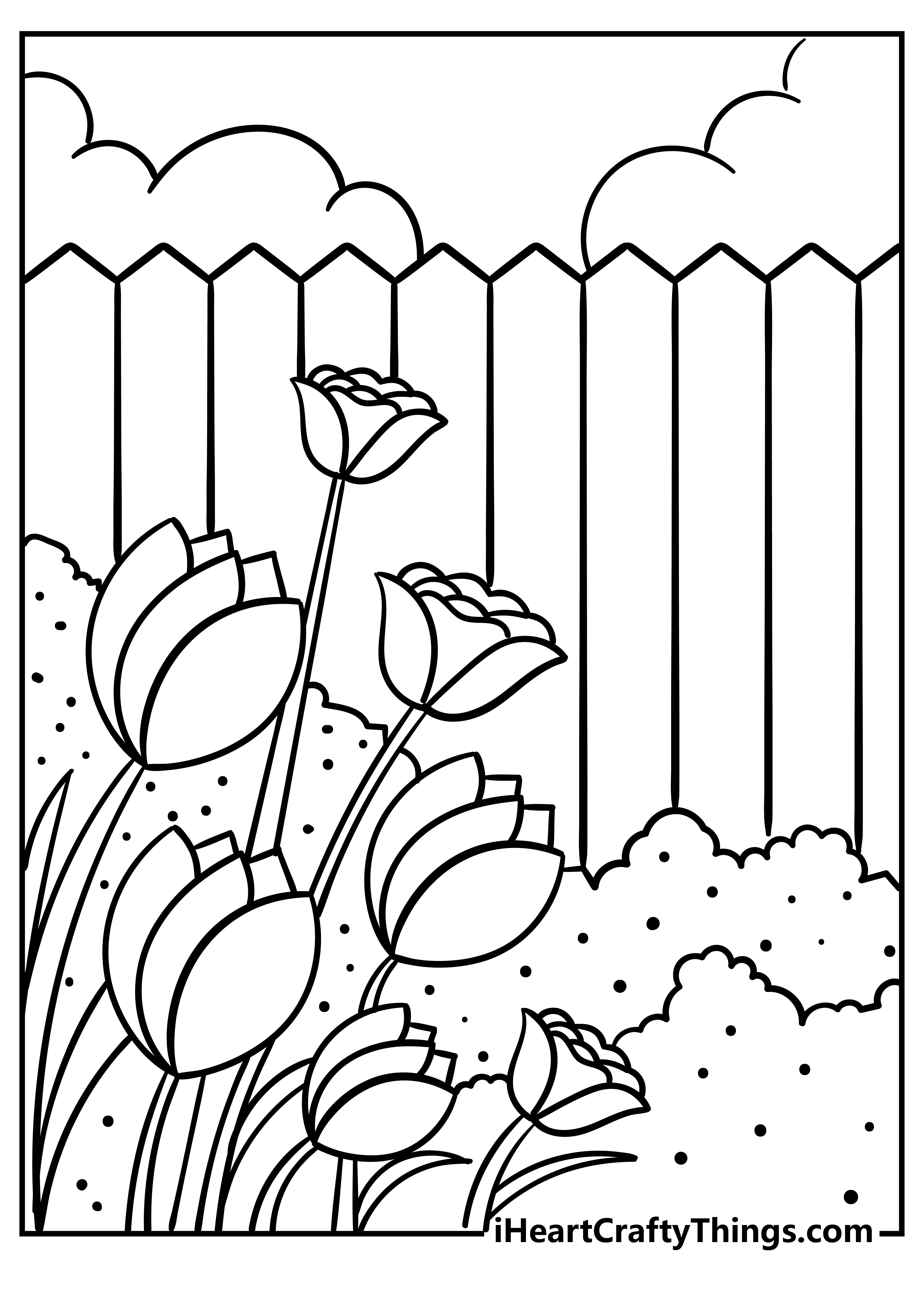 Our seventh page in this collection of free garden coloring pages for kids is simply packed with amazing details.
There are so many flowers and other elements, and this is a scene that you can really take your time with.
For some of the smaller details, you can use mediums such as colored pens or pencils in order to make coloring these smaller elements much easier.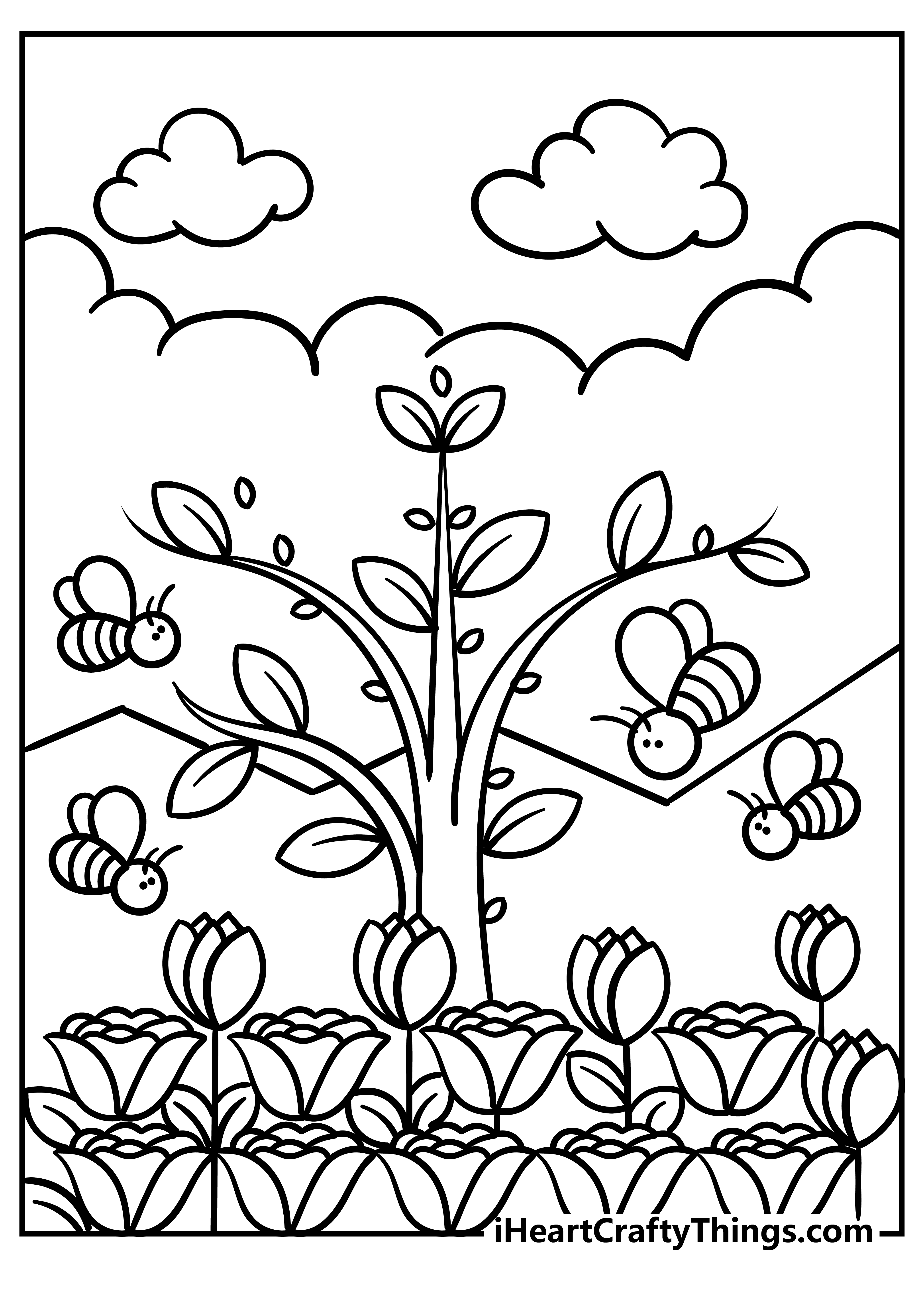 The sun is shining and happy in this next picture, and it makes for a scene that brings a smile to the face!
There are also some other details you could add to this one, and one idea would be to draw some smiley faces on the flowers as well.
That's one idea we had, but what other details would you like to add to this one?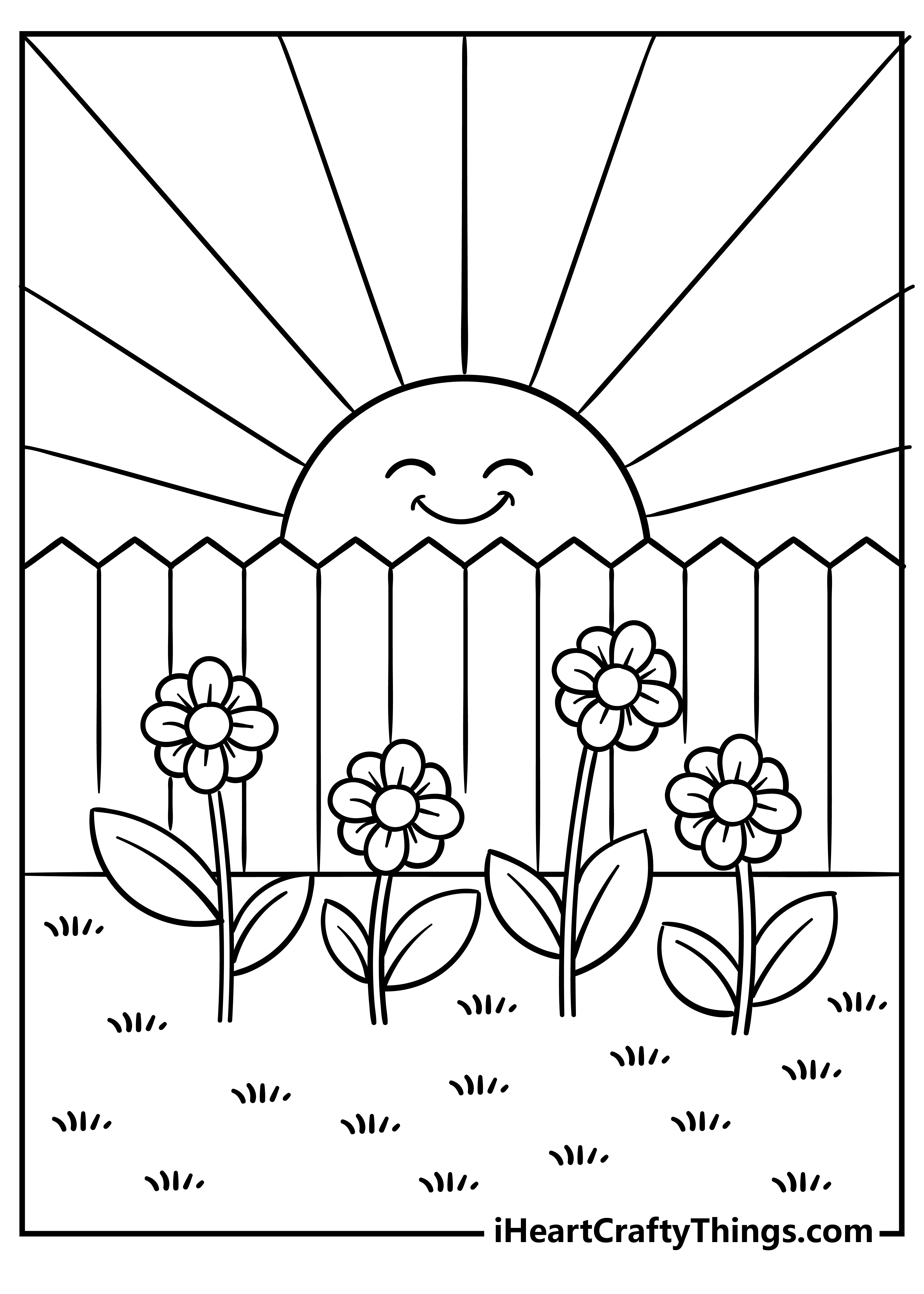 There is fun to be found under the rainbow in this picture! The best part of having a rainbow in the image is that it allows for some amazing colors to brighten up the scene.
We think that using some bright acrylic paints for the rainbow would look simply brilliant. That is just one example of a medium you could use, but what else comes to mind for you?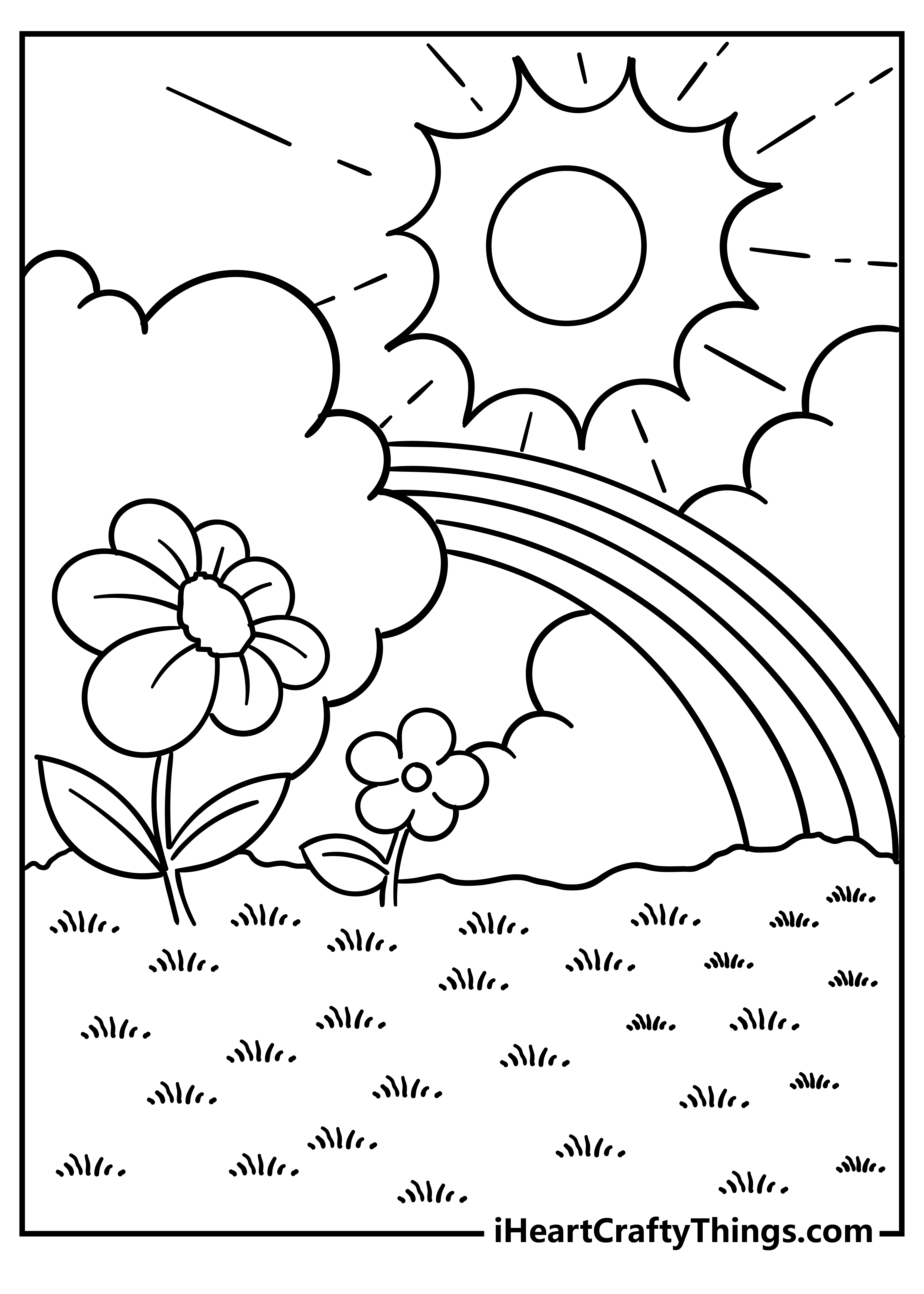 Who wouldn't want to spend a lazy afternoon in this peaceful garden coloring printable?
There is such a calming feeling coming from this one, and we think it would be great to match that feeling with the colors and mediums you use.
For example, we think some watercolor paints would suit it nicely, but there are many mediums and techniques you can use!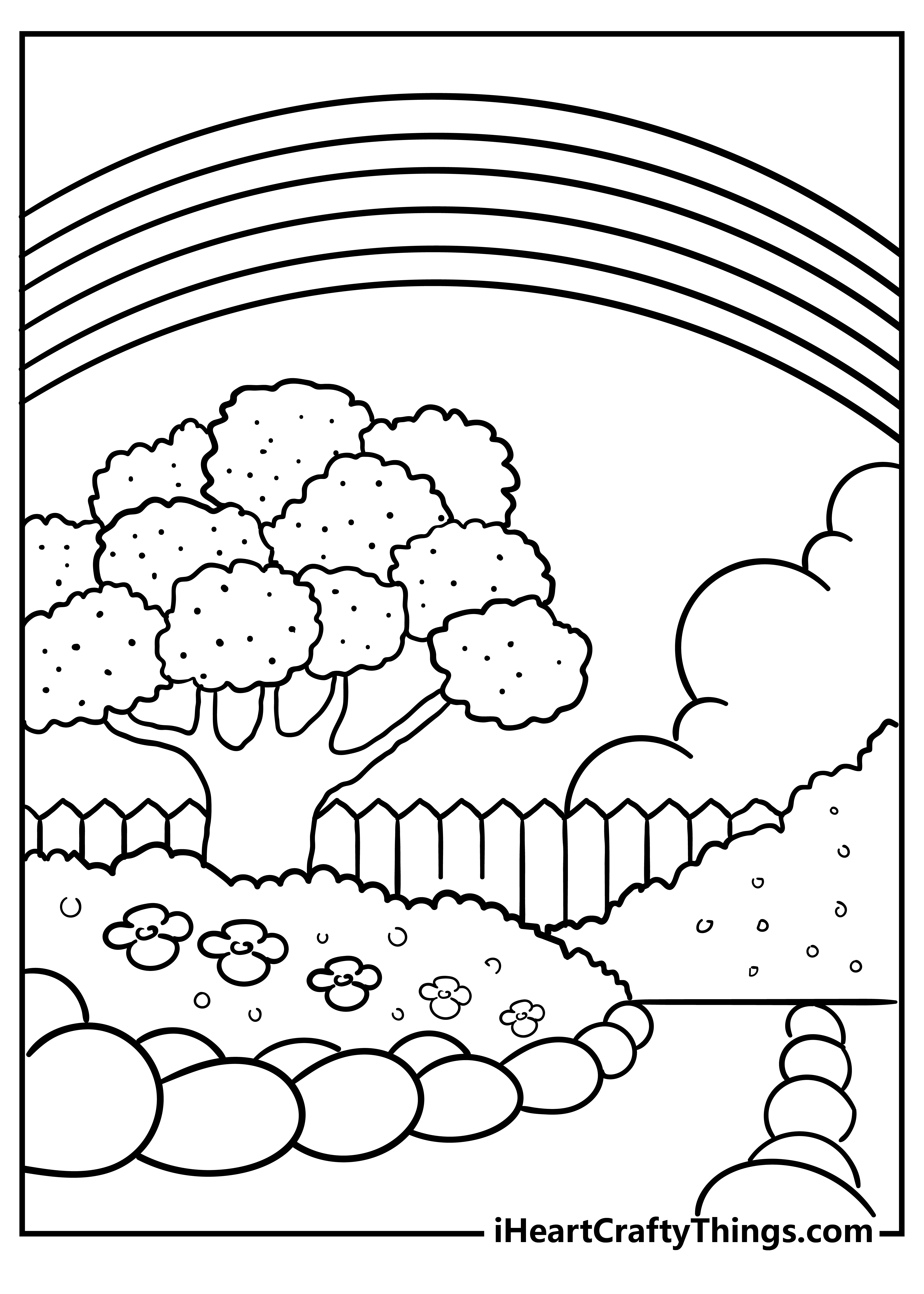 The next page we have for you manages to be bright and vibrant even in black and white!
While that is the case, can you imagine how bright and vibrant it will look when you have worked your color magic on it?
There are so many ways you can color in the many details of this image, and we can't wait to see what some of your ideas are.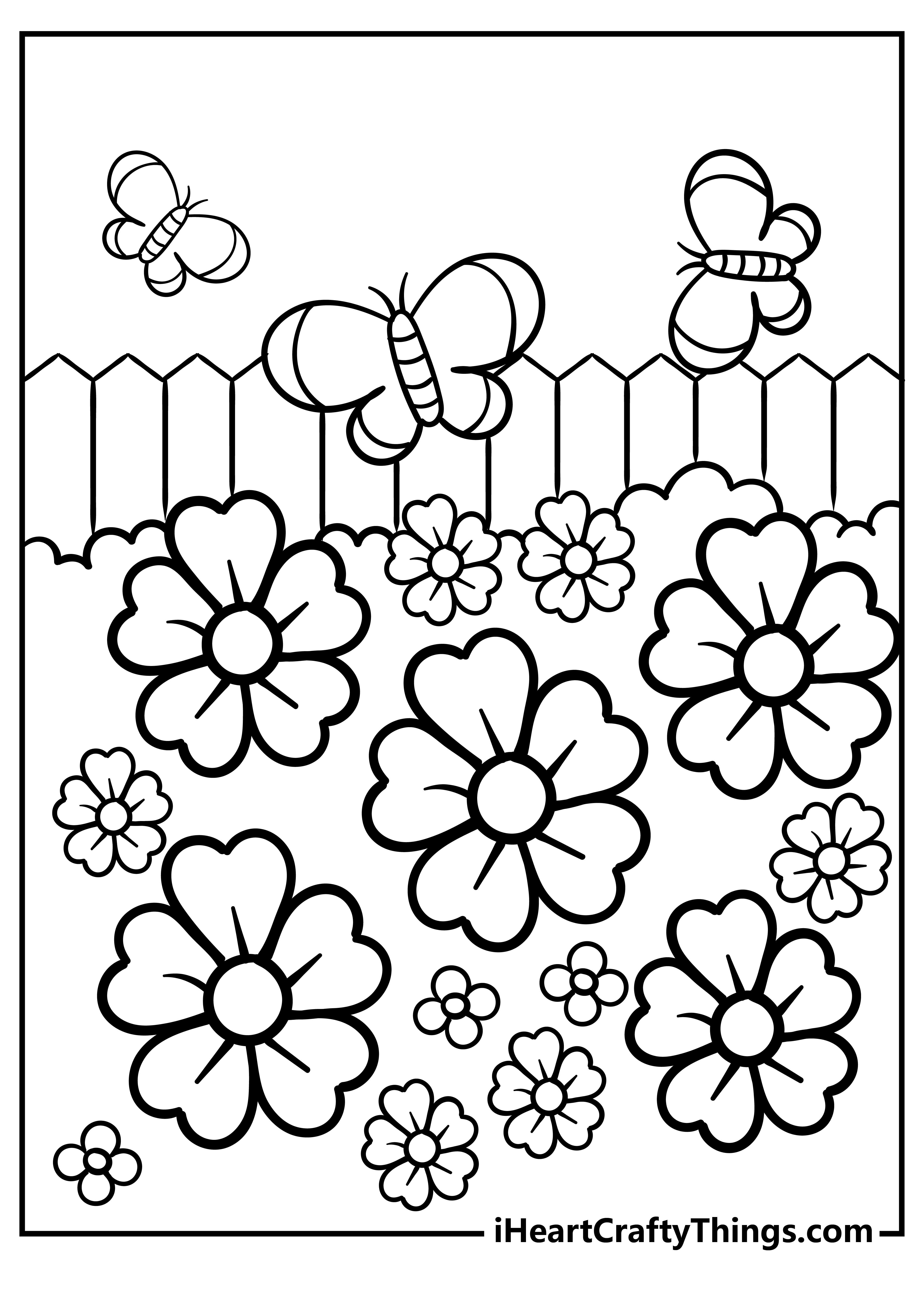 We once again get a lovely calming feeling from this next page.
For that reason, we would probably choose some softer watercolors or colored pencils for this one as well, as they would finish off the calm feeling it gives off brilliantly.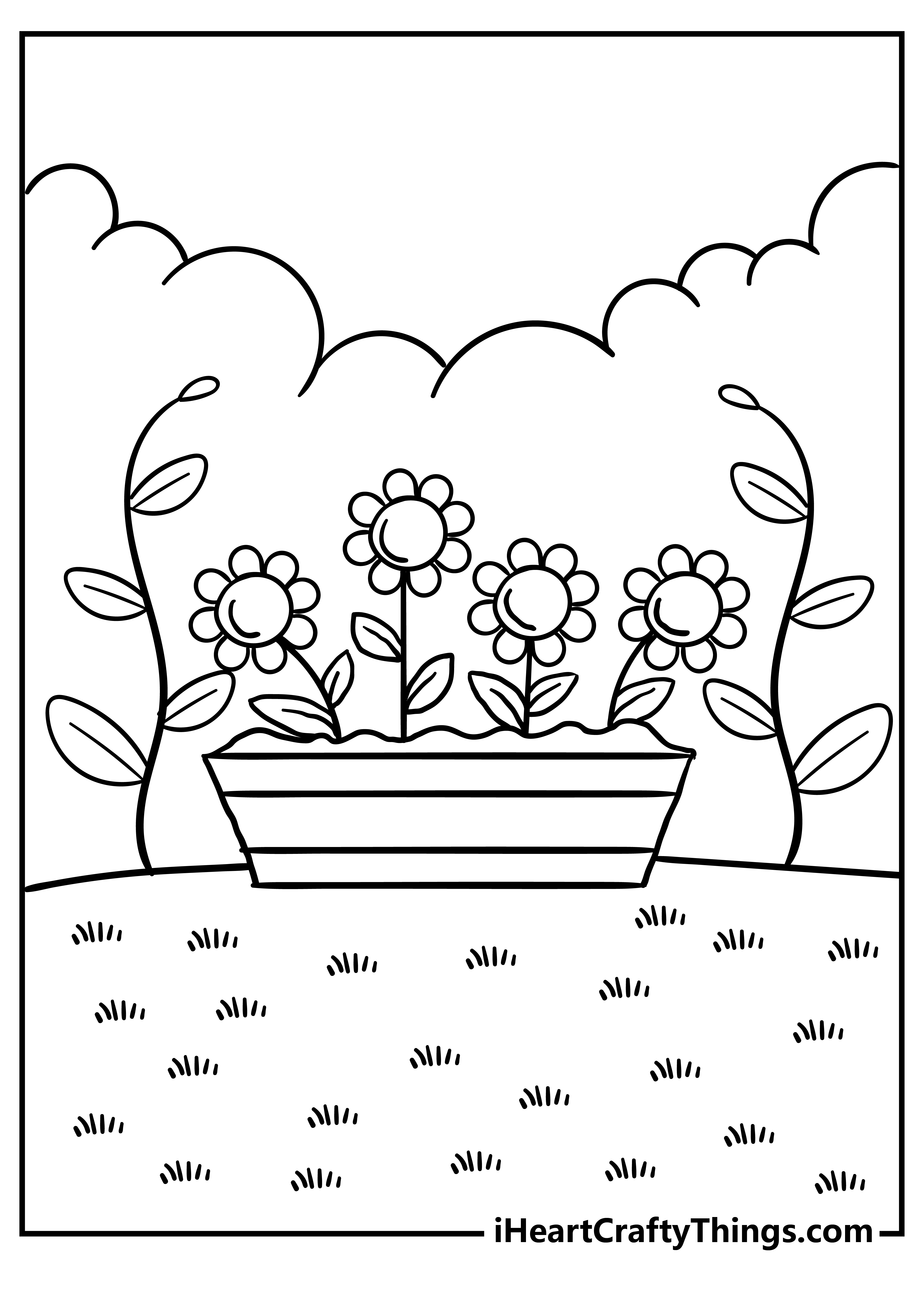 This next page is really busy with details, and there are so many layers to it for you to color!
When adding your colors, remember to take into account how different colors complement and react with one another.
When all of the details are filled in, this will certainly look like an absolutely beautiful scene!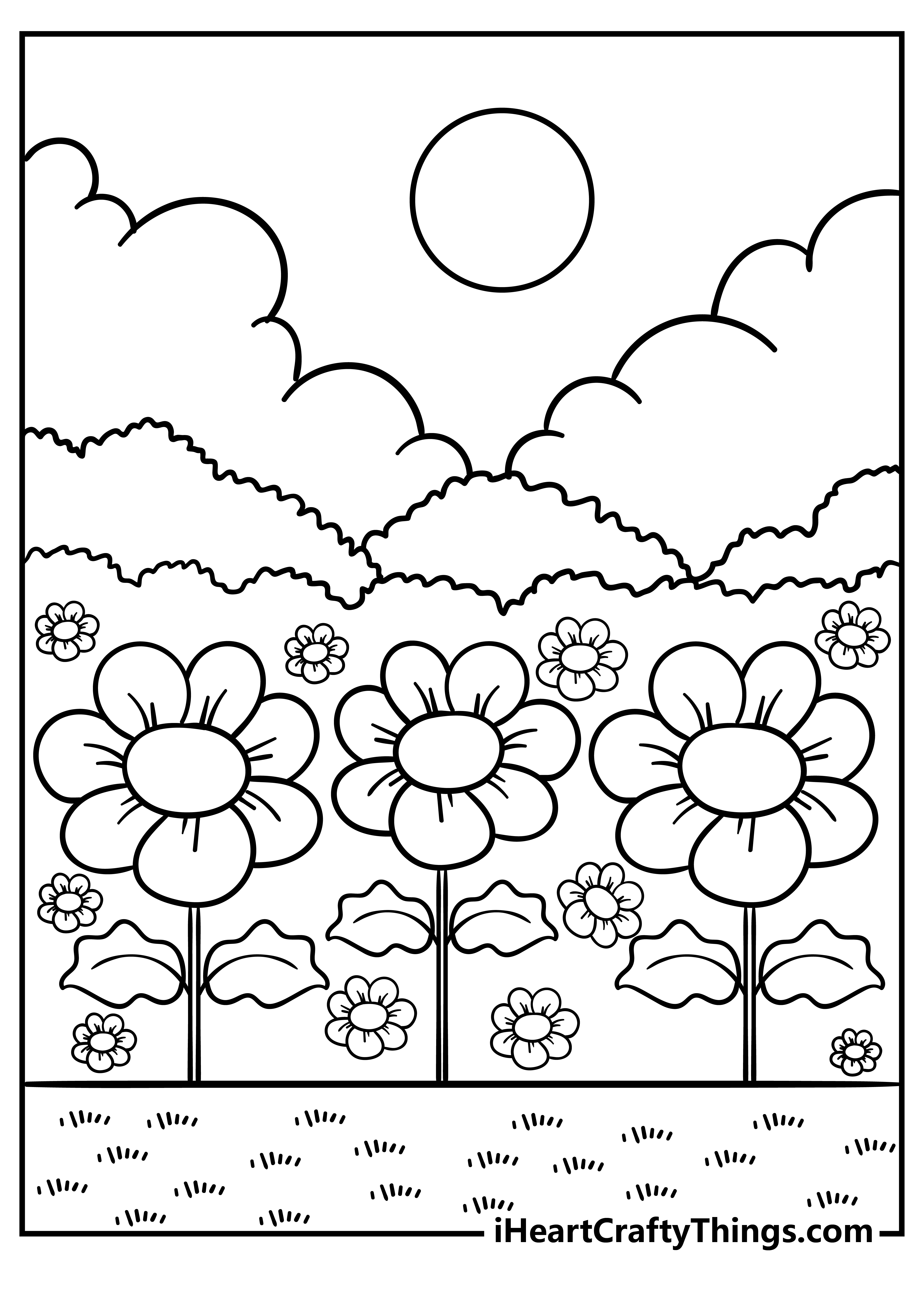 Our next page is a bit more unusual, as it shows a garden that still has a lot of growing to do.
We see a watering can and some smaller plants with a lot of soil, so you have a chance to try out some of your favorite darker, more muted colors and mediums.
You could also draw some more details of your own if you wish for this one to be even more vibrant!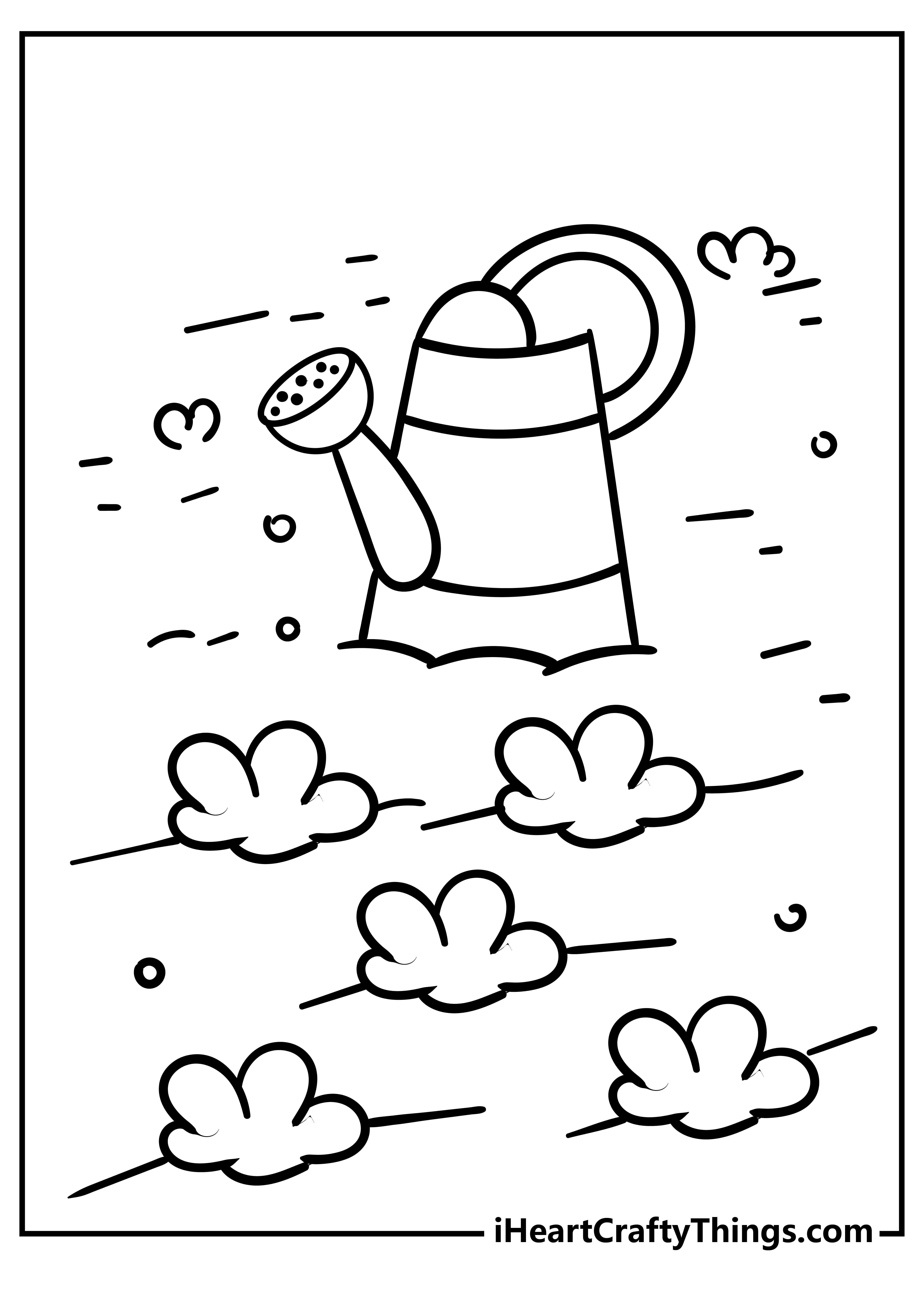 There are so many flowers in this final garden coloring sheet, and it's another page that looks really bright and vibrant even without color!
When coloring these many flowers, you could go for a few alternating colors or try to make every one a unique color. Either approach would look amazing, so what will you choose for this last page?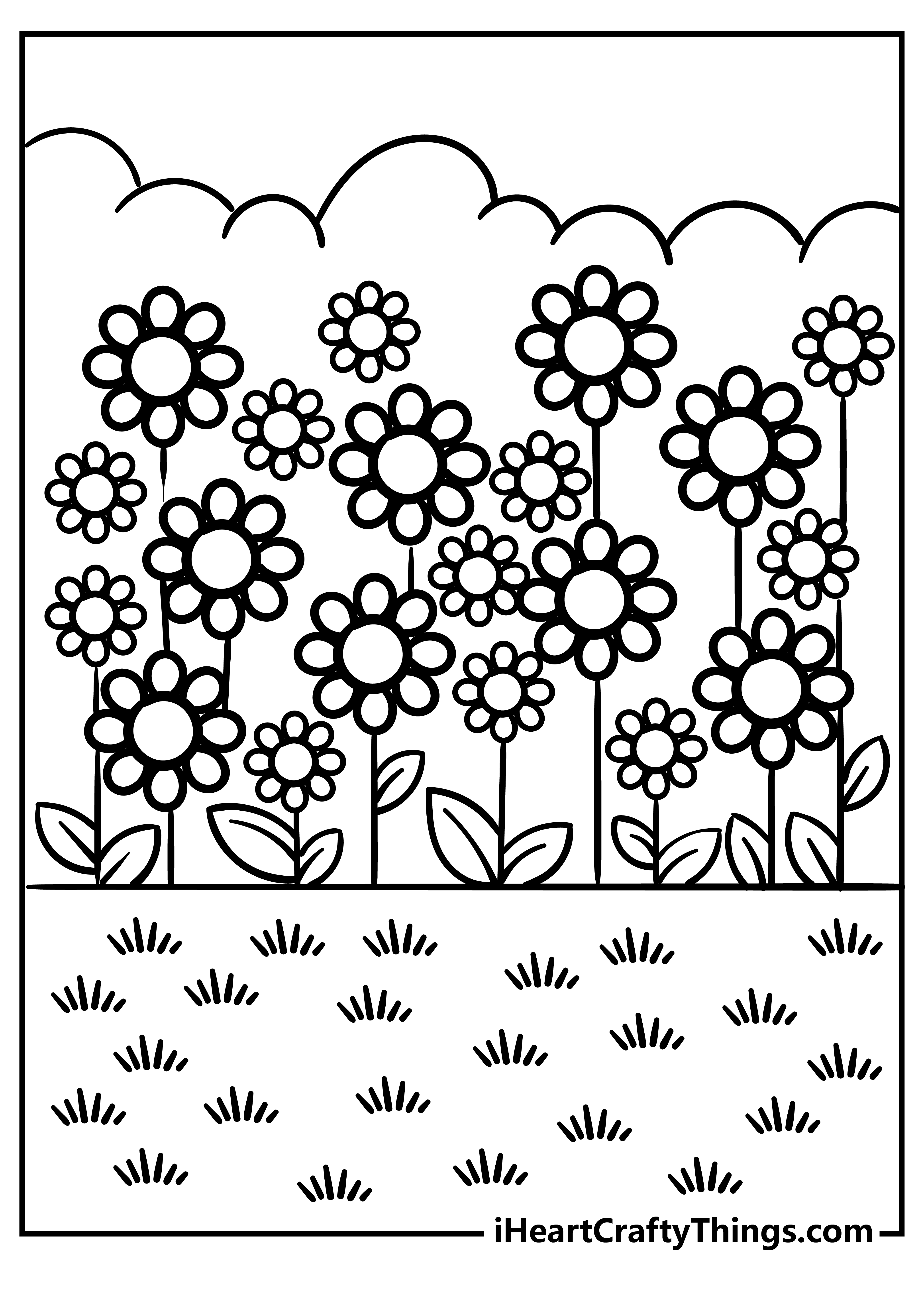 Garden Coloring Pages – Which will you choose?
That will do it for this collection of free garden coloring pages for kids, and we hope you had an incredible time growing your art skills!
We tried to make a collection that would allow for all of your favorite colors, so there is a lot of fun t be had.
When you're finished with the collection, be sure to share some of your finished pages on our Facebook and Pinterest pages for us to see and enjoy!