Spending time in nature, especially in the forest, is said to help improve mental, physical, and emotional health for adults and children alike.
And, judging by the fact that people have been doing this for centuries, it seems we knew that being outside could alleviate many problems even before we understood the fresh air sun's beneficial effects.
Have you had a particularly difficult week? Take a stroll in the local woodland park. Do you need to unplug? Go on a camping trip.
Looking for a fun DIY activity to do with your kids outside or indoors when the weather isn't cooperating? Our newly handpicked selection of forest coloring pages is just what you're looking for!
10 Brand New Forest Coloring Pages – Free to Print and Color
While none of these forest coloring pages can substitute the benefits of taking a hike through the forest, they are a fun activity to keep the little ones engaged when they are not able to go outside.
This first one depicts a perfect forest scenery with a flowing river, lots of vegetation, and mountains in the distance – plenty of details for children to color.
They can go ahead and recreate a traditional green forest, an autumn forest with lots of orange, yellow, and red for the vegetation, or even a fantasy forest where the trees are purple, the water is pink, and the mountains are green. Imagination has no limit when it comes to coloring!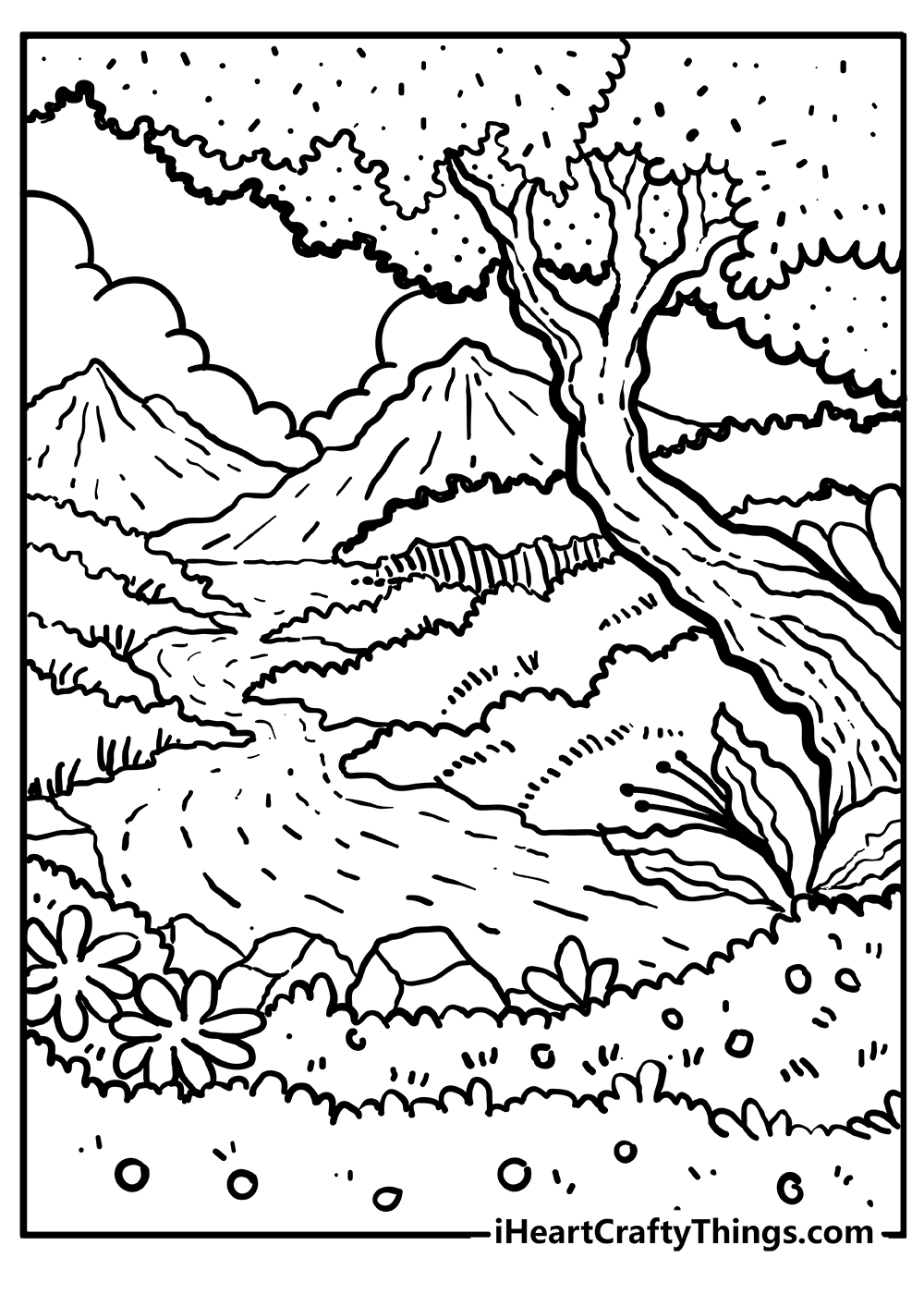 As children have fun coloring these free forest printables, you can take the chance to teach them some interesting information as well.
For example, did you know that 80% of the world's flora and fauna can be found in the woods?
Forests are the homes of many animals, birds, insects, and plants that work together to create an ecosystem way better than the one we, humans, were able to develop.
That's because nature makes harmony and every plant and animal knows their role in keeping the forest alive.
If your children love camping, they sure miss being out in the wilderness when the weather is not friendly enough for a trip.
While they may not quite understand why nature is so great for us, they sure love spending time outdoors looking for cute bugs, spotting some squirrels climbing the tree, or gazing at the stars above during a warm summer night.
Help them remember those great times outdoors with these forest coloring printables!
Ask them to color this page either as if it was bright daylight or a cloudy night and allow them to experiment with colors and shades.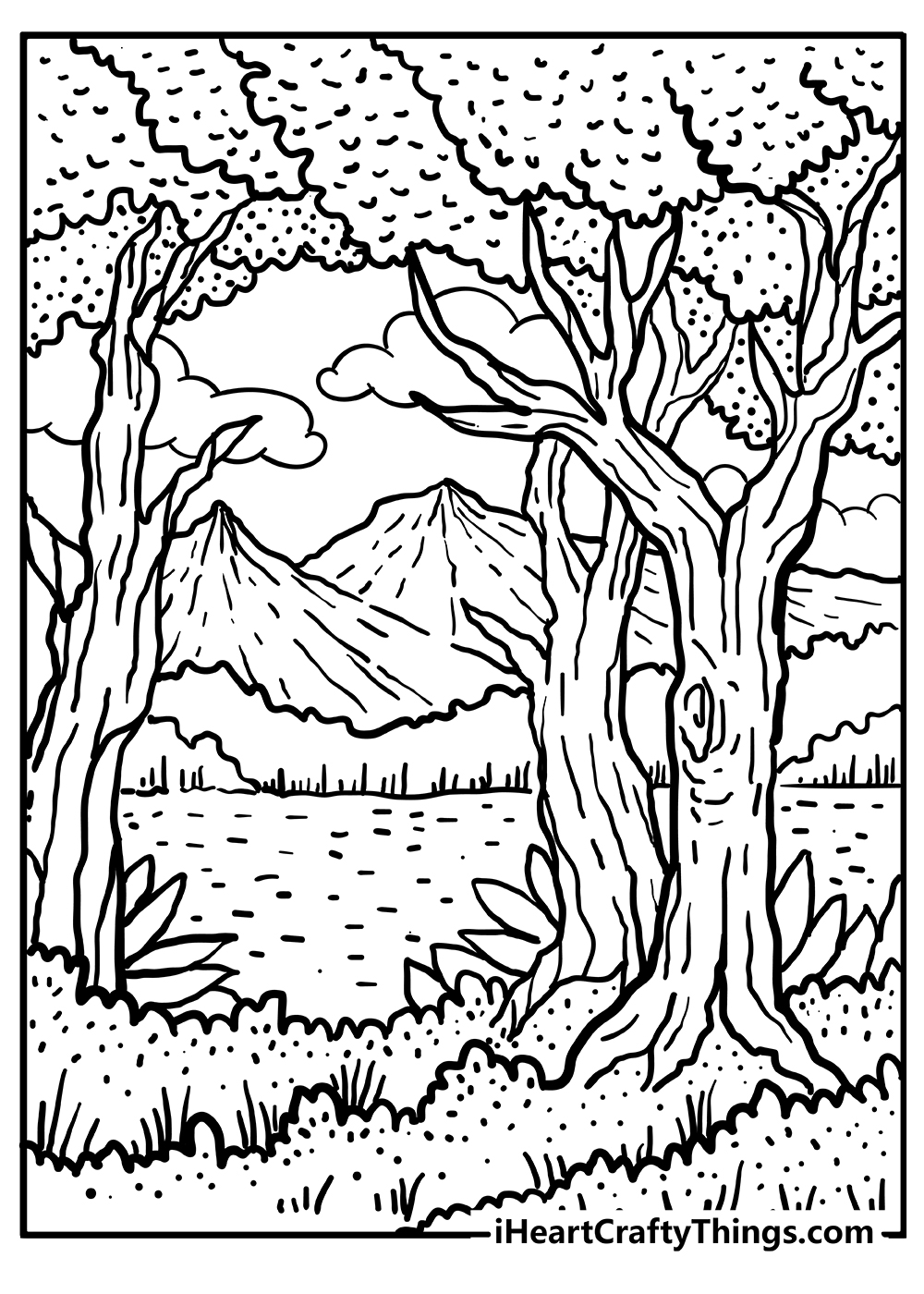 Even if you're simply camping in your backyard, one of the nicest things about this activity is that it's amazing and full of adventure.
But what if you do decide to go on a quest for the next best camping spot?
When your campground is a lengthy drive away, how can you keep your small adventurers happy? When storm season arrives or the weather gets frigid, what do you do?
You'll have to think of other methods to keep them entertained. Coloring activities, such as these forest coloring sheets, might be the solution.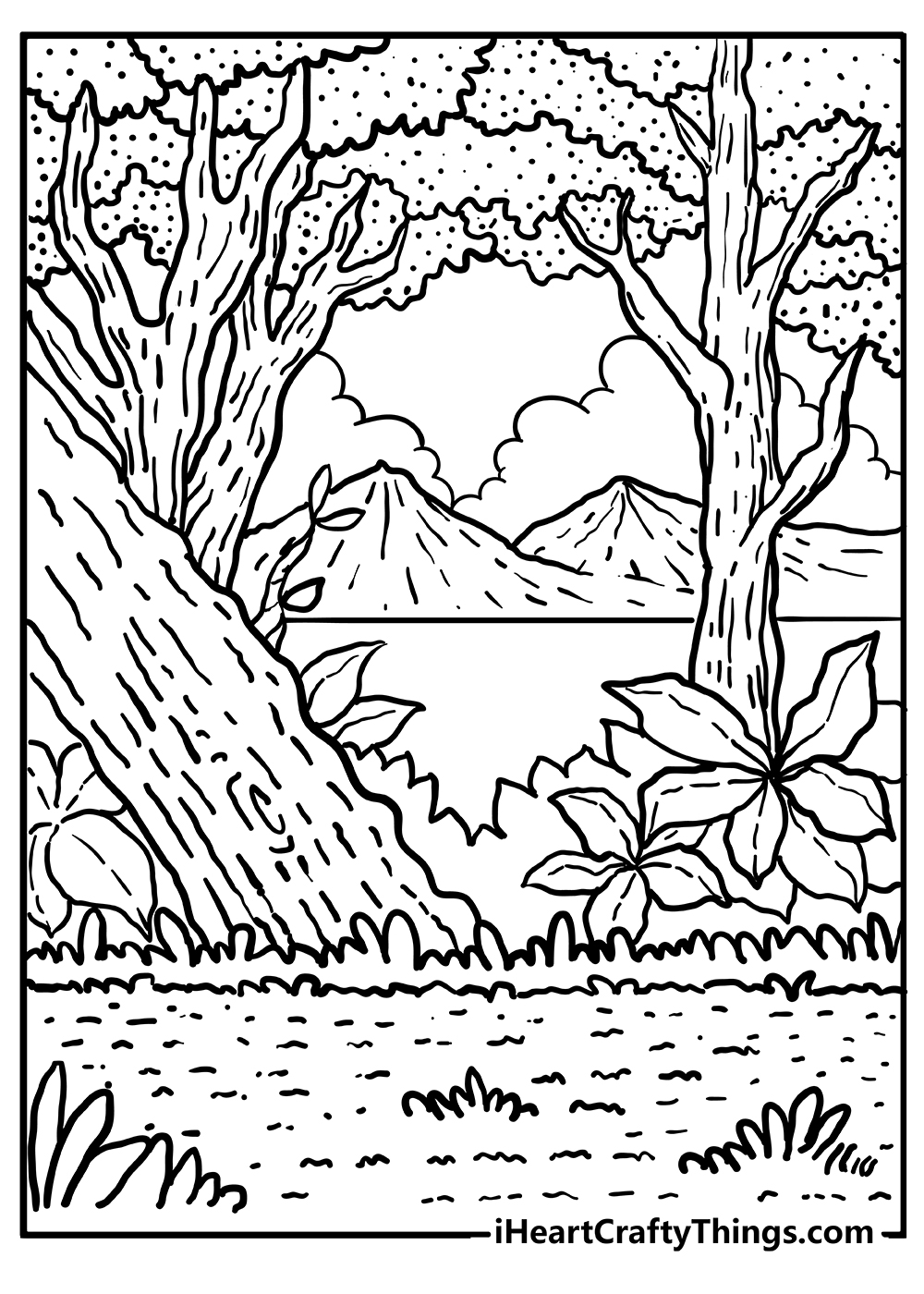 Aren't trees an interesting element of the natural world? They give us a variety of necessities, including toilet paper, furniture, and, most importantly, oxygen.
Humans would be unable to survive in our world without trees.
If you're a forest lover, you already know how important trees are and how beautiful they are.
As a result, tree huggers like you — or your little explorer who adores climbing and naming every tree he or she can find — are likely to welcome any tree-related activity.
And you're in luck since we have all these forest printable sheets for you and your children to enjoy!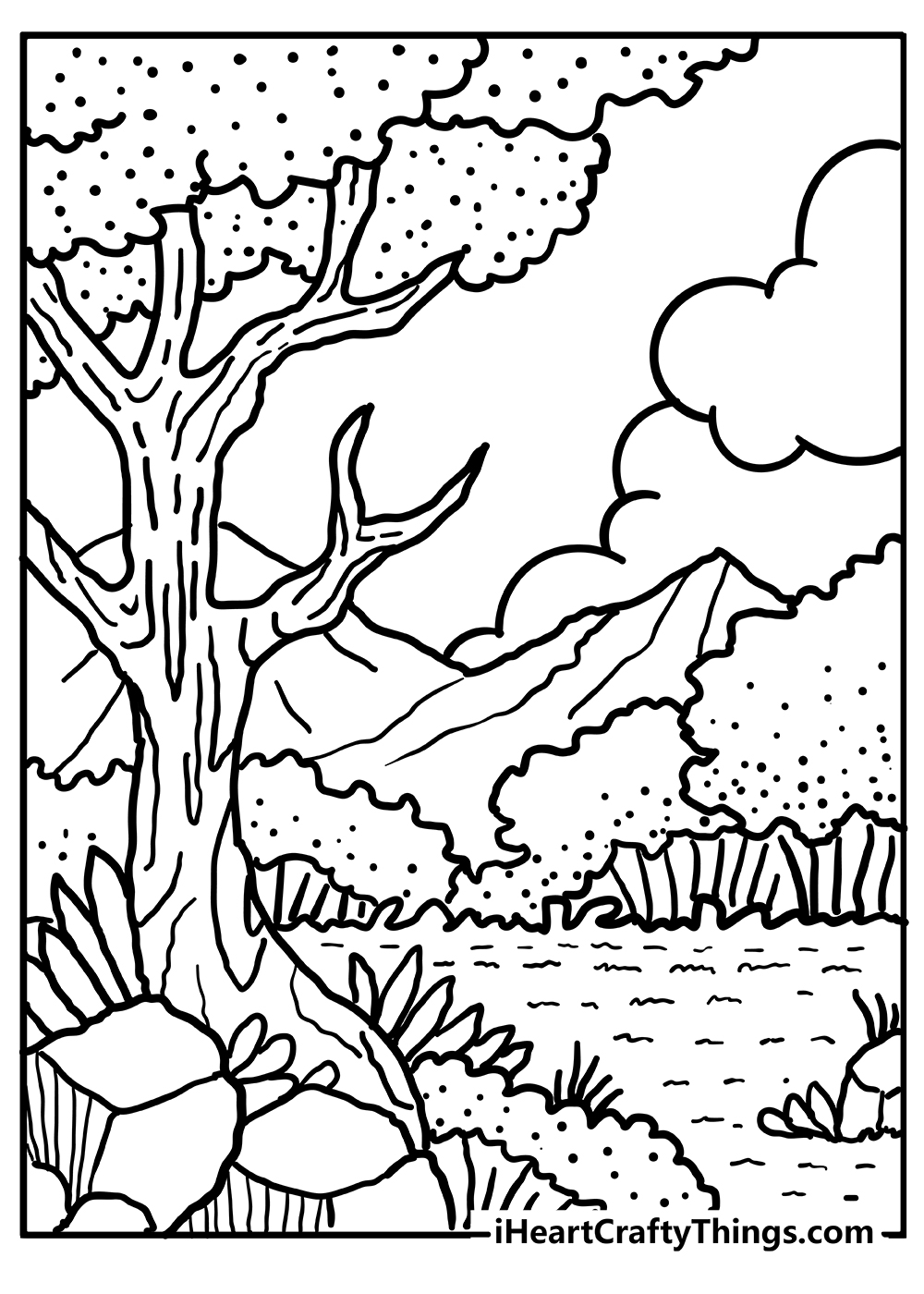 If you come to think about it, it's only natural to love trees. They not only offer us a place to climb or swing for fun, but they also serve to keep forest life alive.
Consider all of the animals that live in or around trees: birds, chipmunks, squirrels, and a plethora of insects and bugs. Even bigger animals, such as bears, rely on trees for protection and comfort.
To evade predators, cubs may hide high in trees, while larger bears may scrape their backs with trees.
And what about when they're really hungry? Tree bark is a popular food for bears if they can't find berries or small animals to eat.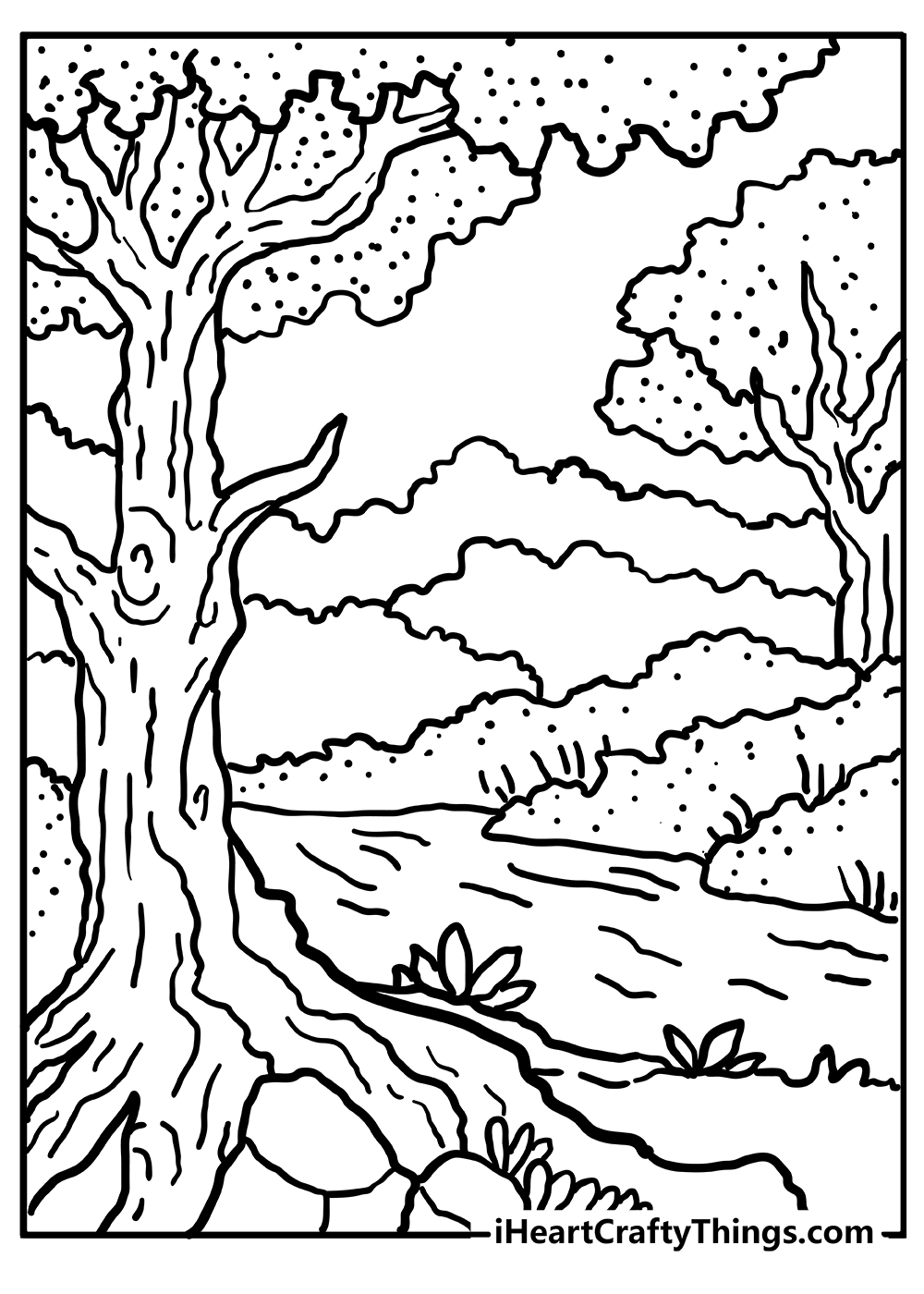 Unfortunately, exploring nature via hiking through the woods isn't always possible – we're talking about you, rainy days! That's why these forest coloring pages are so enjoyable.
You'll also be relieved to learn that coloring activities assist your child in developing a variety of abilities that will prepare them for kindergarten.
Turn over a new leaf with our free forest coloring printables that your young naturalist will adore!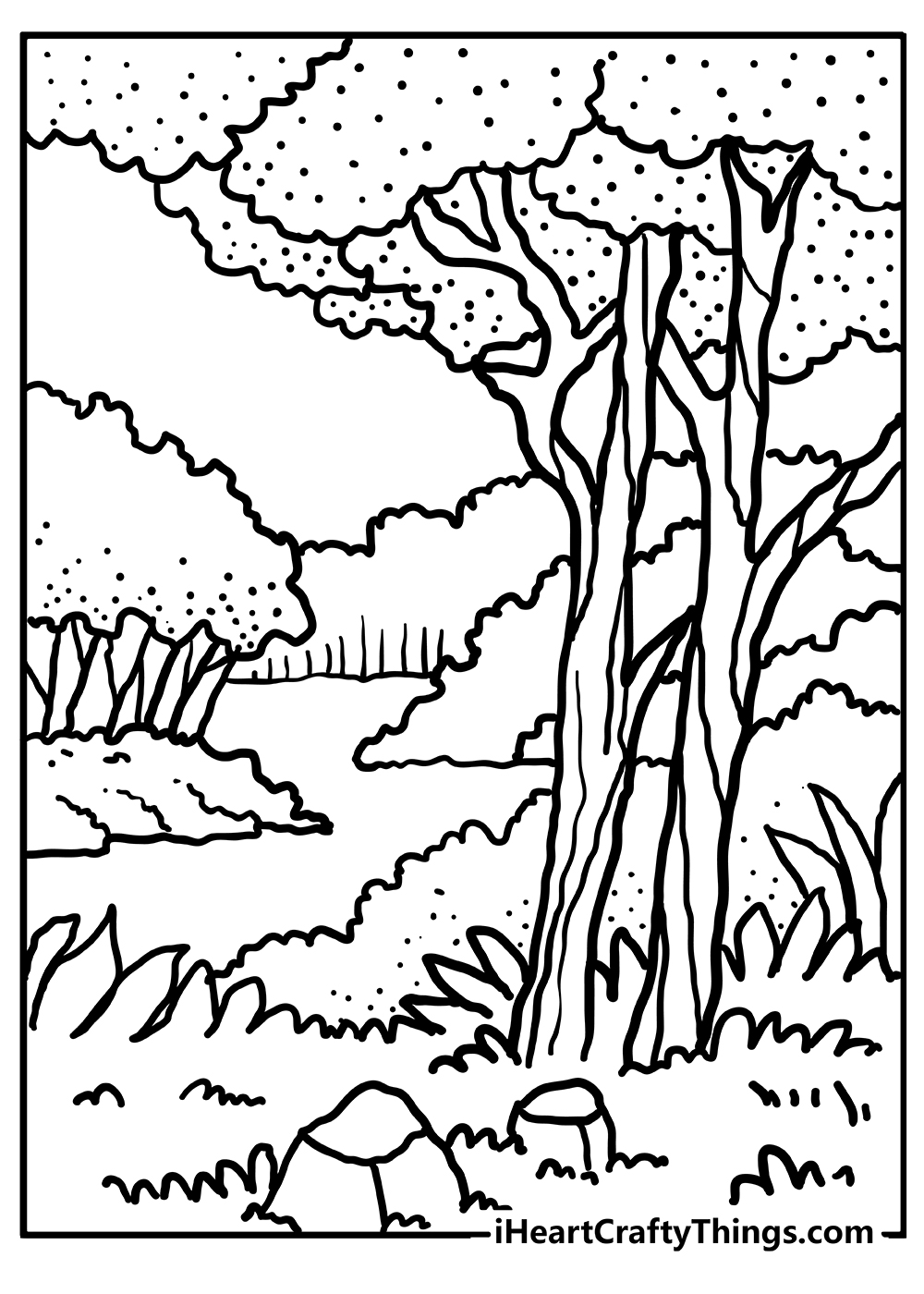 Do you ever feel more productive when you're in the presence of plants? Well, you will be pleased to know you are not just imagining things!
According to certain research, indoor plants have a positive impact on human brain function, enhancing creativity and memory retention by up to 20%.
For days when you can't take your children out in nature, having some plants around the house can help tremendously.
You can also provide them with these fun forest coloring printables so that they can get creative and reimagine their own forest inside the house.
Sure, you can't bring in a river like in this printable, but a few plants should do the trick!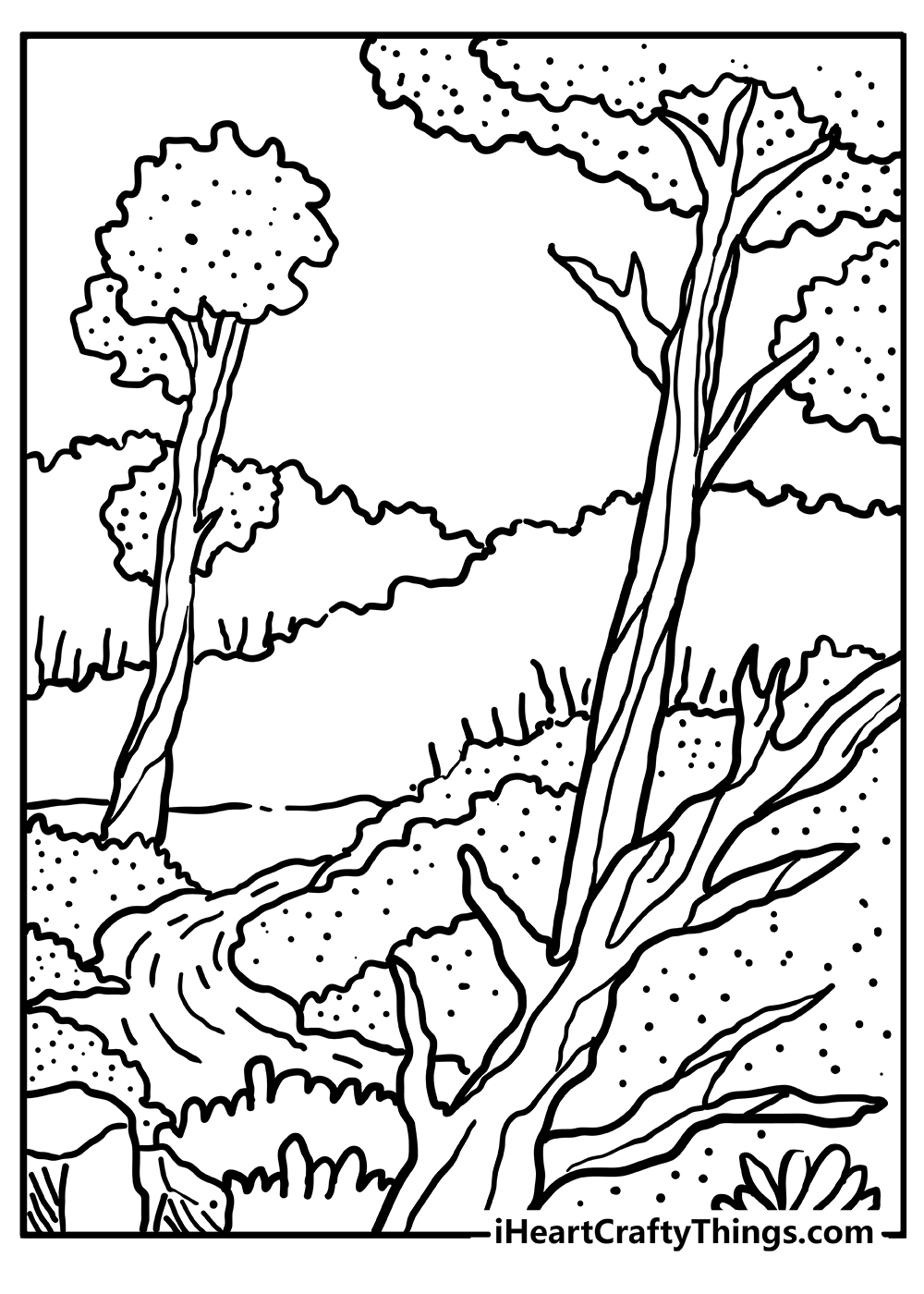 Isn't it difficult to think about mountains without also thinking of forests? This makes perfect sense given the diversity of flora and animals found in the mountains.
What you may not know is that nothing grows above the snow line on a mountain – that part is almost like a desert, only snowy.
The mountain seen in the far in this forest coloring page surely seems like it has no flora on it, but look at the lush vegetation that makes up the rest of the picture.
It will be a blast for children to color this in!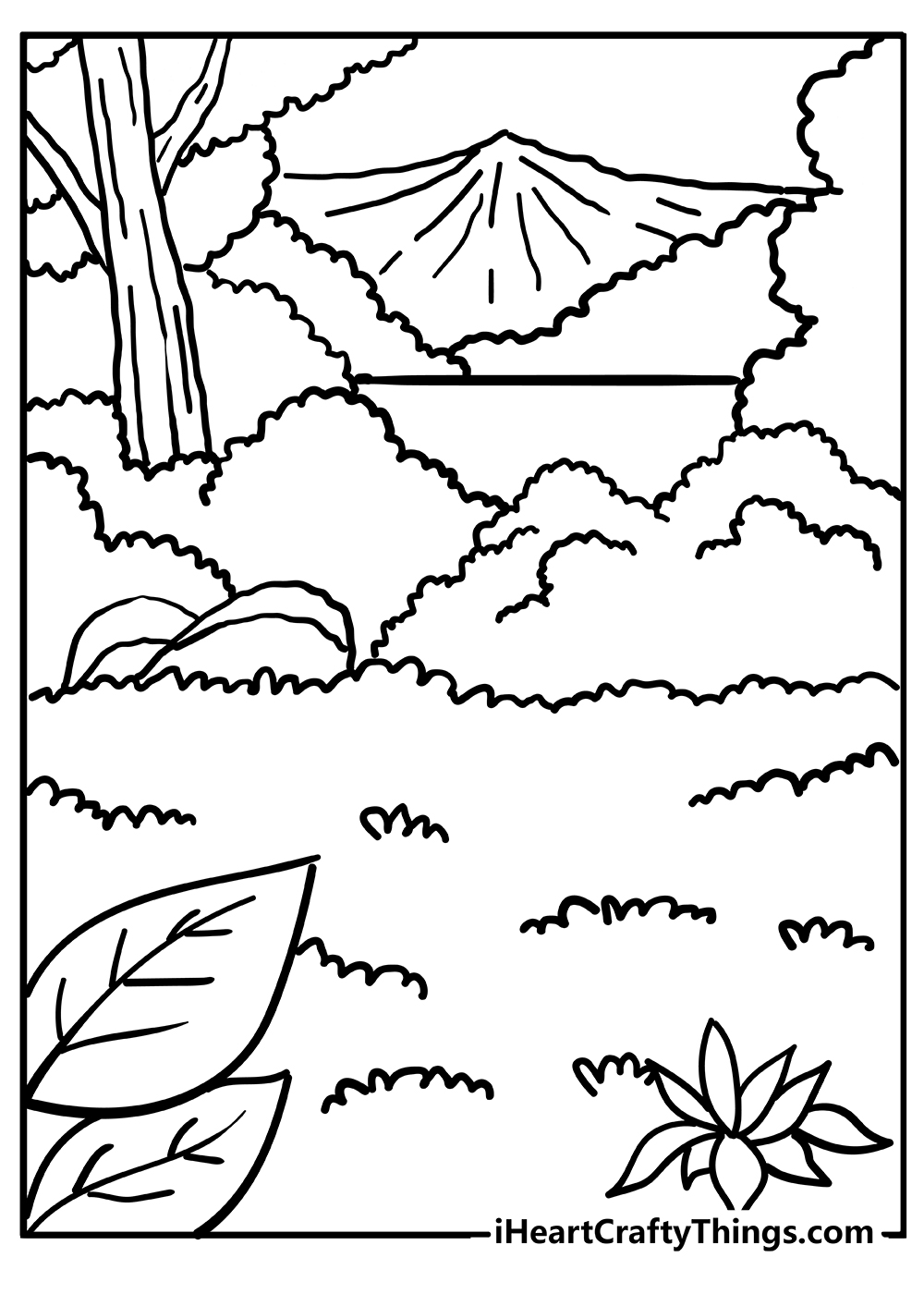 Here's an interesting fact to teach your children: trees do not grow from the ground up but from the top. Want to test this?
Install a birdhouse or bird feeder on a low-hanging, accessible branch of your young but well-established tree, and you'll observe that it will not go too far up as the tree grows.
You'll always be able to reach that limb, even if your tree grows taller because the branches continue to extend from the top, not from the stem.
Trees, unlike any other living beings, never get old. There is no limit to how much they grow, and they have the ability to survive for thousands of years!
Take, for example, sequoia trees, which are estimated to be 4,000 to 5,000 years old.