Many months come to be associated with a certain aspect, and February is definitely the month of love!
The reason for this is that Valentine's Day is on the 14th of this month, so hearts and other signs of the occasion are closely associated with the month.
You're sure to see plenty of this imagery as you take on this collection of free February coloring pages for kids!
This collection of 10 pages is a celebration of all things love and romance, and there are some great scenes that you can bring some amazing colors to bring to these scenarios.
You will certainly get to use all of your favorite colors and bright mediums as you work through this collection!
All of these pages are free for you to print, color and enjoy, and this is true whether you go for a few pages or color every single one!
But why stop there? You can also share the collection with friends and family to enjoy too.
Prepare to feel the love as you begin this collection of free February coloring pages for kids!
When you have completed your favorite pages, remember to share some of your completed artworks on our Facebook and Pinterest pages!
10 Brand New February Coloring Pages – Free to Print and Color
We have a delightful image for you to color in this first page of our collection of free February coloring pages for kids!
Bees are sometimes associated with love and affection, so that's why we have them starring on this first page.
There are also plenty of hearts included here, and there are some great possibilities for some amazing colors!
We think it would look amazing to have bright yellows for the bees contrasted with some rich reds for the hearts.
There are so many colors you could go for, though, so be sure to have fun experimenting and see what happens!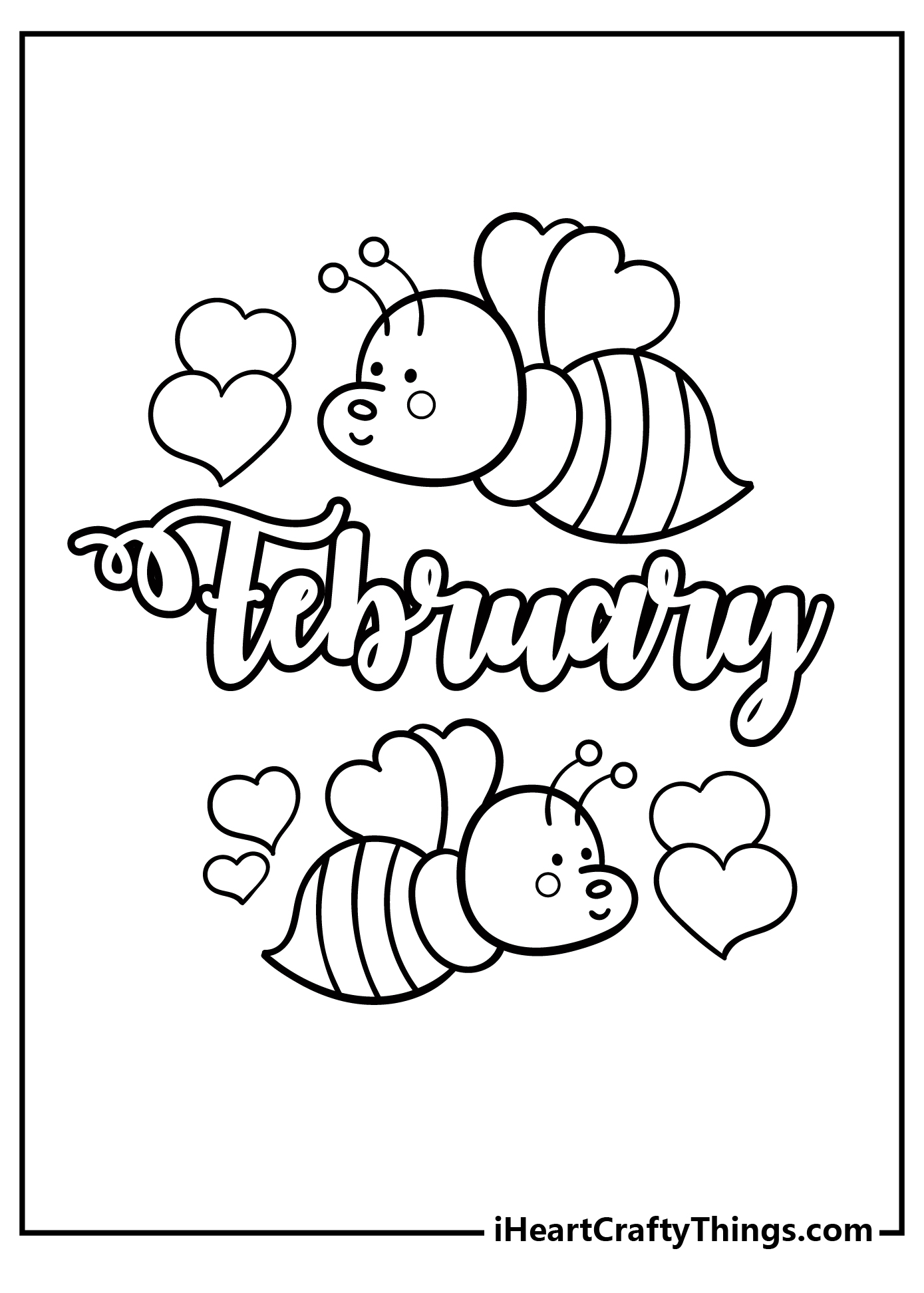 This second February coloring sheet features another cute scene focused on love for you to color! This time, we have a pair of cute birds having a loving moment together.
They are surrounded by hearts, stars and even an angel, and this helps to make a really vibrant image!
Now it's up to you to bring this image to life with your amazing colors. We think this one would look so great with lots of bright, varied colors, but what will you choose to finish it off?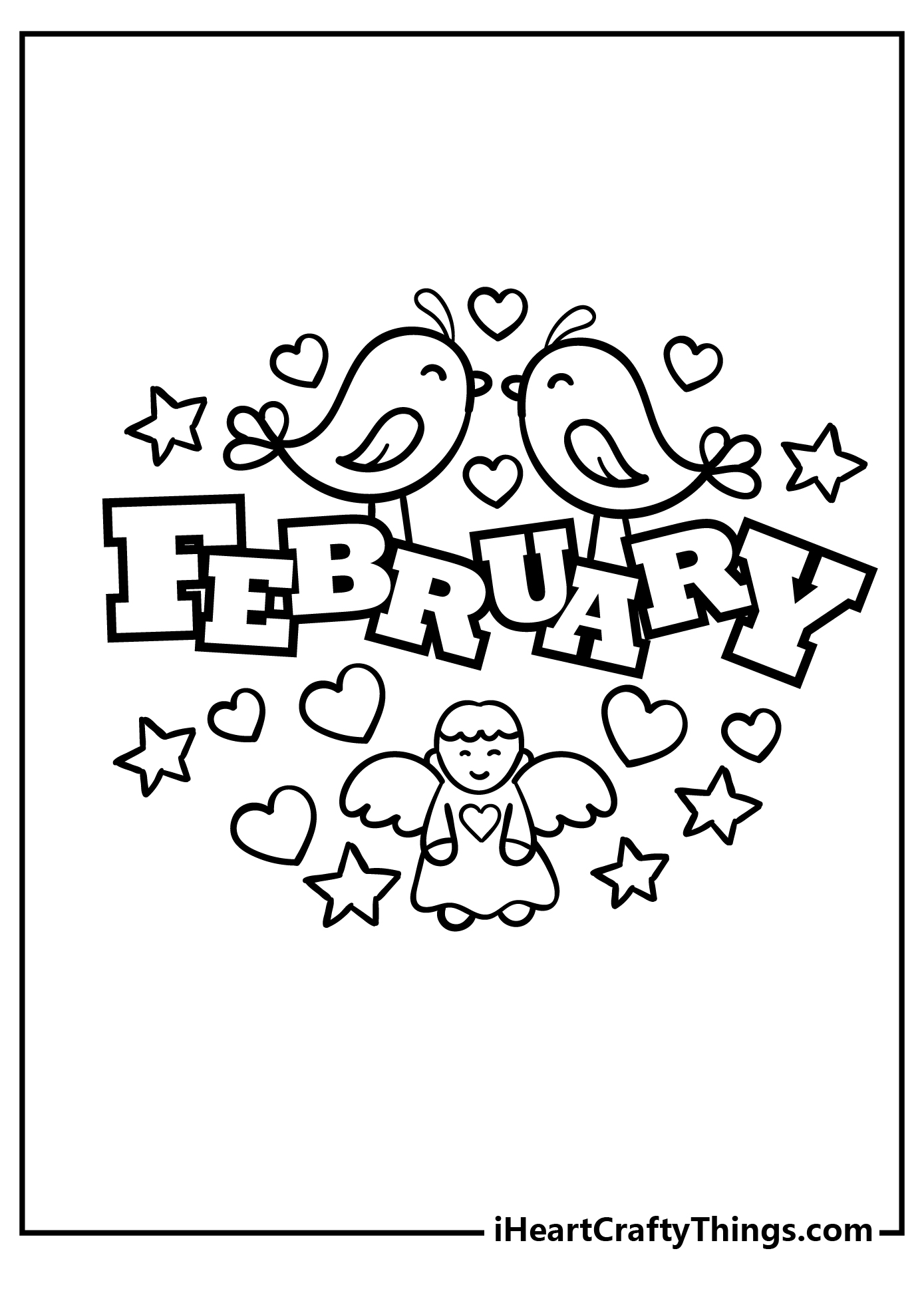 Around Valentines Day, many people will send a loving letter to the person they fancy, and one of these letters is featured on this third page.
There's no mistaking what kind of letter this is, as there is a giant heart on it!
The many shapes featured on this page also give you so many opportunities for some amazing colors, and this should prove to be a stunning picture once you're finished.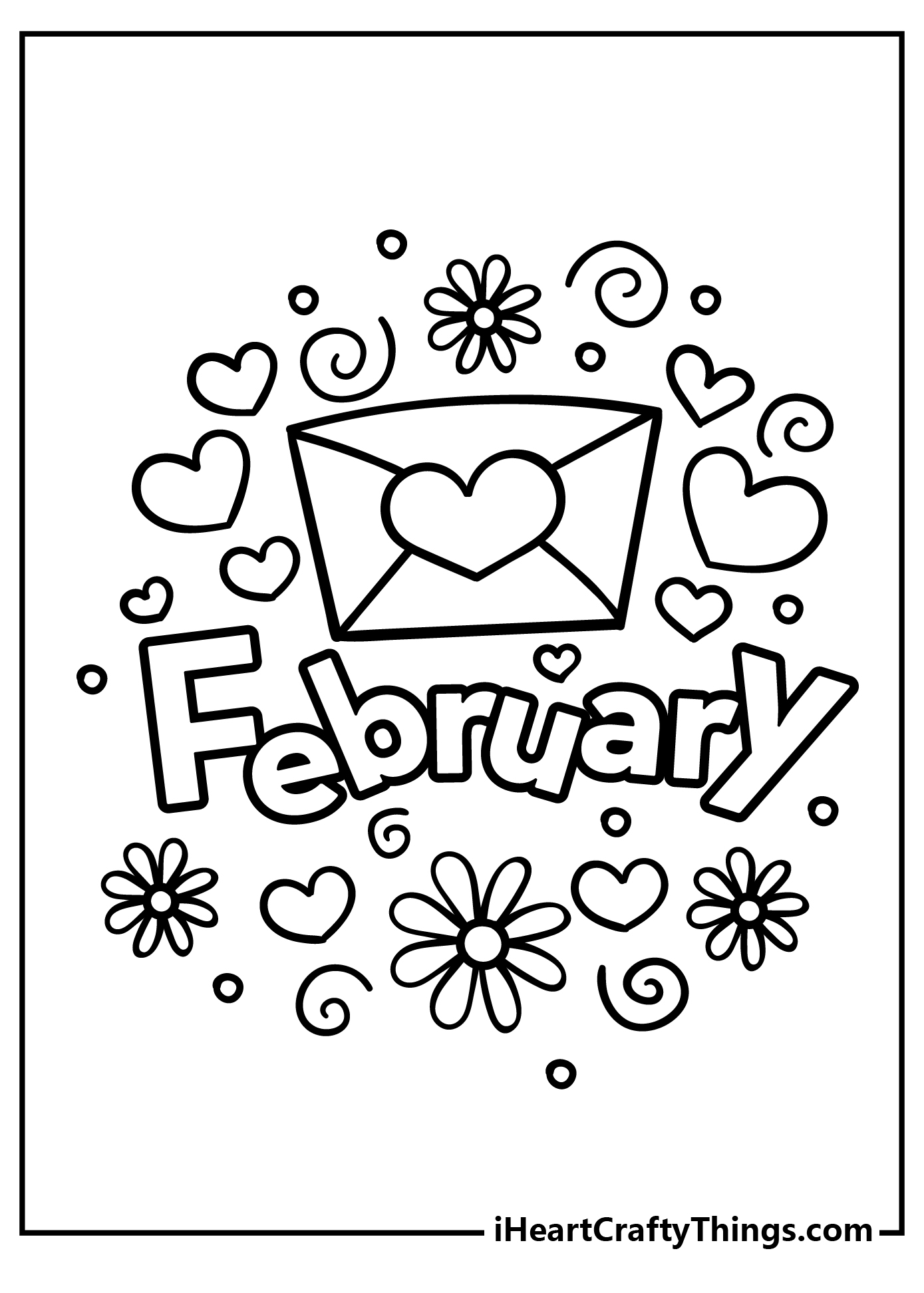 We're really feeling the love in this next image! The word February is written in a bold bubble font, and it is surrounded by plenty of hearts and shapes.
It really manages to capture the loving feeling associated with the month and the occasion of Valentine's Day, and your colors can help to emphasize that even further!
This is another one where we think bright colors would be perfect. You could also use mediums such as colored pens and markers to make the colors pop!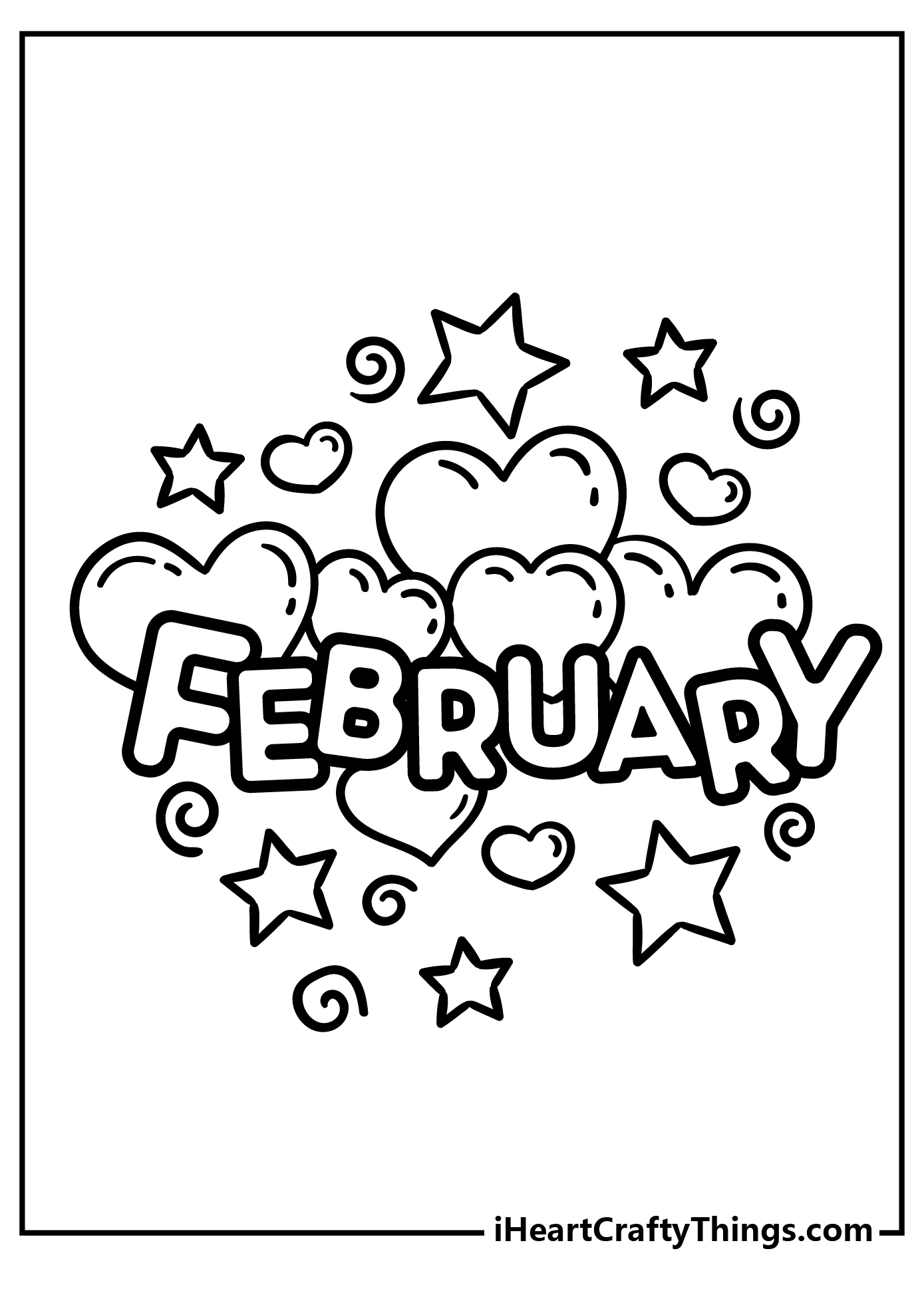 This next February coloring sheet features a more understated but equally pretty image for you to color!
There is a rainbow over the word February, and below this are some pretty tulips. As an extra fun touch, the middle tulip has a heart shape at the top of it.
While this image is less bombastic than some, you can squeeze in a lot of colors into elements such as the portions of the rainbow and the flowers! We will love to see how you color this one.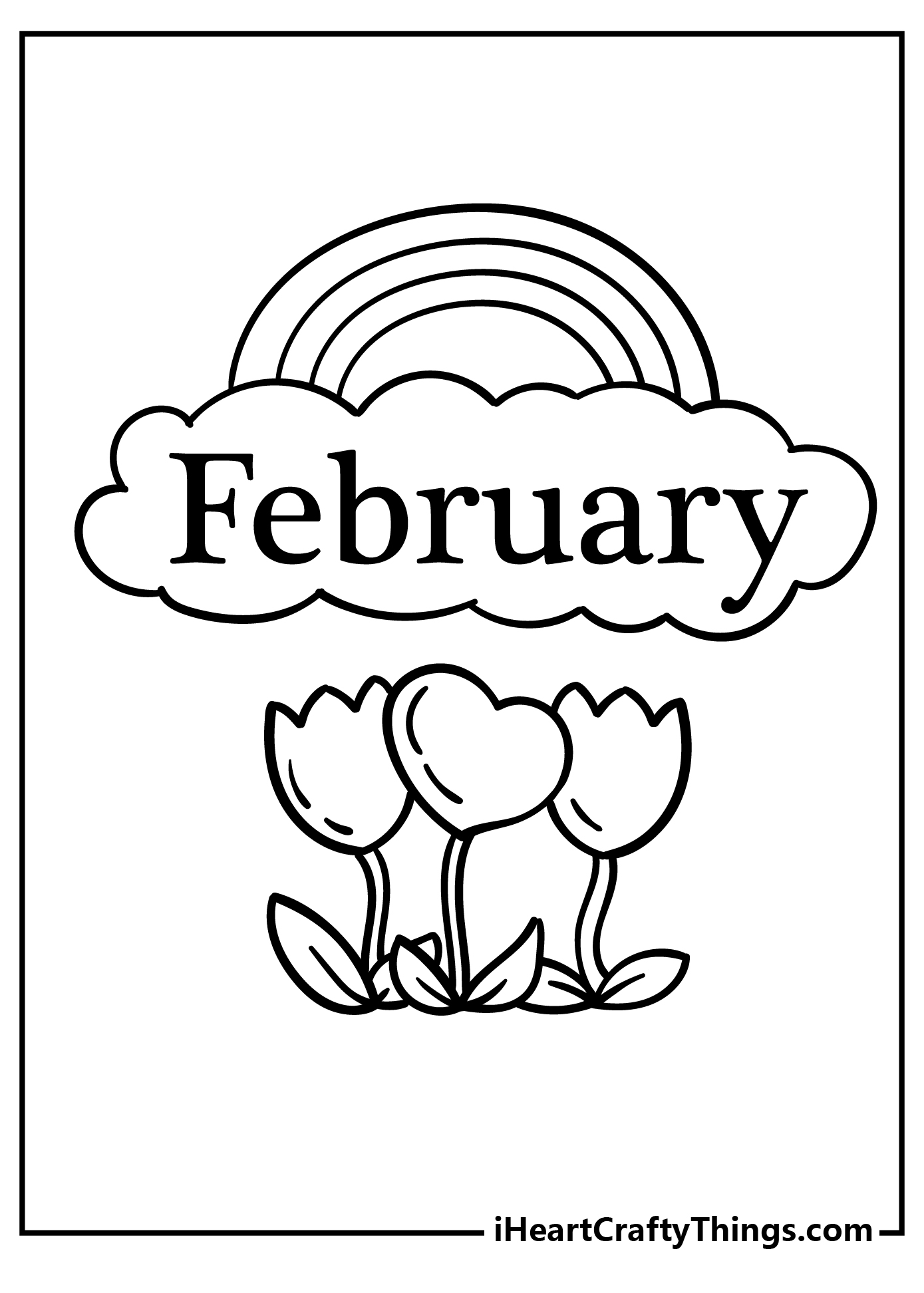 There's another less busy image for you to color in this next one. We have February written in a fun font, and it is surrounded by flowers, hearts and other shapes one would associate with February.
When coloring, you don't just have to stick to the details that are there! You could also add some extra shapes or details of your own to take it even further.
You could also incorporate some fun crafts such as stickers or beads to add even more dimension to the image. The only limit is your imagination, so don't be afraid to experiment!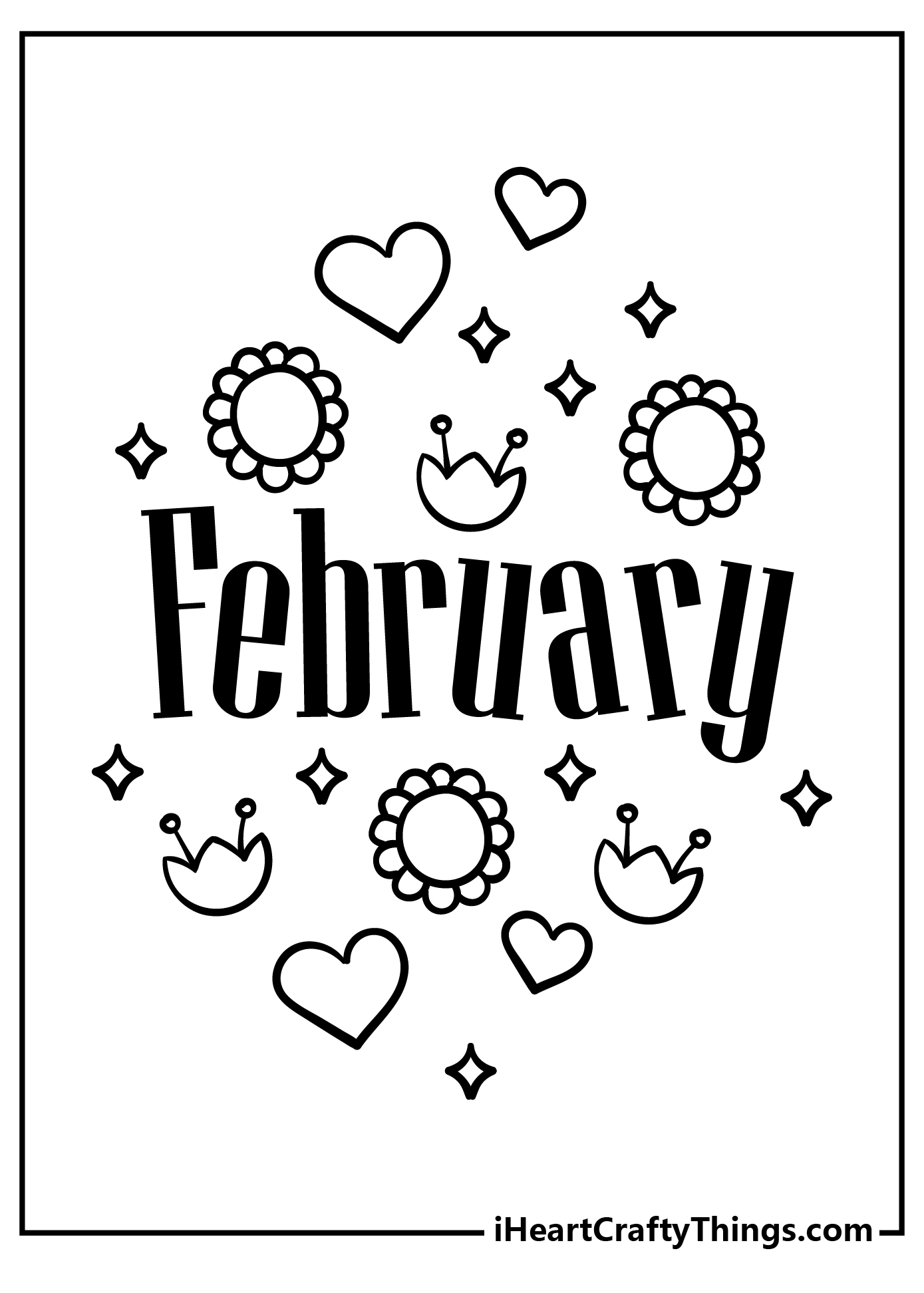 The seventh image that we have for you has another sweet composition focused on love.
The word February is surrounded by a thought bubble, and this seems to reference how the one you love is always in your thoughts!
There are more pretty flowers and other shapes surrounding it, so we know you will have fun coloring all the little details.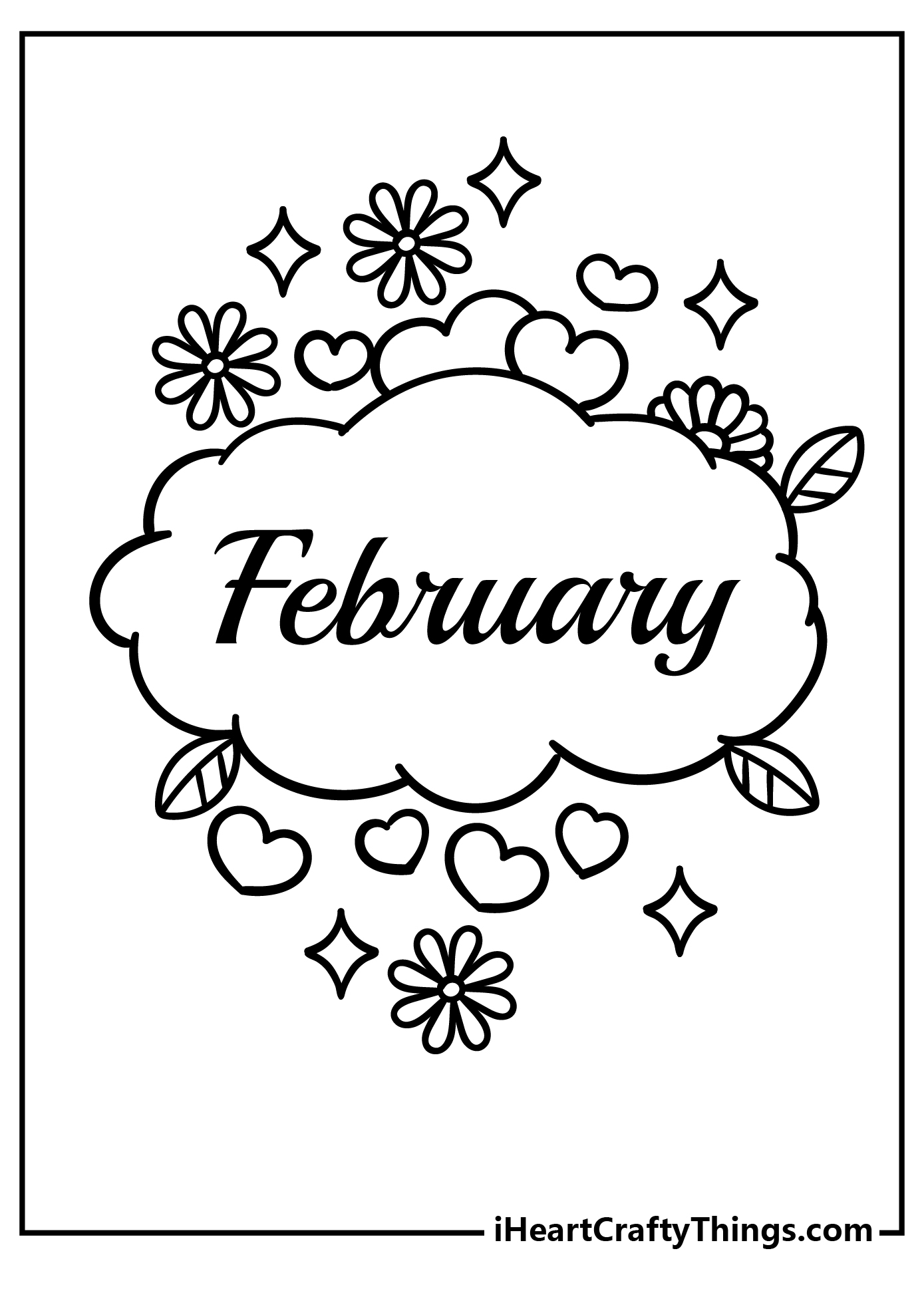 We love the font featured in this next February coloring page! The word is written out in another bold bubble style, and that allows you to color in the letters themselves.
We think it would really look stunning if you colored every letter with a unique color.
There are more hearts surrounding the word as well, and those would also look great with some varied colors. How will you show the love with this image?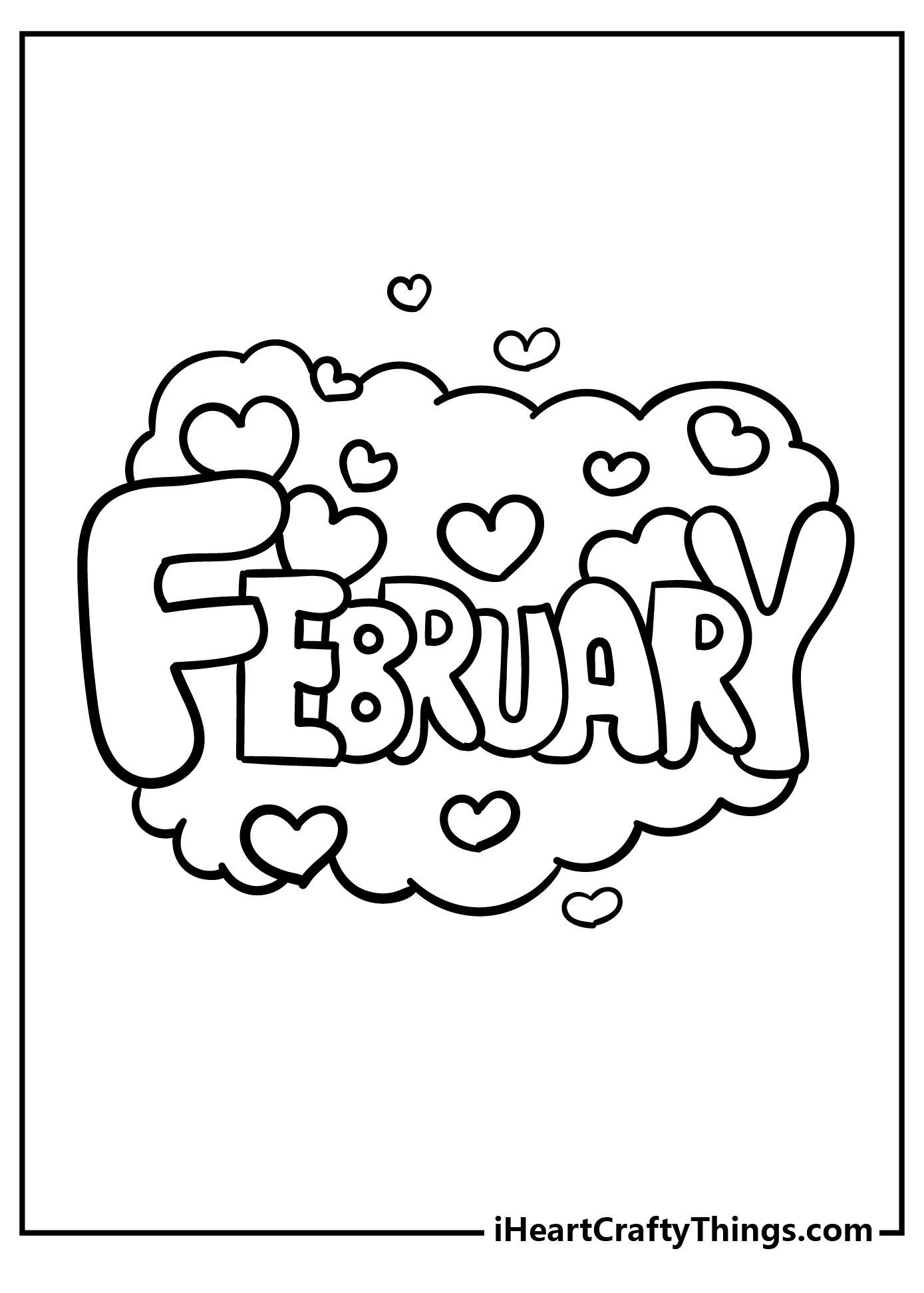 Cupid has struck in this fun picture we have for you! The focal point of this image is a large heart that has been struck by Cupid's arrow.
This would be a great element to color with some bright, striking colors to make it draw the eye.
There are plenty of other details to add as well, so this should be a picture that really catches the eye when it's done!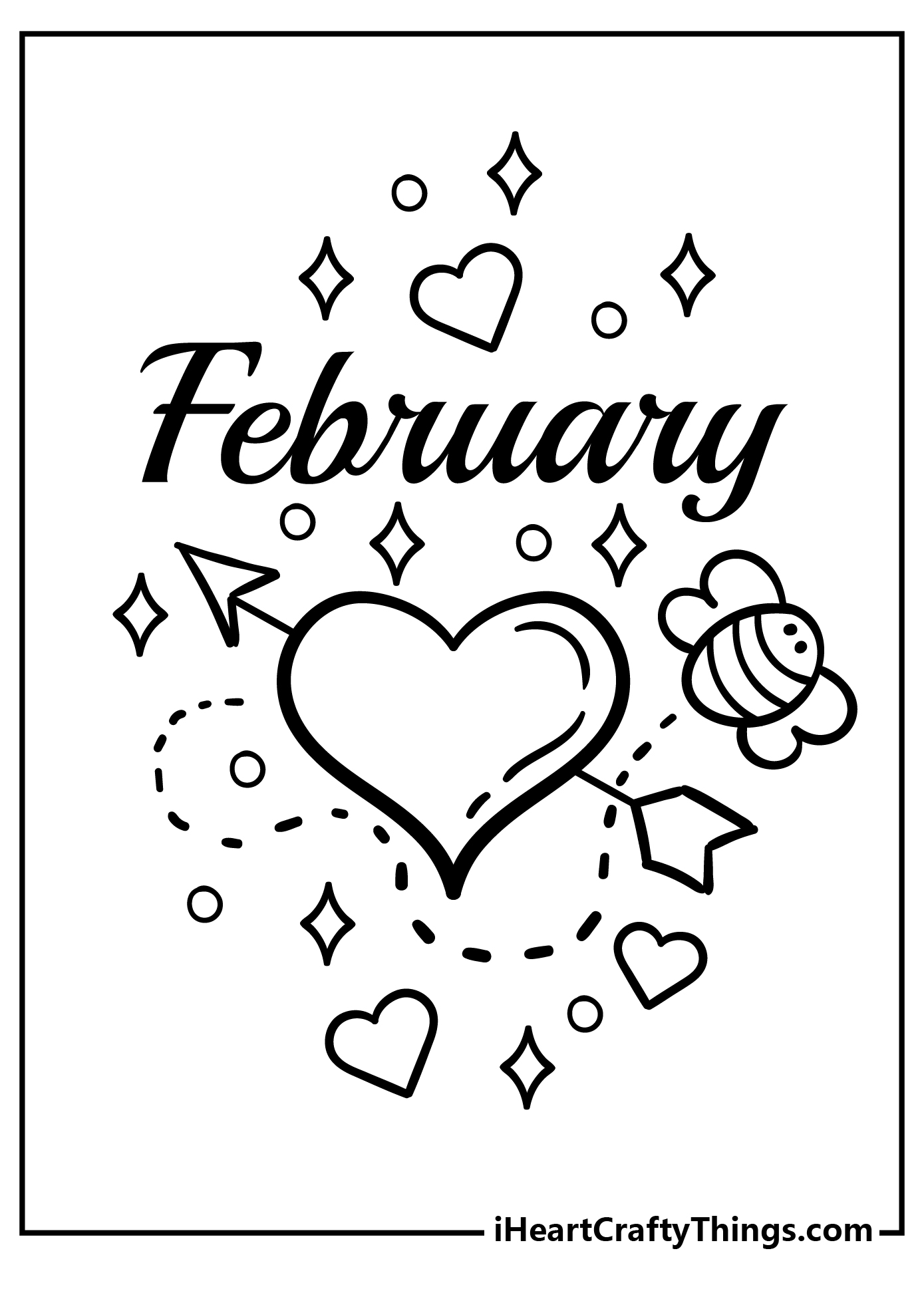 The final page in this collection features some more cute birds sharing a loving moment!
The font chosen for February in this page is really cool, and there are some great shading details on the sides.
This opens up some interesting possibilities for some amazing color contrasts and experimentation!
Remember that you can print out any of these pages as much as you like, so don't be afraid to really experiment with your colors and mediums.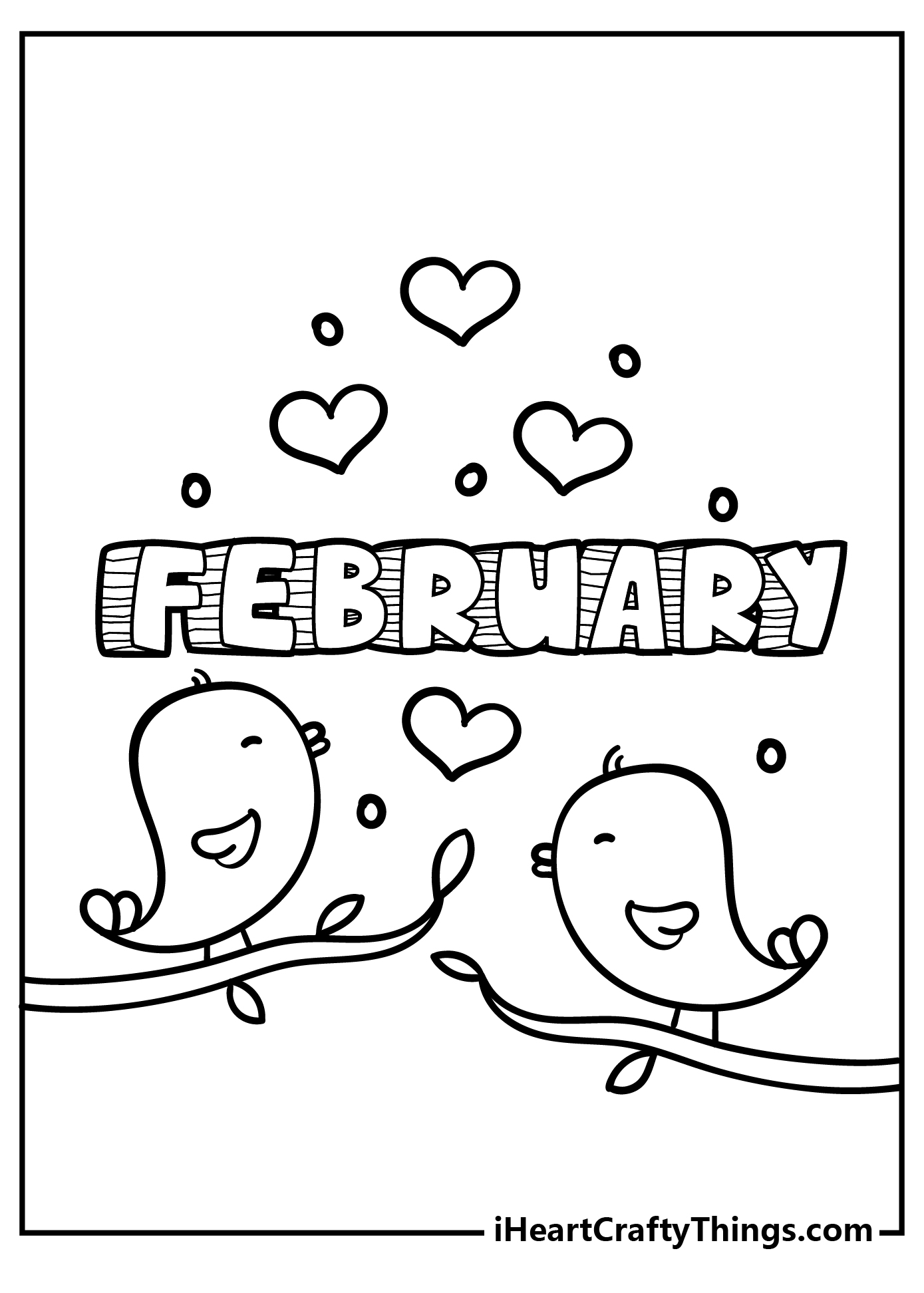 February Coloring Pages – Which will you choose?
That is the end of this collection of free February coloring pages for kids! We hope that you really felt the loving mood given off by all of these compositions.
We're sure that these pages will look absolutely stunning once you have worked your creative magic on them!
You don't have to stop there, though! You can find many more awesome free coloring pages to enjoy on our website to enjoy. There are so many to enjoy already, and more are on the way soon.
It would be fun to see how you colored these pages, so please share some of your finished pages on our Facebook and Pinterest pages!