Who doesn't love a delicious cupcake? Cupcakes are one of the most loved desserts at parties, but here's another great way your child can enjoy them: by coloring these cute cupcake coloring pages!
Suitable for kids of all ages, they're perfect for developing their fine motor skills while also keeping them entertained.
15 Brand New Cupcake Coloring Pages – Free to Print and Color
Cupcakes are some of the most popular desserts out there, coming in hundreds of delicious variations.
This coloring sheet features one of the more traditional cupcake shapes, one with a huge frosting that your child can color in their favorite flavor.
For example, if they love cupcakes with strawberry frosting, they can color it red or pink. The background of the page is quite simple, so your child can get creative with it.
They can fill it in with a solid color or they can draw all sorts of creative shapes and patterns.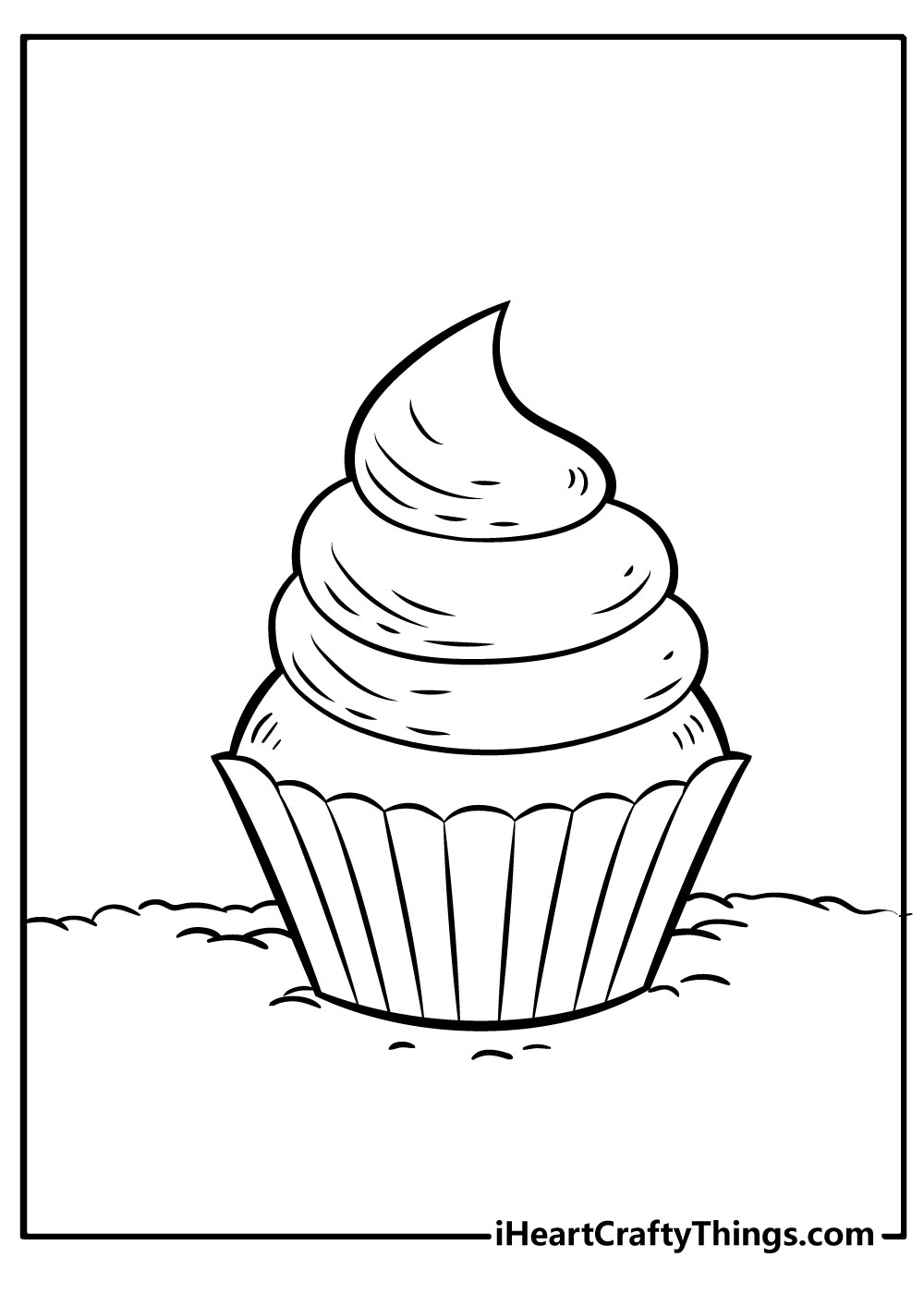 This first cupcake coloring page features a plain cupcake, but that actually leaves room for you to experiment.
You could draw on all of your favorite toppings and then color them in along with the rest of the cupcake!
What are some toppings you could add to the cupcake to make it more personalized and tasty? Which colors would you use for the toppings?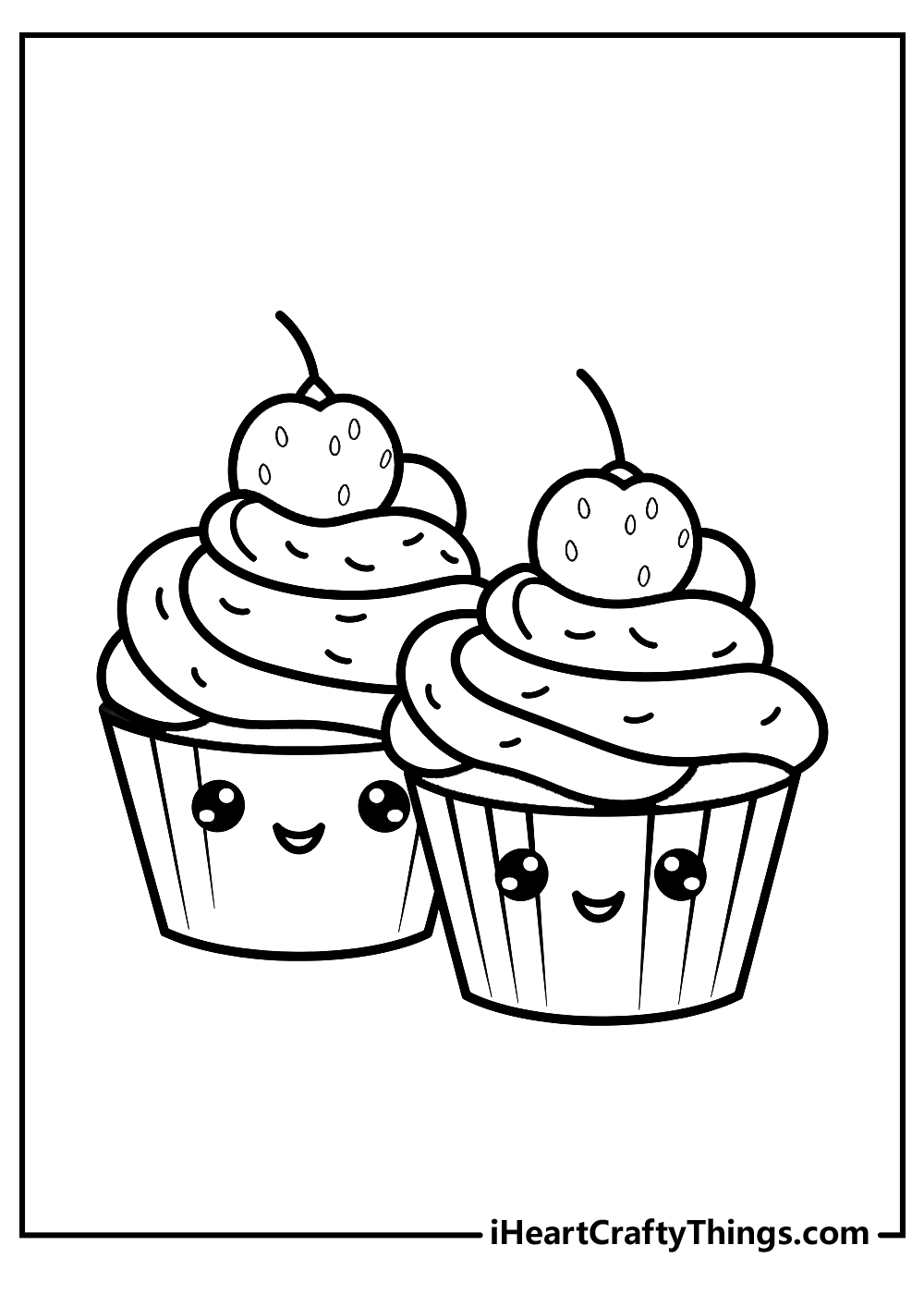 What's better than a delicious cupcake? A cupcake with a cherry on top, of course! Here we have a fun cupcake coloring book that depicts just that.
It could be a fresh cherry or a maraschino cherry, and the topping that works best is buttercream.
This whimsical cupcake coloring sheet is split by a swirly line, so you can get creative with the background, using contrasting shades such as yellow and purple.
For the cherry on top, you can also use glitter or acrylic colors to make that small detail pop.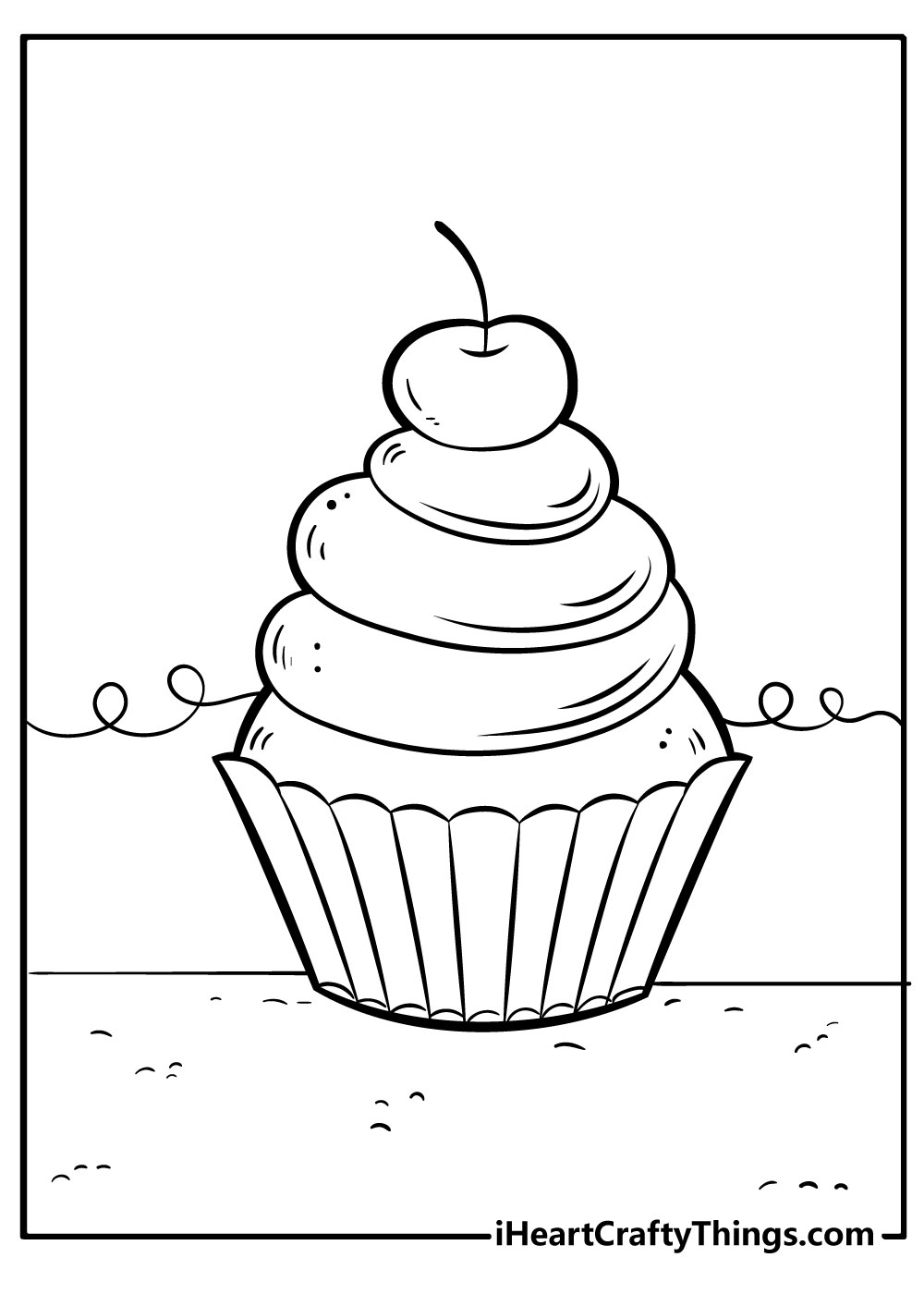 Did you know that cupcakes have been around since ancient times, but the first cupcakes came to America in the late 1700s?
Initially, cupcakes were just "light cakes to bake in small cups," but recipes have evolved a lot throughout the centuries, becoming more and more intricate, especially in terms of the frosting used.
This printable shows a fancy-looking cupcake with a complex frosting pattern.
Here, you can play with several shades of the same color to create a shadow effect, or you can use two entirely different colors to show that the frosting has two flavors.
For example, a strawberry-cocoa cupcake could be pink and brown.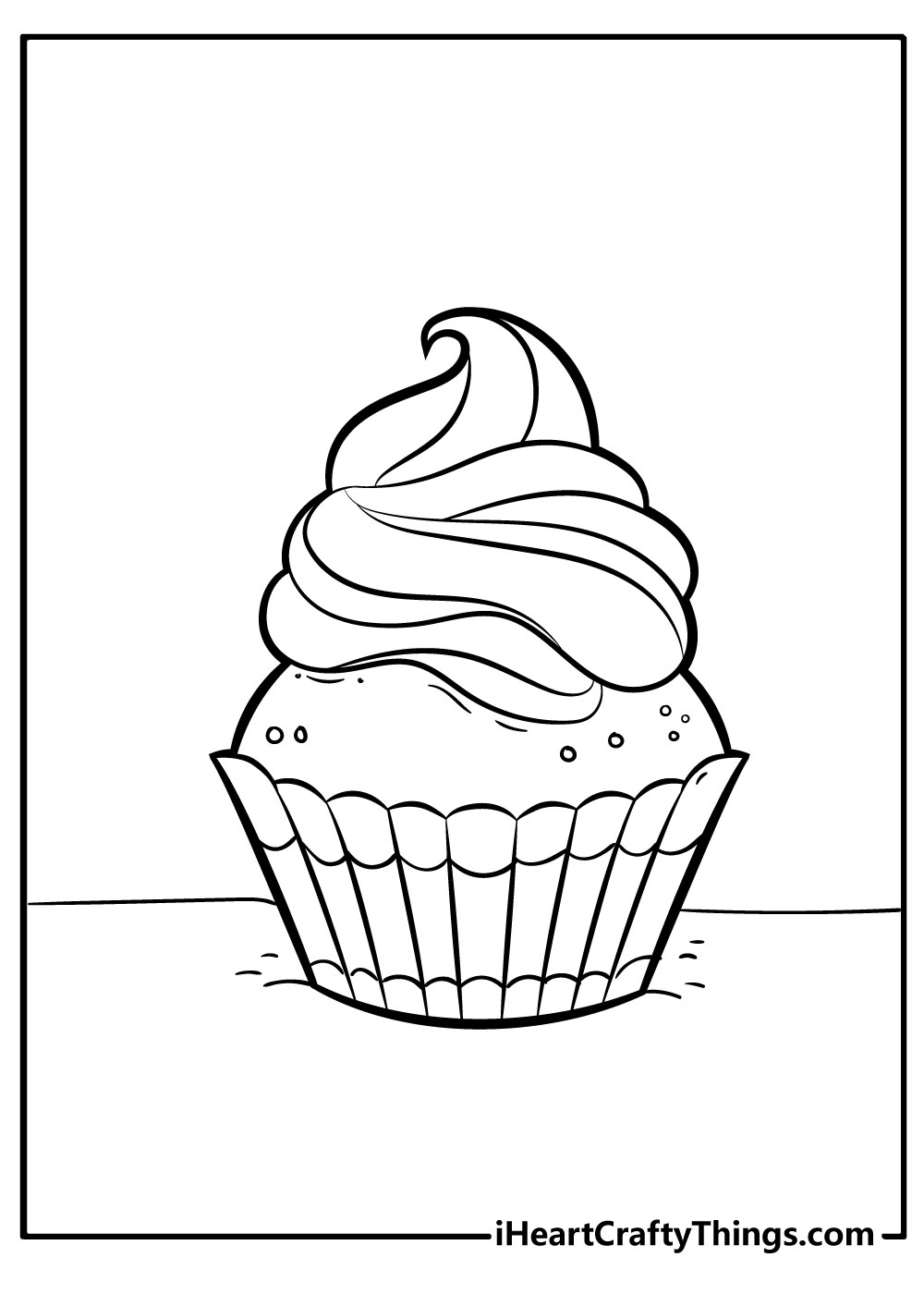 The next cupcake we have here has circles around it which makes us think of bubblegum. You could stick to that theme with some pink or maybe blue colors.
If you like, you could draw even more bubbles around the cupcake to make this theme even stronger. Will you go for a bubblegum theme or do you have something else in mind?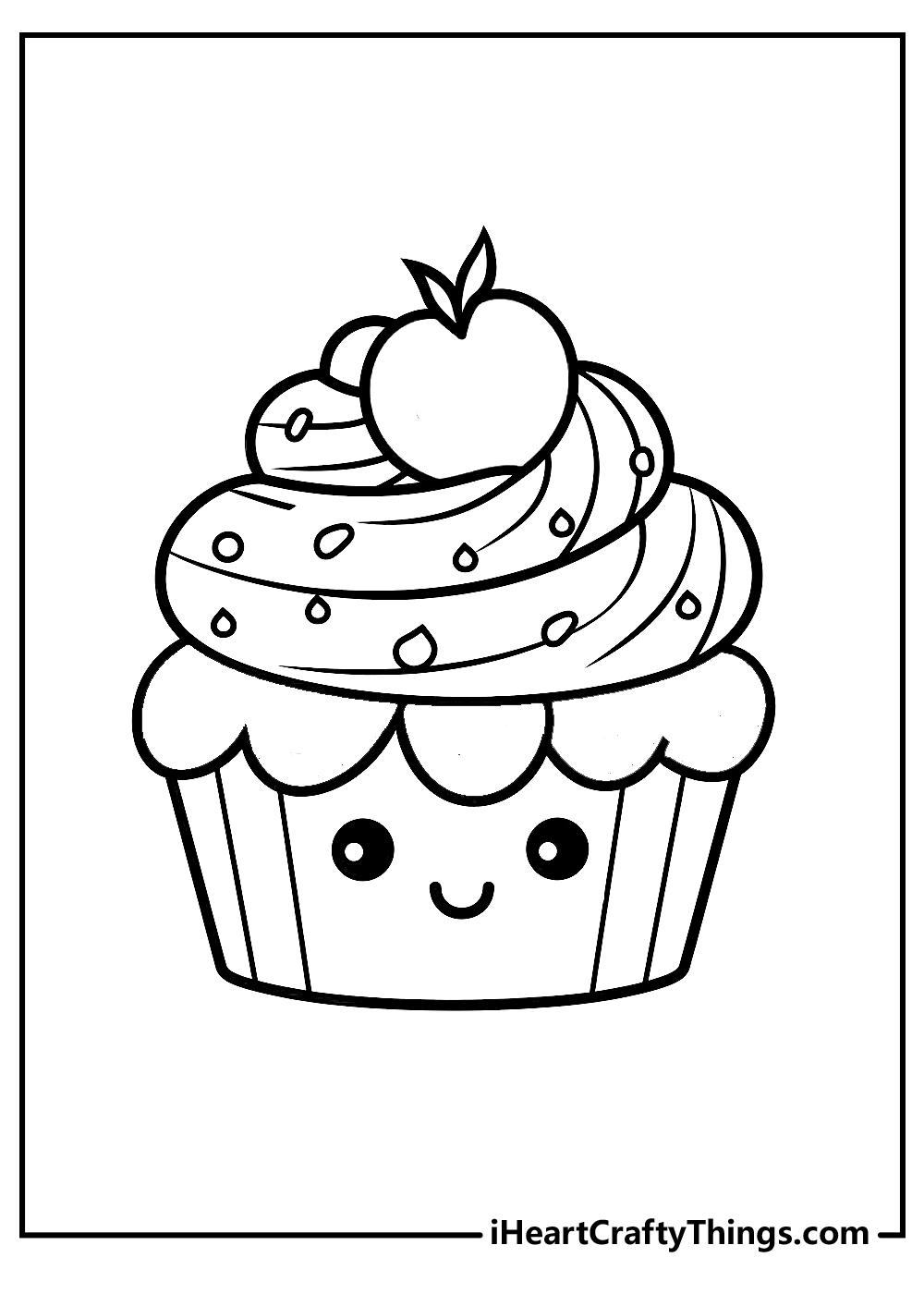 We can all agree that even the most basic cupcake recipes are delicious, but if we add some sprinkles on top, they're simply irresistible!
These sprinkles, as they're commonly referred to, are what cooks call "jimmies" – tiny sugar strands of confectionery.
They can come in many flavors, such as fruits and chocolate, and their colors are often chosen depending on the event.
In this cupcake printable, we have a delicious-looking cupcake that has lots of sprinkles on top, shaped like lines and circles.
The circles are different sizes, and we can color them using one shade or more. For an even lovelier effect, use glitter!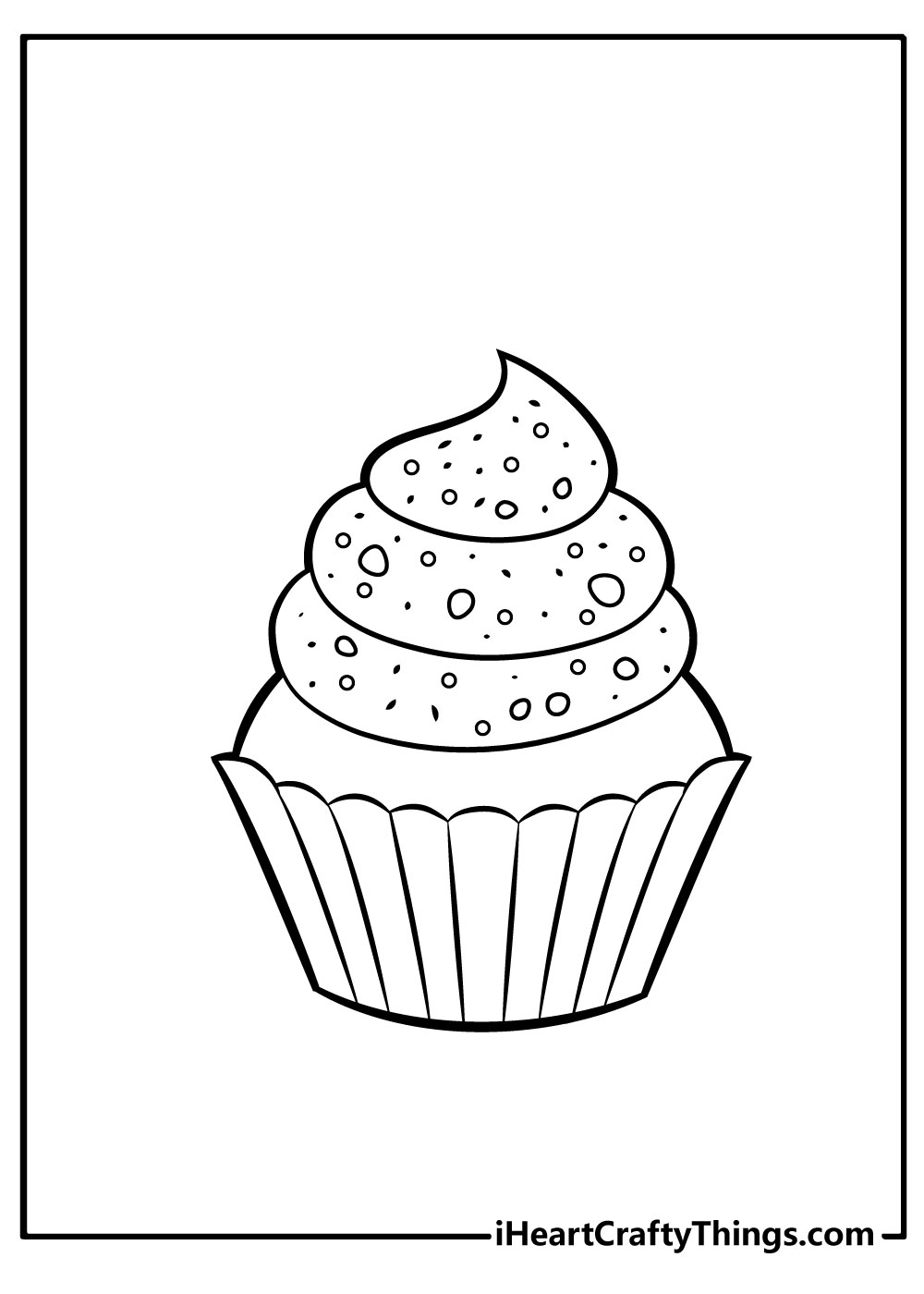 Adding tiny decorations on top of cupcakes not only gives them an irresistible look but also makes them more delicious.
For example, this cupcake has two wafer sticks which could be chocolate or vanilla.
The sticks can be eaten alone, but most people love scooping the frosting with them.
The cupcake also has a bit of syrup along with the frosting, so it could be a cupcake from a candy bar at a fancy event.
The frosting and syrup have tiny specks on them, so maybe they could be raspberry seeds?
In this case, we could use yellow for the frosting and red for the frosting and syrup and color ourselves a mouth-watering vanilla and raspberry cupcake!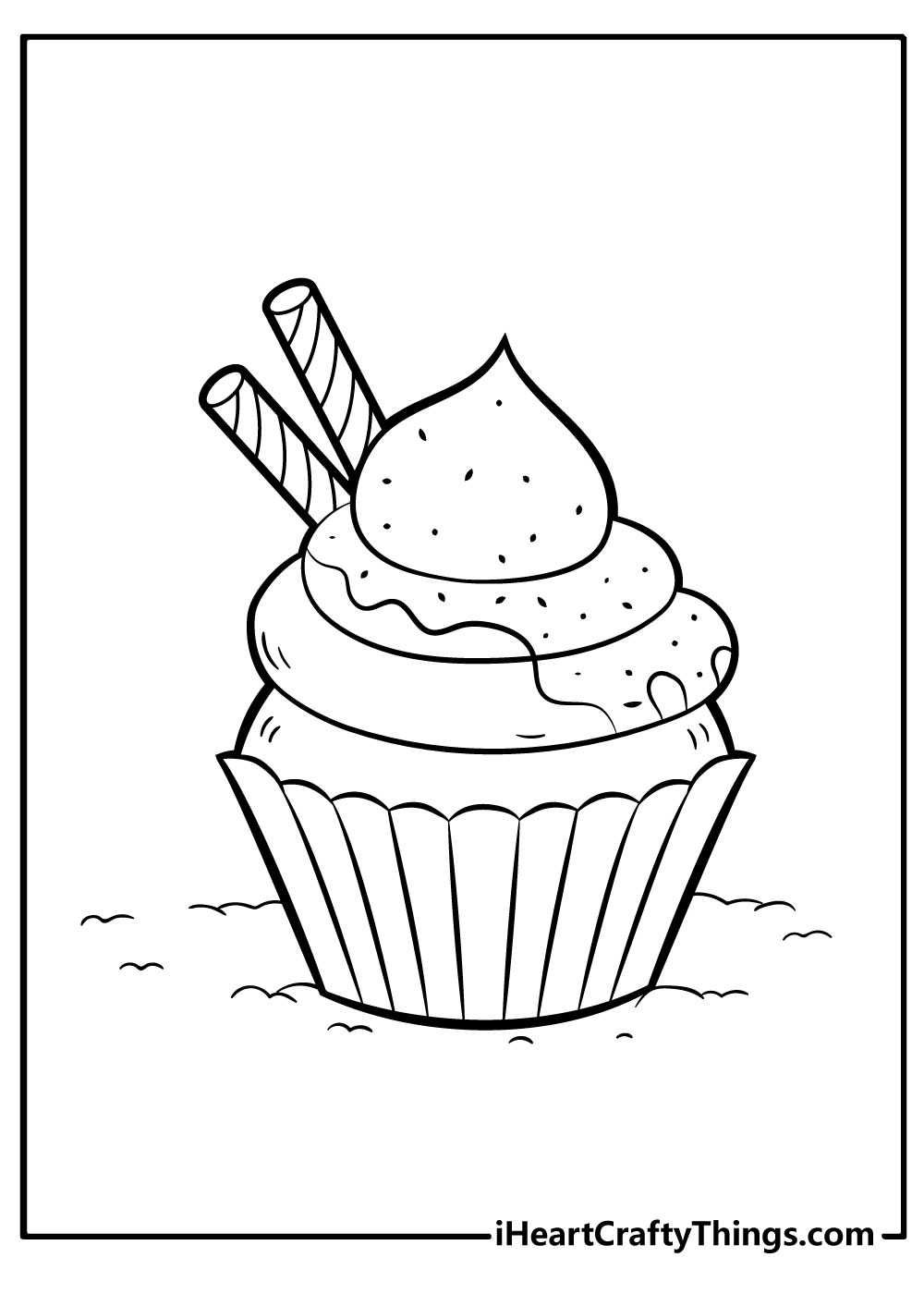 This next cupcake coloring sheet is just too cute! The face on the cupcake gives it a lot of character, and it gives the picture a cartoony feel.
For that reason, we would go with bright and vibrant colors if we were coloring this one, but it is up to you to decide now!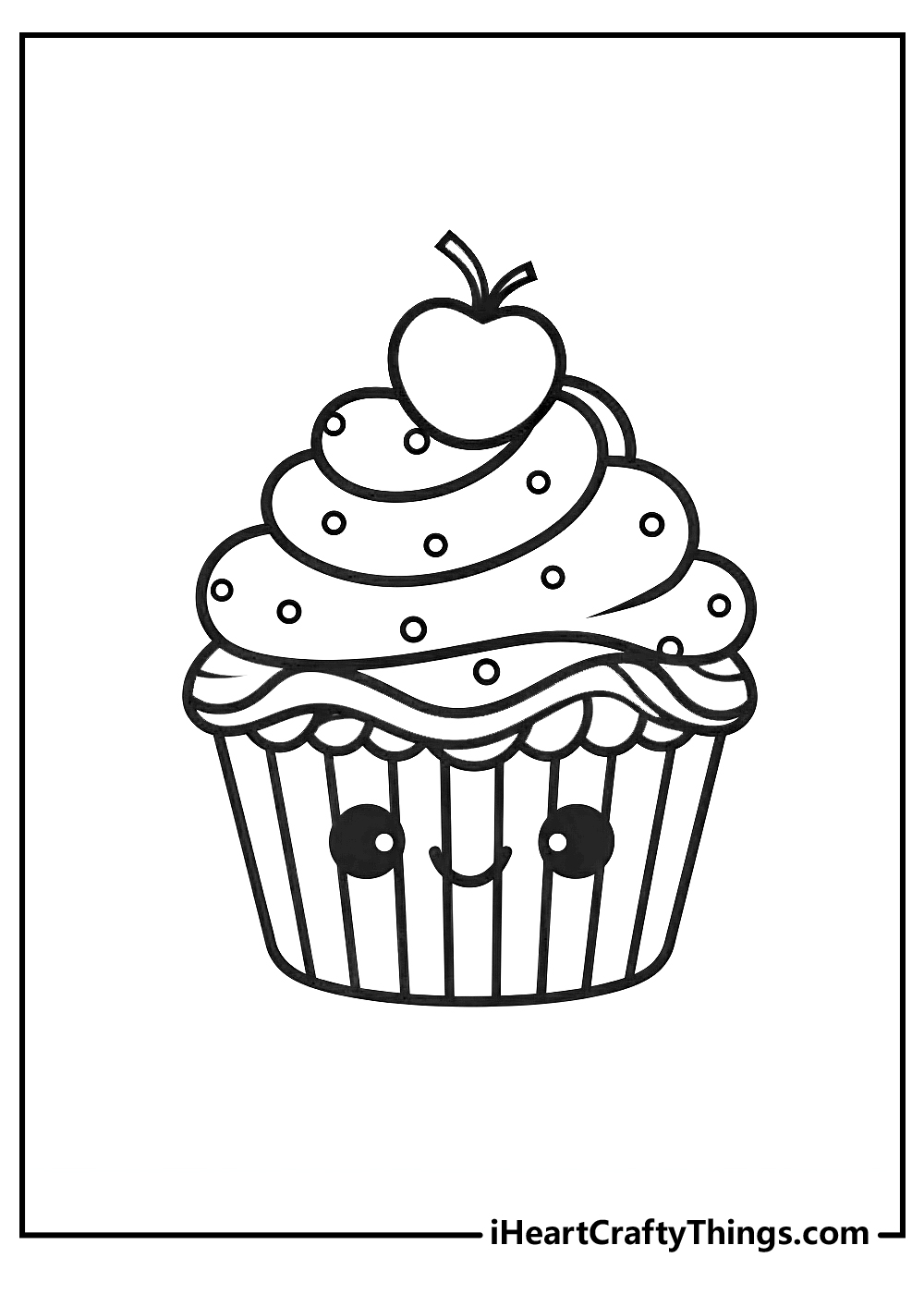 This cupcake coloring page depicts one of the most decadent types of cupcakes: a cupcake with ice cream and fruits on top.
It's the perfect dessert idea when you're craving both ice cream and a cupcake but don't know what to choose!
It even has a few sprinkles, which could be jimmies or chocolate flakes. The fruits on top are cherry and kiwi, so vanilla could be a good flavor for the frosting, but we can also use other fruity flavors.
The background of the page doesn't have any details, so we could use one pastel shade and let the details of the cupcake pop and add some nice contrast.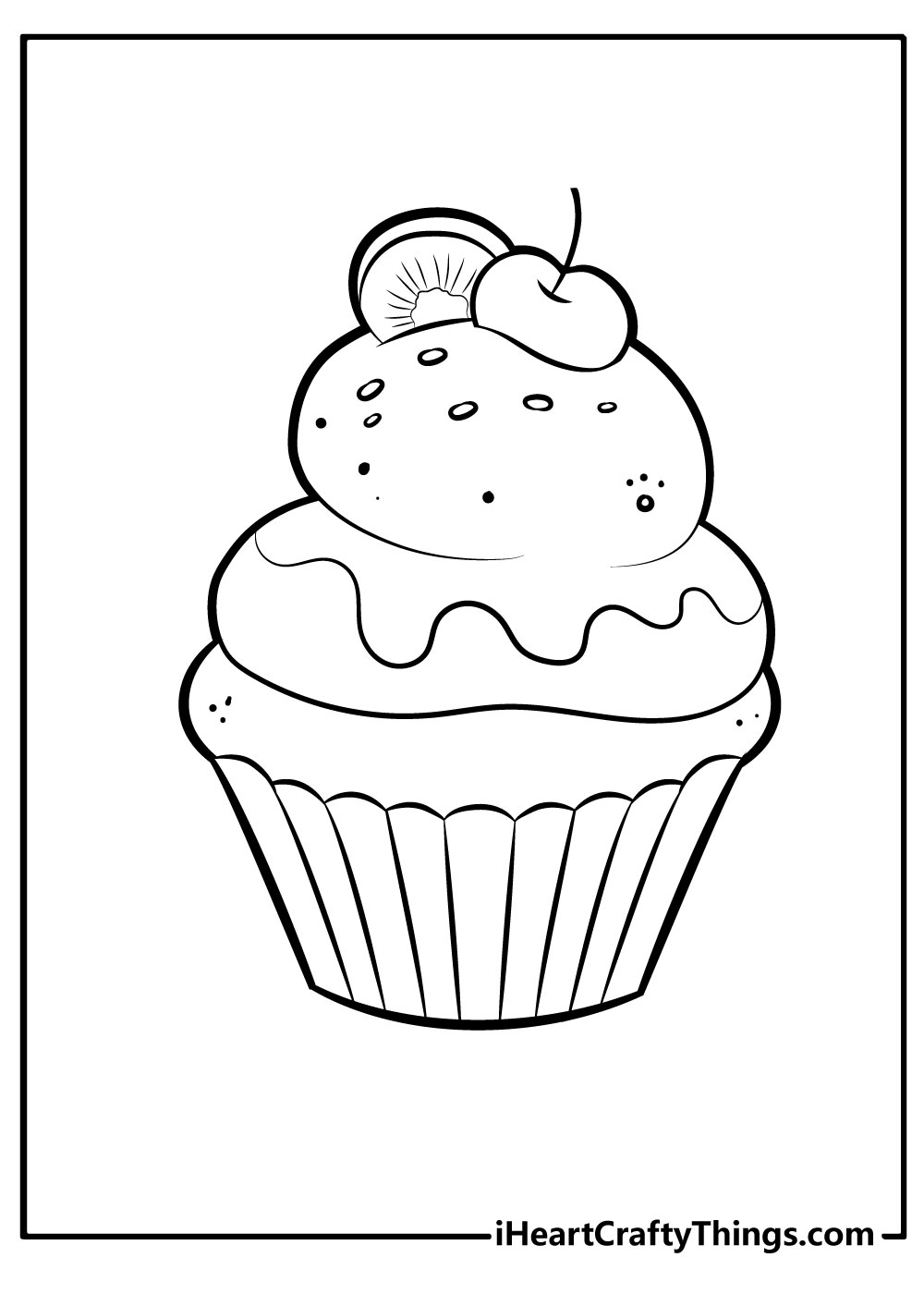 Cherries are often used as the go-to finish touch for cupcakes, but not everyone loves cherries, and that's perfectly fine.
A fresh strawberry on top is just as delicious and pairs amazingly well with a scoop of vanilla ice cream and fruit-flavored sprinkles!
Strawberry cupcakes with ice cream are the perfect dessert for spring and summer because they're so refreshing and easy to make!
This cupcake coloring page really reminds us of lazy childhood summer days when you want to grab a quick dessert and get back to playing outside in the sun.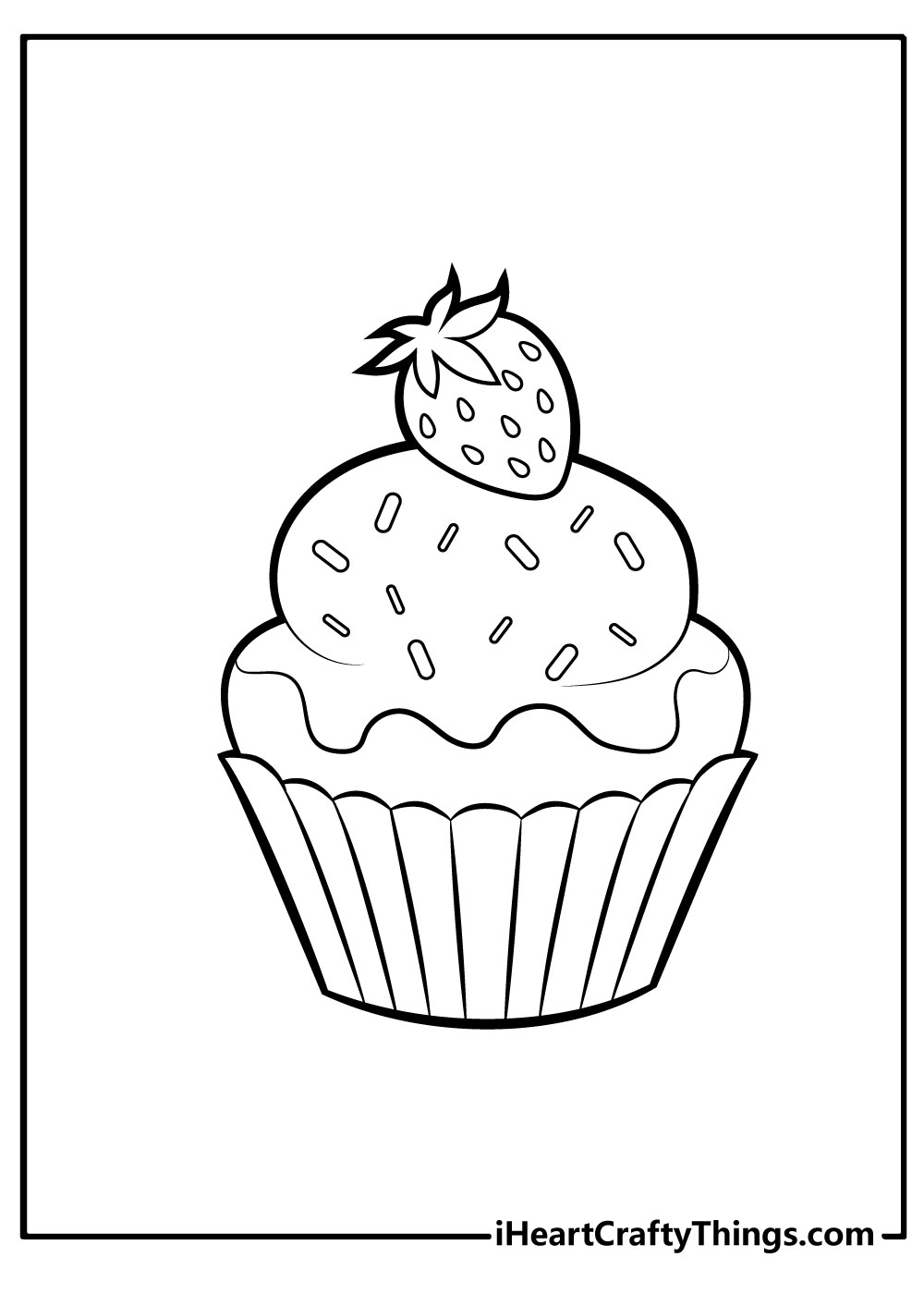 A cherry sits atop this next cupcake, and that means you have the chance to add a beautiful spot of red. Using vibrant mediums like colored pens or markers is perfect for bright color contrasts.
There are so many mediums to use, so you could experiment with some of your favorites!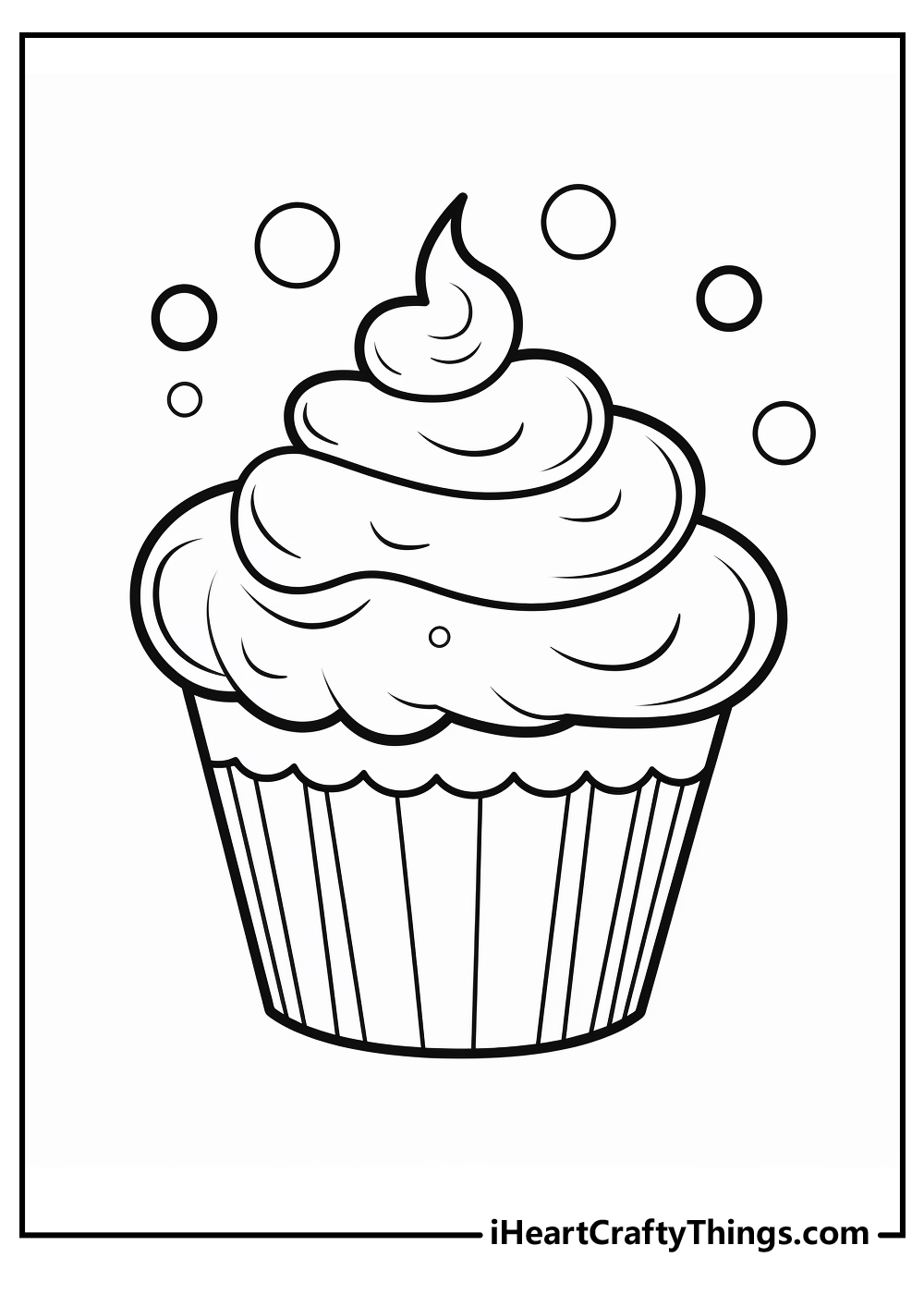 Now, here's a giant cupcake that will make an impression! This cupcake printable is all about the frosting, and that's where you'll get to be creative with color combinations.
Let your imagination run wild! You can use yellow and brown for vanilla-chocolate, red and yellow for strawberry-vanilla, and much more.
This novelty cupcake also has a few sprinkles speckled on top, and considering how fabulous it looks, glitter colors are the best way to fill them in.
In real life, giant cupcakes can be tricky to make because you need a special mold and a lot of patience when decorating, but this printable is all about fun and creativity!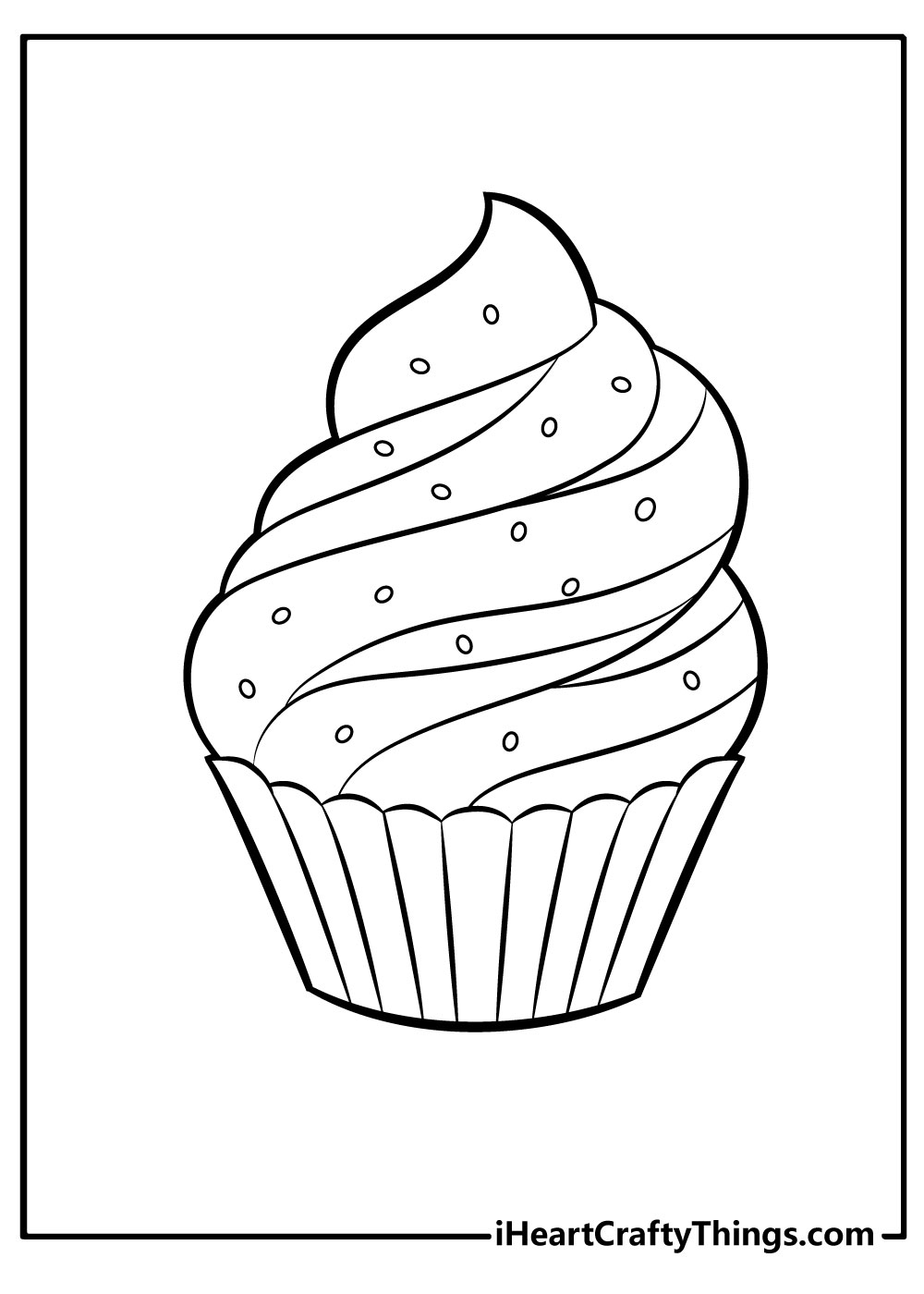 This elegant-looking cupcake is worthy of a princess! Although its design looks quite simple and classic, the fruits and leaf that were added on top bring an interesting twist.
The fruits could be cherries or physalis, and the leaf can either be real or made from marzipan, so you don't have to limit yourself to green when coloring them.
The background of this coloring sheet doesn't have any details, so you can color it in one color or add your own drawings to give it a personal touch.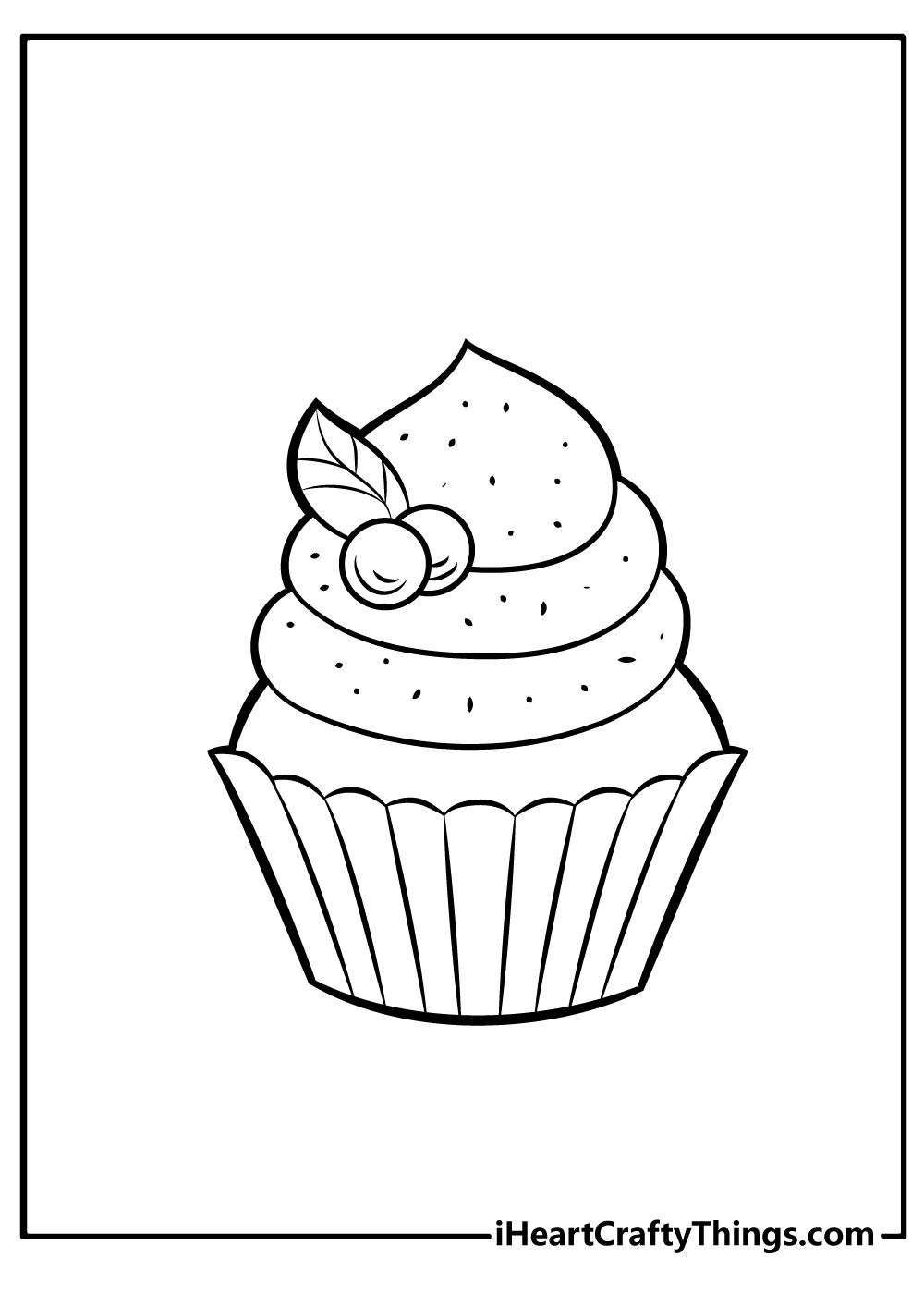 What could be better than a tasty cupcake? Two tasty cupcakes of course!
This cupcake printable has two cupcakes for you to color, and you could have them matching colors or make each one unique. There are so many combinations for you to try!
Will you make them match or make each one as unique as possible?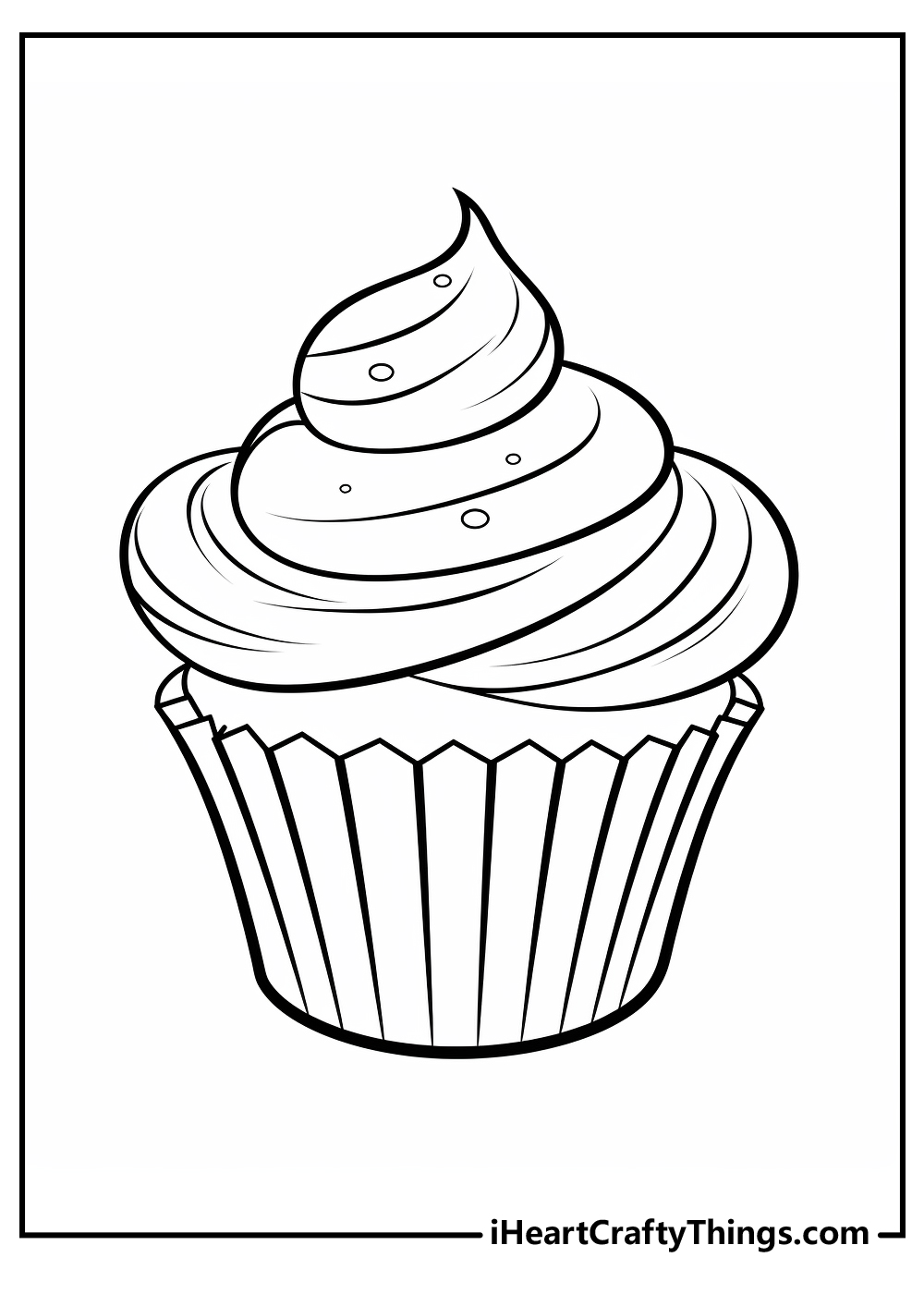 Ending our list of printable cupcake coloring pages, we have this fancy cupcake with frosting and two pieces of fruit: a slice of lemon or lime at the back and a big juicy strawberry at the front.
The cupcake can be vanilla or chocolate-flavored, and the frosting looks like buttercream.
If you love fruity treats and adorable decorations, this cupcake will definitely be fun to color!
Cupcakes are some of the most popular desserts of all time, and we hope that you enjoyed coloring these cute printables.
We add new coloring sheets regularly, so come back soon for more awesome cupcake coloring page ideas!