Buildings and other structures are a big part of our everyday lives. We use buildings as living spaces, work locations and many other important purposes.
These buildings don't just pop up out of nowhere, and they need skilled construction workers to plan out and build them!
This is what we will be focusing on in this awesome collection of free construction coloring pages for kids.
There are many different disciplines and aspects involved with construction, and we will be covering a wide array of these in this collection.
There will be plenty of opportunities for you to use any of your favorite colors and art mediums as you work through these pages!
Every one of the pictures we have for you here is free for you to pick, print and enjoy as many times as you wish!
You don't have to stop there, however, as you can also share this collection with your friends and family for them to enjoy.
So grab all of your coloring gear and prepare for some artistic coloring fun! You can pick some favorites or complete the entire set.
When you have finished coloring all of your chosen pages, you can share the results of your creativity on our Facebook and Pinterest pages!
15 Brand New Construction Coloring Pages – Free to Print and Color
In modern construction, bricks are one of the most common and frequently used materials.
These bricks need to be built up in layers with concrete between them, and this can be quite an arduous process!
This first picture in the collection features a man laying bricks. He seems to be in a good rhythm, and even though it can be a hard job he seems to be happy enough as he works!
Bricks can be made from many different materials and come in different colors, so you have some options as you color this first page.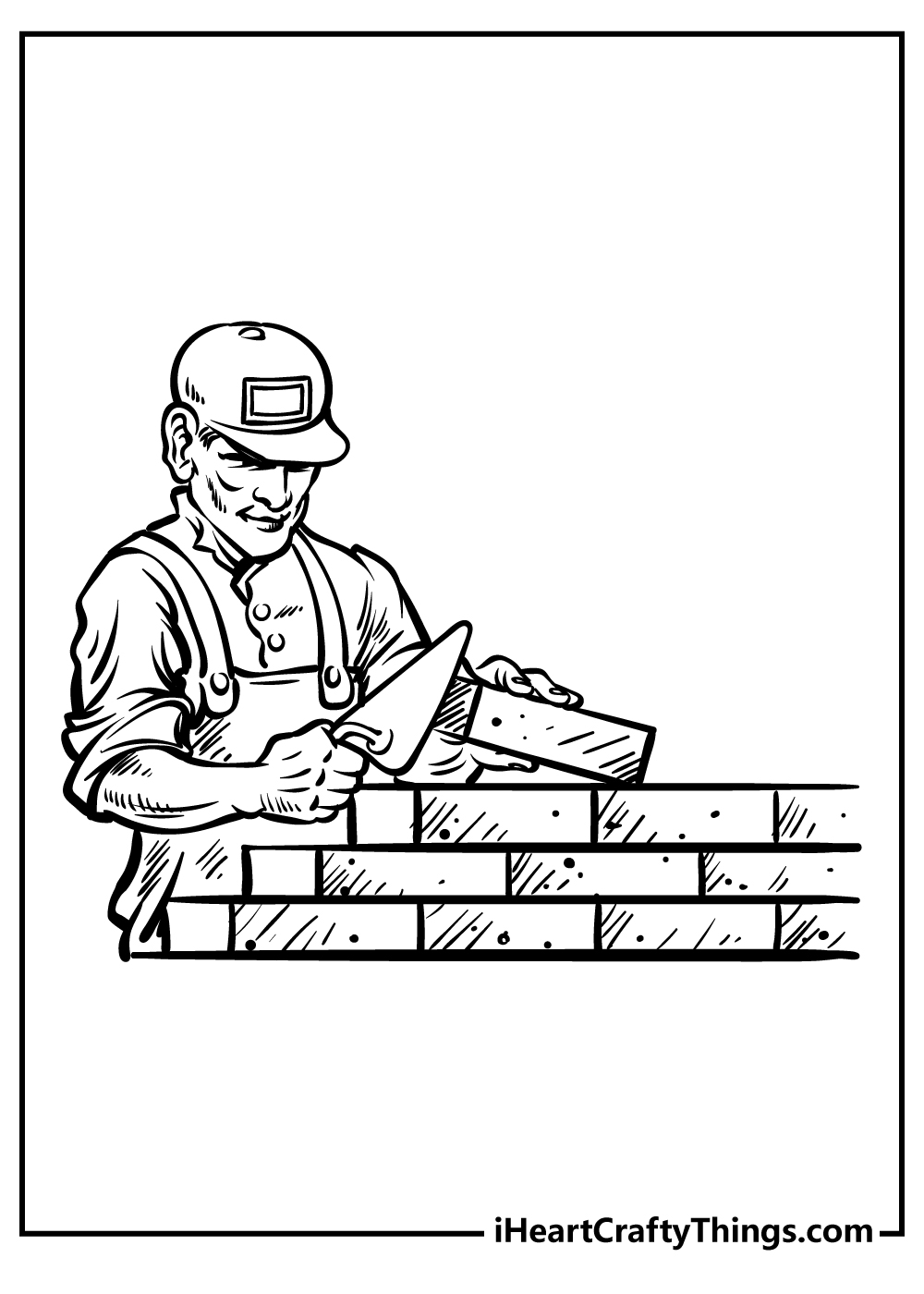 There are so many amazing small details to color on this construction coloring page! These two kids look like they're ready to get building.
You have so many cool details in the background, so this one should keep you busy for a while. Which details will you color in first?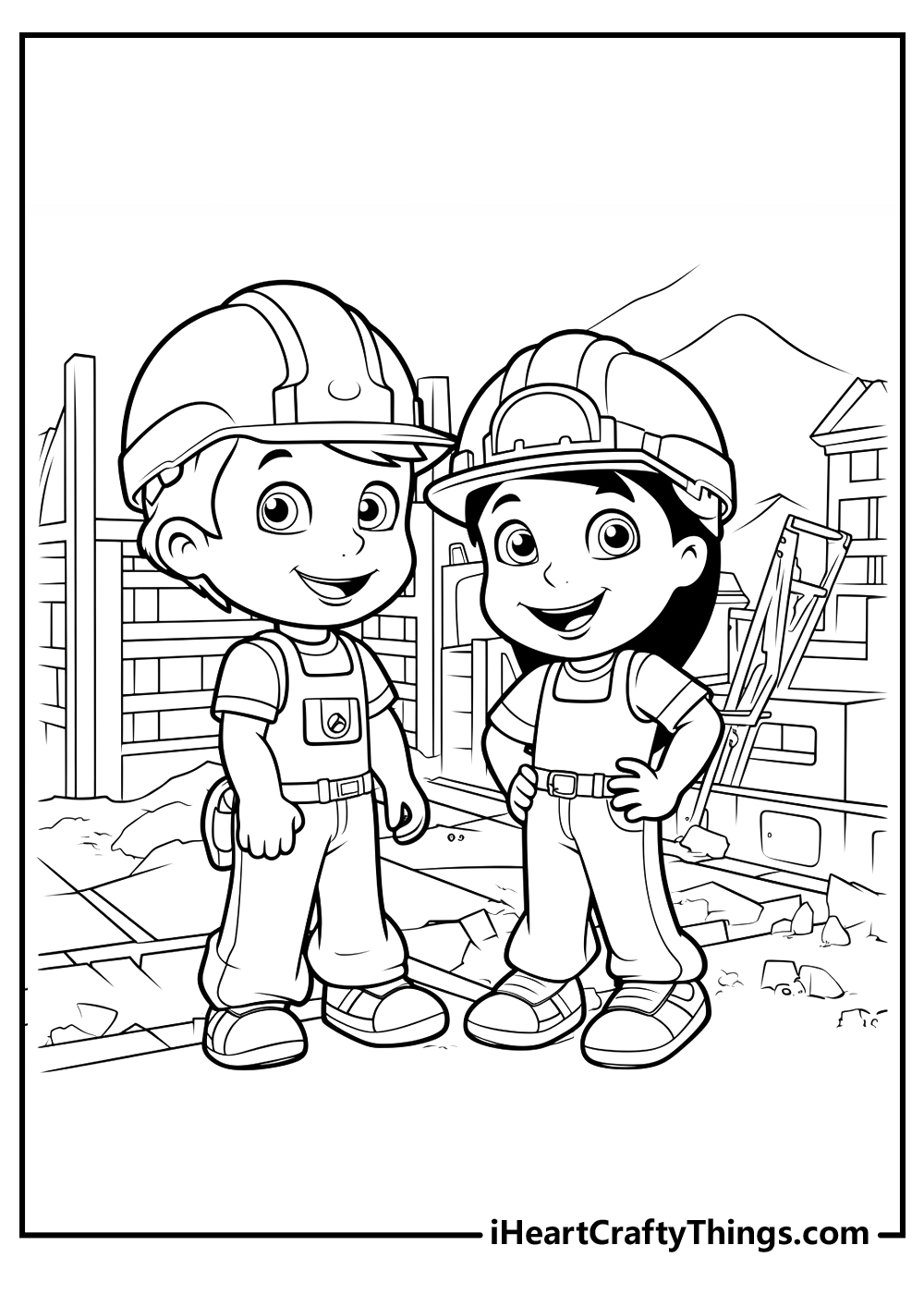 We have another bricklayer for you to color in our second free construction coloring page for kids!
This second man seems like he's really concentrating on the task at hand, and that is quite understandable.
Because this image has a more intense feeling to it, we would use some darker, more muted color schemes for this one, but what do you think you will use?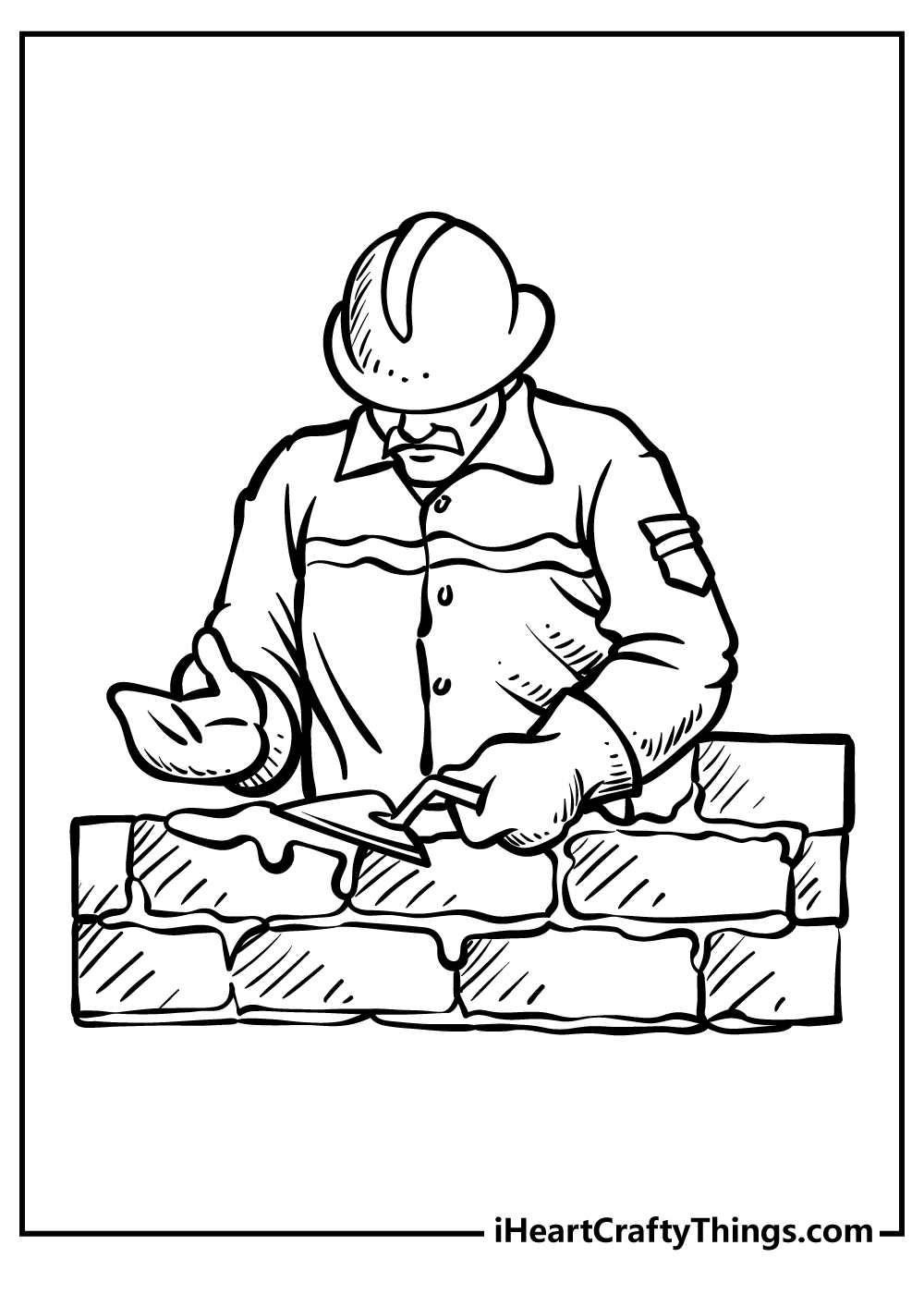 Jackhammers look like they would be a lot of fun to use! They can be a bit unpleasant to hear when they're being used near your house for construction, but they are still really cool.
A man using a jackhammer is the focus of this next page, and it's a really fun composition to color.
For this one, we would recommend using some bright, bombastic colors to create a 'loud' image that reflects how much noise this tool makes!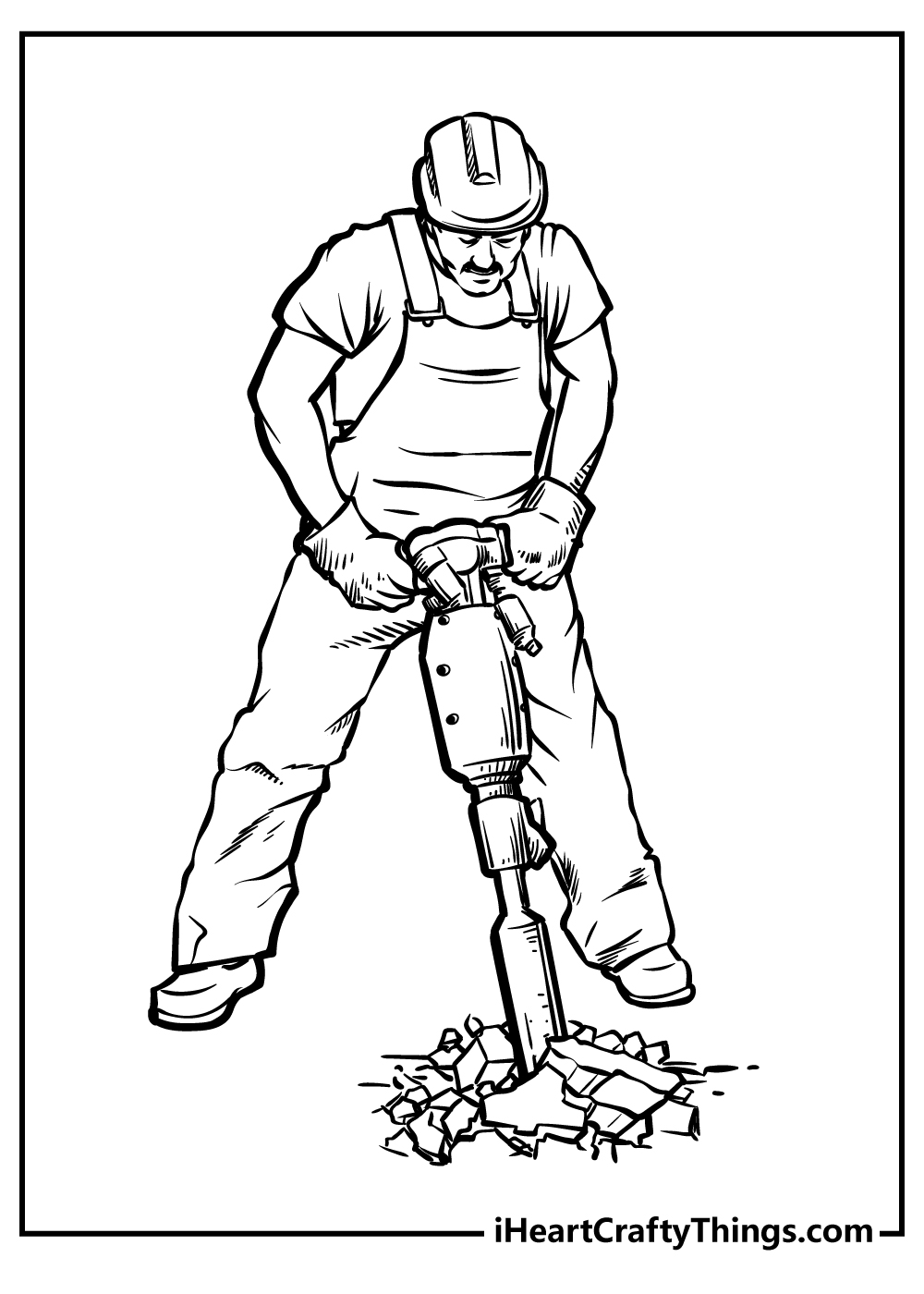 These three girls make a great team, and they seem very happy to be on the job! There seems to have been some building in the background already, but there is room for extra details.
Using your colors and drawing skills, you could show what these kids have been up to on this building site.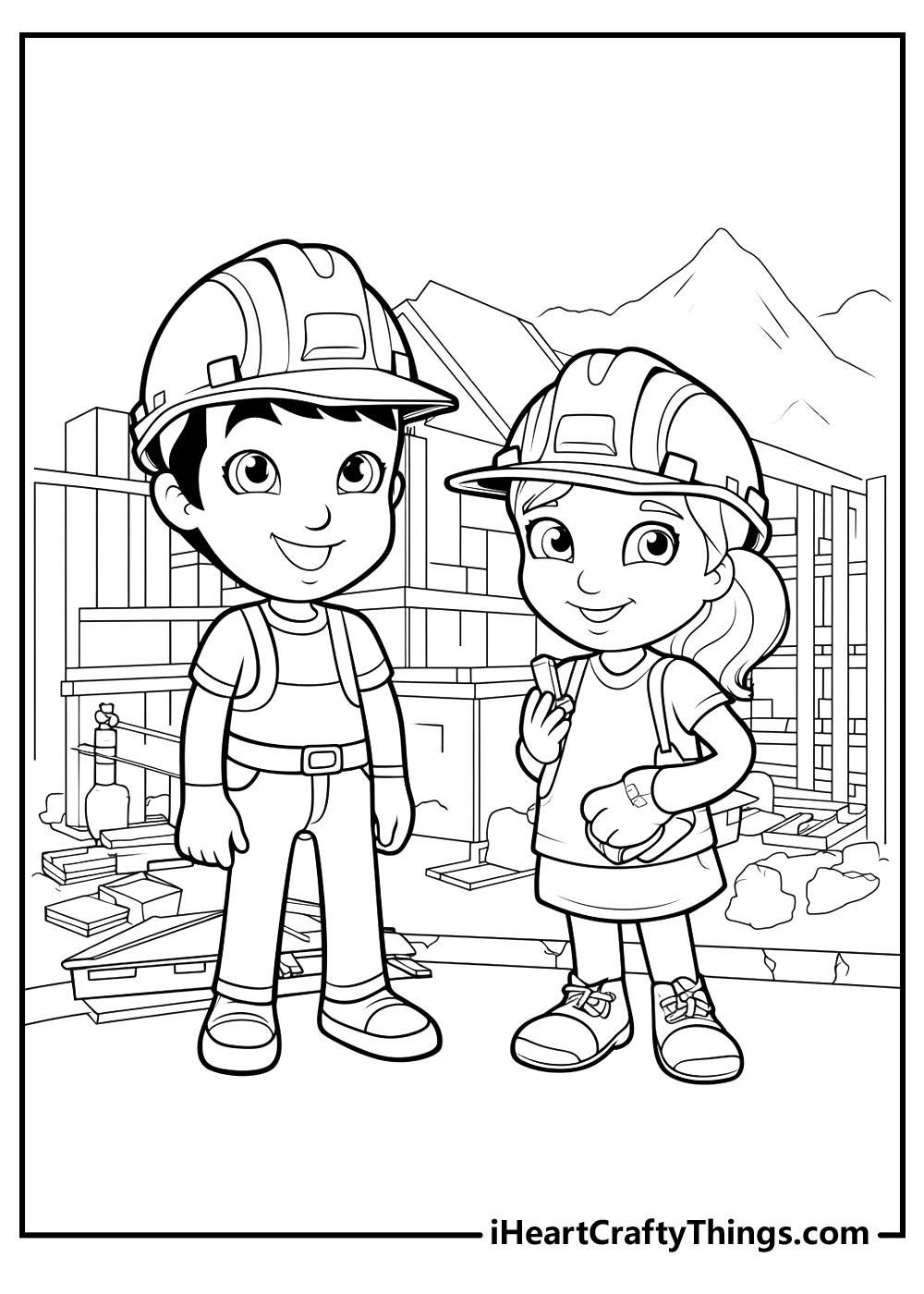 Building requires a ton of precise planning, and blueprints will be essential to every build.
There is some planning being consulted in this construction coloring sheet, and this builder seems to really be concentrating hard on the task at hand.
The background of this image is blank, and that means that you could draw your own background details.
That would be a great way to give a glimpse into what is being planned out on the blueprint he is examining.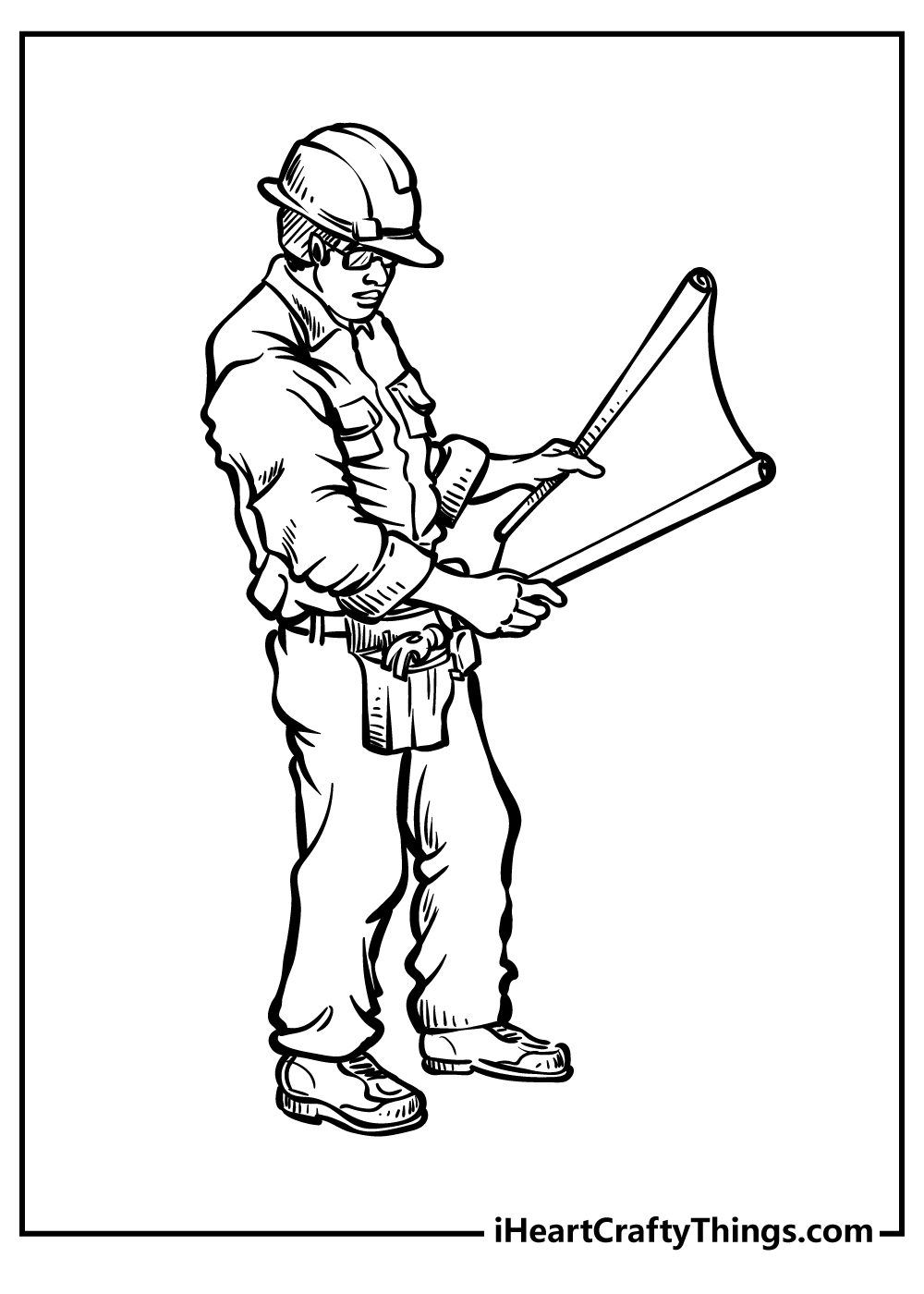 The builder in this next picture is looking very cool! He seems to be enjoying a rare quiet moment off, and he seems very proud.
This would be another image where we think drawing a background would work really well.
Once again, this would allow you to show what you think he may be working on. It would also give a glimpse at what he is looking so pleased about!
What kind of structure do you think he could be working on?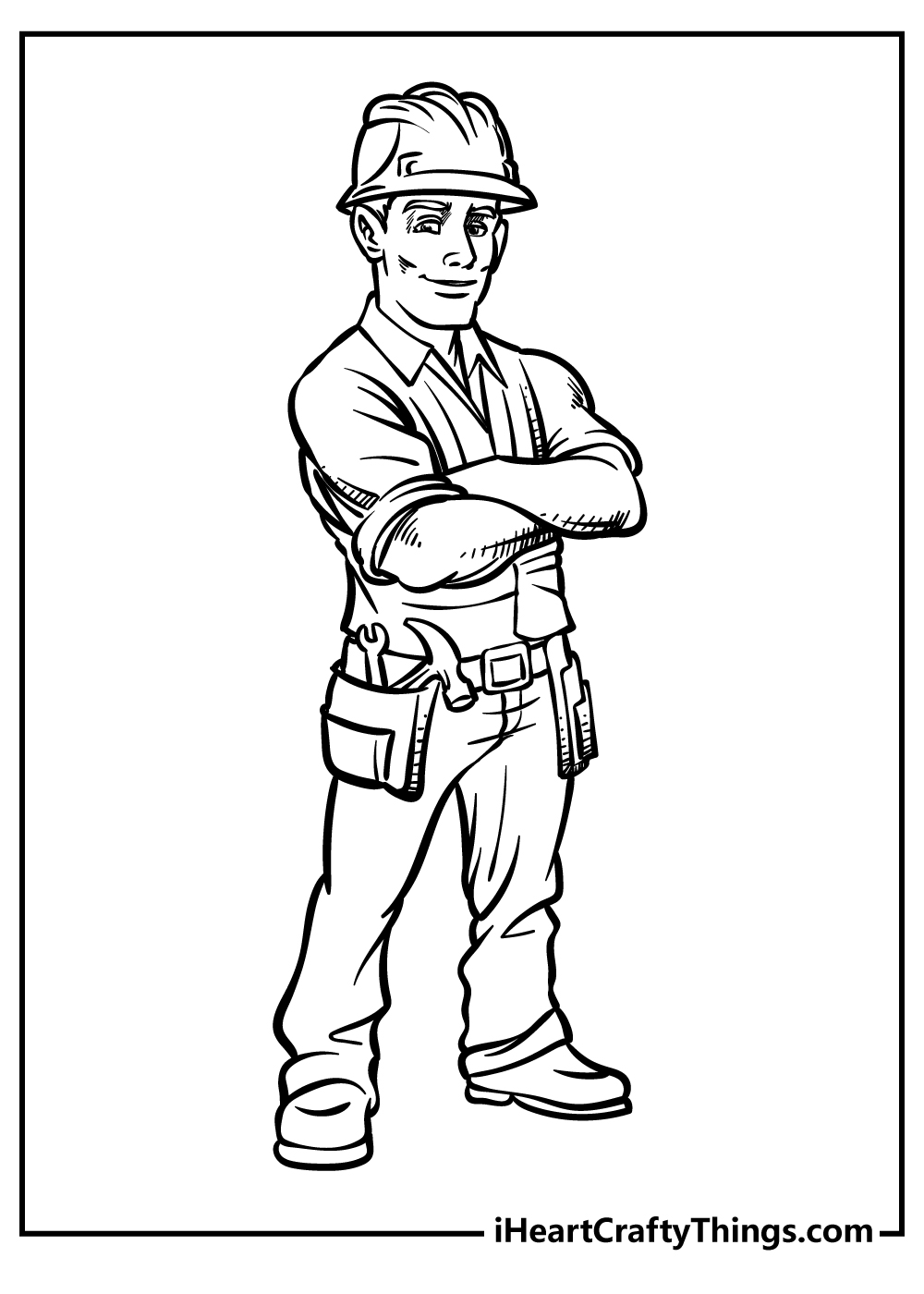 This next construction coloring printable shows a building that is in the early stages of building. They look like they still have a ways to go, but you have to start somewhere!
Even though it is in the early stages, you could show off which colors they will be using for this project. What color scheme do you think they would choose?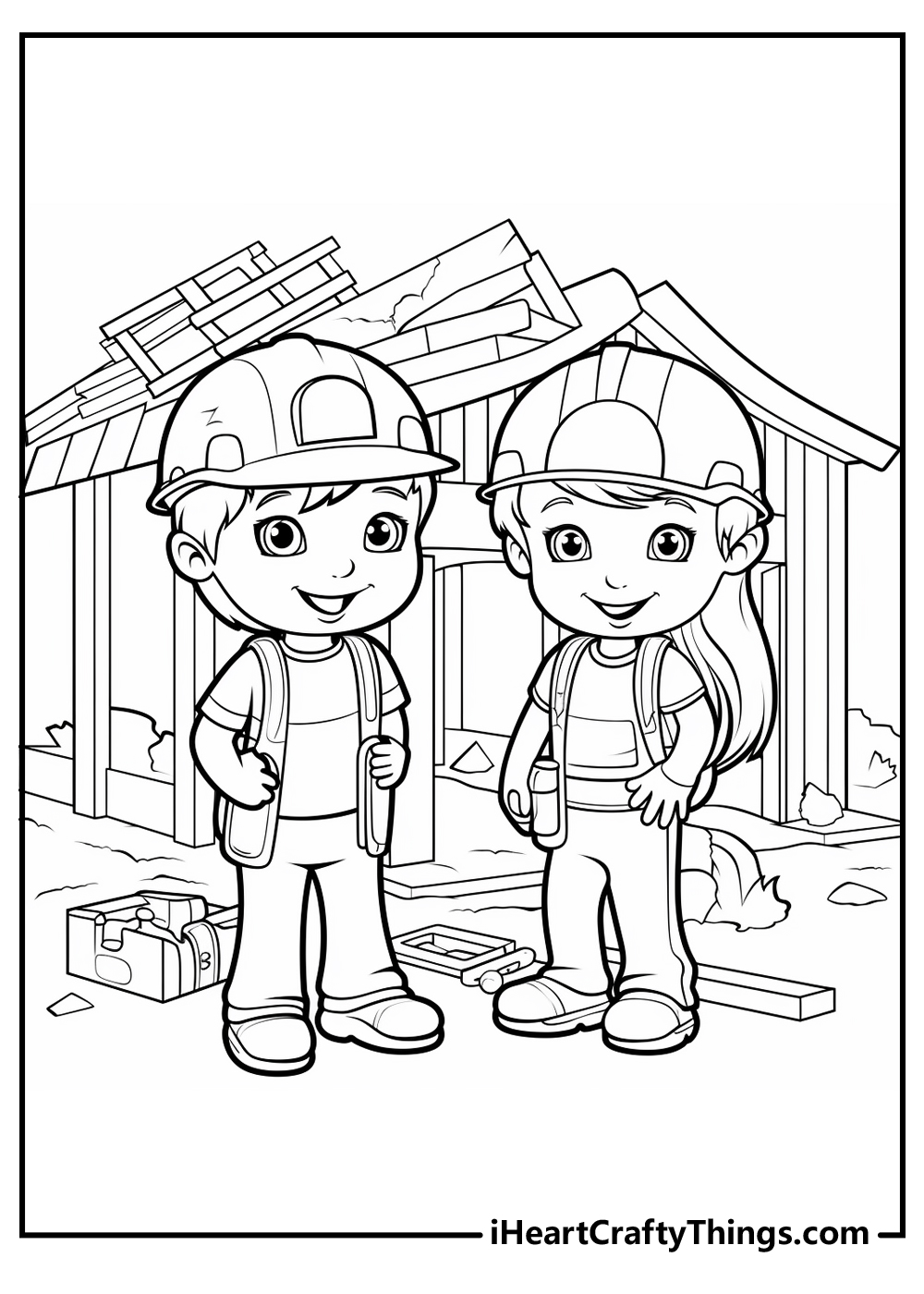 There's another scene with a builder holding a blueprint in this sixth construction printable.
He's also talking to someone on a phone, and his smiling face suggests that he is giving some good news to someone involved in the project.
When coloring this picture, remember that you can try out different art mediums!
If you're a bit less familiar with a medium you want to try, then you could print out a few copies of the picture so that you can experiment without fear.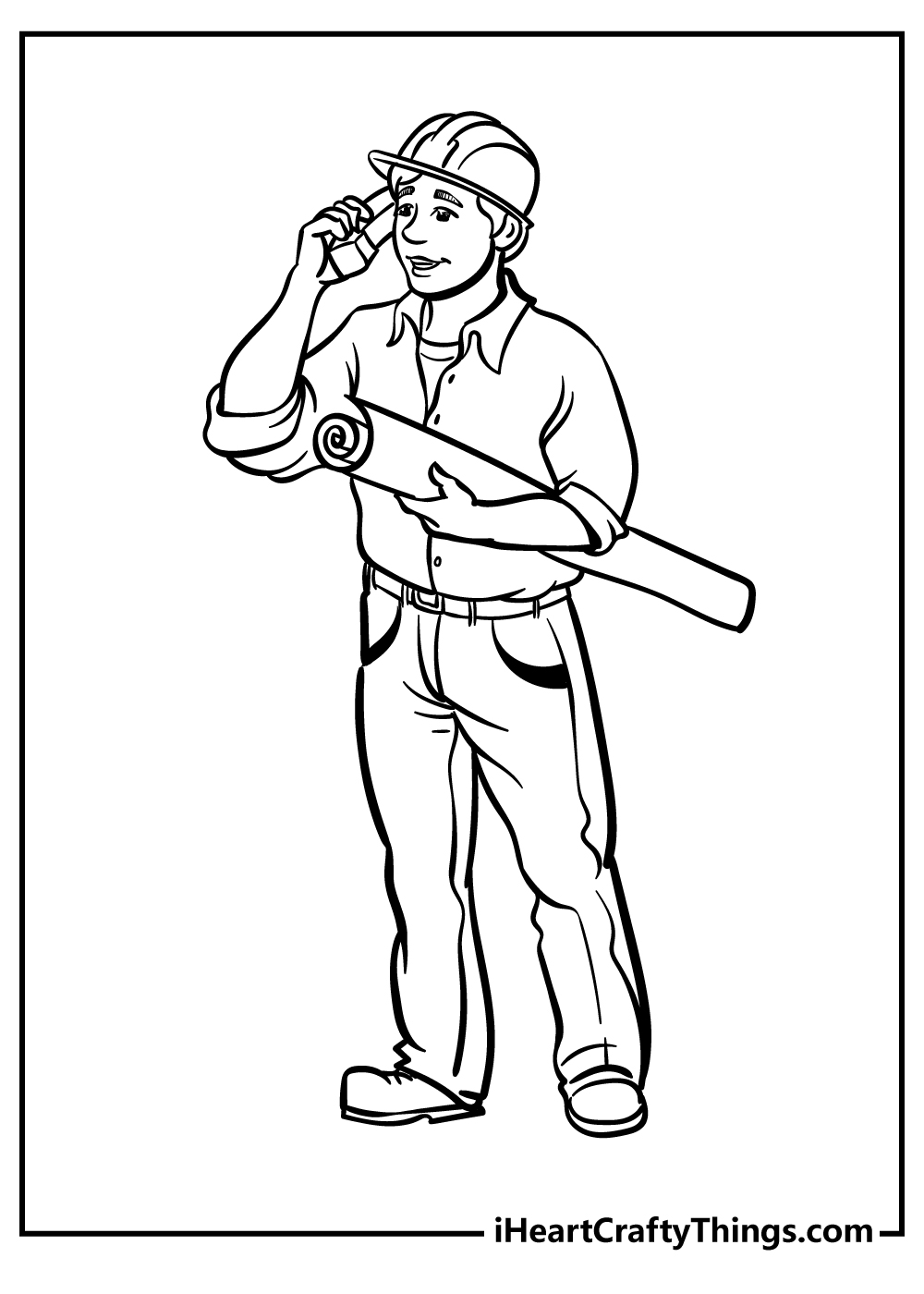 This next scene features some more planning and blueprints.
There must be a rather intense build going on, as we have three men carefully considering the blueprint. What could require such concentration from three people?
The blueprint is left blank, so you could use a thin-tipped pen or pencil to draw some plans onto the page. What kind of structure do you think they may be working on?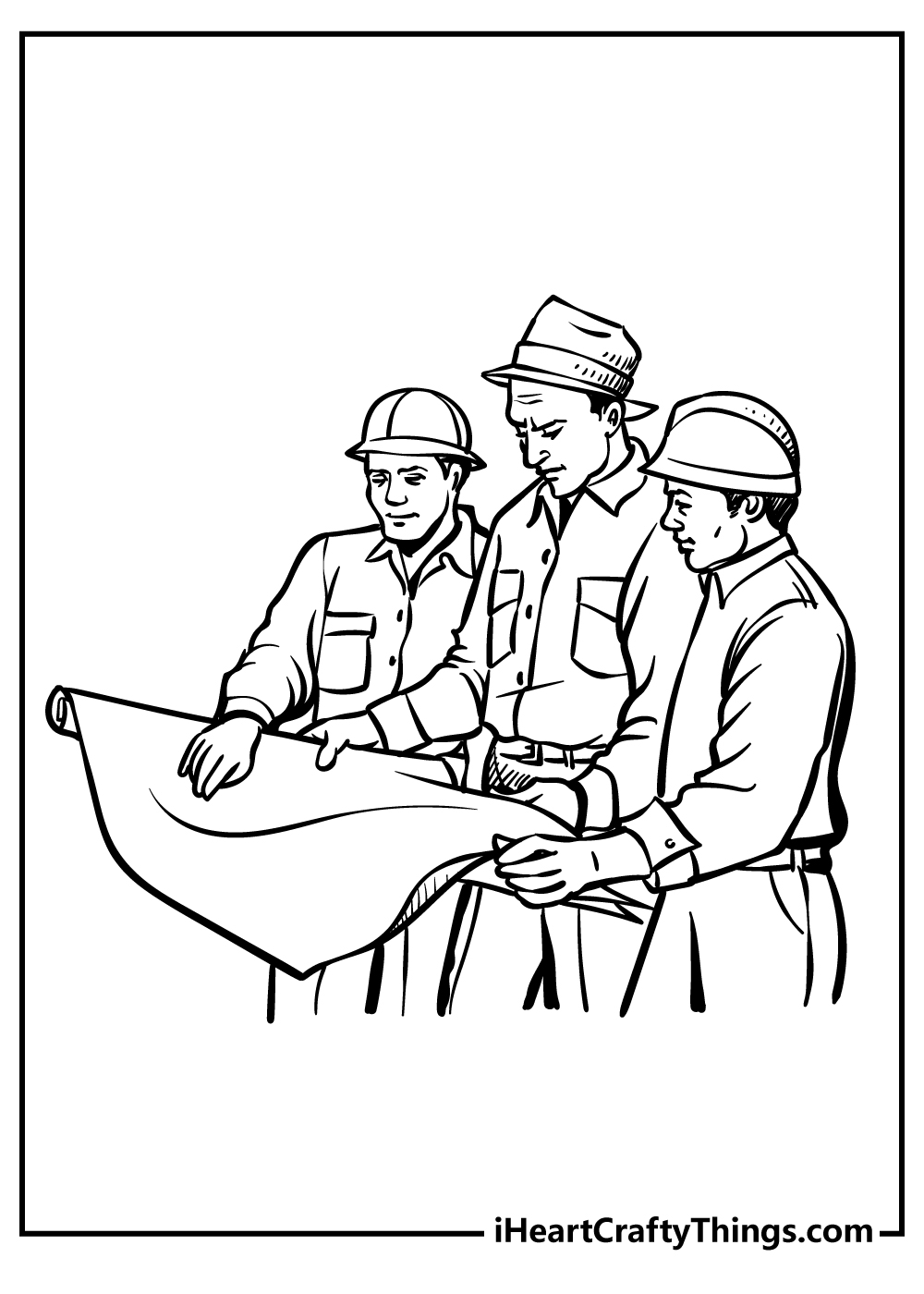 The building in the background of this next page looks quite complex and large! It must be a pretty big operation, but these builders look up to the task.
Remember that you can also add more details and tools for them to use if you think the picture is missing anything. Let your imagination run wild and see what happens!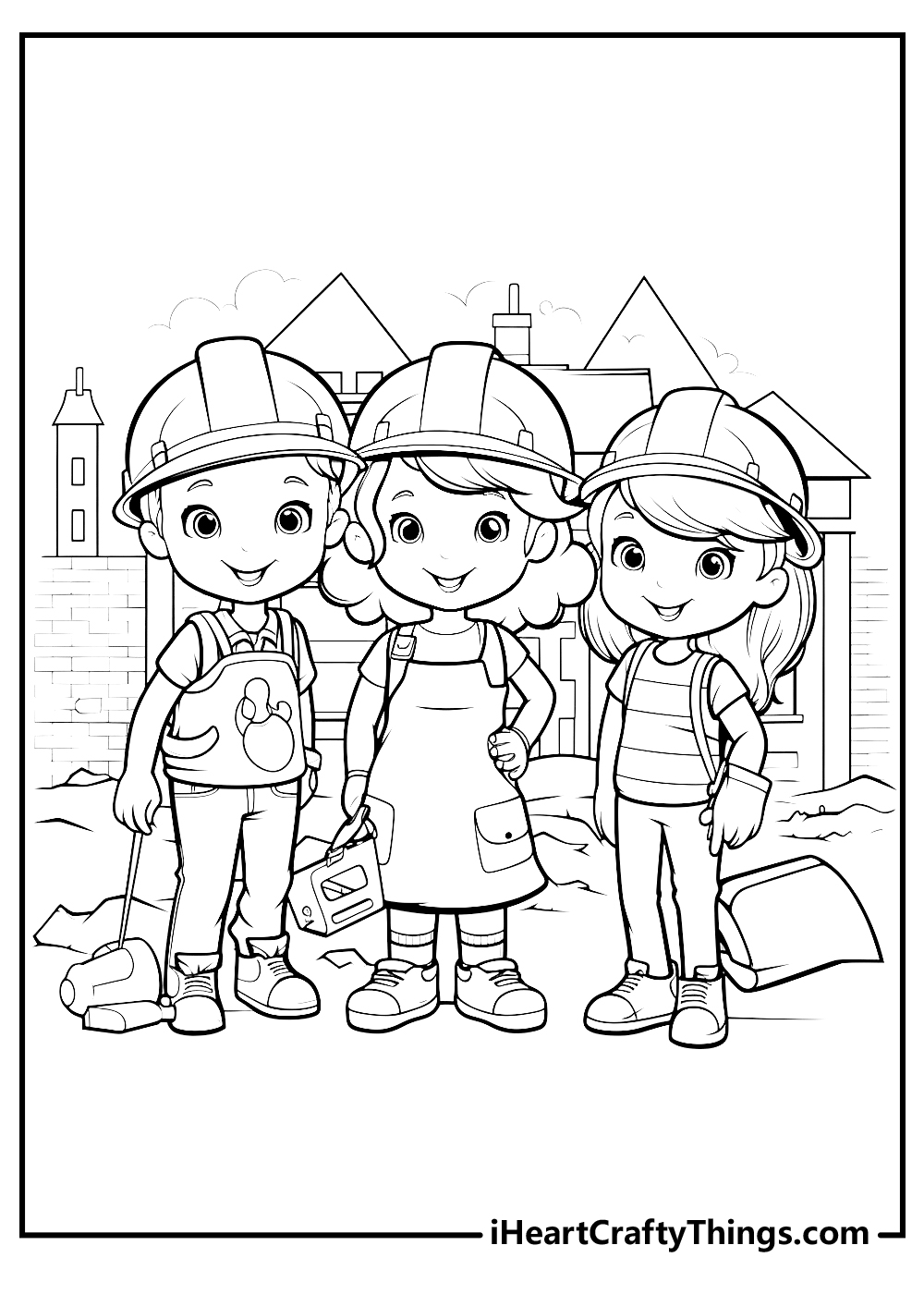 There are tons of great little details to color in this construction coloring sheet. He seems to be making some measurements using a tool, and he has plenty of gear strapped to his body.
When coloring smaller details such as these, you can use mediums that allow for more precision to make it easier.
Examples of these would include some colored pens, pencils or brushes with thin tips. What will you use to color this builder?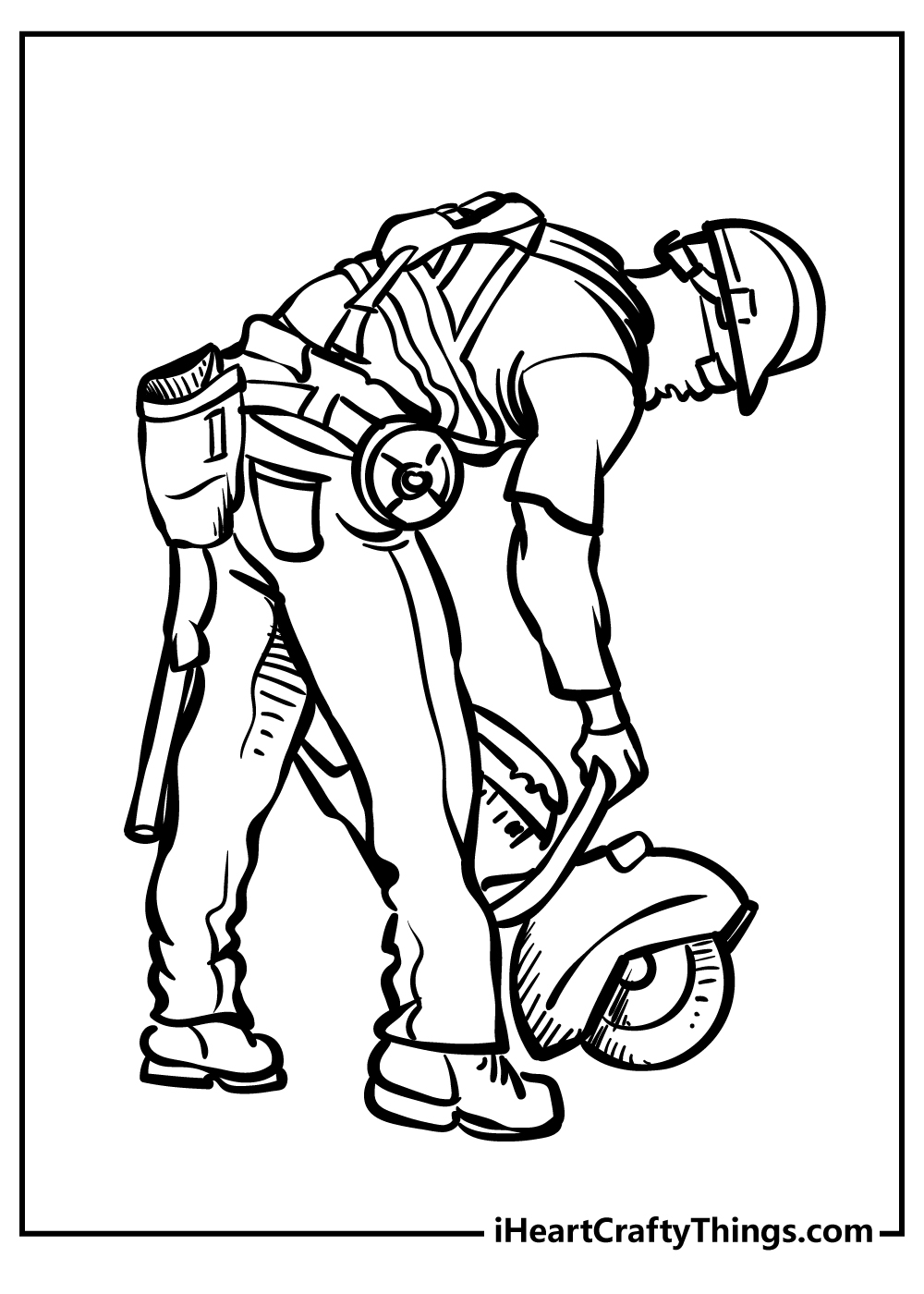 Here's another cool scene to color in! This builder seems to be using some kind of angle grinder, and this is another tool that requires a lot of concentration.
This tool will often create a spray of bright sparks whilst being used, so you could use some bright dashes of yellow to portray these sparks.
Will you also add some more details to the background to finish off this scene? When you have completed this one, we will be ready for the final image in the collection.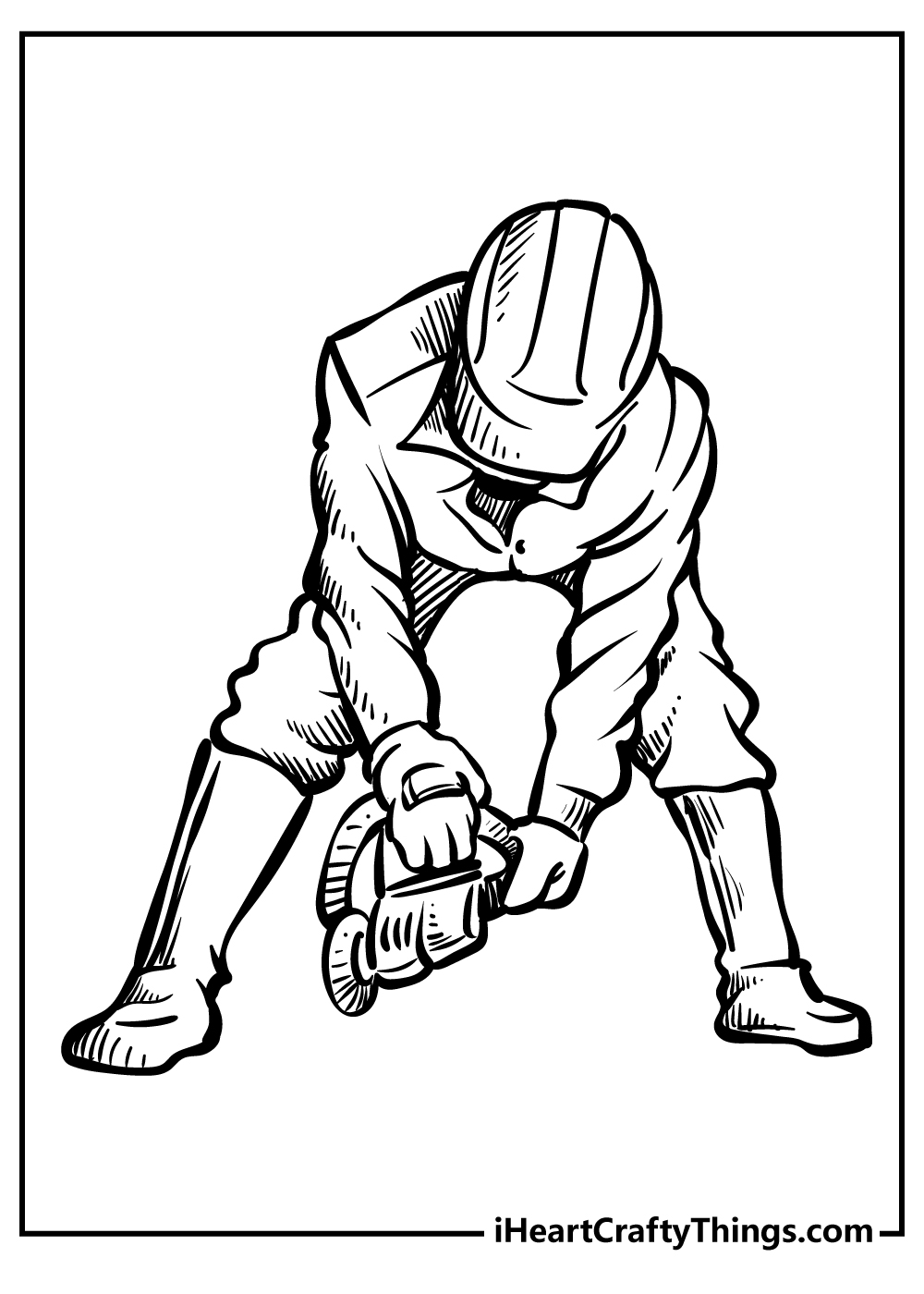 Next up, we have two more young builders who look happy and excited to be on the job! It's another big project from the looks of it, and it's probably quite a challenge keeping everything under control.
They seem to have it all going smoothly, so now you can finish off this construction printable with your colors, details and other finishing touches.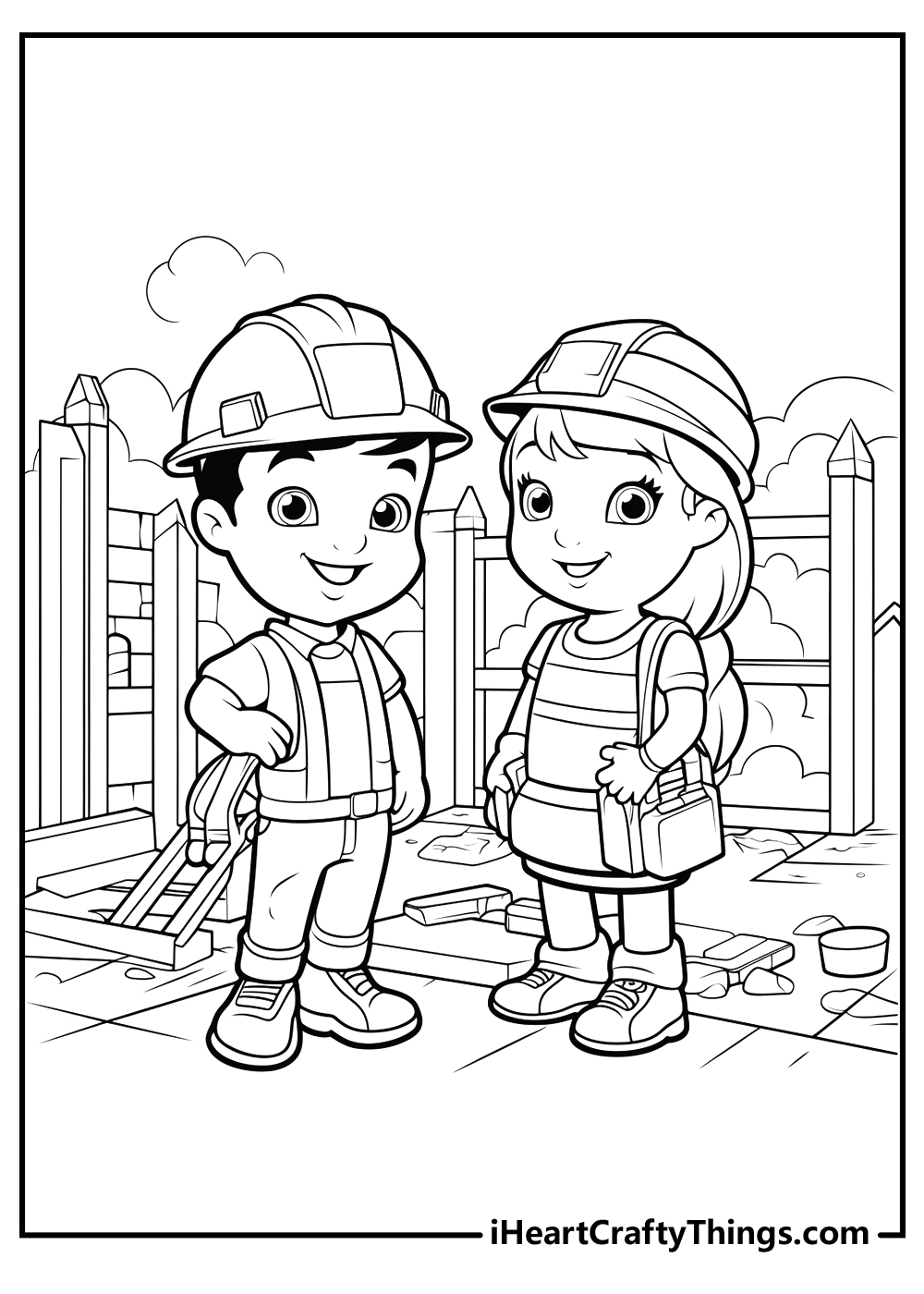 Now it's time for the final image in this collection of free construction coloring pages for kids! While bricks are commonly used in construction, wood is another material that is used a lot.
This builder seems to be carrying around some planks, and there is once again a big blank background that you could add some awesome details to.
We can't wait to see how you finish off this cool final page of the collection!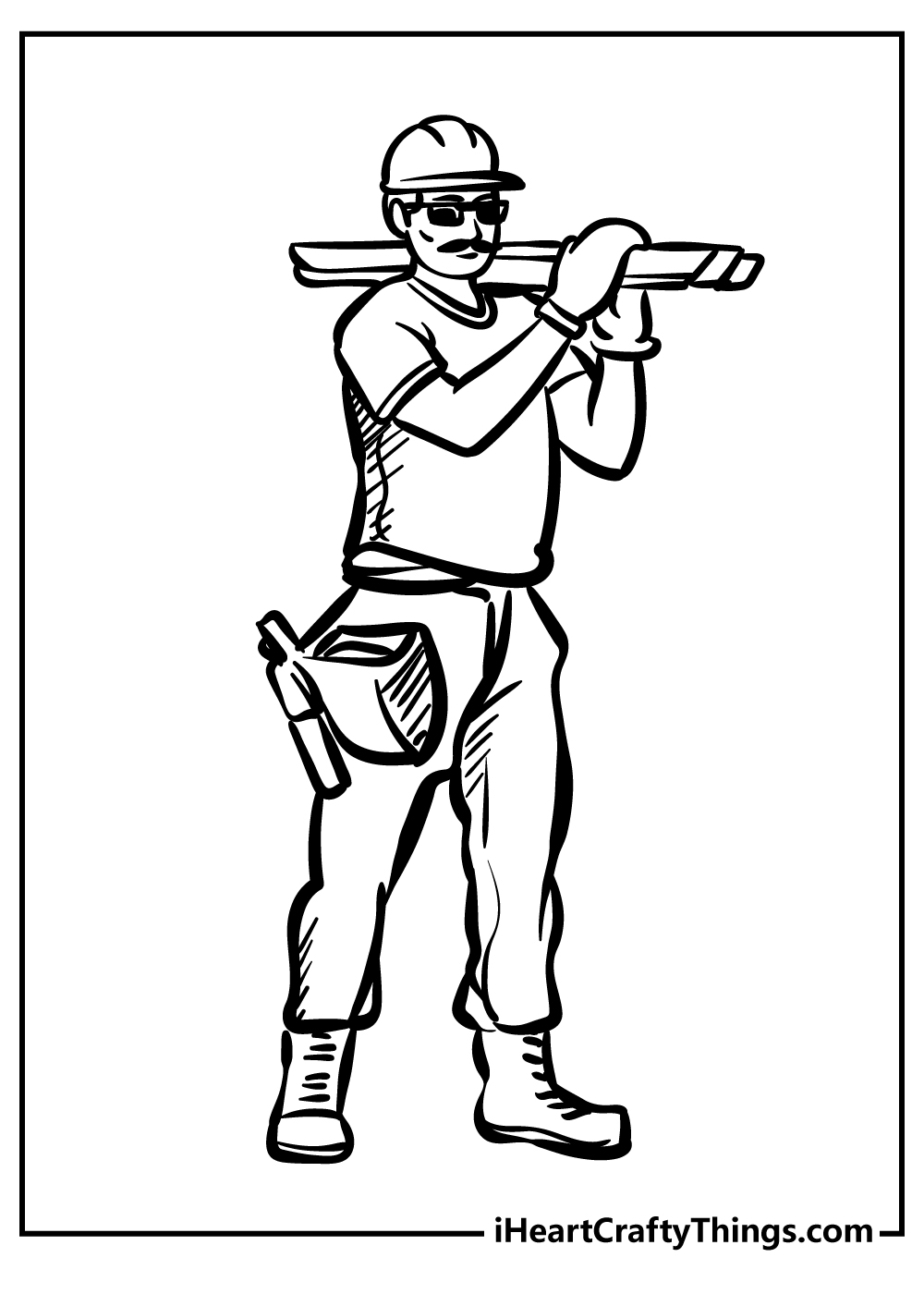 Construction Coloring Pages – Which will you choose?
That brings you to the end of this collection of construction coloring sheets! We hope that you had a fun time working on these creative scenes of building and hard work.
Don't forget that all of these pictures are free to print and enjoy! You can also share the fun of creations by sharing them with others.
If you had fun working on these printables, you can find many more free coloring pages and other activities on our website to enjoy!
Be sure to check in frequently, as we have more fun coming your way soon.
Lastly, we would love to see how you colored these pages, so please share some of your favorite finished pages on our Facebook and Pinterest pages for us to see!