It's difficult to find a child that likes veggies. Many children want high-calorie meals or survive only on chicken nuggets. Who are we to blame? Nuggetslook and taste delicious almost every time.
We've discovered, however, that if you can make any food enjoyable, from clever lunch ideas to goofy food games or food puns, your kids are far more likely to eat it.
As adults, we know the truth: vegetables are fantastic! They give color and flavor to every meal, including otherwise bland mornings.
Our children, on the other hand, require some persuasion – and these vegetables coloring pages are a great way to do this.
10 Brand New Vegetables Coloring Pages – Free to Print and Color
The first vegetables printable sheet features three vegetables, but the most notable one is the tomato at the bottom.
Tomatoes, like eggplants, are technically members of the fruit family! However, we won't tell if you still refer to them as vegetables, as most people do.
When attempting to persuade your youngster to eat genuine tomatoes rather than ketchup or spaghetti sauce, remind them that tomatoes will help their hearts grow strong.
Tomatoes contain heart-healthy nutrients, which is another reason to get those fresh vegetables into our children's tummies.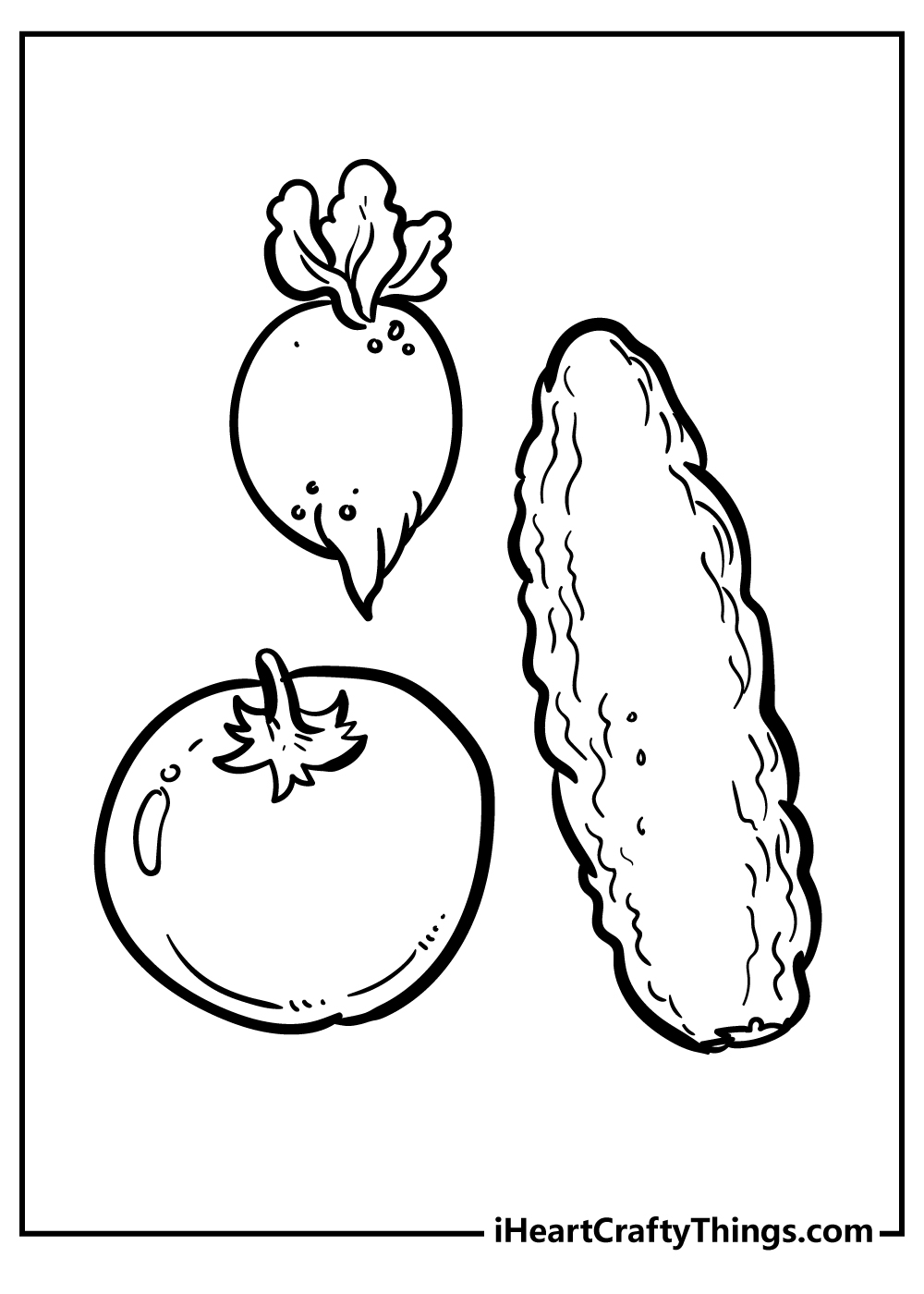 The second vegetables coloring sheet on our list features an apio celery, a cucumber, and plenty of peppers.
Isn't it true that peppers are insanely delicious? Many children enjoy munching on raw pepper slices as if it were their job.
However, as children get older, they may lose interest. These vibrant peppers, like broccoli, are high in vitamin C.
They also have a high concentration of carotenoids, which can benefit eye health. Your child may be interested in learning that eating peppers will improve their vision.
What's more, the color of the pepper influences its properties, so children may choose to color these peppers based on what they want to achieve.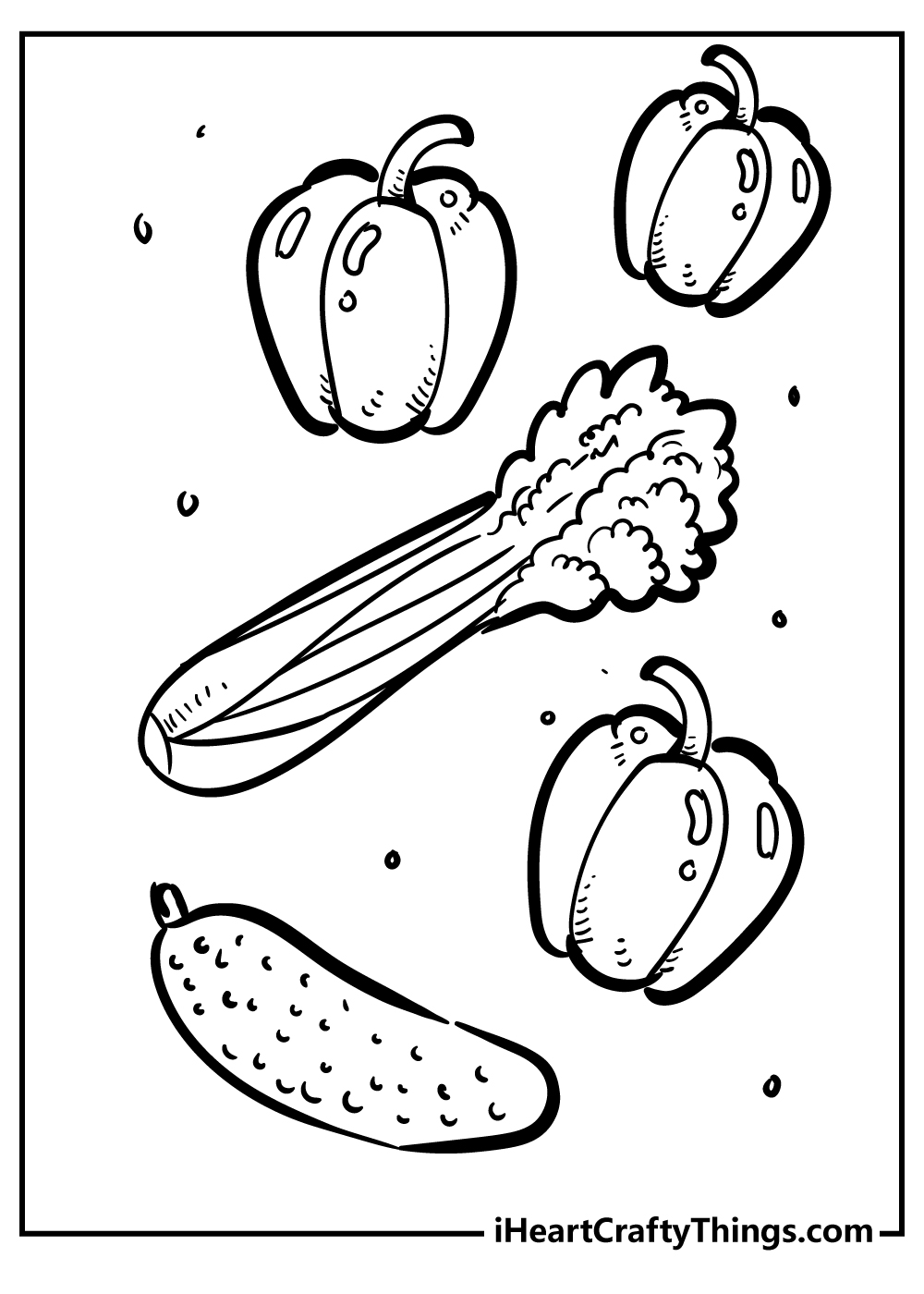 Vegetables are pretty interesting to learn about.
They grow from flowers and seeds, and most vegetables require warm conditions to flourish, although others, such as spinach, lettuce, carrots, and turnips, may grow in low temperatures.
Corn is among the first vegetables people used, together with potatoes, so they were the ones feeding generations way before we had massive farms and stores to get them from.
As they color this vegetable printable, share quick facts about all of these yummy plant products to make the children understand how important it is to eat them.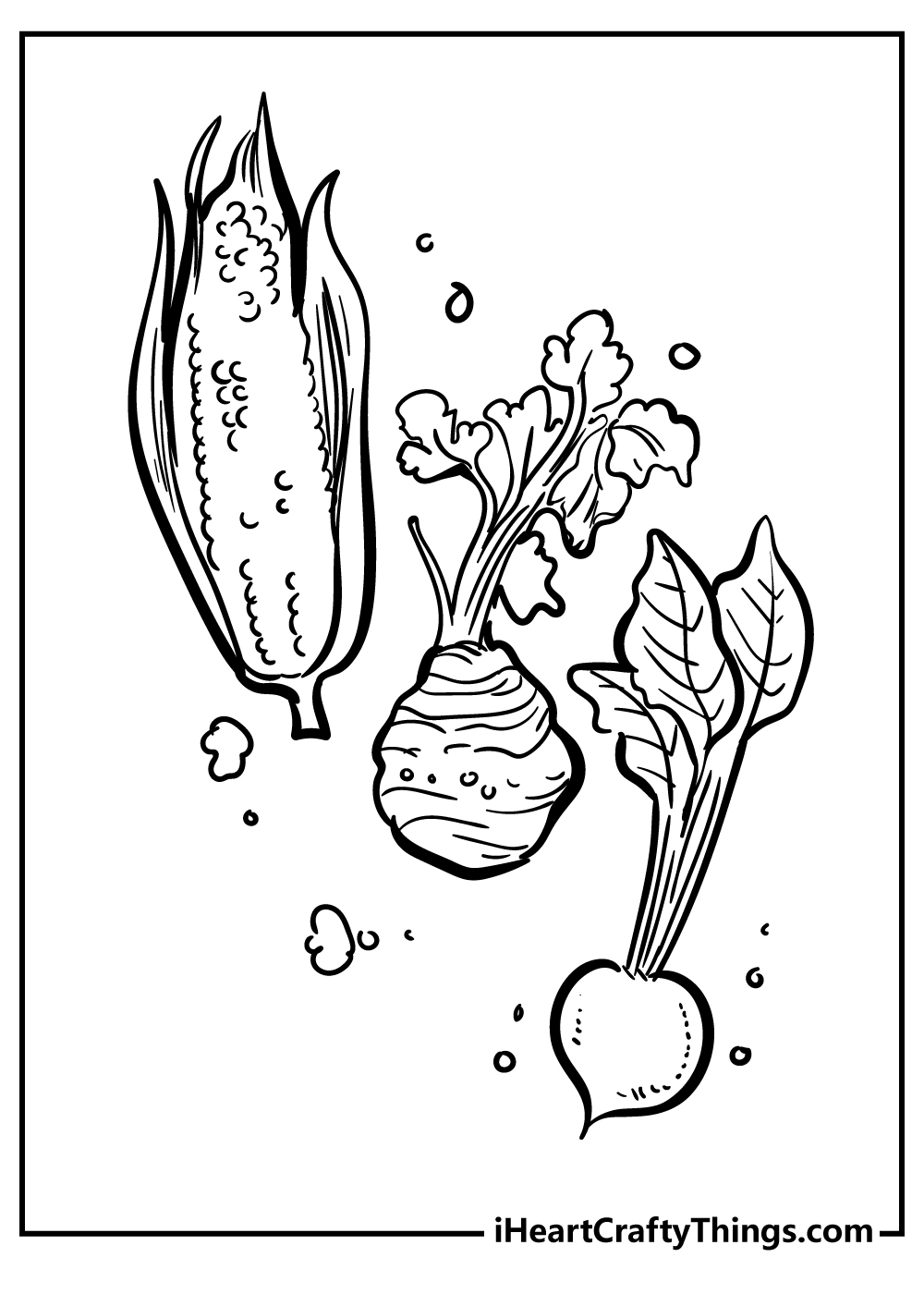 There are so many veggies on this vegetables coloring printable, so it would be fun if the children try to name all of them.
One they may not be very familiar with is leek, which is used in all sorts of foods and is very healthy.
Leeks can be difficult to convince children to enjoy. But these mildly tasting vegetables include healthy quantities of folate and the flavonoid kaempferol, which help protect blood vessels and keep your heart robust.
Here's another veggie tidbit to share with your kiddos. Did you know that carrots came from Afghanistan and they composed of 88 percent water? How awesome is that?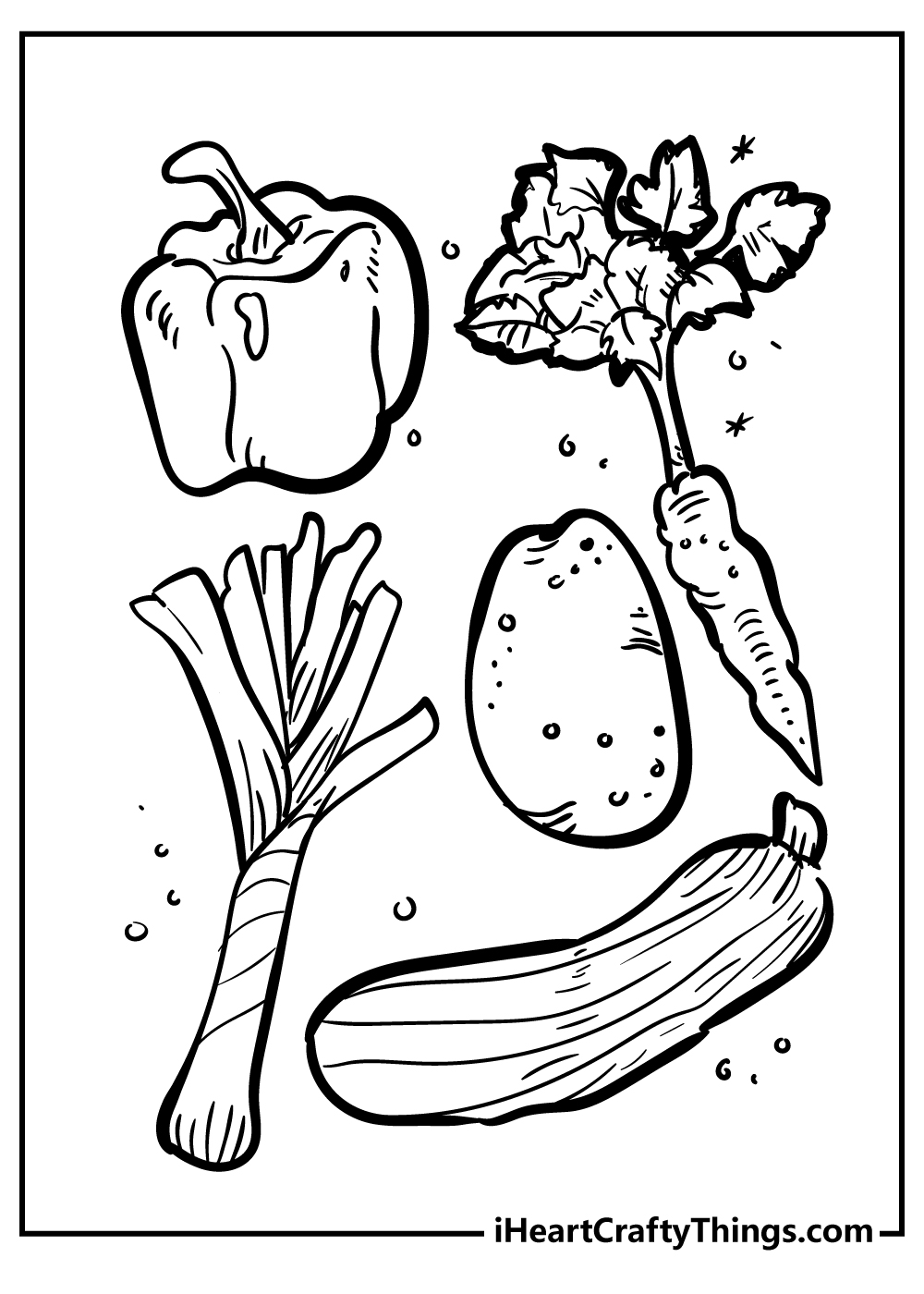 This vegetables coloring page features a lot of vegetables, including garlic, radish, and a pumpkin in the bottom-right.
Who doesn't enjoy carving pumpkins or devouring pumpkin pie? But did you know that pumpkin has a lot of health benefits? That's why it's a popular baby purée.
One cup of cooked pumpkin contains 245 percent of your daily intake of vitamin A, which helps to strengthen your immune system.
A great technique to get your child to eat pumpkin is to inform them that it helps them combat colds and remain healthy.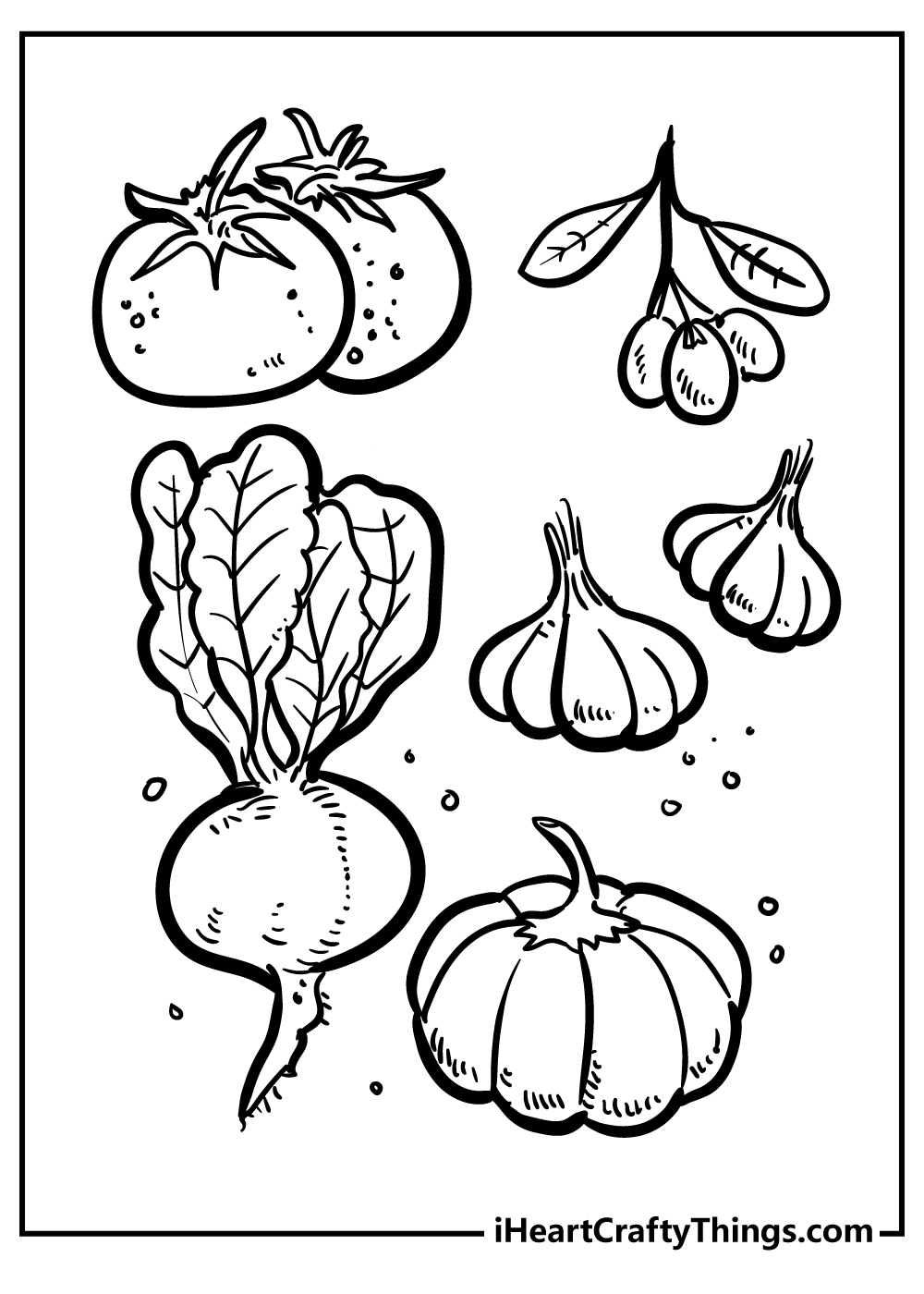 Turnip is often overlooked as a vegetable but it is incredibly delicious and can be combined in lots of interesting foods.
Turnip comes in many variants with different colors, which means children can choose which one to color.
The variations include red, orange, yellow, and even white, although the last one is pretty unsuited for a coloring project.
After they have fun coloring this turnip, you can organize a fun taste test and see if there is any taste difference between the variations.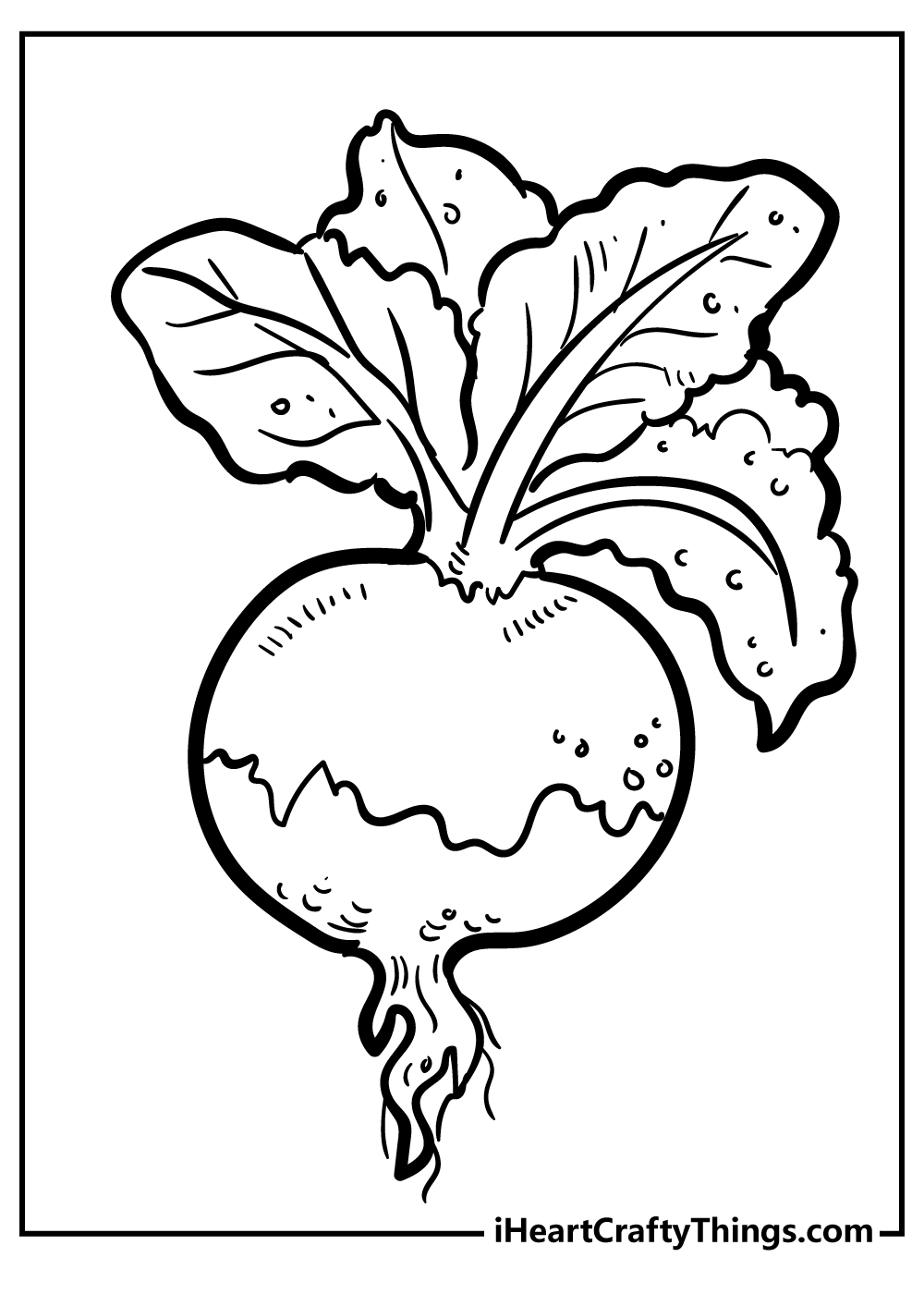 This next vegetables printable features a bunch of healthy-looking carrots, which we bet are delicious.
Carrots are another vegetable that we provide to newborns in purees. Carrots are afterward used to everything from soups and salads to full meals.
Carrots are delicious when paired with dips like hummus or ranch. They're also high in vitamins! We really like that they provide B6, which helps us stay energized.
And since children have unlimited energy, maybe adults need it more than them.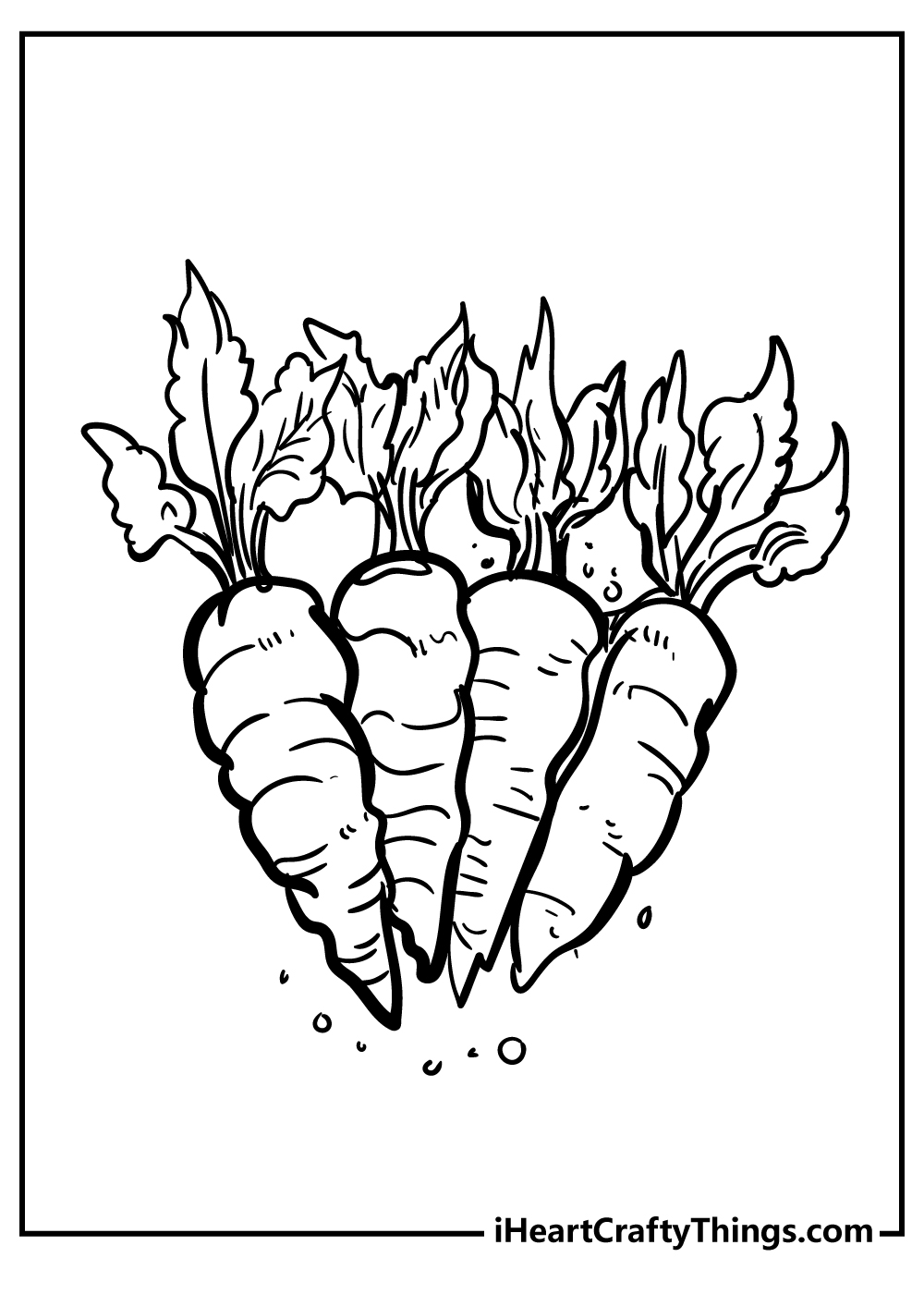 Our favorite soup is vegetable soup! But what about our children? They're simply unimpressed.
However, getting your children involved in the preparation and cooking process will assist in piquing their interest.
If you don't think they're ready to help with dinner preparations, prepare another basic vegetable soup-related activity.
Put all of their play fruits and vegetables in a bin. Encourage children to sort and divide their food by color or kind as you prepare dinner.
Or, if you want something easier, just print out these vegetables coloring pages and hand them to the children as you prepare dinner.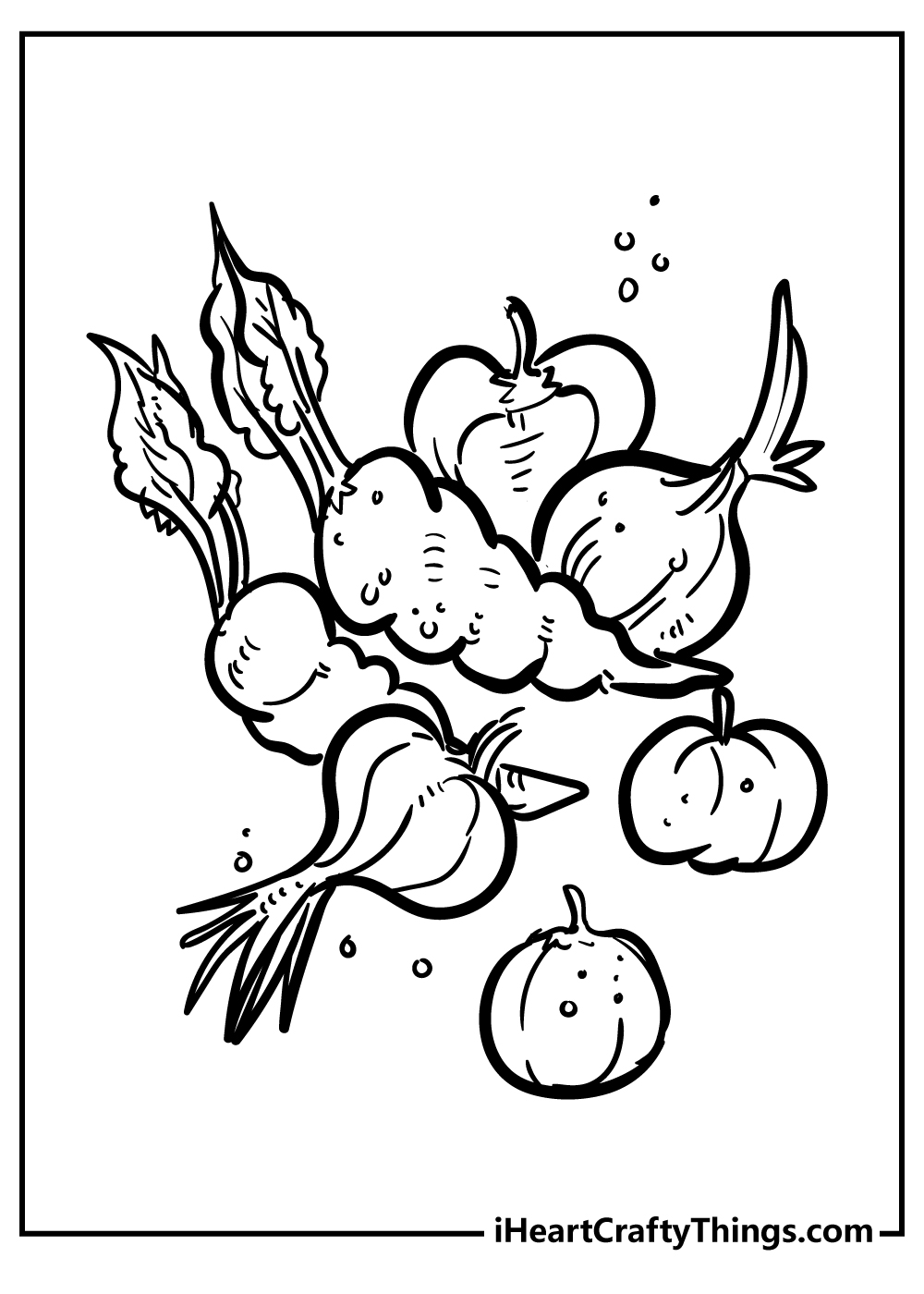 This printable presents 6 very popular vegetables that children are surely going to love. Peppers, tomatoes, carrots, and even garlic can be brought to life and colored by the little artists.
Garlic, in fact, is quite an interesting vegetable. Because of how we use it, you probably think of garlic as an herb or seasoning.
It is, however, a vegetable rich in nutrients such as potassium, vitamins B6 and C, antioxidants, and manganese.
And if kids need more reasons to eat garlic, tell them it is the best way to keep viruses and colds away. This will surely convince them.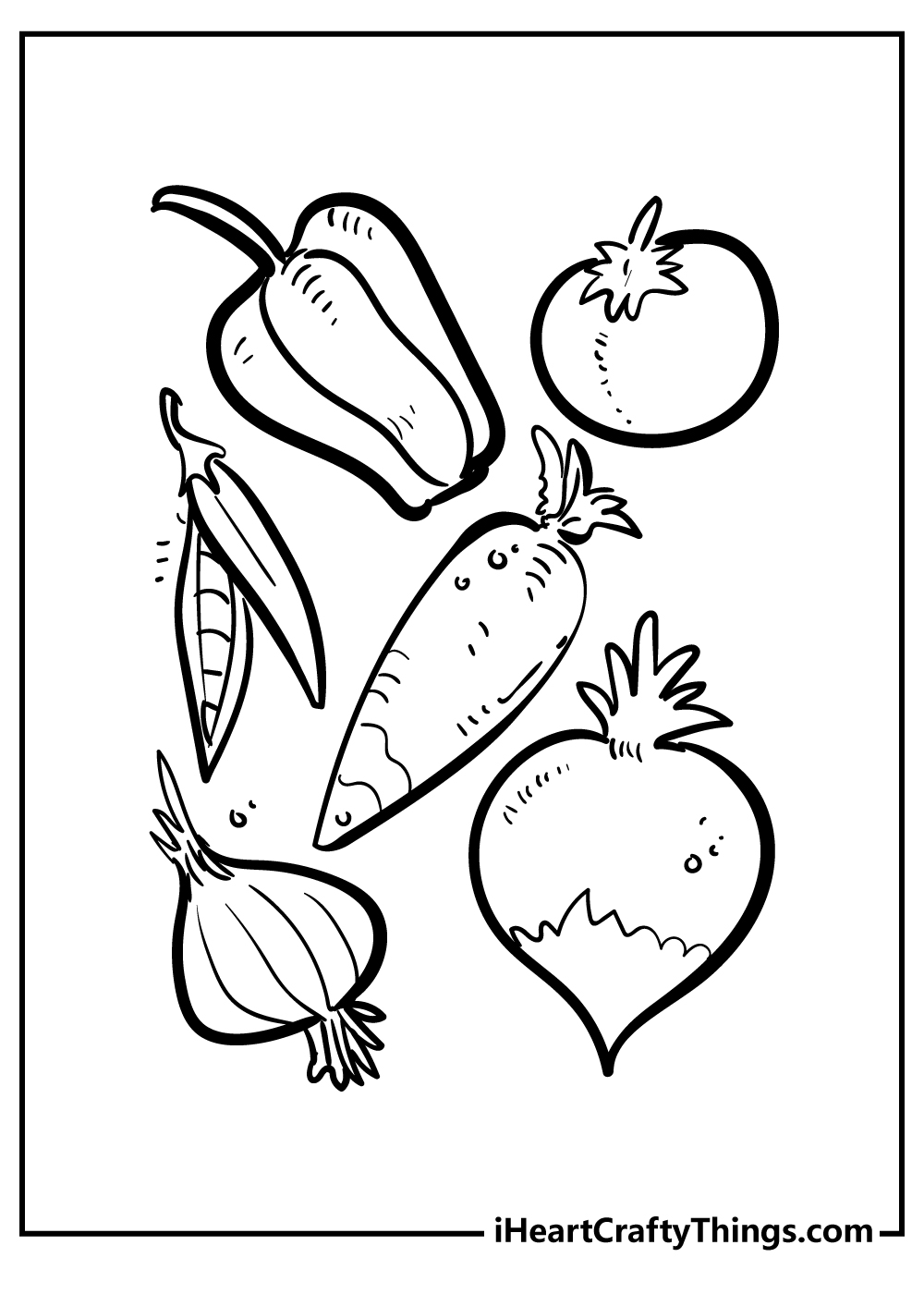 This last page features a collection of vegetables that go great together. Children can use various colors to bring these vegetables to life and even make their own colorful salad.
As you can see, we've gathered some of the loveliest vegetables printable sheets for your little Van Gogh to color.
Discuss why eating these veggies is important as they color each of these pages.
Then, when you serve their vegetables, praise how great these pages look when they color them with their favorite bold, brilliant colors.