On this page, you will find 15 all new Castle coloring pages that are completely free to print and download.
Some of us really like castles, others not so much. Castles are all unique, although some may look similar. They have their own architecture, their own history.
They make us dream, thinking we would live there if we could, or we find them too big. One thing is sure: castles do not leave us indifferent! And, it's no wonder children are fascinated by them.
Now you can take your child on an adventure in medieval times with our amazing castle coloring pages. Download and print these sheets for free and let the coloring spree begin!
15 Brand New Castle Coloring Pages – Free to Print and Color
The first castles were built from wood and were pretty cheap and quick to build using local labour. They were pretty imposing, yet not as durable.
Once stone castles became all the rage, the cost went up considerably and it took an average of 10 years to complete.
Castles became sturdier, built at the top of hills using stone and some natural features of the land to help with their defense.
Castles rule our lands today. They withstood ages of war and bad weather, they outlived their owners and now you can visit them anytime you want.
Or even better, you can print these castle coloring sheets and let your creativity flow free.
Do you love castles? If so, you will enjoy this castle coloring page. This page features a beautiful line drawing of a castle with many towers and flags.
The largest tower is in the center and has a flag with a star on it. The castle has a big entrance with an arched door and a staircase.
There is also a drawbridge that can be lowered or raised over a moat. The background is blank, so you can add your own scenery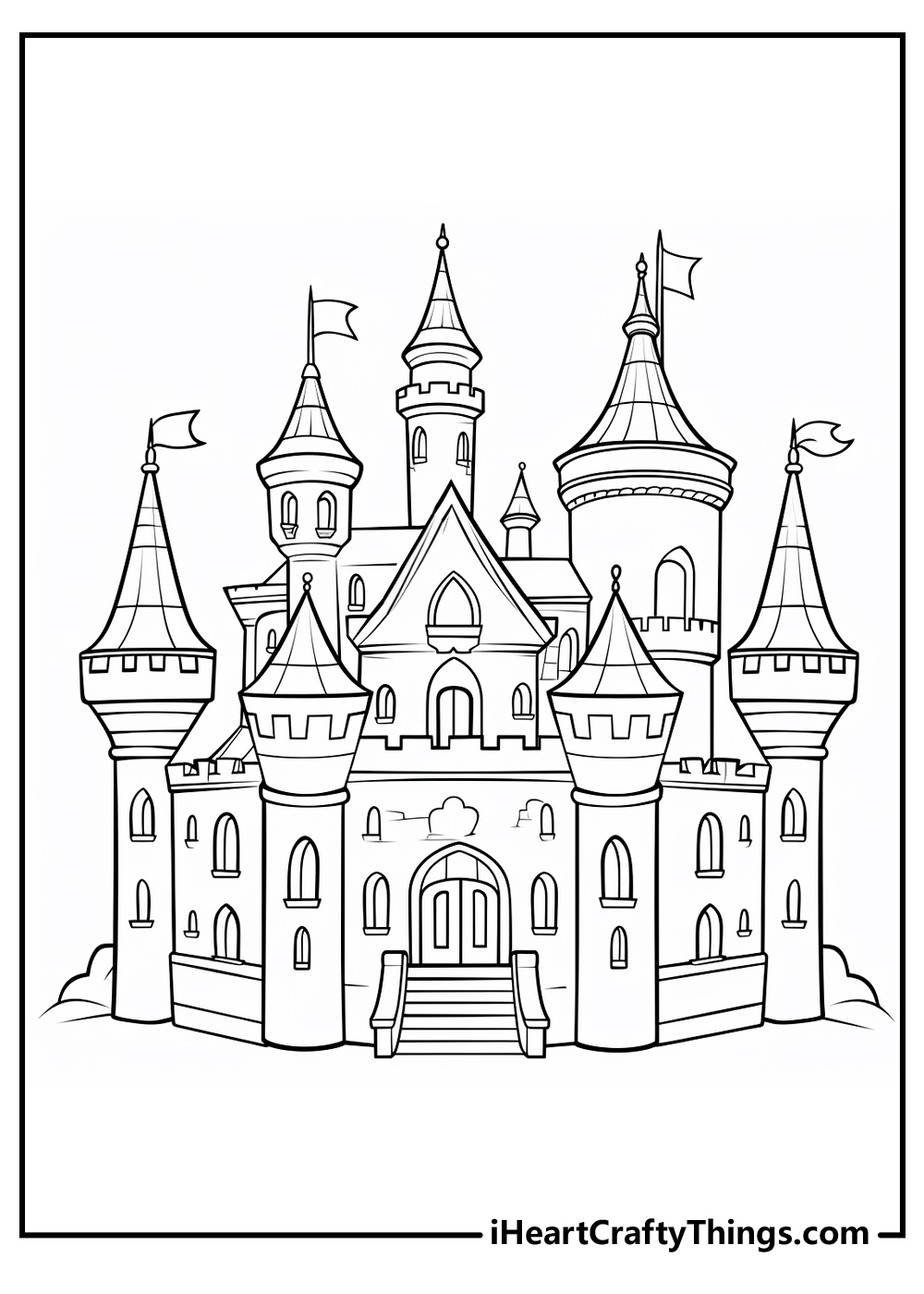 Castles are made to be pointy and touch the sky. That's by design, and they do have good reasons to be built like that.
Found all along the castle walls, towers, and arrow slits were quite narrow in order to allow archers to shoot arrows safely.
Towers have slowly evolved from square to D-shapes and then into a circular form, which gave a greater range of fire and eliminated the corner blind spots.
They were also more structurally stable and better resisted attempts to destroy them. Try these castle coloring sheets and go back in time!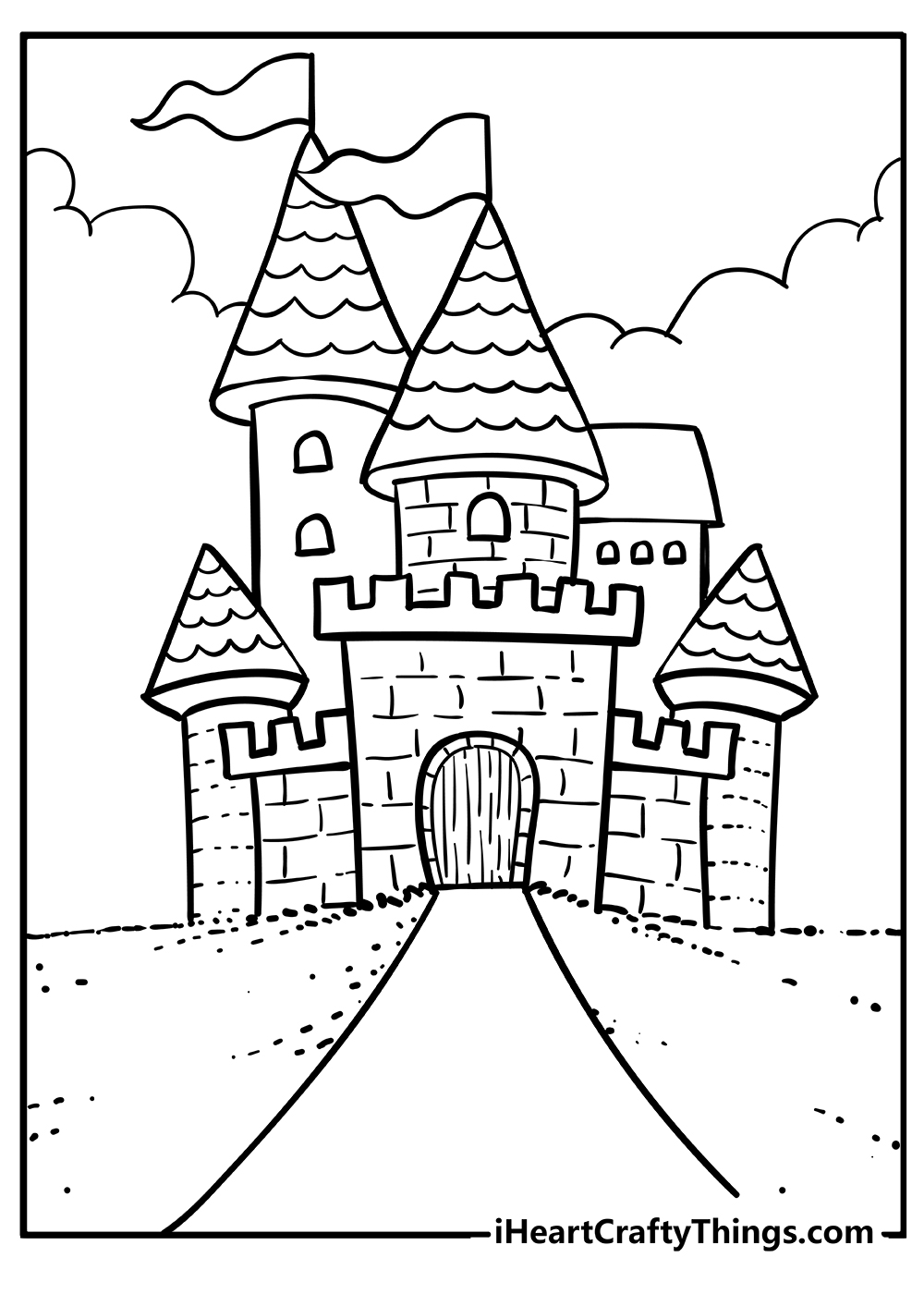 It's a shame that these architectural wonders do not always attract as many visitors as they deserve.
However, the world is changing, and the chateaux owners must also evolve. And that's what they do more and more often!
Castles aren't piles of stones and dust! Chateaux owners are vying for inventiveness and plan on making these architectural wonders more interactive and accessible for children of all ages.
Download our castle printable pages today and allow your child to experience all the medieval buzz.
After all, children are much more likely (and luckier) to enjoy a more intensely hued imagination than we do.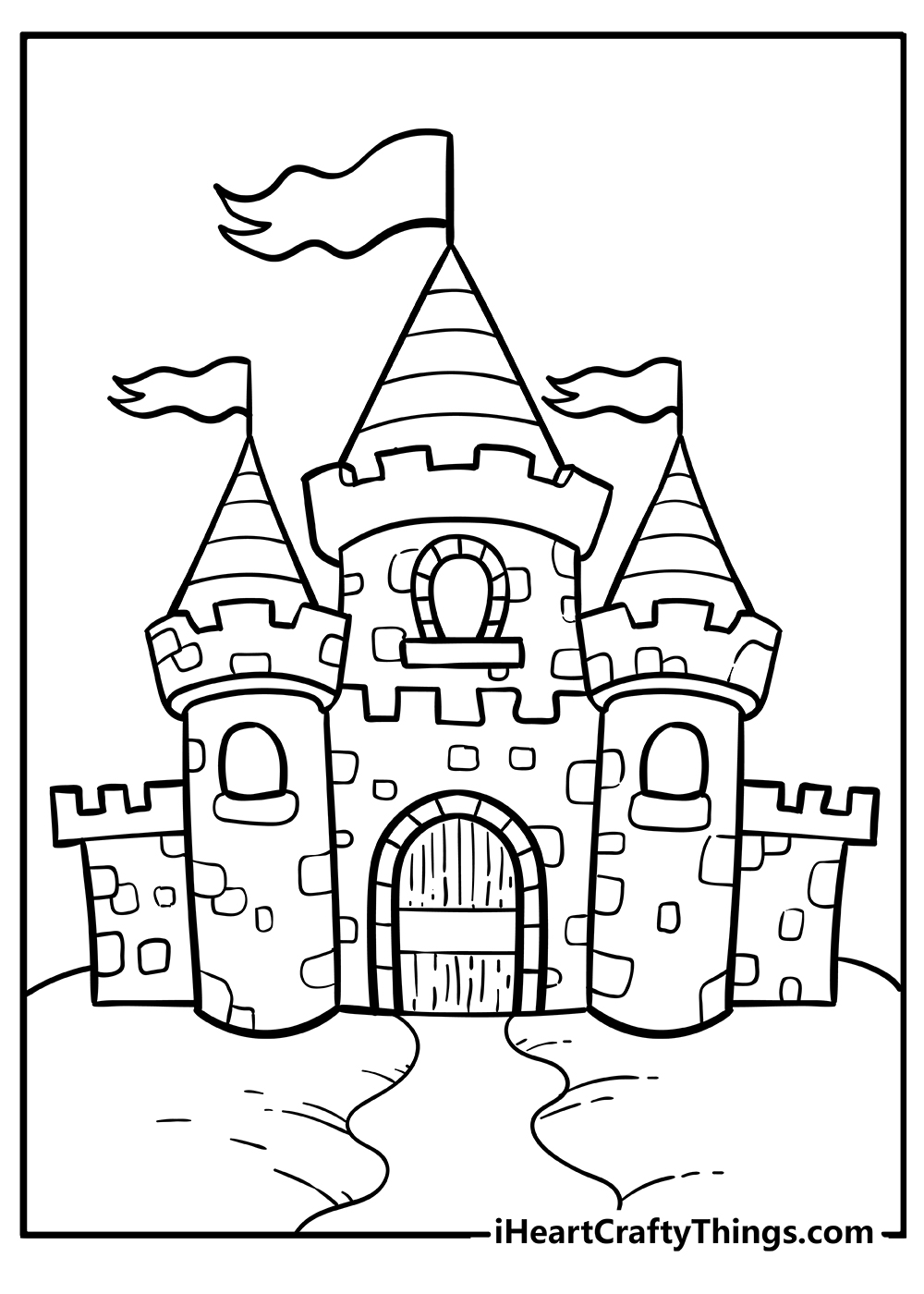 The regal scene in this castle coloring page features a towering medieval castle surrounded by flags, towers and a shimmering moat.
The castle has a majestic central tower with a flag that shows who lives there.
The castle is built on a rocky island and has a moat around it to keep it safe from invaders. You can color this castle coloring page with vibrant gold, pink, blue, or green.
You can also add some details like windows, doors, bricks, or flowers to make it look more realistic.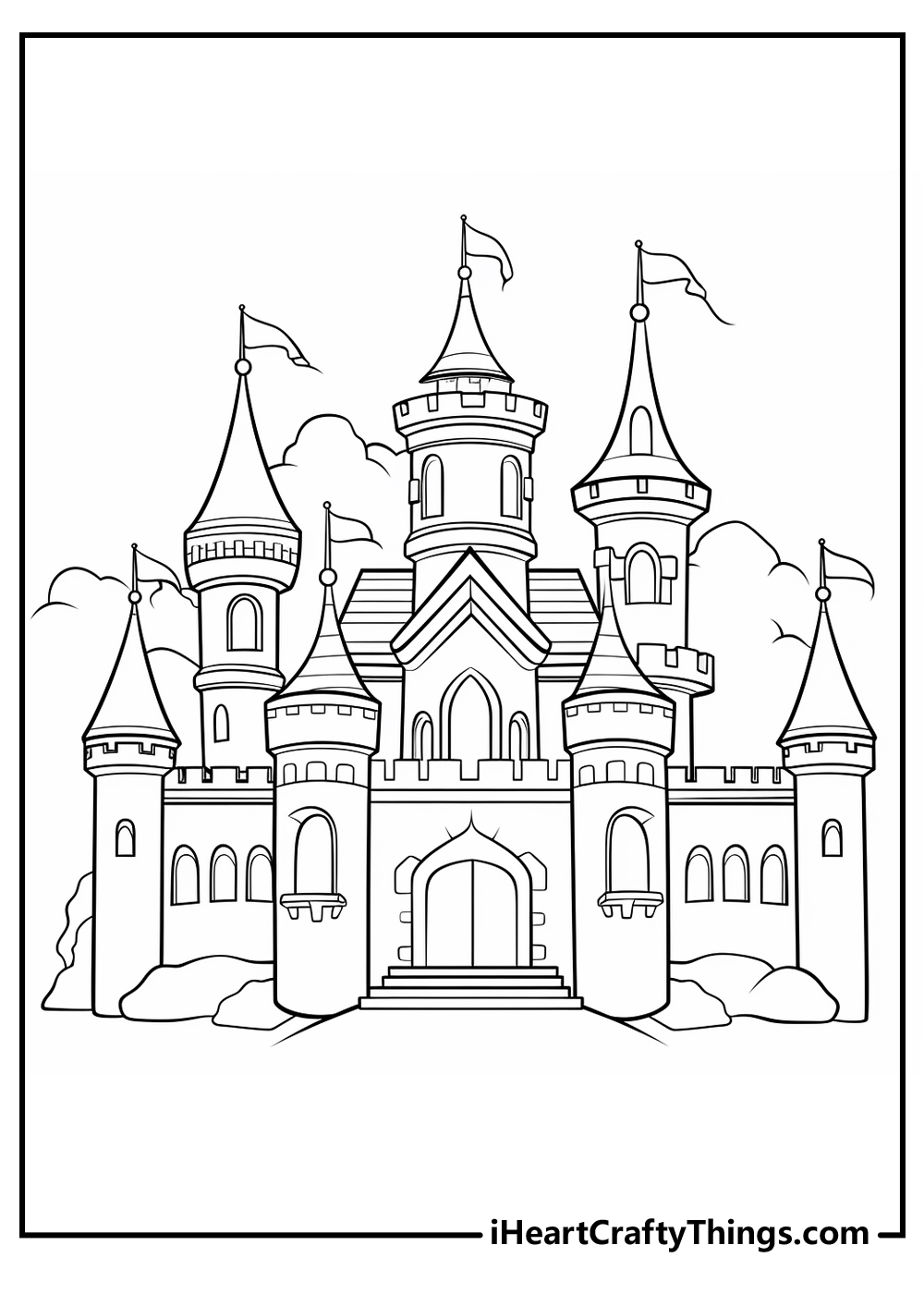 Have you ever wondered why castles were built on hills?
Well, it's believed that a higher altitude offered a significant defense advantage during the sieges and easy control of the surrounding lands in peaceful times.
Hilltop castles, like the one depicted here, offered the advantage of being almost impregnable during sieges while also ensuring the building wouldn't sink over the years under its weight.
They also benefited the archers, who needed to shoot much further than their opponents, which had to get dangerously close to the walls.
Today, hilltop castles look stunning and they're worth visiting every period of the year.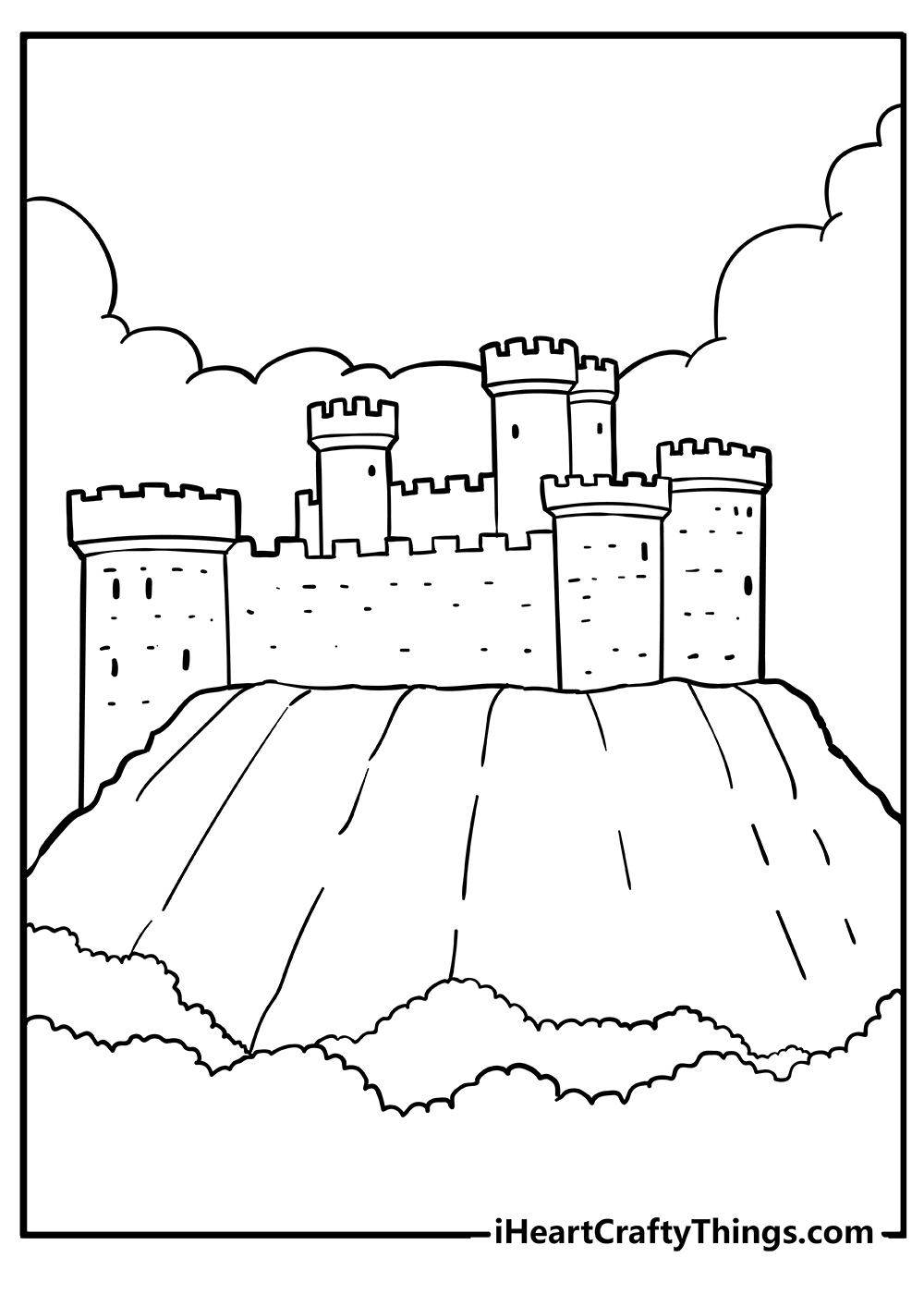 What is it about castles that makes them so alluring to us? Is it the passing of time that made them so treasured? The myriad of fairy-tale and ghost stories?
We think it's the medieval stone walls, sky-high towers, and bridges arching over glittering moats that make these architectural wonders so charming to our sight.
Despite their venerable age, castles are fascinating in their beauty and grandeur. They remind us of our childhood, and why dreaming about greater heights and better days is important.
Show these castle coloring pages to your little one, tell them stories and share their wonders while coloring.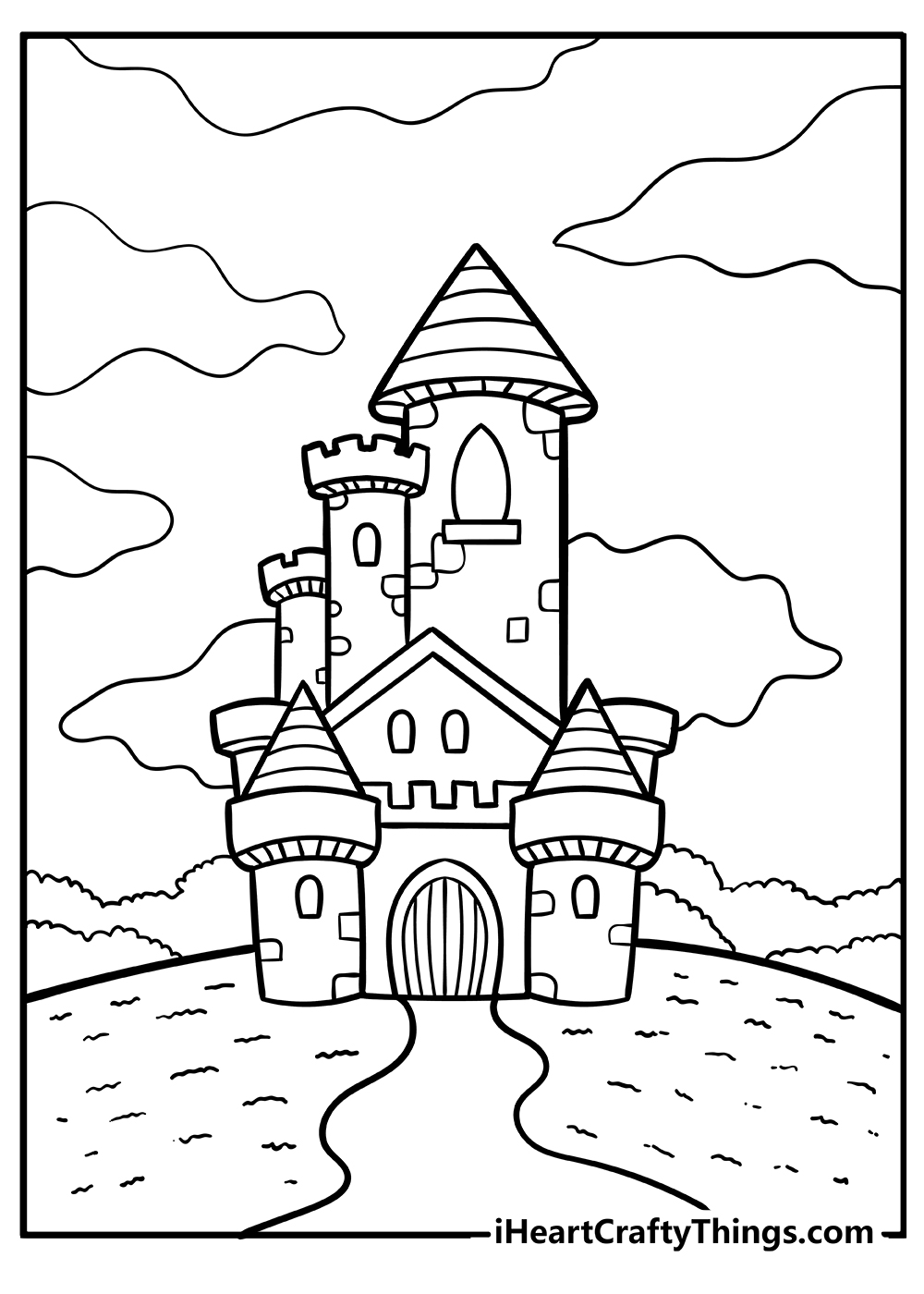 This page features a majestic medieval fortress perched dramatically on a seaside cliff.
This is a beautiful drawing of a castle on a cliff with a bridge and a moat. The castle has many towers and turrets with flags on top. You can see the clouds and the trees around the castle.
The drawing is in black and white, so you can use your imagination and creativity to color it. You can make the castle look like a fairy tale palace or a medieval fortress.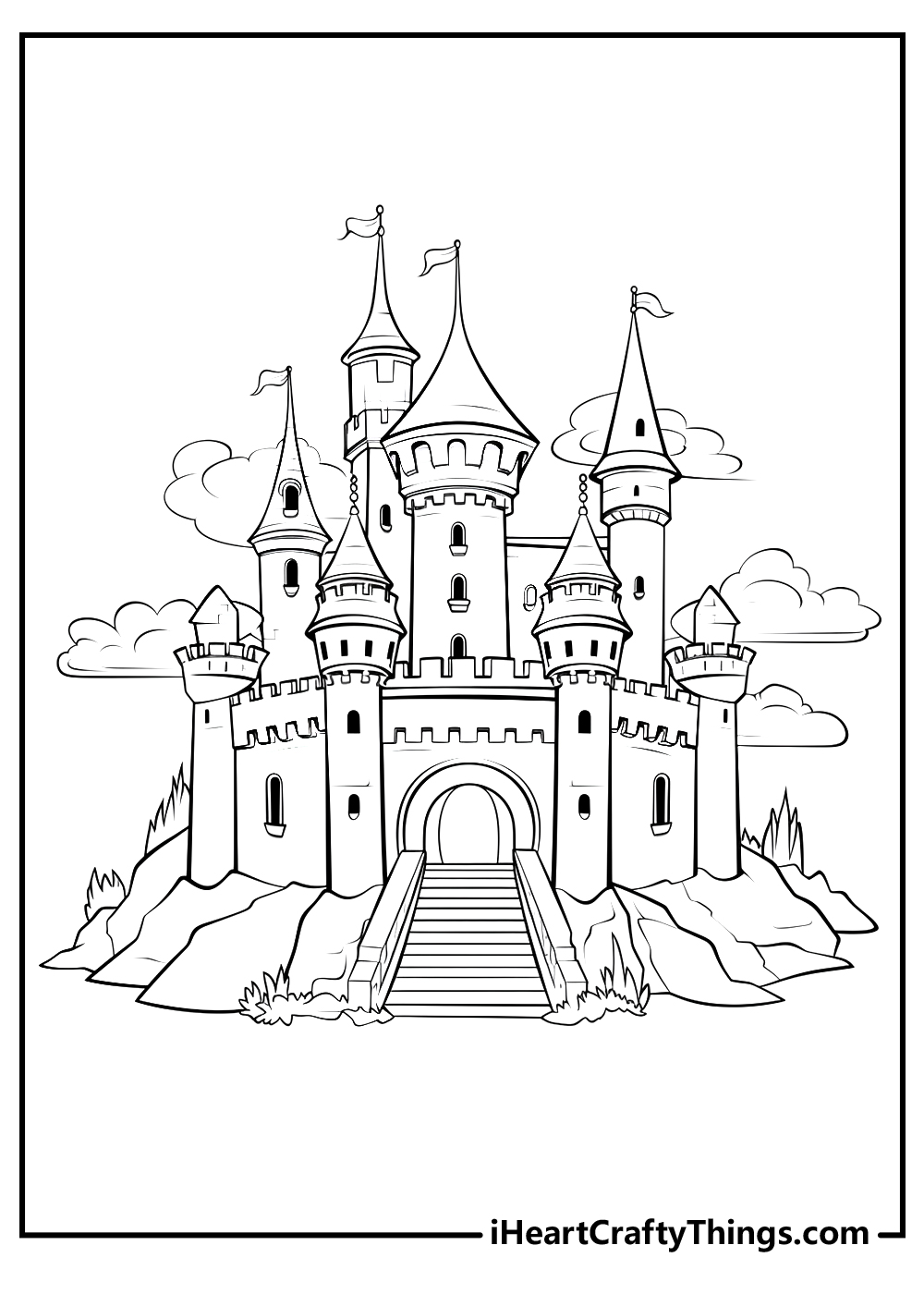 Hilltop wonders everywhere! Have you ever wondered who lives in the castle …and why?
The keep or donjon was a multi-storied building inside the castle with a well-defended entrance, making it the safest place when under attack.
It served as the residence for nobility, the place where all the eating, drinking, and parties took place – it was also where everyone slept.
While this beauty reminds us of Neuschwanstein, the castle that served as inspiration for Disneyland's logo, it's easy to imagine it as whatever you want it to be.
Download our castle coloring sheets and let your imagination wander!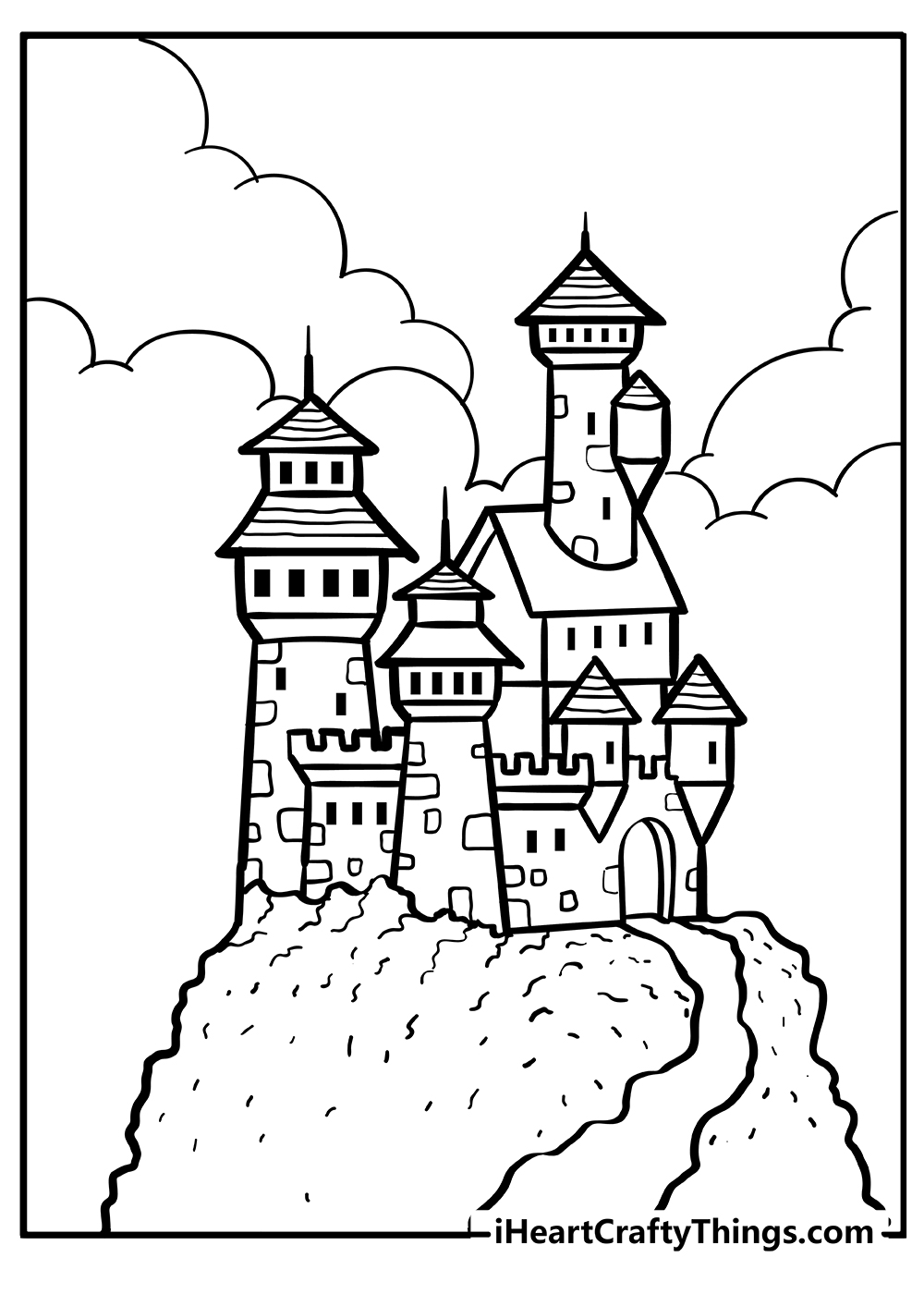 Fun fact: did you know towers were once built with square tops?
Eventually, they were shaped into rounder constructions because they gave archers and knights a better view of their surroundings.
Medieval castle towers also came in various shapes and served a variety of purposes.
Although the central purpose of these towers was defense, they could also be used for imprisonment and storage purposes.
Now they serve as construction splendors for visitors and as an inspiration for architects worldwide.
Transport your child to the wonders of the medieval age by allowing them to explore and color these magical castle coloring pages.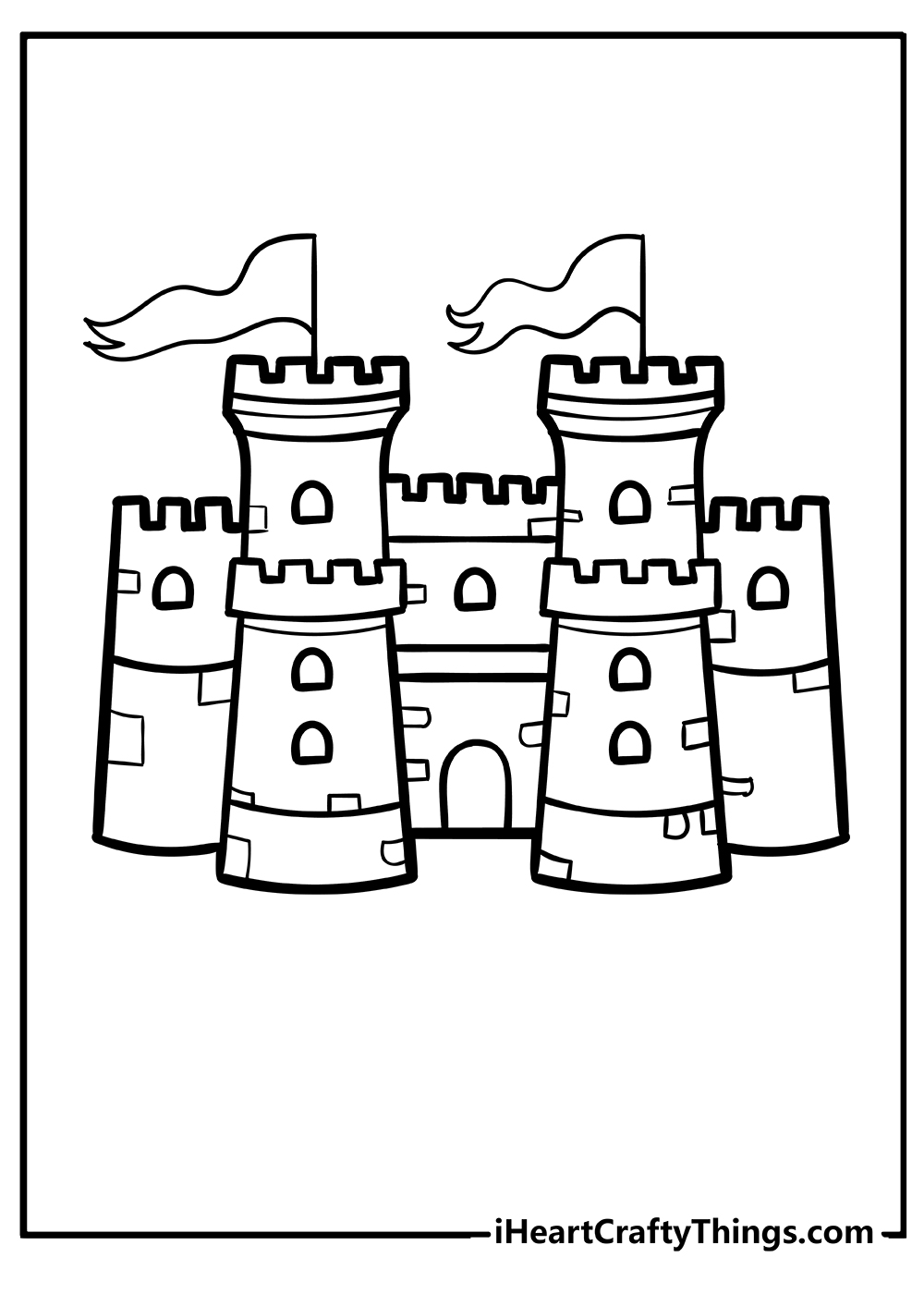 This is a detailed drawing of a symmetrical castle with seven towers. The towers have pointed roofs and flags flying from them.
The walls have battlements and the main entrance is a large arched doorway.
You can color the castle in realistic or fantasy colors. You can also add some elements to the scene, such as a sky, a landscape, or some characters.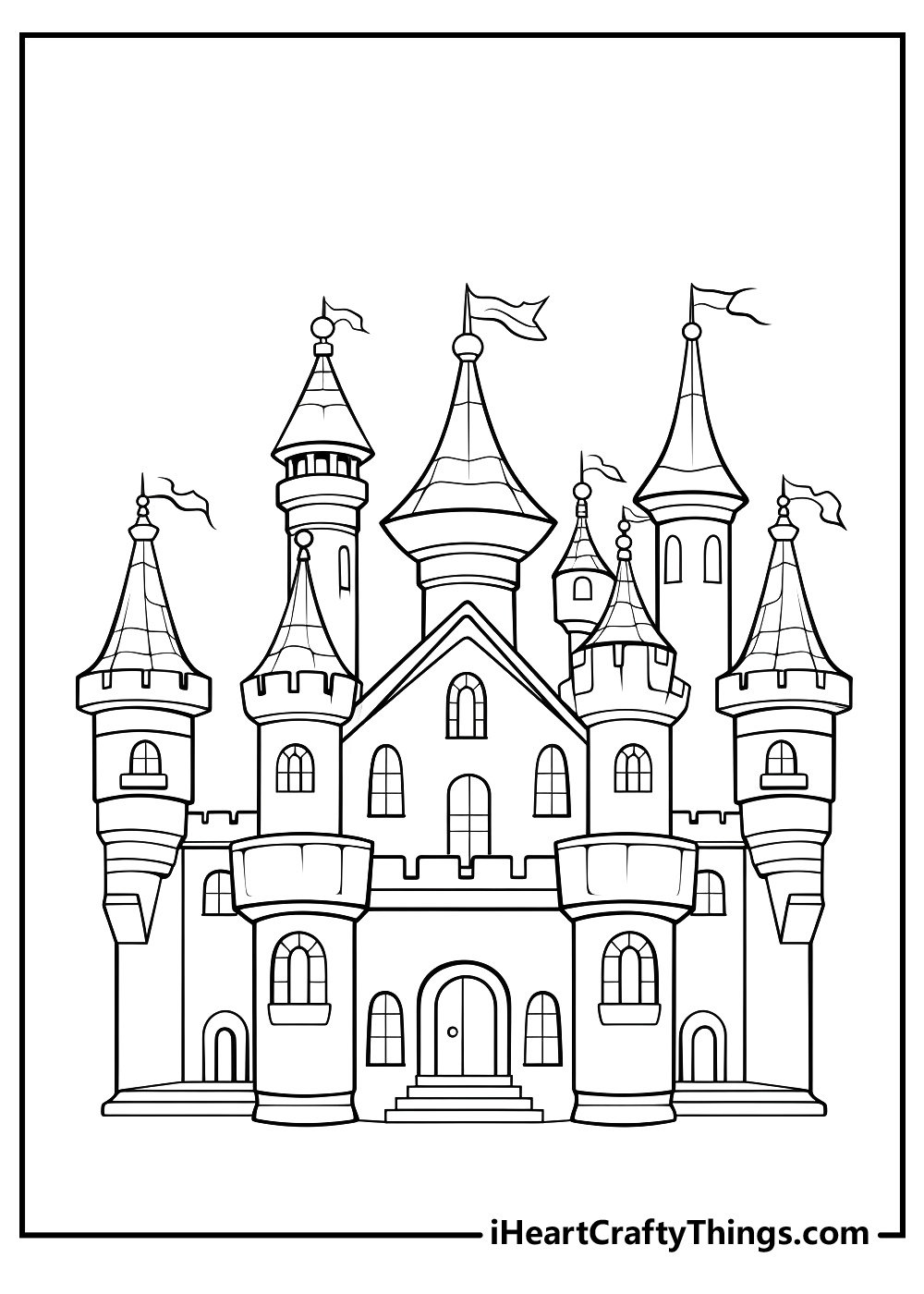 If you think back to any movie you've watched with a castle, you can probably remember a scene in which a massive, grated structure at the front of the castle gets lowered dramatically.
That's the gate or portcullis – a wood or heavy metal barrier strategically located in the front or behind the castle doors that was quickly lowered in case of attack.
Portcullis were usually heavy and were held suspended in the air by a pulled and winch mechanism controlled on the gatehouse's first floor by the castle guards.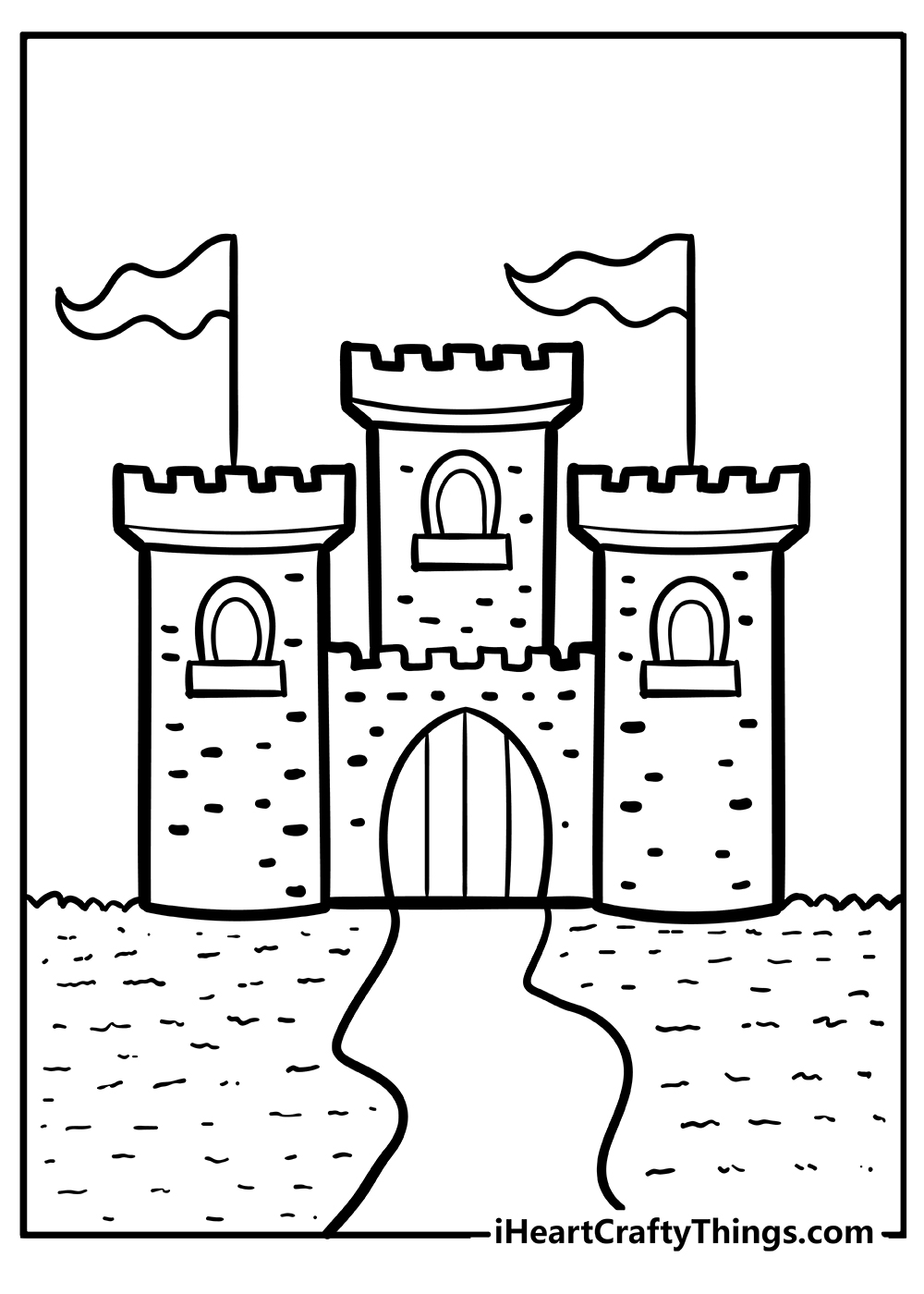 For castles, flags generally impart some form of identification. They represented the country they belonged to and displayed the colors or arms of the family who owned them.
Times were tough back then, so it was important for nobles to come up with a variation on that theme.
The right "to bear arms" depended highly on ranks within the feudal system. In short, if you were lucky enough to own a piece of land, you could have your own arms.
Flags come in different colors, and badges and different nuances represent different things.
For instance, coloring yours in gold symbolizes generosity, while silver or white represents peace and sincerity.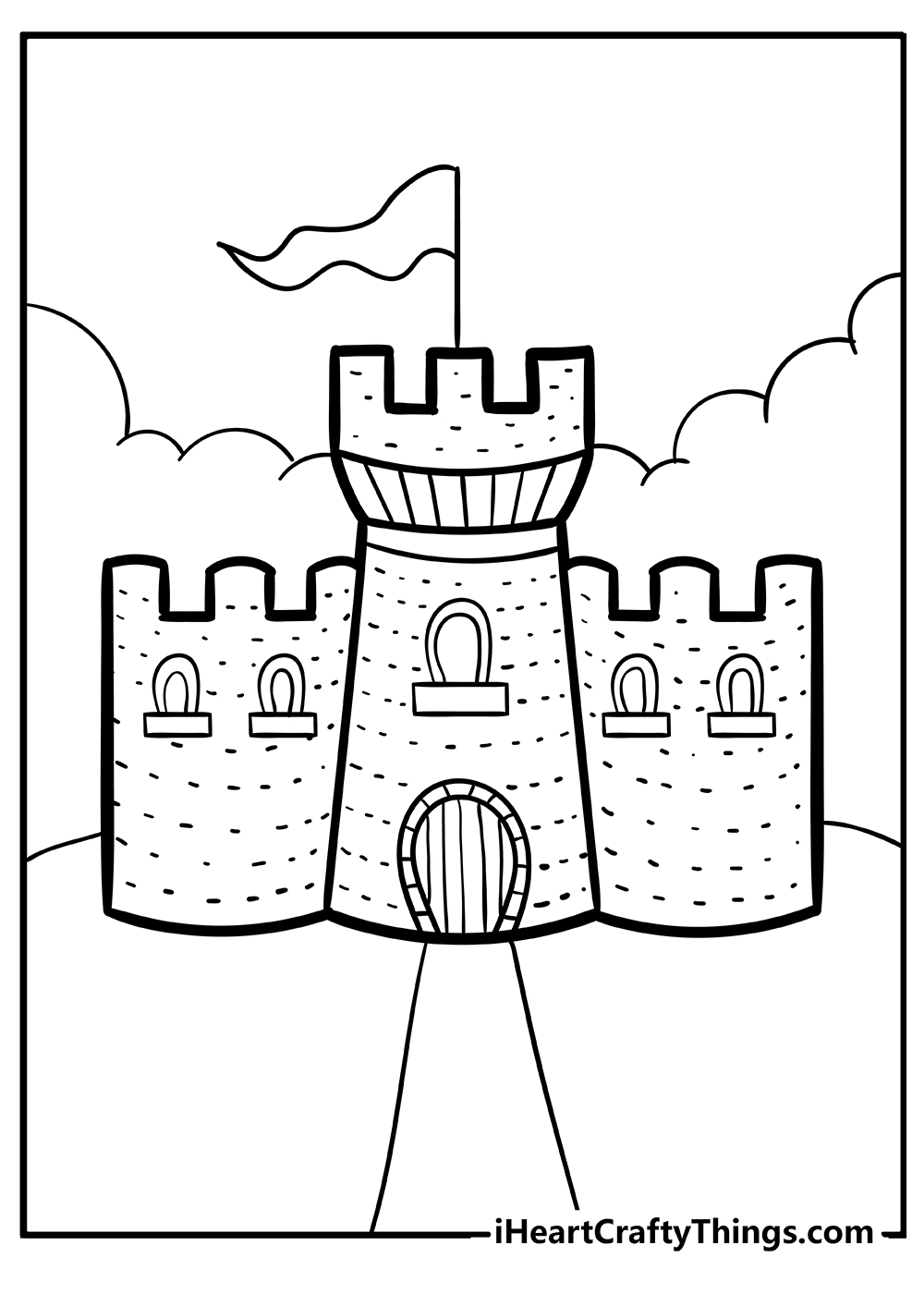 Have you ever heard of a fortified gatehouse? Well, now you do. That's where our last castle printable sheet sends us.
The fortified gatehouse of a castle was potentially one of its weakest points, and for the same reason, gates gained additional protective features over time.
The gatehouse is where the portcullis and other defensive measures were built.
Over time, this marvelous construction became remarkably strong and was even used as a residence, particularly by the castle's constables.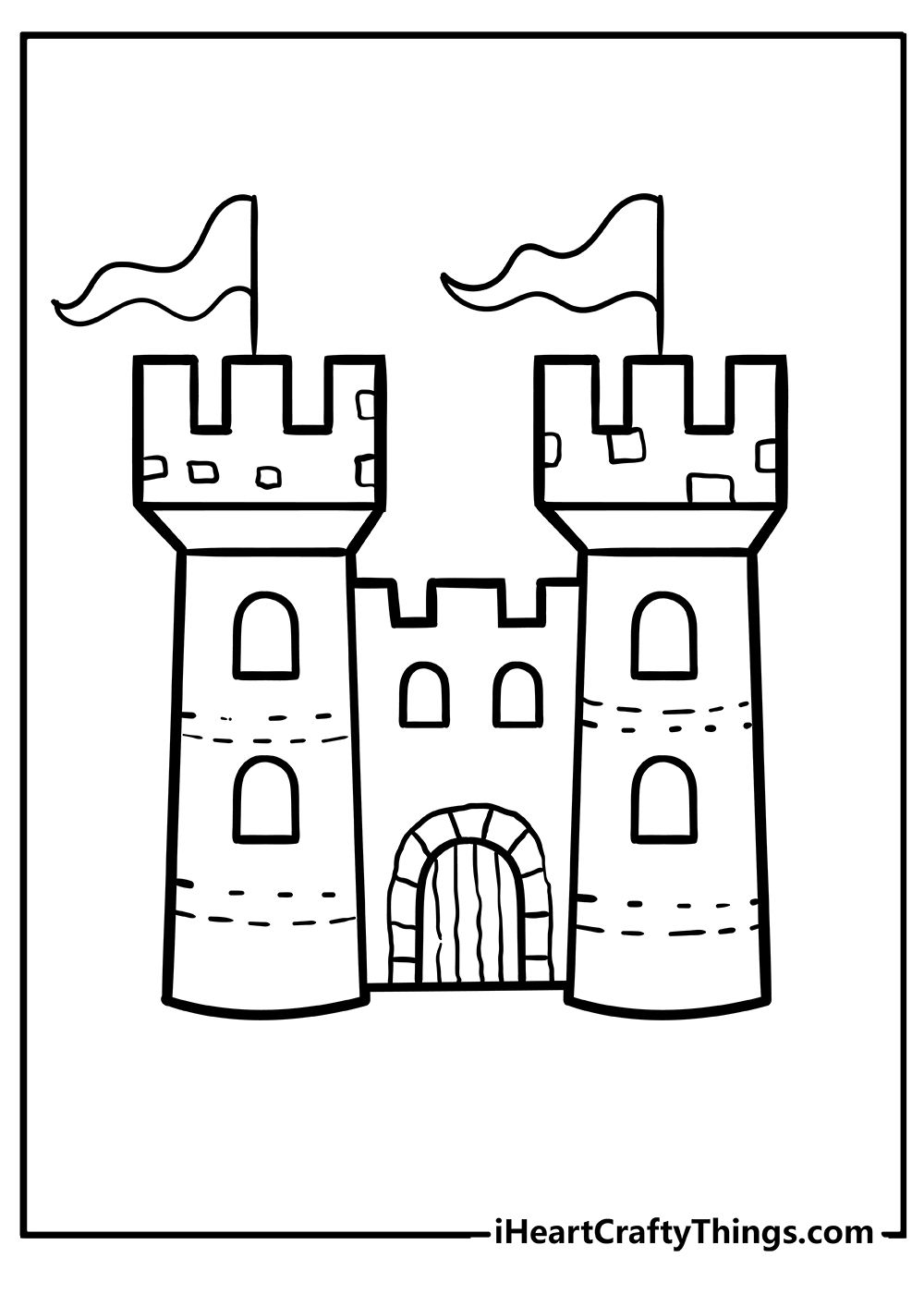 This castle coloring page invites you to explore a magical world of fantasy and adventure. The castle has a majestic central tower with a dome and a flag, and four smaller towers on the corners.
You can also imagine what kind of people or creatures live in the castle, and what kind of stories they have.
What color will you make this castle? Will it be black, white, brown, gray, or something else?