Throughout the various countries of the world, there are many different mythical beasts and legends.
The monstrous Bigfoot, also sometimes called the sasquatch, is a legendary creature thought to exist in many different countries.
They can come in many different forms and interpretations, but they most commonly resemble a large ape-like creature with, you guessed it, large feet.
This beast will be the focus of this set of free Bigfoot coloring pages for kids!
Because so many different countries believe in Bigfoot, that means you have a lot of freedom for how you can color in these images we have prepared!
You can show off what you think these monsters could look like by changing up the colors.
Drawing some backgrounds would also be a great way for you to personalize these images even further and provide more environmental context.
We have a wonderful selection of Bigfoot coloring sheets for you to work on! In these pictures, you will have free reign to unleash your creativity and art skills.
Remember that when you have finished these Bigfoot coloring printables, you can share your favorite completed pages on our Facebook and Pinterest pages!
We will look forward to seeing your incredible artworks when they're ready.
10 Brand New Bigfoot Coloring Pages – Free to Print and Color
The monster in this first free Bigfoot coloring page for kids is on the move! This one has a rather serious expression, and it makes you wonder just what this Bigfoot is heading off to do.
There is a lot of room for interpretation left in regards to how you could color this guy in. He could be in a snowy environment, or maybe even a desert setting.
These are just a few ideas, but what else can you think of to finish off this first coloring printable?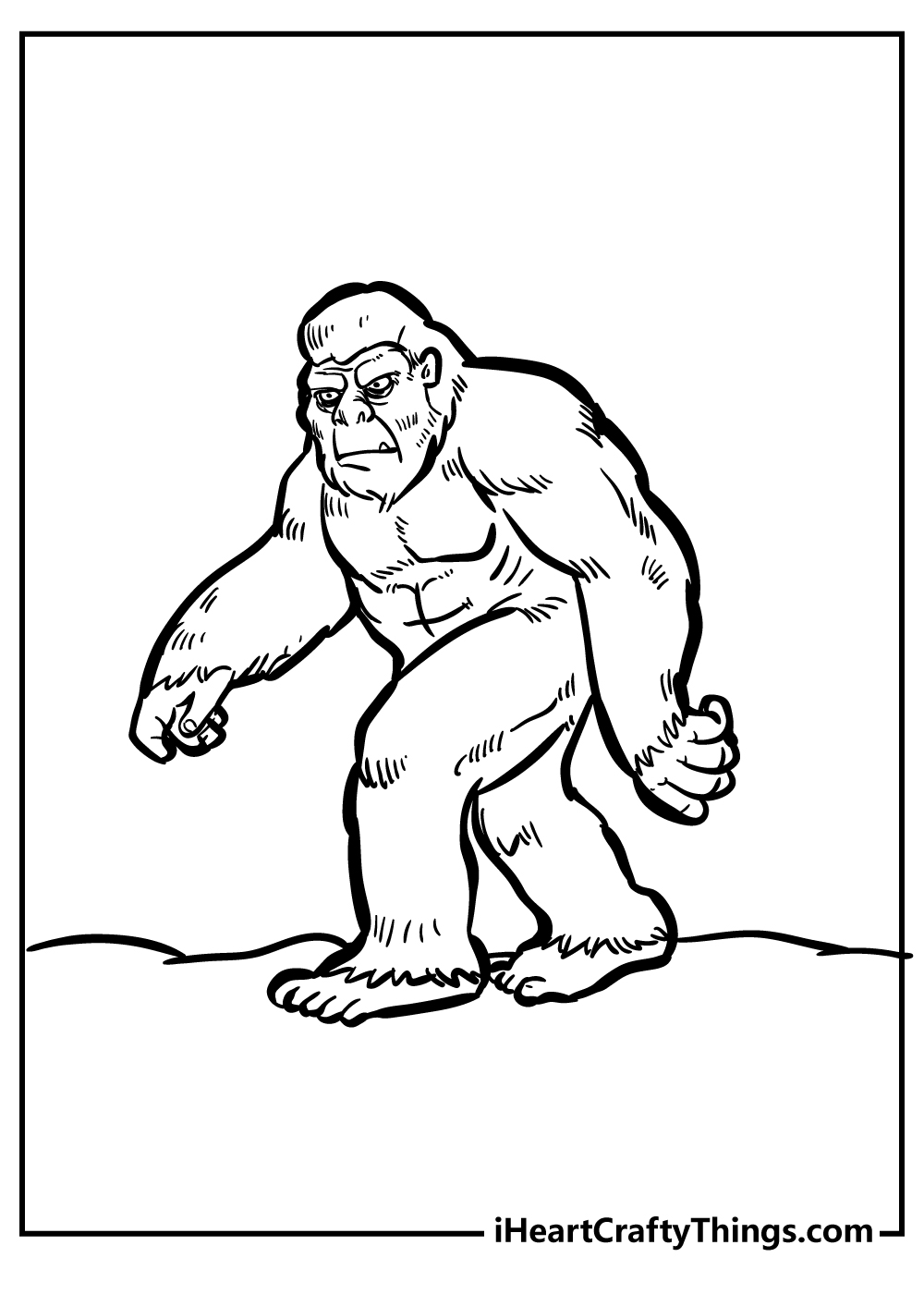 Here's a picture that's just begging for some bright and vibrant colors! The creature in this Bigfoot coloring sheet is hiding amongst some bushes, possibly hiding from some nosy human's camera!
We think some bright greens for the leaves with equally bright reds for the berries and fruits would make this particular coloring page really pop.
Do you think you will go for these color suggestions, or will you pick a unique color scheme instead?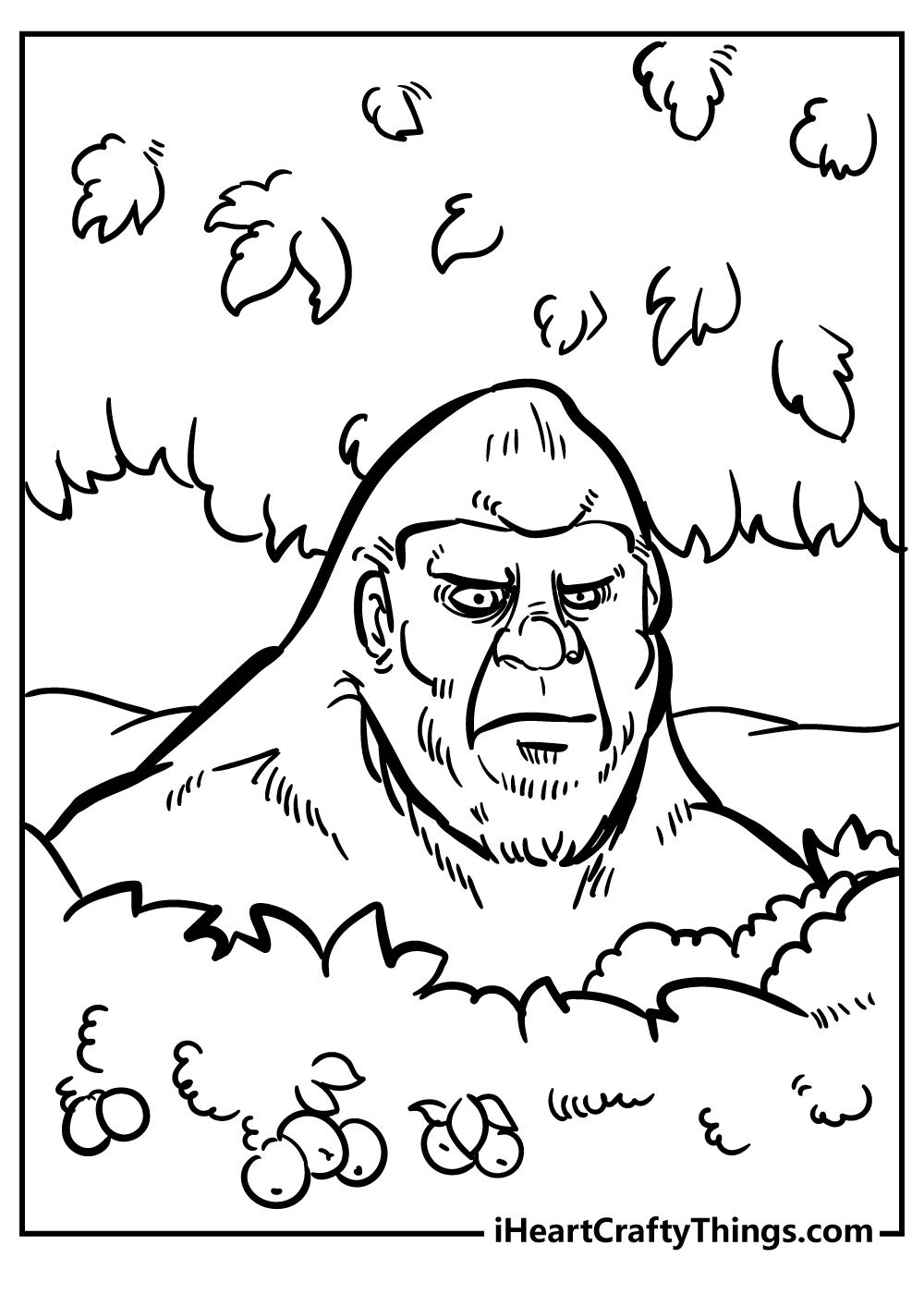 This third Bigfoot coloring printable features a friendly-looking Bigfoot! This one seems to be having a rather nice day as it peacefully hangs out.
For this more lighthearted picture, we would recommend some bright cheerful colors.
If you're feeling extra creative, you could also draw a background for it. What kind of setting do you think would be making this Bigfoot look so happy?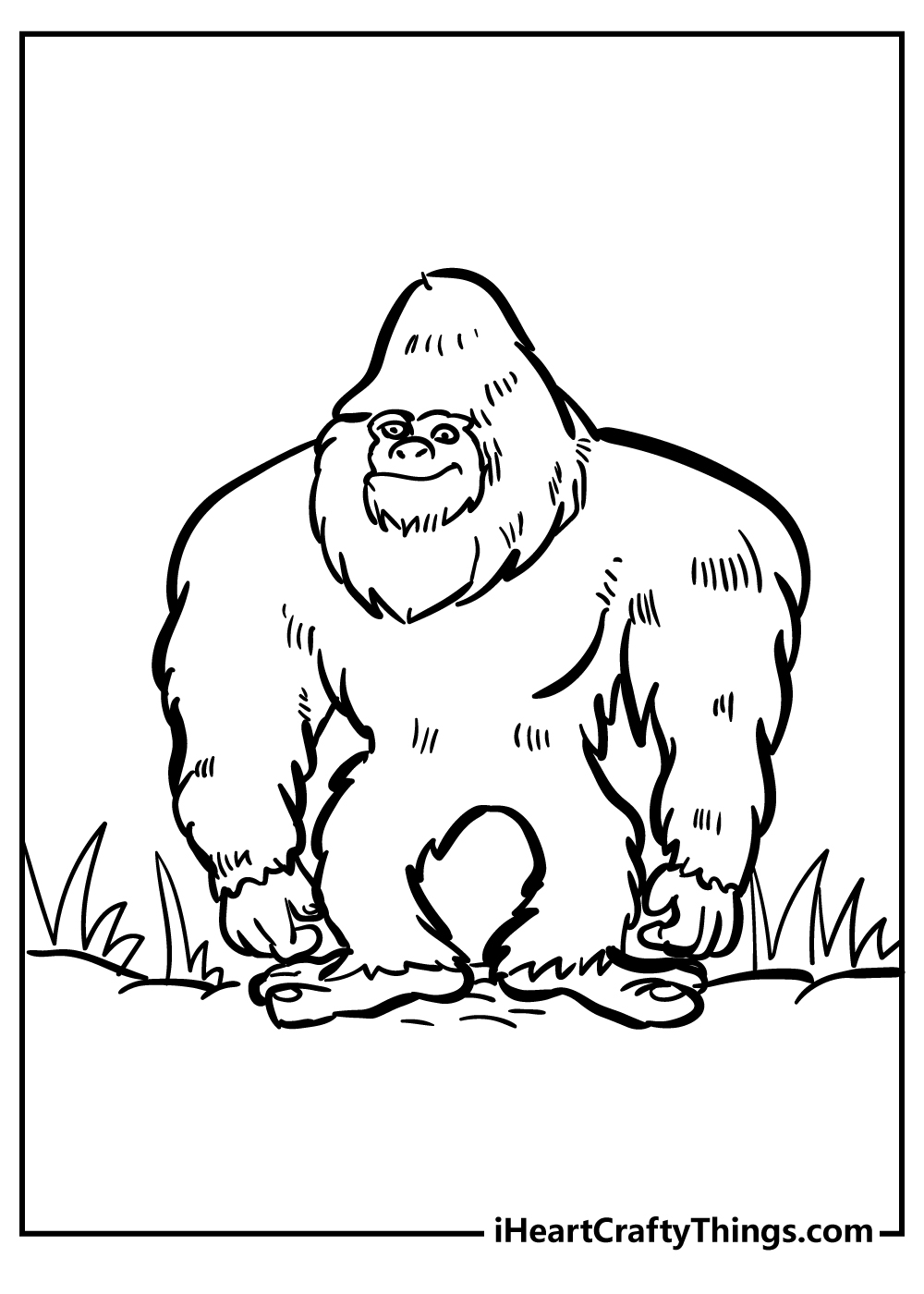 We're back to another tough Bigfoot in this fourth Bigfoot coloring page! This one also looks like it means business, and it certainly looks like one you wouldn't want to mess with.
The only question now is what colors you will use to finish it off? If you're picturing a snowy environment then you may want to use light blues and white.
For a jungle setting, you could go for a brown color scheme to suit it. What environments or colors are you thinking for this free coloring printable?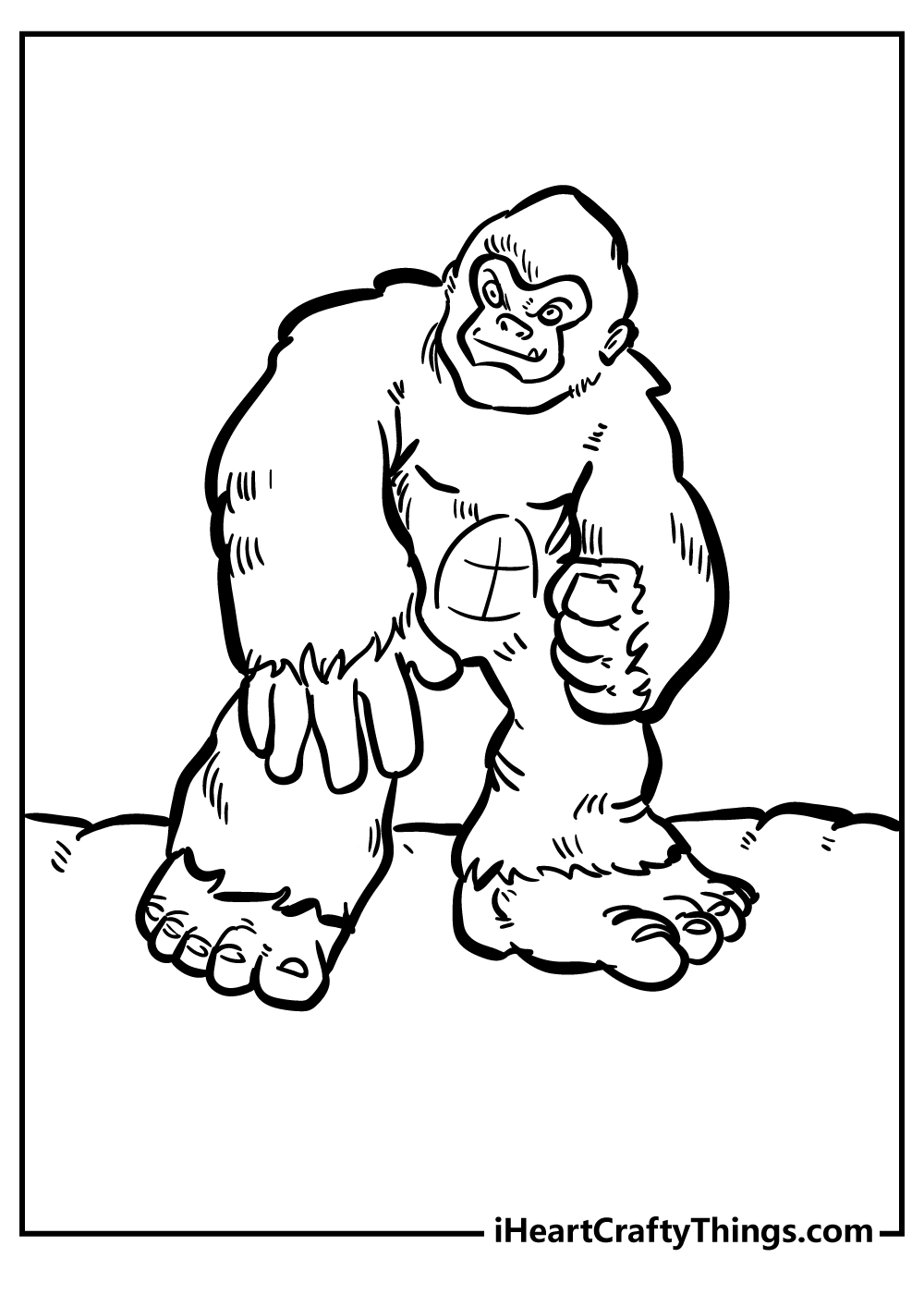 There is a famous piece of video footage from years ago featuring what is claimed to be a real Bigfoot looking over its shoulder.
The one featured in this Bigfoot coloring sheet looks a little bit like that famous Bigfoot!
For that reason, it could be fun to use some more muted, washed-out colors for this printable in order to make it look like old video footage.
You could also use some watercolor paints to further create this effect.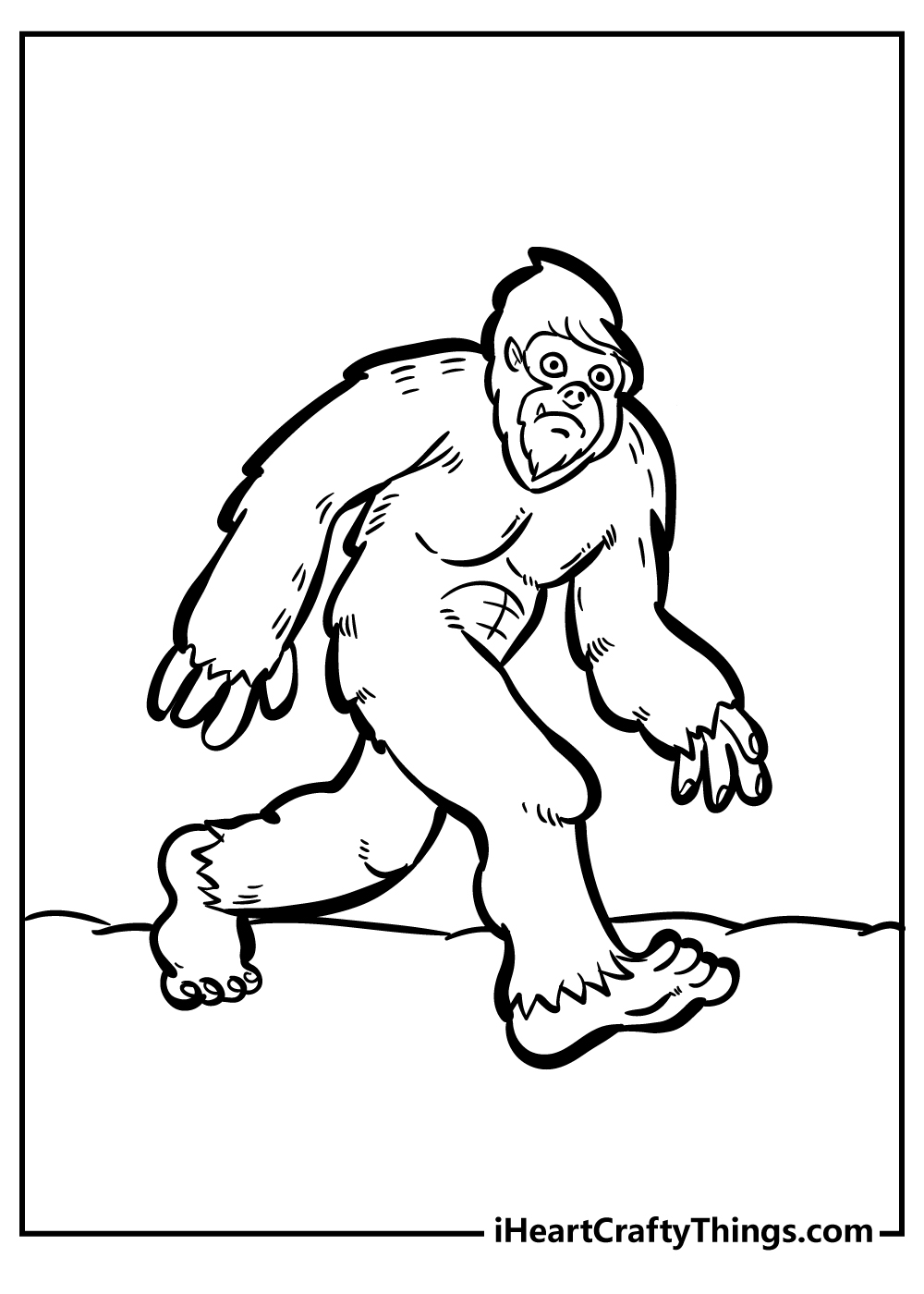 Here's another friendly one for you to color in this free Bigfoot coloring printable!
This one is also going for a stroll, and it doesn't look like it is posing much of a threat. We think that some more bright, cheerful colors would suit this image of a happy Bigfoot.
What do you think you will use to finish this one off?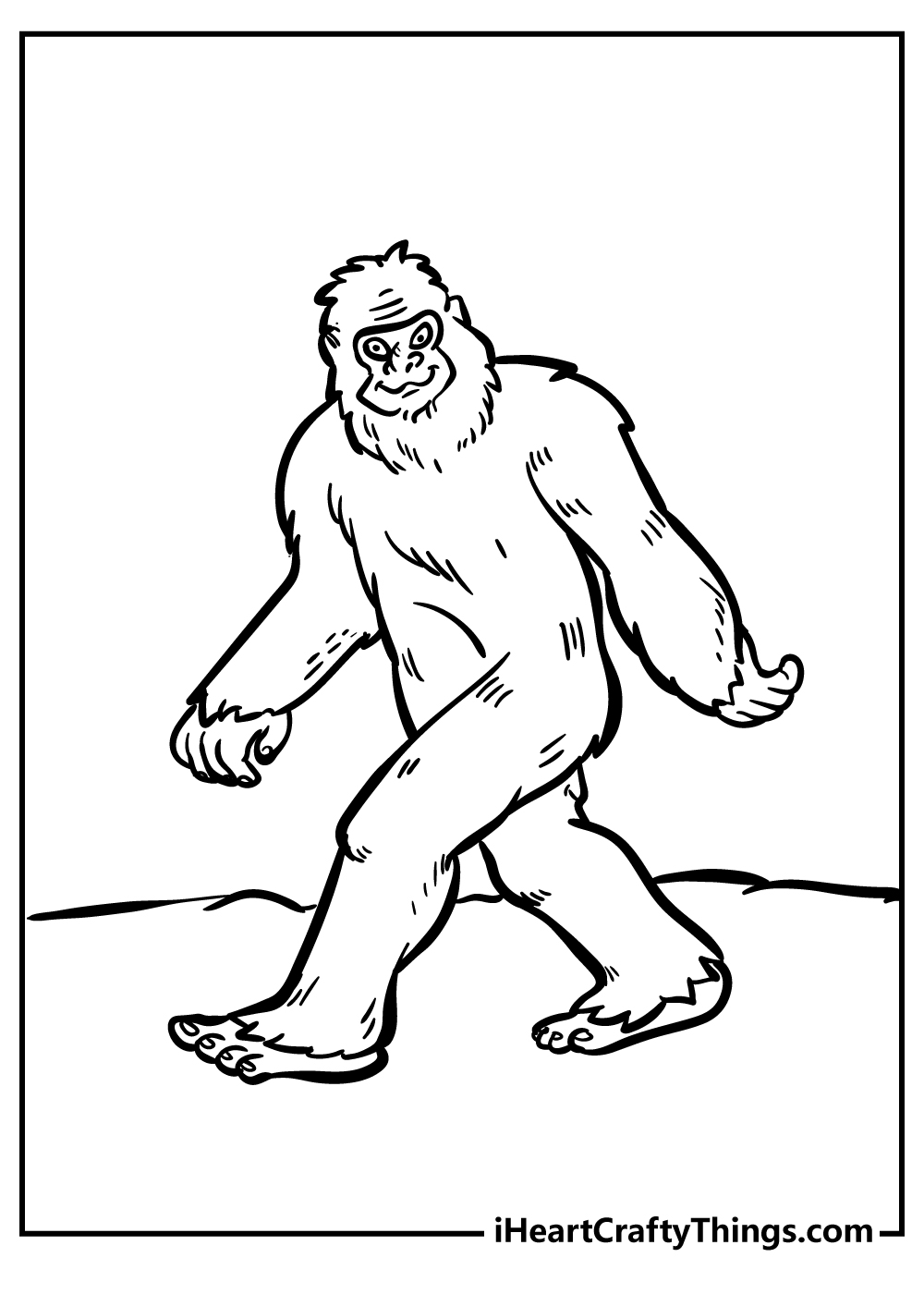 From a friendly Bigfoot, we're back to a tough one in this next free Bigfoot coloring page! This is the biggest, strongest one yet, and you probably wouldn't want to get on its bad side.
When coloring in this Bigfoot, you can use small dashes of paint or colored pens to create a furry look for the body.
What favorite art mediums will you choose to color this one in? Maybe you could use an art medium you've never tried before!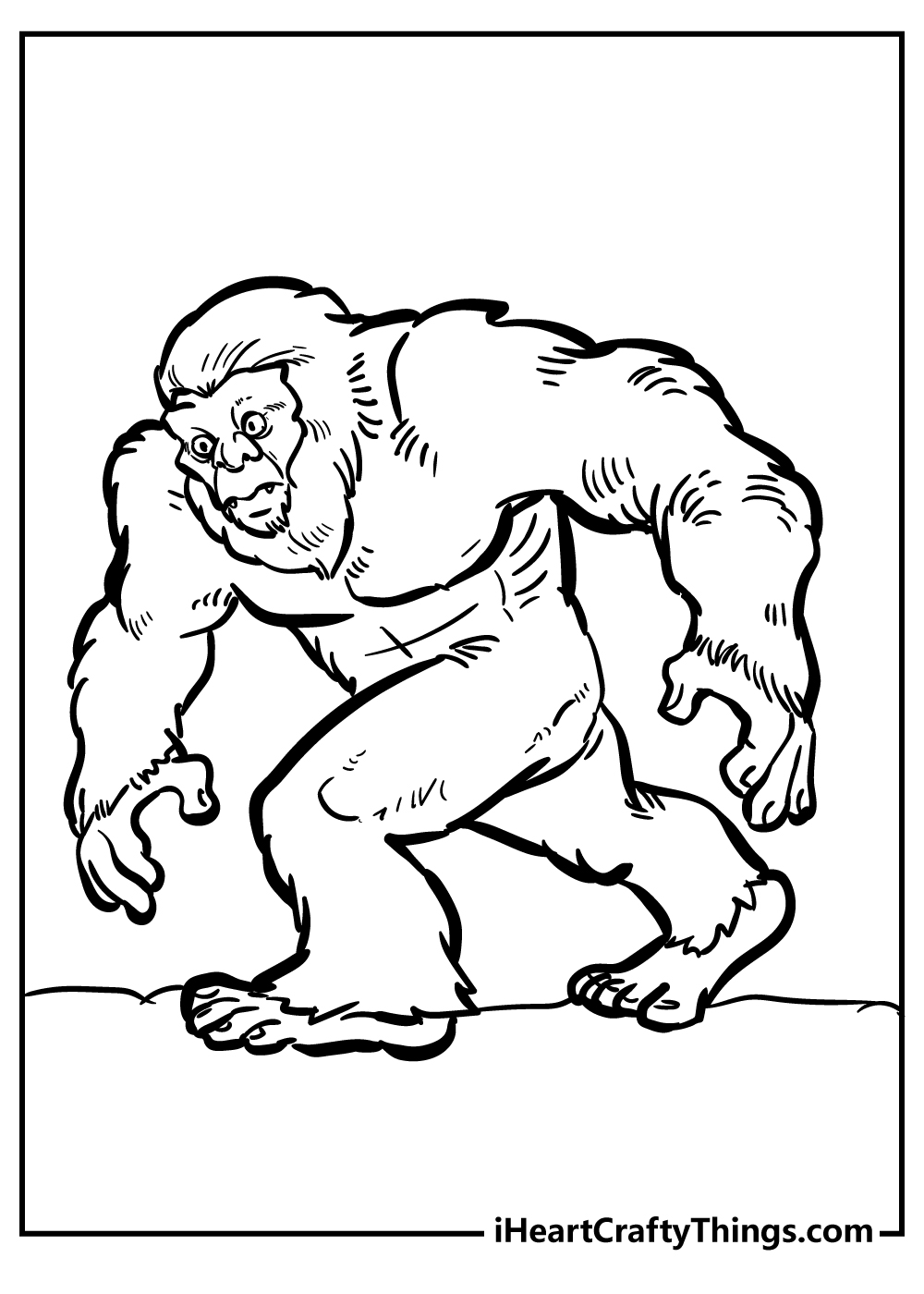 Here's another excitable Bigfoot for you to color in this next Bigfoot coloring sheet! This one has a very intense yet happy expression, but it also looks like one you wouldn't want to mess with.
Remember to consider drawing a background for extra fun! If you were to create a background, would you create a realistic environment or maybe some kind of wacky scenario for it to be in?
We can't wait to see how you complete this Bigfoot printable!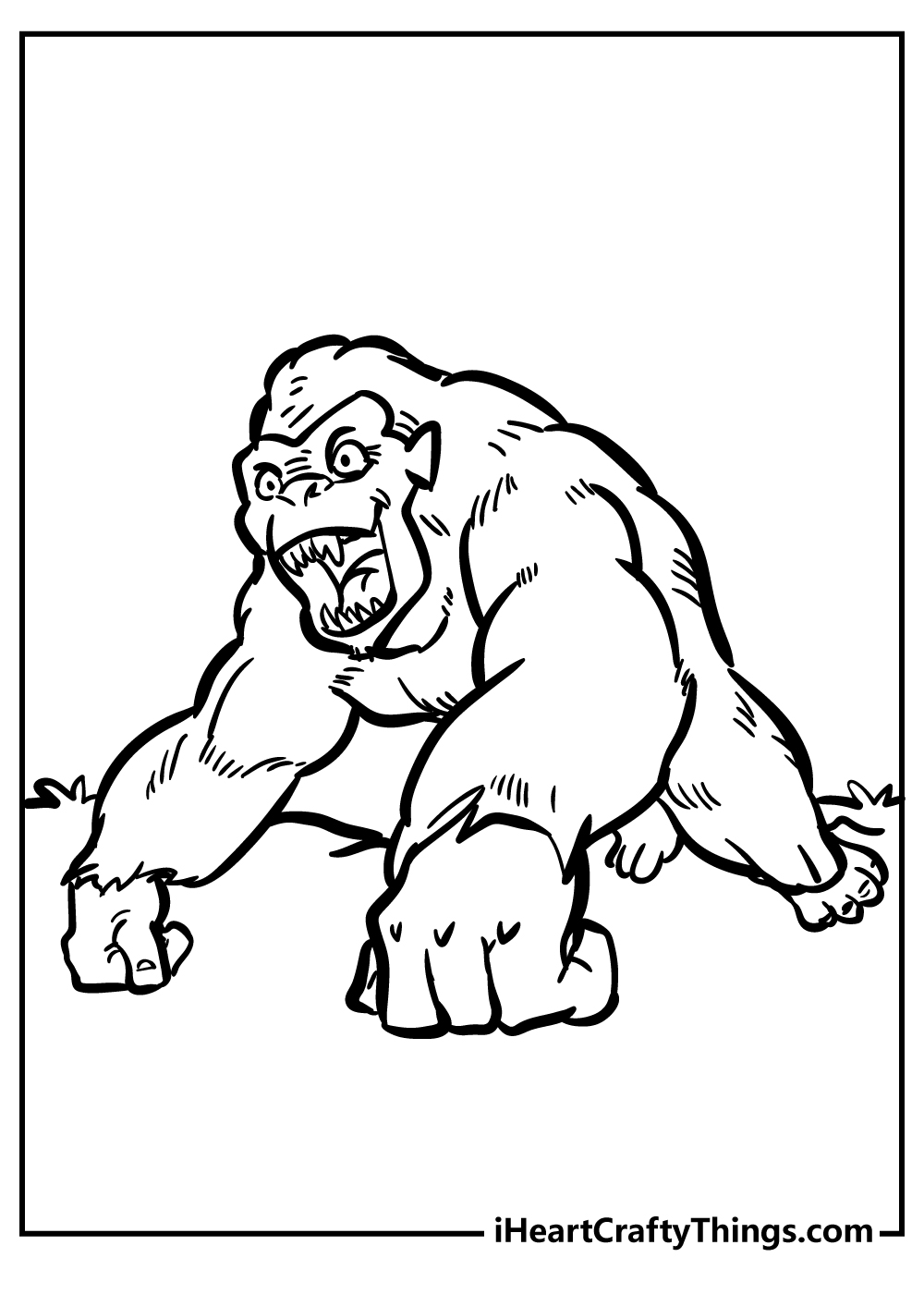 Bigfoot doesn't always have to be scary, and that is proved in this 9th Bigfoot coloring page for kids. This one also looks really friendly and has its thumb extended in approval.
It would be really cool to have a Bigfoot as a friend, so maybe you could draw yourself hanging out with this friendly Bigfoot!
What kind of activity would you like to partake in with this Bigfoot? You can share it on our Facebook and Pinterest pages for us to see when it's done!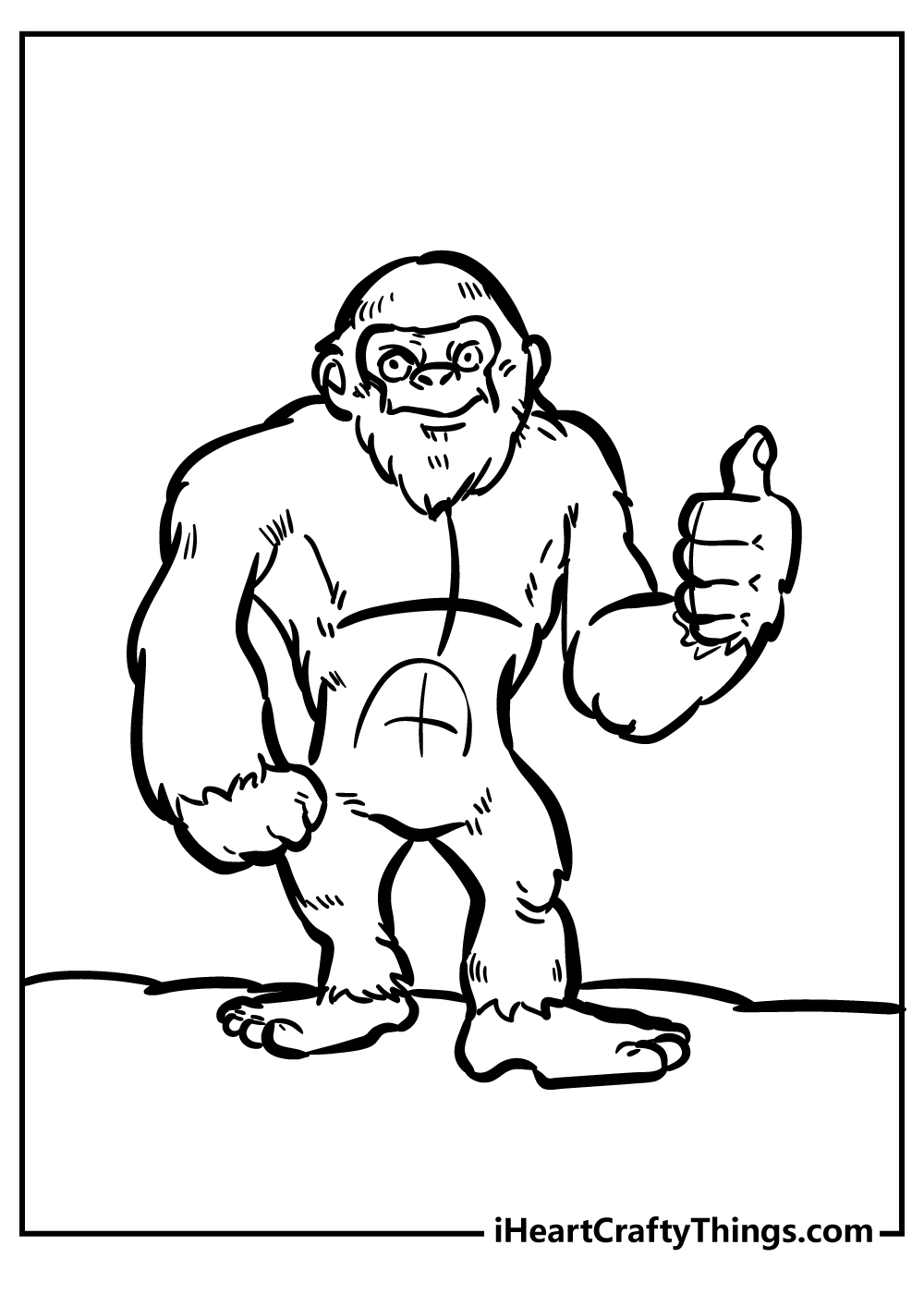 It's time for the final image in this collection of free Bigfoot coloring sheets for kids.
Most of the pages in this collection were a bit more cartoony and whimsical in design, so we're finishing off with a more detailed and realistic portrayal.
Because it looks more realistic, you could use some darker, more earthy colors to fit this portrayal.
How will you use your colors to close off this awesome collection of coloring pages?
Bigfoot Coloring Pages – Which will you choose?
We really hope that you had an amazing time working through this collection of free Bigfoot coloring pages for kids!
There is a great variety on display throughout these pages, so you can really have fun getting creative with them as you go.
There's some good news for you if you had fun with this collection!
Our website is full of many more awesome coloring pages and printables for you to enjoy, and they're all free to print, share and enjoy! Keep checking in to make sure you never miss out on the fun.
We always love to see your creativity on display, so we hope that you will show us your favorite completed Bigfoot coloring printables!
When you're done, you can share your creative artworks on our Facebook and Pinterest pages for us to admire. We can't wait to see what you have done!