The army is one of the most important institutions in any government. Every day, the brave men and women of the army sacrifice a lot in order to keep their citizens and countrymen safe!
The soldiers of these armies are often decked out in the latest tech, and this means they usually have a really cool set of gear that they use.
Soldiers will operate in many different environments and conditions, and that means they need gear and camouflage to fit these different conditions.
For that reason, you will have lots of opportunities to use your favorite colors in this collection of free army coloring pages for kids!
It will be very interesting to see all of the colors you will choose for these amazing printables.
We are featuring a lot of different positions and scenarios for you to complete in these army coloring sheets, so you should definitely be sure to let your imagination run wild!
It's always great for us to see how you complete these images, and we're sure you will be eager to show off your hard work!
When you have completed these army coloring pages, be sure to share your favorites on our Facebook and Pinterest pages for us to admire.
15 Brand New Army Coloring Pages – Free to Print and Color
We have a really cool-looking soldier for you to color in this first free army coloring page for kids! This soldier has a covering over their mouth, and this brings two approaches to mind.
Perhaps they have this covering due to a sandy desert environment, in which case you may want to use some brown shades.
They could also be operating in a snowy environment, and that would mean whites, light greys and blues. What kind of environment will you prepare this soldier for using your colors?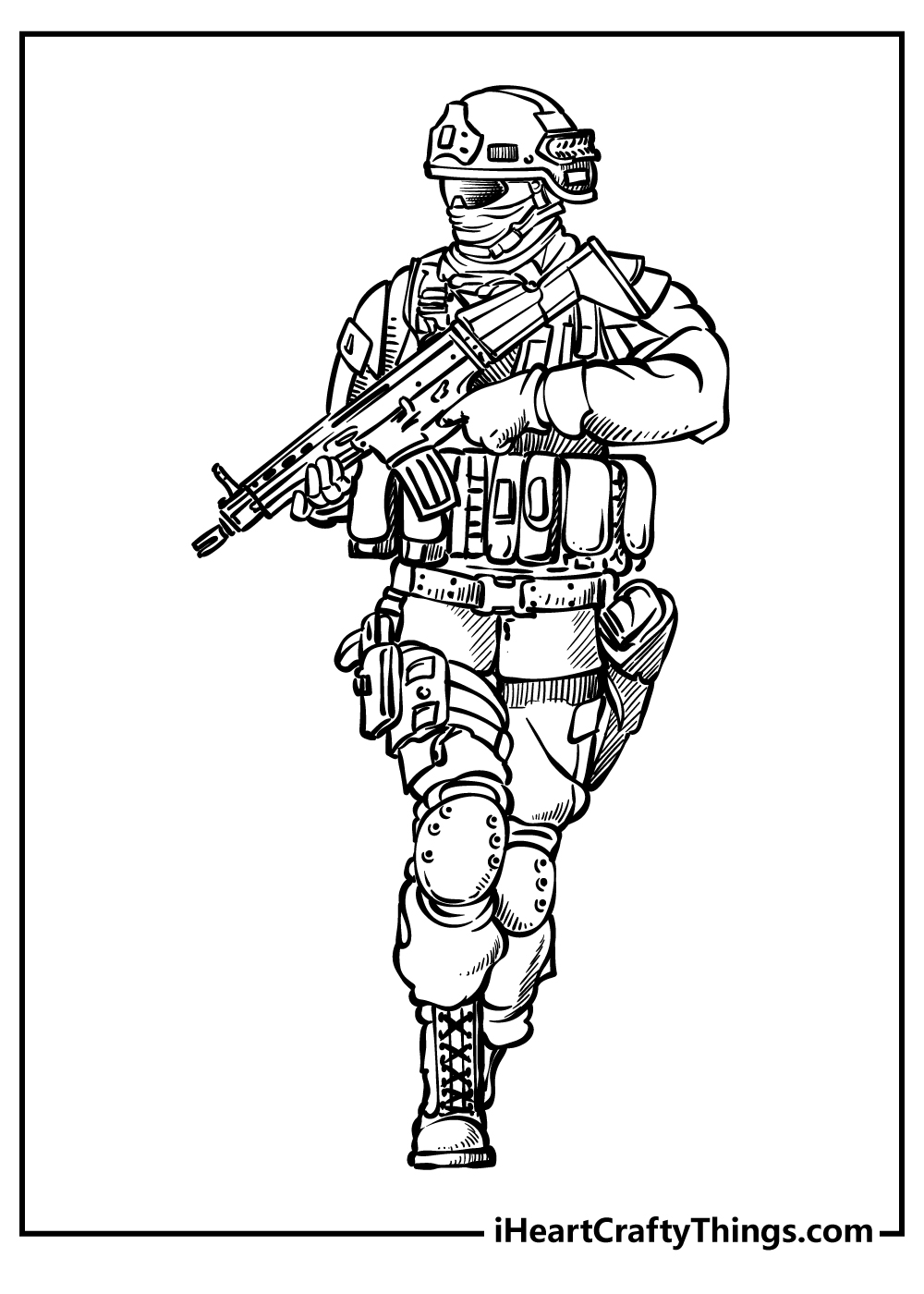 The soldier in this army coloring page is ready to go, looking alert in his army office! There are already some interesting details here, but before you color the image you could add some of your own.
Perhaps you could draw some posters or show some of the tools he would use in his day to day activities!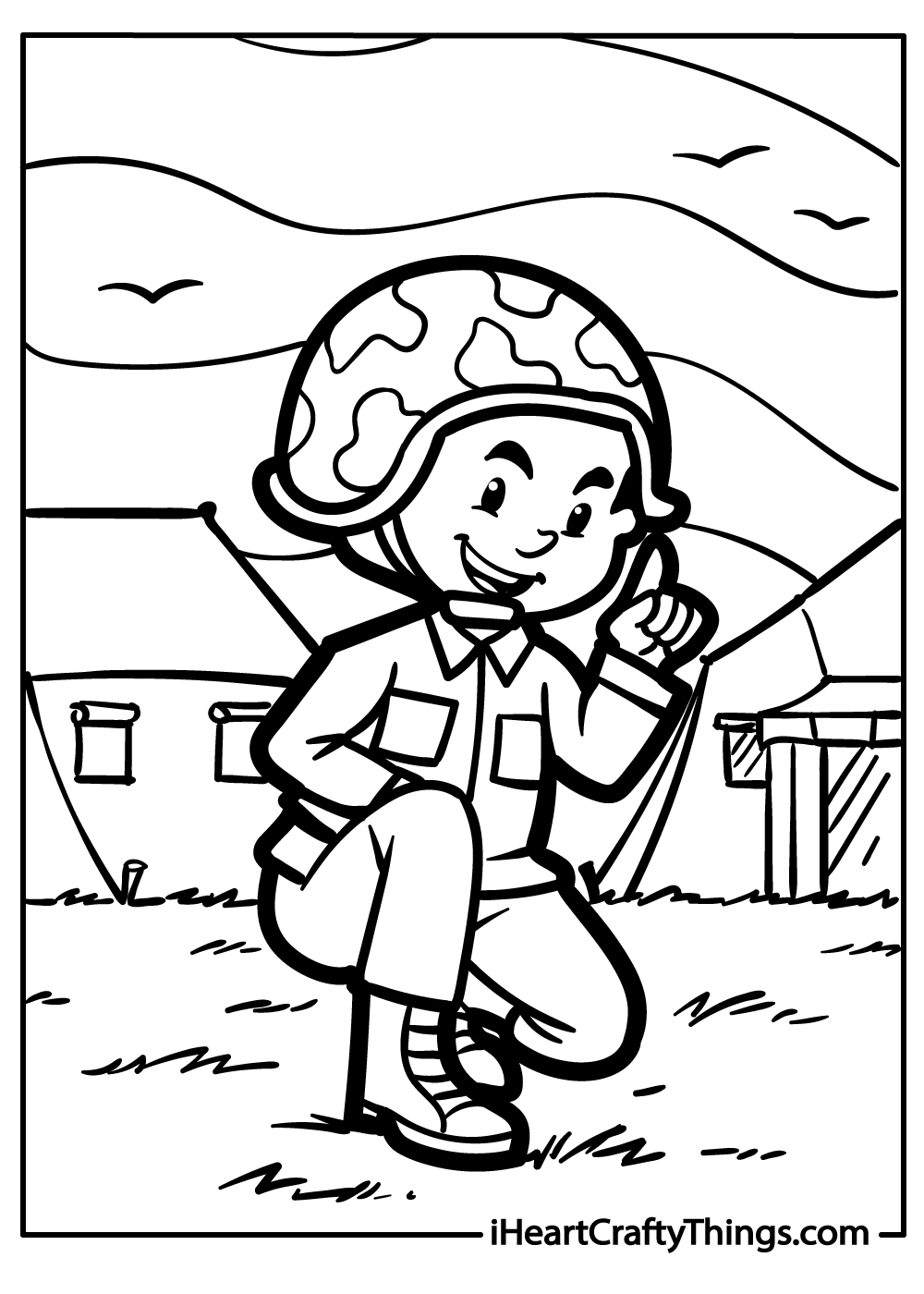 This soldier is ready for action in this second army coloring sheet! There is a camouflage pattern on the helmet and vest this soldier is wearing, so this allows for some more intricate coloring.
When coloring these elements, you may want to use mediums such as colored pens or thin-tipped brushes for greater accuracy.
We look forward to seeing how you portray the action in this awesome coloring printable!
Keeping your weapon reloaded is a good idea when you're in the middle of the action, and the soldier in this army printable is making sure he is prepared!
His pose is fairly relaxed, so this looks like he's either doing some target practice or is taking care of maintenance during a break in the action.
When finishing these coloring sheets, remember that you can also draw a background or some extra elements to really finish them off!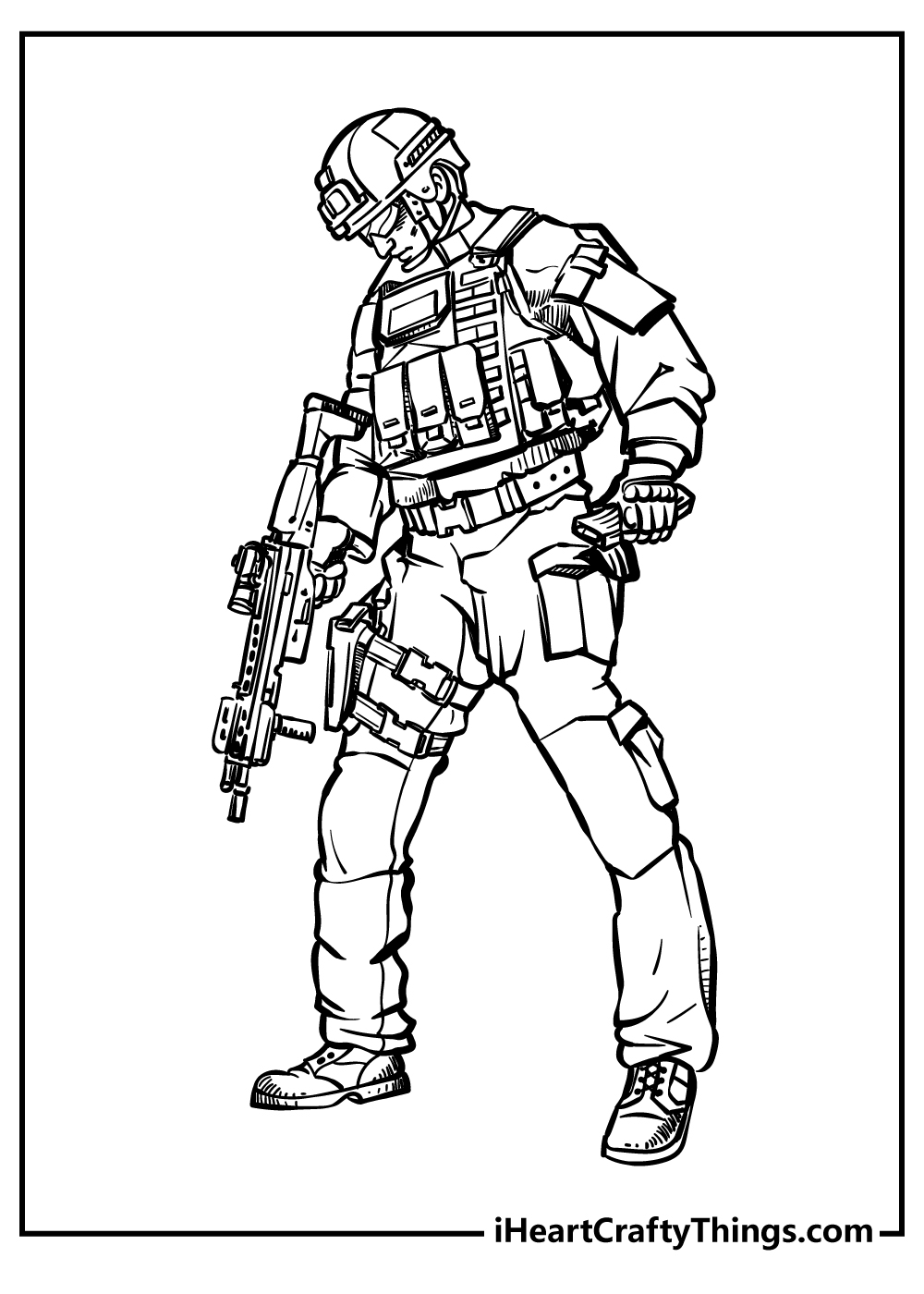 It's time to head outdoors with this next soldier, as he is patrolling outside in front of some mountains. This provides you with plenty of opportunities for some amazing colors!
Some watercolor paints might be nice for the background elements, but what else could you use? You could print out a few copies if you want to try some different ideas.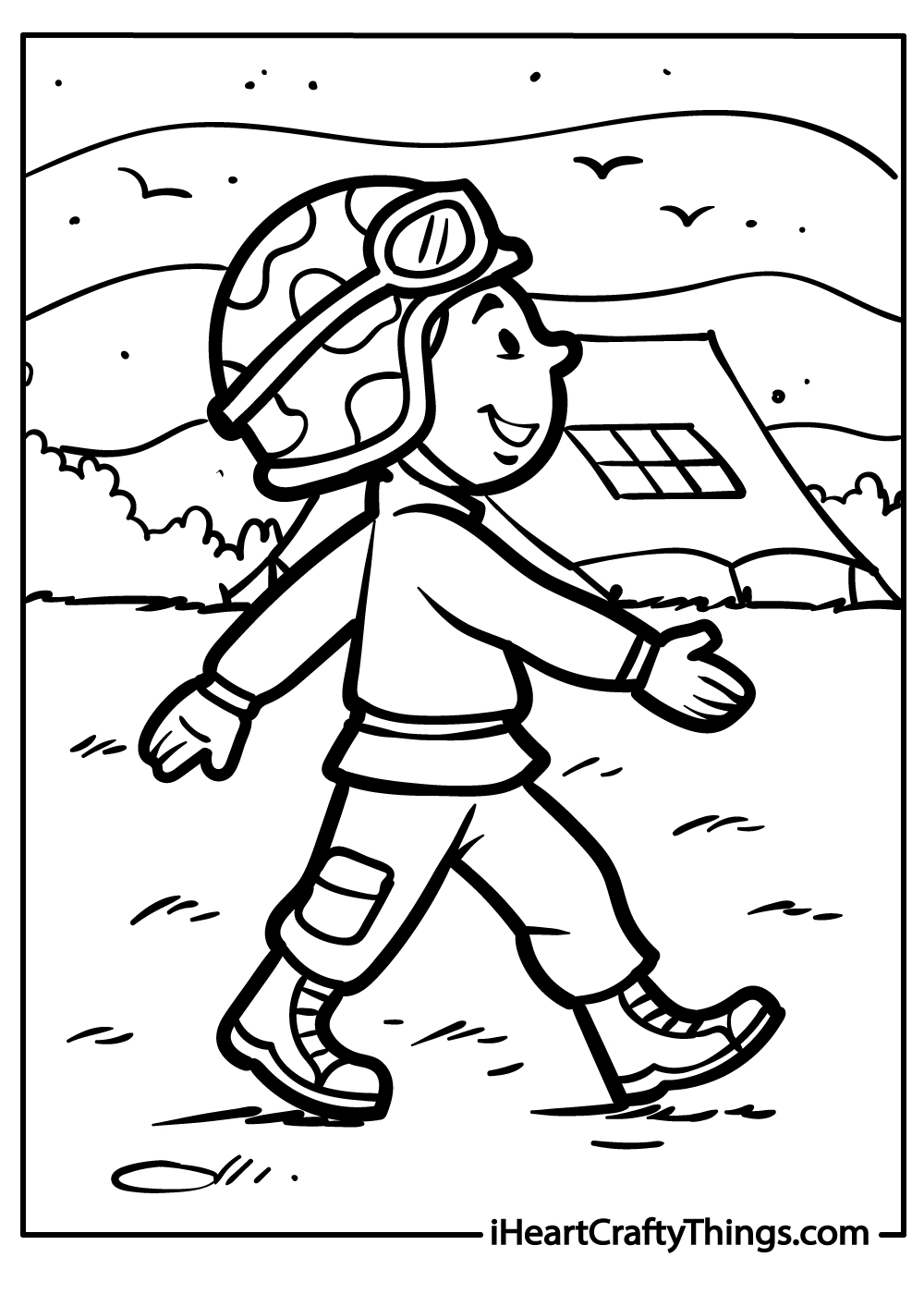 We packed a lot of detail into this next incredible free army coloring page for kids! Once again, we would recommend some finer art mediums such as colored pens for this cool soldier.
If you use mediums that don't allow for accuracy, then coloring the smaller elements will be a bit of a pain.
Of course, choosing the mediums is just half the fun! What kind of color scheme are you thinking would suit this cool-looking soldier?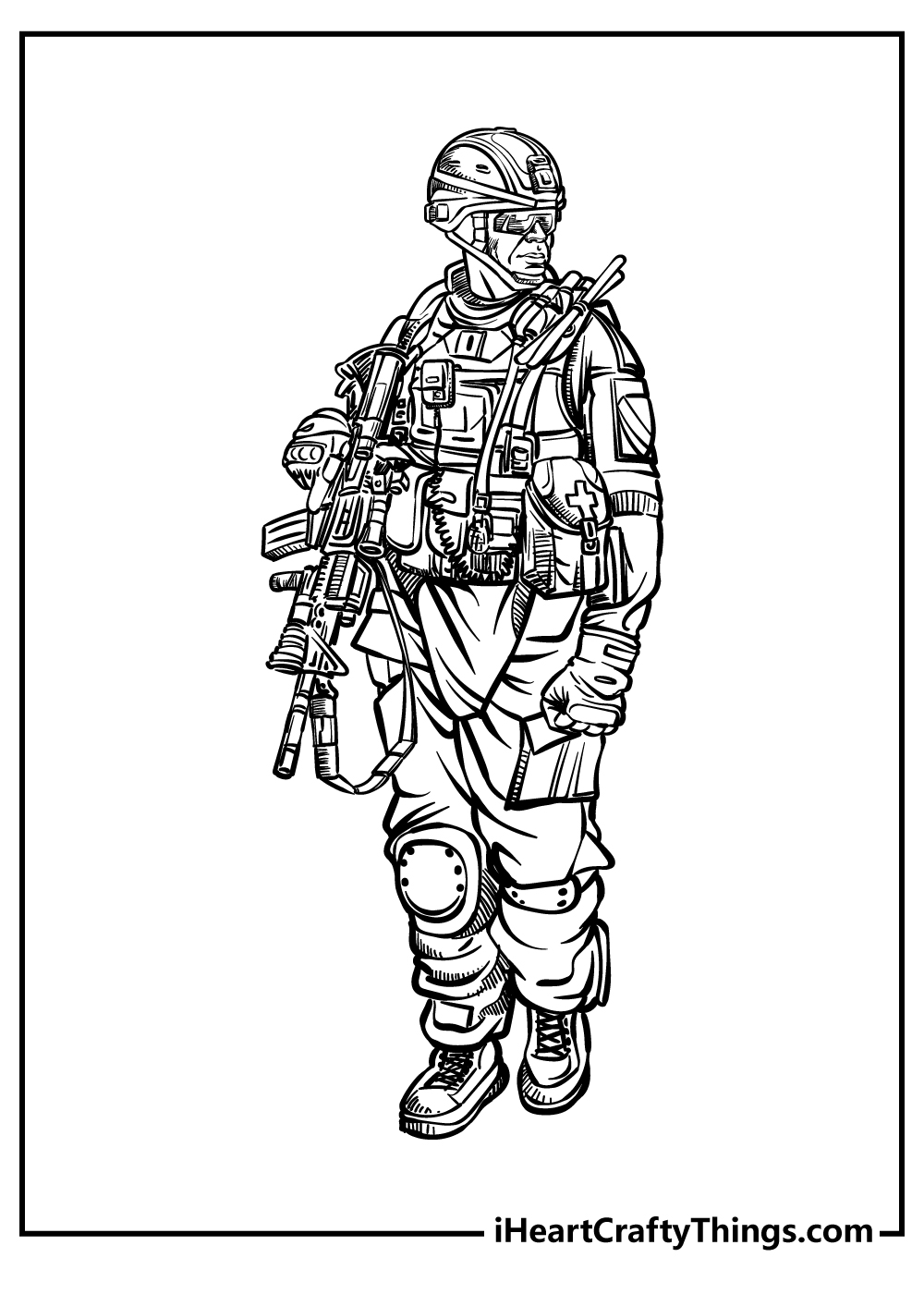 The soldier in this fifth army coloring sheet looks like he's on the alert and ready for anything!
He's wearing a scarf around his neck, and there are many environments where that could come in handy.
It could keep him warm in snowy conditions, shield his face from sandstorms or keep annoying bugs off it in a jungle setting.
It's up to you to decide what kind of setting you will portray as you color this coloring page!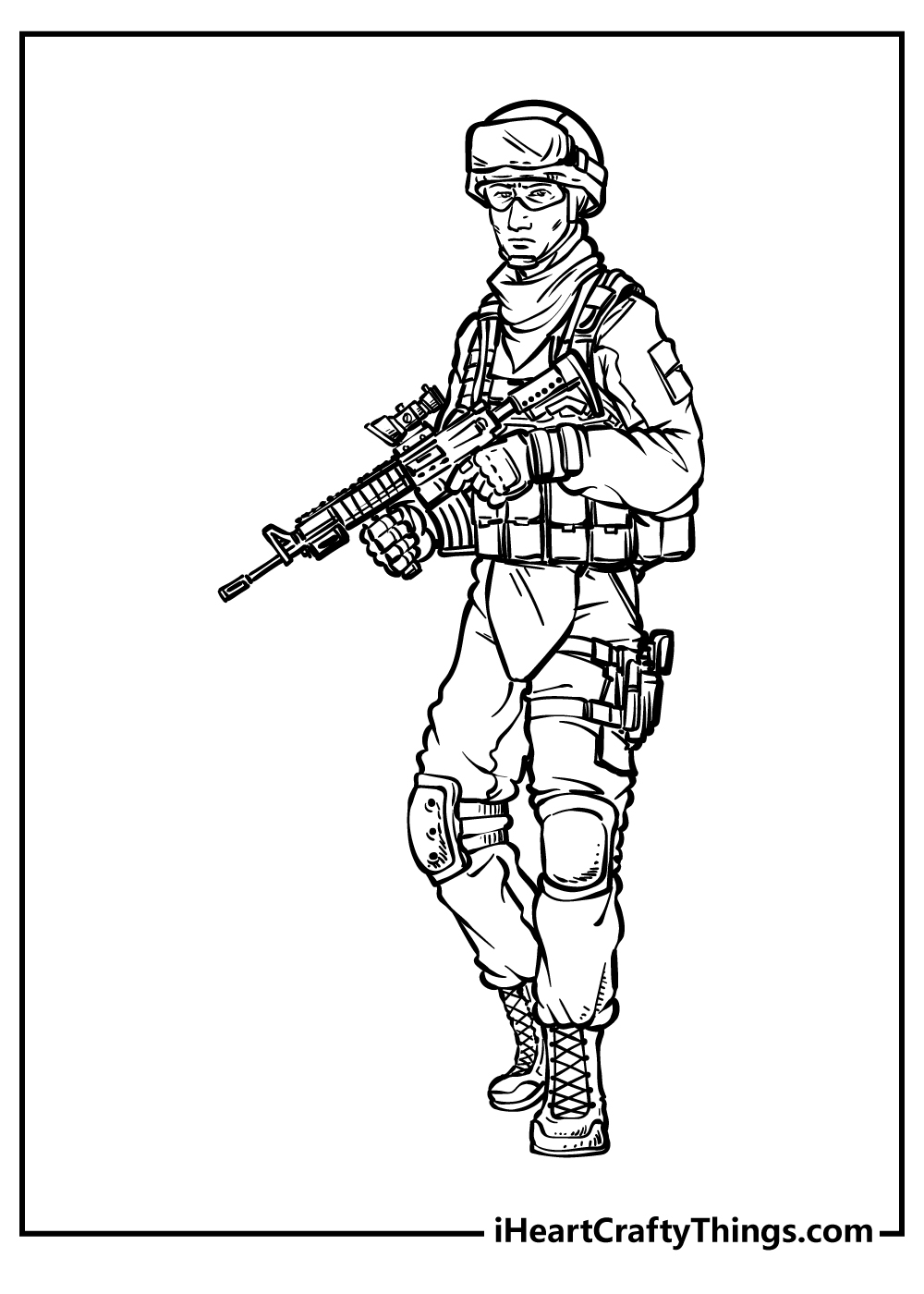 Soldiers have to work in all kinds of weather conditions, and that is shown in this next army printable! This soldier is running through some harsh weather, but she won't let that stop her!
How will you color this harsh weather to emphasize how tough this running soldier truly is?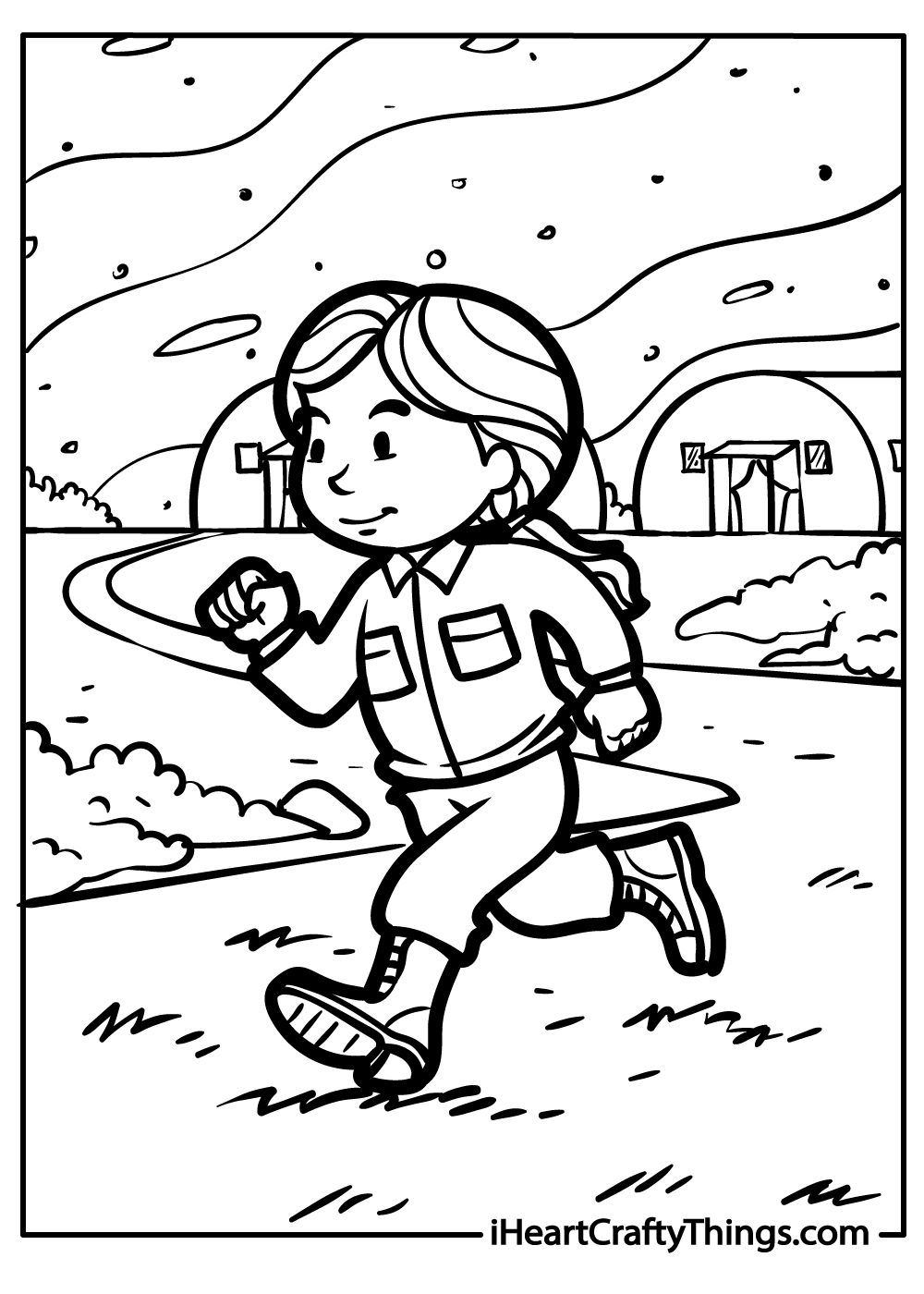 To say that the soldier in this army coloring printable is decked out would be an understatement! He has all kinds of gear strapped to his body, and that makes him look ready for anything.
He has some leaf camouflage as part of his gear, so we would recommend a green color scheme to suggest a forest or jungle setting.
That is just one suggestion, but what else can you think of to finish off this coloring sheet?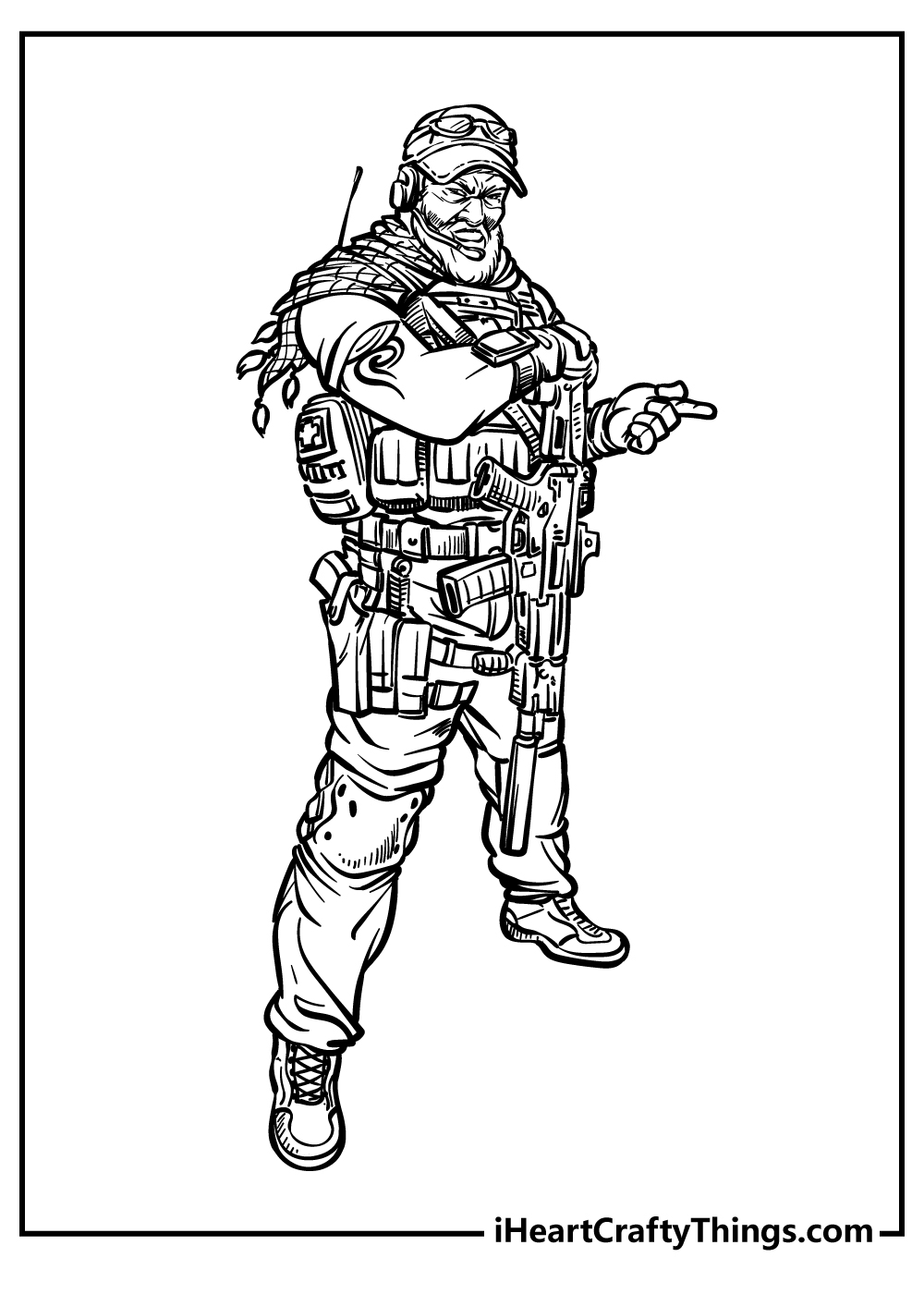 Here's another awesome soldier for you to color in this next free army coloring page. He is wearing some sunglasses, and that could mean that he is in a harsh desert setting.
Alternatively, sunglasses can be a necessity in snowy environments, as the way the sun reflects off the snow can be rather blinding!
Will you draw a background for this coloring sheet once you have chosen your color scheme?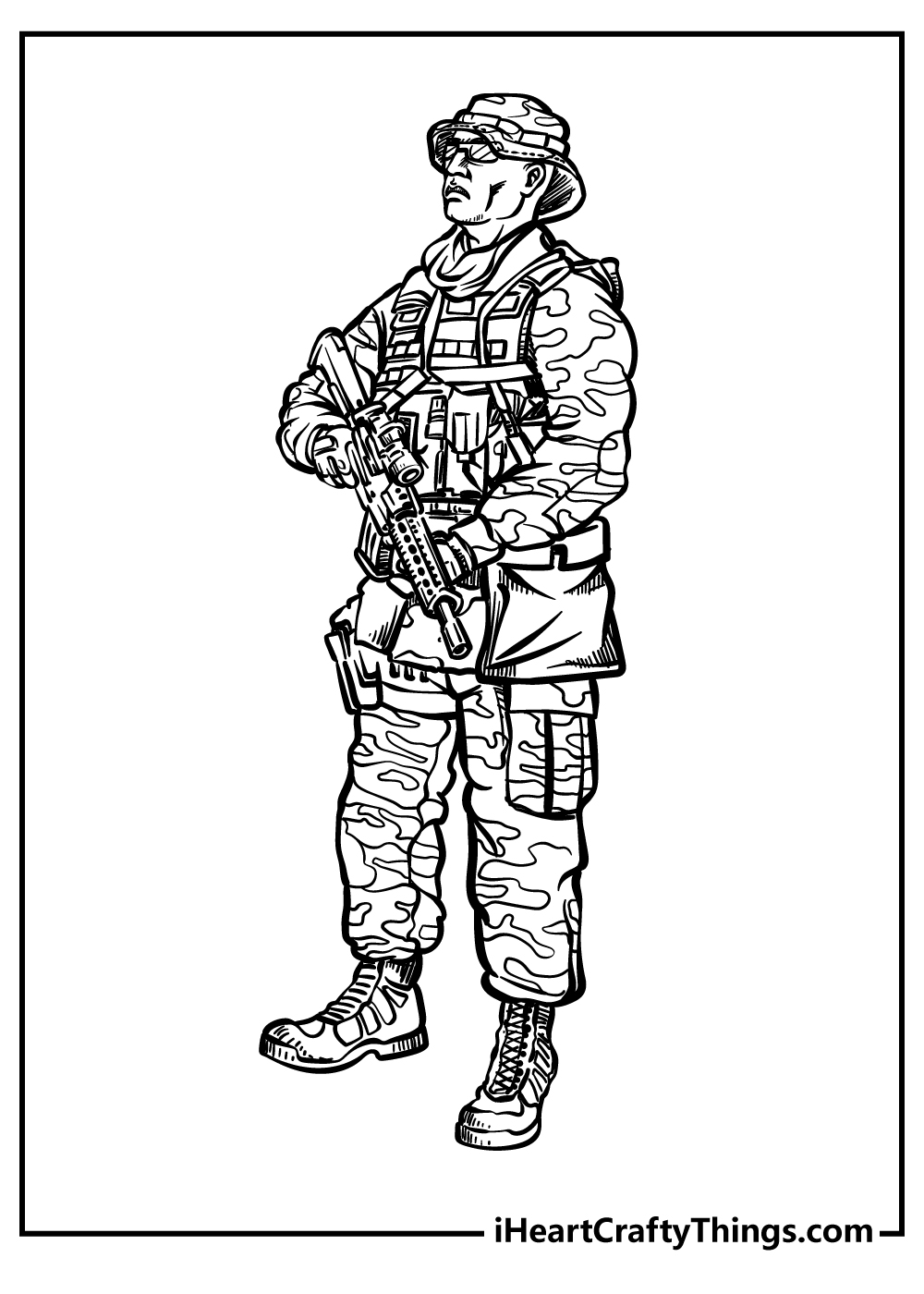 Soldiers need to march all over the place in a structured way, as it helps them to stay focused and disciplined. This soldier is busy marching, something he will be very used to!
You could make his patrol a bit more interesting for him to look at by adding some great colors and background details.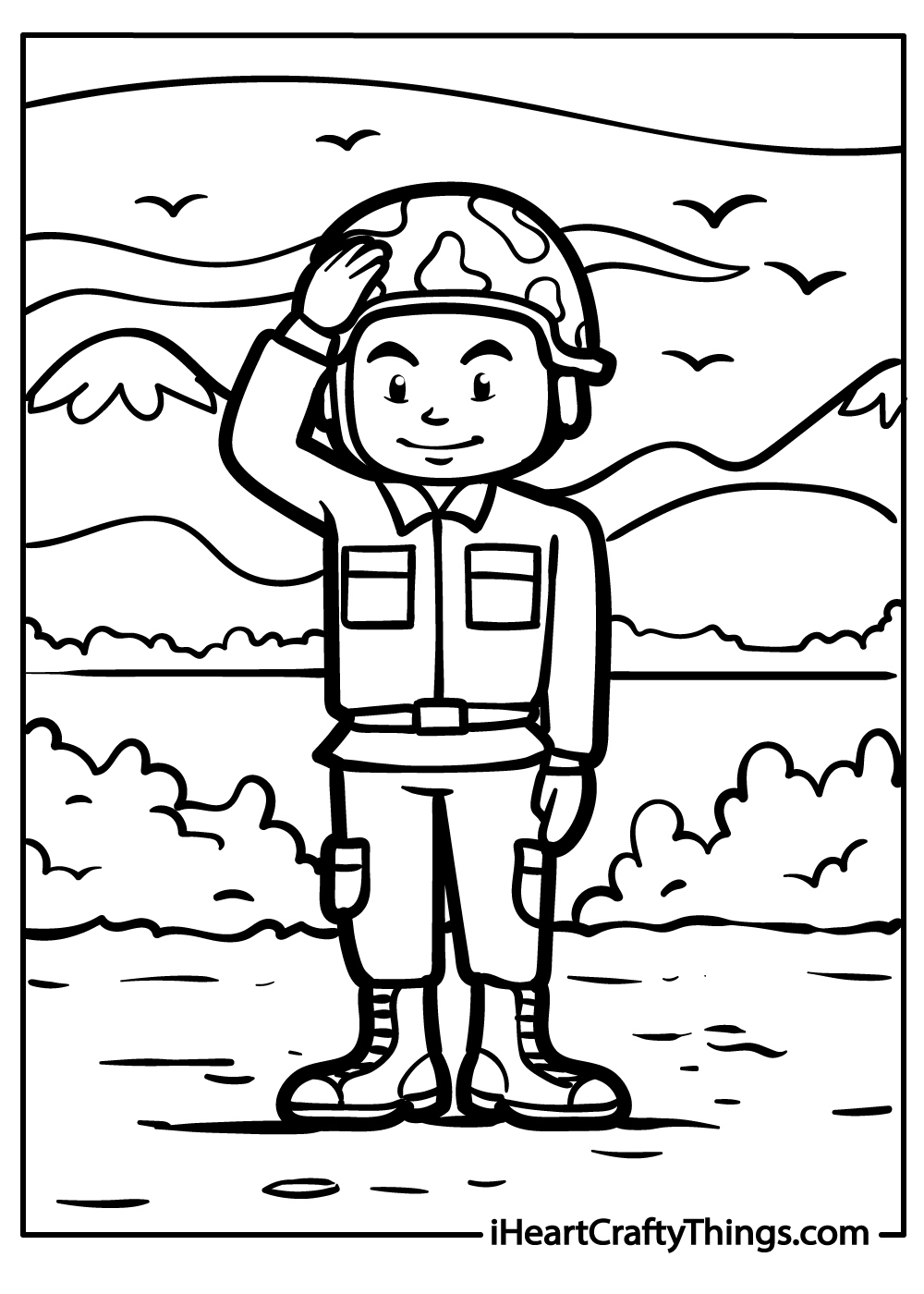 The face-covering that the soldier in this army coloring sheet is wearing looks really cool! This mask would come in handy for sandstorms or icy gusts of wind.
What kind of setting do you think this soldier is in?
If it's too hard to decide, why not print out a few copies and try out some variations? All of our coloring pages are free for you to print and enjoy, so print out as many as you like!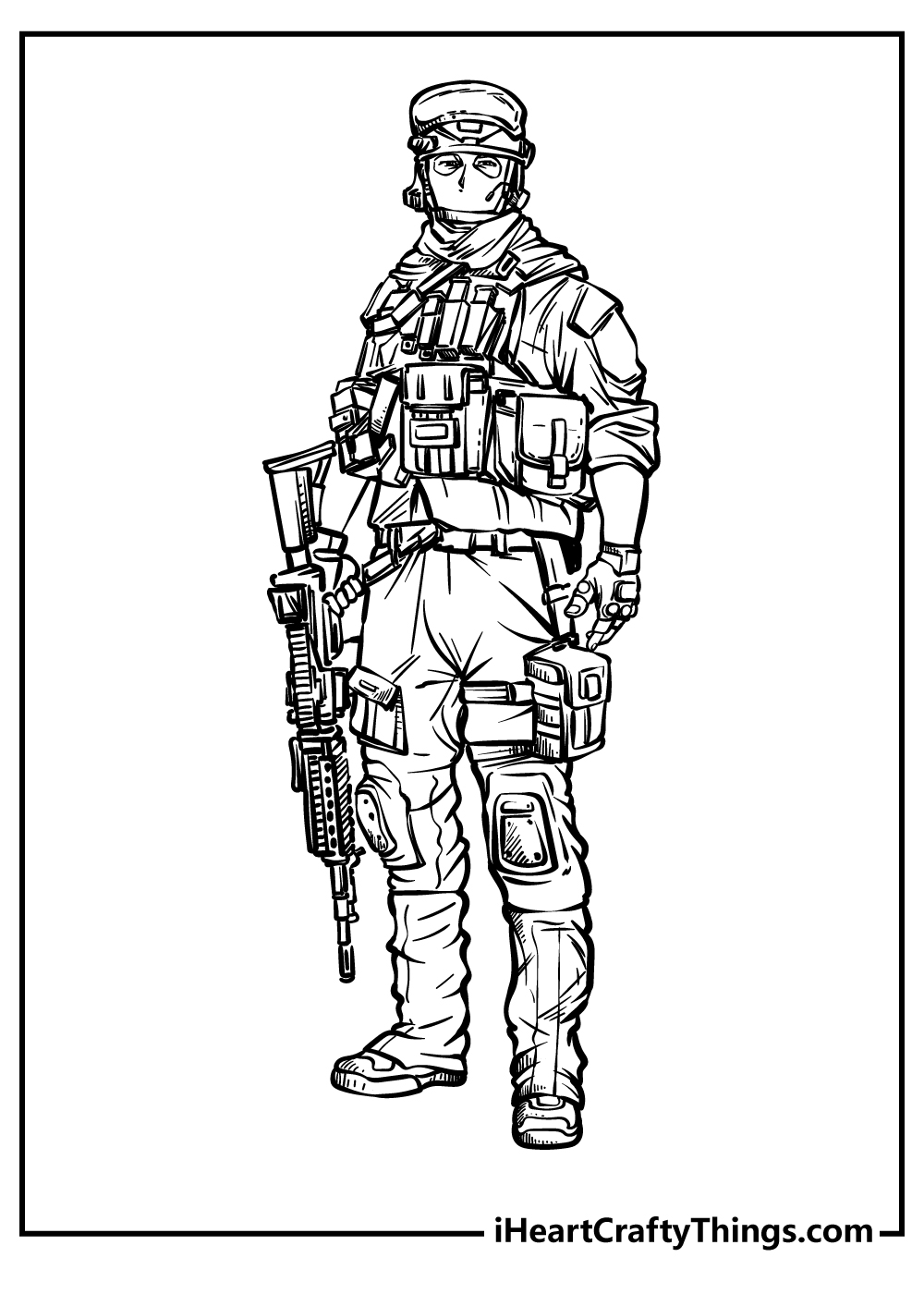 This next army coloring printable has to be one of the coolest in this collection!
This soldier is decked out from head to toe, and this means that you can have a lot of fun completing the smaller details.
Perhaps you could use some black, dark greys and blues to get this soldier ready for a nighttime operation. What do you think you will use for this image?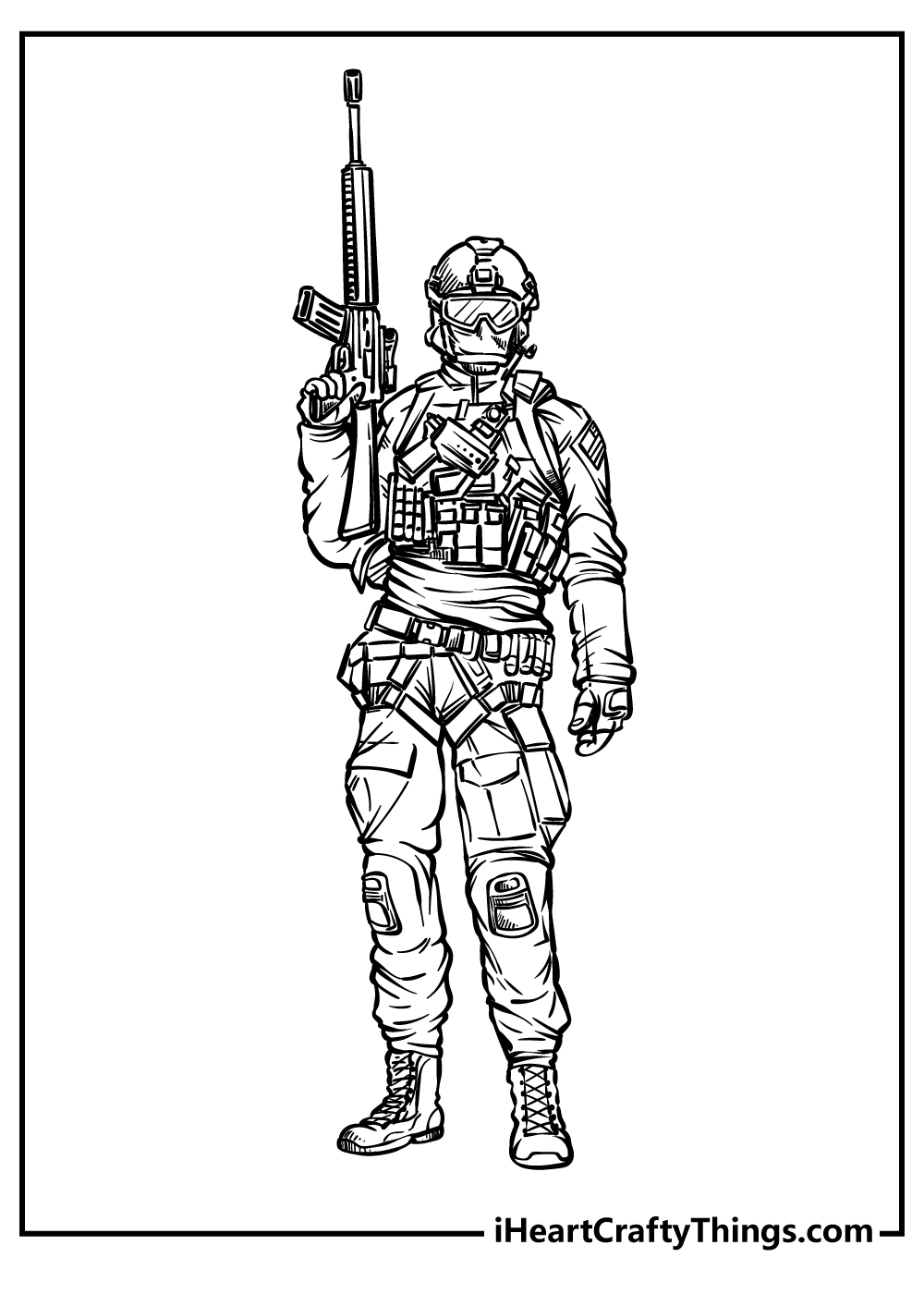 Soldiers will sometimes have to educate their fellow soldiers on how to do things.
This particular soldier is giving some kind of demonstration, and this means that you could add some text to this coloring page.
By drawing a speech bubble over his head, you could show what he is saying. What sorts of instructions do you think he could be giving out?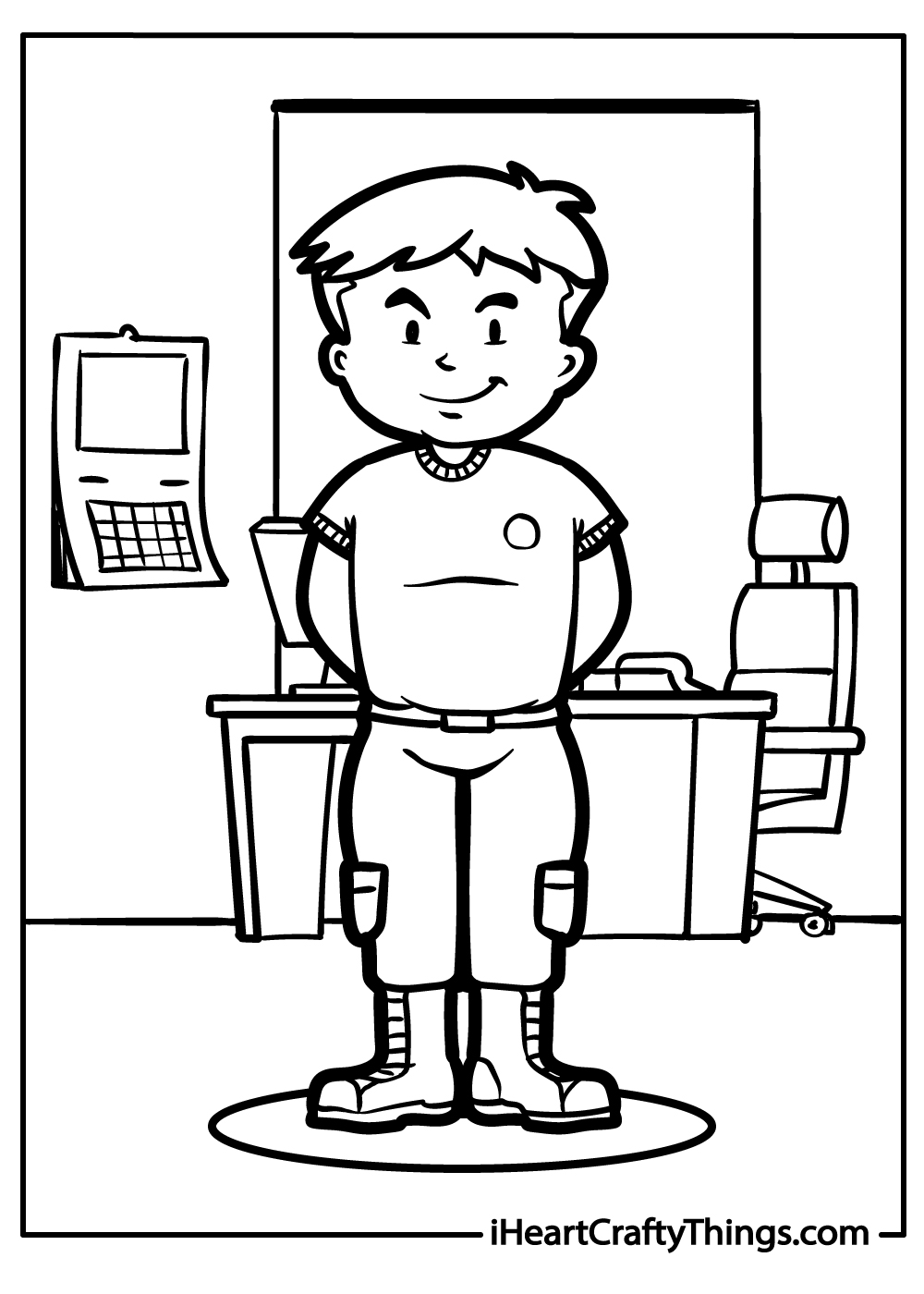 The soldier in this final free army coloring page for kids is looking really tough and cool!
She is wearing a cap with some sunglasses, so that means that she could be in a bright desert environment.
Remember to use various shades of browns and pale yellows if you would like to go for that kind of look.
You can also change up the art mediums that you use for some extra fun, and it can also be great to mix various mediums!
It will be really great to see how you finish up this final printable with your creativity.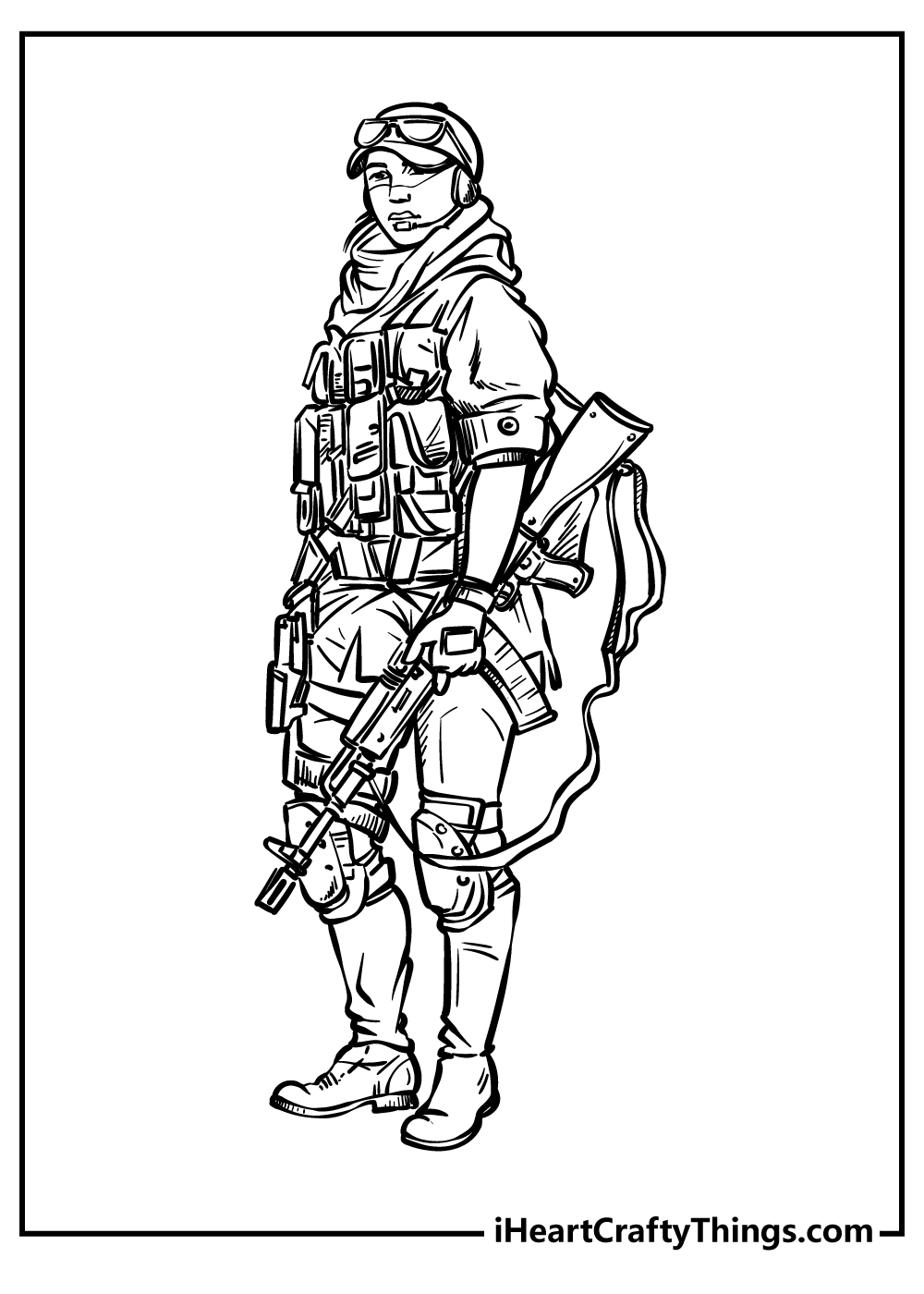 Army Coloring Pages – Which will you choose?
You have finished all 10 pages of this collection of free army coloring pages for kids!
We tried to prepare a great variety of poses and settings for you to color, and we hope that you had an amazing time finishing them off.
If you had fun with these pages, you'll definitely want to check out our website! We have collections of coloring pages featuring many different subjects.
There are coloring pages for all ages and tastes, so keep checking in to catch our ever-growing list of coloring pages!
The final step of this collection of free army coloring sheets is to share the results of your work!
When you are finished, be sure to share your favorite pages on our Facebook and Pinterest pages for us to admire! We can't wait to see them.