Squirrels are some of the most adorable critters of them all, and it's always a treat to see them scurrying around foraging and having fun when going for a walk.
Squirrels come in multiple breeds, shapes, sizes and colors, of course. They can come in shades of browns, whites, blacks and more! In these squirrel coloring pages we're going to see an even bigger colorful collection of cute squirrels.
These free squirrel coloring page printables for kids are perfect for hours of adorable and creative coloring fun. No matter what season it may be, you can depict the colors of the season for these little squirrels to run around in.
When you've finished coloring your favorite squirrel coloring pages we'd love it if you share them on our Facebook page for us to see. We'd love to share in the coloring fun by seeing your cute creations!
REMEMBER: You can get the COMPLETE set of these coloring pages >> HERE
15 Brand New Squirrels Coloring Pages – Free to Print and Color
The squirrel in this first free coloring page printable is looking very happy and standing in a very typical squirrel pose.
Squirrels will often stand like this when nibbling on a treat or cleaning their paws, so I wonder what this one is up to?
Will you use more realistic colors for this coloring sheet or use your favorite colors for him? Maybe you could color the background in the colors of your favorite season.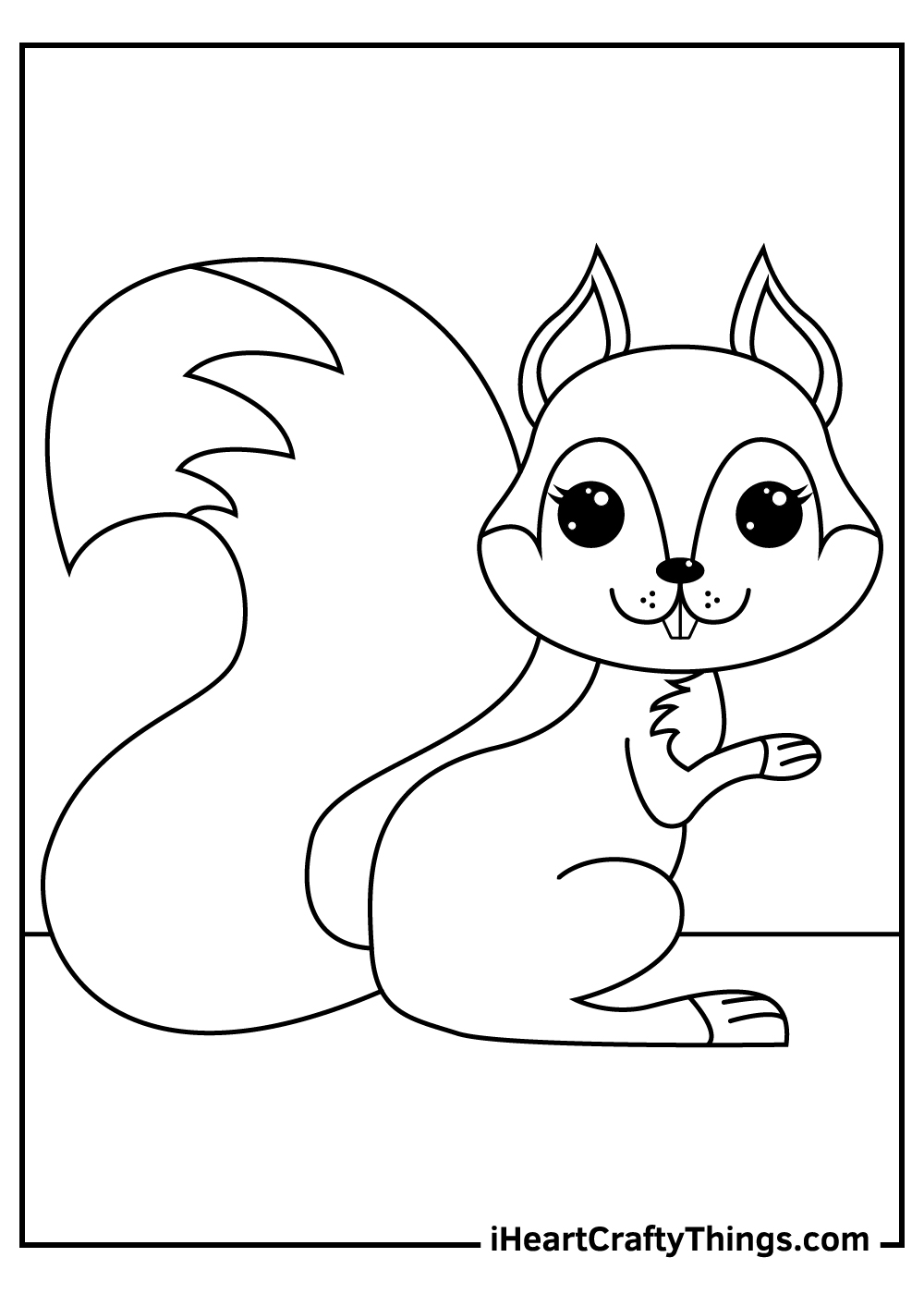 This coloring page features a cute squirrel in the forest? It looks like it is having a great time exploring nature and finding new things.
It is standing on a tree trunk and holding it with its paws, as if it is ready to climb up or jump down. What do you think it is looking for? Maybe it is searching for some delicious nuts or berries.
Add splashes of color to the forest background – greens for the lush leaves, blue for the sunny sky, and reds or oranges for sweet berries fur and eyes, such as brown, gray, black, or white.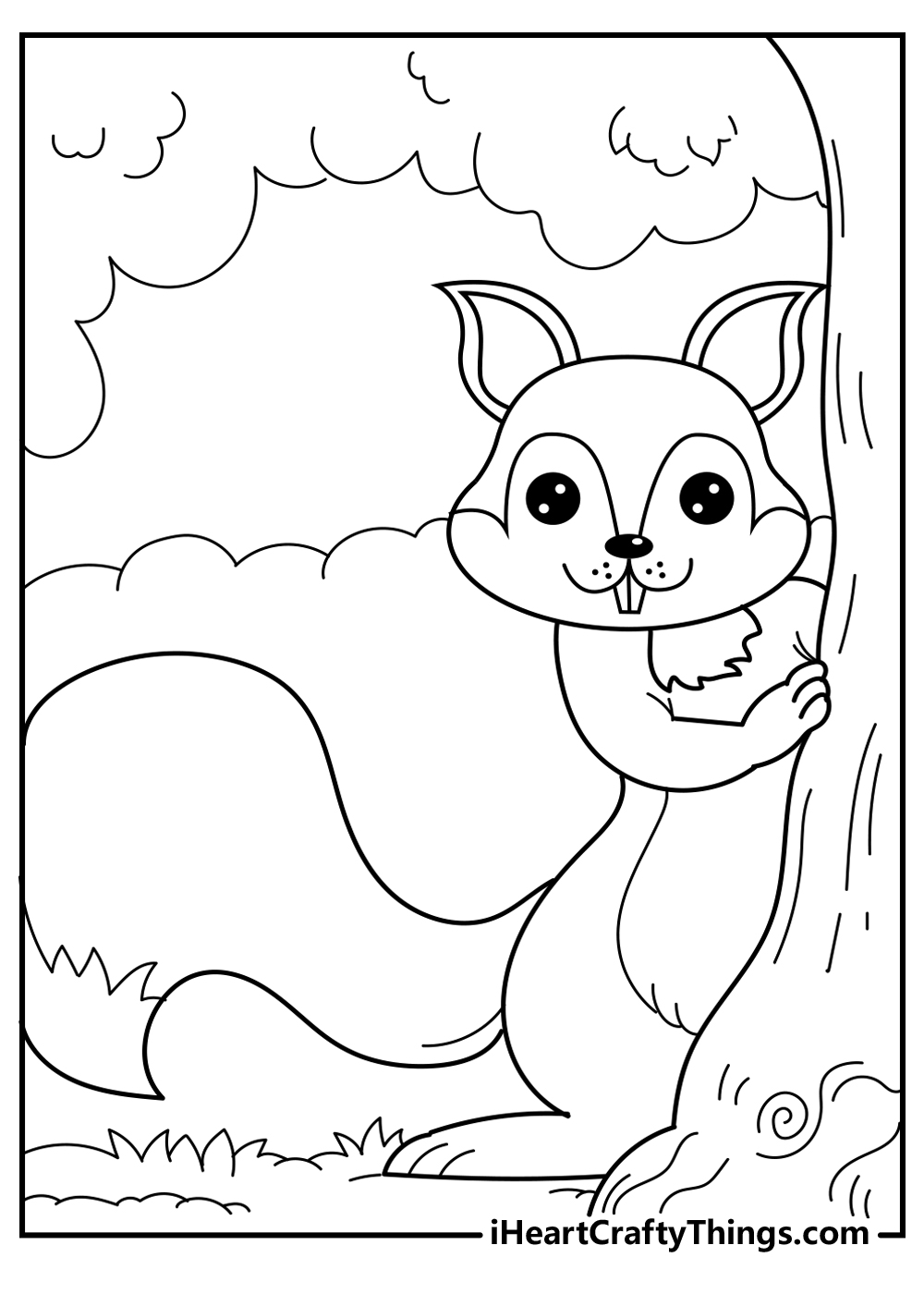 Squirrels love to play and show off, and that's certainly the case in this coloring sheet! This cute squirrel is doing a dramatic pose, almost as if it's just finished performing a one-squirrel play.
Maybe you could do some bright and colorful shapes and variations for the background to make it seem like it's on the set of a play.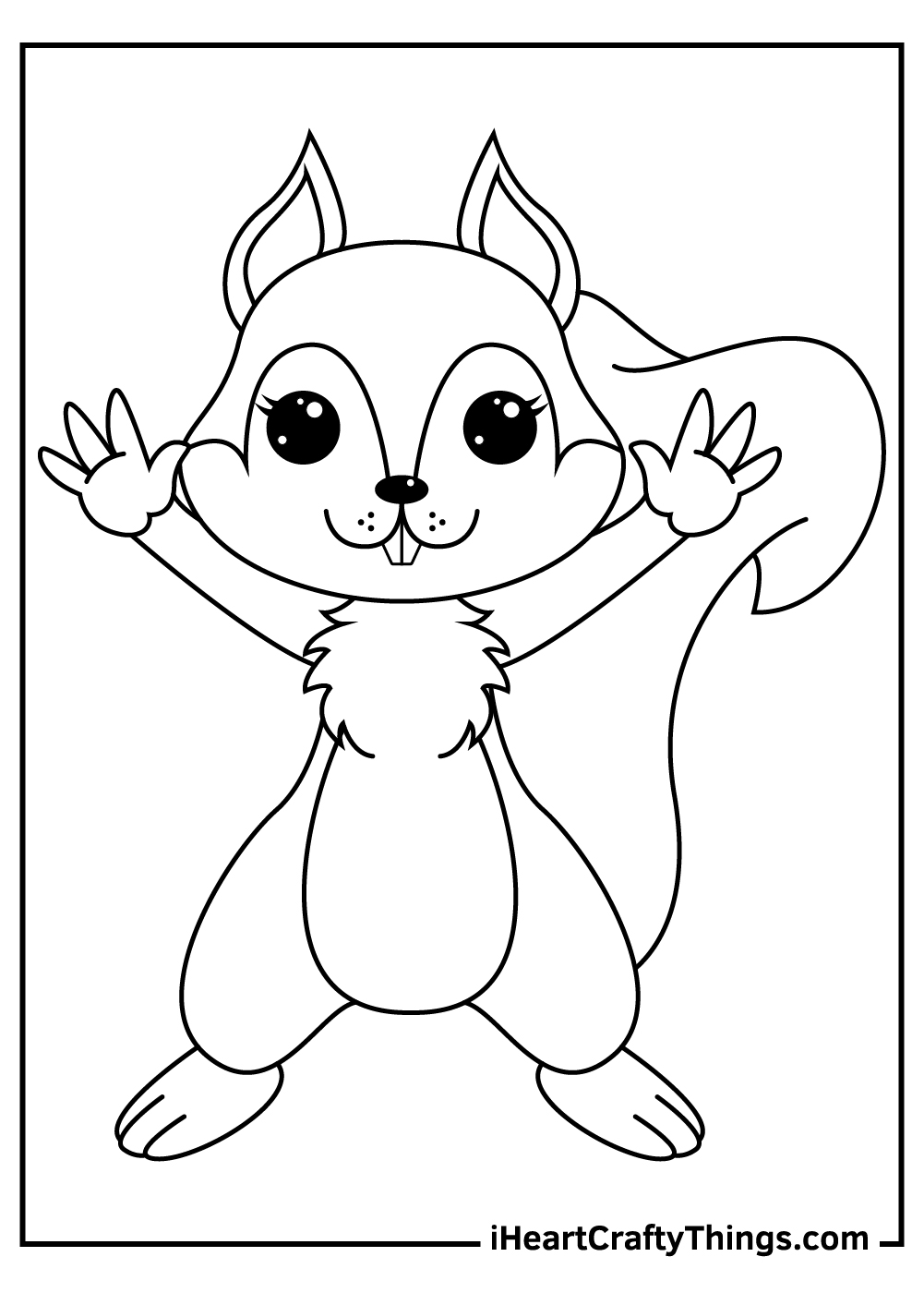 We're feeling the love in this sweet coloring page printable. This squirrel is holding a big heart, and I think it would look really striking if you colored the heart in the brightest reds and pinks you have!
Once you've finished this coloring sheet I think it would make a wonderful gift as a card for someone you love.
REMEMBER: You can get the COMPLETE set of these coloring pages >> HERE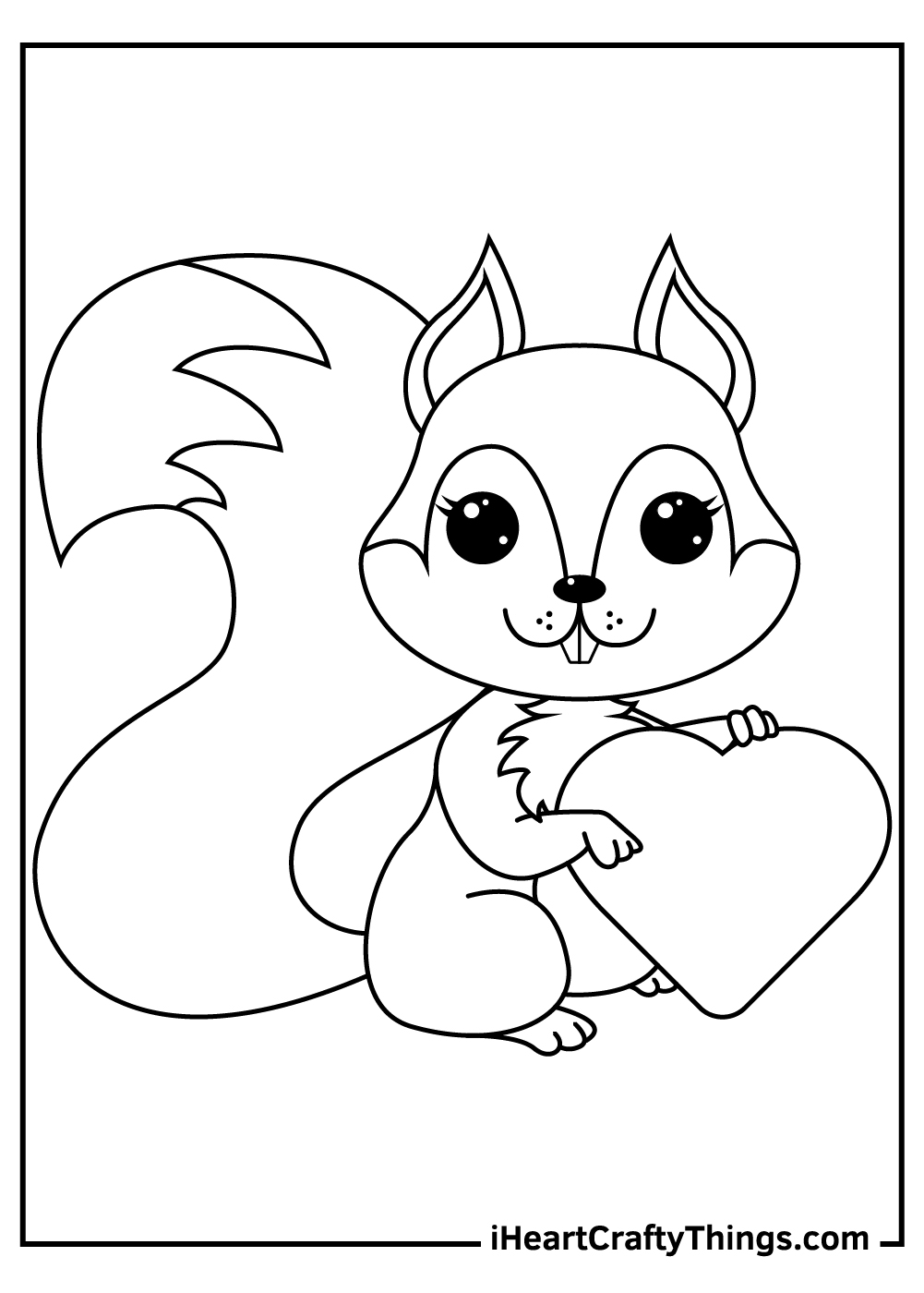 This adorable coloring page features a cute squirrel peeking out of a hole in the ground. The squirrel has a round head and big eyes and is smiling.
Maybe it's curious about what is happening outside.
The background is a beautiful forest scene with trees, bushes, and flying insects. You can see butterflies, bees, and dragonflies in the air. They have different shapes and sizes and look very lively.
I would use red, brown, or black to make this squirrel colorful.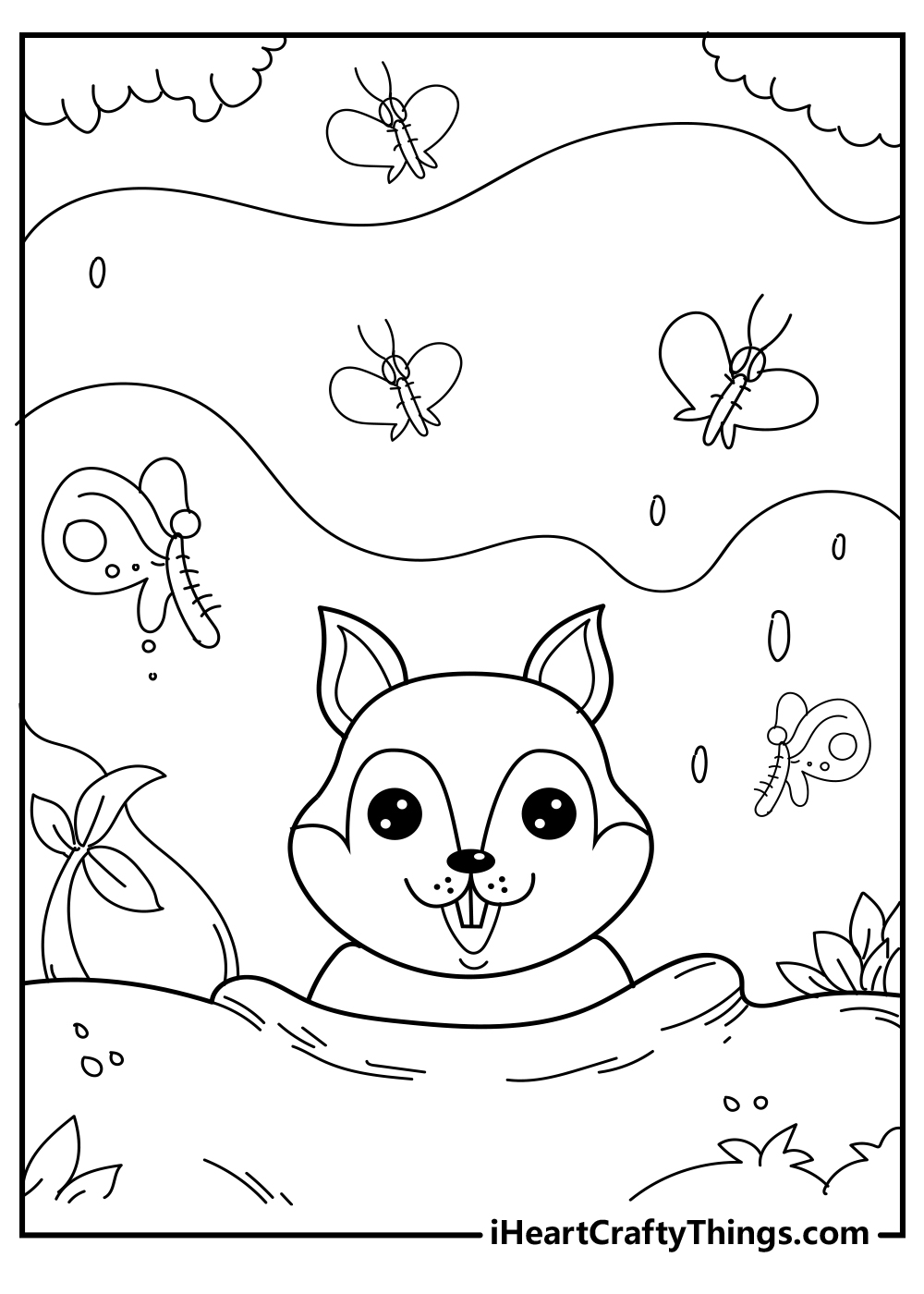 This squirrel coloring page shows a little guy with some precious cargo! An acorn is a prized possession for a squirrel and this one doesn't look like he wants to share!
I think some beautiful reds, oranges and yellows in the background would make it really pop with a Fall feel seeing as this squirrel is foraging for fallen acorns.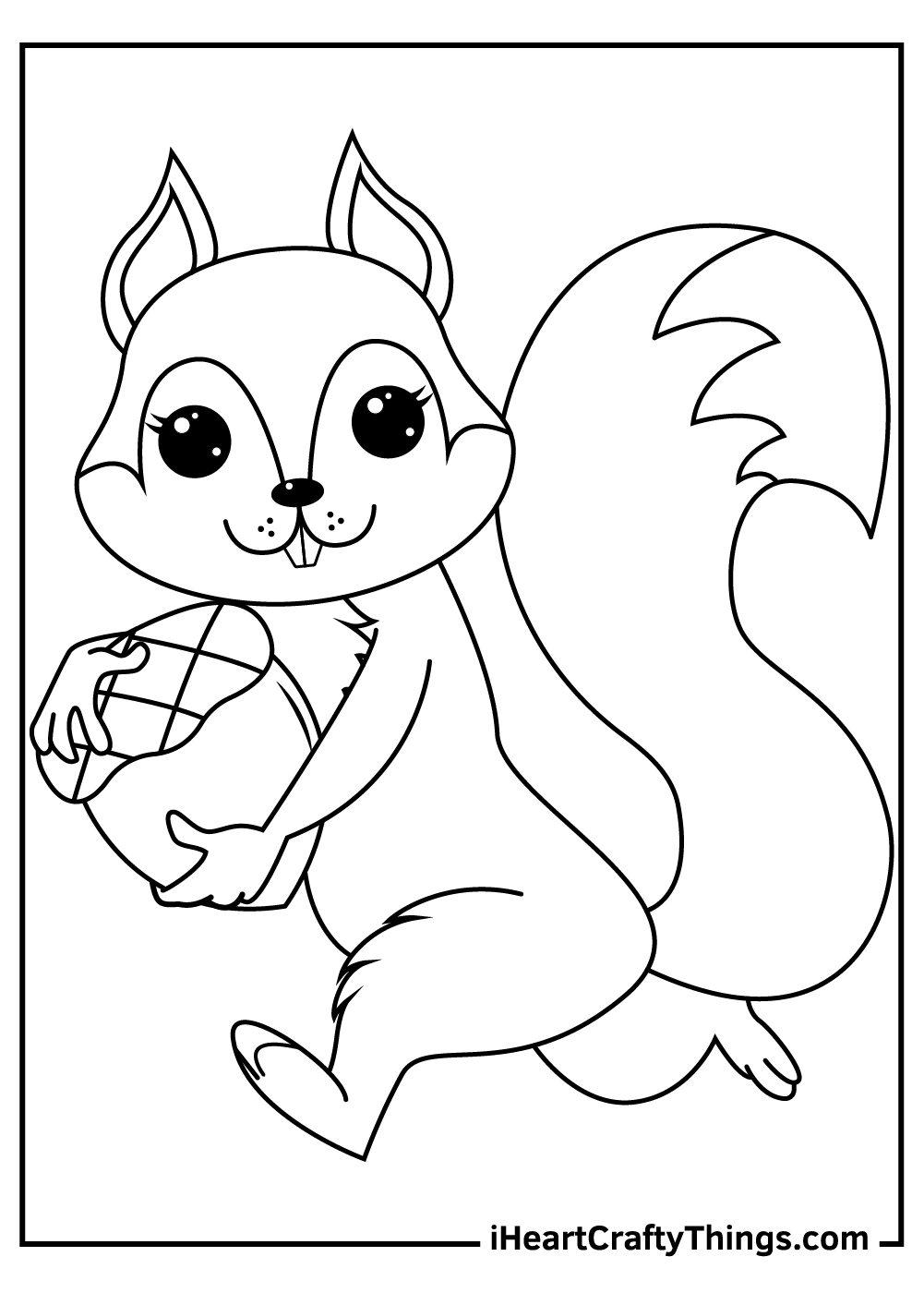 This next squirrel coloring page printable follows on nicely from the previous sheet. The squirrel is safely holed up in his home and getting to enjoy his acorn.
I think a cozy atmosphere would do great for this coloring page; so maybe some rich browns would suggest that he's in a hole in a tree that he lives in. Maybe you could draw in some squirrel furniture in the background with him!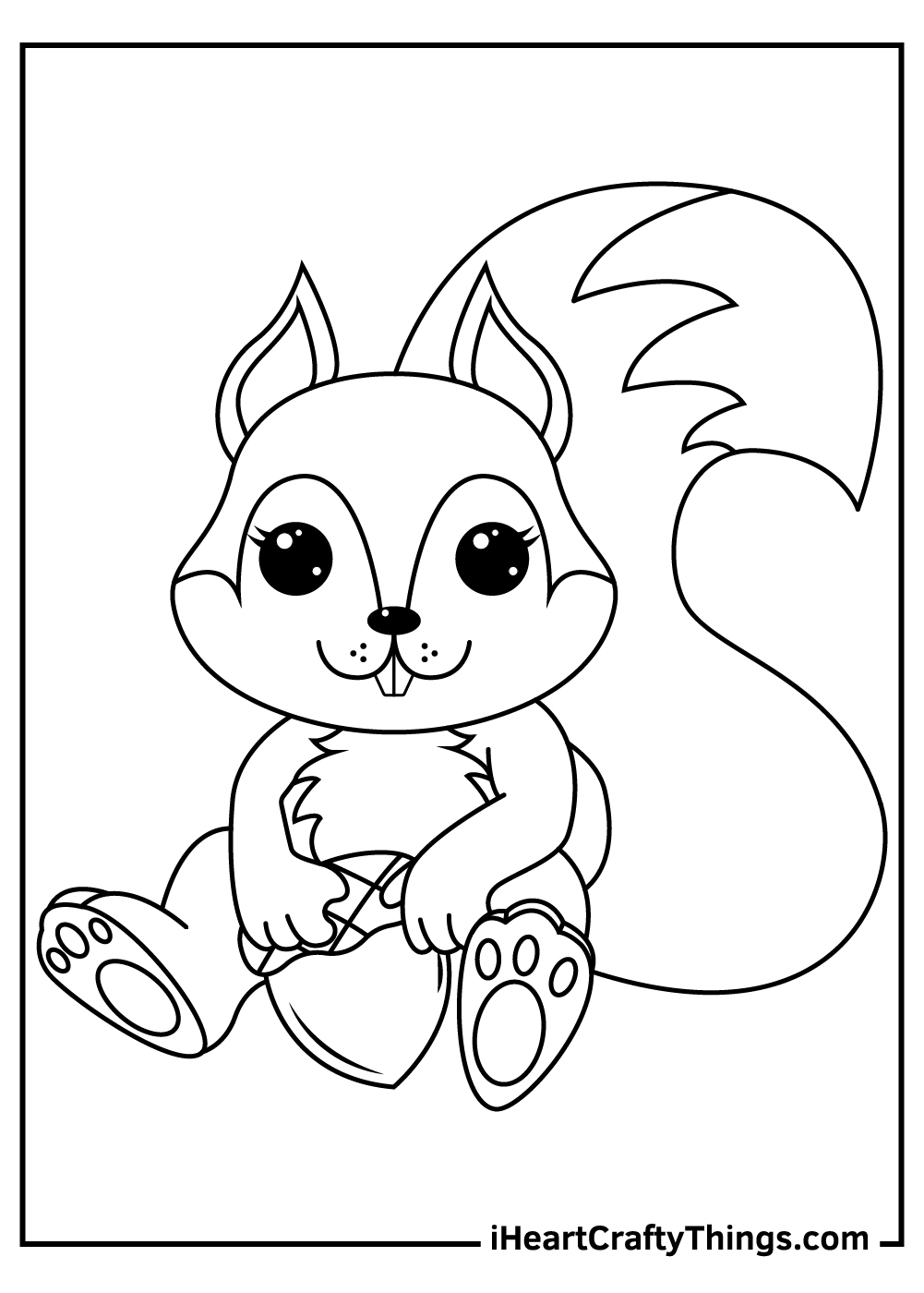 This cheerful coloring page features a happy squirrel holding a bunch of acorns, the fruits of its forest foraging.
Standing tall on its hind legs, it clutches its prized acorn bundle, tail curled happily overhead. Its eyes shine with triumph at this autumn bounty.
The background is a forest scene with trees, bushes, and rocks. There are a few acorns scattered on the ground around the squirrel.
Maybe the squirrel has been collecting them for a long time.
You can color the trees in warm autumnal hues of orange, red and gold. colors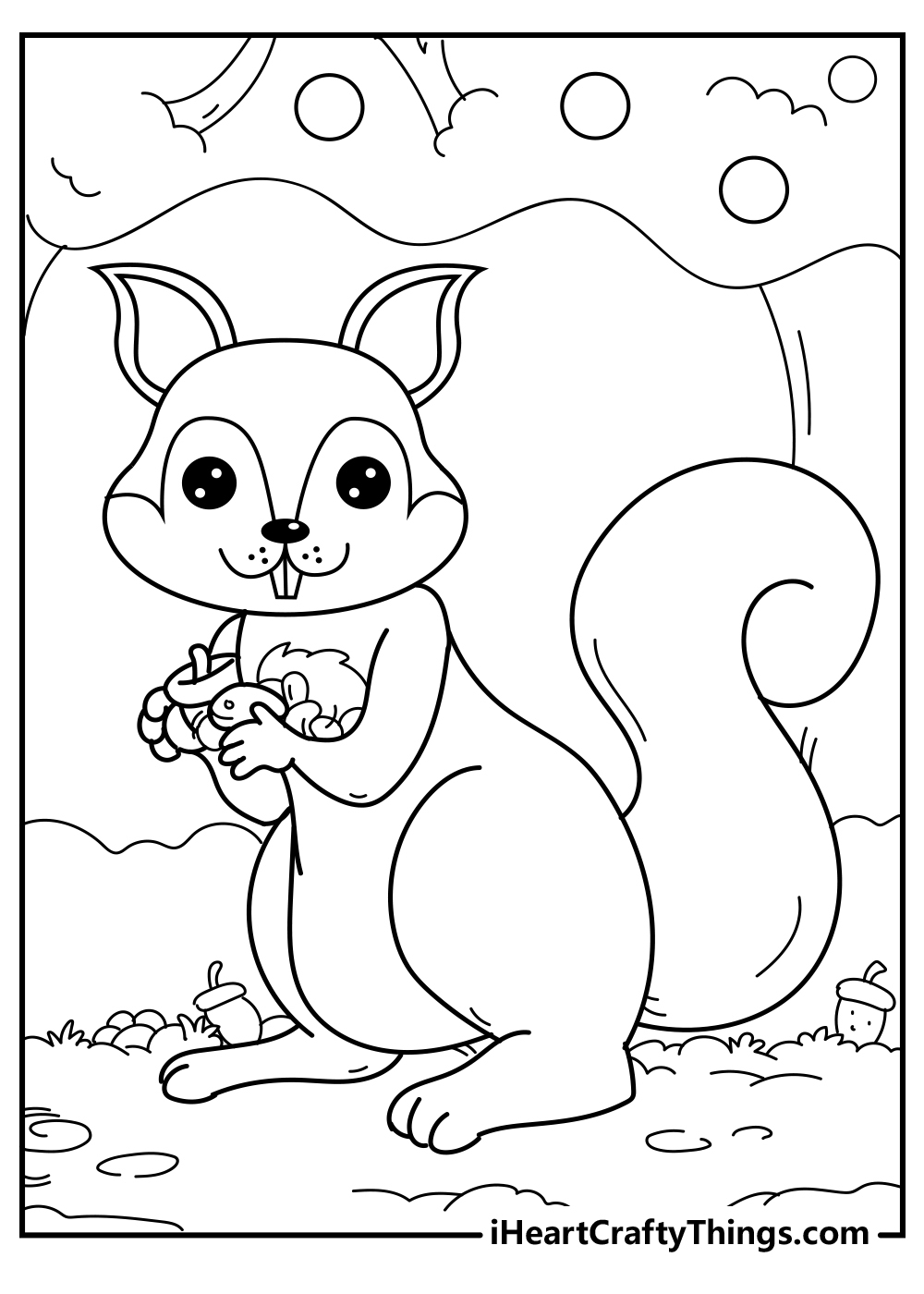 This squirrel in this coloring sheet certainly isn't shy! She's extending her paw for a high five. That's never happened to me before, so this is a rare moment! This squirrel seems happy and friendly, and
I think it may be because Winter has ended and Spring has arrived, so why not use some vibrant Spring colors for the background to finish off this printable.
REMEMBER: You can get the COMPLETE set of these coloring pages >> HERE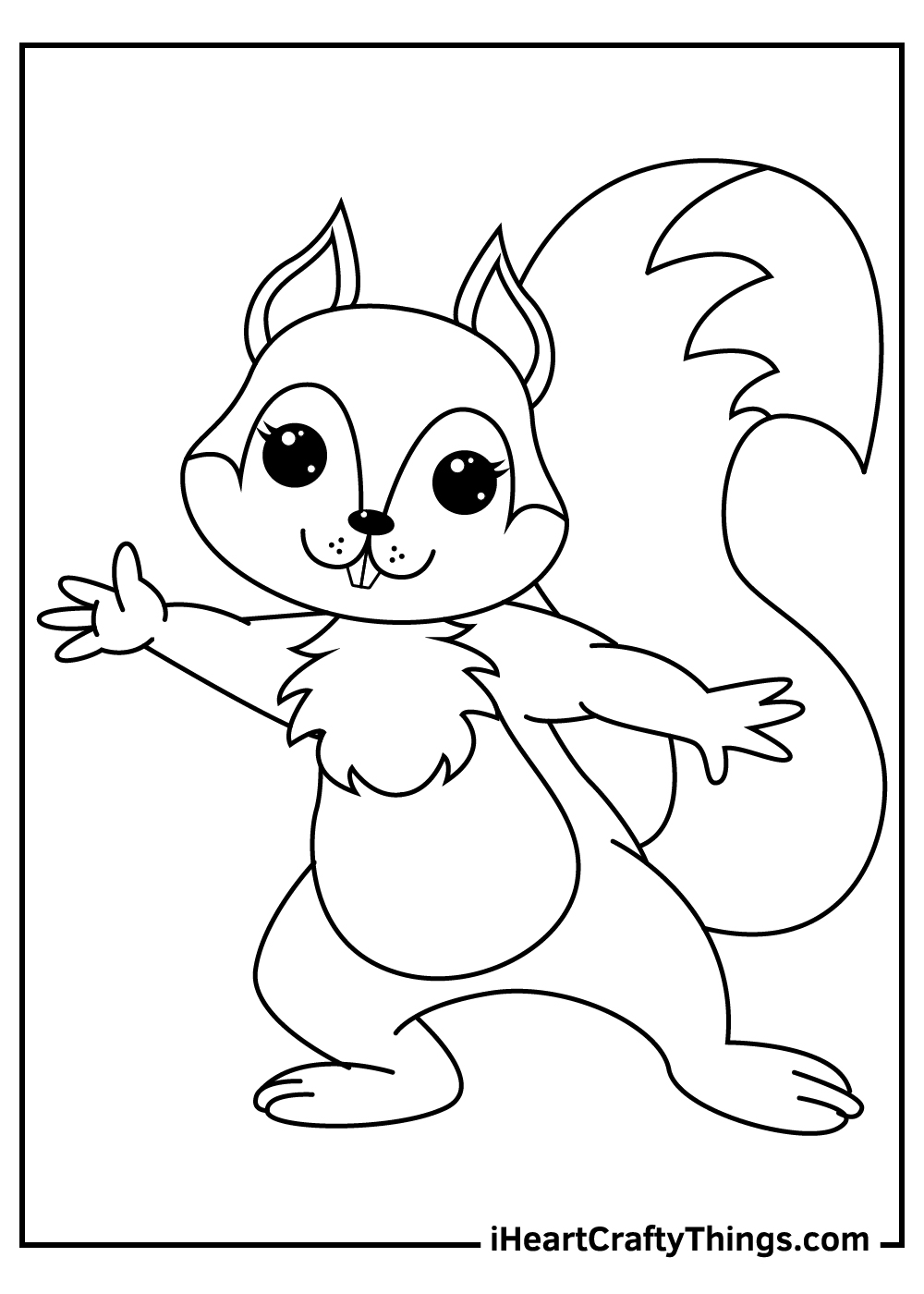 After a long day of squirrel adventures it's time to sleep for the night. Squirrels may feel like they're sleeping on the moon when at the top of a tree, and I think that's what this squirrel is dreaming about in this adorable coloring page!
I think a bright yellow for the moon and a rich blue background would work wonders for this page's dreamy atmosphere. What colors will you choose?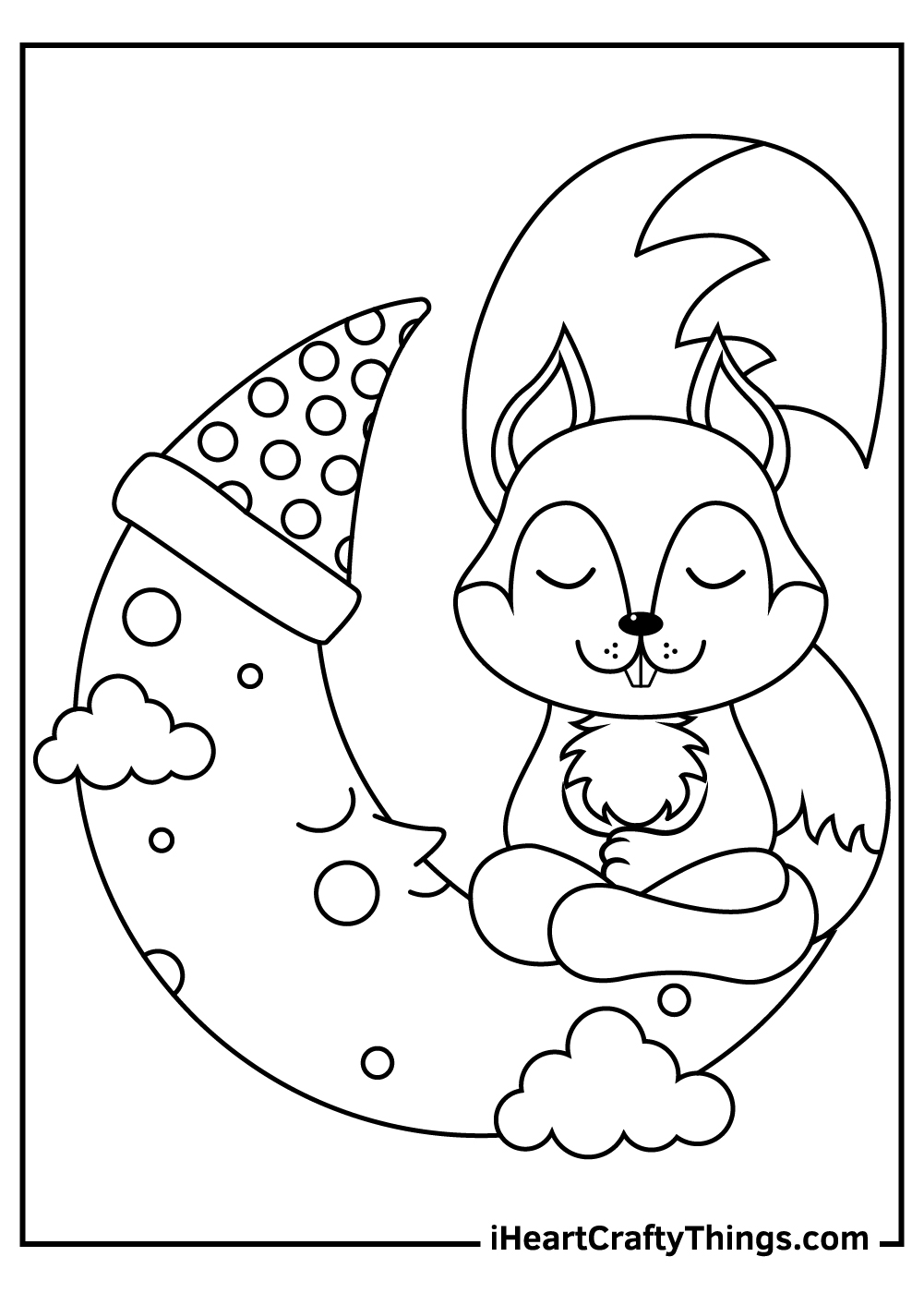 This coloring page shows a cheerful squirrel holding a basket of apples.
The squirrel is standing on its hind legs and has a big smile on its face. It looks like it has just picked some fresh and juicy apples from the tree.
The background consists of a tree trunk and branches with leaves. The basket is overflowing with apples and has a small crack on the side.
Maybe the squirrel has been too greedy or maybe the basket is old and worn out.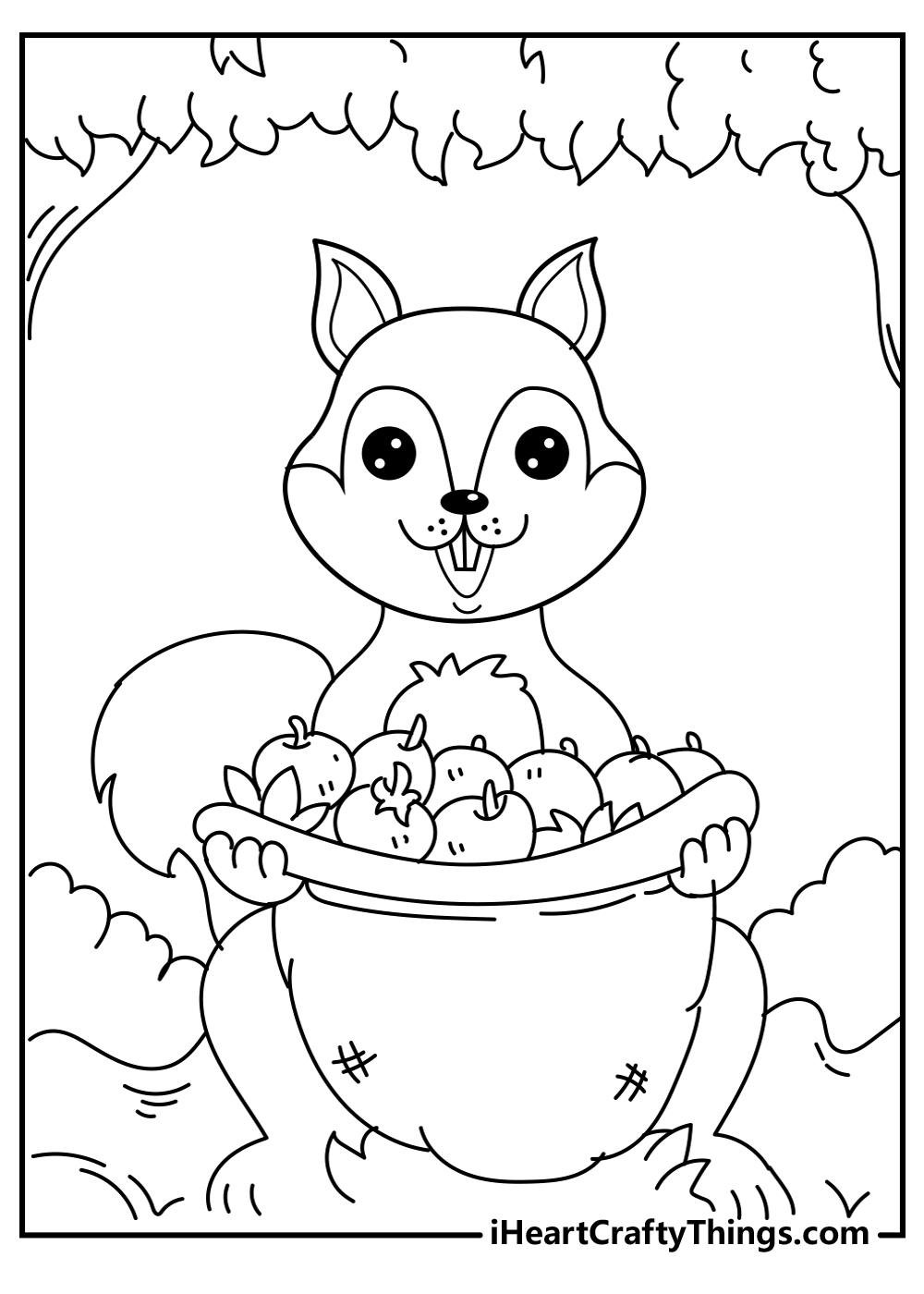 In this squirrel coloring page we have a fellow who looks like he ate one too many acorns and needs to take a breather!
He's relaxing on a tree stump enjoying the day, and I think bright blues and some fluffy clouds would make it seem like a fun day in the Summer sun for this cute squirrel.
REMEMBER: You can get the COMPLETE set of these coloring pages >> HERE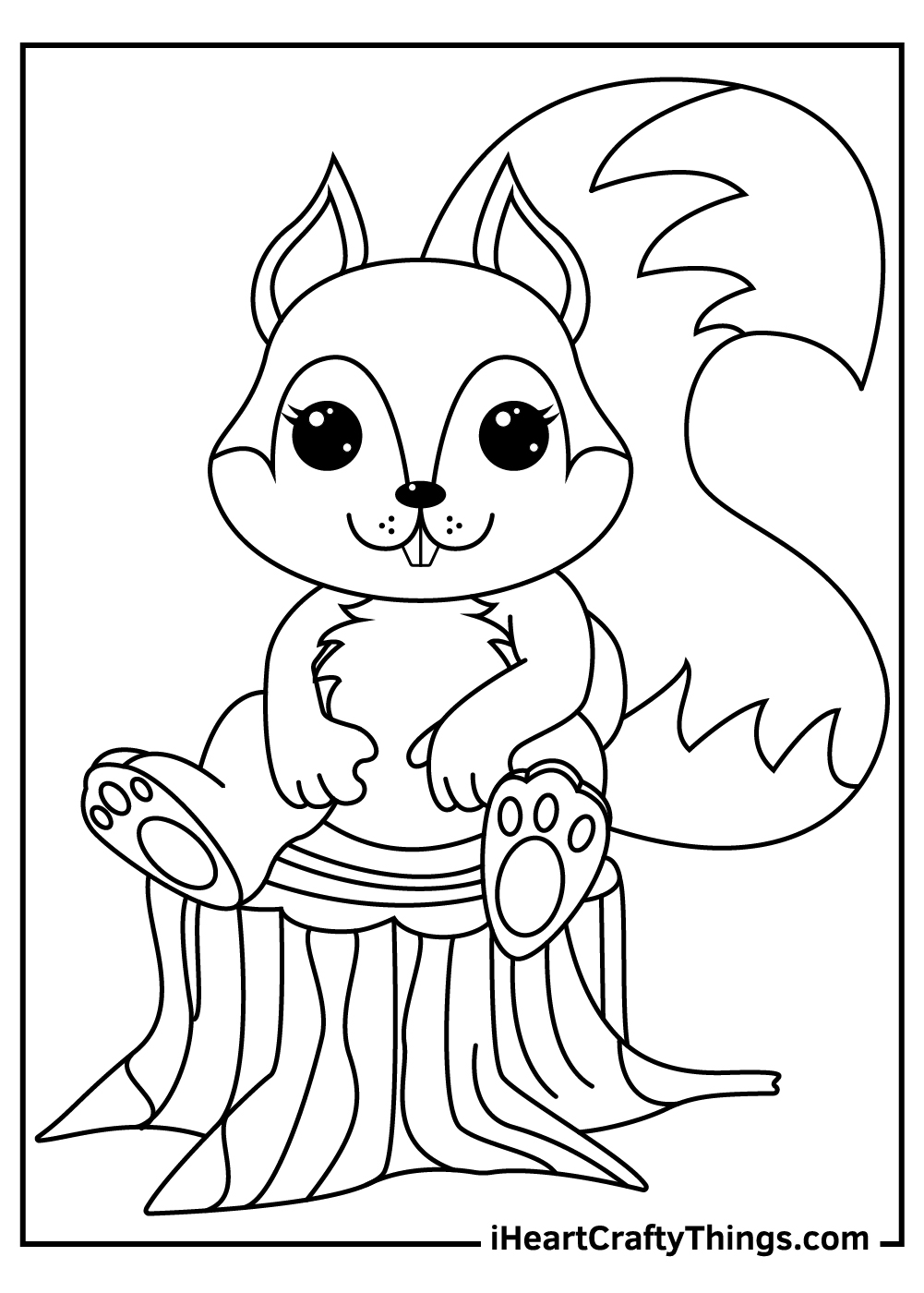 We have a bright and breezy coloring page for this next image in our collection of squirrel coloring sheets.
There's a real Springtime feeling for this squirrel, and I think you should get out your brightest pencils, crayons and paints for the flowers to create the brightest and most beautiful page you can!
This is one I'll be looking forward to seeing completed!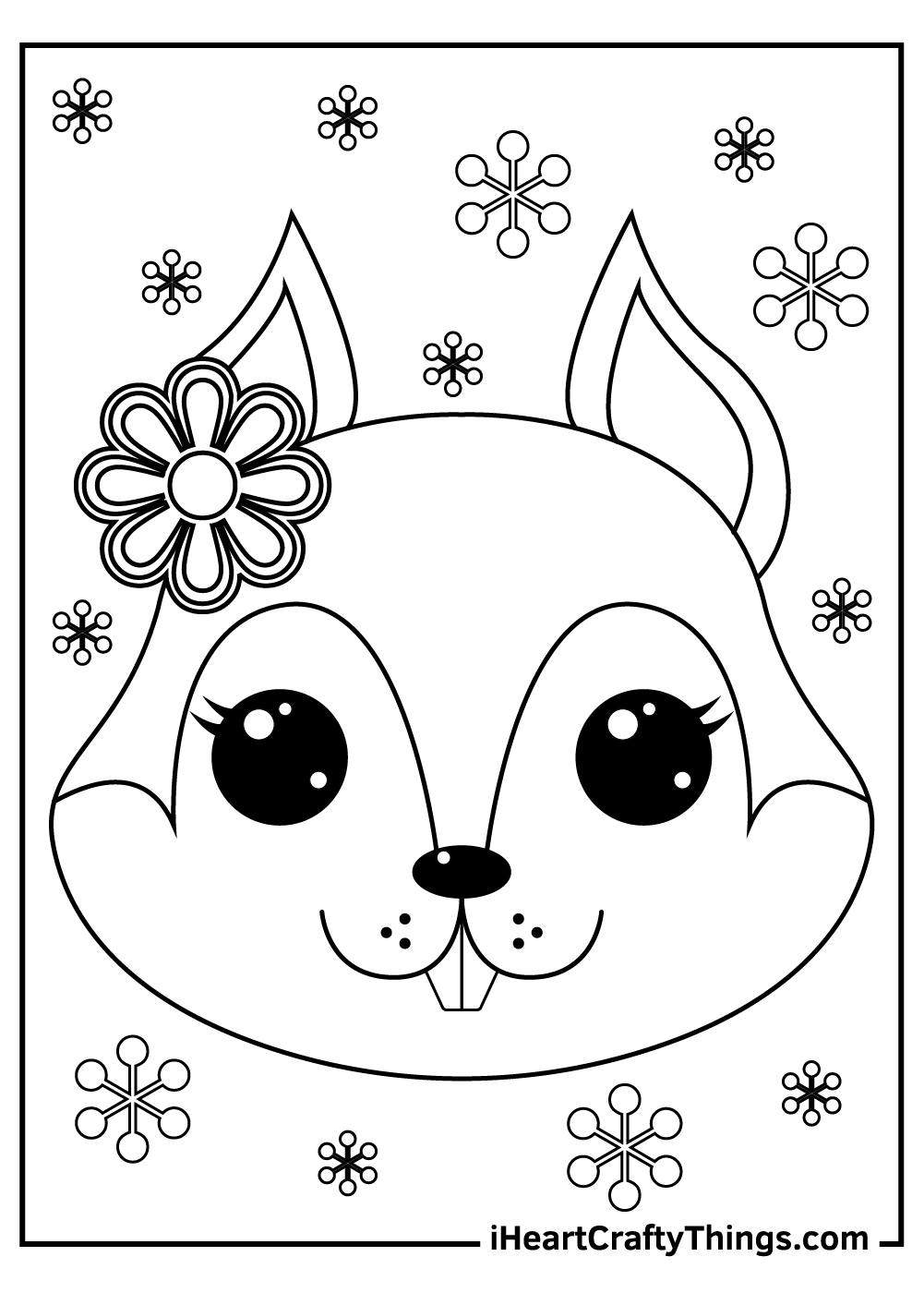 For the final squirrel coloring page, we have two cute squirrels surrounded by acorns, plants and berries. These are some of a squirrel's favorite things so it's easy to see why they're so happy!
What colors do you think these squirrels would be? maybe you could try a few variations to see which would look the cutest!
I think to finish off this collection some bright, vibrant and happy colors would suit the mood of this image perfectly.
REMEMBER: You can get the COMPLETE set of these coloring pages >> HERE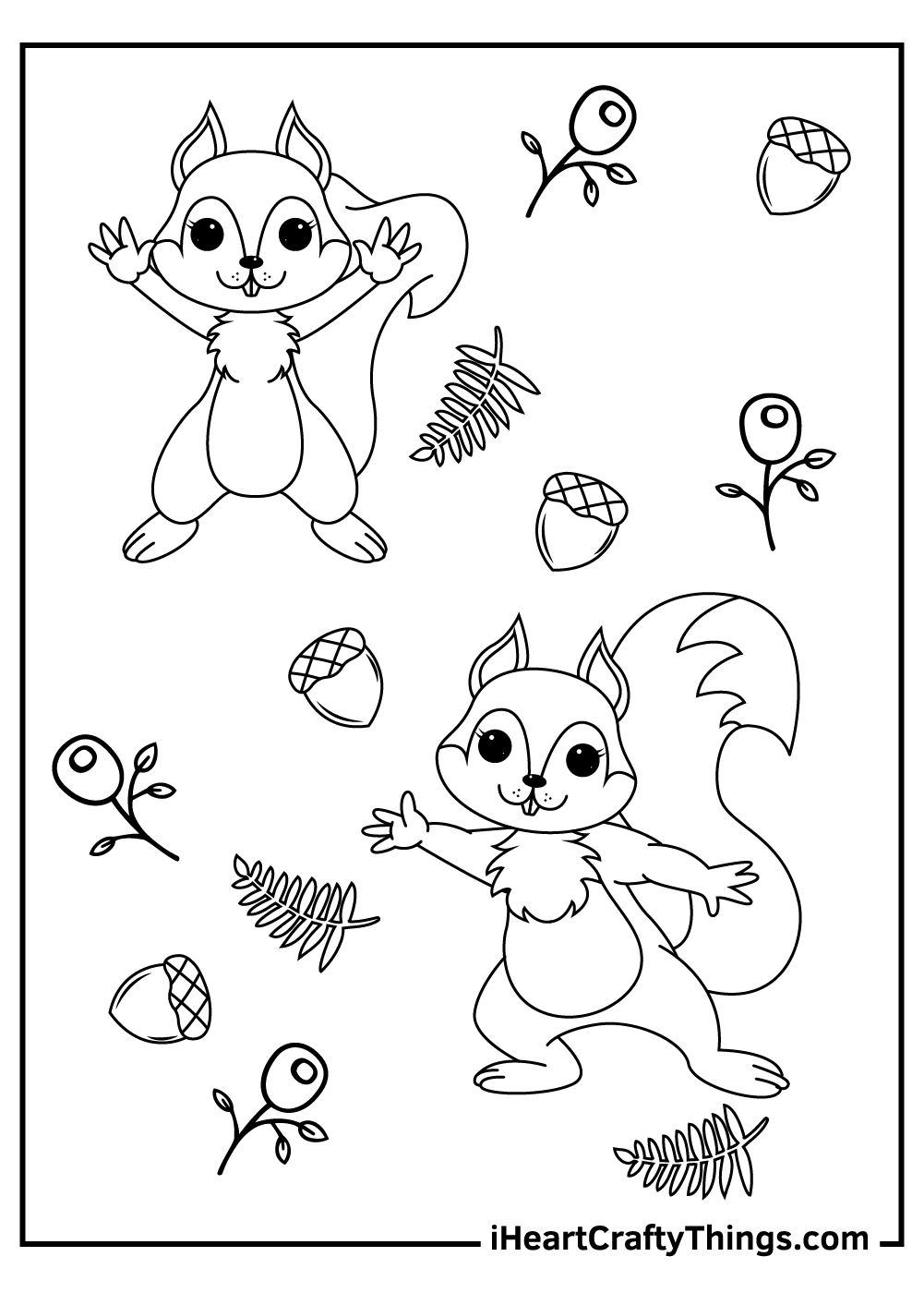 Meet two nutty new friends on a tree branch. The squirrels are facing the viewer and have big eyes and round cheeks. They look very friendly and curious.
The squirrels are holding different kinds of nuts in their paws. The squirrel on the left is holding an acorn, which is a common food for squirrels. The squirrel on the right is holding a nut, which could be a walnut.
After coloring this Squirrel's , don't forget to share it with your friends and on our Facebook page as well.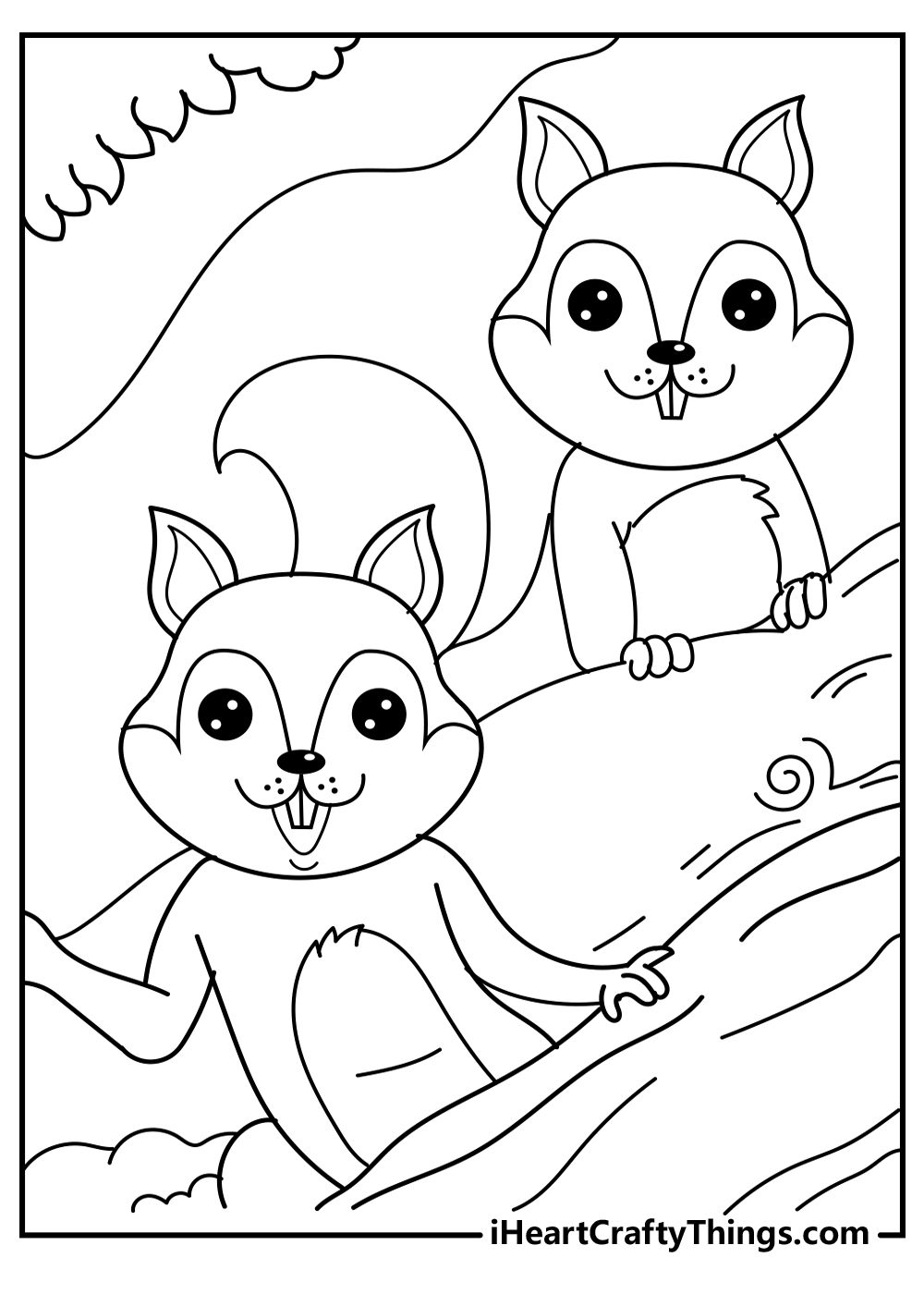 Squirrels Coloring Pages – Which will you choose?
We hope you had lots of fun with this series of cute free squirrels coloring page printables. These coloring pages are free to print out and enjoy like all of our printable goodies, so don't be shy to print out as many as you like and try out some creative designs!
Maybe you could try out a medium you're normally intimidated by, like watercolors or acrylics, and have fun with getting the hang of it.
Please don't forget to like and share our Facebook page, and be sure to share your adorable, colorful squirrel coloring pages once they're completed for us to see.
We love seeing what colorful artworks you come up with!