When it comes to families, it would be hard to find one that is as famous as the Simpson family.
These lovable characters have been around for many years, bringing laughs to people of all ages worldwide.
This collection of free Simpsons coloring pages for kids is here to showcase some of your favorite characters from the show!
We hope you will enjoy these pages and share them with other Simpsons fans you know so that they can have some coloring fun as well!
With that, get ready to head to Springfield as we begin the first page of the collection.
15 Brand New Simpsons Coloring Pages – Free to Print and Color
The first character we have in this Simpsons coloring sheet is the oldest child of the family: Bart!
Here he is depicted as an angelic figure, which is a funny depiction as he is known for being a bit of a trouble maker.
Remember that most characters in The Simpsons are colored with a bright yellow!
You'll definitely be using all of your favorite yellow shades if you want these characters to look as they do in the show.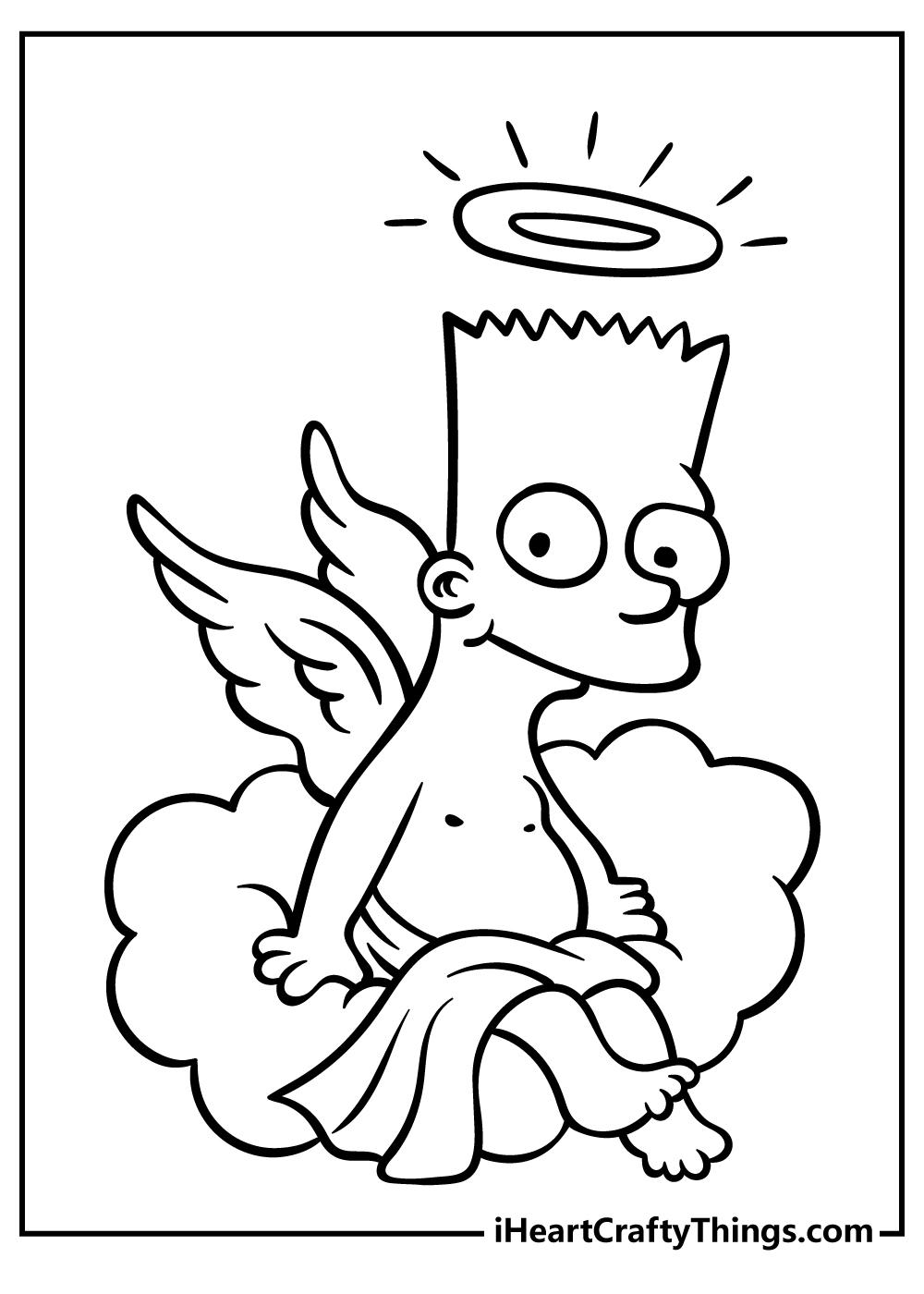 This time, we have Bart featured again, but now he is in his normal outfit.
Normally, Bart has a red shirt with blue pants, so these are the colors you will want to have on hand for this one if you want him to look as he does in the show.
Will you go with his regular colors or give him a new look?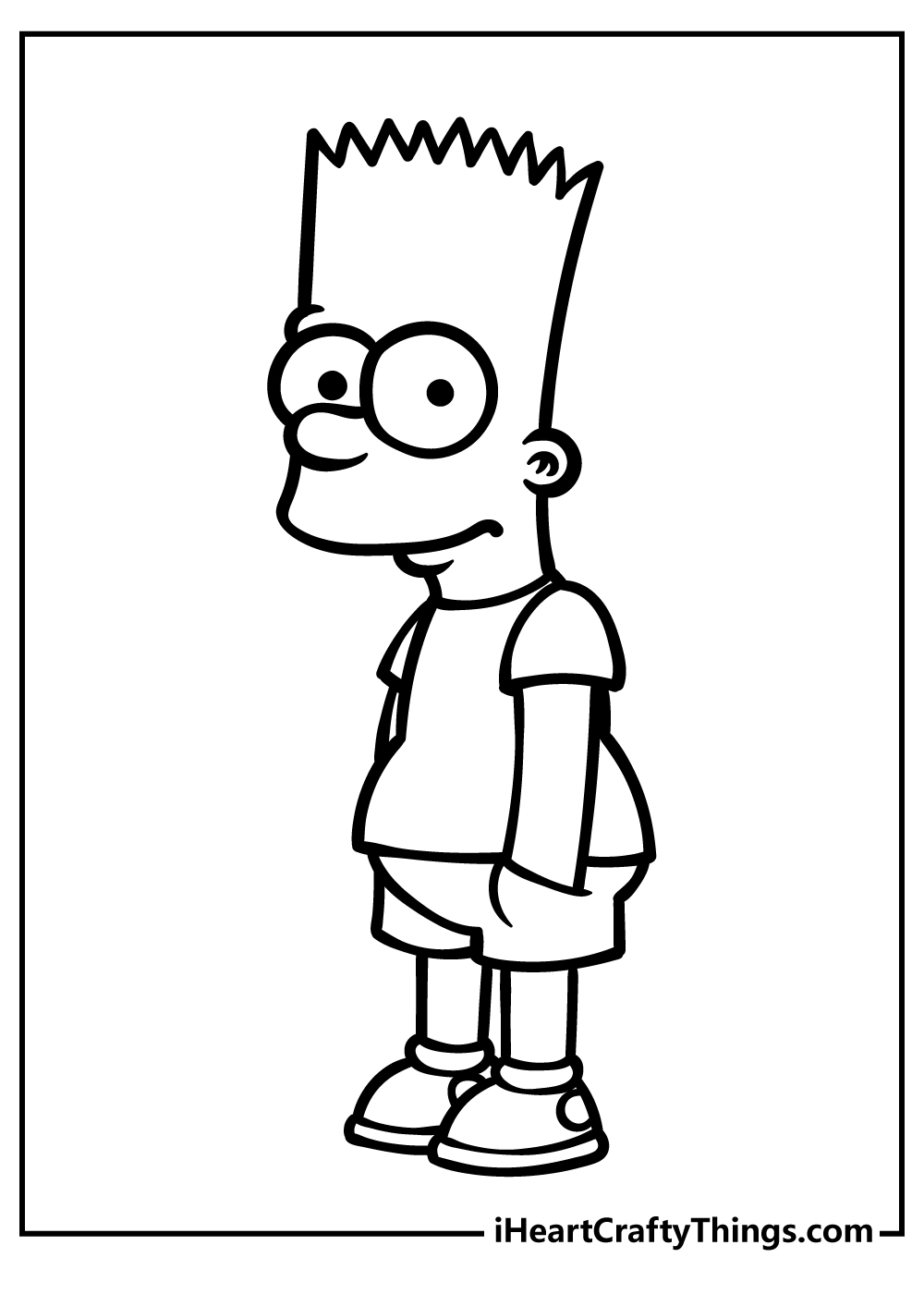 Baby Maggie is up next, and she is looking very cute!
In the series, Maggie wears a light blue bow and outfit with an orange pacifier, and this depiction of her would look really perfect if you used these colors.
When you have chosen your colors, what art mediums will you use for them?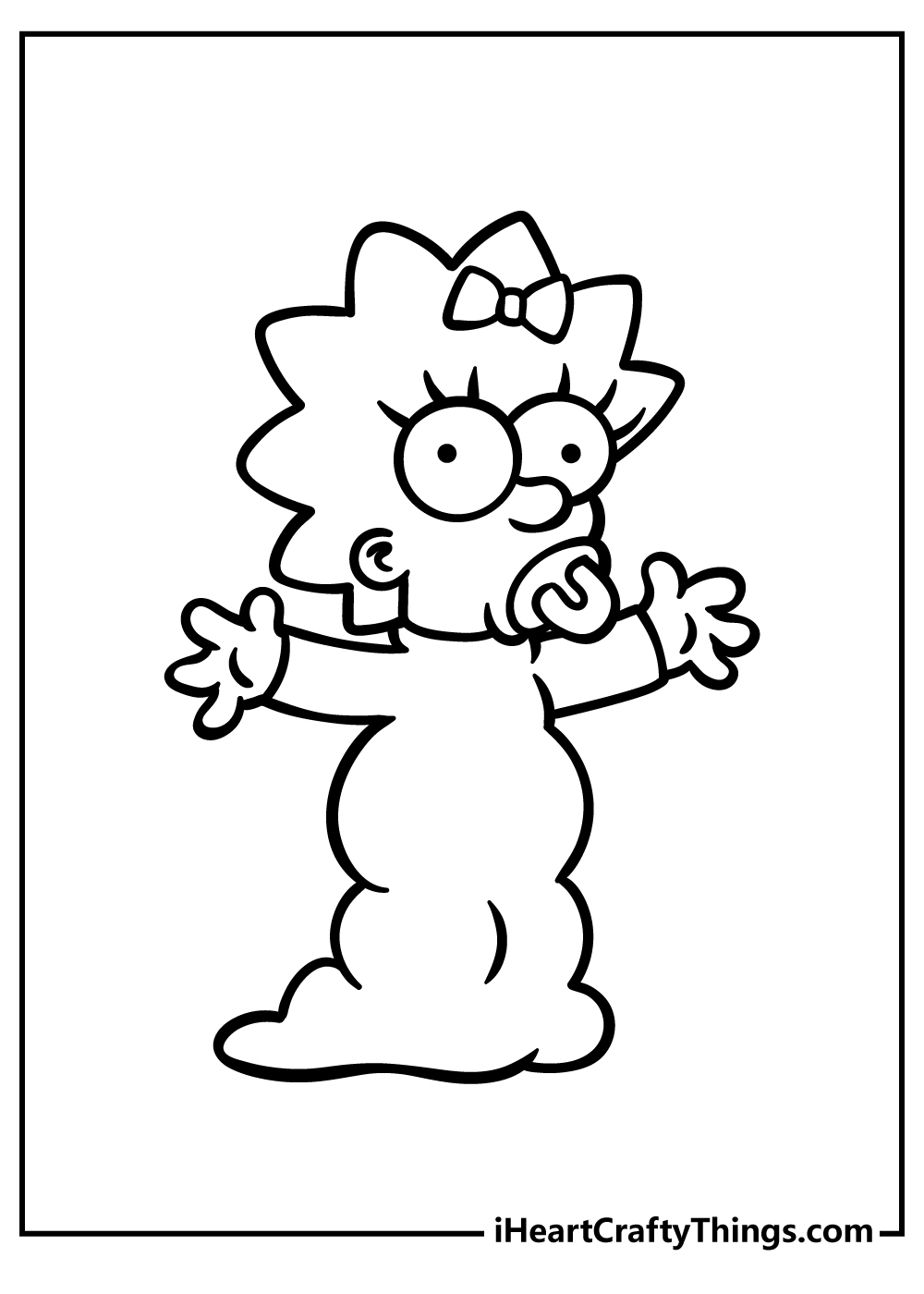 Bartman is here to save the day! This page features Bart's superhero persona, Bartman.
His mask and cape are colored with a dark purple normally, but you could also create an entirely unique look for this hero if you prefer.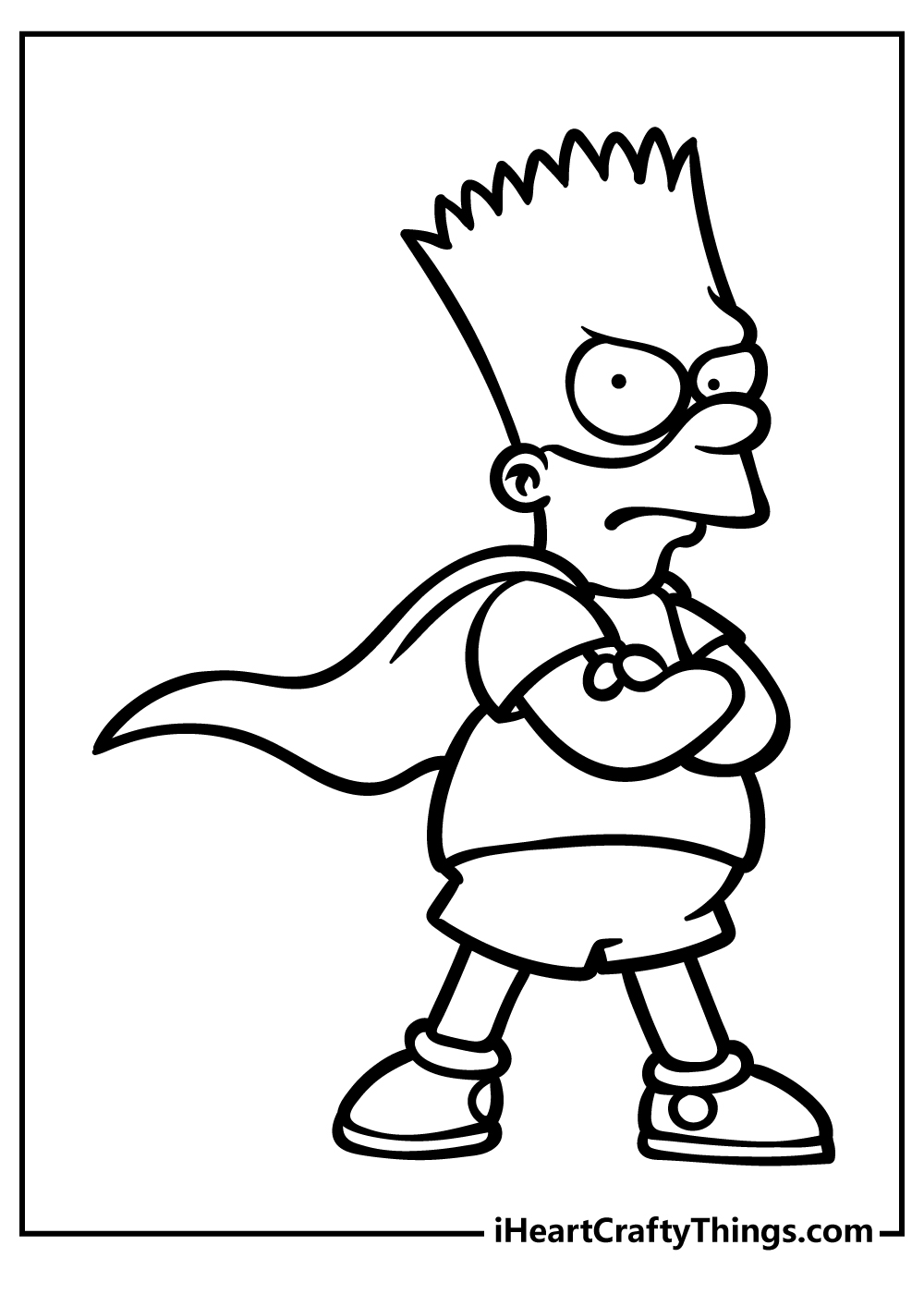 This next page in our collection of free Simpsons coloring pages for kids features a very triumphant Bart. We wonder what could have him so excited?
This could be a fun one to draw some background details for, as that would allow you to show what has him celebrating here. What kind of feats do you think he has accomplished?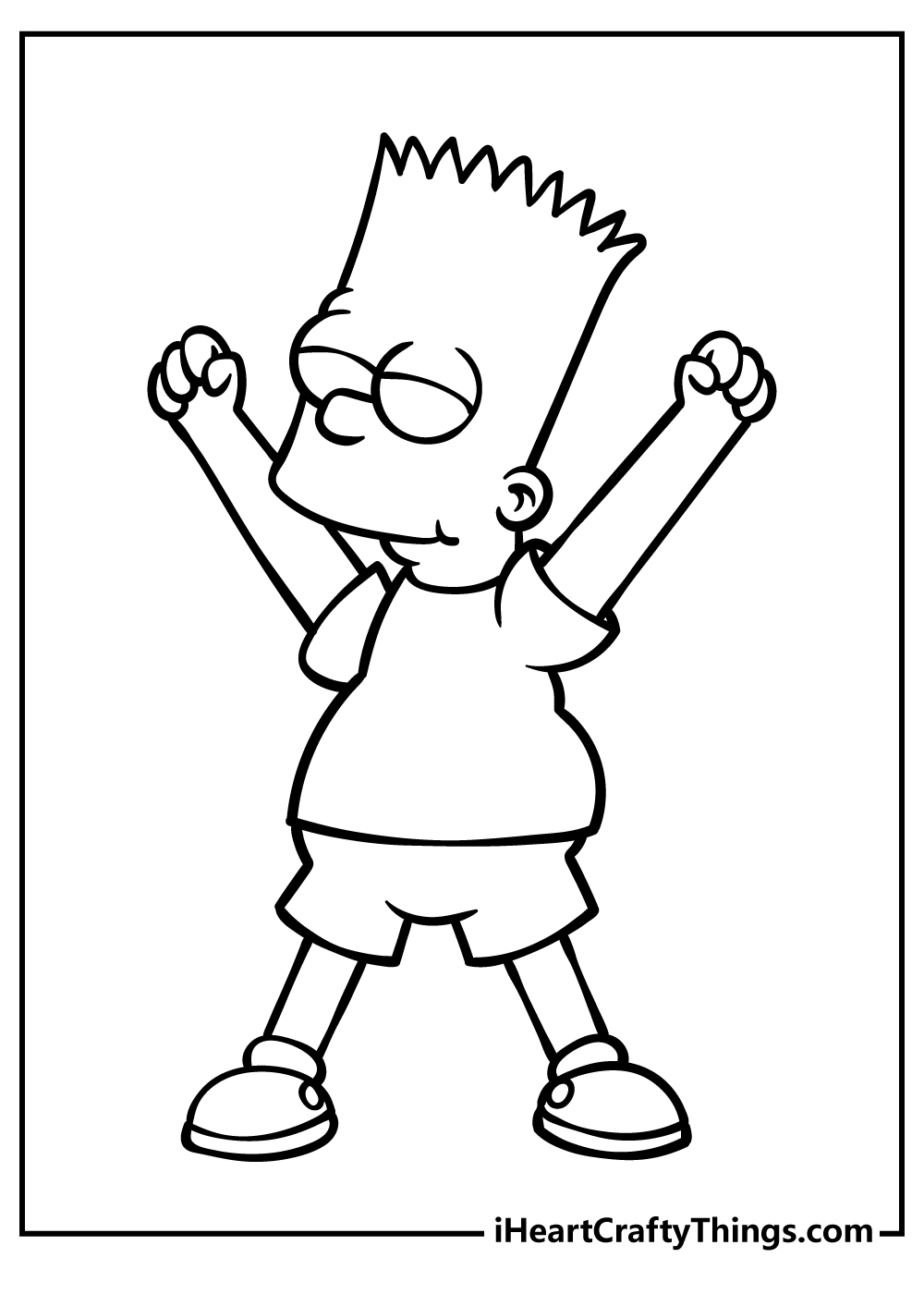 If there's one thing that Homer Simpson loves, it's donuts! Here he is living the dream, as he is munching on a positively massive donut.
We think that this image would look amazing with as many bright colors as you can find, as this would make the donut look extra tasty.
Maybe you could even use some crafts like beads and stickers on the donut to add to the toppings!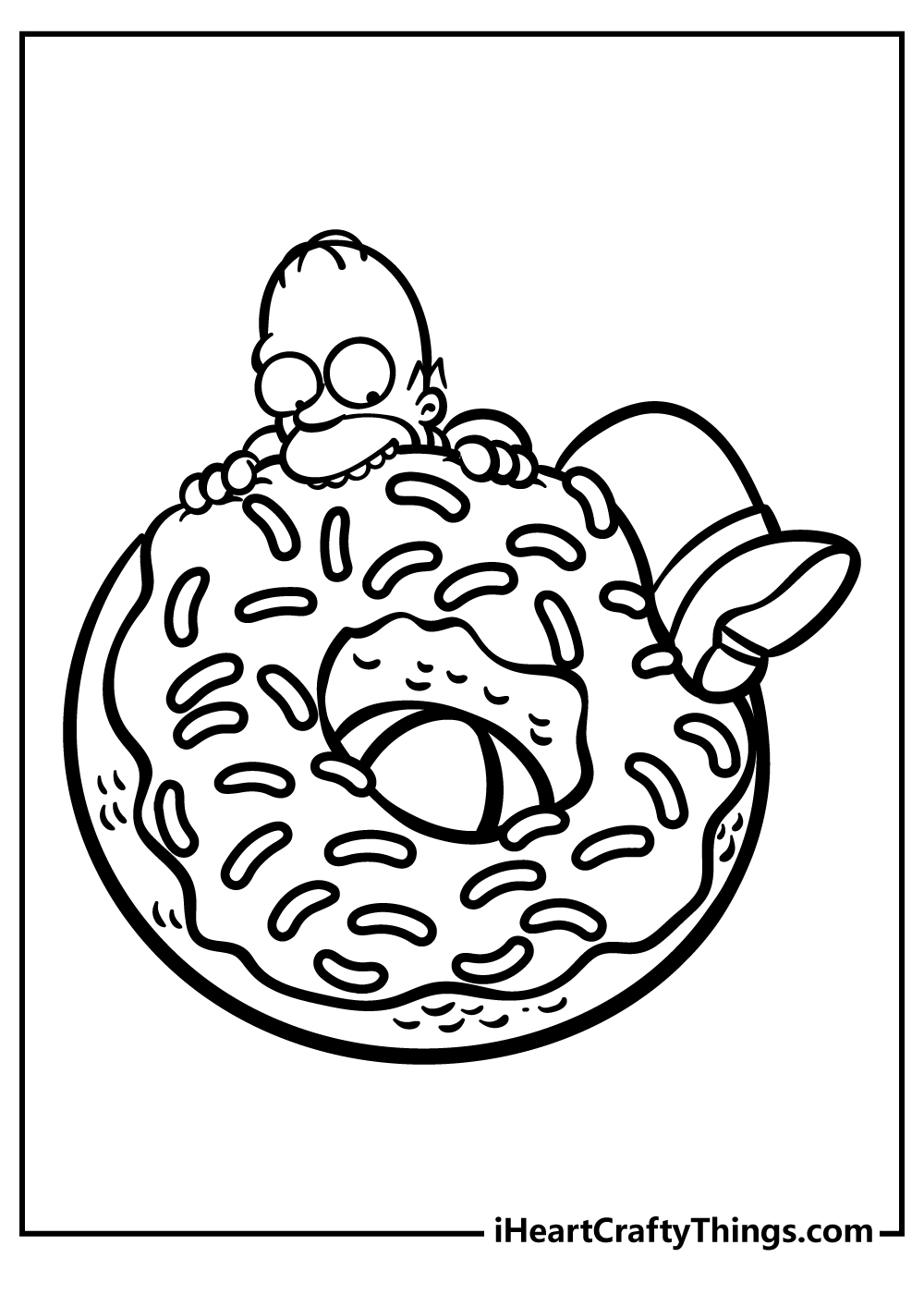 The previous image showed Homer in a bit of a dream scenario, but this one is far more in the realms of possibility as he enjoys a regular-sized donut.
Just because the donut is so much smaller doesn't mean that it can't be brightly colored in order to make it look super tasty! How will you color this scene of Homer with his favorite food?
Next up we have the middle child of the Simpsons, Lisa! Lisa is a really intelligent character who always tries to stay happy, and this picture captures her personality brilliantly.
If you want to keep her colors accurate, you will want to use a bright orange color for her dress and shoes. Will you go with these colors or some other ones?
Nelson Muntz is a character that is not part of the Simpsons family, but he shares the same school as Bart and Lisa.
While he and Bart sometimes get along, he is usually known as a bully that torments Bart. There are lots of details to color here, so this should be a fun one!
For a fun fact while you color, did you know Nelson and Bart are both voiced by the same voice actor!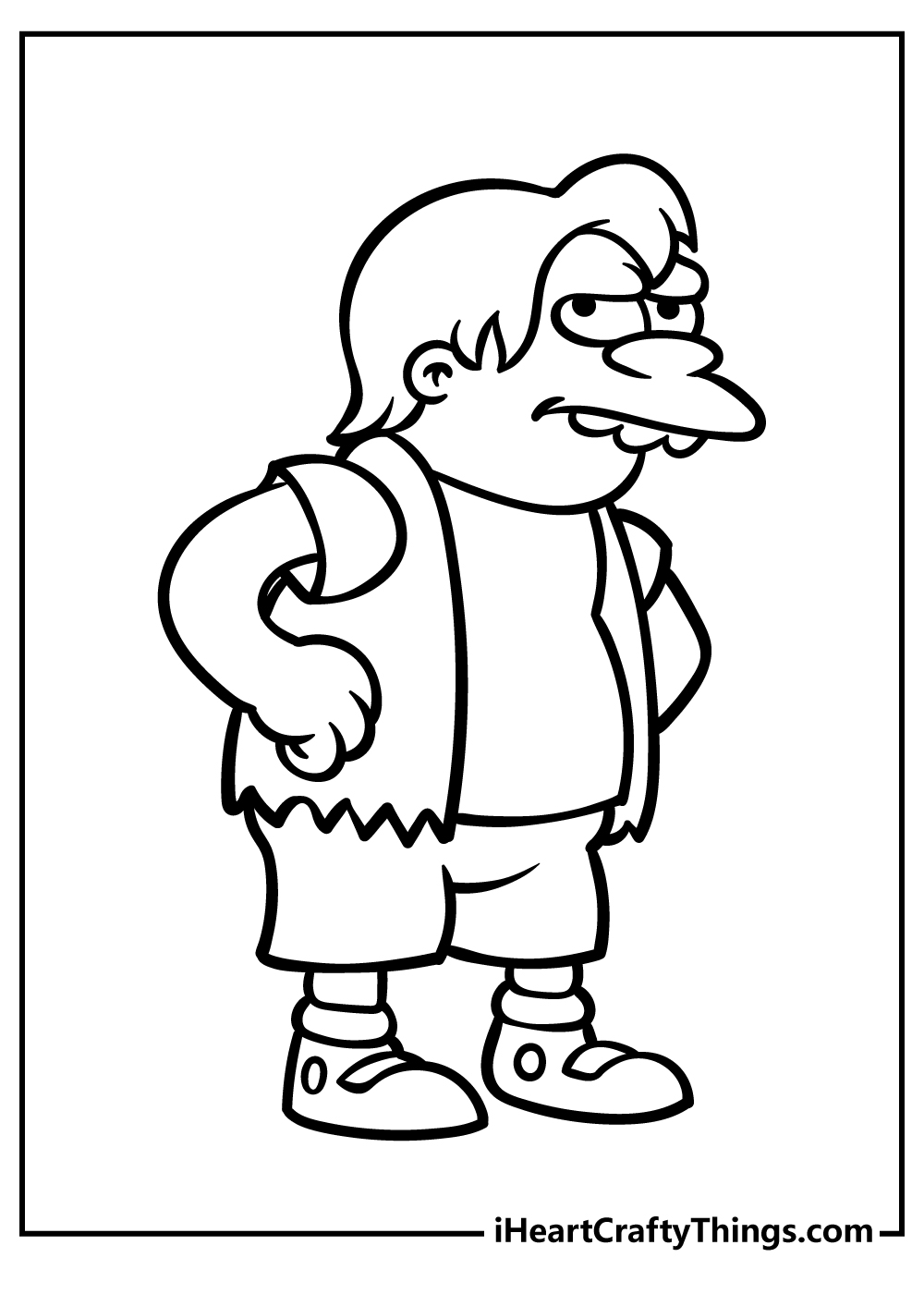 Groundskeeper Willy is the ill-tempered Scottish groundskeeper of the school, and he is also the star of this Simpsons coloring printable!
He has a bright red beard and hair that match his fiery temper, so this should be a nice warm image if you go for that color scheme.
Who do you think Willy could be yelling at here?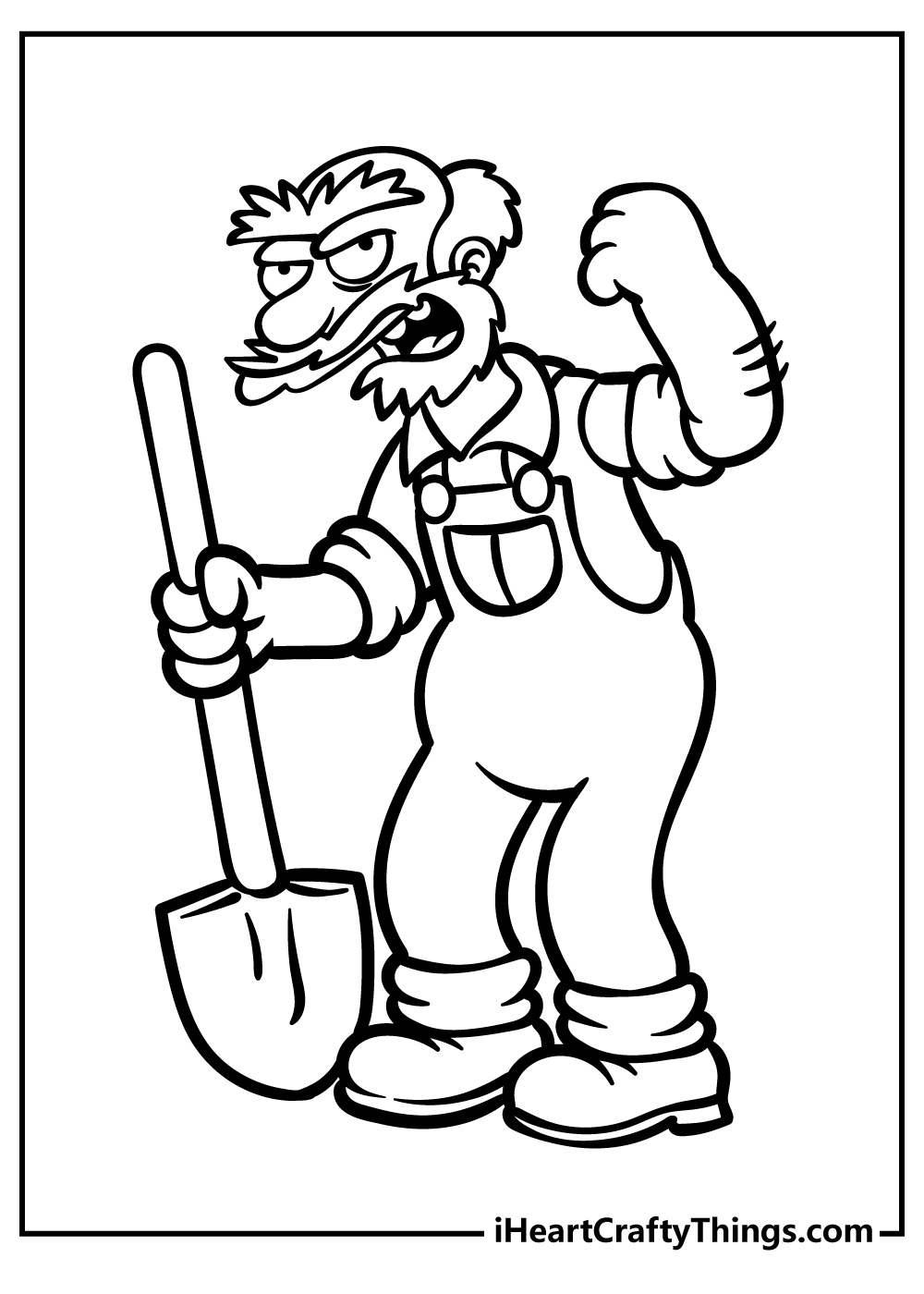 Here we have another really fun image of Bart! We see him from above here, and he is surrounded by lots of lines.
For this one, we would use some really bright and colorful colored pens, markers or paints for the lines surrounding him.
We would also try use a different color for each line, but the colors you choose are up to you!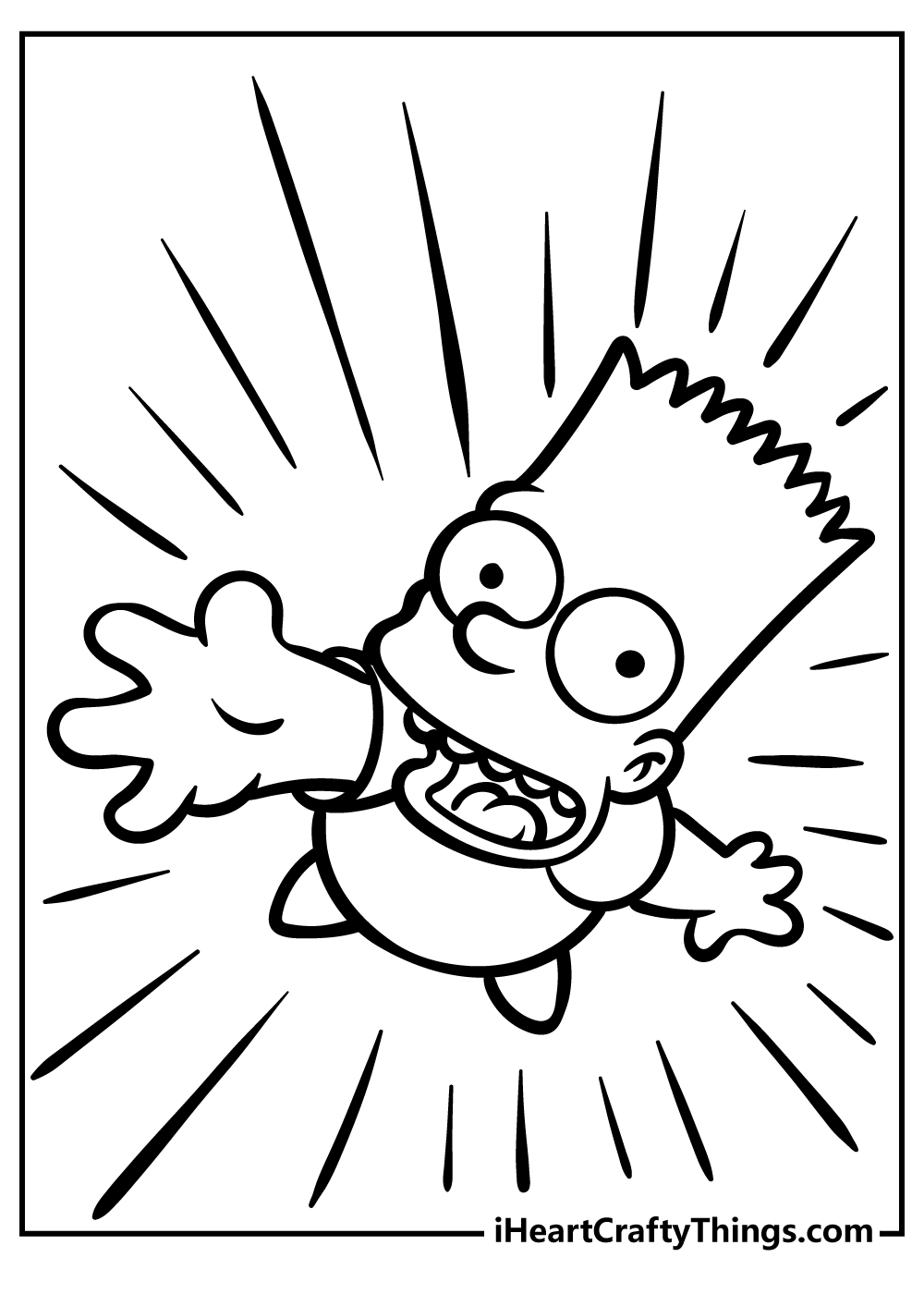 Homer is a character that can get really easily excited, and this seems to be the case here!
He is running along while looking very happy, and this image calls back to a scene where he dreams of a land made of chocolate.
That would be a fun background to add to this one if you're feeling creative!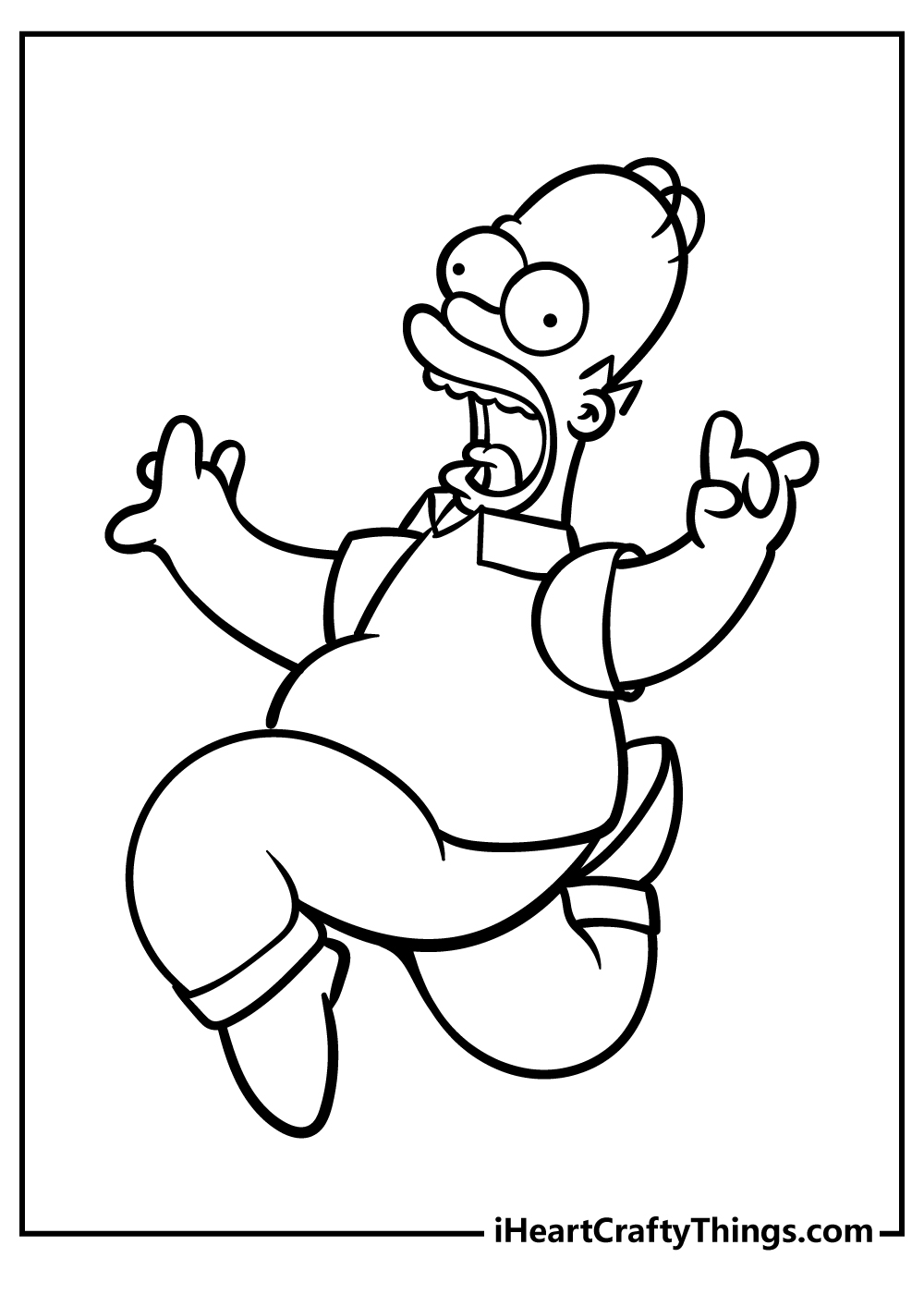 One of Bart's prized possessions is his skateboard, and he is posed with it here.
His skateboard has been seen in many different color schemes throughout the series, so you could add any colors you like to this detail.
You could even draw some markings or patterns onto the skateboard to make it look even cooler than it does!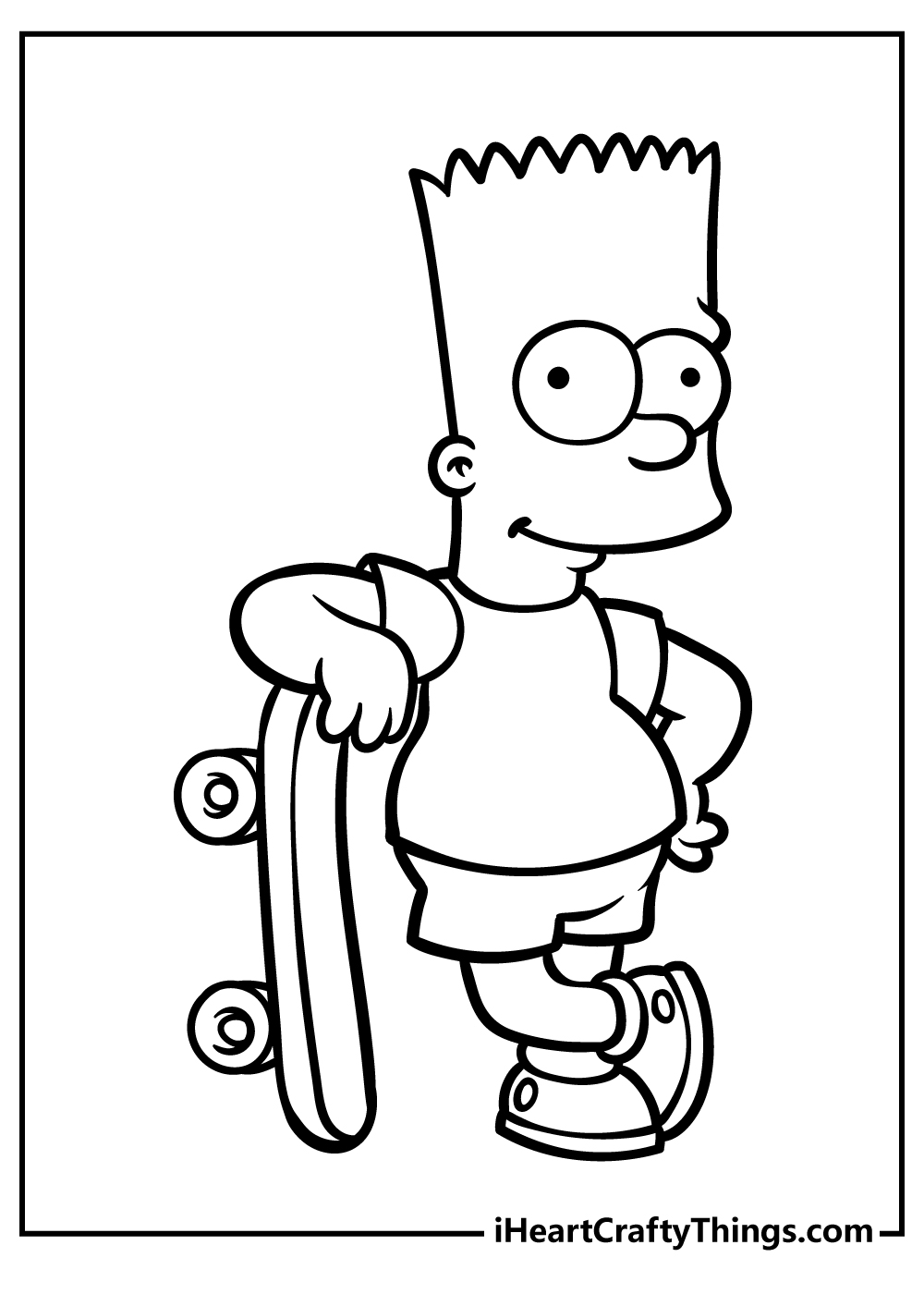 This is a really sweet image of Lisa! Another aspect of her character is that she is really caring towards others, and this image showcases this side of her personality.
Maybe you could add some details such as some of her favorite toys or her beloved saxophone to really finish this image off! What other ideas do you have?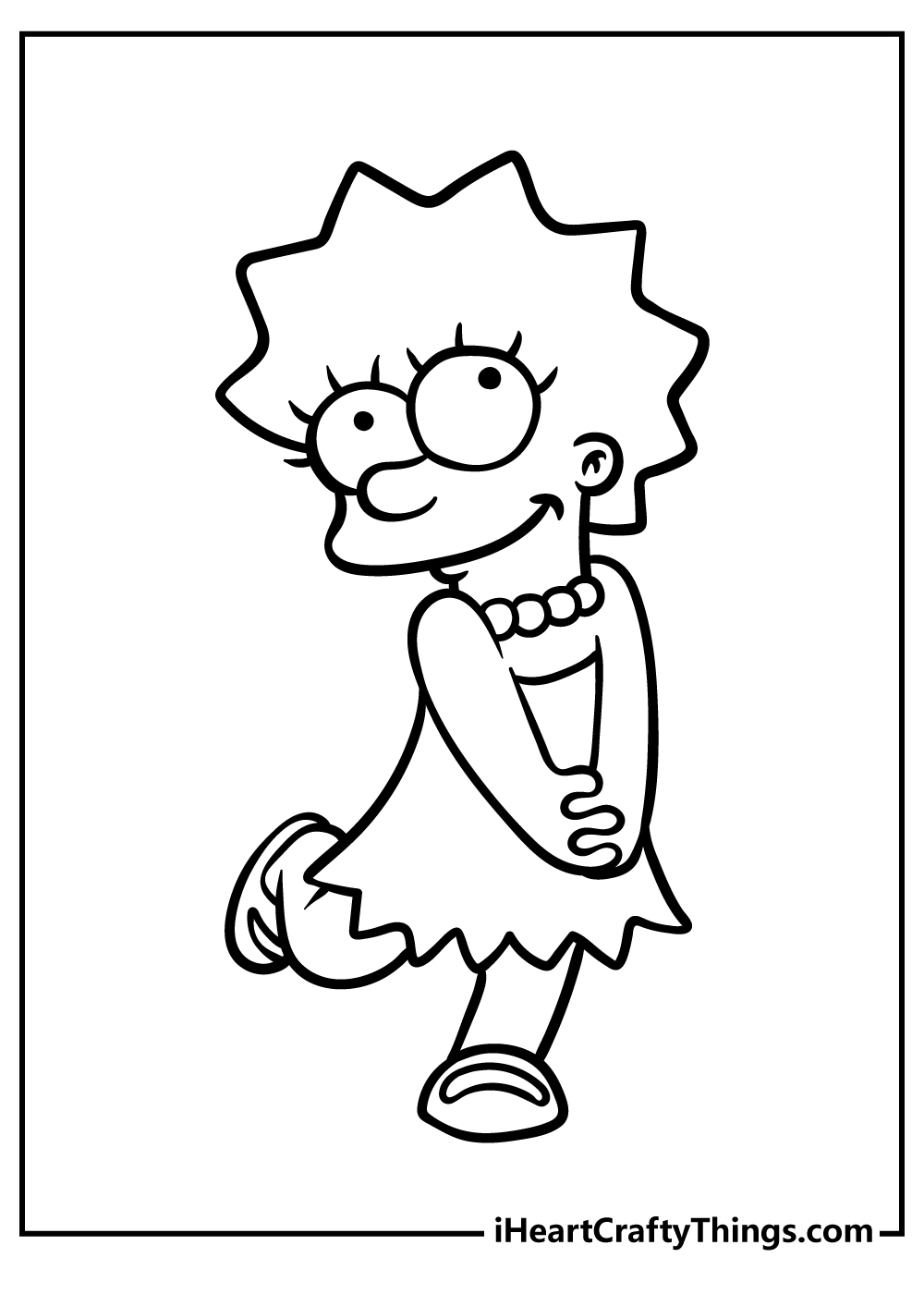 Bart and Lisa may not always get along, but they are always there for each other when they really need it.
This final Simpsons coloring sheet showcases this loving relationship wonderfully, and it makes for a heart-warming image to end off on.
Now you can have a lot of fun as you finish off the collection with all your favorite colors and mediums!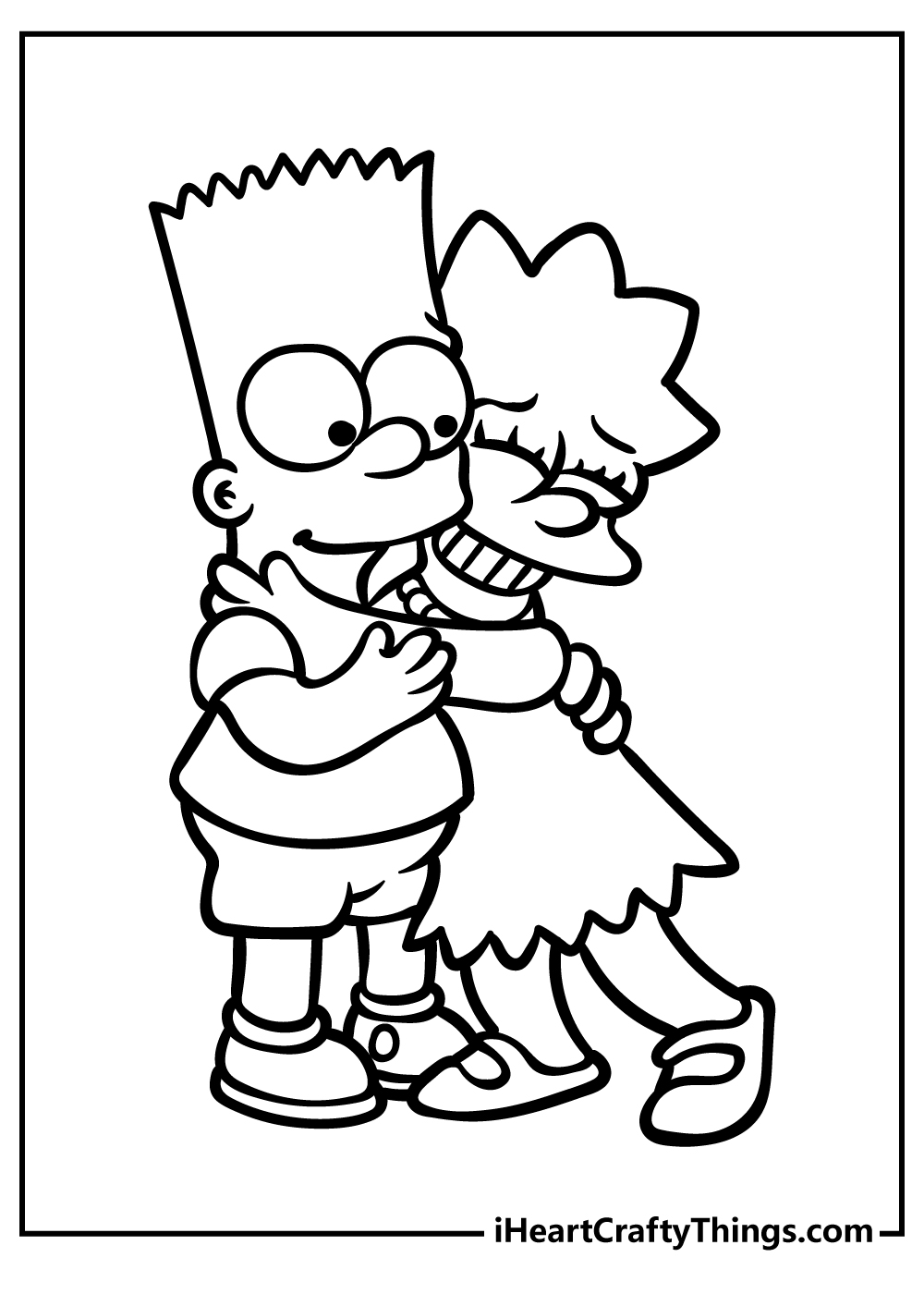 Simpsons Coloring Pages – Which will you choose?
We hope you enjoyed this colorful trip to Springfield with this collection of free Simpsons coloring pages for kids!
We wanted to try and provide a wide range of characters from the show so that you can really unleash all of your favorite colors and test your creativity.
When you have finished coloring these pages, please remember to share some of your finished artworks on our Facebook and Pinterest pages!
We would love to see how you colored this famous family.