On this page, you will find 25 all new Robot coloring pages that are completely free to print and download.
Is your child passionate about everything science fiction-related?
For your little ones who adore playing with robots, watching cartoons featuring friendly robots, then these coloring printable sheets will make a fantastic gift.
Plus, they are so fun and easy to color that we are confident any child will be excited to bring them to life! Just imagine the look on your kid's face when he starts coloring his favorite robot!
25 Brand New Robot Coloring Pages – Free to Print and Color 
The design featured on this robot coloring page is really quirky and creative. The way the robot is positioned opens up a few possibilities depending on how you color the page.
Maybe it could be riding over a tightrope for one scenario, or it could be riding through a dip in the ground.
You could go for either of these scenarios or more with the colors you choose, and you could take it even further by adding extra details or objects as well. What do you think this robot is up to?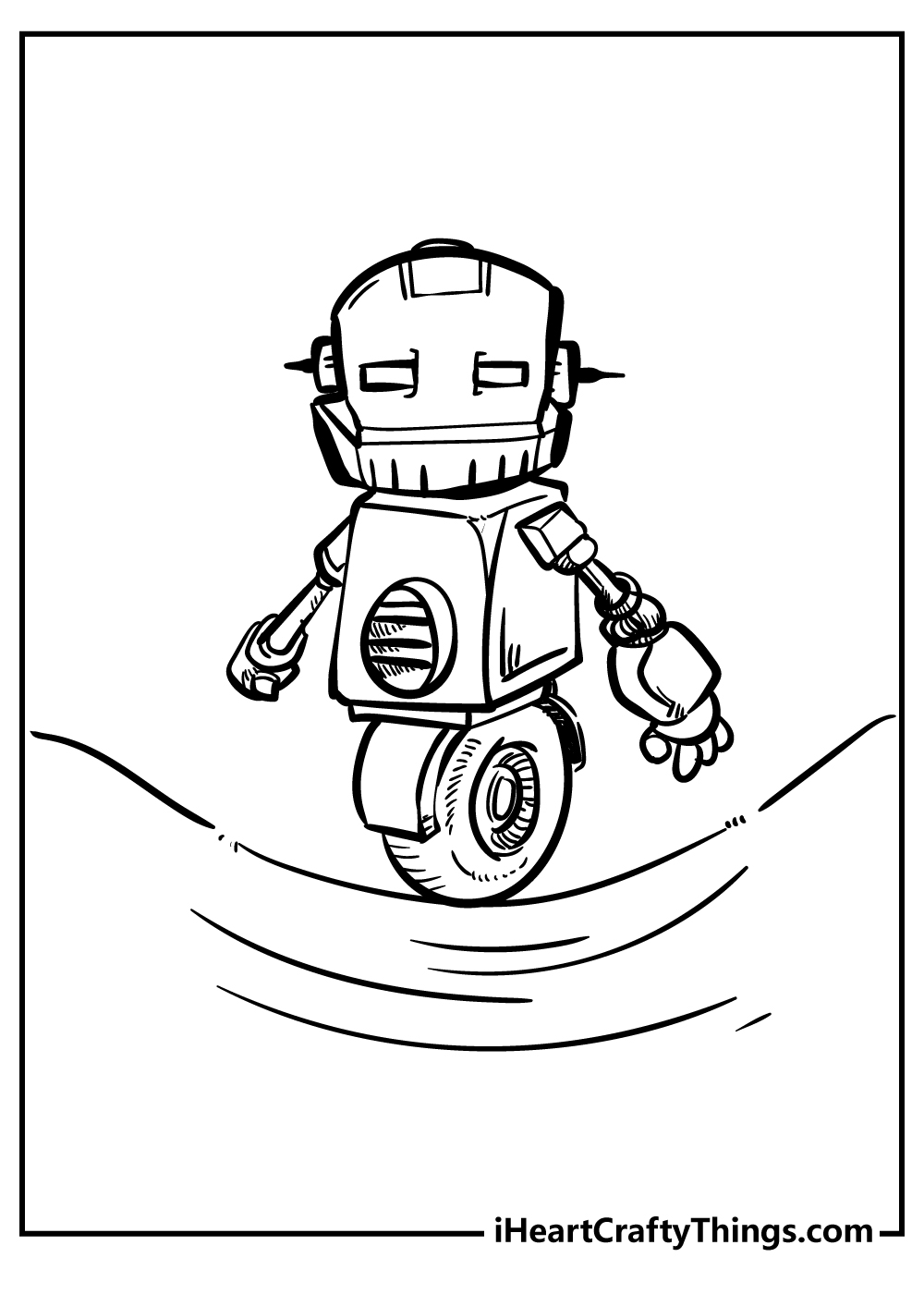 We have an adorable robot for you to color on this robot coloring page for kids! This little guy is drawn in an imaginative way, and you can have a lot of fun choosing the colors for it.
There are no wrong choices here, and you should go for whatever you think would best suit the little robot!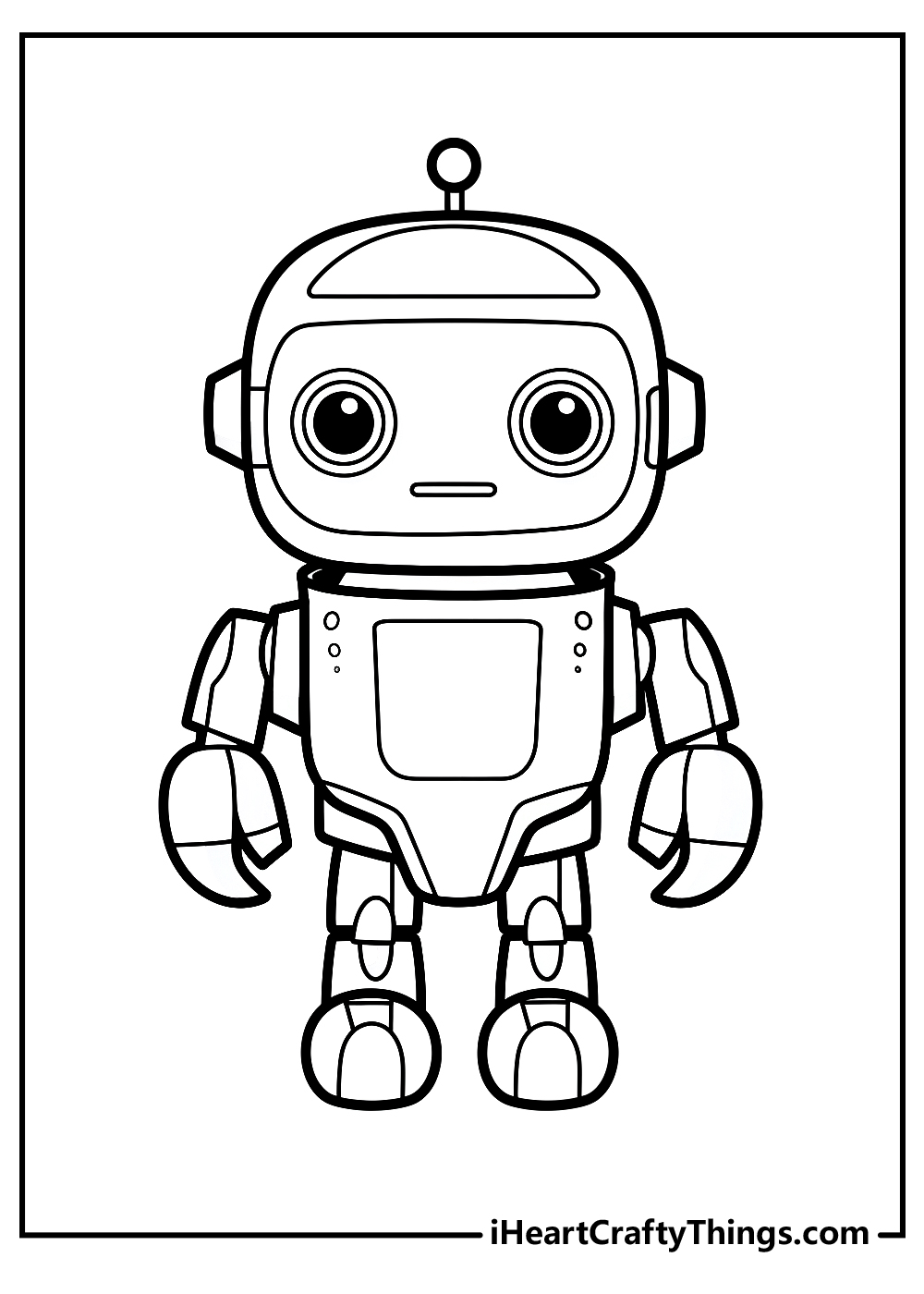 We have another awesome robot design for you to color in here. This one looks like it is especially high-tech, as it seems to be floating in mid-air!
Even though this robot looks as if it must be from the future, the background has been left pretty low in detail.
That is a great opportunity for you to create your own setting by adding some awesome extra details!
Because this robot is so futuristic, you could create a really imaginative future scene for it to be a part of. What kinds of future wonders would you add to the background?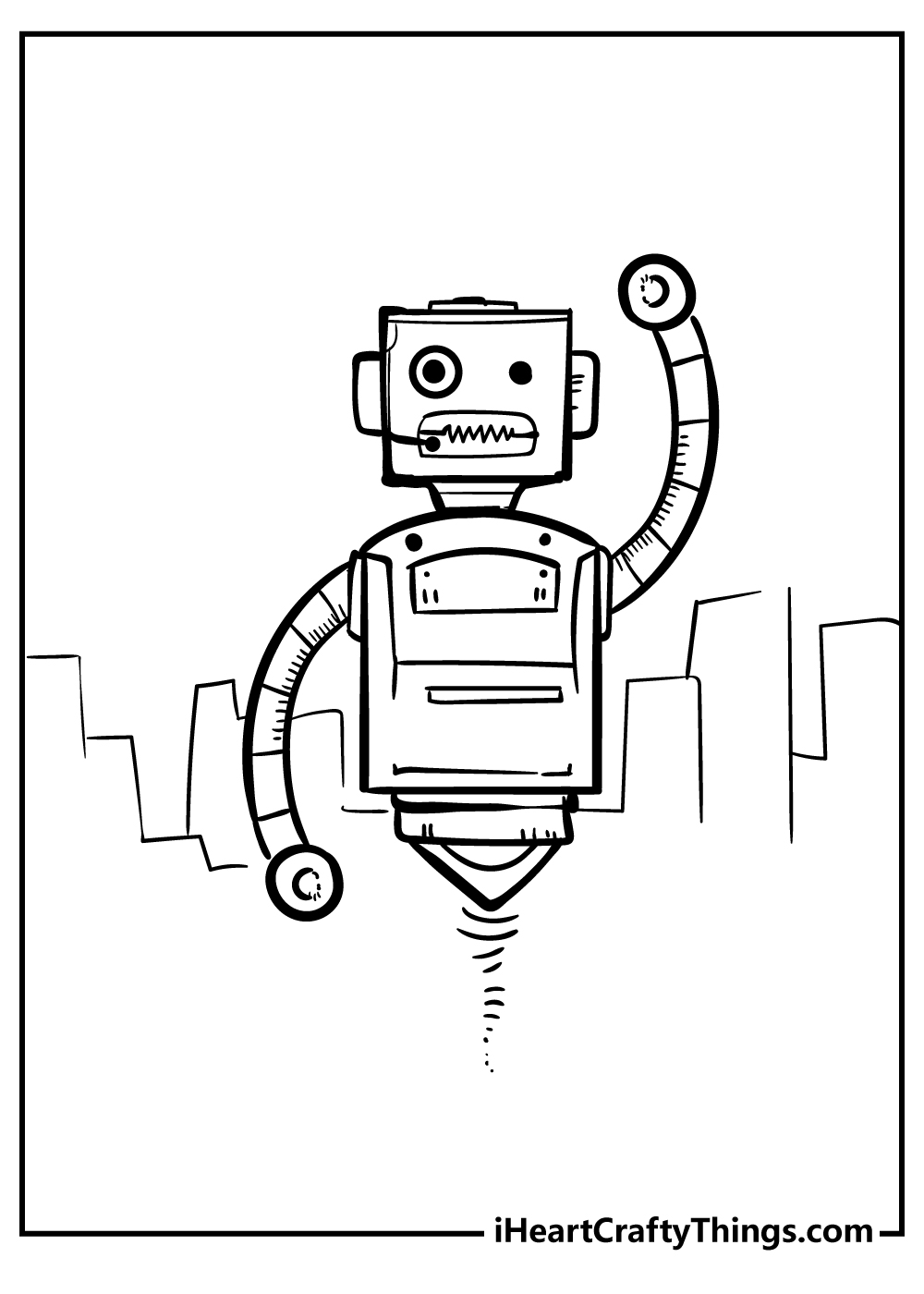 We cannot help but notice the friendly-looking expression on this cute robot.
It almost seems as if this tiny robot is greeting you with the way in which he holds his arms which resemble a pair of springs and hands that look like crab pliers.
You might think these are odd similarities, but they cannot be denied.
When it comes to the color palette, you can let your imagination run wild. For example, an idea would be to choose gray and blue for his antenna, yellow for the round eyes.
The rest of the body can be as colorful as you'd like! There aren't any rules here.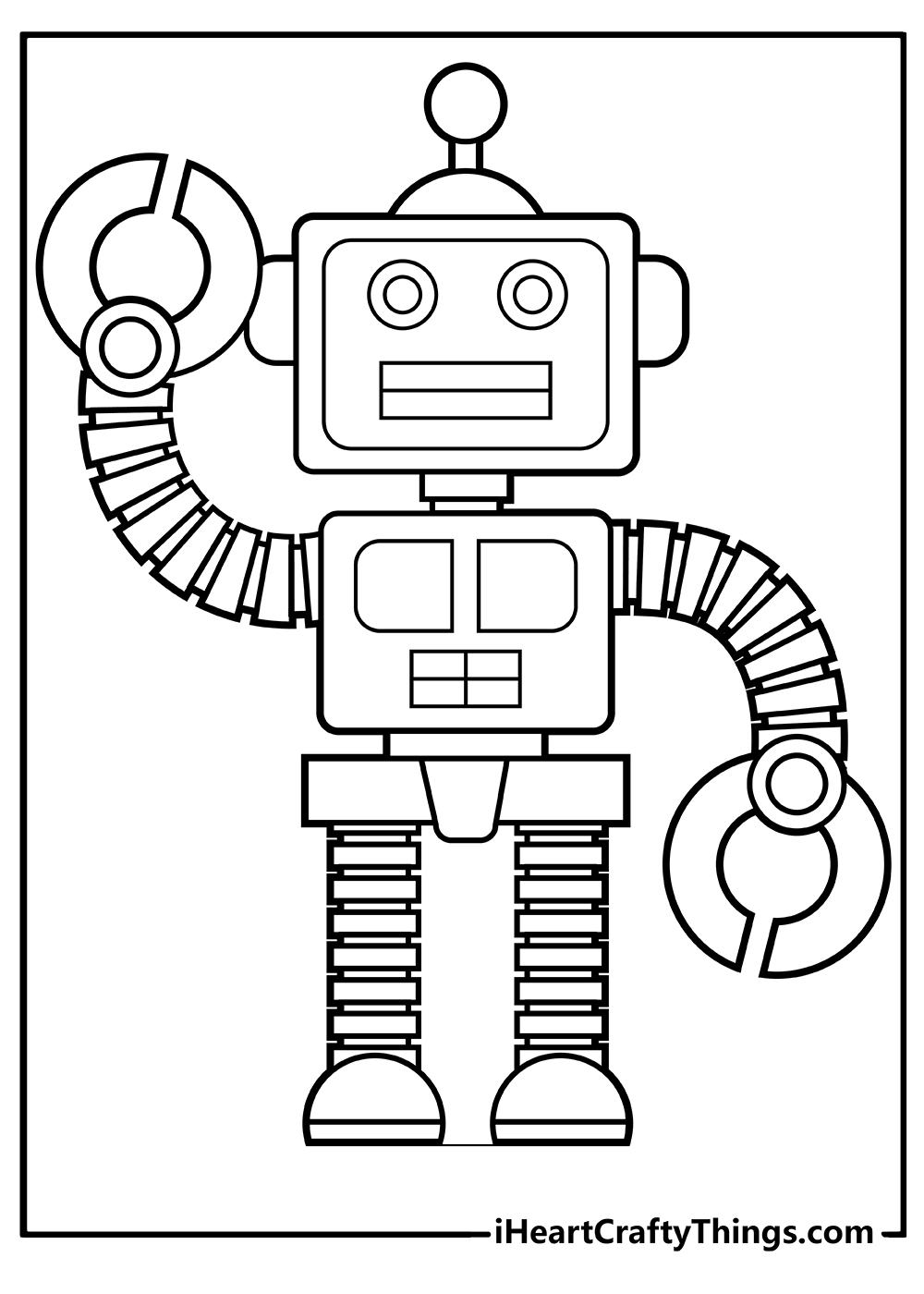 This next little robot not only looks really happy but also has tons of small details you can color in!
Using some colored pens or pencils would allow you to color all of the small little details and add loads of variety.
This robot will certainly be even happier once you have finished coloring it!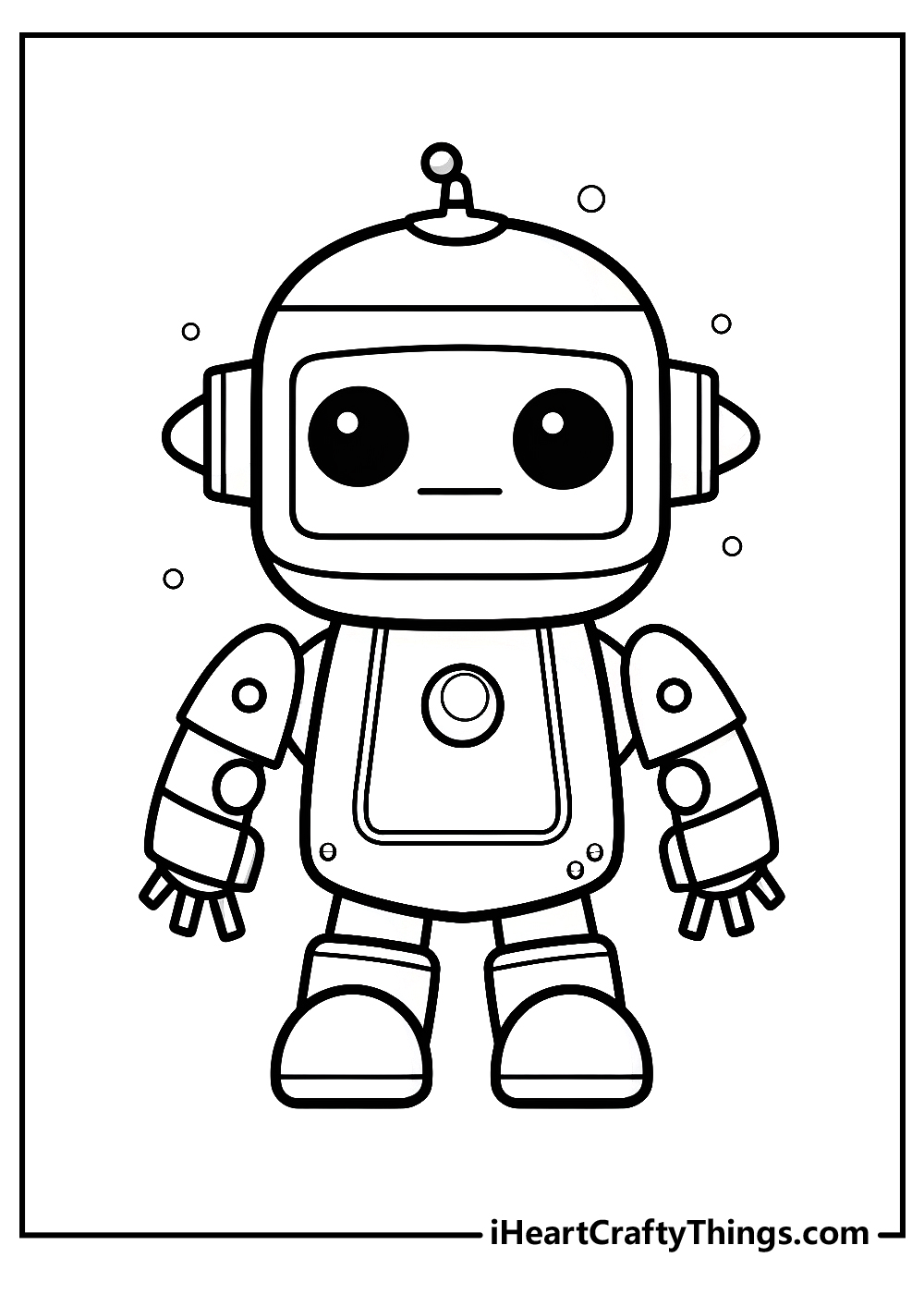 Now, the robot on this coloring printable sheet looks a bit serious. However, don't worry! We're sure he is just waiting on some instructions from you.
He is a friendly robot, after all. With his small round-shaped torso and long arms, it gives him a comical appearance. But this is why he is so charming.
Interestingly enough, the way that horizontal line is drawn on his face makes this adorable robot look like he is wearing a pair of glasses.
A visually pleasing idea would be to color him only with two contrasting colors, like red and blue.
The good news is that this robot coloring page is printable, so you can try as many color variations as you want.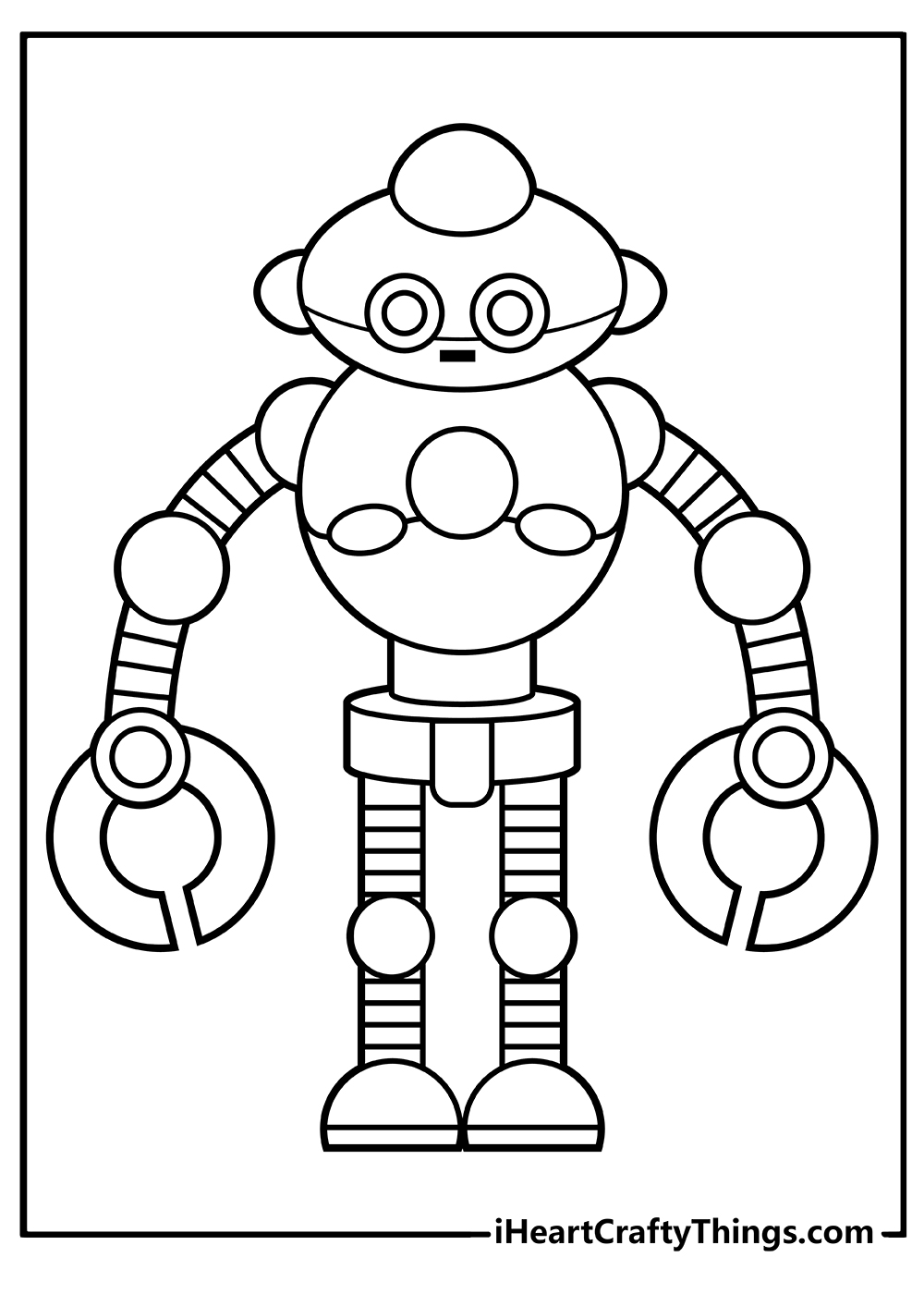 If robots were regularly available it's fair to say they would probably be used to help us out with tasks in our lives.
There can be loads of these tasks to perform, so having more than two arms would be rather beneficial, as it means more can be done at once.
That is a feature that this next robot certainly has, as it has four arms ready to go!
What kinds of tasks do you think this handy robot could be used for in everyday life? You could show what you think by adding some details to show what it is up to!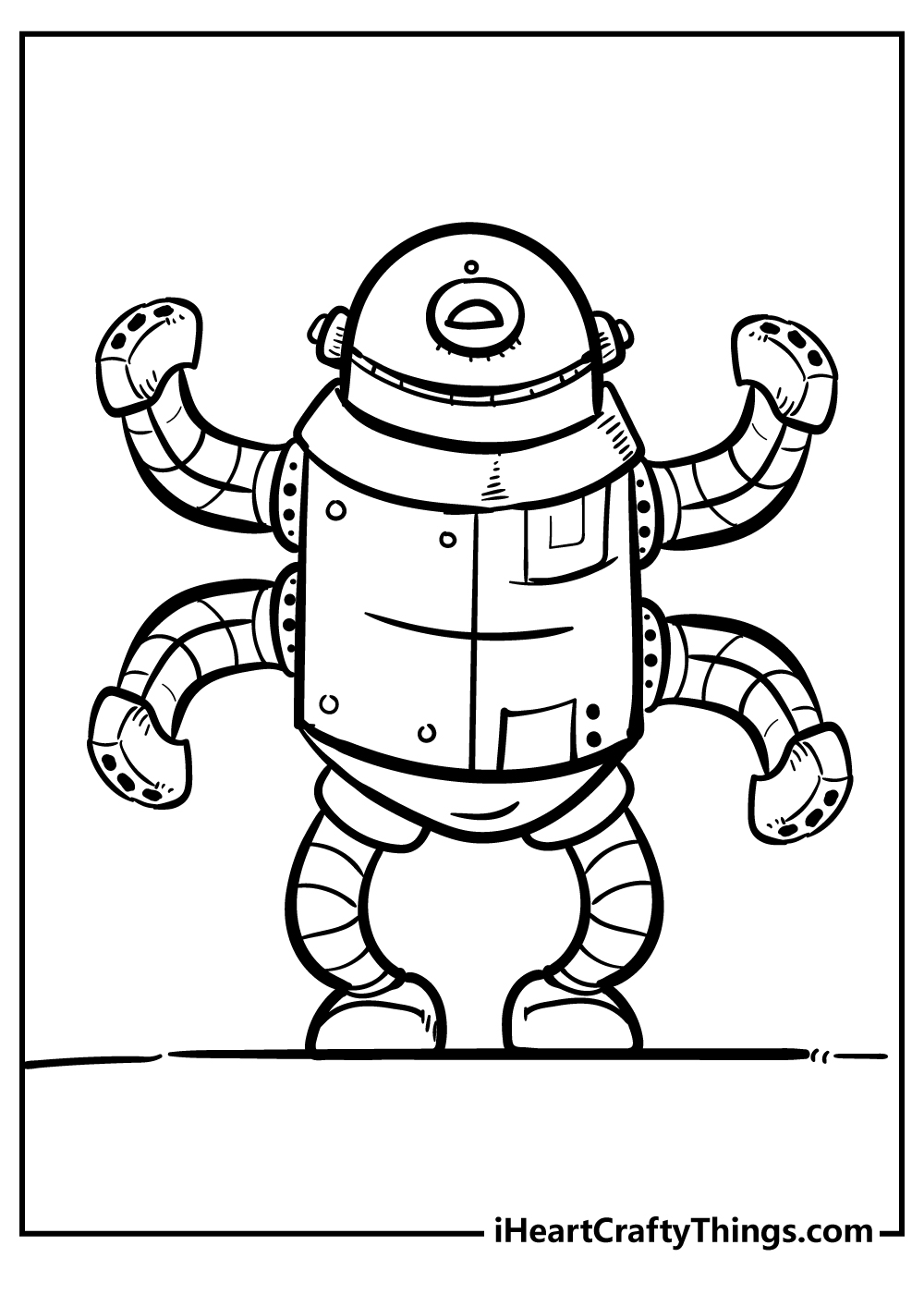 Once you have colored this happy robot, you can have even more fun with this robot printable! You could add some extra details or even some objects for the robot to interact with.
This would be a great way for you to show what the robot could have been designed for. What do you think this robot's specialty could be?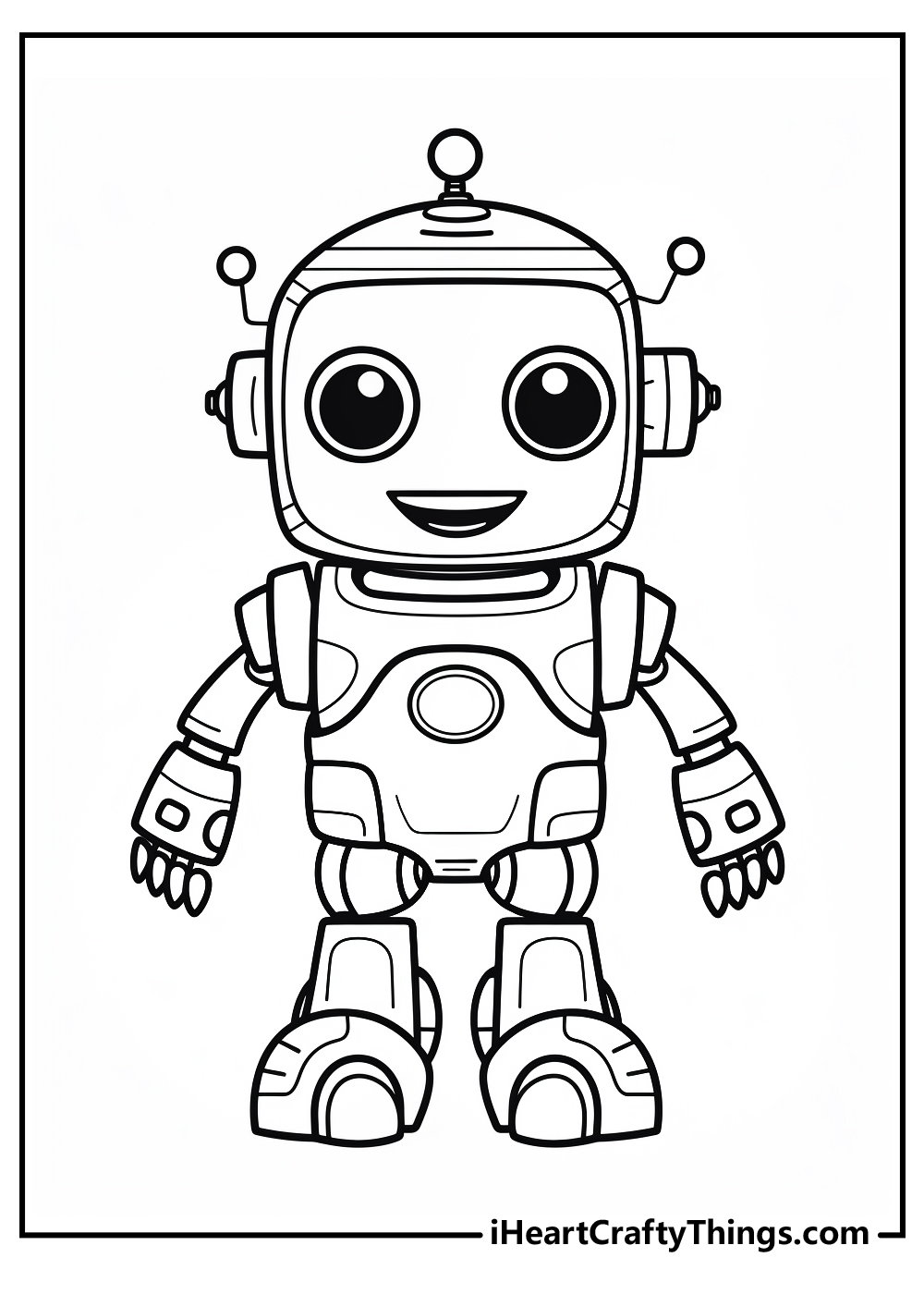 The next page in this collection of free robot coloring pages for kids features a really weird and unique robot!
It seems to be walking on some pretty rough terrain, and it makes you wonder what this guy would be used for.
It could be used to go into places that are too dangerous for humans, and that could be on a hazardous planet or even somewhere dangerous on Earth.
If you were to add to the background, you could show where this robot is venturing to do whatever it was designed to do. Where do you think this robot is?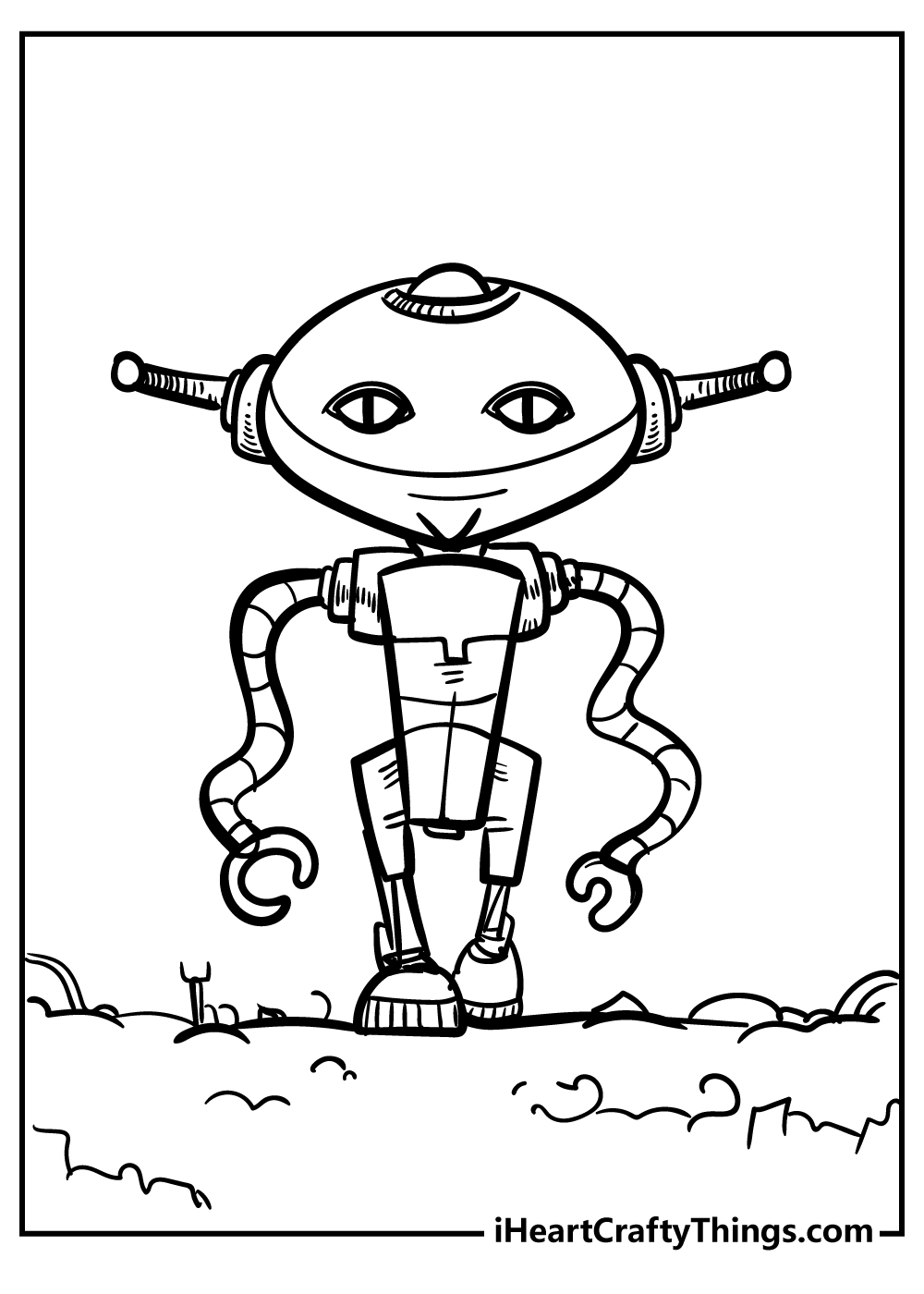 Do you remember playing with spinning tops when you were little? Well, when you combine a spinning top toy and robots, you get a fantastic coloring sheet with this delightful tiny robot.
Chances are your kid has also played with this entertaining toy, given their timeless nature.
There is no denying that your kid will enjoy coloring it. Just imagine how fascinating this robot must look when spinning like that toy.
This is why we think that a multicolored palette would look so pretty on him. With its rectangle-shaped head, resembling the classic Gameboy console, this robot is undoubtedly one of a kind.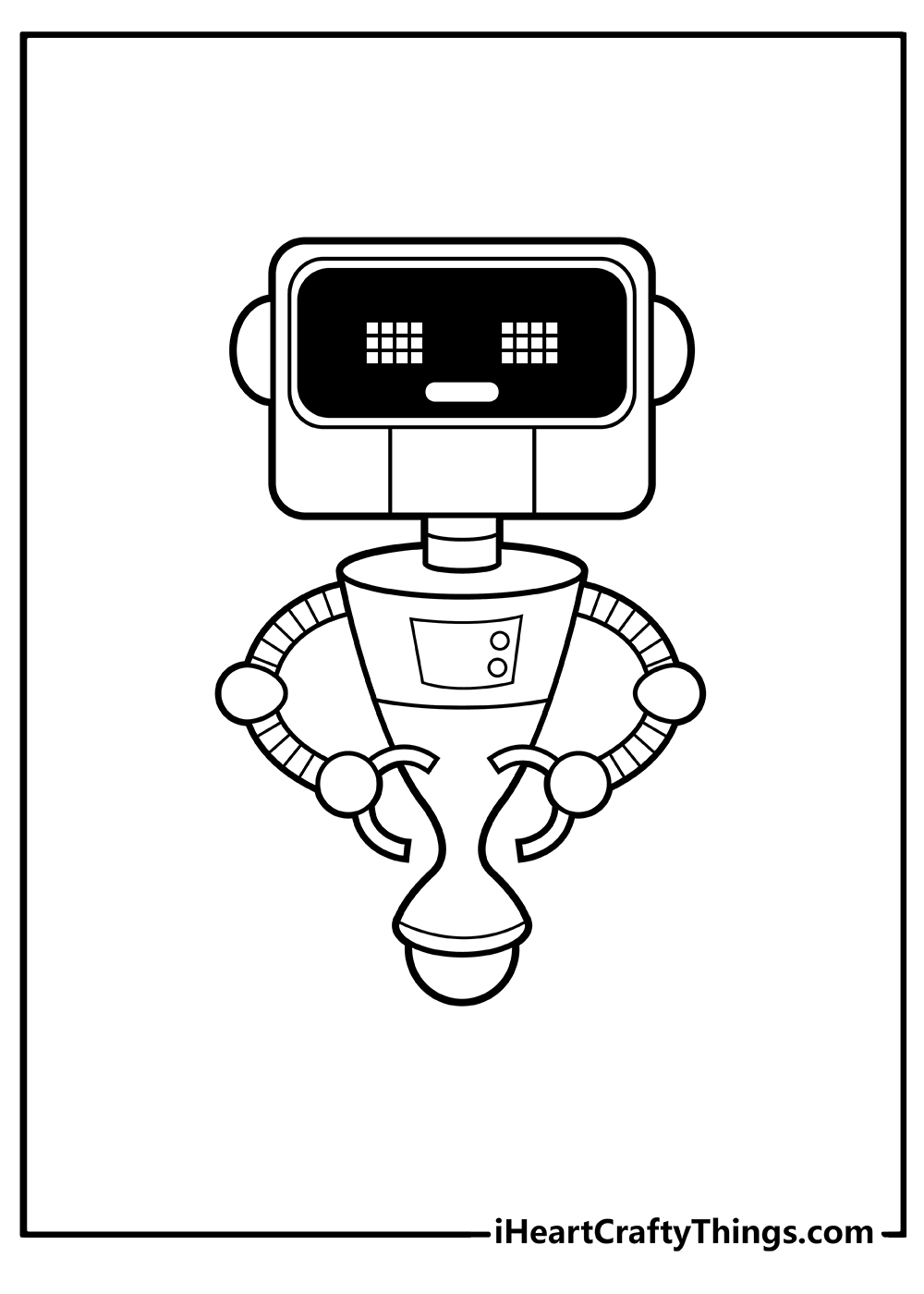 The facial expression on this robot is really amusing, as it does not seem to be particularly impressed.
It's also surrounded by some circles, which you could say makes it look like it is underwater.
If you agree and would like this to be a diving robot, you could add some background details to show where it is diving.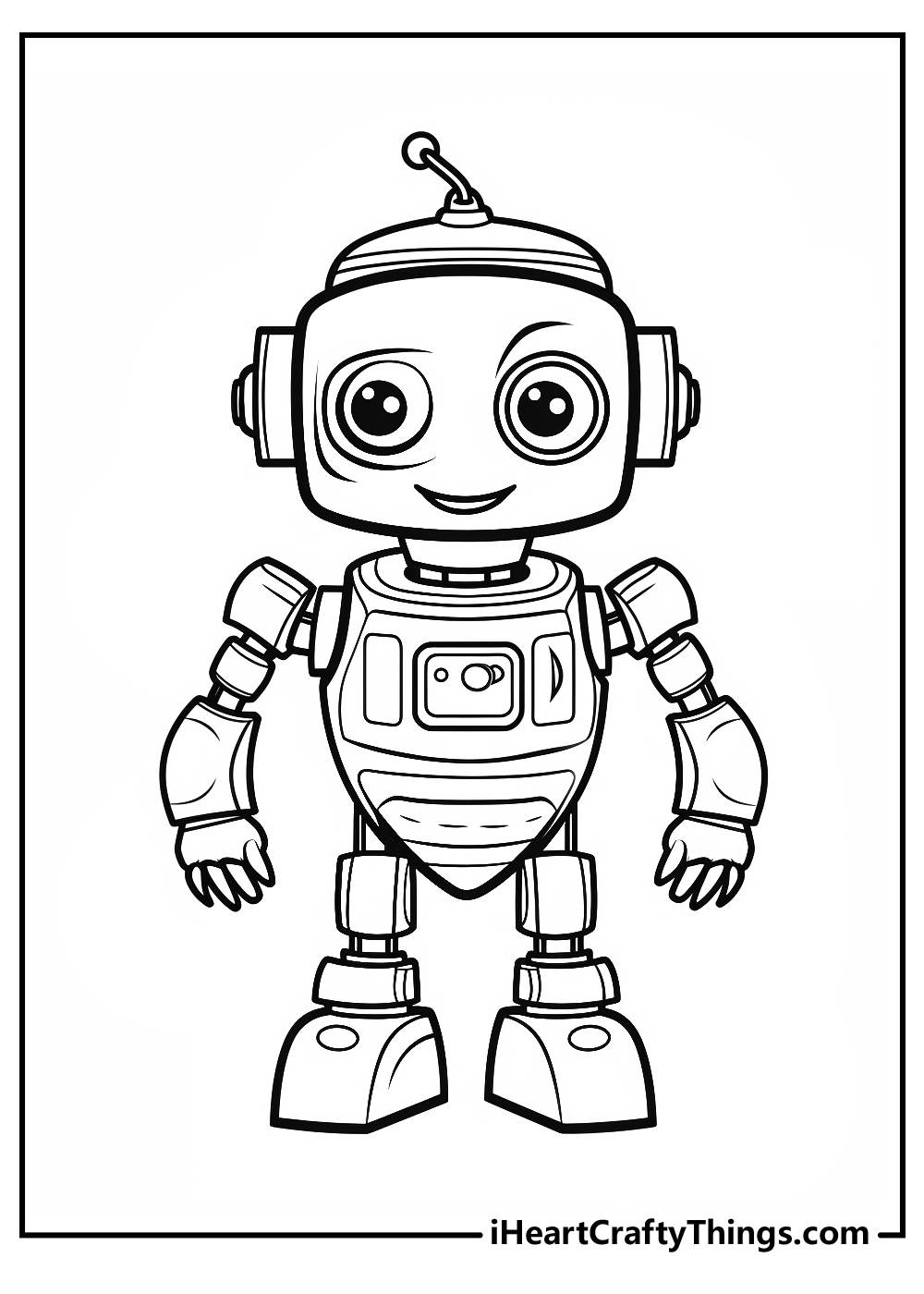 Every robot has a charm of his own. To say that this next robot coloring page shows an interesting-looking robot would be an understatement.
Doesn't his head look like the type of unidentified flying object or UFO we used to see in cartoons?
With tank wheels for legs and the same spring-like arms with crab pliers for hands and an elongated hexagonal body, it wouldn't be surprising this robot became your kid's favorite.
Coloring this printable sheet must be so enjoyable.
What if you only used bright colors? For example, orange for the UFO-inspired head and hexagonal body, green for arms, and various colors for the wheels.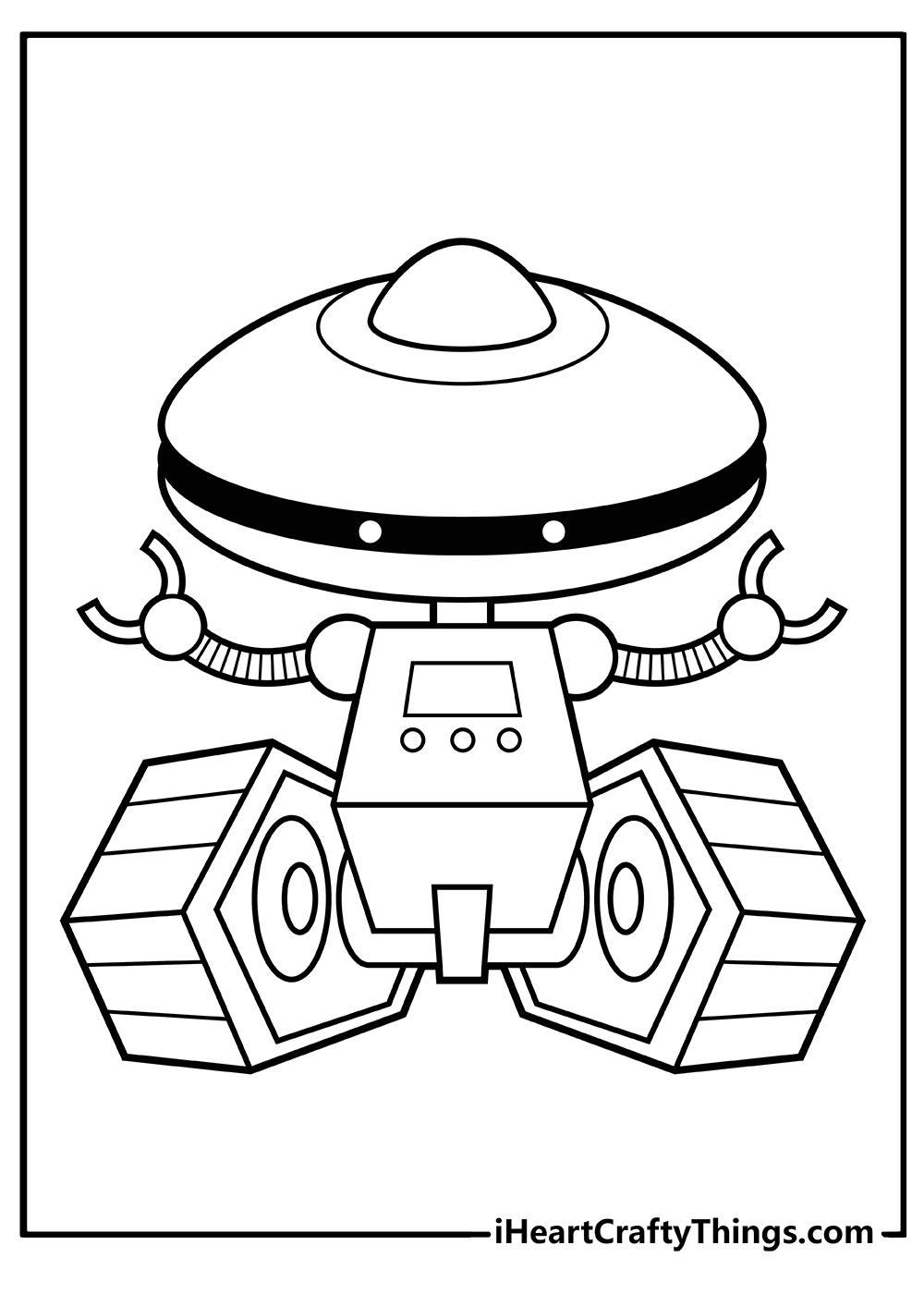 Get ready to blast off for coloring fun with this next page. This robot seems to be half robot, half rocket as it blasts off to who knows where!
The section on top of the robot's head almost looks like it could be a big drill, so maybe this robot can not only fly into the air but also burrow underground.
That would sure make for one versatile robot! The flames beneath it would also give you a good opportunity to use some great reds, yellows and oranges for a bright focal point to the image.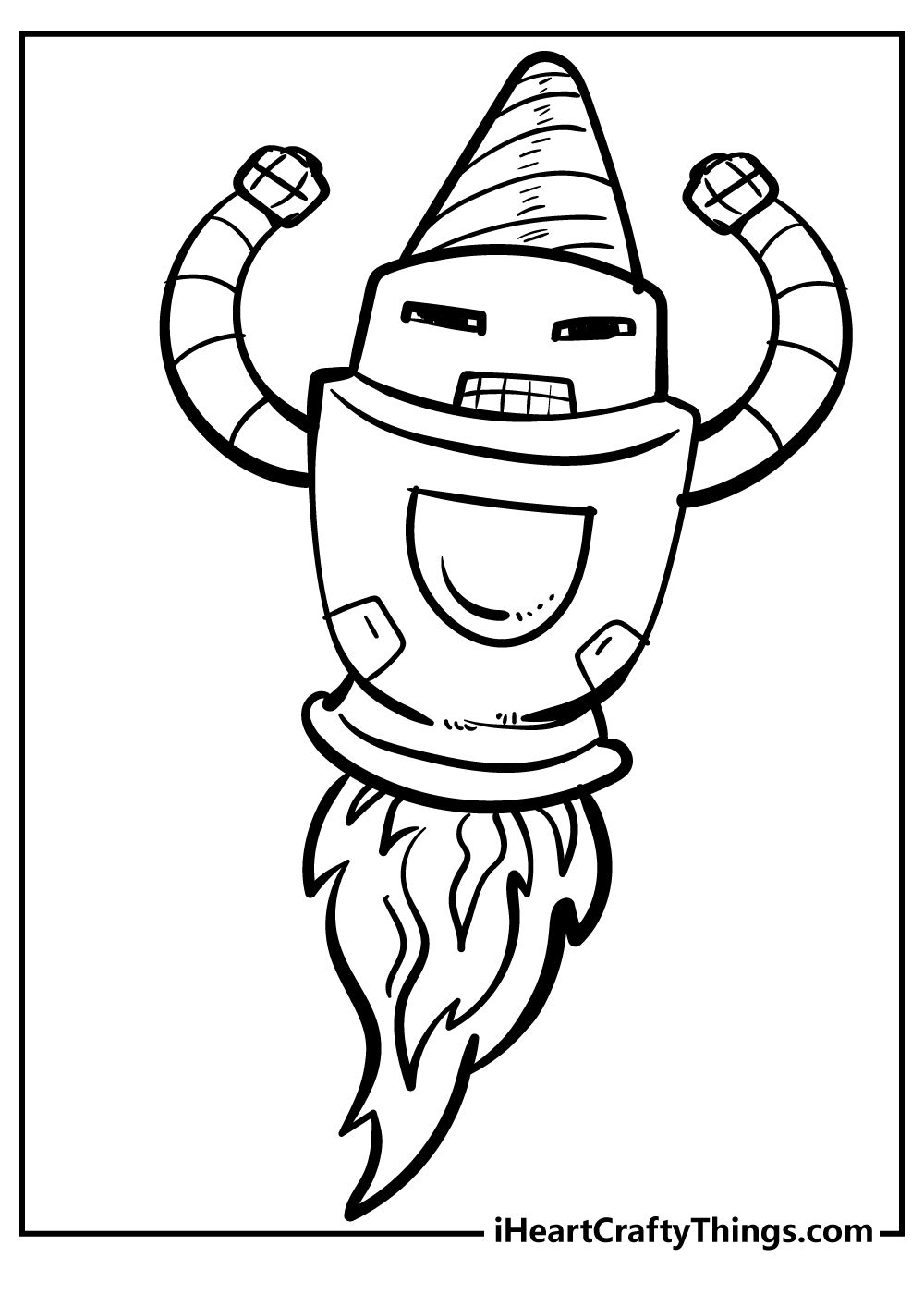 Some of the robots in this collection have been very strong and some have seemed very high-tech, but this next little guy has to be one of the cutest so far!
It has a fun and simple design, but it looks like it would be able to zip around quickly to find new ways it can help.
The look on its face is so happy and friendly, and we would use some bright and vibrant colors for the robot and the background if we were coloring this one.
That's what we think, but what will you choose?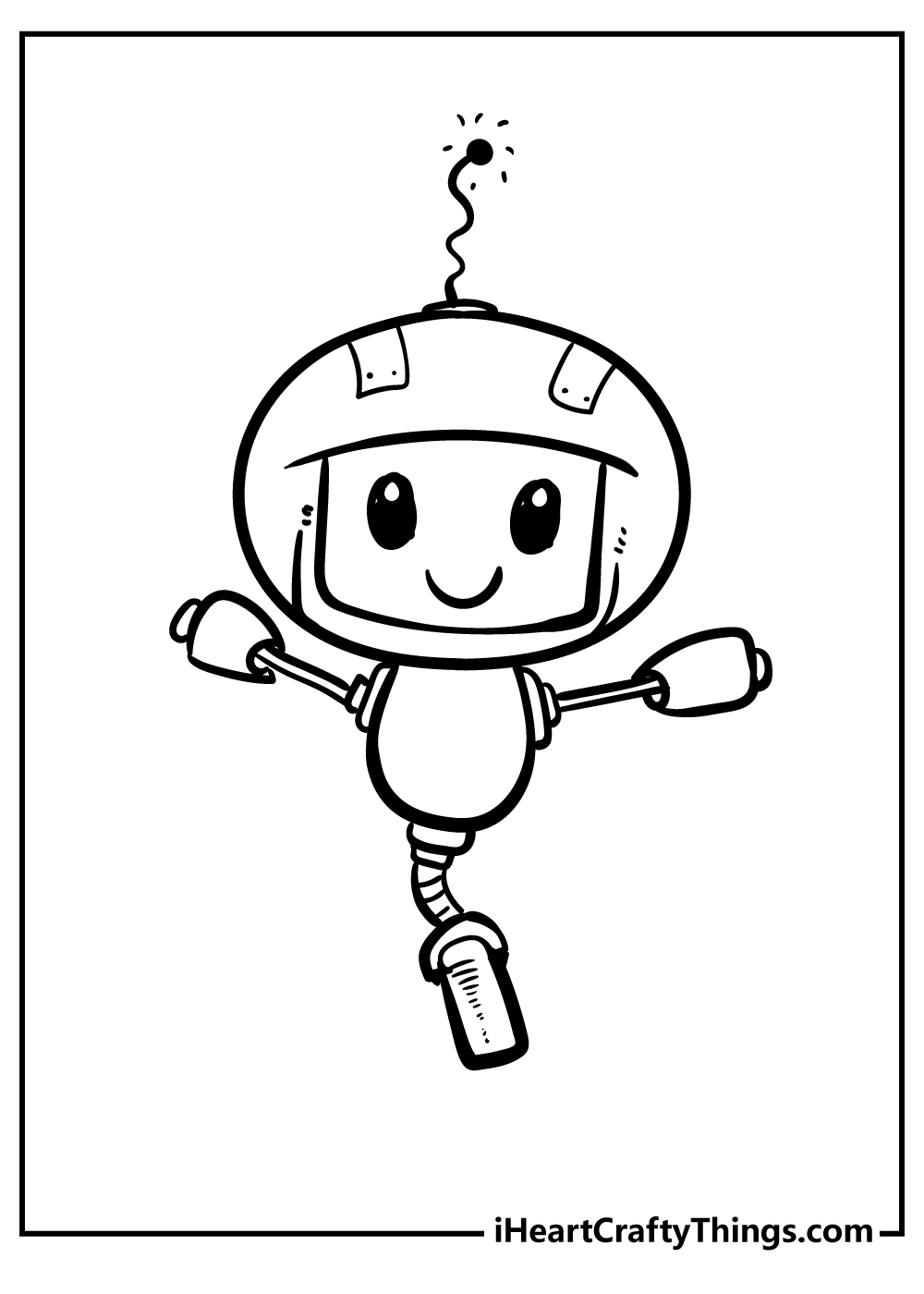 Have you ever wondered what it would be like to have your very own robot buddy? If you have, then you could draw yourself standing on this robot coloring sheet!
You could draw yourself or a different person in any style you feel comfortable working with. Then, you just have to decide what activities you would do with the robot.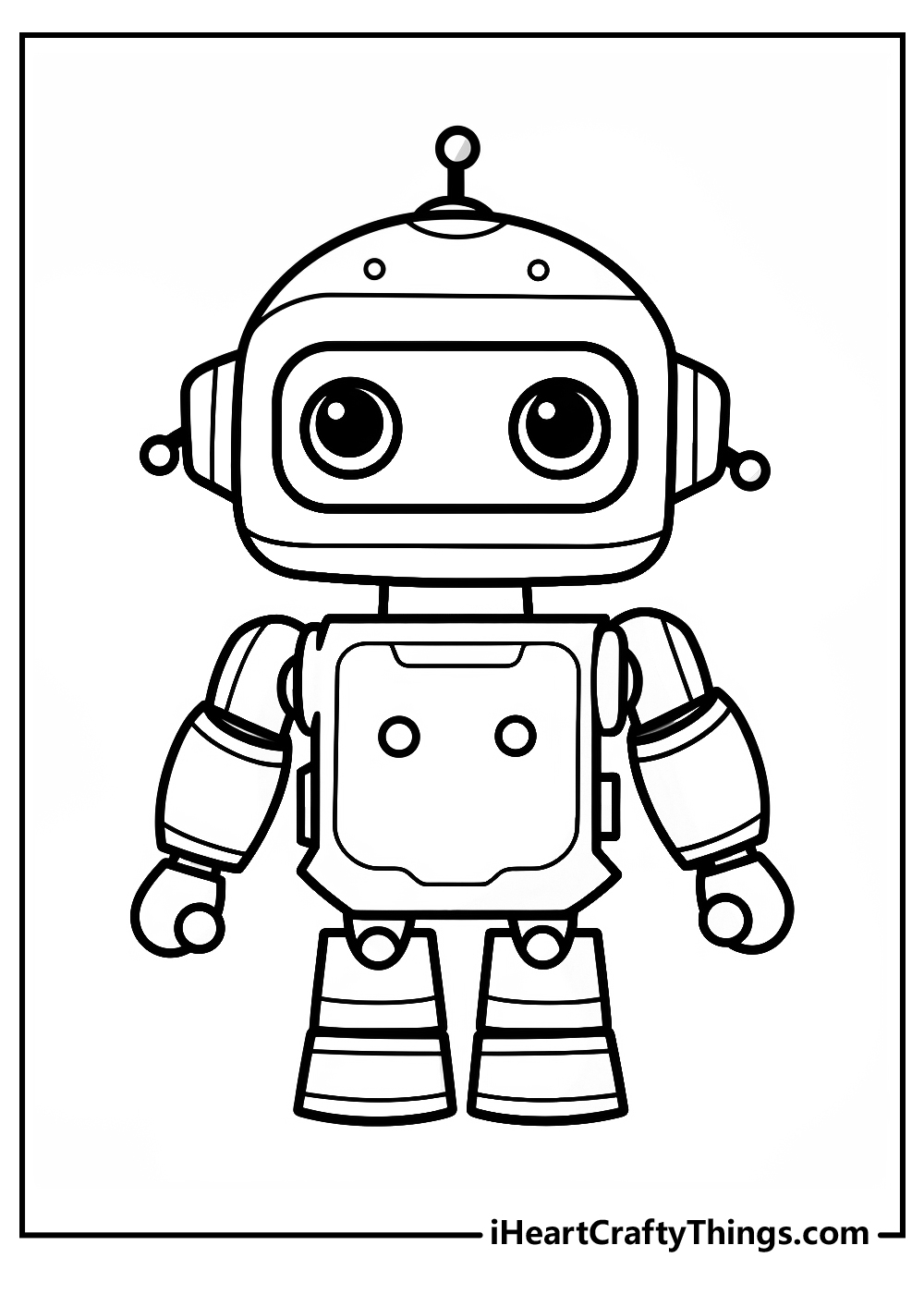 Isn't this the most adorable robot you have ever seen? We sure can't think of another one.
Actually, one could say he looks like a modern version of Wall-E, simply because this robot has the same friendly and cute expression. You instantly want him to be your buddy.
Just look at this robot's oval head with a smiley expression on the face and body that looks like a teddy bear – don't they make you think of a stuffed toy? Of course, he is a robot!
Still, we cannot help but suggest a pastel color for this delightful robot. Maybe choose a light grey for the ears – or bolts.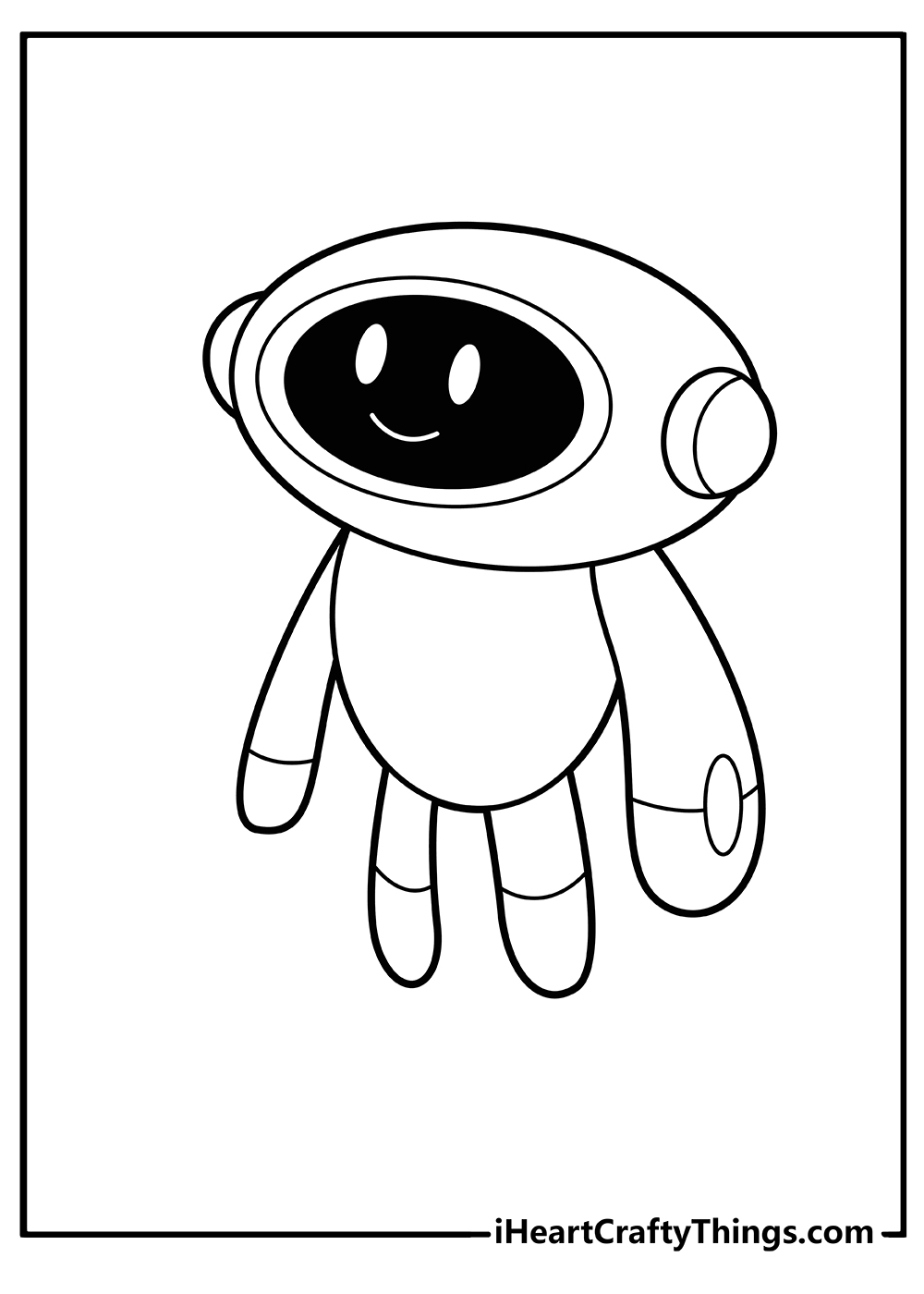 Who is this tiny robot with such a surprised look on his face? We like to think that he is incredibly curious and always wants to learn new things.
Maybe he and your child will have many things in common. With the robot's curiosity and your child's creativity, this robot printable sheet will be a delight to color.
He has a small body, resembling a cylinder, small arms, and a pair of wheels so he can easily transport from one place to another.
Bring him to life with the colors of your choice. For example, neon shades would probably look good on him.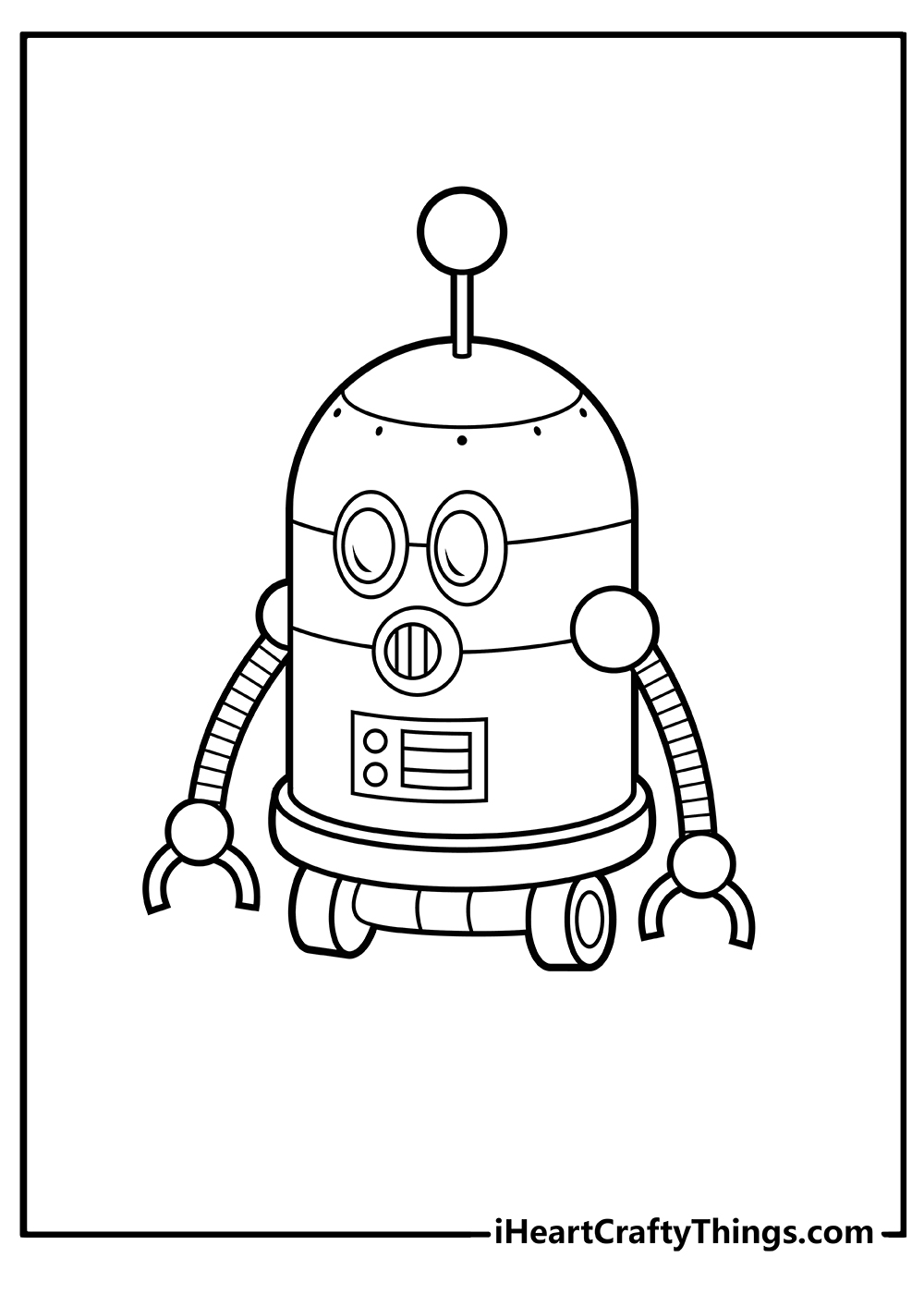 Having a robot that can fly in some way is great, as it means that it gets to some hard to reach places to perform its tasks.
This next robot coloring printable shows a really imaginative robot that has a helicopter rotor on its head.
The design of the robot's body looks quite heavy, so we don't imagine that it would be able to fly around very fast, but that only means that it's probably more precise.
When you have colored in this robot, you could also draw a background to show the sky it is flying in.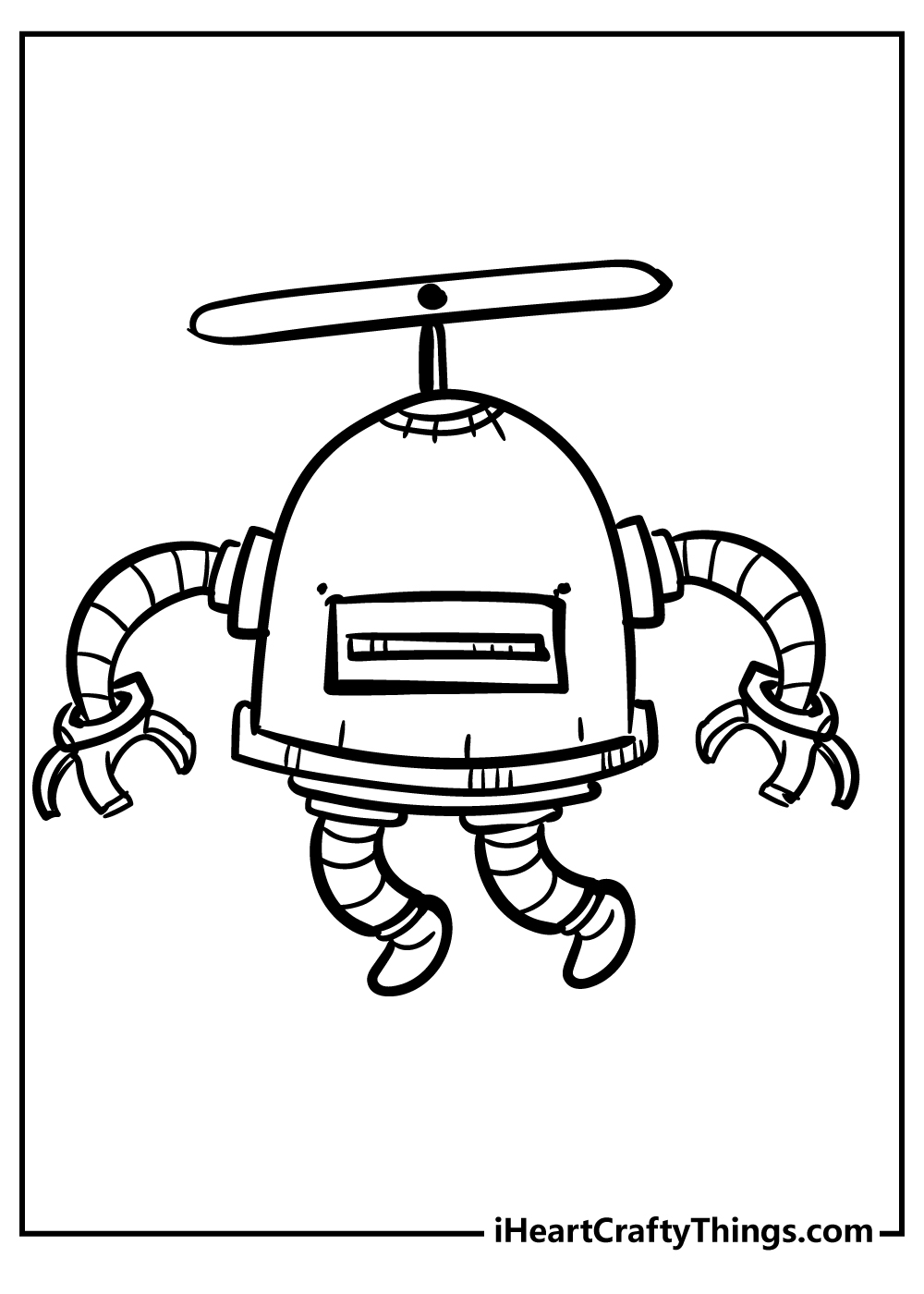 The robot that we have on this page is very small and efficiently built.
The design is vague enough that it could be used for all manner of different tasks, and now you get to decide what those tasks could be.
Once again, this makes it the perfect chance to get creative with it and show what you think this robot could be designed for.
You could do this with some extra details or objects that it could be holding or standing near, and could even be shown with the background setting.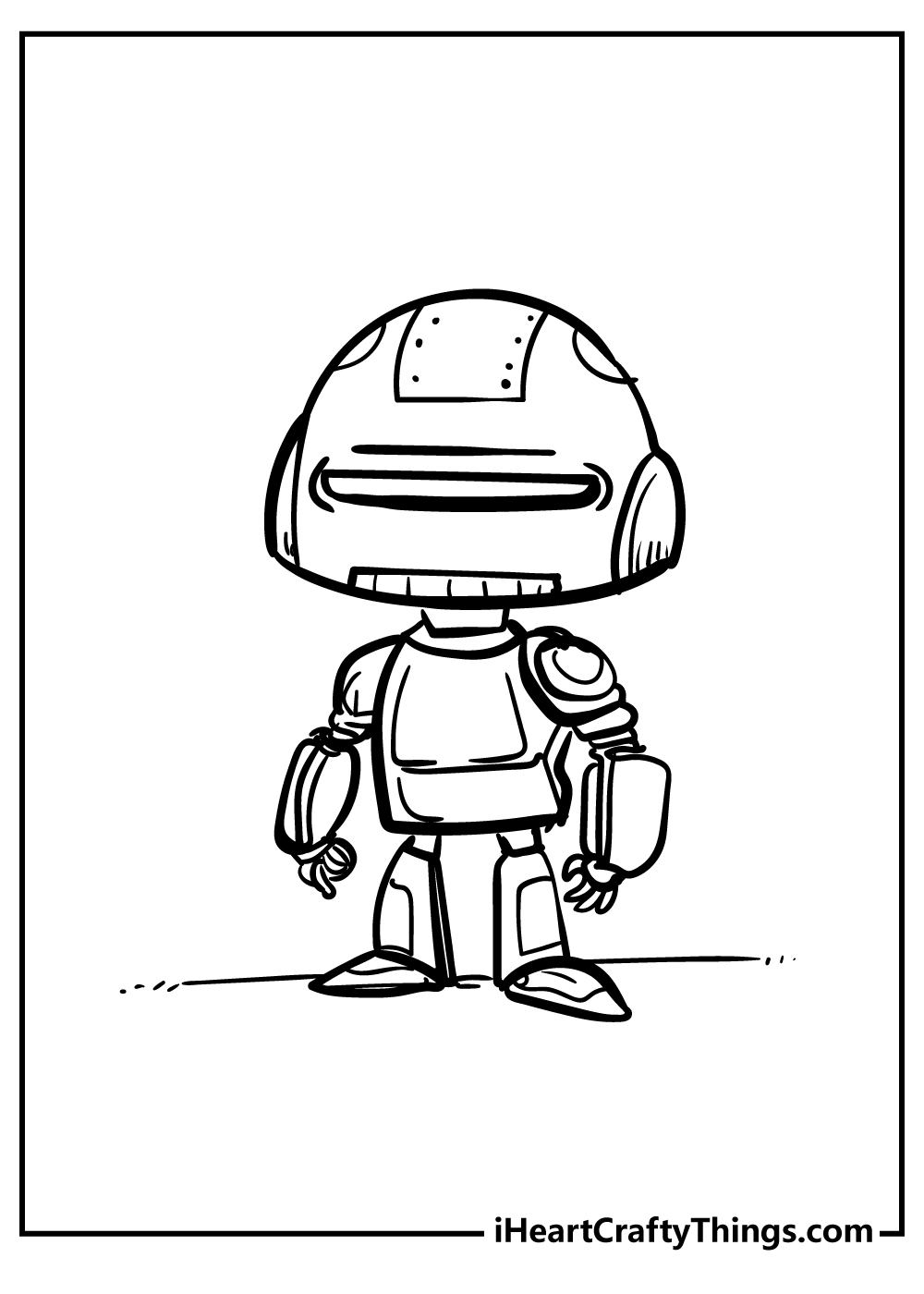 When you first look at this large robot, it almost seems like The Hulk robot toy.
Don't worry; he is not dangerous at all! With his posture and slightly severe expression, he looks like a protective bigger brother.
What color pops into your mind when you think about The Hulk? Green, certainly. So, if you see the same resemblance, you may want to pick a shade of green to color this robot printable sheet.
However, there are no rules here. Just let your creativity run while and play around with various colors and tones.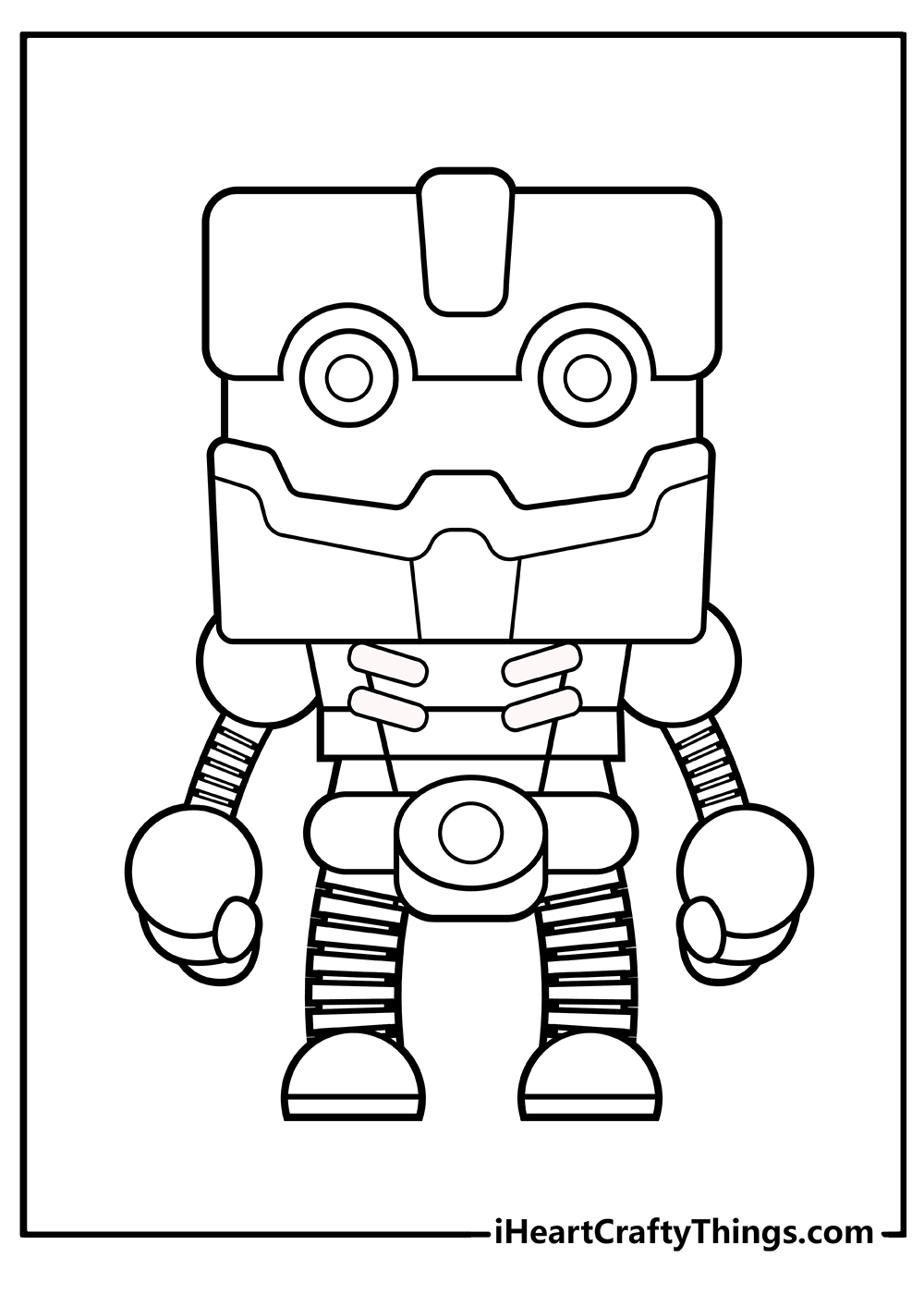 You might think – how is it possible for this fantastic robot to move around with one single wheel? There is no right or wrong answer.
It is simply this robot's charm that sets him apart from the others. Not to mention he looks like RoboCop's sidekick. Wouldn't you like to see a movie with both of them? We sure would.
Given his appearance, you might want to add silver grey, blue and purple tones. He would definitely look like coming from the future!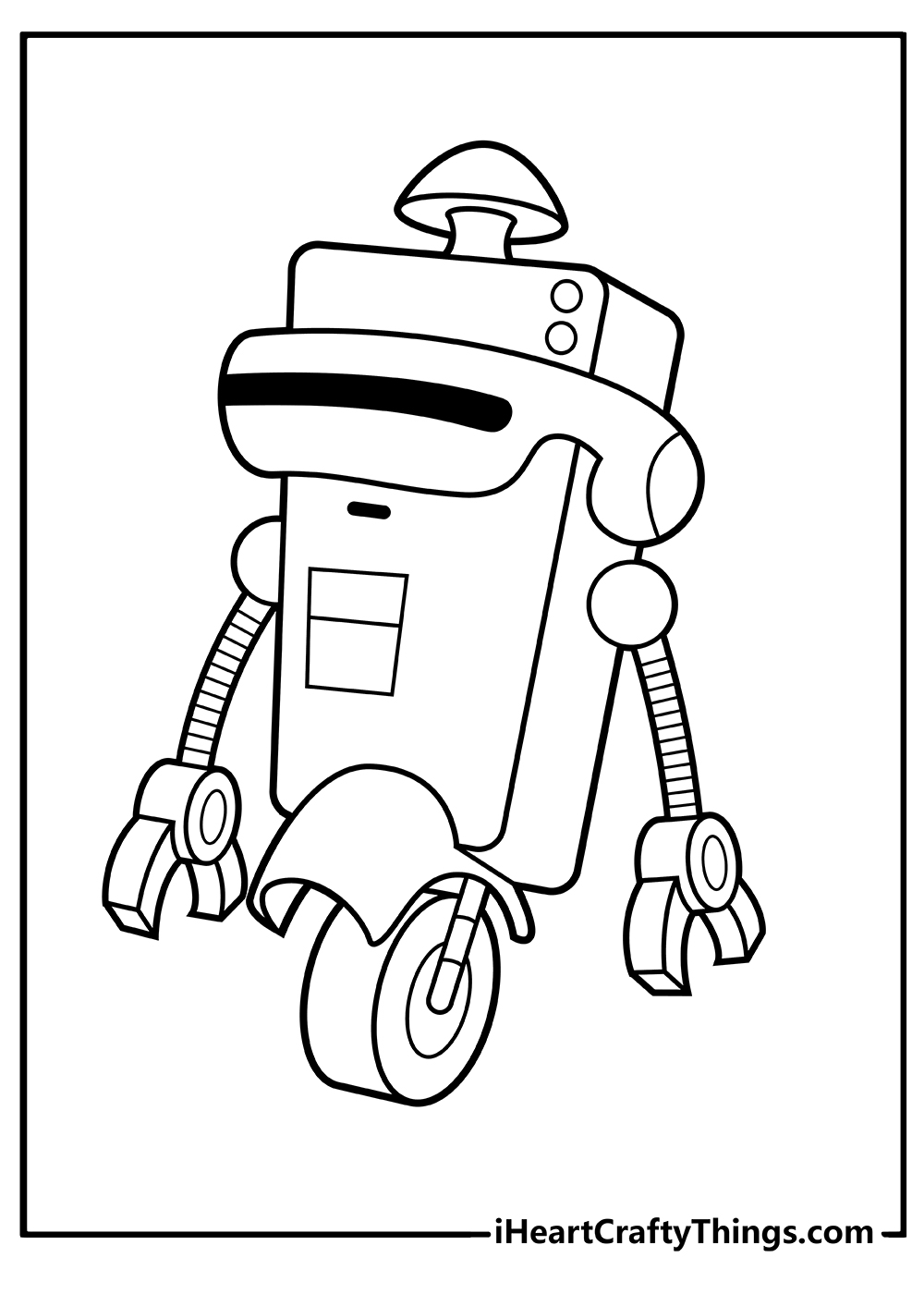 This second to last robot coloring page features a captivating and impressive robot.
With so many different styles of robots, it is close to impossible to get bored. Instead, you are just excited to see the next one and cannot wait to color it.
If you ask us, this robot looks like that wise person in everyone's life who always has interesting stories to tell or helpful advice to give.
It might be because of his expression – it almost feels too serious or as if he is thinking about something.
Try using a dark blue shade, turquoise, and a bit of red for this fascinating robot.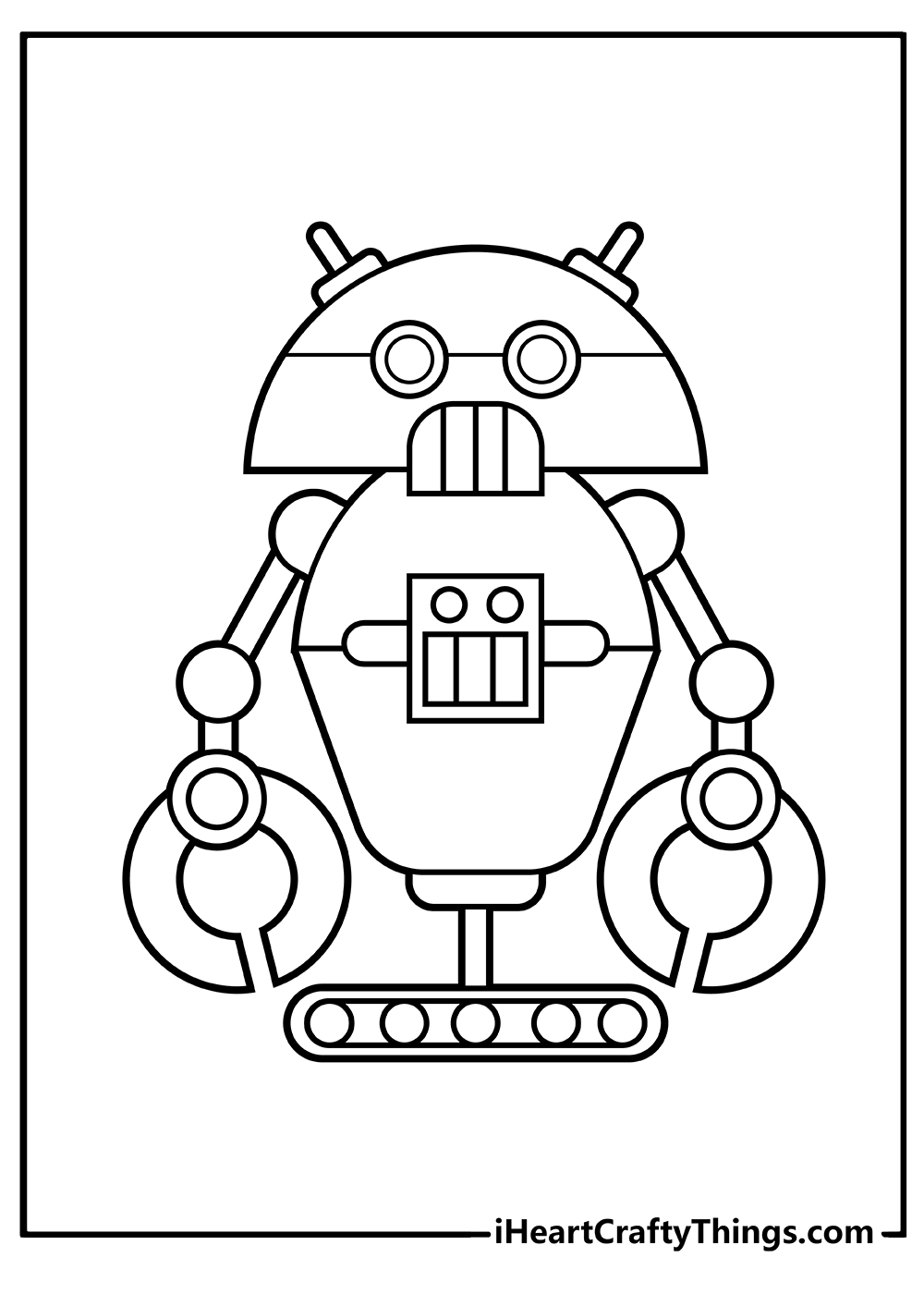 Don't you love it when you see a cute robot with a smile on his face? It instantly put a smile on your face as well.
With his antenna swinging in the air, those same hands resembling crab pliers, and a rectangular-shaped body with rounded corners, you cannot deny his friendly and welcoming spirit.
By looking at this robot, you want to bring him to life with bright and contrasting colors, similar to those used for Lego pieces.
The cheerfulness he conveys would be better showcased with a colorful aesthetic.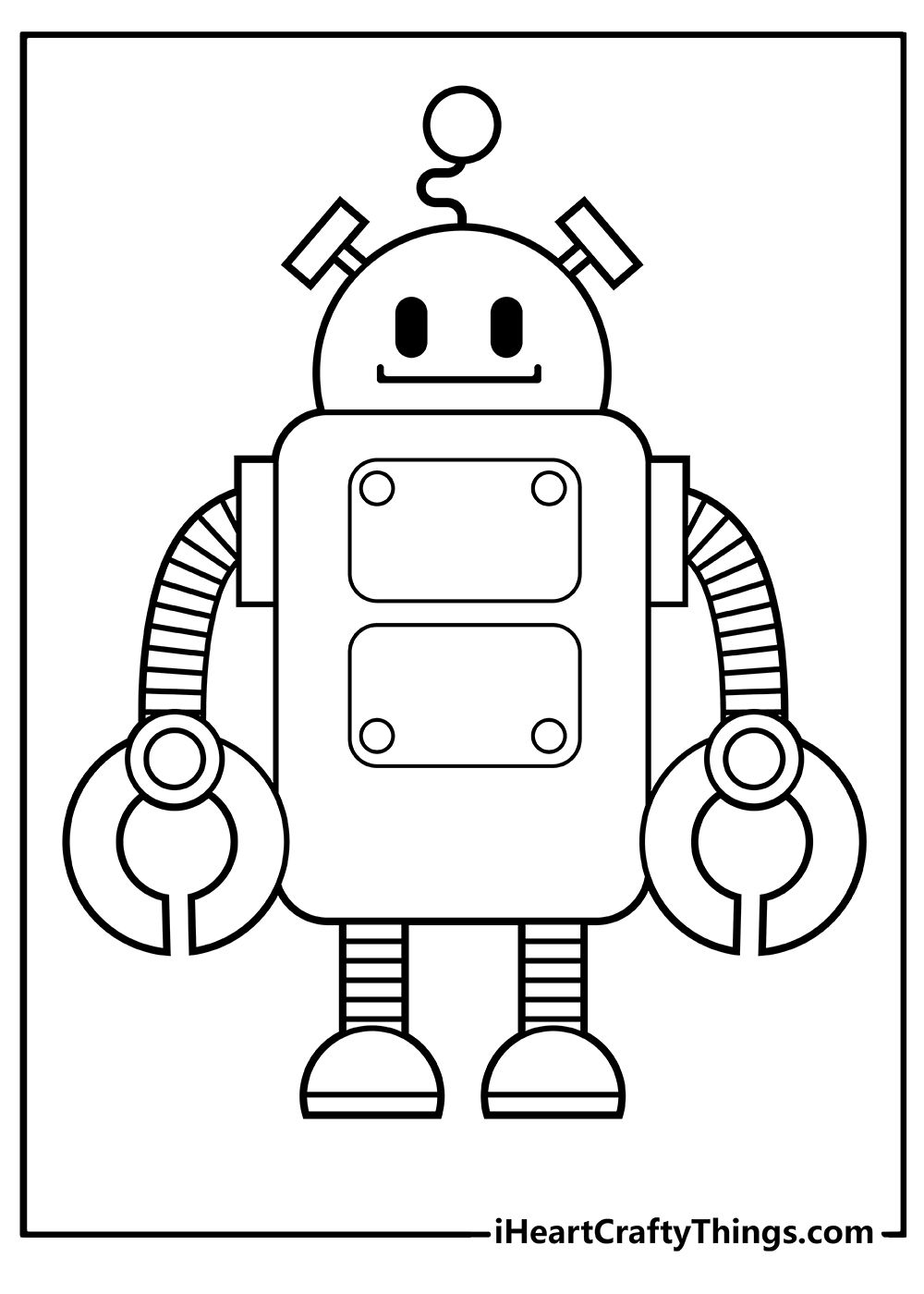 Sometimes we can all use a smiling face in a tough time, and this next robot looks like it would be able to deliver a smile to even the most desolate environments!
The fact that it is floating over an undefined environment means that you could make it look like it is floating over any kind of landscape or environment you like.
There are so many ways you could finish this page, and you could try out a few designs on multiple pages if you have too many ideas you want to try!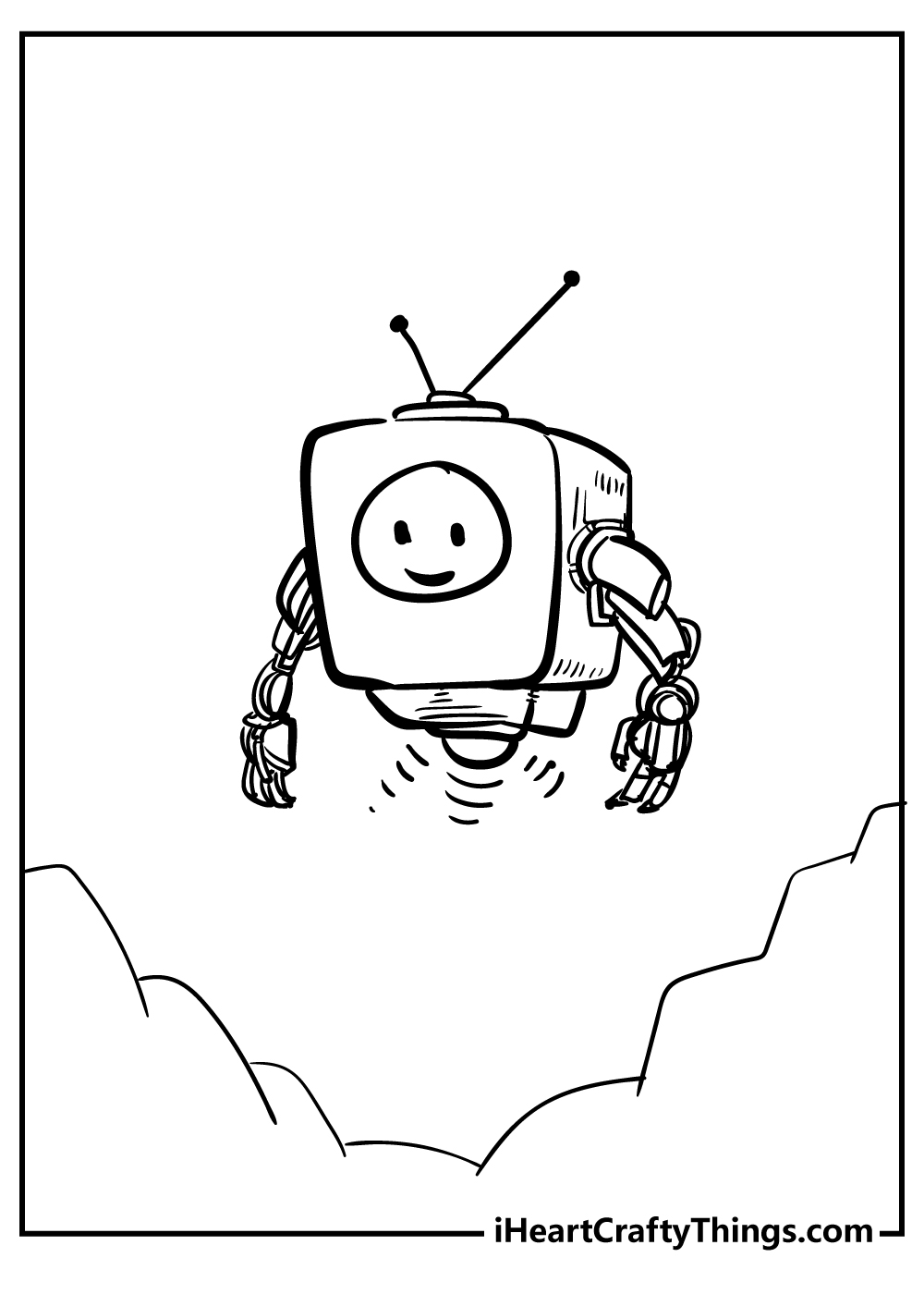 This next robot coloring sheet features one of the most unusual designs we have seen yet!
It has all sorts of weird and wonderful shapes on all parts of it, and we can only wonder what purpose this robot would be designed for.
It looks like it is able to fly thanks to some rockets beneath its feet, and that gives you the opportunity to put this robot in all kinds of fun and imaginative scenarios!
What are some ideas for colors and backgrounds that you could use for this highly unusual robot?