There's a lot of relaxing to be done on a tropical holiday! While lying on the beach sipping fruit juices is fun for a while, you will soon find yourself wanting something to do.
Enjoying some coloring is a great way to spend vacation time, and you may find yourself sitting underneath the subject of this coloring page collection.
Palm trees are usually associated with tropical vacations and relaxation, and here we have 10 different images featuring this iconic tree for you to color!
You will definitely be able to try out your favorite colors and mediums on this set of pages.
All of these pages that we have for you are free to print, color and enjoy as much as you like. Also, why not share the collection with others to enjoy as well?
It can be interesting to see how different people colored the same image!
With that, let us begin this collection of free palm tree coloring pages for kids.
When you're ready to show off your finished pages, be sure to share them on our Facebook and Pinterest pages for us to enjoy! We can't wait to enjoy the vacation fun that you will create with these pages.
10 Brand New Palm Tree Coloring Pages – Free to Print and Color
Let's begin this collection of free palm tree coloring pages for kids with a nice peaceful tree.
The trees in this collection will be covering a wide range of styles, and that gives you the chance to try out different ideas on how to color them.
This one has a trunk drawn in a highly detailed style, and the different segments of the trunk are rather quirky in design.
The only question remaining is how do you think you will color this tree? Will you use realistic colors or go for something more stylistic?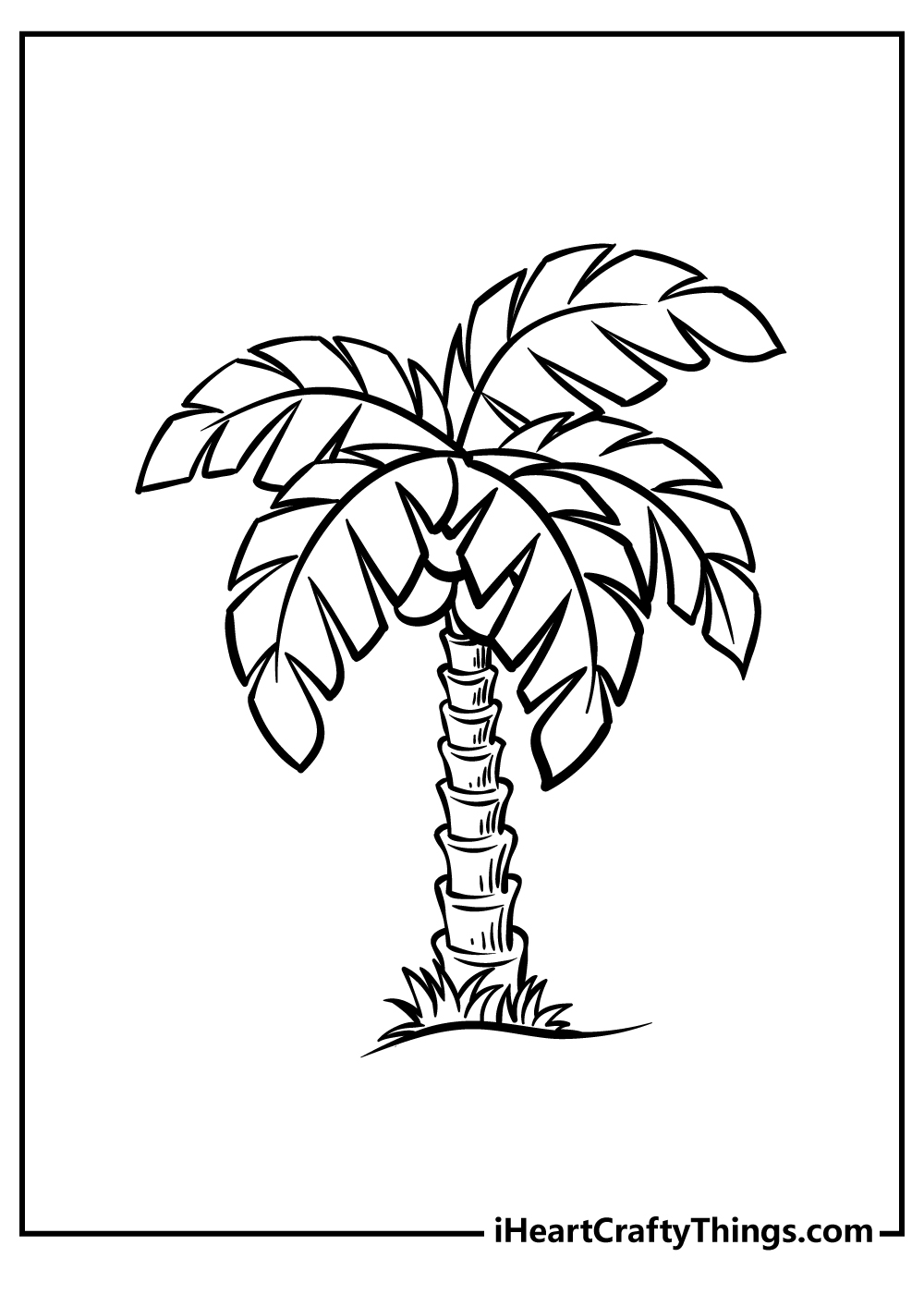 This next palm tree that we have for you to color is really tall, and it gives off a peaceful vibe. You can definitely picture sitting underneath this tree with the sound of the ocean in the background!
This one is different to the first in that this time the trunk is a bit less detailed while the leaves are more detailed.
How do you think you will color this second palm tree?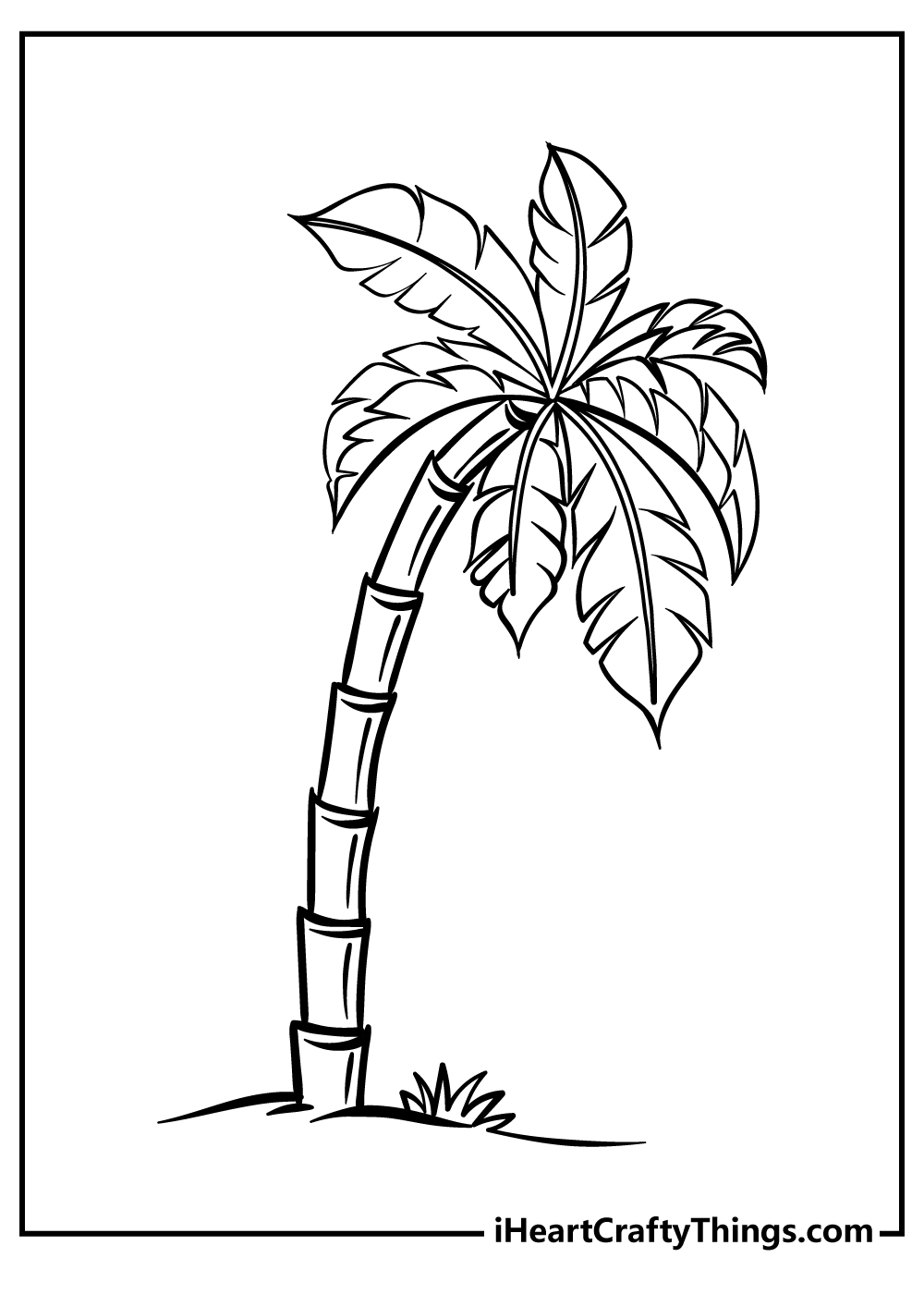 We have double the coloring fun for you in this next image! This time we have not one but two palm trees for you to color.
Because these form such a distinctive landmark, you could imagine that a pirate may use this location to bury some treasure.
For a bit of extra fun, you could draw a scenario such as this into the scene to make it look even cooler. What kind of scene or setting would you depict for this image?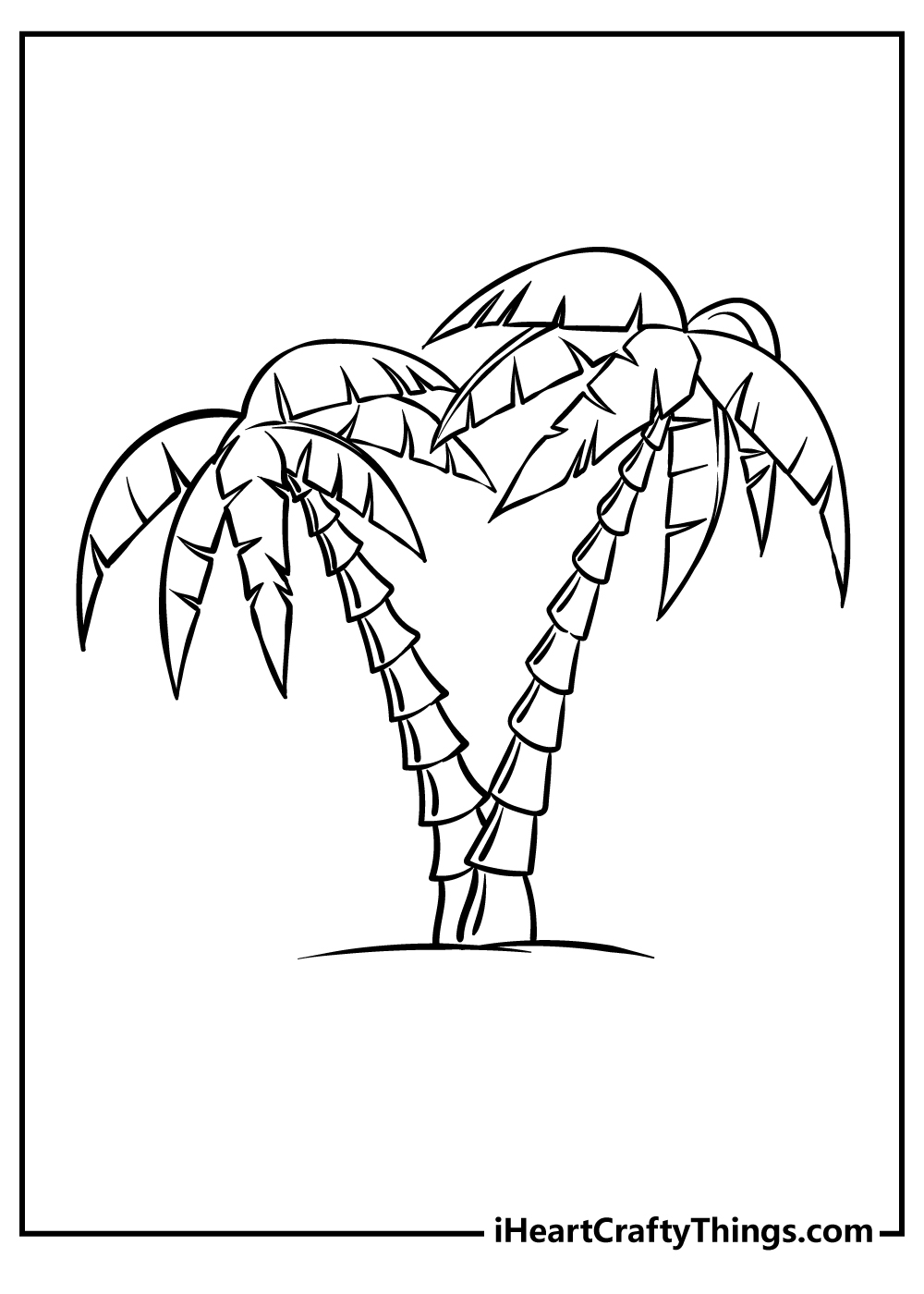 We have a really cool and unique tree featured on this next palm tree coloring sheet! This one is drawn in a completely different style to the previous ones.
A lot of detail has been used for the trunk of this one, and it gives this palm tree a bit more of a stylistic appearance.
For this image, if we were coloring it in we would try to use as many different colors for the segments of the trunk as possible.
That would further emphasize the stylistic look of this tree and make it a colorful feast for the eyes!
Will you go for an idea like this or will you keep the colors more realistic?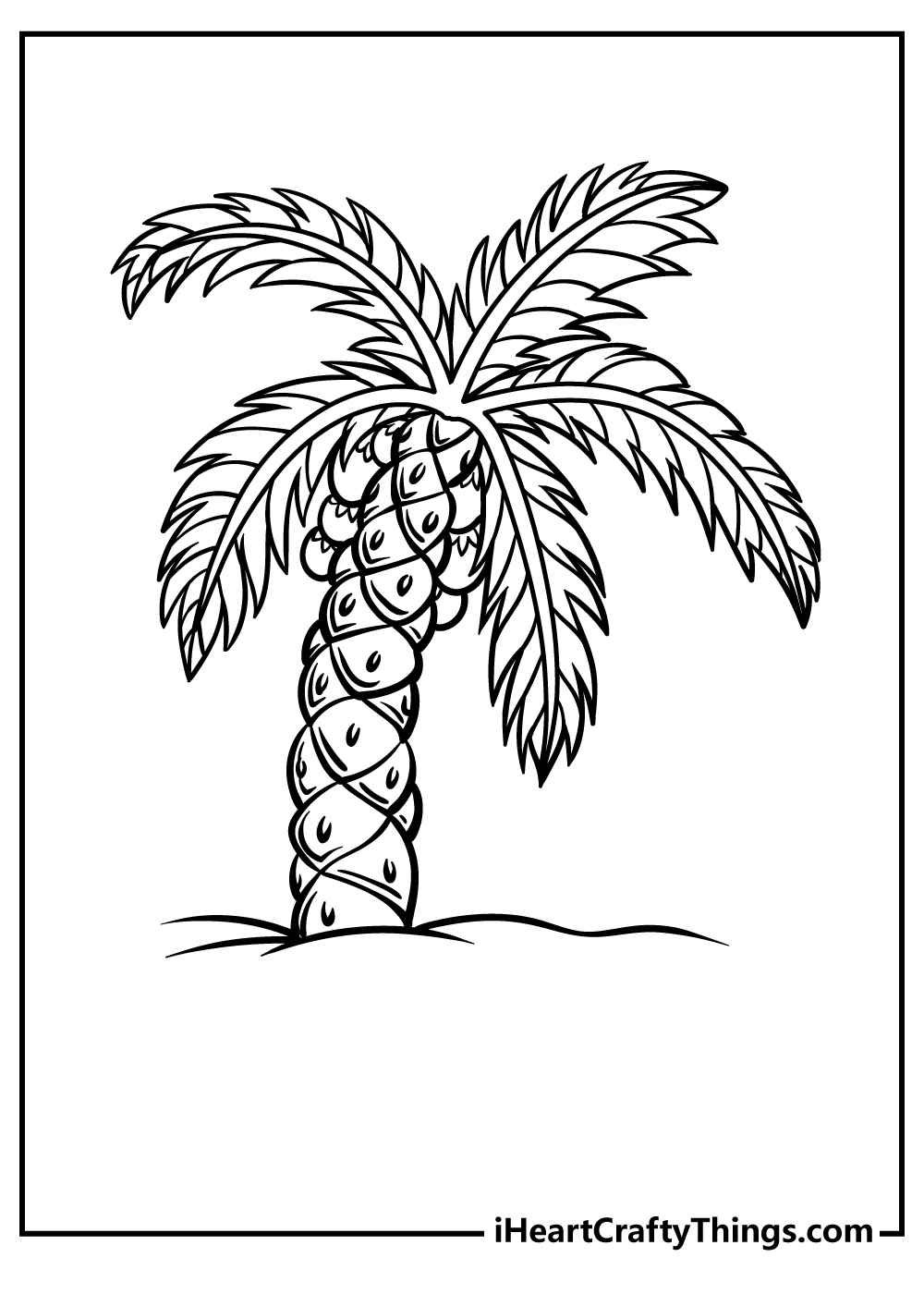 Here's another peaceful palm tree for you to color! This is another tree that you could imagine sitting under with a cold drink to relax with.
Maybe for this one, you could draw some objects you would have with you when relaxing under the tree. These could include a chair, a towel and maybe a radio for some music!
What can you think of that you would like to have under this tree?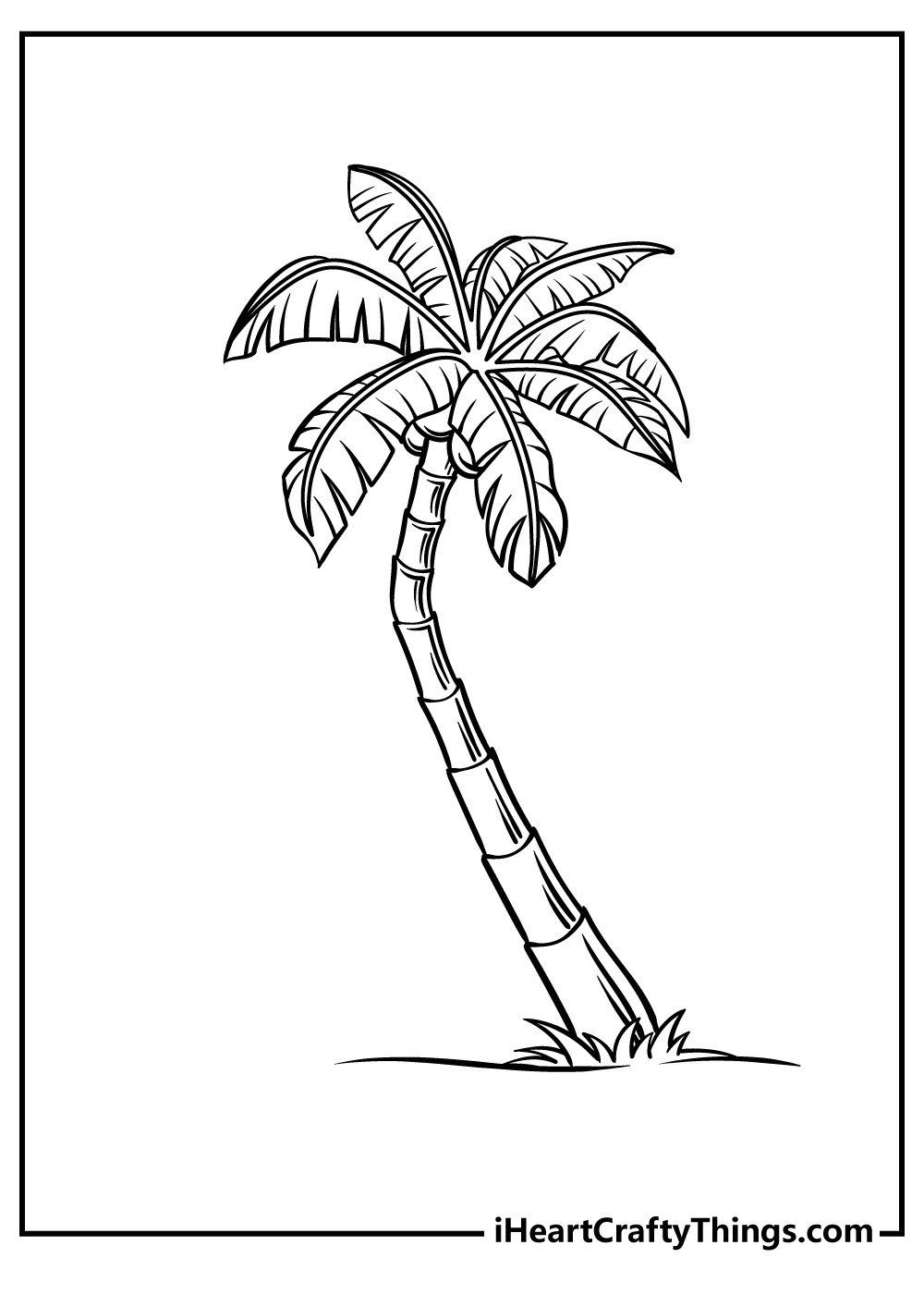 This next palm tree is drawn in a simpler, slightly more cartoony style. Because of the style it is drawn in, we would use some bright, vibrant colors for this one.
You can make the colors even brighter with the right art tools and mediums. If you wanted to go with the bright, vibrant style we suggested, there are a few mediums that would be perfect for the job!
Some examples would be colored pens and markers, but you could also go for some acrylic paints. If you have any of these on hand, will you use them for this one?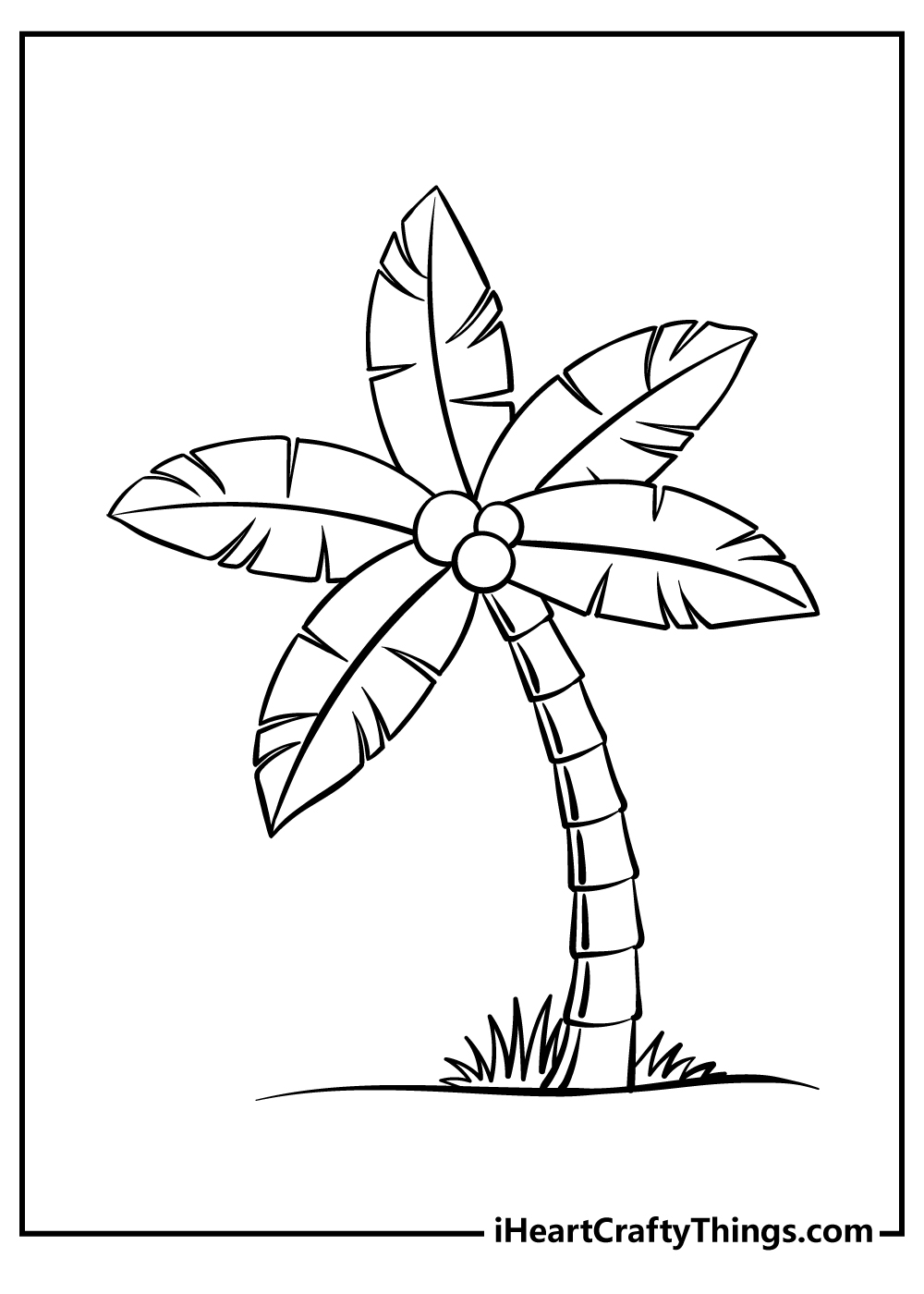 We love the look of the tree on this palm tree coloring printable! This tree also captures that inviting feeling that you get from palm trees, and you can keep that theme going as you color.
Perhaps for this one you could try some watercolor paints.
The soft look of this paint medium helps to create a lovely feeling for a relaxing image, and we think it would be perfect for this one. Do you agree or do you have something else in mind?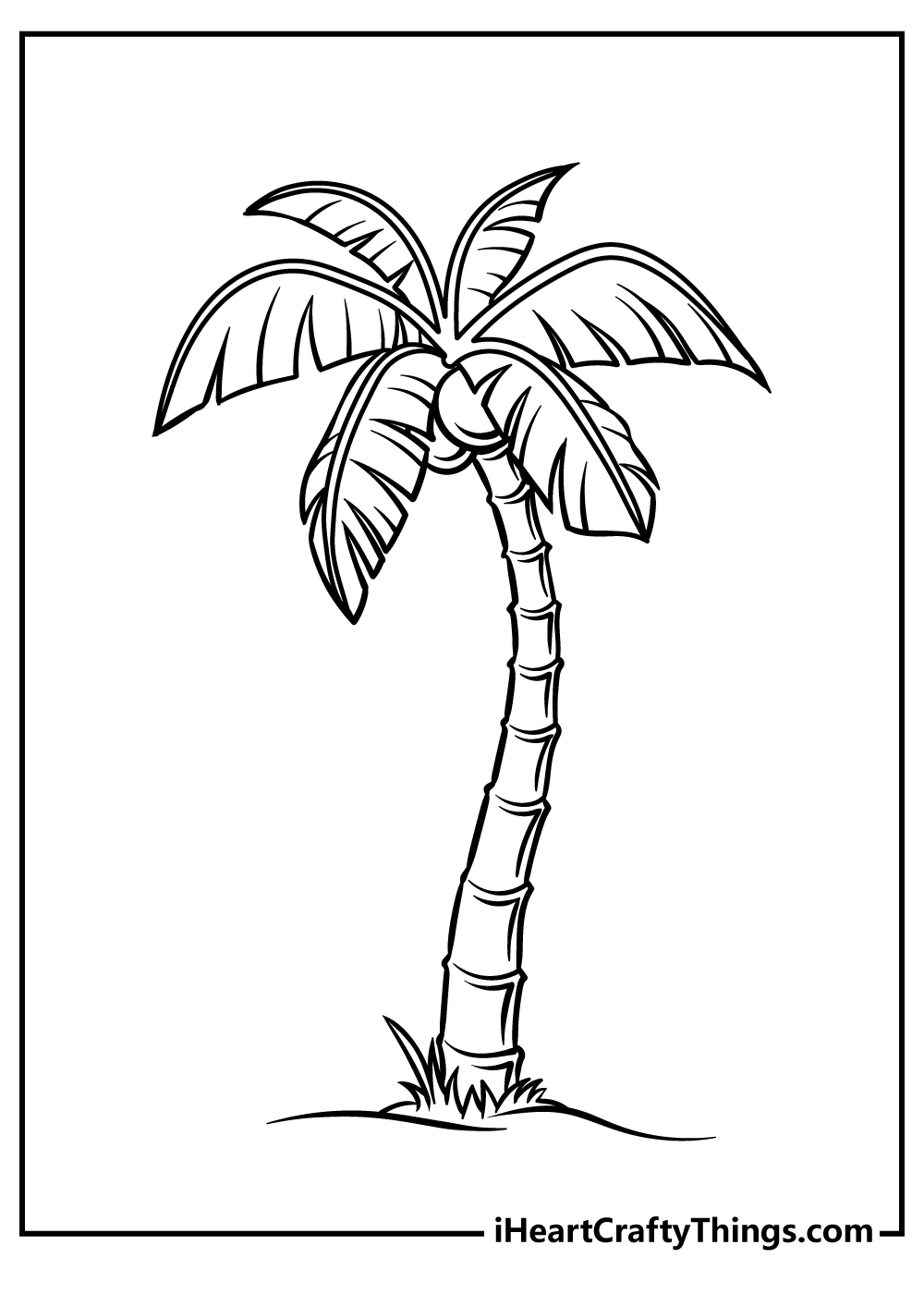 Here's another great palm tree for you to color! This one is also a bit less realistic in its design and has a bit of a quirky style.
It is standing up in some sand, and you could use some gorgeous bright yellows for the sand to contrast the colors of the tree's trunk and leaves. What colors are coming to mind for this one?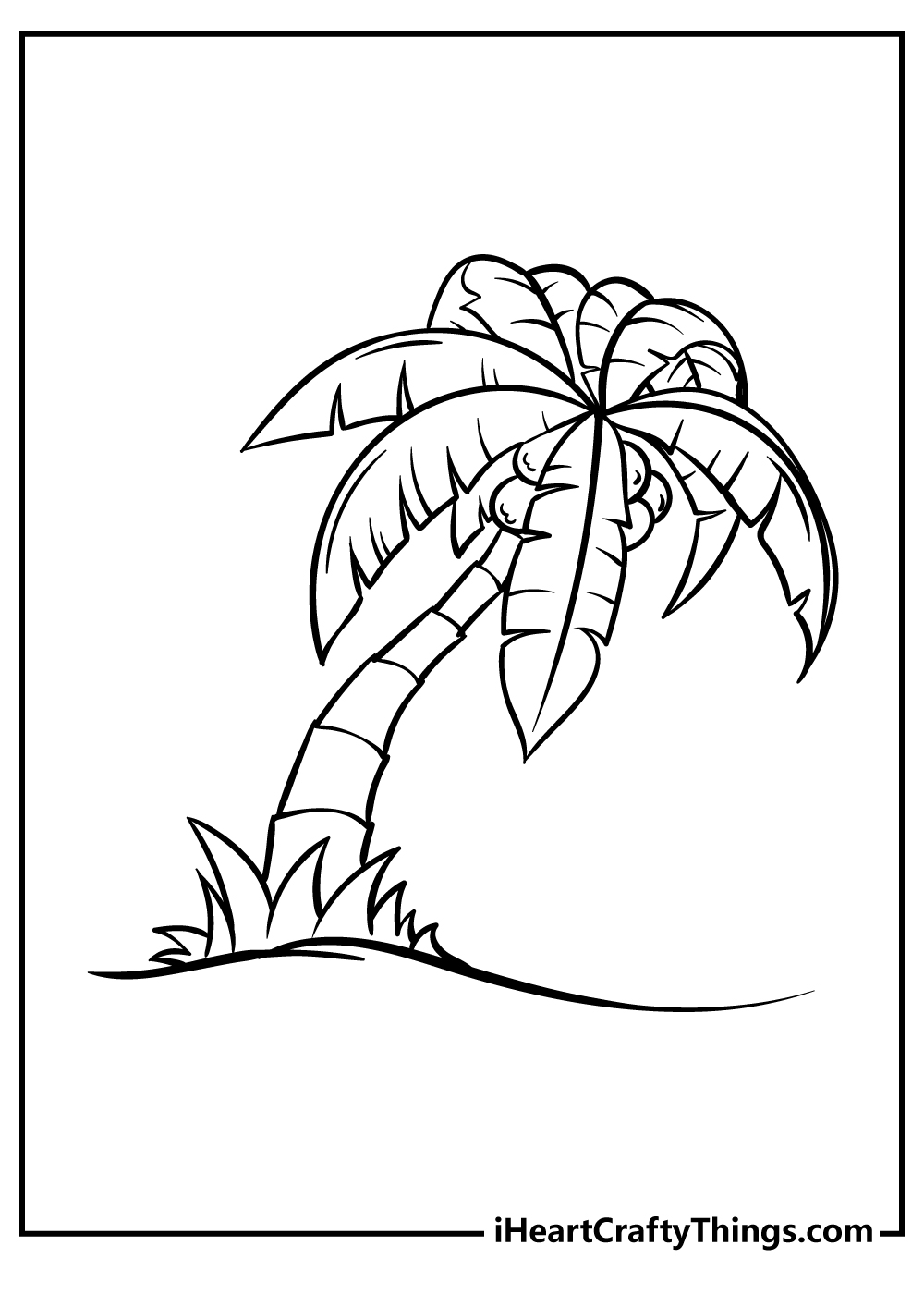 Our second to last palm tree is so tall that we can't even see the base! Because of this, there is a lot of sky in the background.
We would use some beautiful bright blues with some fluffy white clouds in the background for this one, as we think it would make for a beautifully striking picture.
Then, you will be ready for the final page in the collection.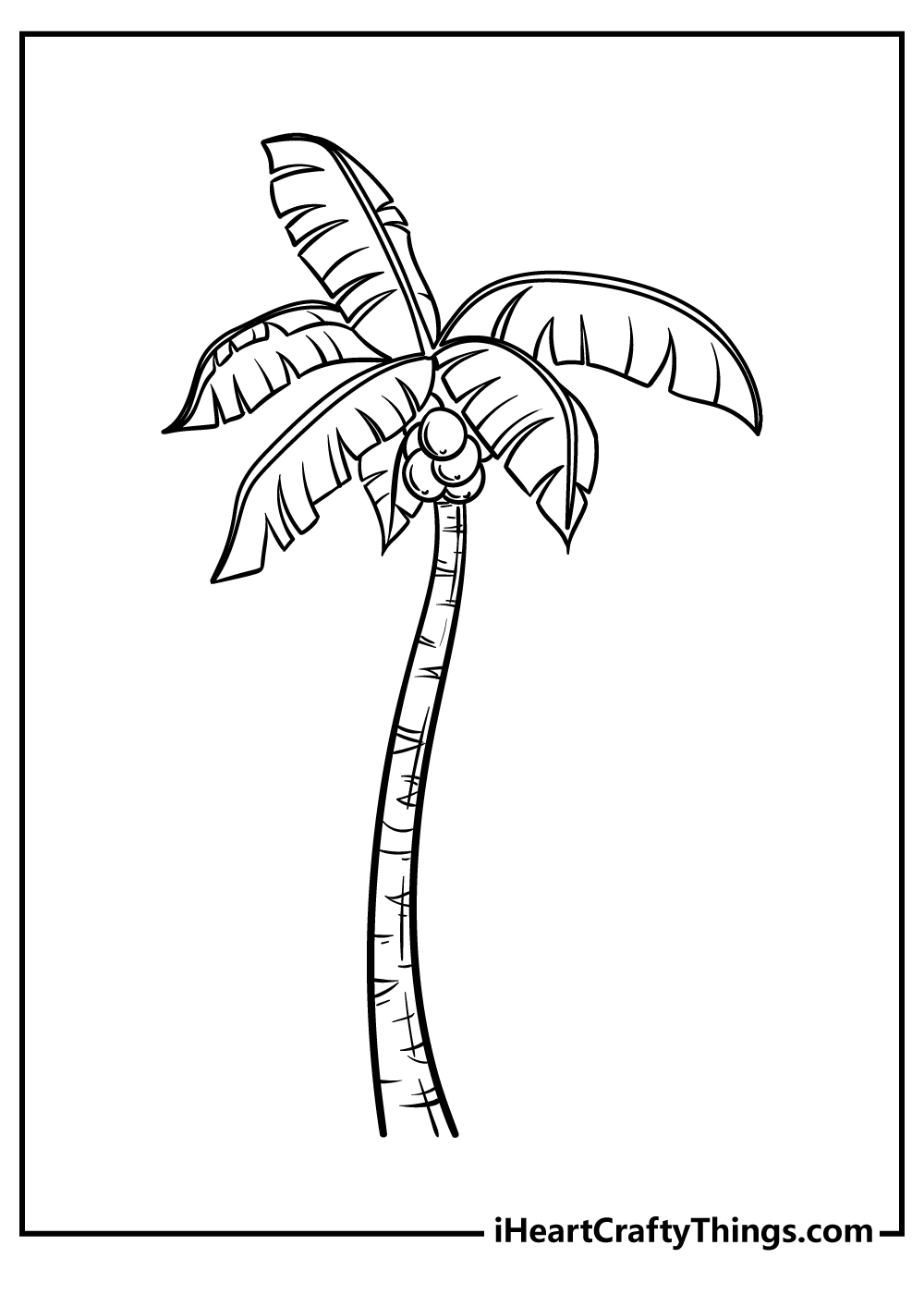 You have reached the final page in this collection of palm tree coloring pages, and in it we have one more stylistic tree for you to color.
This one may be drawn in a cartoony style, but it is full of incredible small details for you to color.
What colors and art mediums will you use to close off this amazing collection?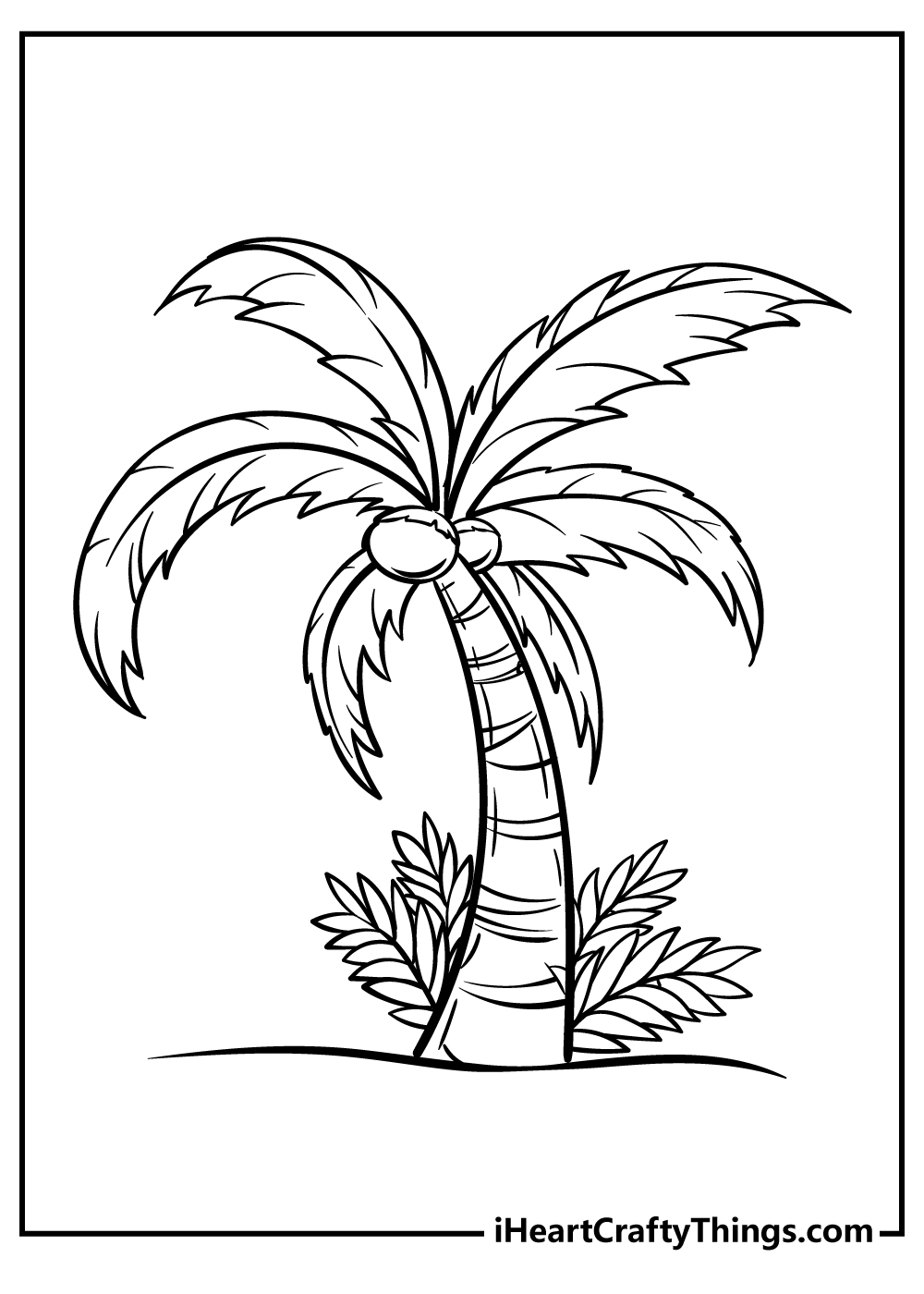 Palm Tree Coloring Pages – Which will you choose?
Hopefully you had a wonderfully relaxing time as you worked on this collection of free palm tree coloring pages for kids!
Throughout these pages, there are so many opportunities for you to experiment with colors, mediums and extra details. We can't wait to see what you choose to do for these pages!
Then, be sure to head on over to our website where we have tons of amazing coloring page collections and other art activities for you to enjoy.
As we mentioned, we would love to see some finished palm tree coloring sheets! You can share some of your favorites on our Facebook and Pinterest pages for us to see.