Basketball, a type of ball game, is a team sport played by two opposing teams consisting of five players each team. The team with the highest number of scores by shooting the ball into the ring wins the game.
The extreme popularity of basketball has created a huge demand for free basketball coloring pages. You've asked for it, so we delivered.
So without further ado, we present to you: 10 brand-new, original basketball coloring sheets that you can enjoy with friends and family.
There are lots of basketball teams, and each of them have their own signature basketball jersey in different colors.
You can opt to color these images inspired by your favorite basketball teams or use a customized set of colors! Feel free to mix and match colors to your liking! Why not try experimenting with different coloring materials as well?
Allow your imagination to run wild and unleash your creativity!
NBA Coloring Pages — Free to Print and Color
Unless you have recorded all the basketball games, we do not get to see the full and intense action of the NBA every single day.
So what better way to rekindle the intense experience by having your very own NBA coloring page like this! Let's see if you remember all the right colors!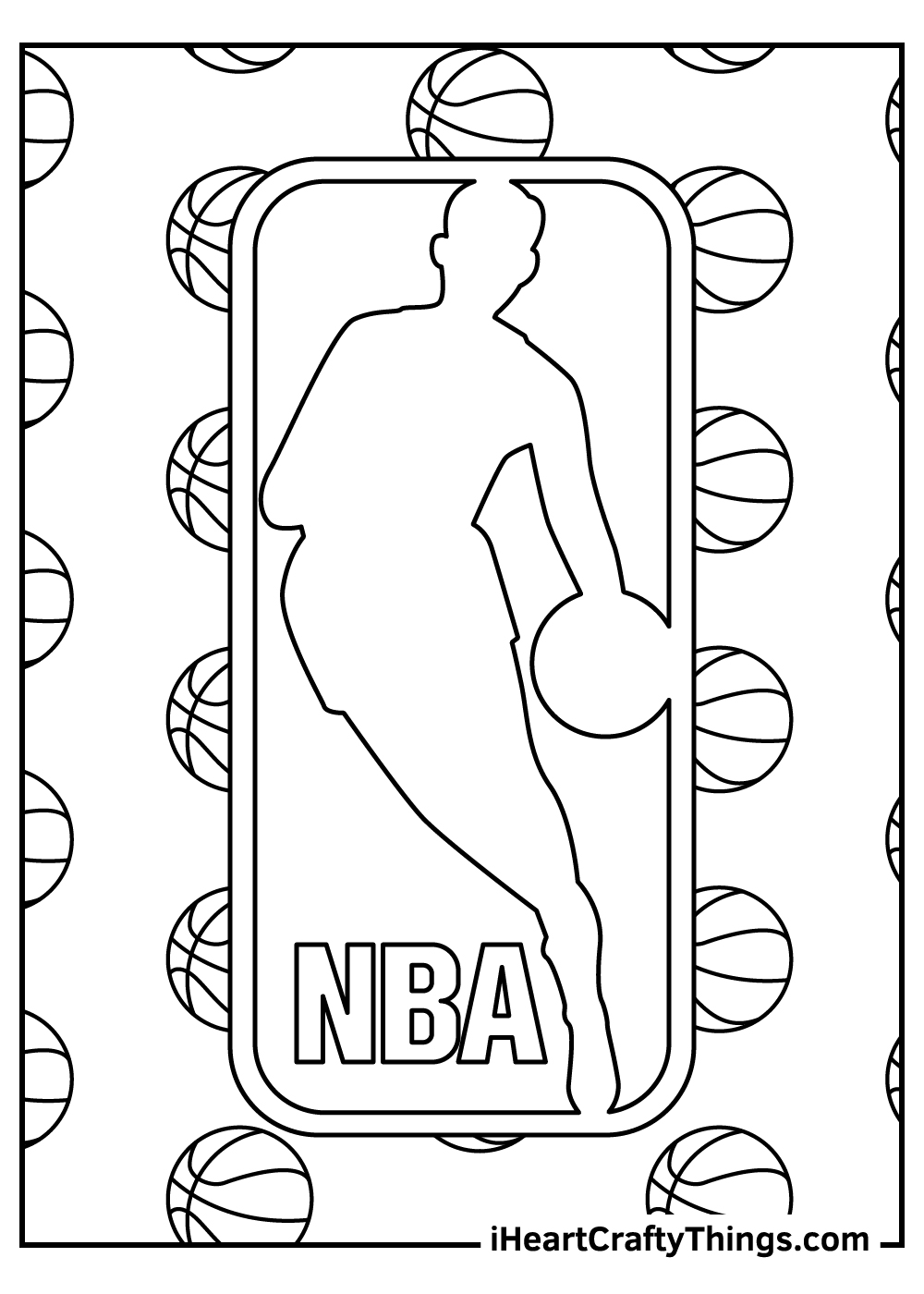 How well do you know this team and the colors of its logo? This NBA coloring page shows the famous basketball team named "The Miami Heat" a Miami, Florida-based American professional basketball team.
The Miami Heat competes in the NBA or National Basketball Association as a member of the league's Eastern Conference Southeast Division. This team has won three NBA championships.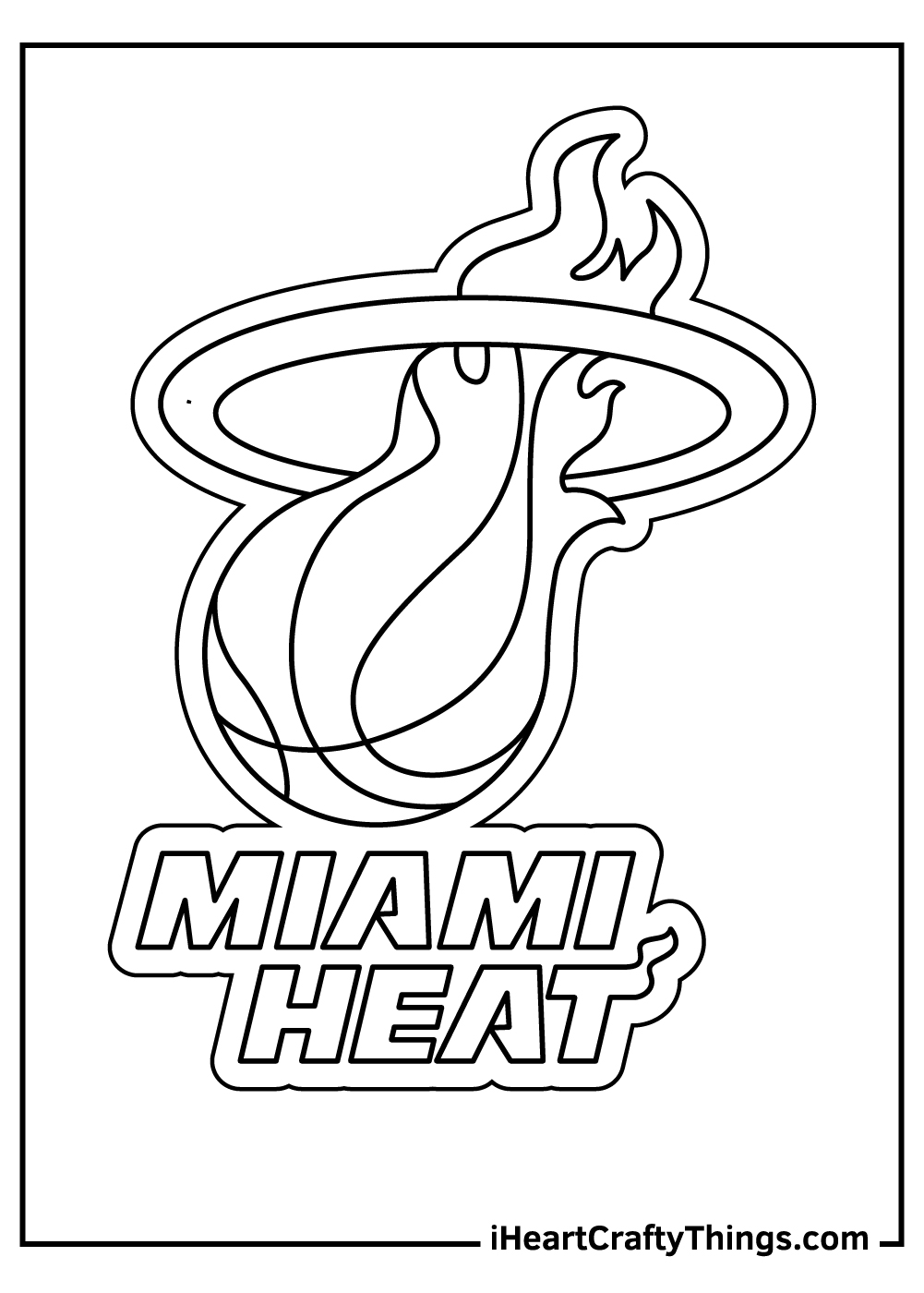 This NBA coloring page shows a guy who seems to be having so much fun doing his signature move: the basketball dunk!
Give this NBA coloring sheet justice by using the right colors and making this dunking guy look more fun and alive! What colors are you planning to use for this fun image?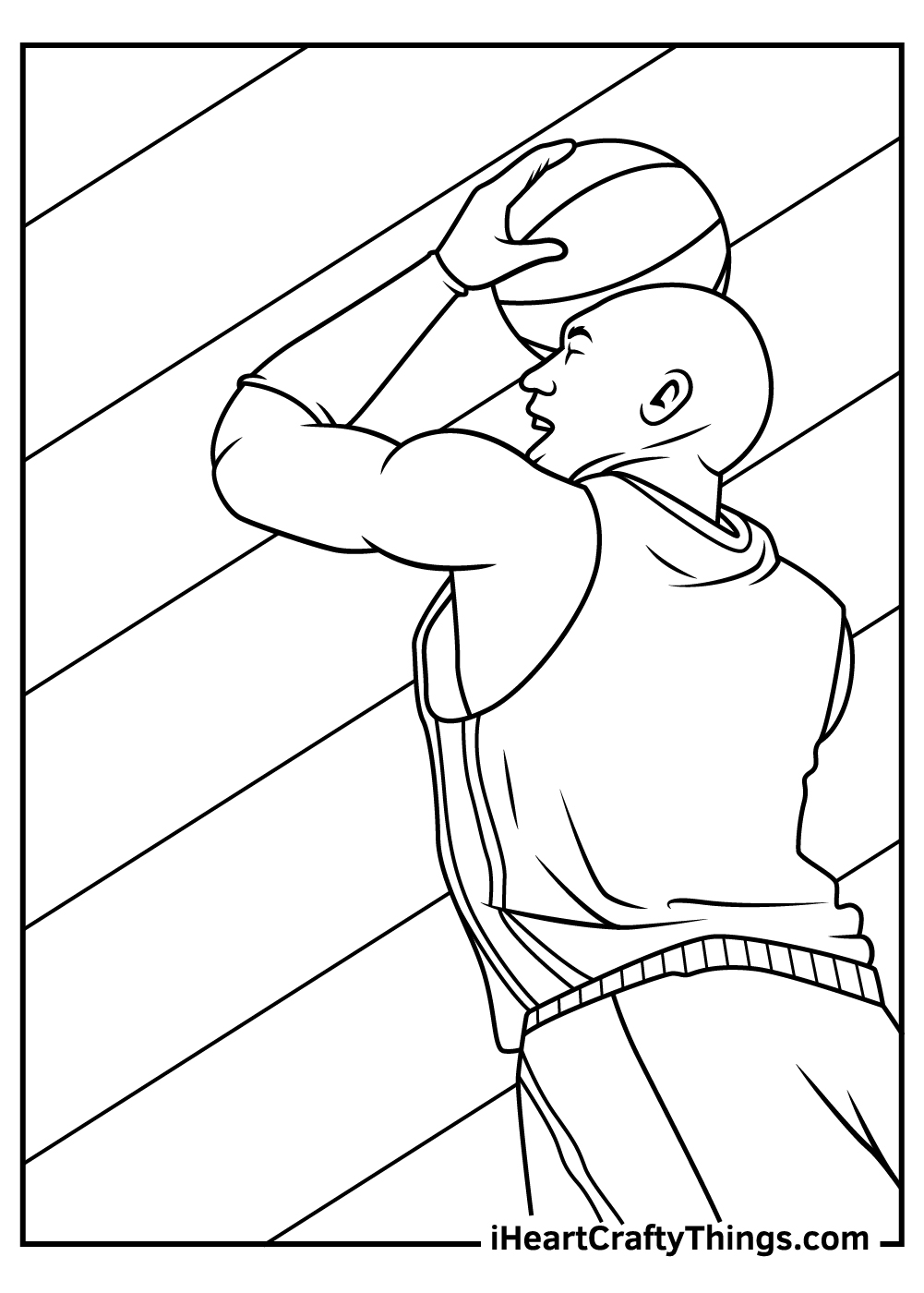 One of the most famous NBA teams ever, especially during the era of Michael Jordan, Shaquille O'Neal, and Kobe Bryant, is the Los Angeles Lakers, as shown in this NBA coloring page.
Not only is this team popular, but they are also a strong contender in the basketball league and won 17 NBA championships (excluding many NBL championships).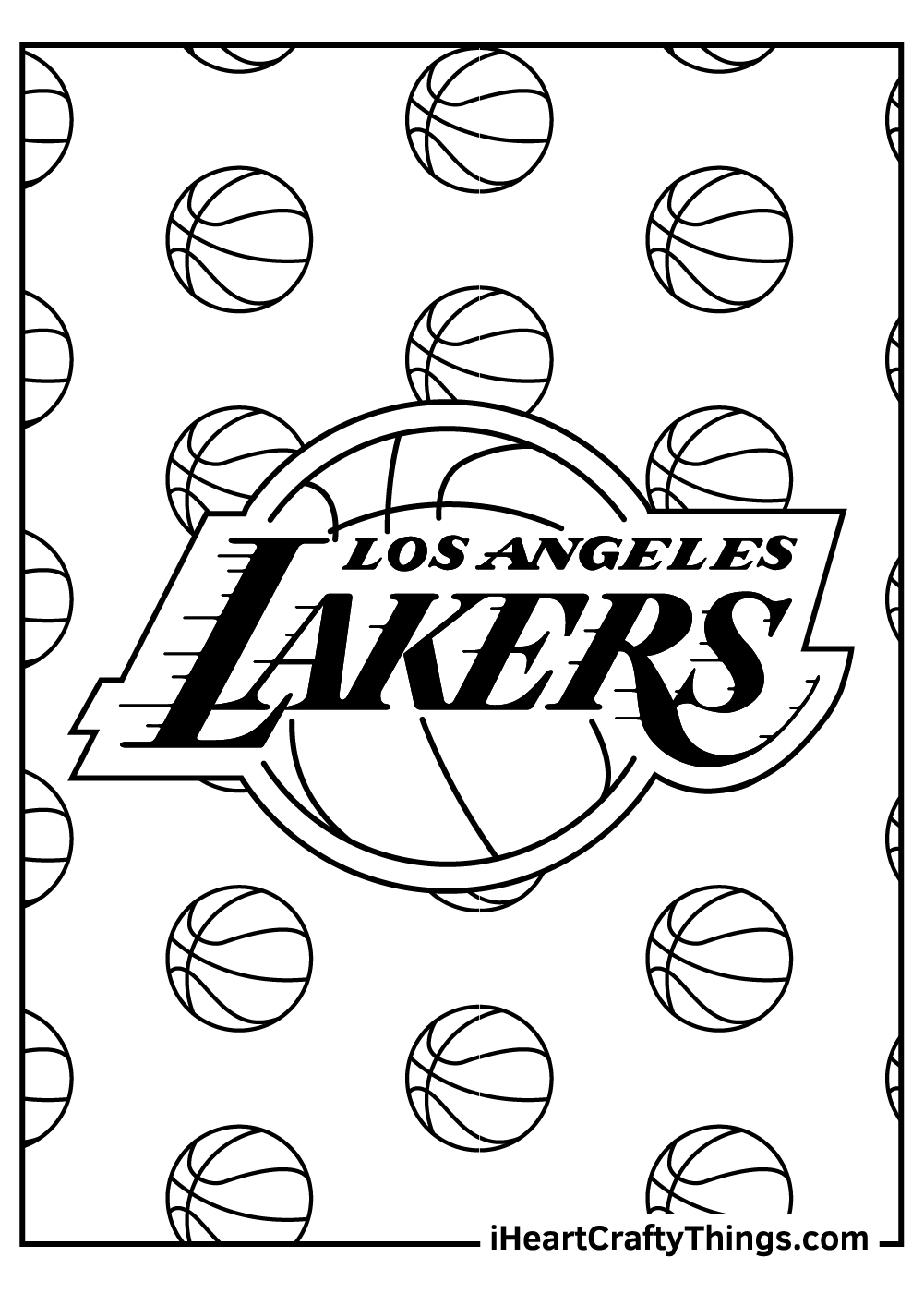 This bearded basketball player, as seen on this NBA coloring page, looks like a veteran athlete that is enjoying and chilling out to the max!
His form, his facial expression, and the way he handles the ball says it all. It is no surprise that he is fully surrounded by a lot of stars, as he must be a star player during his time!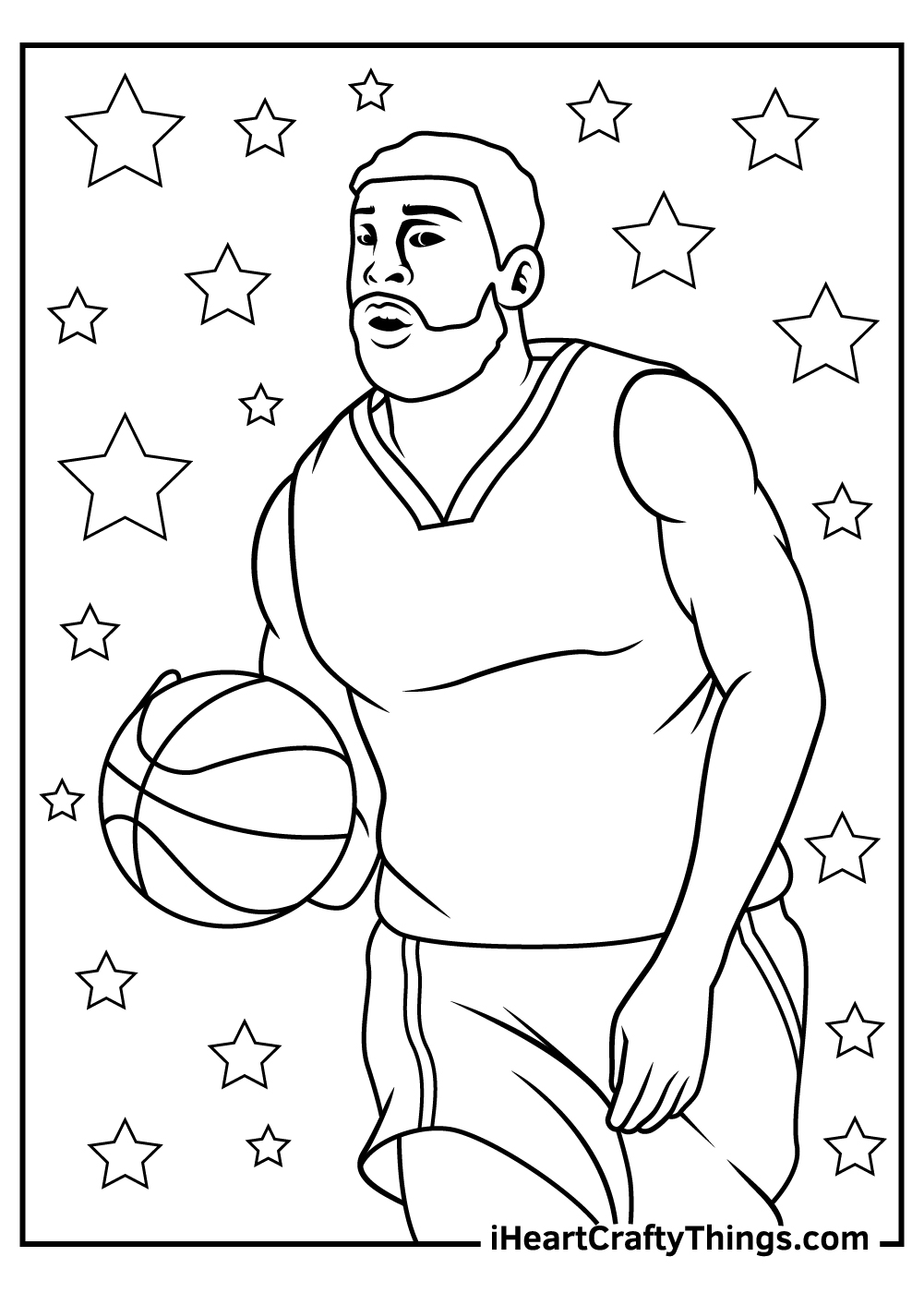 This NBA coloring page shows the renowned basketball team called "The Golden State Warriors". It is a San Francisco, California-based professional basketball team and is a member of the NBA's Western Conference Pacific Division.
Originally founded in 1946 in Philadelphia, the Warriors moved to the San Francisco Bay Area in 1962 and then took the city's name. GSW won 6 total championships.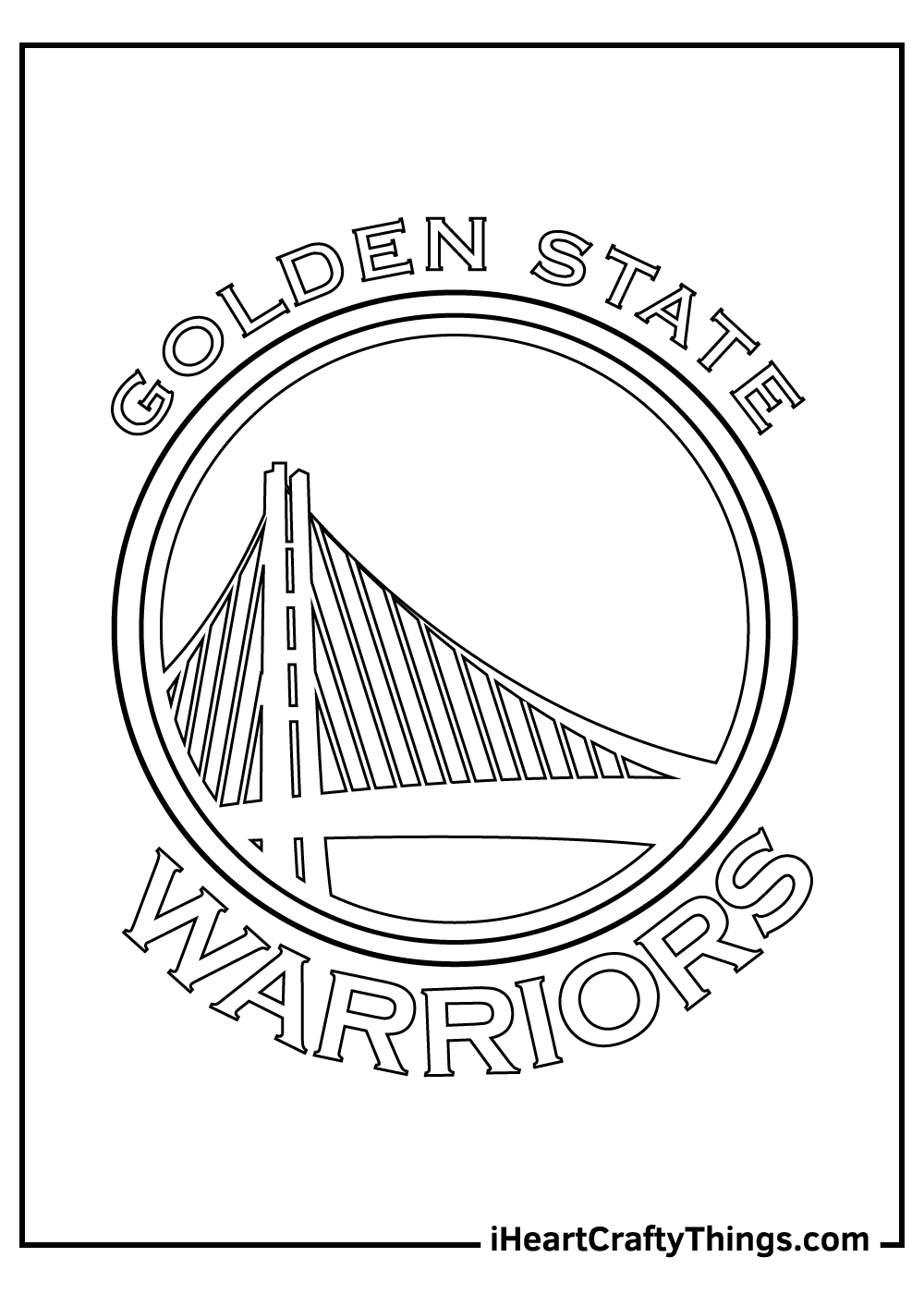 The basketball player shown in this NBA coloring page seems to look like a tall center looking at his teammate. He is dribbling the ball and looking for the right timing to pass it on to a team member.
What color or colors will you add to this printable sheet?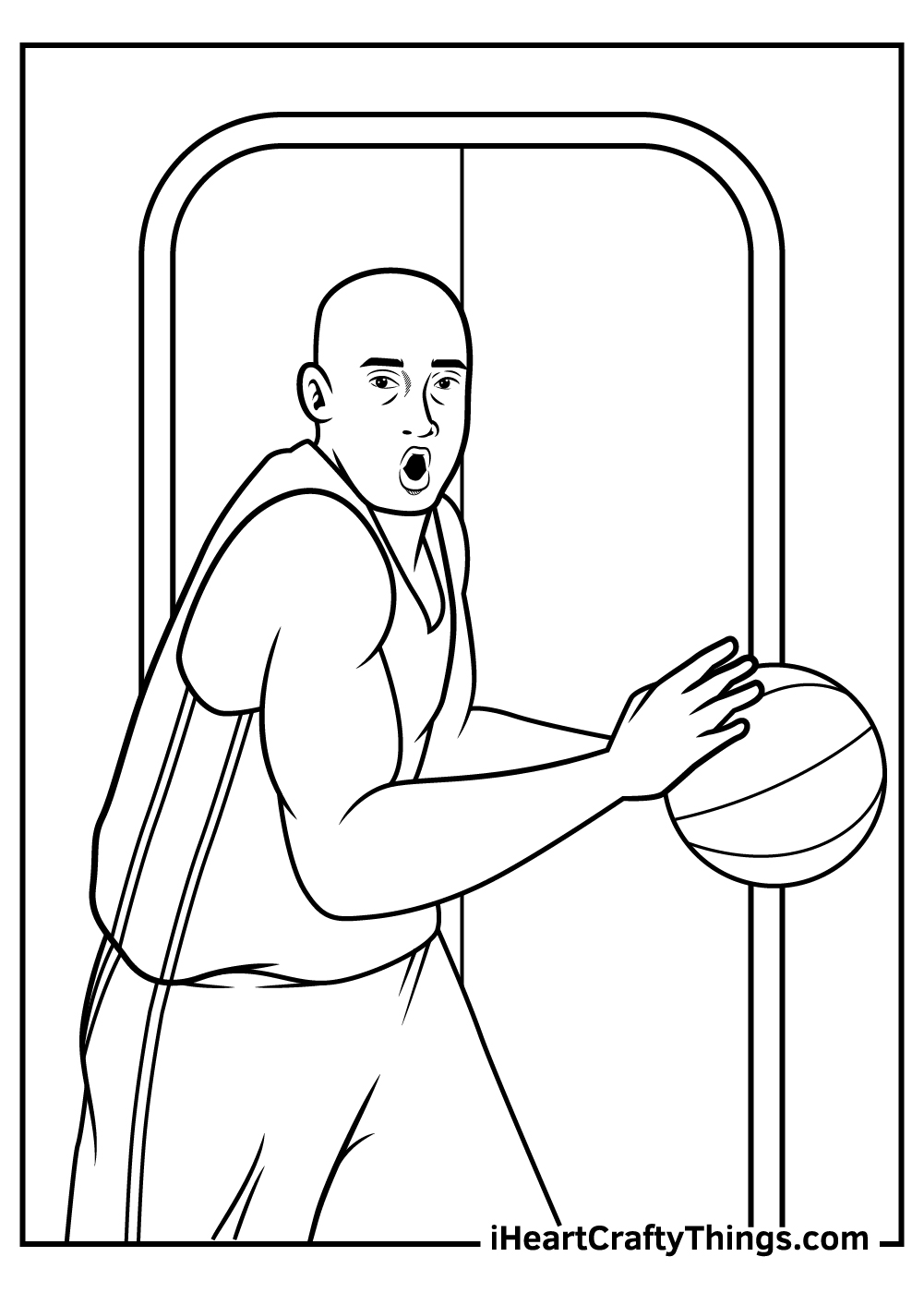 This NBA coloring page shows the team called "The Cleveland Cavaliers", often called the "Cavs" for short. They are a member of the NBA league's Eastern Conference Central Division.
The team started as an expansion team in 1970, along with the Portland Trail Blazers and Buffalo Braves. The Cavs became popular when LeBron James joined the team. In total, the Cavs have won one NBA championship, 5 conference titles, and 7 division titles.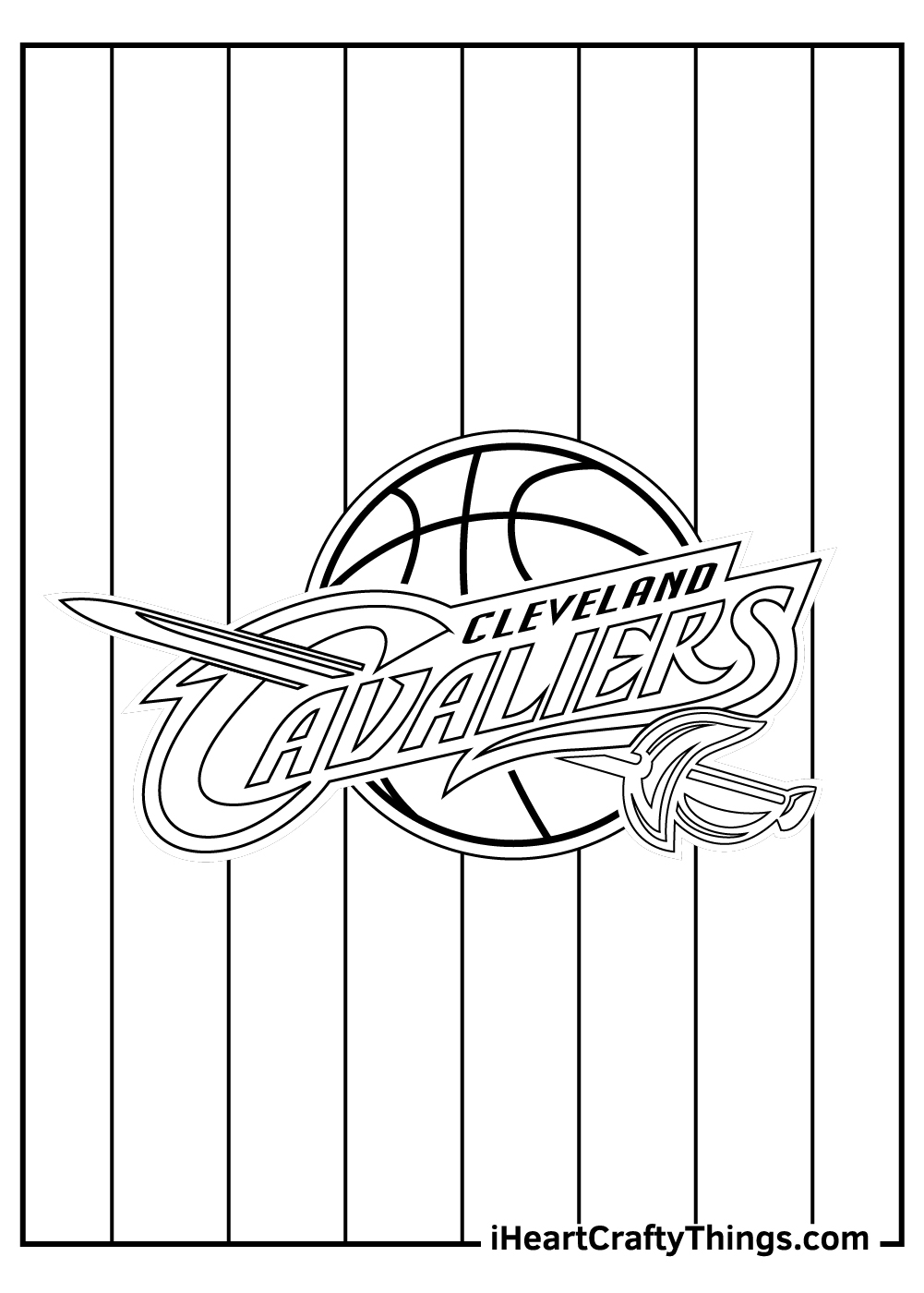 This NBA coloring page is a great way to experiment with all your favorite colors. Why not try the usual NBA logo colors in some of these and mix it up with unusual, flashy colors in many of the other logos? We're sure you'll have a blast at this!
We imagine this image would make an awesome decoration to be hanged on the wall once it's colored and framed. In which part of your house do you think this would look best?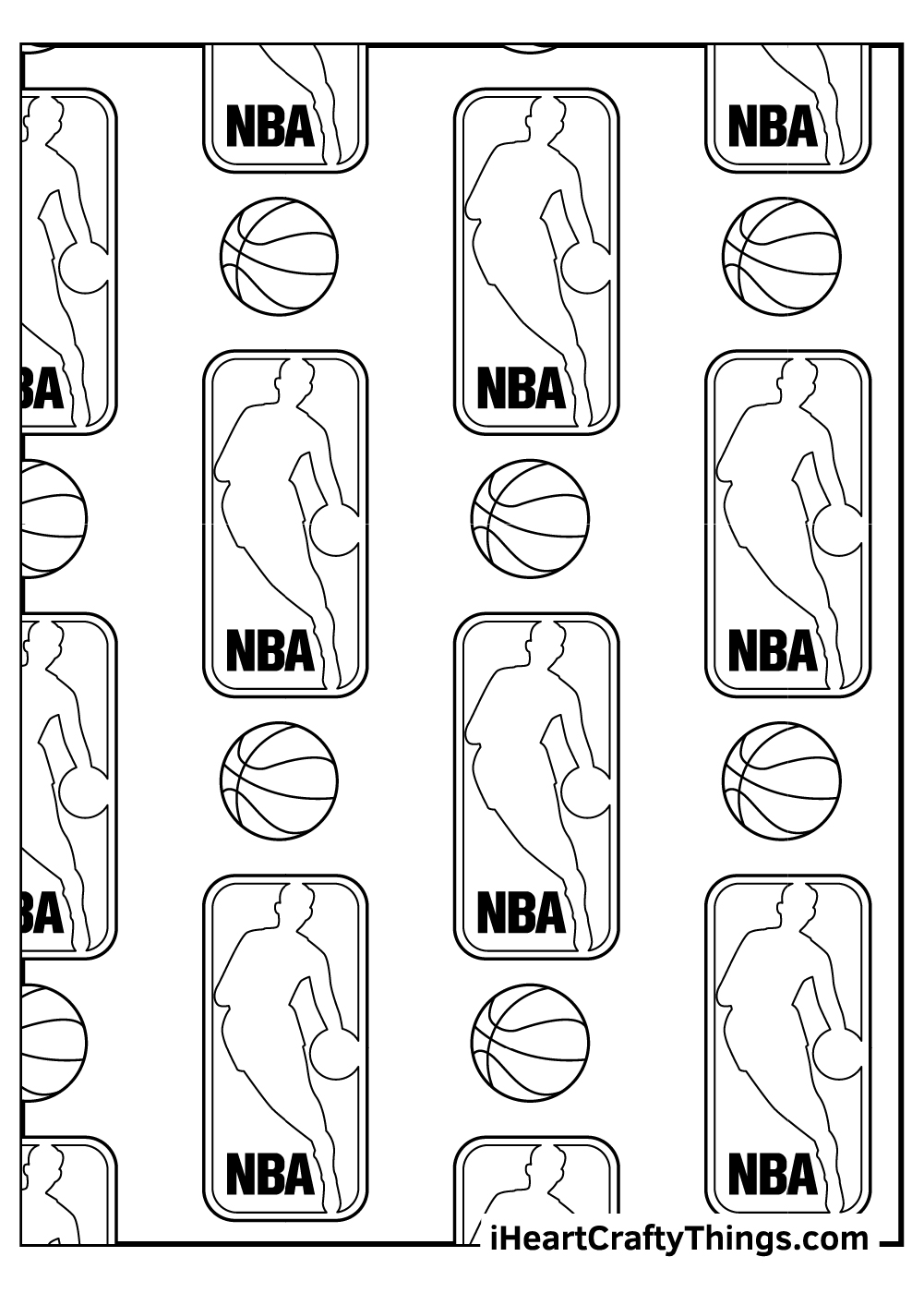 The shooting guard with the legendary nickname "Black Mamba", Kobe Bryant is one of the most famous and greatest NBA basketball players of all time, as shown in this NBA coloring page.
Among his many achievements, Bryant helped the Lakers clinch five NBA championships, and was an 18-time All-Star, a 15-time member of the All-NBA Team, and a 12-time member of the All-Defensive Team.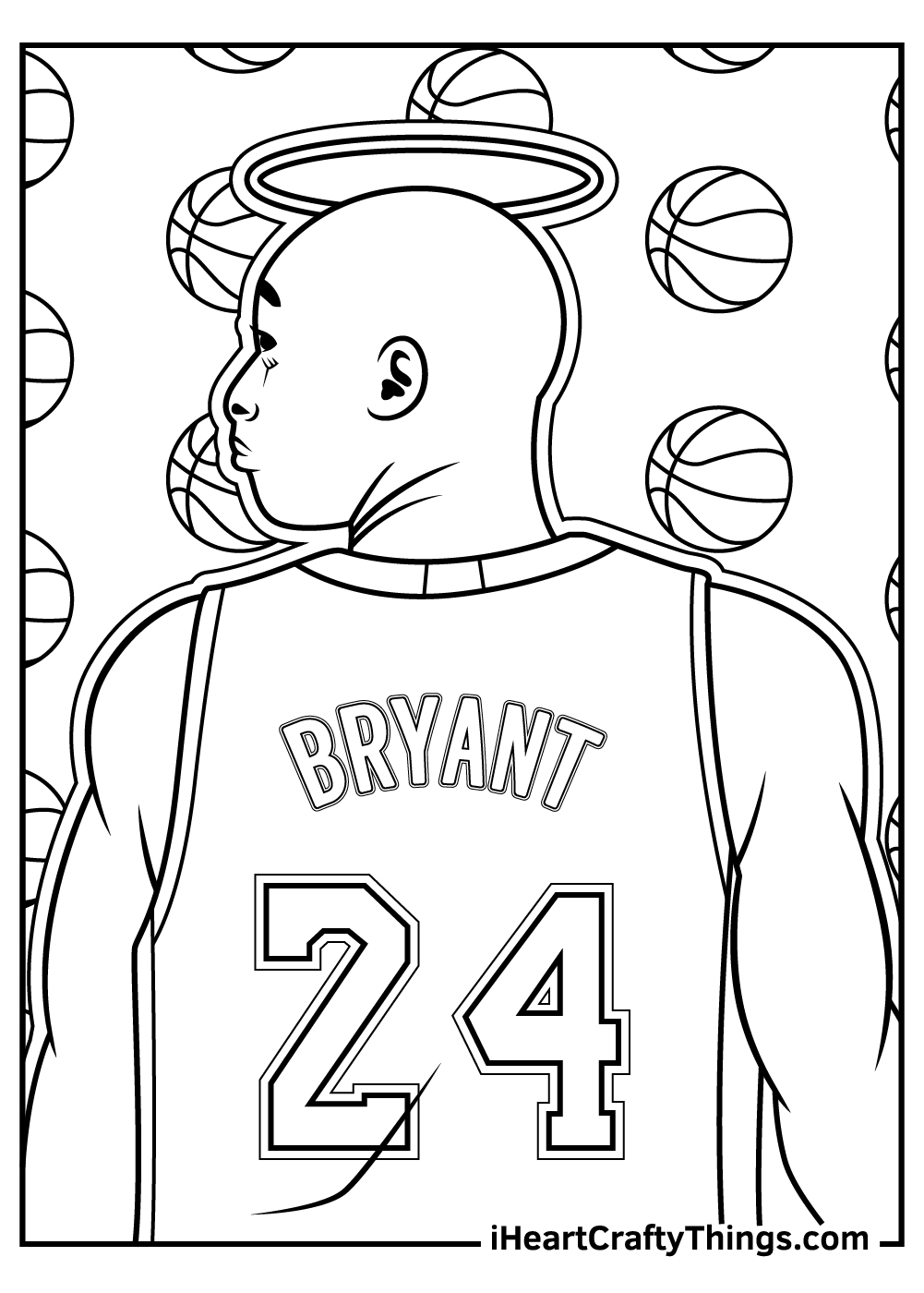 NBA Coloring Pages — Which NBA team are you rooting for?
We hope you enjoy these basketball coloring pages. It consists of simple and intricate illustrations of basketball players and basketball equipment. Coloring these basketball coloring sheets is the perfect activity for kids of all ages who play basketball or who love sports in general.
Remember, all of our crafts and coloring printables are 100% free for you to download, print, and color. We are always updating our catalog and uploading new content to our catalog. So, don't forget to keep re-visiting our website to continuously enjoy all-new coloring pages.
Once you've finished coloring your basketball coloring printables, you must be very proud of yourself for completing a masterpiece—as you should be! Make sure to show off your work of art and share it on our Facebook page. We're sure it looks amazing!
We can't wait to see all of your colorful basketball artworks!