There are so many kinds of musical styles and instruments for us to enjoy, and everyone has a favorite kind! Music is something that anyone can enjoy and can be something to help people get together or show their individuality.
Representing music can be done with a multitude of different colors and styles, and you'll get to have fun exploring these possibilities with these free music coloring page printables for kids!
Different types of music can be very distinct from one another, and you can represent that with vibrant colors and mediums.
Whether you want to jam to some rock music or relax with some smooth jazz, these free coloring pages will help you get into the musical mood.
When you finish coloring in your favorite music coloring pages be sure to share them on our Facebook page so we can enjoy your colorful musical adventures along with you!
REMEMBER: You can get the COMPLETE set of these coloring pages >> HERE
10 Brand New Music Coloring Pages – Free to Print and Color
For this first in our series of free music coloring page printables, we have some music notes and a section of a piano. The piano can be used with pretty much any type of music from rock to classical music and anything in between.
I think for such a varied instrument it would be great to use as many vibrant colors as you can in this coloring sheet to show off the versatility of this instrument.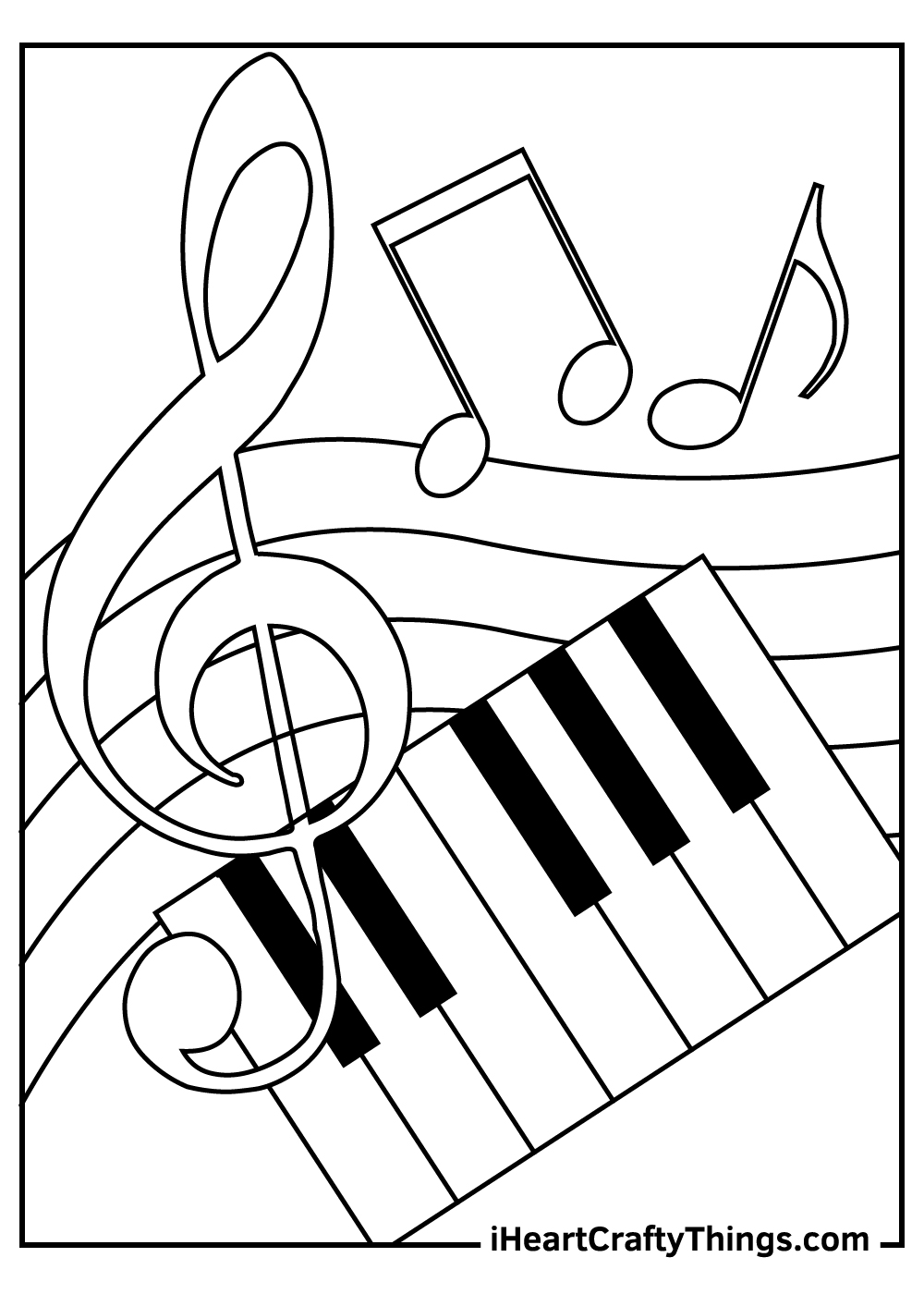 We have a very jazzy page for this next coloring page with a saxophone and some music notes floating around it. Jazz is a very warm and vibrant genre which often deals with rich rhythms and sad words, so maybe for this coloring sheet you could use some deep blues and purples to create a jazzy mood.
How will you show off the groovy jazz feeling using your colors in this coloring sheet?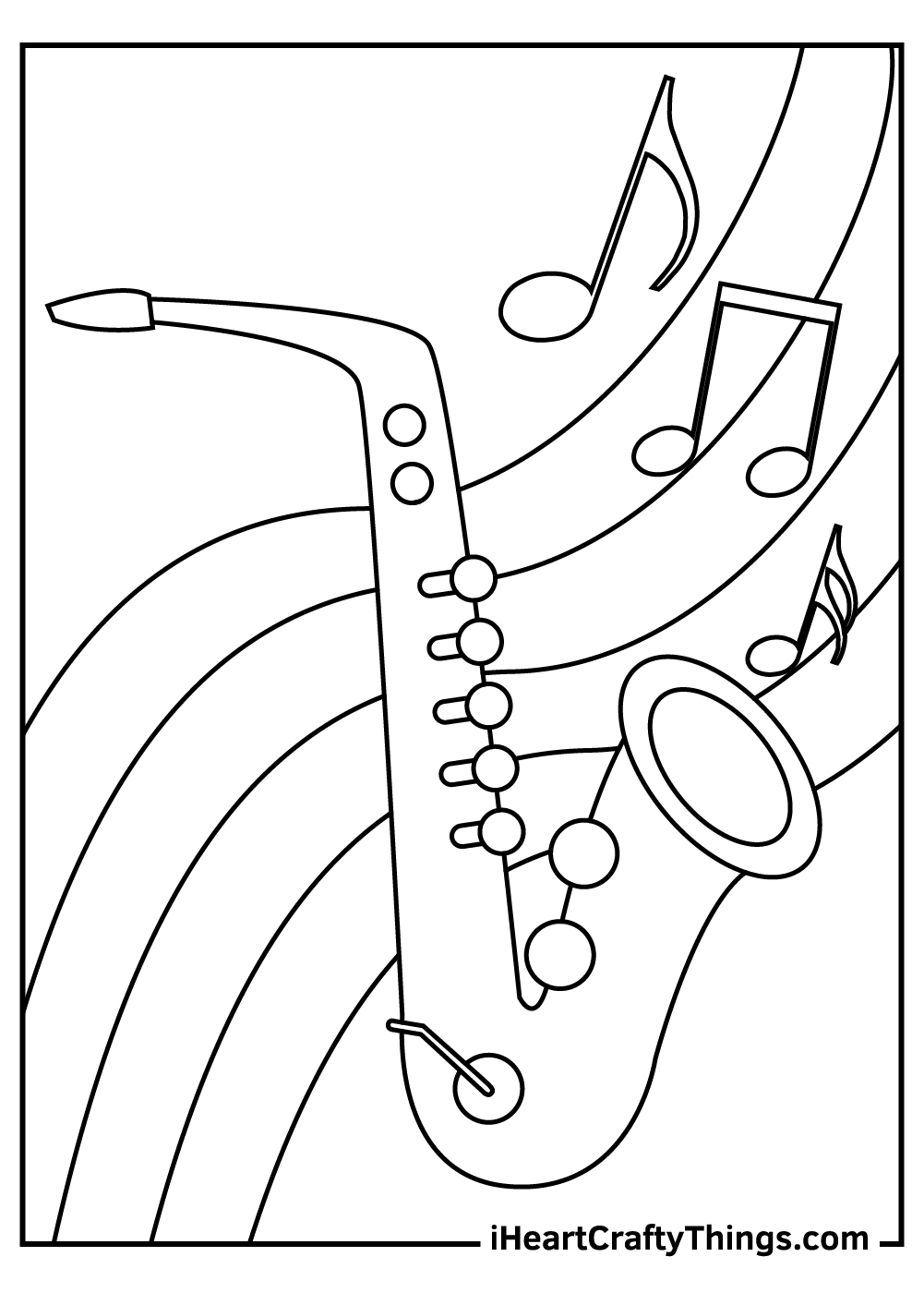 It's time to rock on for this next coloring page! There's an electric guitar featured on this one, and maybe it's being used to play some cool riffs that make you shake your head!
Rock music is often loud and exciting, so maybe you could match that with loud and exciting colors; maybe some vivid reds, yellows and orange would help bring this rocking page to life.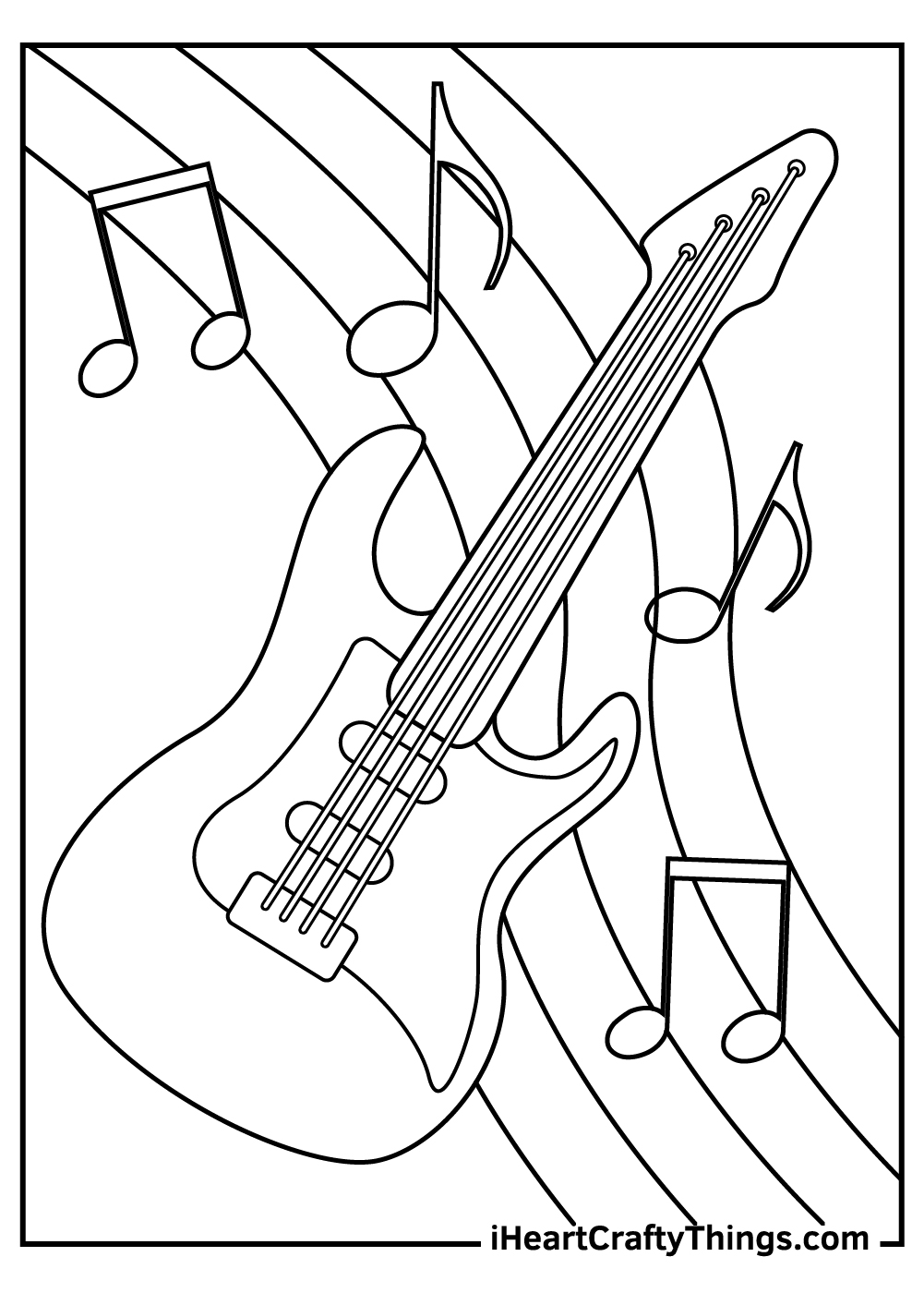 We're going old school for this free music coloring page. We have some records spinning with some microphones, so there's a really vintage feeling for this sheet. Records aren't used very much these days, so if you've never seen one ask your parents and I'm sure they'll know all about it!
For this image I'd suggest rich yellows and gold colors to represent this rich golden age of big bands and swingers.
REMEMBER: You can get the COMPLETE set of these coloring pages >> HERE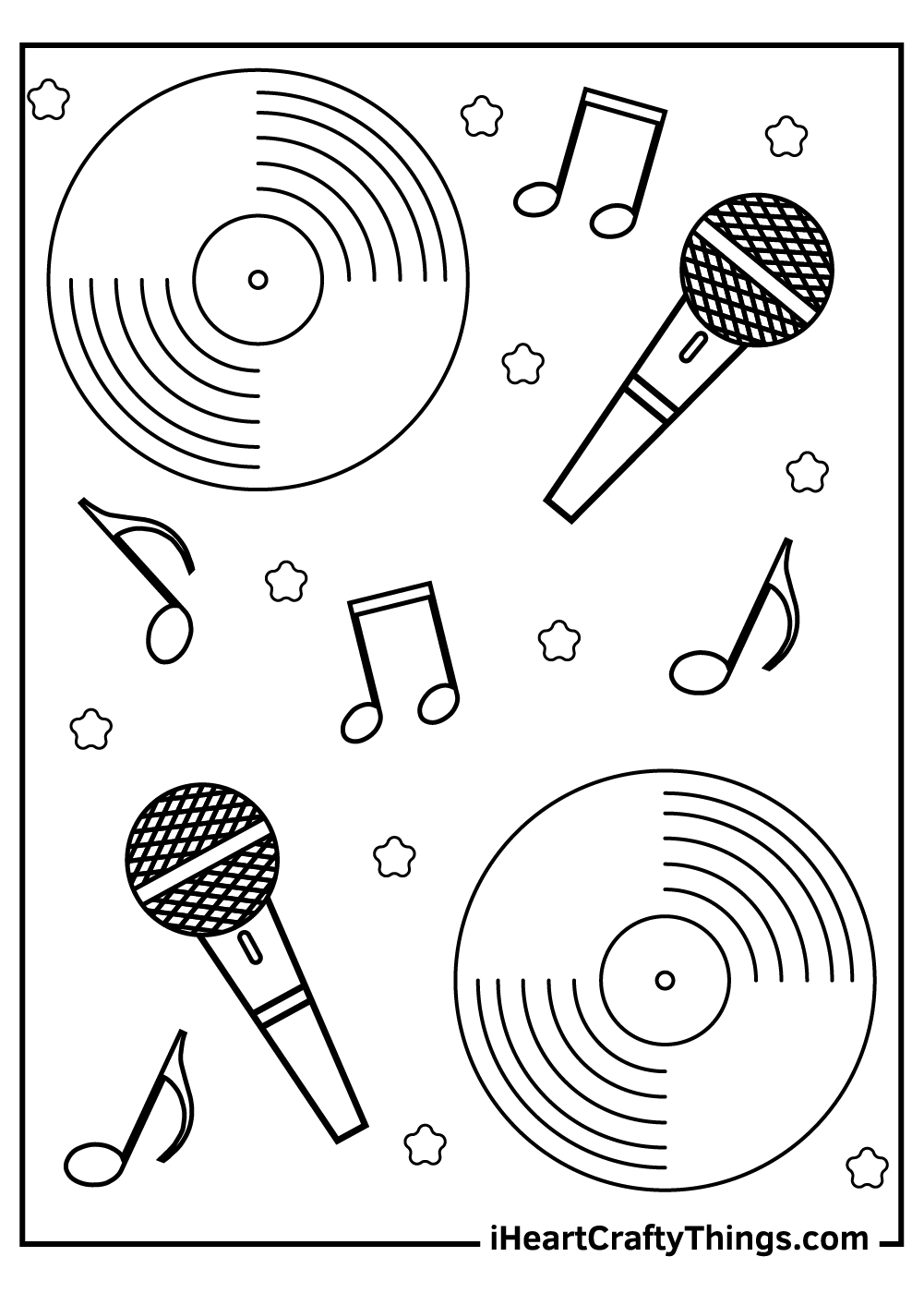 Your inner music star can come out as you color in this printable. Try to think of your favorite song or singer and think of what color best represents it and try to feature that most prominently for this coloring page.
Maybe you can sing the song as you color!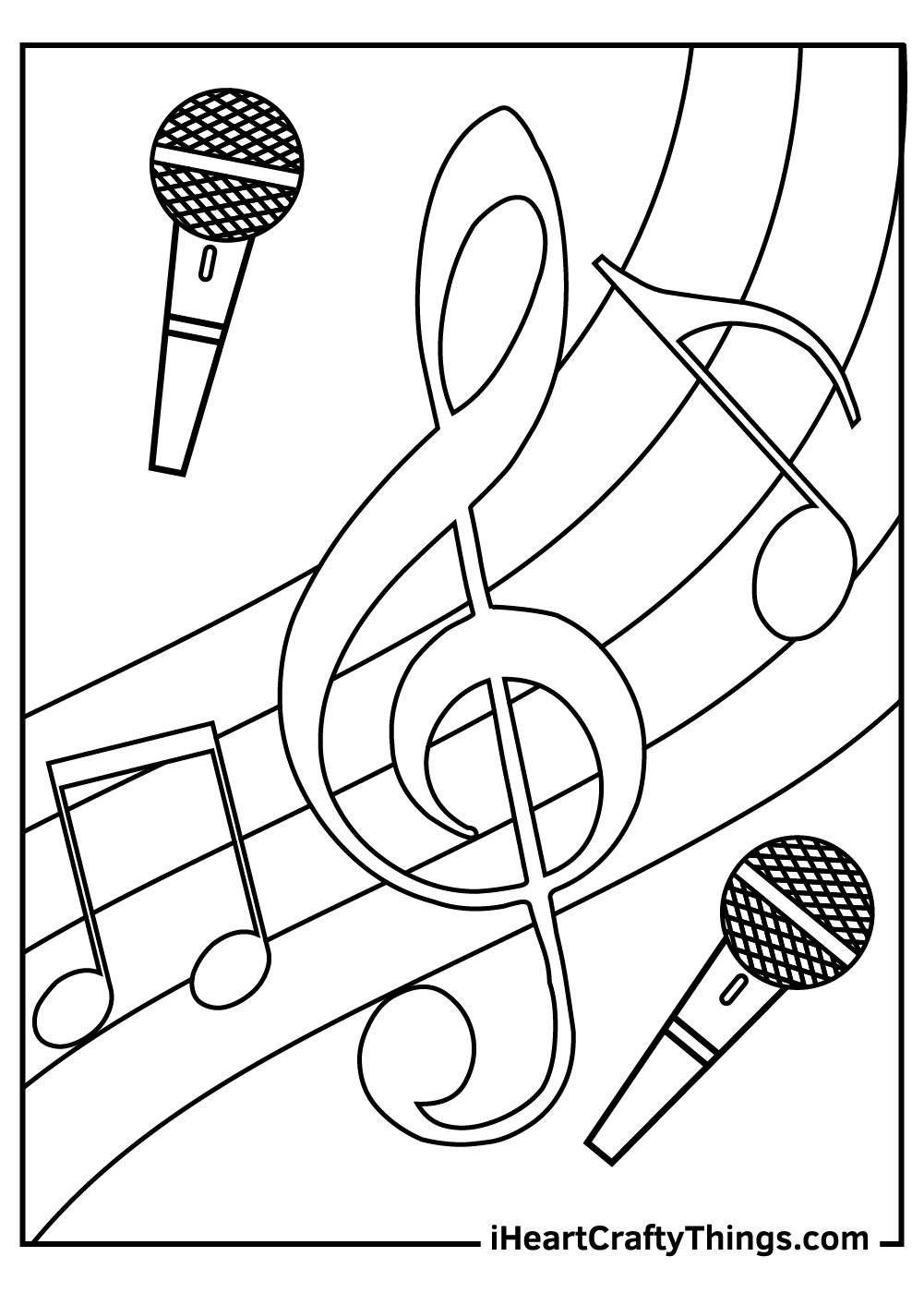 What kind of music do you think is coming out of the speaker in this coloring page?
You could show the loud music coming out with different colored lines and squiggles coming out of the speakers, and maybe add some colored shapes and marks to further suggest some rocking tunes pumping out of these speakers.
REMEMBER: You can get the COMPLETE set of these coloring pages >> HERE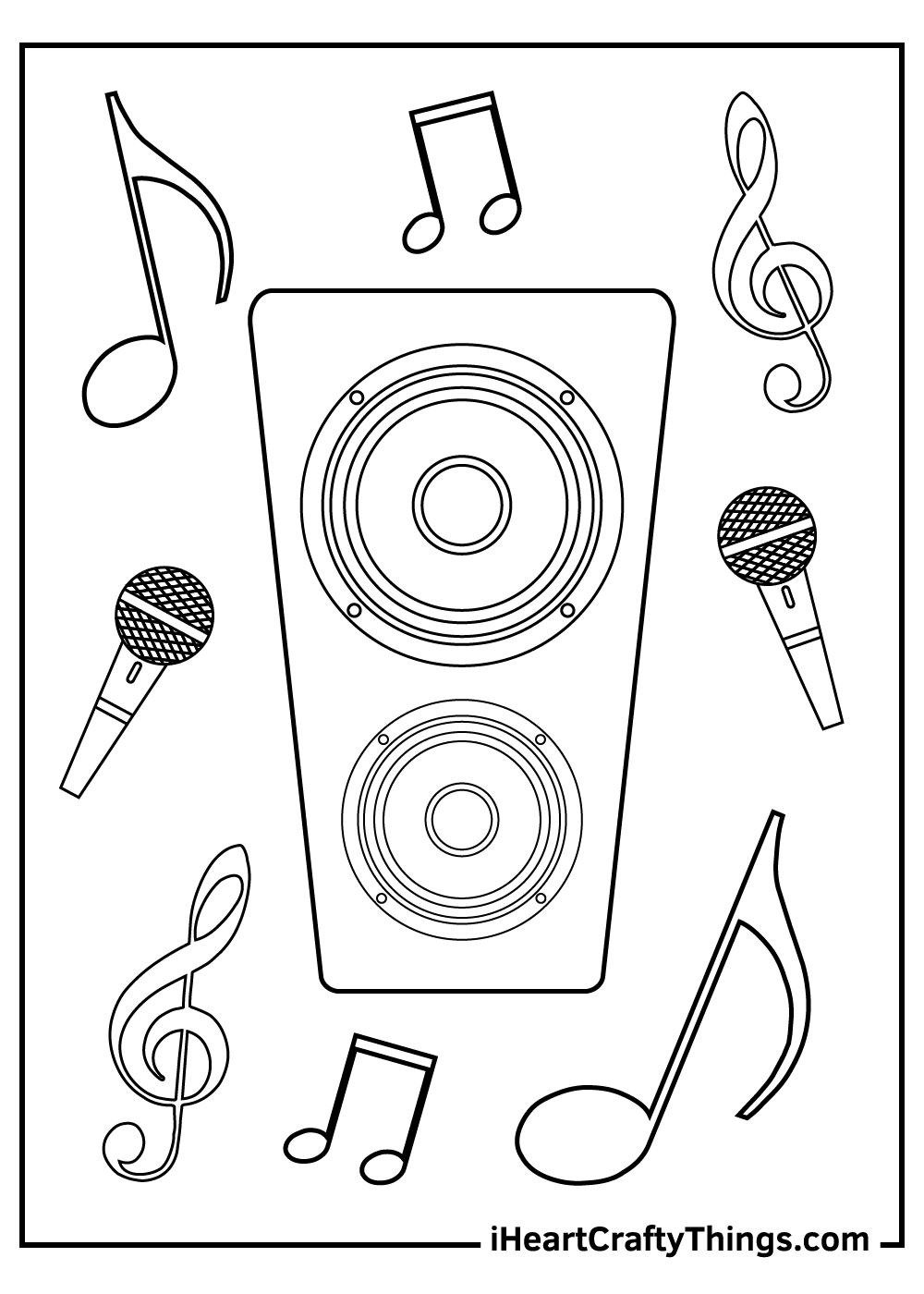 Get moving and shaking with these maracas in this coloring sheet. Maracas are used as a rhythm instrument in many countries, and they're often brightly decorated and colored to compliment the lively music they're usually playing with.
For these maracas try to pick the brightest colors of your pencils, paints or crayons and make them explode with beautiful colors!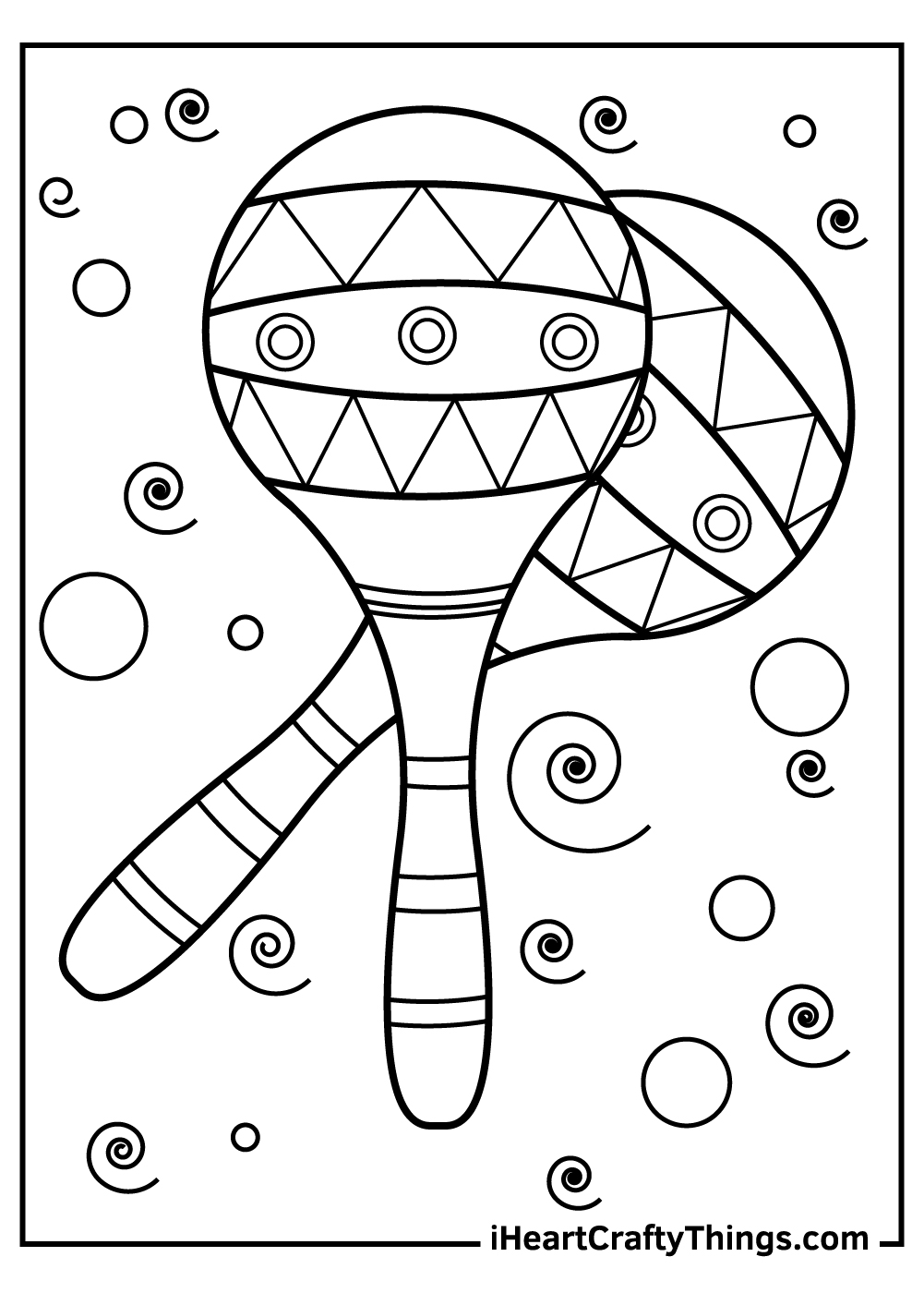 We have more speakers playing a song in this printable. What music do you think is playing here?
The shapes and notes make me think it must be something rich and complex, so maybe you should try and squeeze in as much color variation as you can.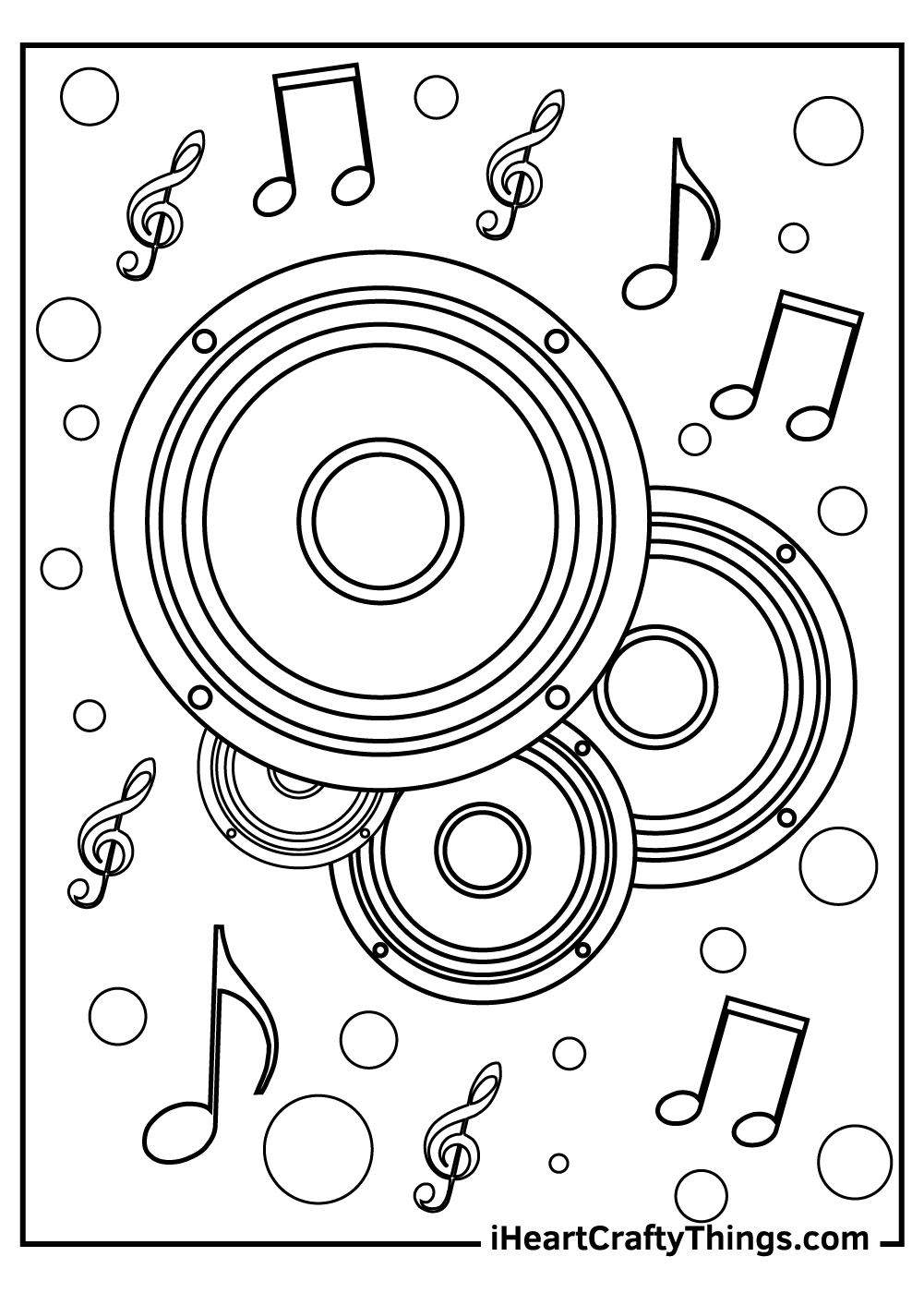 A xylophone is the star of this coloring page. They give off a very sweet sound that's usually very melodious.
For this softer sounding instrument, maybe you could use cooler yellows, greens and blues to dial things back a bit for this coloring page.
REMEMBER: You can get the COMPLETE set of these coloring pages >> HERE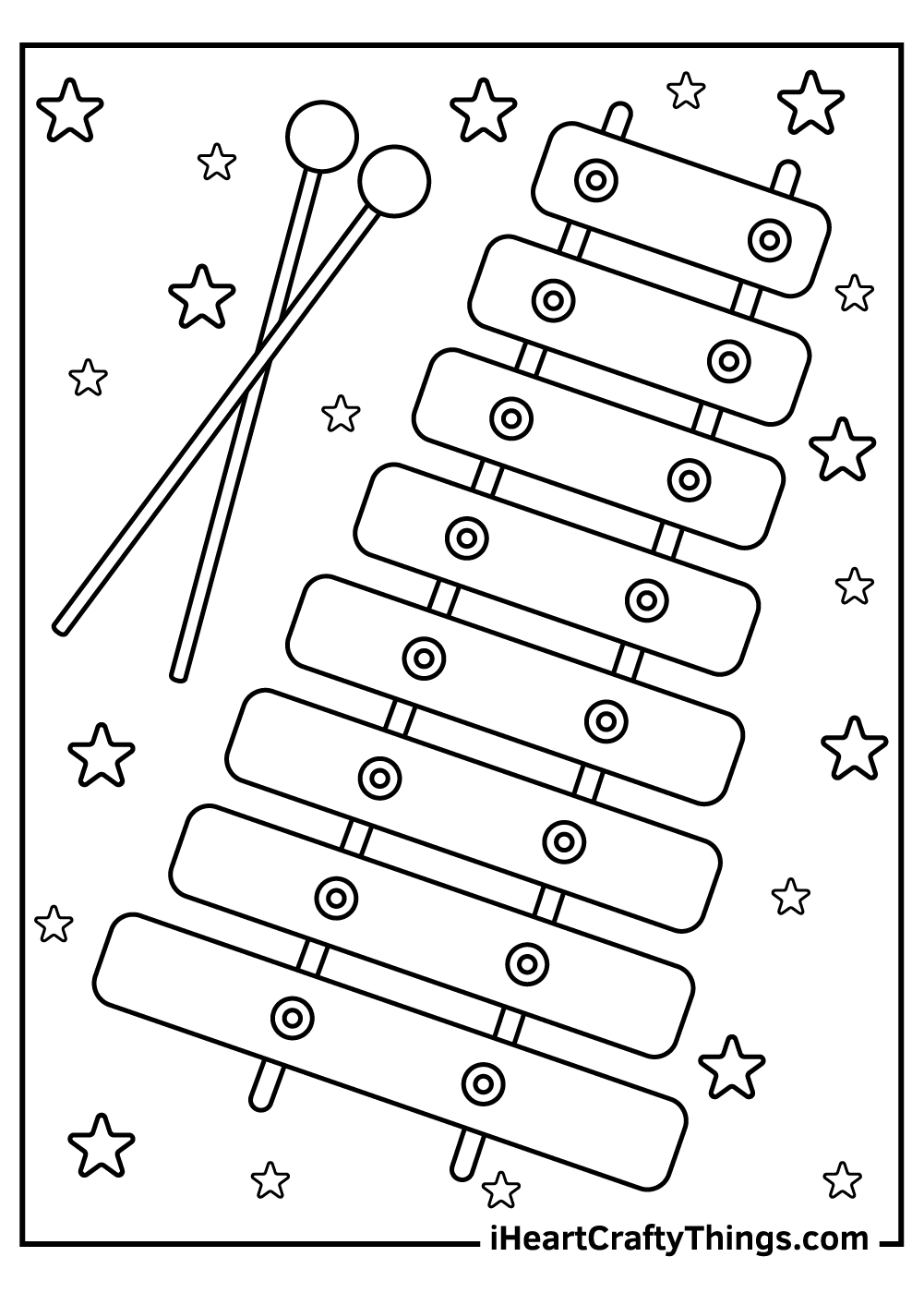 We end off this series of music coloring pages with a bang with this combination of electric guitar, piano and saxophone. I wonder what song you'd get with this combination of instruments? Whatever it would be, I bet it would sound great!
For this combination of instruments, why not try and combine colors that you may have used for these instruments in the previous coloring sheets to create an orchestra of different colors. I bet that would make for a stunning picture!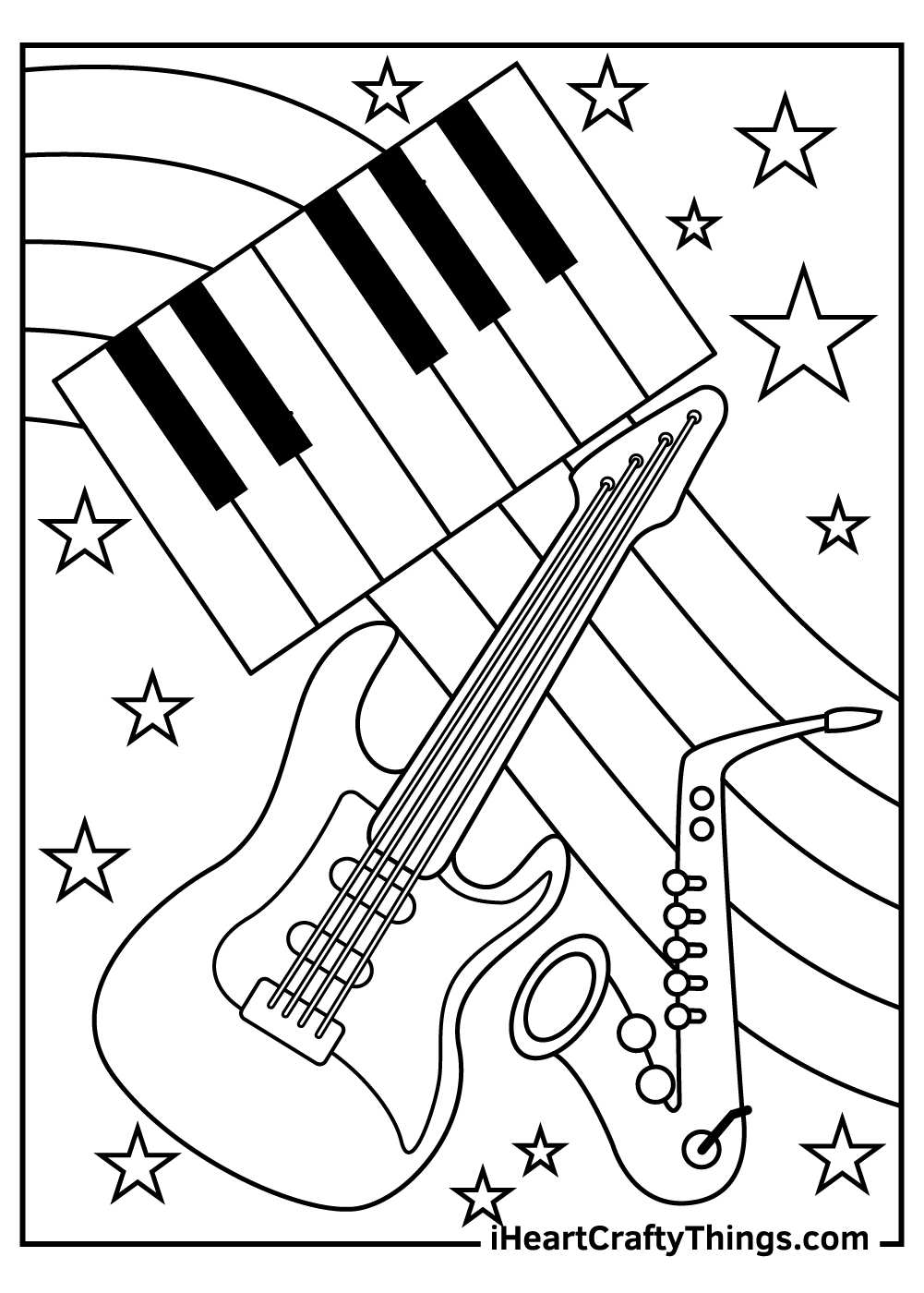 Music Coloring Pages – Which will you choose?
We hope you had a great time rocking out with these free music coloring pages. You can print these coloring pages as many times as you like, and like all of our printables and goodies it's completely free to do so!
That means you can print out several copies of your favorite pages and try out different styles and mediums, so don't be afraid to get creative and experiment!
Be sure to like and share our Facebook page, and there you'll find many more free printables, images and coloring pages for you and your friends to enjoy.
Also, please share your completed coloring pages for us to see on our Facebook page. We always love to see how creative you can get with our coloring pages, and we'd love to share in with your musical adventures and see how you represented your favorite types of music in color!
REMEMBER: You can get the COMPLETE set of these coloring pages >> HERE