Mountaineering is truly an amazing and enjoyable experience. Nothing beats that feeling of reaching the mountaintop after trekking for so many hours—or days! The most fun part about hiking is the ability to see the mesmerizing natural scenery views from the peak of the mountain.
The beauty of mountains has made them one of our readers' favorite subjects to color. Thus, we have created and compiled 10 free mountains coloring pages for you to color and enjoy. If you love natural sceneries, then these mountains coloring sheets are perfect for you!
With these mountains coloring pages, coloring activities with friends are made more fun and easy. Simply choose the image you would like to color, download it, print it out, and finally, color it with your favorite coloring materials!
Have fun and use your creativity to make these mountains colorful!
Mountains Coloring Pages — Free to Print and Color
This mountains coloring page perfectly captures the beauty of these enormous and spectacular mountains. In the foot of the mountain ridge, the field is covered with tall trees and lush greenery.
In the background, the skies are clear. It looks like the perfect time to trek! We think the natural scenery views from the summit would be mesmerizing with good weather like this!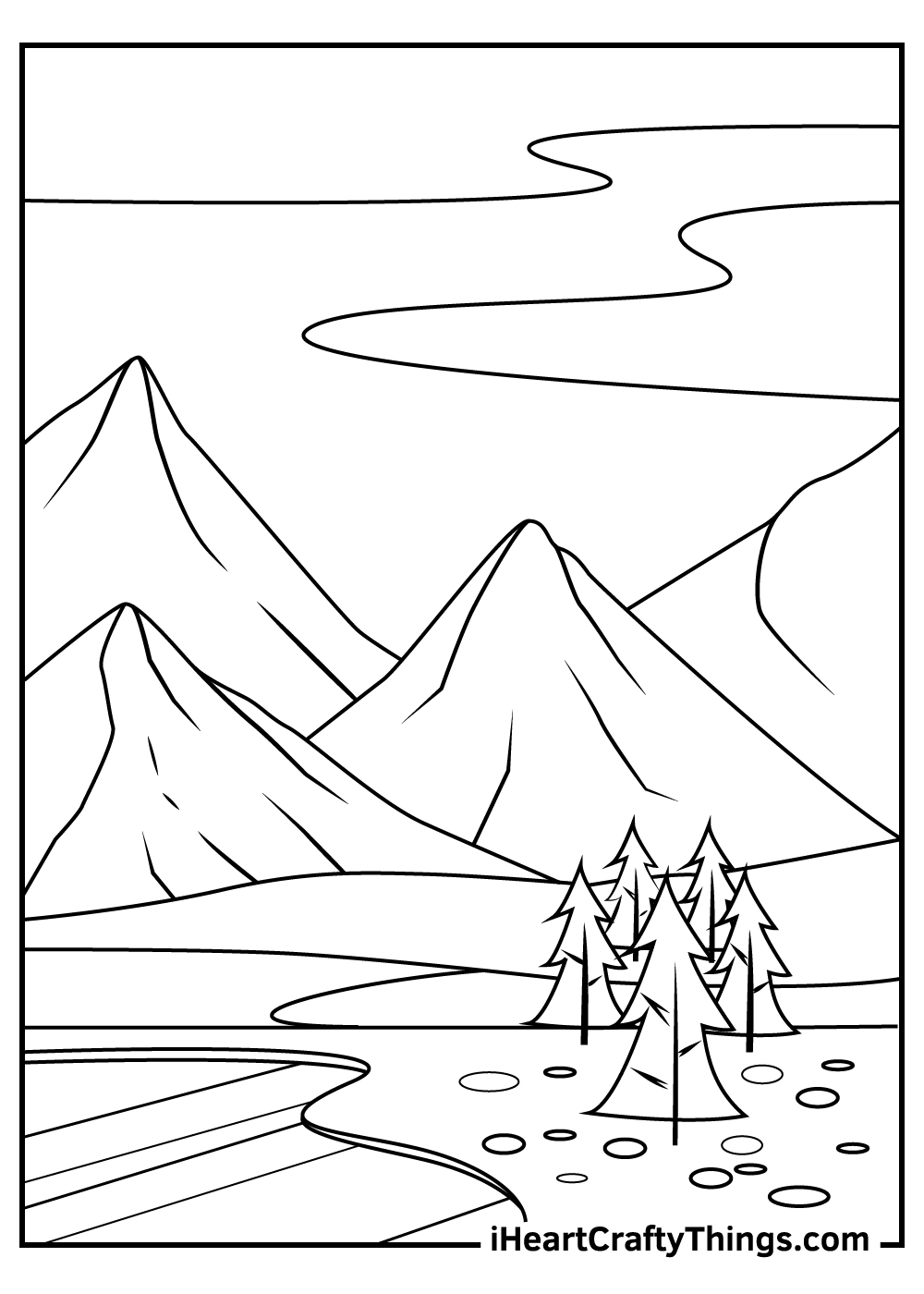 The mountain in this mountains coloring page is so tall that it can reach the clouds. The clouds are peeking over the gigantic mountain.
Imagine how long it would take to reach the peak of this mountain. It will most probably take days! The panoramic views from the summit would be glorious for sure!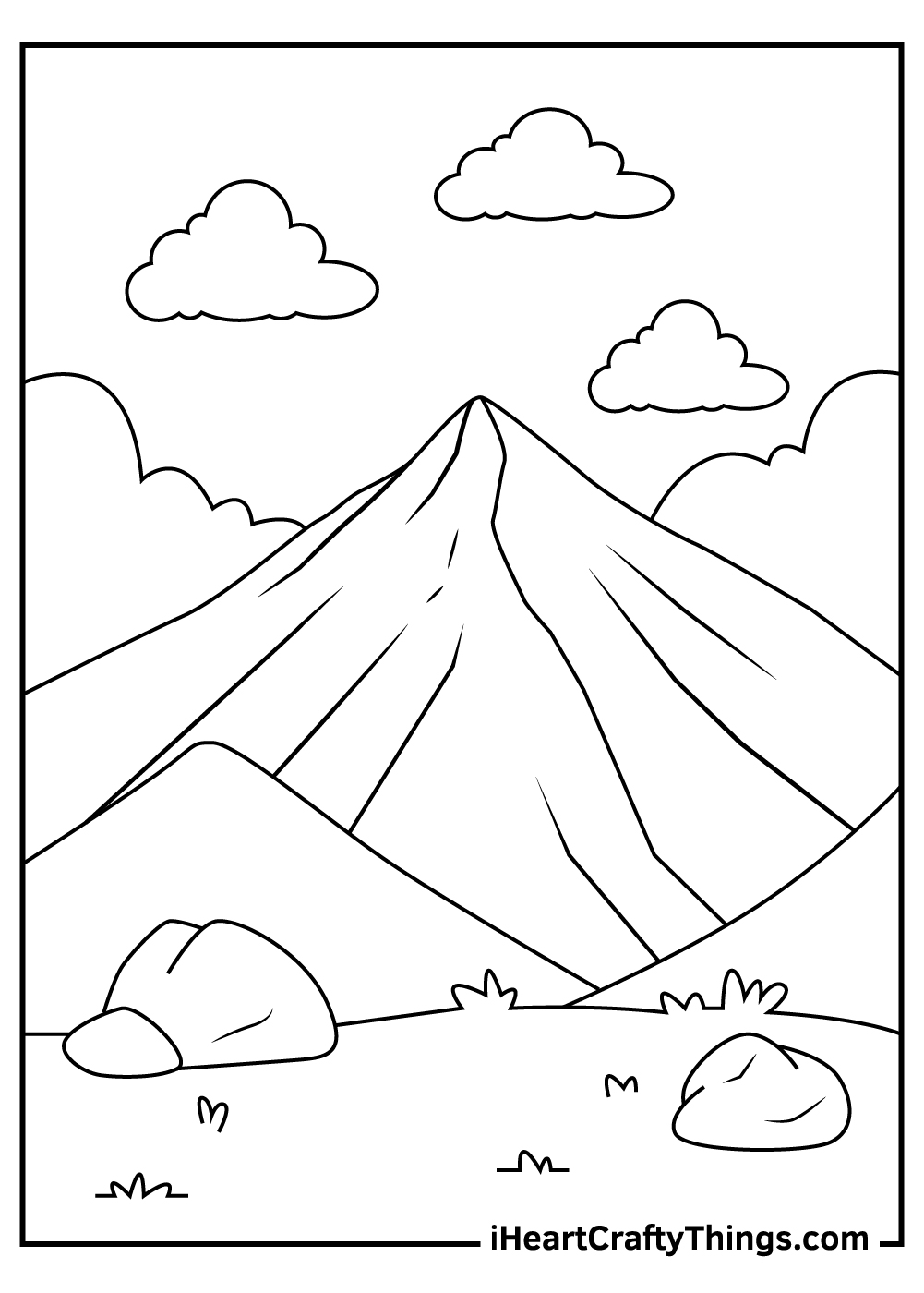 This mountains coloring page shows the trail towards the peak of the mountain. The trail goes upwards and downwards.
It looks like it's going to be a challenging trek, but it will all surely be worth it once you get to the mountaintop! Imagine the breathtaking scenery you'll discover once you get up there!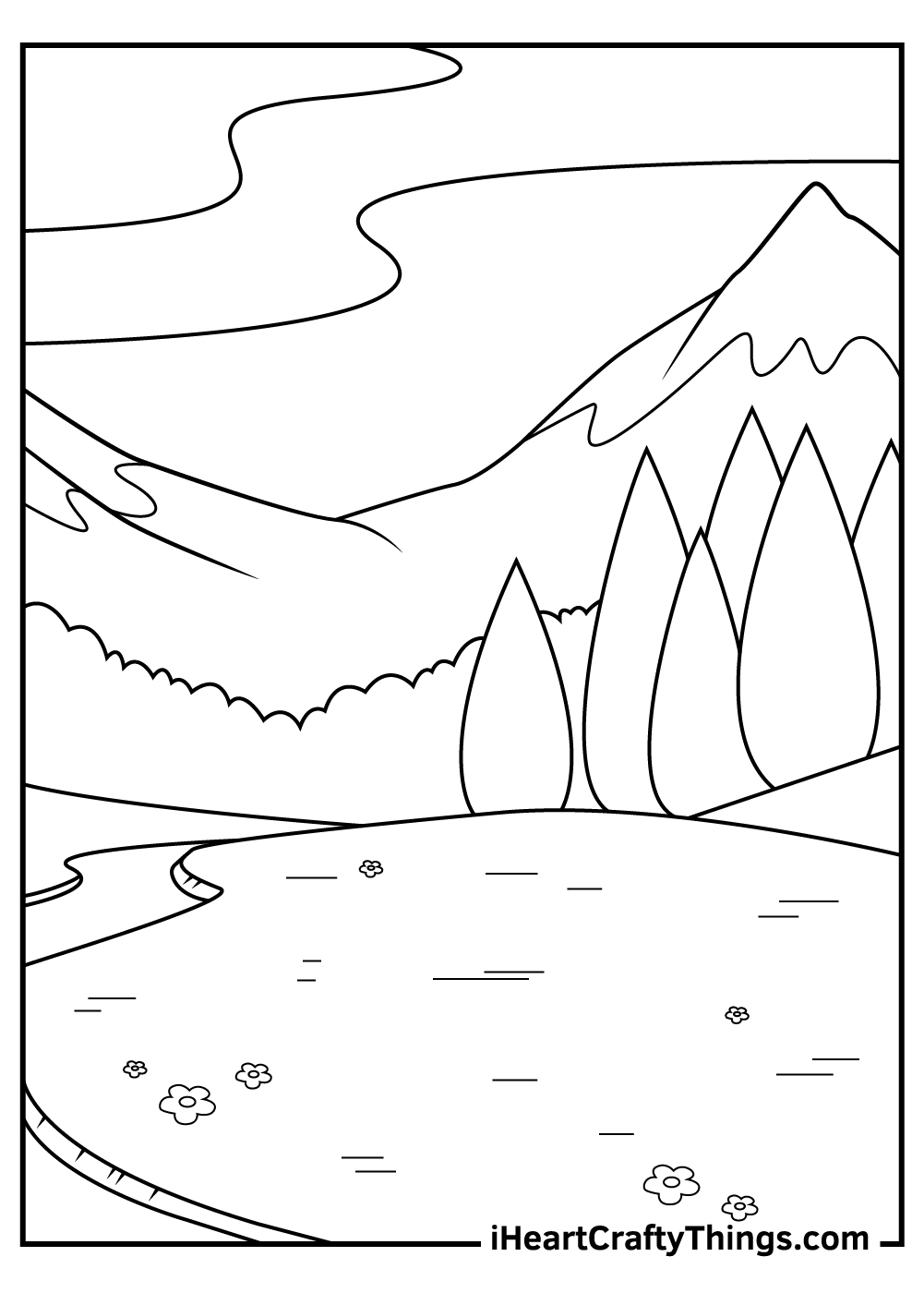 During winter, as seen on this mountains coloring page, mountains are often filled with heaps of snow, making the surface slippery. It's usually more challenging and dangerous to hike during these times.
The mountains are surrounded by trees and greeneries in the fields. There is also a bench nearby the foot of the mountain—the perfect spot to appreciate the natural scenery.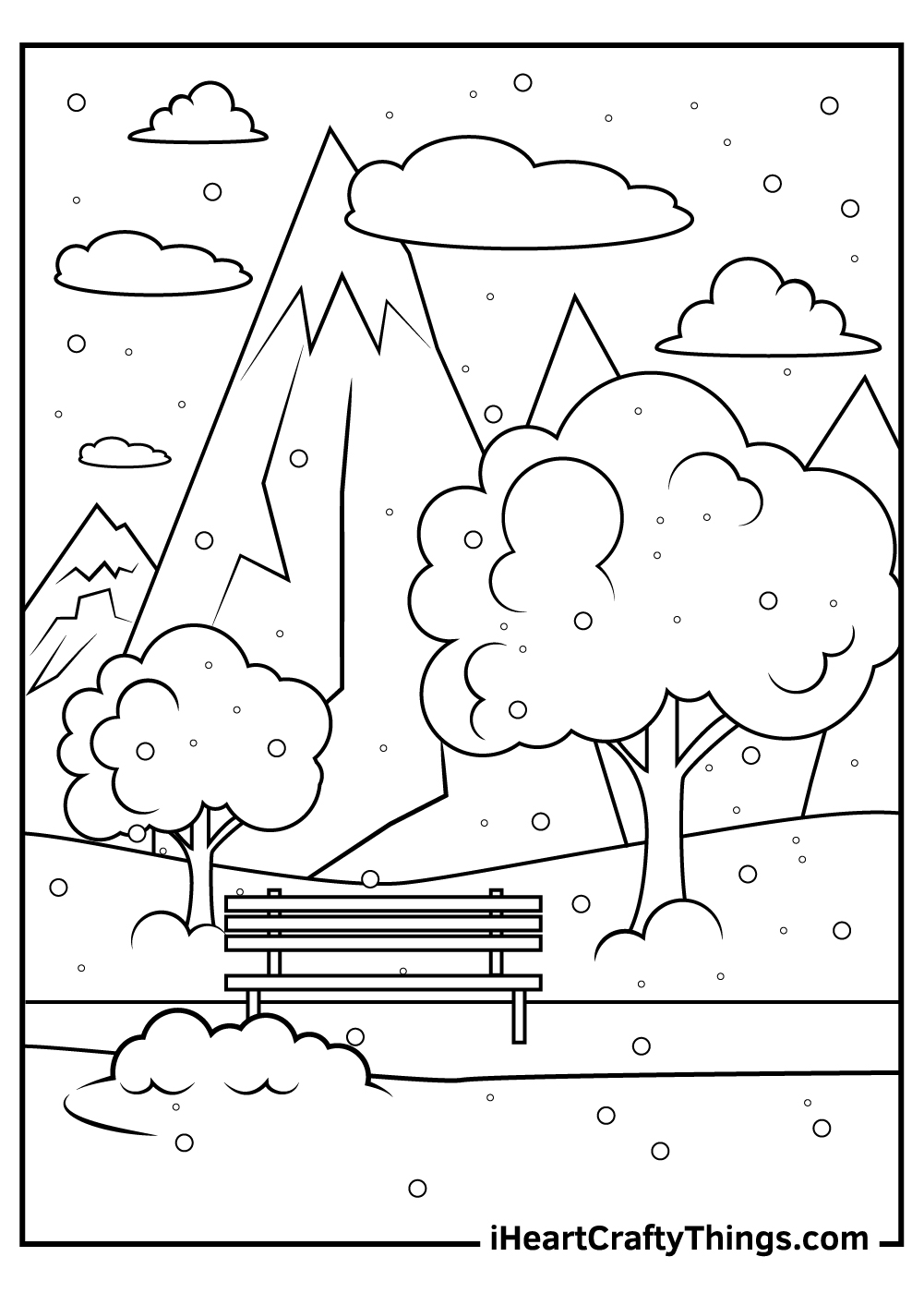 Nothing beats the majestic natural scenery views of the ocean with mountain ridges on the horizon, like the image on this mountains coloring page.
The ocean is calm and free from violent waves. Imagine swimming in this ocean. That must be so fun and relaxing!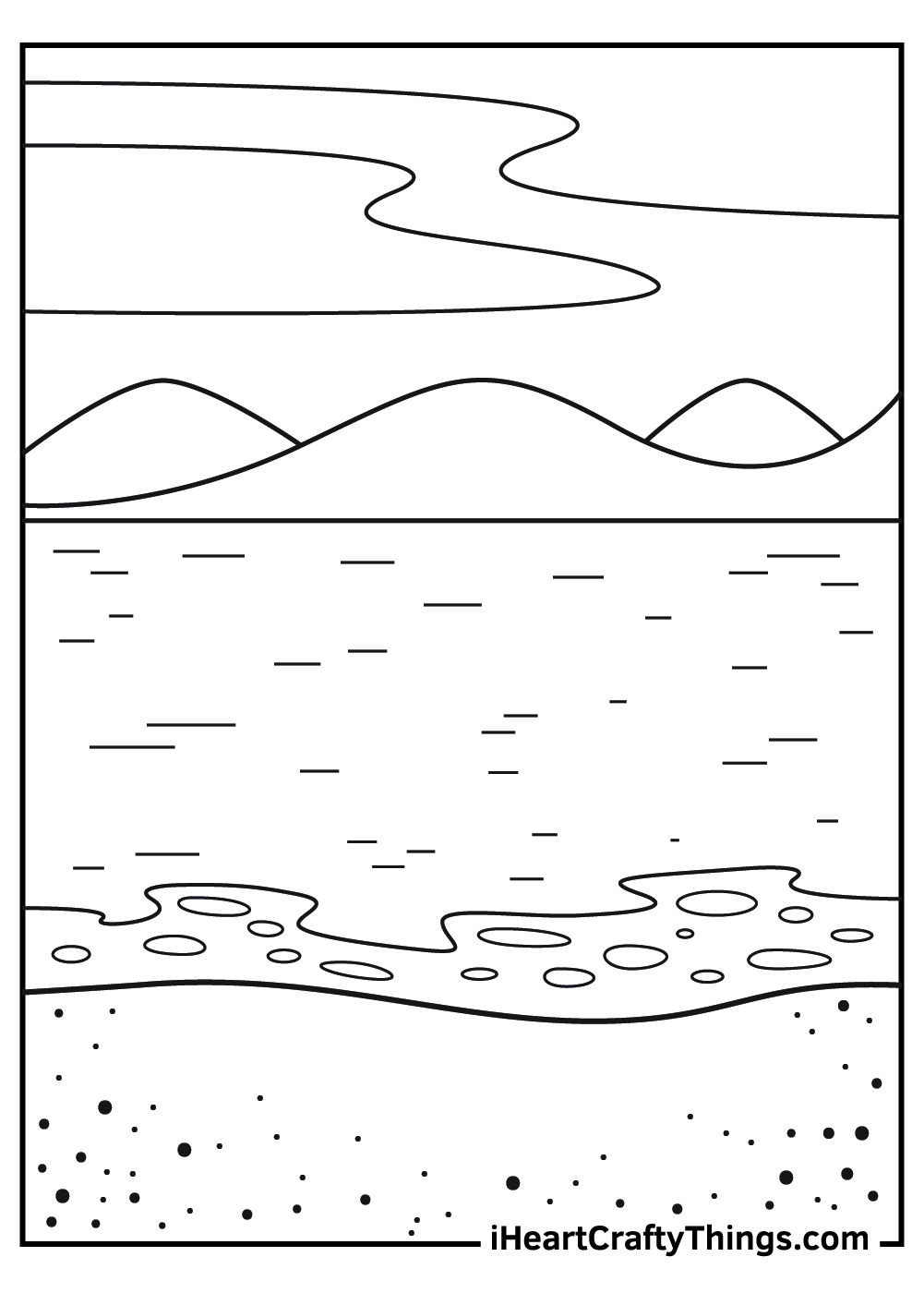 It's a clear, sunny day on this mountains coloring page! The sunlight is peeking through a puff of cloud. Look at that mountain ridge! It consists of several mountains of different heights standing side by side—so mesmerizing!
At the bottom of the image, there's a phrase "you can move mountains" written in bold font. That's so encouraging! Do you believe everything is doable?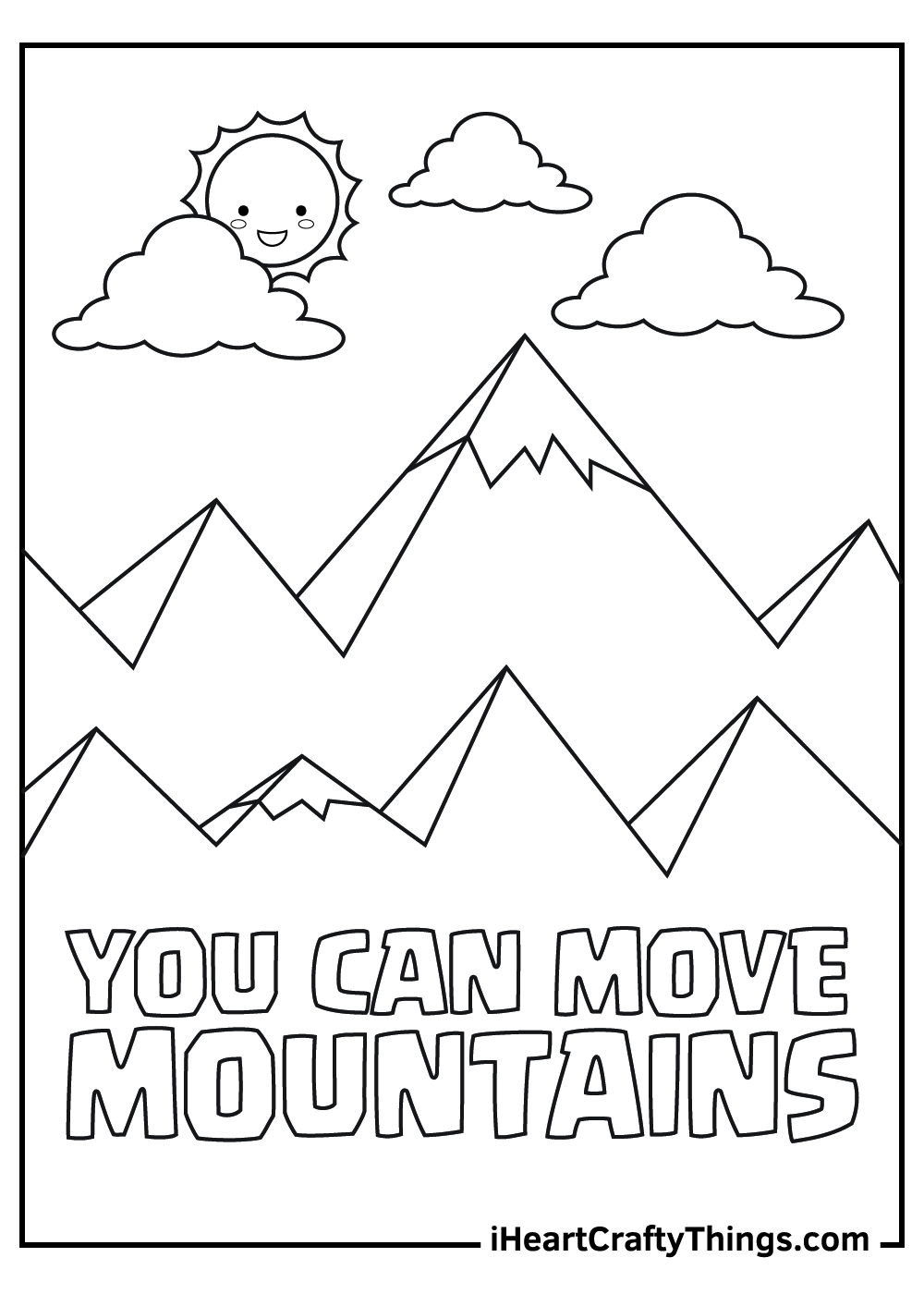 A mountain ridge, as seen on this mountains coloring page, typically has low area of land in between hills or mountains.
There are three mountains shoulder to shoulder on the horizon. Imagine walking across this valley. That must be fun! What colors will you add to this printable?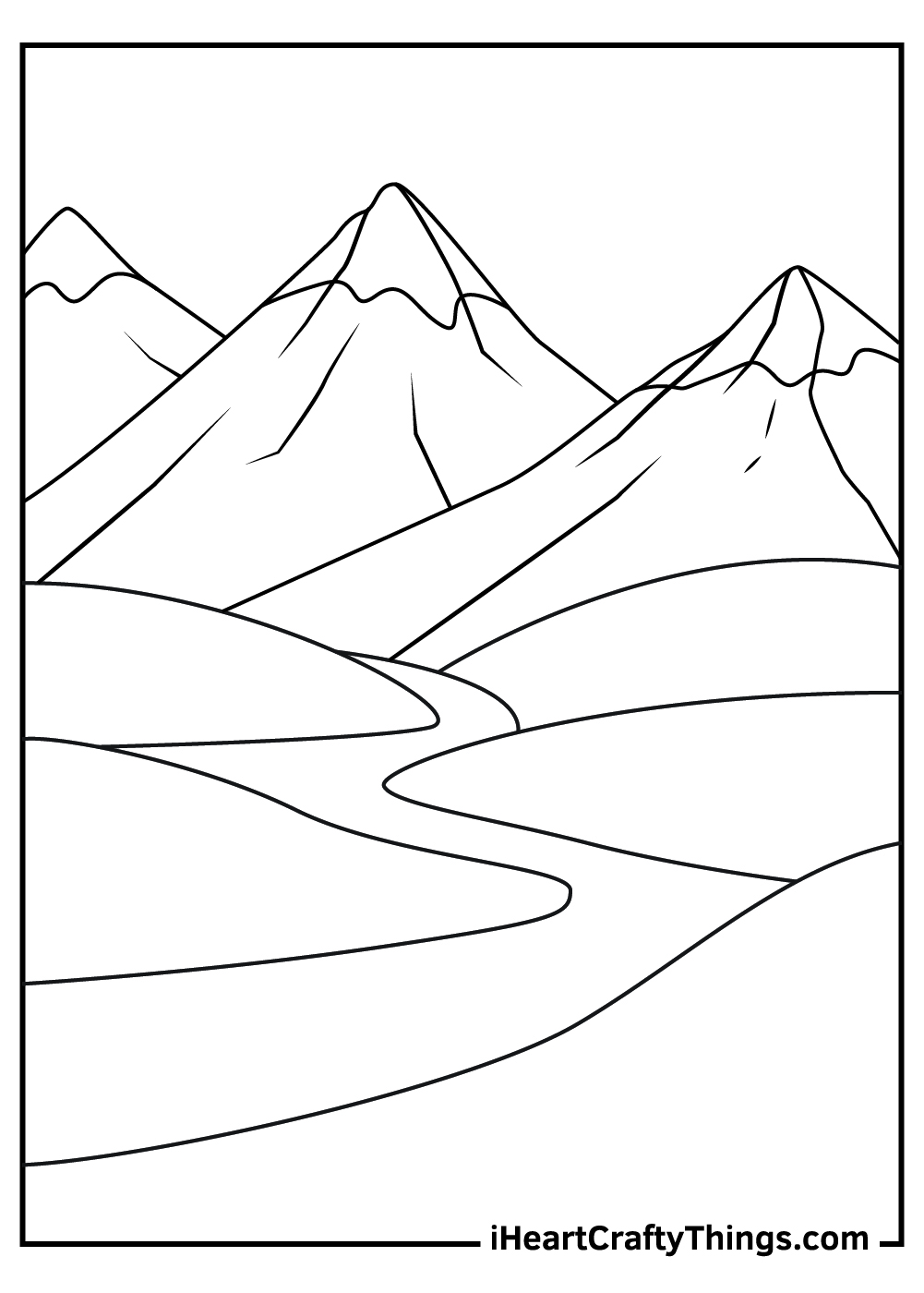 This mountains coloring page displays two mountains in the horizon of the ocean. Instead of the usual sunset setting, the background is composed of artistic mandala patterns—so aesthetic!
We imagine this artwork would look great hanging on the wall once it is colored and framed. In which part of your house do you think this would look best?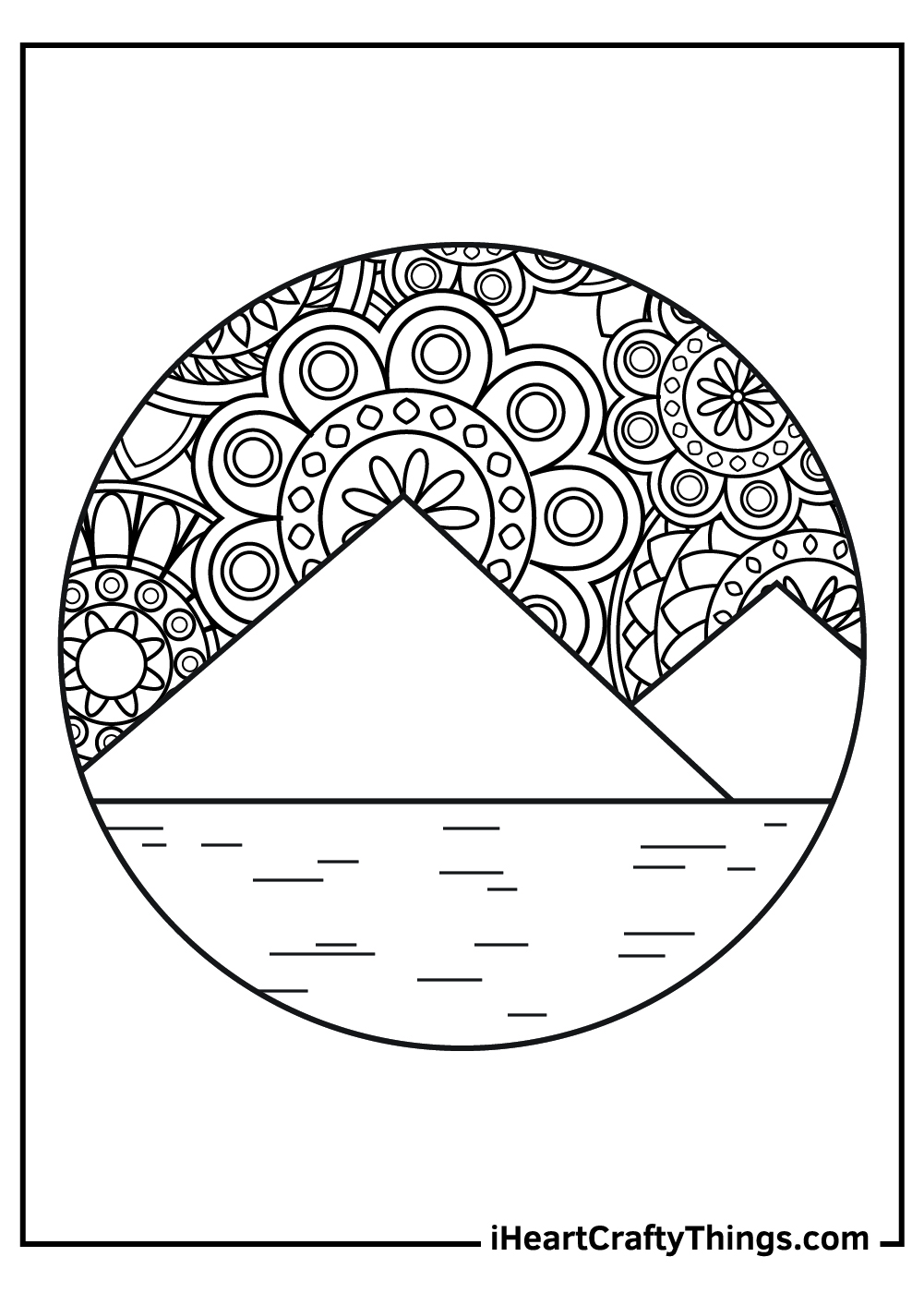 Valleys, as seen on this mountains coloring page, are slopes in between mountains or hills. The valley in this image is surrounded with trees and grass.
We think the vivid colors of the greeneries would complement the muted color of the mountain range. What colors will you use to make this lush natural scenery colorful?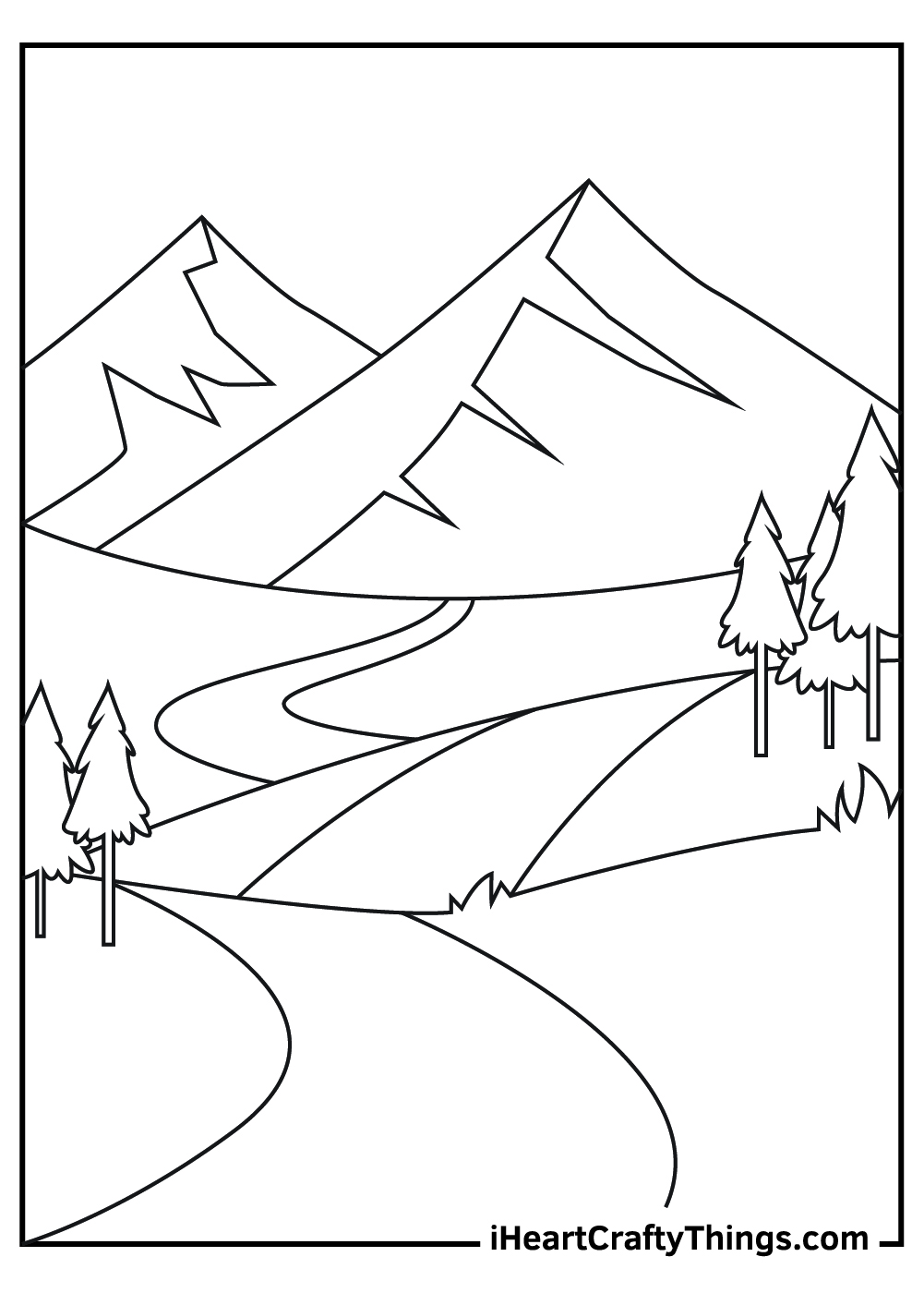 In this mountains coloring page, there are three sky-high mountains towering side by side. There are also birds flying up high in the sky, surrounded with clouds. It looks like a good day with pleasant weather—a good time to go for a hike!
Here's a fun fact: Did you know that a chain of mountains or hills is called a mountain ridge?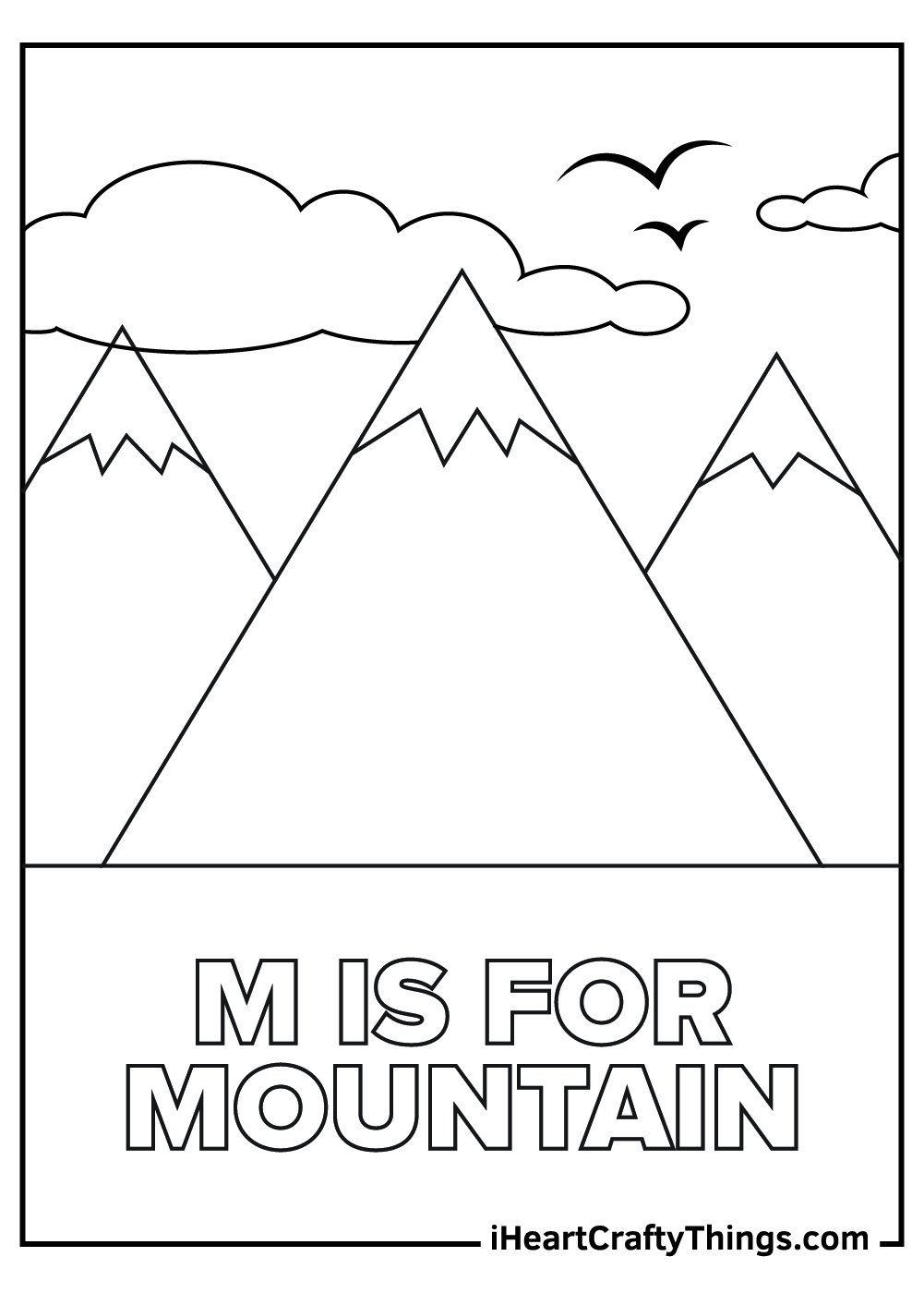 Mountains Coloring Pages — Which mountain will you color?
We hope you enjoy these mountain coloring pages. It consists of simple and intricate illustrations of beautiful mountains and nature scenic views. Coloring these mountains coloring sheets is the perfect activity for kids of all ages who are fascinated with nature.
Remember, all of our crafts and coloring printables are 100% free for you to download, print, and color. We are always updating our catalog and uploading new content to our catalog. So, don't forget to keep re-visiting our website to continuously enjoy all-new coloring pages.
Once you've finished coloring your mountain coloring printables, you must be very proud of yourself for completing a masterpiece—as you should be! Make sure to show off your work of art and share it on our Facebook page. We're sure it looks amazing!
We can't wait to see all of your colorful natural scenery artworks!