Spider-man is one of the most iconic superheroes ever created, and his popularity is strong to this day.
The character is commonly associated with Peter Parker, but lately a new variant has become just as popular.
Miles Morales is a young teen that also gains spider powers, and he brings a different energy to the character than Peter Parker.
He has starred in his own movies, video games and comics, and fans can't get enough!
With so many fans, we thought that they would appreciate a collection of free Miles Morales coloring pages for kids. That is just what we have for you!
So put on your hero mask and prepare to take on these 15 amazing pages featuring Miles Morales.
15 Brand New Miles Morales Coloring Pages – Free to Print and Color
This first Miles Morales coloring sheet features Miles as he appeared in the Spider-verse films.
These films had an incredible art style, and they were many people's first introduction to the character.
Now you can color him in the same style as the film! The movies are known for their bright, saturated colors, so colored pens and markers would be a good place to start.
These would help to match the style of the film, if you would like to replicate it. Which style will you use?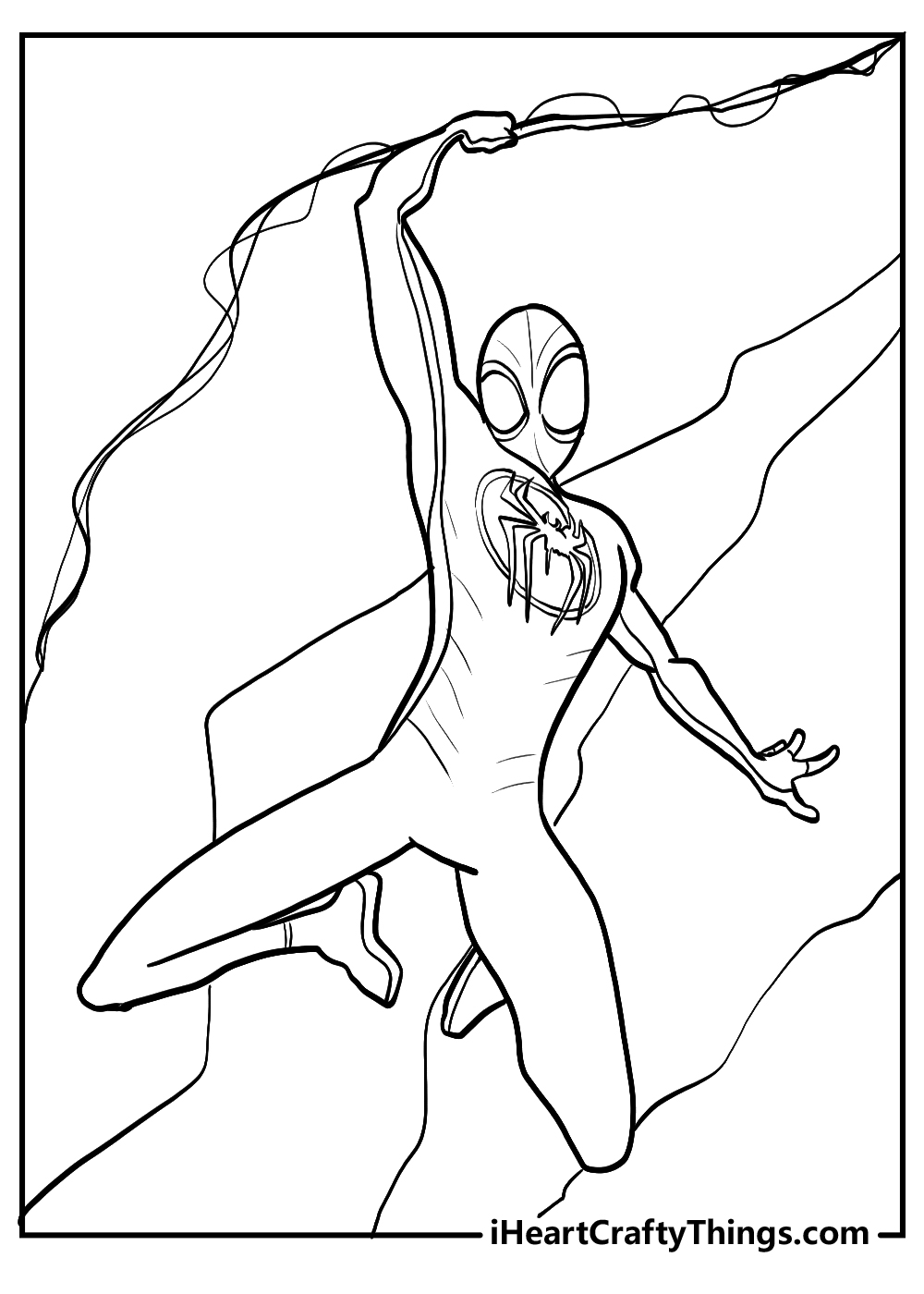 Something cool about Miles Morales is that he often wears street clothes over his spider outfit. This gives him a more relatable feel, especially for teens that throw on the first clothes in their cupboards in the morning.
This page shows off this aspect of the character, and it not only looks cool but gives you more details to color. He seems to be on the move in this image, so you could aso draw a background.
This would show where he is heading and what he could be doing. What sort of background would you choose?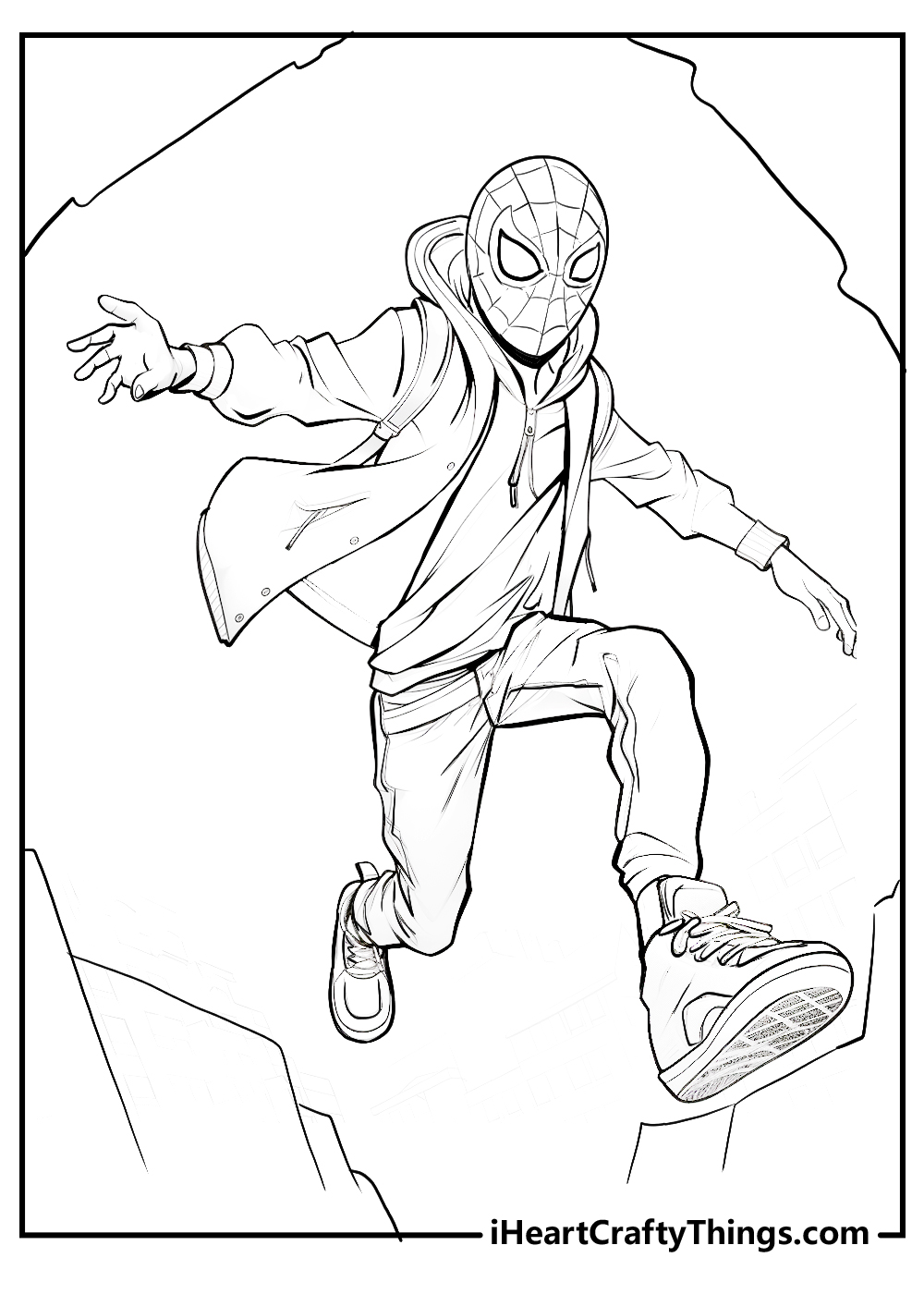 This next awesome pose for Miles Morales shows him once again in his semi casual state, as he is wearing his street clothes over his spider outfit.
This head on pose is also very cool, and it creates a real sense of adventure for the page. When coloring any of these pages, you have multiple influences available to you.
You could use the comics as inspiration, or you could use the films. As mentioned, Miles has also starred in multiple video games lately, and so you could use these as well.
Of course, you could also go for your own unique colors!
Can you imagine how cool it would be to swing through the city like Miles Morales or Peter Parker?
It would be so much fun, and this page helps to capture the feeling.
Miles Morales seems to be traversing the city in this image, and you could add to that feeling as well. The first step would be to draw some kind of background, even if it is vague.
Then, you could also draw some webs for him to swing from. That way, you can create a real sense of place for this page and replicate your favorite Miles Morales moments.
It could also be fun to come up with your own setting!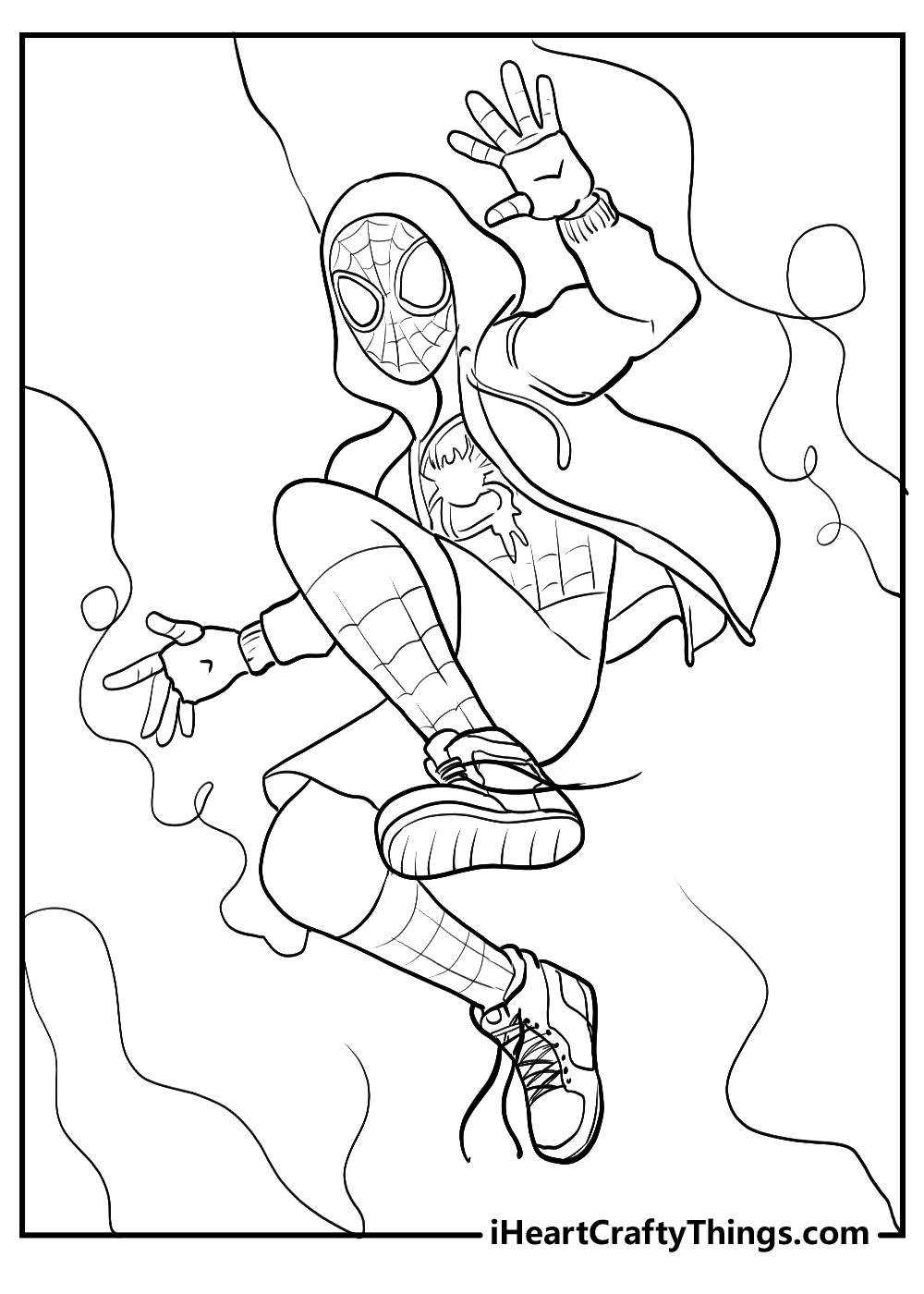 This next Miles Morales coloring printable is a lot more detailed than some of the previous pages. It looks like it could either be based on the comics or even the video games.
Miles starred as a side character in one Spider-Man game before having his very own game named after him.
He then acted as the dual main character in the newest game, so fans can enjoy the character in multiple mediums.
You get different suit styles in the games, so if you're a fan then you can make him match the style.
We have another highly detailed picture of Miles Morales for you to color here. Simpler art styles can look great, but I also love highly detailed takes on characters.
The reason for that is that you can use subtler color details and techniques when you have lots of details to work with. You can use the right tools for the job in order to make coloring such pictures easier.
Colored pens are my go-to for such pictures, as they make it easier and also look amazing if used correctly!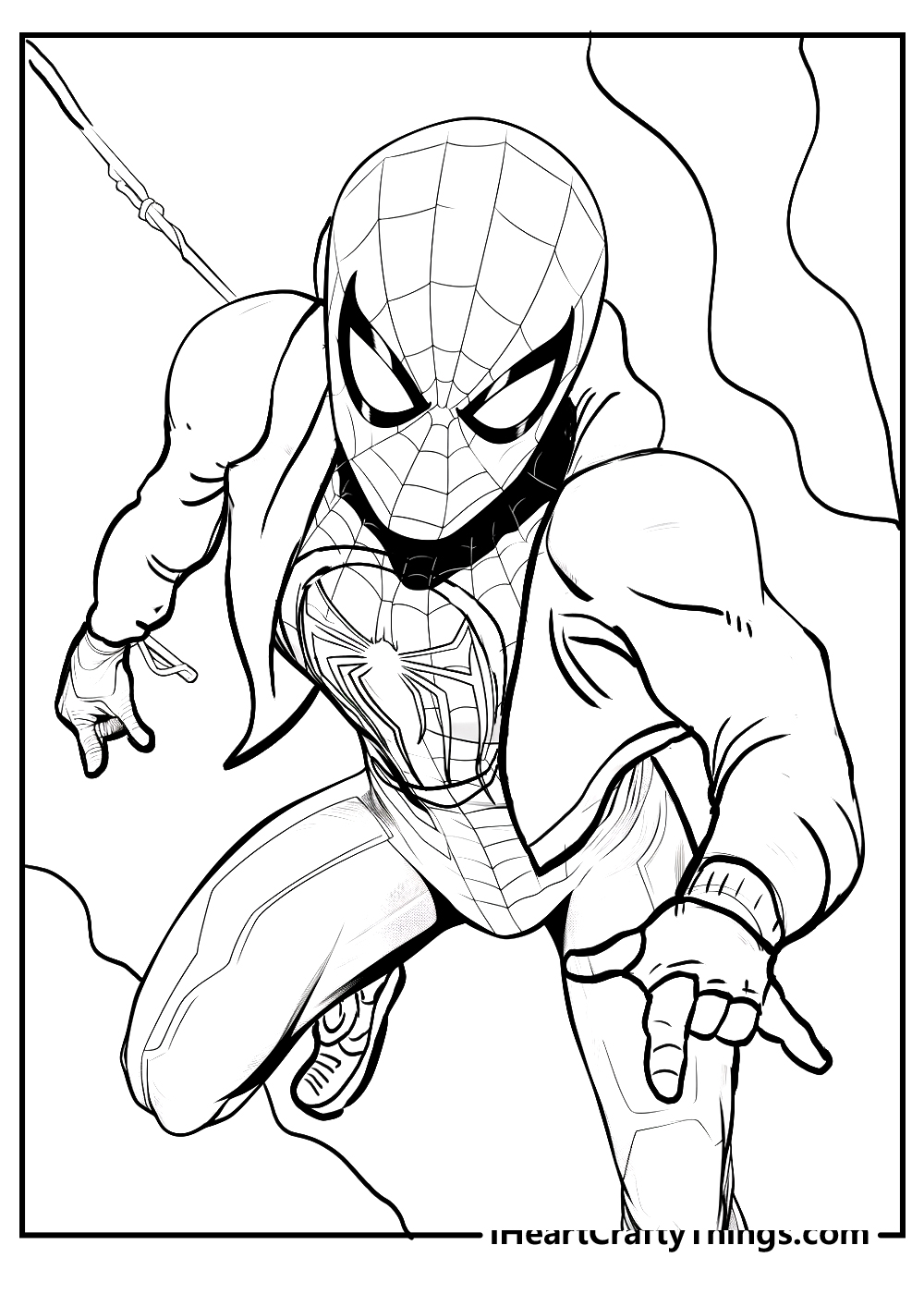 This next page is an interesting take on the character. It uses the look of the Spider-verse films but is drawn in a more realistic style.
That makes it an interesting intersection between the two styles, and makes this page really look unique! It also means that you can get a bit creative with the colors that you use.
There are many inspirations to draw from, but you can also forge your own path. There are no wrong answers when it comes to coloring, so let your imagination take over and see what happens.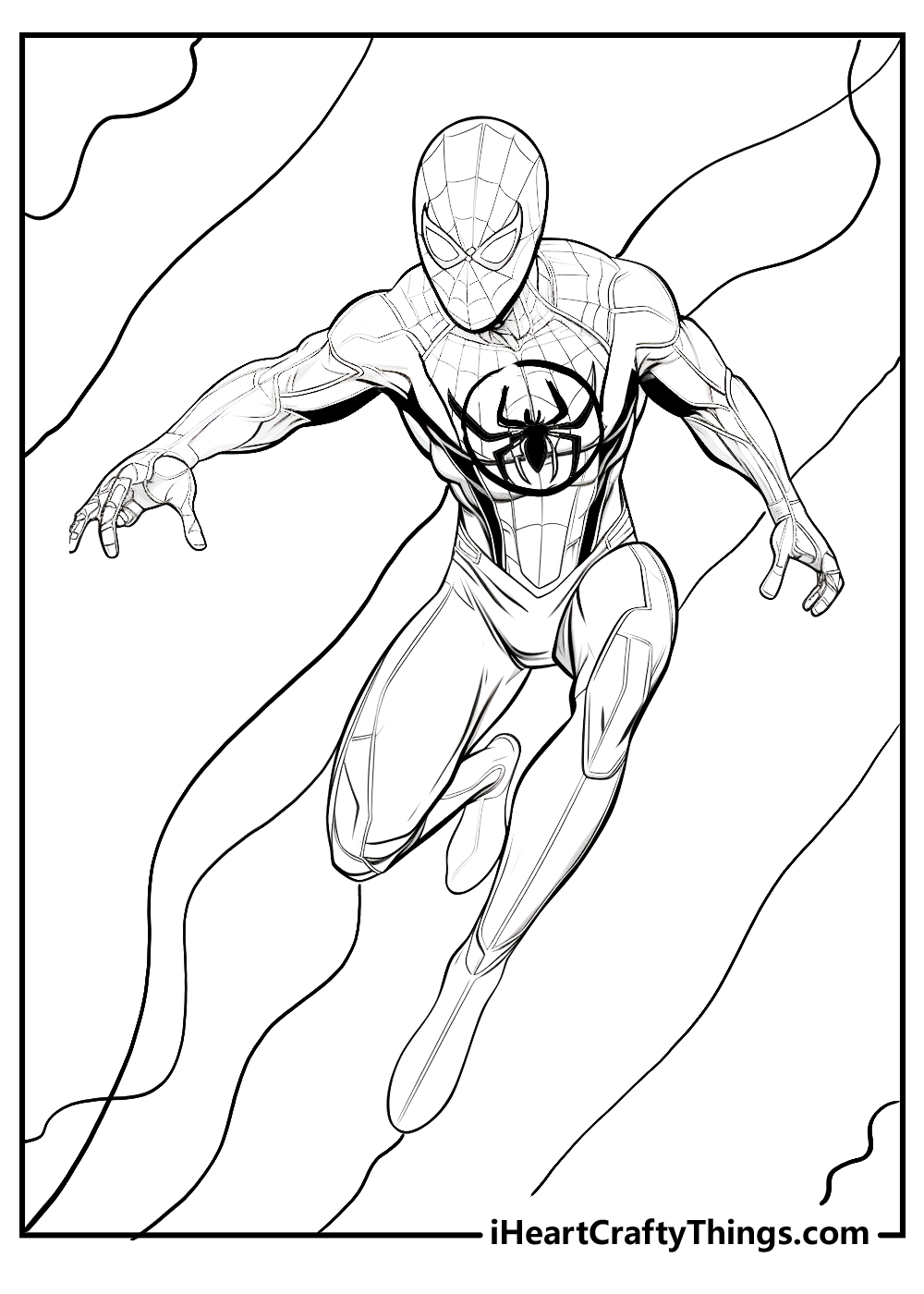 On this next page, we have a really cool look at Miles' outfit. One thing that is interesting about this particular pose is that you could depict other characters if you wished.
You could stick to Miles, but if you wanted to try out the red and blue colors scheme of Peter's outfit, then that would work as well!
If you can't decide, then it's worth remembering that it is free to print, color and enjoy these pages as many times as you like in order to try out some different ideas.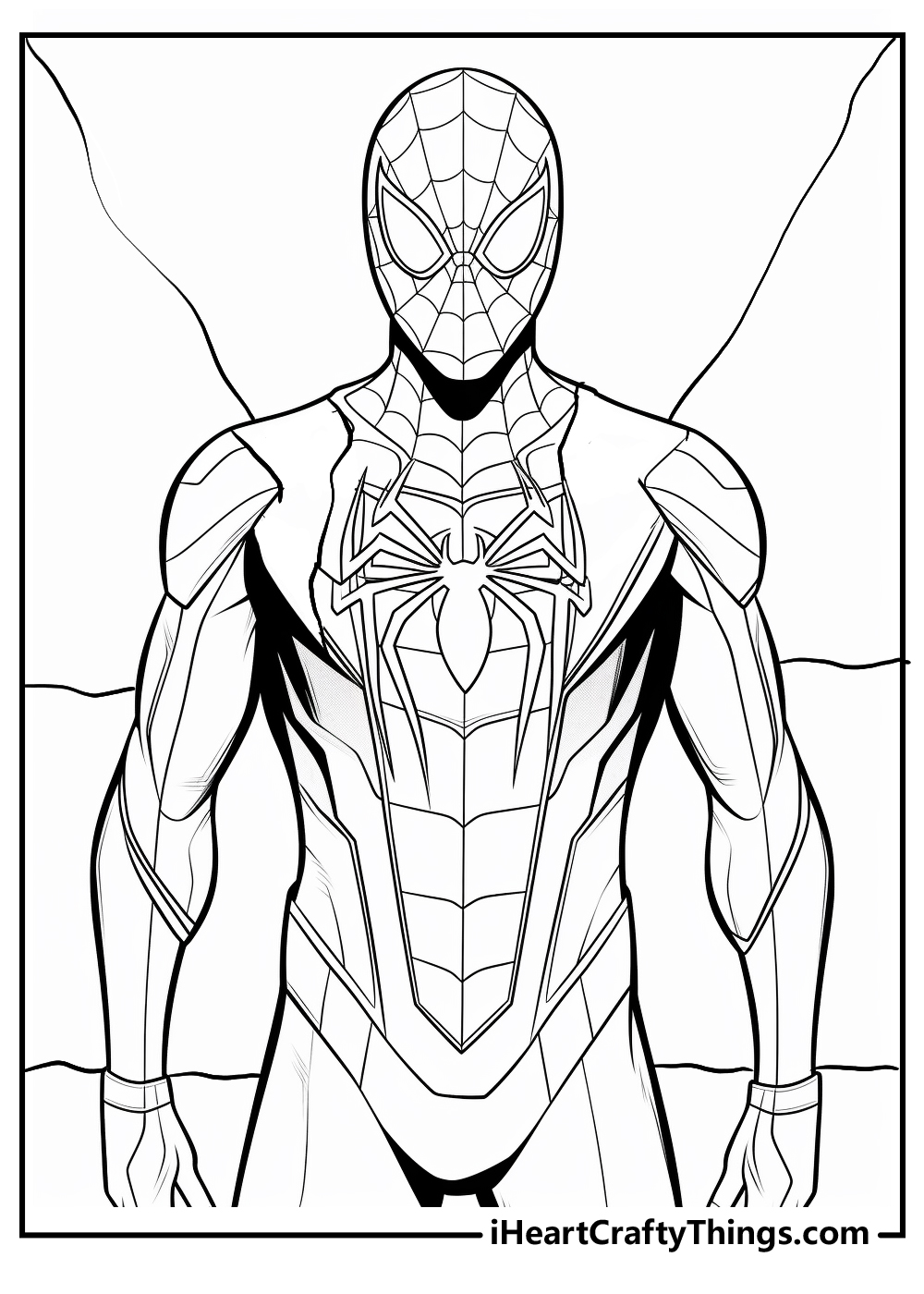 The look of Miles' outfit in this next page is very unique from the rest of the pages! The top of his mask is open, and that allows you to see his hair.
One of the appeals of Miles Morales is that he is a very relatable, stylish character. Details such as this allow more expression for the character that fans can identify with.
It's already a cool portrayal of the character, but it will look even more amazing when you have added some color! Which colors do you think would best suit this style?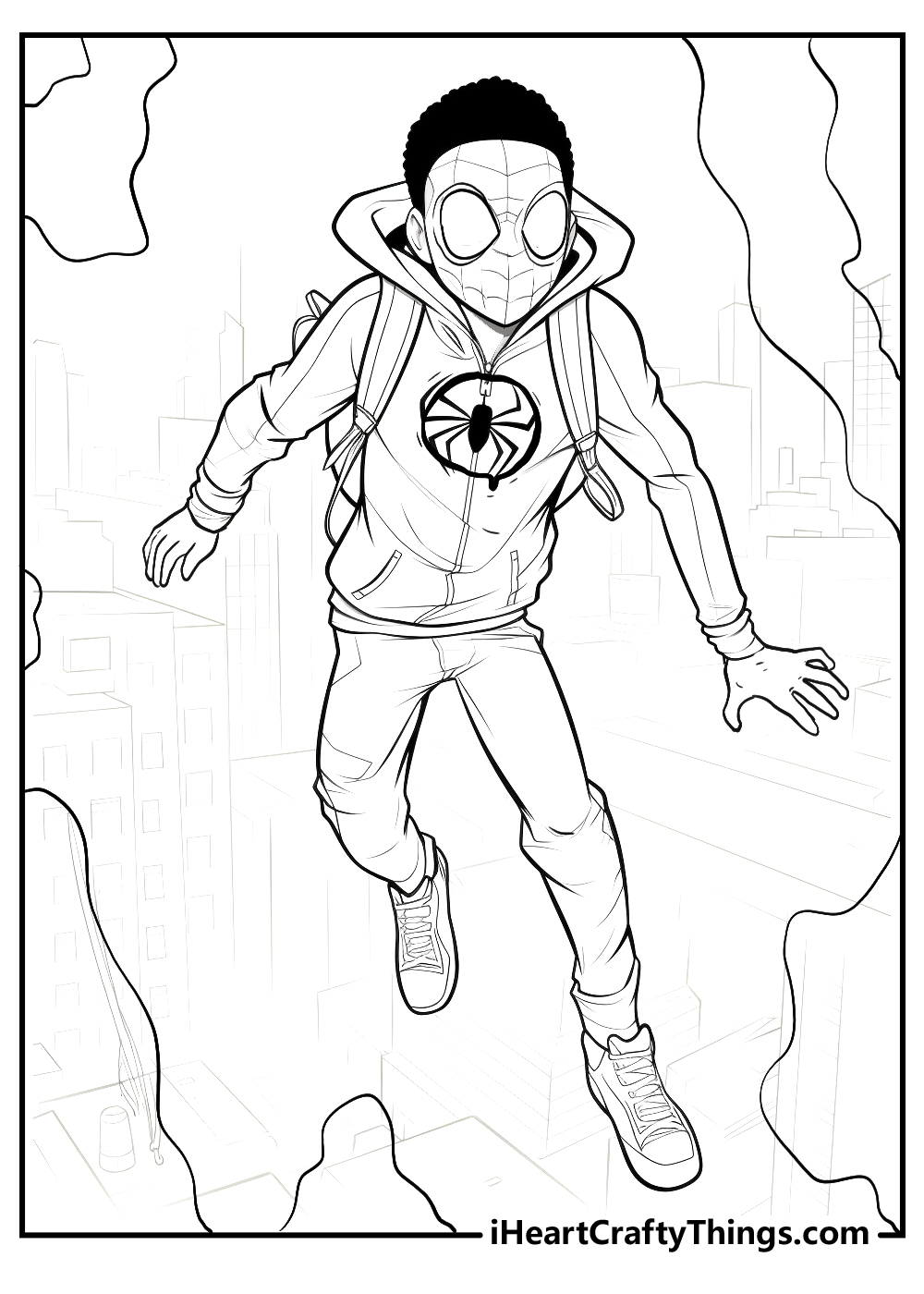 For something a bit different, we have a look at the face behind the mask! All of the previous Miles Morales coloring pages we have looked at previously have shown him with his mask on.
This time, his mask is off and we get to have a good look at his face. Not only that, but you can have some fun coloring this very different take on Miles Morales!
It will allow you to use more natural skin tones and other subtle color effects, which will help this page to stand apart from many others in the collection.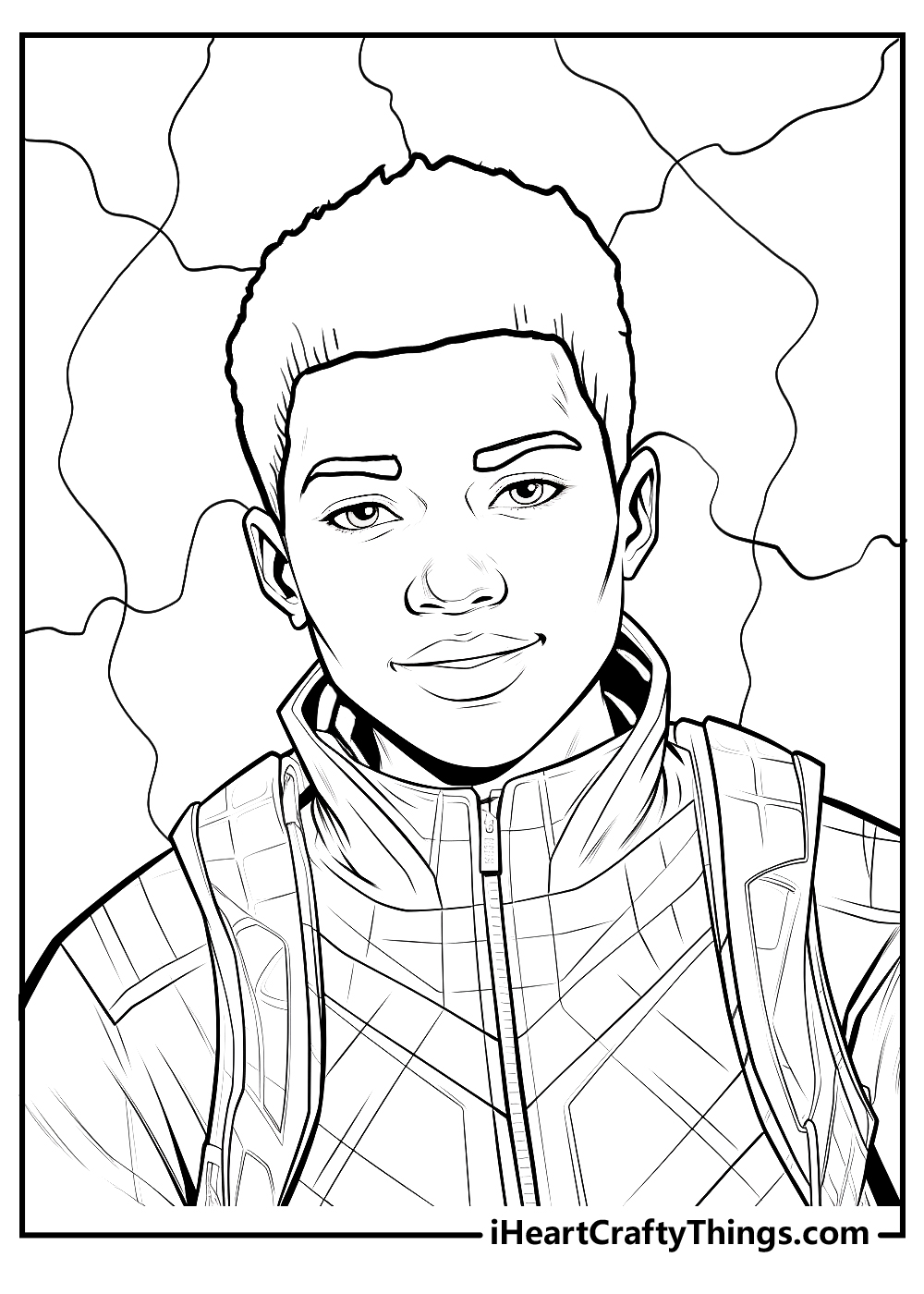 The next page that we have for you would actually make a great companion piece to the previous one! We once again see him unmasked in this image, but now he is swinging through the city.
The way that the city was drawn in the background is interesting, as it is done quite subtly. You could add some more of your own details, or you could make the colors equally subtle.
Having the city so light in the background makes it look like Miles is traveling at great speeds.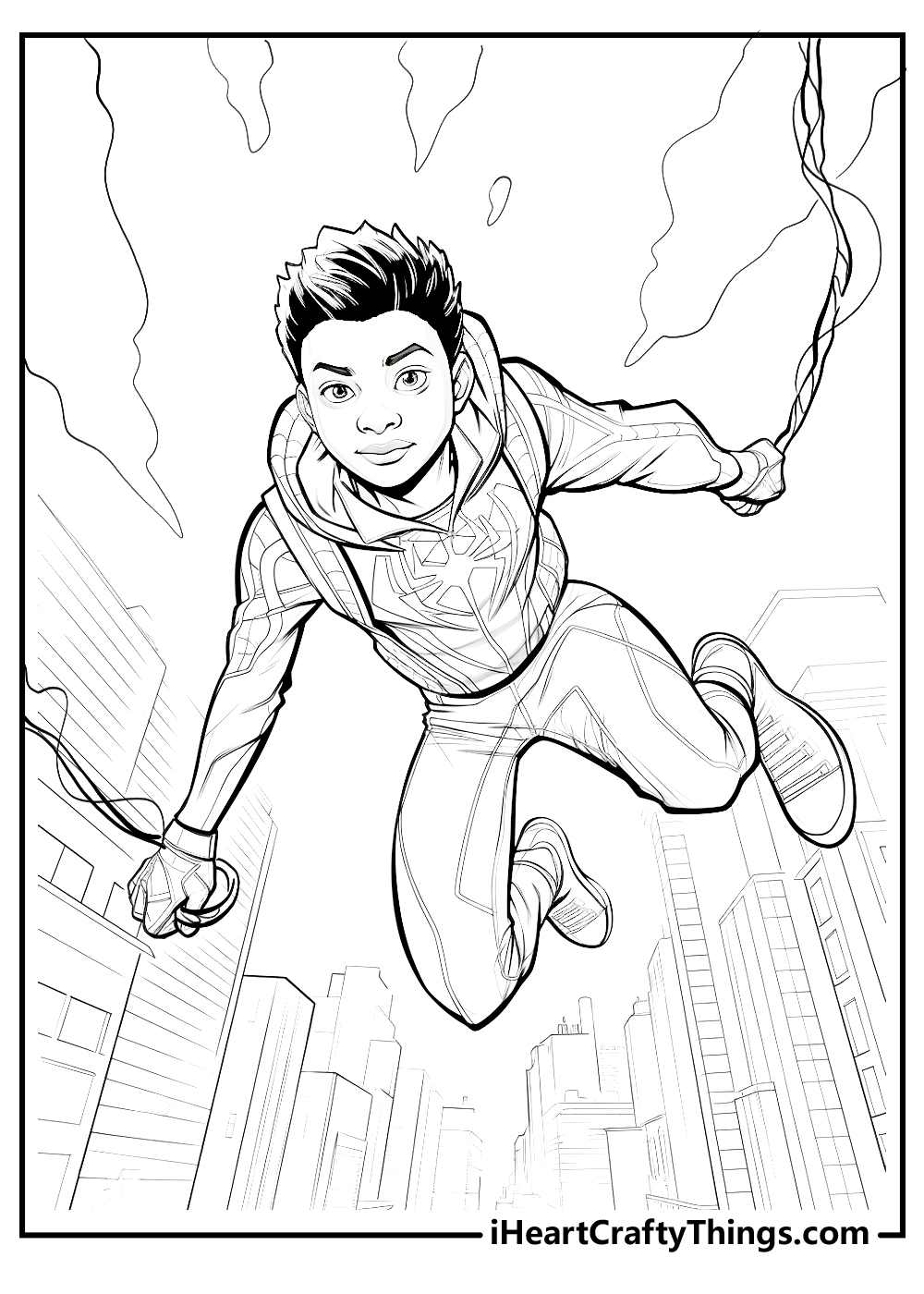 This next page is so cool, as it shows a highly detailed view of his suit. There are even some tactical pouches on his suit that he probably uses to keep his crime-fighting gadgets.
He's also wearing a backpack in this image, and he could store all sorts of things in there. Do you have a favorite gadget that Miles or Peter use in their adventures?
If you do, then you could draw the gadget on this page to make it look like Miles is busy using it, which would be a cool touch!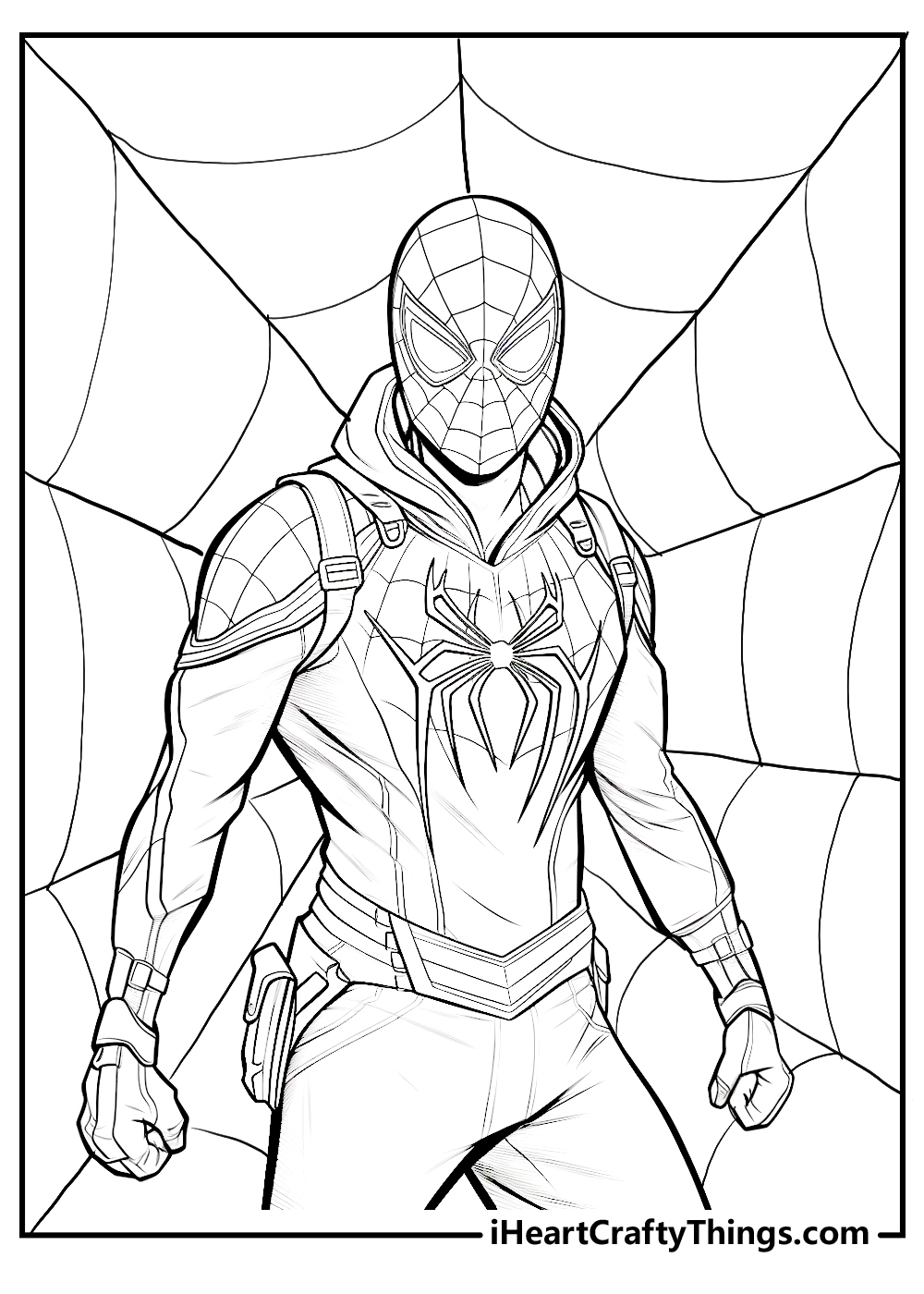 It's very clear that Miles loves his home of New York City, and this next page gives off that feeling.
He is standing proudly in front of his beloved city, and it makes for a really cool scene to color.
When coloring the city, you could make it look like it is any time of day. For example, if you portray night time, then you could make the background mostly dark with some lights on the buildings.
What time of day will you portray?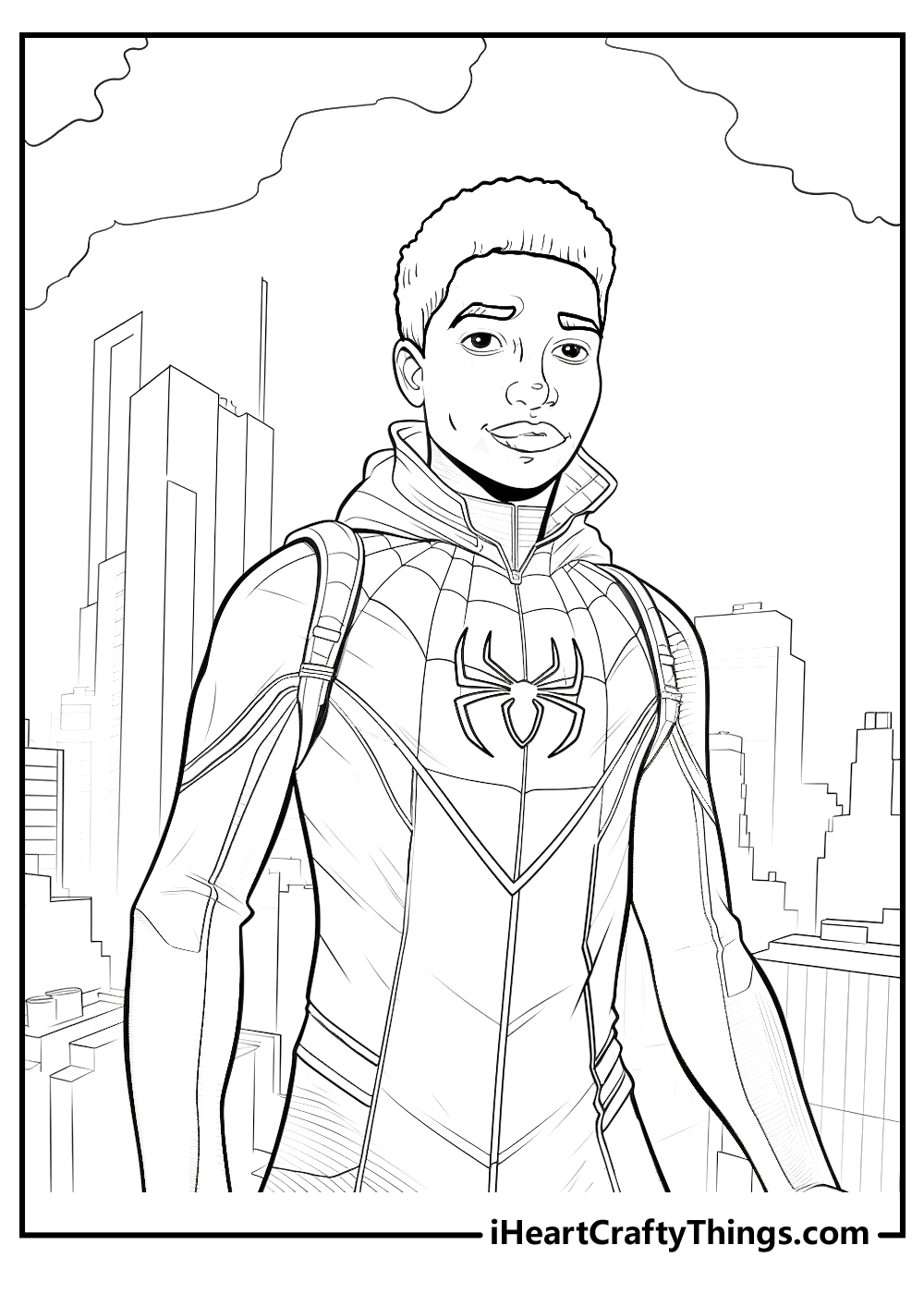 Sometimes, Miles will need a more tactical, armored suit to take on a particularly tough villain. This next page shows him in one of these more armored suits.
Not only does it look so cool, but it is also one of the most detailed pictures so far. You know what that means, as it allows you to add some amazing color details to the portrayal!
This is a great picture to spend a lot of time on, so don't feel like you need to rush it and take as long as you need!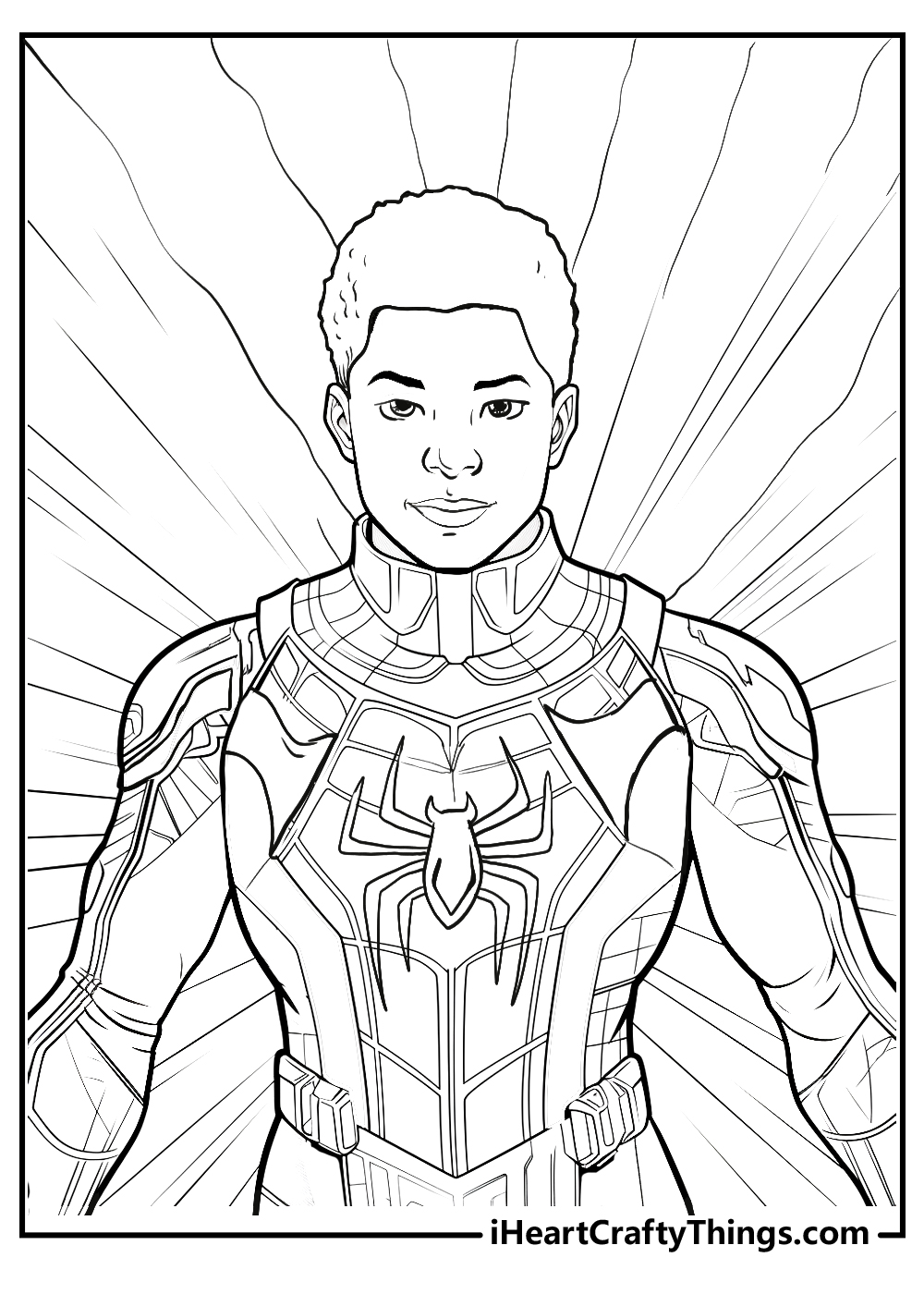 The last Miles Morales coloring page in this collection is another great look at our hero. This page shows Miles looking a bit younger, and this reflects the journey that he has taken.
There are also so many amazing details for you to color, so you can close off this collection in style! Let your creativity flow and see where it takes you.
You may even surprise yourself if you allow yourself to get creative and have fun with it. Now it's up to you to decide how to go about it!
What do you think you will use?
Miles Morales Coloring Pages – Which will you choose?
This collection of free Miles Morales coloring sheets for kids paid great tribute to this incredible character! We hope you enjoyed sharing your love for Miles Morales by working on these pages.
There are so many different styles and interpretations on display here, and so there is something for every kind of fan to enjoy.
No matter where you know Miles Morales from, you can replicate your favorite moments and interpretations. This is a great collection to share with friends that are Miles Morales fans as well.
We also always like to see how your pages turn out, so please feel free to share them on our Facebook and Pinterest pages!