The world of soccer (or football if you prefer) is filled with many superstars who become like rockstars to fans of the sport.
Lionel Messi is regarded as one of the greatest players to ever live, and millions of fans admire him.
Because of this level of popularity, we felt that fans of his would love a collection of free Messi coloring pages for kids. This collection aims to fill that void!
There are 15 pictures featuring Messi for fans to enjoy. You can not only have fun coloring the pages, but these would make excellent posters for your wall once complete.
Will you color every page or select some of your favorites to focus on?
15 Brand New Messi Coloring Pages – Free to Print and Color
This first Messi coloring sheet shows this legend in a tense moment during a game. His focus seems laser-focused, and he is ready to make a potentially game-winning shot.
Now you can bring this moment to life with your colors! When coloring the background, you don't have to go for a realistic look.
You could use some bright colors to make the scene look more dramatic, for instance. Or you could make the background dark to bring the emphasis to Messi himself.
What will you do for the background?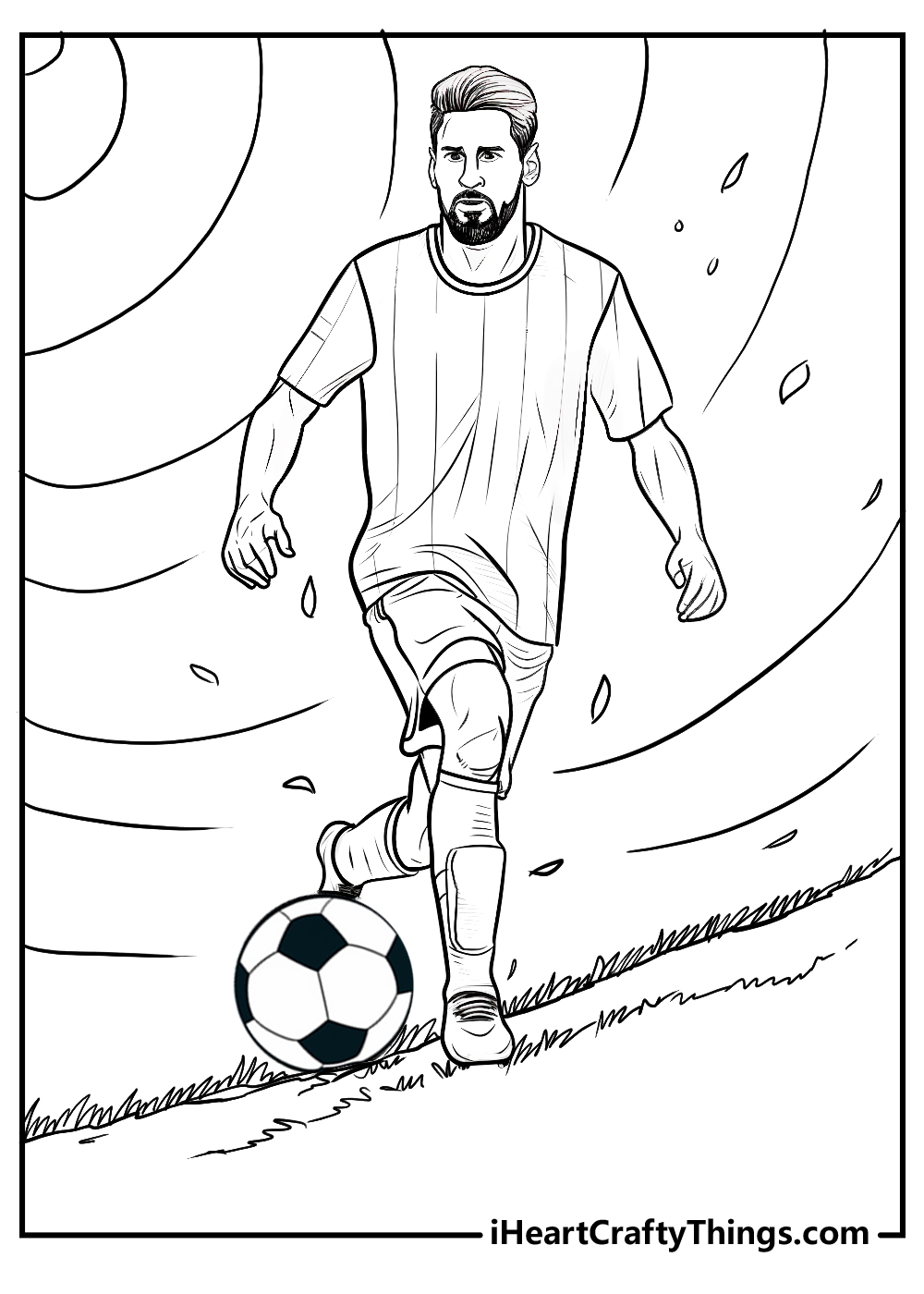 It's a moment of soccer action on this next page! Messi is going in for a kick, and it makes for a really cool pose.
Not only that, but the name Messi is written in block letters above him. This is great because it gives you more to color, and you have a few ways to color the letters.
Not only that, but having his name front and center also allows you to use this as an awesome poster once it is complete. What colors will you use for the name on this page?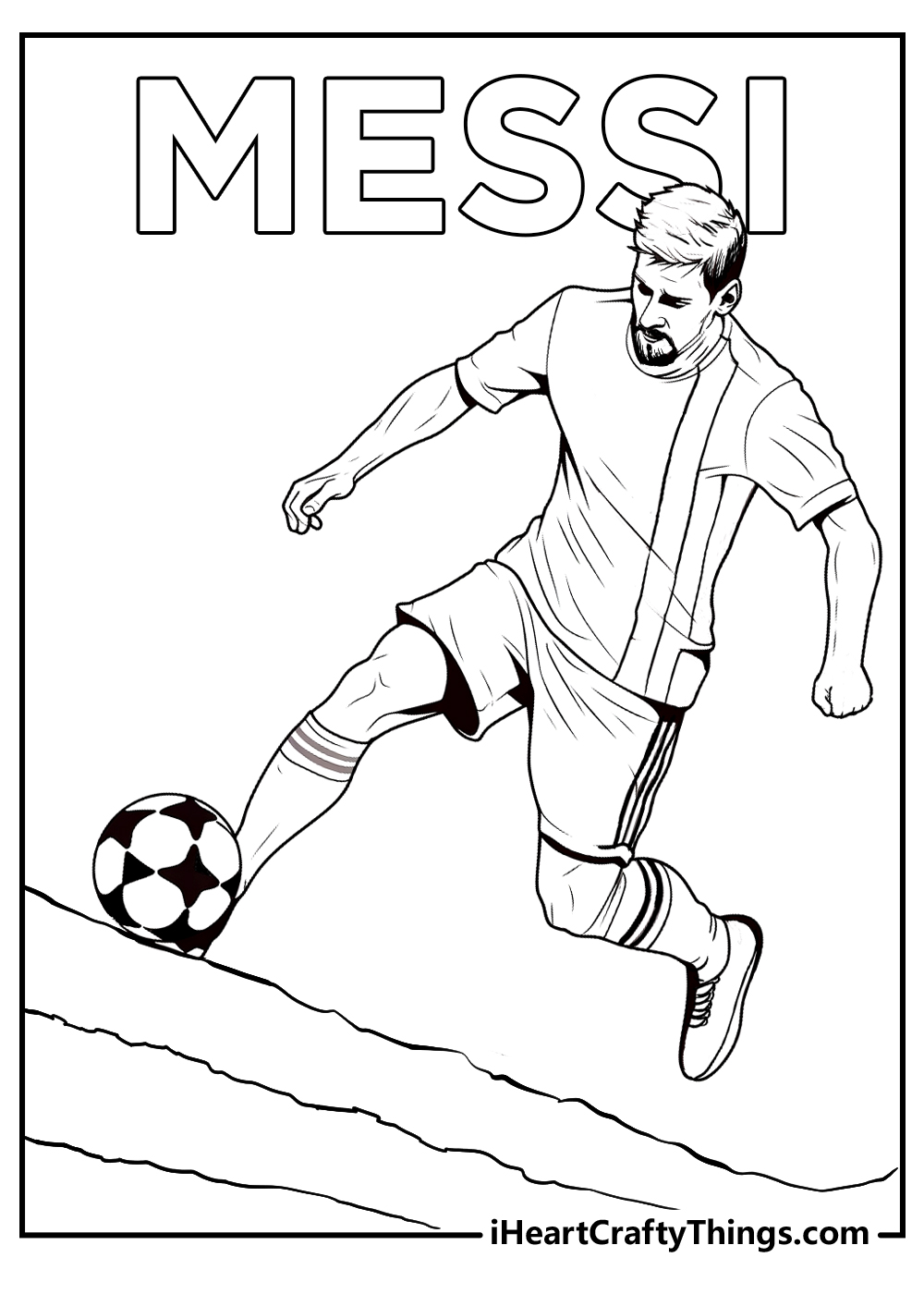 Sometimes, footballers are so skilled that they can seem a bit like superheroes with superpowers! This next page showcases this idea, as an energy field seems to be surrounding Messi.
This power field could be filled with some bright colors in order to highlight this feeling. I would probably use some bright blue or yellow that are applied with some colored pens or markers.
That would really make the colors pop and highlight the idea of Messi having superhuman soccer abilities! You could of course use any colors you like to show this idea, though.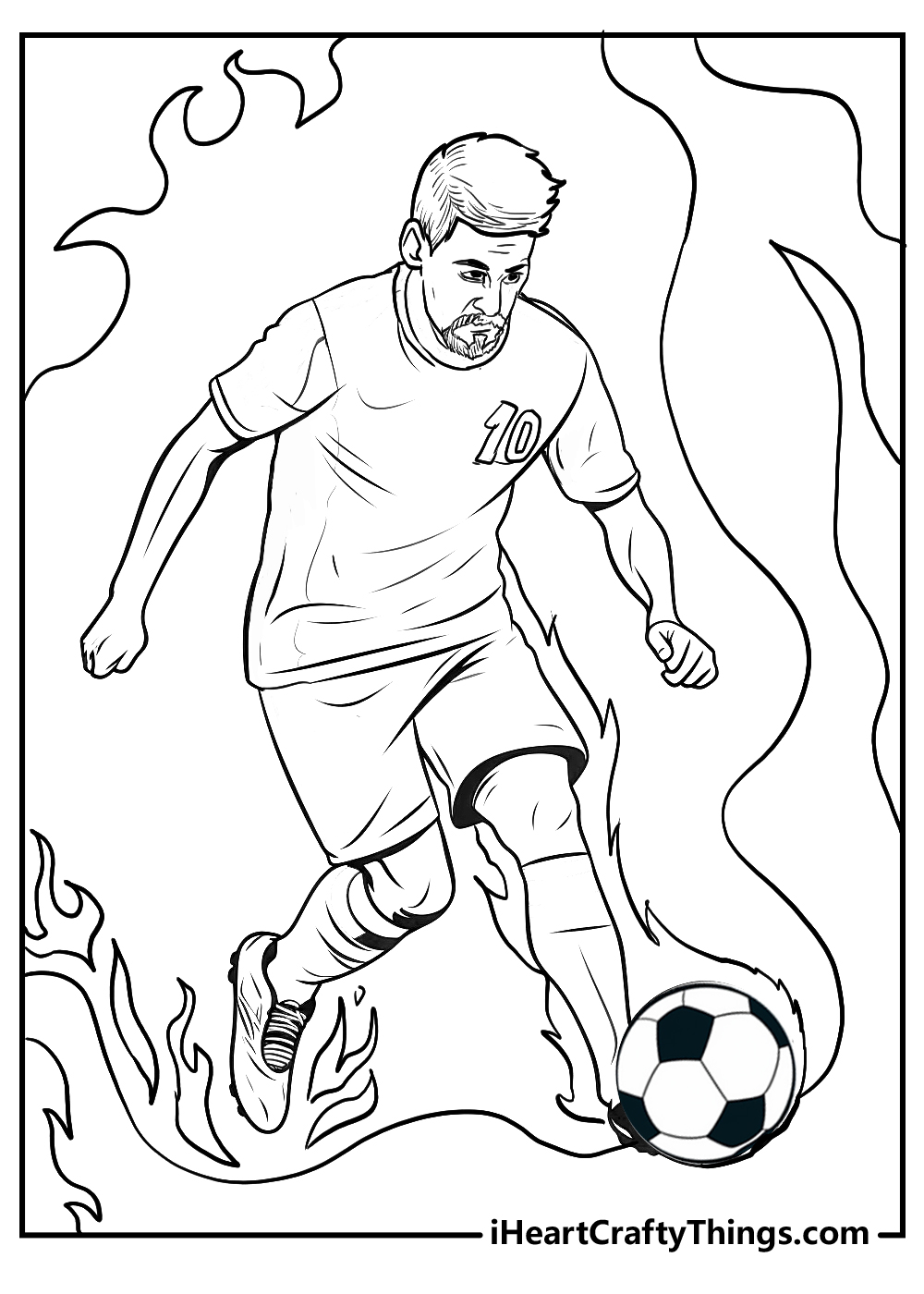 Soccer is of course based on mostly kicking the ball, however players can also perform header moves in certain circumstances. This kind of move can require a lot of skill, but Messi is up to the task!
He is performing a header on this page, and it makes for a really awesome scene for you to color. The lines in the background suggest that he is moving really quickly.
They also bring the focus to Messi, and I can imagine that in a moment like this he may feel like the only player on the field as he is concentrating so hard!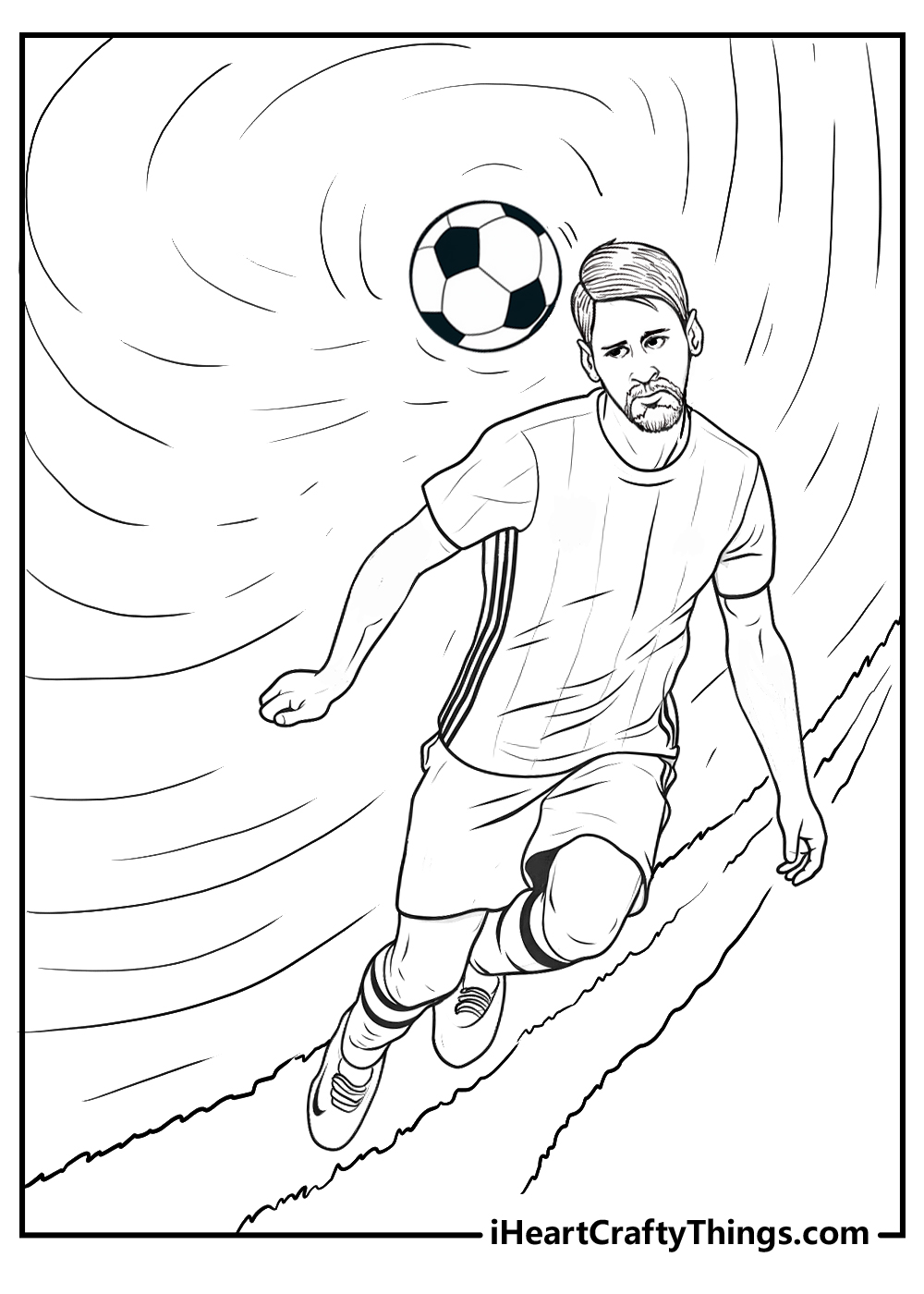 Any fan of Messi will know that he wears 10 on his uniform. That is why we included this number on this next Messi coloring printable.
This is under his name, so once again you have plenty of ways you could color this text and these numbers. Sometimes, I like to use one color for each letter of a word or phrase.
Other times, I like to alternate one or two colors, but you could also use a different color for each letter. These are a few ideas, but no matter what you use I know it will look awesome!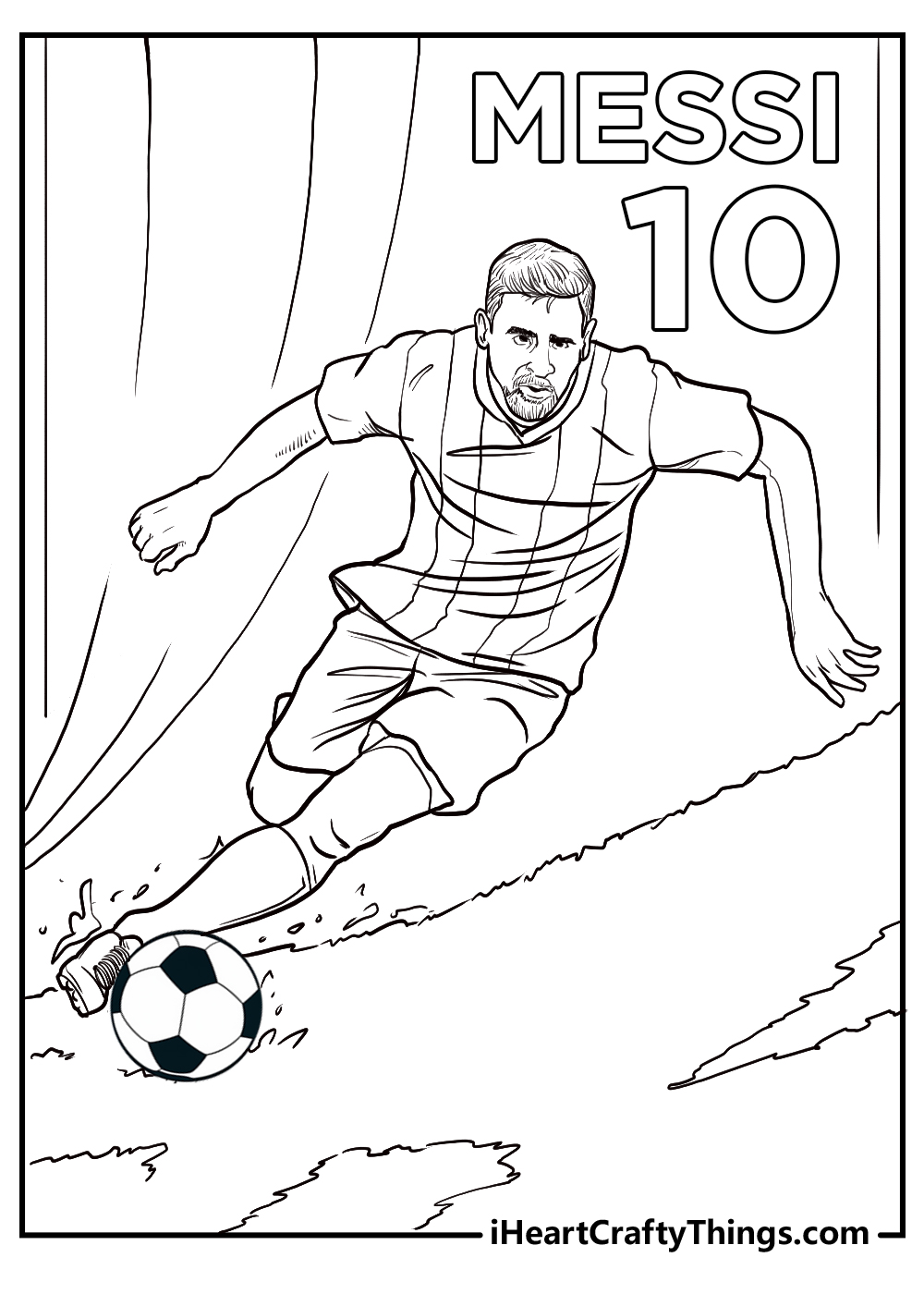 Lions are often nicknamed the king of the jungle, and you could make an argument that Messi is the king of football (although some may debate that.)
You can't deny that he's a powerful skilled player, and we highlighted this by posing him with a majestic lion.
This not only makes for a really cool picture but also gives you plenty of cool details to color.
Once you have colored Messi and his uniform, you can also color the lion and the background. I'm sure this will be an awesome picture once you are finished!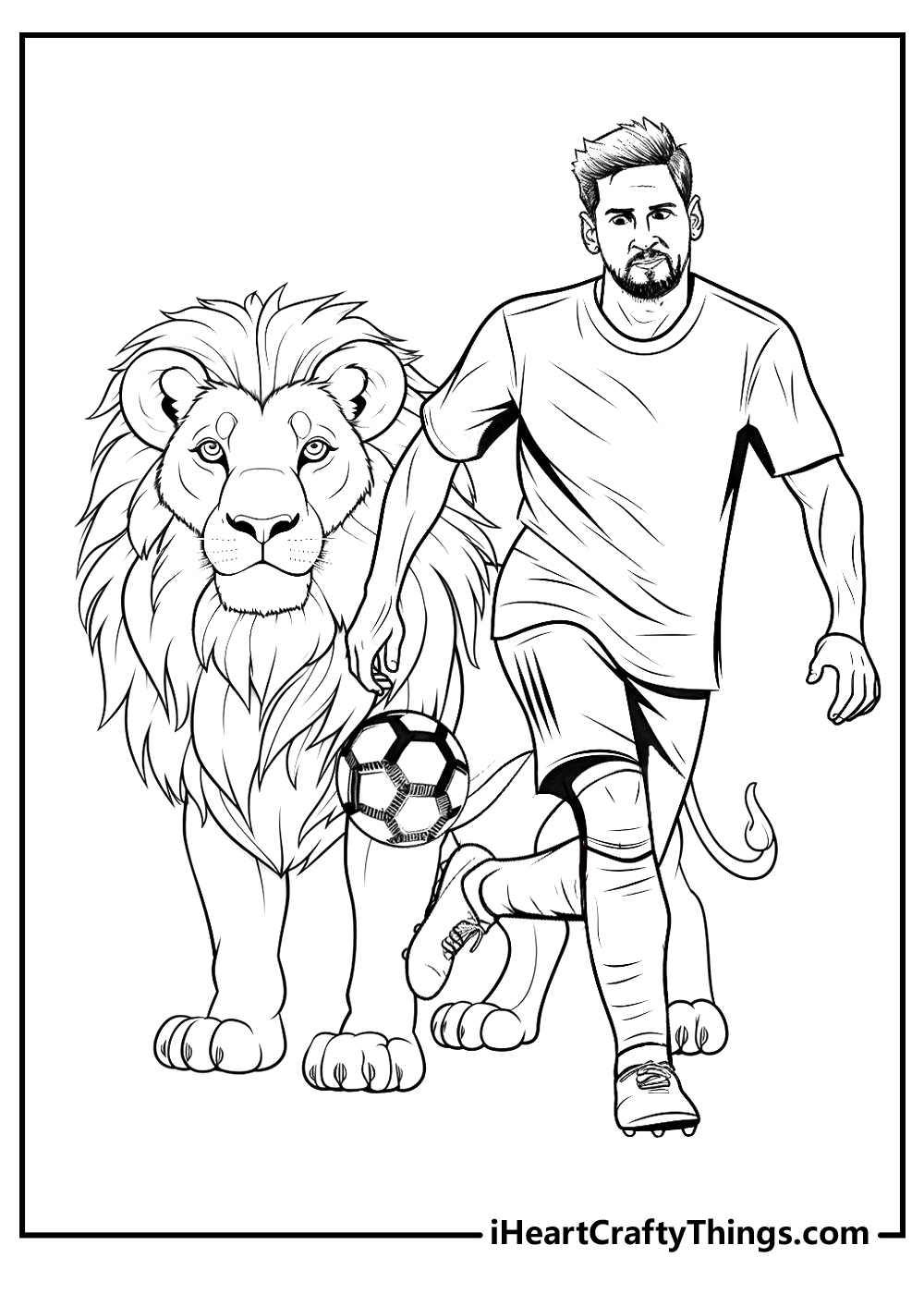 Playing soccer with one soccer ball is difficult enough, but on this page, Messi is practicing with two. This would be a challenge even for someone of Messi's caliber, but it sure is an interesting sight!
On top of all that, you also have some text to color as well, and to cap it all off there is also the Miami club badge. There is plenty to keep you busy on this page!
If you have lots of ideas for this page, you could print a few copies to try them out. You can print it out as many times as you like!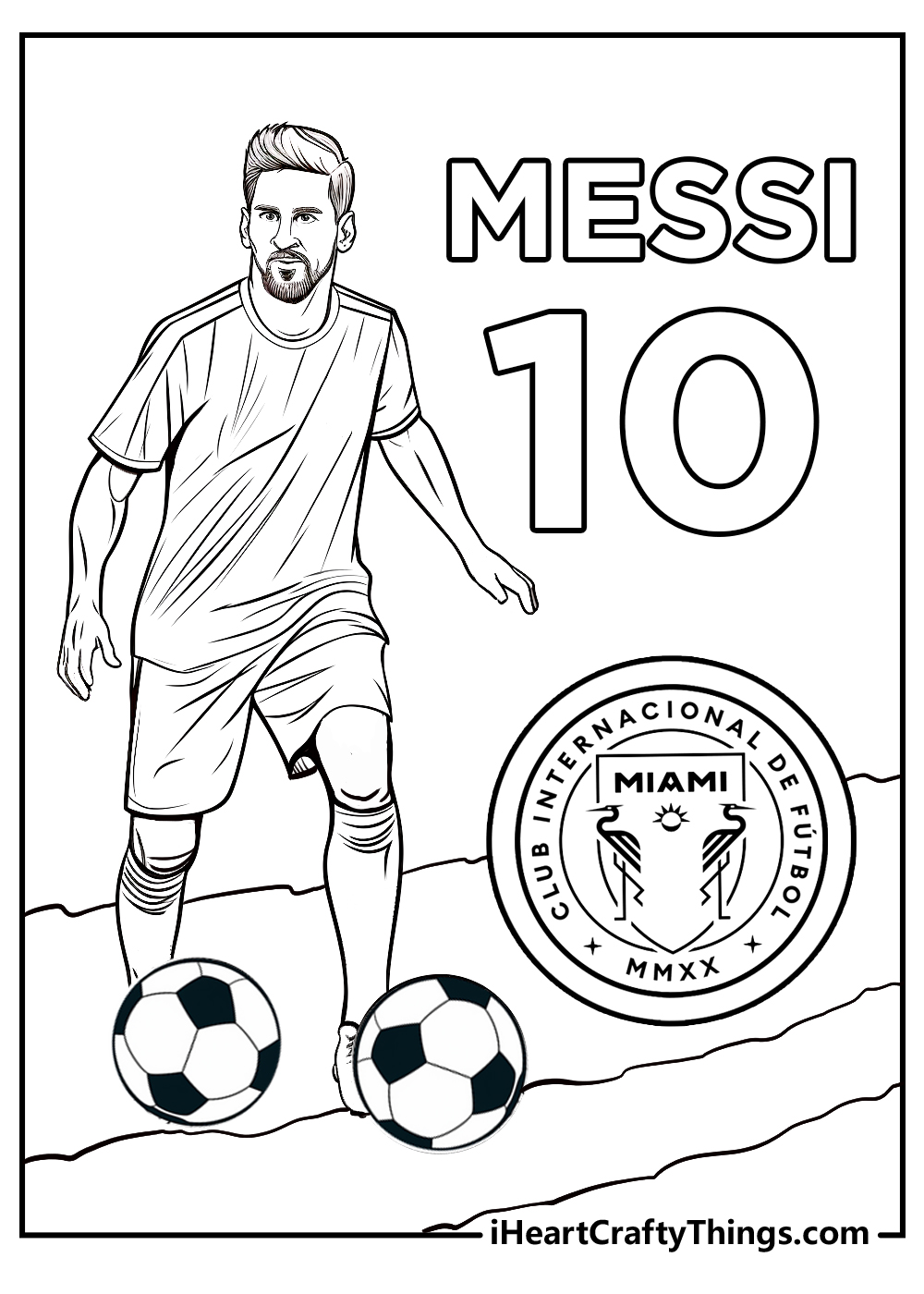 There is a real intensity to this next page, and it is an awesome portrayal of this soccer hero. Once again, he is performing a tricky header move.
The background is separated into sections, so there are a few ways that you could go about coloring these segments.
Whether you keep the colors bright or make them darker, you have some different options.
There are no wrong ways to color images such as this, so you can really get experimental with it and try out some amazing colors and art tools!
What will you choose?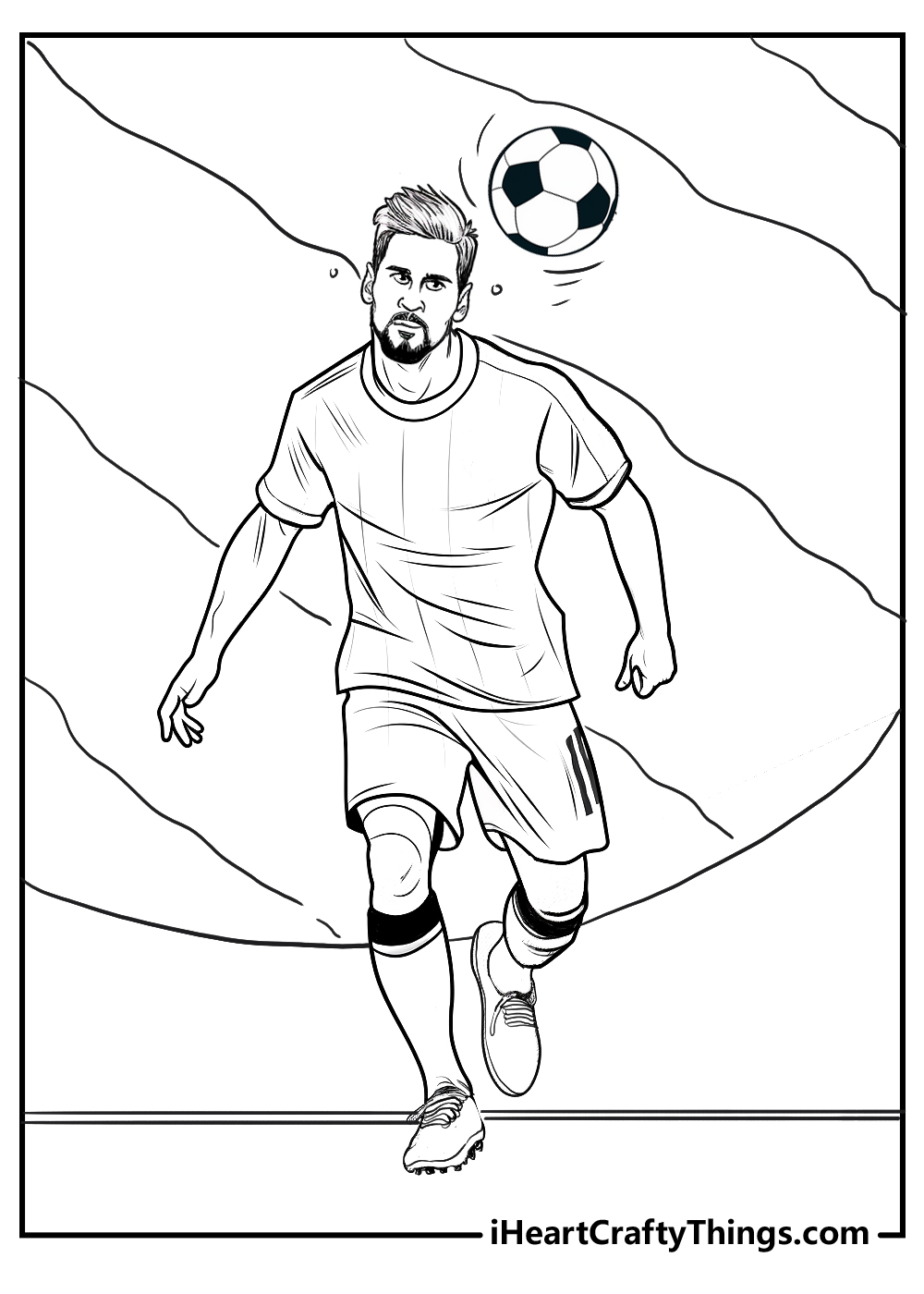 Not many fans get the privilege of getting close to Messi to meet him, but this page replicates what it could be like.
There is quite a close-up of Messi here, and it helps to set this picture apart from the rest of the collection.
It offers some interesting ways for you to color the page, as you can really focus on the finer details. The background has also been left blank, so you could draw some details or add some cool colors.
It may seem like a simple picture, but there are so many ways you can bring this page to life with color!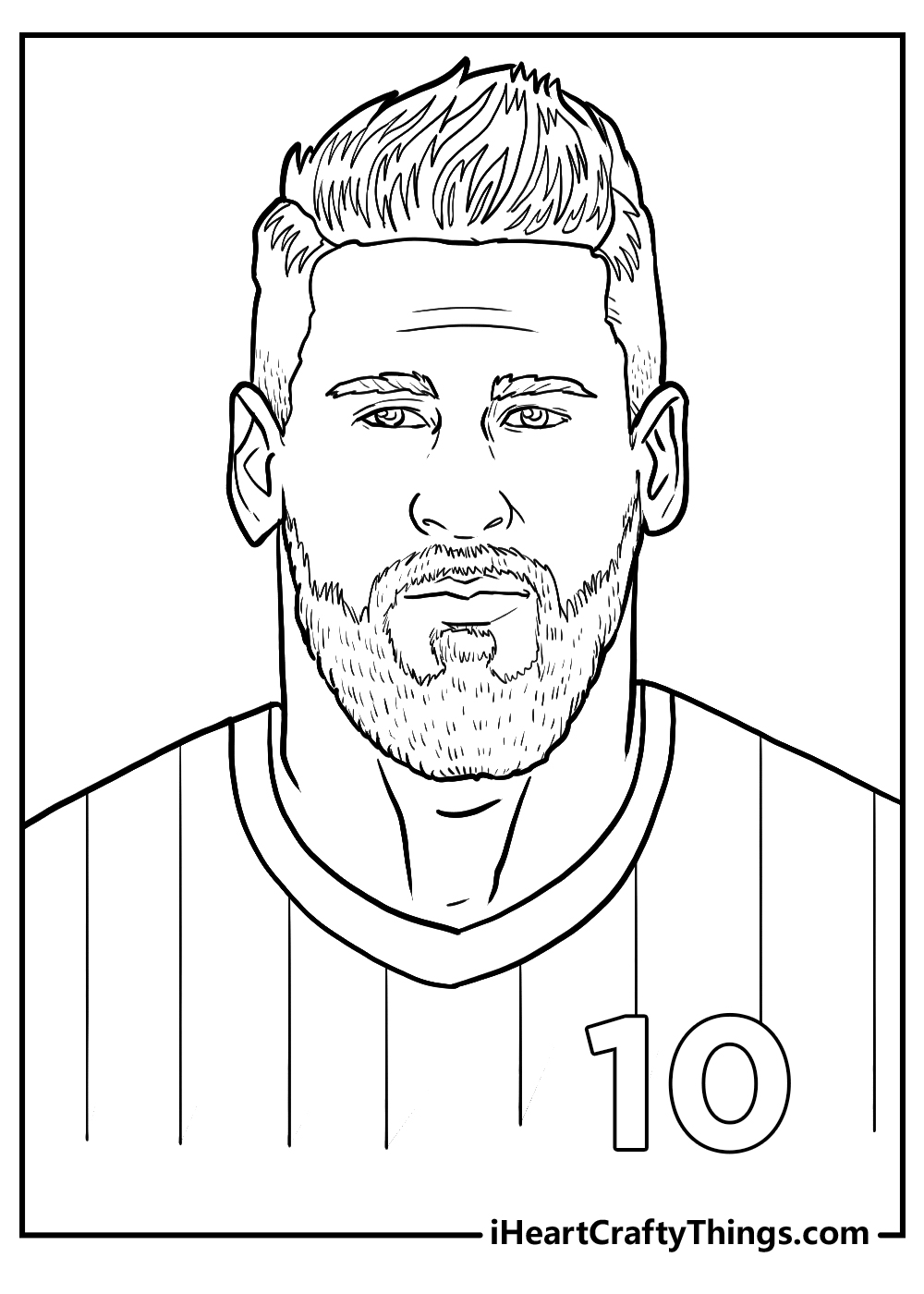 This next Messi coloring page is a really dramatic portrayal! He is surrounded by electricity and power effects, and it really gives this famous player an aura of almost superhuman ability.
Once again, these effects not only look cool but give you loads of opportunities to get experimental with colors. I know I would use some bright colors for the power effects.
You may not want to go that route though, and it would certainly be okay! It's up to you, so be sure to go where your creative instincts lead you.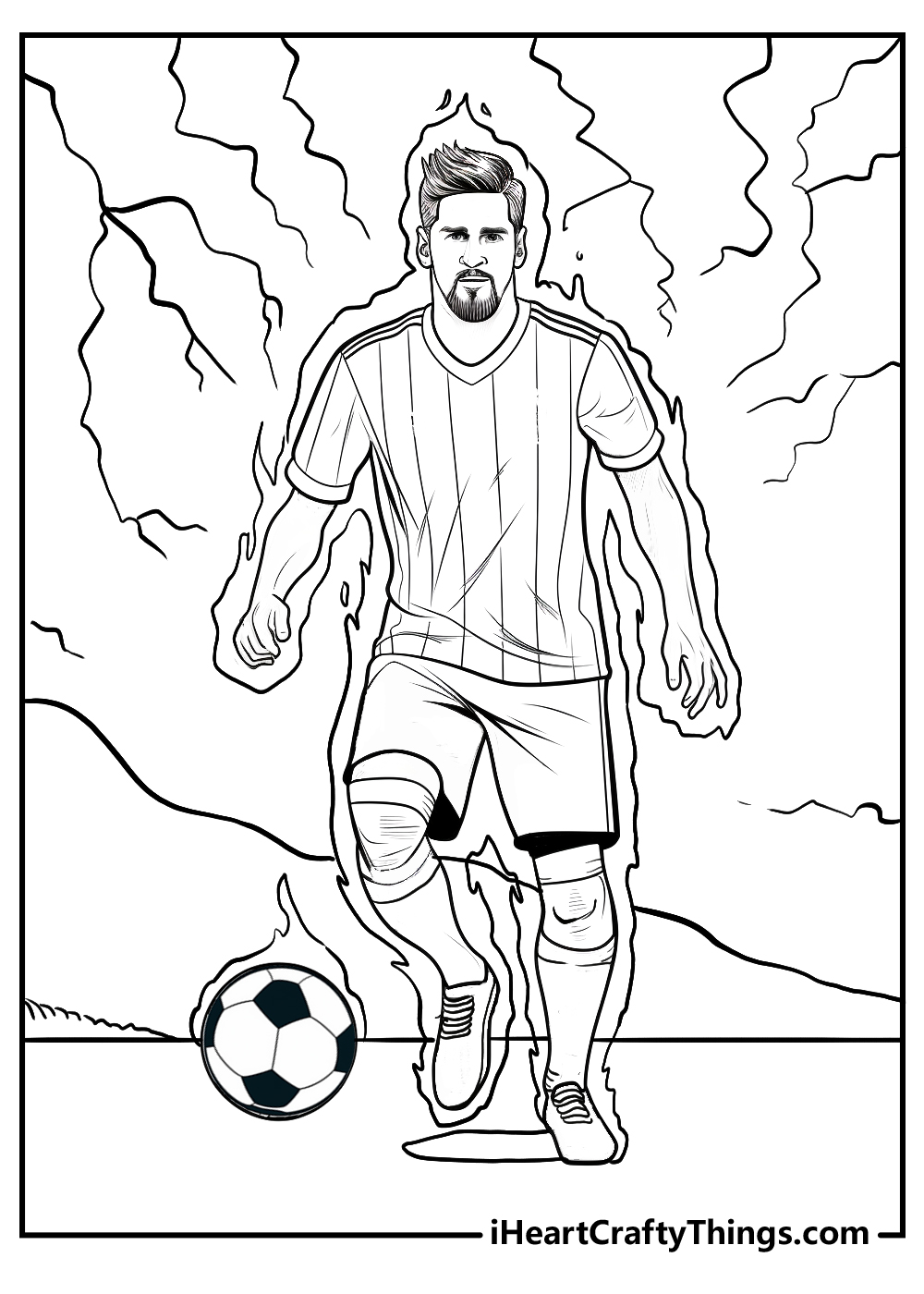 The focus is purely on Messi on this next page we have for you to color.
There is some minimal background detail on display, but there is plenty of freedom for you to experiment with some additional background elements.
For example, you could draw masses of fans cheering Messi on. This would require a bit of patience to portray, but it would be worth it as it would make the picture really visually interesting.
That's just one of the ways that you could make the background more intriguing, but there are many others!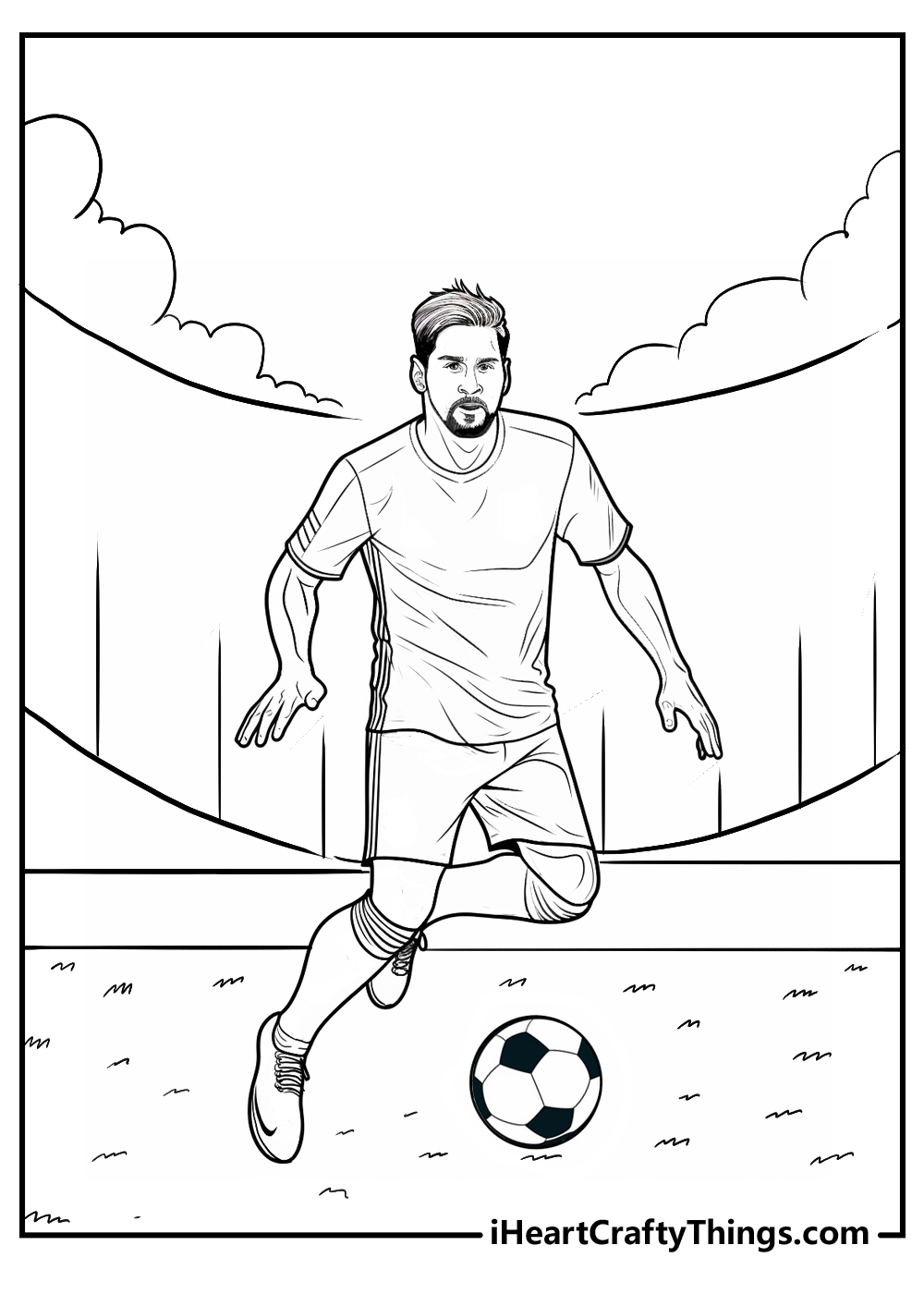 Messi is close to the goalposts on this next page. The fact that it is at his back makes it seem that he is defending the goals instead of going for them.
That makes me think that this is probably quite a dramatic scene, as he probably had to work hard to prevent a goal from the other team.
If you wanted to make this even more exciting, then you could add a few more players to the image, and that way you could show what team he is playing against.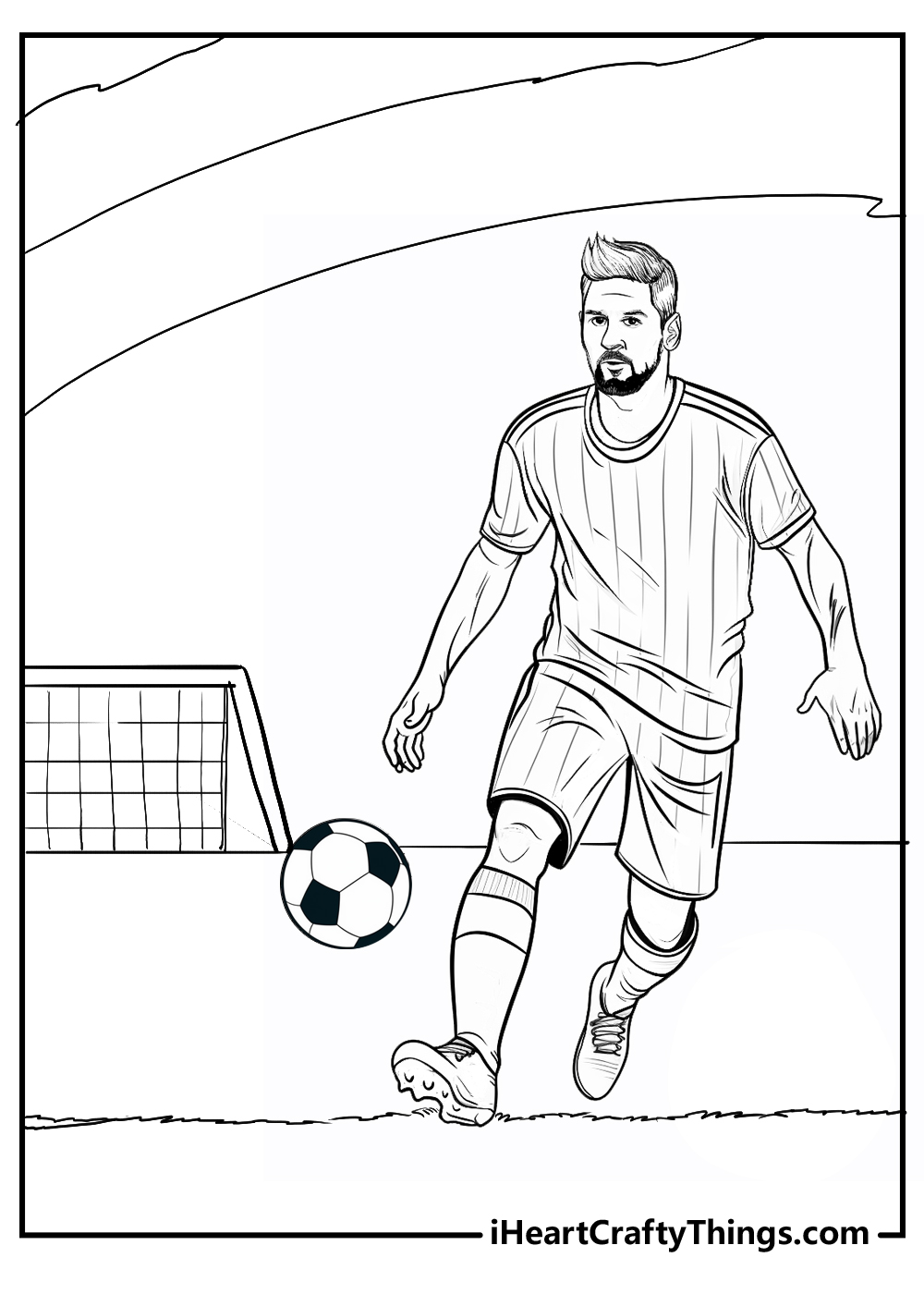 This picture stands out from the rest, as Messi is performing one of the biggest football sins by touching the ball with his hand!
Although, it looks as if he is carrying the ball here, as his pose is a bit more relaxed as well. This makes me think that he has just finished a practice session and is carrying the ball to leave the field.
The ball is not detailed, so you could draw the details yourself to make it more complete!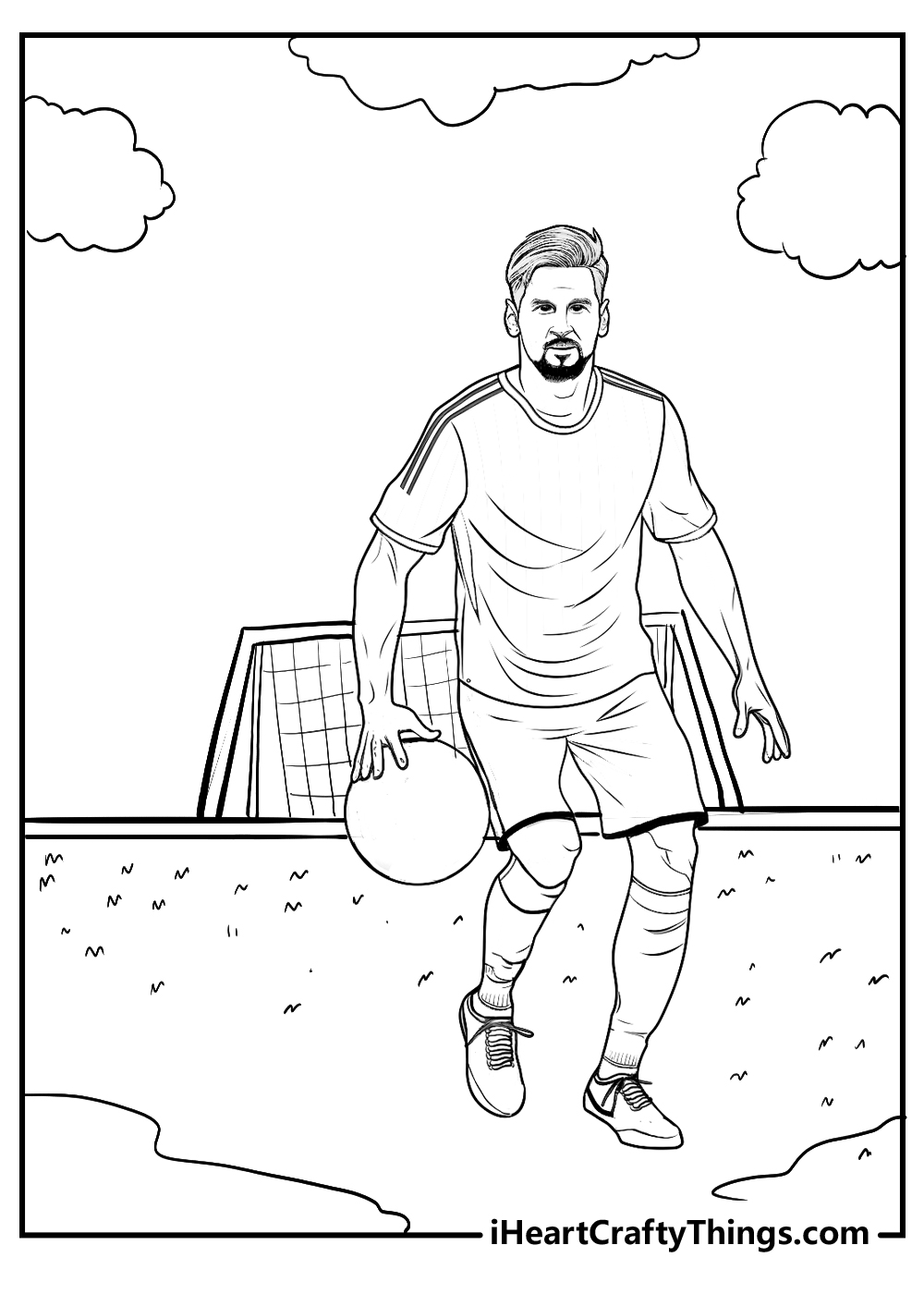 Do you notice anything unusual on this next Messi coloring printable? I'll give you a clue: look at the ball.
It has a bit of an unusual pattern on it, but it makes it look more unique. Despite this fun detail, you have tons of cool things to color on this page.
There is Messi himself, but you can also color the text on the page as well. You could also keep the background simple with a single color, or you could draw a background setting for some extra fun.
How will you fill the background of this page?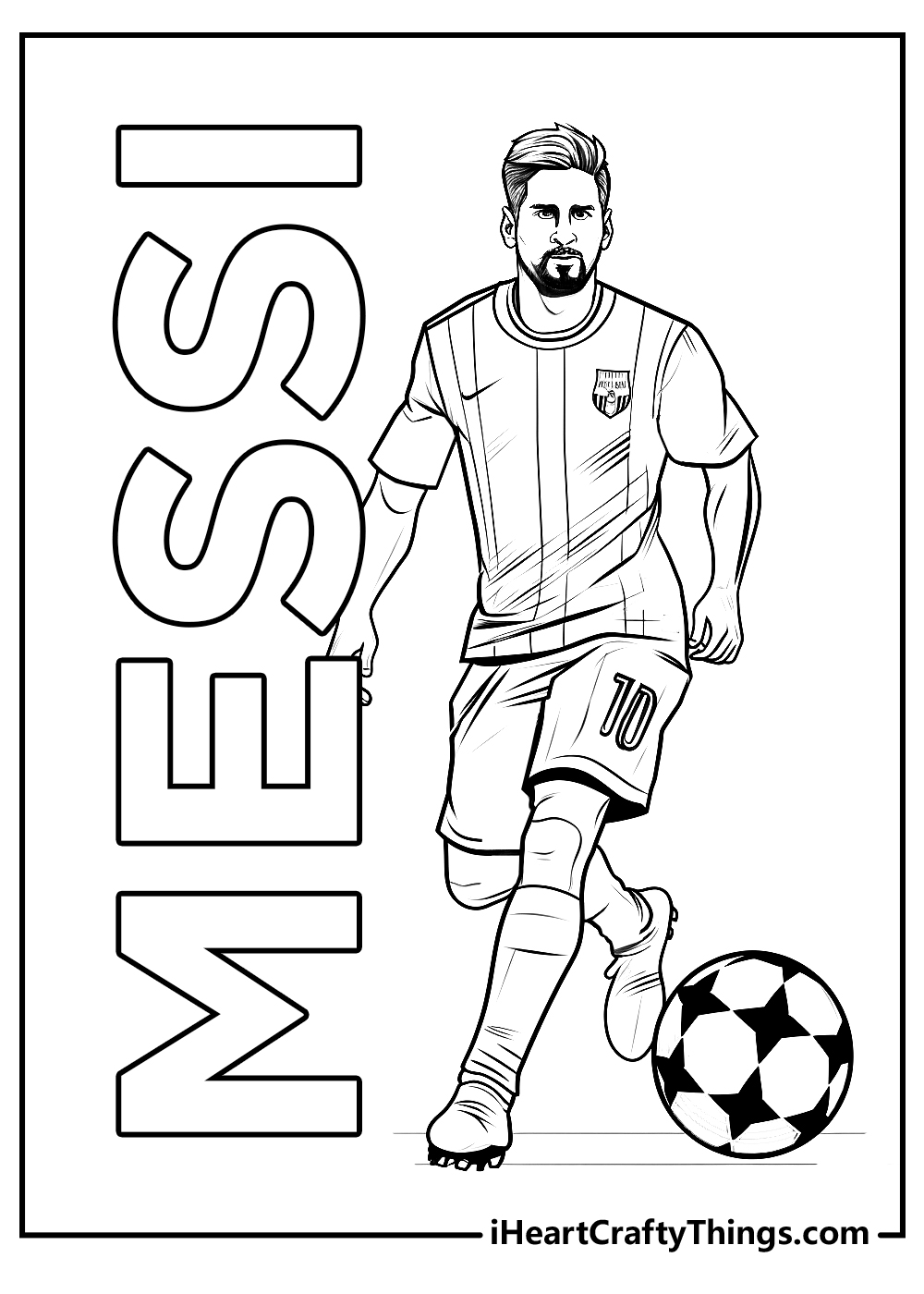 The final page of this collection brings the focus back on Messi himself for another closeup. This is another page that allows you to really focus on the finer details.
Once this page is done, it would be another one that would be perfect as a wall poster. If you know any other Messi fans, I'm sure they would enjoy taking on this collection as well!
It can be fun to color the same picture and see how different people approach the same one. Who would you share the collection with?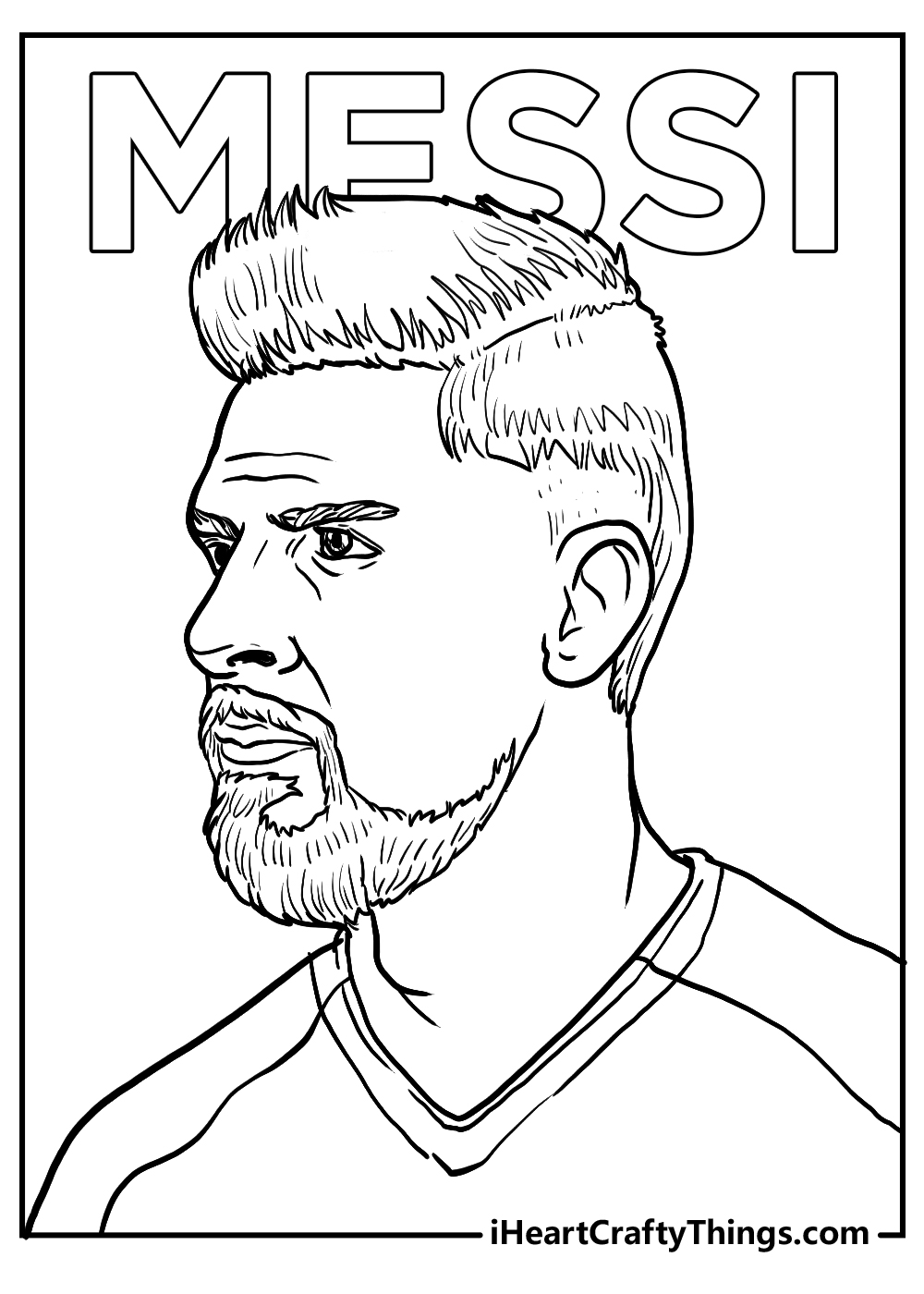 Messi Coloring Pages – Which will you choose?
This collection of free Messi coloring sheets for kids was designed to honor and celebrate this legendary player.
Hopefully, you enjoyed the collection and were able to relive your favorite Messi moments!
This collection is totally free to print as many times as you like, so you can really go for it and experiment. As mentioned before, it could be fun to share the collection with other Messi fans!
There is a ton of fun to be had here, so be sure to share the excitement. Your finished pages can also be shared on our Facebook and Pinterest pages for us to admire, so we hope you will do that!