In all of cartoon history, you'd have a hard time finding a wackier cast of characters than those from the Looney Tunes.
Since the 1930s, this series of cartoons has been entertaining people young and old with it's fun animation and silly characters.
This collection of free Looney Tunes coloring pages for kids is here to show off some of the most iconic characters from the series!
There are 15 pages coming up for you, and they are all free to print, color, share and enjoy.
So let's begin a trip through animation history as we start with the very first page of the collection!
15 Brand New Looney Tunes Coloring Pages – Free to Print and Color
This first Looney Tunes coloring sheet that we have for you features a really well-known character: the Tazmanian Devil!
This character is known for being quite vicious and unpredictable, and he often travels around in a whirlwind.
Now it's up to you to finish off this famous character as you add some awesome colors to the page!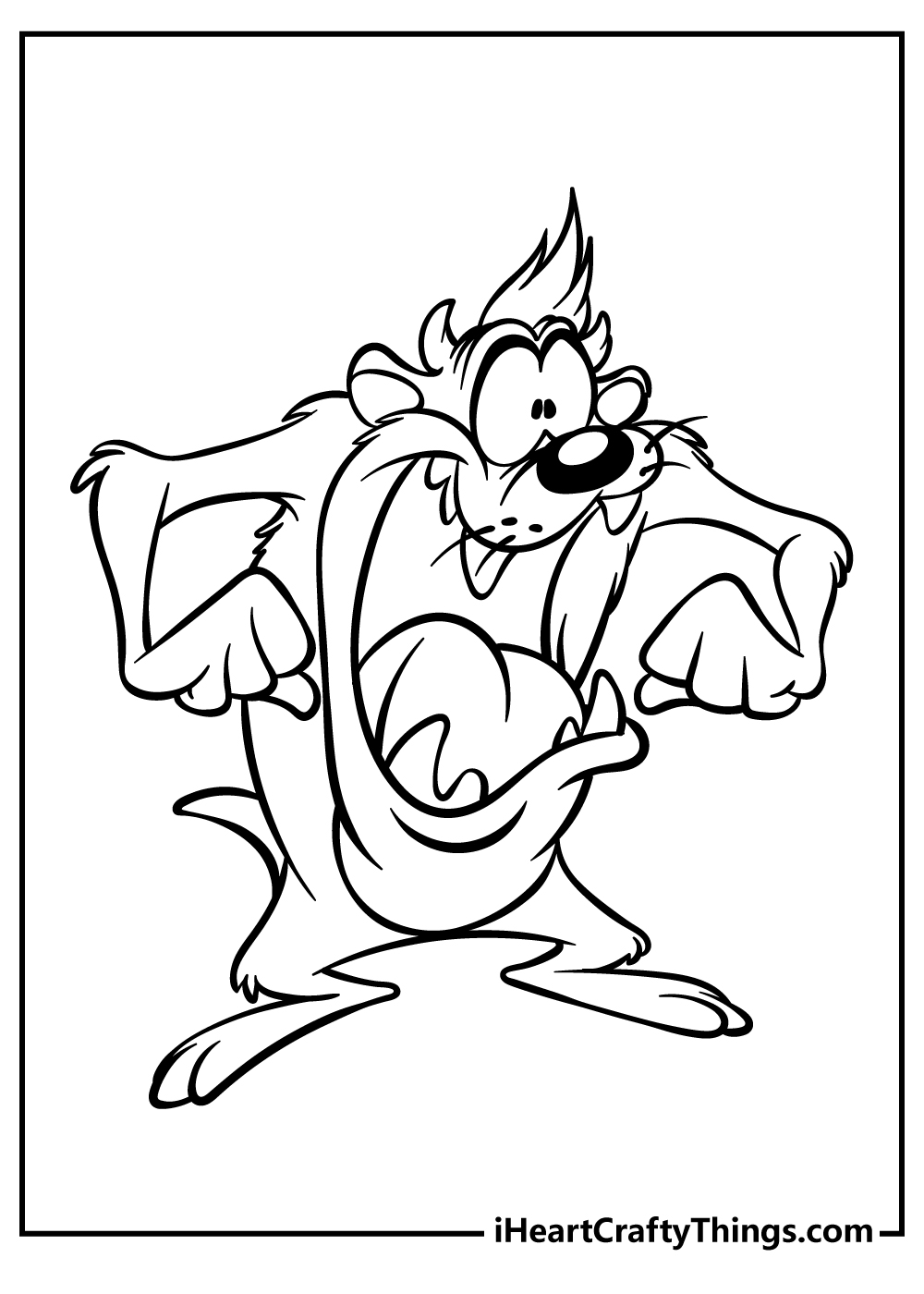 Daffy Duck is one of the most famous and recognizable characters in all of Looney Tunes. He likes to annoy people, and he is really good at it as well!
He also has a distinctive color scheme of black feathers with bright orange for his beak and legs. Will you go with these colors for him here, or will you give him a new look?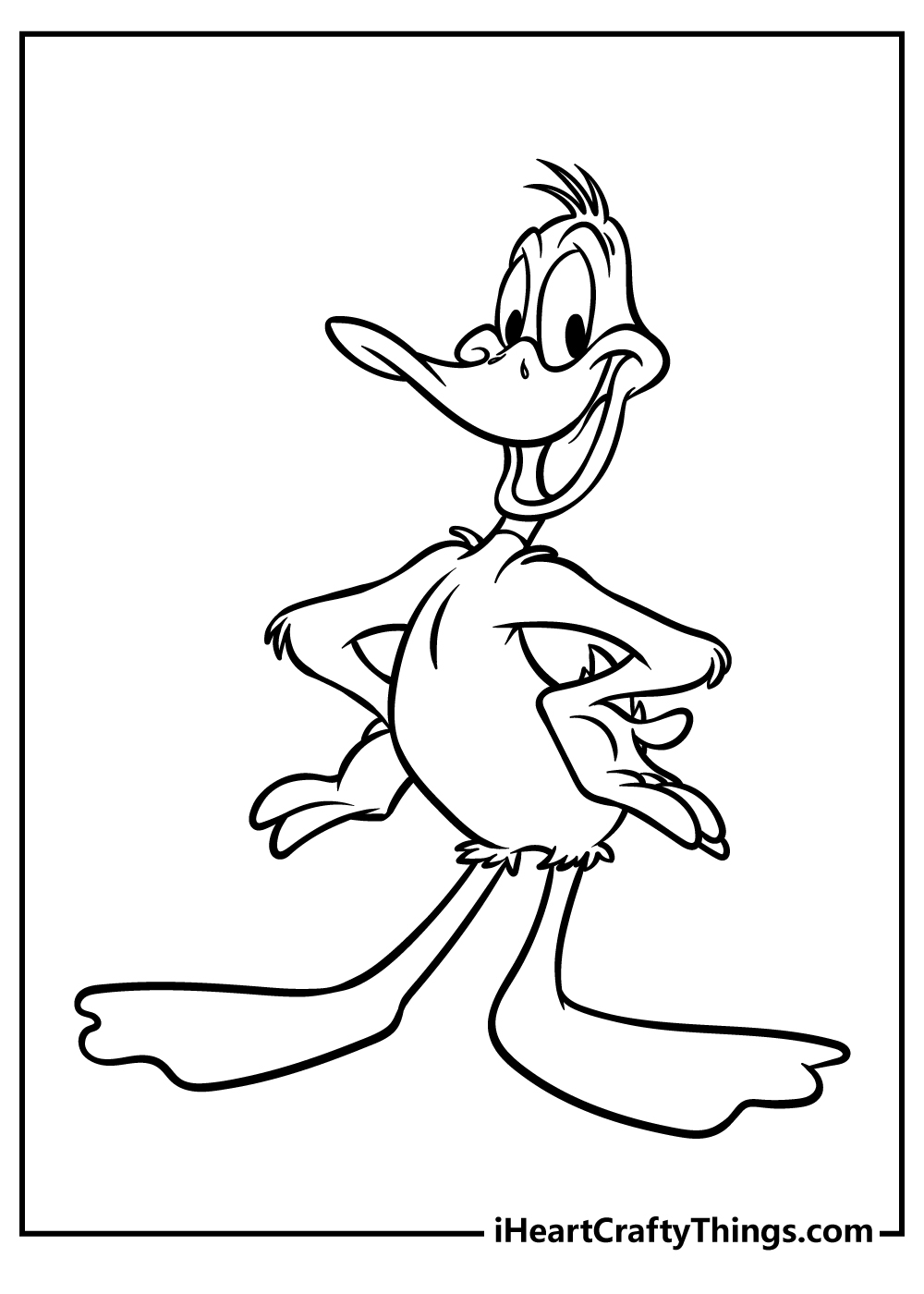 We're really feeling the love here! This picture shows the famous Bugs Bunny with a relatively new addition to the series: Lola Bunny.
They are surrounded by hearts while sharing an embrace, so this page would be a great choice to give to someone you care about once it's finished. How will you color this romantic page?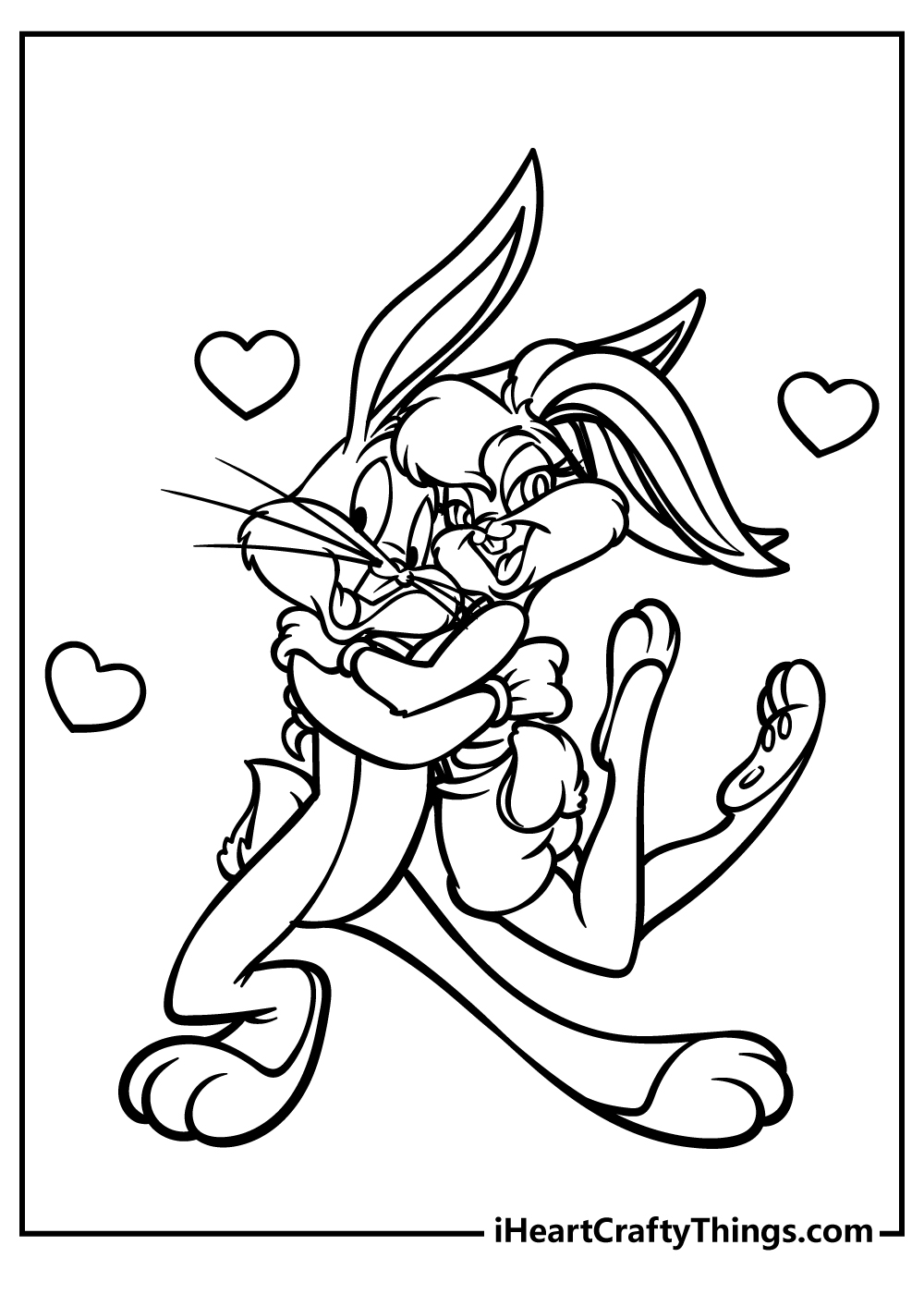 Tweety Bird may be small and cute, but he shouldn't be underestimated!
This Looney Tunes coloring page shows off the adorable side of this character who can be quite resourceful when he needs to be.
Tweety has bright yellow feathers with orange for his beak and legs, so if you use these colors then this should be a really bright and vibrant page.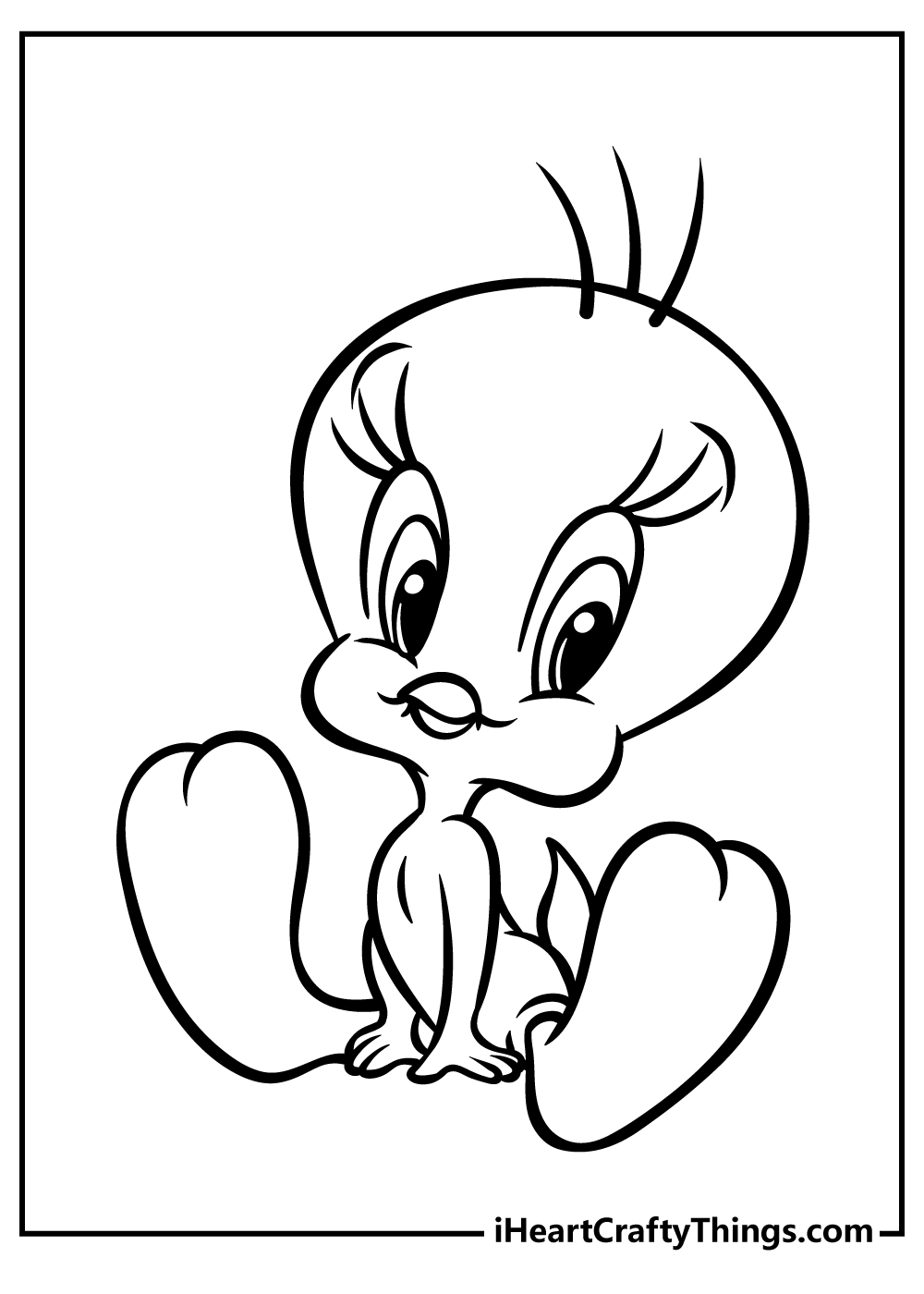 Speedy Gonzales is the next character that we have for you to color! This mouse certainly lives up to his name, as he can travel really fast when the need arises.
He is often seen in environments that are inspired by dusty Western films, so you could draw a really fun background for him here.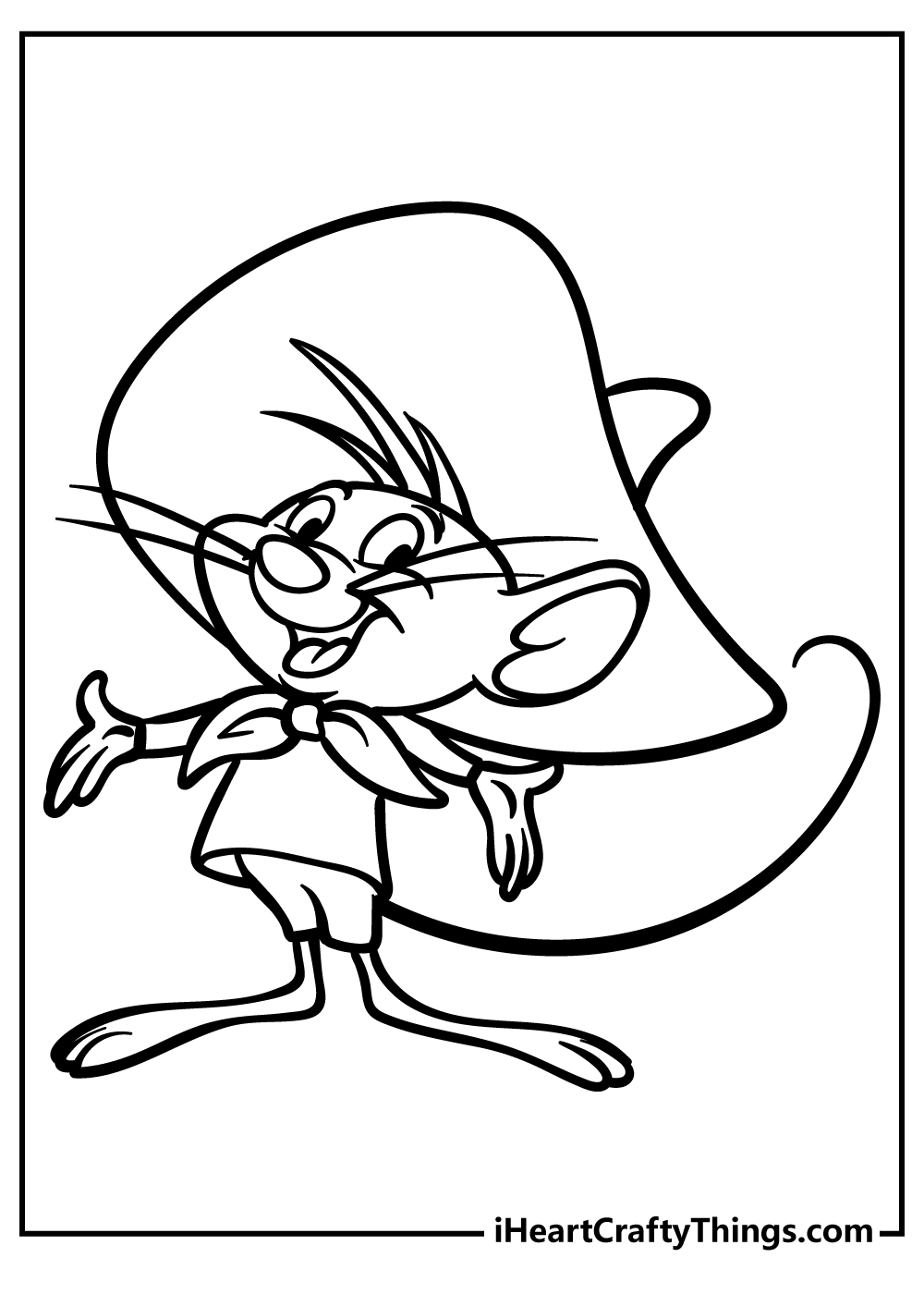 Tweety is back for more in this next image! Here he is sitting under an umbrella while looking really cute.
The umbrella has several sections on it, and that allows you to add a good variety of different colors. What colors do you think you will choose for Tweety's umbrella?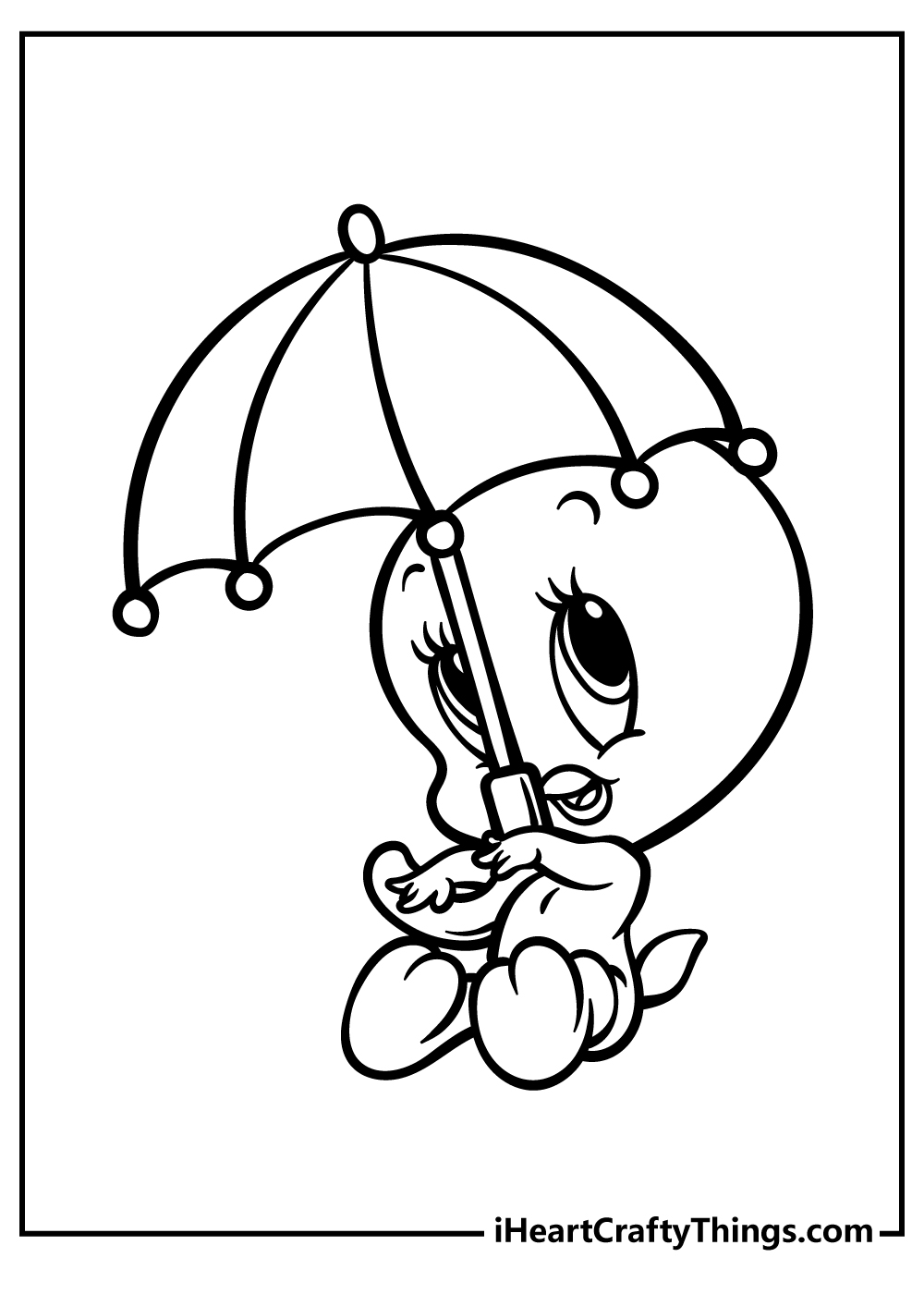 You wouldn't normally use 'cute' as a description for Tasmanian Devil, but this next page in our collection of free Looney Tunes coloring pages for kids does show a cute side to him.
This is baby Tazz, and he is munching on a piece of pizza for a really cute portrayal. How will you color this younger version of this famous character?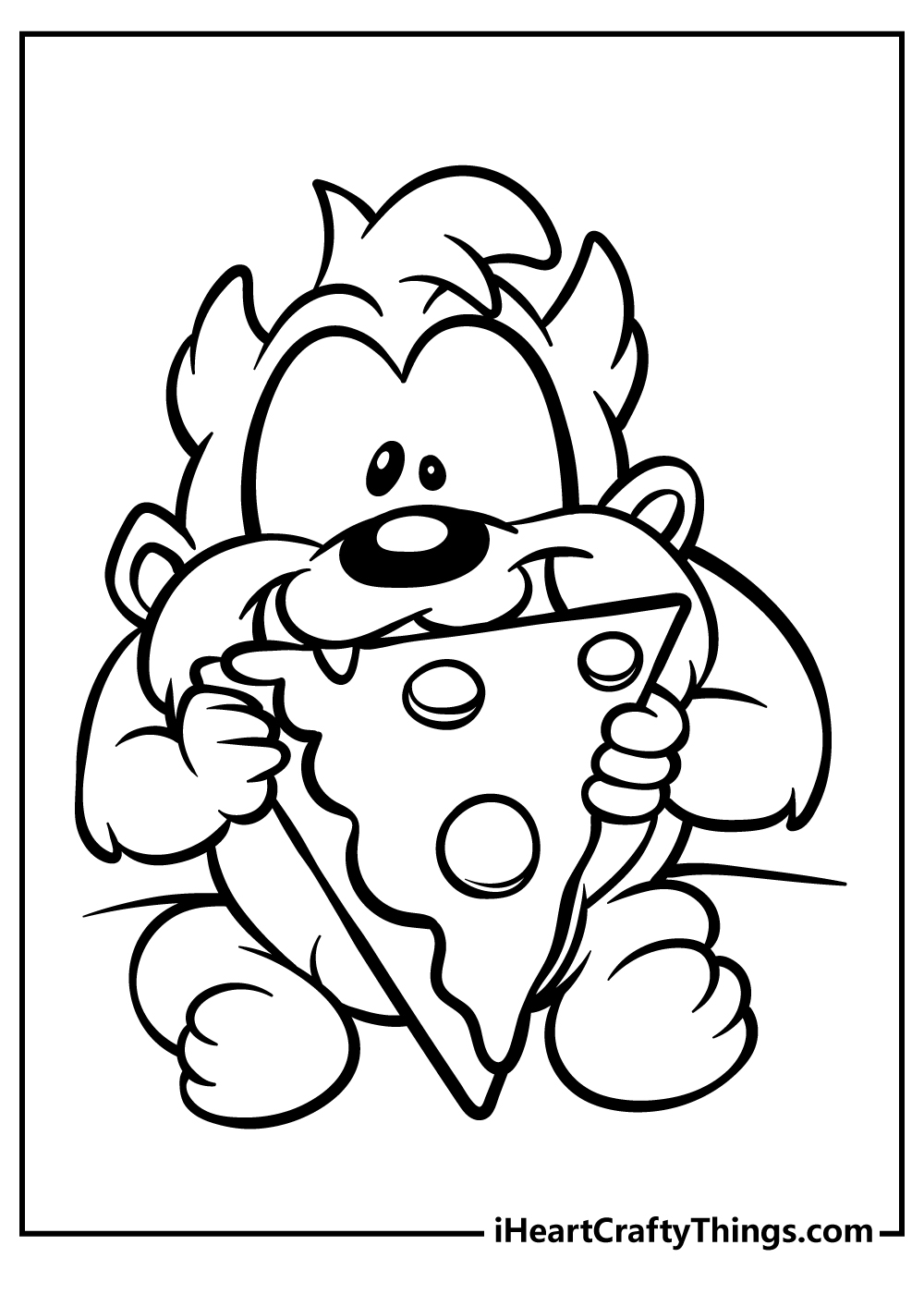 There are many iconic Looney Tunes characters, but here we have the one who is possibly the most famous of them all.
Bugs Bunny is that character, and he is posing with one of his beloved carrots in this image.
He has a grey and white color scheme usually, so you know which colors to have on hand if you wish for him to look as he does in the cartoons.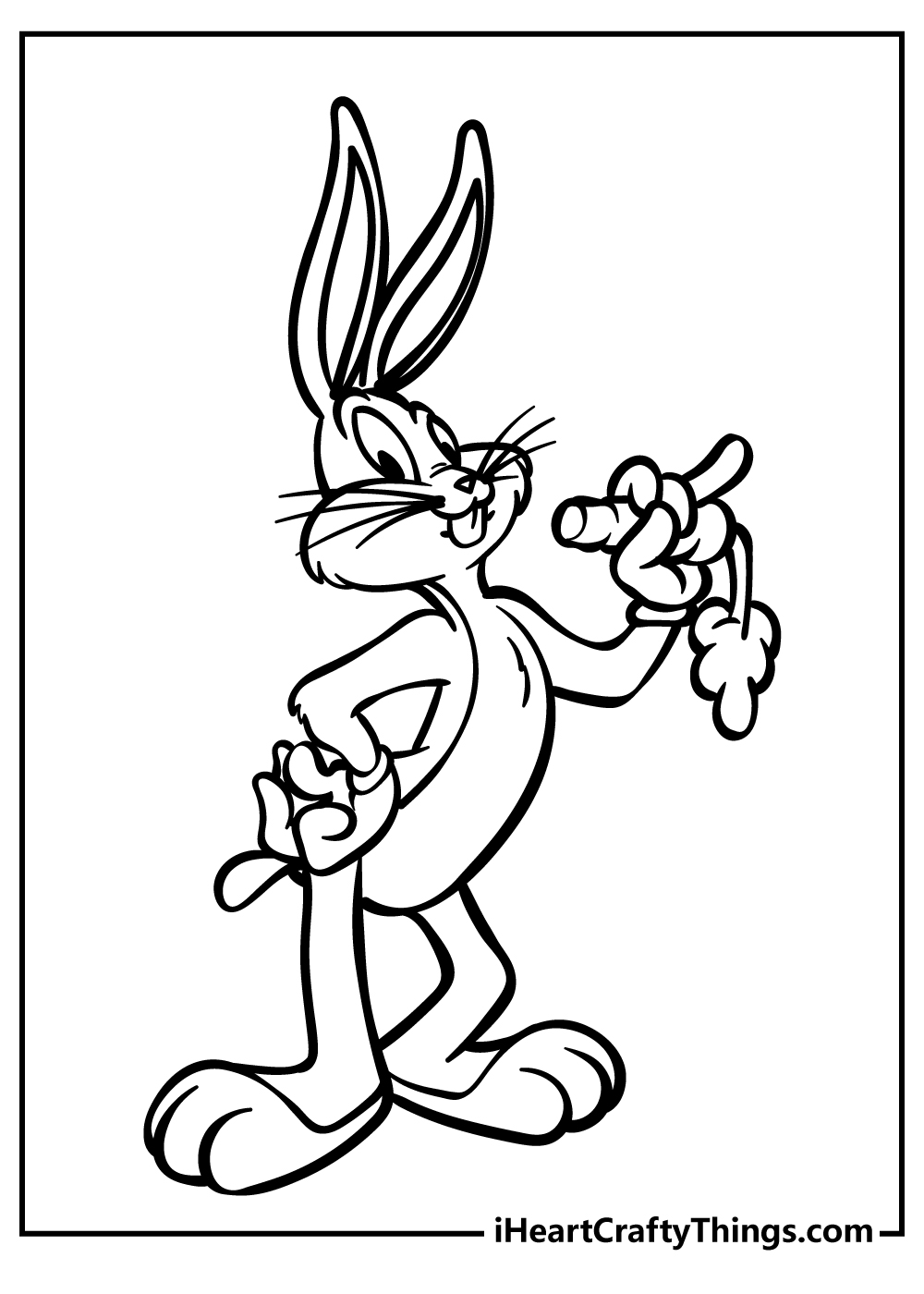 The previous page had Bugs, and this ninth one features his mortal enemy: the hapless hunter Elmer Fudd.
He is posed with his rifle while dressed in his characteristic hunter's uniform here, and he looks pretty confident considering he is always bested by Bugs or Daffy.
His outfit is usually brown and muted, so we would use some watercolors or maybe colored pencils for Elmer.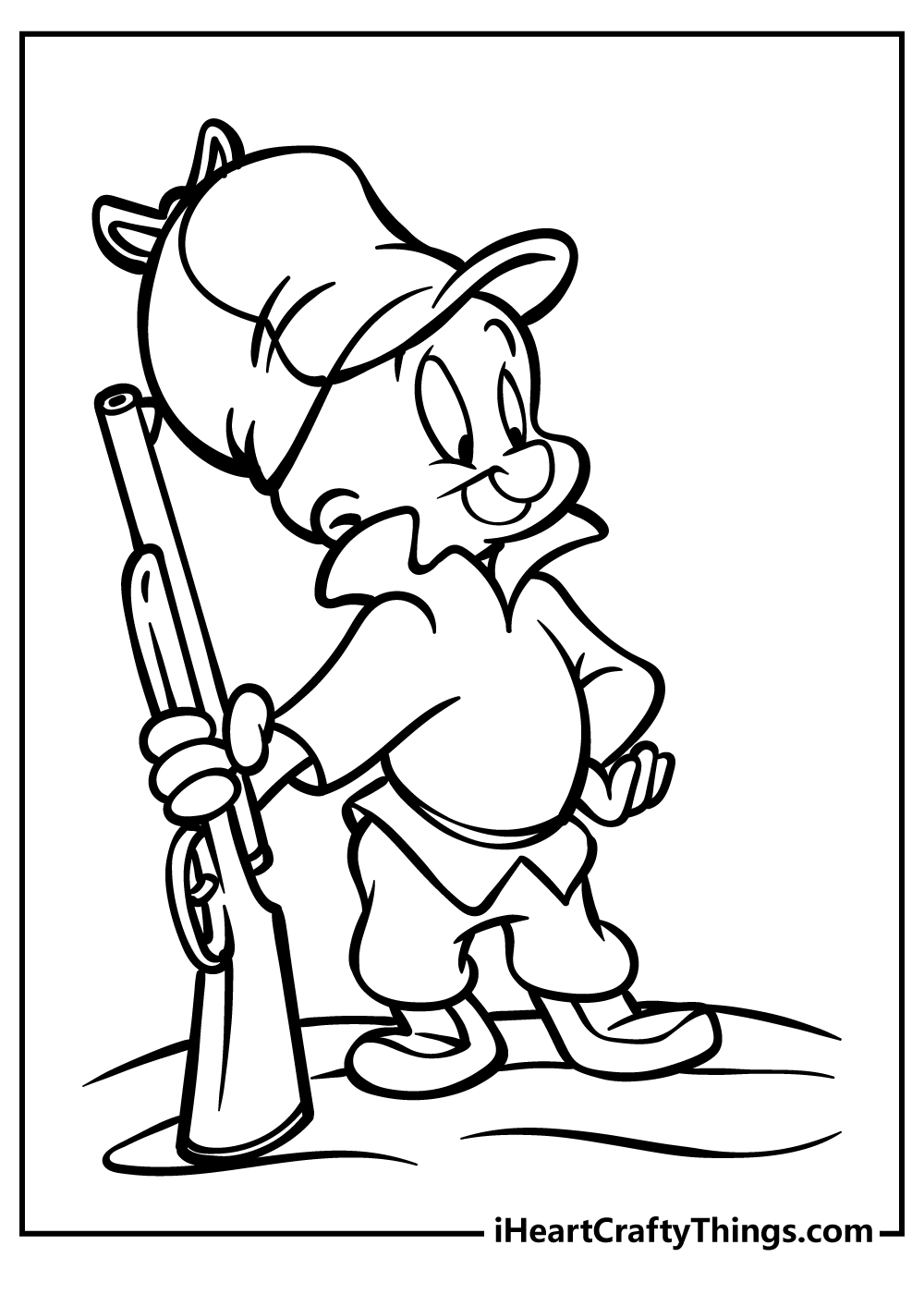 Wile E. Coyote is one of the uluckiest characters in the series, and he is portrayed as a baby in this next picture.
He seems to have had a jar of honey fall on him, and he looks understandably annoyed by this!
The honey also allows for you to incorporate some lovely yellows to the image, and this will help to make the image brighter and more interesting.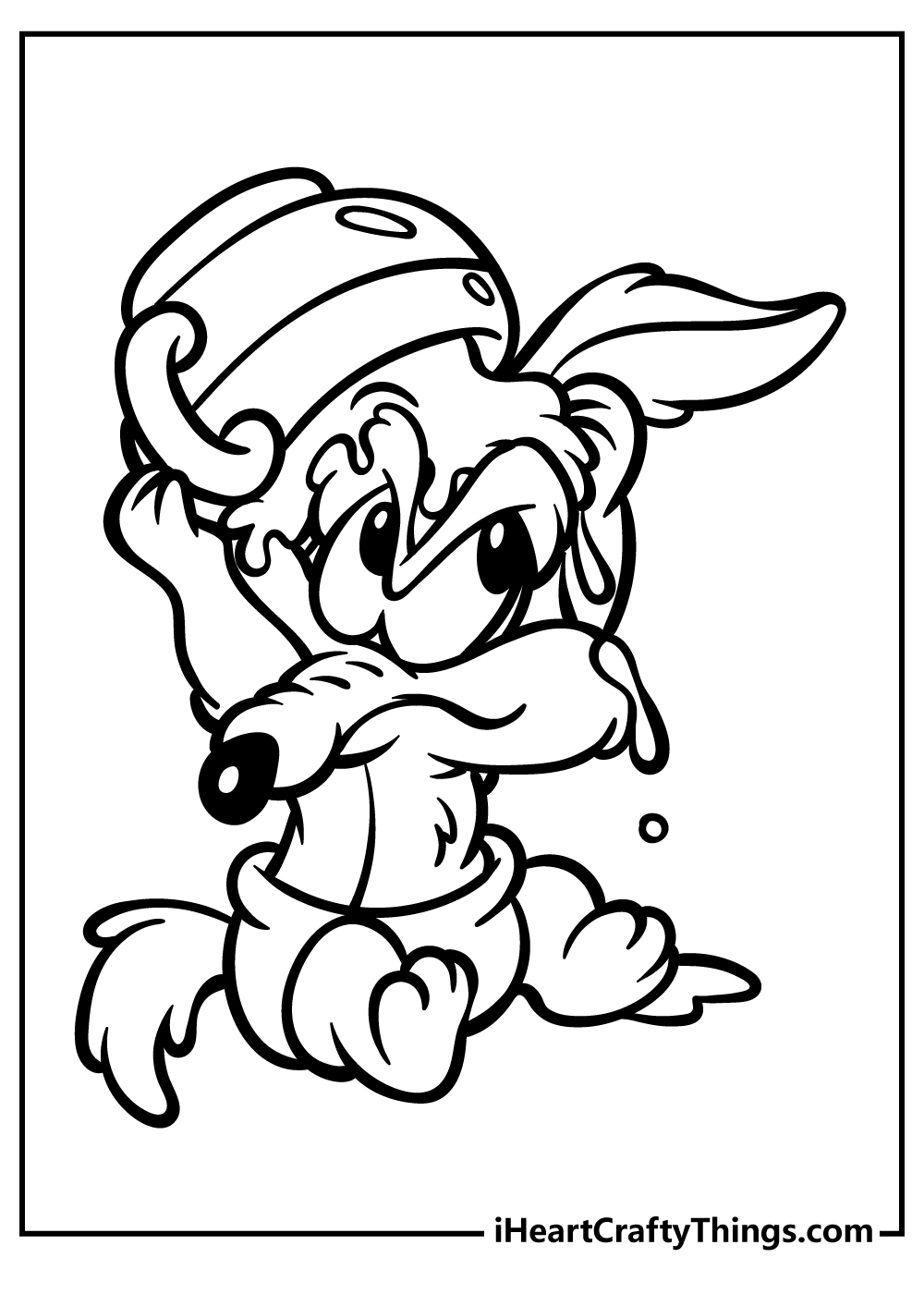 Elmer Fudd is back for this next Looney Tunes coloring printable.
He is looking a bit more annoyed than he was in his last appearance, and this probably means that he has been bested by Bugs or another character.
Maybe you could draw a background to show what kind of situation Elmer has found himself in here!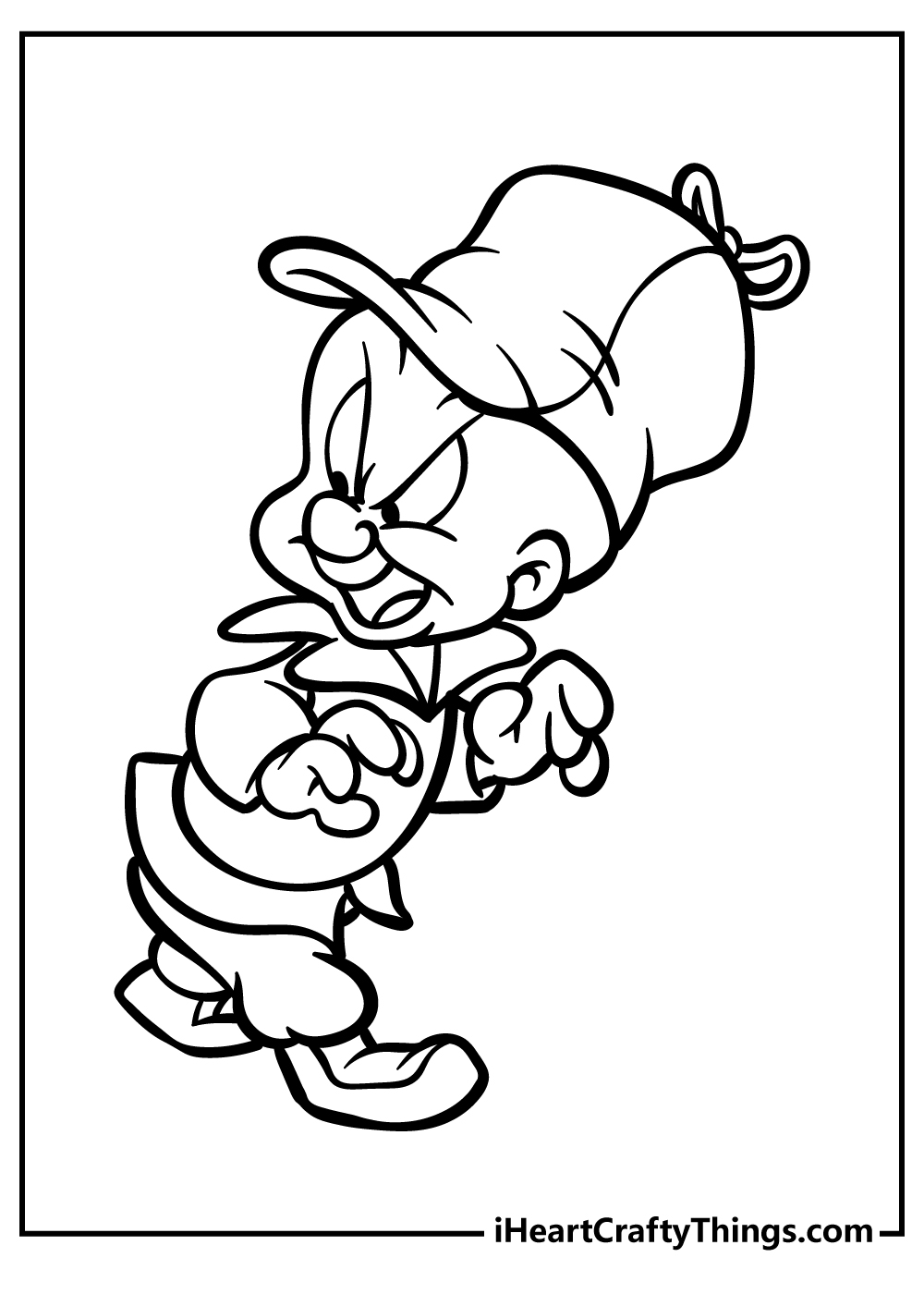 Tweety is featured again on this next page, and he looks like he is sharing a secret with you!
If you have a favorite Tweety line or catch-phrase, then maybe you could write it in a speech bubble above his head to make it look as if he is saying the line. Which Tweety quote would you choose?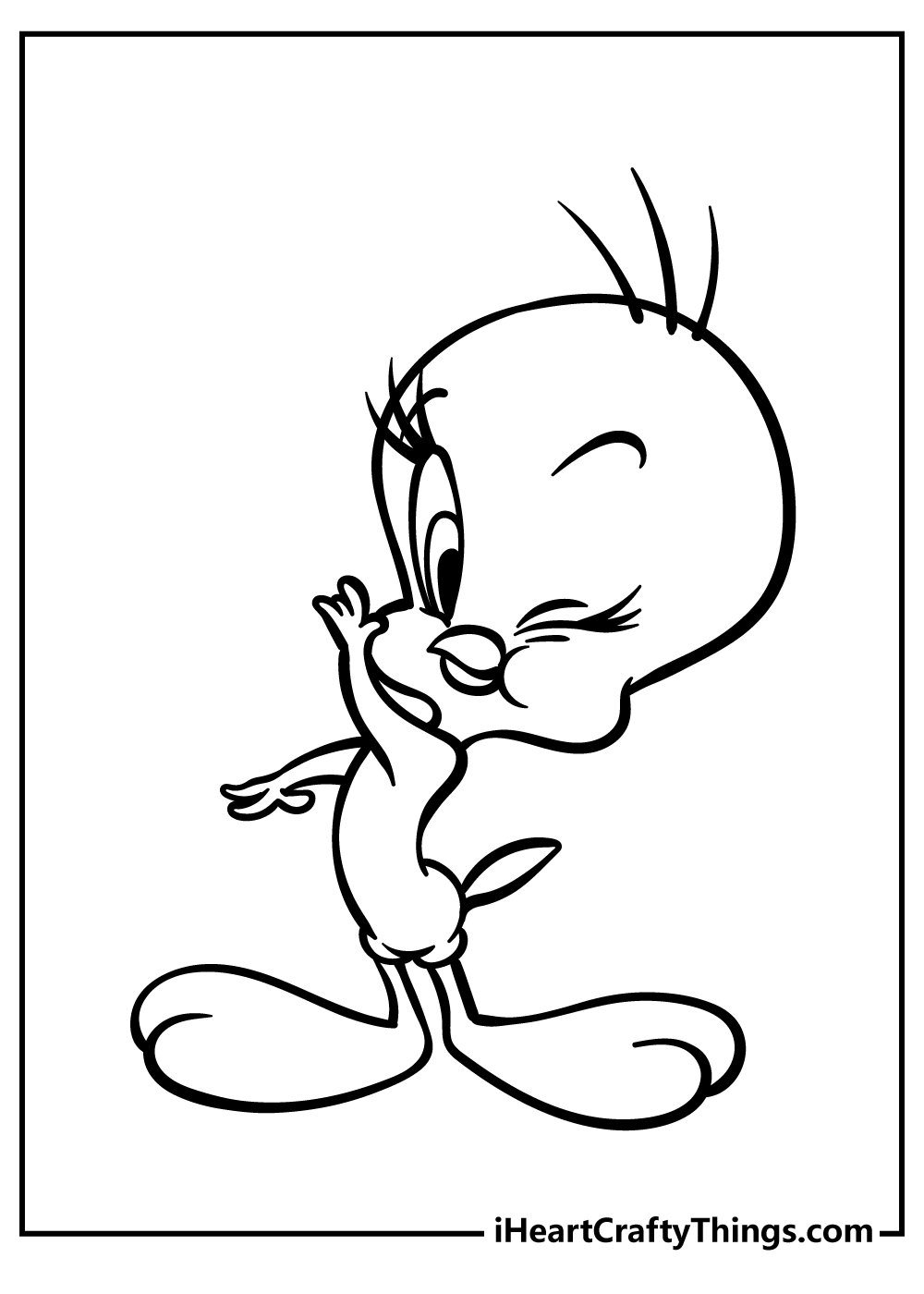 Yosemite Sam is one of the funniest Looney Tunes characters, and he is known for his volatile behavior and distinctive accent.
He also looks cool visually, as he has bright red hair and and a matching giant .mustache.
There are also some great details on his outfit that you can have fun bringing some color to!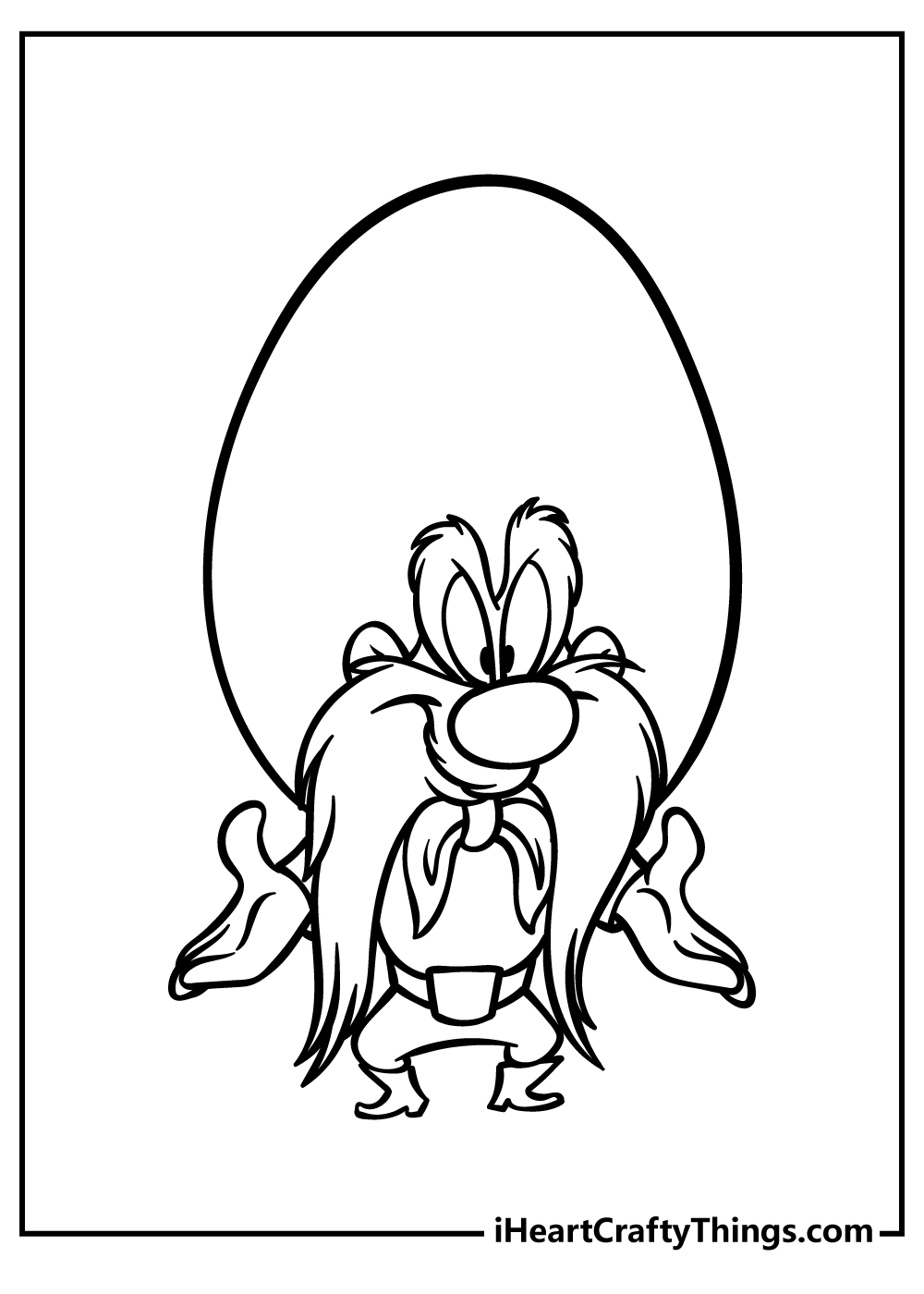 Elmer Fudd is on the hunt in this fun image! He seems to be stalking his prey here, and he is again looking rather confident.
He will often say "I'm hunting wabbits!" when going after Bugs Bunny, so you could also put that or another quote in a speech bubble above his head.
What other Elmer lines can you think of that you could use for this idea?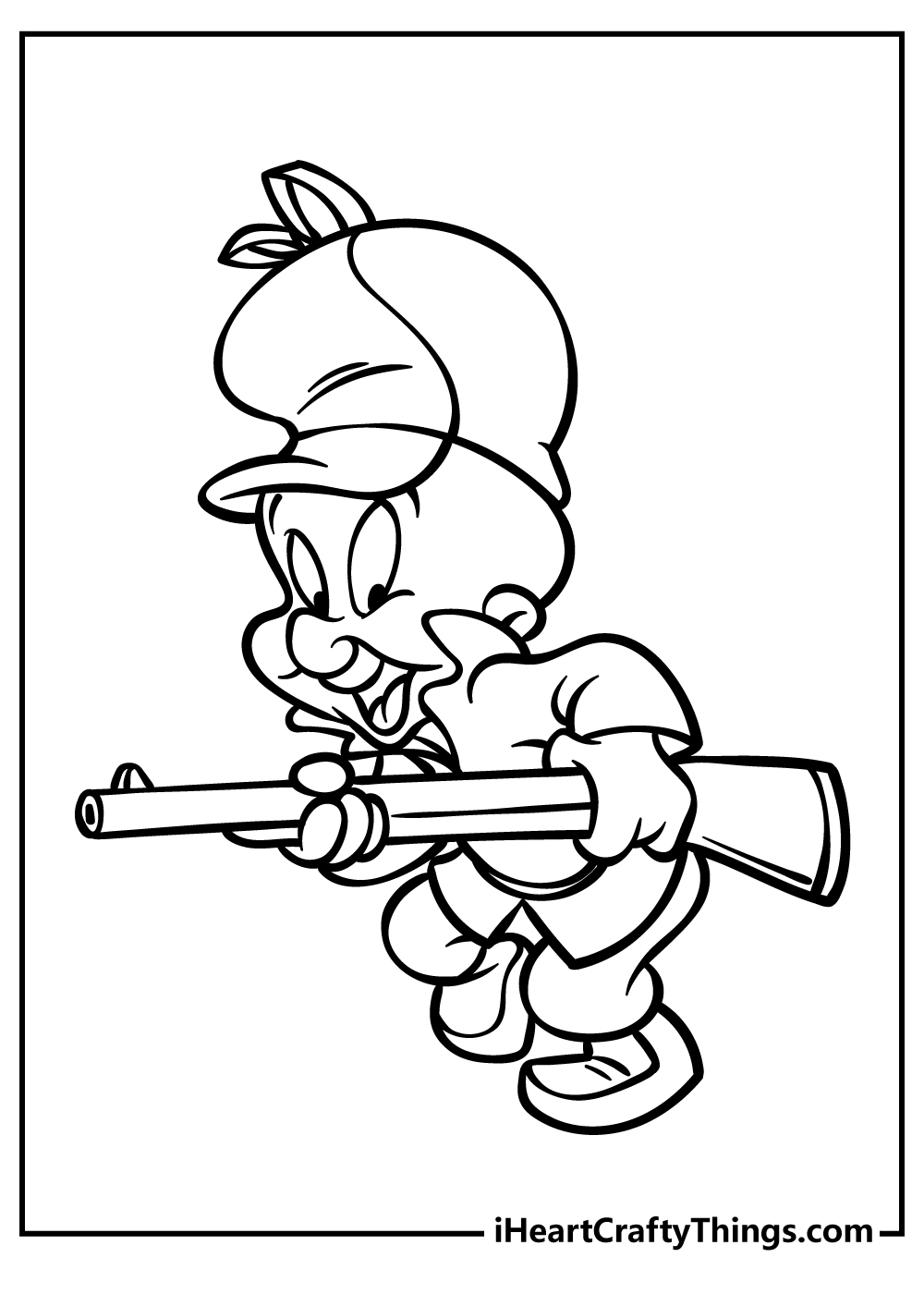 We have a very frazzled Daffy Duck for you to color for this final Looney Tunes coloring sheet.
For this last page in the collection, you can show off your coloring skills and your creativity by adding some extra details or background elements! What kind of scene can you think of for this last page?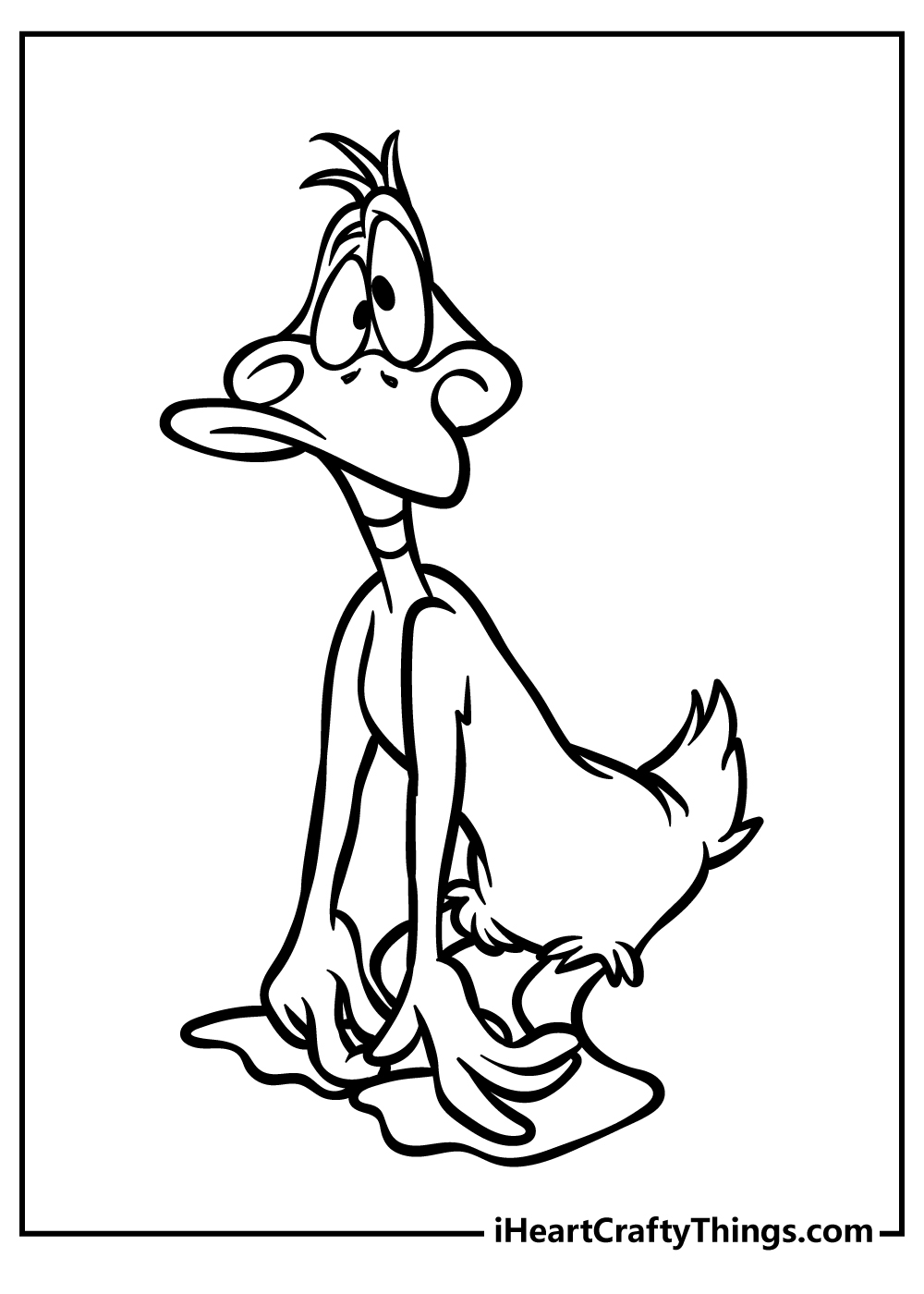 Looney Tunes Coloring Pages – Which will you choose?
That does it for this collection of free Looney Tunes coloring pages for kids! We hope you enjoyed these wacky pages as you met all of your favorite characters from the cartoons.
There are plenty of fun colors and mediums you can use for these pages, and we look forward to seeing what you choose.
There are also many more coloring page collections to enjoy on our website, and you won't want to miss them!
We would be thrilled to see some of your finished Looney Tunes pages, and you can show us by sharing them on our Facebook and Pinterest pages.