On this page, you will find 15 all new Leprechaun coloring pages that are completely free to print and download.
According to Irish folklore, leprechauns are mischievous mythical creatures who are considered the bankers and cobblers in the magical fairy world. They are also known to be extremely wealthy.
Their treasure is typically in the form of gold coins kept in massive pots. Apparently, there's a lot of money in the banking industry and cobbling business.
In essence, leprechauns are basically fairies in the bodies of old little bearded men wearing coats and hats. Their clothing is originally all green in color, and their shoes are either black or brown.
Leprechauns are, without a doubt, very interesting creatures. And this has created a huge demand for leprechaun coloring pages.
You asked for it, and we delivered. Without further ado, we present to you 15 free leprechaun coloring sheets!
Have fun transforming these colorless leprechauns into fun and colorful ones!
REMEMBER: You can get the COMPLETE set of these coloring pages >> HERE
Leprechaun Coloring Pages – 15 Original Printable Sheets
This coloring page shows a cheerful leprechaun. His arms are widely spread open and he's wearing a huge grin on his face.
What is he so happy about? He's probably up to something mischievous or he's simply happy because he earned a lot today! Either way, it looks like he's having a good day!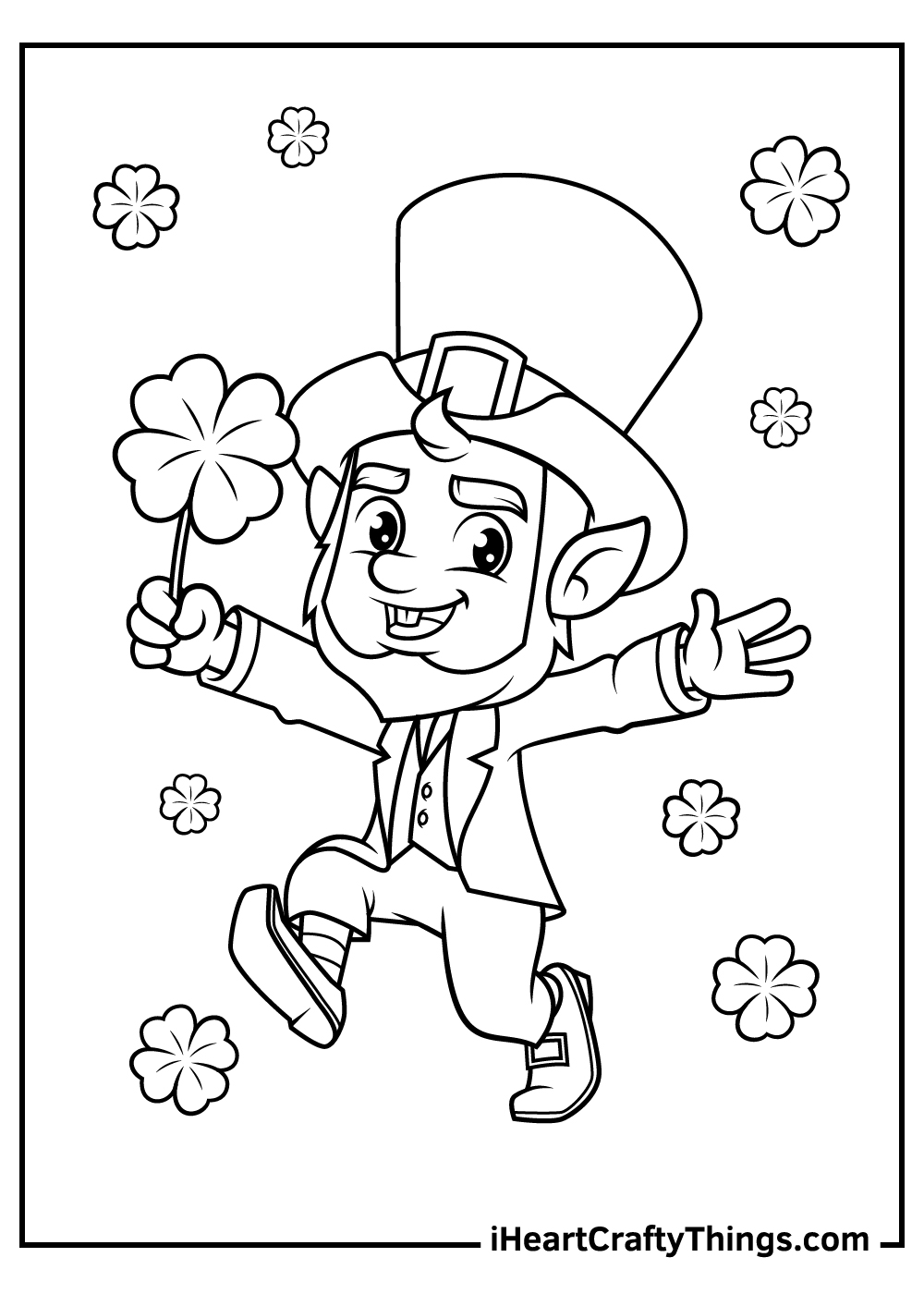 Look at this lucky leprechaun sitting in a pot of gold. He is smiling at you with his white beard and green hat.
He looks so cheerful and friendly. Do you think he is sharing his wealth with you or inviting you to join him?
They are very clever and tricky, and they can grant wishes to those who catch them. But be careful, they might also play pranks on you.
You can use glittery golds, greens, and rainbow colors to bring this leprechaun to life.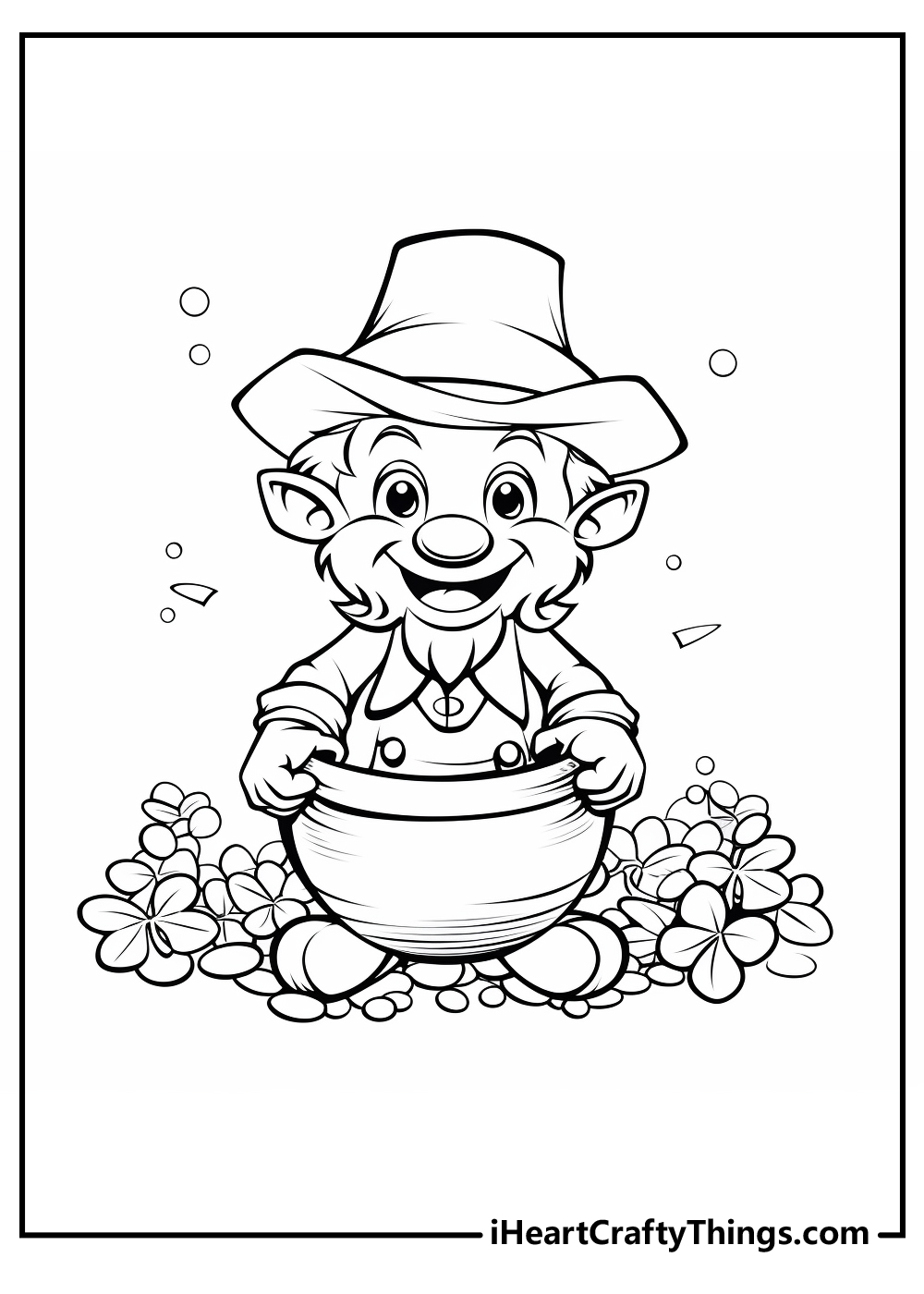 In this coloring sheet, the leprechaun is holding onto a massive pot of gold. He's probably protecting it from others who are attempting to take it. Imagine finding the hidden pots of gold somewhere?
That would be incredible!
There's a rainbow in the background and there's a cloud in both ends of the rainbow. Which colors are you going to use to create a colorful rainbow?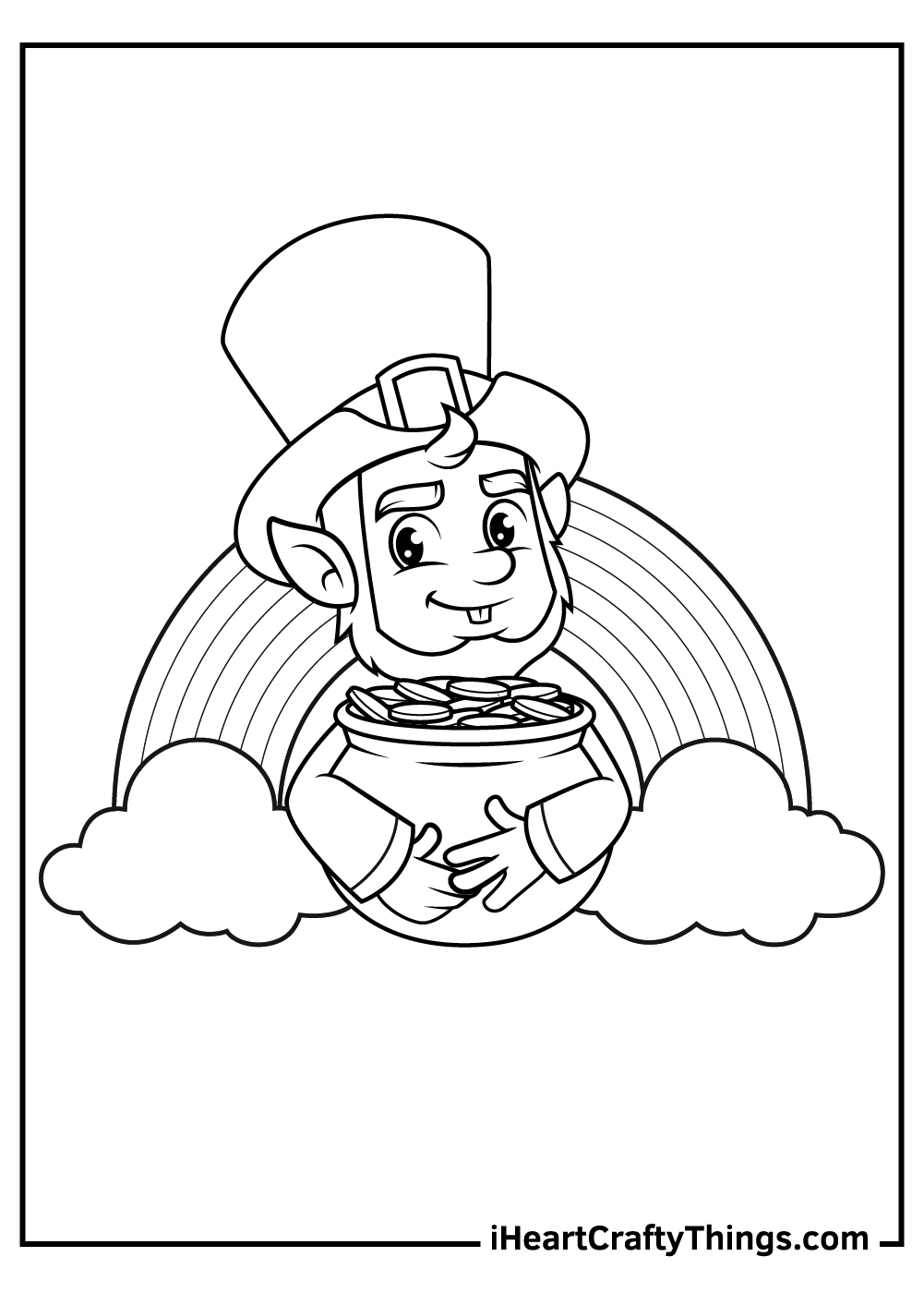 In this leprechaun coloring page, we have a sneaky leprechaun hiding behind some flowers. He is peeking out and holding a pot of gold.
He looks like he is up to some mischief. Do you think he is trying to trick someone or escape from someone?
You can use your favorite colors to make this leprechaun look more mischievous and cunning. You can also add some details to the background, such as clovers or mushrooms.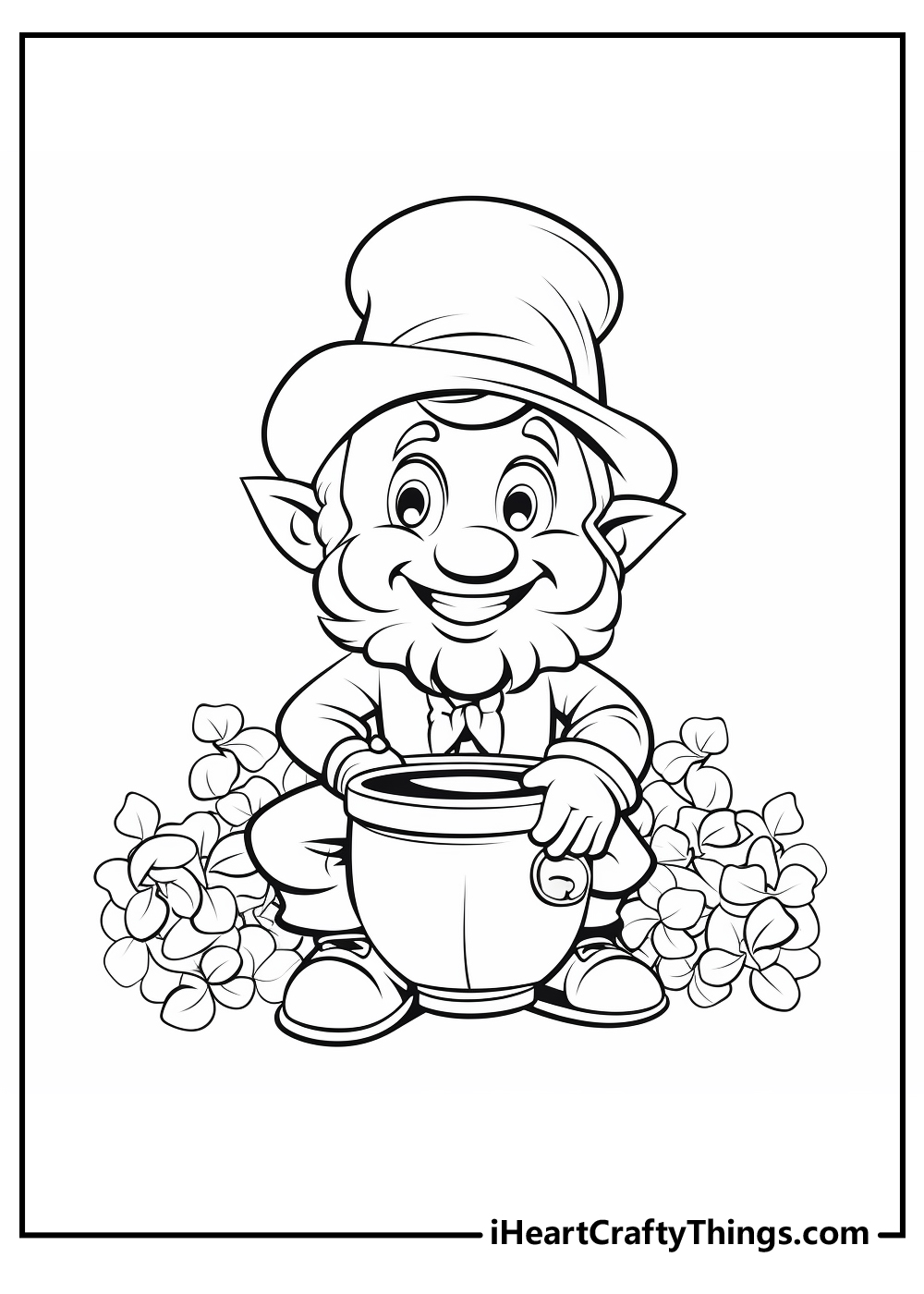 We all know that leprechauns are wealthy. But who knows that they are extremely rich that they can literally bathe on heaps of gold coins? They're definitely living the dream!
This coloring printable shows a leprechaun swimming in a huge pot filled with gold coins. He's tossing everywhere like it was nothing. We can only imagine how much treasure leprechauns actually have!
REMEMBER: You can get the COMPLETE set of these coloring pages >> HERE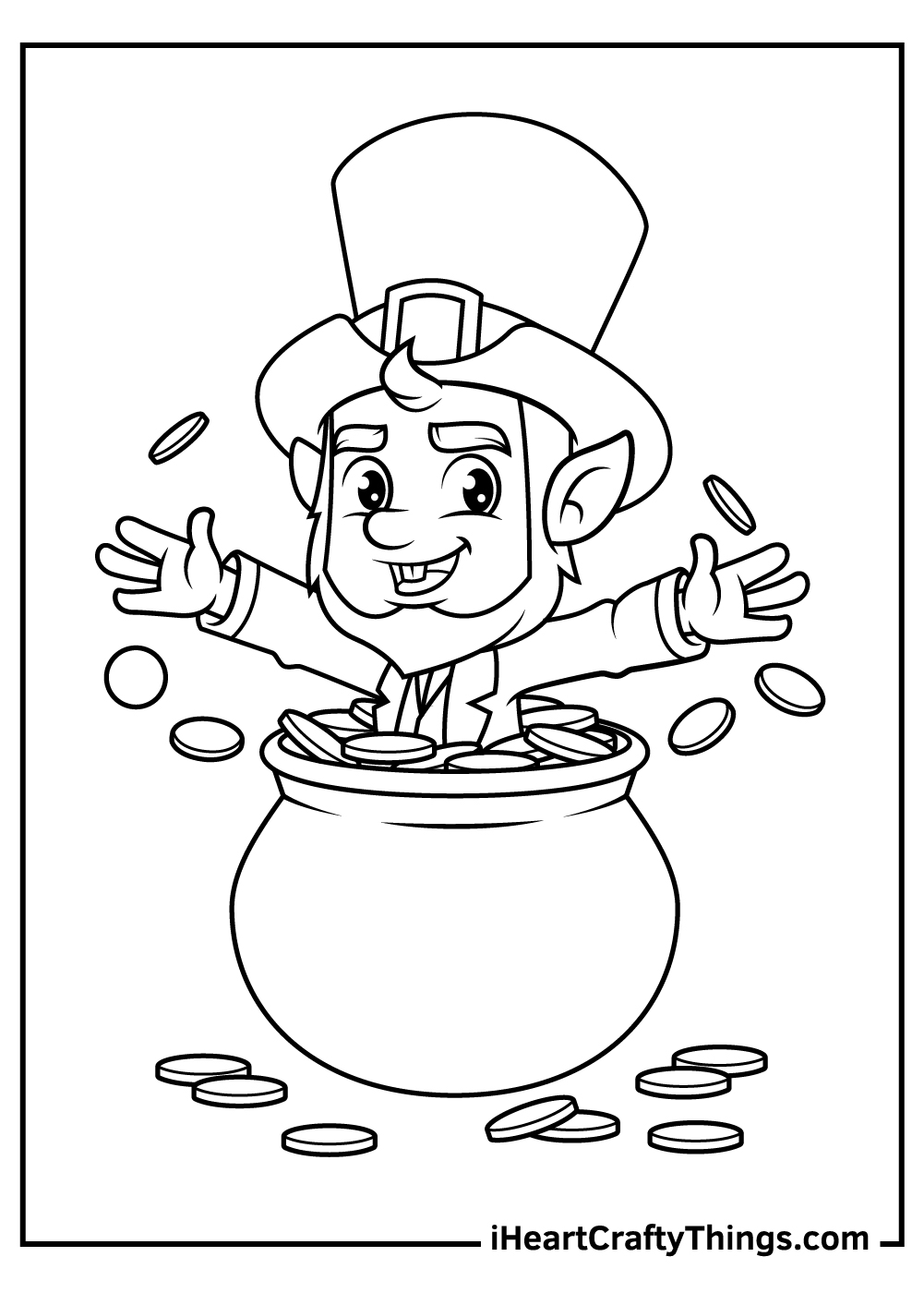 This leprechaun is having a relaxing time in his bubble bath. He is standing with his hands by his side and is wearing his signature top hat, coat, and striped pants.
He has a big white beard and bushy eyebrows that match his hair color. He is surrounded by bubbles that make him look even more adorable.
What do you think he is doing in the bathtub? Maybe he is washing off some dirt from his latest adventure. Or maybe he is just enjoying a nice warm soak after a long day.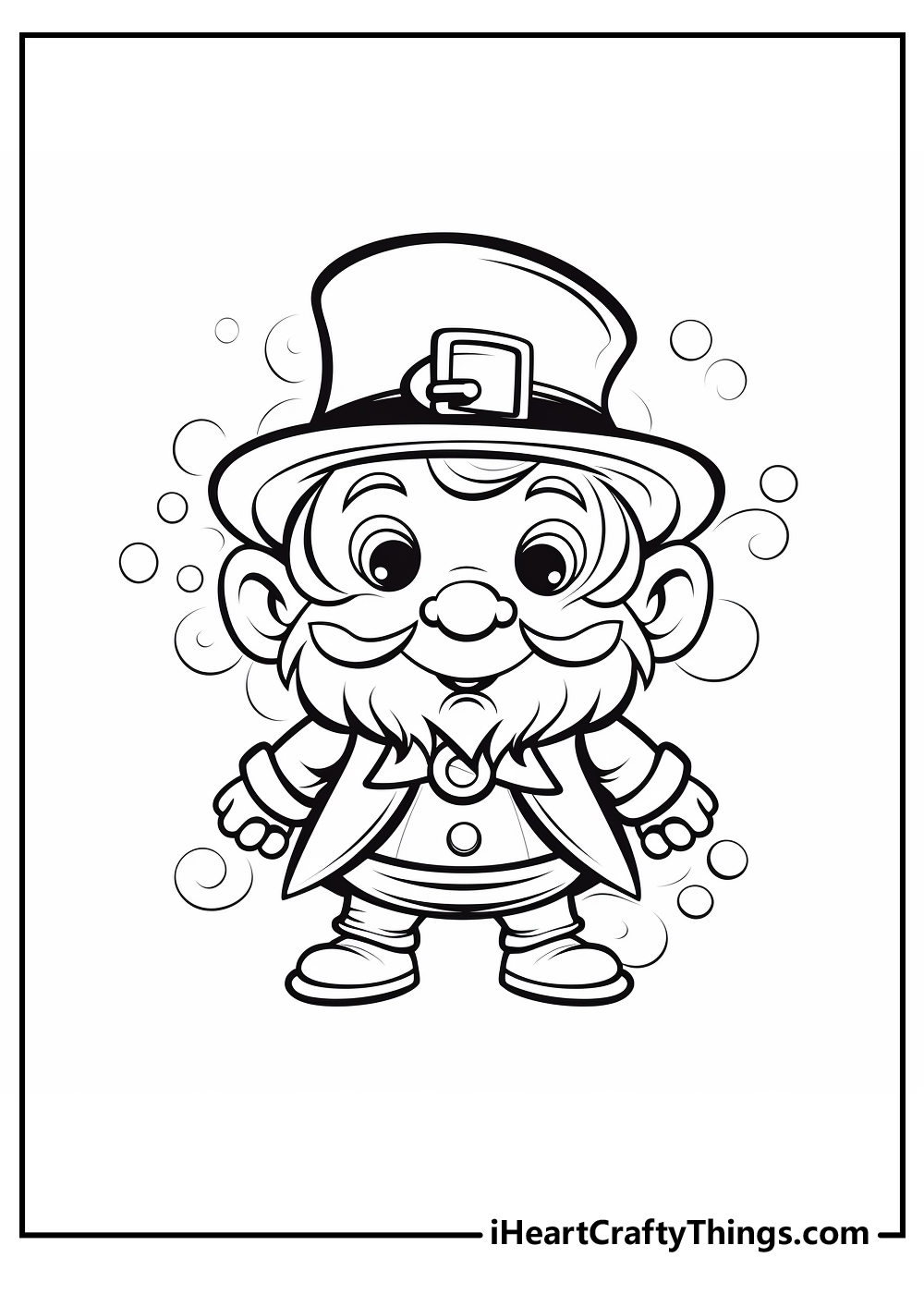 The sneaky leprechaun in this coloring printable looks like he's up to no good with that sly smile.
He's holding a tobacco pipe and a wooden stick in the other. It is believed that a leprechaun must give his treasures to whoever can find him. Do you think you have what it takes to locate a leprechaun?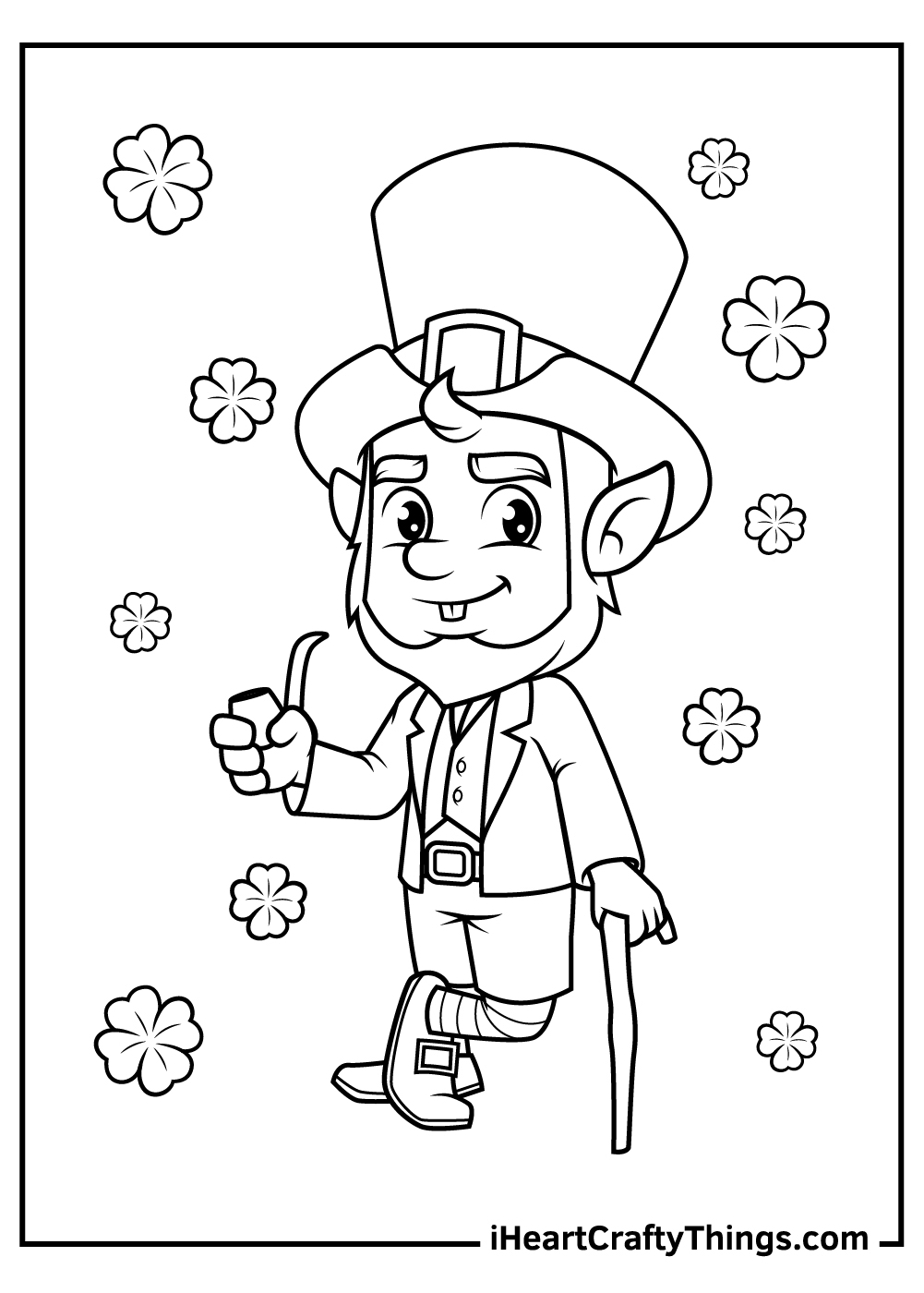 Have you ever heard of the common belief that a pot of gold can be found at the very end of the rainbow? Well, this coloring sheet shows that it might be true.
The leprechaun is walking across the rainbow while carrying a pot filled with gold. He's probably on his way to the end of the rainbow to hide his abundant wealth. Perhaps it's time to look for the spot where the rainbow ends!
REMEMBER: You can get the COMPLETE set of these coloring pages >> HERE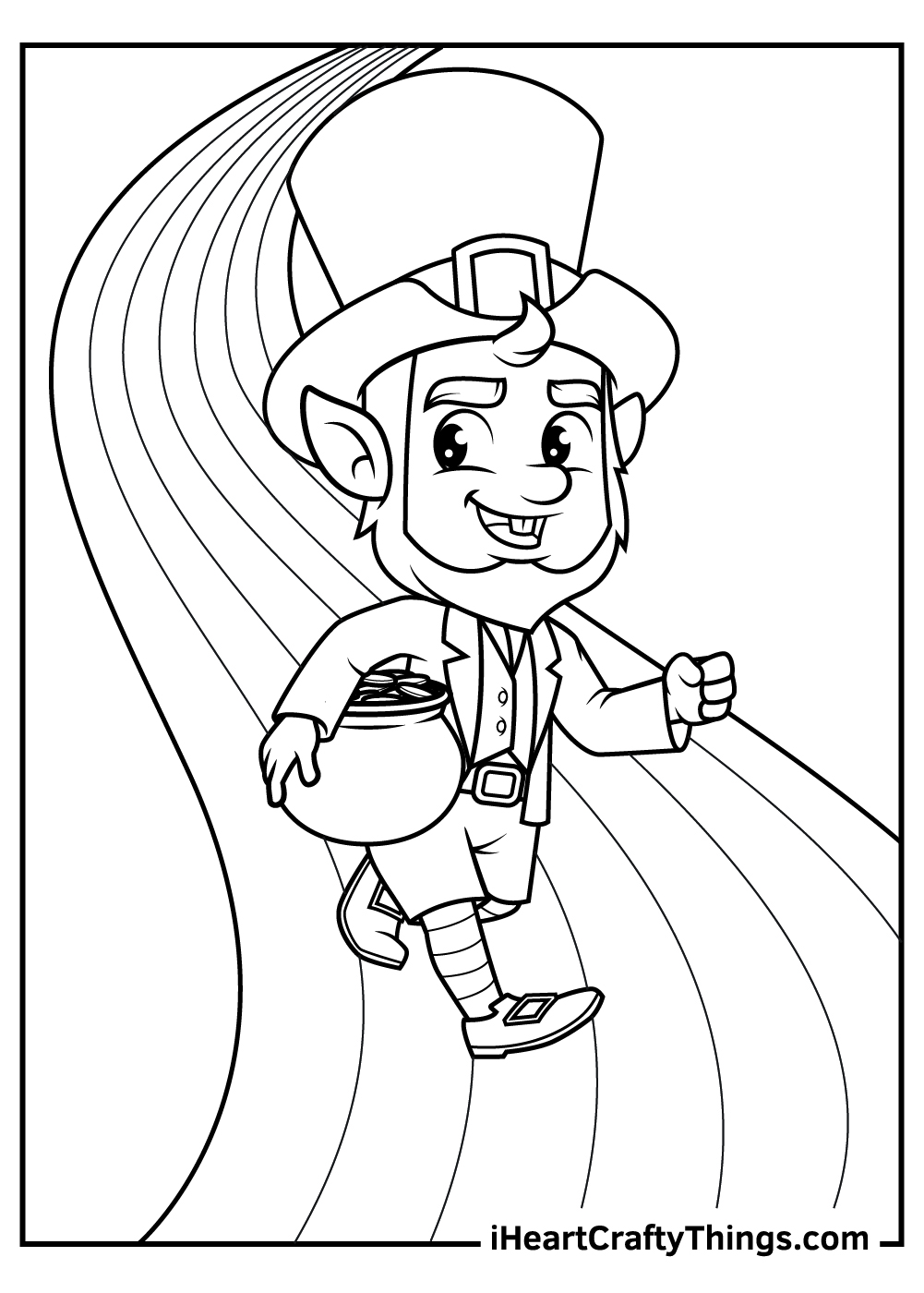 Check out this cheerful leprechaun sporting his fancy suit and buckled hat. He has a big beard and mustache that make him look very wise.
His arms are down by his sides as he gazes at you with a friendly but slightly mischievous smile.
I think we can use green, gold, and rainbow hues to color his outfit. Try adding stripes and patterns for an extra fun effect.
You can also draw in colorful flowers, rainbows, or gold coins in the background.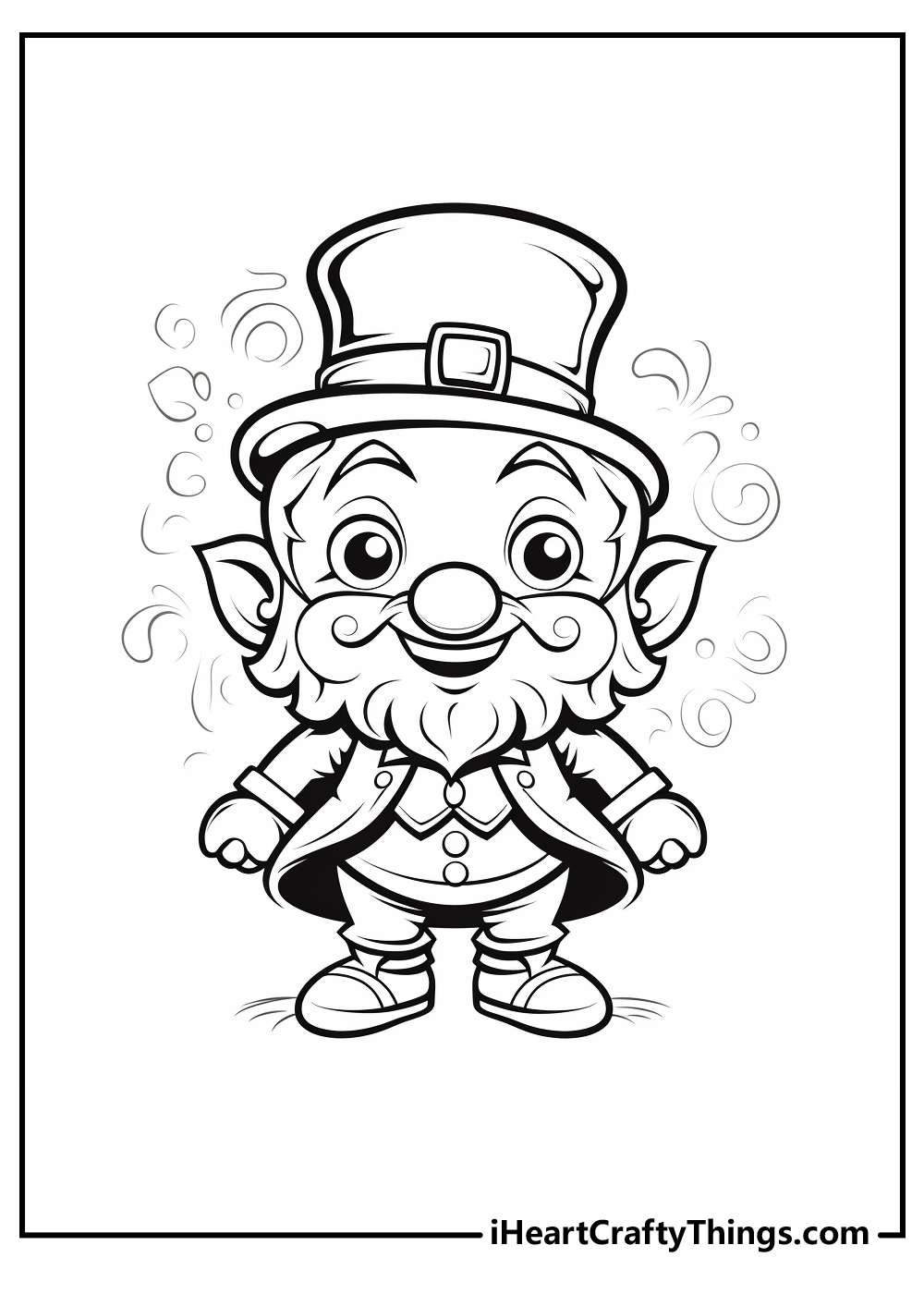 Leprechauns work non-stop tirelessly to earn money. Sometimes, they partake in mischief as a way to have fun.
This coloring page shows a leprechaun with a huge smile on his face. He's probably had a good day at work and earned lots of gold coins, which was kept in a huge pot beside him.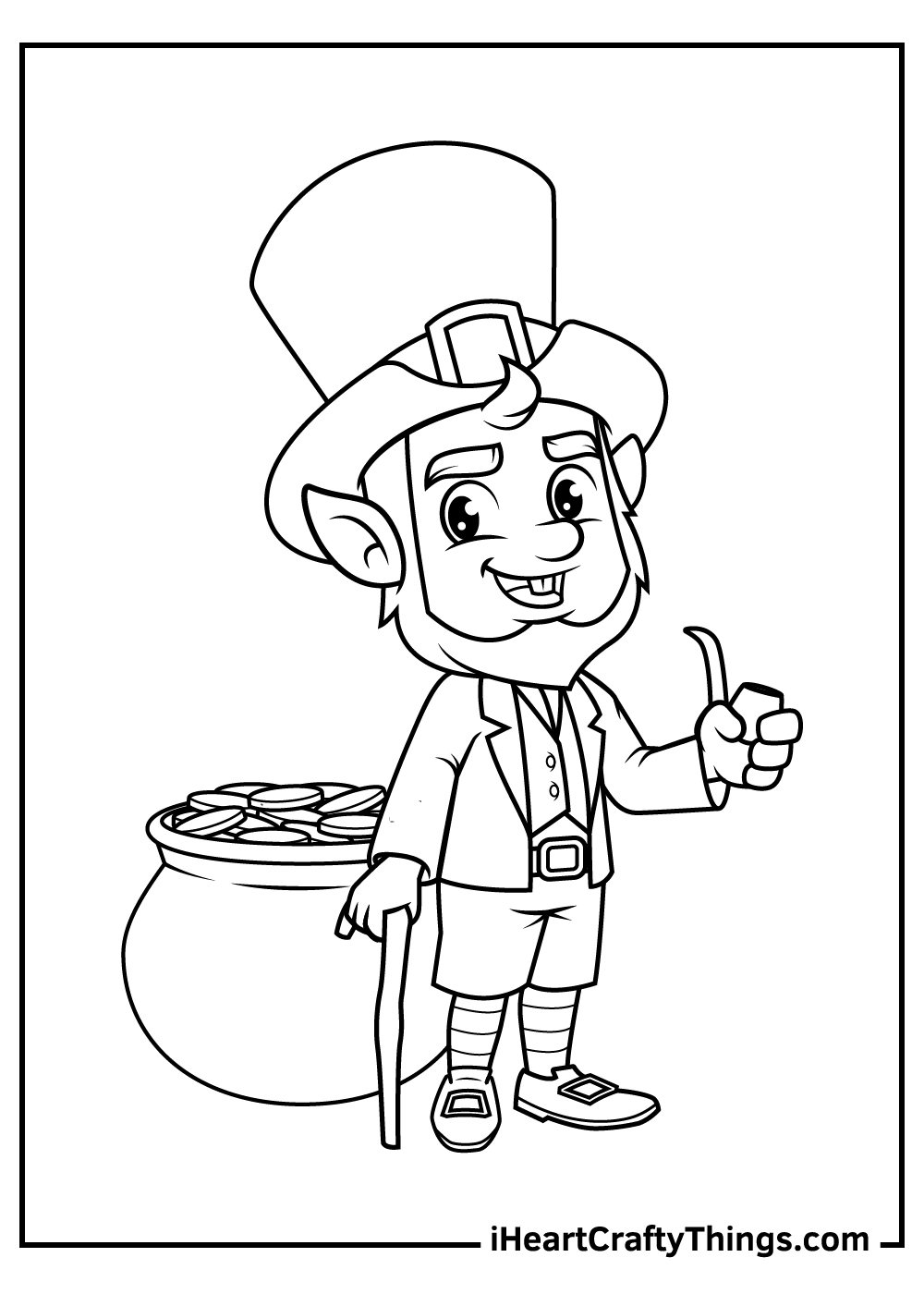 In this coloring sheet, the leprechaun is sitting at the top of the rainbow. He looks very happy with his sparkling eyes and huge smile! He's holding a tobacco pipe on one hand, just chilling on a cloudy day.
We think the bright colors of the rainbow would perfectly match the green clothing of the leprechaun. What colors will you add to this printable?
REMEMBER: You can get the COMPLETE set of these coloring pages >> HERE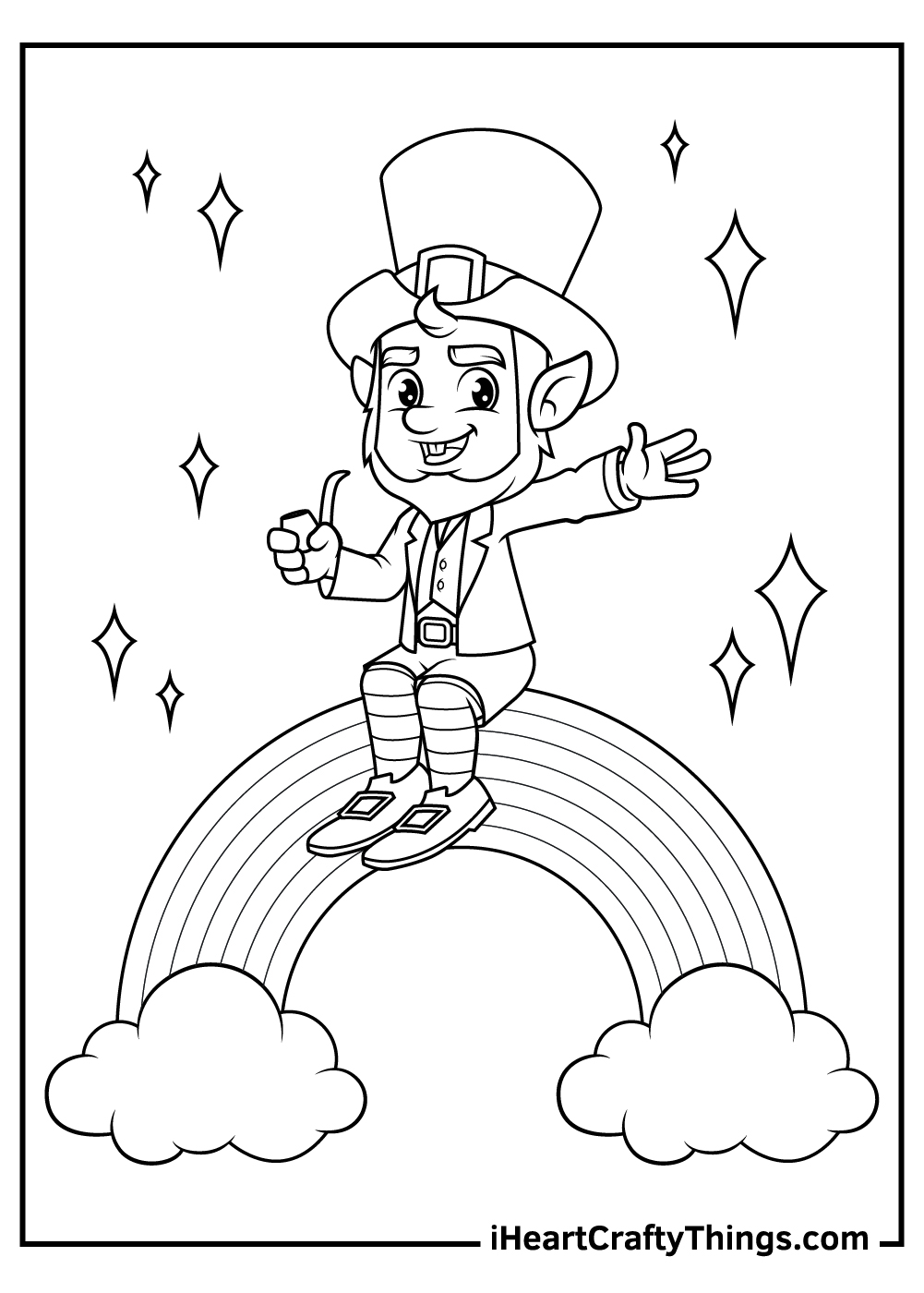 The leprechaun in this coloring page is so wealthy that he's just throwing around gold coins like it's nothing. It's probably just a small percentage of all his treasures.
He looks stylish wearing a coat paired with shorts. He's also wearing a tall hat and a pair of formal shoes. Which colors will you use for his outfit?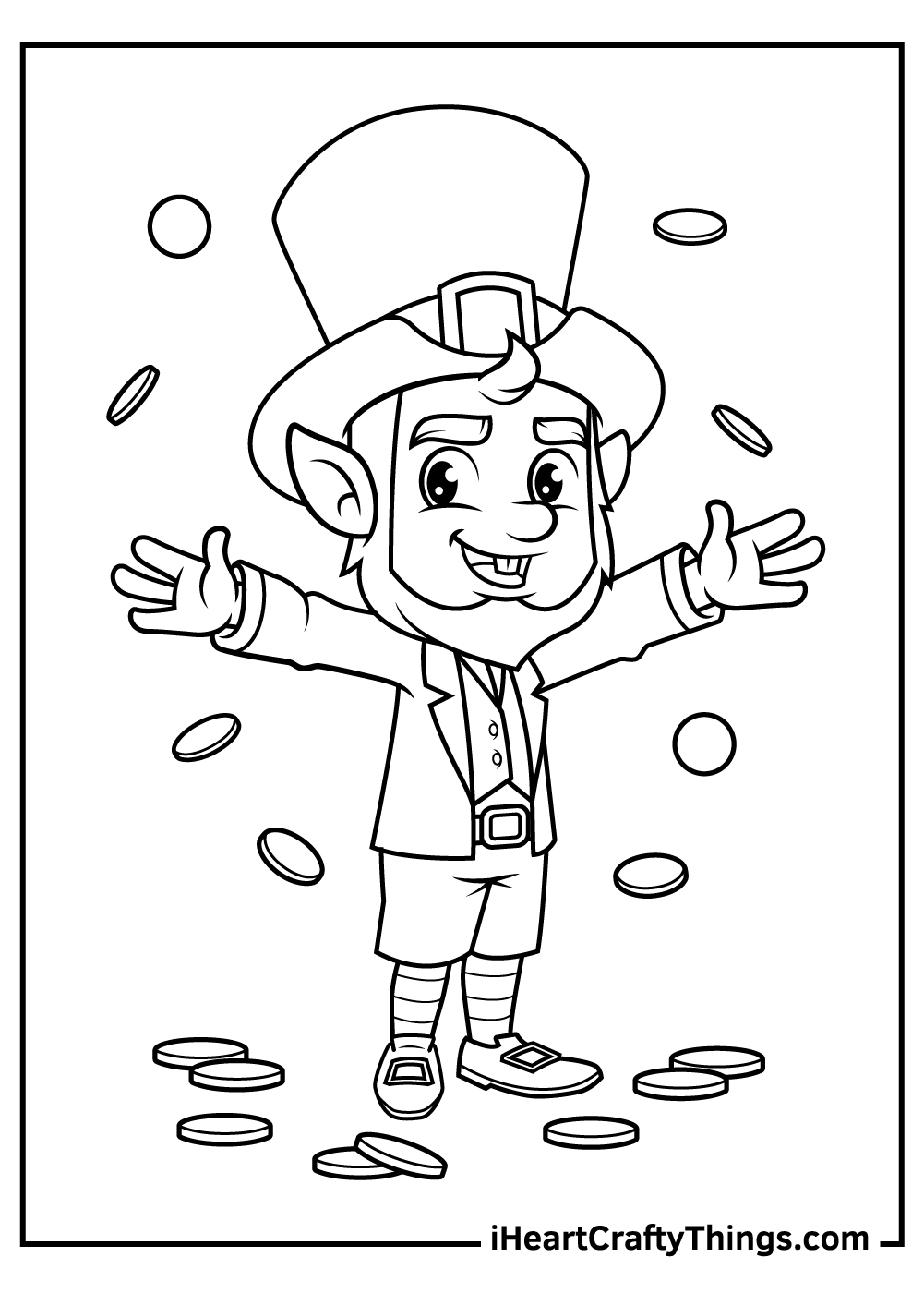 Seeing a colorful rainbow is always fun. Imagine being able to reach them and slide across it? That would be exhilarating!
This coloring printable shows a cheerful leprechaun sliding across the rainbow with a huge smile on his face.
The legend says that leprechauns buried pots of gold in the place where the end of a rainbow touches the earth. Could it be true?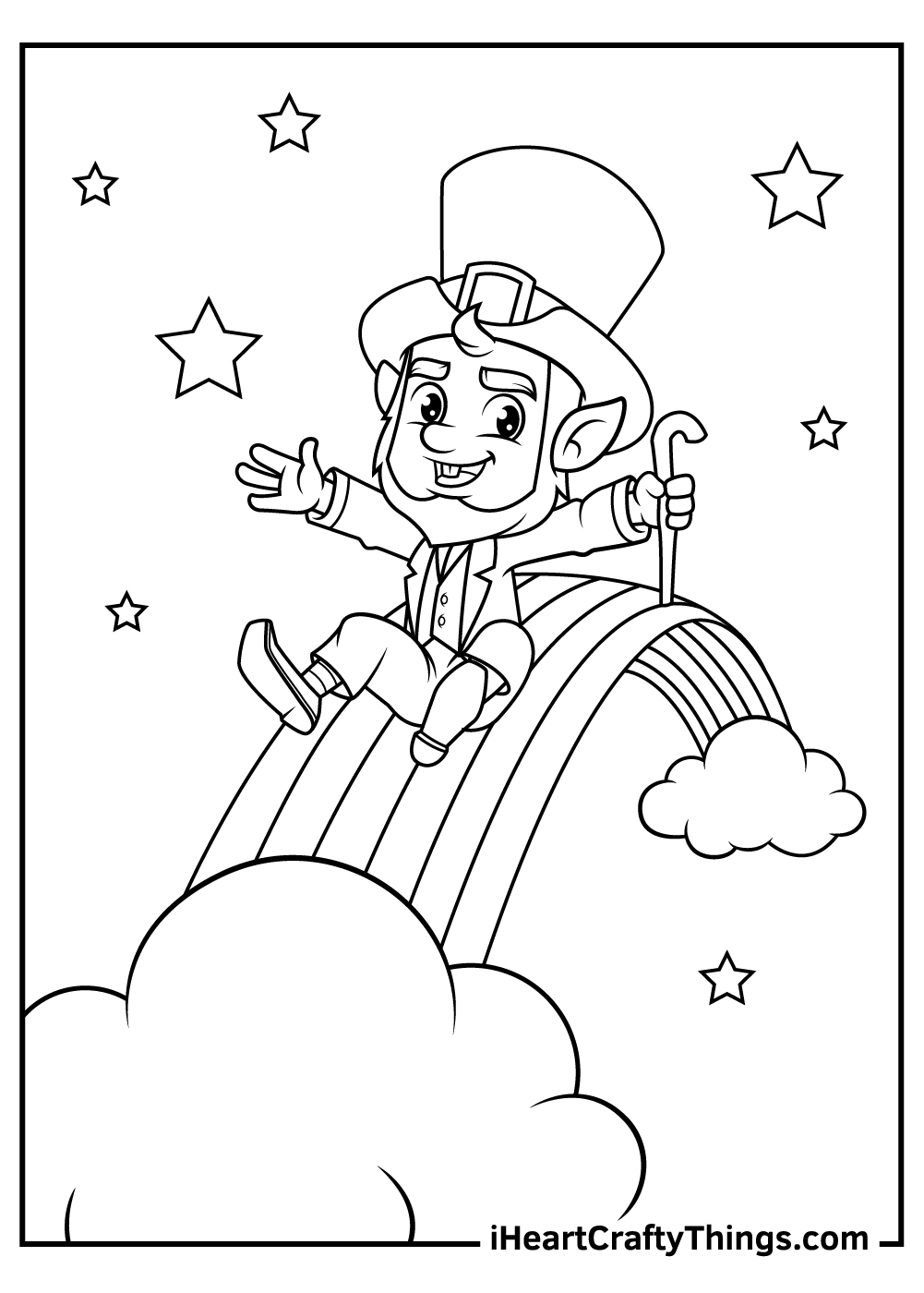 Did you know that leprechauns love their hats? They consider them as a symbol of their identity and culture. They also use them to store their gold coins and other treasures.
The leprechaun in this leprechaun coloring page is smiling with his hat. He has a large beard and mustache that make him look friendly and charming.
What do you think he is smiling about? Maybe he is proud of his hat and how well it fits him, or maybe he is just in a good mood and wants to share it with others.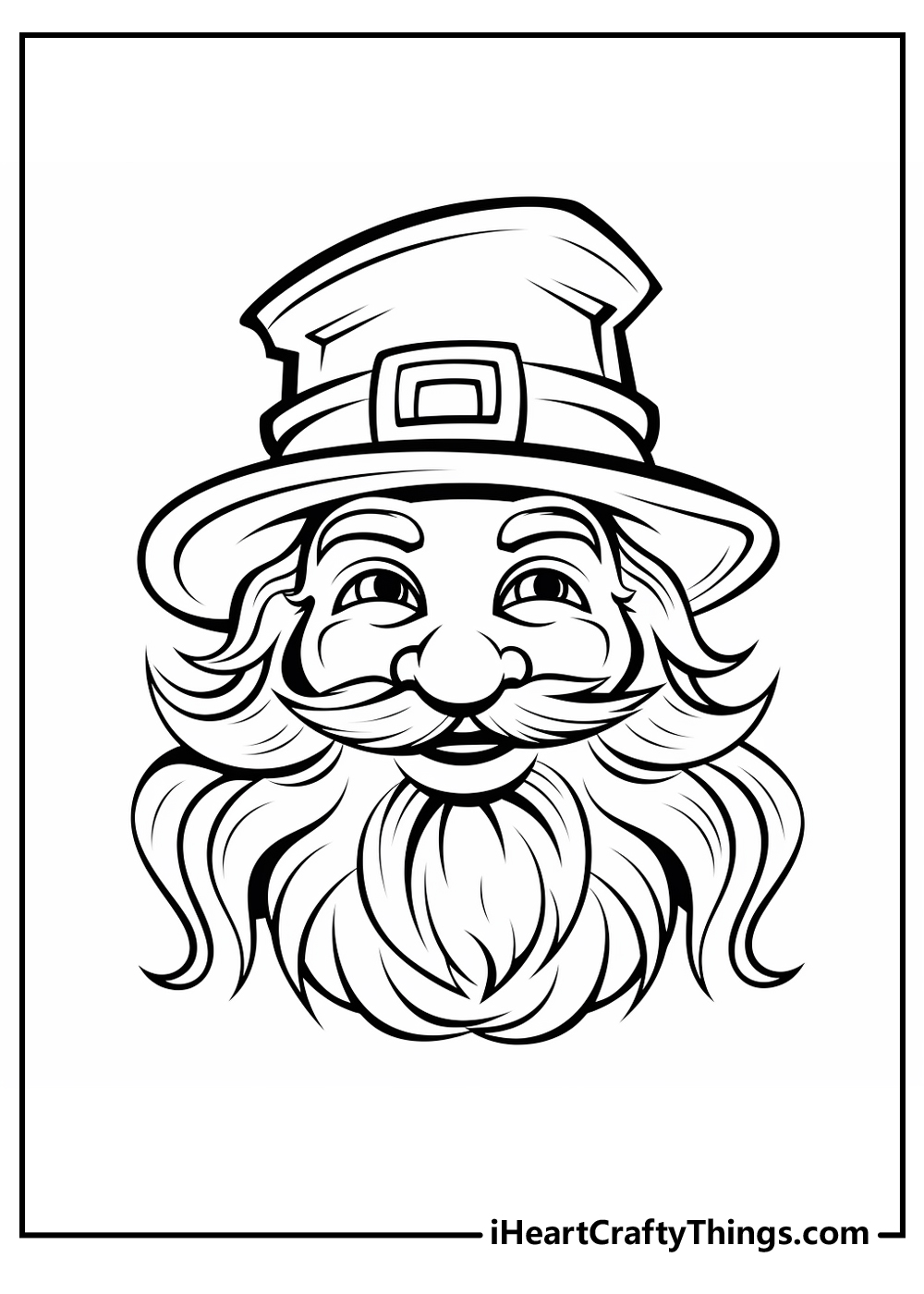 Nothing makes a leprechaun happier than engaging in mischief and seeing treasures. In this coloring sheet, the leprechaun is fixated at the pot of gold coins with a huge grin on his face.
His eyes are filled with awe and excitement. That's another pot of gold added to his abundant treasures, which is exactly why he looks like he just hit a jackpot!
REMEMBER: You can get the COMPLETE set of these coloring pages >> HERE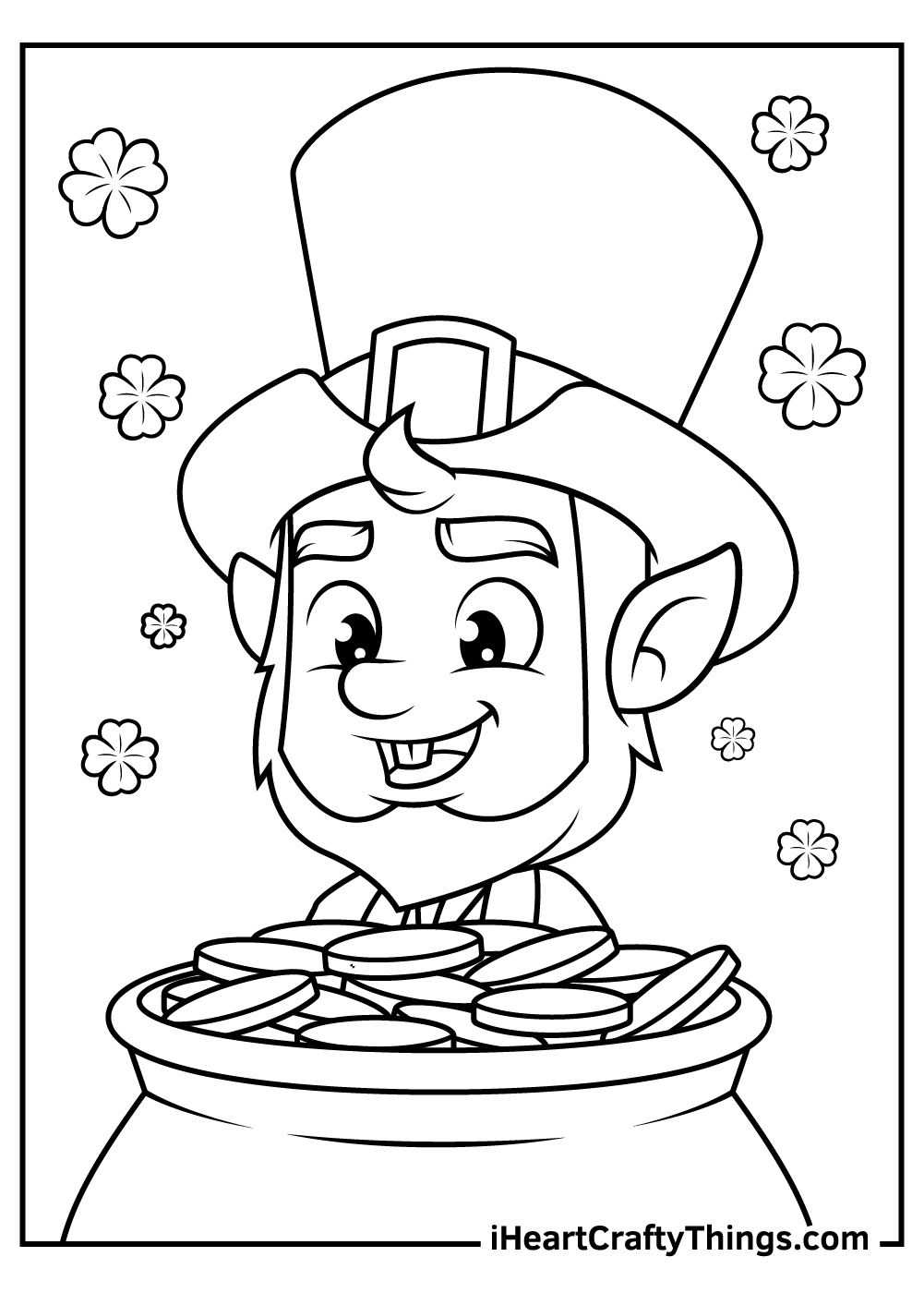 Leprechaun Coloring Pages
We hope you enjoy these leprechaun coloring pages. Whether or not you believe in folklores and legends, it's always fun to color mythical creatures.
Remember, all of our crafts and printable sheets are 100% free for you to print, color, and enjoy. We are regularly updating our website and uploading new content. So don't forget to keep re-visiting our website for new printable images for your coloring activity needs.
Don't forget to show off your masterpiece once you've finished coloring your leprechaun coloring sheets. We're sure it looks amazing so don't think twice about sharing it on our Facebook page.
We would love to see how your creativity brought these leprechaun coloring printables to life!
REMEMBER: You can get the COMPLETE set of these coloring pages >> HERE