There's no doubt that Kobe Bryant was one of the greatest basketball players of all time. His list of sporting accomplishments was practically endless and his skills as a player are matched by very few who've ever played the game.
Sporting legends face many highs and lows in their careers and the same was certainly the truth for Kobe Bryant. There was as much pressure and dramatic moments as there were triumphant victories, but that's all a part of being the best!
These free Kobe Bryant coloring page printables for kids are a great way to remember some of Kobe Bryant's best moments on the court. We'd love to see how you commemorate your best memories of the legend himself by sharing your colored pages on our Facebook page so we can all recall our favorite moments from his illustrious basketball career.
10 Brand New Kobe Bryant Coloring Pages – Free to Print and Color
The first Kobe Bryant coloring page in this collection gets things off to an action packed start. He's leaping in the air with the ball, apparently going for the basket. It's a dramatic and suspenseful moment as we're not sure if he'll make it or not!
I think the excitement of this scene would look great if there were a bright flurry of colors in the background to really highlight the feeling of this moment.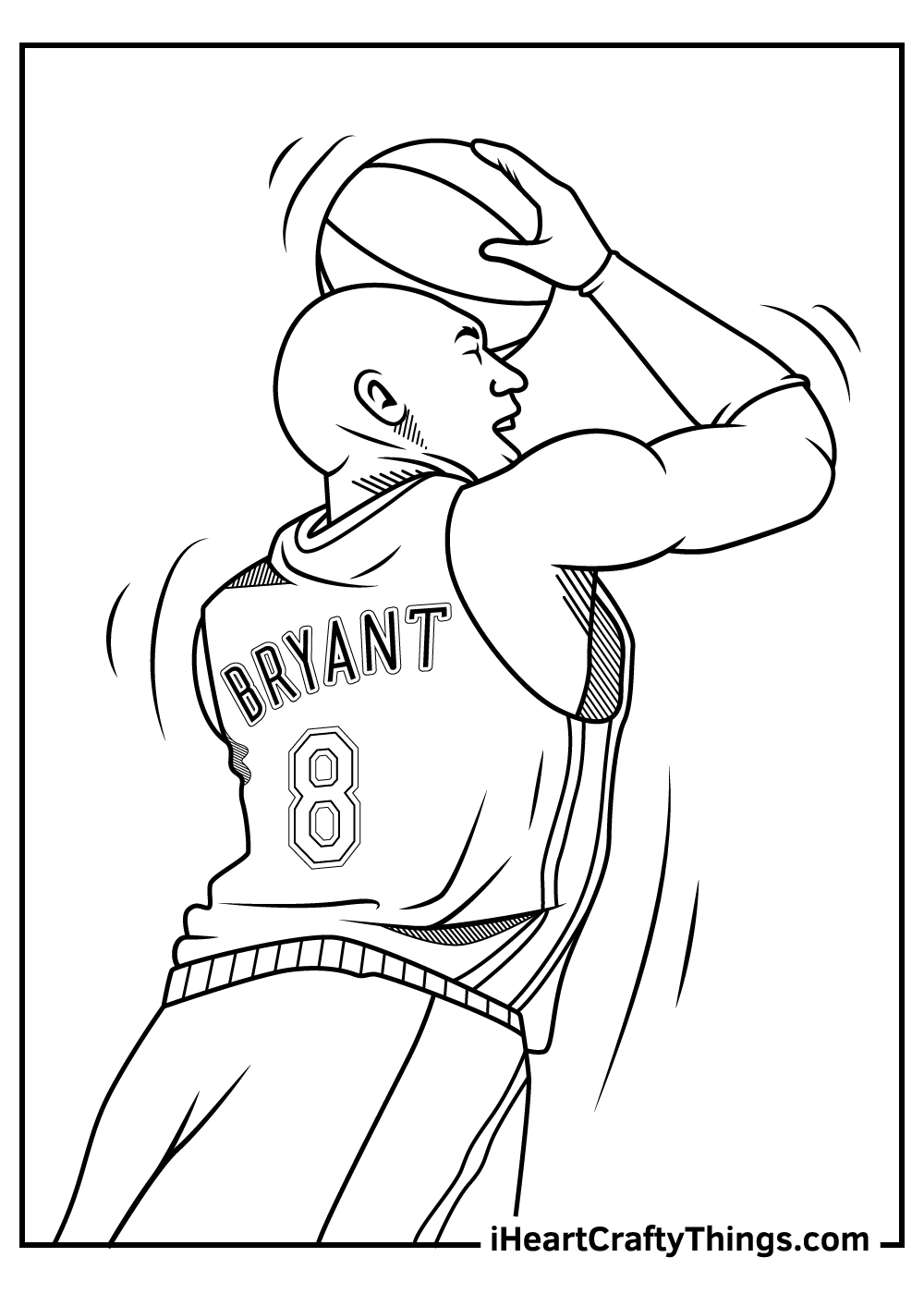 This second Kobe Bryant coloring page printable looks like it could follow on from the previous coloring page, and it looks like he got the point!
He's surrounded by stars and giving a triumphant shout, so maybe he won the game with that basket. Such an amazing moment would look great with bright and warm colors, I'm thinking some bright reds and yellows to capture the triumph of the moment would look really amazing.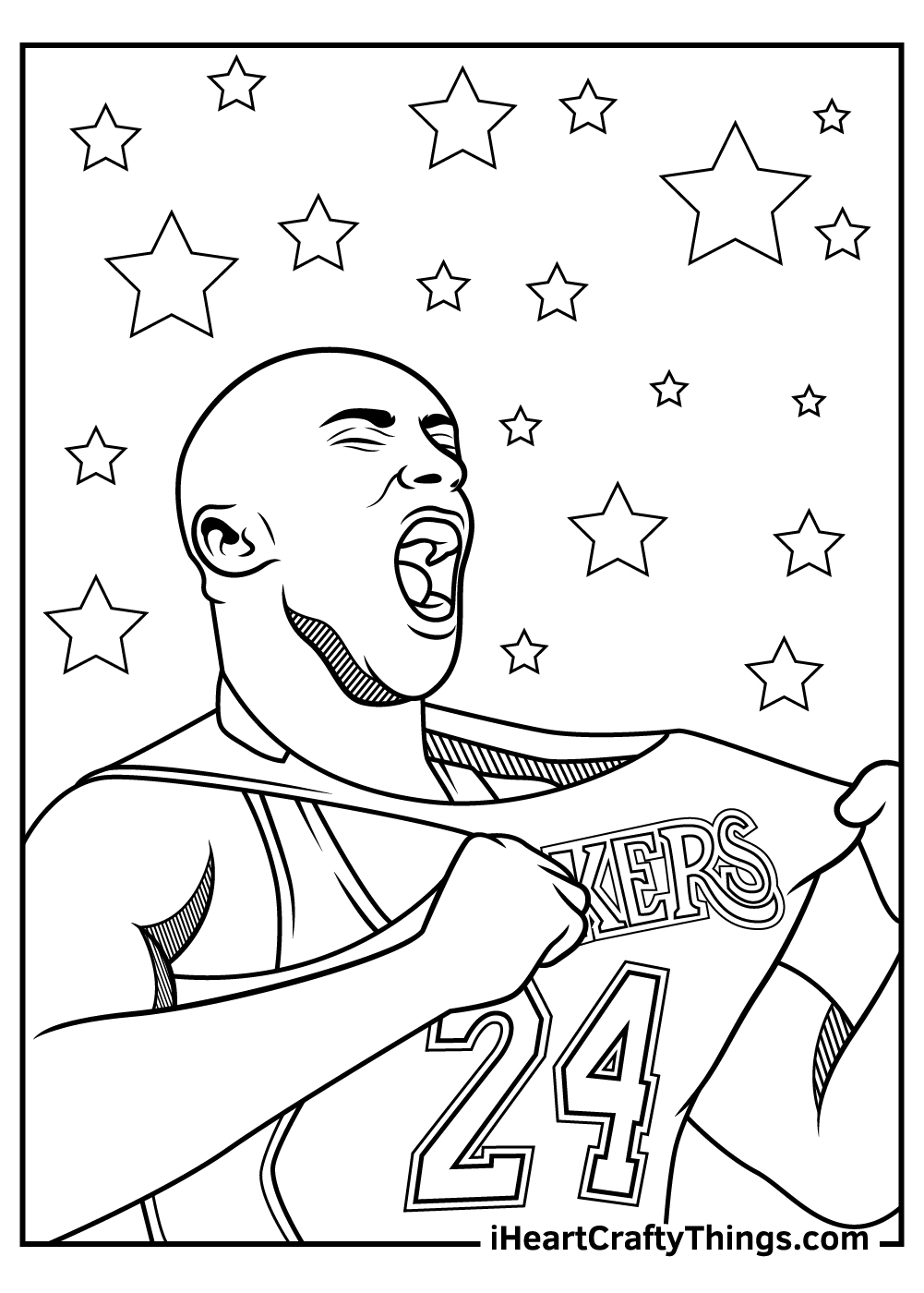 From the action of the previous two coloring pages, we have one that captures a more uncertain moment. Kobe Bryant is standing with his basketball and looking on at something. Maybe he's waiting for a verdict from the referee after a tense moment.
After the more frantic printables, maybe the background of this one could have some deep blues and greens to represent the more uncertain feeling of this page.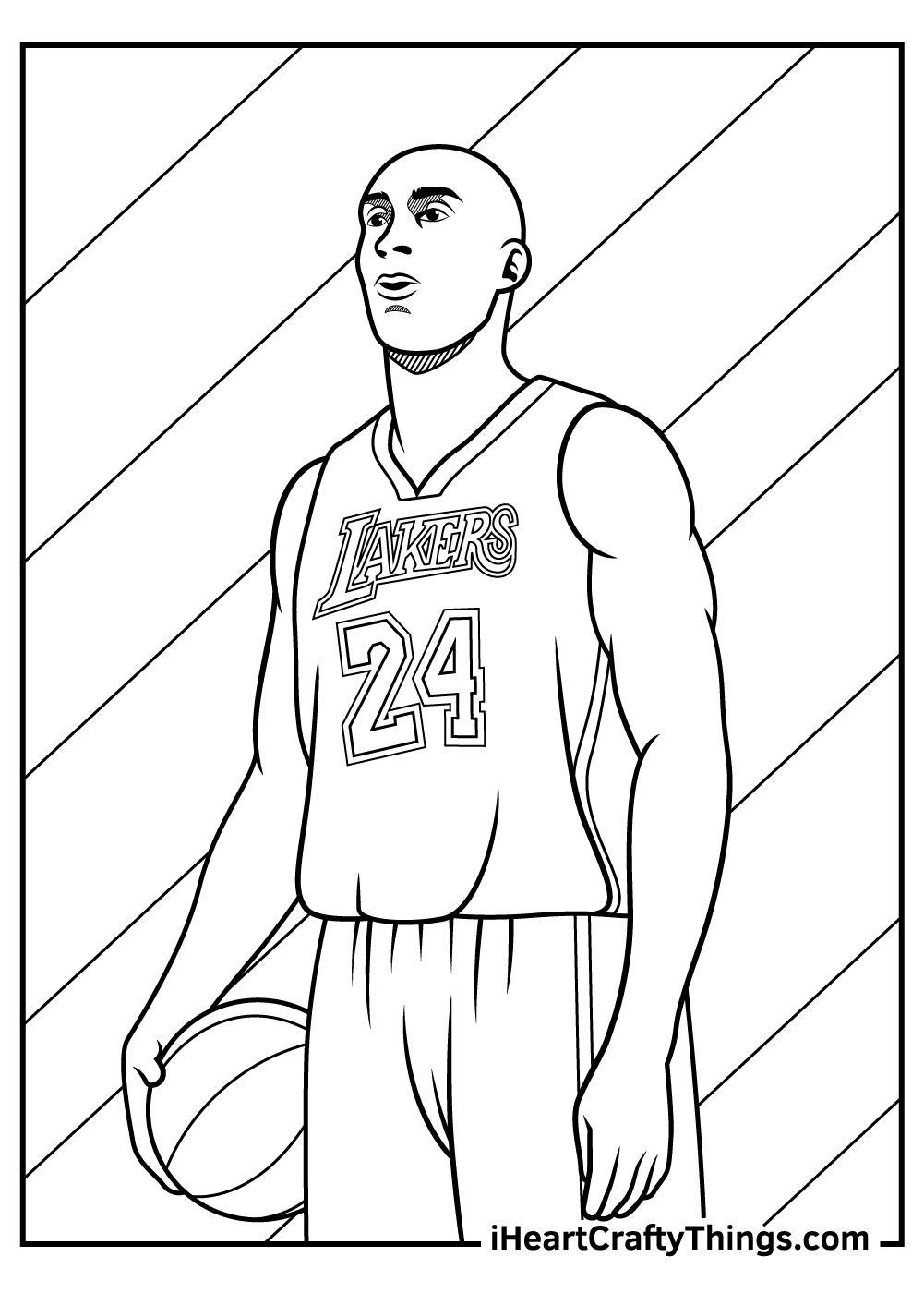 Kobe Bryant is back in action after the last printable and dribbling the ball before making his next move. He's looking a bit tired in this coloring page, so maybe it's been a tough game to win!
This would probably also look great with a more muted background, maybe a lighter blue would finish it off nicely. What do you think?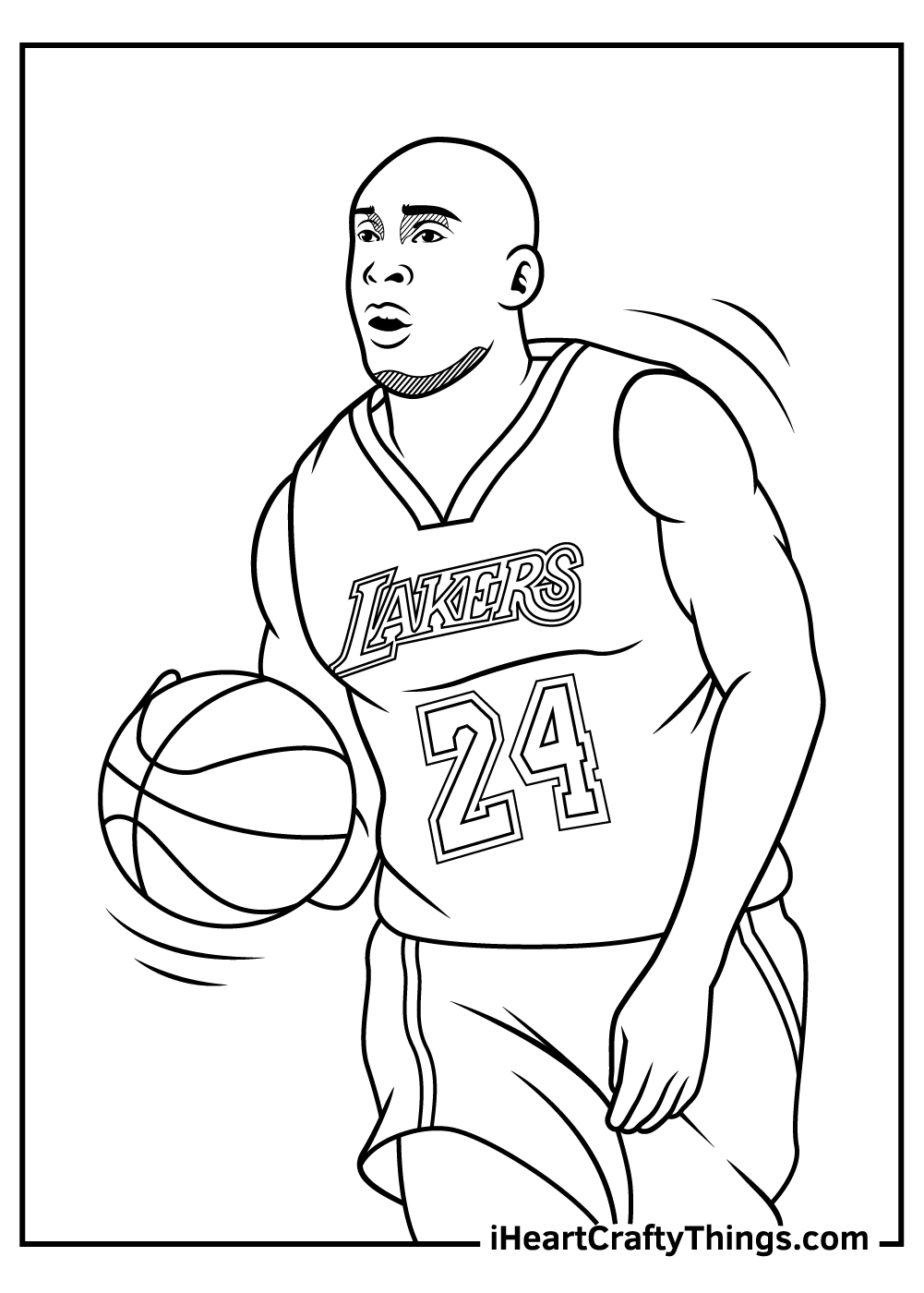 This coloring page looks like it could be the poster for a movie, as we have a close up on Kobe Bryant's back with his name and number on his shirt in clear view.
Don't you think a warm red background contrasted with his yellow shirt would look great? I think it would make it look even more like an iconic movie poster!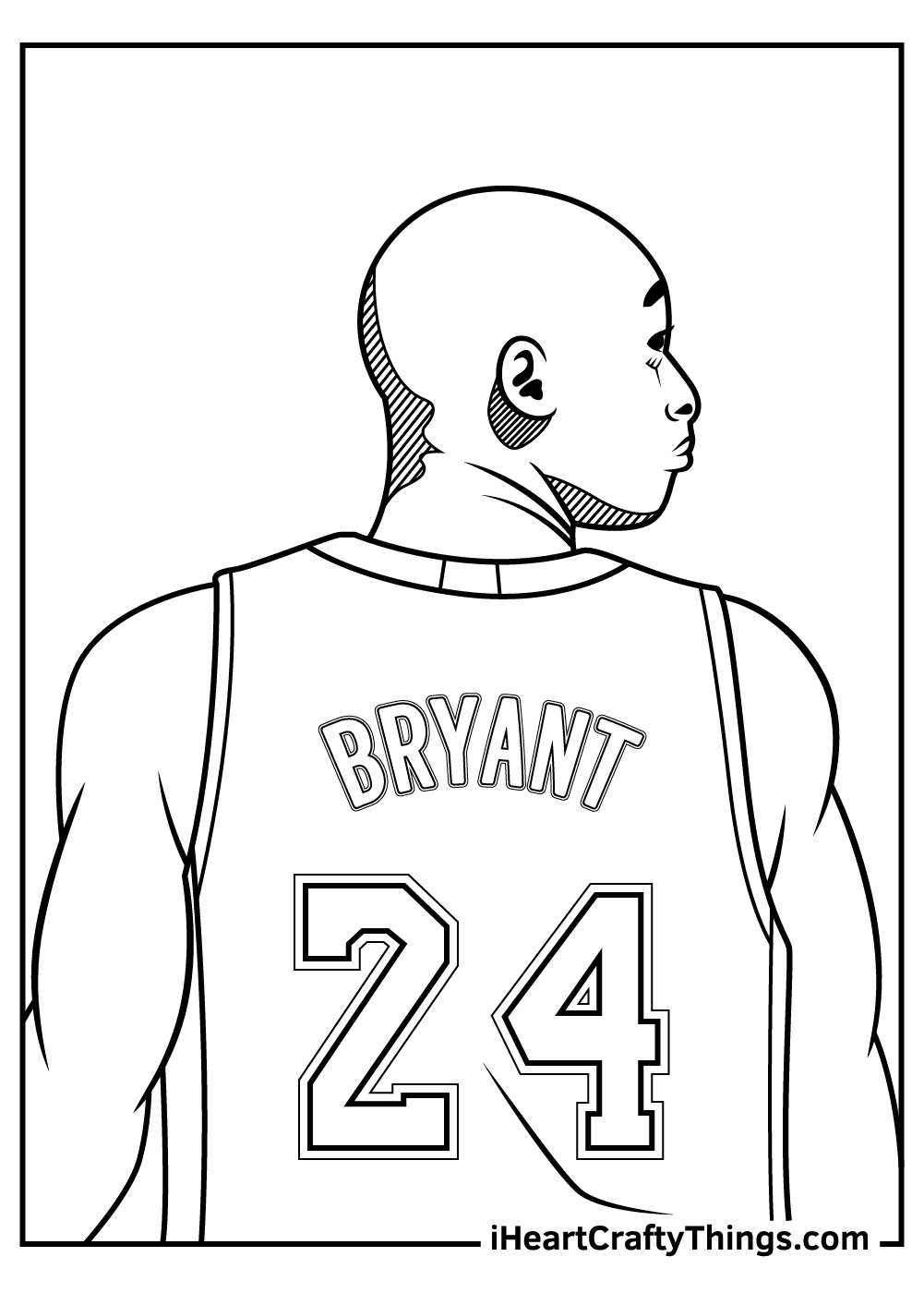 In this coloring book image, Kobe Bryant is looking like he's contemplating his next big move. It looks like he's concentrating really hard, so it must be a tense moment of the game!
Don't you think a deep blue background would look great for this quieter moment?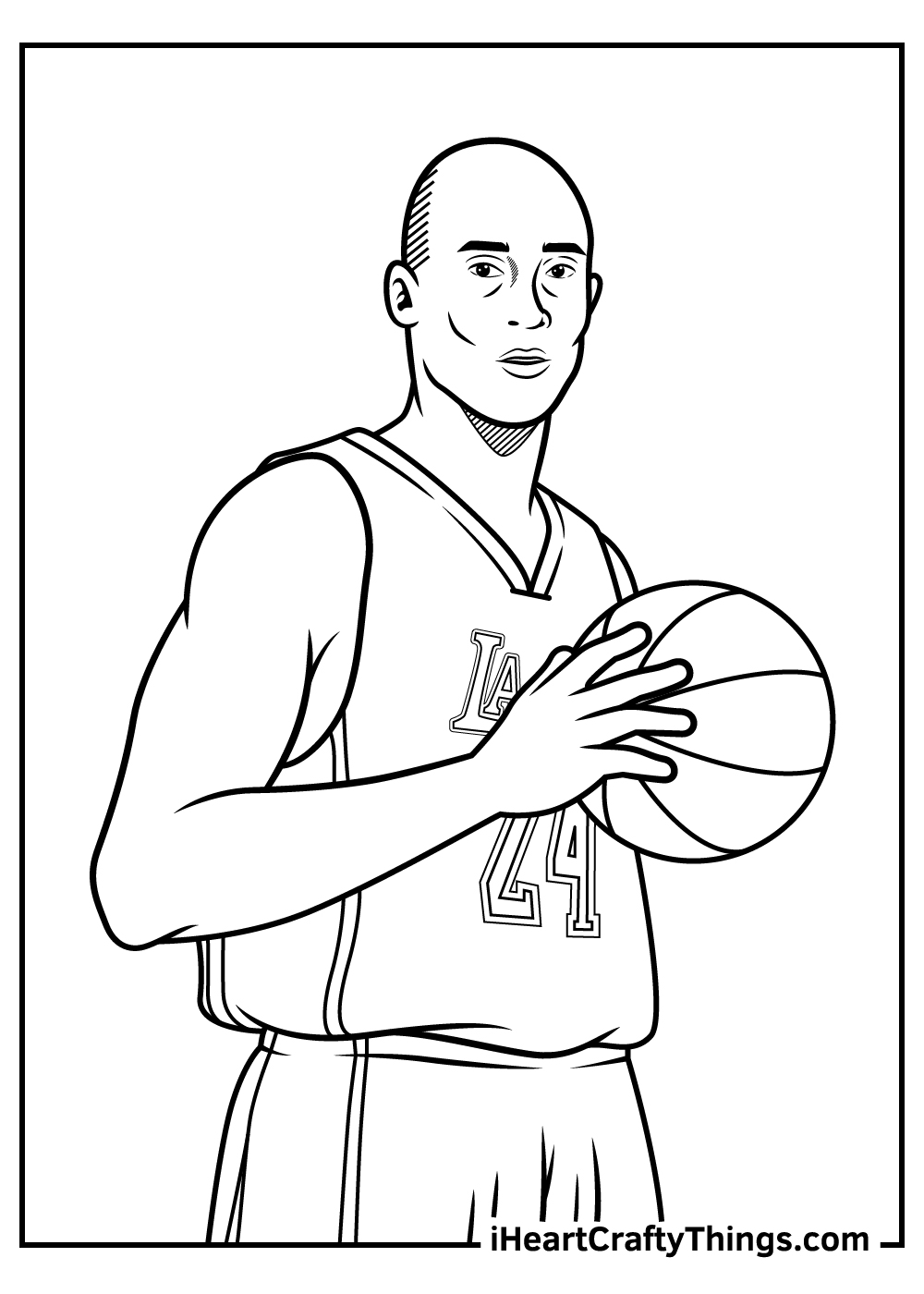 If the previous coloring sheet was Kobe Bryant planning his next move, then this printable could be him acting it out and going for a dunk!
It's an exciting, tense moment and the expression on his face certainly speaks to this! For this image the excitement would be highlighted with some bold, bright colors. Maybe some reds and yellows? How will you color in this free printable?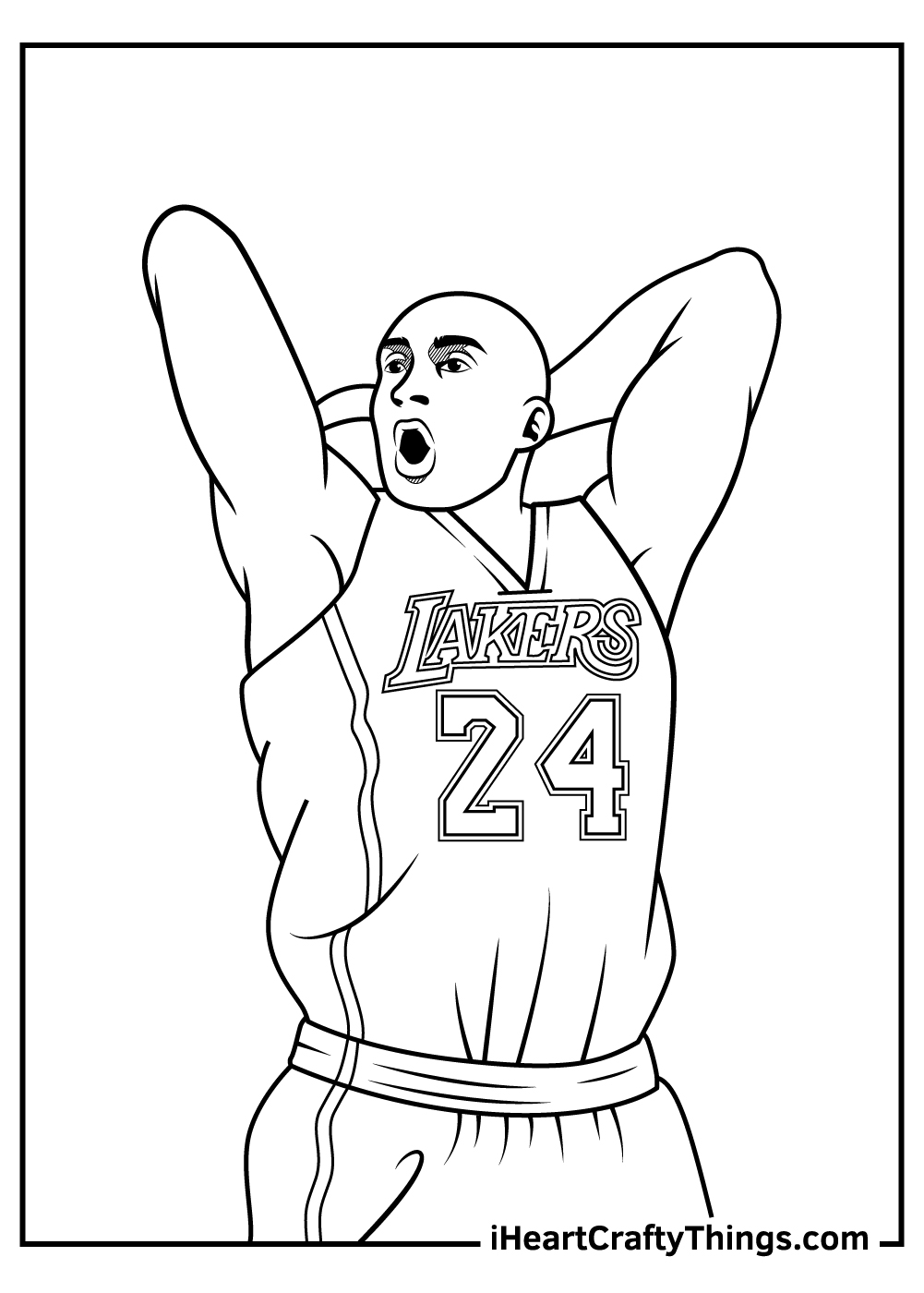 No one can deny that Kobe Bryant was one of the biggest stars in basketball history, and this is made apparent in this coloring page as he's once again surrounded by stars.
Does this printable make you think of a favorite moment from a Kobe Bryant game you've seen? We'd love to live through your favorite moves and games by seeing how you tribute them with your coloring of this page!
Here's a triumphant moment in this coloring page! Kobe Bryant is looking thrilled with himself for the move he's pulling off, and rightfully so!
I always think bright and vibrant colors work wonderfully for high action moments like this one, and much like one of the earlier printables maybe a flurry of colors in the background would give a sense of momentum and movement.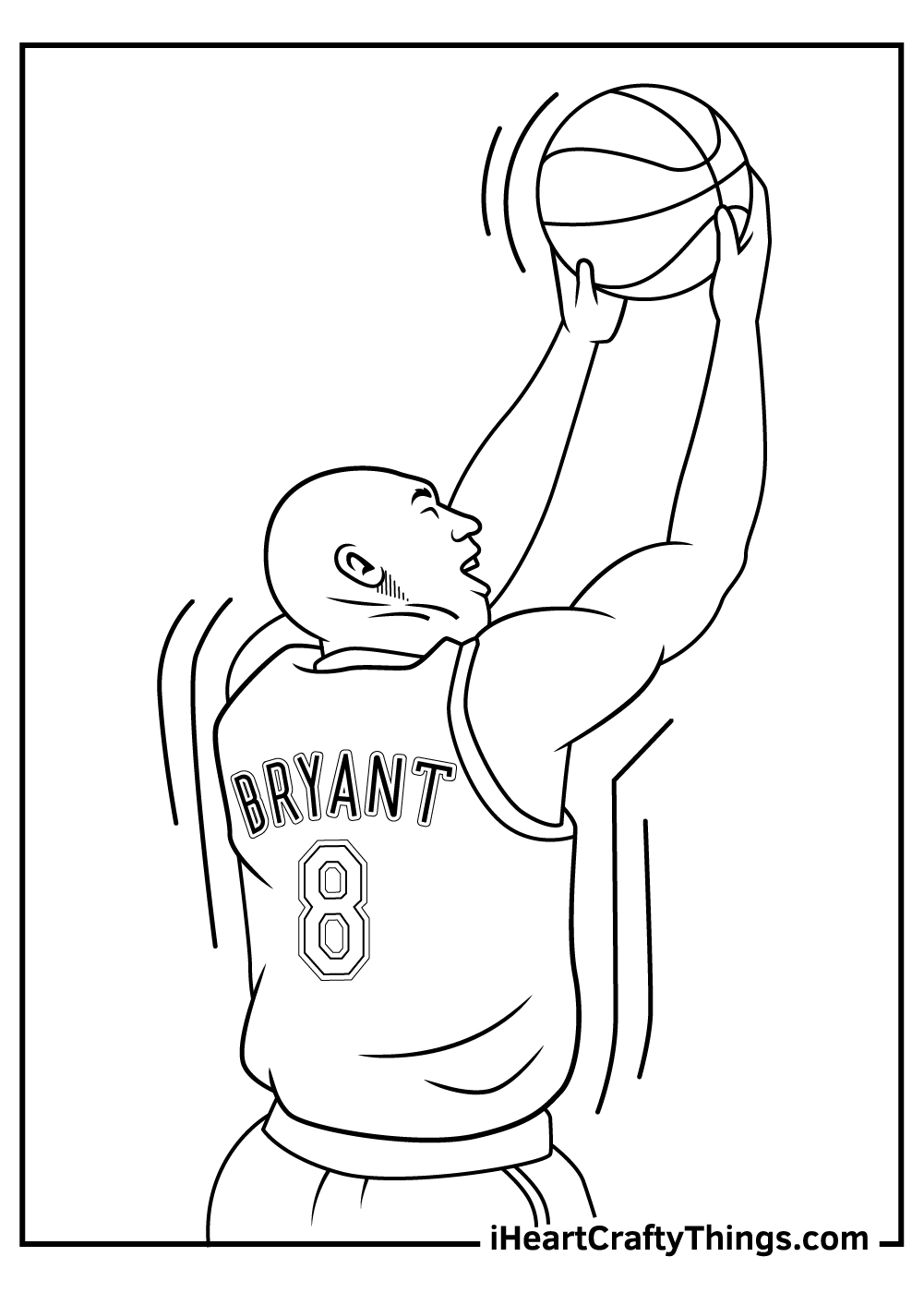 In the final image of this Kobe Bryant coloring page collection we see Kobe Bryant looking worn out, probably after an intense, close game!
We've had a lot of fast paced images in the previous printables, so it might be fitting to use cooler greens and blues for the background of this image to reflect a job well done.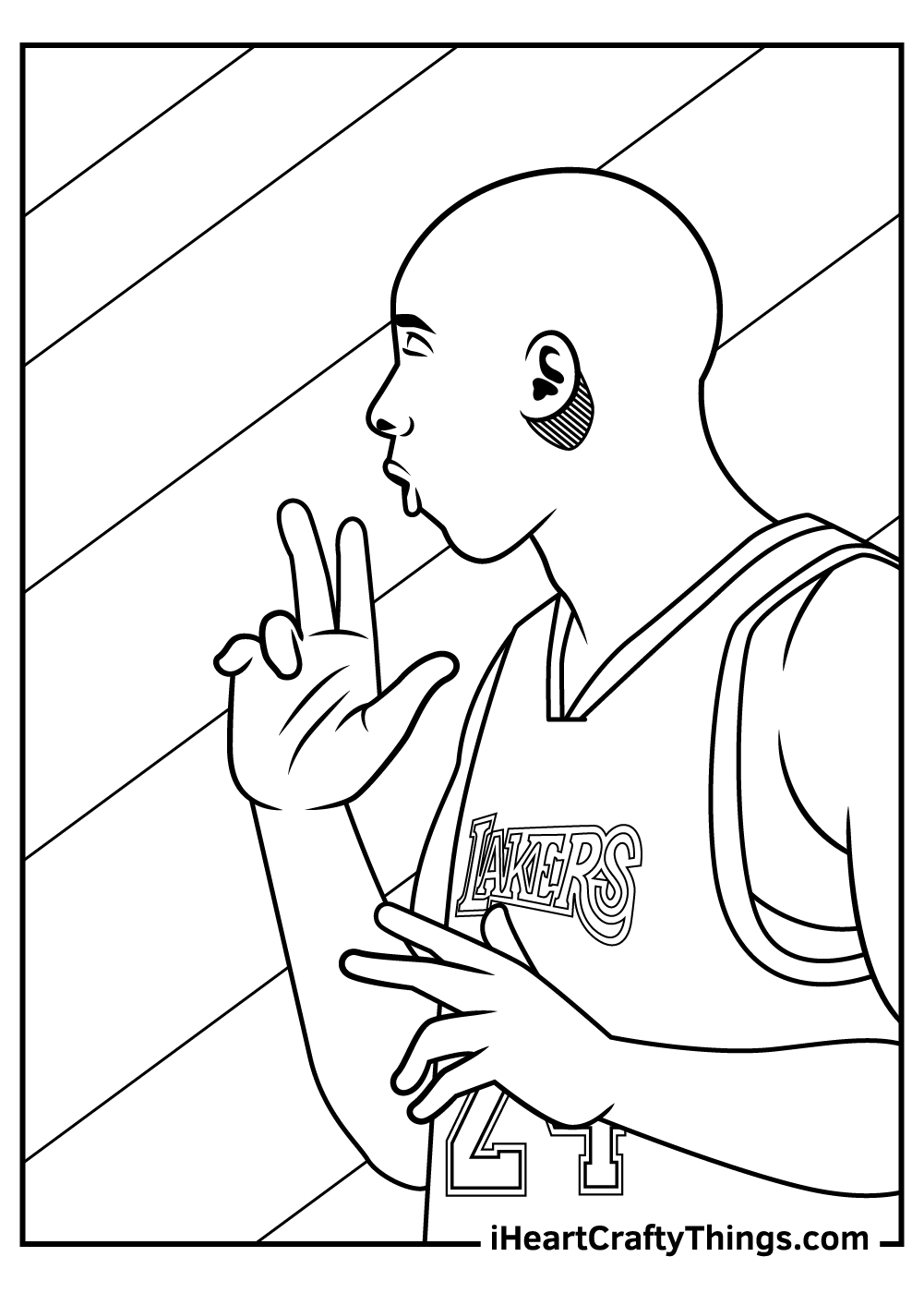 Kobe Bryant Coloring Pages – Which will you choose?
We hope you had a great time celebrating the legend Kobe Bryant with these free coloring sheet printables!
There were moments of excitement and drama along with quieter moments of contemplation and planning. Those moments are just as important as the moments of glory, and we hope you had fun getting creative with portraying the many aspects behind a game of basketball!
Don't forget to like and share our Facebook page for even more fun filled, free coloring page printables.
All of our images are free to print out as many times as you like, so get creative and share what you create on our Facebook page for us to see!
We love to see all your colorful creations!