On this page, you will find 15 all new Halo coloring pages that are completely free to print and download.
The Halo video games are full of awesome science fiction action as you take on the role of the heroic soldier Master Chief.
This character has had many incredible adventures in a huge number of varied settings throughout video games, books and TV shows among other media.
With this collection of free Halo coloring pages for kids you can have your own colorful adventures along with Master Chief.
You can even shake up his usual distinctive green and gold color scheme to create some cool new looks for this video game icon!
You could also try out some paints and other mediums to make these images really stand out with color.
Once you've colored in your favorite free Halo coloring sheets, we would really love to see how you completed these pages, so please share your colorful creations to our Facebook page for us to see!
We can't wait to have some awesome Halo adventures with you and Master Chief!
15 Brand New Halo Coloring Pages – Free to Print and Color
Master Chief is front and center in this first free Halo coloring page for kids!
There are a lot of details and sections to his armor, so it could really help to highlight these details if you use some colored pens and pencils so that you can really get in there with the little details.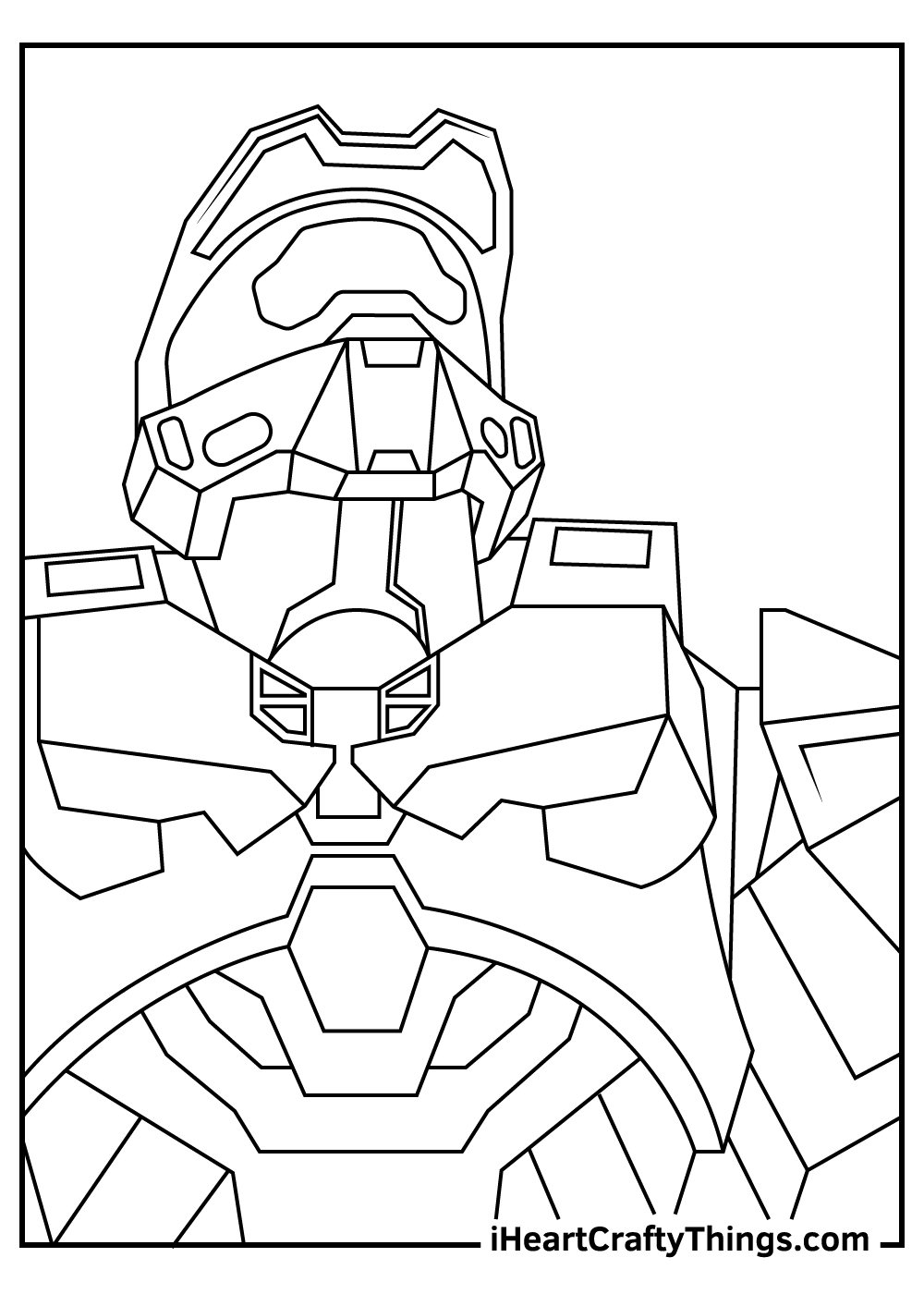 In this Halo coloring page, the bold outlines capture every detail of Master Chief's iconic combat armor, from the intricate panels on his helmet to the heavy-duty plates protecting his shoulders.
Leave it classic by coloring his armor forest green with golden visor accents, or customize it with your own bold color combos.
You can also shade the armor's grooves and contours to make it look battle-ready, and don't forget to add some action effects like plasma blasts.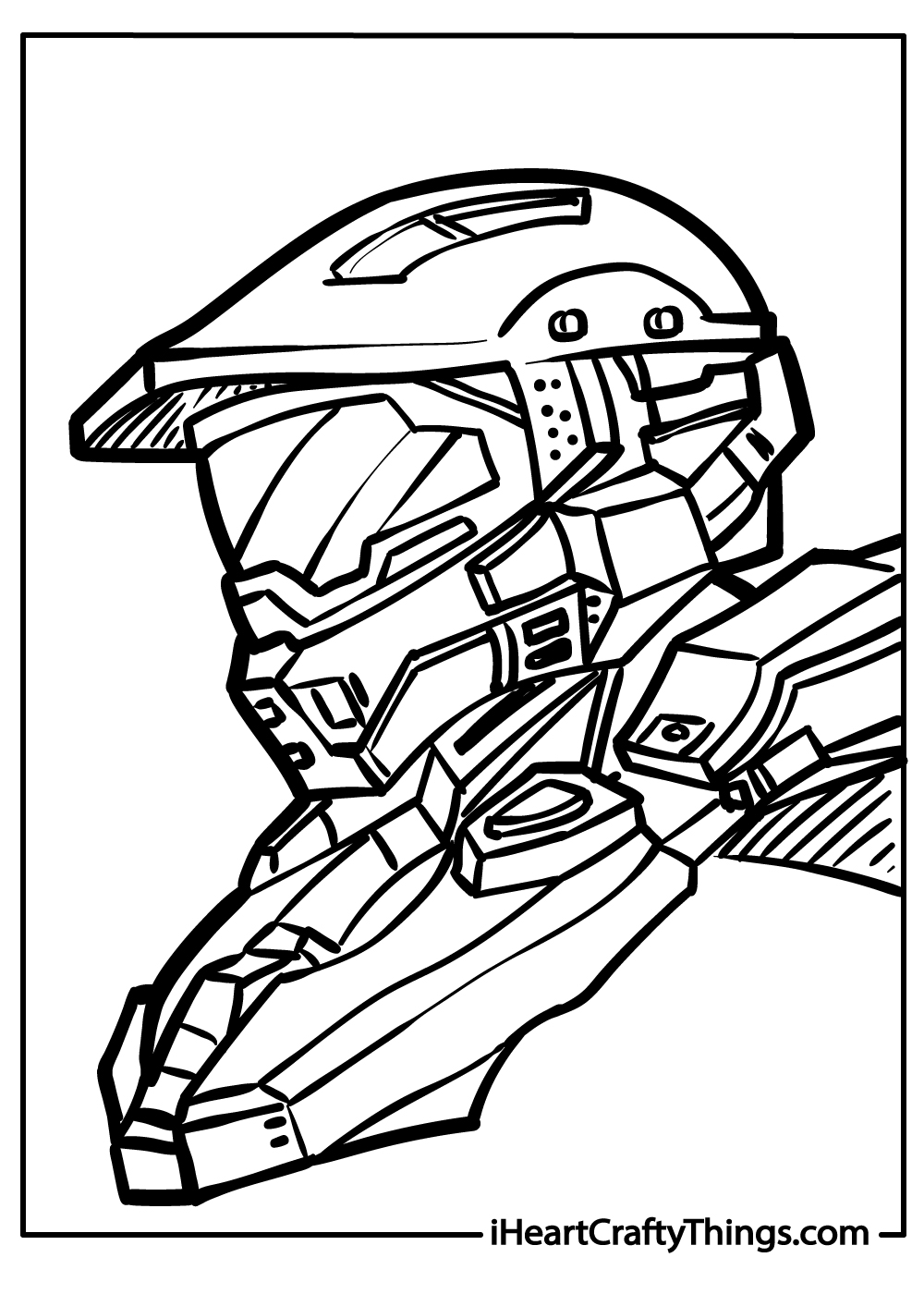 We have another cool image of Master Chief for this next Halo coloring sheet.
This image is a little less detailed than the previous coloring page, so it could be fun to draw in some extra details, like maybe some scratches and battle damage on his armor to really show that he's been right in the action!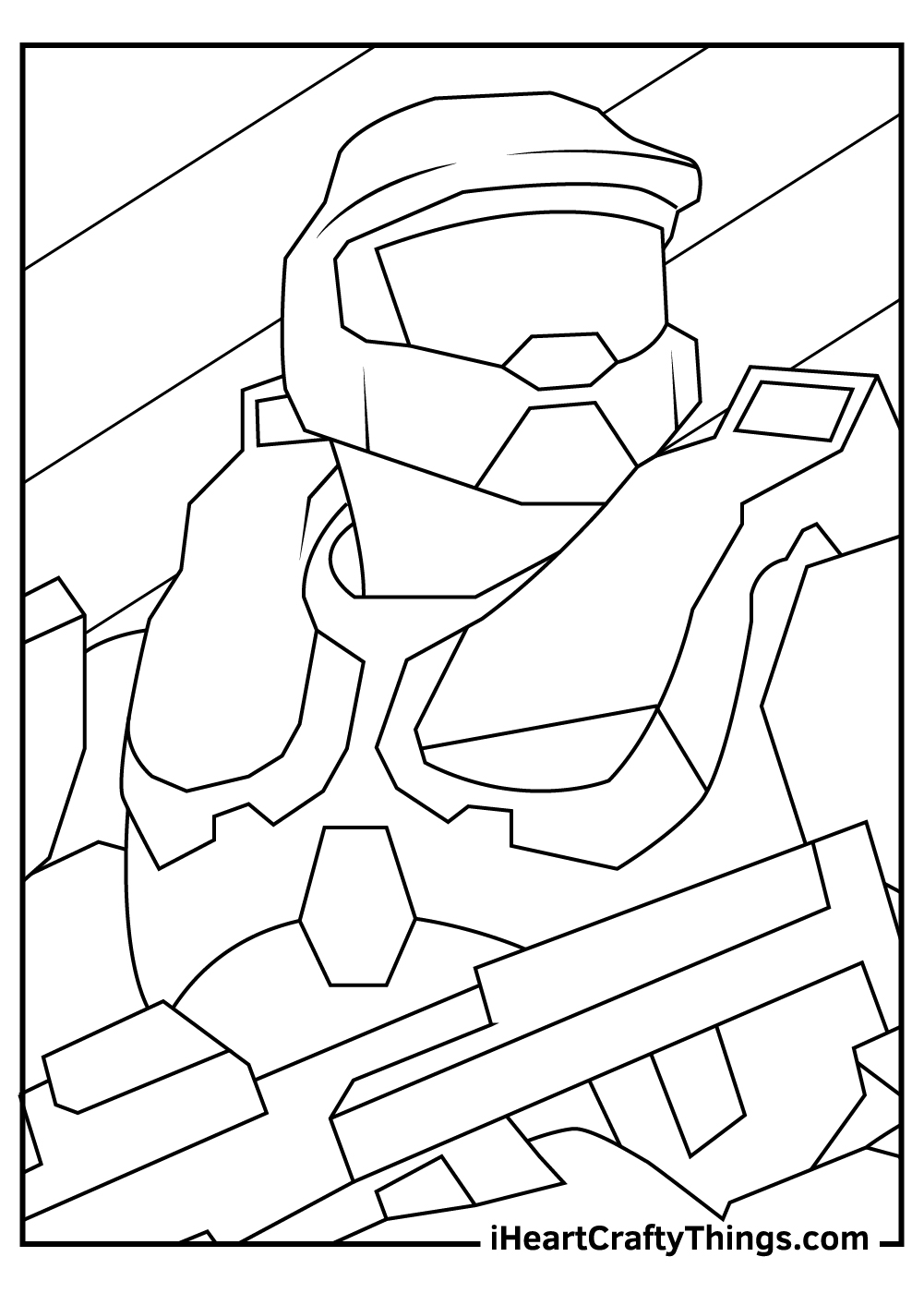 Master Chief is looking quite noble and heroic in this Halo printable. There are a lot of great details for this image, so it's another one where I think a medium like colored pens or pencils could work better to make adding all the details easier.
Once you've colored in Master Chief, you could use a bright color like a nice red for the background to make this Halo printable an awesome poster for your room!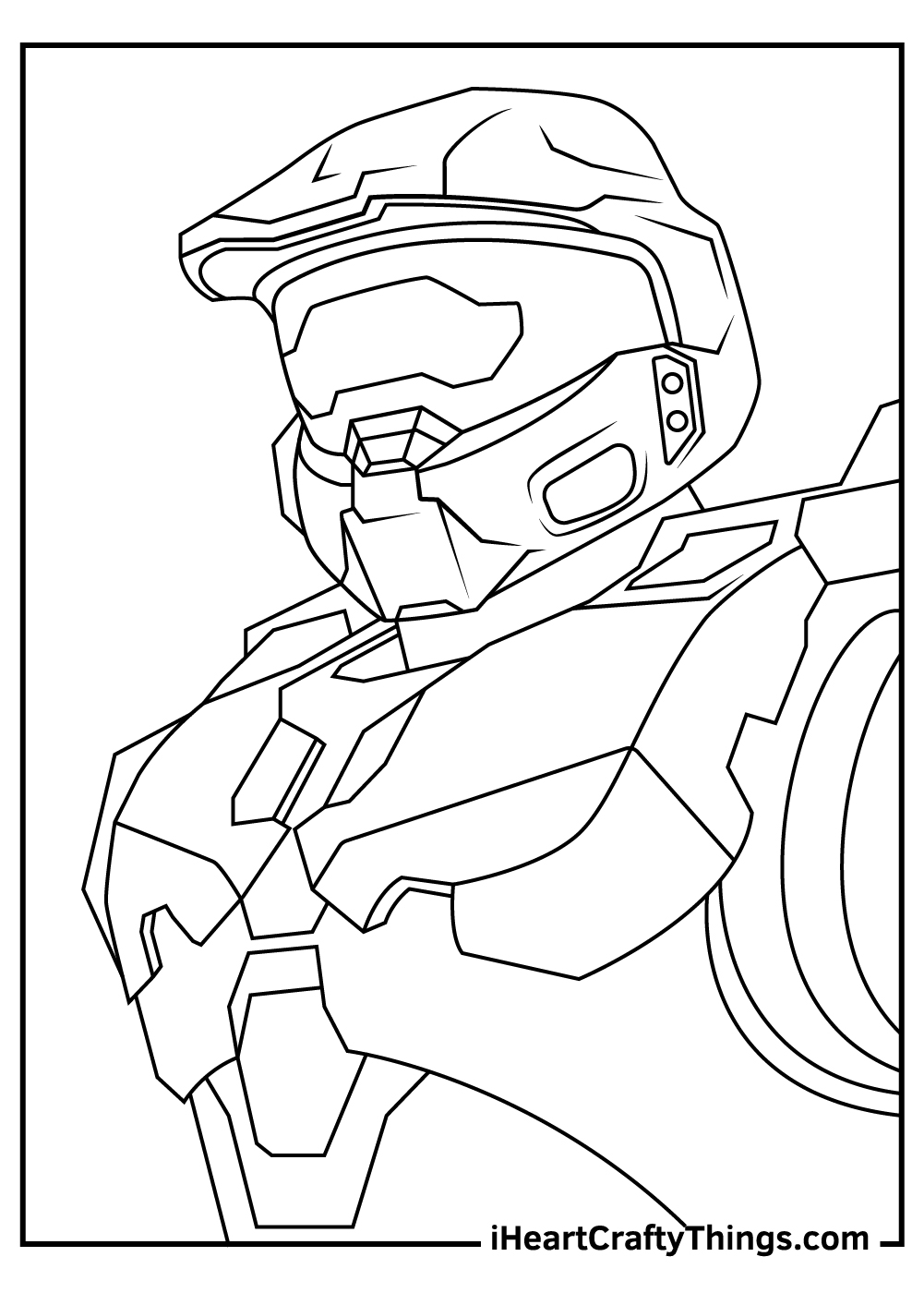 Master Chief has a stance that says he is ready for anything. Look at his arms crossed with firm grips on his high-tech guns. He looks unstoppable.
This Halo coloring page has a lot of detail. You can see the details of his helmet, chest plate, visor, the mouthpiece, and the vent.
You can color in the armor plates with forest green and golden accents to keep his look iconic. Add metal textures, battle damage, and fire coming out of the guns to create an epic scene.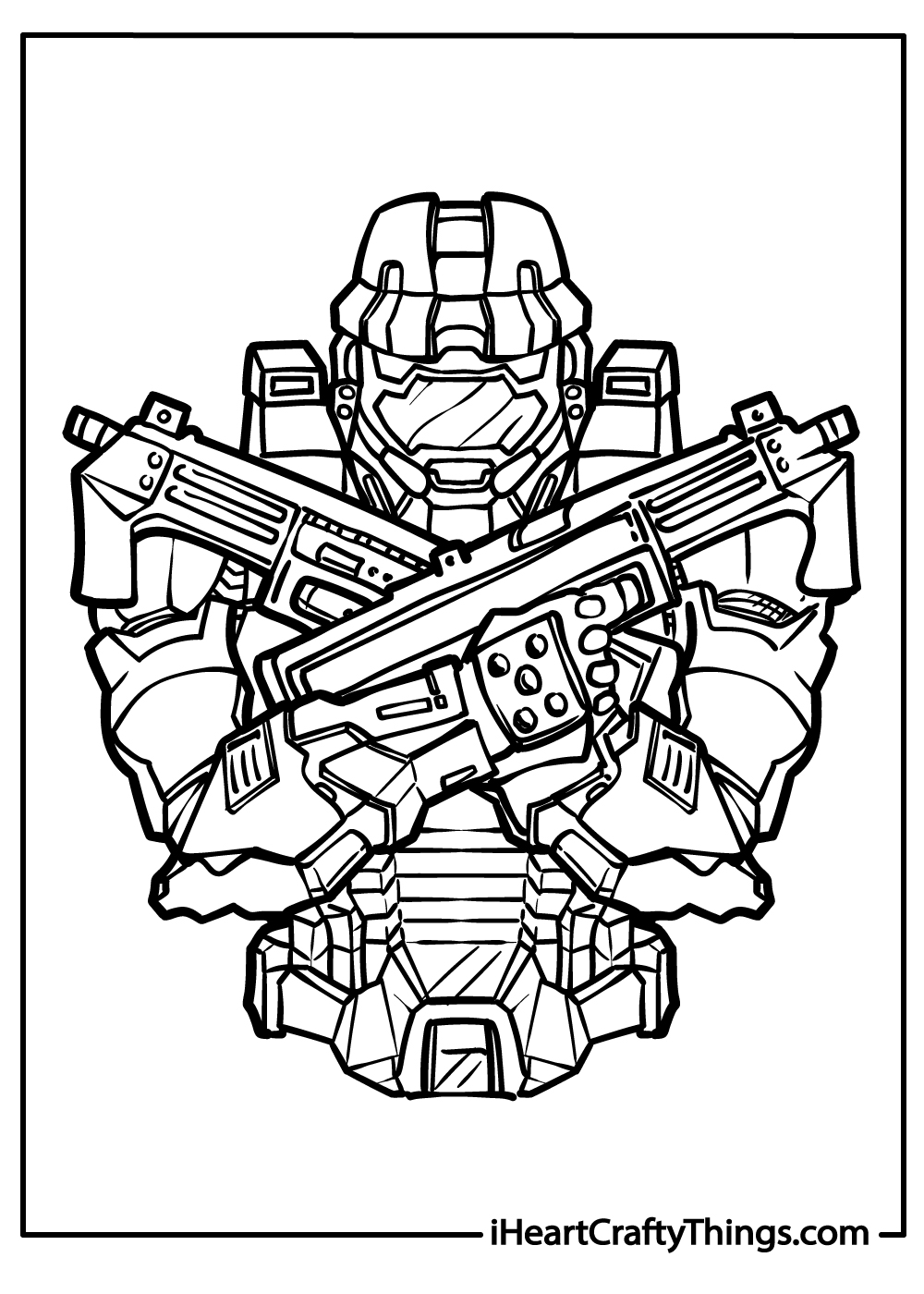 Green and gold are the colors usually associated with Master Chief, but that doesn't mean you can't be creative with your own colors with this Halo coloring page!
You could use your own colors to make your own variation of this famous armor.
You could go for a blue color scheme to show he's operating in an aquatic environment or use some lighter browns for some desert armor, so what colors do you think his armor should be?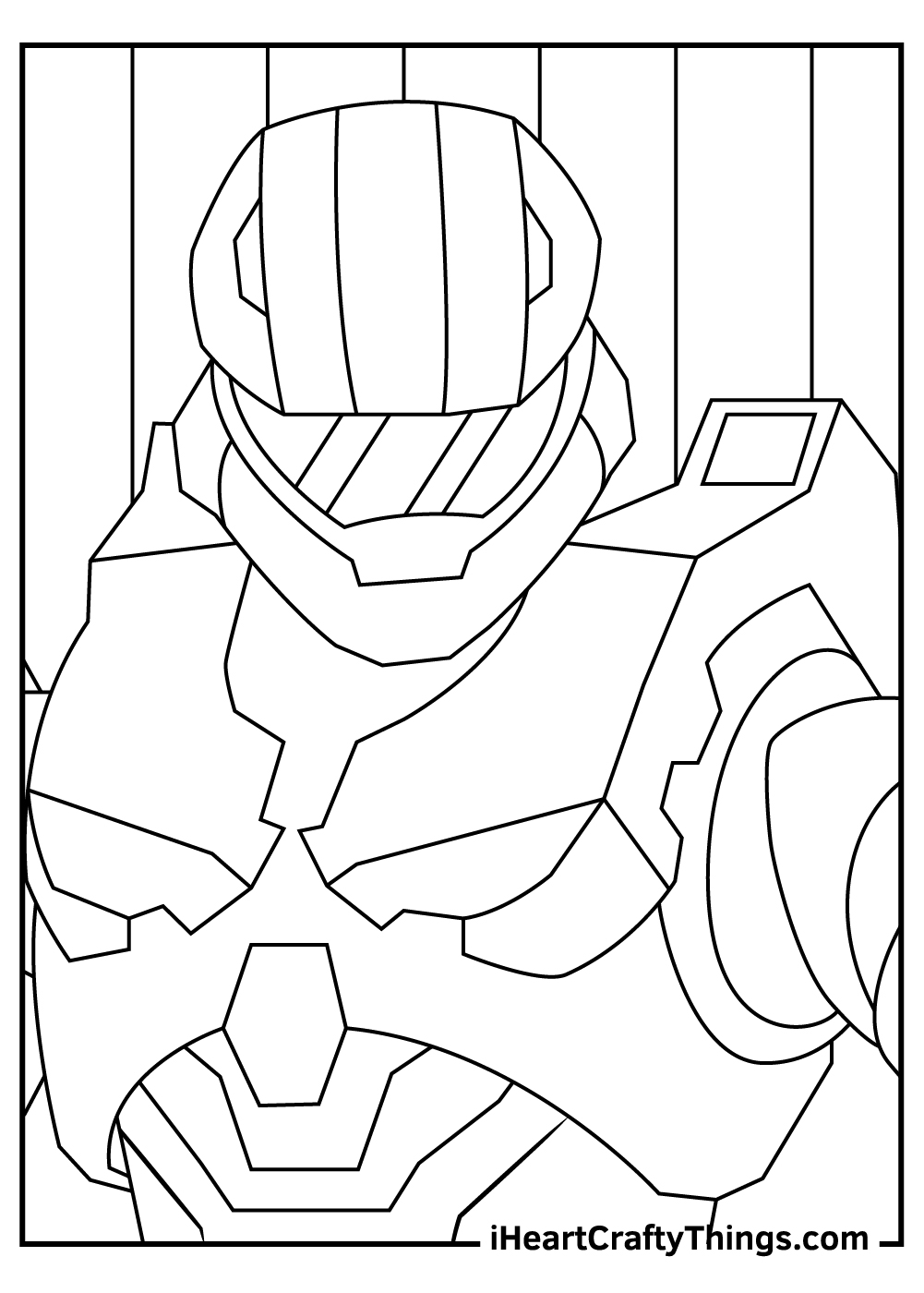 Next in this halo coloring pages collection, we have Master Chief slightly bent in a battle-ready pose, gripping a massive plasma rifle as his helmet visor scans for alien threats.
The scene is ready for you to add excitement. The crisp outlines capture every detail of Master Chief's armor plating, just waiting for your coloring creativity.
Go classic by coloring his suit forest green and gold to match his iconic style. Or redesign his suit with a colorful custom color scheme.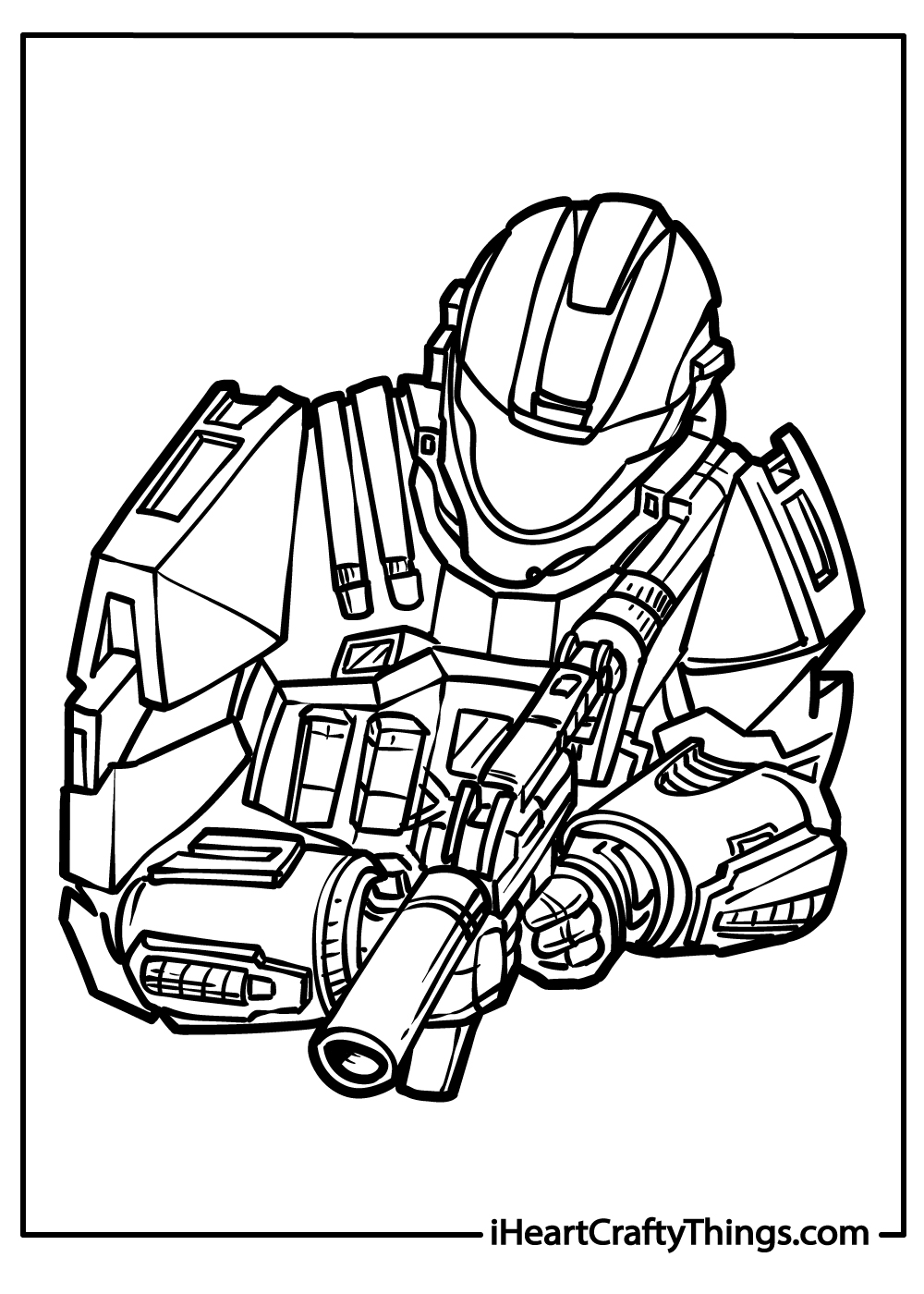 We have another image that could make for a really cool poster in this next Halo coloring sheet.
Master Chief is looking ready for action, and I think that another bright background would look great for this Halo printable. How will you finish off this coloring page?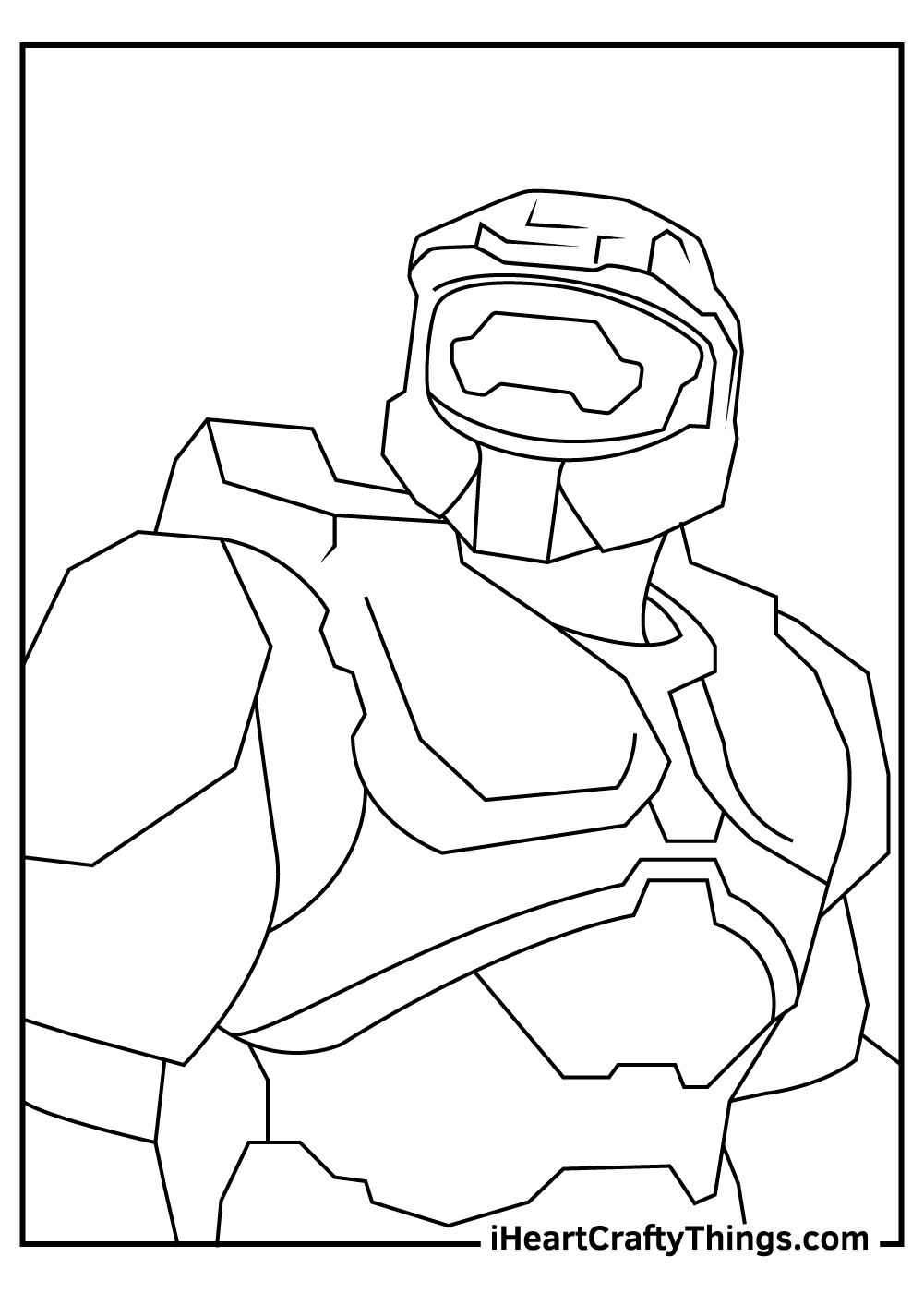 Master Chief is often having adventures in space environments, and he might be taking it easy in this next free Halo coloring page, as he's laid his helmet down with stars in the background.
I think it would look really cool to color in the stars with some yellow shades while keeping the background a dark black to really make the helmet stand out.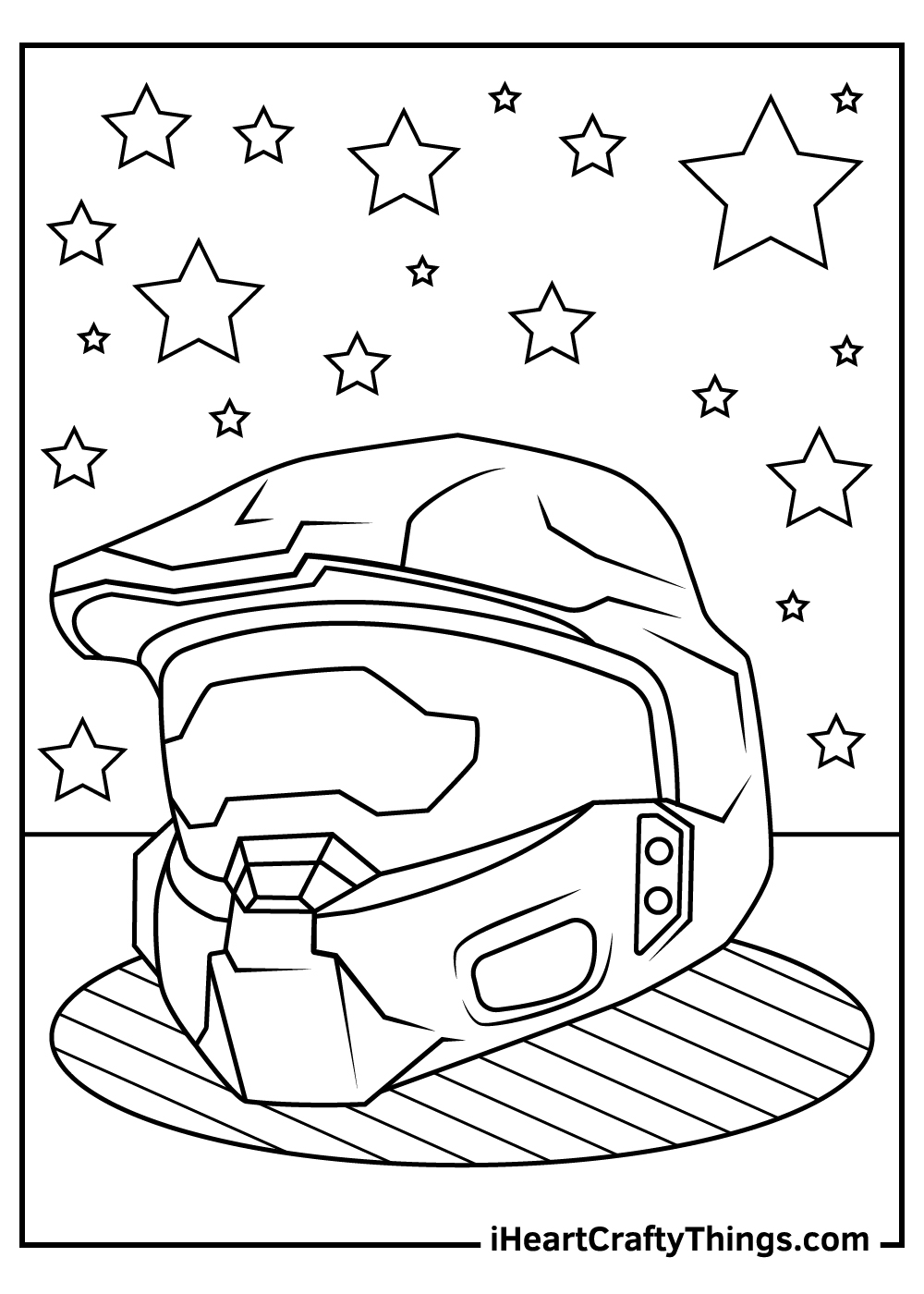 Here we have Master Chief locked and loaded with his iconic plasma rifle in hand and a trusty pocket knife ready for action.
He is wearing a suit of armor with various plates and straps, which protect him from harm.
Make your mark by coloring his suit and weapons in custom combos of vivid greens, blues, reds or whatever hues you imagine. Add some dramatic shading and lighting effects to make the details really pop.
Then set the scene with Chief poised against backdrops like a Halo ringworld or the interior of a Covenant ship.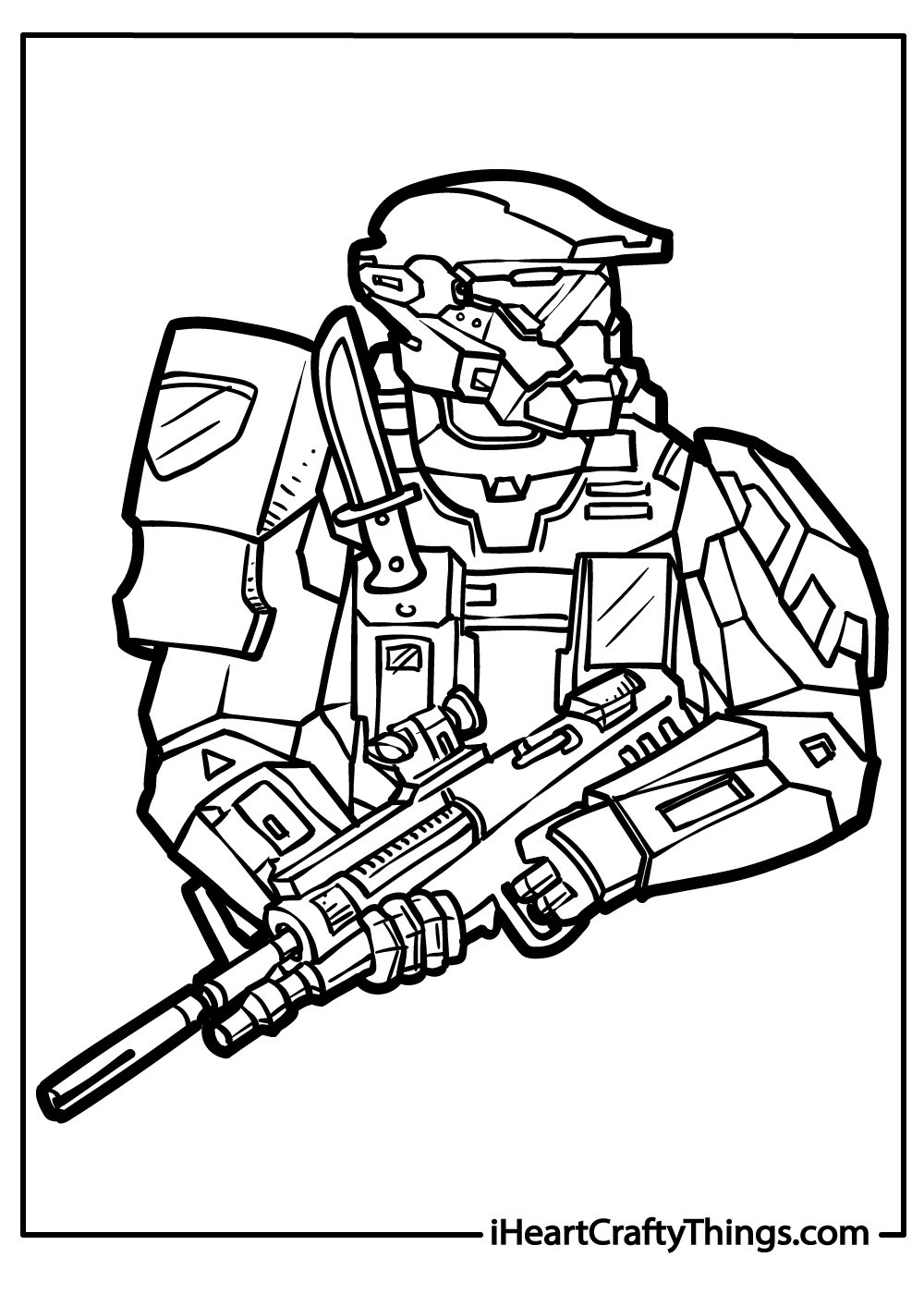 This Halo coloring sheet shows Master Chief as a force to be reckoned with as he stands ready to go with his rifle in his hands.
It could be really cool to use some interesting colors and shapes in the background to suggest that he may be on some vibrant alien world. What colors do you think this strange planet would have?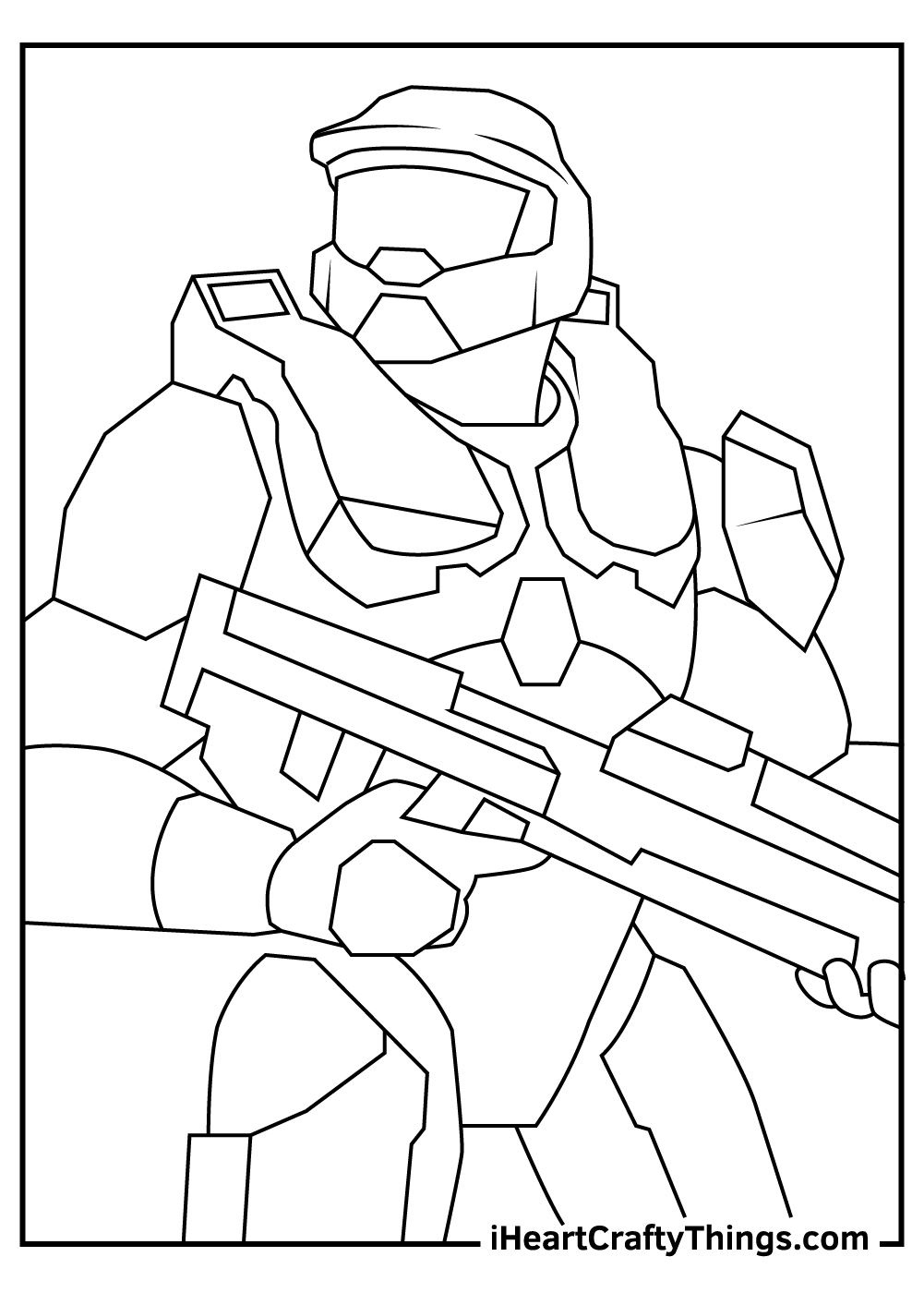 We have a close up on Master Chief in this cool Halo printable.
There are more stars in the background, and I think this image would look great if you alternated some of your favorite colors for each of the stars to make an explosion of colors behind him.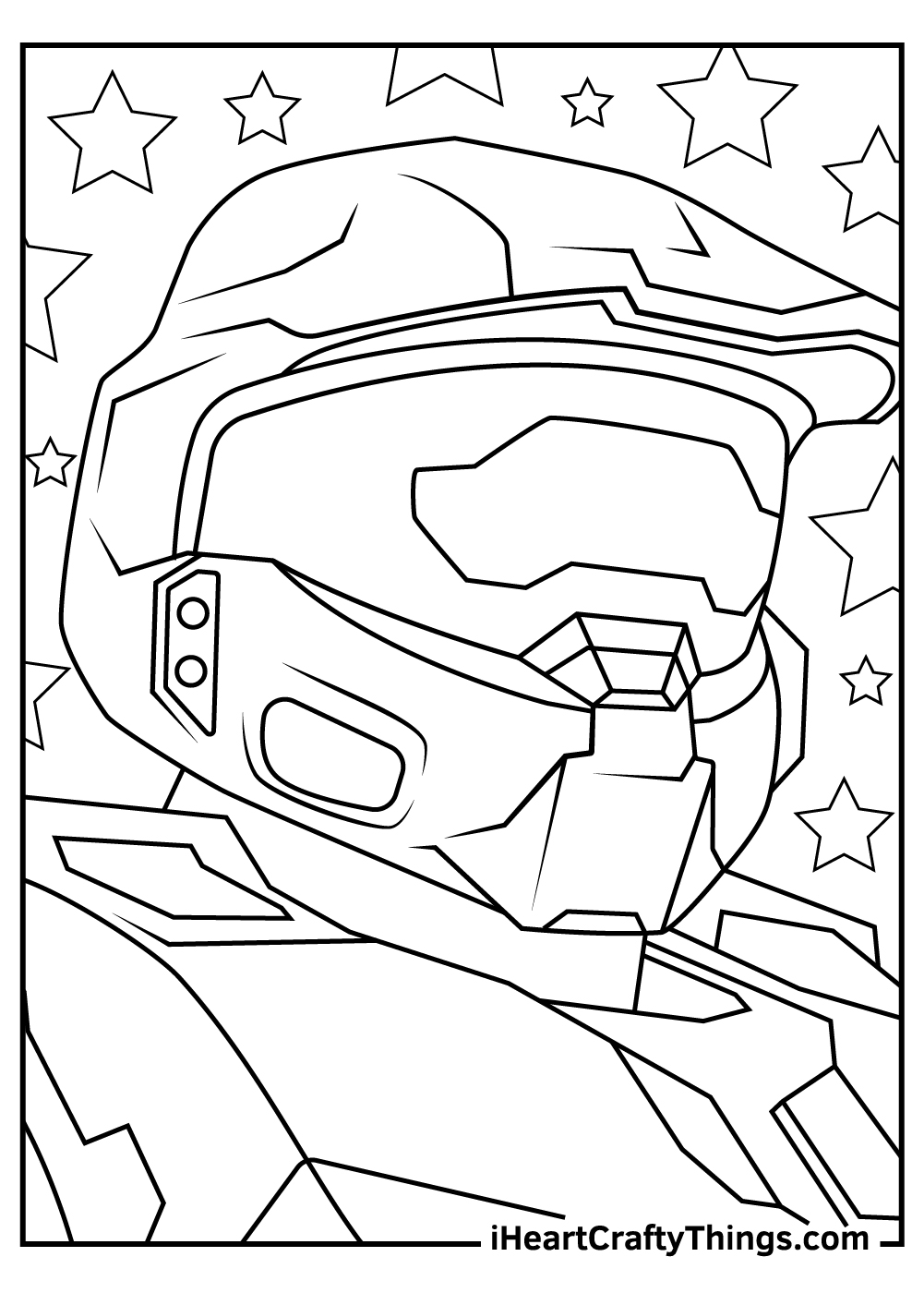 Master Chief has his pistol out and looks ready to save the day in this next Halo coloring sheet. This really cool pose with another solid, bright background would be a great combination!
Maybe you could use a nice bright green for his armor and a rich dark blue for the background.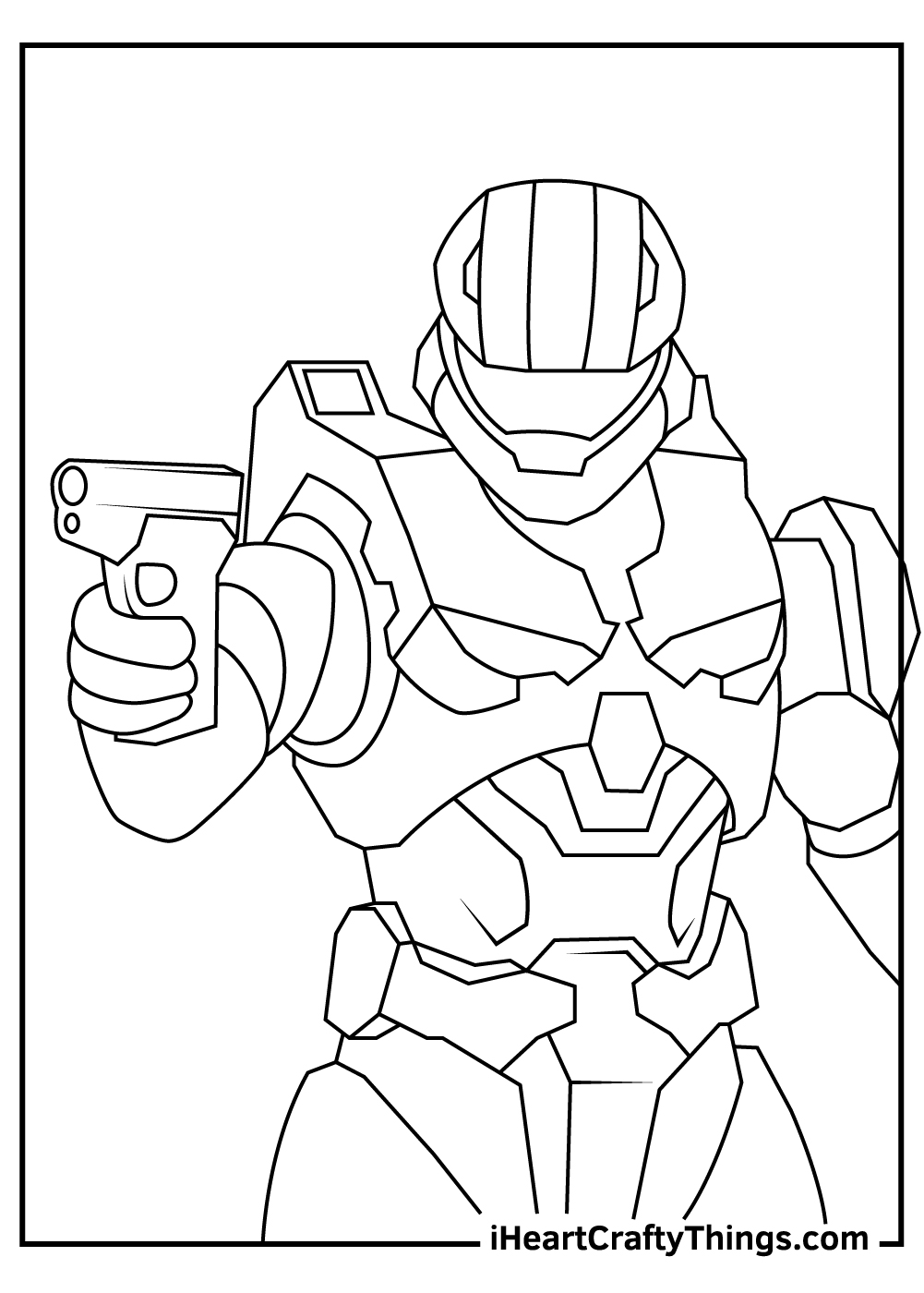 Our final free Halo coloring page for kids features another close up of Master Chief.
The background is separated into segments, and it would look really great to pick two or more colors to alternate with the stripes to give this Halo printable a really vibrant look.
Will you keep to Master Chief's regular colors of green and gold for this last page or use some of your own colors?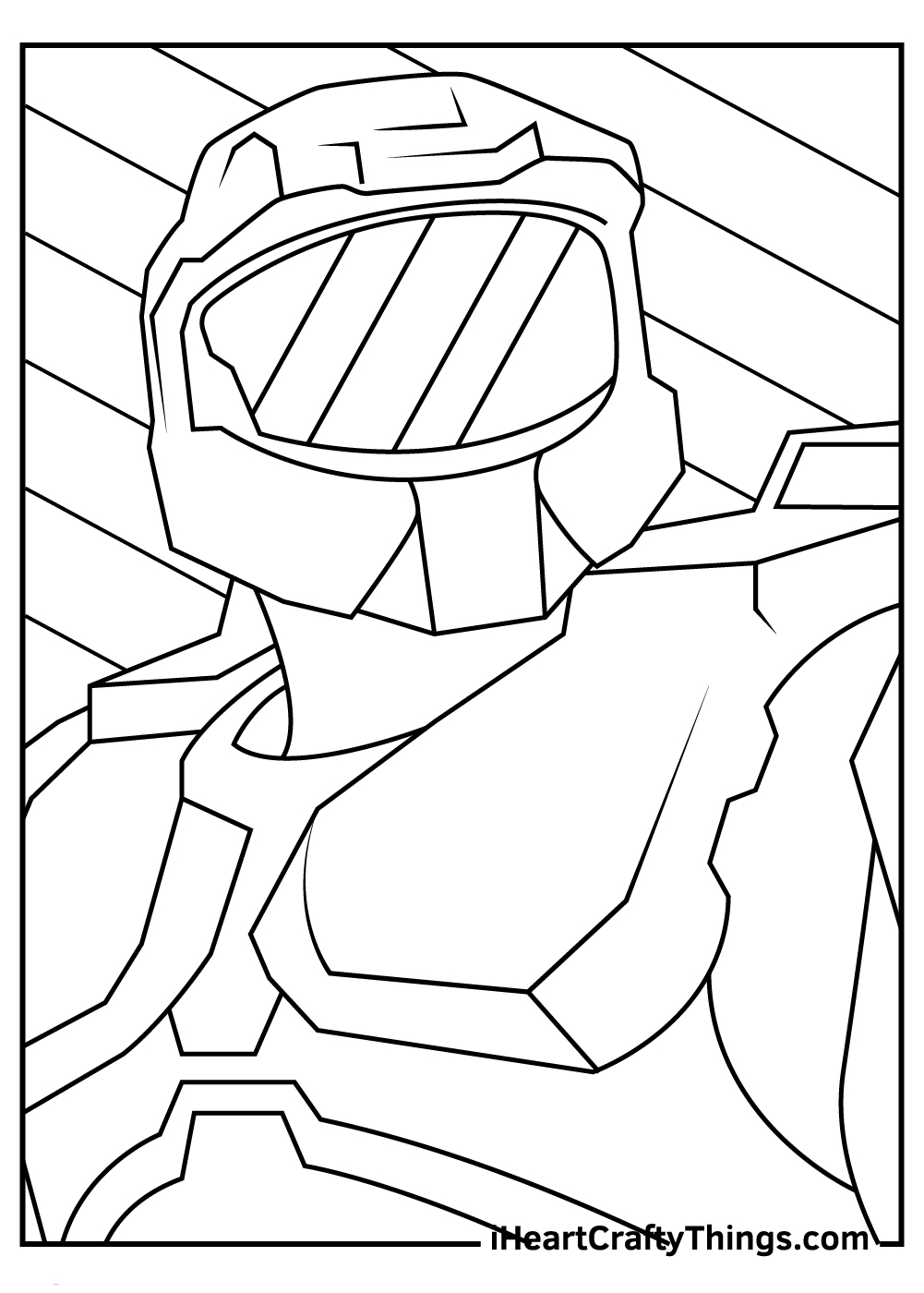 This Halo coloring page features the famous helmet worn by the Halo video game hero, Master Chief. Color in the sleek visor, cool helmet shape and small details that make it look so high-tech.
Use green, gold and gray crayons or markers to give it the classic Master Chief look. Or give it your own awesome new look with different colors. Add metallic finishes and camo patterns to make it really unique.
Don't forget to share your finished masterpiece on our Facebook page.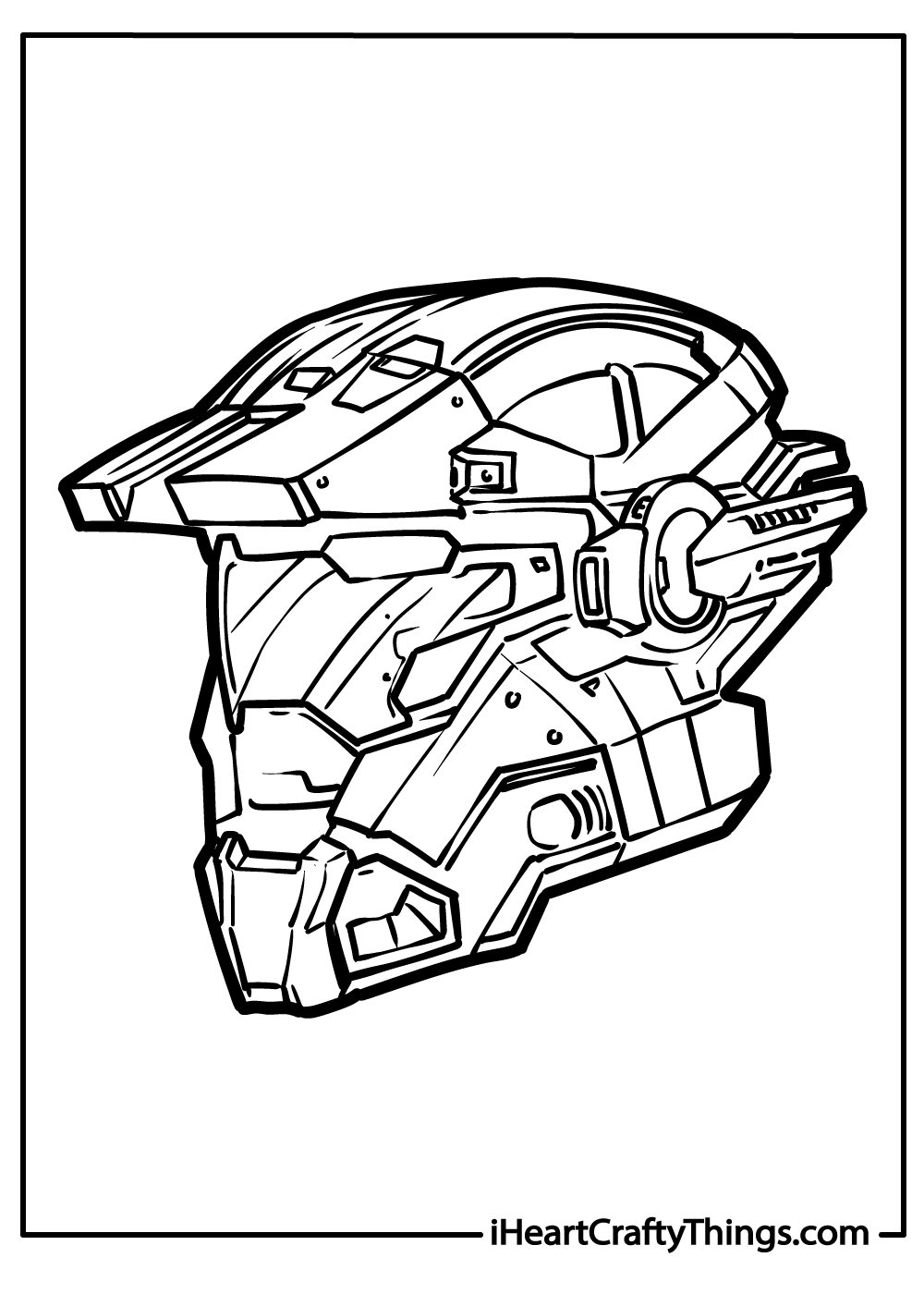 Halo Coloring Pages – Which will you choose?
We hope that this awesome series of free Halo coloring sheets for kids provided a whole lot of action packed coloring fun for you to enjoy!
These Halo coloring pages are totally free for you to print, color and enjoy, and the same is true of all our coloring pages and printable art that we bring out.
You could print out multiple copies of your favorite pages to share with your friends or use to experiment with different styles and mediums!
We constantly have new fun coloring pages and printables coming out, so make sure you never miss out on the fun by liking and sharing our Facebook page.
Also, once you've finished coloring in your favorite Halo coloring printables, please share your colorful artworks to our Facebook page for us to admire! We always love to see how brilliantly creative you all can be, and we can't wait to see what cool colorful adventures you went on with Master Chief.