Is there anything more central and precious in love as one's family? Through tough trials and good times family should always have your back, and we need to remember to celebrate this special bond.
Family are there through thick and thin, which means a varied color palette for these free family coloring page printables. There's always an abundance of personality and wild experiences when dealing with any family, so that leaves a lot of room to express how amazing family is through beautiful colors!
These family coloring sheets for kids are perfect to print out and have the whole family have a great time coloring them in. These images would be perfect to color in together with your loved ones on a frosty Winter night in front of the fire or on a warm Summer evening!
Remember to share all your colorful creations on our Facebook page, we want to see how you all had fun with these family coloring printables!
10 Brand New Family Coloring Pages – Free to Print and Color
The family in this first printable certainly seems to be happy spending time together! This coloring page really radiates familial love and happiness, and I think some warm colors will really help radiate that love.
What colors do you think the family in this picture should be expressed with?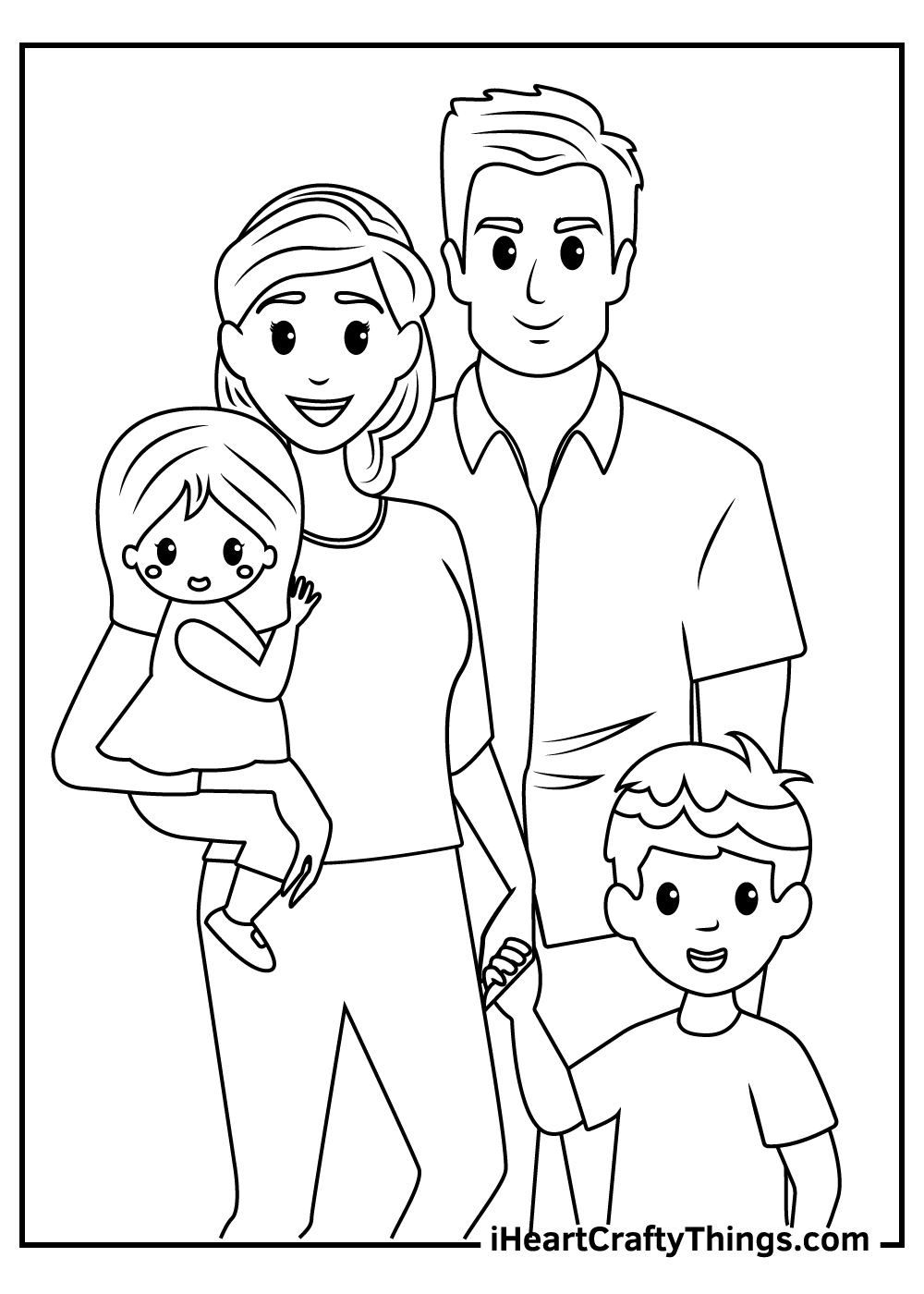 In this family coloring page, a wonderful family has gathered for a photo, but it looks like mom laughed and closed her eyes as the picture was taken! Maybe her husband or her little daughter made a funny comment at the last moment, creating a wonderful moment captured forever.
Maybe it would be cool to use more muted colors on this coloring printable to make it look like an old photo? How will you tackle this free coloring page?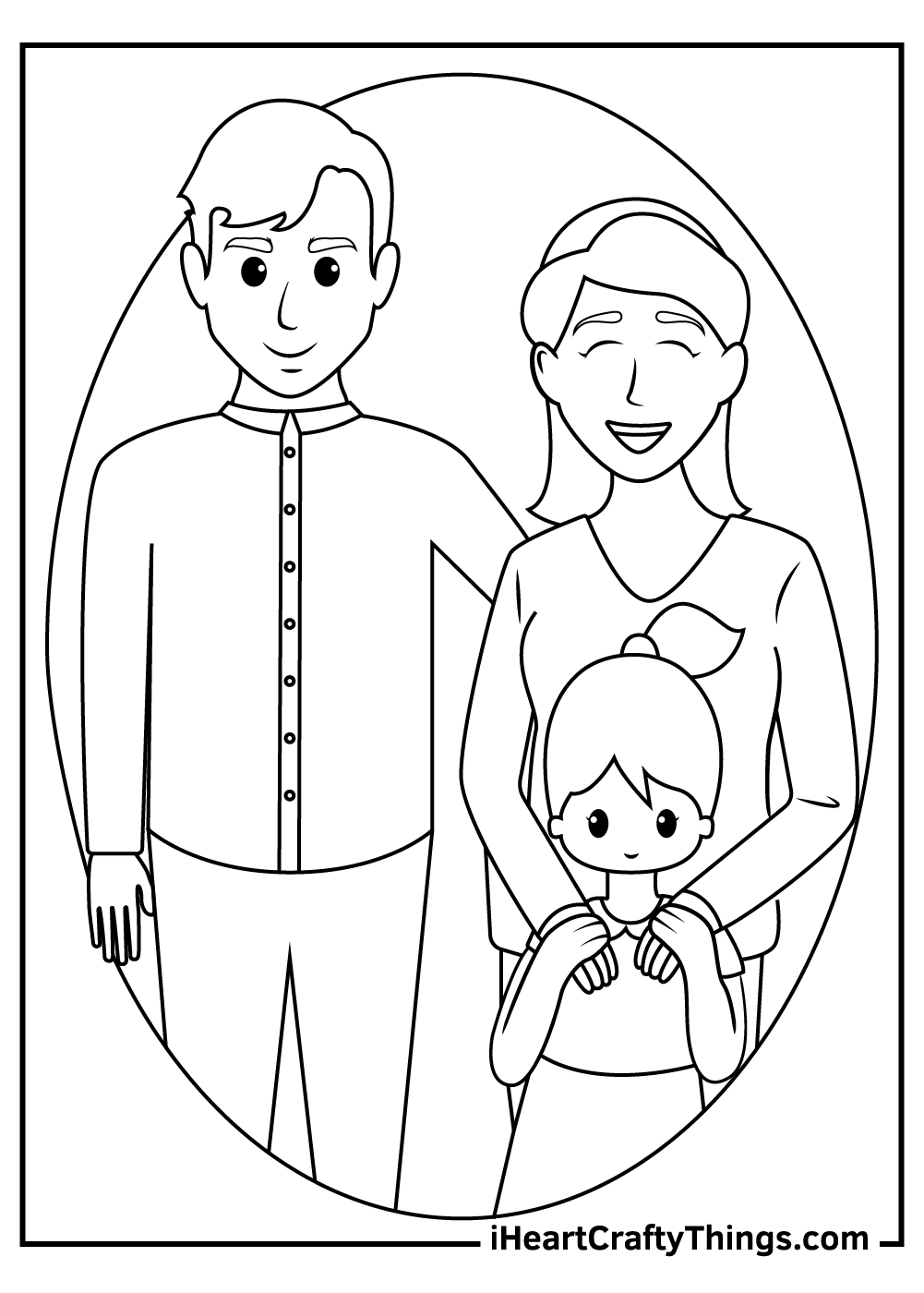 We have another happy family in this free printable, this time with a toddler held in dad's arms. How cute! Is it just me or does the mom in this printable look like she's wearing an old fashioned dress? Maybe it would be cool to make this coloring page look like another old photo with yellows and browns!
Do you think this family coloring page should represent the past or the present?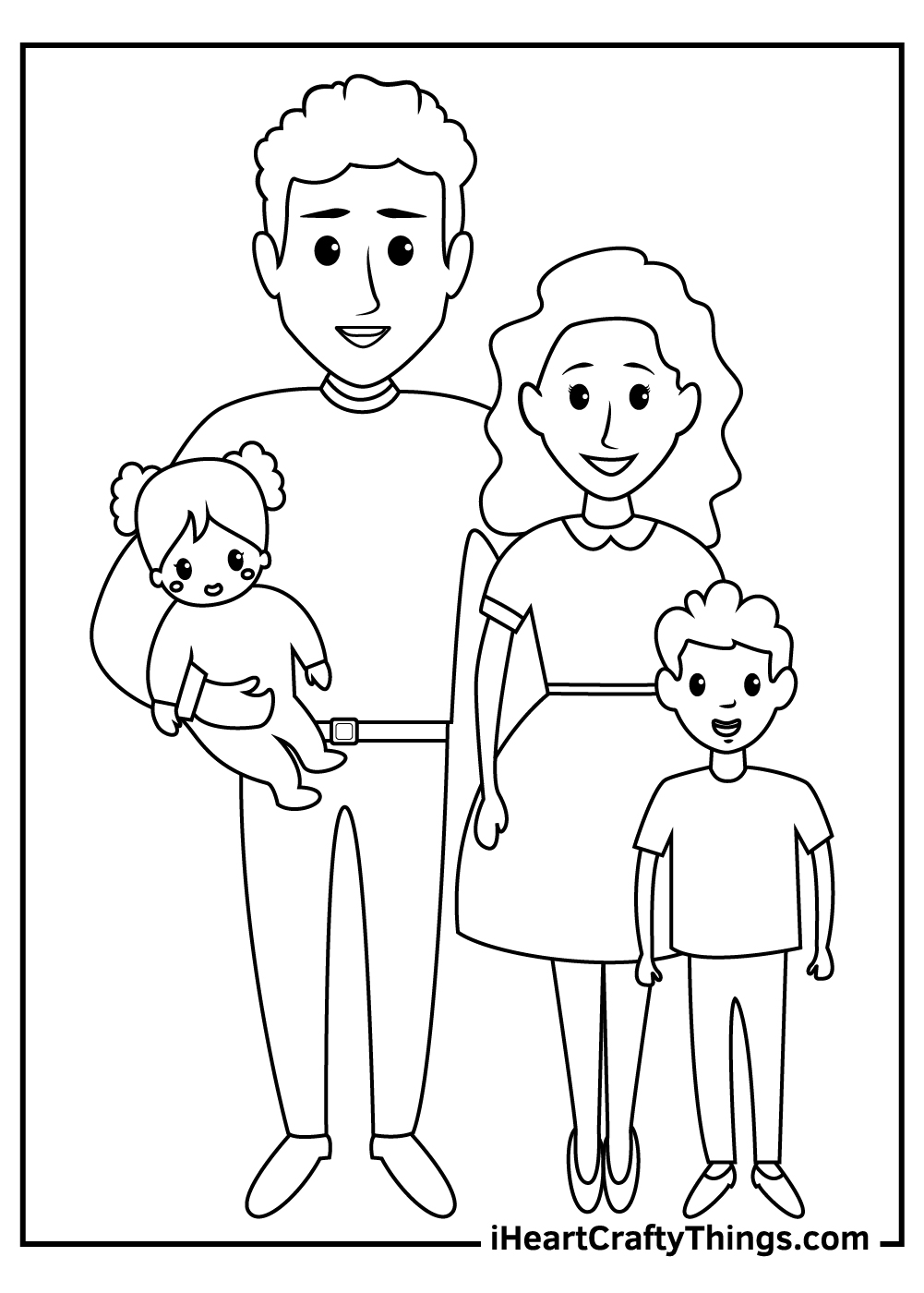 Anyone who has had a kid or a baby sibling can tell you it's like having a little tornado in the house, and this is definitely the case in this coloring page!
The little guy in this printable can barely contain his excitement, wriggling in his dad's arms! I think this printable could really use some vibrant, warm colors to really contrast the more reserved coloring pages we had before.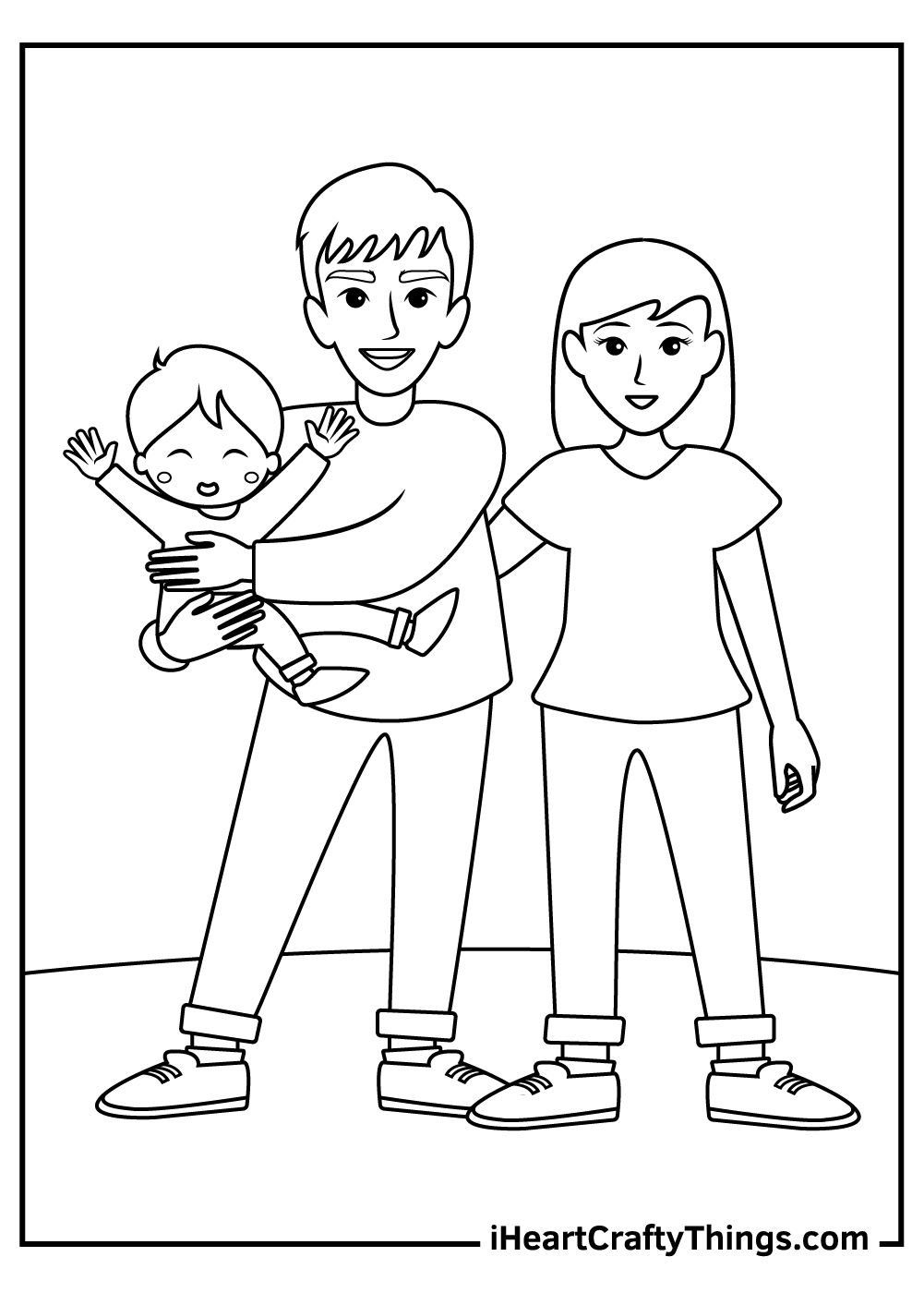 The family in this coloring printable are huddled close together with their adorable little baby. The smile on his little face makes it clear he's feeling the love in this image!
This coloring page makes me think of another intimate family portrait, so my thought is to make this one a bit more muted with some cooler blues and greens.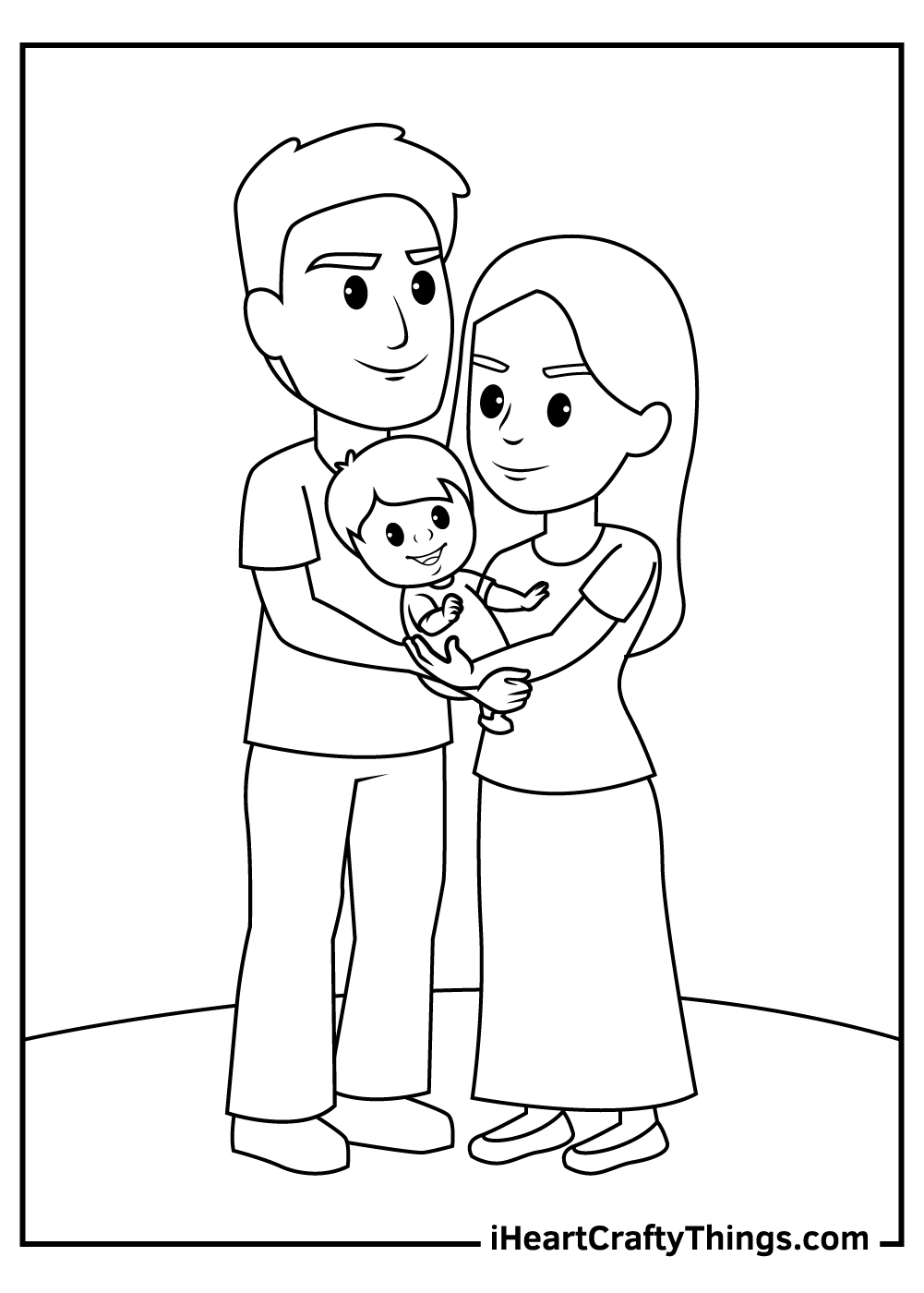 In this next family coloring page, we have a family enjoying a day outdoors. This coloring sheet makes me think of a long Summer day by the lake with family or having a barbecue in the backyard.
I think having it be a bright sunny day behind this family would really bring this printable to life!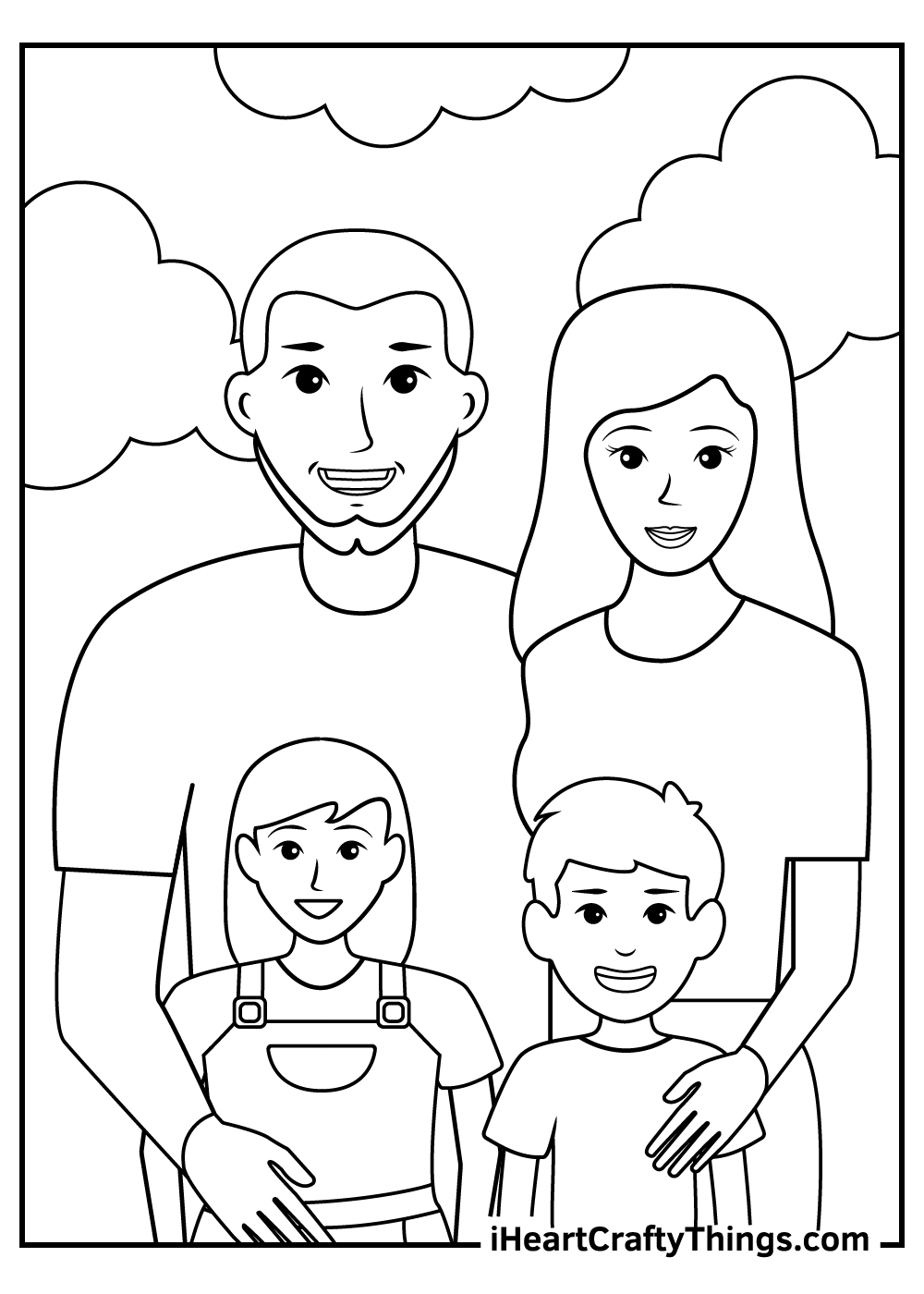 The whole family looks tuckered out while taking a family photo in this coloring page. There is a baby in it's parent's arms, so I'd bed there's not much sleep happening in this household, so it's understandable!
This printable gives me a relaxed, calm vibe, and I think that would be best represented with some cooler colors again, and it might be cool to try out some watercolors on this coloring page!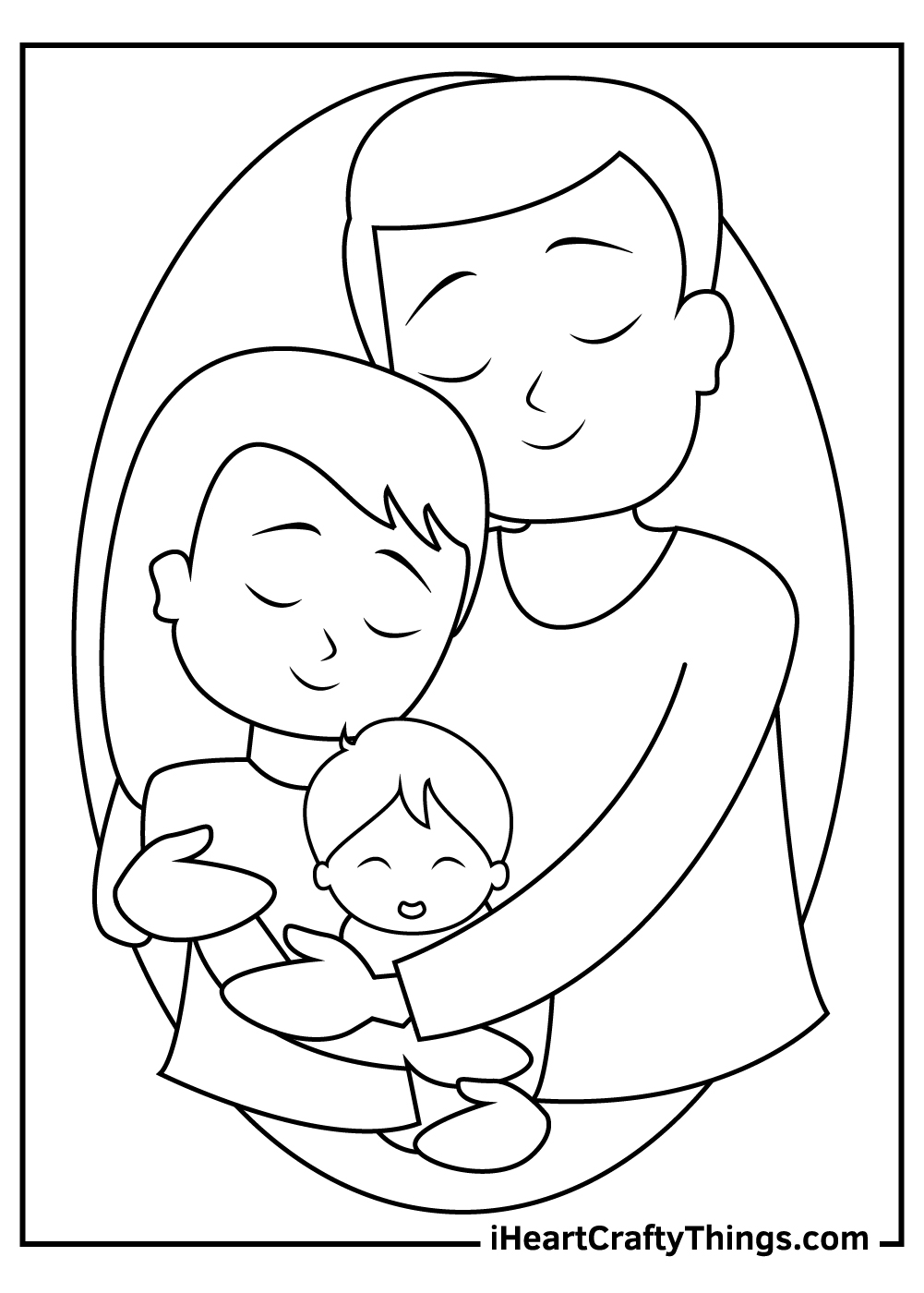 The family in this coloring page are dressed warmly, so maybe it's a chilly Winter morning or crisp Fall day!
They're probably trying to keep warm indoors, maybe in front of a roaring fire, so I think it would be great to help them warm up with some bright and radiant warm colors. How will you warm up the family in this printable?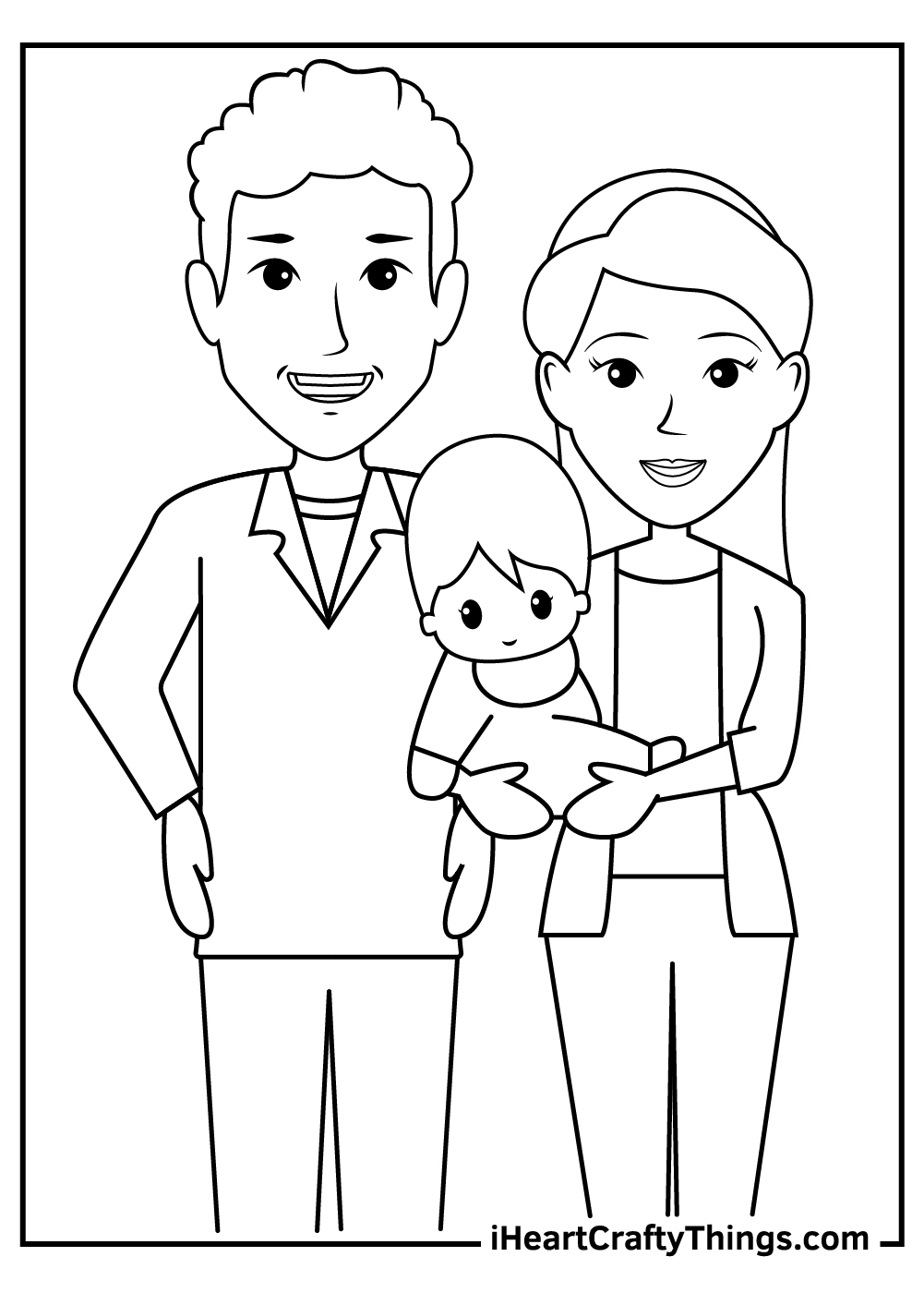 We went from a colder image in the previous coloring page to one that I think shows a family out on a Summer's day! I think a light blue sky behind this happy family would seal the atmosphere of a beautiful clear day full of fun and adventure.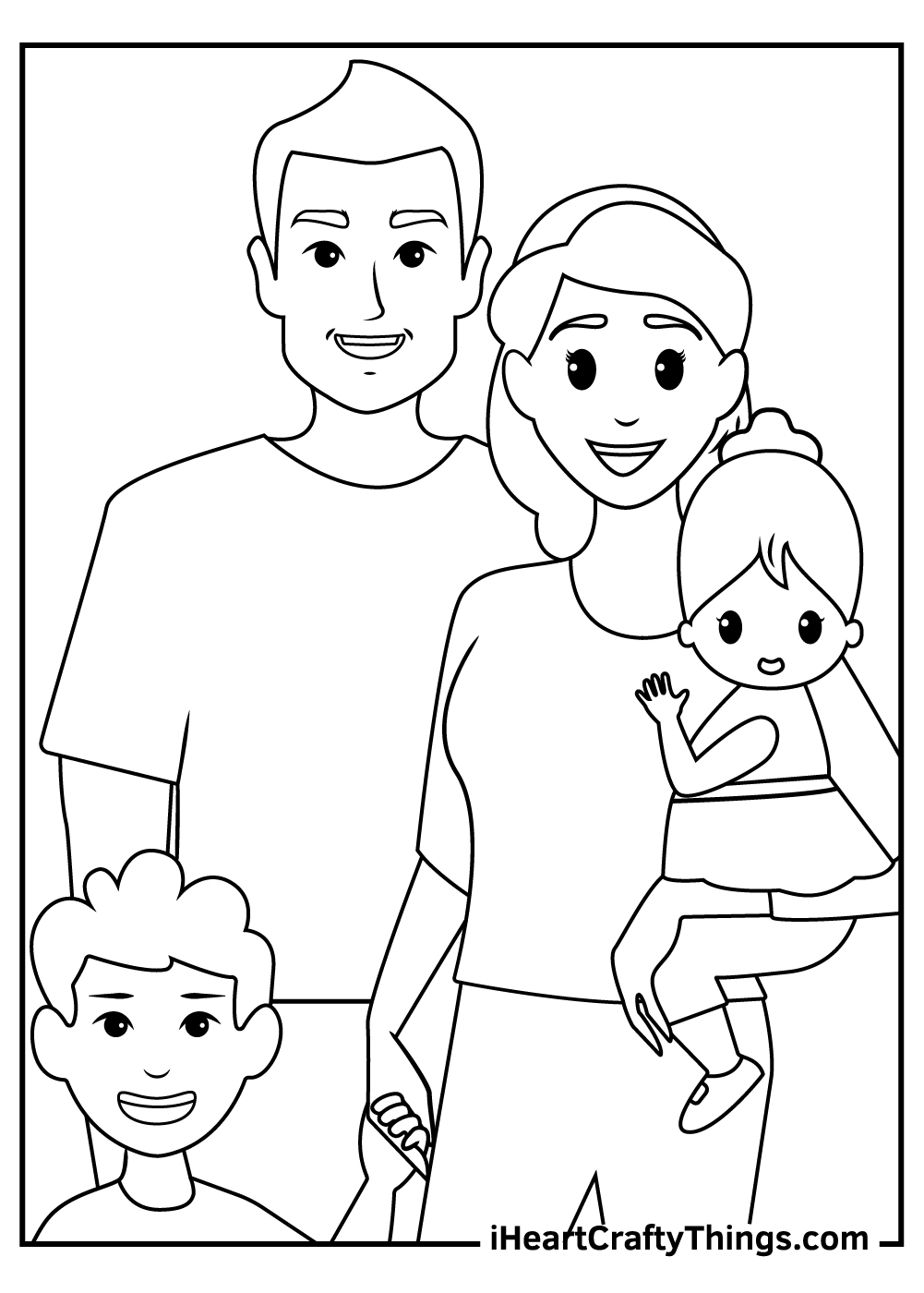 The final family coloring page we have literally radiates love from this family! Surrounded by hearts and happy smiles, there's no doubt that the family in this printable are feeling the love, and I think this coloring page should represent a warm, cozy atmosphere.
Don't you think a warm background along with the bright red hearts would really show the care this family feels? How will you express family love in this printable?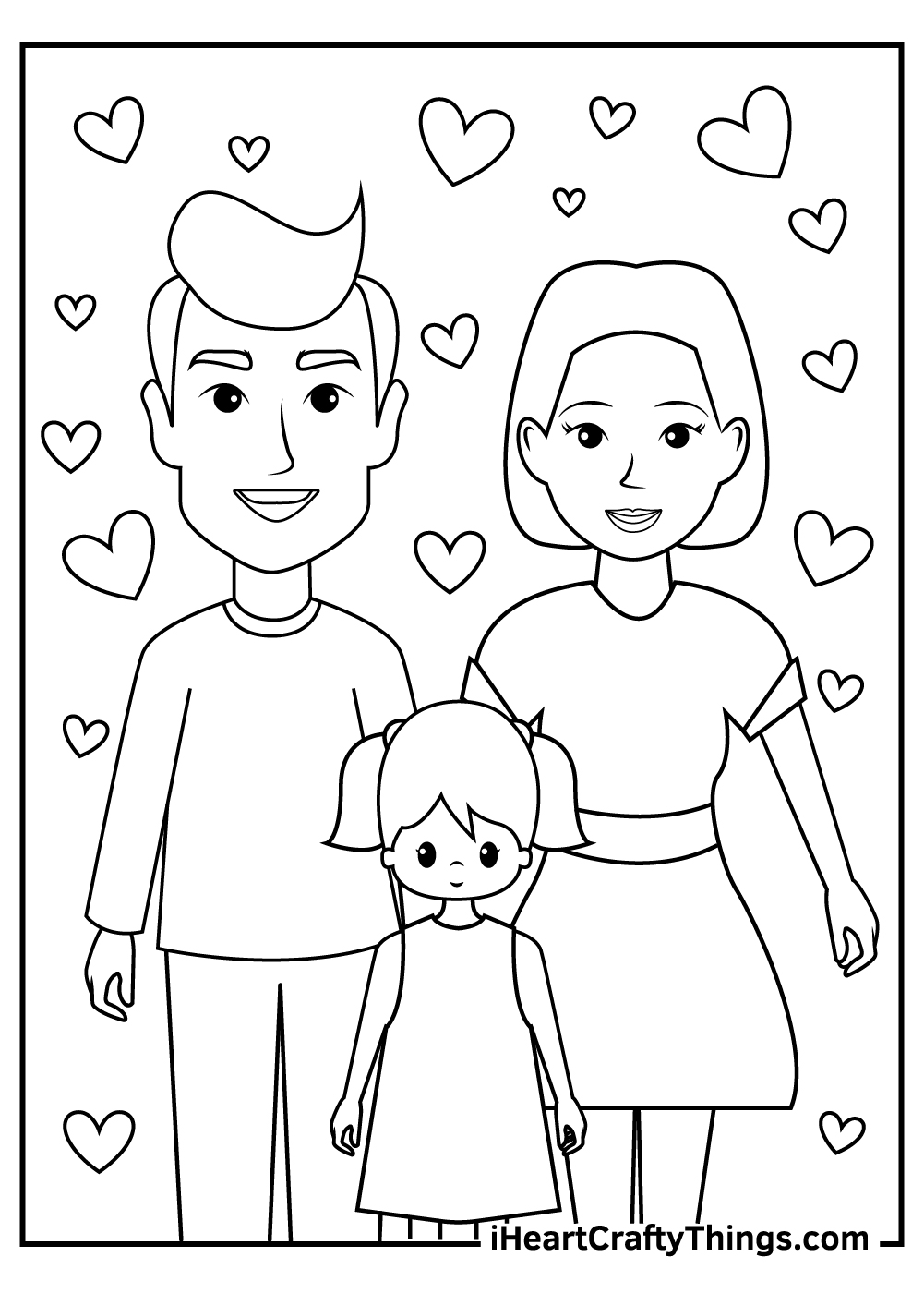 Family Coloring Pages- Which Will You Choose?
We really hope these family coloring pages will provide a lot of fun and warmth for you and your own family! Remember, all of our images and printables are free to print and color as many times as you like!
Maybe you can print a copy of each image for each member of your family to see how everyone approaches and interprets each coloring page!
I'm sure there will be some wild and wonderful interpretations and mixes of color palettes on show.
We'd love to see some of the creations once you've worked your magic on these family coloring pages, so be sure to send what you've all created onto our Facebook page, we always love to see the creative ways you all approach our free printables!