Fairies are magical beings with a human appearance and magical powers and are often depicted with butterfly or insect wings.
They are very popular among children who love to dress as magical creatures or play with toys that look like elves and faeries.
Children grow up with fairytales. From the Brothers Grimm to Hans Christian Andersen, the stories about fairies influence how they see the world.
Fairies have also been depicted in stories and TV shows for years on end. They appear in cartoons like Peter Pan, Cinderella, and Winx.
Because children love all kinds of content that feature fairies, we created a collection of fairy coloring pages you can print for free. Revel in painting these fascinating creatures!
10 Brand New Fairy Coloring Pages – Free to Print and Color
Children know that some fairies have particular jobs, like the Tooth fairy who gives them treats or money under the pillow when their teeth fall out.
This fairy coloring printable shows a mythical creature with butterfly wings who looks just like the Tooth fairy.
This enchanting creature is dressed in a short dress with a skirt of flower petals floating around her slender legs.
Her dress also features small flowers on the neckline and a crystal stone on the waistband.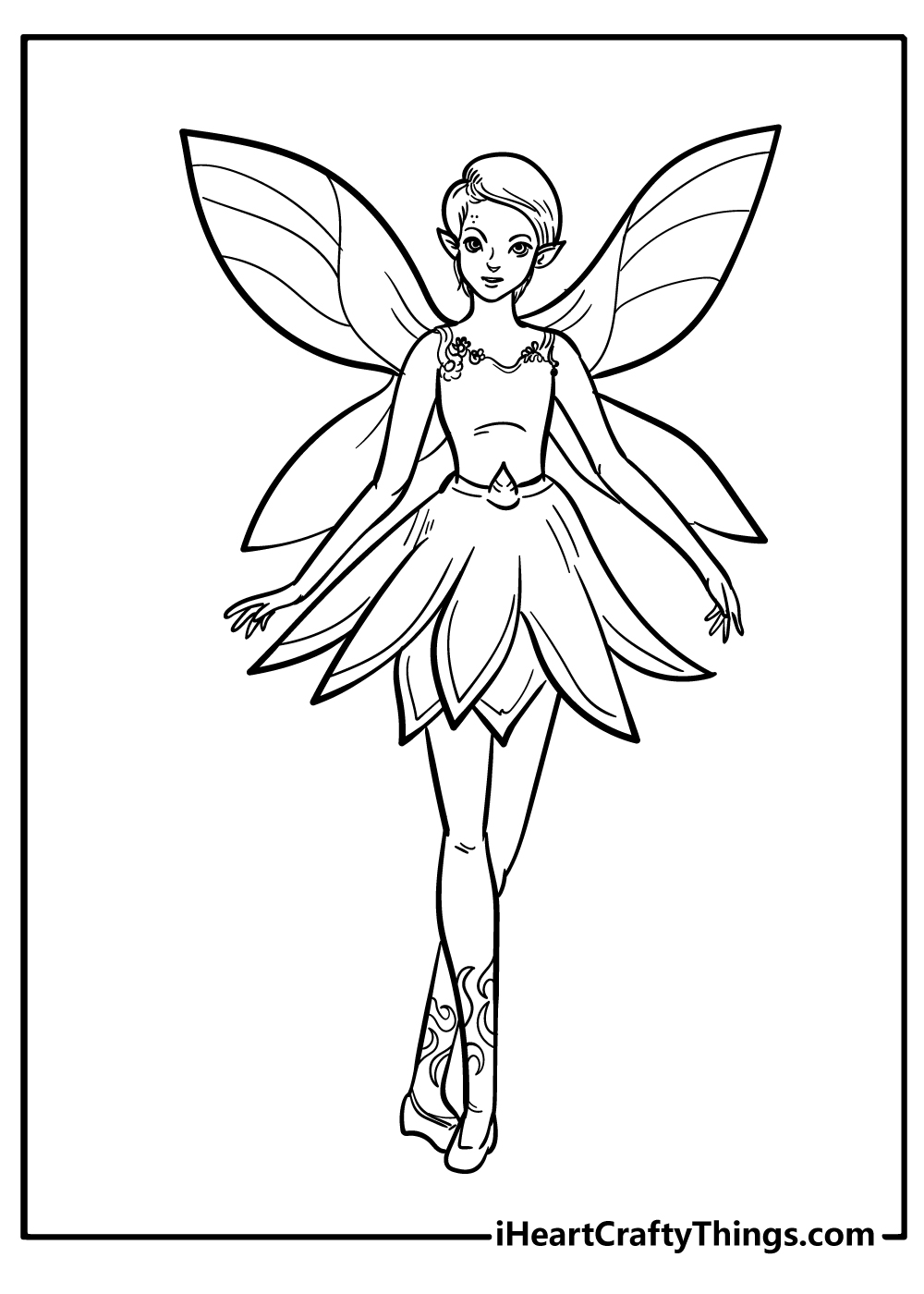 Fairies have always been depicted as creatures connected to nature.
This printable coloring sheet captures a sprite sitting on a huge mushroom daydreaming about how enjoyable it is to lay under the warm sun.
This fairy coloring sheet depicts a mythical creature looking like a young girl with intricate butterfly wings and long beautiful locks of hair.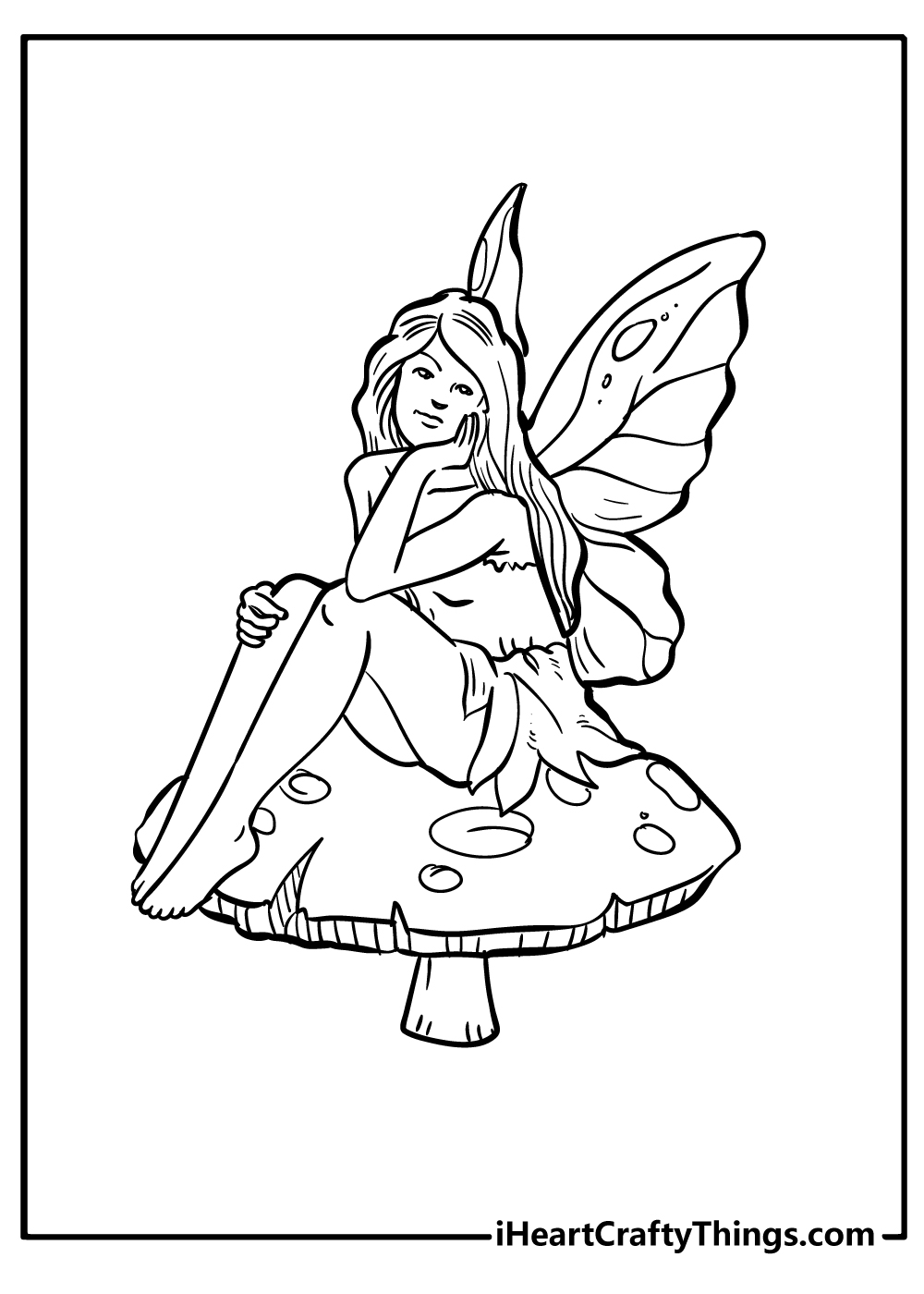 Stories surrounding fairies are often linked with nature.
You probably told your children how in the spring, elves and fairies come out from their winter slumber and warm their wings under the first rays of sun.
We think this fairy coloring page captures the love for the nature of these magical creatures.
This lovely pixie with butterfly wings sits on a mushroom bigger than her, with her eyes closed, enjoying the wind blowing her hair and the sun caressing her face.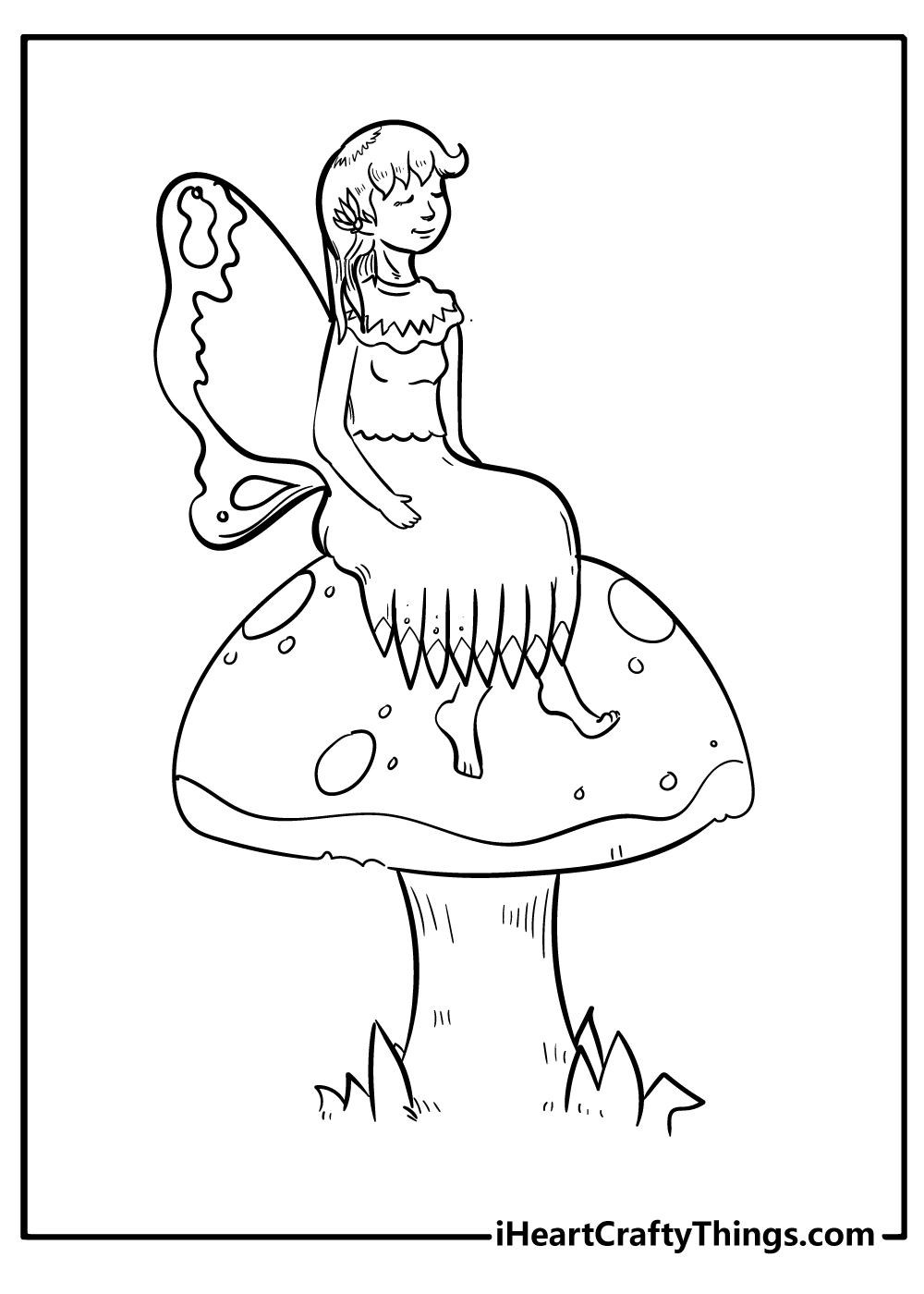 The wings of this fairy resemble those of a dragonfly with the fine lines that spread from their base towards their tips. They allow her to fly above the waves and dip only the tip of her feet in the water.
The delicate nymph from this fairy coloring page has elf-pointed ears and wears a one-shoulder dress, your child can paint in pastel hues.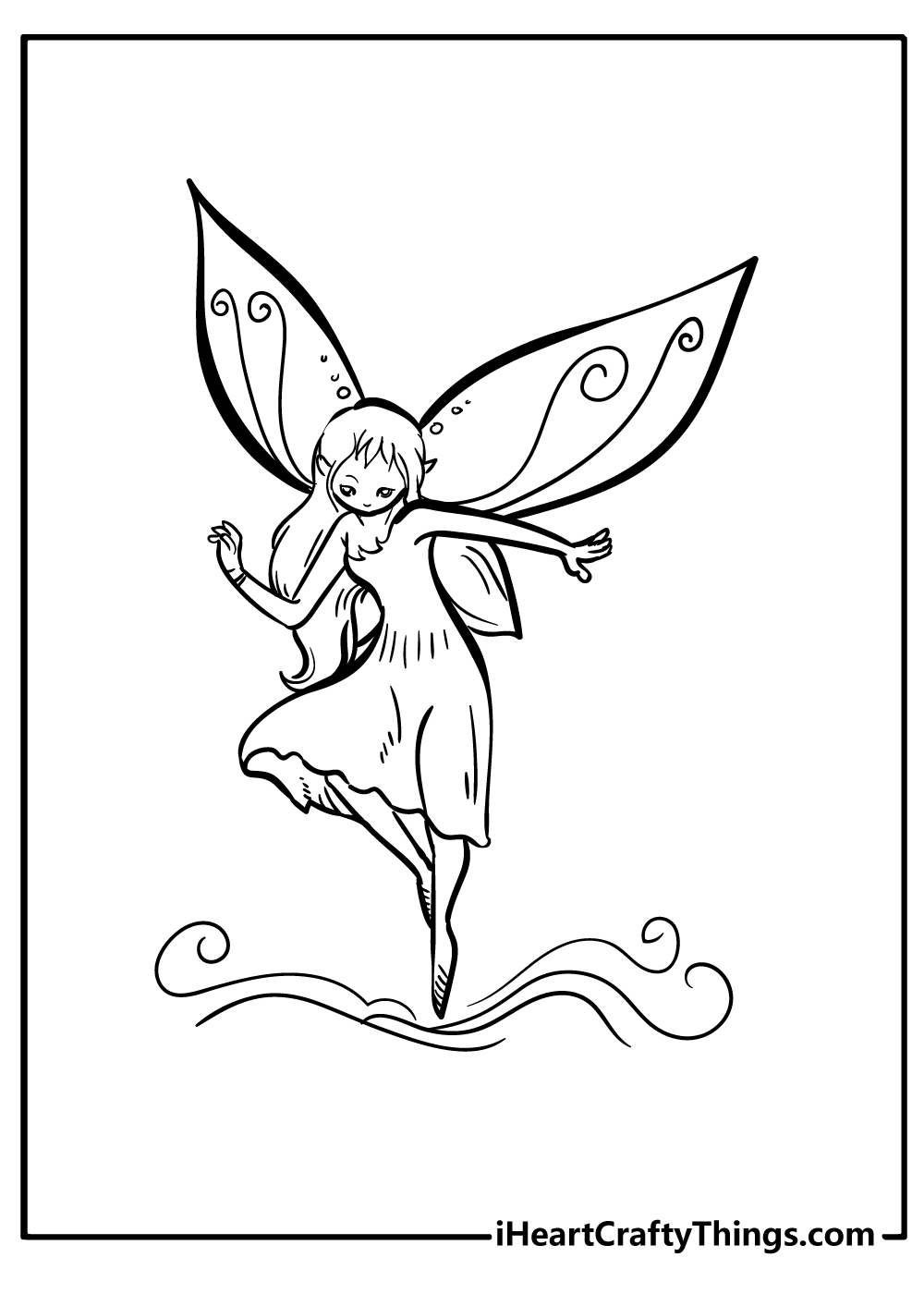 We know that children love to play with dolls, and keeping this in mind, we created a fairy coloring page that depicts a young pixie looking like a puppet.
Isn't she the cutest and most delicate fairy you ever saw?
We tried to capture the playfulness of these mythical creatures on this coloring page. Our pixie seems to dance and twirl her dress made from flower petals.
Her hair locks float around her face making her even more adorable, if that's possible.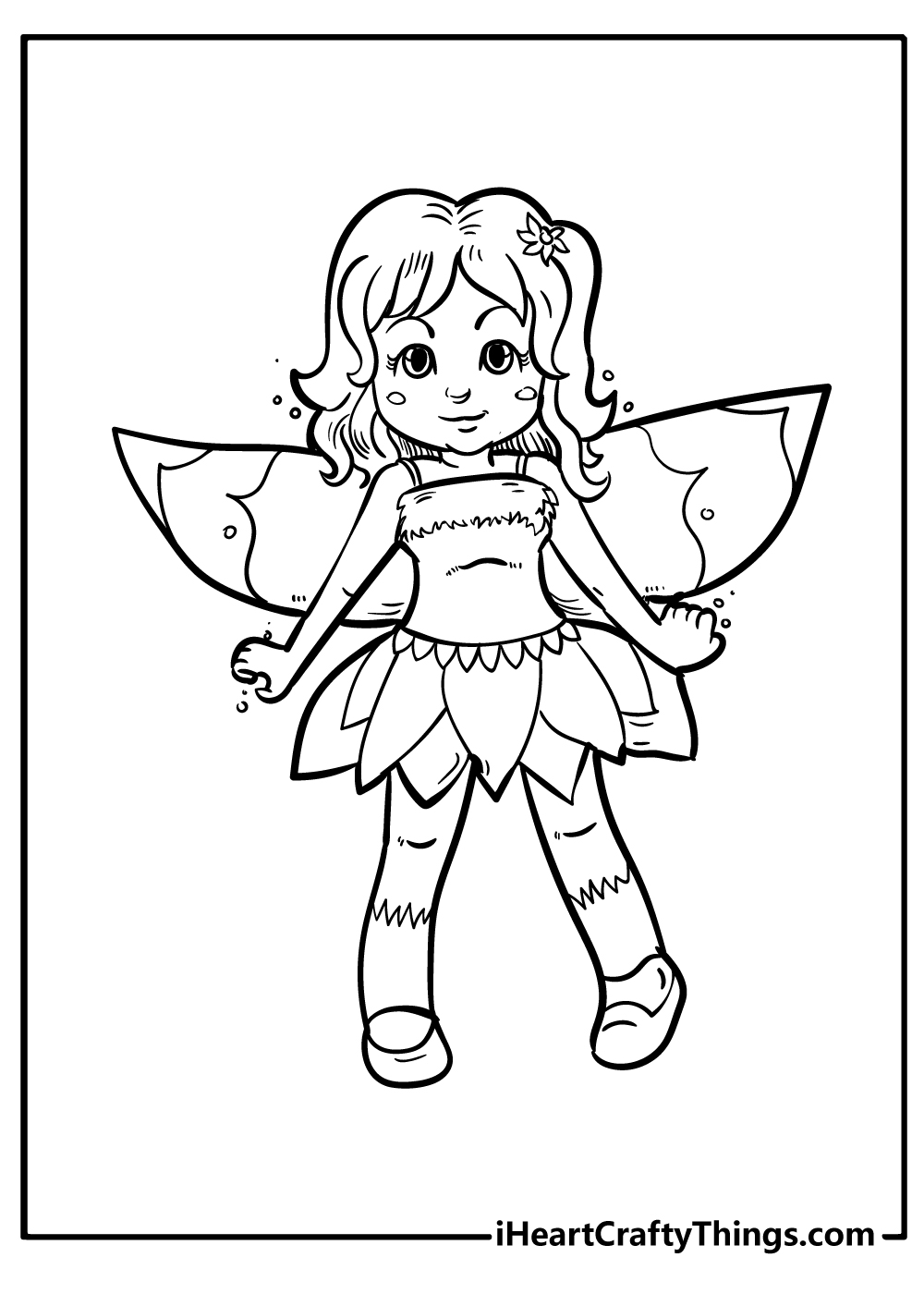 Wings are very common features of fairies, and even the smallest ones have a pair to allow them to fly around.
Elves and pixies are often depicted with butterfly wings, like the ones in our fairy coloring pages.
The sprite in this coloring sheet has enormous butterfly wings your children can paint in bright hues. It seems that she is getting ready to go to sleep, laying her head on her arms.
This printable page also features a couple of small stars around the fairy, so maybe your child can color the background in a rich blue to depict a warm summer night.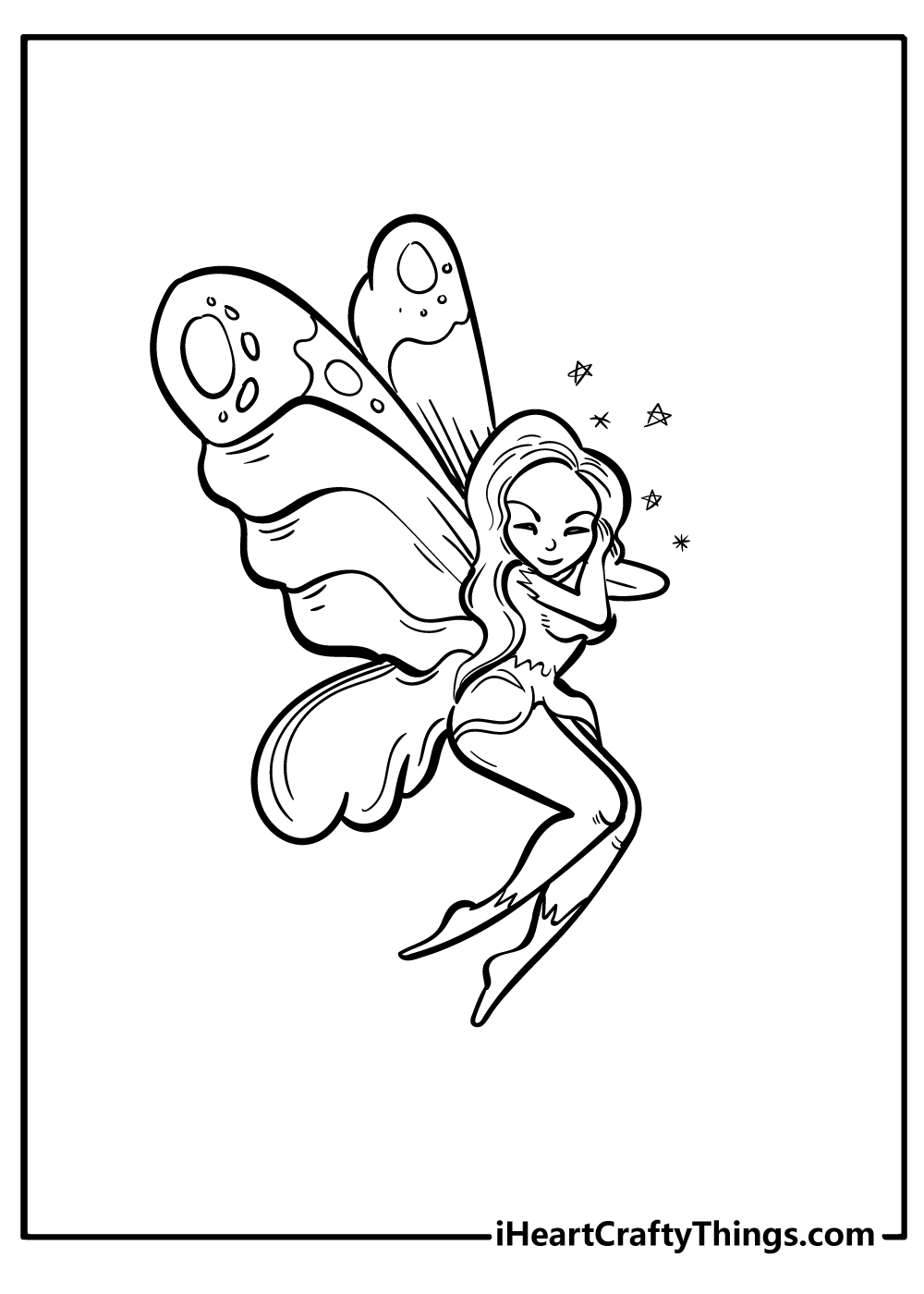 Cinderella and Sleeping Beauty are some of the most famous fairy tales among children, maybe because they feature fascinating fairies.
Magical and full of fantasy, sprites never let them down when it comes to making miracles.
We created this fairy printable sheet to depict a good spirit casting a spell.
Doesn't she look like the Godmother from Cinderella getting ready to transform Cinderella's ragged dress into a princess gown?
The fairy herself wears a voluminous ball gown accessorised with a magical wand.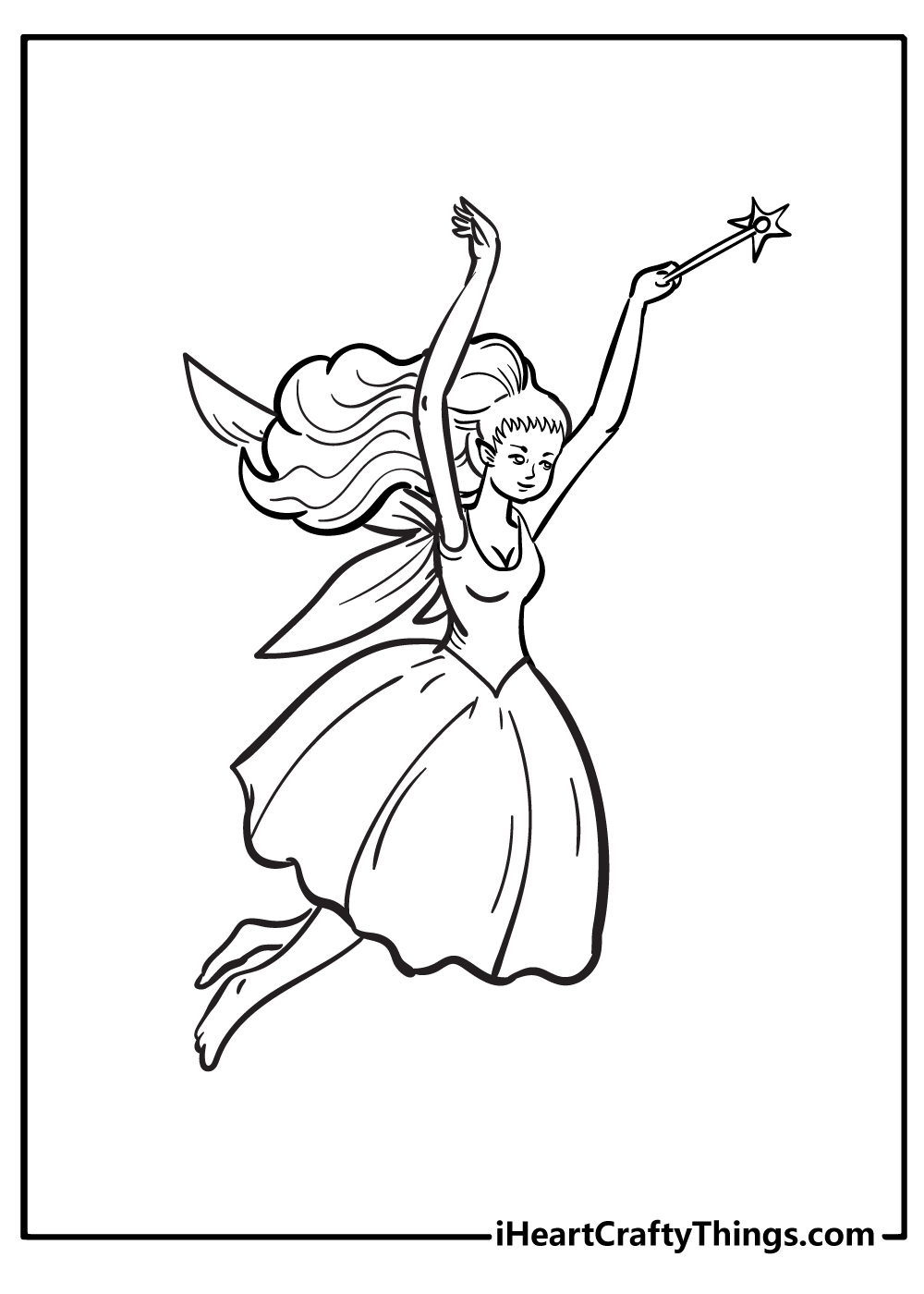 It looks like our fairy thinks about the next spell she will cast with her magical wand.
Like the other fairy coloring pages from our website, this free printable sheet also depicts a nature sprite with big butterfly wings.
She stays on a boulder of moss with her Rapunzel locks spread around.
Some depictions of nature pixies have them wearing some sort of footwear, but others show them barefoot, like the one on our coloring page.
Because she is a nature fairy, she wears a costume made from leaves and flowers.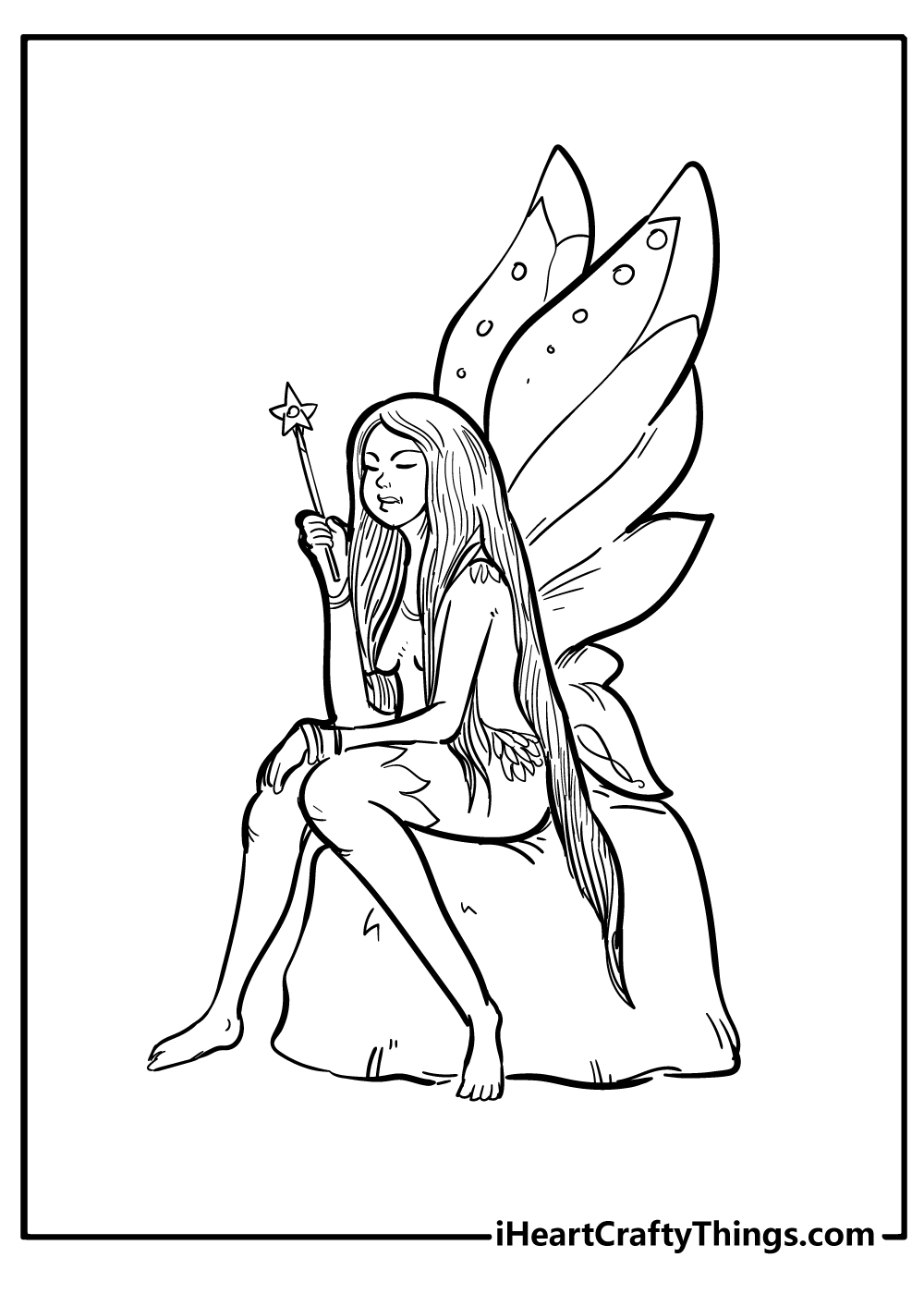 It's a beautiful day in Fairyland, and the flowers and plants grow healthy under the sun's rays.
The fairy in our printable sheet tends to her garden, standing on her knees in the rich grass surrounding her petite body.
This fairy coloring sheet will definitely challenge your children's skills because it has a complex design.
Besides its rich background, the printable page also features a pixie with her hair tied in an intricate style, an off-shoulder dress, and an elf crown.
Also, her wings look very much like those of a dragonfly.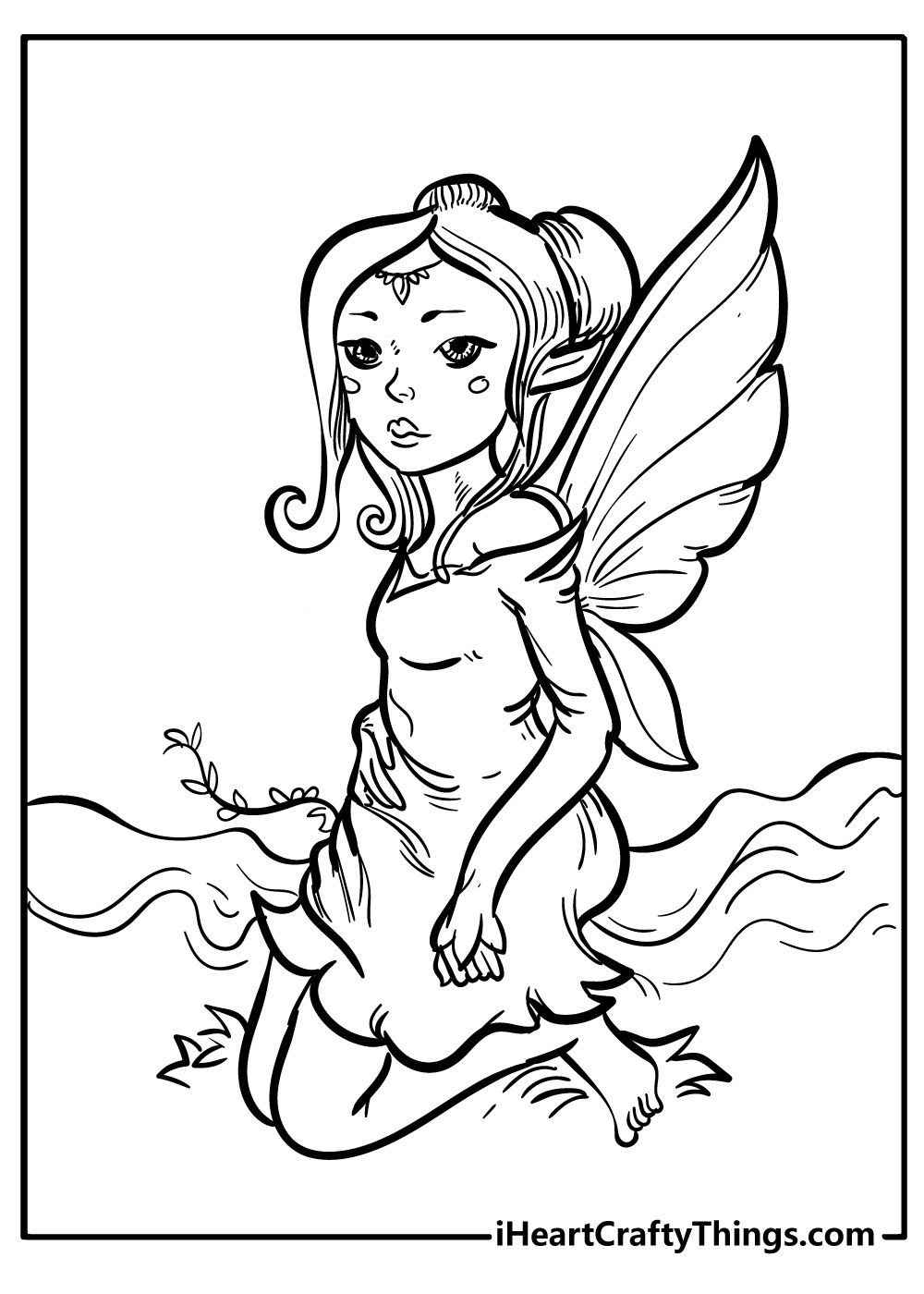 We love how interesting this fairy's wings look. Have you seen something similar? Maybe in a fairytale? She even spread them wide to offer a glimpse at how fascinating they are.
The upper part resembles angel feathers, while the lower one butterfly wings.
A beautiful pixie with pointed ears wearing a doll-like dress stands on a boulder of moss or maybe on the top of a mushroom in this fairy page.
Your child can decide how they want to paint the surface on which the fairy lays.
Fairies have always been a creative force for the imagination and spark fantasies and dreams in children's minds.
After your children paint their fairy coloring pages, share them on social media to see how they brought our printables to life.
And don't forget to come back soon because we regularly add new free printable coloring pages to our collection.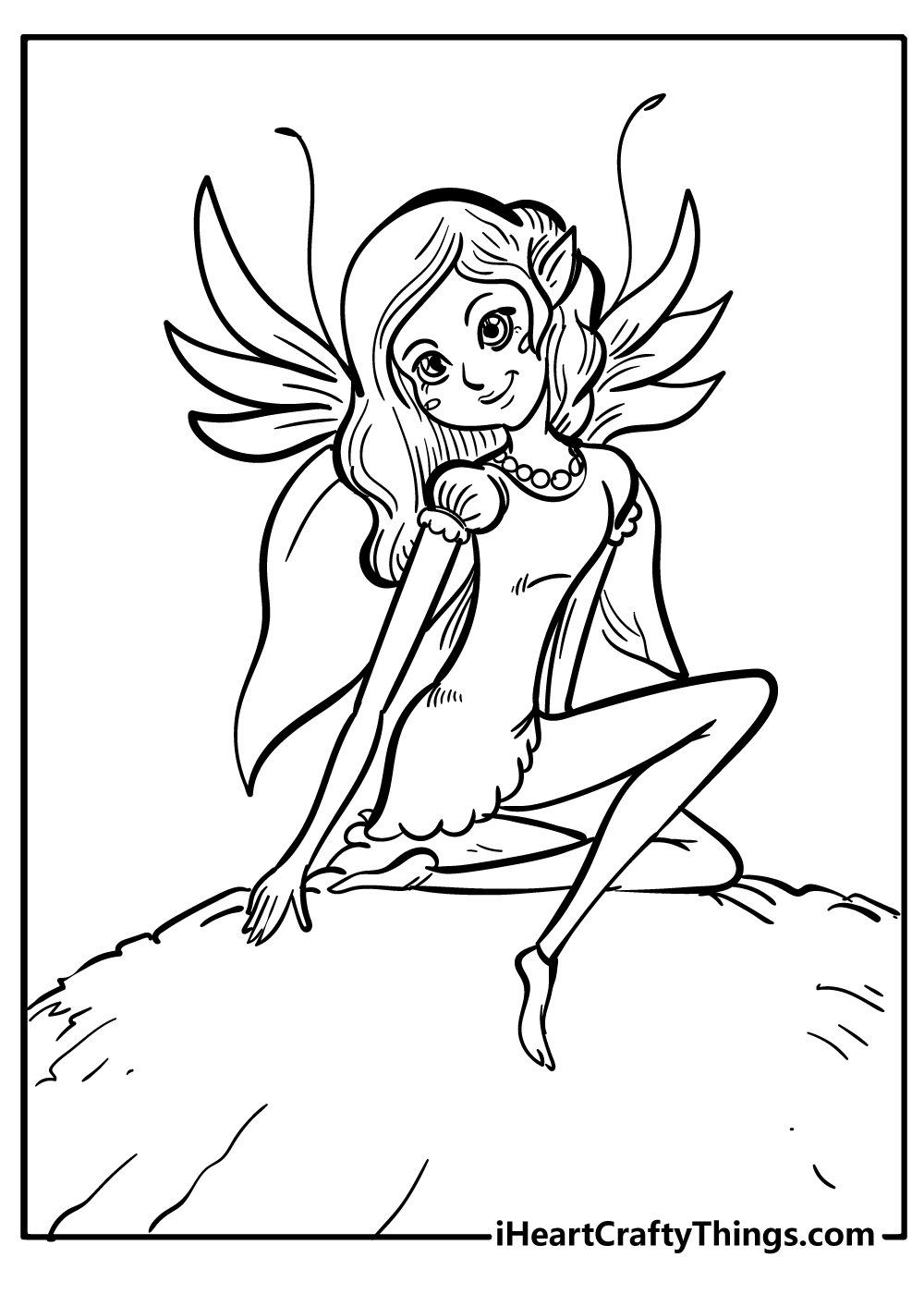 Add Some Extra Magic To These Coloring Pages With These Additional Ideas
We saw plenty of magical designs and situations in this collection of fairy coloring pages, but now you get to add even more magic to the picture!
One of the best ways to do this is by adding some crafts. Few crafts add as much magic as glitter, as it adds a magical sparkle to your artwork.
There are a few ways that you can add some glitter to your pictures. One way would be to use some glue paste and apply it over the areas of the images that you want to sparkle.
Then, carefully sprinkle some glitter over the glue and then blow off the excess. This can get a bit messy, so it might be a good idea to lay some newspaper down on the table first.
Another way to add some glitter would be to use some glitter glue. This can add a 3D effect to the sparkling, and it can be a bit easier to apply.
However you do it, glitter will always make your artwork look a lot more magical! There are other ways as well, however.
Using stickers can be a nice way to add some dynamic detail, and there are other crafts that you could use as well. Gluing beads and sequins to certain details can be a great way to make some details that pop.
There are so many ways to make your artwork more dynamic, so now you can take over and show off what you can do! If you have some favorite art mediums and crafts that you like to use, then be sure to use them.
We gave you a few ideas, but now you can take over and show off what you can do! What will you use to make your favorite coloring pages even better?