On this page, you will find 15 all new Doctor coloring pages that are completely free to print and download.
There are many brave, hardworking people that work hard every day to keep us safe and healthy.
Few work harder than the many doctors who work around the clock to heal sickness and tend to wounds.
Doctors can be found all over the world and can come from all walks of life. We are celebrating these incredible people in this collection of free doctor coloring pages for kids!
Throughout these 15 pages, you will find many great pictures of various doctors in different scenarios associated with their practice.
You will be able to use all of your favorite colors and draw in some fun extra details that you may want as well!
You can enjoy each of these free pages as many times as you like! That means that you can print out multiple copies of your favorites to enjoy.
You can also share the collection with loved ones so they can have coloring fun as well.
We're sure you will discover many amazing pictures to love in this collection!
When you have chosen and colored the pictures, you can share the results of your work on our Facebook and Pinterest pages for us to see.
We can't wait to see how you represent these amazing doctors!
15 Brand New Doctor Coloring Pages – Free to Print and Color
We have a lovely calm picture for this first page in our collection of free doctor coloring pages for kids!
This doctor seems to be reading some results off of a chart, and judging by the look on her face it seems to be some good news.
We think that some lovely warm colors such as reds or maybe purples would be perfect for this picture.
What colors and art mediums came to mind for you when you first saw this image?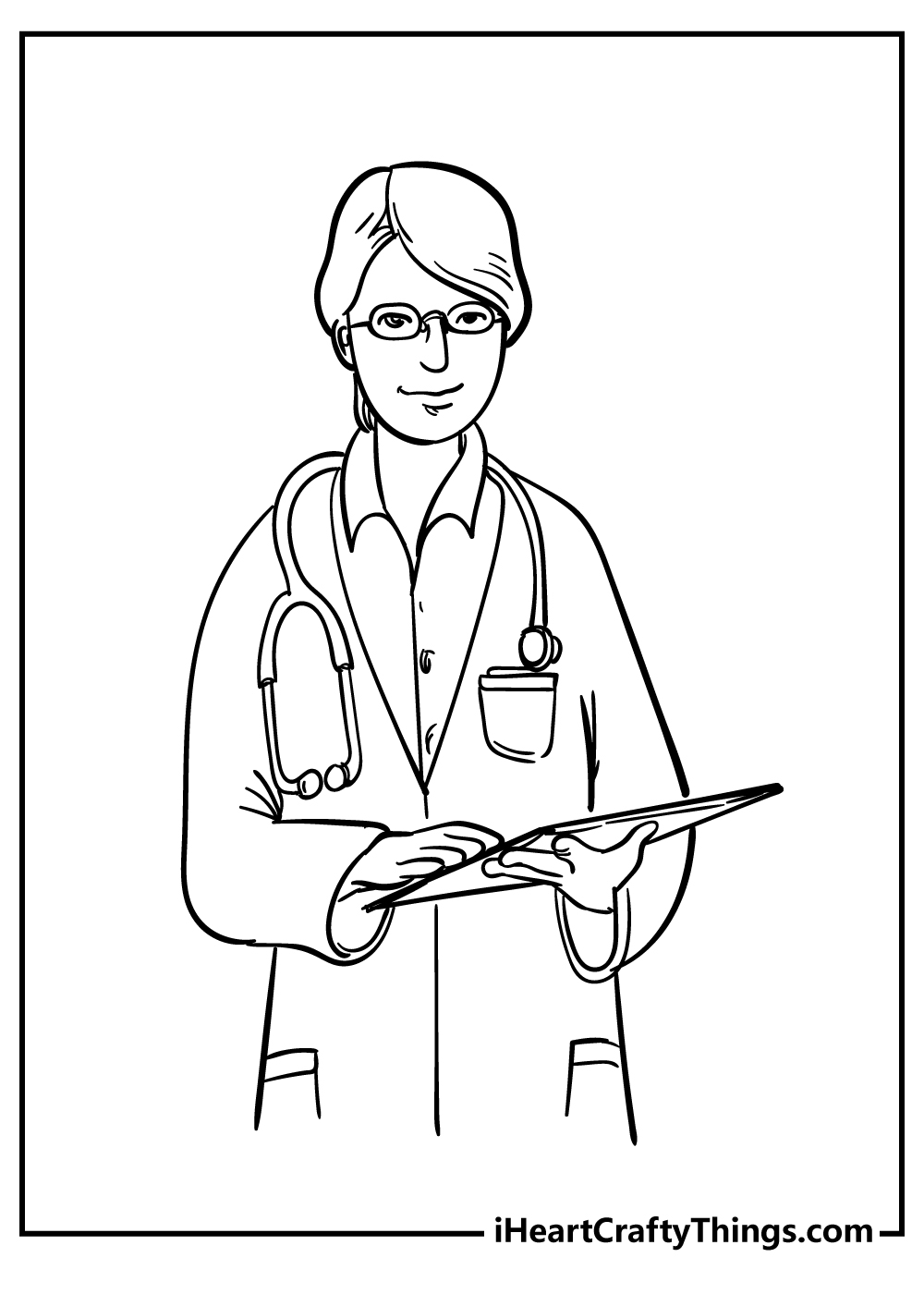 We love this beautiful doctor coloring page. This young boy is wearing a doctor's coat and stethoscope, and he looks very friendly and smart.
He also has round glasses and a stylish hairstyle.
What colors will you use to make him look more awesome? I would suggest using blue, purple, or white, and cream for his outfit.
You can also add some details to his shirt and tie, or draw some medical equipment in his hands.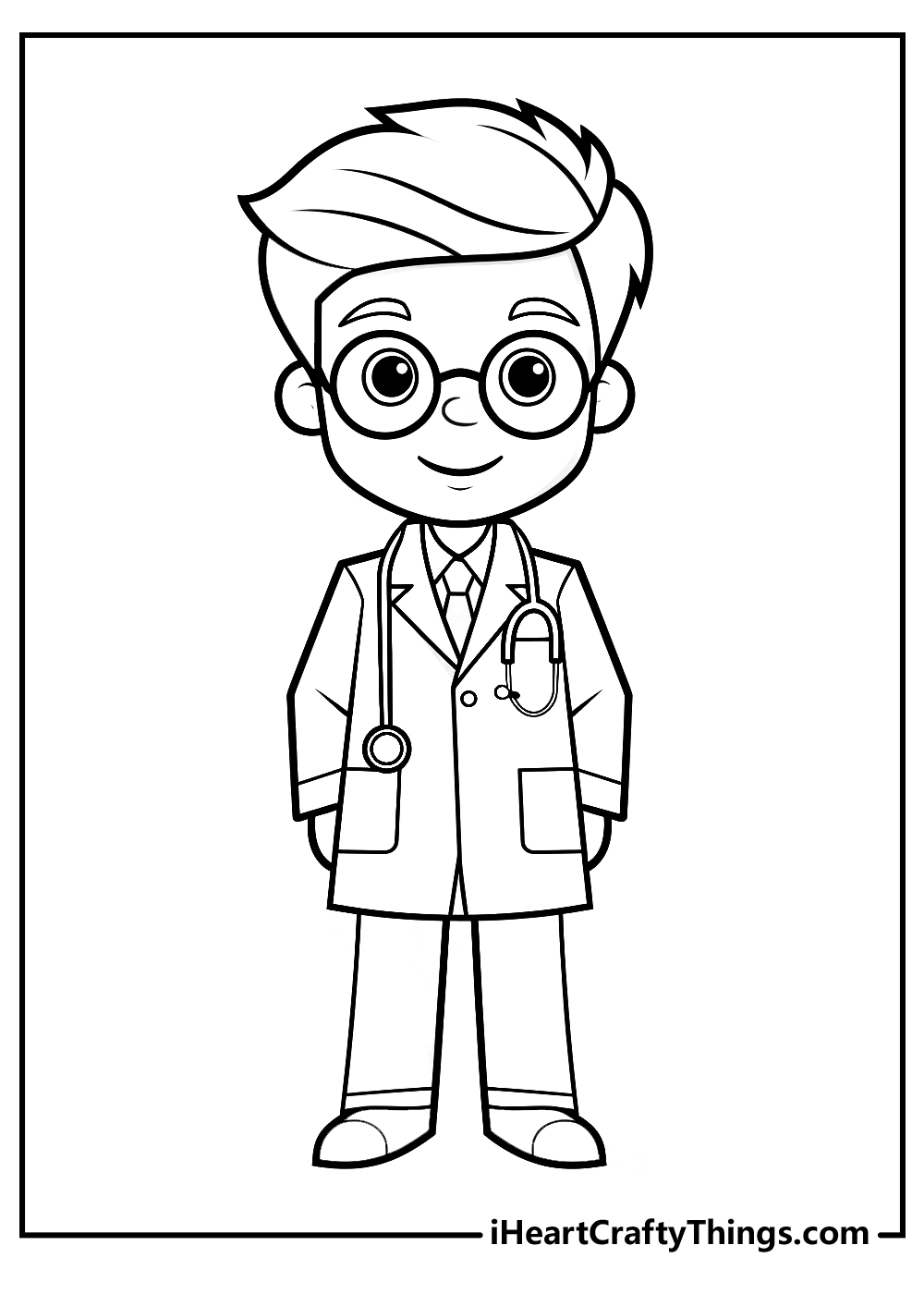 We have a fun image of a doctor in this second page! He is drawn in a quirky cartoon style, and he is ready with his stethoscope.
This is a tool used to measure the heartbeat of a patient, and it is an iconic symbol of doctors as well. We will be looking forward to seeing how you choose to color this doctor in!
The third image of a doctor that we have for you is a really fun portrayal! This guy looks like quite a wise doctor who's been at it for a few years.
With the way that he is posed, he looks as if he could be giving a lecture to some medical students or some other kind of audience.
This would be a fun picture to draw a background for, as this could give some indication as to what kind of talk or lecture he may be giving.
What kind of setting would you design for this doctor?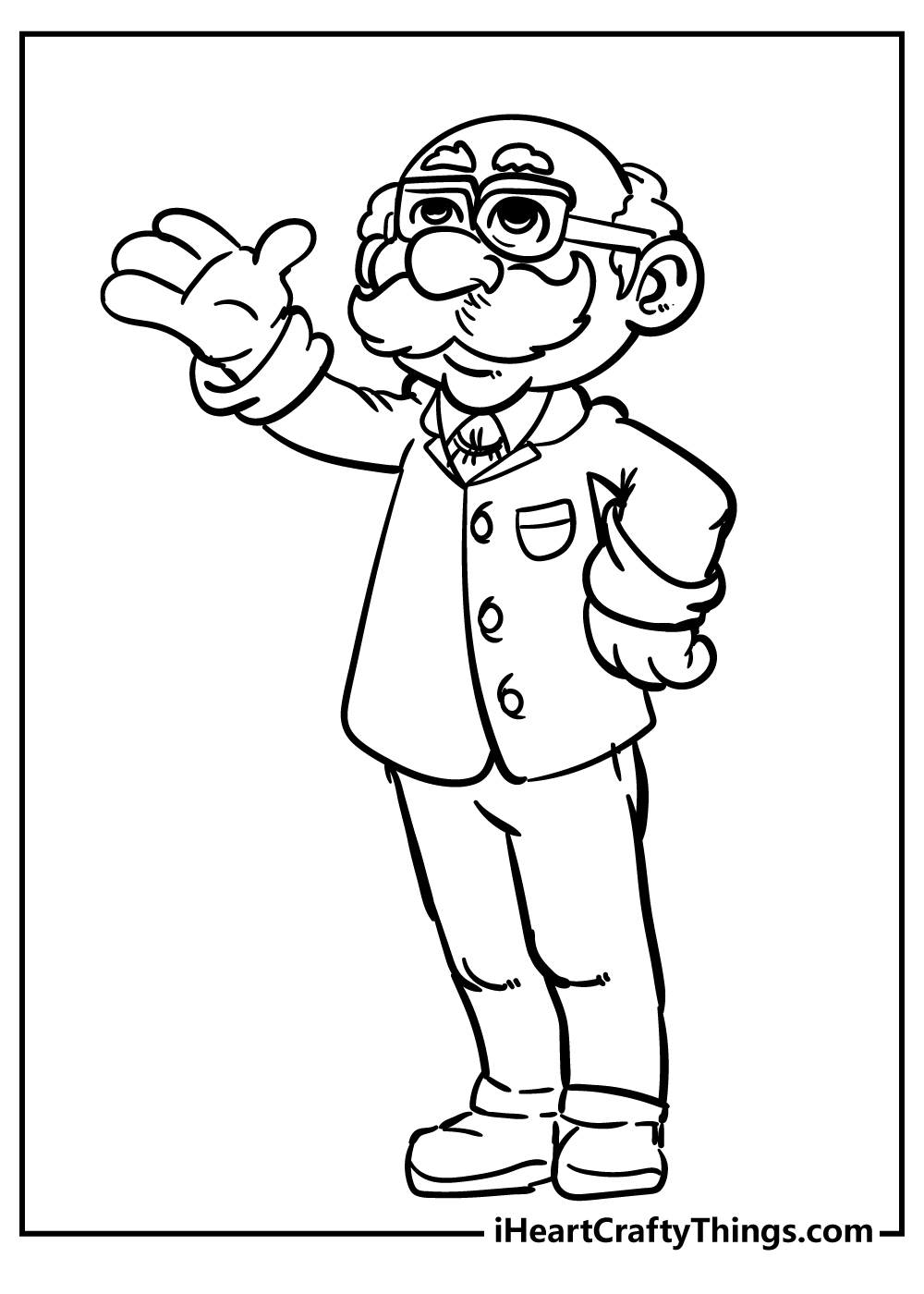 This is a fun and simple doctor coloring page that you can enjoy anytime. He's wearing a white lab coat, stethoscope, and glasses. He has a friendly smile as well.
How will you color his hair, eyes, and skin? Give him rosy cheeks and a bright smile that will make any patient feel better.
Color his stethoscope and don't forget his expressive eyes peering through square glasses.
In the background, draw fun details like flowers, lollipops and cute animals to show this doc makes the medicine go down with some sugar.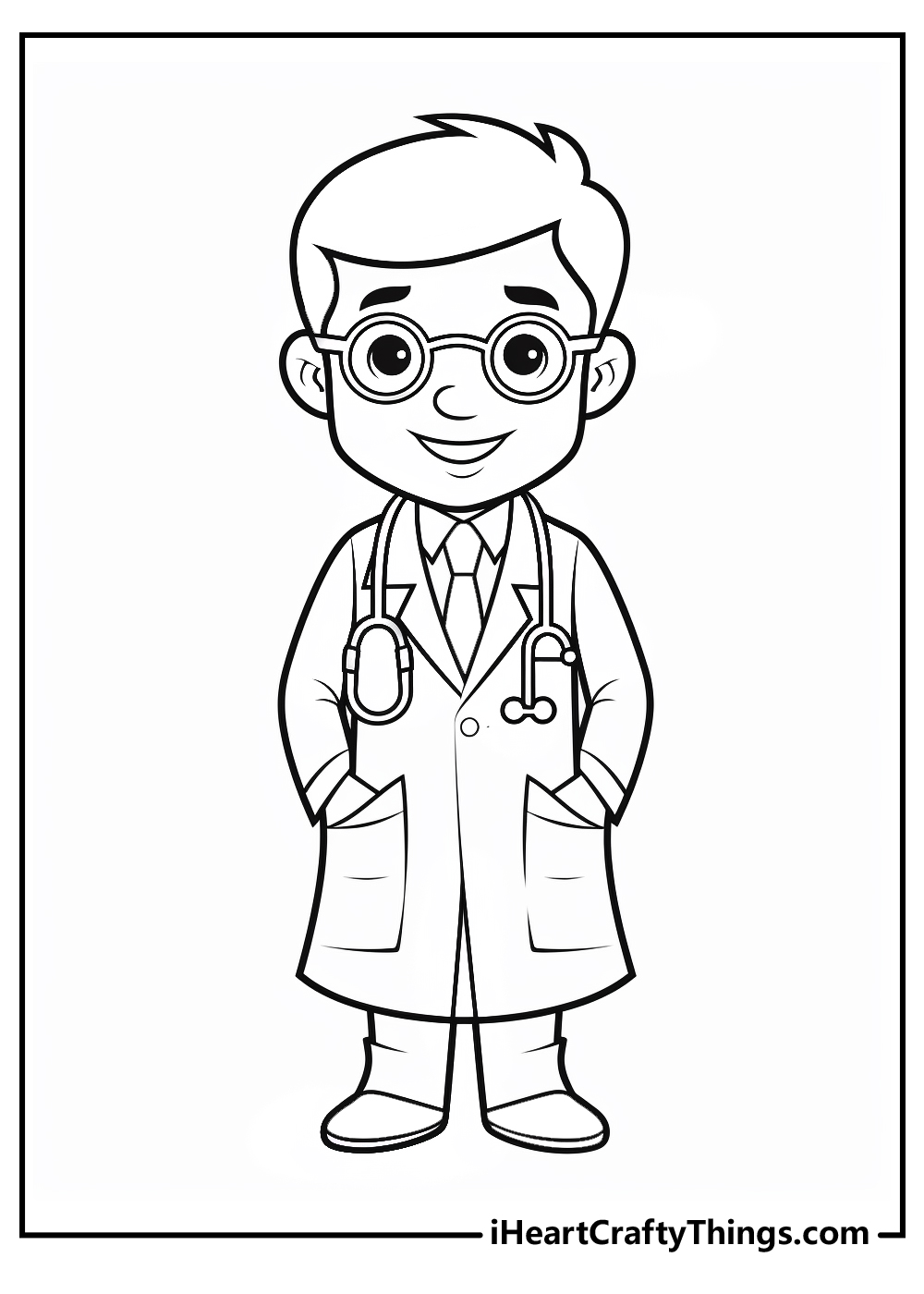 In this fourth free doctor coloring sheet that we have for you, there is a really excited-looking doctor who looks like he's having a great day on the job!
He looks very passionate about what he does, and there is a really fun feeling coming from this particular image.
We think that some bright, vibrant colors would be perfect for this one, so what colors do you think you will choose for this doctor?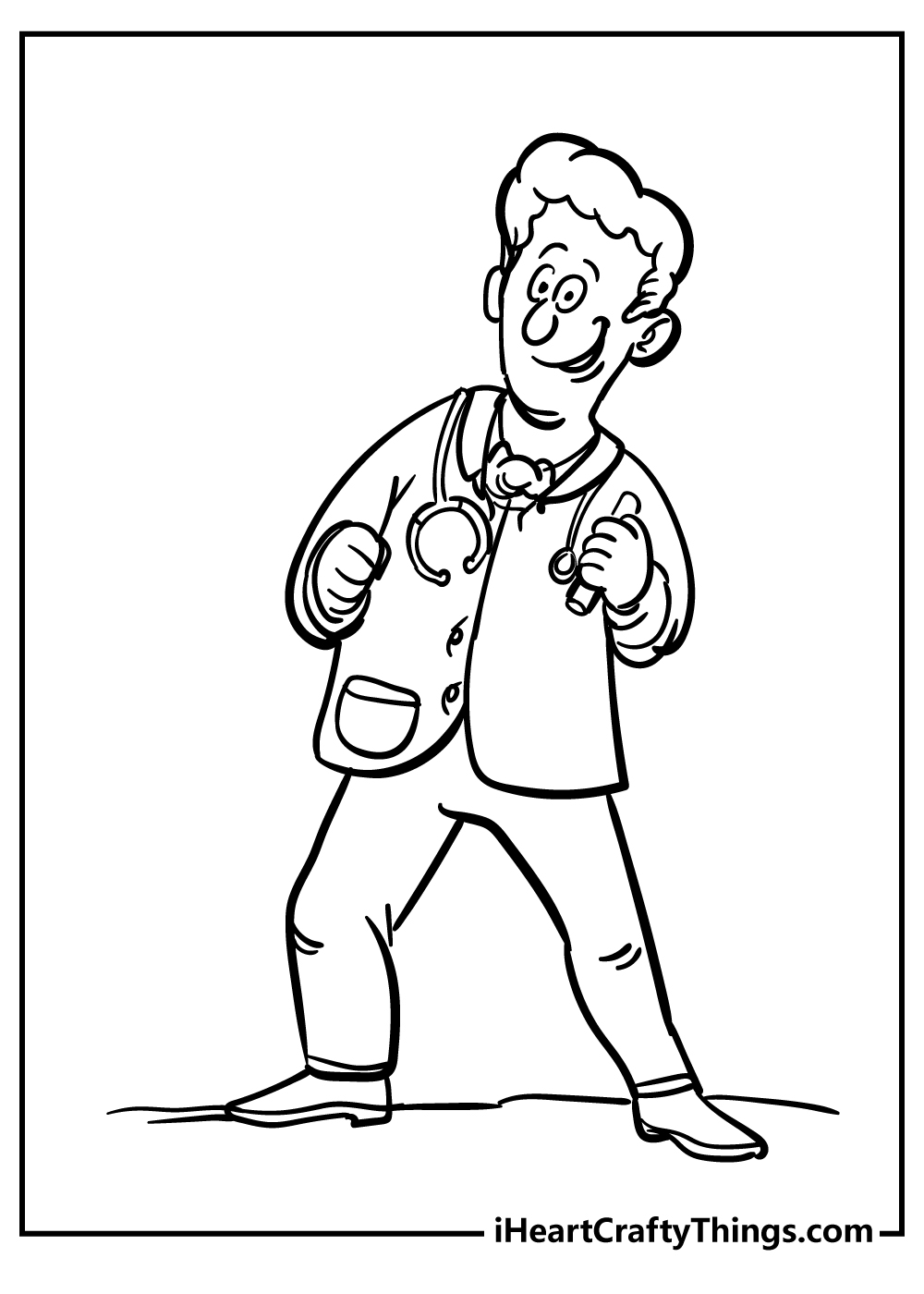 The previous doctor was looking very happy, but this one seems a little more serious!
Doctors have to deal with some tough situations and working conditions, and this man looks like he takes it very seriously.
To fit the mood of this image, we would go for some darker colors such as dark blues and greens for this one, but that is just our suggestion!
It is ultimately up to you to decide how you will color this serious doctor.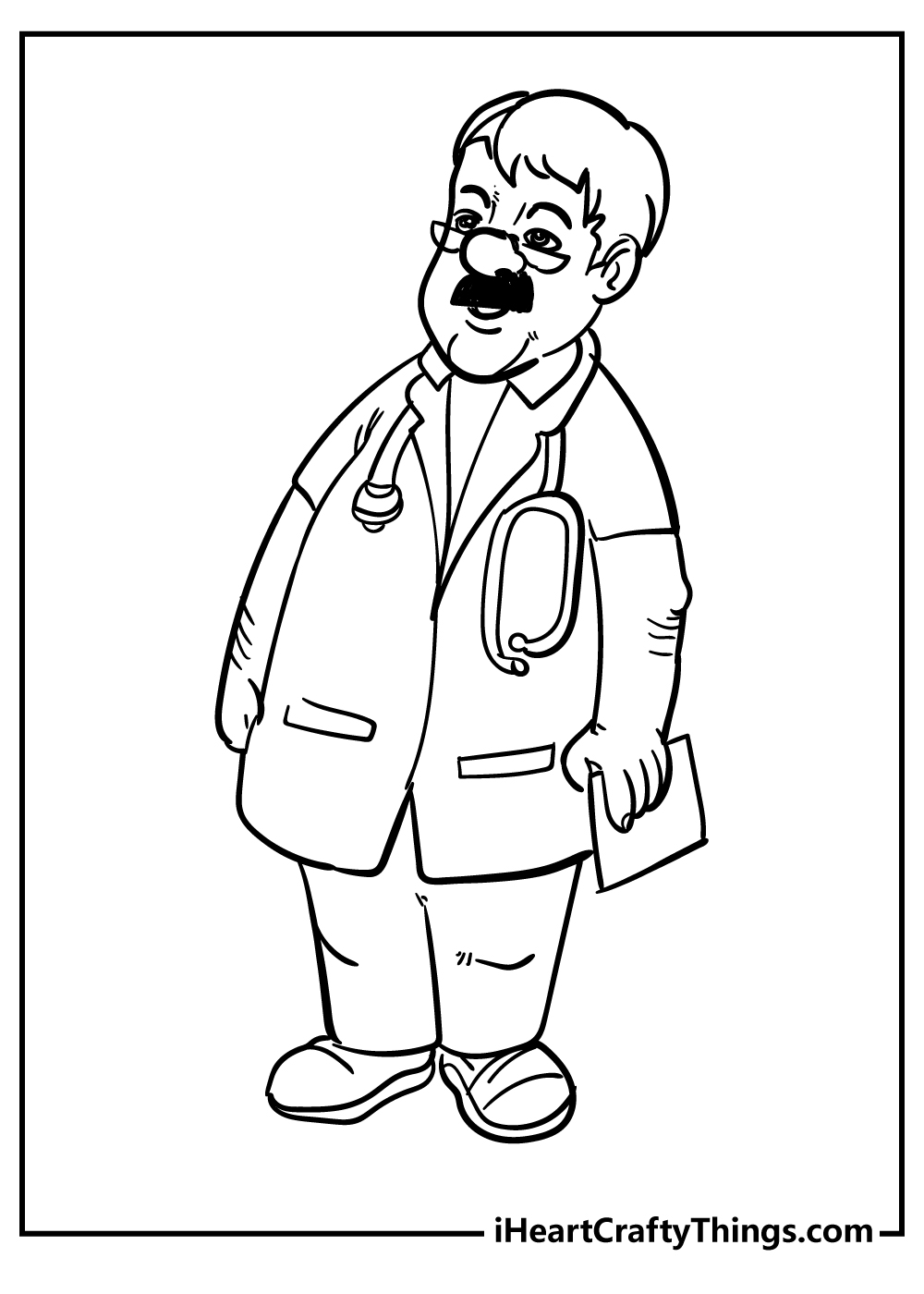 This is a cute and quirky coloring page of a young doctor. He is wearing a lab coat and a stethoscope, and he has a pen in his pocket.
He is smiling and looking confident, as if he is ready to take on any challenge.
What do you think he is dreaming of doing as a doctor? Maybe he wants to help people, discover new cures, or travel the world.
I would color this doctor with bright blue, green or orange, and wine. The different colors will also make him fun to look at.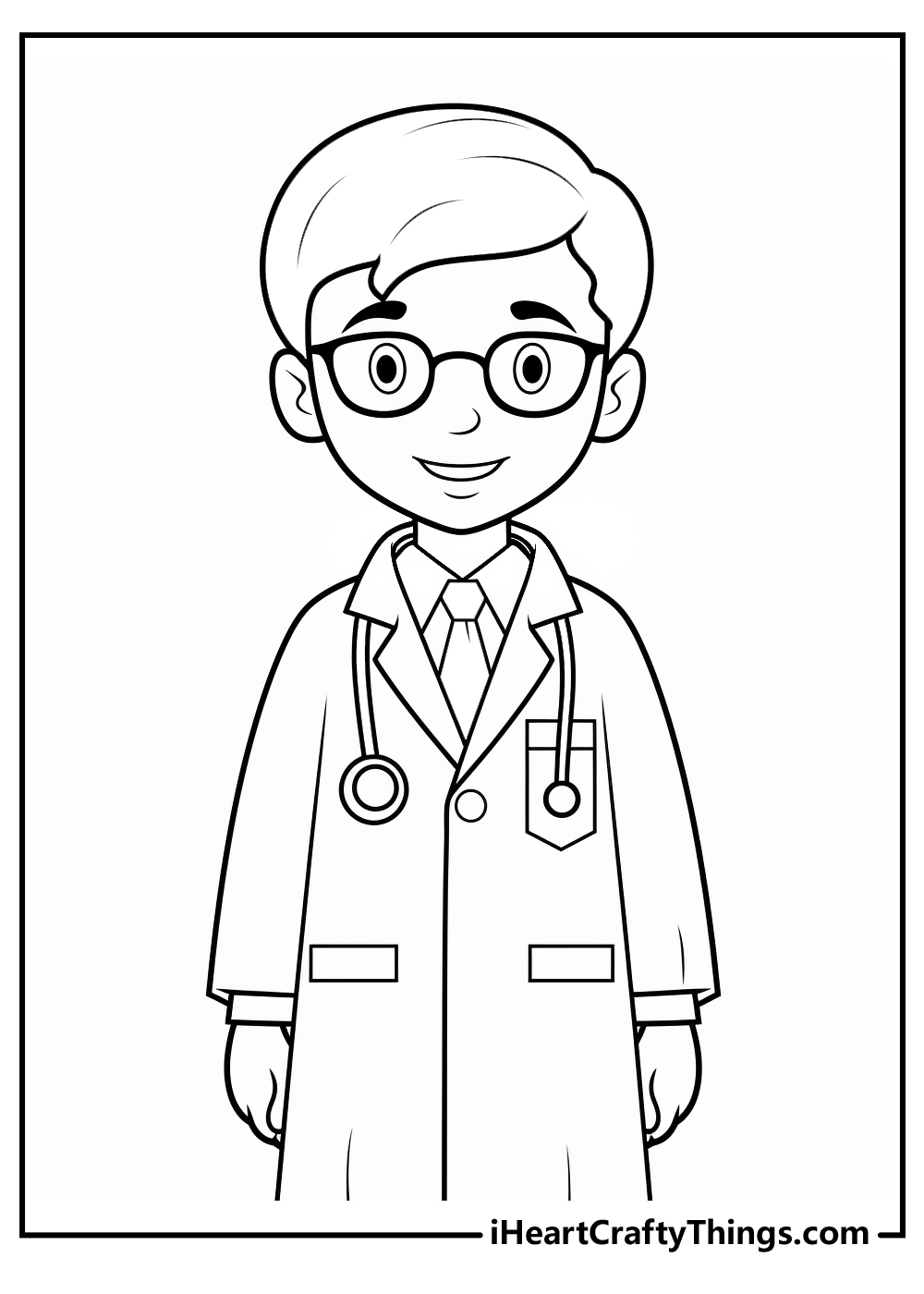 No one likes to receive an injection, and the one that this doctor is holding looks to be a particularly big and nasty one!
She looks very happy, and it almost makes you think that she enjoys administering such big injections.
We think it would look rather cool to use a bright color for the insides of the syringe to make it look like it is full of some fancy medicine.
Maybe some bright green or yellow would look good for it?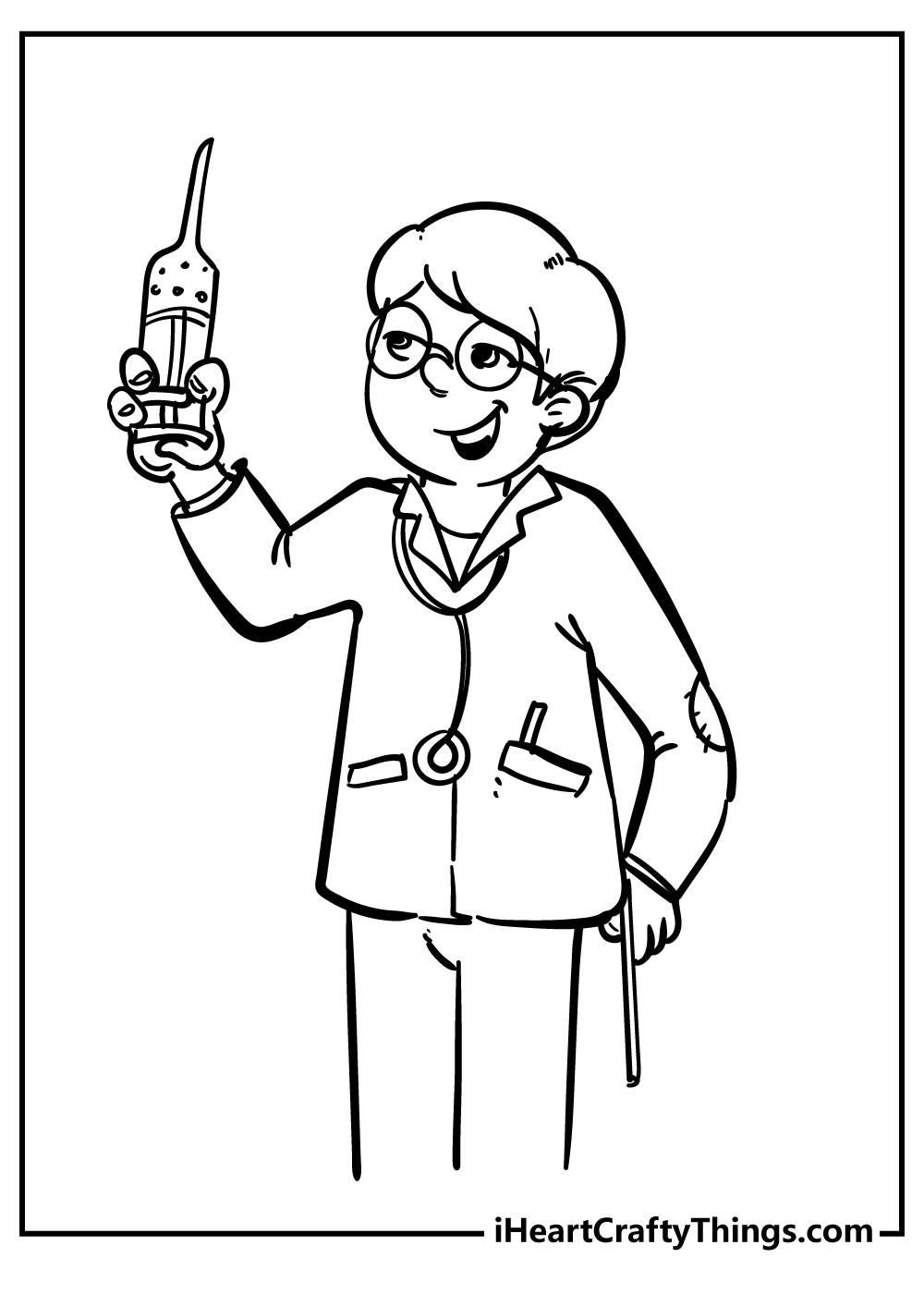 The man in this next doctor coloring printable is dressed a little more casually than the others we have seen so far, but he still looks prepared!
He is also wielding a stethoscope, and there is also a medical kit ready to go in his hand.
Many of the doctors in these pages are wearing white lab coats, but because this one is wearing a shirt you could color it in some brighter colors for a more vibrant image.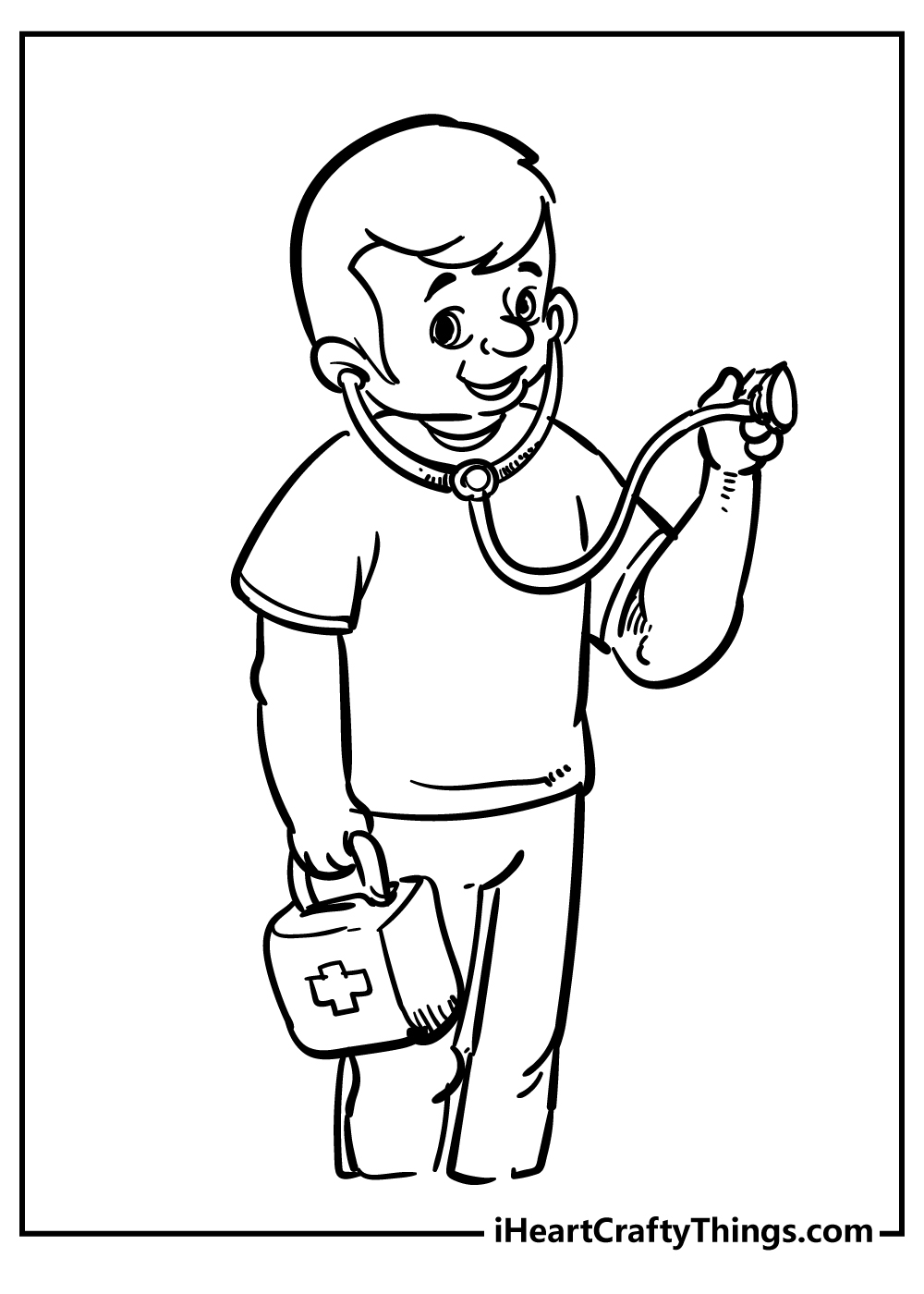 Next, we have a wise doctor with many years of experience. He's in a full doctor's outfit and a stethoscope.
Doctors are heroes! They keep us healthy and help us feel better when we're sick or hurt. Coloring this friendly doctor is a great way to say thanks for everything they do.
You can also add encouraging messages in bubbly fonts like "Doctors Rock!" and "Hooray for Healthcare Helpers!" Make this compassionate doctor come to life with your own creative touch.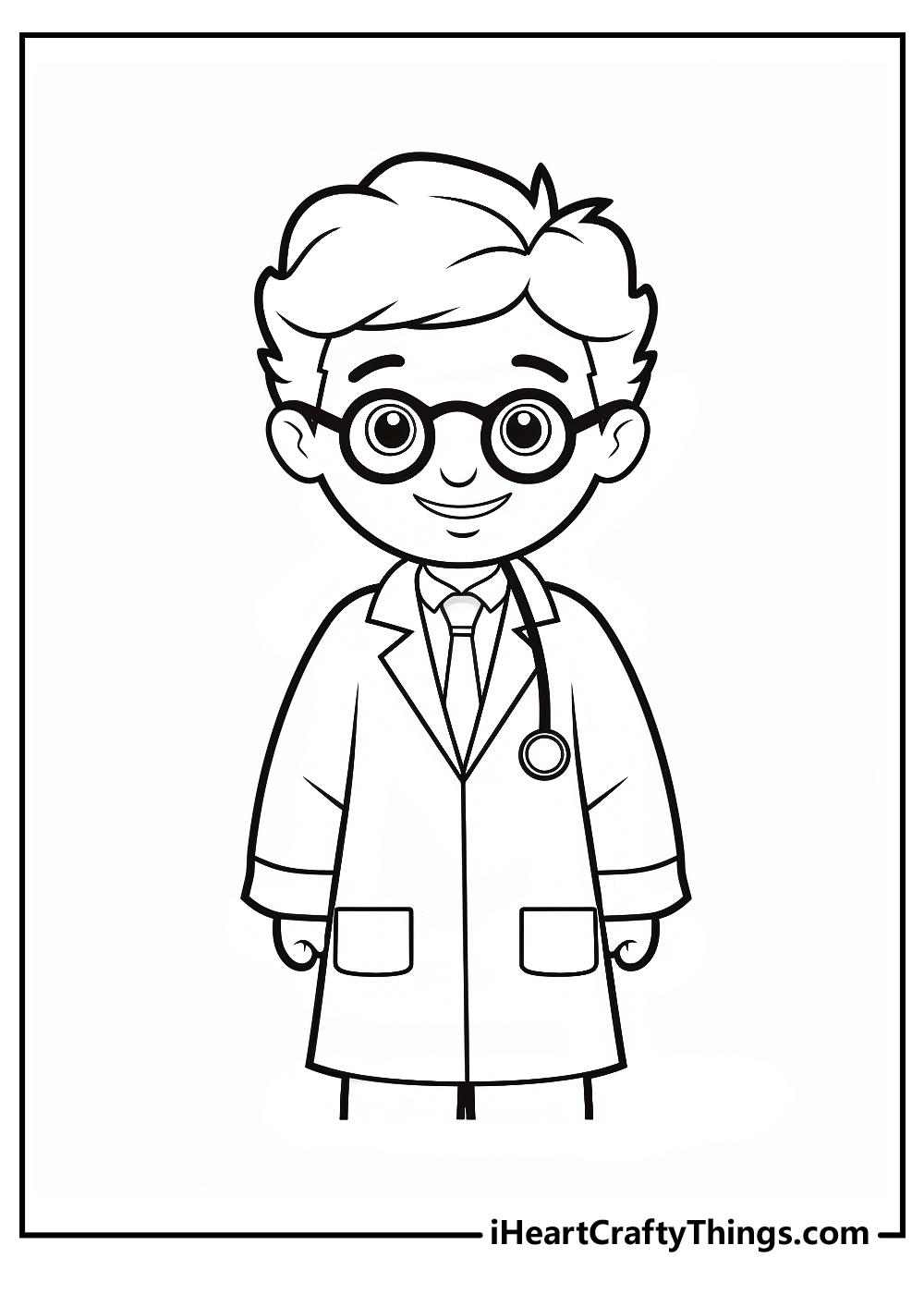 There's another doctor with a stethoscope for you to color in this page. He is dressed a lot less casually than the last man was!
When coloring this page, you could also personalize the image by drawing a background. This could be a realistic setting, but you could also draw shapes and symbols associated with doctors.
These are two ideas, but what else can you think of for a background to this picture?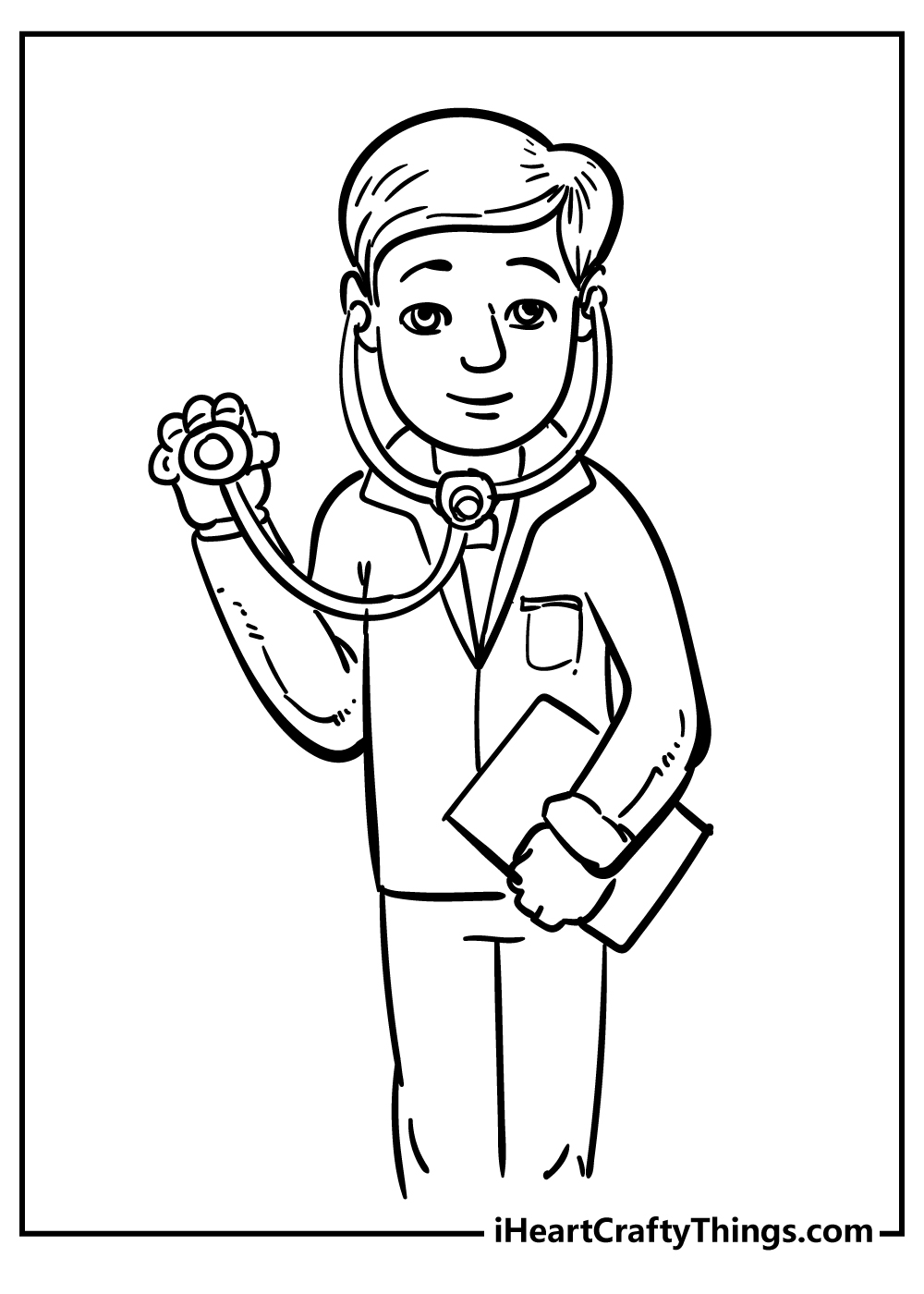 We're nearing the end of this collection, but we have a few more for you to color! This one features another friendly doctor enjoying a rare quiet moment.
There is a real sense of calm emanating from this one, and for that reason we would again recommend some cooler, milder colors.
We would use watercolor paints for this image to keep the colors nice and subtle, but what colors and mediums do you think would suit this doctor?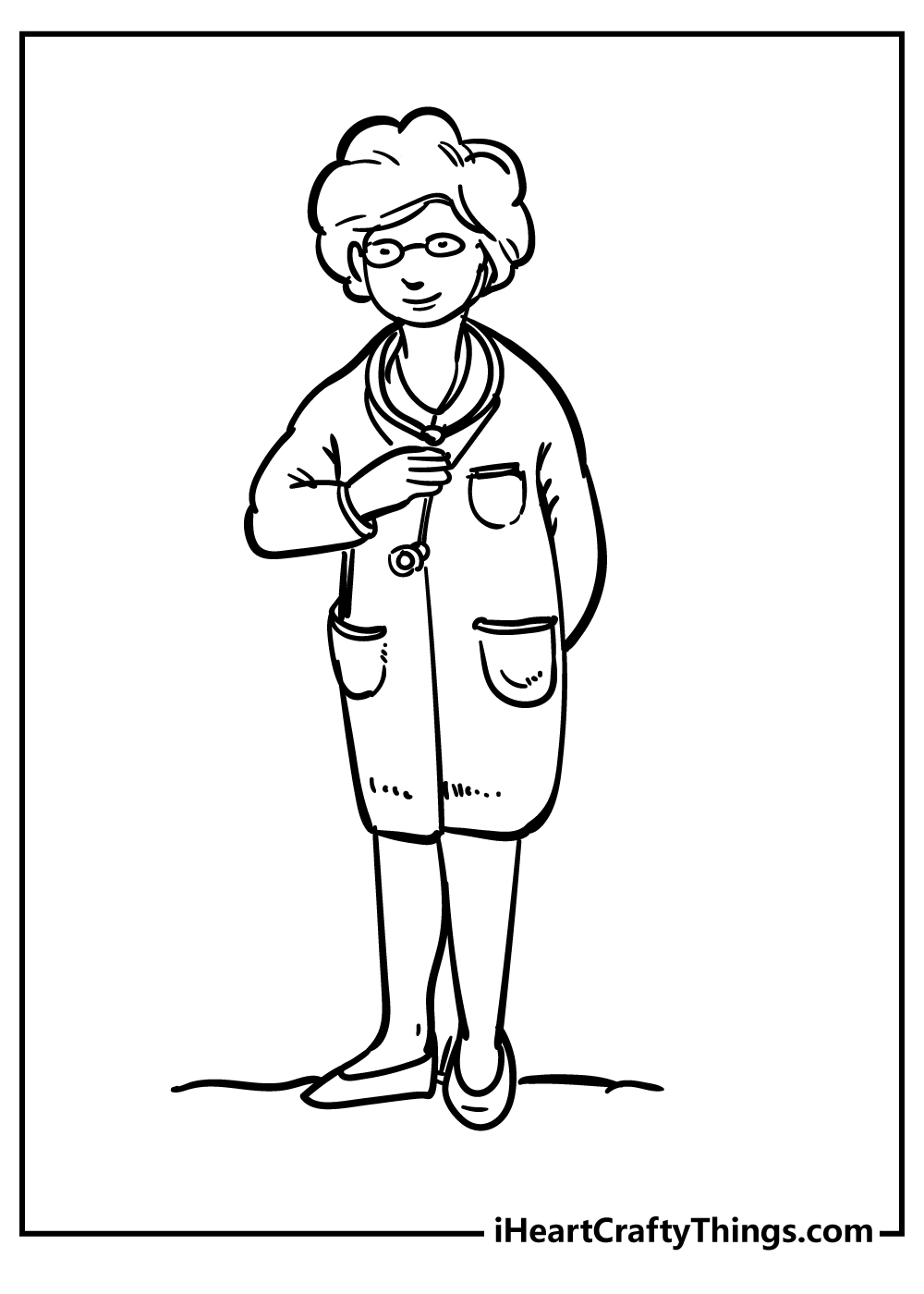 Grab your coloring supplies and bring this friendly physician to life. Dress him up in a crisp white lab coat and baby blue scrubs – the uniform of caring doctors everywhere.
Give him rosy cheeks and a bright smile ready to make any boo-boo better.
Add accessories like stethoscopes, lollipops and bandages to show he's equipped for check-ups, emergencies and everything in between.
In the background, draw pictures of this doc's dreams like delivering adorable babies, discovering miracle cures and traveling the world to help those in need.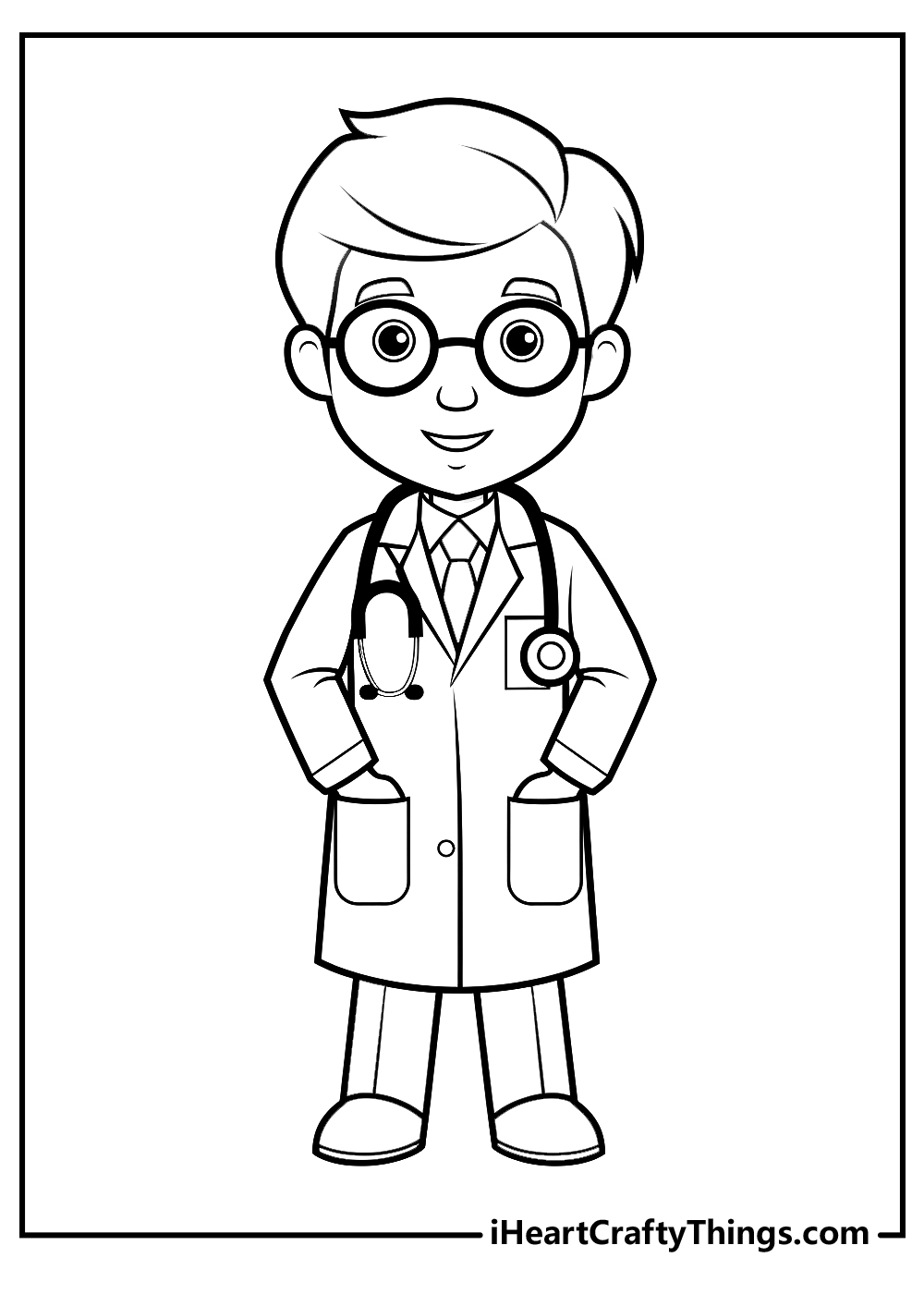 Now it's time to color the final doctor coloring page of the collection, and the only question is which colors will you choose?
This is another doctor that seems to be in a calm setting, and she's looking pretty happy in this one. This probably means that she has had a good day saving lives and helping people!
There is a lot of empty space behind her, so this would be another image that would be perfect to add some background details to. Will you create a setting for this final doctor?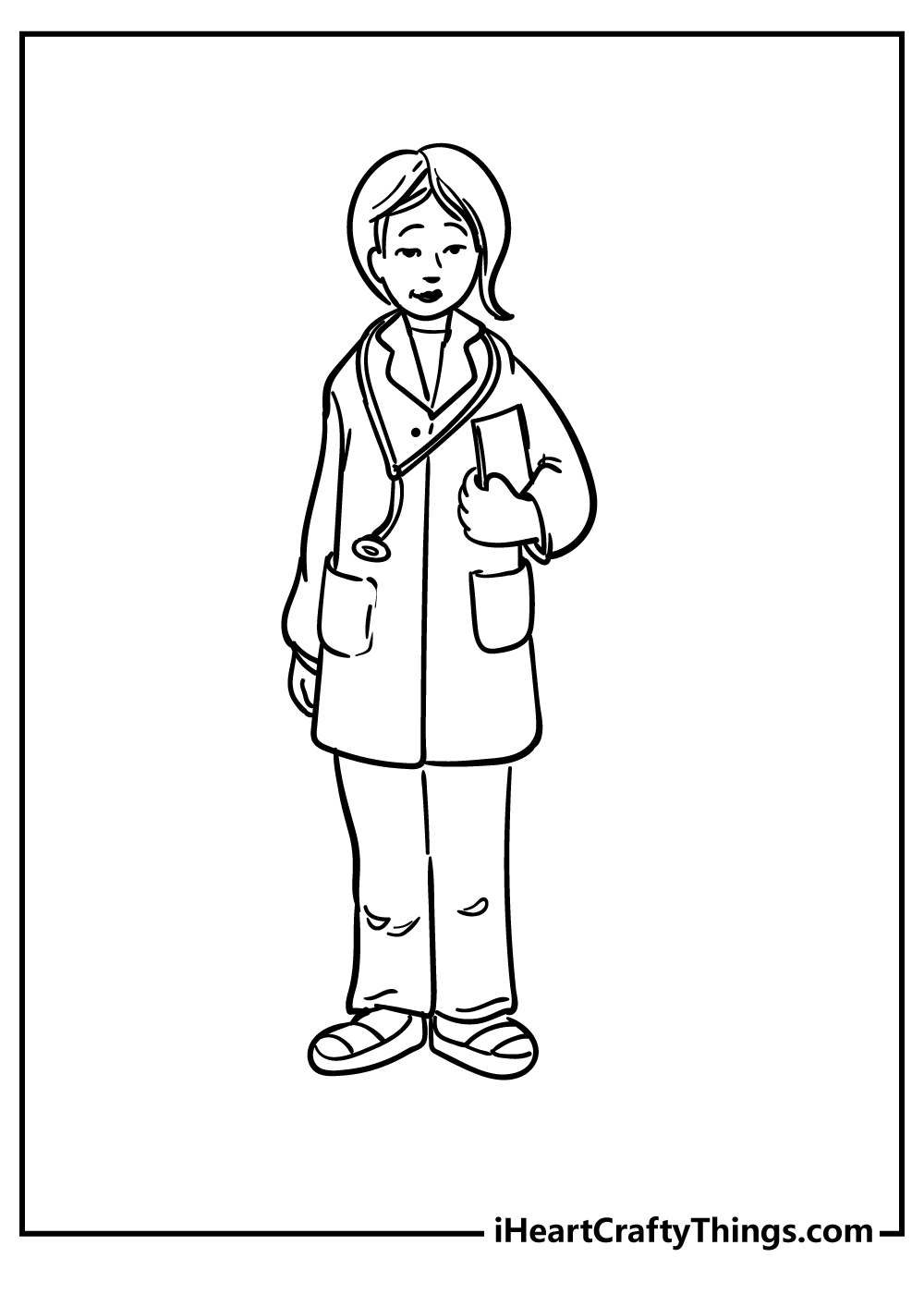 Doctor Coloring Pages – Which will you choose?
Being a doctor is a huge responsibility, and we hope that you enjoyed paying tribute to them in this collection of free doctor coloring pages for kids!
We aimed to represent a wide array of different doctors and settings for you to work your creative magic on.
If you had a great time working on these pages, you can head on to our website for more coloring collections to enjoy!
You can find collections covering a huge array of different subject matter, and we plan to bring out more soon.
We would be thrilled to see how you portrayed these amazing people, so please be sure to share some of your finished doctor coloring sheets on our Facebook and Pinterest pages.
We look forward to seeing your artworks!