There are several meals that we get to enjoy throughout the day. These meals have many tasty foods to try out, and it can be hard to choose a favorite!
Many people look forward to dessert, as this is where you get to tuck into sumptuous, sweet treats.
There are tons of these delectable delights to enjoy in this collection of free dessert coloring pages for kids that we have prepared for you!
With so many desserts to choose from, it can feel impossible to pick a favorite. You're bound to find a few in this collection of free dessert coloring pages, however.
You can pick your favorites to color, or you could color every single page for a dessert extravaganza!
You can print out your favorites from the collection as many times as you like, so you can really have fun experimenting with your favorite colors and art mediums.
Then, be sure to share the tasty fun by sharing these pages with others!
It's time to get out your favorite art tools to prepare for this collection! You could grab a real-life example of your favorite dessert to enjoy as you color as well.
Then, be sure to share the culinary fun by sharing your finished pages on our Facebook and Pinterest pages!
10 Brand New Dessert Coloring Pages – Free to Print and Color
We're kicking off this sweet collection with a delicious Swiss roll. This wonderful treat is made up of twisted layers of cake with cream between the layers.
This one has some cram with a strawberry on top, and it looks like there may be bits of fruit inside the Swiss roll's interior.
We think that some lovely light yellows for the cake and light pinks for the cream inside would look amazing for this image, but what colors came to mind for you?
We can't wait to see how you color in this delicious picture!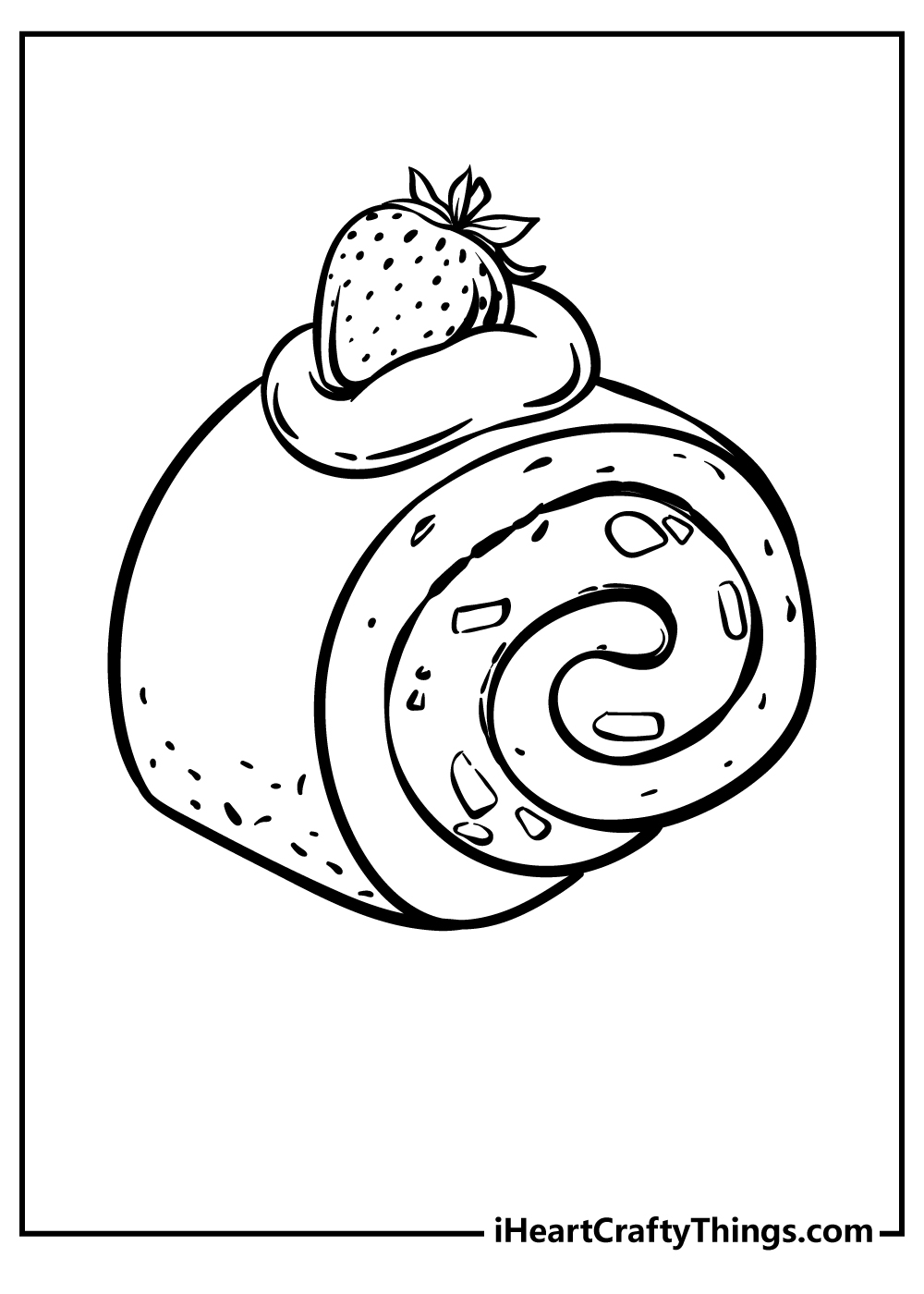 For the second course of this collection of free dessert coloring pages for kids, we have a tasty cupcake for you to enjoy. When it comes to cupcakes, the more icing on top the better!
For that reason, we included a large dollop of twisting icing, and for an extra tasty touch we added a cherry as well.
What color scheme are you thinking of for this one?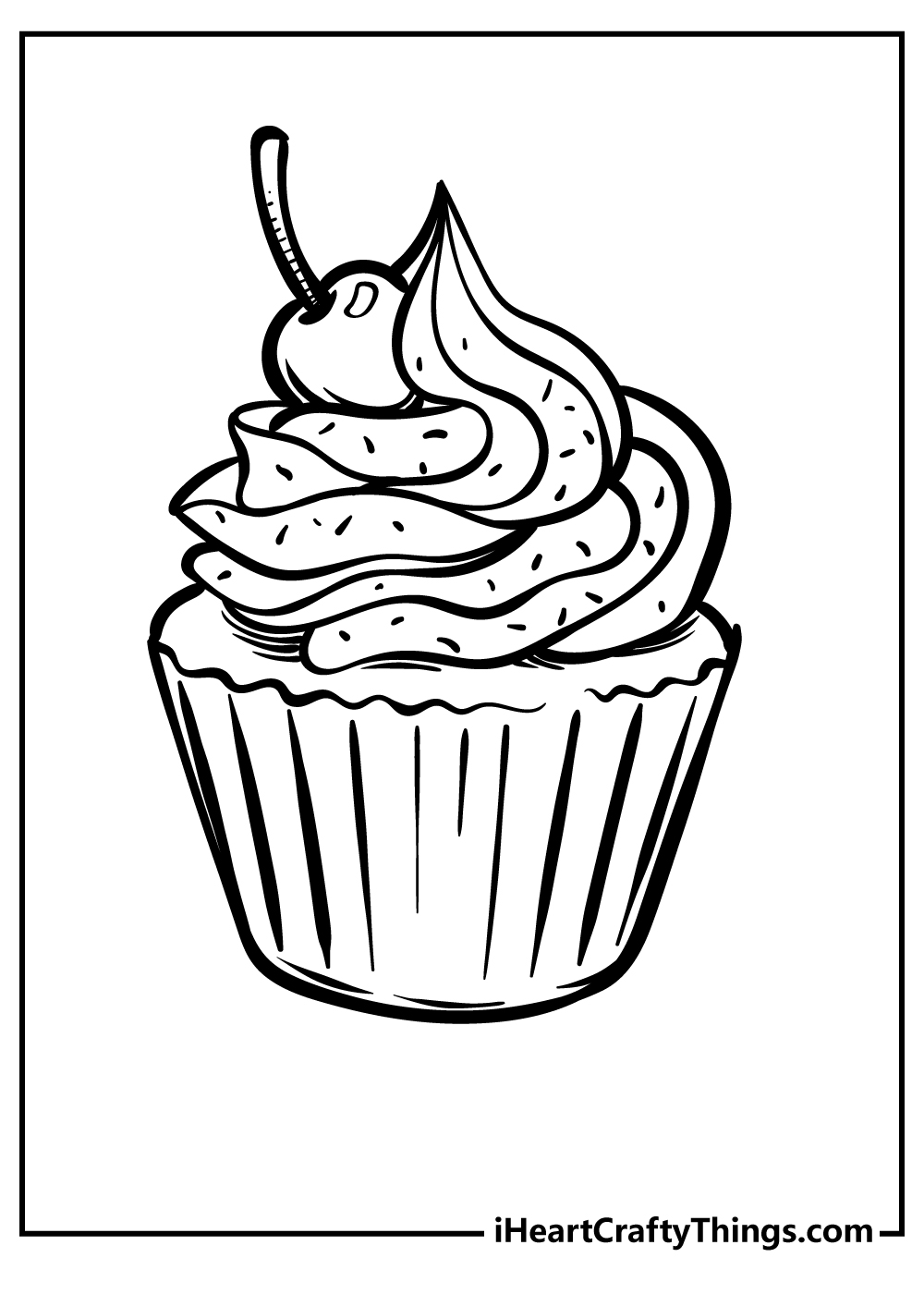 It's hard not to love doughnuts, and we have a delicious one for you to sample on this next page.
Doughnuts come in many different variations and can have pretty much any toppings you can think of.
This one has icing with sprinkles on it for extra tastiness. For the sprinkles, we think it would look amazing to use as many different colors as you can for them!
Coloring them would be made much easier if you use mediums that allow for precision such as colored pens, pencils or thin-tipped brushes.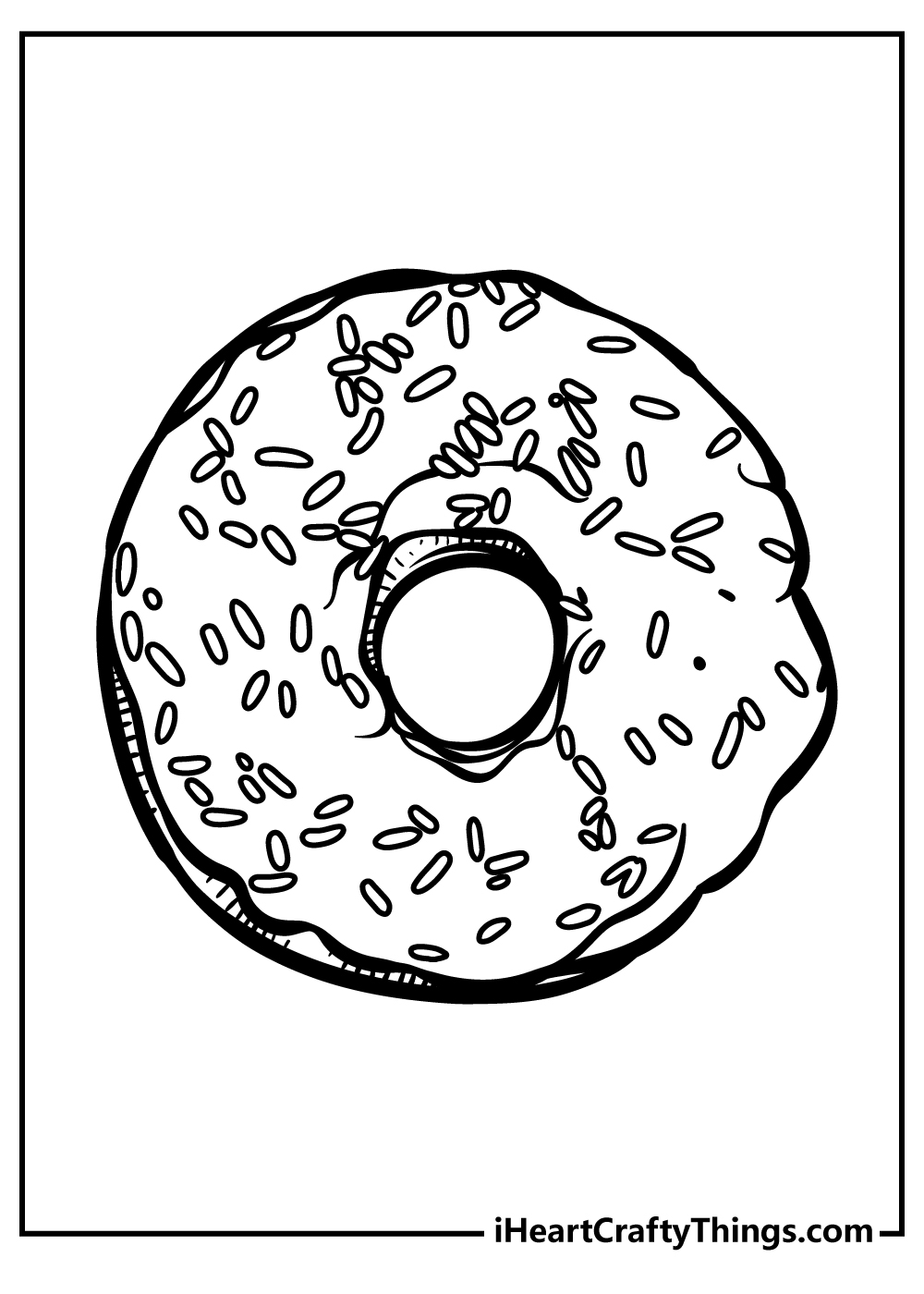 Who doesn't love a good cookie? In this fourth dessert coloring sheet, we have a great cookie for you to enjoy.
Cookies often have chocolate chips in them, and it looks like this one has some as well.
One idea to try would be to use thick drops of acrylic paint for the chocolate chips to make it look like they're actually sticking out of the cookie!
Will you try out this idea, or do you have some other artistic tricks in mind?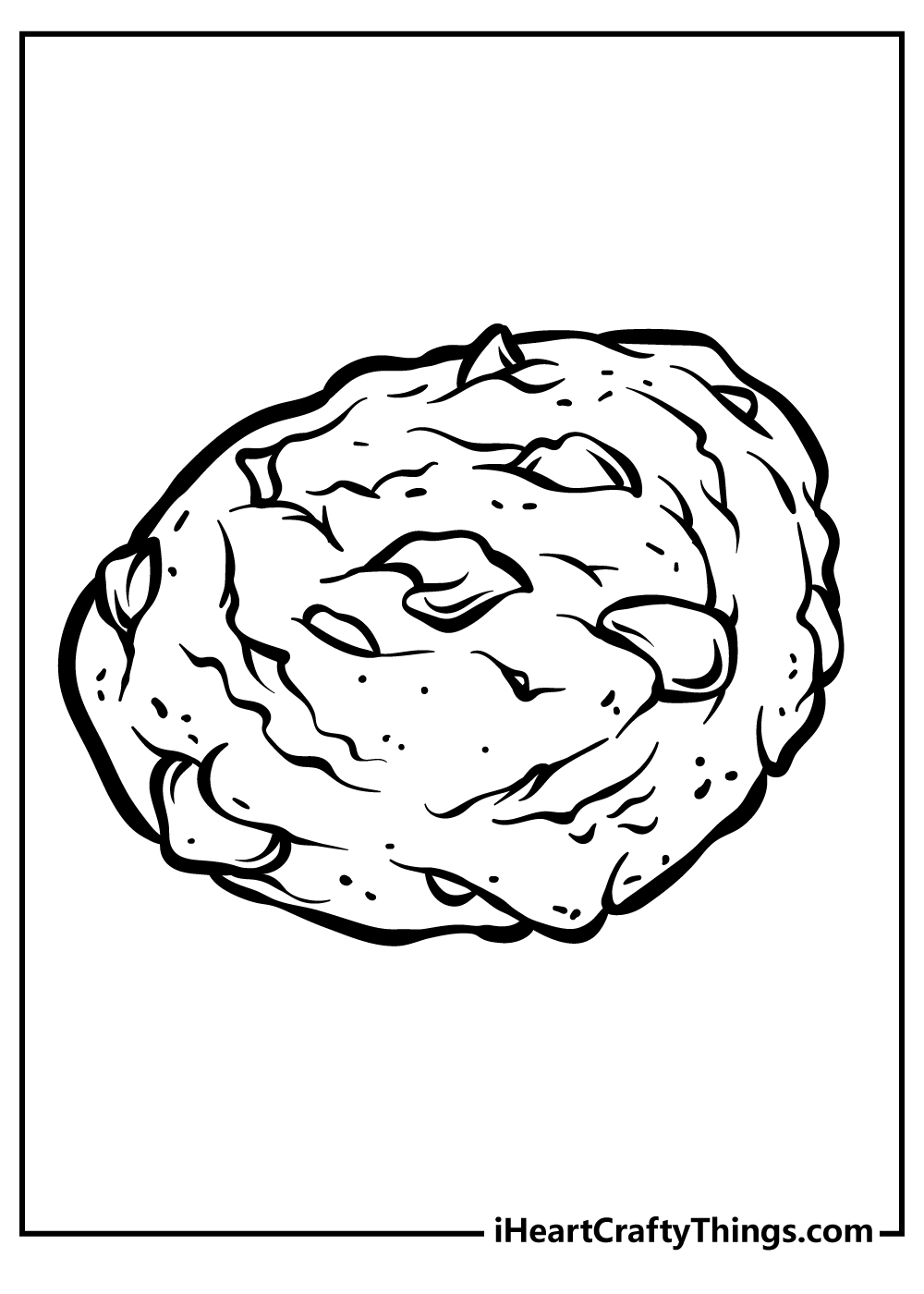 We're making things really elegant for the next dessert treat we have for you. This one is called a macaron, and it is made up of meringue slices with sweet icing sandwiched between them.
Originating in France, these tasty little treats are a really elegant snack that can be enjoyed in style!
Most importantly, they taste great and can come in any colors you can imagine. Which colors will you choose for this macaron we have?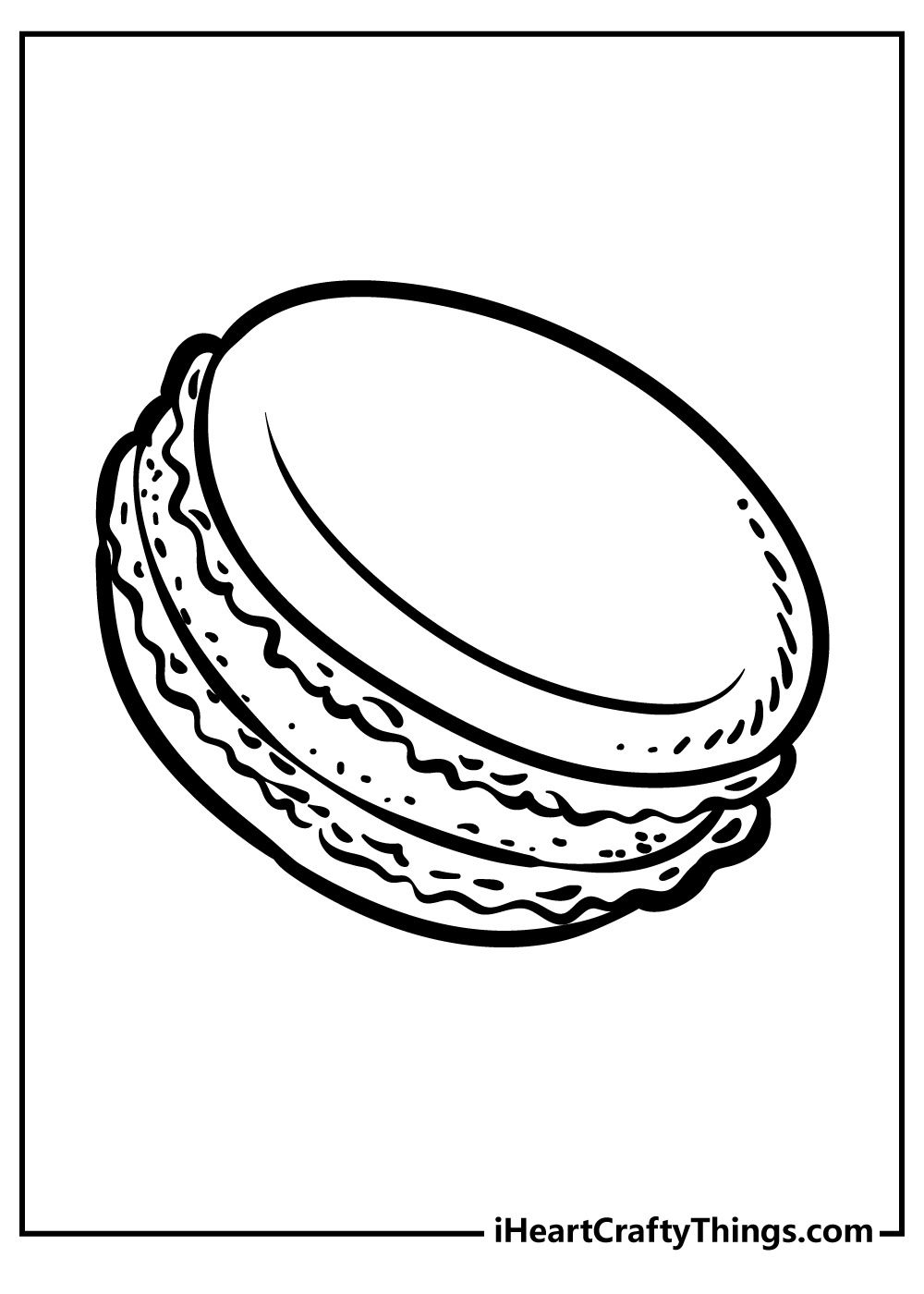 The next dessert coloring printable has a delectable slice of cheesecake, and this one is sure to work up an appetite!
This beautiful slice has blueberries on top of it, and that means that it's safe to guess the cake may be blueberry flavored.
For that reason, we would recommend using a light blue for the filling of the cake, but you could go for any other colors you like as well!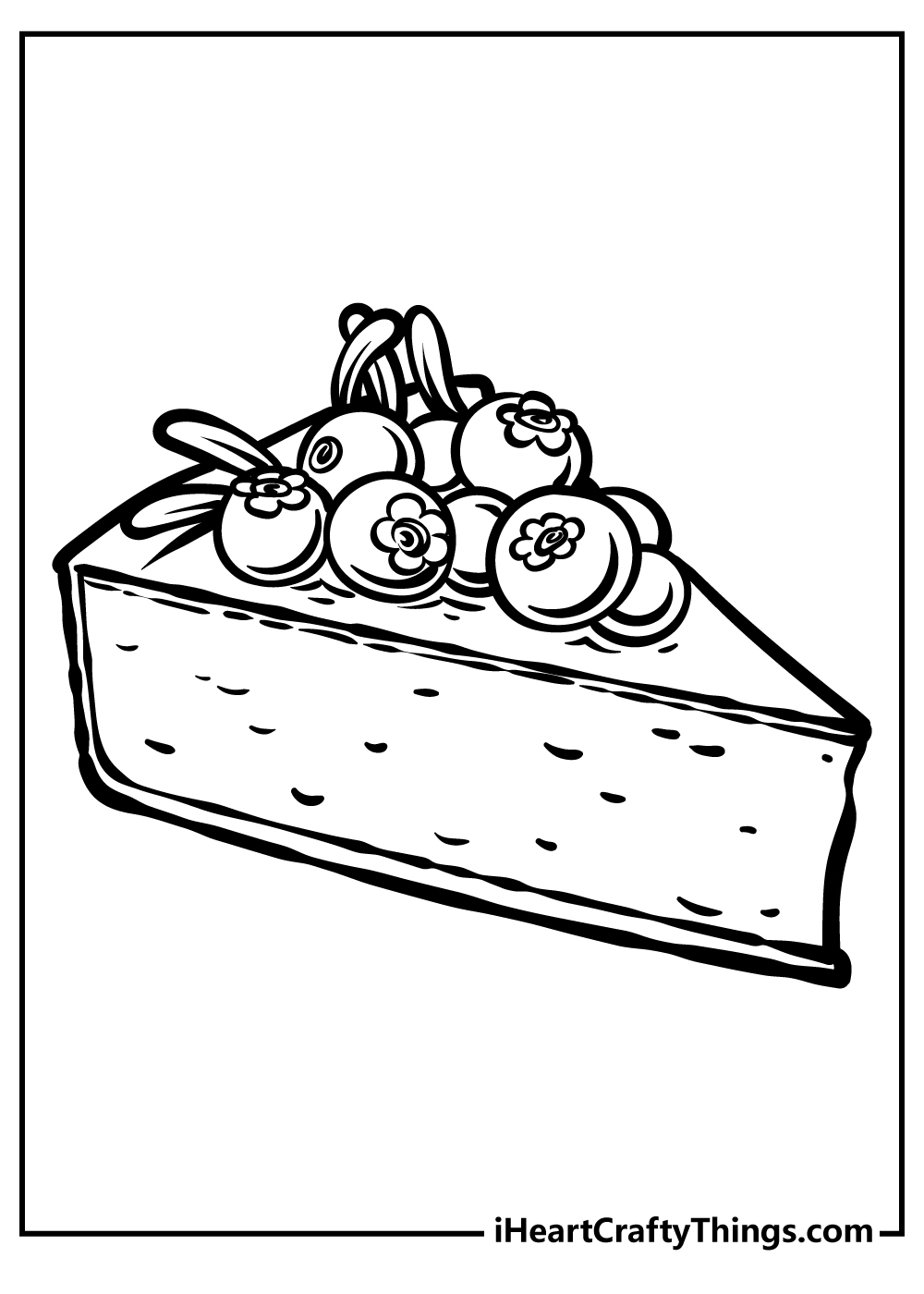 You will need all of your favorite colors for the next tasty treat we have. This is a delicious lollipop, and there are so many little sections and other details on the lollipop.
We think it would look amazing if you tried to use a different color and color shade for every single little section of the lollipop.
That would be a challenge, but we think it would be worth it! What will you choose to color this sweet lollipop?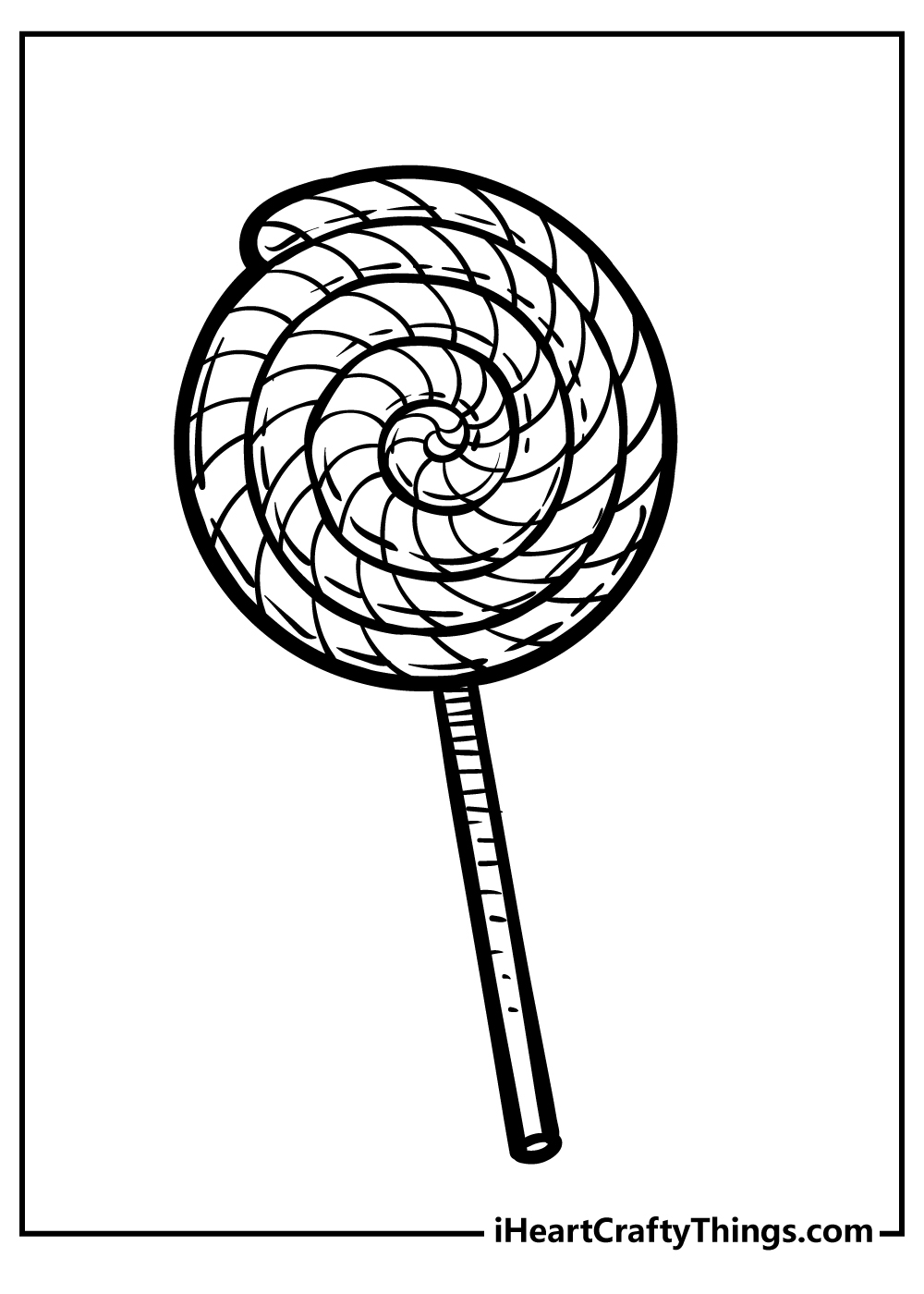 This next picture is truly mouthwatering! The icing is just dripping off of this dessert, and you could use any colors you like for that to create a wonderfully colorful sight to behold.
There is also a plump raspberry, so you could use some lovely reds and pinks to color that detail and add a great burst of color.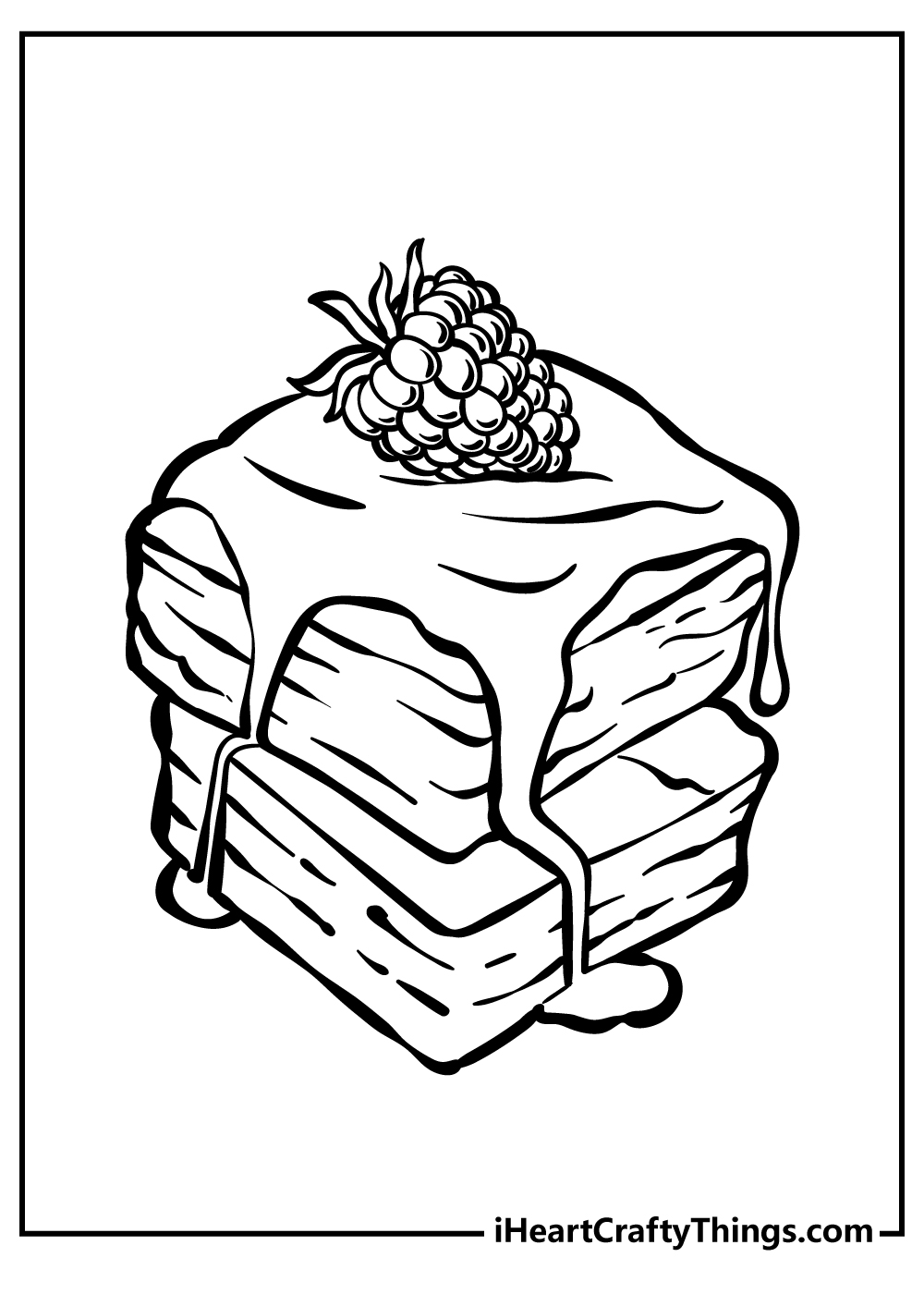 It's time to cool down a bit with this next free dessert coloring page for kids! There is a tasty ice cream cone for you to color in this one, and there are some more great details to fill in.
There is icing dripping down this one, and we made sure to include plenty of sprinkles on top.
We think it would look great to have a separate color for each layer of ice cream, as that would make for a colorful treat to look at. What will you do to finish this one off?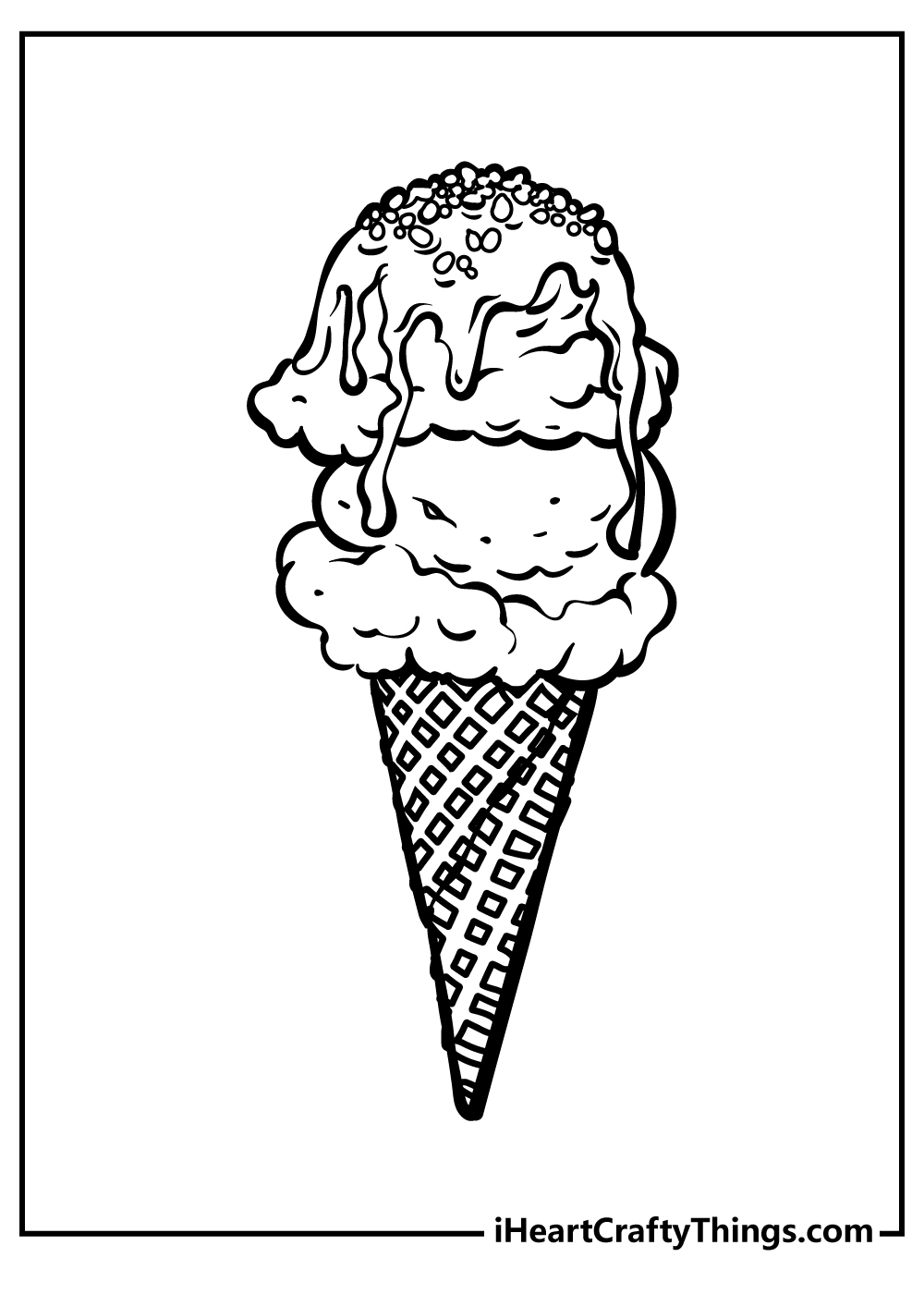 We have reached the end of this collection, but there is still one more treat for you to enjoy. This last page has another cupcake for you to color, and it really looks delicious!
Once again, we have a good dollop of icing on top, and there is a plump raspberry sitting atop it.
How will you color this final page? Remember that you can print a few copies if you want to make some variations!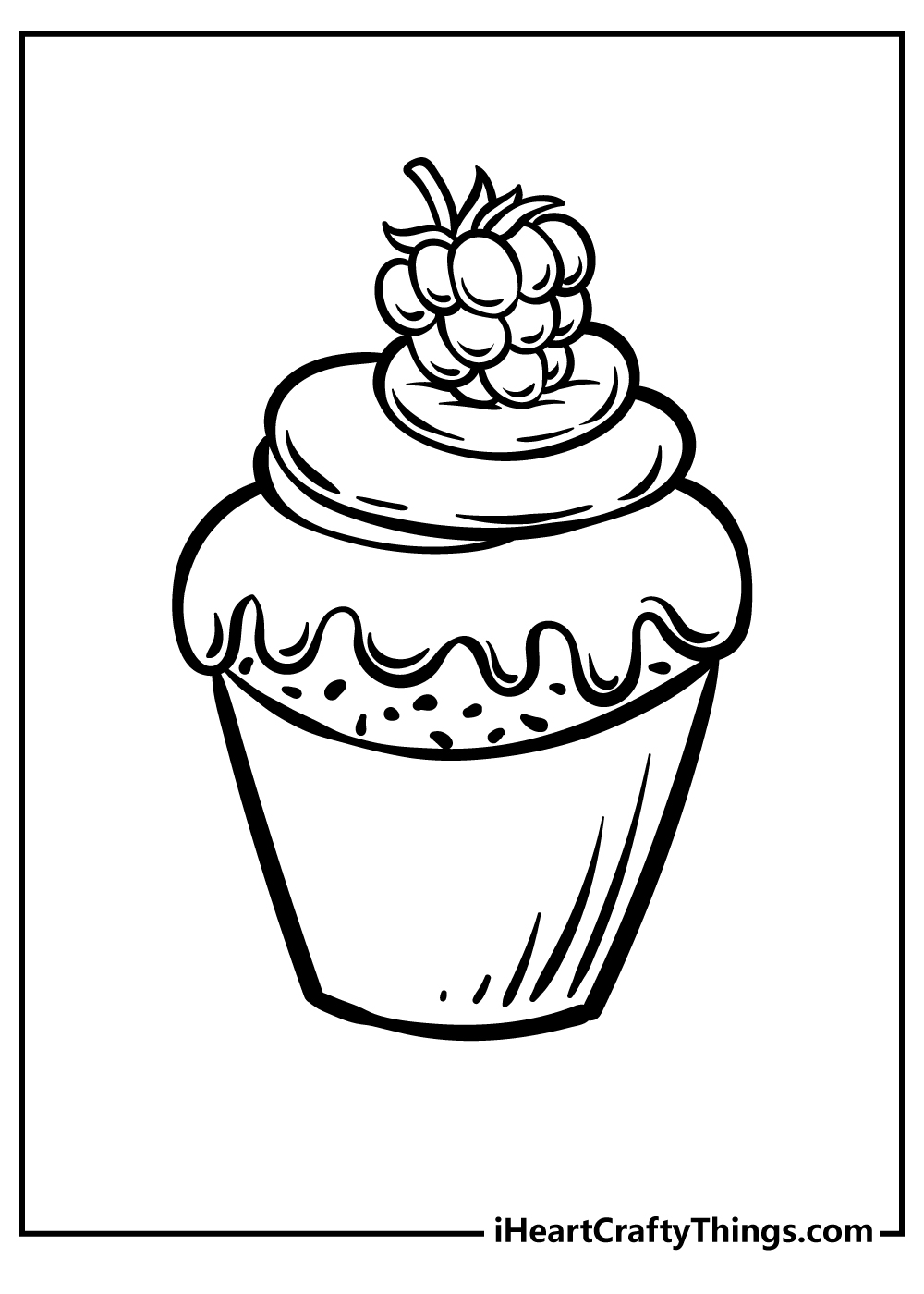 Dessert Coloring Pages – Which will you choose?
We hope that this set of coloring pages didn't work up too much of an appetite! There were so many treats to enjoy in these pages, and they were designed to allow you to use all of your favorite colors and art mediums.
When you have finished your favorite dessert coloring sheets, be sure to visit our website to find some more incredible free coloring pages and other goodies to enjoy.
Be sure to check in often, as we upload new ones frequently!
We would love to see how these pages came out, so please share your finished favorites on our Facebook and Pinterest pages for us to see and admire! We always love to see how creative you can be.